Looking for the best things to do in Rotorua for your next trip to this North Island gem? From thrilling adventures to relaxing geothermal experiences to cultural treats, here are the top Rotorua activities to add to your itinerary.
Known as the Adventure Capital of the North Island (the northern counterpart to Queenstown), the amount of things to do in Rotorua make it a brilliant spot to add to any New Zealand itinerary.
With easy access to lakes, rivers and mountains, an incredibly unique landscape created by underground geothermal activity, and a seemingly endless selection of thrilling activities for all budgets and travel styles, Rotorua is the perfect place for a weekend getaway from Auckland or an extended domestic adventure.
If you're wondering what to do in Rotorua, I'm here to help. I've visited countless times over my many years of living in the North Island, and Rotorua was the first stop on our epic North Island campervan road trip, so I've put together my favourite things to do in Rotorua, plus the best places to stay, to help you plan the ideal Rotorua trip. Enjoy!
Travel tip: I use Klook for all my rental car needs while I'm travelling, you can search your travel dates and they pull up all the options from rental companies like Hertz, Sixt, Avis, Budget and more so you know you're getting the best deal. They also offer free cancellation so you can lock in a good price early on and then cancel or amend it if your plans change.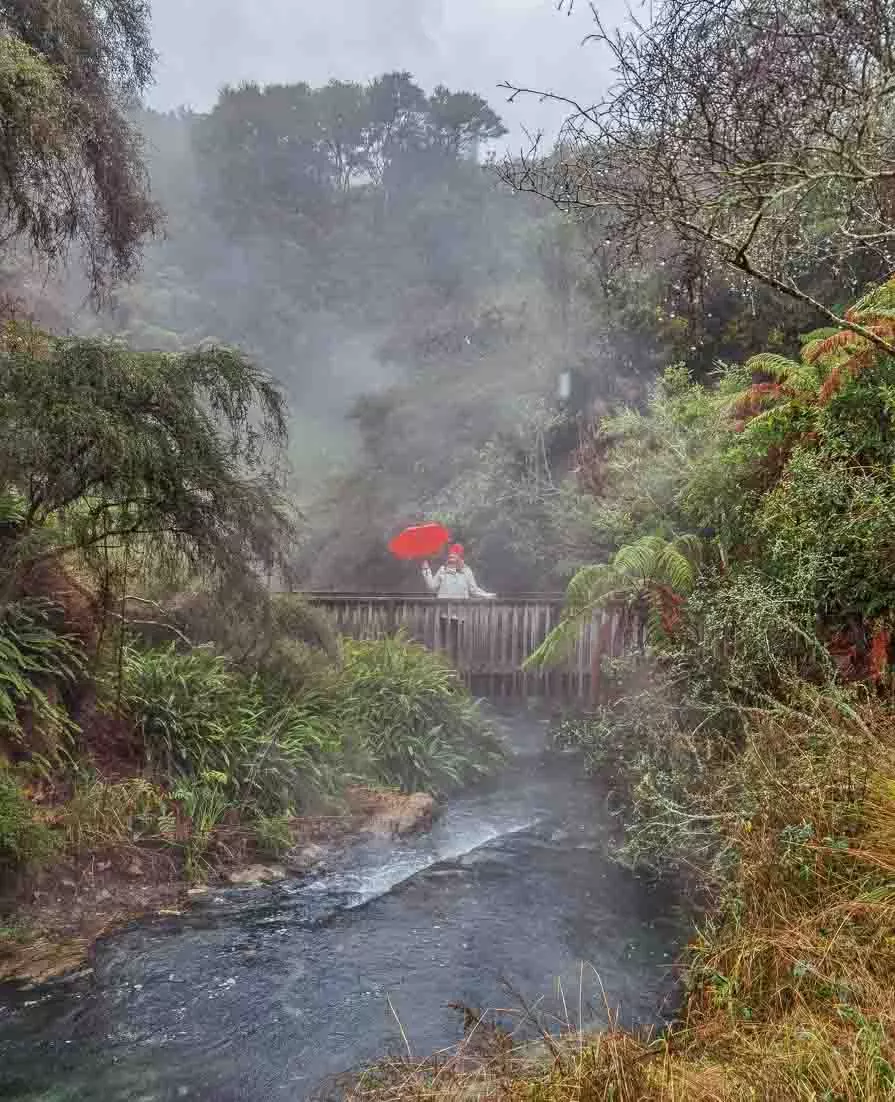 ---
Summary: The Best Rotorua Activities
The Ultimate Canopy zipline tour is my absolute favourite Rotorua activity!
Experience Māori culture at Te Pā Tū or Mitai Māori Village
Soak in some geothermal hot pools at Polynesian Spa, Waikite Valley or Hell's Gate
Do a scenic flight over stunning Mt Tarawera
Roll down the hill in a ZORB
Do the Redwoods Treewalk and see the forest from above
Catch the gondola to the top of the luge track and race your friends back down
Go kayaking on paddleboarding on Lake Rotoiti, Lake Okareka or Lake Rotomahana
BUDGET TRAVEL TIP: BookMe is a local website where tourism operators load last minute deals for things like rafting trips, cultural tours, skydives and loads more, with discounts often sitting between 20-50%! So if you're visiting Rotorua in the next few days, check BookMe to see what deals are available for your travel dates.
---
The Most Epic Things to Do in Rotorua
1. Zip through gigantic native trees
I'm a bit of a zipline addict myself so I couldn't start this list of the best things to do in Rotorua with anything else. Rotorua Canopy Tours has a 4.9/5 Google rating from a whopping 950+ reviews, and they absolutely deserve it.
They offer two different eco-friendly canopy tours depending on your budget and preferred thrill level. The Original Canopy Tour is three hours with six ziplines totalling 600m, or the Ultimate Canopy Tour is 3.5 hours with 1200m of ziplines.
On your zipline tour you'll also learn about the native forest and what the Rotorua Canopy Tours team is doing to protect our local flora and fauna. Highly, highly recommended for any active adventure, family holiday, couples' trip or solo getaway.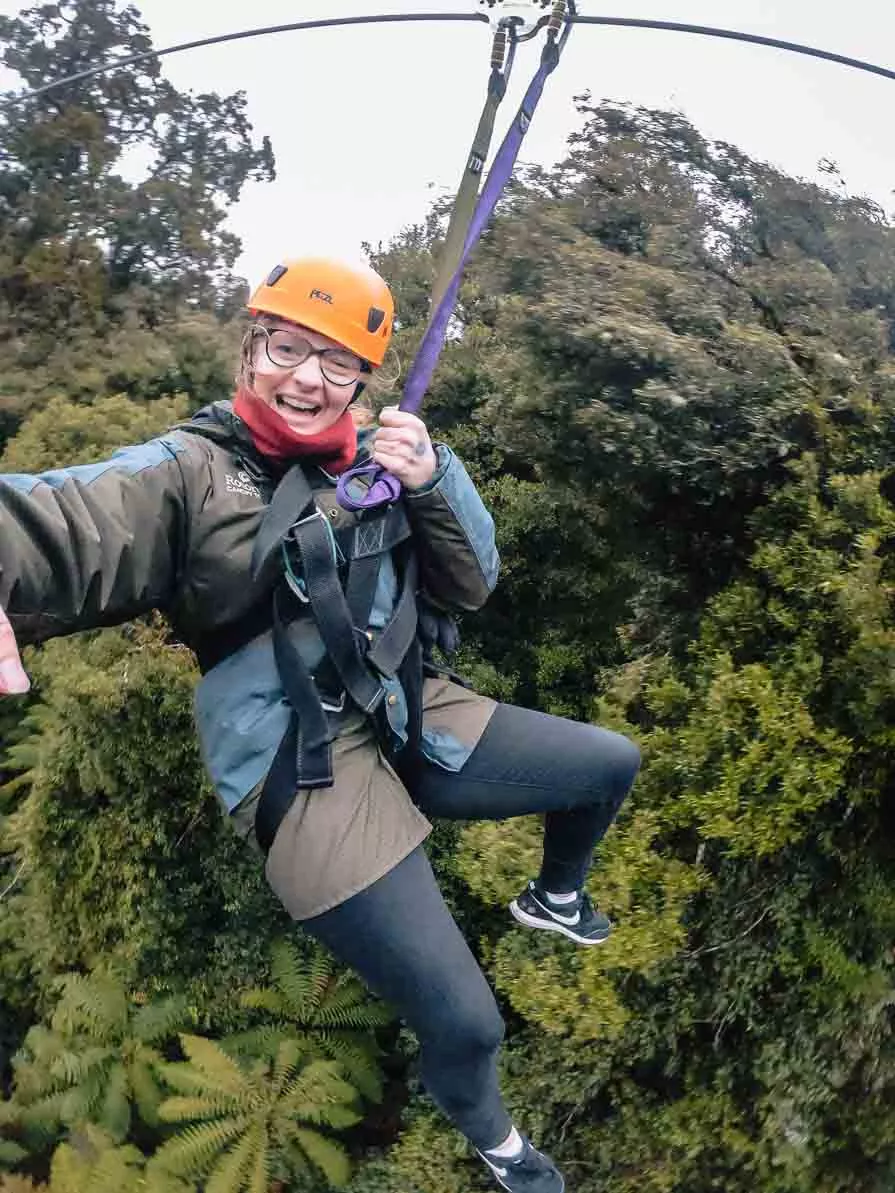 2. Take a hike
There's a variety of hiking trails and tracks near Rotorua if you're keen to explore by foot. Lake Okareka, Okere Falls, Lake Tikitapu and Hamurana Springs are some of the most recommended walking areas, you can read more about them in this DOC guide.
If you'd like to do a walk with a local guide, learning about the region and unusual geothermal activity at the same time, you could opt for a hiking tour instead.
This full-day hiking trip takes you through the towering native trees in Whirinaki Forest, or soak up the most incredible views from the summit of Mount Tarawera with this half-day guided walk.
3. Take a scenic flight
Volcanic Air is a local Rotorua tourism operator that offers helicopter and floatplane flights around volcanic craters, over thermal valleys and past waterfalls.
Pack a camera, choose your aircraft (keep in mind that the heli lets you land on the mountain) and experience Rotorua from the sky.
4. Go white water rafting (and raft over a waterfall!)
Reckon you're up for an adventure? Tick "raft the world's highest commercially-rafted waterfall" off your bucket list with a white water rafting tour, where you'll make your way through 14 Grade 4 and 5 rushing rapids, then you'll conquer a 7m waterfall.
I've done this rafting trip three times and it's such a rush, an experience you'll never forget.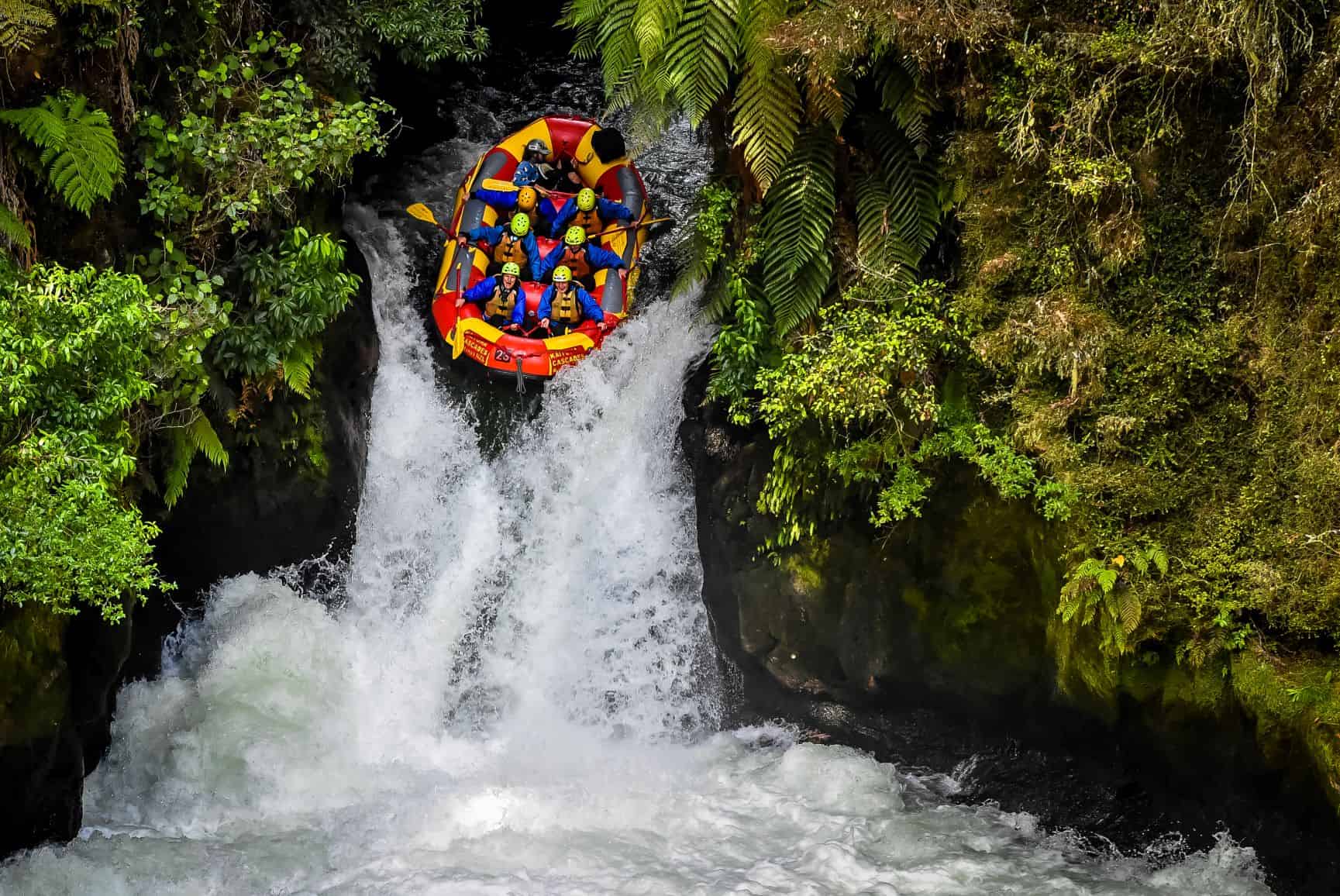 5. Try bungy jumping
You don't have to go all the way to Queenstown or even Taupo to get an adrenaline rush from jumping off something with a rope tied to your ankles.
Velocity Valley in Rotorua has a number of thrill activities available, like Rotorua's only bungy jump at 43m high, a zero gravity wind chamber, the famous Agrojet jet boat and more.
6. Roll down a hill in a ZORB
Invented right here in little ol' NZ, a ZORB is an inflatable ball that you jump into before rolling down a hill. Sounds crazy? Crazy fun!
There are four tracks to choose from (the straight tracks, a Big Air track with a jump, the Mega Track and the Sidewinder) and they have deals for multiple rides and tracks.
They've got changing rooms, hot tubs at the top or bottom, and if you don't want to get wet you can opt for a DRYGO ride outside of the summer season.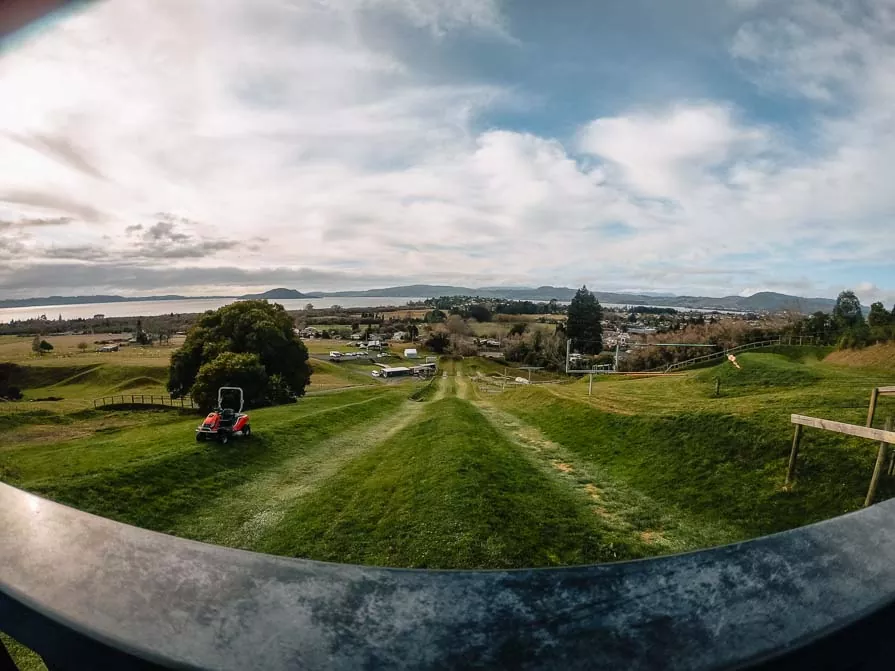 7. Race your friends on the Luge
The Luge is located at the top of the Rotorua Skyline Gondola, and it's a hybrid of a go-kart and toboggan.
Take the scenic track to enjoy the ride and the views, then kick off a bit of competition between you and your travel buddies with a go on the intermediate or advanced tracks.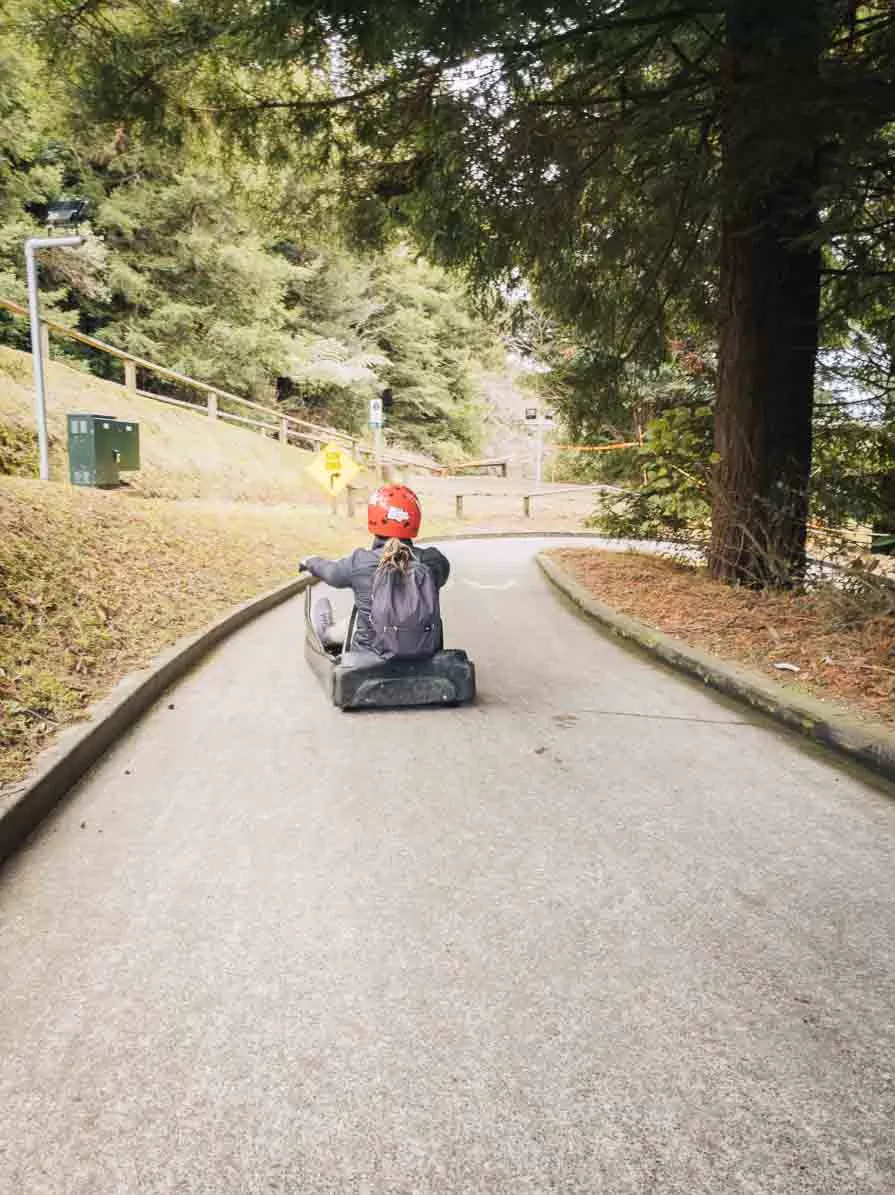 8. Do a kayak tour
Go for a daytime paddle on Lake Rotoiti (and enjoy a soak in the lakefront hot tubs afterwards) or opt for a sunset kayak or paddle boarding trip on Lake Okareka complete with an adventure into a glow worm cave.
9. Go on a geothermal jetboat safari
Make your way down the mighty Waikato River on a speedy jet boat with the legends at New Zealand River Jet, located between Taupo and Rotorua.
You can choose from a 50 minute jet boat ride (from $125), a 2.5 hour geothermal safari which includes a tour (on foot) through the Orakei Korako geothermal valley (from $189) or the Squeeze which includes a bit of canyoning to reach geothermally-heated waterfalls (from $189).
10. Go sledging down white water rapids
If you've tried (and loved) rafting and want to take your water skills to the next level, give sledging down the Kaituna River a go.
You'll get decked out with a warm wet suit, some flippers and your very own vessel that you'll captain down white water rapids and flowing rivers.
11. Try a swing instead of a bungy
I'm not scared of heights but I really don't enjoy anything involving a massive freefall (big yes to paragliding, big no to skydiving) so instead of a bungy jump, I prefer something like the Sky Swing or Sky Swoop!
After being secured into position, you'll get hoisted up to a 90 degree angle before being released to a short drop and then a huge swing.
You can try the Sky Swing at the Skyline Gondola or the Sky Swoop at Velocity Valley if you're keen for a thrilling ride.
12. Learn about Maori culture
Rotorua is home to some incredible Maori culture experiences, like Te Pā Tū (previously known as Tamaki Maori Village, Mitai Maori Village, Te Puia (they have day passes and an evening tour) and Whakarewarewa Maori Living Village to name a few.
Witness traditional ceremonies, taste test classic Maori kai (food) and try your hand at some woodcarving or weaving.
Cheap and Free Things to Do in Rotorua
13. See some glow worms
Real Rotorua offers a Nocturnal Adventure tour that will take you on a two or three hour night-time experience to see thousands of shiny glow worms.
14. Explore the geothermal valleys
Rotorua's geothermal activity is the gem in its crown, and what makes it stand out from the crowd of epic places to visit in the North Island.
There are geothermal hot spots all throughout the area, you'll see bubbling hot pools and steam coming off the lake's shore, but there's a few major geothermal experiences I'd recommend visiting.
Waimangu Volcanic Valley offers walking tracks through native bush, a lake cruise past lakefront geysers, and a stunning bright blue pool that you've probably seen on Instagram.
Wai-O-Tapu on the other hand is home to the multi-coloured Champagne Pool with a bright orange border, as well as the Lady Knox Geyser which erupts daily at 10.15am (with the help of a little human intervention).
Te Puia is a multi-activity park with 60 hectares of geothermal landscape, along with mud pools, an arts and crafts centre, a kiwi sanctuary and more.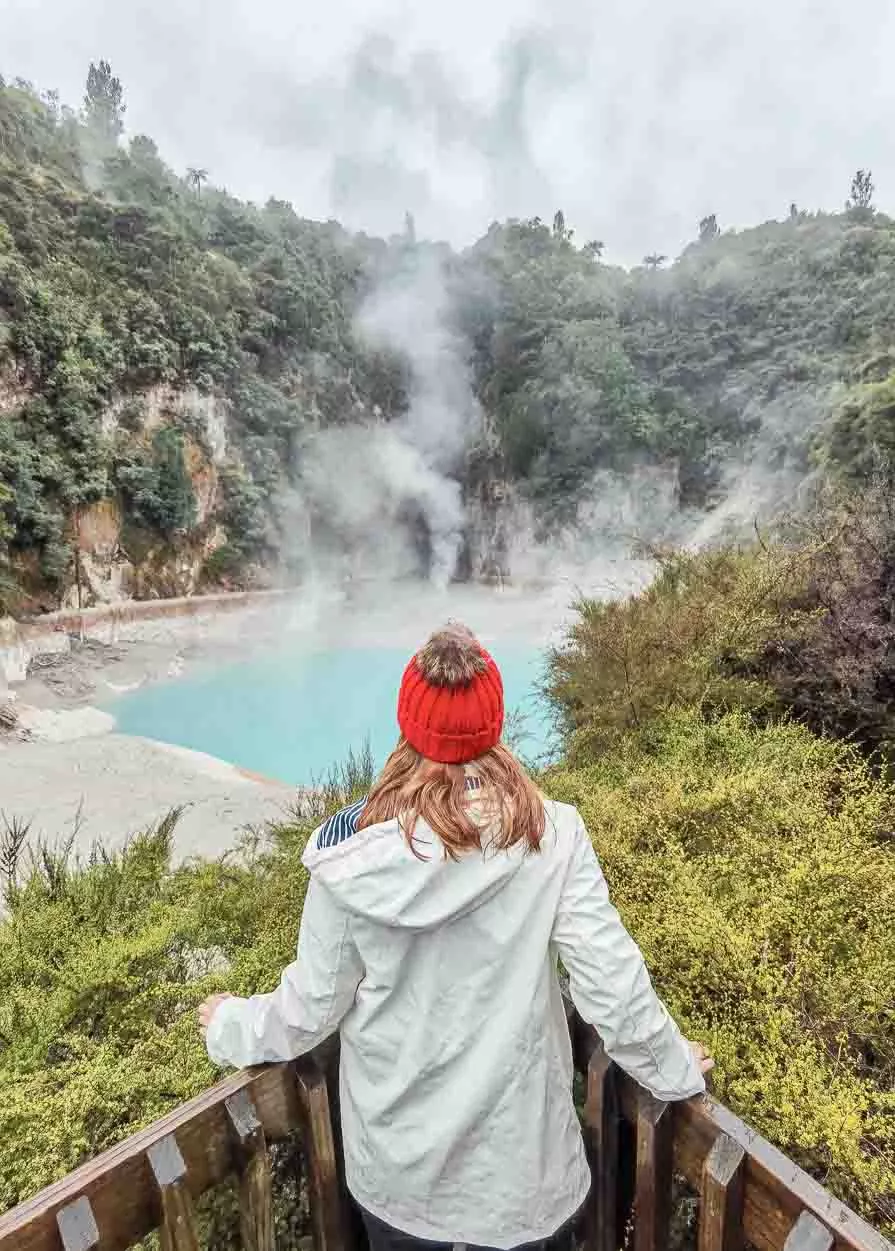 15. Go up the Rotorua gondola
Rotorua visitors of all ages will love a quick trip up the Skyline gondola, giving you sweeping views over the city and lake.
Once you're at the top you can choose to try out the luge, the Zoom ziplines, or treat yourself to a delicious buffet lunch or dinner at the Stratosfare Restaurant.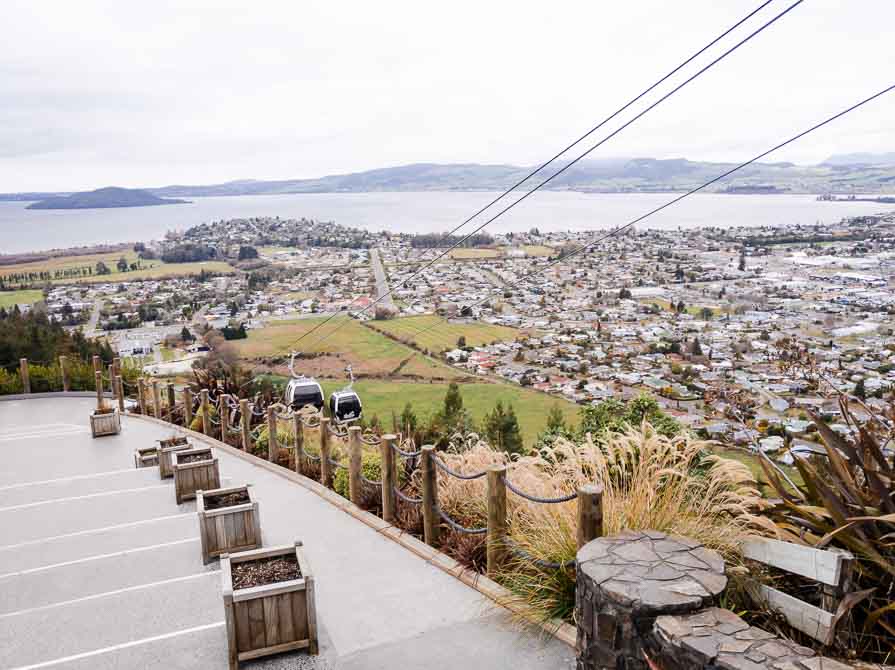 16. Soak in the hot pools
Rotorua is the natural hot pool mecca of New Zealand.
The best known hot pools would have to be Polynesian Spa, who have a range of pools (kids pools, private pools, lakefront adults-only pools) to choose from. If you had to choose just one Rotorua hot pools experience, it would be this one.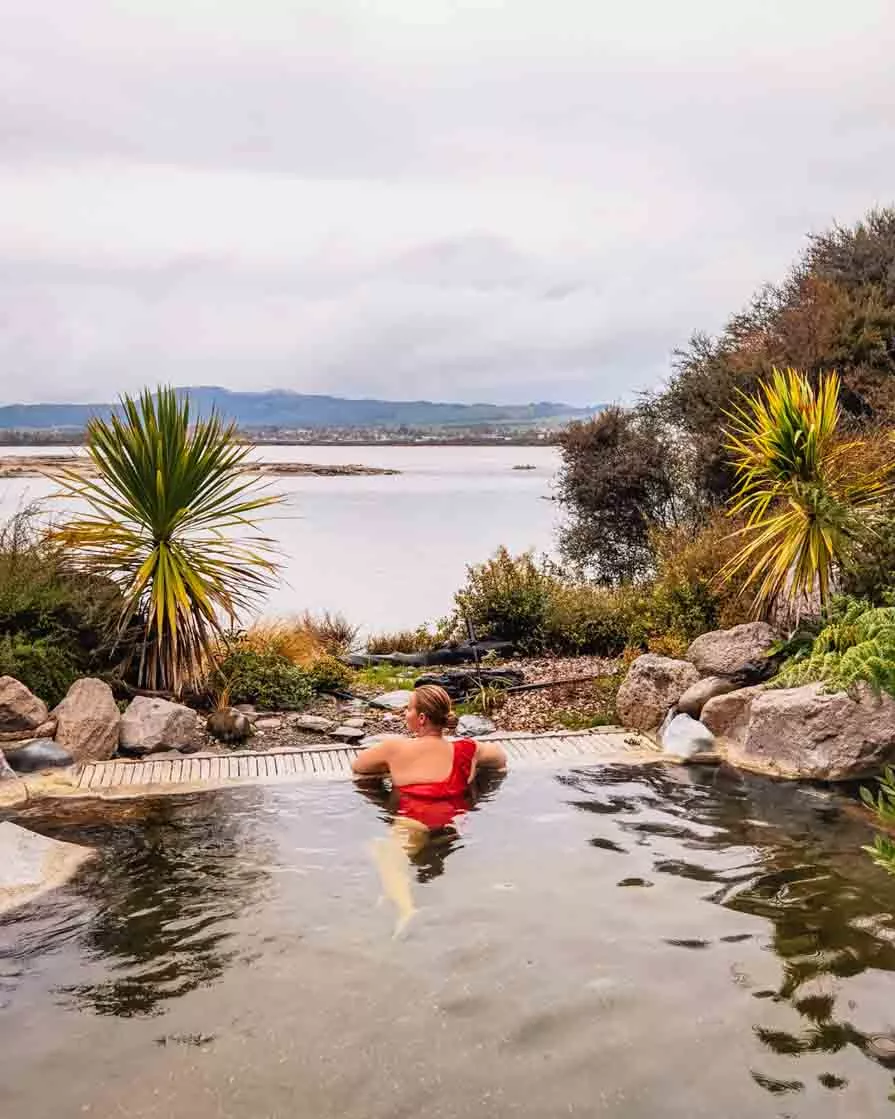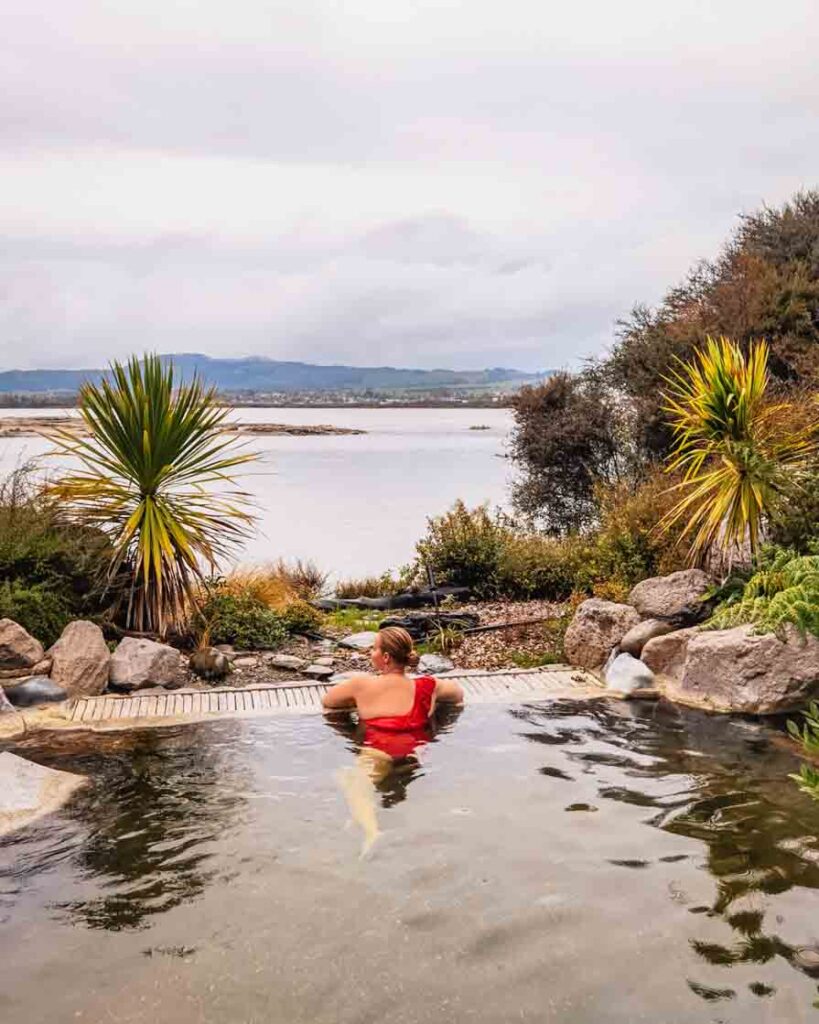 Waikite Valley is another one of my top picks, they're a bit out of the city so less busy and they are surrounded by lush native bush. They've got a campground onsite too so you can park up here for the night if you're exploring the North Island by campervan.
Secret Spot Hot Tubs and Manupirua Hot Pools are other options with brilliant views, or you can go for a free hot pool (and hot waterfall) at Kerosene Creek.
17. Or have a mud bath
Hell's Gate offers a hot pool experience with a twist, in the form of a hot mud bath!
Choose some cheap togs and cover yourself with silky mud filled with unique healing properties.
18. Take a lake tour on an amphibious boat
Discover Rotorua and its surrounds in a different way with a duck boat tour, riding on land and water in a genuine WWII landing craft.
This 90 minute tour will show you the best bits in the city as well as take you for a cruise on the lake, learning about local legends as you go, or opt for the two hour Tarawera and Lakes tour for something more nature-focused.
19. On ya mountain bike
Mountain bikers rejoice, Rotorua has a couple of different spots for you to hit the trails.
The Redwoods/Whakarewarewa Forest has over 130km of trails ranging from beginner to absolute expert, or you can take your bike (or a rental from Mountain Bike Rotorua) up the Skyline Gondola and ride down one of the epic downhill tracks that make up their 12km network.
20. See the forest from up high with the Redwoods Treewalk
Whakarewarewa Forest (also known as the Redwoods) is a Rotorua must-do.
The Redwoods Treewalk is a network of eco-suspended bridges connecting gigantic Redwood trees, giving you a spectacular view of the forest. It takes about 30 minutes to do the loop.
You can visit during the day, or go at night to see the forest lit up with an incredible light show for Redwoods Nightlights, and they've recently launched a two hour zipline experience called Redwoods Altitude at 25 metres above ground.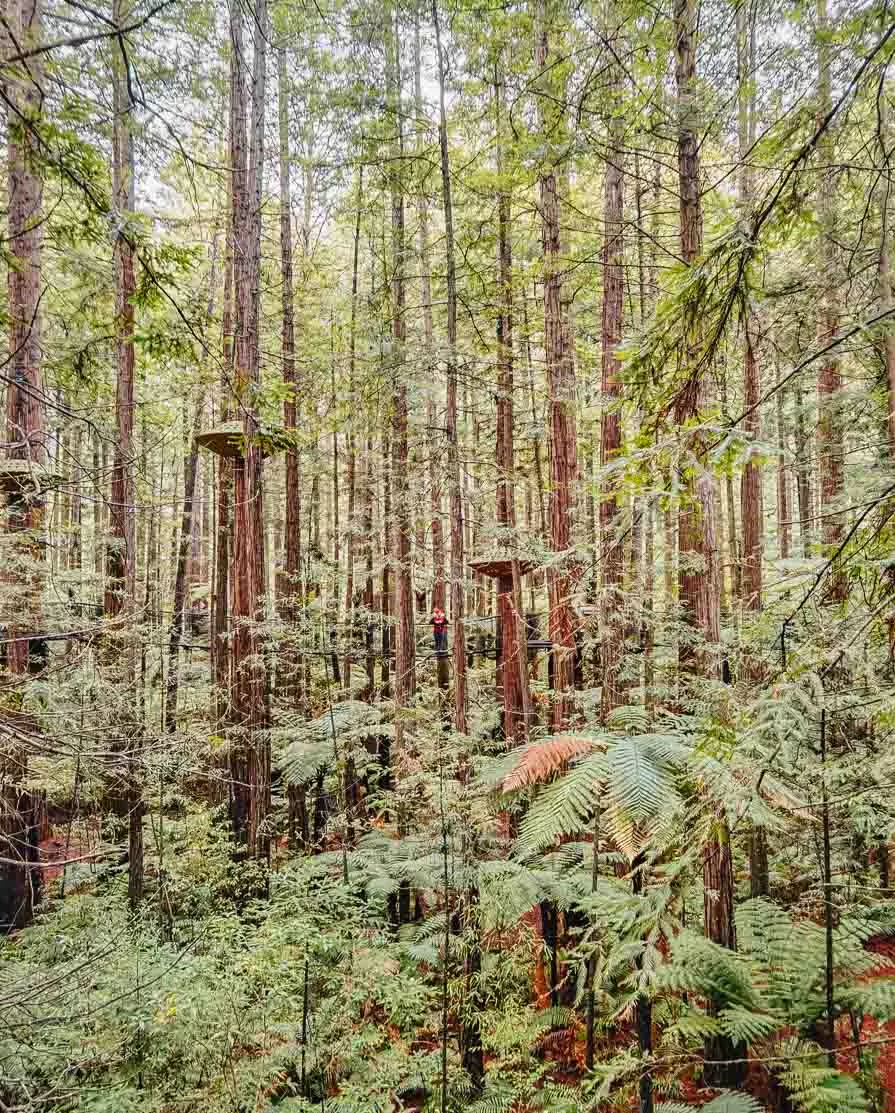 21. Try a hangi dinner
Hangi is a traditional Maori cooking style where meat and veges are cooked with heated rocks in an underground pit oven.
Te Pā Tū (previously named Tamaki Maori Village) or Mitai Maori Village have evening experiences which include hangi meals.
22. Visit the 3D Trick Art Gallery
If you need a rainy day activity for Rotorua, the 3D Trick Art Gallery is a worthwhile stop, particularly for families with young kids.
It's a funky interactive art gallery with loads of Kiwiana-themed artworks and Instagrammable rooms.
23. Treat yourself to a high tea
Looking for things to do in Rotorua to celebrate a special occasion? Prince's Gate Hotel serves up a delectable high tea from only $18 for Devonshire tea or $29 for a traditional high tea.
24. Visit the National Kiwi Hatchery
The National Kiwi Hatchery Aotearoa is located at Rainbow Springs Nature Park, and you can visit them for a tour of the hatchery and a peek at baby kiwis.
Harry and Meghan visited here on their New Zealand trip so it's a popular spot, you can book a tour here.
25. Get lost in a maze
aMAZEme has a 1.4km hedge maze for you to test your directional skills. They've also got an animal enclosure onsite and the maze is wheelchair accessible.
---
---
Things to Do Near Rotorua
Lake Taupo
Taupo is a one hour drive from Rotorua, so it's an easy addition to any Rotorua itinerary. Some of the best things to do in Taupo are:
Hire a funky Doughboat and play captain while driving it around the lake
Visit the famous Huka Falls
Watch the Aratiatia Dam release
Tauranga
It's about 50 minutes from Rotorua to Tauranga. Some fun things to do in Tauranga and the Mount are:
Climb Mount Maunganui for sunrise
Swim with dolphins
Get a surf lesson
Whakatane
Just over an hour's drive will take you to Whakatane, home to some of New Zealand's best beaches, including the stunning Ohope Beach.
---
---
The Best Rotorua Accommodation
If you're looking for where to stay in Rotorua, here are a few of the city's best-rated hotels, Airbnbs and camping spots.
If you're in a campervan: We nabbed a sweet freedom camping spot in the Polynesian Spa carpark for our first night in our epic campervan Judy from Sunrise Holidays. There's a decent number of parks available for overnight stays, find out more info on the Rankers app.
For an actual holiday park, TOP 10 Holiday Park and Rotorua Family Holiday Park both have great facilities.
If you want to go glamping: Finesse Luxury Glamping is my top pick for the best glamping spot in Rotorua.
It's a short drive from the city, out in Ngongotaha Valley, and it's super fancy. You get a huge safari tent that's fully equipped with proper furniture, the outdoor kitchen has a gas stove and kettle, there's a brazier complete with marshmallows for toasting, a gas-heated hot tub, bio toilet and loads more.
It's your own little oasis away from any light or sound pollution, except for a bubbling stream and maybe a lion's roar from nearby Paradise Valley! It's one of my top picks for glamping in New Zealand.
To read about four other Rotorua glamping spots, click here.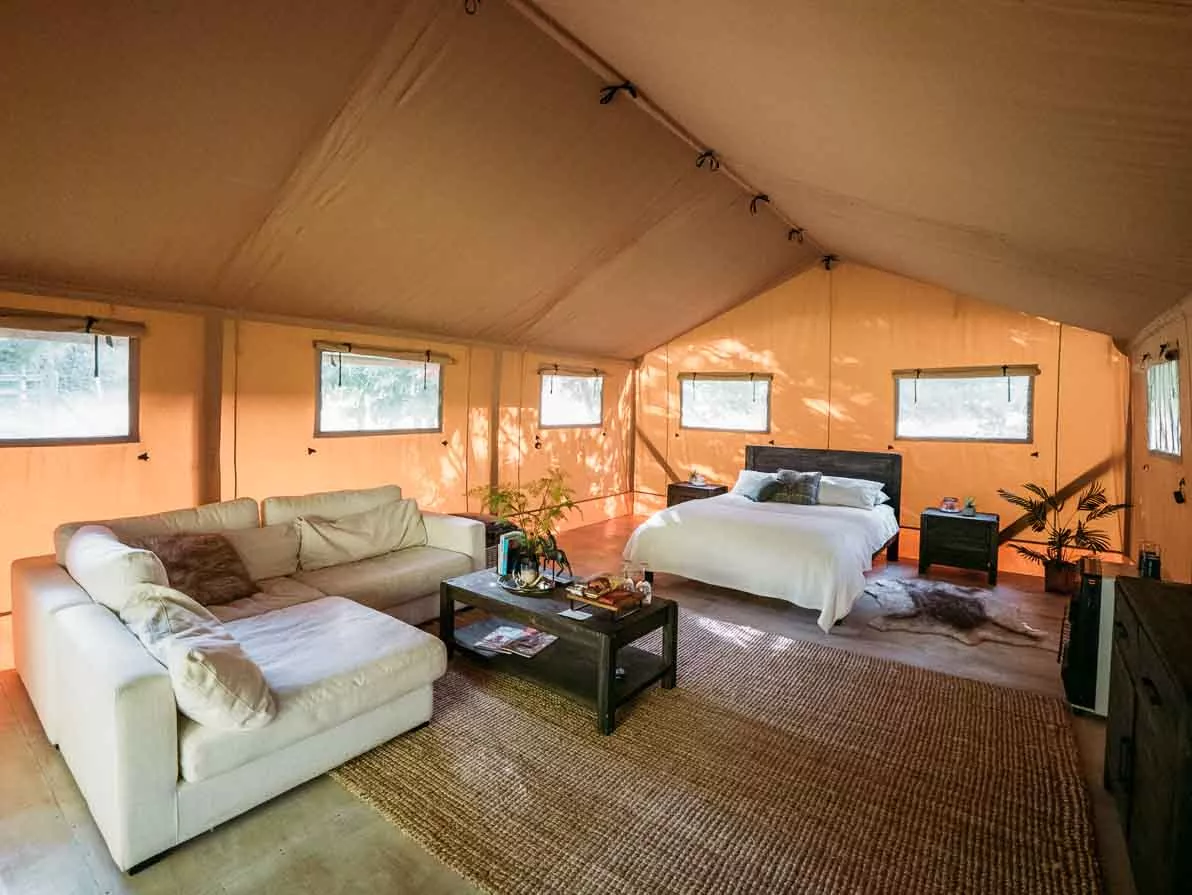 On a budget: YHA Rotorua has dorm beds from only $25 a night and private rooms from $70, with a decent 8.4/10 rating on booking.com.
Best value: Rose Apartments has self-contained apartments near the city centre from only $190 a night.
If you want to treat yourself to somewhere fancy: There are a few luxury lodges in the Rotorua Lakes area, but my top picks are Solitaire Lodge for something ultra flash or Gemini Lodge for something a bit easier on the wallet.
For a group: Tihi Retreat is a beautiful three-bedroom home with space for up to nine guests, and it boasts a perfect 5/5 rating on Airbnb. It's got all the mod cons you need, a brilliant sound system, open-plan living and dining, and incredible views over the city and lake.
---
I hope this has helped you plan out the best things to do in Rotorua for your upcoming trip! If I've missed any important Rotorua activities just let me know in the comments.
RELATED READS:
Like this blog? Pin it!
I received some of these Rotorua attractions as a freebie or for a discounted rate in exchange for content. As always, all opinions are my own and are based on my own personal experience. Big thanks to Finesse Luxury Glamping, Waimangu Volcanic Valley, Skyline Gondola & Luge, Rotorua Canopy Tours and Polynesian Spa for hosting me.