Congratulations for making the decision to do a New Zealand South Island road trip, this is going to be one of the best trips of your life!
The South Island is a sublime and striking part of the planet, where you'll find glacial lakes, lush native forest, cloud-piercing mountains and golden beaches within a few hours from each other.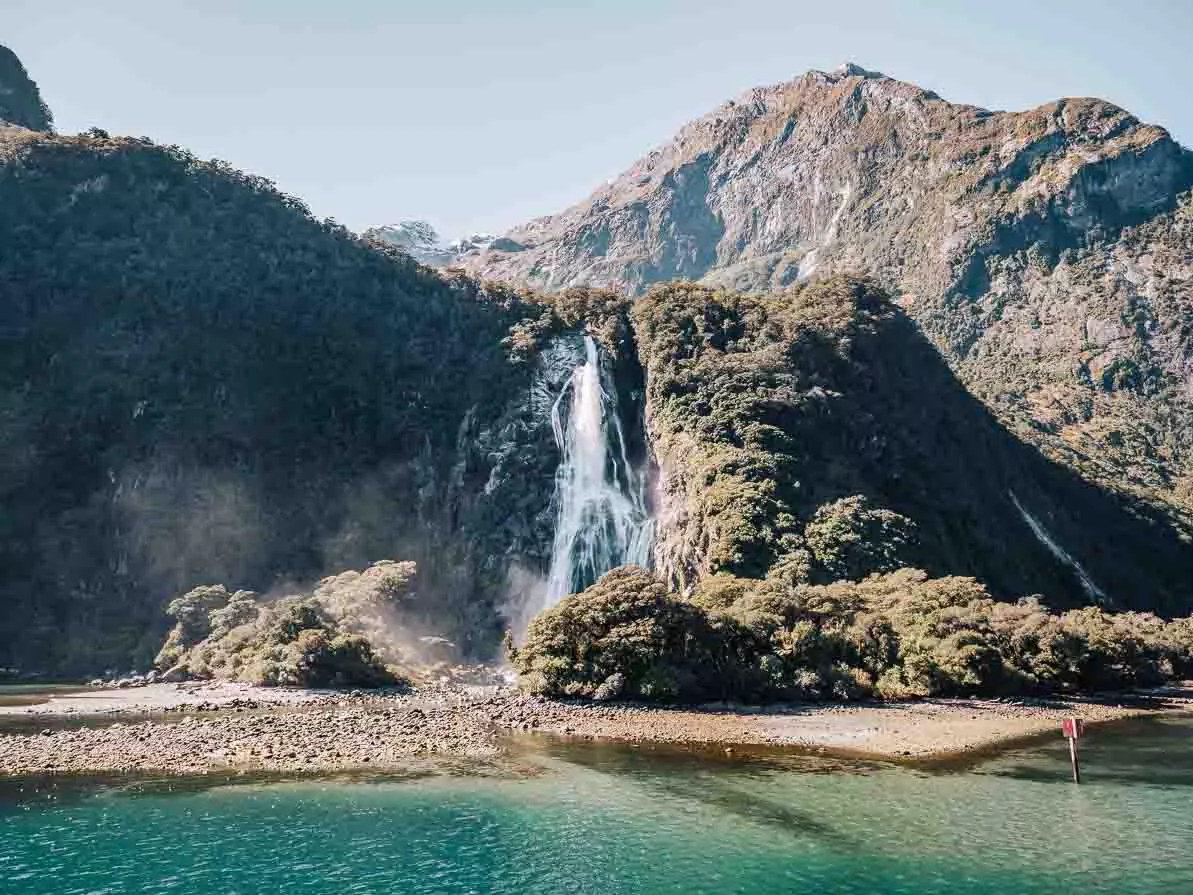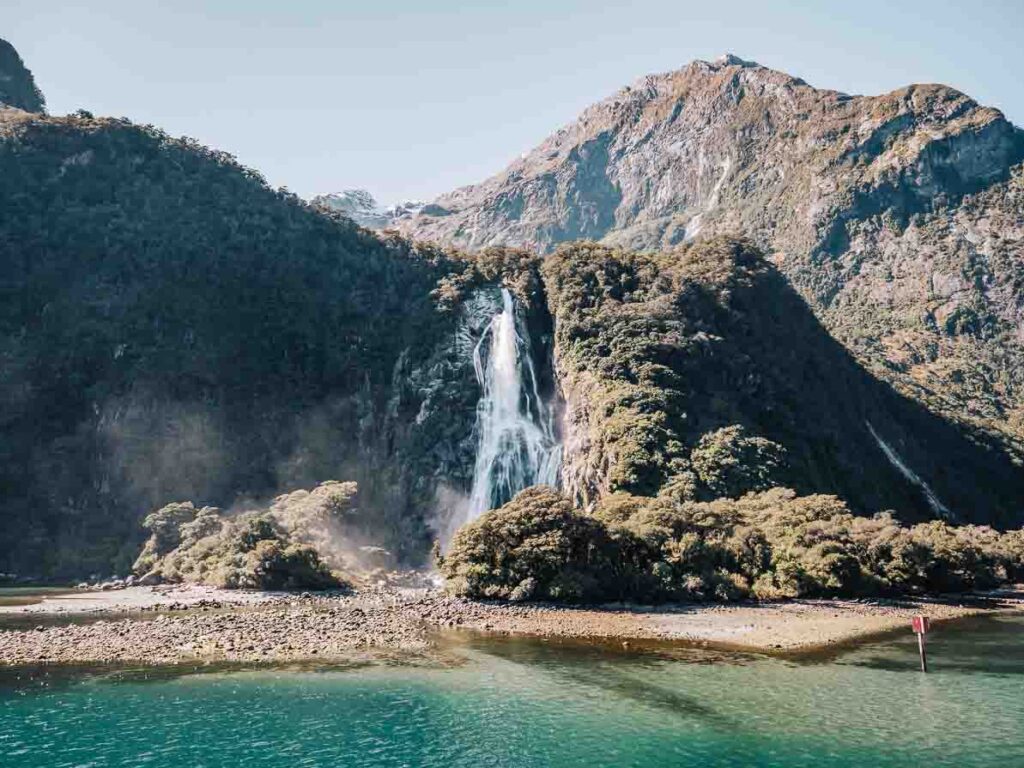 Throw in some buzzing cities, plenty of character-filled towns, moody national parks and abundant wildlife on land, underwater and in the air, and you've got the makings for a seriously impressive adventure.
After coming home in March 2020 due to it-that-must-not-be-named, I immediately started planning a New Zealand campervan road trip.
We kicked off our six weeks in the Marlborough Sounds and made our way down the West Coast, through Central Otago, Fiordland National Park, Stewart Island, along the Otago Coast and through Canterbury.
Obviously we had the time of our lives, and I returned for many more South Island road trip jaunts from 2020 to 2022, exploring places like Abel Tasman National Park, the Hurunui District plus Queenstown and Milford Sound a few more times.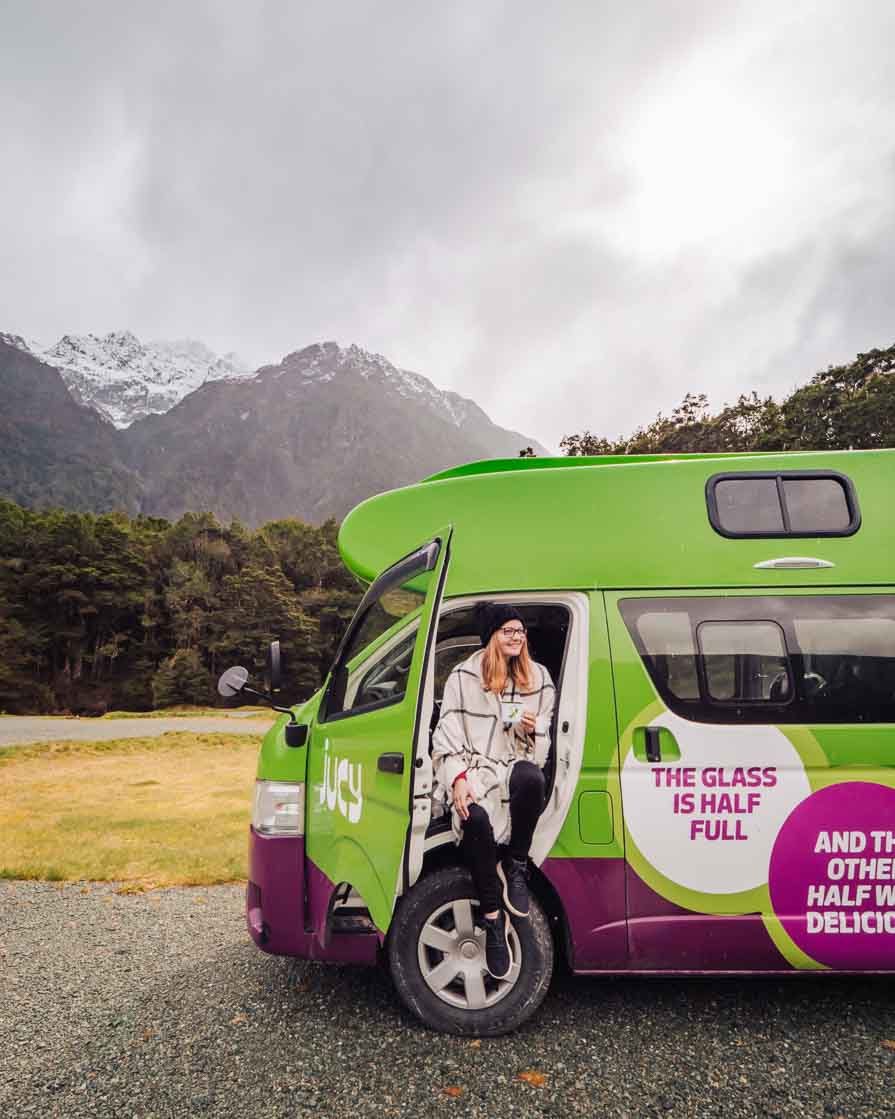 We had a few mishaps along the way (like self-isolating after lockdown levels increased + a smashed window, ugh!) which messed with our itinerary BUT this blog is the perfect New Zealand South Island road trip itinerary that we had hoped for.
Scroll down to find out more about how to travel the South Island, how long to road trip for, the best time to visit the South Island, then dig in to all the best places to visit in the South Island plus things to do while you're there and where to stay.
Happy planning!
---
How long should I spend doing my South Island road trip?
How long is a piece of string?
If you want to see a decent chunk of the island I'd suggest visiting for at least two weeks. But if you're happy to stick to one city, like Queenstown for example, then five days will still give you enough time to experience the city plus add on a day trip or two.
If you're lucky enough to have longer to spend in the South Island, you could easily fill a two month itinerary. On my South Island road trip I spent six weeks exploring and there were still places we missed or didn't spend enough time in.
So basically, if you have a week or less stick to one place, two weeks and you can do a whirlwind tour of the main spots, and a month or more gives you much more time to see the island in-depth.
The itinerary below is based off a one month South Island road trip but you could easily spend more time in places you love or cut out some of the more out-of-the-way spots if you need to condense your trip.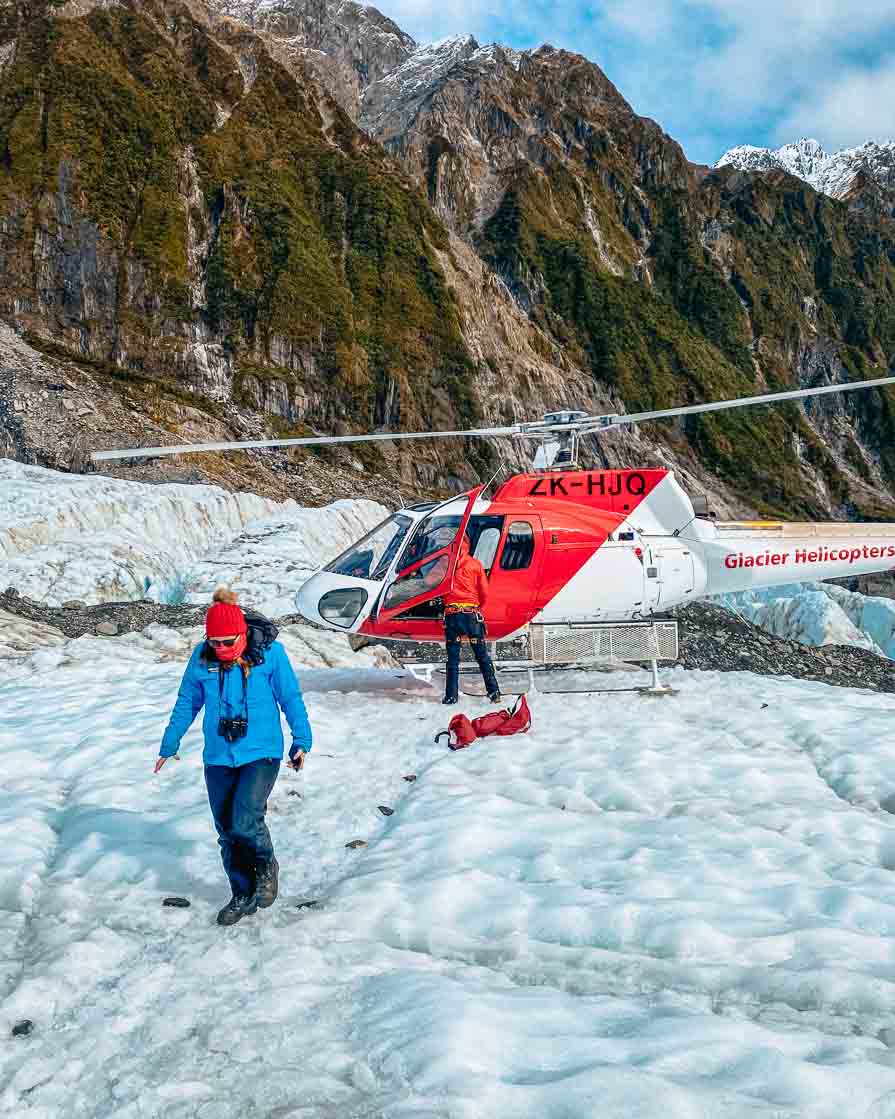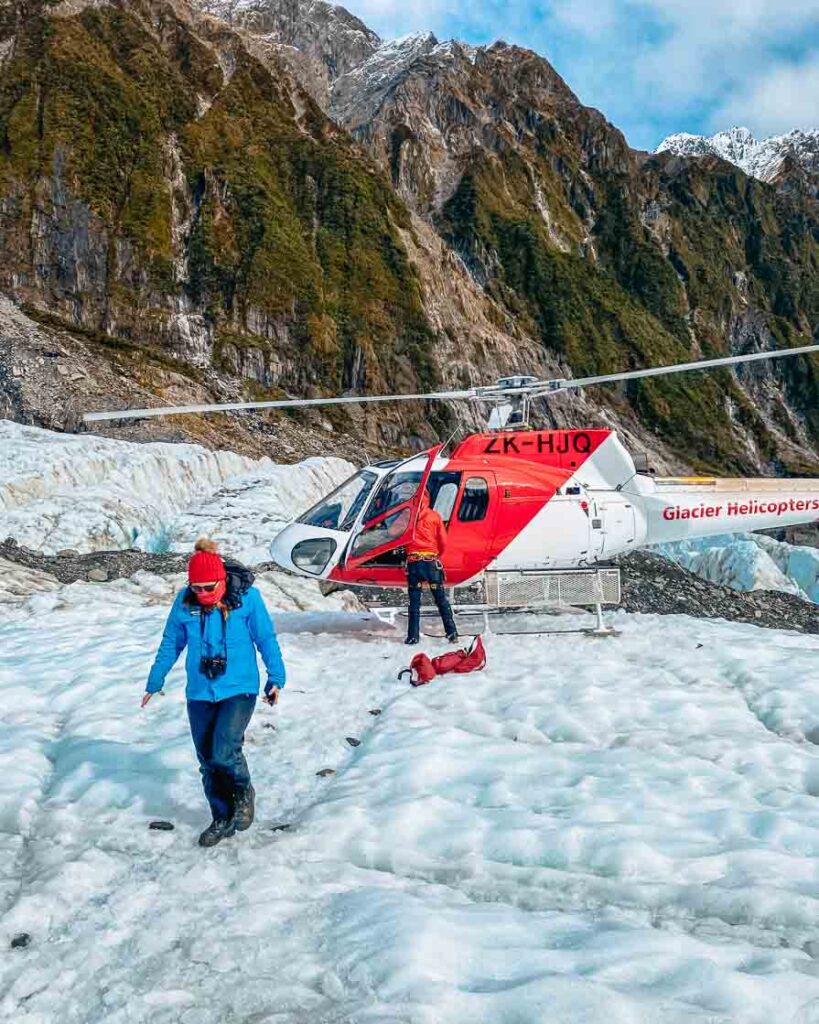 ---
How do I get around the South Island?
If you're travelling with a partner or friend, the easiest and most cost-effective way to get around the South Island is by driving. New Zealand's transport infrastructure is limited so you can't rely on inter-city buses and trains the same way you would in other countries.
Driving yourself gives you the freedom to plan as you go, change your itinerary to fit in with weather and events, and gives you access to places you wouldn't be able to reach otherwise.
You can rent a car or a campervan from most major cities but Queenstown and Christchurch have the most rental outlets so are the best places to pick up and drop off.
Renting a car in the South Island
Tossing up between a car and a campervan? Cars are cheaper to rent but you'll need to include costs for accommodation, which can be pricey in New Zealand. Motels are common throughout the country, even in small towns, but the quality of cheap accommodation isn't always great.
If you're not comfortable driving a large vehicle, prefer modern luxuries and like having a decent amount of space, or just don't mind spending a bit more on accommodation as you travel, then a car is probably best for you.
Keep in mind that in winter you may need snow chains or a 4WD if you're planning on driving the alpine roads like Lindis Pass, Arthur's Pass or the road to Milford Sound, all rental car companies offer these but you may need to book them a few days in advance during busy periods.
TRAVEL TIP: Snap Rentals are my go-to rental car company in New Zealand, they offer fantastic value and equally good service. Their Queenstown depot is right opposite Pak'n'Save, the budget supermarket chain in New Zealand, be sure to make a stop to top up on snacks before kicking off your South Island road trip.
You can use Klook to find the best rental car deals, simply search your travel dates and they'll show you all the best options from rental companies like Snap, Sixt, Avis, GO Rentals and more so you know you're getting the best deal.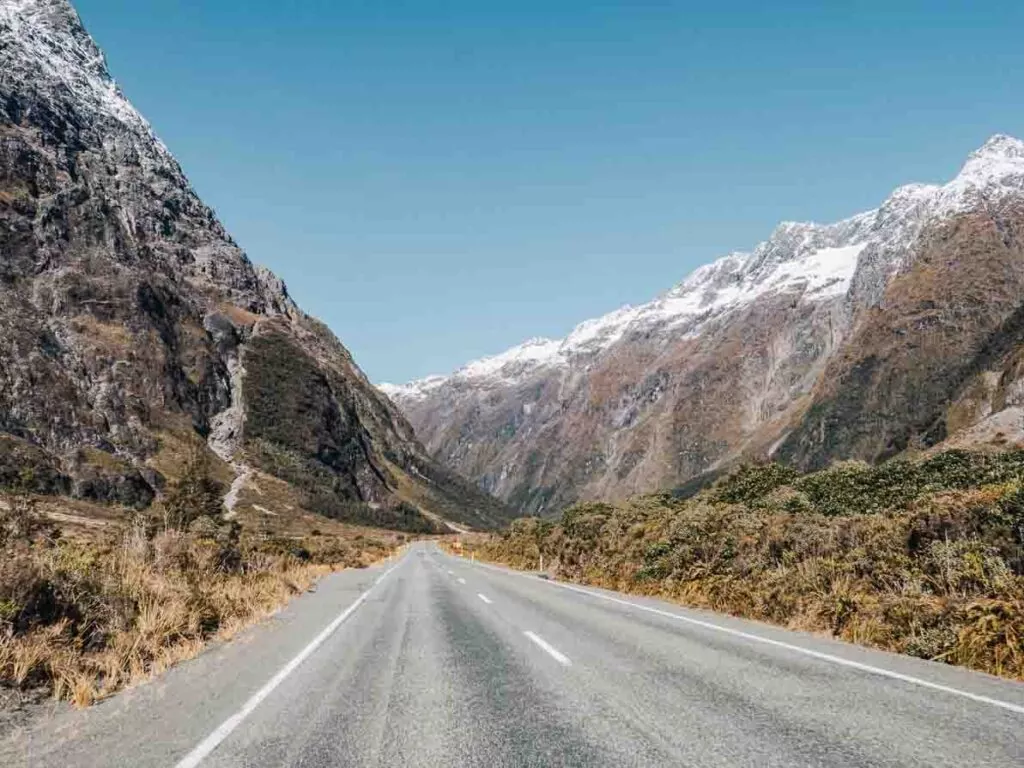 Renting a campervan in the South Island
With a campervan you'll have more freedom on where you can stay, with a huge range of campgrounds as well as designated freedom camping spots found all over the South Island.
There's a range of campervan options to choose from based on your travel style. Jucy Campervans have cheap and cheerful self-contained green machines with portable cassette toilets and kitchenettes.
If you want space and modern amenities, check out the range available through Sunrise Holidays. We spend most of our trip in a Sunrise Holidays 6.3m four berth campervan called Judy, with loads of space, a full kitchen including oven and microwave, toilet, shower, gas heating and a big enough battery to let us freedom camp for two or three days.
For something in between cheap and luxury, search online with Camper Rentals NZ and see all campervan options in NZ.
What if I don't want to drive?
If you don't want to hit the road yourself, consider a group tour like this South Island Off-Grid Contiki tour or South Island Encompassed G Adventures tour.
Another option for getting around is Kiwi Experience's hop-on hop-off bus passes, but these guys are currently mothballed and hope to reopen by October 2021.
---
When is the best time to do a South Island road trip?
It totally depends on what you're into. Our trip in August/September South Island road trip was filled with hot pools, ski days, snowy evenings, great stargazing and less crowds, but if you prefer bikinis over beanies then summertime might be best for you.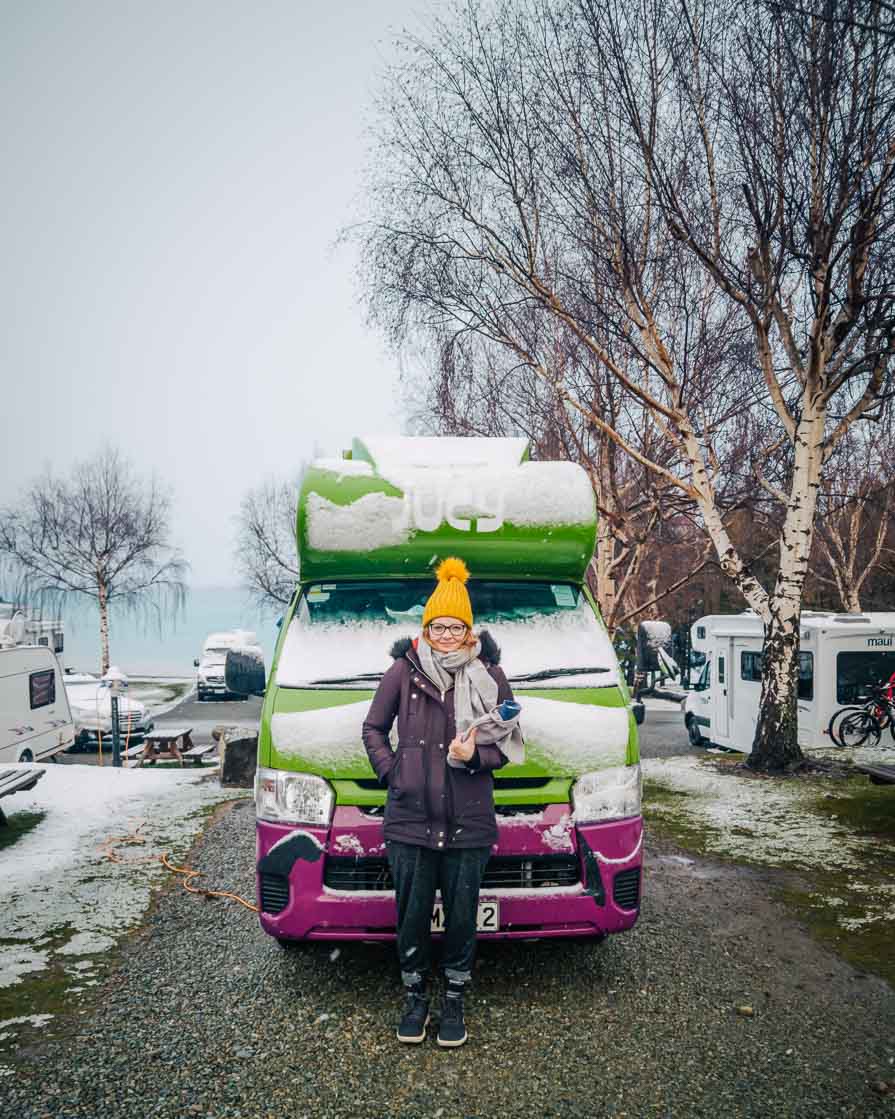 The South Island can get cold in winter and snow is common so be prepared for chilly weather. In summer the temperatures are warmer obviously but New Zealand's climate can be temperamental so heavy rain is not uncommon at any time of the year, particularly on the West Coast.
If you want to avoid the biggest crowds then don't travel in December and January if you can help it, February onwards things start getting quieter and prices come down slightly.
---
Where do I start my South Island road trip?
The easiest places to start if you're flying in would be Christchurch and Queenstown, which both have major airports and rental depots.
If you're tacking the South Island onto a North Island road trip, or if you're driving down from the north, you'll need to get the Interislander or Bluebridge ferry from Wellington to Picton. The ferry trip takes about three and a half hours and you can drive your car/campervan onboard.
We began our trip in Picton after spending a month in the North Island so that's where this itinerary starts, but you can start the circuit in Queenstown or Christchurch too.
If you're looking for a shorter trip, I also have a detailed Queenstown to Christchurch road trip with two route options that you could turn into a loop.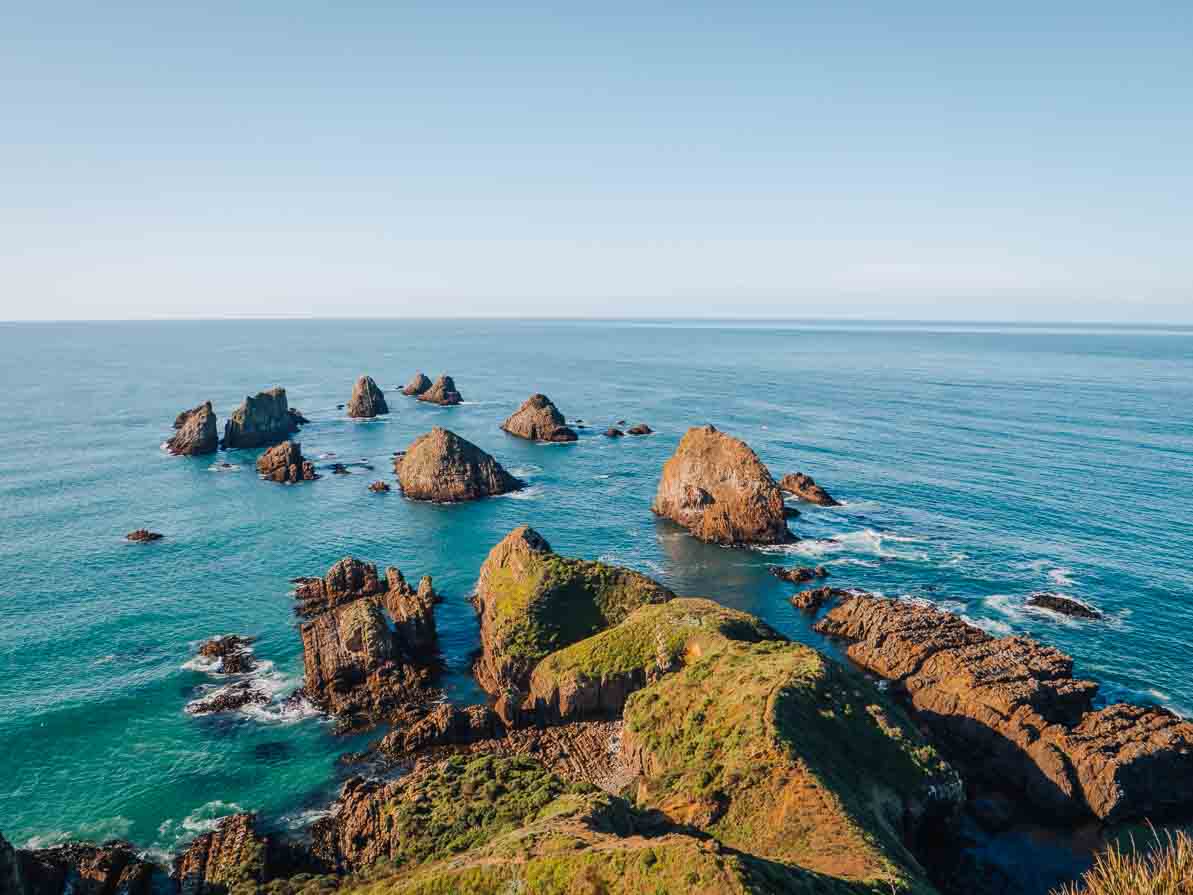 ---
The Ultimate South Island Road Trip
For the purposes of making this road trip itinerary easier to read, I've included suggested days in each of the destinations. This is purely a recommendation based on my own road trip around the South Island so feel free to swap and change to fit your preferences!
South Island road trip map
This South Island road trip map shows you exactly where this route will take you. Screenshot it to come back to just in case you're planning your trip while out of WiFi or phone coverage!
Days 1-2: Picton & Marlborough Sounds
How to get there: The Interislander and Bluebridge ferries arrive in Picton from Wellington
How long to stay: 1-2 days
Picton is a sunny port town, and it's the gateway to the stunning Marlborough Sounds and Blenheim's wine country. It's often missed off whirlwind road trips but is well worth a visit for a few reasons, particularly for the chance to swim with dolphins!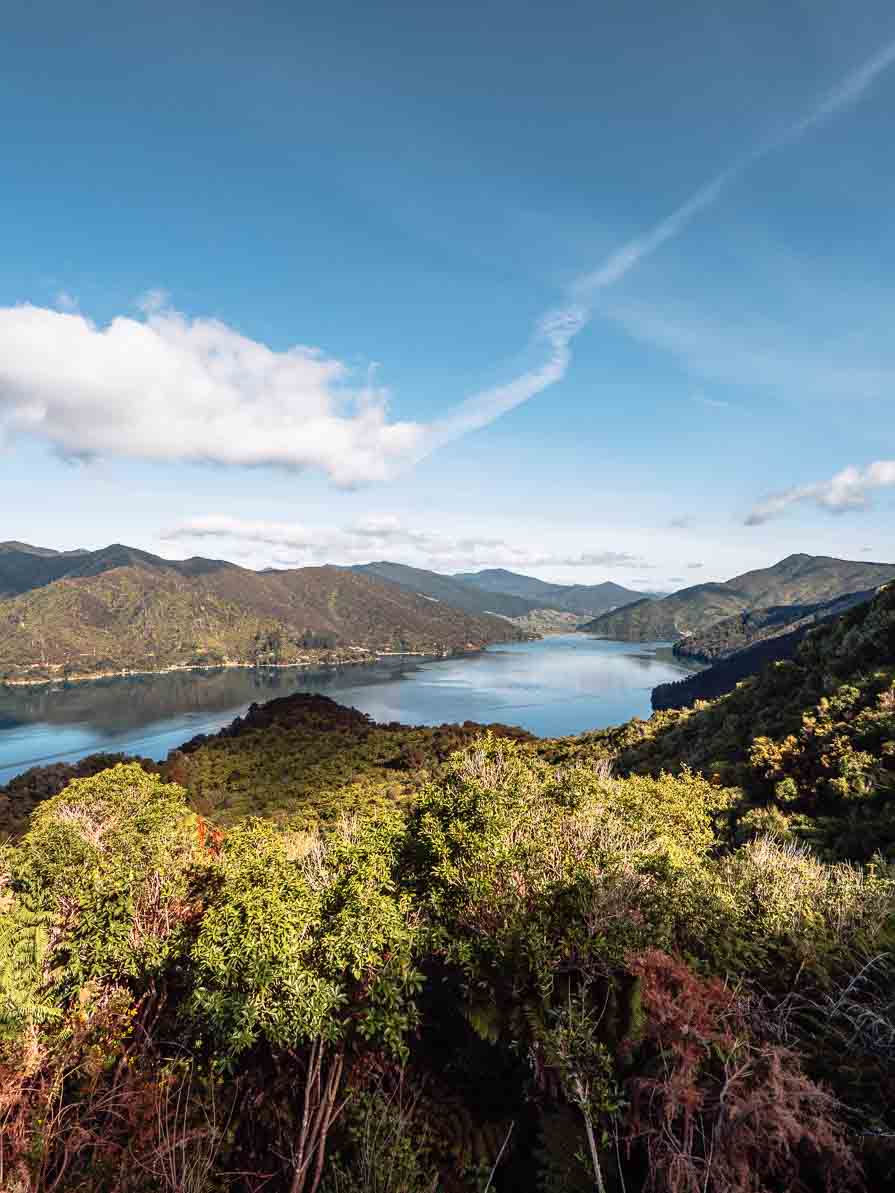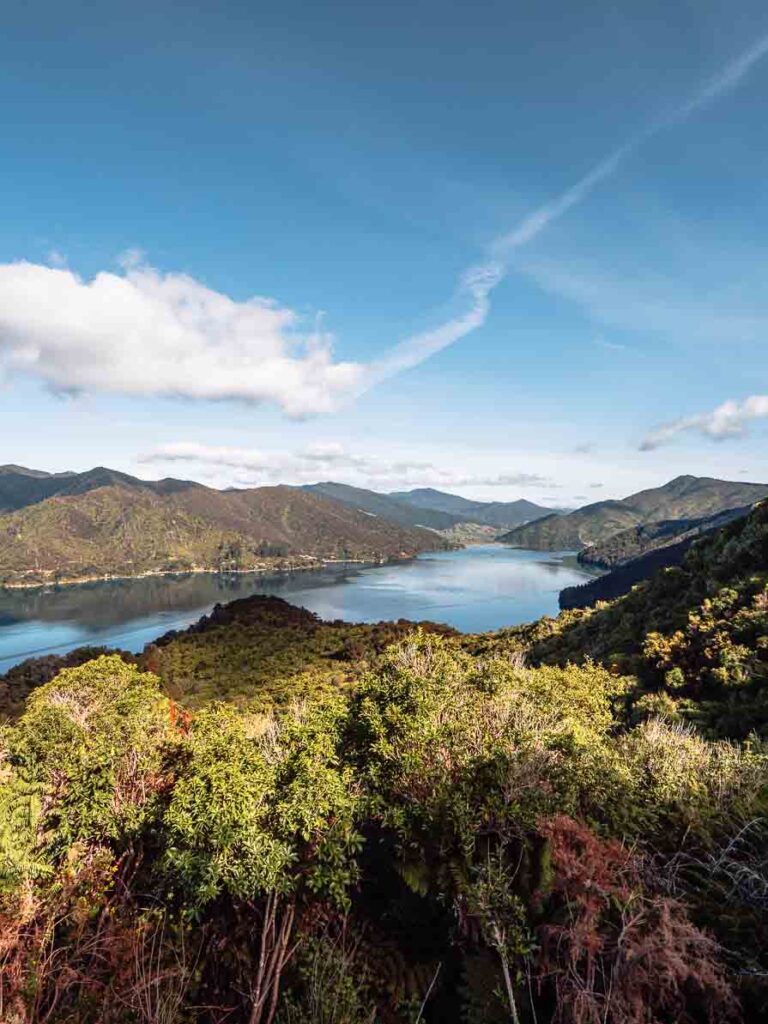 Things to do in Picton & Marlborough Sounds
E-Ko Tours are a local operator who run wildlife tours and dolphin swimming, which was one of the absolute highlights of my South Island trip. The E-Ko team are extremely knowledgeable about these majestic creatures, working closely with DOC to ensure their tours don't harm the sealife. This should be at the very top of your New Zealand bucket list.
The Queen Charlotte Track is a 71km hiking trail that will take 3-5 days to complete, however you can do day walks (this day hike package includes a cruise to and from Picton) or mountain biking trips. One end of the trail is a gorgeous little inlet beach called Anakiwa, which is also my favourite freedom camping spot in the area.
Deliver mail to remote Marlborough Sounds residents and keep your eye out for dolphins and fur seals with the iconic Mail Boat Cruise
Where to stay in Picton
Camping: Anakiwa has designated freedom camping spots in a secluded beachfront setting, or Picton Campervan Park and Picton TOP 10 both have great reviews
Budget: Anchor Down B&B has cosy rooms with comfy beds and excellent breakfast
Mid-range: Sennen House is a boutique 1886 homestead with beautifully manicured gardens
Luxury: Oxley's Waterfront Apartment is a fancy apartment right on the main street with a view over the harbour.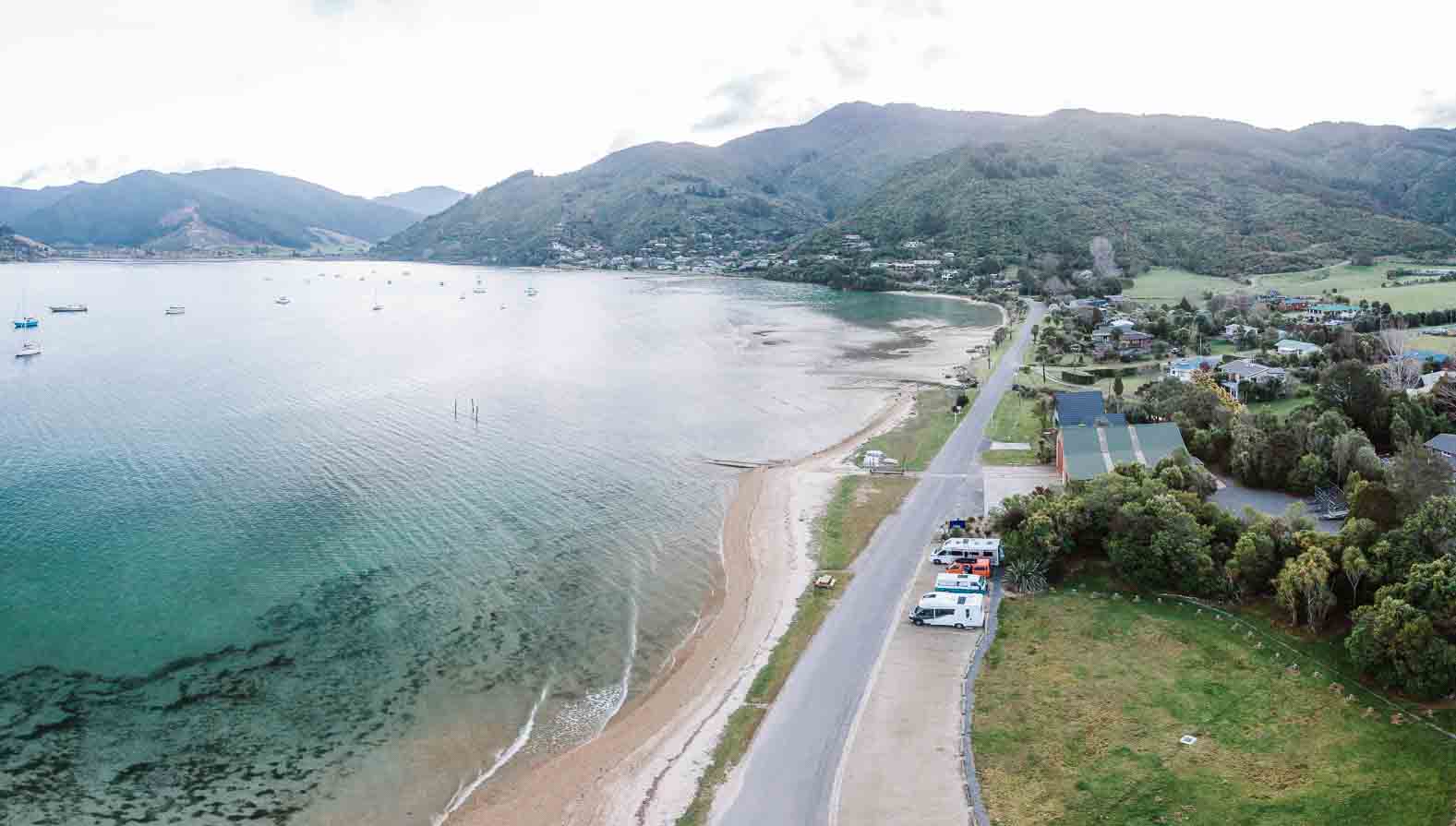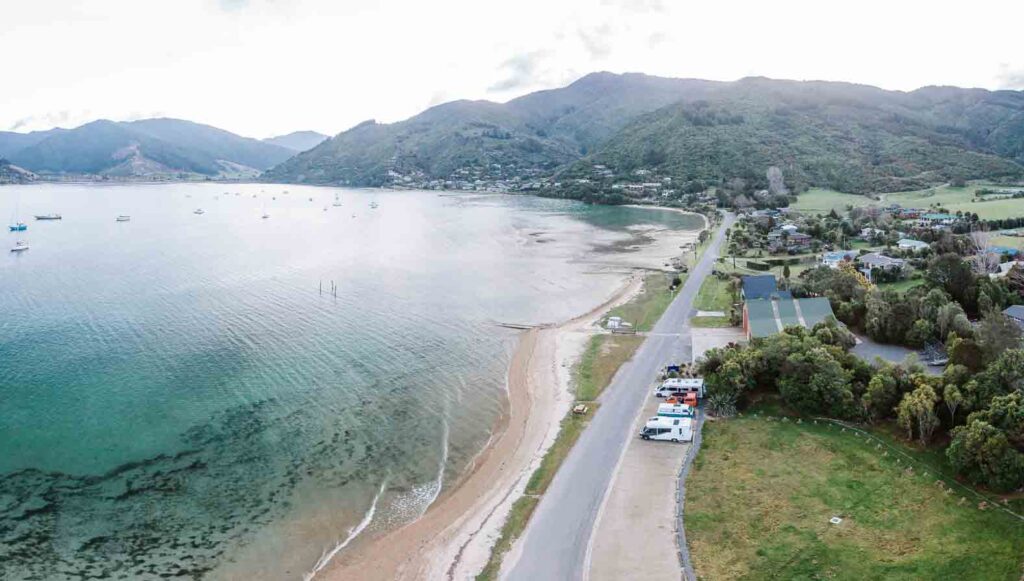 ---
Day 3: Blenheim & the Marlborough Wine Region
How to get there: 25 minutes' drive from Picton or there are direct flights from major cities to Blenheim Airport
How long to stay: Depends on how much wine you want to drink!
Blenheim is in the middle of wine country, and this region is home to something like 150 vineyards which account for 75% of New Zealand's total wine production. There are plenty of cellar doors to visit, platters to snack on and stunning winery views to enjoy.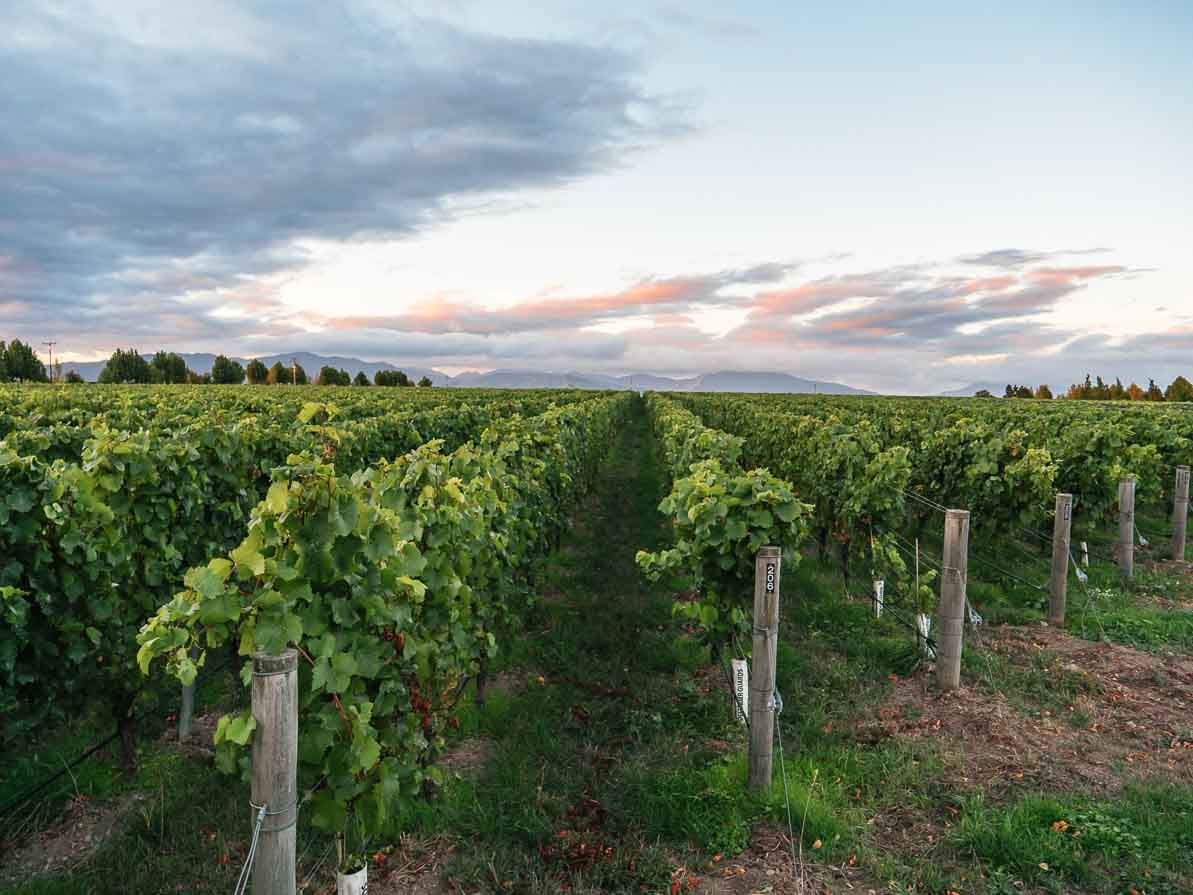 Things to do in Blenheim
Do a self-guided winery bike tour around Blenheim's vineyards – my favourites are Framinghams and Saint Clair for small business vibes, Wither Hills or Wairau River for next-level food, and Cloudy Bay for a beautiful cellar door experience
Or explore the wineries by bus tour with a local guide, or hop-on hop-off bus to create your itinerary
Want to taste test wines without visiting every single winery? Head to the The Wine Station in town, they have a brilliant vending-machine-like set up where you can taste 80 different wines all at one location.
Aviation enthusiasts will love the Omaka Aviation Heritage Centre, home to a selection of aircrafts and artifacts from WWI and WWII, including planes from LOTR director Sir Peter Jackson's private collection
Eat your way around the city – some of the best-rated restaurants are Dodson Street Beer Garden for cheap eats and good beer, Scotch Wine Bar for share plates and delicious wine, and Gramado's for something fancy
READ MORE: 12 Epic Things to Do in the Marlborough Region
Where to stay in Blenheim
Camping: Wairau Diversion Reserve is a freedom camping spot 15 minutes from Blenheim with an 86% rating on Rankers. For a holiday park check out Spring Creek Holiday Park 8 mins north of the city, it's got significantly better ratings than the two options in Blenheim itself.
Budget: Alfred's@115 is a cheap and cheerful B&B option
Luxury: The Nineteenth is a stunning two-bedroom home nestled between a golf course and a vineyard near Blenheim. We spent a glorious night here and loved the open plan living, comfy beds and panoramic views. The house also comes with two mountain bikes and a set of golf clubs if you want a round!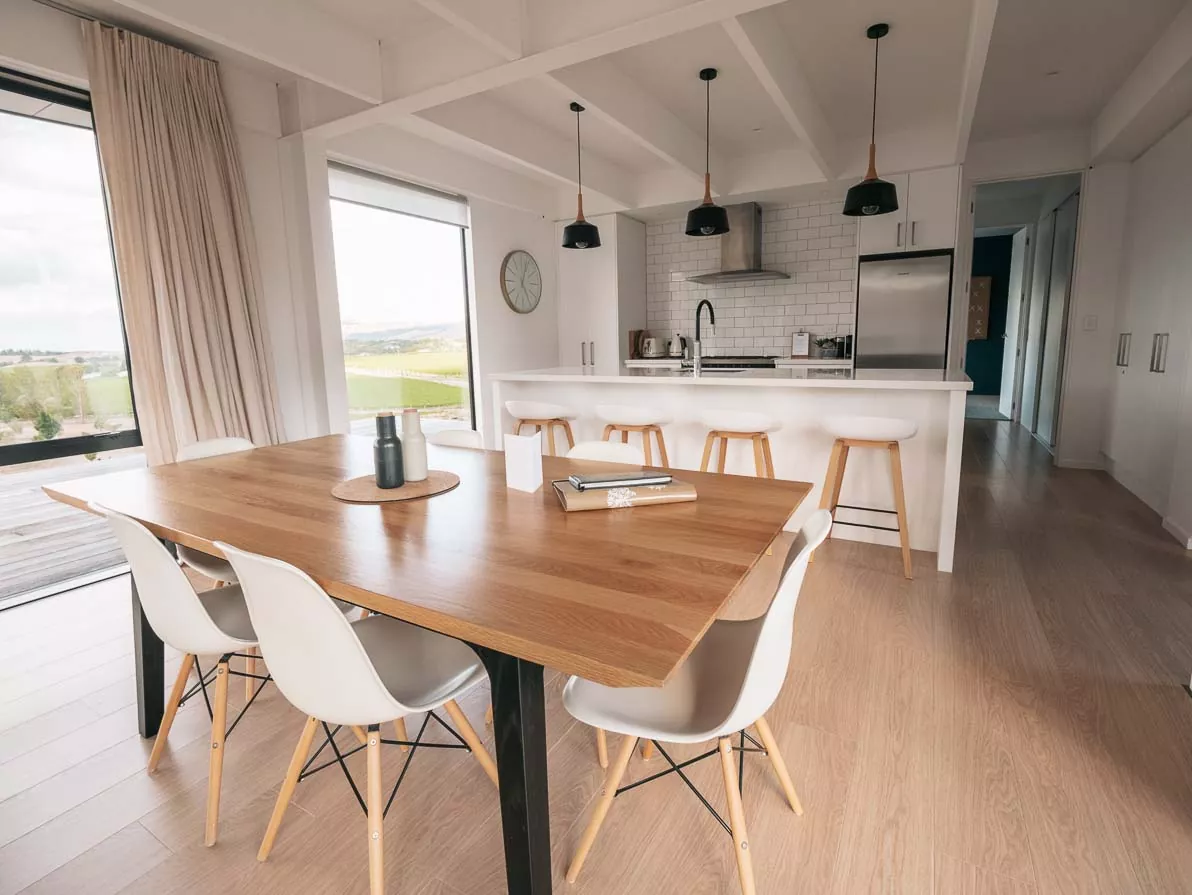 ---
Day 4: Nelson
Driving time from Picton: You can choose the straight road option (140km) or the scenic option (115km), which both take about two hours. From Blenheim it's about 1h 45m.
Where to stop on the way
Cullen Point lookout for views over the Pelorus Sound
Havelock for lunch, it's the green-lipped mussel capital
Pelorus Bridge & River, where the barrel scene of the Hobbit was filmed
How long to stay in Nelson: 1-2 days was enough for us
Nelson is often rated as one of the best cities to live in in New Zealand, with long stretches of beach plus a bustling town, thriving arts scene and some brilliant eateries.
There's not so much to do in Nelson to require a long stay but it's a beautiful place to explore on your way to Abel Tasman NP, or to base yourself for longer if you want to see the regions that surround it.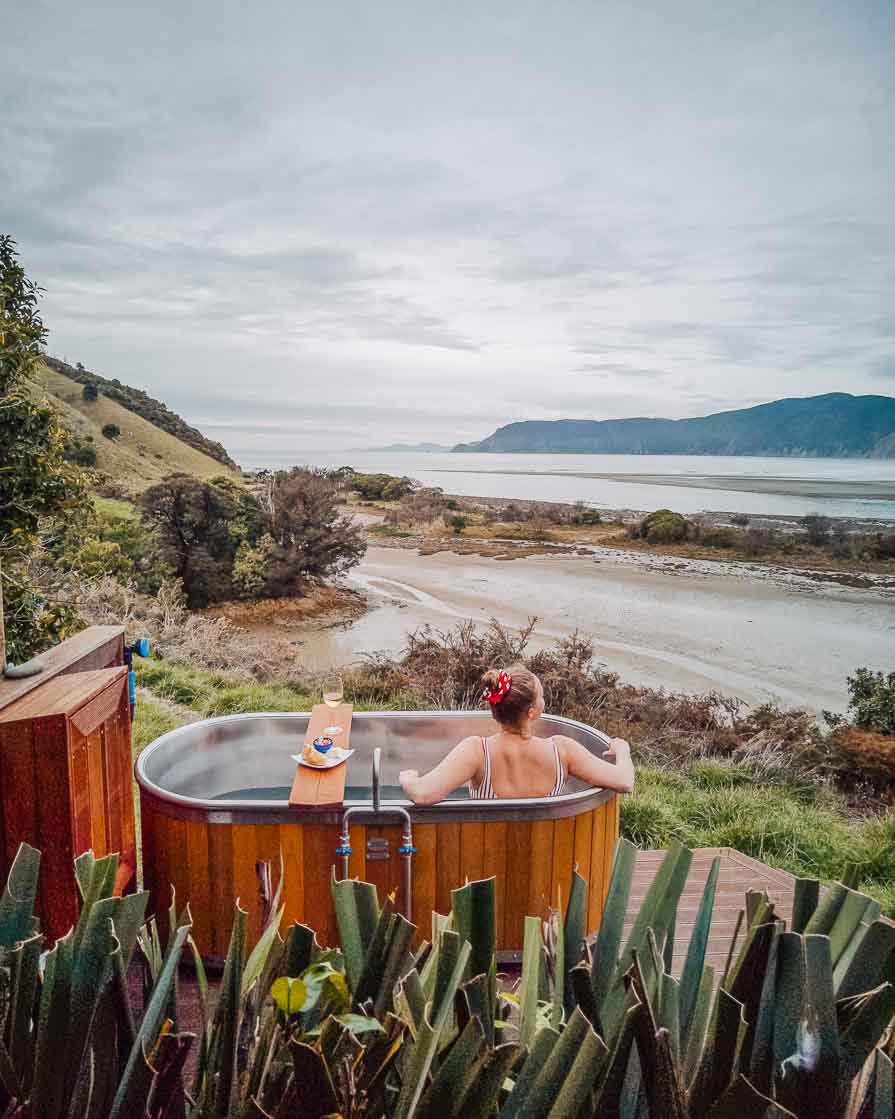 Things to do in Nelson
The World of WearableArt is Nelson's main attraction but unfortunately they are currently closed due to COVID. The Classic Car Museum in the same location is open though and well worth a visit.
Find a souvenir from a local artist in one of the many galleries or gift shops, my favourite is Little Beehive Co-op
Go behind the scenes at Pic's Peanut Butter World, then treat yourself to a PB-themed brunch afterwards. I recommend the Apple Crumble French Toast!
Where to stay in Nelson
Camping: Tahuna Beach Holiday Park has decent facilities, on-site mini golf and is a short walk from the ocean
Mid-range: Tuscany Gardens Motor Lodge has brilliant reviews, they offer self-contained suites with free WiFi
Glamping: Pepin Island is a private island/working farm 20 minutes from Nelson on the way to Picton, and they've got three secluded glamping huts available for rent. We stayed at the Passage Hut and LOVED it, there's an outdoor bath, panoramic views and it's totally off the grid.
READ MORE: The Best Nelson Glamping Spots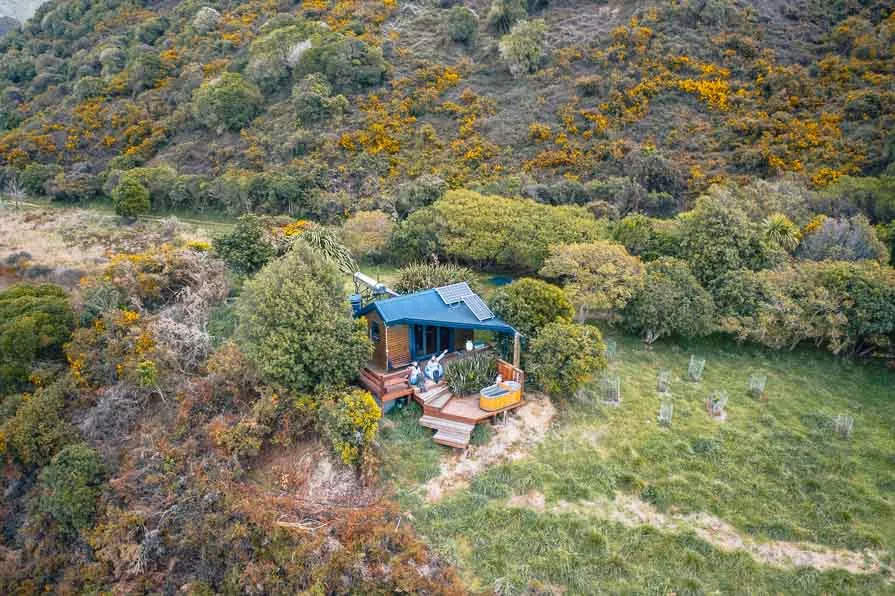 Another funky glamping option on the other side of Nelson is Rabbit Island Huts near Mapua, little huts on stilts with comfy beds, ensuite bathrooms and access to a lounge, kitchen and outdoor bath.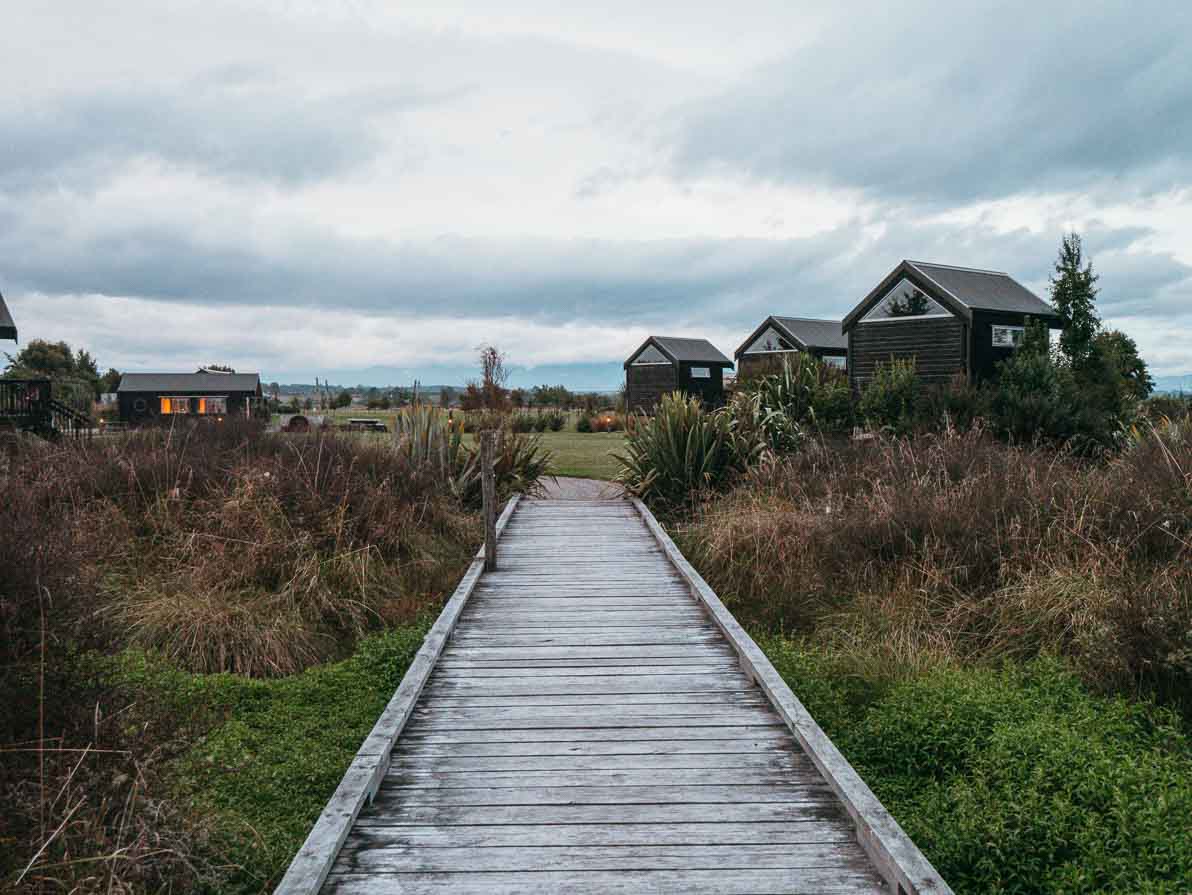 ---
Days 5-7: Abel Tasman National Park & the Tasman Region
Driving time from Nelson: 30 minutes from Nelson to Motueka, 45 minutes from Nelson to Kaiteriteri
How long to stay in Abel Tasman: 3-5 days
With golden beaches, clear water and an endless selection of adventure activities, Abel Tasman and the surrounding area is an epic addition to any South Island road trip itinerary.
My first trip here was hampered by stormy weather but my second trip was just divine.
Secluded bays with crystal clear water, protected islands teeming with birdlife, hippie towns serving up great coffee and delicious food. It may not be natural to include beaches on your South Island itinerary but I guarantee exploring this little corner of Aotearoa will not disappoint.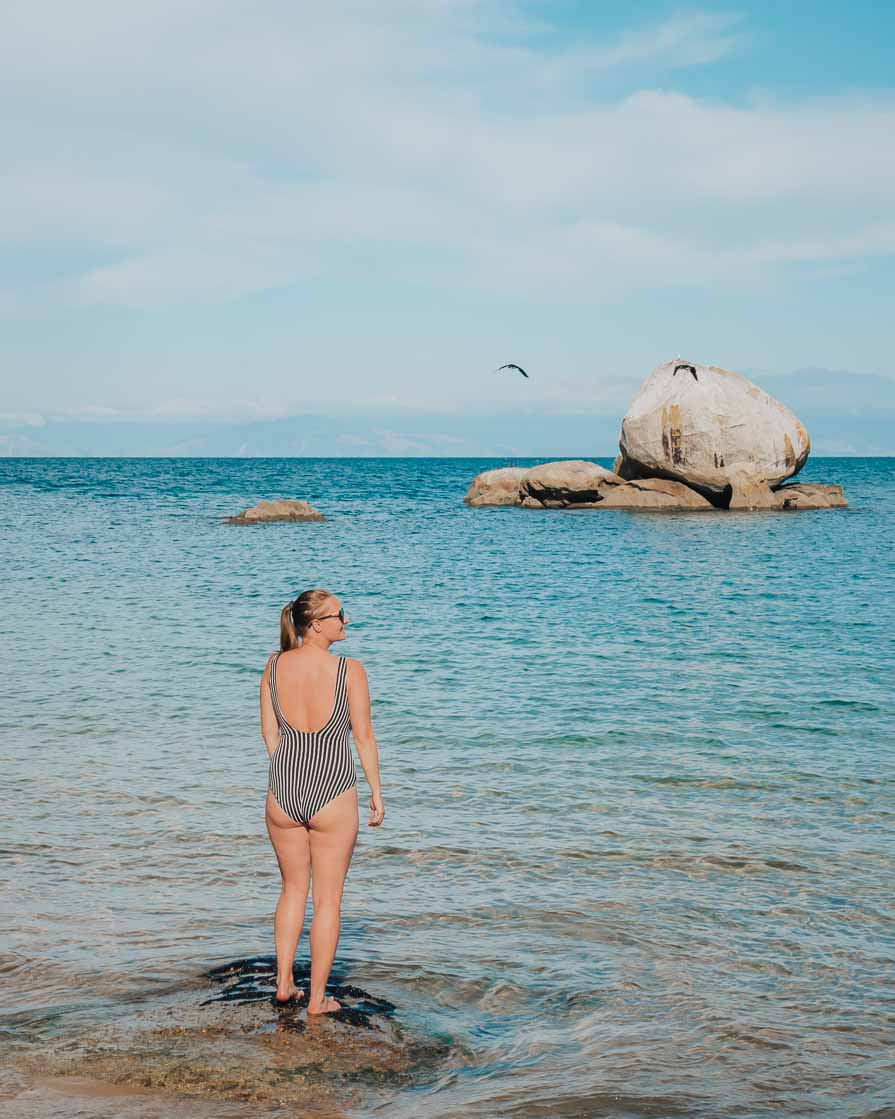 Things to do in Abel Tasman National Park
Explore the National Park's bays by boat with Abel Tasman Eco Tours. Hands down one of the best locally guided tours I've ever been on! You'll get to see loads of beaches from the water, spot birds and marine life, and enjoy a lunch stop at one of the most beautiful bays I've ever seen, Te Pukatea Bay.
Take a water taxi to enjoy a scenic cruise, day at the beach, or a walk and hike combo (get dropped at one beach and walk to another for pick up). There are options for all fitness levels but I recommend getting a return ticket for Anchorage Beach and doing the 1.5 hour Pitt Head Loop Track, or the 1 hour return walk to Cleopatra's Pools which have a natural rock waterslide.
See the famous landmark Split Apple Rock from the water (all water taxis and boats trips will take you there) or wander down the 15 minute track from the road to the beach
Eat loaded donuts at the Smoking Barrel in Motueka
Jump down waterfalls and abseil rock faces with Abel Tasman Canyoning
Rent a kayak with Kahu Kayaks and explore the national park from the water
Soak up the most incredible views with a thrilling skydive
Take a slightly unnerving drive over the Takaka Hill to reach the northwestern parts of the region. This road has been damaged with landslides so there's a long portion which is one-lane-only and is controlled with a traffic light, meaning you may wait up to 15 minutes for your turn to go. Take it slow, be patient and don't look down if you're scared of heights!
Across the hill you can visit Takaka for a hippie town with some brilliant cafes and gift shops, Te Waikoropupu Springs to see a beautiful bright blue spring, and Wharariki for a rugged wild west coast beach with incredible sunsets
READ MORE: The Best Things to Do in Abel Tasman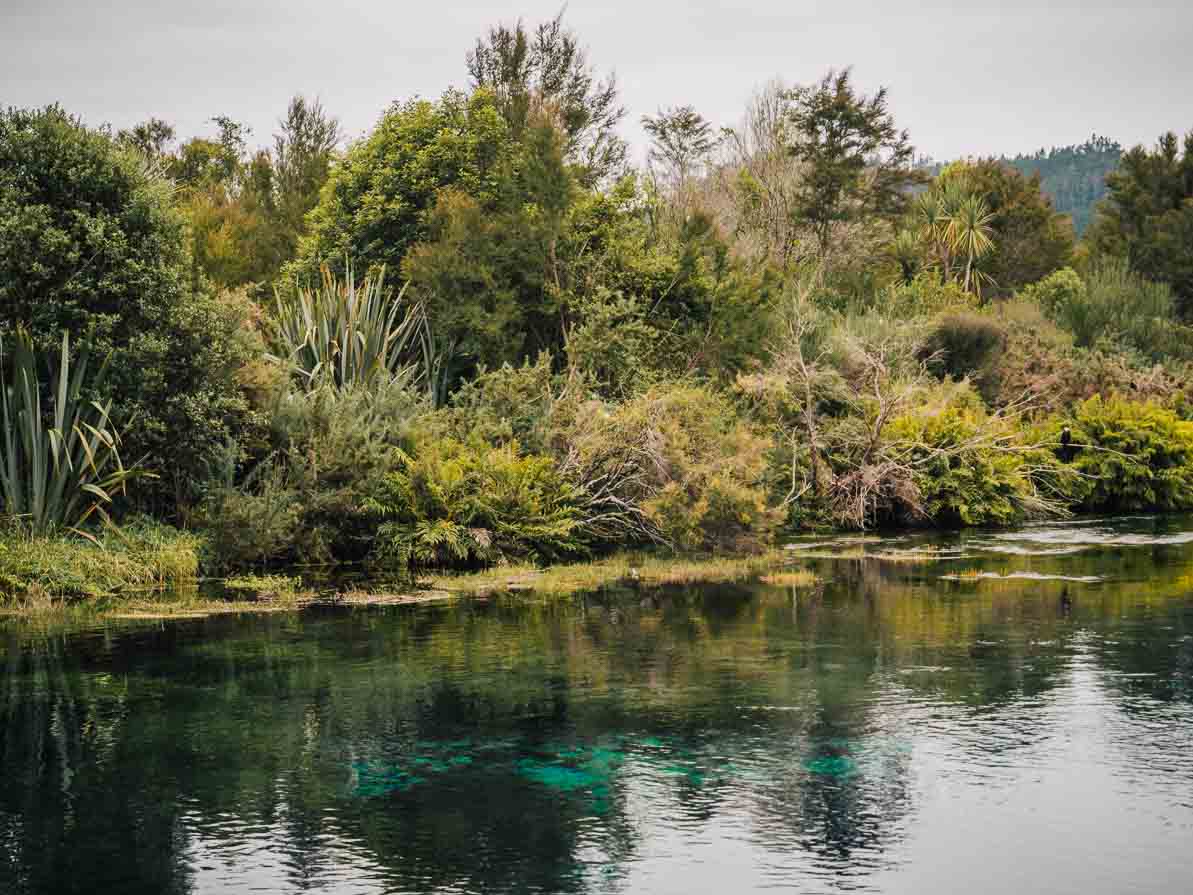 Where to stay in Abel Tasman
Camping: The Barn at Marahau is ideally located by the entrance to the Abel Tasman Coastal Track, or Motueka TOP 10 is near Motueka township with fantastic facilities, hot tubs and a playground
Budget: Abel Tasman Haven offer basic but comfortable studios with kitchenettes
Mid-range: Abel Tasman Lodge has been rated NZ's best small hotel two years running, and they have charming rooms from only $170 a night, but they require a two-night minimum stay. If you're looking for somewhere self-contained, Kaiteriteri Reserve Apartments are right on the water with a full kitchen, balcony and both one and two-bedroom apartment options.
Luxury: The Kite on Pemako Farm in Marahau is an ultra-stylish minimalist Airbnb with an outdoor bath
Glamping: Spend a night sleeping in a stylish yurt in an eco-village, just 15 minutes away from Motueka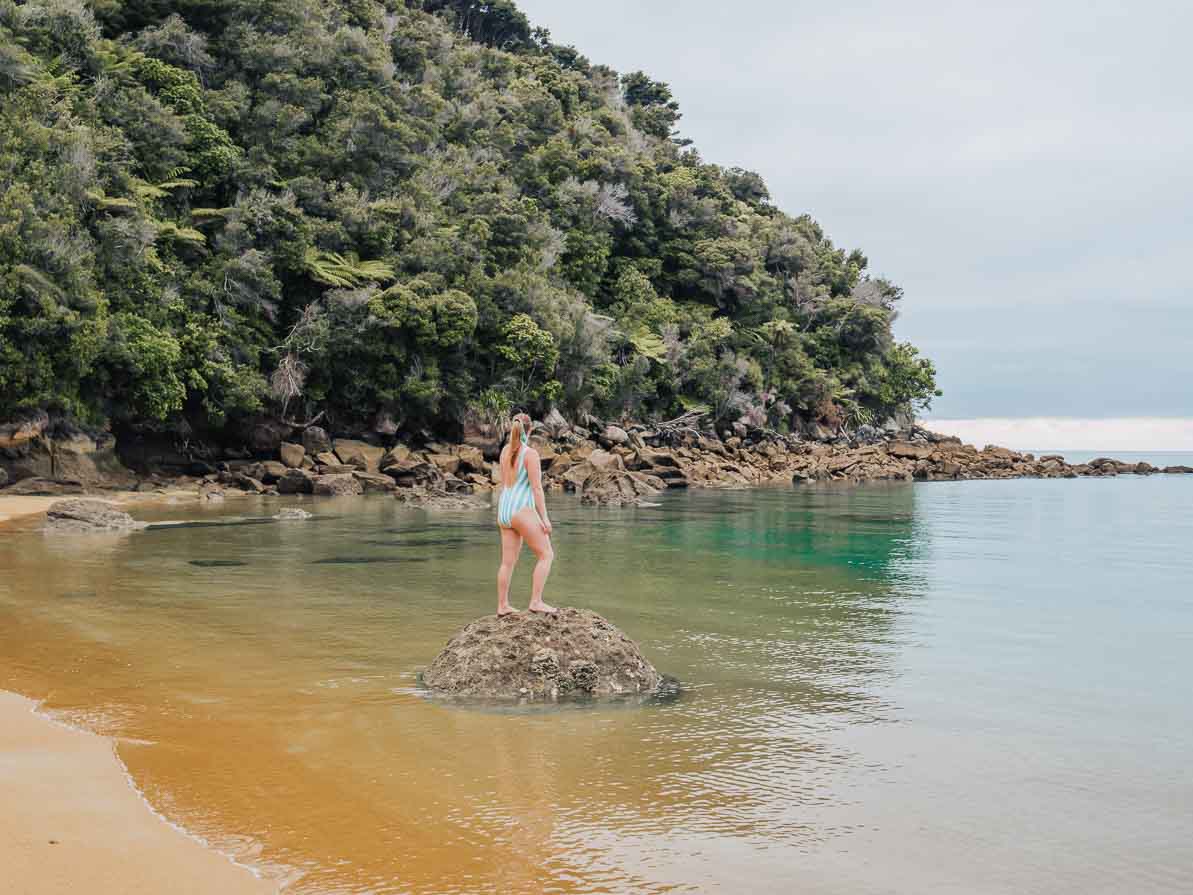 ---
Days 8 & 9: West Coast
Driving time from Abel Tasman National Park: Just over four hours from Motueka to Hokitika, 330km
Where to stop on the way
Nelson Lakes National Park for some short hikes/glacial lake swims
Maruia Hot Springs for a divine day of self-care in the form of hot pool soaks, saunas, yoga classes and more
Cape Foulwind/Tauranga Bay for a seal colony
Punakaiki for the famous Pancake Rocks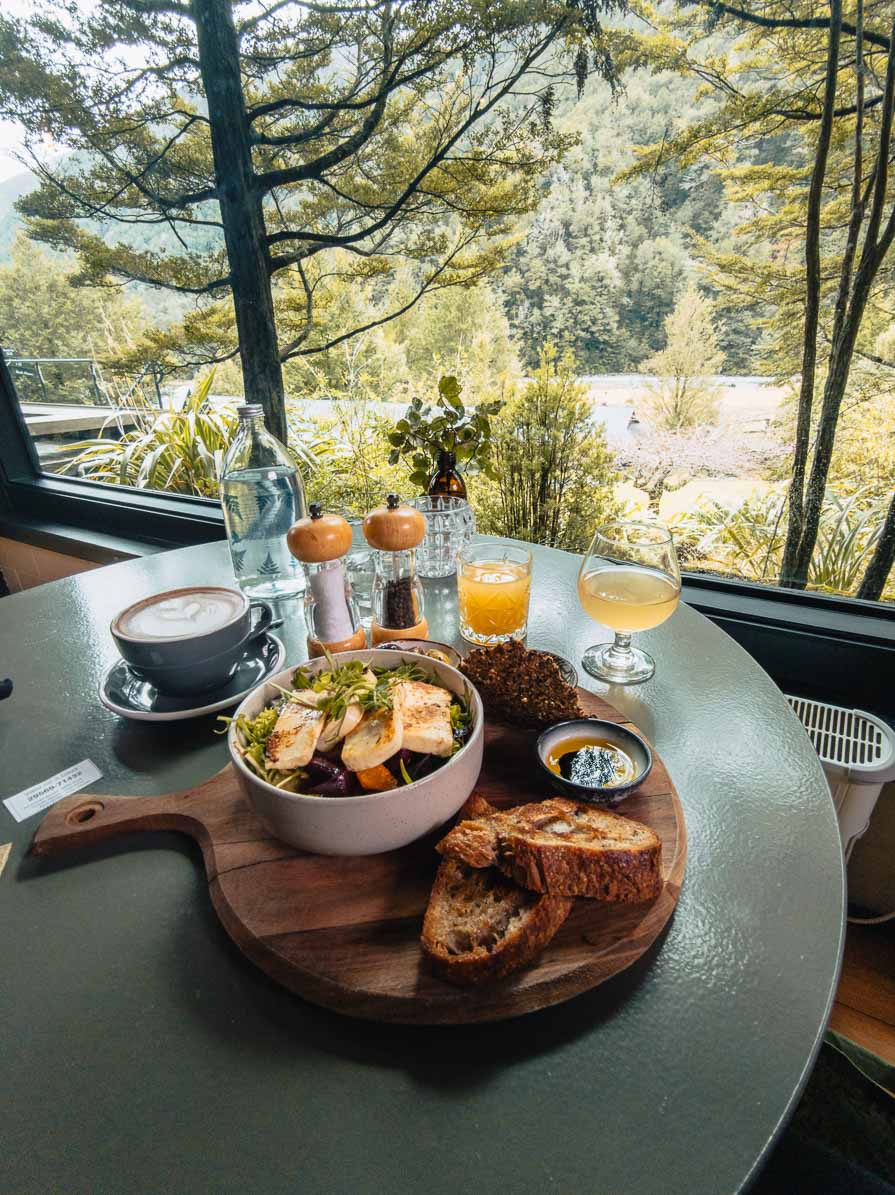 How long to stay on the West Coast: 1-4 days
Though the West Coast officially runs from Karamea in the north to Haast in the south, I've separated Franz Josef + Fox Glacier as their own section below so this is mainly talking about the northern half of the coast.
Rugged, wild and wonderful, there's plenty to see and do on this side of the South Island. Spend your days hiking along icy rivers, visit the lesser known Paparoa National Park, and marvel at fiery sunsets.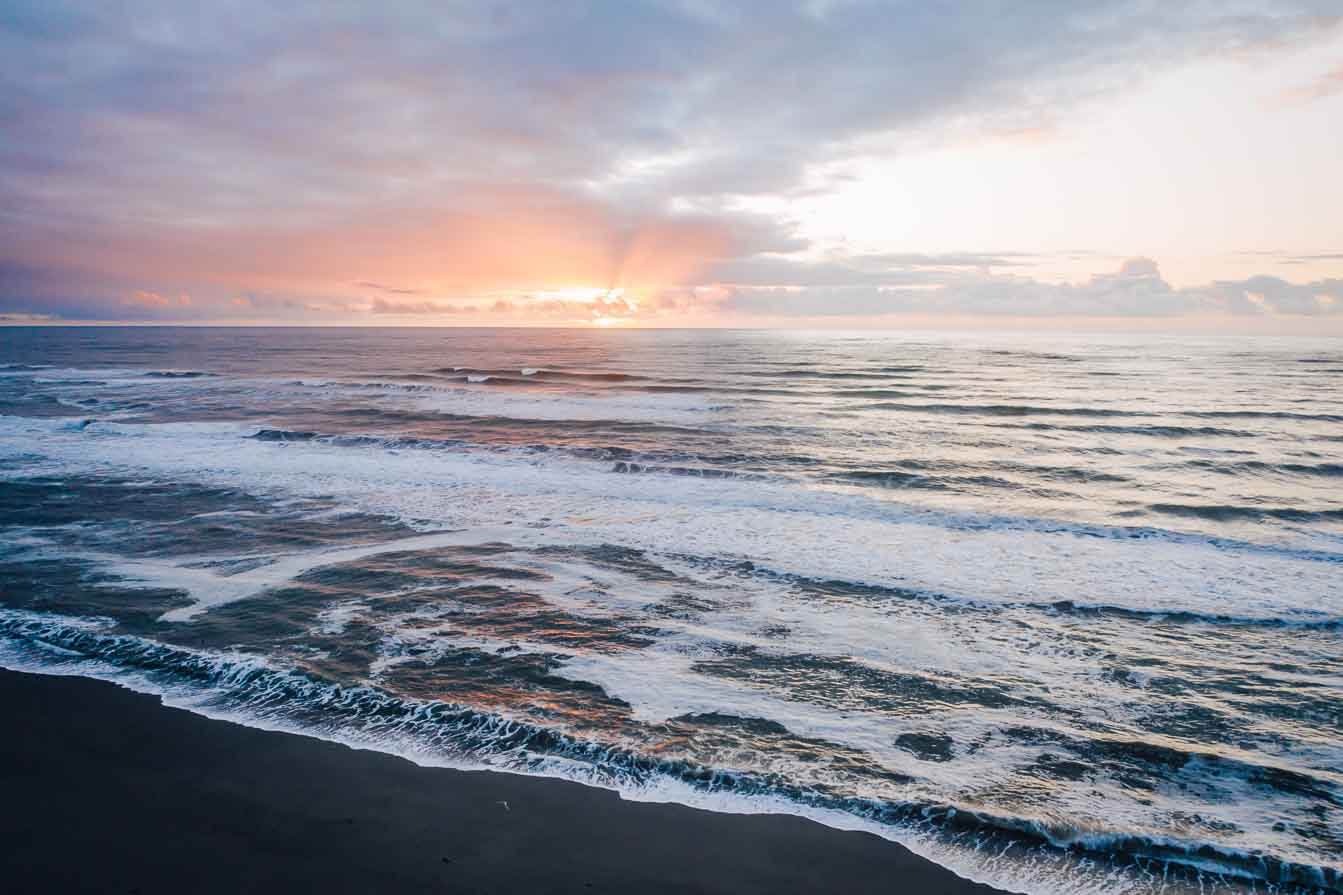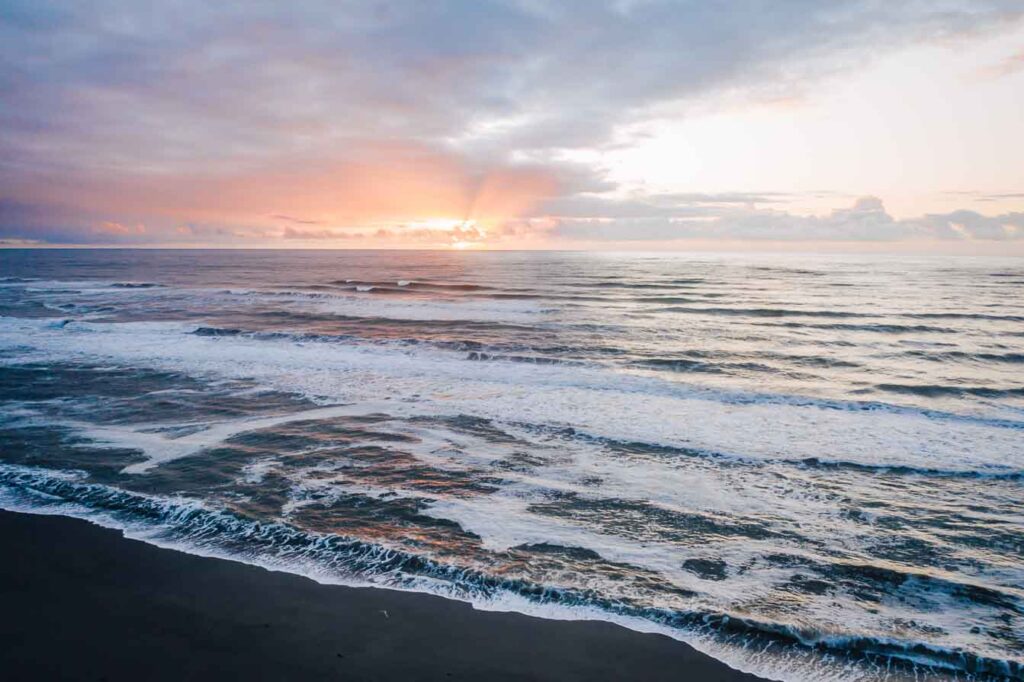 Things to do on the West Coast
Spot some glowworms on an eco-tour through Paparoa National Park's cave systems
Get up close and personal with some New Zealand icons at the National Kiwi Centre
Do the short walk at Hokitika Gorge (free, 2hr return) or get the best views on the new West Coast Treetop Walk ($32, book online here)
Carve your own pounamu (greenstone) piece at Bonz'n'Stonz
Have a mind-blowing brunch at the Gatherer in Hokitika
Where to stay on the West Coast
Camping: The Ross Beach TOP 10 Holiday Park was one of the best we stayed at, right on the beach with modern facilities
Budget: Amberlea B&B has a 9.6 rating on booking.com and offers cheap rooms with either shared or private bathrooms
Mid-range: Awatuna Sunset Lodge has a 9.8 rating on booking.com and has comfy rooms with sea views and excellent breakfast included
Luxury: Stay in a stylish newly-converted fire station-turned-apartment, the Hokitika Fire Station Boutique Accommodation. They have a perfect 5/5 rating on Airbnb and you'll get a 10% discount with the promocode code HOKIFIRE when you book direct!
Unique: Out the Bay in Tauranga Bay has two off-grid tiny houses with stylish furnishings, sea views and a well-equipped kitchen. Our stay here has totally converted me into a tiny house obsessive!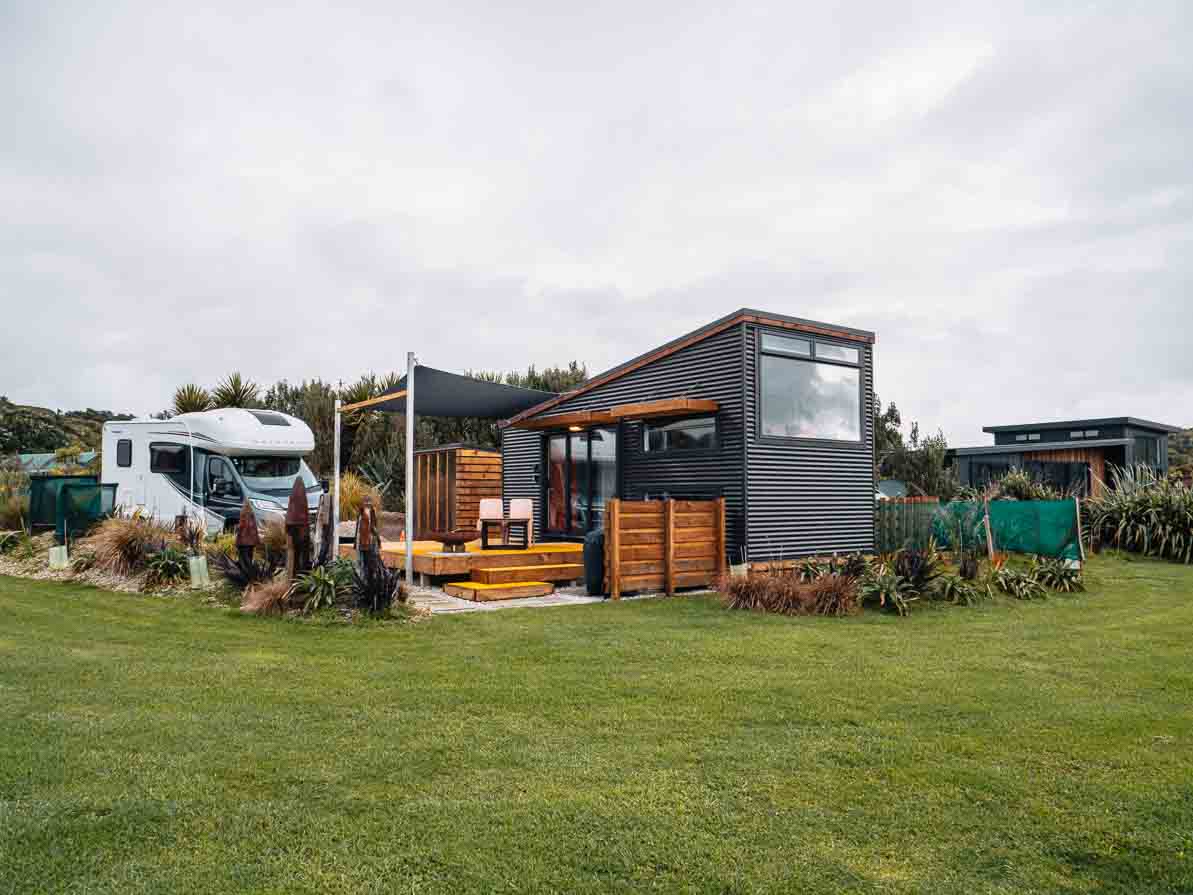 ---
Days 10 & 11: Franz Josef Glacier
Driving time from Hokitika: 1h 40m, 135km
Where to stop on the way
Lake Mahinapua for mountain reflections on a calm day
Okarito, a small town with a kayak-able lagoon that has epic mountain views
How long to stay in Franz Josef: 1-2 days
If you're based in Aotearoa while borders are closed, I highly recommend you add Franz Josef to your New Zealand bucket list, because it'll never be this quiet again.
Remotely located behind the Southern Alps, only access via mountain passes above and below it (or by helicopter if you're super fancy!), Franz Josef Glacier and neighbouring Fox Glacier are adventure hubs with insane experiences and unbeatable views.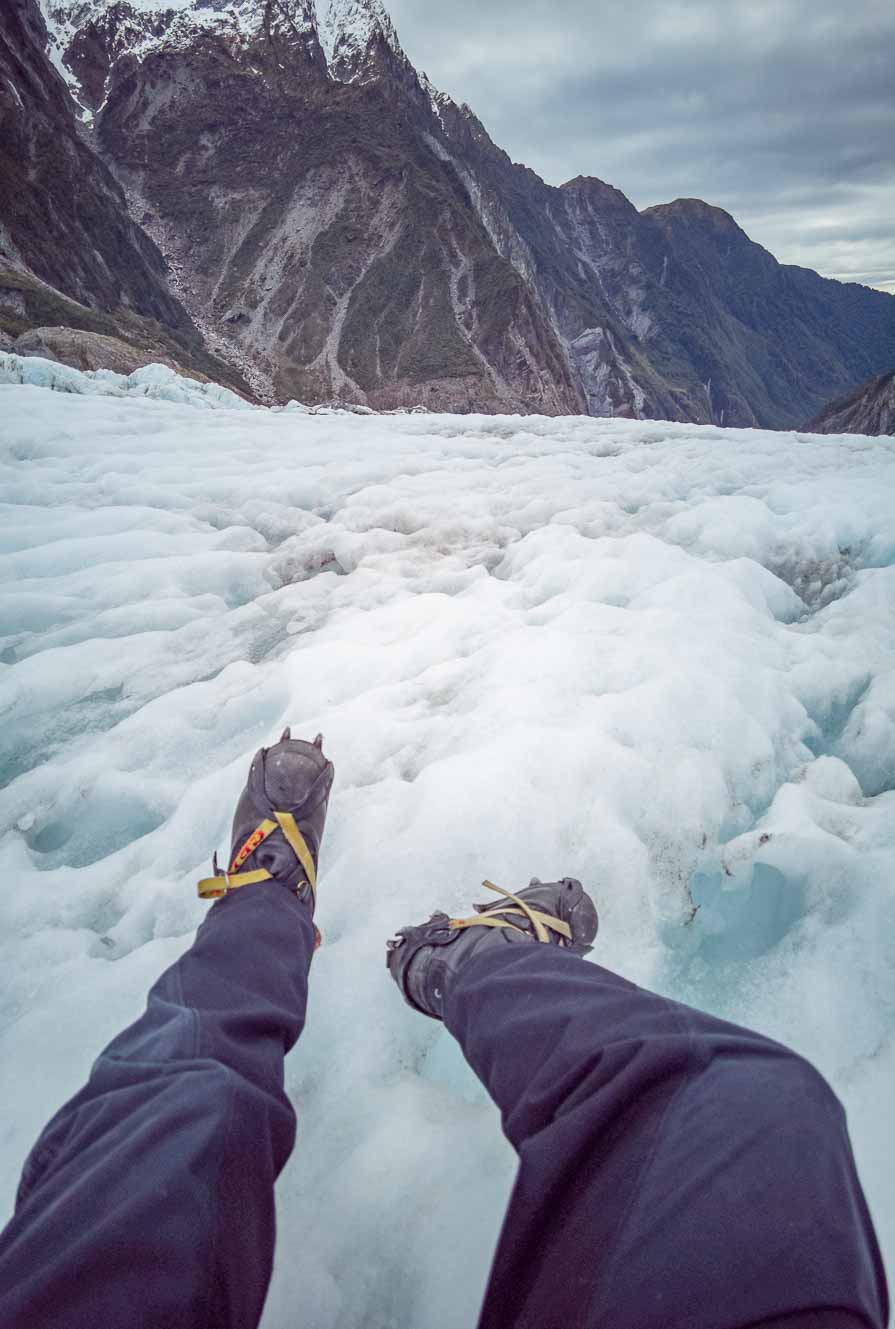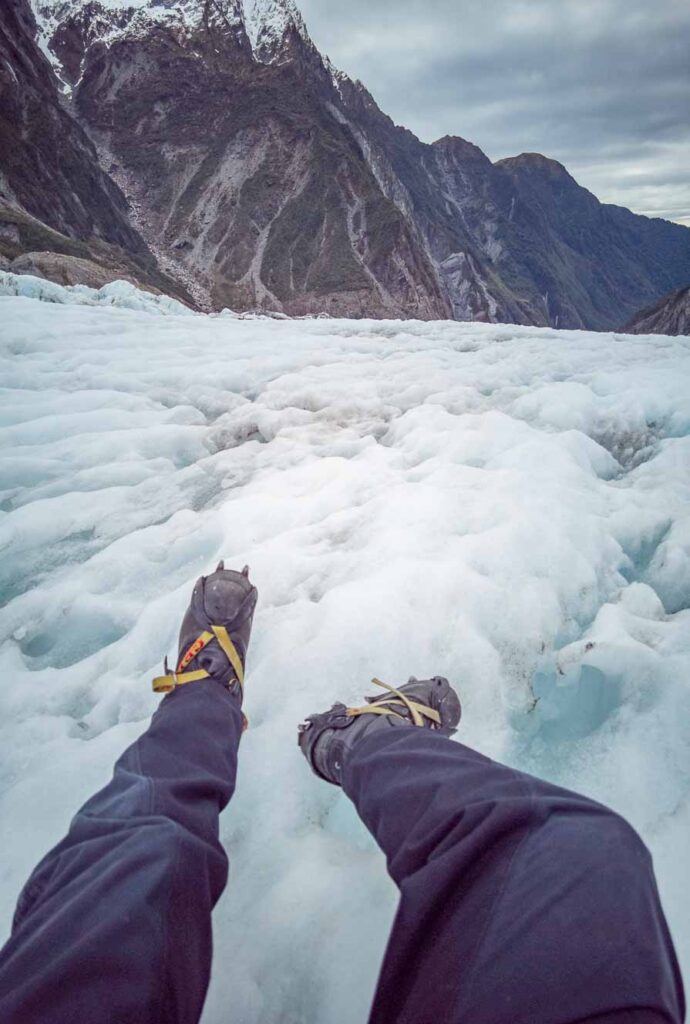 Things to do in Franz Josef Glacier
See the glacier! We opted for an expensive but well worth it Franz Josef Glacier helihike. Stepping foot on a glacier and wandering through narrow ice corridors is a once-in-a-lifetime experience. You'll get sweet views on your ride up there too.
If you're not comfortable with walking on ice with crampons then consider a scenic heli flight instead. This one does both Franz Josef and Fox Glacier and includes a snow landing from $360, this one does just Franz Josef and is a bit cheaper at $280 each
And if you're travelling on a budget, you can walk to the glacier lookout point in 1h 30m for free, or take a guided tour that includes transport and a local guide who can teach you about the area
Go kayaking in front of a backdrop of mountains in Okarito or on Lake Mapourika
Soak in the Glacier Hot Pools (only open during the summer months due to COVID)
Quad biking to get your thrills without having to book a flight
READ MORE: 15 Fun Things to Do in Franz Josef Glacier
Where to stay in Franz Josef Glacier
Camping: Rainforest Retreat is 400m from the main township and offers powered sites + decent facilities amongst lush rainforest
Budget: Rainforest Retreat also has budget-friendly double rooms available for less than $100 per night and dorms from $30 a night, or the YHA Franz Josef is another brilliant budget option
Mid–range: With cosy timber cabins offering peace and quiet away from the township's tourist activity, Kahere Retreat is a good option for mid-range accommodation
Luxury: Te Waonui Forest Retreat is a world-class five star hotel with luxurious rooms, a pillow menu (!!!) and an on-site restaurant that serves up delicious meals made from local produce
Unique: Rainforest Retreat's deluxe tree lodge is a two-bedroom tree house nestled in native bush with fancy furnishings and a full kitchen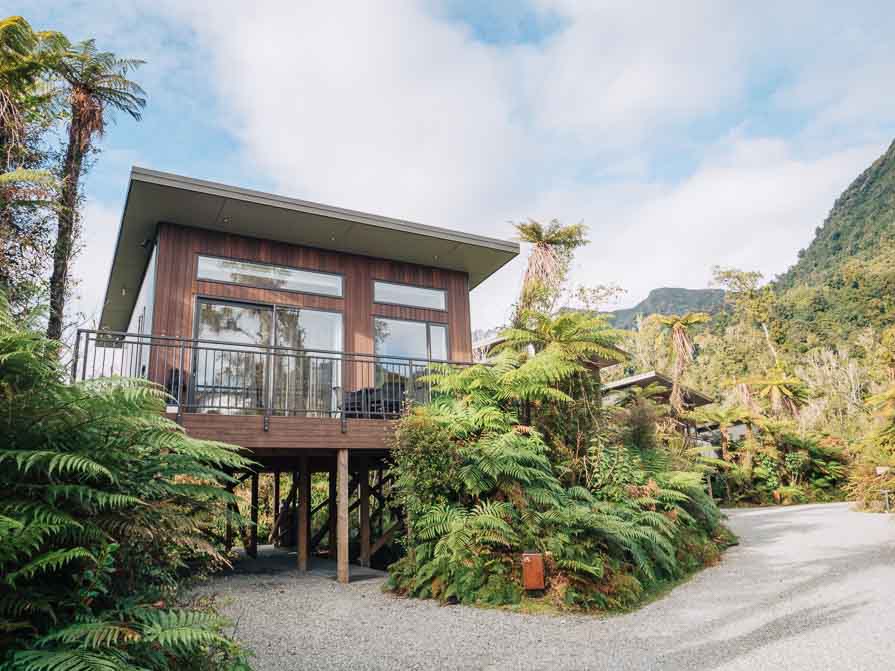 ---
Days 12 & 13: Wanaka
Driving time from Franz Josef Glacier: 3h 45m, 285km
Where to stop on the way
Fox Glacier just south of Franz Josef
Lake Matheson for a lake walk and Aoraki reflections
Thunder Creek Falls, Blue Pools and Fantail Falls along the Haast Pass
The Haast Pass itself is magical, we stopped so many times for photos! Be careful driving as the windy roads can get dangerous in wet conditions, and only pull over in safe spots where you're completely off the road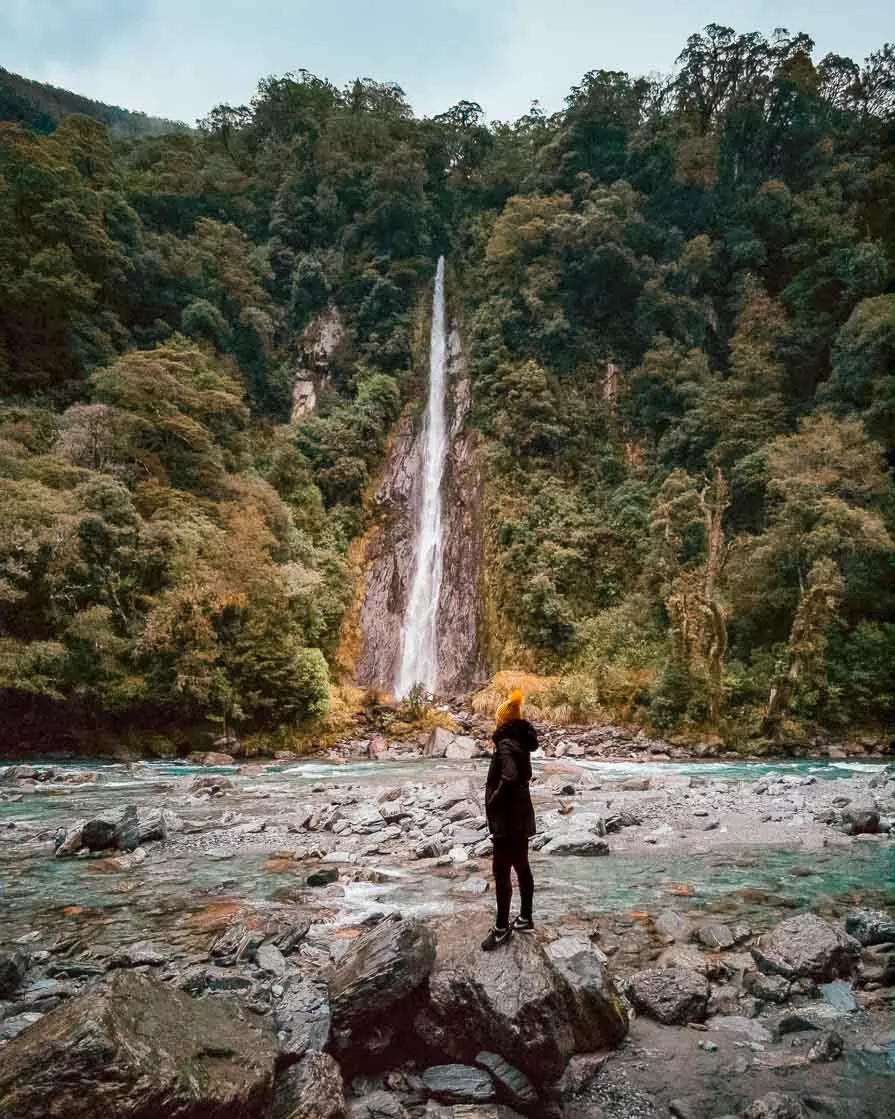 How long to stay in Wanaka: 1-4 days depending on your interests
Wanaka is the quieter, more relaxed, less commercial little brother of Queenstown, and is often preferred by frequent travellers to the area who want to avoid the craziness of NZ's tourism capital.
Lake Wanaka is an excellent hub for active adventures, with bigger houses and apartments available at cheaper prices than in Queenstown but still offering stunning views and great food.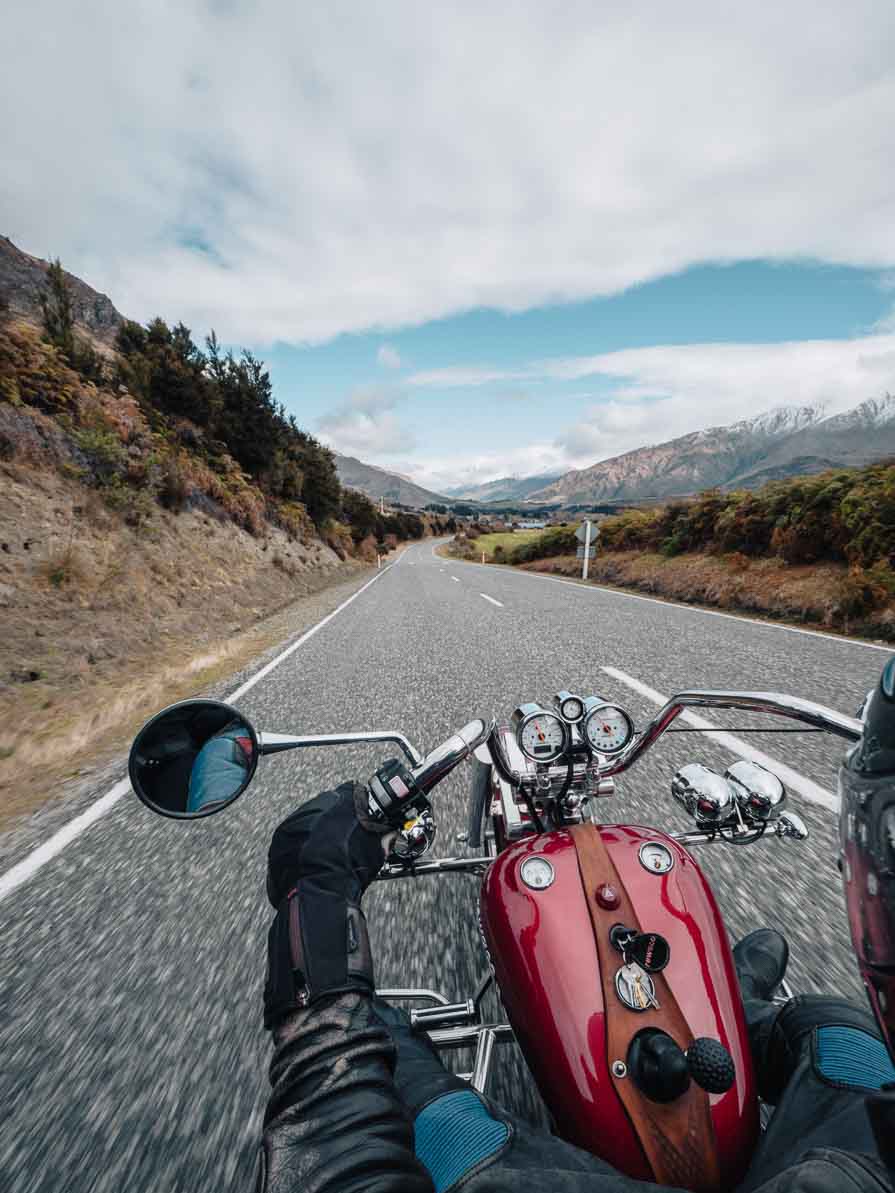 Things to do in Wanaka
Cable climb up a waterfall with Wildwire Wanaka (one of my favourite adventures from our South Island road trip)
Hit the mountains! Cardrona and Treble Cone are the closest ski resorts to Wanaka
See the city in a different way with a trike tour through Wanaka Trike Tours
Need a rainy day activity? See a movie at Cinema Paradiso, they've got funky seating (like beanbags and old cars) and have cooked meals available in intermission, or head to Puzzling World to test your brain with games and optical illusions
Hike up Roy's Peak, it's six hours return and offers the most incredible views over the lake. If you are short on time and don't mind spending money then you can catch a helicopter up to Coromandel Peak, just below Roy's Peak, for equally impressive views without getting sweaty!
Catch a cruise across the lake and explore Mou Waho Island
Skydive over the stunning Wanaka landscape with Skydive Wanaka
READ MORE: 25 Epic Things to Do in Wanaka
Where to stay in Wanaka
Camping: Our campsite at Glendhu Bay Motor Camp was one of the most amazing places to wake up to. Facilities are basic but the view is to die for. Another option on the other side of Wanaka is The Camp at Lake Hawea, also boasting lake views.
Budget: Altamont Lodge is 2km from town and has double rooms with shared bathrooms from $110, which is incredibly cheap for this area
Mid–range: Archway Motels is a gorgeous motel with decent sized rooms, comfy beds and a hot tub with incredible views, my favourite motel in Wanaka for sure.
Luxury: Lakeside Apartments have well-equipped self-contained apartments with private balconies, lake views and access to a swimming pool and spa pool
Glamping: Cross Hill Domes right on Lake Hawea (15 mins from Wanaka) are one of the best glamping spots in New Zealand
---
Days 14-16: Queenstown
Driving time from Wanaka: Just over an hour/68km via the Crown Range, or 1h 30m via Cromwell
Where to stop on the way
Cardrona Hotel for mulled wine and garlic bread if you're heading the Crown Range way
Wineries near Cromwell if you go the other way (Misha's Vineyard, Gibbston Valley and Rockburn Wines all have brilliant reviews)
How long to stay in Queenstown: 2-5 days
Queenstown probably takes the top spot on New Zealand bucket lists around the country and around the globe, for good reason.
You already know about the skiing, skydiving, jetboating and nightlife, but there's actually plenty to do beyond the obvious attractions.
If you want a more detailed travel guide you can read my 5 day Queenstown itinerary.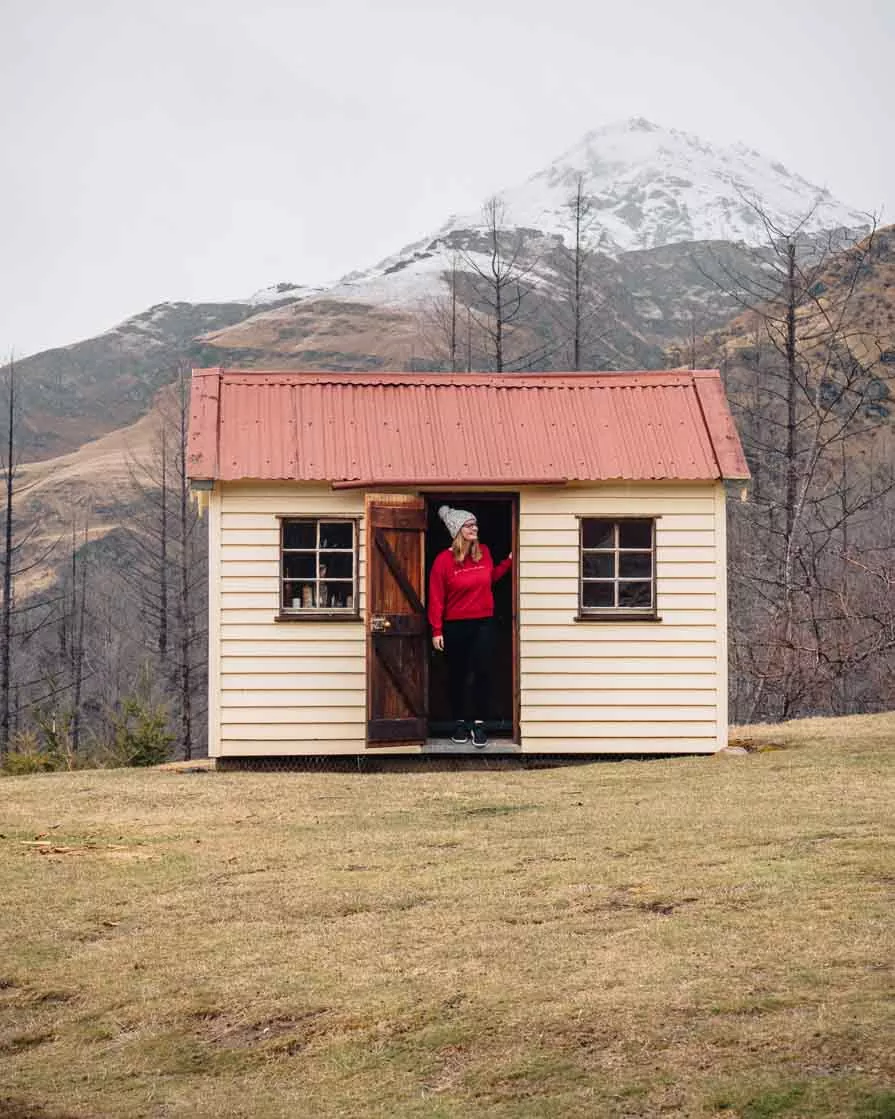 Things to do in Queenstown
The usual! Ski or snowboard (I love the Remarkables for Queenstown snow adventures), skydive, bungy jump, Shotover Jet, Onsen Hot Pools, hitting the town etc.
Ziplining with Ziptrek was an awesome adventure activity with crazy views. We chose the 6-line three hour trip and had a fantastic time learning about Queenstown's history, the flora and fauna, and ending with the world's steepest tree-to-tree zipline!
Get the best view of the city from the top of the Skyline Gondola before zooming down the hill on the luge, you can book your Gongola & Luge ticket here
Raft through Grade 3-5 rapids on the Shotover with a whitewater rafting trip
I'm not a fan of freefalling so skydiving/bungy jumping aren't for me, but paragliding gives you those sky high views without having to throw yourself out of a plane! Paragliding in Queenstown was my second time floating through the sky (my first was in Switzerland) and it was absolutely incredible, highly recommend the team at Coronet Peak Tandems if you want to try it.
Eat your way around the city. I recommend Bespoke, Yonder or Vudu for brunch, Fergburger for an iconic lunch, Balls and Bangles for gourmet donuts and Eichardt's Grill, Rata or the Nest for a classy dinner
Explore Skipper's Canyon and drive along NZ's most dangerous road with an epic 4WD safari with Nomad Safaris. If you're an LOTR fan then these guys also run legendary LOTR tours around Queenstown and Glenorchy taking you to filming locations from the movies.
Get off-road with a quad bike trip through the mountains
Take a day trip to Arrowtown or Glenorchy
Keen to visit Milford Sound but don't have time for the long drive? See Fiordland from the sky with a scenic flight + cruise package from Queenstown (called a Fly-Cruise-Fly), a coach-cruise-fly combo that gives you the road trip views as well as the flight, or a 1h 20m scenic flyover if you're really short on time
Where to stay in Queenstown
Kamana Lakehouse is my favourite hotel in Queenstown, with modern rooms, a world-class restaurant and private hot tubs overlooking the lake available exclusively for guests to book. It's the highest hotel in Queenstown and offers the most incredible view while benefitting from the peace and quiet of the Fernhill neighbourhood. Absolutely dreamy!
Camping: You can freedom camp at the DOC site at Moke Lake for $15pp
Budget: Nomads Backpackers is right in town and has dorm rooms plus private rooms, or for a cheap but comfortable hotel you can't go past the new Holiday Inn Remarkables Park, which offers seriously impressive value for spacious and stylish rooms as well as a great location near the airport.
Mid-range: Kamana Lakehouse is my top pick for the mid-range budget, but if they're fully booked you could also check out Queenstown Park Boutique Hotel.
Luxury: Azur Lodge, Matakauri Lodge and Eichardt's consistently come out on top as the best luxury hotels in Queenstown.
Ultra-luxe: Happy to splurge on a once-in-a-lifetime accommodation experience? Treat yourself and a loved one to a luxury package at the Gibbston Valley Lodge private villas. Absolute bliss.
Glamping: Sleep in a secluded lotus belle tent at Remarkables Glamping
---
Day 17 & 19: Te Anau
Driving time from Queenstown: 2h, 170km
How long to stay in Te Anau: 1-2 days (with a night in Milford Sound in the middle)
Often overlooked as being just a stopover on the way to Milford Sound, Te Anau is a peaceful lakeside town and is the commercial hub of Fiordland. Stop for at least a night here to experience the town's friendly local vibes, nearby Great Walks or lake adventures.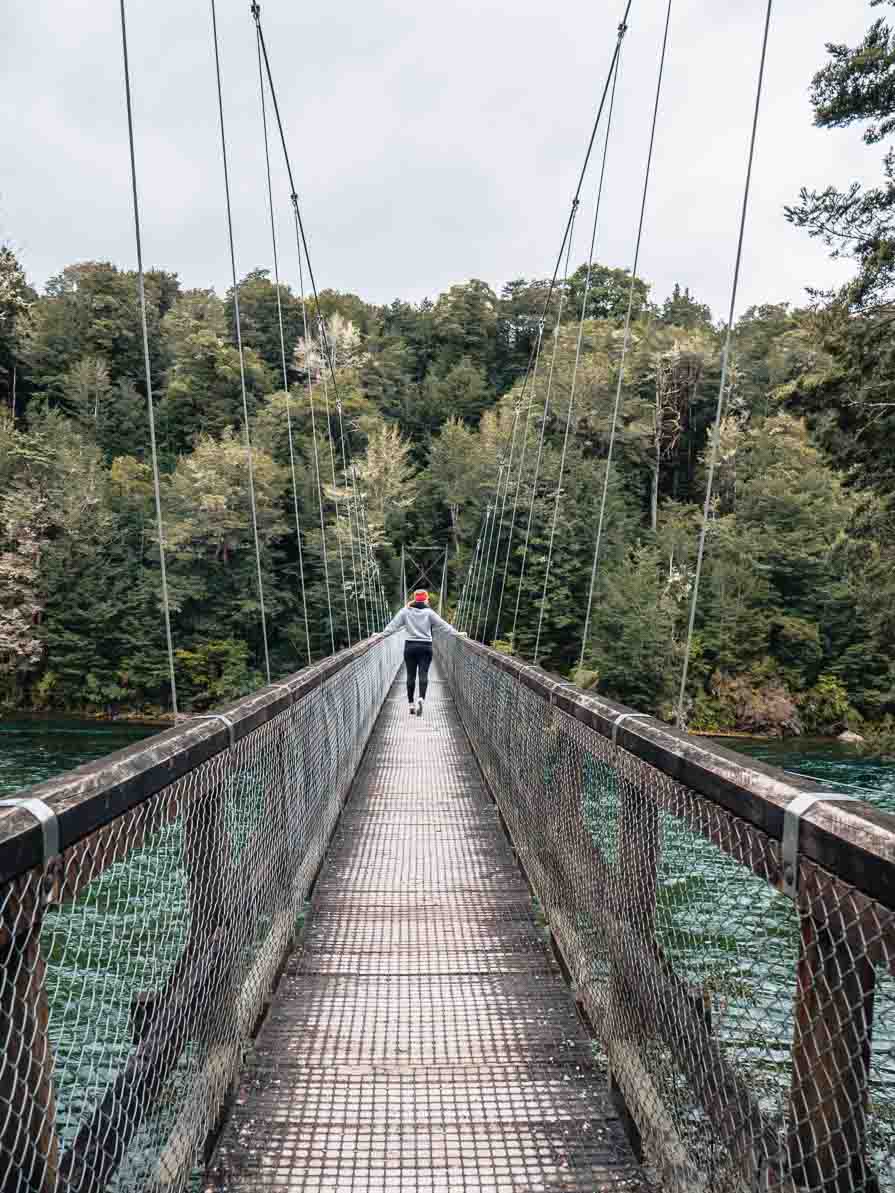 Things to do in Te Anau
READ MORE: The Best Things to Do in Te Anau
Where to stay in Te Anau
Camping: Te Anau TOP 10 Holiday Park has excellent facilities, with a huge kitchen, decent bathrooms, a lounge with a fire and a hot tub available for guests to book
Mid-range: Anchorage Motel is a sustainability-focused motel with self-contained studio apartments as well as comfy one/two-bedroom options
Luxury: You can't go past Fiordland Lodge if you're looking for luxury. With a striking outlook over Lake Te Anau, impeccable service and elegant rooms, this is National Park accommodation at its best.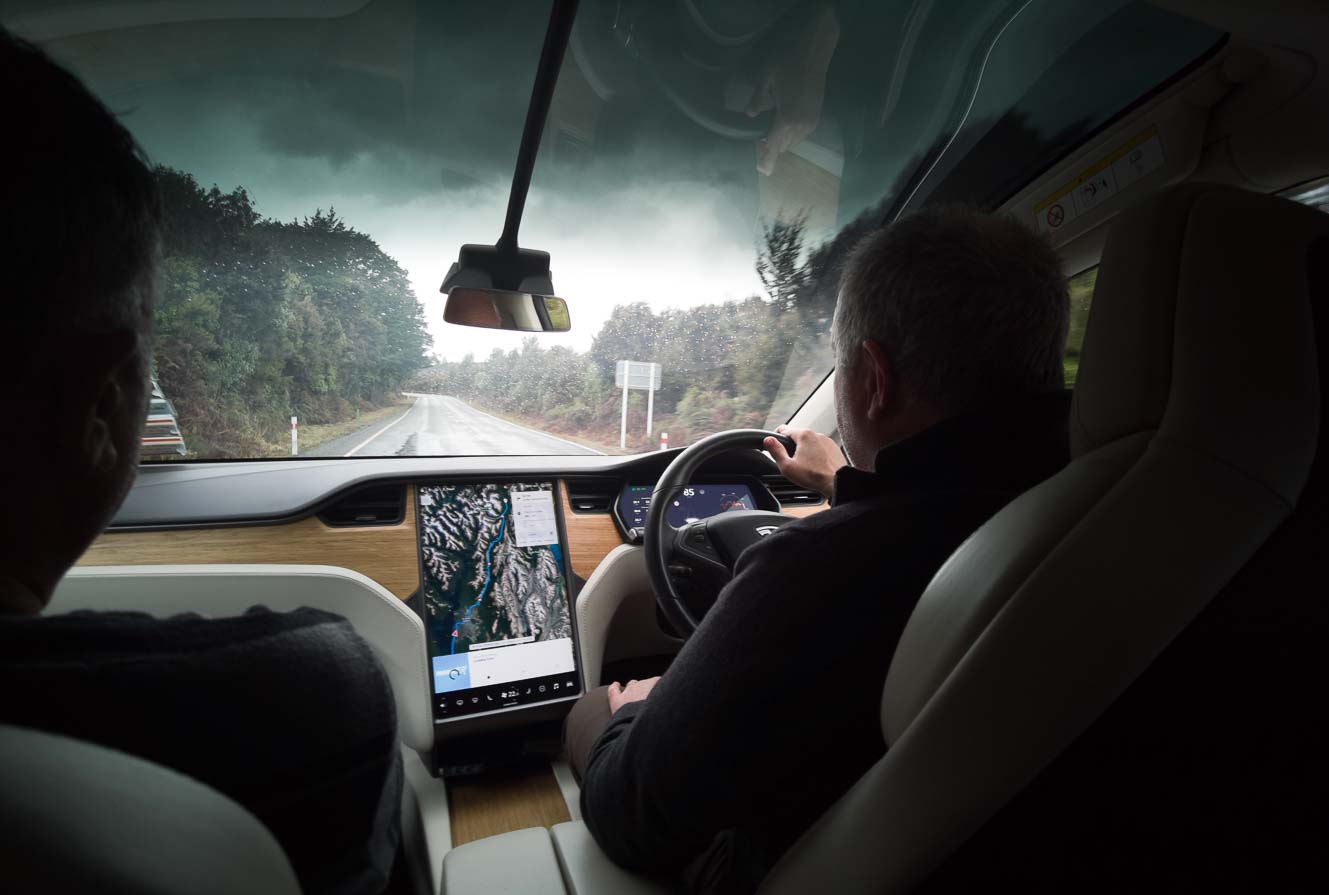 ---
Day 18: Milford Sound
Driving time from Te Anau: 1h 30m without stops or traffic, I recommend you set aside 2.5/3 hours for the 115km drive
Where to stop on the way
Te Anau Downs for views back towards the lake
Mirror Lakes for reflections on a still day
Lake Gunn Nature Walk
Pop's View Lookout
Monkey Creek
Want to know more? For full info about the road from Te Anau to Milford Sound + tips on places to stop, read my full blog about driving to Milford Sound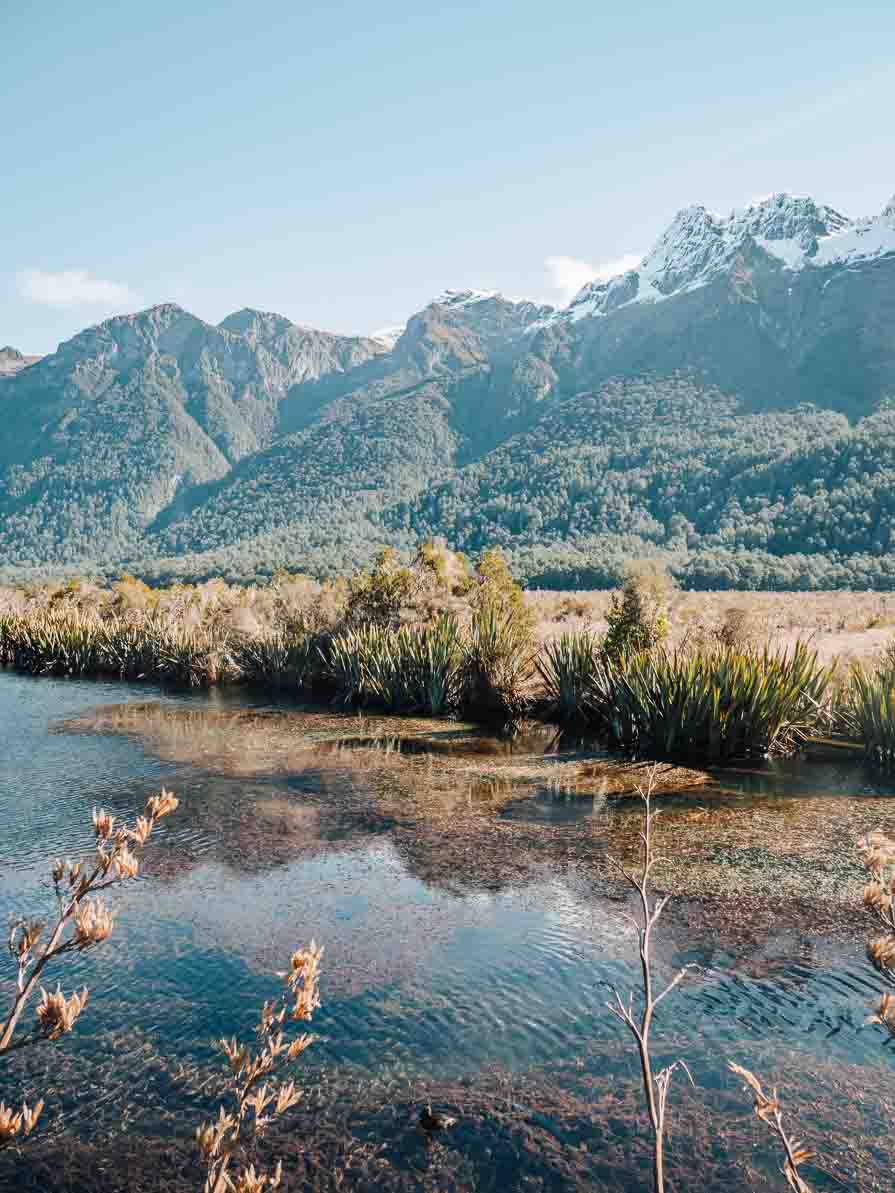 How long to stay in Milford Sound: 1-2 days
Widely regarded as the unofficial 8th Wonder of the World, Milford Sound is an absolute Aotearoa must-do for Kiwis and international visitors alike. Plus the road is probably one of the best roads you'll drive on your South Island road trip!
With abundant wildlife, towering mountains and crashing waterfalls, Milford Sound is simply magical.
Things to do in Milford Sound
See a full list of epic things to do in Milford Sound here.
Where to stay in Milford Sound
The only accommodation option in Milford Sound is Milford Sound Lodge and their Rainforest Campervan Park, and it's a fantastic place to stay.
The lodge has studio + two-bedroom chalets with mountain, forest or river views, and your stay includes WiFi plus breakfast delivered to your door each morning.
The campervan park has powered sites under towering trees with access to a large kitchen, living area, bathrooms and laundry, and you can purchase WiFi for $15 for 1GB.
TRAVEL TIP: If you're heading to Milford Sound overnight in a campervan, stock up on food before you go as there's no shops there. There is a small cafe in town and a brilliant restaurant at the Milford Sound Lodge (the goats' cheese croquettes are divine) but stop in at the Te Anau Fresh Choice to top up your pantry before you start the drive.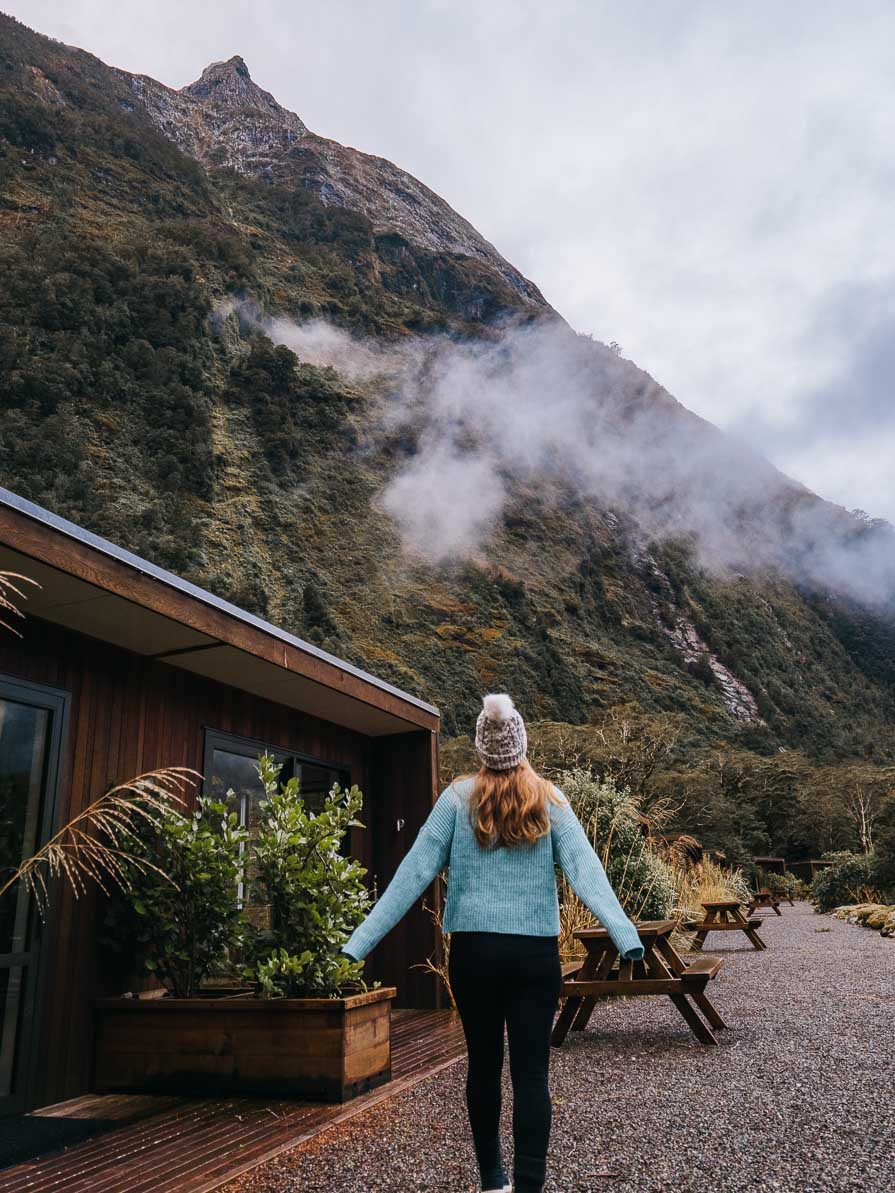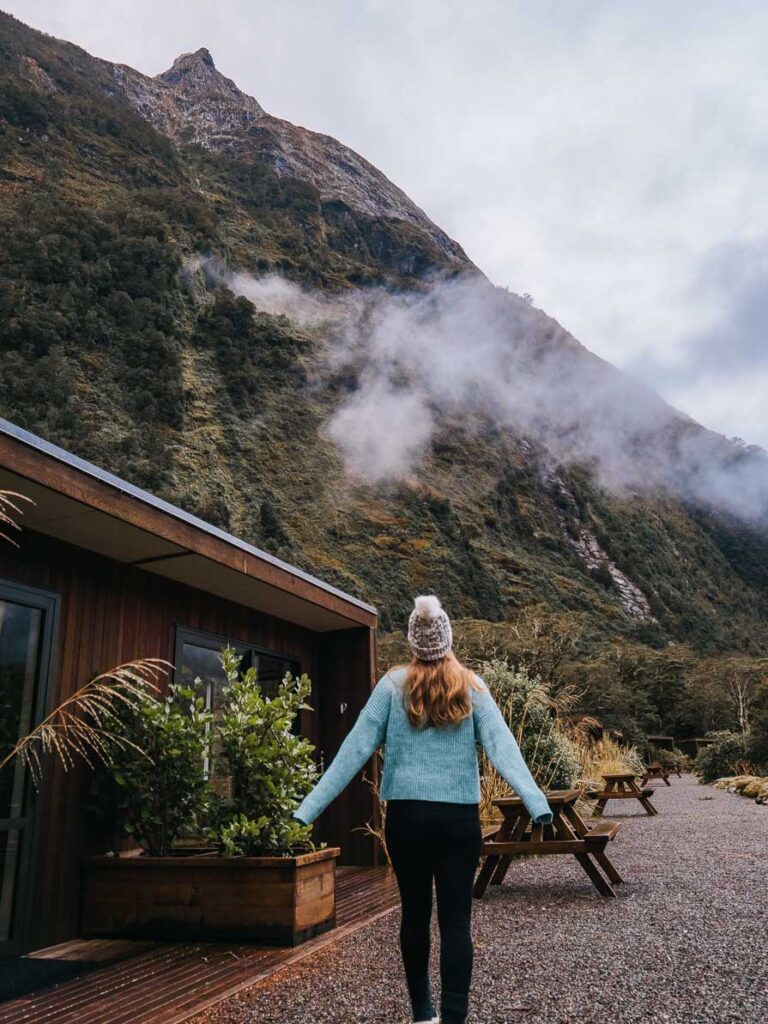 ---
Days 20 & 21: Stewart Island
Driving time from Te Anau to Bluff: 2 hours, 180km, then a one hour ferry
Where to stop on the way
Lumsden for a snack from Bafe Bakery
Gemstone Beach in Orepuki is about an hour off-route from Invercargill
Bluff for oysters when they're in season
How long to stay in Stewart Island: The ferry only runs a couple of times a day so a two day stop is easiest
Stewart Island (or Rakiura in te reo Maori) is the remote, unspoilt, lesser-visited third island of New Zealand, known for stargazing, native birds, and the epic Rakiura Track Great Walk.
Things to do on Stewart Island
Find a kiwi in the wild. I'd highly recommend going on a kiwi spotting tour, the guides know all the best spots and are able to find the birds without causing harm or danger.
Cross your fingers for a glimpse of the Aurora Australis, also known as the Southern Lights
Read more things to do on Stewart Island with my full Stewart Island travel guide
Where to stay on Stewart Island
Budget: Stewart Island Backpackers have basic dorm and private rooms for a good price
Mid-range: There's a decent range of Airbnbs on Stewart Island that will suit any budget
Luxury: Church Hill Boutique Lodge has panoramic views and a fancy restaurant onsite
---
Days 22 & 23: The Catlins
Driving time from Bluff: About an hour from Bluff to the start of the Catlins area
How long to stay in the Catlins: 1-2 days
With thriving wildlife, endless coastline and loads of nature walks ranging from easy to expert, the Catlins is an off-the-beaten-track South Island road trip destination that active adventurers won't want to miss.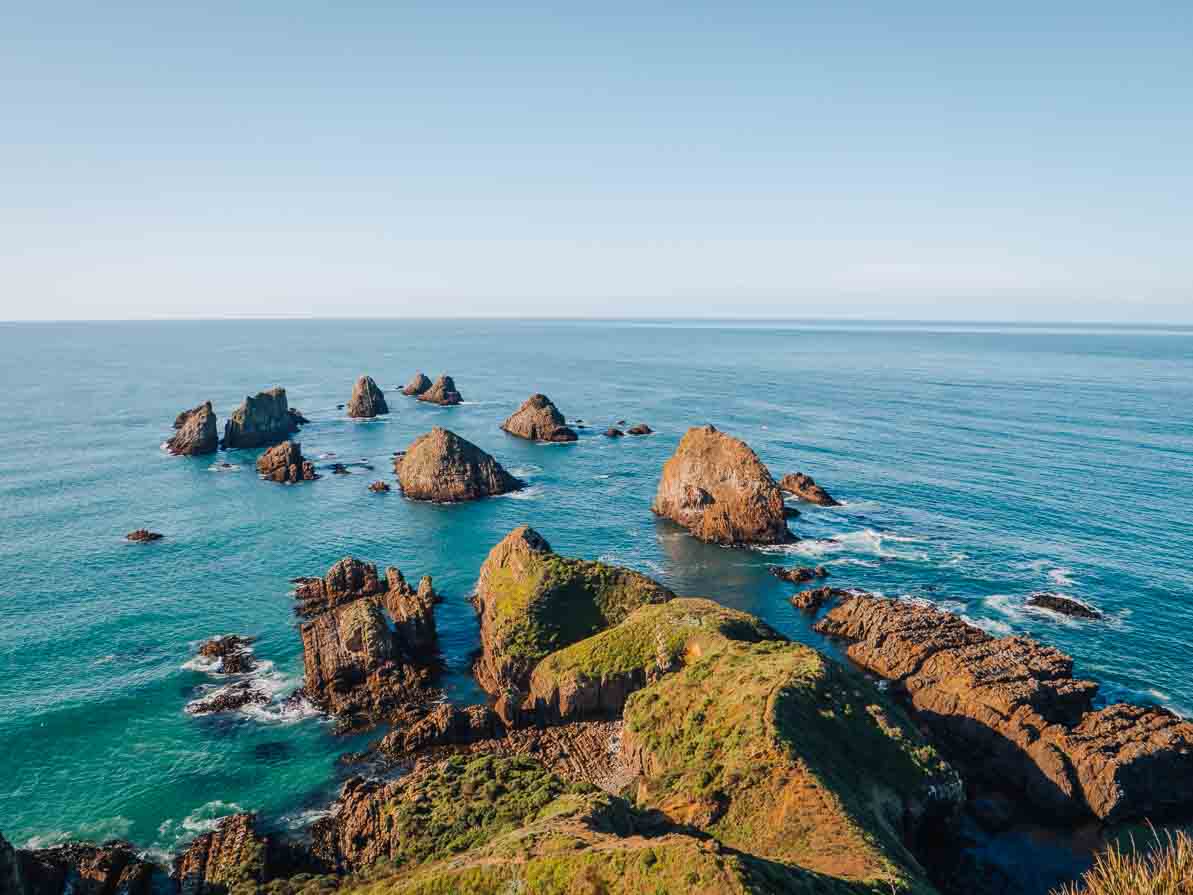 Things to do in the Catlins
An early morning kayak with Catlins Kayak & Adventure to spot penguins, seals and a stunning sunrise
Do the short walk to Nugget Point Lighthouse
Watch penguins return to land at dusk at Curio Bay
Spot sea lions (from a safe distance!) at Surat Bay
Walk through native forest to visit Purakaunui Falls
Where to stay in the Catlins
Budget: The Lazy Dolphin Lodge has great reviews if you're on a tight budget
Mid-range: We stayed at this cosy Airbnb near Curio Bay, it has a kitchenette, nice bathroom and comfy bed
Luxury: Molyneux House has modern self-contained apartments with beautiful ocean views, free WiFi and included breakfast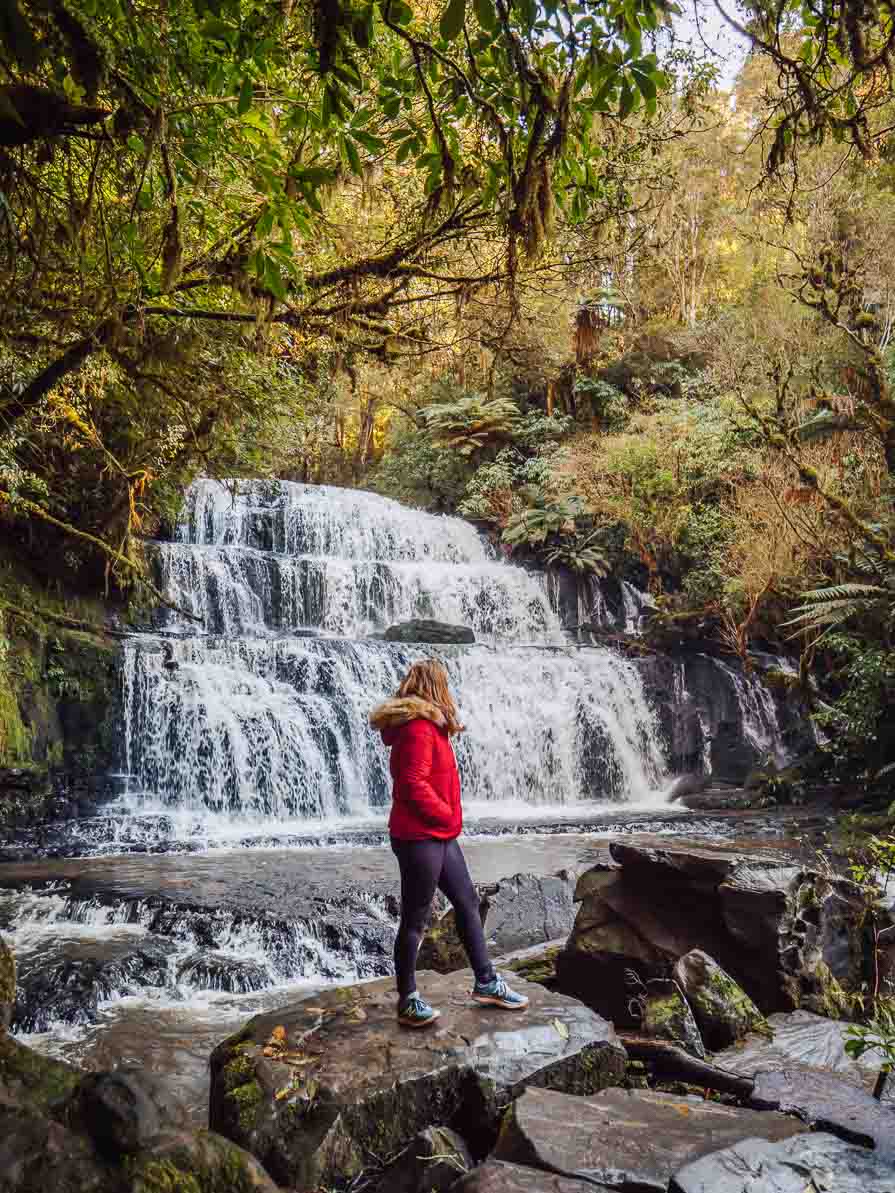 ---
Day 24: Dunedin
Driving time from the Catlins: It's about an hour from the edge of the Catlins in Balclutha to Dunedin
How long to stay in Dunedin: 1-2 days
Dunedin is a bustling student town and is home to a mish-mash of breweries, heritage buildings, sandy beaches and a thriving entertainment scene.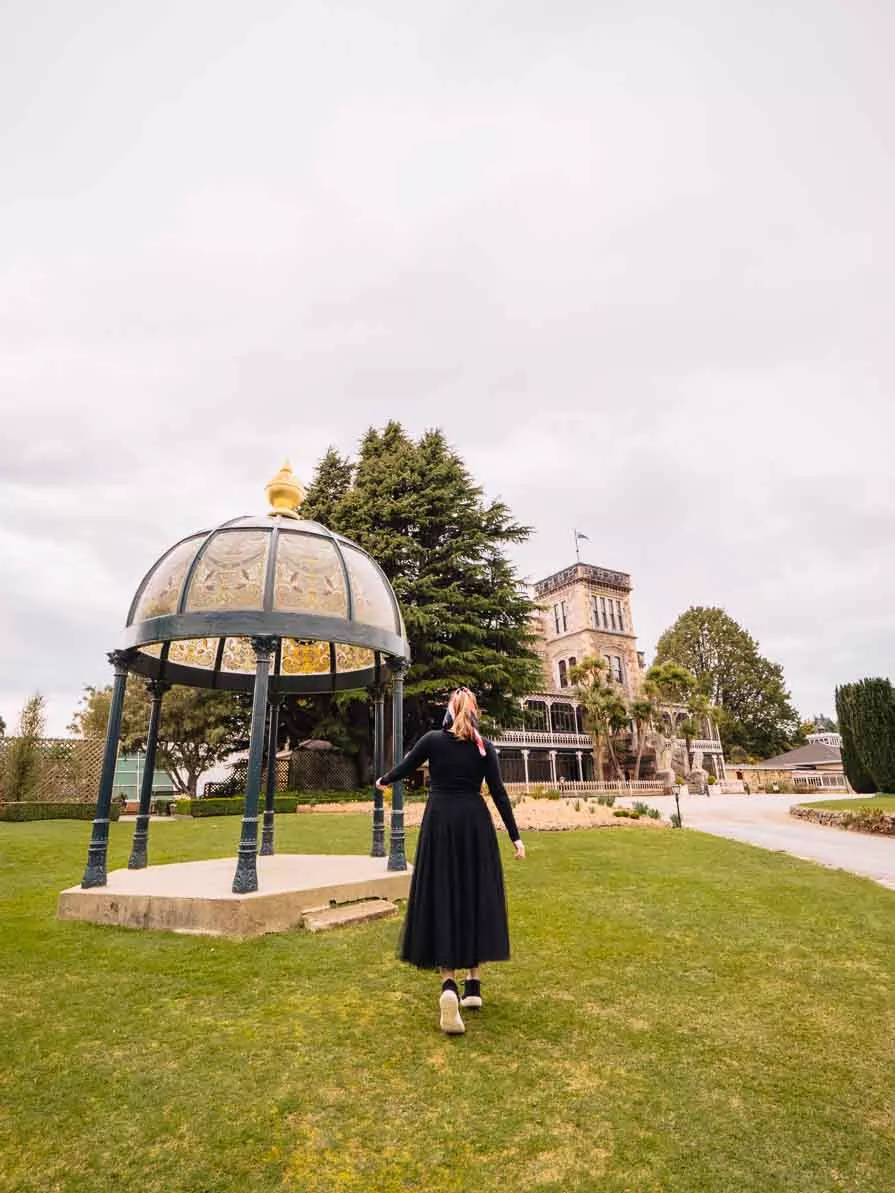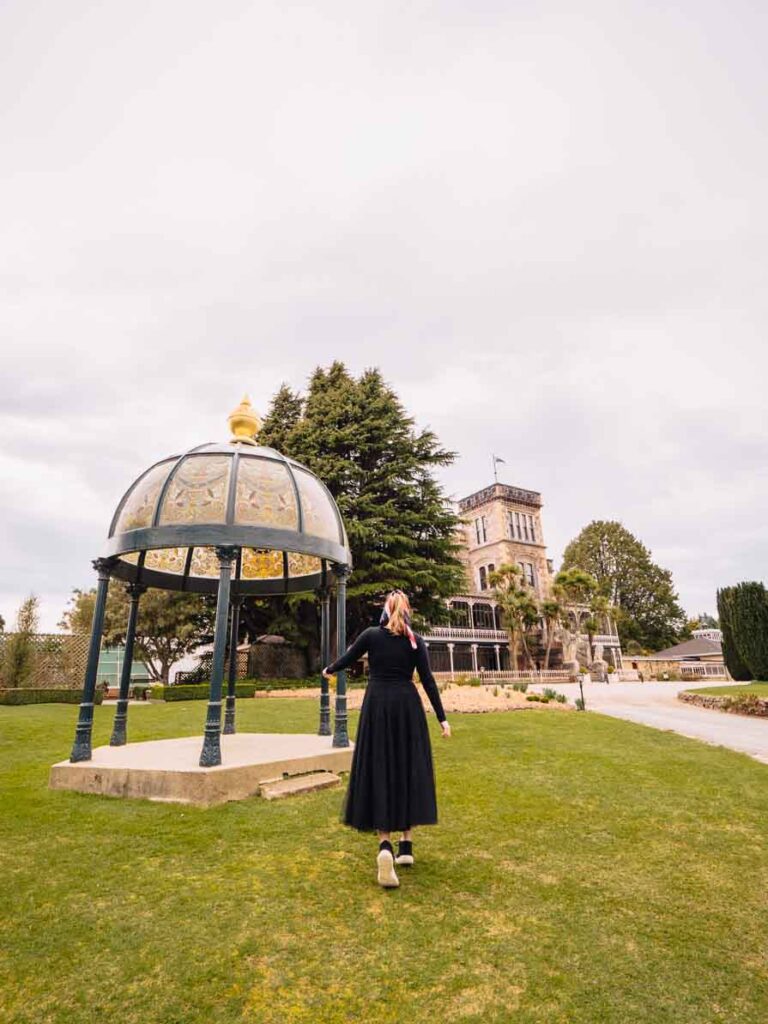 Things to do in Dunedin
Go out-out in the student district if that's your thing!
Visit Larnach Castle, a stunning real-life castle that was started in 1871
Try a tasting rack of local craft beer at Emerson's Brewery
Spot penguins, seals and albatross on the Otago Peninsula
Where to stay in Dunedin
Mid–range: Bluestone on George and Amross Motel are both decent mid-range options
Luxury: Larnach Castle has a range of accommodation options if you're looking for something special
Unique: We spent a night at the epic Cascade Creek Retreat about 45 minutes outside of Dunedin. It's a beautiful timber farm lodge located on a working farm with a stunning rural outlook, two outdoor baths, ultra-comfortable beds and a well-equipped kitchen complete with ingredients for a hot chocolate and marshmallows for the fire.
---
Day 25: Oamaru & the Waitaki District
Driving time from Dunedin: 1h 30m to Oamaru
Where to stop on the way
Moeraki Boulders & Fleur's for fresh seafood
Purakaunui Beach
How long to stay in the Waitaki District: Day trip or 1-2 days
Hands down the most underrated district in New Zealand, the Waitaki region boasts character-filled cities, unique gift stores, wineries, award-winning restaurants, some incredible adventure activities and my favourite spot for glamping in New Zealand.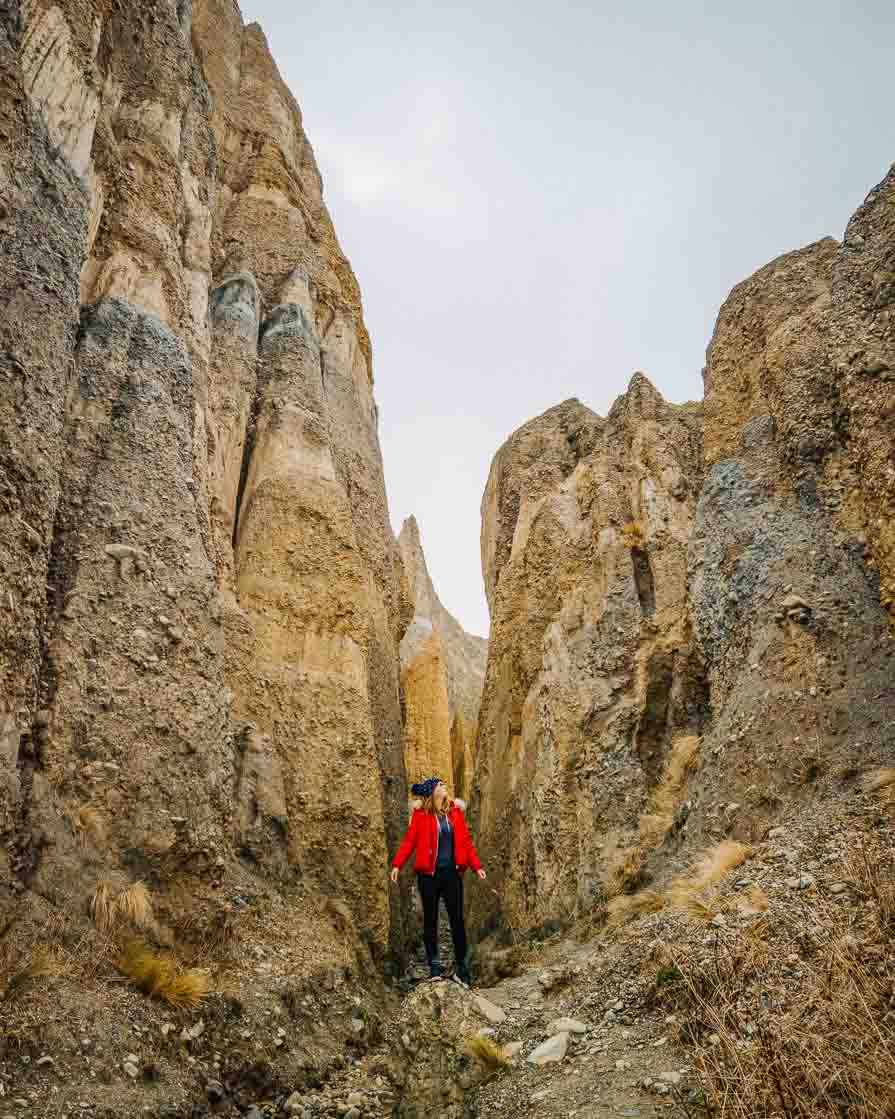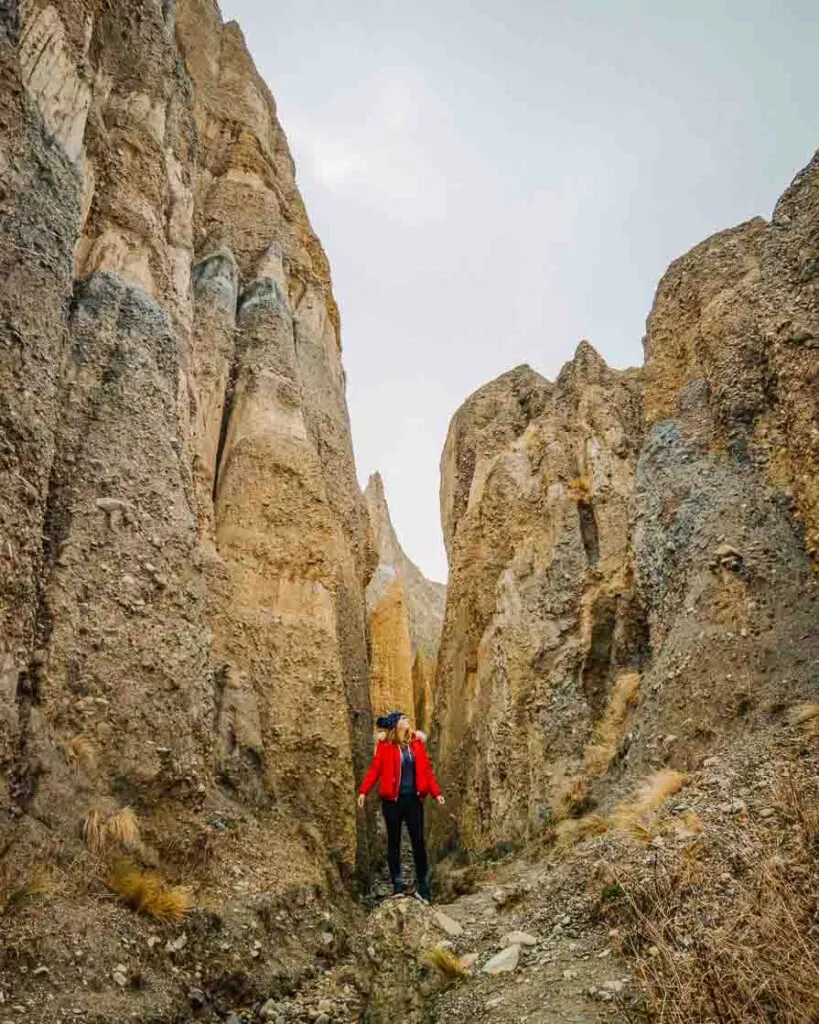 Things to do in the Waitaki District
Explore Steampunk HQ, funky shops and penguin colony in Oamaru
Have the best brunch ever at Riverstone Kitchen just north of Oamaru, their hot smoked salmon is something I dream about often
Then visit the gift shops onsite and wander through the impressive gardens
Stop off at Elephant Rocks to see some crazy rock formations
Cycle along the Alps2Ocean bike trail
Stop off in Omarama for a soak in a hot tub with mountain views and to see the otherworldly Omarama Clay Cliffs
Where to stay in the Waitaki District
Budget: Oamaru Backpackers has a 9.1 rating on booking.com from more than 800 reviews, so they must be good!
Mid-range: For a highly-rated farm stay, check out the Highlands on Homestead cottage on Airbnb
Luxury: The renowned Pen-y-bryn Lodge is a historic boutique hotel with brilliant facilities, including a billiard room, fitness centre, guest library and shared lounge with an open fireplace. Other fancy options in the Waitaki area include the brand new Mariner Suites (opened December 2020) and the Old Confectionary apartments.
Glamping: Valley Views Glamping near Waitaki Valley is one of the best New Zealand glamping spots, with spacious geodesic domes, a well-equipped shared kitchen, outdoor baths and panoramic views over farmland with a backdrop of mountains.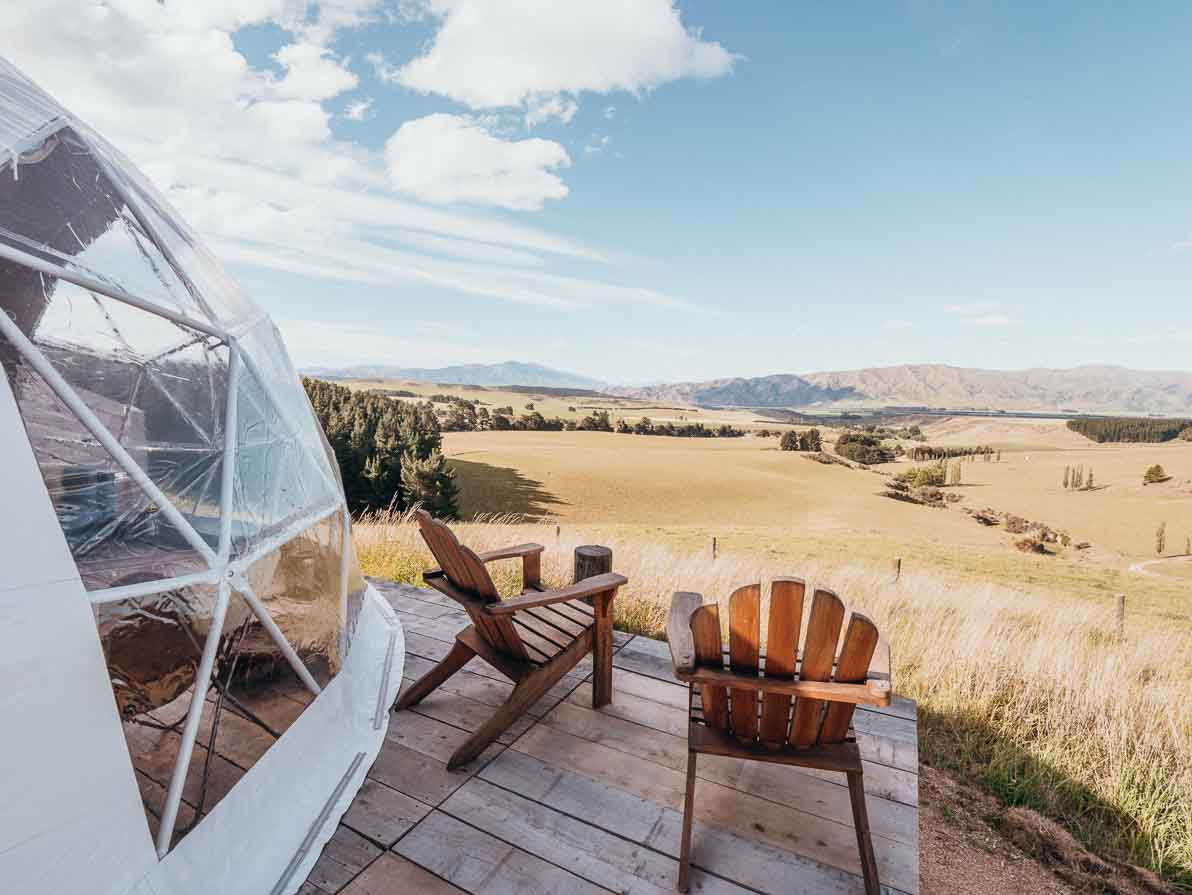 And another incredible glamping spot nearby is Nest Treehouse, a tiny house in the forest with sprawling farmland views, a private outdoor bath and a shared sauna.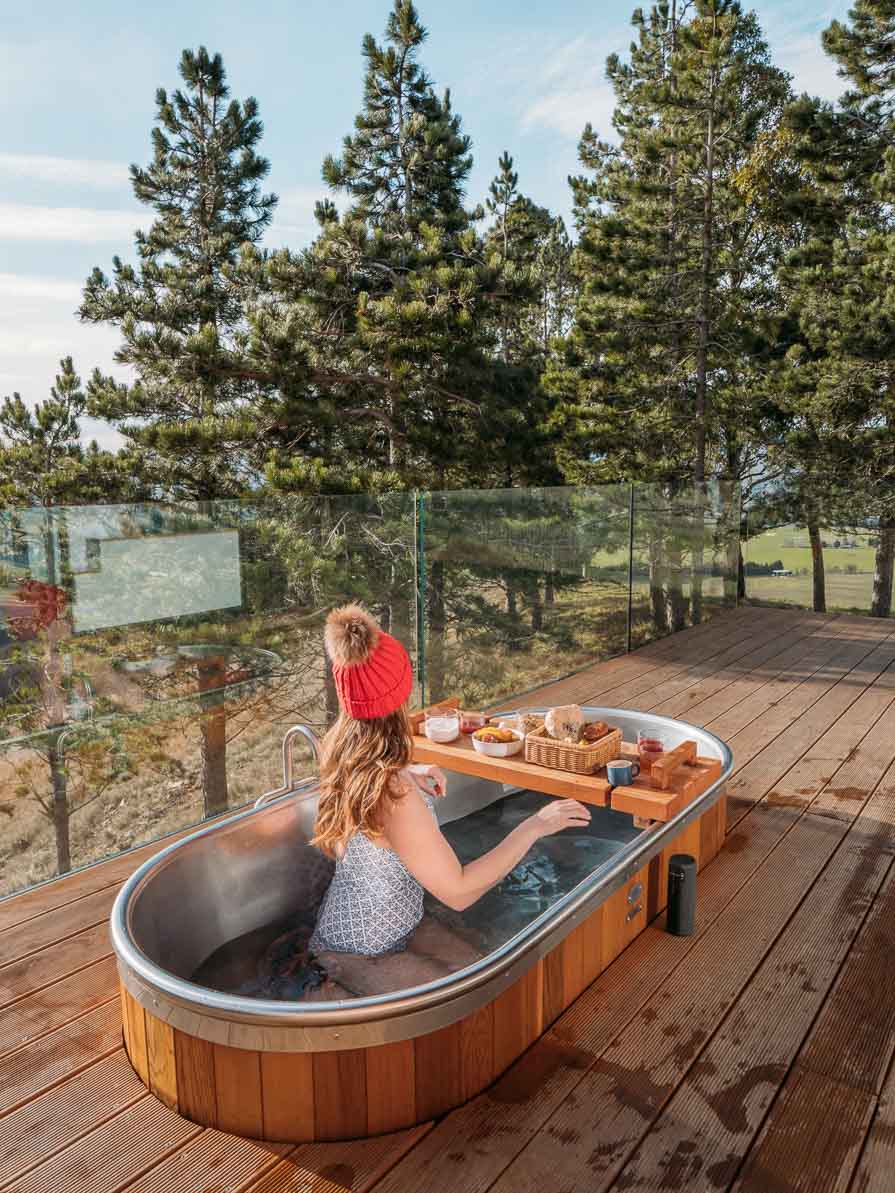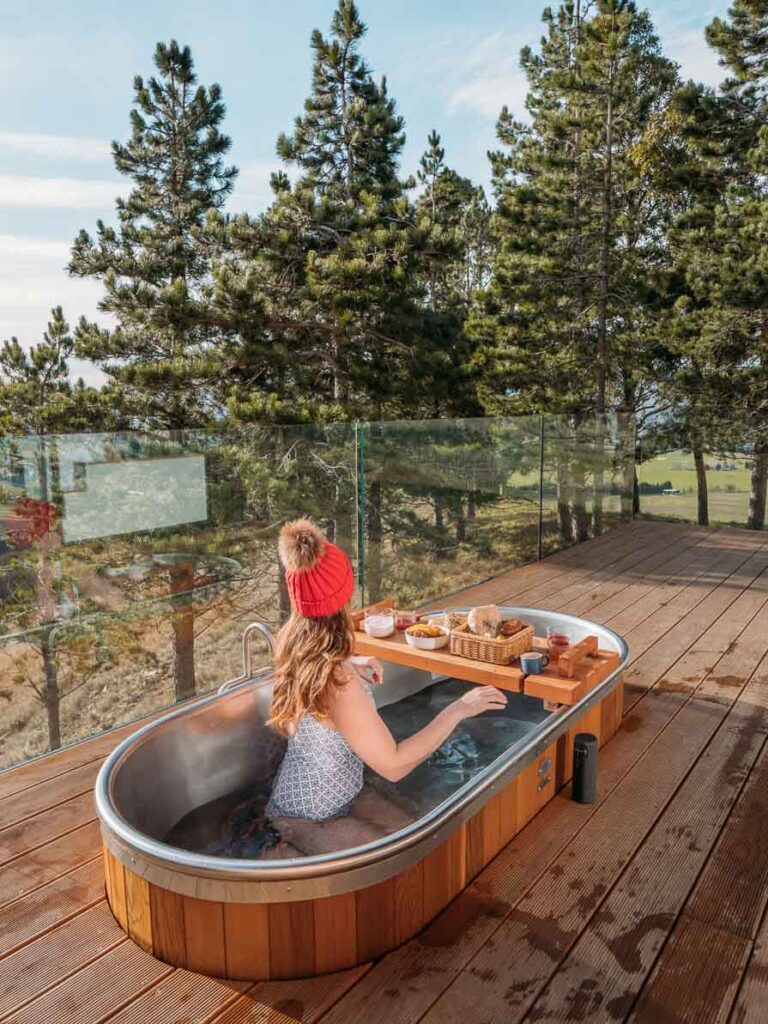 ---
Day 26: Aoraki/Mount Cook Village
Driving time from the Waitaki District: About an hour from Omarama, 96km
Where to stop on the way
High Country Salmon near Twizel for the best salmon pate of your life
Ahuriri Bridge Campsite if it's lupin season
Pete's Lookout for the best view of the windy road heading towards Aoraki
How long to stay in Aoraki/Mount Cook Village: Day trip or 1-2 days depending on how many walks you want to do
My first trip to Aoraki Village in August was cancelled by a terrible fire at Lake Pukaki, so I booked a second trip down for December of this year and had the most amazing time.
The drive to the village is truly one of the most beautiful drives I've ever done, and I'd recommend giving yourself time so you can stop for photos whenever you feel like it.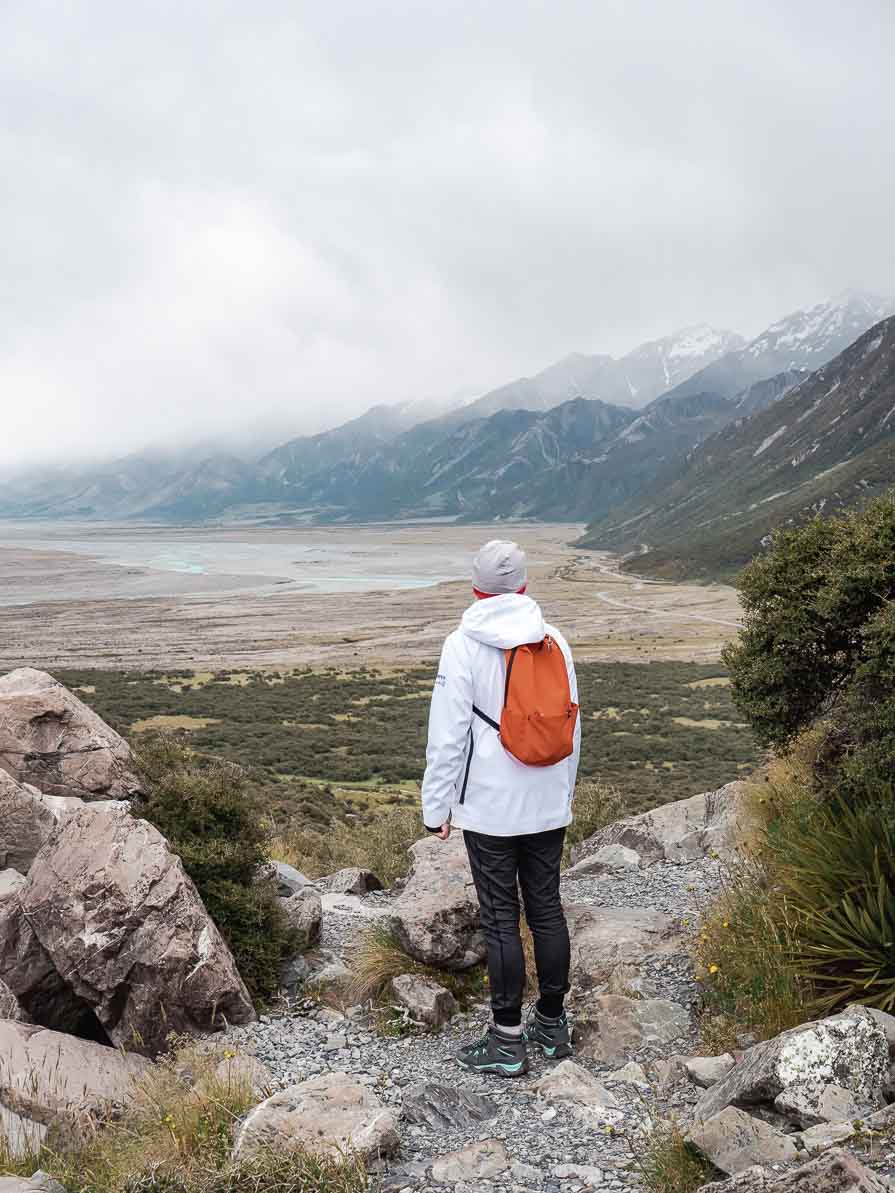 Things to do in Aoraki/Mount Cook Village
Hike! Try the Tasman Glacier Hike if you're short on time (30 mins) or the longer Hooker Valley hike (three hours) if you've got half a day. There are longer, more advanced hikes/climbs too depending on your experience, check with the visitor centre to get full info on the options that will suit you.
See the mountains from the best vantage point with a scenic flight
Visit the Sir Edmund Hillary Alpine Centre
Do a 15,000 foot skydive for the most insane views
Go for a boat ride on the Tasman Glacier lake
Treat yourself to a fancy dinner at the Hermitage Hotel, their cocktails are incredible!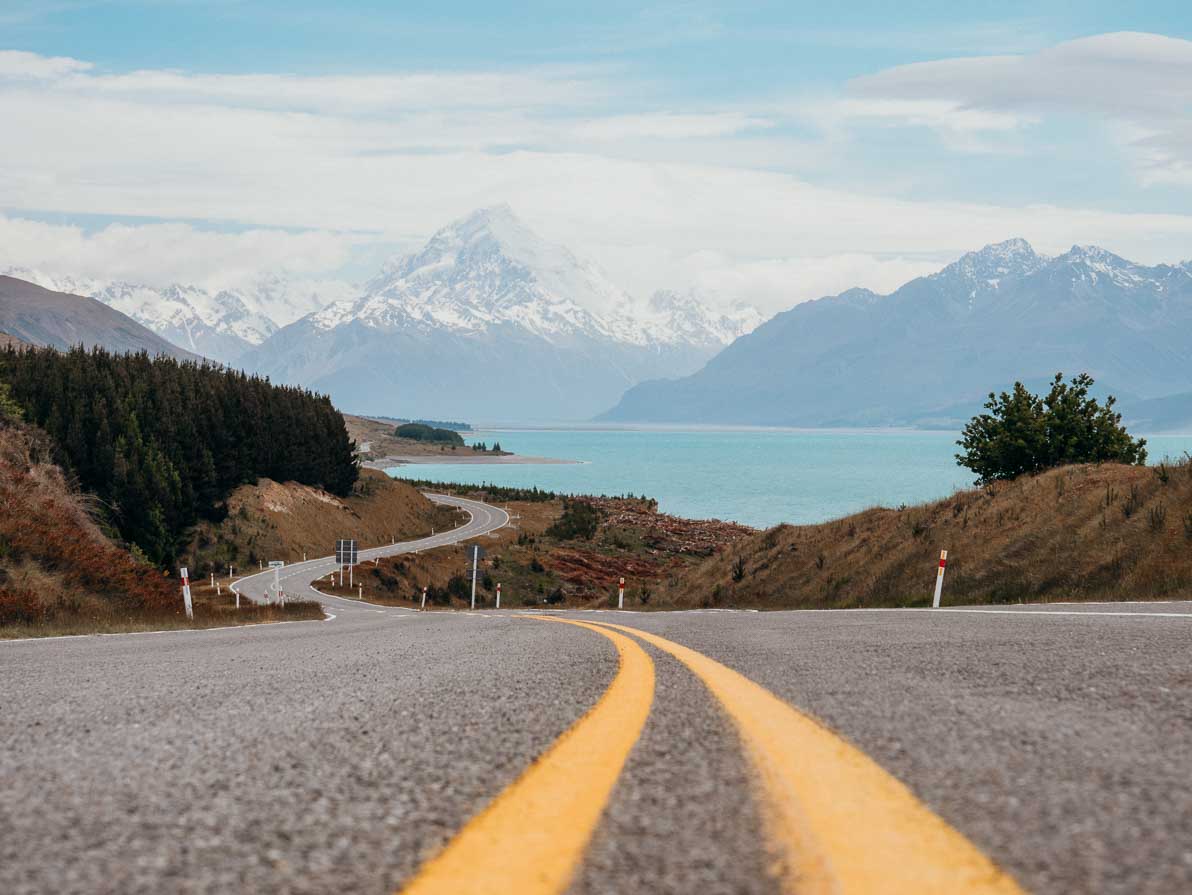 Where to stay in Aoraki/Mount Cook Village
Camping: The White Horse Hill DOC campground is widely regarded as one of the best campgrounds in the country
Budget: YHA Mt Cook has an 8.9 rating on booking.com from almost 1000 reviews, and they have the best value dorm beds and private rooms in the Village
Mid–range: We stayed at the Aoraki Court Motel which was decent and good value for money. Rooms have comfy beds, kitchenettes and mountain views.
Luxury: Mt Cook Lakeside Retreat is somewhere for those who appreciate the finer things in life. Enjoy mind-blowing views over Lake Pukaki, elegant furnishings and free afternoon tea for all guests.
---
Days 27 & 28: Lake Tekapo
Driving time from Aoraki/Mount Cook Village: 1h 10m, 105km
How long to stay in Lake Tekapo: 1-2 days
I loved Tekapo so much that I visited it three in a year! The bright blue lake looks out of this world and there's loads to do in the area to fill any itinerary no matter what you're into.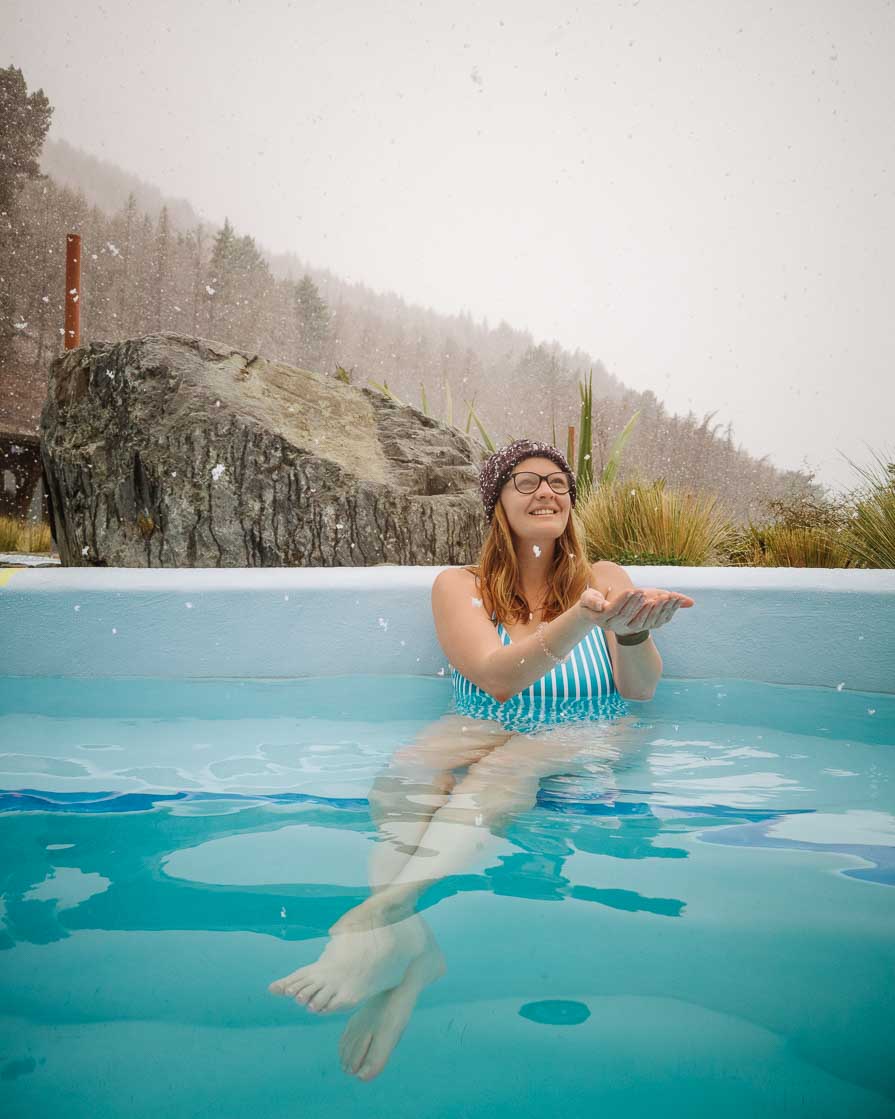 Things to do in Lake Tekapo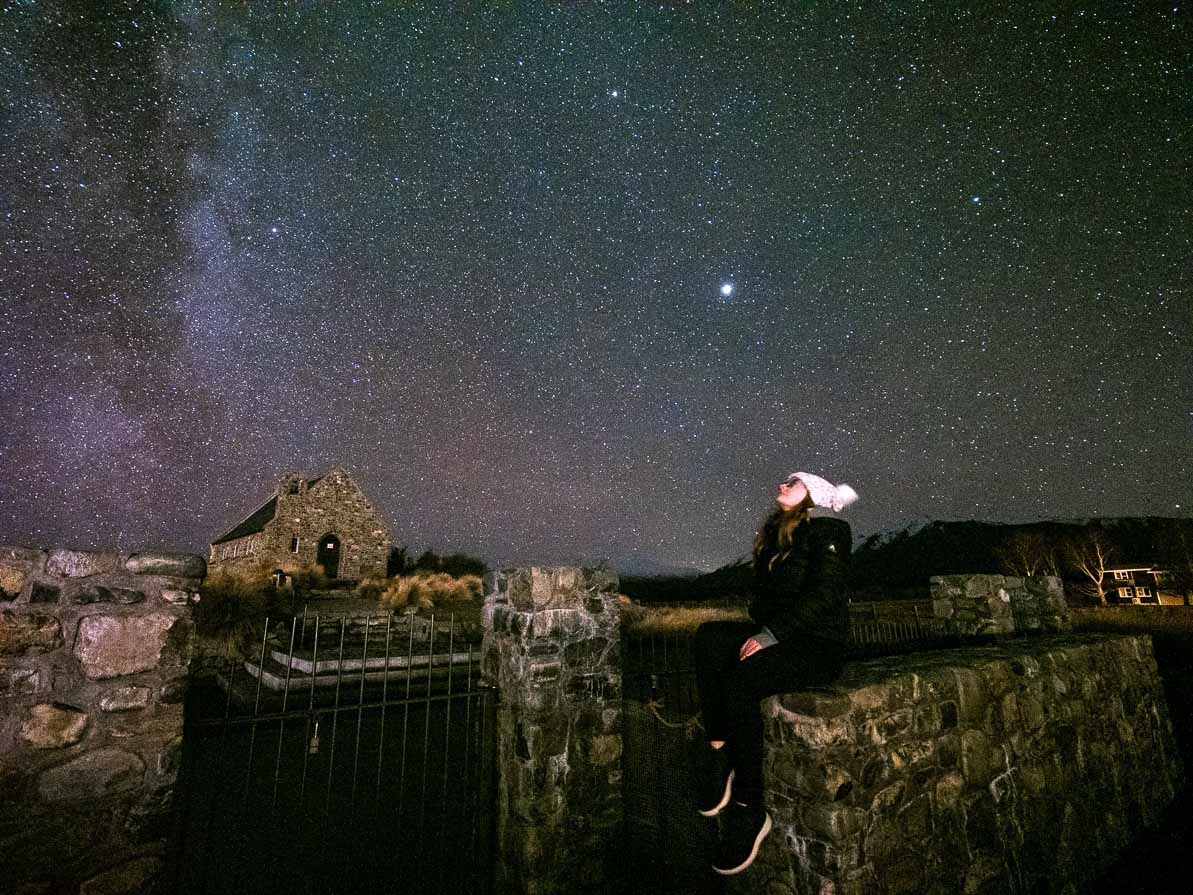 YOU MIGHT ALSO LIKE: The Best Things to Do in Lake Tekapo
Where to stay in Lake Tekapo
Camping: Lake Tekapo Motels & Holiday Park have campsites and cabins with lake views just a short walk from the hot pools
Budget: The YHA Lake Tekapo has excellent reviews and is ideally located on the lake, right next to shops and restaurants
Mid–range: Cairnsmore is a newly-built spacious studio apartment with a kitchenette, outdoor BBQ and lake and mountain views for a good price
Luxury: The Alpine Lodges at the Cairns is my favourite place to stay in Tekapo. The lodges have incredibly comfortable beds, cosy lounges with a fireplace, a full kitchen and a sun-soaked balcony, and they're just a short walk from town.
Unique: If you're looking for somewhere that's rustic and homely with a touch of luxury, consider spending the night at the ultra-Instagrammable High Country Cabin in Twizel (40 mins from Tekapo).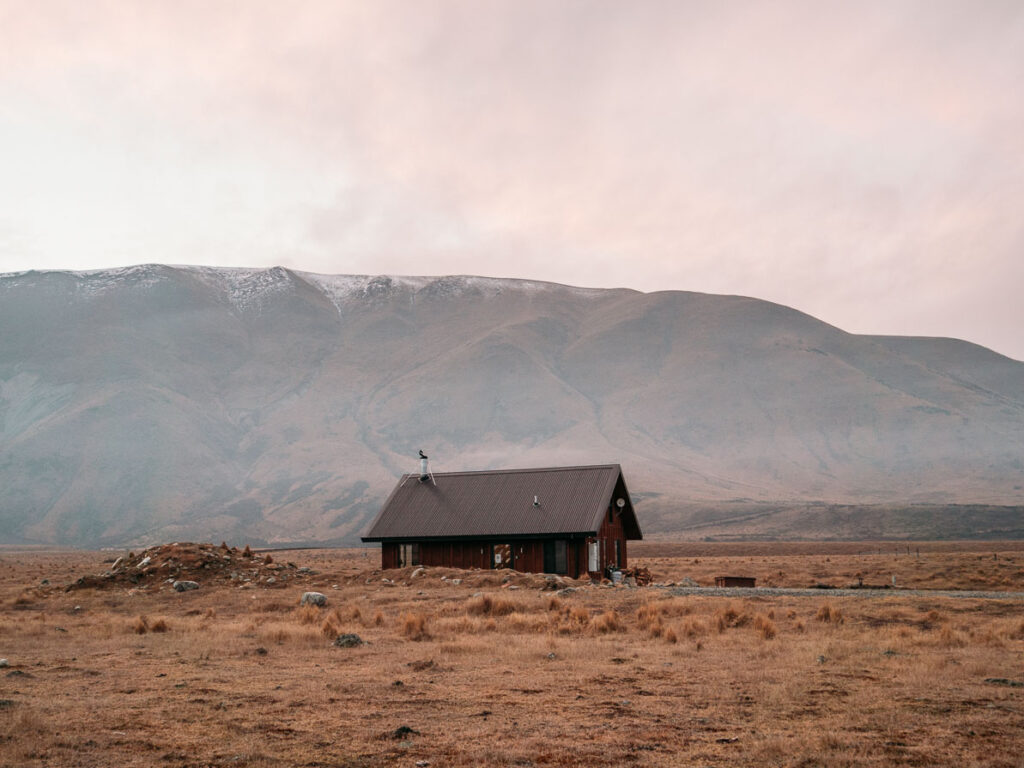 Glamping: There's no glamping in Tekapo itself but there is a brilliant option near Twizel called SkyScape. This place is a glass pod set in the middle of a farm, meaning no light pollution and ideal stargazing conditions!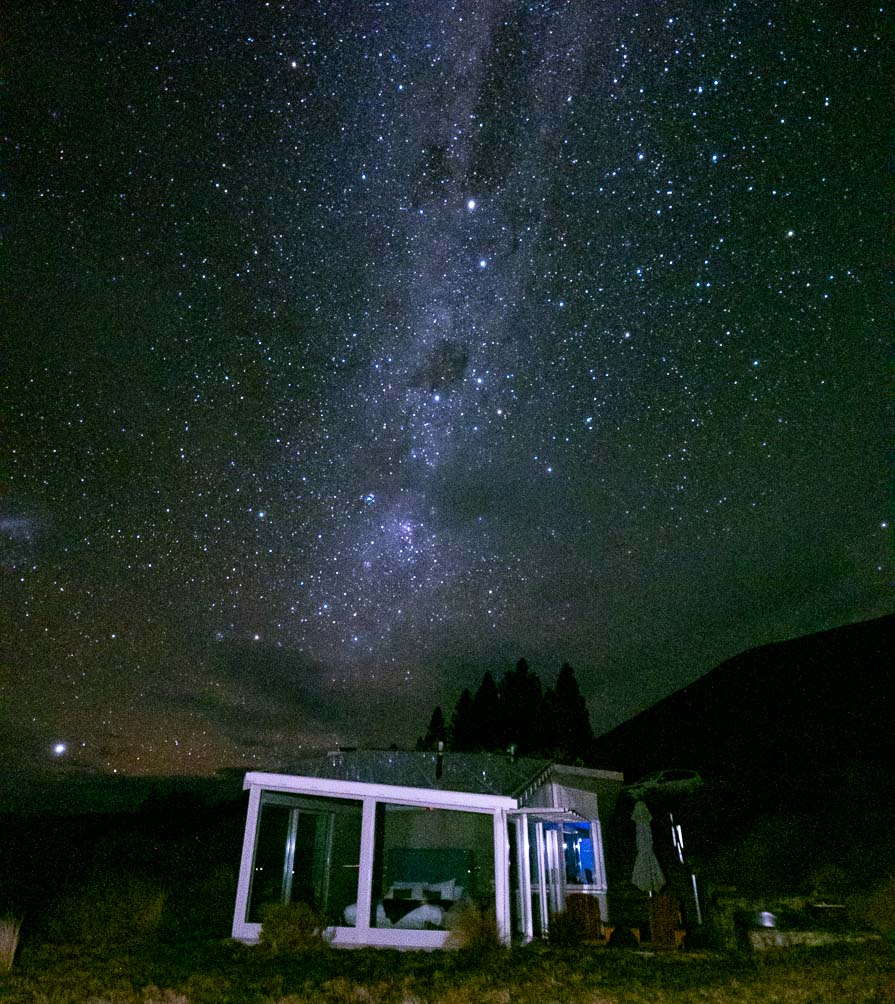 ---
Days 29 & 30: Christchurch
Driving time from Lake Tekapo: 2h 45m, 225km
Where to stop on the way
Burkes Pass to see the old school Route 66-themed auto-stop, the ideal South Island road trip photo spot
Fairlie for the famous Fairlie Bakehouse pies, I rate the pork belly one
Geraldine to pop into Barker's Foodstore for an amazing brunch
Ashburton Lakes and Rakaia Gorge if you have time to drive a little bit out of the way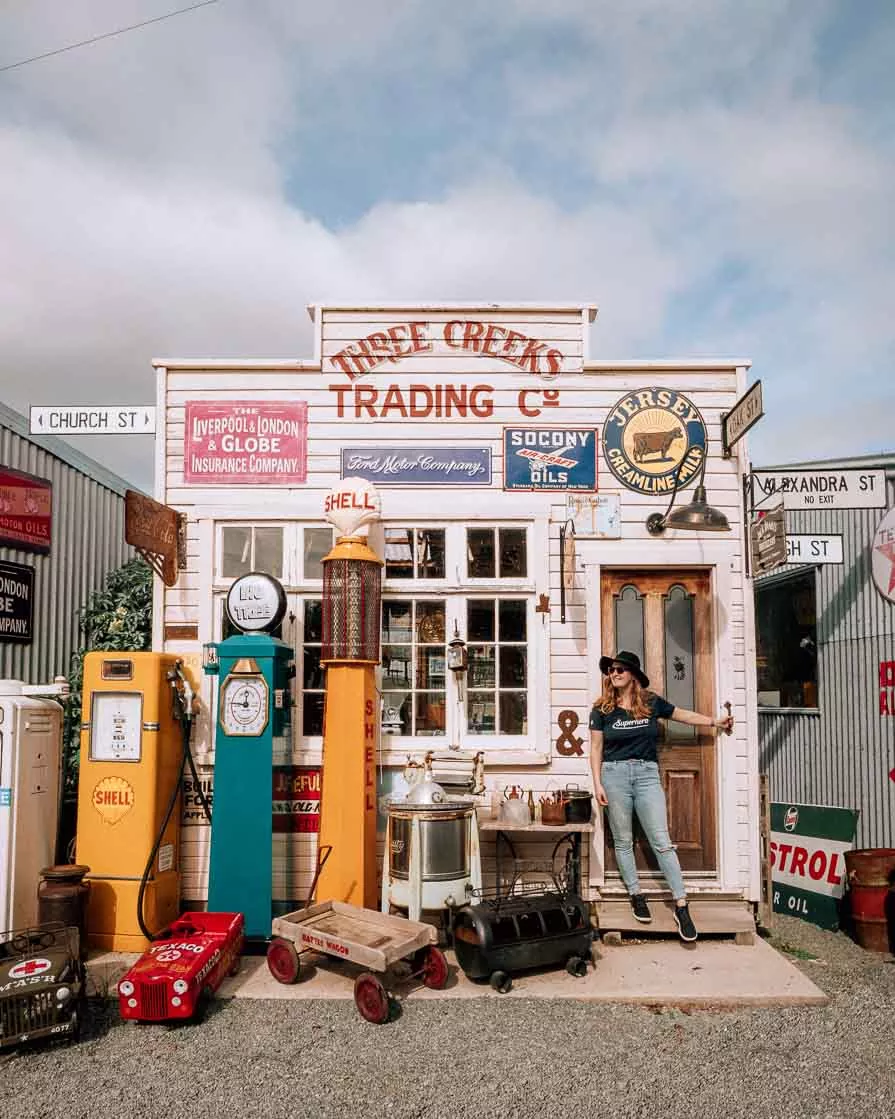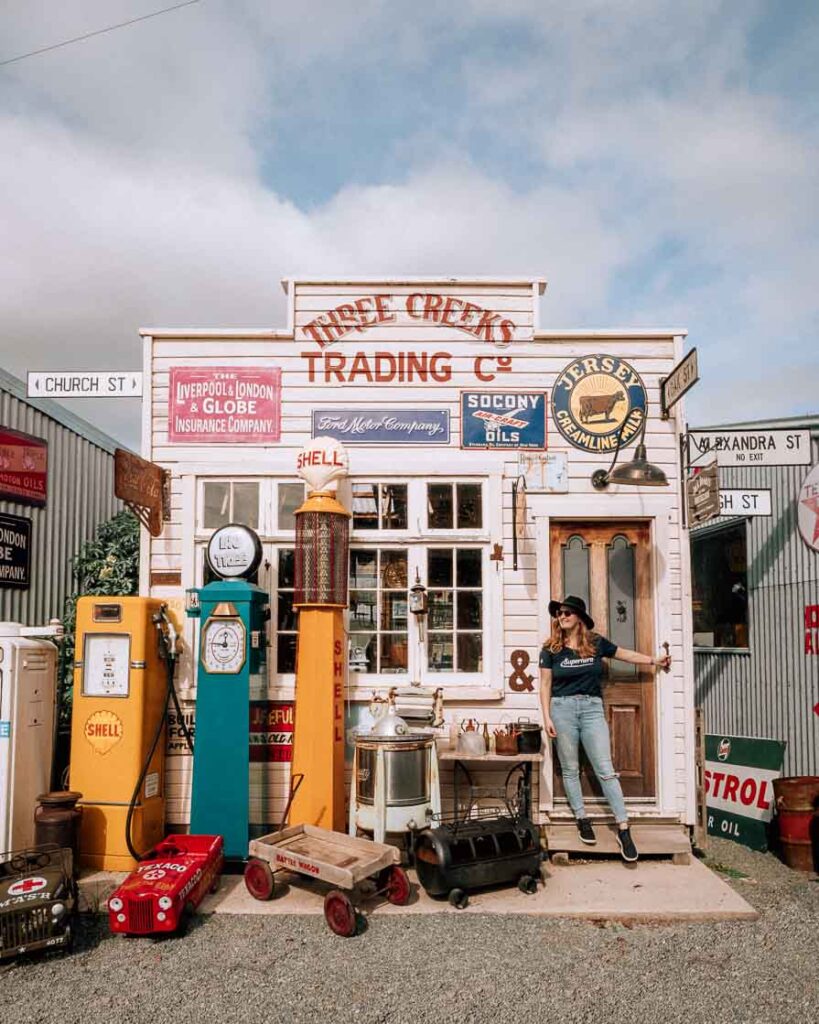 How long to stay in Christchurch: 2-3 days
Slowly being rebuilt after the disastrous earthquakes of 2010 and 2011, Christchurch is a city with a huge amount of character as well as lots of fun things to see and do.
Things to do in Christchurch
Visit the famous Botanic Gardens
Hire an e-bike and hit one of the city's cycle trails
Take a day trip on the TranzAlpine Train through Arthur's Pass
Zip along New Zealand's longest zipline at the Christchurch Adventure Park
Enjoy a four course dinner at the funky Tramway Restaurant
See the city on a tram tour
Search for the best street art in the central city
Eat your heart out at the bustling Riverside Market food stalls
Treat yourself to a new hair do at the first hair salon in NZ to offer a fully licensed bar, Mods Hair in Merivale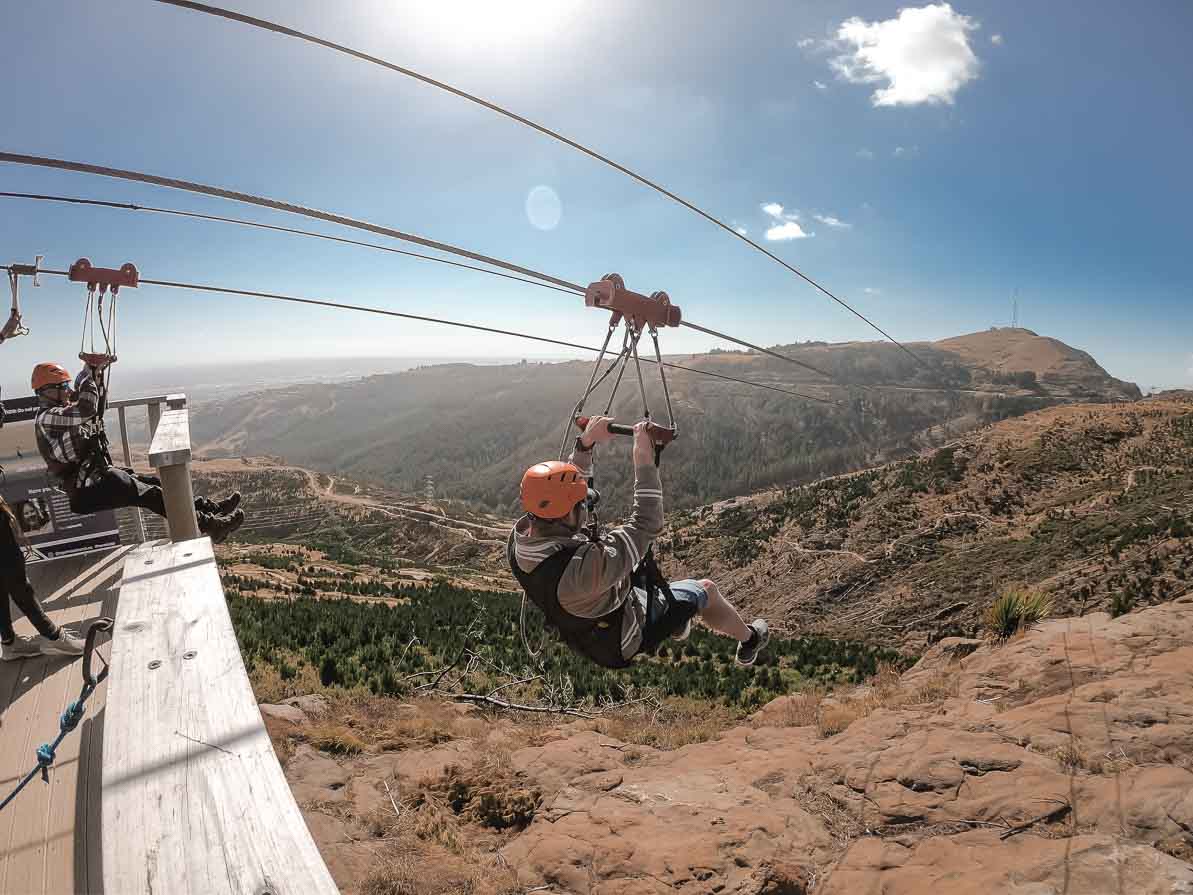 Where to stay in Christchurch
Budget: Jucy Snooze is a pod-style hostel by the airport with great facilities for a really good price
Mid–range: The Tack Rooms have two fully self-contained units (including kitchen and washing machine) just a short walk from the central city. The aesthetic here is so classy, it's soaked with natural light and the location is unbeatable.
Luxury: The Britten Stables is an award-winning restored stables that was a part of the 1896 Mona Vale Homestead, renovated in the 70s by legendary inventor John Britten.
They have a range of rooms available with access to a gorgeous conservatory with an indoor pool that looks like it is straight out of my dreams. We stayed in the Observatory which had a large bedroom, decent living space and a kitchen.
Book Britten Stables on booking.com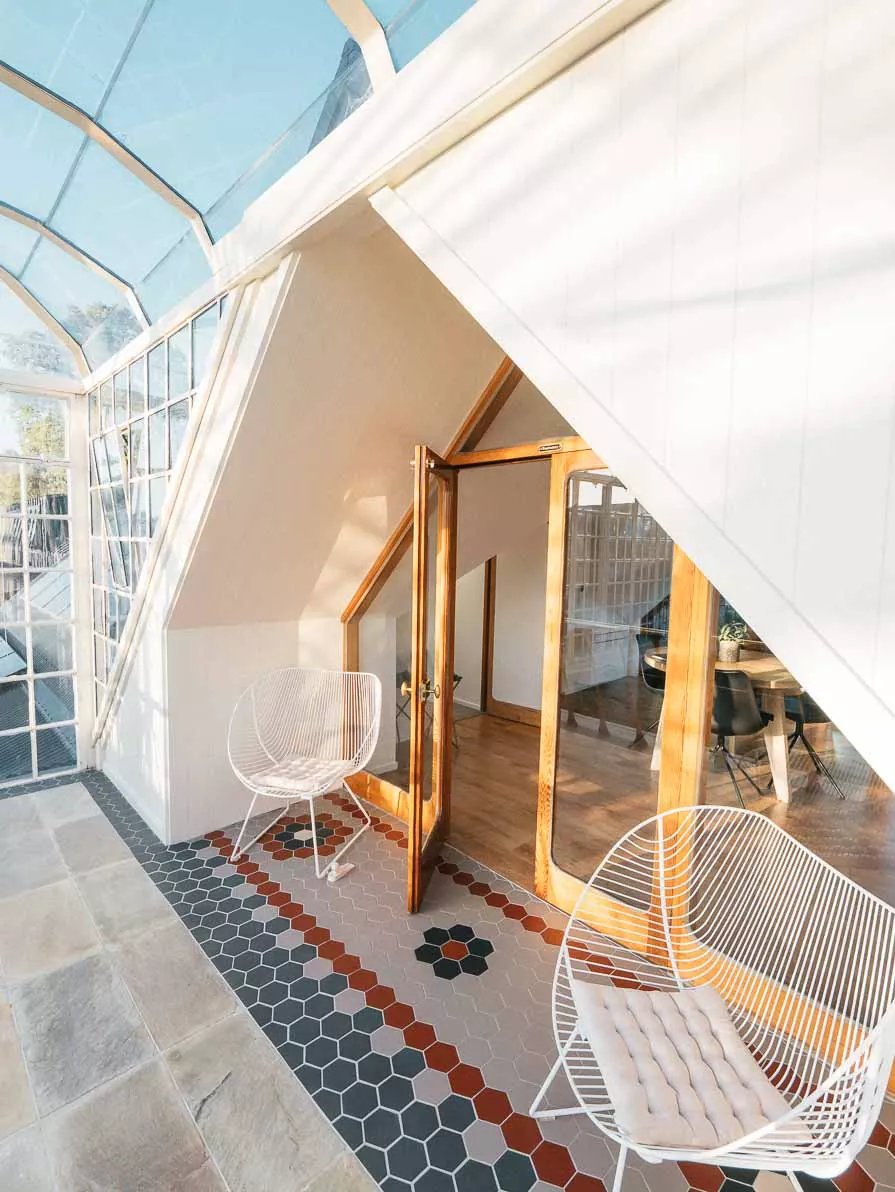 ---
Day 31: Akaroa & the Banks Peninsula
Driving time from Christchurch: 1h 20m to Akaroa, 81km
How long to stay in the Banks Peninsula: Day trip or 1-2 days
Best known for its dolphins and French influence, Akaroa and the Banks Peninsula is a great add on to any South Island road trip if you have time.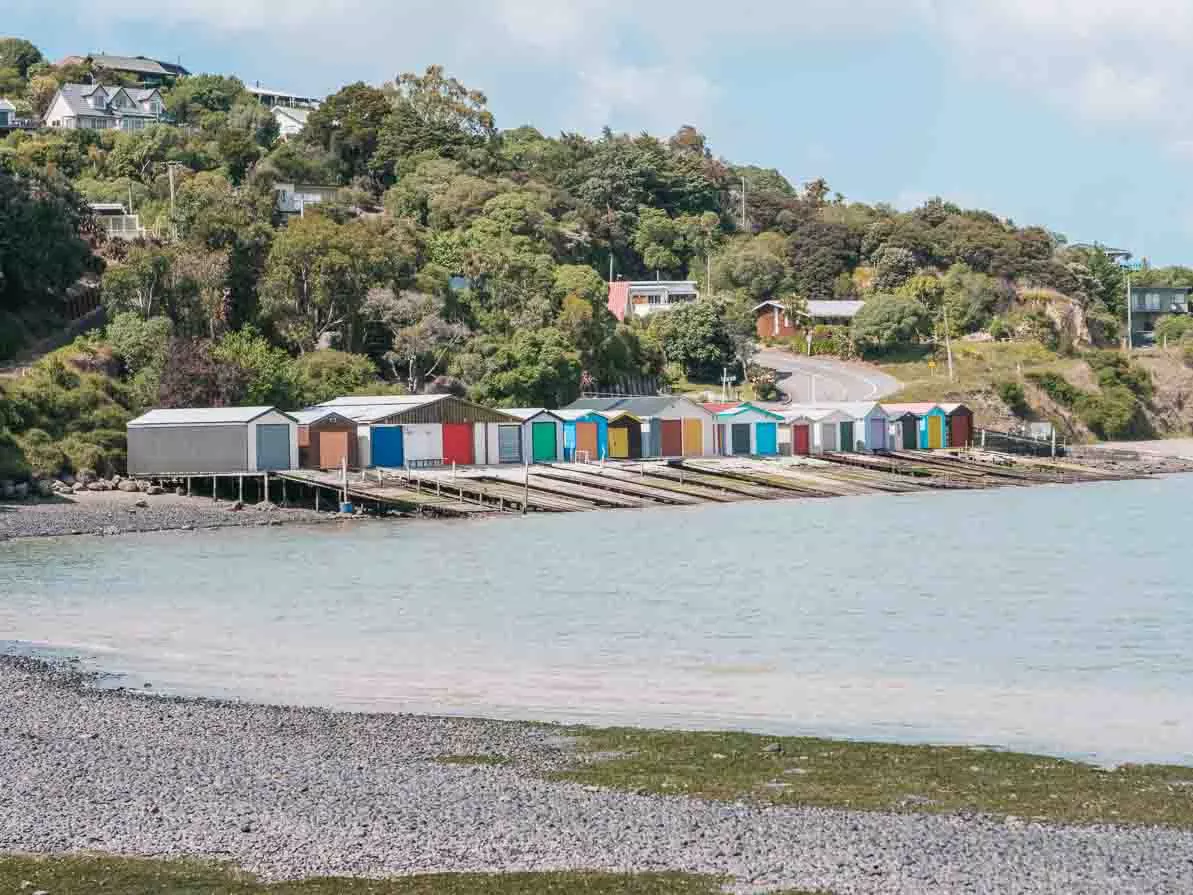 Things to do in Akaroa & the Banks Peninsula
Swim with dolphins or do a wildlife cruise if you don't want to swim
Explore the ocean by kayak tour
Join in on a small group tour to watch the penguins at dusk
Explore Akaroa's French-influenced eateries, gardens and homesteads
Visit the weird and wonderful Giant's House
Where to stay in Akaroa & the Banks Peninsula
Camping: Akaroa TOP 10 Holiday Park has good facilities and is the closest campground to the township
Mid–range: SiloStay in Little River is a really funky place to rest your head, with your accommodation inside a converted silo! You get an upstairs balcony with countryside views, a kitchenette and an en suite bathroom inside your silo.
Luxury: Bellbird Bach is a sun-soaked innovative bach with space for six people overlooking the valley just past Akaroa, or the Villa in Akaroa is a historical home with space for four.
Glamping: My mum and I stayed at the Te Wepu Intrepid Pods, who have three secluded wooden pods overlooking rolling hills and the Akaroa Harbour. Each pod has an indoor bio-loo, outdoor kitchen, BBQ, wood-fired hot tub and solar-powered lighting and USB charging. Kate and Richie have created an epic glamping spot and this was one of the highlights of our Canterbury road trip!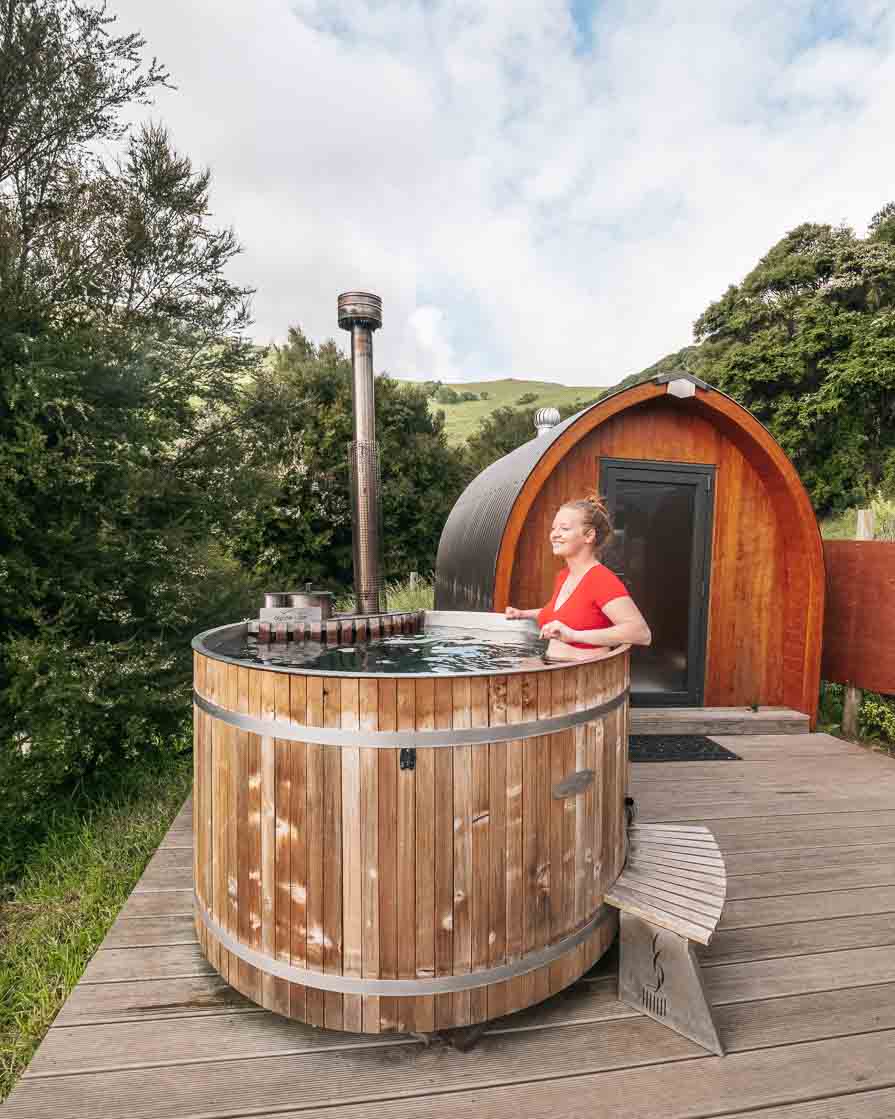 ---
Day 32 & 33: Kaikoura
Driving time from Christchurch: 2h 30m, 180km
Where to stop on the way
Hanmer Springs if you're happy to take a slight detour
Cathedral Gully for some crazy cool rock formations
How long to stay in Kaikoura: 1-2 days
With ocean in front of you and mountains behind you, Kaikoura might be one of the best-looking destinations in the country.
Watch for whales and dolphins by boat, kayak or air, chow down on the freshest seafood you'll ever find, and spot baby seals playing in rock pools.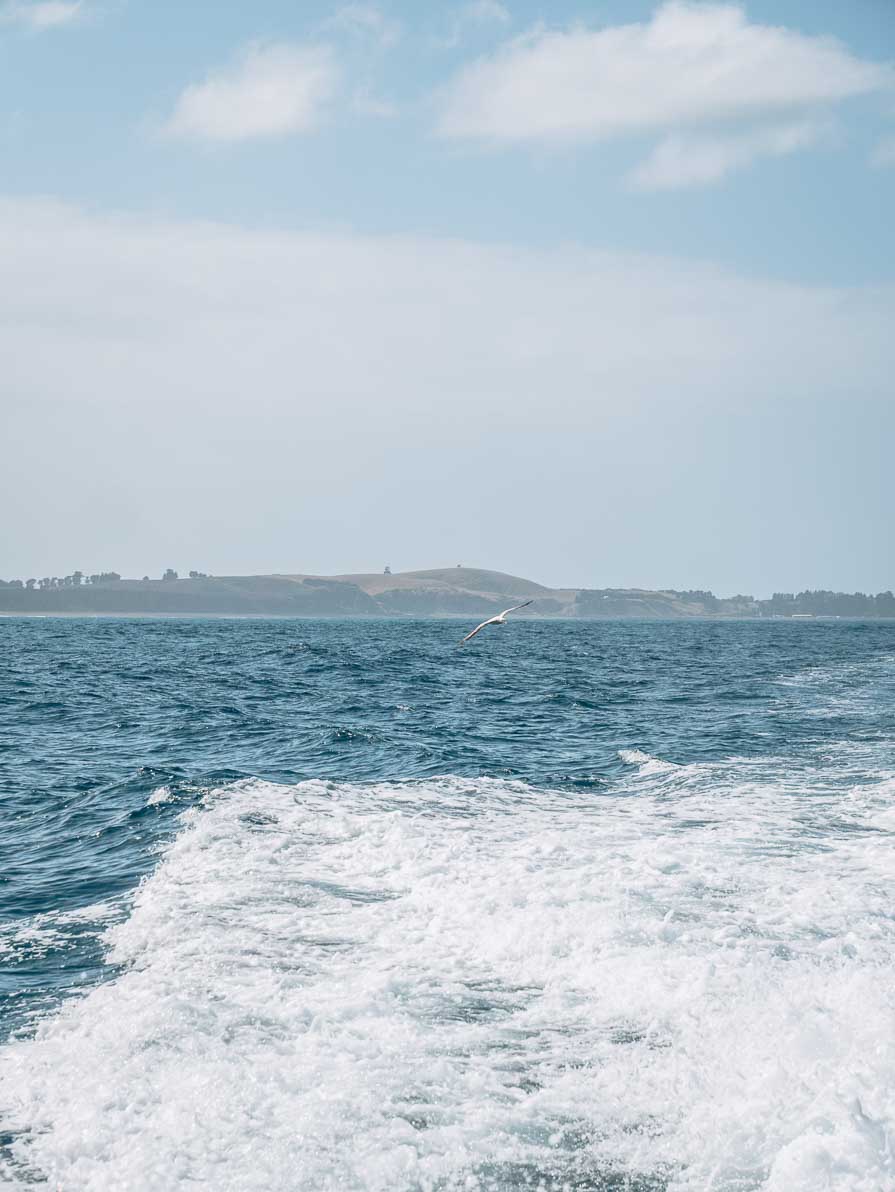 Things to do in Kaikoura
You can't visit Kaikoura without a whale watching trip (even though I'm terrified of whales which is a story for another day). Do a whale watching cruise or splurge on a whale watching flight.
See the sea by kayak with a guided kayak tour
Spot baby seals playing in the rock pools at Ohau Point
Eat fresh crayfish on the beach with a stop at Nin's Bin
Swim with dusky dolphins with Encounter Kaikoura. I did a dolphin swim in Picton and loved it so much I had to try it in Kaikoura as well! Kaikoura's dolphin tour is in the open oceans and sea conditions can be rough, so if you're prone to seasickness then reconsider going for the Picton option instead (which is in the very calm Marlborough Sounds). If you're used to being on boats though then swimming with dolphins in Kaikoura is absolutely worth adding to your South Island road trip.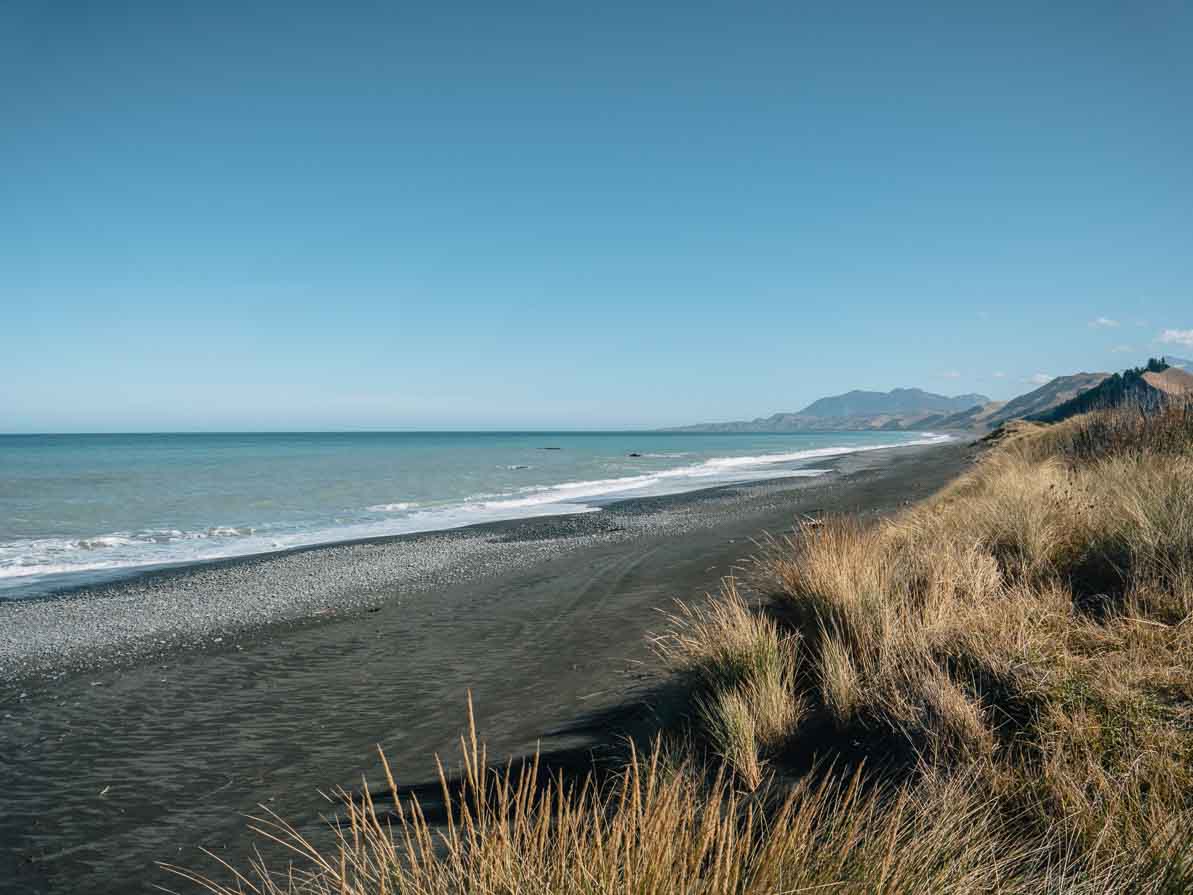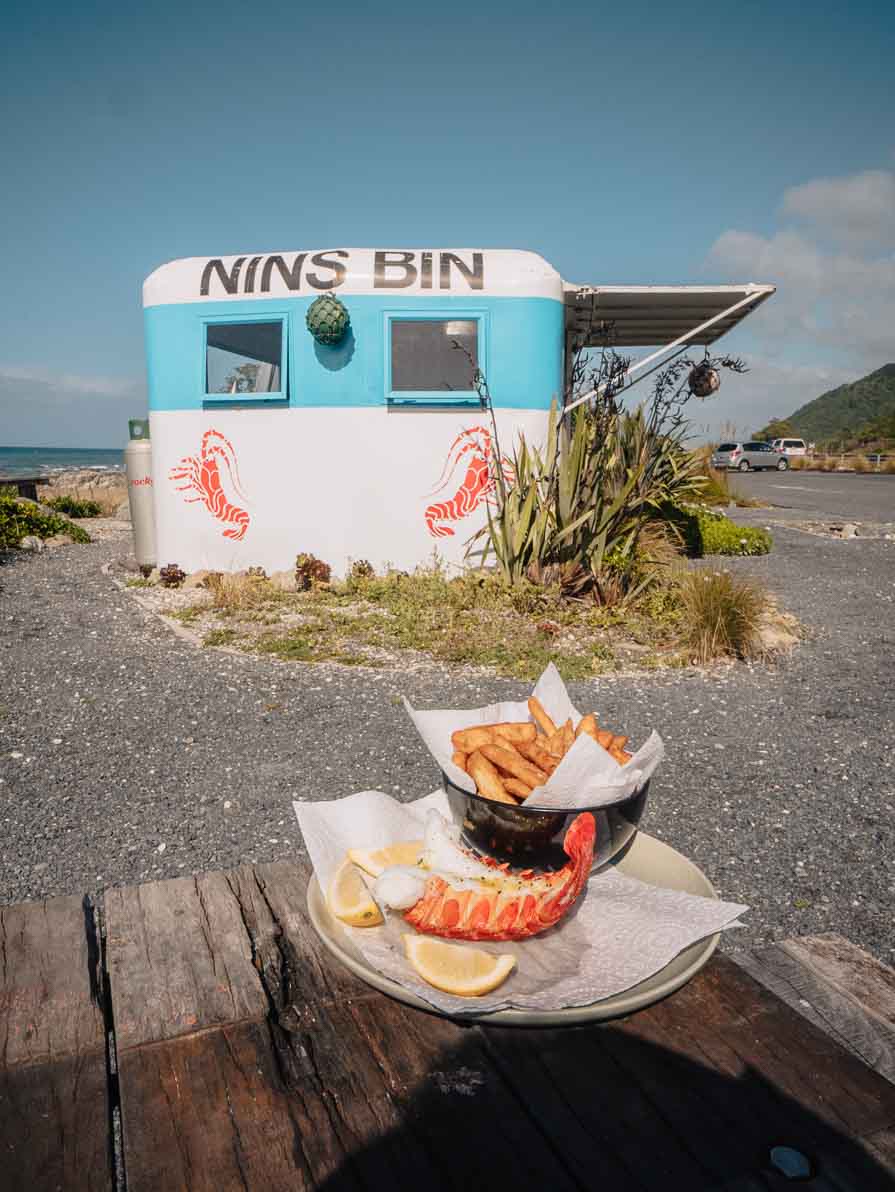 Where to stay in Kaikoura
Camping: Kaikoura TOP 10 Holiday Park has modern facilities and amazing mountain views
Budget: First Light Kaikoura has budget-friendly rooms with good reviews
Luxury: This Kaikoura waterfront apartment can fit four people and has excellent reviews on Airbnb, or the Hamptons B&B offer ocean view king rooms for two people
Glamping: Staying at the Manakau PurePod was very high on my New Zealand bucket list, and I was lucky enough to tick it off on my third South Island road trip! This is basically a glass box located on a remote farm in inland Kaikoura, accessed via gravel road, shallow fords (big puddles) to drive through and a short walk through the forest. It's got a kitchen + gas BBQ, an indoor loo with a stunning view and a glass ceiling for stargazing all night long.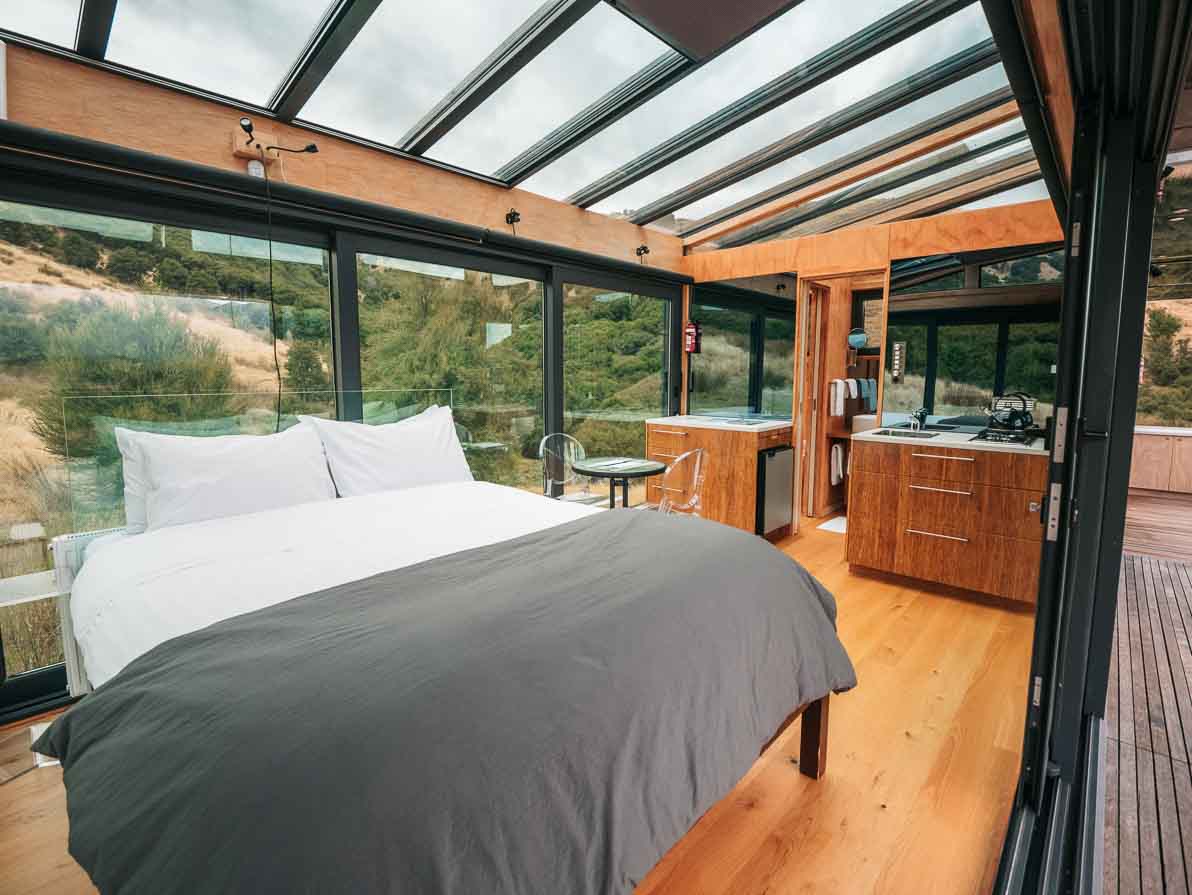 ---
And after wrapping up your trip in Kaikoura, it's a two hour drive back to Picton to complete the circuit!
I hope this detailed South Island New Zealand travel guide has helped you plan your South Island road trip itinerary. If you think I've missed anywhere important or think I should add something onto this road trip plan then let me know in the comments.
Drive safely and have the best time!
Planning a South Island road trip? Read more New Zealand travel tips in these blogs:
Like this blog? Pin it!