Planning a Christchurch to Hanmer Springs road trip? From places to stop, where to stay and things to do, here's the perfect Christchurch to Hanmer Springs road trip itinerary.
The Hurunui District is a part of northern Canterbury, with the southern boundary about 30 minutes north of Christchurch, northern boundary just south of Kaikoura, running from the ocean into the Southern Alps in the centre of the South Island.
And after my own extensive New Zealand road trips, I can confidently say that Hurunui is the most underrated region in the entire country, with so much to see, do and eat that it should be on every traveller's New Zealand bucket list (and locals' ones too!).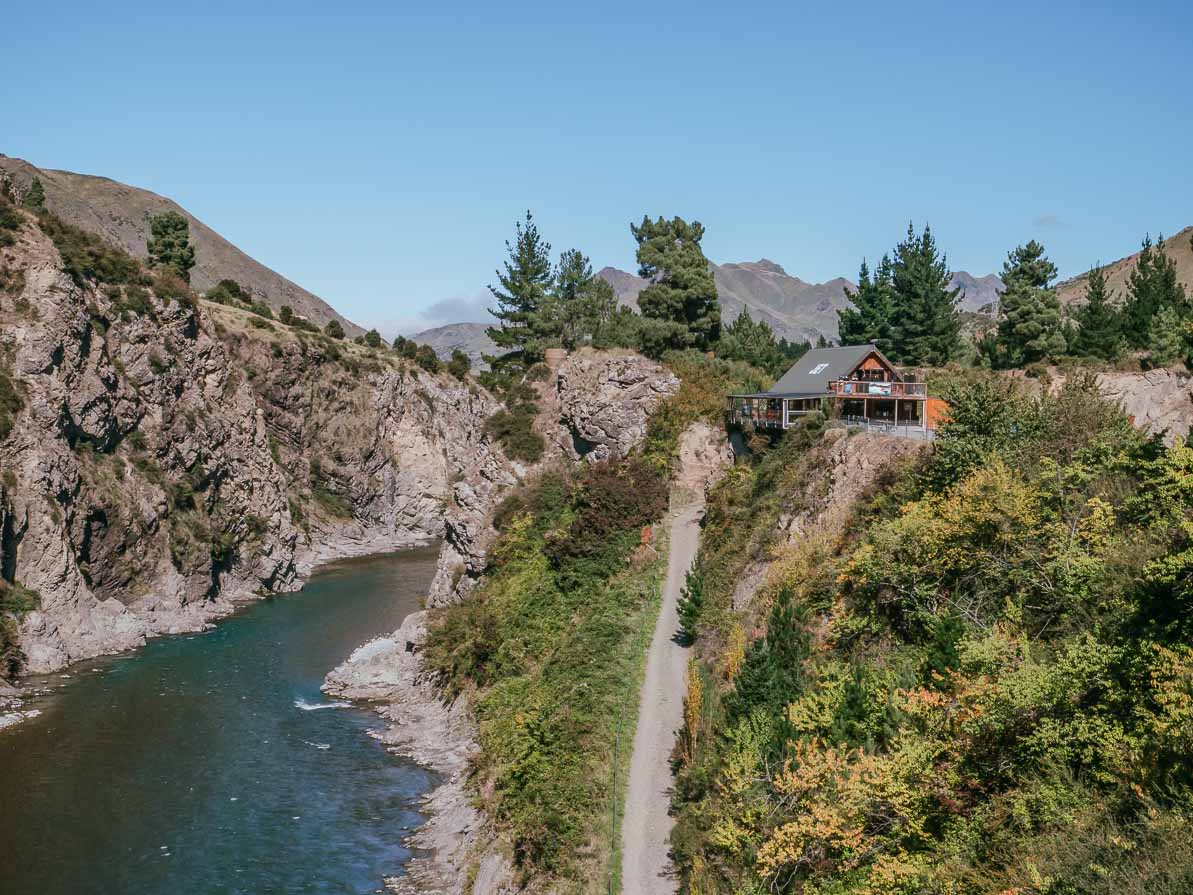 Hot pool heaven Hanmer Springs is by far the best-known tourist destination in Hurunui, and being only an hour and a half from Christchurch by car, it's a brilliant option for a getaway out of the city. But beyond the thermal pools and hydroslides (as we know them in New Zealand), there is an endless selection of activities in Hanmer Springs and other Hurunui must-visit spots that will blow your mind.
So whether you're planning a grand South Island road trip or you're just looking for a weekend trip, here's all you need to know to plan a Christchurch to Hanmer Springs road trip itinerary!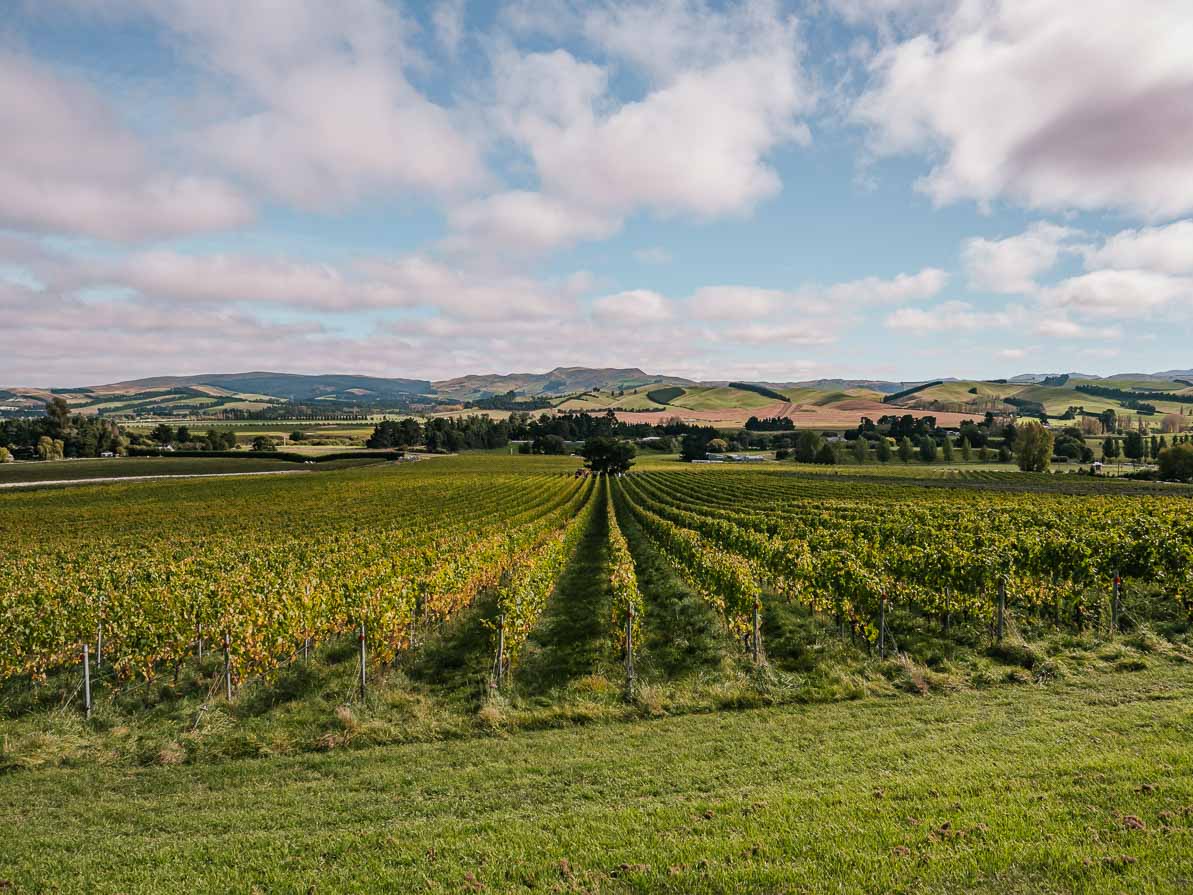 ---
Should I hire a car or campervan to drive from Christchurch to Hanmer Springs?
The drive from Christchurch to Hanmer Springs is about 95 minutes and the roads are absolutely fine for both cars and campers. There's no car rental or campervan rental depots in Hanmer Springs though so you'll need to drop off and pick up in Christchurch or at another South Island hub, like Nelson, Picton, Queenstown or Dunedin.
On my recent trip I hired a car through Snap Rentals in Christchurch which was significantly cheaper than the other options, we paid $260 for a new model Toyota Corolla for four days, but that included after-hours pick up and drop off charges of $80, so the actual car hire daily cost was only $45 per day including the highest insurance policy. Other rental companies like GO Rentals, Ezi Car Rental and Avis were showing at least twice the price!
Check the best rental car options available right here on rentalcars.com >>
For campervans, I recommend checking out Jucy for something cheap and cheerful, Britz for something a bit fancier, or Wilderness for the luxury RV of your dreams!
---
When is the best time to visit Hanmer Springs & the Hurunui area?
Hurunui offers something different every season, with hot, sunny days in summer and snowfall in winter.
Summer (December to February) in Hanmer Springs is often hotter than you'd expect for an alpine town in the South Island, with it being fairly common to crack 30 degrees! The coastal parts of Hurunui will always be a bit cooler with seawind but the beaches are perfect for a summer picnic and refreshing dip.
Autumn (March to May) is absolutely stunning, with the trees slowly changing colour and the Waipara vines being harvested. It can get quite cool at night by this time of the year so pack a warm jacket and scarf.
Winter (June to August) is pure magic, being able to soak in the thermal pools while it's snowing is something you'll never forget.
Spring (September to November) brings warmer days and less crowds, an ideal time for a shoulder-season visit.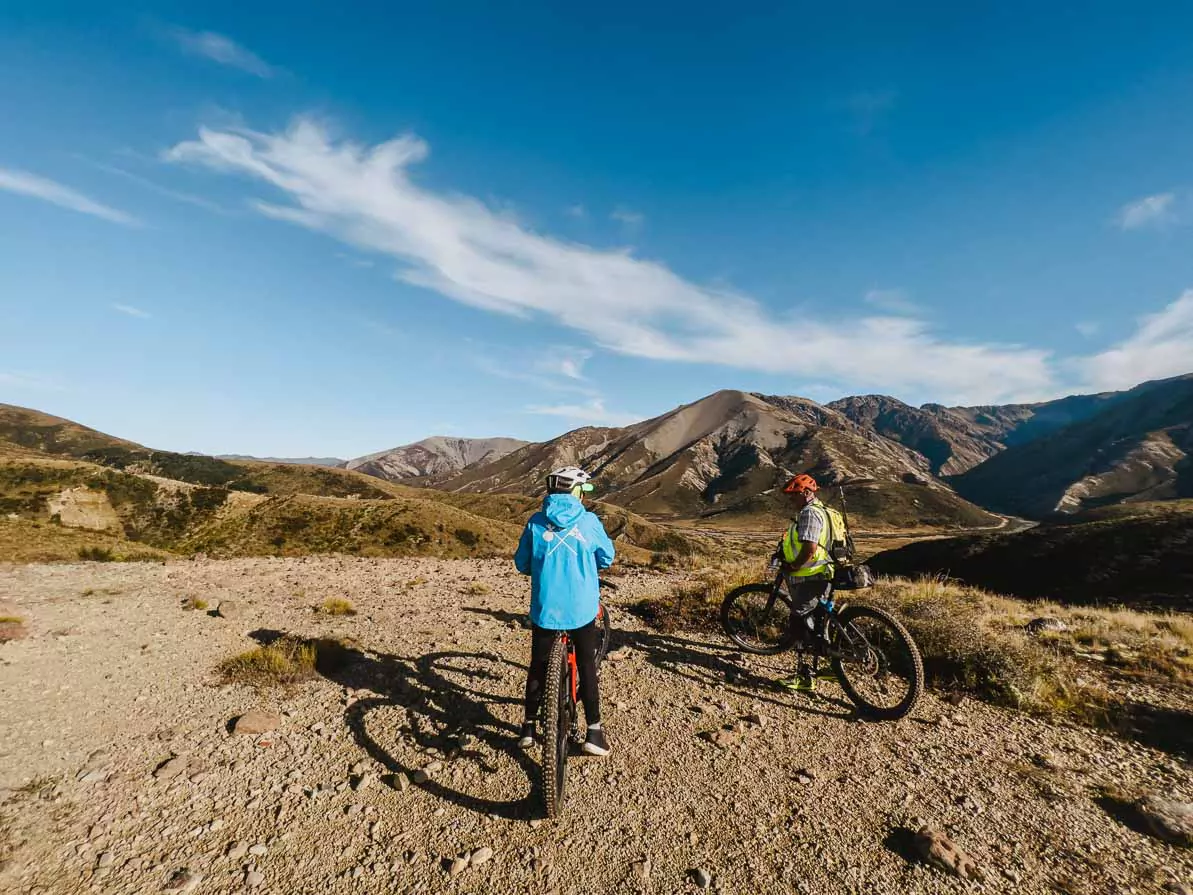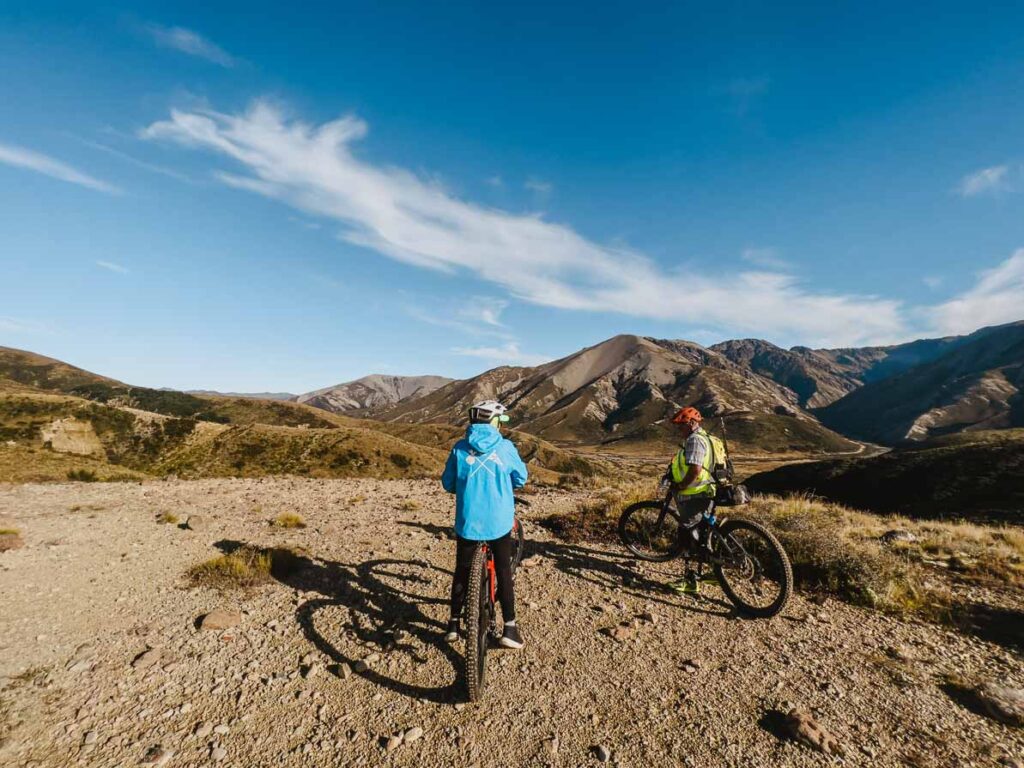 ---
Christchurch to Hanmer Springs road trip route
---
Christchurch to Hanmer Springs road trip itinerary
Arrive in Christchurch
You'll start your trip in Christchurch, the biggest city in the South Island and one that is well worth exploring.
After much of the CBD was decimated by earthquakes in 2010 and 2011, the city has been rebuilt and now boasts some of New Zealand's best retail, culinary and entertainment offerings.
Things to do in Christchurch
Try out all the best food
My absolute favourite thing to do when I visit Christchurch is to dine the days away, with fancy brunches, divine dinners and funky cocktails.
It seems as though there's a new opening every week at the moment but some of my top food and drink recommendations in Christchurch are:
Miro, Amazonita, Hello Sunday, Unknown Chapter and Moment Cafe for brunch
Jaba, Crockett, Francesca's, Twenty Seven Steps and Earl for lunch/dinner
Riverside Market for freshly baked goods and local delicacies
Explore the city
Get your bearings and see all the best bits of the city with a tram tour in one of Christchurch's historical trams, or go for a classic Avon River punting tour and just relax while your guide takes you through the CBD.
Christchurch has some amazing sights to see, from street art to funky architecture to heritage buildings that have survived the quakes.
Where to stay in Christchurch
Camping | Christchurch TOP 10 Holiday Park has modern facilities and is a short drive from the main city centre
Budget | YHA Christchurch offer basic but good value accommodation in the middle of the city or Jucy Snooze has funky pod-style dorms by the airport
Mid-range | The Tack Rooms are self-contained studio units with modern furnishings and beautiful décor just a short walk from the entertainment district
---
Christchurch to Amberley
Amberley is a classic Kiwi country town, where the roads are big enough for trucks and tractors and you'll see gumboots sitting outside fancy restaurants. Don't make the mistake of driving straight through though, or you'll miss some incredible eateries, warm hospitality and a couple of stunning beaches.
Driving time from Christchurch
40 minutes
Things to do in Amberley
Stop for food
If you don't have time for an overnight stop, at least do yourself a favour and stop off for a meal. Amberley's punching well above its weight for a little rural town, with a bunch of highly-rated food options to fill your tum while road tripping.
Little Vintage Espresso Cafe is my top pick for breakfast, they have a varied menu of all the usual hot options as well as delicious pastries and top notch coffee. For a heartier meal consider Amberley Hotel, a newly-renovated gastropub serving up classic Kiwi fare, like lamb shoulder, pork belly, roast chicken and steak.
For something quick and easy, Amberley Hotel's Golden Hat Takeaways is a top-rated Thai takeaway, plus there's also Kebab Junction and Kafal Indian on the main road. Or if you'd prefer to stock up on some food en route to your next destination, don't miss Crown & Anchor, a well-stocked wine store next to Amberley Hotel. Boasting a variety of wines from all around the Hurunui region, as well as cheeses, meats, olives, dips and more, this is by far the best place to prepare a picnic!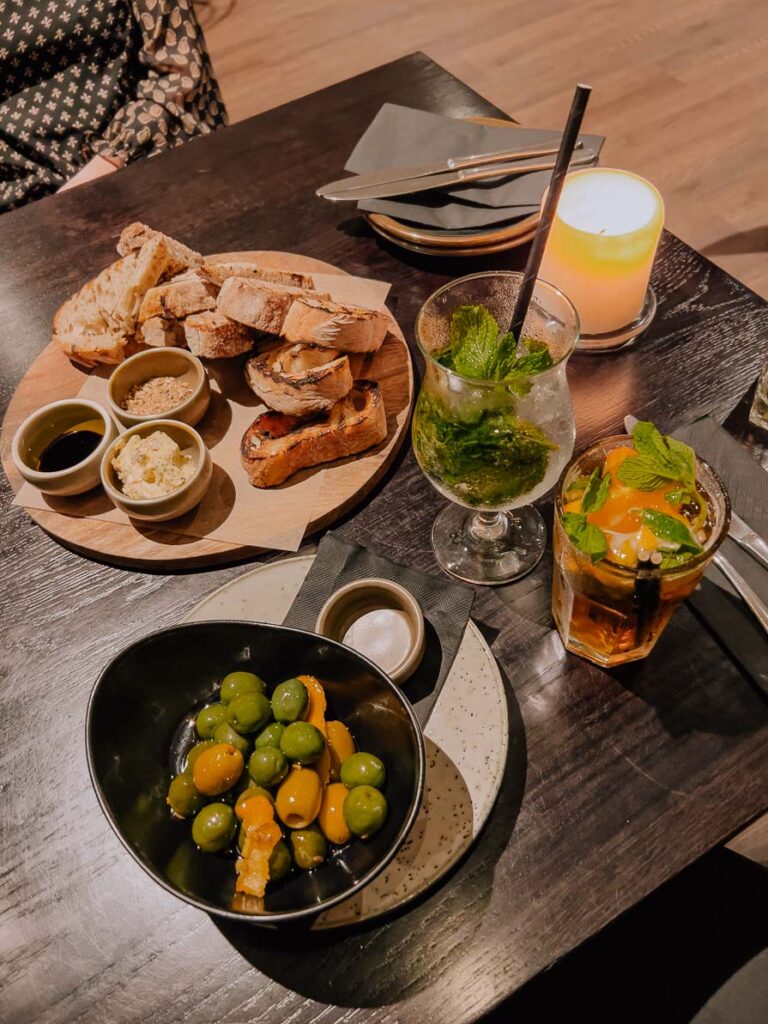 Hit the beach
Amberley and Leithfield Beaches are pebble beaches with incredible sunrise views if you are keen for an early wake up! Expect to see surfers and surfcasters while you're there, the swimming isn't ideal unless you're confident in the water and don't mind a stony beach, but it's a great spot for a picnic in the sun.
Where to stay in Amberley
Camping/budget | Leithfield Beach Holiday Park is a short drive from Amberley if you want a camping spot or a budget-friendly cabin
Mid-range | Amberley Hotel offers comfortable rooms for a great price, perfectly located on the main road with loads of food options nearby
---
Amberley to Waipara
It's wine time, baby! Waipara is home to some of New Zealand's best boutique, family-owned wineries that you've probably never heard of. Spend at least a night here to be able to enjoy an afternoon of tastings, or if you consider yourself as a bit of a wine connoisseur then you'll want 2-3 nights.
Driving time from Amberley
10 minutes
Things to do in Waipara
Go wine tasting, obviously
Waipara's vineyards have a totally different vibe from those on Waiheke Island, in Marlborough or in Central Otago. They are much less commercial, many of are certified organic wineries, and their wines are often only available at the cellar doors, on their website or at local wine shops.
Some of the best-rated wineries are:
Waipara Hills
Black Estate
Pegasus Bay
Torlesse
Terrace Edge (they offer olive tasting too!)
Fiddler's Green (this winery has five resident cats and a dog, a must-visit for animal lovers)
Greystone Wines
Waipara Springs
George's Road
See the sculptures at Iron Ridge Quarry Sculpture Park
A short drive from Waipara is Iron Ridge Quarry Sculpture Park, an abandoned quarry that has now been transformed into an open-air gallery filled with incredible sculptures from Raymond Herber. Entry is $16 for adults and you can bring your own food to enjoy a picnic amongst the artwork.
Indulge in some fancy food at Black Estate
I've already mentioned Black Estate above, but it's deserving of its own section because it is one of my top five restaurants in the whole of New Zealand. And given that I've been fortunate enough to eat at loads of different restaurants around the country, that is a serious compliment.
My mum and I booked a midday table at Black Estate on the final day of our Hurunui trip, thinking it would be a nice way to round off an incredible few days of adventure. 3.5 hours later, we basically rolled out into a car after enjoying one of the most mind-blowing meals I've ever had!
We ordered a table full of small plates and grazing foods, like olives, burrata, house-baked bread, smoky lavosh, cheese and more, and made our way through the wine menu over our stay. The service was faultless and the views were just magical, we visited on the first day of harvest so we could see the grape pickers making their way down the corridors of vines. If you were going to choose one place to eat in the Hurunui district, this has to be it.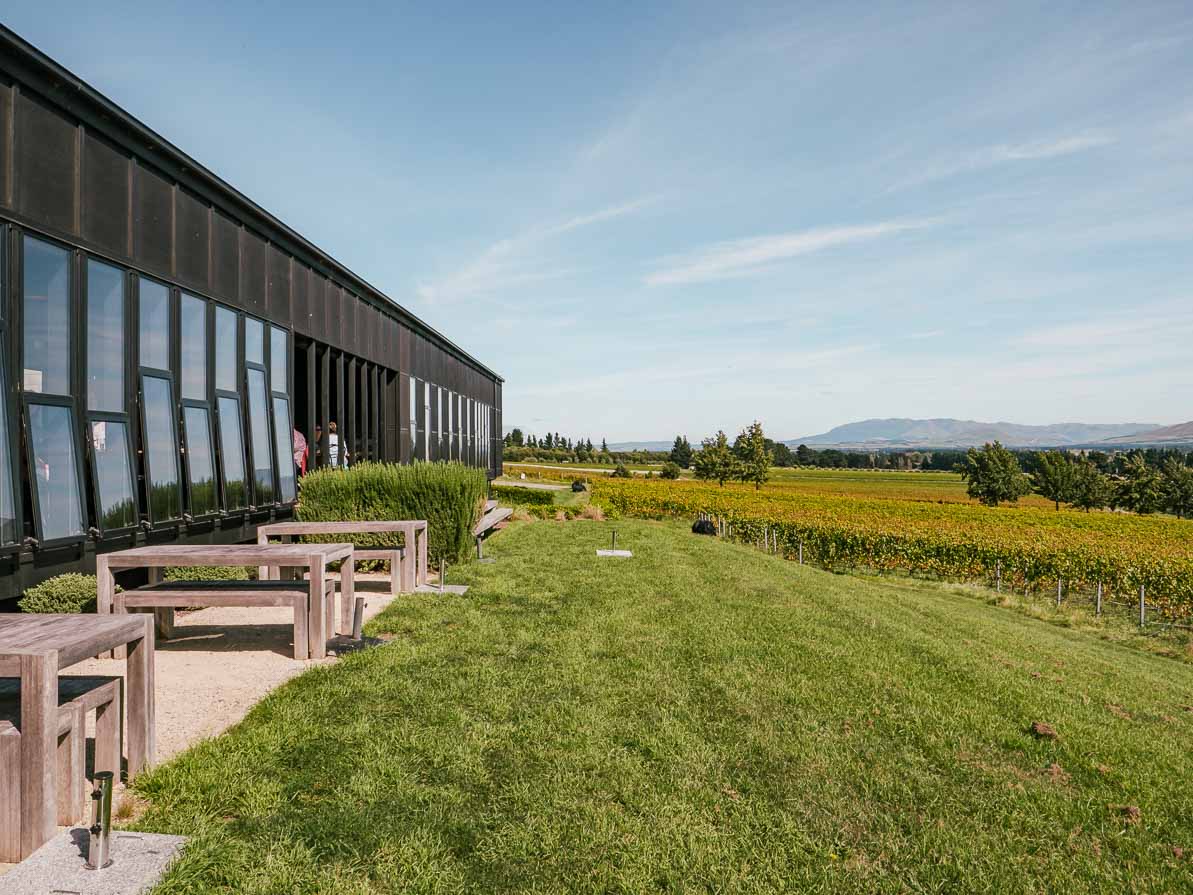 Where to stay in Waipara
Mid-range | Barb's Place is a classic Kiwi homestay with comfortable rooms and warm, friendly hosts
Luxury | The Black Estate vineyard has an on-site B&B that is basically straight out of an architectural magazine, plus they provide mountain bikes for you to explore the Waipara Valley Vineyard Trail
Unique | Russell's Cabins are brand new, off-grid cabins overlooking Black Estate's vineyard. There's two cabins so you can fit four adults, plus there's a lounge cabin for relaxing with board games, books or a glass of local vino. There's basic outdoor cooking facilities and utensils, an outdoor alpine-style bath with views that stretch out to the hills beyond the vineyards, and an outdoor shower + basic compost toilet.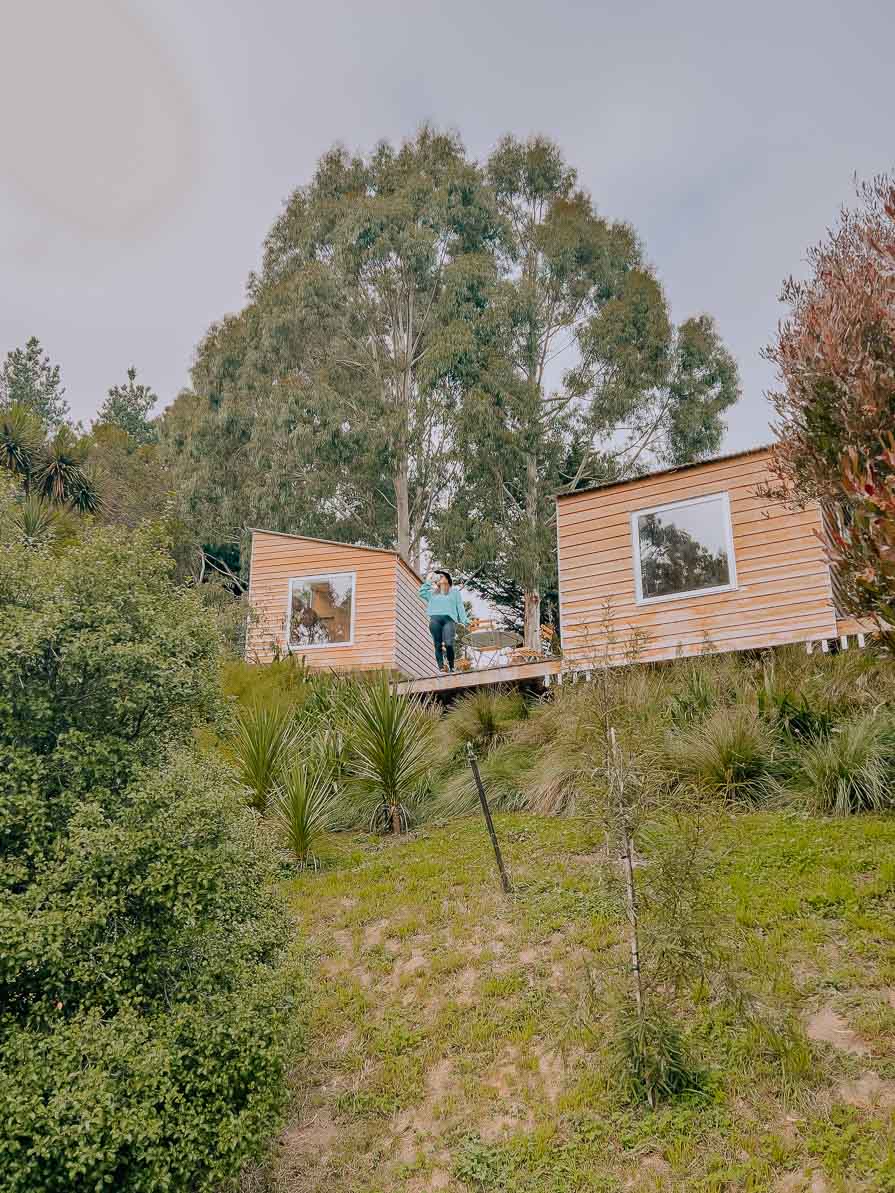 ---
Waipara to Hanmer Springs
Next stop: Hot pool heaven! Hanmer Springs is a dreamy alpine town built for holiday-makers and adventurers year-round. The huge Hanmer Springs Thermal Pools complex is the town's main drawcard, but there's also heart-pumping activities, hikes, cycle trails and more to fill any Hanmer Springs itinerary.
Driving time from Waipara
55 minutes
Things to do in Hanmer Springs
Soak in the hot pools
Hanmer Springs Thermal Pools & Spa is a world-class pool complex, complete with cascading pools, aqua therapy pools, sulphur pools, a kids' pool, two hydroslides (including New Zealand's largest!), a floating river, and more. Phew!
A brilliant day for all ages, whether you want a full day in the pools or just need a soak after a hard day of biking or hiking. Tickets start from $35 for adults or $20 for kids, and there are re-entry passes + two day passes available too.
Hanmer Springs also has private pools, sauna rooms or steam rooms available from $45pp for half an hour.
Treat yourself to a spa treatment
For a real holiday treat, book in for a spa treatment at the spa next to the pools. Mum and I desperately needed a massage after we spend half a day on the St James Cycle Trail so we booked a relaxation massage which was absolutely divine.
Get your adrenaline pumping
If you're the type of traveller that loves to get out of your comfort zone, Hanmer Springs is the place for you.
As you drive into Hanmer you'll cross an old one way bridge, the Waiau Ferry Bridge. Wanna jump off it? A 35 metre freefall will have you almost dipping your fingers into the icy cold river, bungy jumps are $169 at Hanmer Springs Attractions.
If freefalls aren't your thing (they aren't mine either!), Hanmer Springs Attractions also offers jetboating (absolutely epic, I preferred it over the Queenstown jetboat trips), quad biking, 4WD buggy trips and white water rafting.
Explore the St James Cycle Trail
The St James Cycle Trail is one of New Zealand's Great Rides, and it's part of a growing network of cycle paths managed by the legends at Hurunui Trails.
You can hire bikes and e-bikes (I highly recommend the latter unless you are a very strong cyclist) from Hanmer Adventure in town, and they also offer a shuttle to the St James Homestead to start your trip. The full cycle trail is 59km however there is currently a broken bridge towards the end of the trail so you'll need to turn around at some stage and return to the homestead.
I recommend following the path for 16km to get to the turn off to Cow Stream, then walking another kilometre to reach the Cow Stream Natural Hot Pools for a lunch break and muscle soak before making your way back. This trip will take about 1-1.5 hours each way depending on your fitness level and how many times you stop for photos! There is one steep, gravel hill that you'll need to go down (and then up on the way back) but apart from that the track is easy.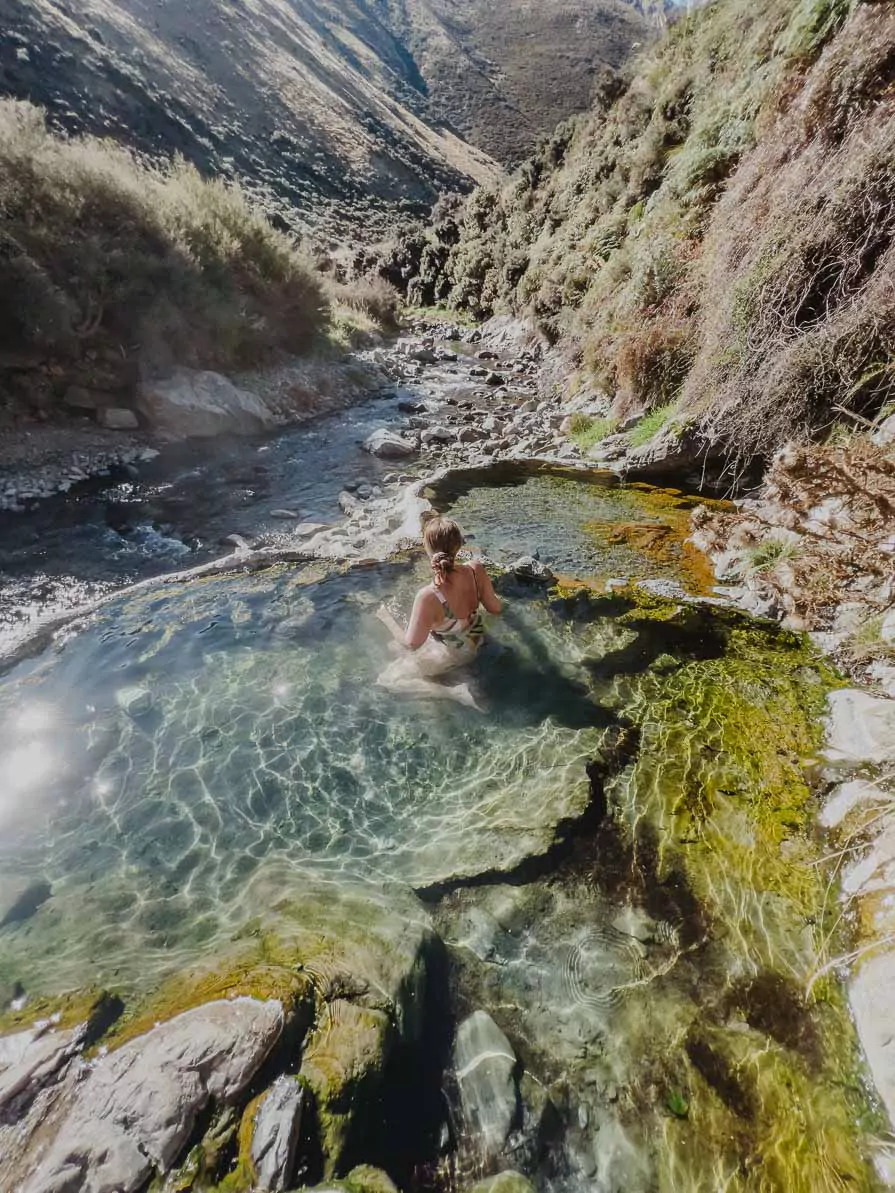 Where to stay in Hanmer Springs
Budget | Hanmer Springs TOP 10 Holiday Park is one of the best holiday parks in the country. Brilliant facilities, super clean, great location and a range of accommodation from camper spots to bunk rooms to studio cabins. They even have wood-fired hot tubs that guests can book!
Mid-range | Settlers Motel is a five star top-rated boutique motel offering studios and apartments for a great price.
Luxury | Amuri Estate is a stunning luxury lodge sitting on a hill on the way into Hanmer Springs, with panoramic views over the town and the mountains beyond. We were lucky enough to spend a night here, it's the perfect combination of southern hospitality and high end accommodation.
---
Hanmer Springs to Coastal Hurunui
The dramatic Hurunui coastline is a must-see on your way back to Christchurch, whether you're making the trip in a day or you have a couple more nights in the area.
Driving time
1h 25m from Hanmer Springs to Gore Bay
Things to do in Coastal Hurunui
See the Cathedral Cliffs
The Cathedrals are maybe the most iconic view in all of Hurunui, where you'll see eroded siltstone pillars topped with thick bush and the bright blue waters of Gore Bay in the background. It can look like a bit of an optical illusion sometimes, as if the water could flow right over the edge of the cliffs!
The viewpoint is clearly signposted and you'll find it on the main road as you drive down to Gore Bay.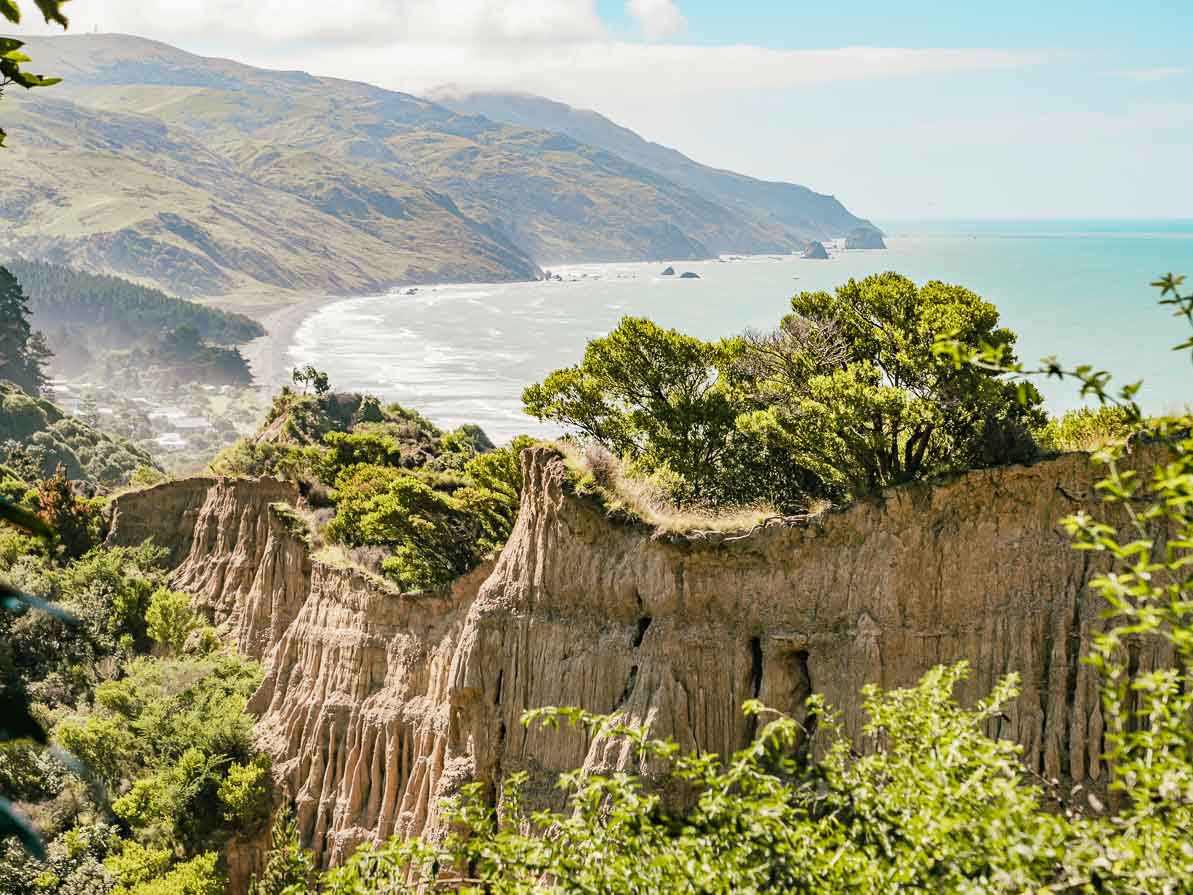 Hit the beach
Gore Bay is most popular beach along the Hurunui coast, and for good reason! The black sand feels ever so slightly out of place on this side of the country, in the North Island our black sand beaches are all on the west coast, not the east. Gore Bay also has jagged white cliffs at one end, providing a brilliant photo spot to show off the contrast between sand, cliff and ocean.
On your way out of Gore Bay, you'll see signs for Manuka Bay on the left, taking you back towards the coast. The road down to Manuka Bay is windy and unsealed but we were fine in our Toyota Corolla. Any larger, heavier 2WD vehicles might not have a great time though! Manuka Bay is less dramatic than Gore Bay but it's quieter and more sheltered.
Another must-visit spot is Motunau Beach, an off-the-beaten-track sleepy beach town, only 15 minutes from State Highway 1. This is one for any wildlife lovers and bird-watchers, as many seabirds call Motunau home for much of the year.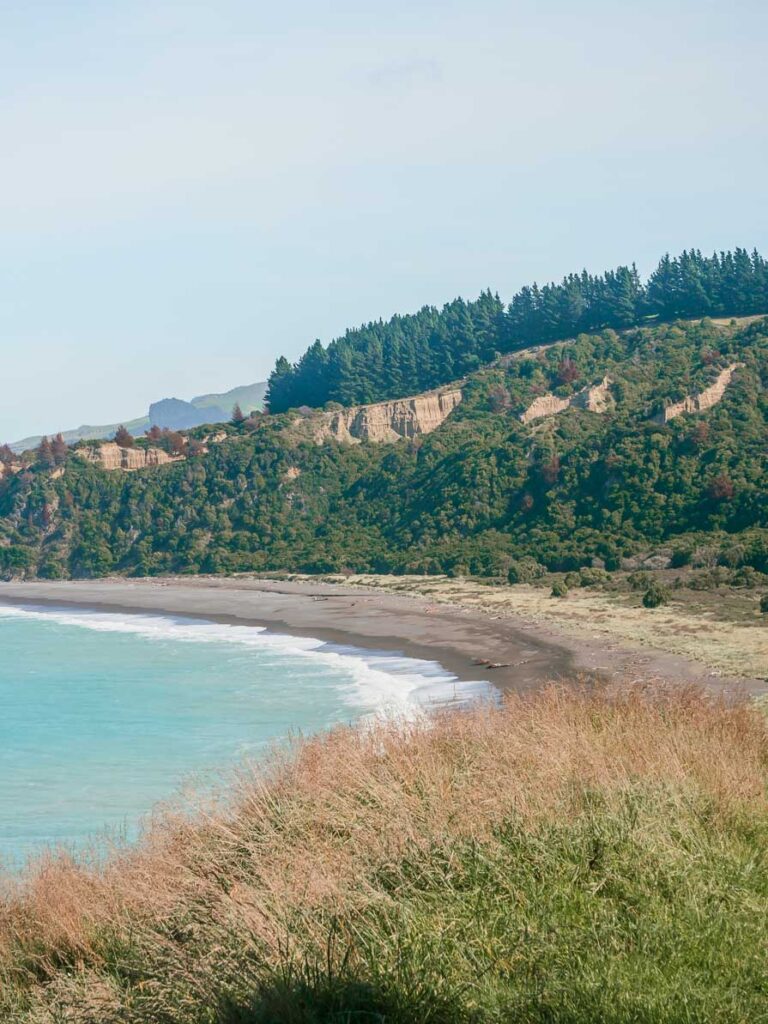 Where to stay in Coastal Hurunui
Unique | For the ultimate unique accommodation experience, PurePods is unbeatable. These eco-friendly glass pods are located on farmland around the Canterbury area and there's a couple in Hurunui! We stayed at the Korimako PurePod, which offers the most insane views across bush and farmland out to the black sand beaches on the coast. The bird song was magical too, the most amazing place to wake up in the morning.
---
I hope this Christchurch to Hanmer Springs road trip itinerary has helped you plan your upcoming Hurunui visit! If you think I've missed anything vital then let me know in the comments.
MORE NEW ZEALAND TRAVEL GUIDES YOU MIGHT LIKE:
Huge thanks to Visit Hurunui for sponsoring this epic Christchurch to Hanmer Springs road trip. As always all opinions are my own and are based on my personal experience.