If you're heading to the South Island and planning a Queenstown to Christchurch road trip, this itinerary will give you all the best sights to see, things to do and places to stay.
New Zealand's South Island is basically made for road trips, boasting some of the most beautiful drives on the planet.
Driving from Queenstown to Christchurch gives you a couple of different road trip options to choose from, and no matter which way you end up taking, I guarantee you'll be blown away by the views.
Whether you're doing the drive as part of a larger South Island road trip, or if you're only visiting the South Island for a quick holiday and want to tick off some of the major hot spots, this itinerary will help you plan an unforgettable adventure between Queenstown and Christchurch.
Scroll down for my suggestions for an epic Queenstown to Christchurch road trip!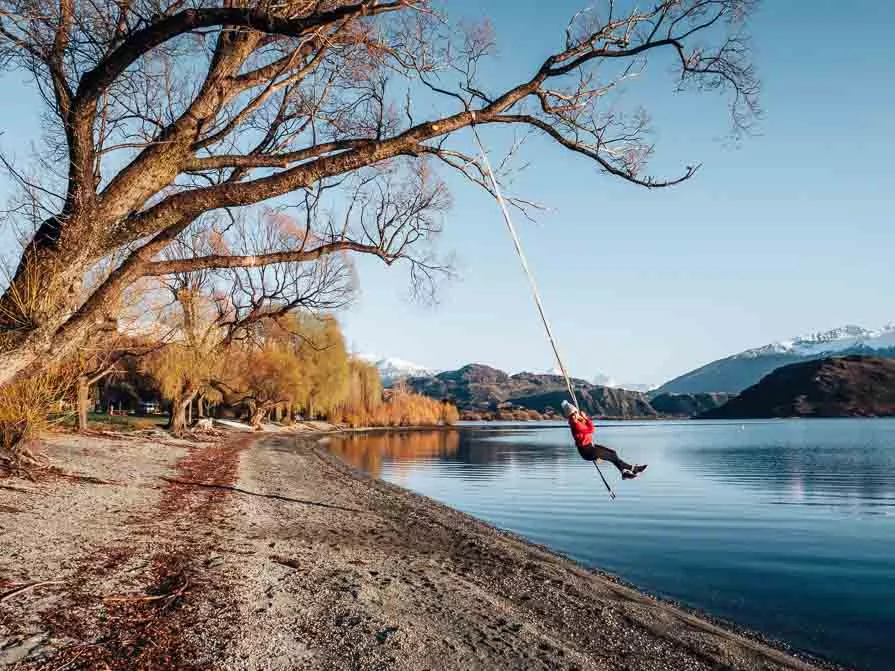 ---
Car hire or campervan hire
Queenstown and Christchurch are the two busiest airports in the South Island, so most rental car and campervan companies have pick up and drop off options in both cities.
TRAVEL TIP: Snap Rentals are my go-to rental car company in Queenstown, they offer fantastic value and equally good service. Their depot is right opposite Pak'n'Save, the budget supermarket chain in New Zealand, be sure to make a stop to top up on snacks before kicking off your Queenstown to Christchurch road trip.
If you're going for a car, you can cross-check prices on Klook, which will show you options from many suppliers like Snap, Alamo, GO Rentals, Enterprise and more in price order.
In terms of campervans, I'd recommend checking out Sunrise Holidays if a luxury motorhome is what you're looking for, or Jucy for a cheap and cheerful campervan.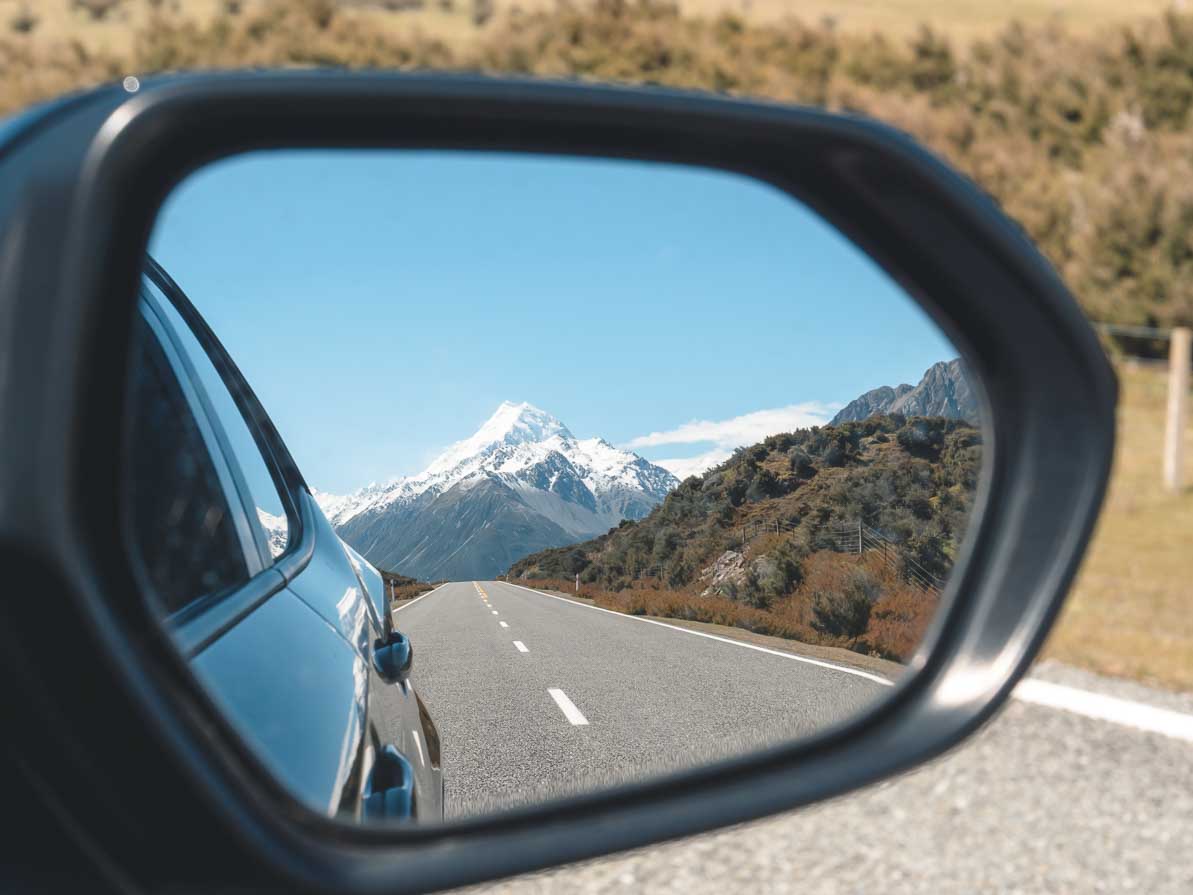 ---
When is the best time to do a Queenstown to Christchurch road trip?
The routes for this road trip are pretty stunning year-round, so it'll depend on what you're into.
Summer (December to February) will be the busiest time of the year, so expect more people on the road and busier activities and accommodation. You'll need to book hotels and campgrounds in advance, and keep in mind that many freedom camping spots are limited and will be full by the early evening.
March to May will bring autumn colours and amazing landscape photography opportunities, and on the other side of winter you've got September to November springtime with shoulder season prices and slightly warmer weather.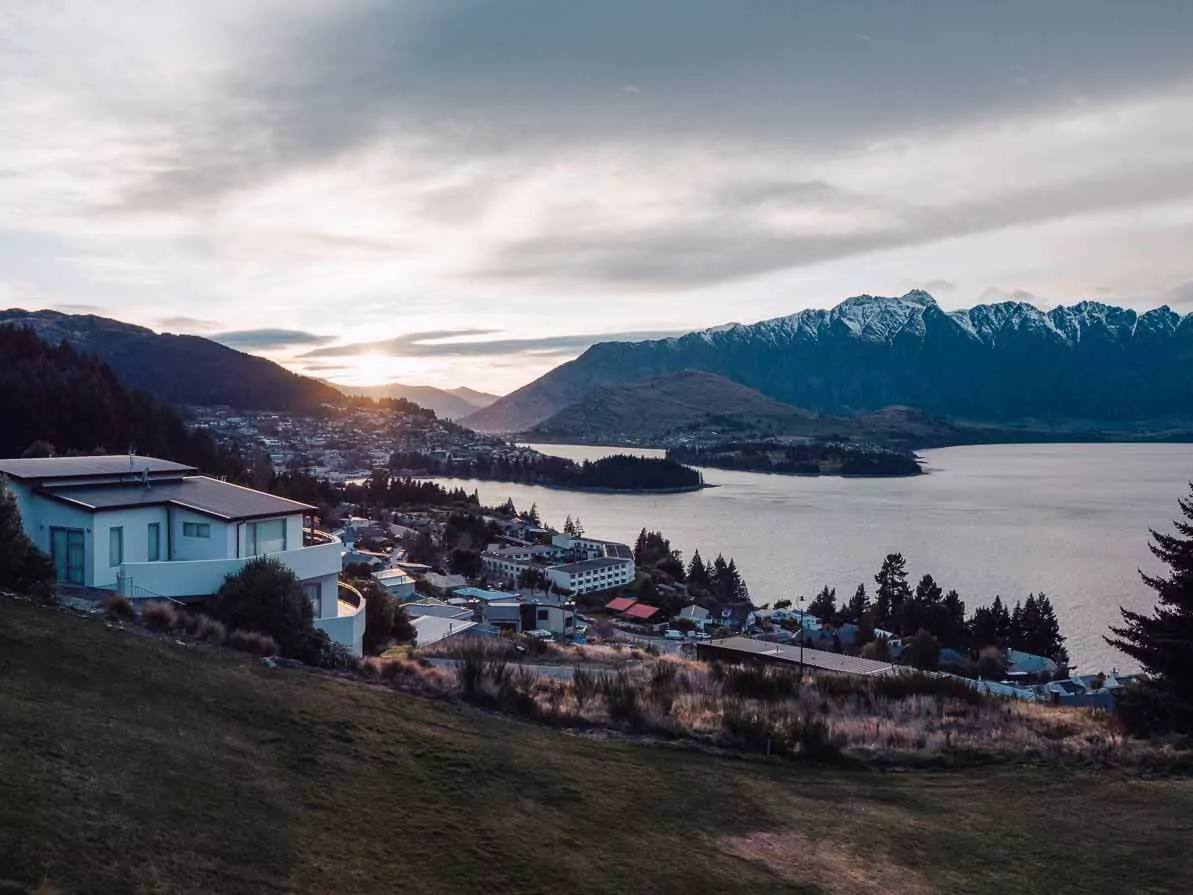 June to August/September is likely to see snow and icy roads at higher elevation, so make sure you have a 4WD and/or chains.
If you happen to be heading from Queenstown to Christchurch in late November/early December you'll coincide with the seasonal lupins, bright pink and purple wildflowers that cover the roadside of the Tekapo and Aoraki Mount Cook area. DOC has sprayed a lot of the lupin hot spots so they apparently aren't as good as they used to be, but I visited for the first time last year (2020) and they were still pretty impressive!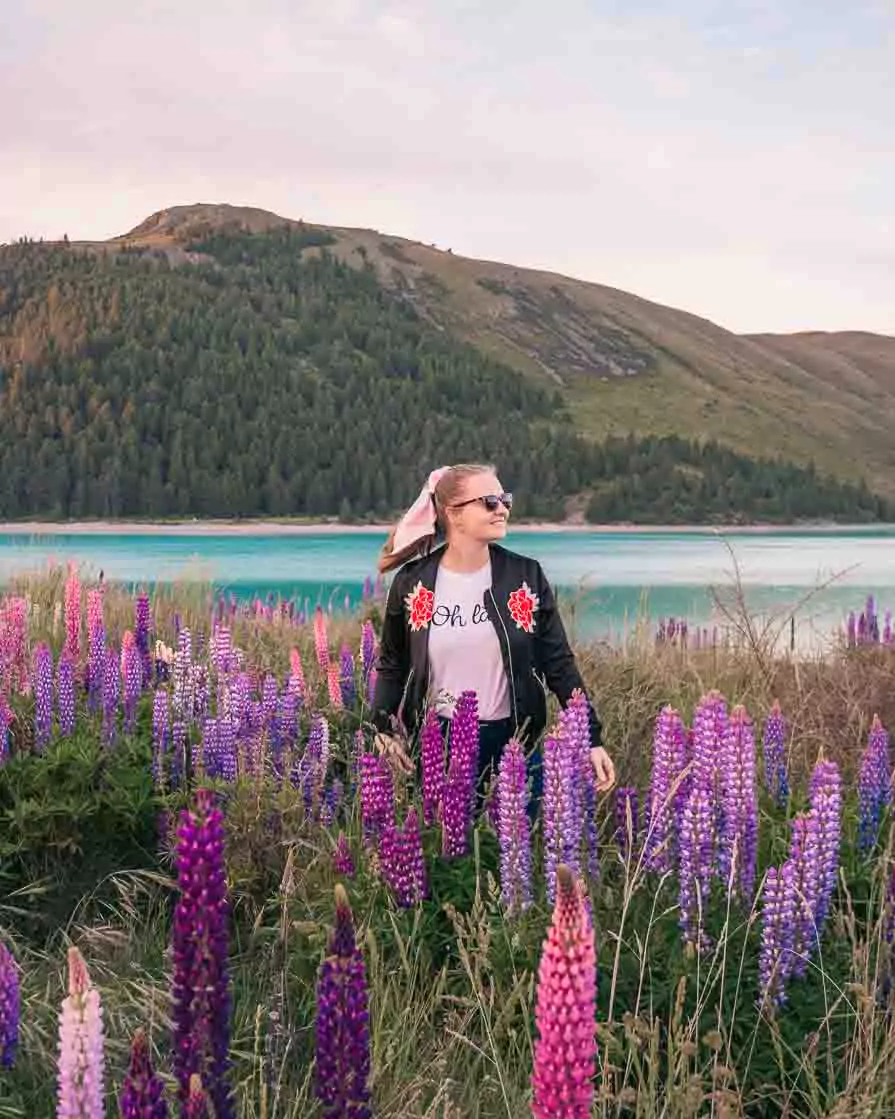 ---
The route options for driving from Queenstown to Christchurch
There are two main routes to get from Queenstown to Christchurch to choose from: driving up the middle of the South Island past Aoraki Mount Cook and through Tekapo, or driving up the West Coast and Glacier Country before heading across Arthur's Pass.
You can obviously do the same trip the other way round too if you're wanting to do a Christchurch to Queenstown road trip, just start at the bottom of the blog and scroll up!
I've got some helpful info for both routes below.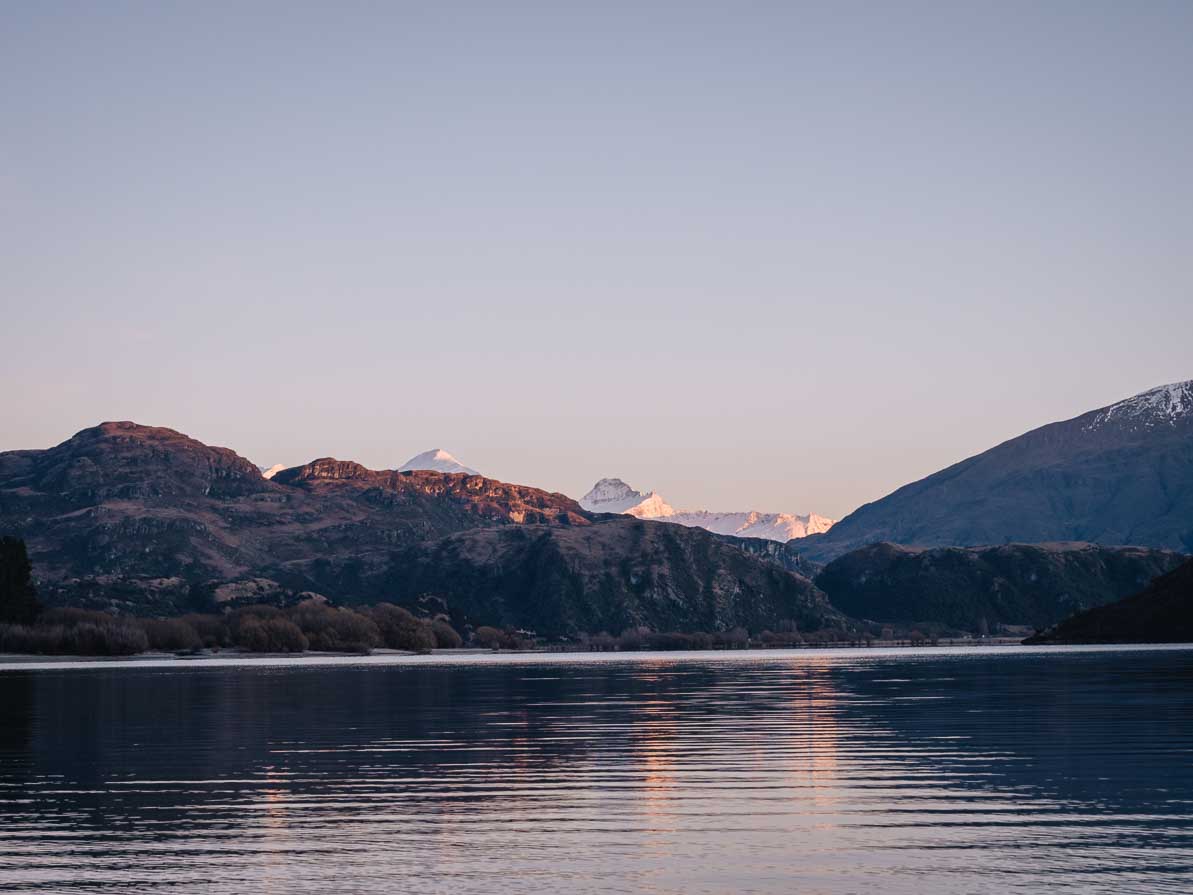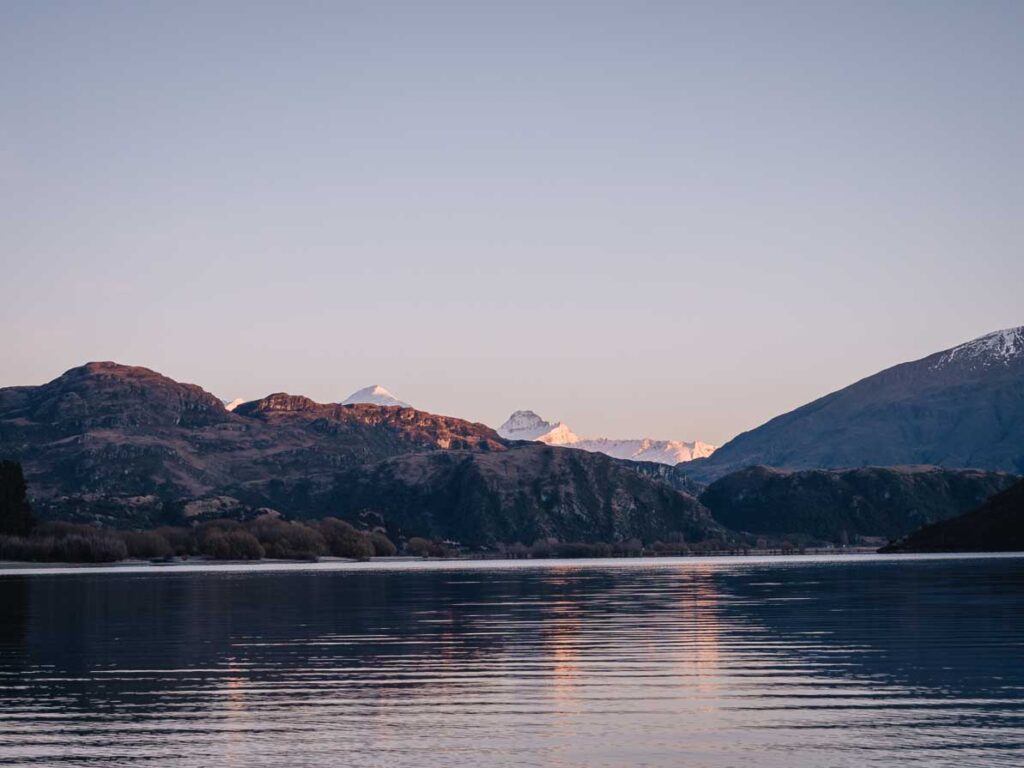 ---
Queenstown to Christchurch road trip itinerary option #1: Southern Alps & Lakes
Arrive in Queenstown
This photogenic lakeside town is the perfect place to start your South Island road trip.
Landing at Queenstown Airport is a highlight in itself, with epic views across snowy mountains and the stunning Lake Wakatipu.
Once you settle into your Queenstown accommodation, there's an endless selection of activities and experiences on offer depending on what type of adventure you're looking for.
There's some suggestions of things to do in Queenstown below but for a more detailed guide, check out my 5 day Queenstown itinerary blog.
Things to do
Get your heart racing
Queenstown is New Zealand's premiere adventure tourism destination, with high-octane experiences on offer for all types of thrill seekers.
Zoom through a canyon on a jetboat, take on white water rapids with a rafting trip down the Shotover, bungy jump off a bridge or go all out with a skydive.
For slightly less terrifying options, check out Ziptrek Ecotours for ziplining, go paragliding off Coronet Peak or try indoor skydiving at iFly.
Pamper yourself
And after all that adrenaline pumping around your body, you deserve a rest.
The Onsen Hot Pools are Insta-famous for good reason, with cedar-lined hot tubs overlooking the dramatic Shotover River, as well as a day spa that offers massage and soak combos. These book up well in advance so be sure to lock in your hot tub session earlier rather than later.
Another Queenstown hot tub option is Kamana Lakehouse, a boutique hotel in Fernhill with exclusive hot pools only available for guests to use. The hot pools cost $119 for an hour for up to three people, compared to Onsen's Original Soak $165 for two people or $215 for three.
If Onsen is booked or if you'd like to have a hot tub experience coupled with a fancy hotel stay, Kamana Lakehouse is a brilliant option that offers great value.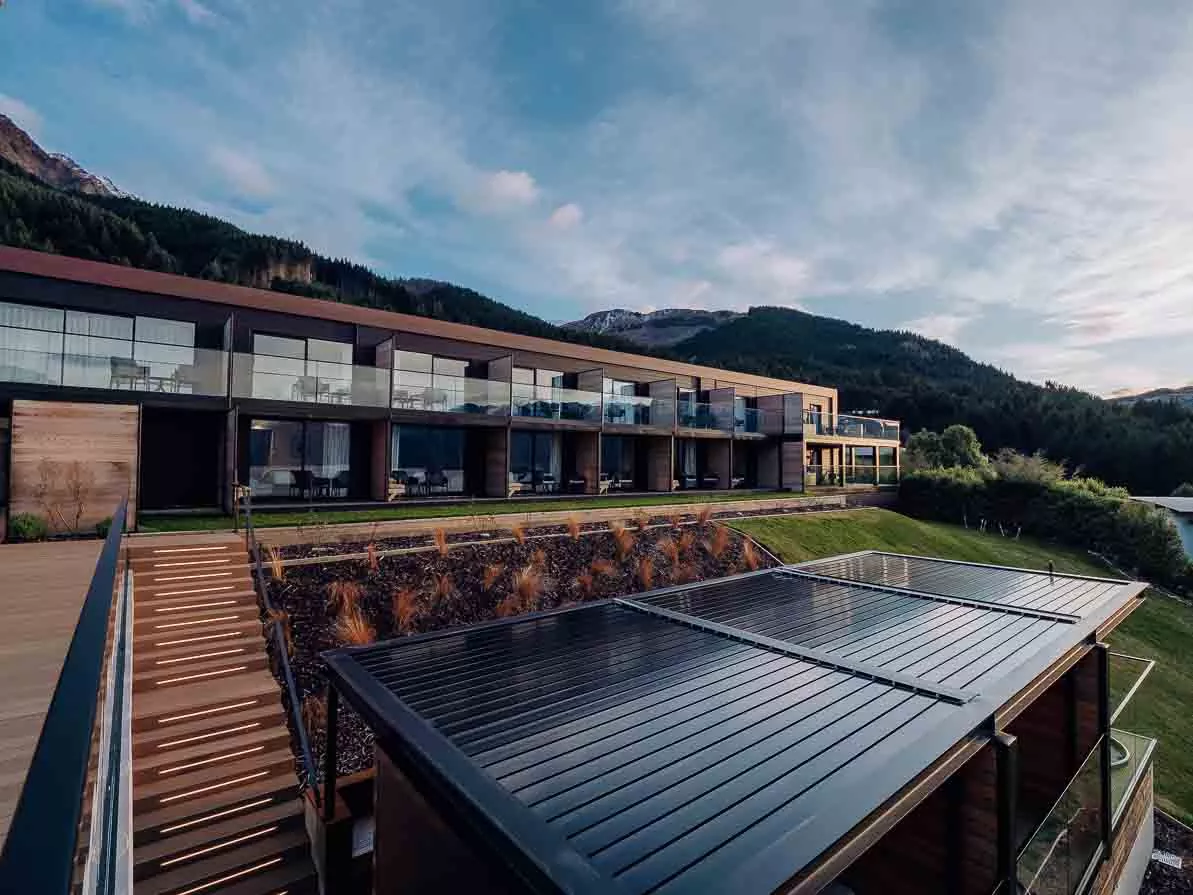 Get moving
There's a bunch of incredible day hikes around Queenstown to soak up some fresh air and get your steps up.
The Ben Lomond Summit Track is one of the best-known for experienced hikers, and you'll be treated to panoramic views across Lake Wakatipu and over to the Remarkables mountain range.
If you'd like something a bit shorter, you could take the Tiki Trail up to the top of the gondola, Sawpit Gully in Arrowtown or head to Lake Hayes for a beautiful 2-3 hour loop walk around the lake.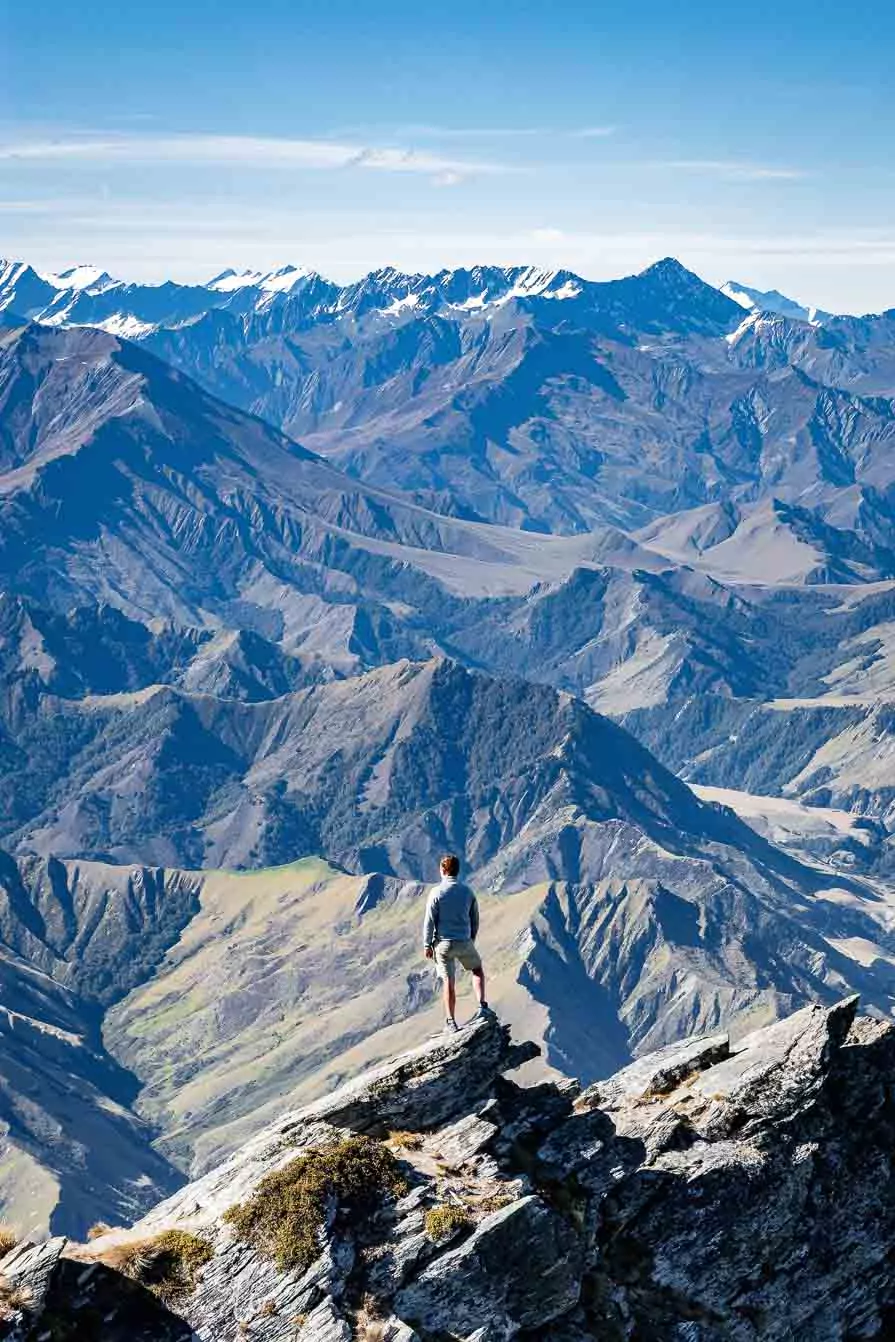 Enjoy the view
If your spending money allows it, Queenstown is one of the best places in the South Island for a scenic flight.
The cheapest flight in town is a $150 20 minute heli flight including a glacier landing, or you could opt for a longer Queenstown flight or even a scenic flight to Milford Sound.
My top pick for the best scenic flight from Queenstown is the Milford Sound scenic flyover with Glenorchy Air, a 1h 20m flight that will blow your mind every time you look out the window. If you have more time and want to add on a Milford Sound cruise, check out their Fly-Cruise-Fly option.
You can see all the different Queenstown scenic flight options on GetYourGuide.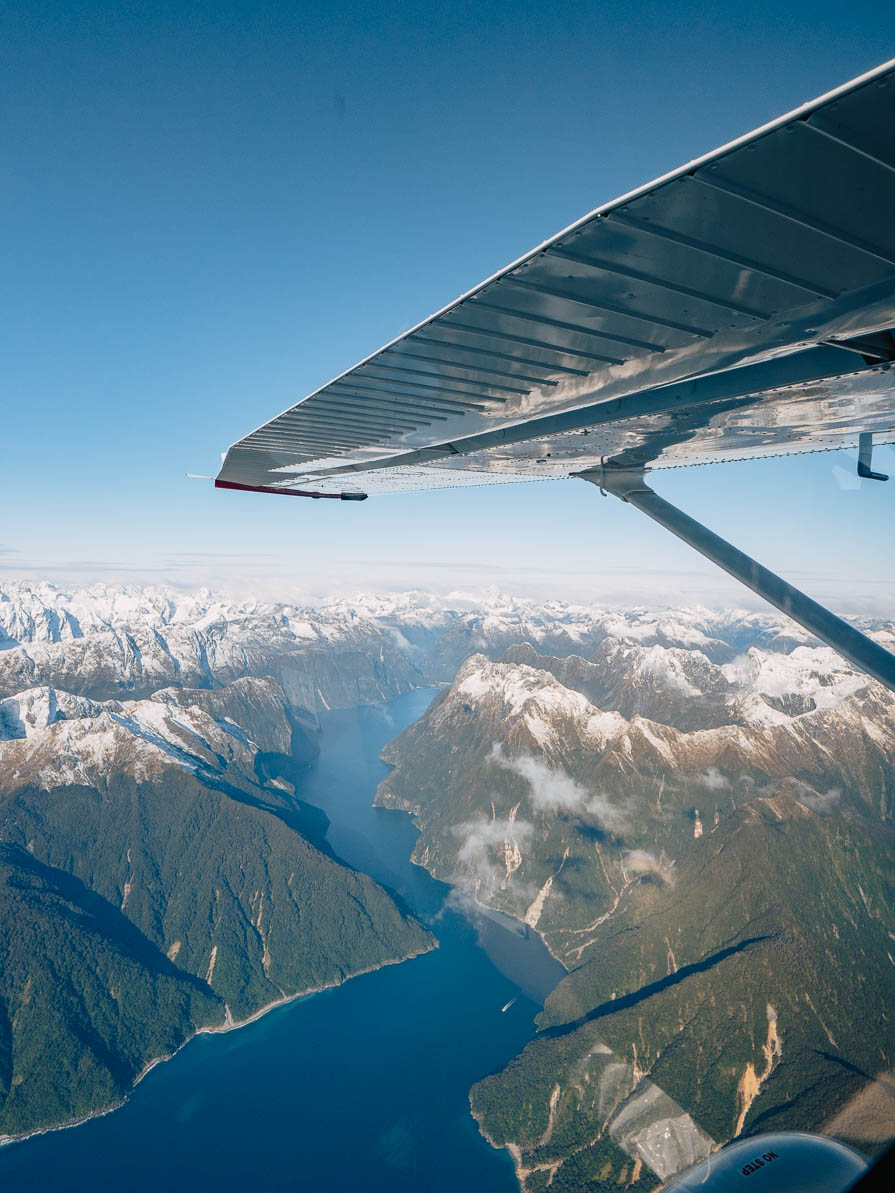 Eat your way around town
The food scene in Queenstown is impressive, with brunch, lunch, dinner and snack options available for all budgets.
Yonder, Bespoke Kitchen and Vudu are my favourite brunch spots, and the Cookie Time Café has $1 coffees every morning from 8am-9am.
For a heartier meal head to the world-renowned Fergburger or their bakery next door, Searle Lane for cheap eats, and The Grille or Botswana Butchery for a bit of a splurge.
TOP TIP: You can find dining deals in Queenstown on Bookme.co.nz, they often have discounts of up to 50% off the best restaurants in town!
And if you fancy yourself as a wine enthusiast, or if you just want to see a different side of Queenstown, don't miss the award-winning Wine Sampler by Altitude Tours. These guys just won the coveted TripAdvisor Travellers' Choice Award as the top wine experience in the world! Want to know more? Read my review of the best Queenstown wine tour.
YOU MIGHT ALSO LIKE: The Perfect 5 Day Queenstown Itinerary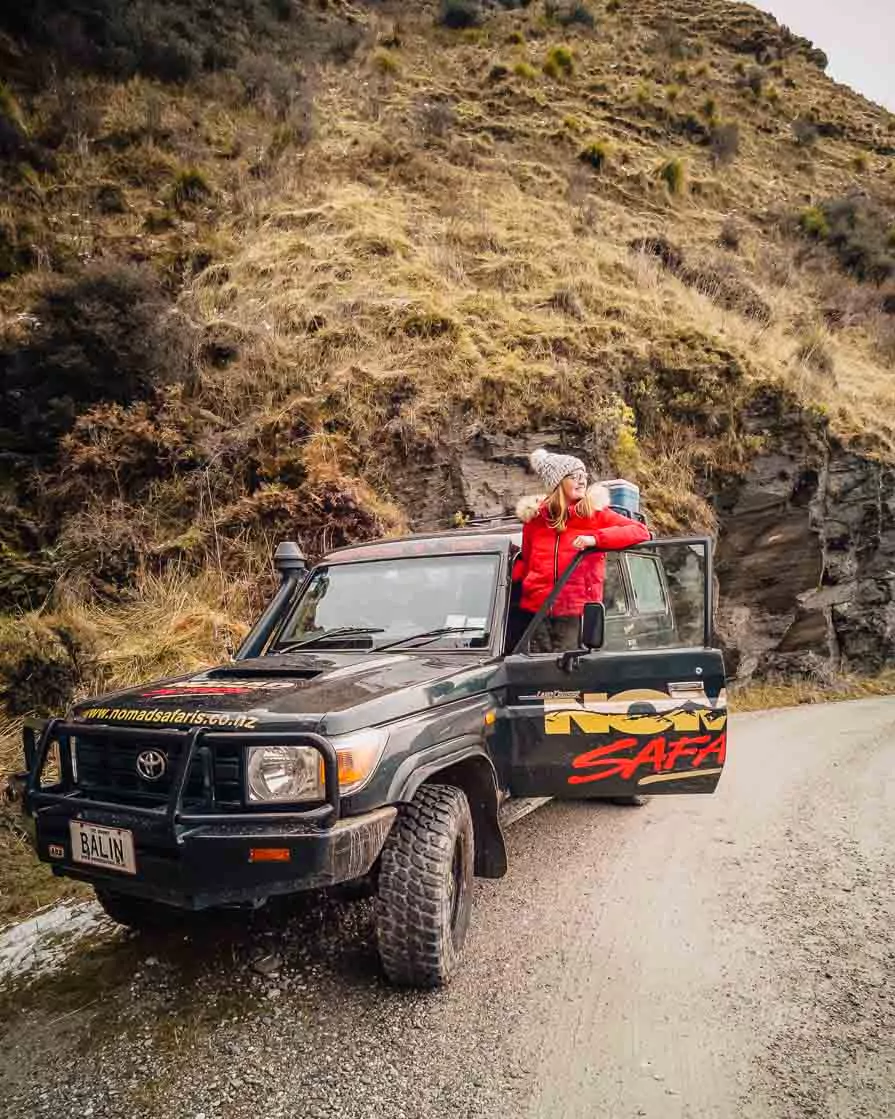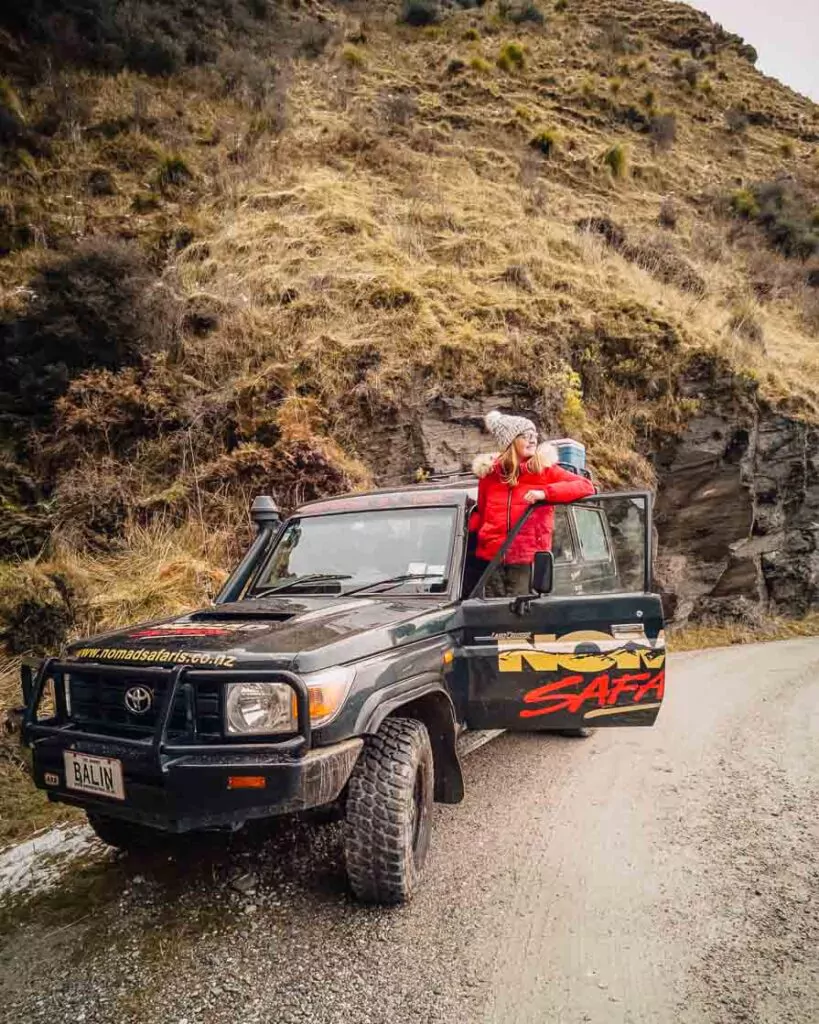 Where to stay in Queenstown
Kamana Lakehouse is my favourite hotel in Queenstown, with modern rooms, a world-class restaurant and private hot tubs overlooking the lake available exclusively for guests to book. It's the highest hotel in Queenstown and offers the most incredible view while benefitting from the peace and quiet of the Fernhill neighbourhood. Absolutely dreamy!
Other Queenstown accommodation options:
Camping | Queenstown TOP 10 Holiday Park is the best-rated campground in Queenstown.
Budget | Nomads Hostel and Adventure Hostel are ideal for solo travellers or travellers on a budget, or for a brilliant value private room consider the recently opened Holiday Inn Remarkables Park, my new go-to for a cheap Queenstown getaway!
Mid-range | Kamana Lakehouse is in the mid-range category and is definitely my top pick, or Queenstown Park Boutique Hotel is another option with comfy rooms for a great price.
Somewhere fancy | The Rees Hotel and Eichardt's are two of the best luxury hotels in Queenstown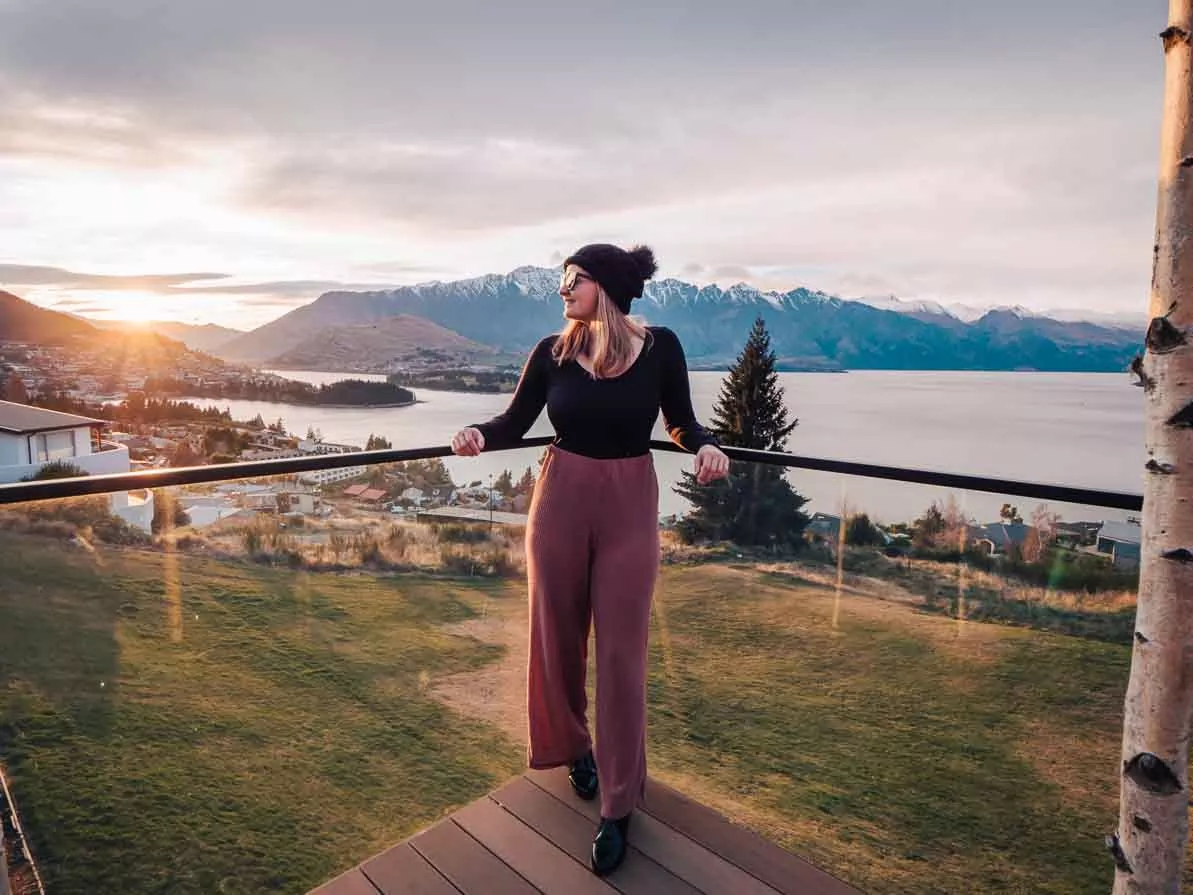 ---
Queenstown to Wanaka
Queenstown's lesser-visited neighbour holds its own as a tourism destination, with easy access to outdoor adventures year-round, as well as a thriving food and drink scene.
There are plenty of things to do in Wanaka to keep you occupied!
Driving time from Queenstown
1 hour via Crown Range Rd (steep road with sharp turns), or 1h 20m via Cromwell
Where to stop on the way
lf you're coming over via Crown Range Rd make sure you stop at Cardrona Pub for a mulled wine or a beer
If you're driving via Cromwell, there's a bunch of wineries in the Gibbston/Bannockburn area for a lunch stop or a wine tour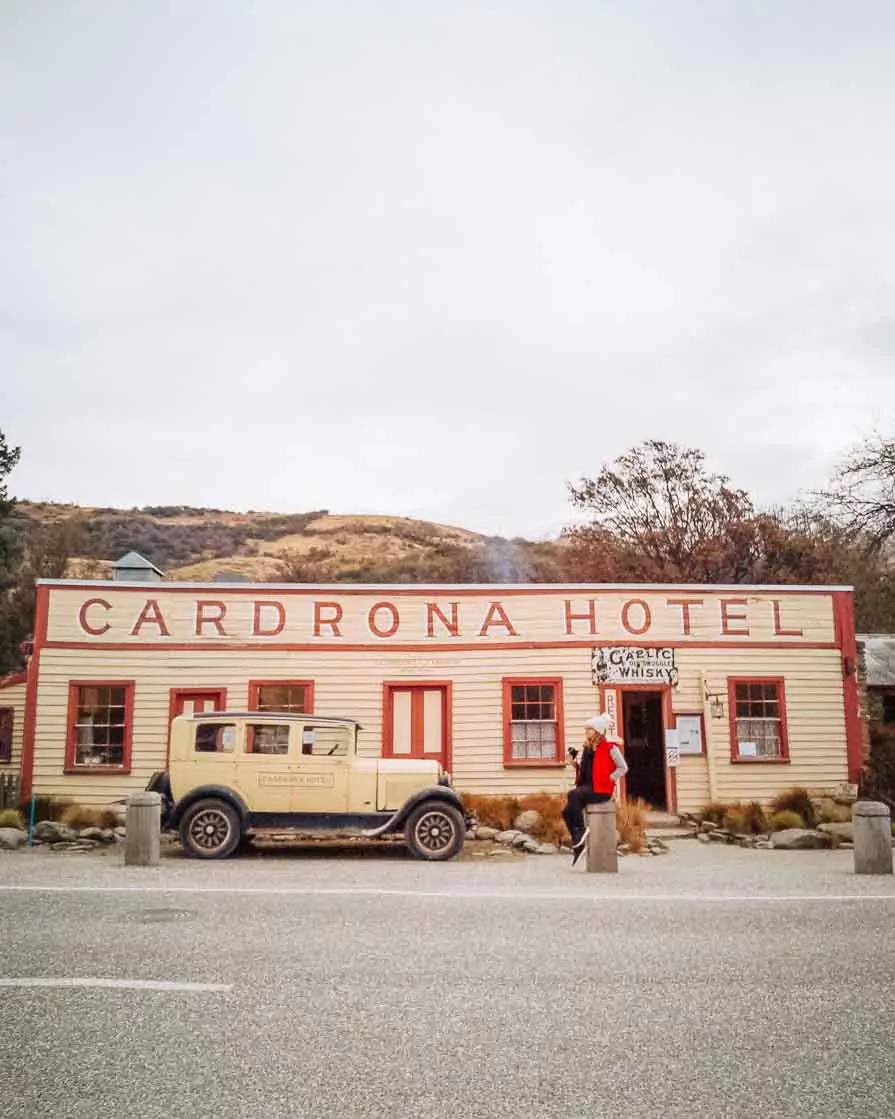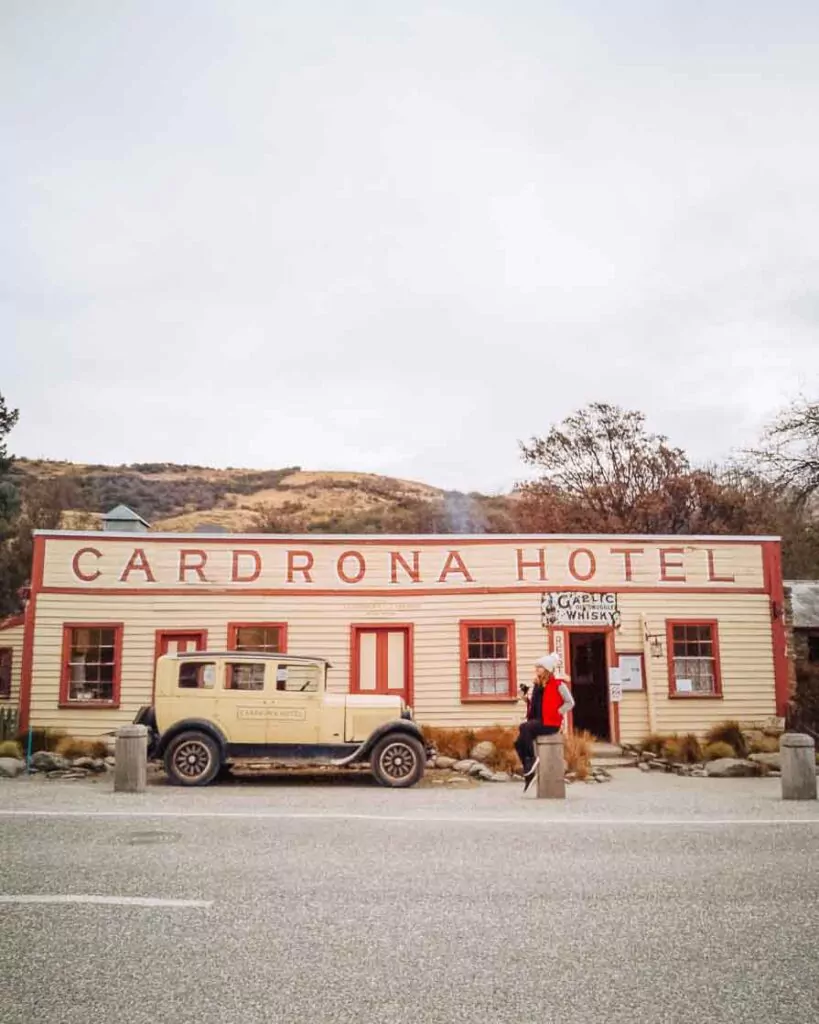 Things to do
Climb a waterfall
Wildwire Wanaka was one of the top highlights from my South Island road trip last year. They offer three levels of cable climbs (also known as via ferrata) up the Twin Falls near Treble Cone!
This adventure is so epic and I'd highly recommend it to anyone looking for unique things to do in Wanaka. We did the intermediate option which involved about three hours of climbing up iron staples and over suspension bridges while enjoying incredible views.
You don't need any climbing experience but you'll need decent fitness for the intermediate option, and be able to hold your bodyweight with your arms for the advanced option.
Click here to learn more about Wildwire Wanaka
Do one of the famous hikes
Roy's Peak is most popular hike in Wanaka, offering 360° views over Lake Wanaka and into Mount Aspiring National Park. Set aside 5-6 hours allowing for photo stops.
The walk crosses farmland and is closed for lambing season from 1 October to 10 November, but the alternative option is Isthmus Peak. DOC recommends 5-7 hours for Isthmus but it is a slightly more advanced track than Roy's Peak.
Go for a lake cruise
Explore Lake Wanaka by boat with a cruise. If you'd like to relax you could choose this happy hour sunset cruise, or for a more active adventure take a cruise to Mou Waho Island and then enjoy a guided walk through the conservation area.
Hit the slopes
If you're visiting Wanaka in winter, make sure you head up to one of the mountains for a day on the snow.
Treble Cone and Cardrona are both within 40 minutes of Wanaka.
YOU MIGHT ALSO LIKE: 25 Epic Things to Do in Wanaka
Where to stay in Wanaka
Camping | Glendhu Bay Motor Camp has decent facilities and stunning views right on the lake
Budget | YHA Wanaka is ideally located close to town, with both private and dorm rooms available
Mid-range | Clearbrook Motel is the best-rated motel in town, with studio rooms and apartments right in town
Somewhere fancy | Lakeside Serviced Apartments are a brilliant option for self-catering, or the Edgewater Hotel is a lush spot for a romantic getaway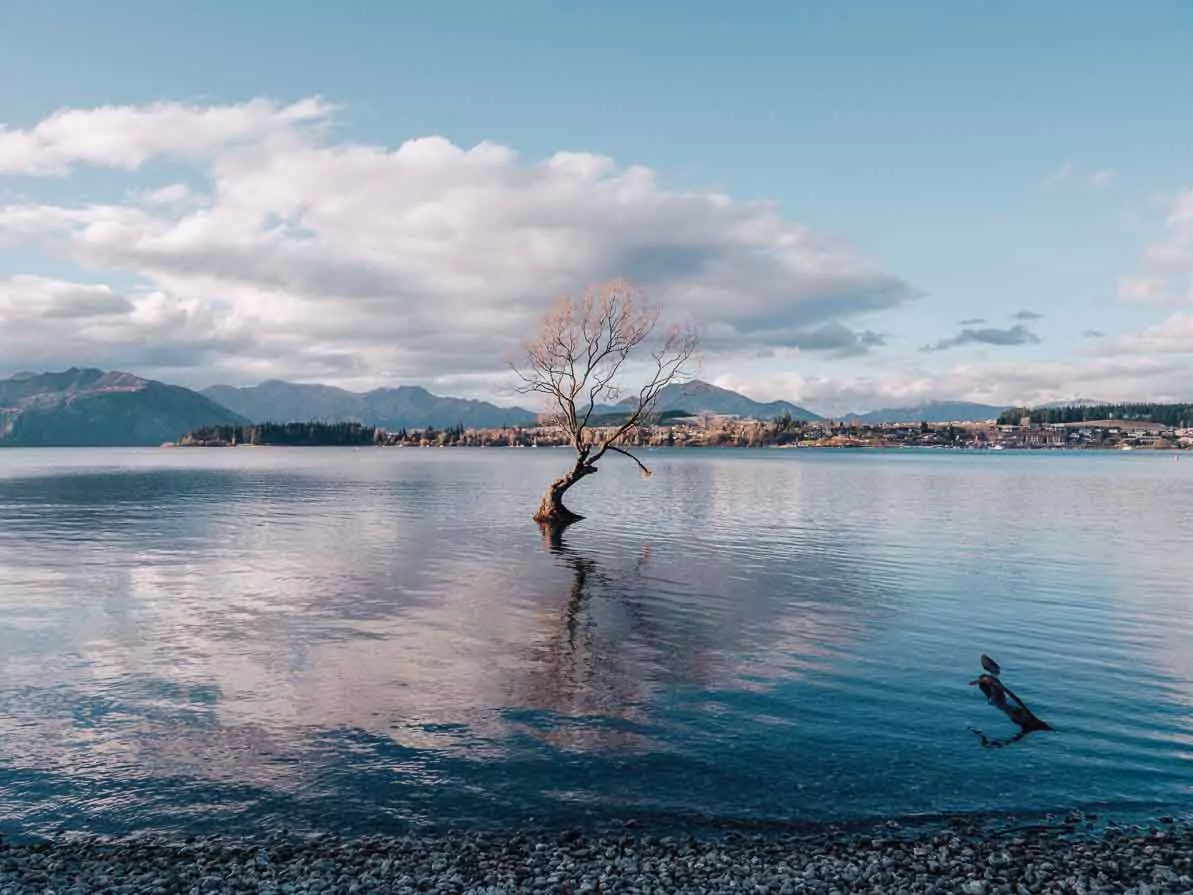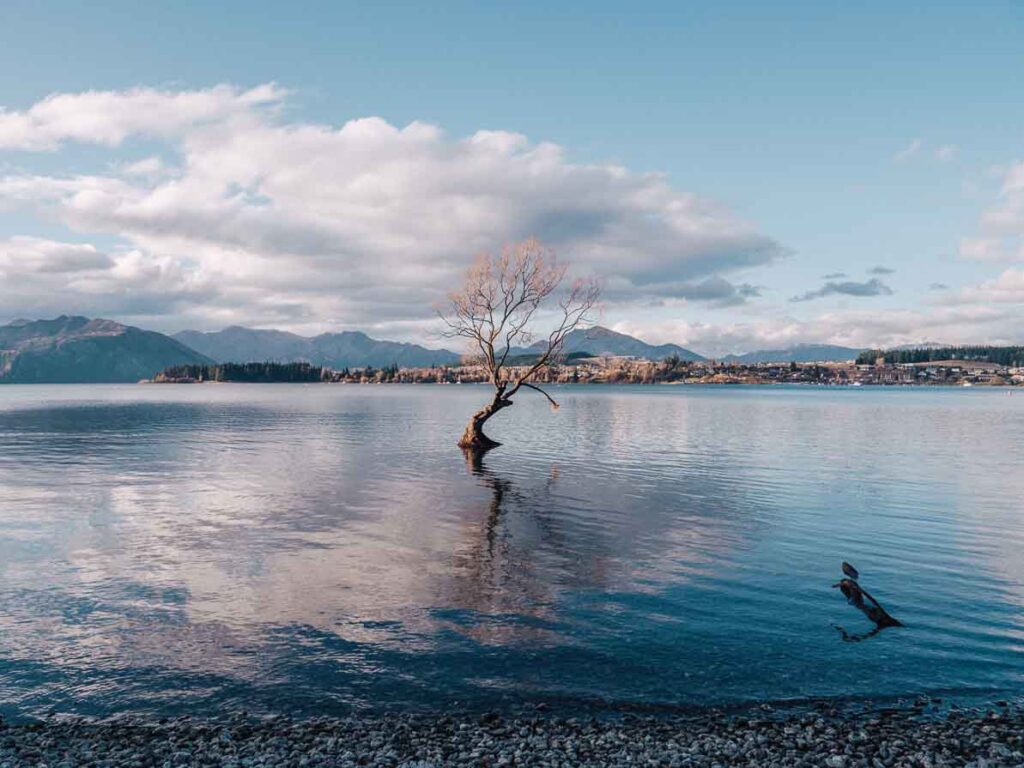 ---
Wanaka to Aoraki/Mount Cook Village
Aoraki/Mount Cook Village is small and basic, with accommodation options but not much else. However it's absolutely worth adding to your Queenstown to Christchurch road trip for the views alone!
Note that there's no shops in the village so make sure you stock up on food and anything else you might need in Queenstown, Wanaka or Cromwell before you make the drive.
Driving time from Wanaka
About 2 hours 30 minutes
Where to stop on the way
Omarama to see the Clay Cliffs ($5 cash needed for entry) and for a soak at the Omarama Hot Tubs
Twizel to visit High Country Salmon, who have the best salmon paté I've ever had in my life
If you have time to add on an overnight detour on your Queenstown to Christchurch itinerary I highly recommend the magical Valley Views glamping spot in Waitaki Valley, 45 minutes east of Omarama, or Nest Treehouse, on the other side of the river in Hakataramea Valley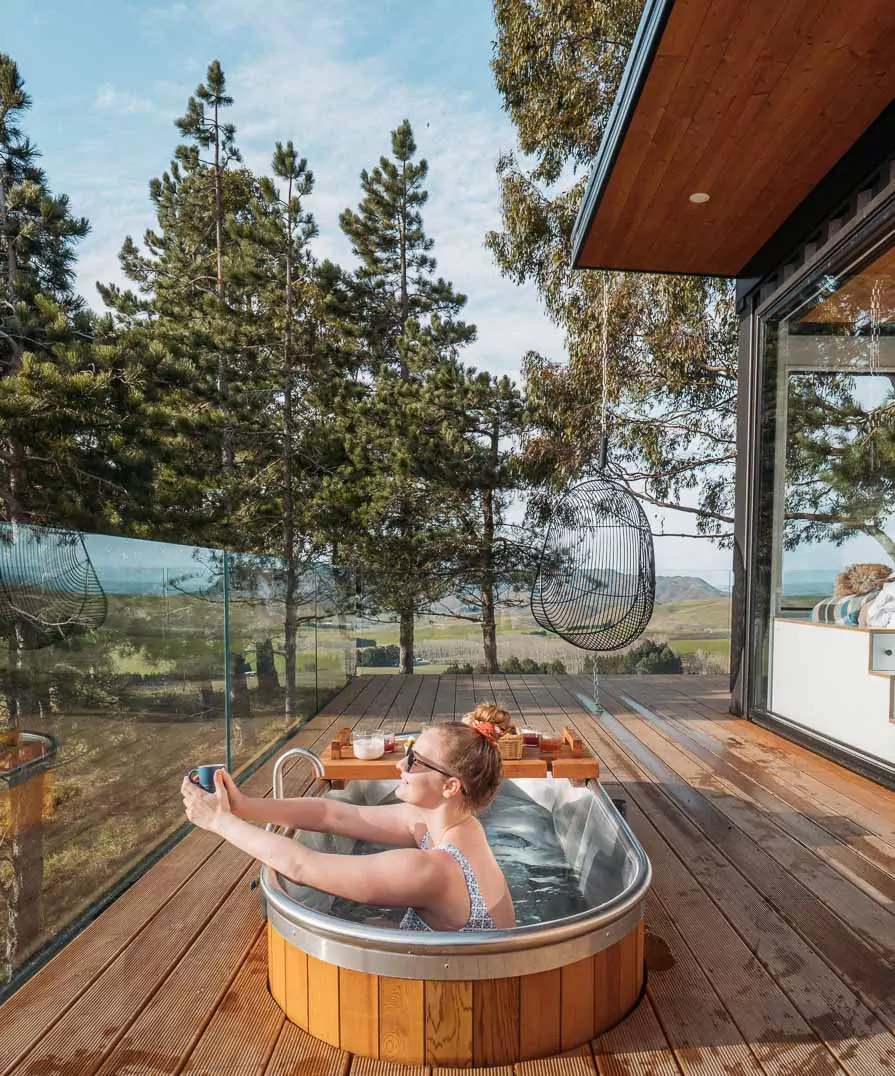 Things to do in Aoraki/Mount Cook Village
Take a scenic flight
Experience the glory of Aoraki from the sky with an epic scenic flight around the mountain!
There are a number of scenic flights to choose from, you can see all the scenic flight options on GetYourGuide here.
See the Tasman Glacier
Get up close and personal with the blue caves and crazy ice formations of the Tasman Glacier by taking a quick helicopter flight up and then a two hour hike on the glacier itself.
For a cheaper way to see the glacier, check out the Glacier Explorer boat trip run by the Hermitage Hotel.
Day hikes
Aoraki Mount Cook is one of New Zealand's hiking hot spots, with a variety of walks for different timeframes and experience levels.
The shortest hike is the Tasman Glacier Viewpoint, a quick 40 min return walk up a hill to a viewpoint looking over the Tasman Glacier Lake. A 20 min side trip takes you down to the lake itself.
Another popular option is Hooker Valley, a reasonably flat 2-3 hour return walk to Hooker Lake where you'll be able to spot icebergs and enjoy a panoramic view of the Southern Alps.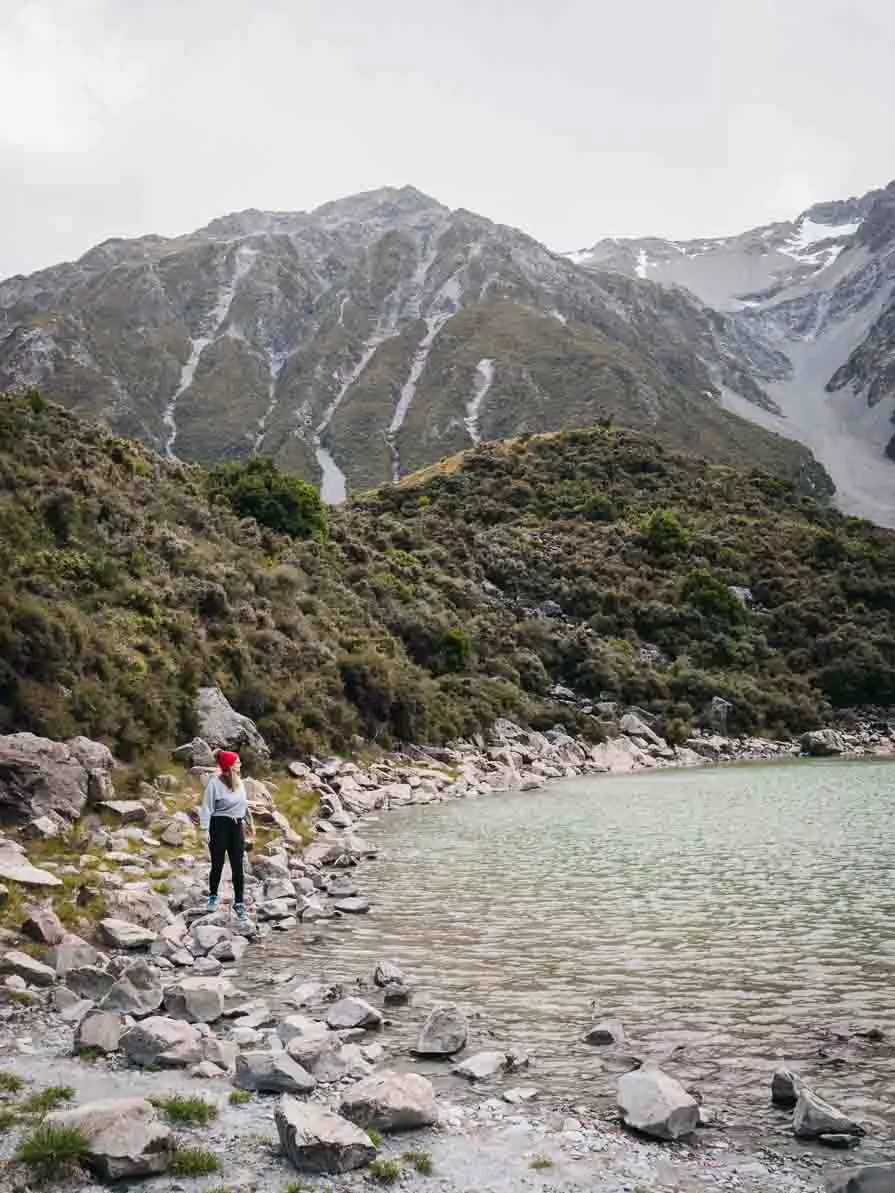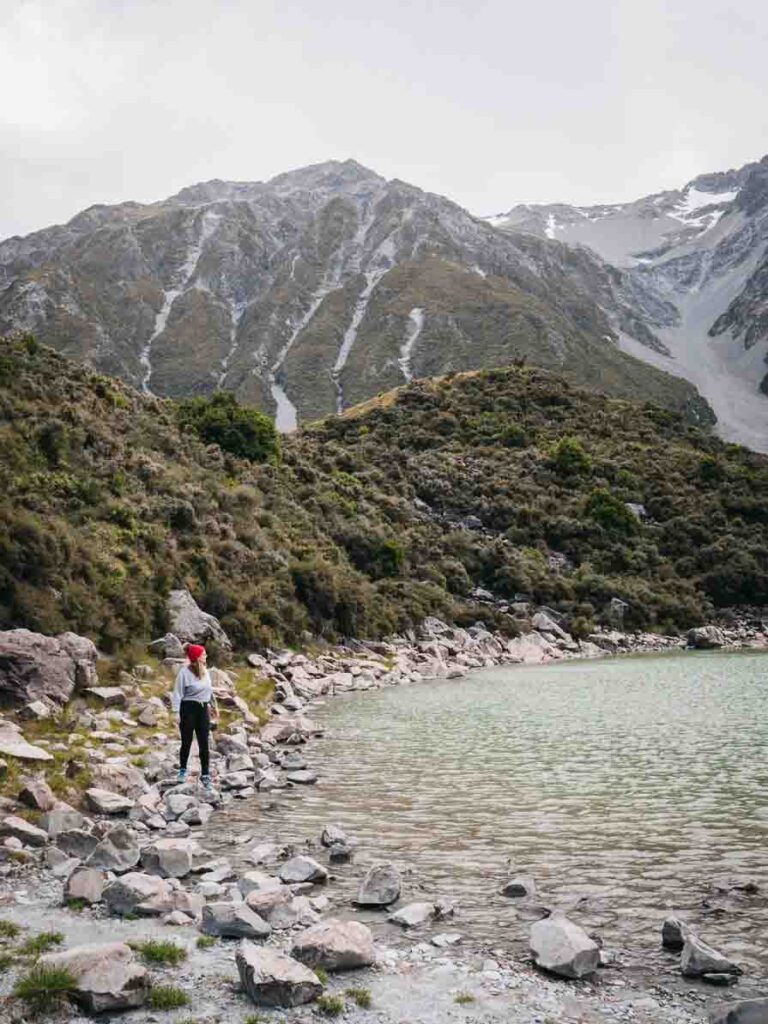 For a more adventurous trek you could head up to Mueller Hut, a 3-4 hour one way hike to the iconic red hut surrounded by mountains. In winter you'll need alpine gear for this one, so make sure you're prepared.
Where to stay
Camping | White Horse Hill Campground is a DOC campsite with non-powered sites for $15 a night per person
Budget | YHA Aoraki is sustainably run with solar power, offering private and dorm rooms plus a full kitchen
Mid-range | I stayed at the Aoraki Court Motel on my last trip to Aoraki Village and it was faultless. Comfortable beds, a decent kitchen and a patio with mountain views for a great price.
Somewhere fancy | The Hermitage Hotel is the most well-known hotel in the village, with incredible views from their rooms and a fancy restaurant. For somewhere even fancier, check out the Mt Cook Lakeside Retreat at the other end of Lake Pukaki, just before you reach the main road.
---
Aoraki Village to Lake Tekapo
Tekapo is one of my favourite places to visit in the South Island, I just love the vibe of this charming little tourist town. Cross your fingers for cloudless weather to experience the magic of Tekapo's night sky.
Driving time from Aoraki Village
An hour and 10 minutes without stops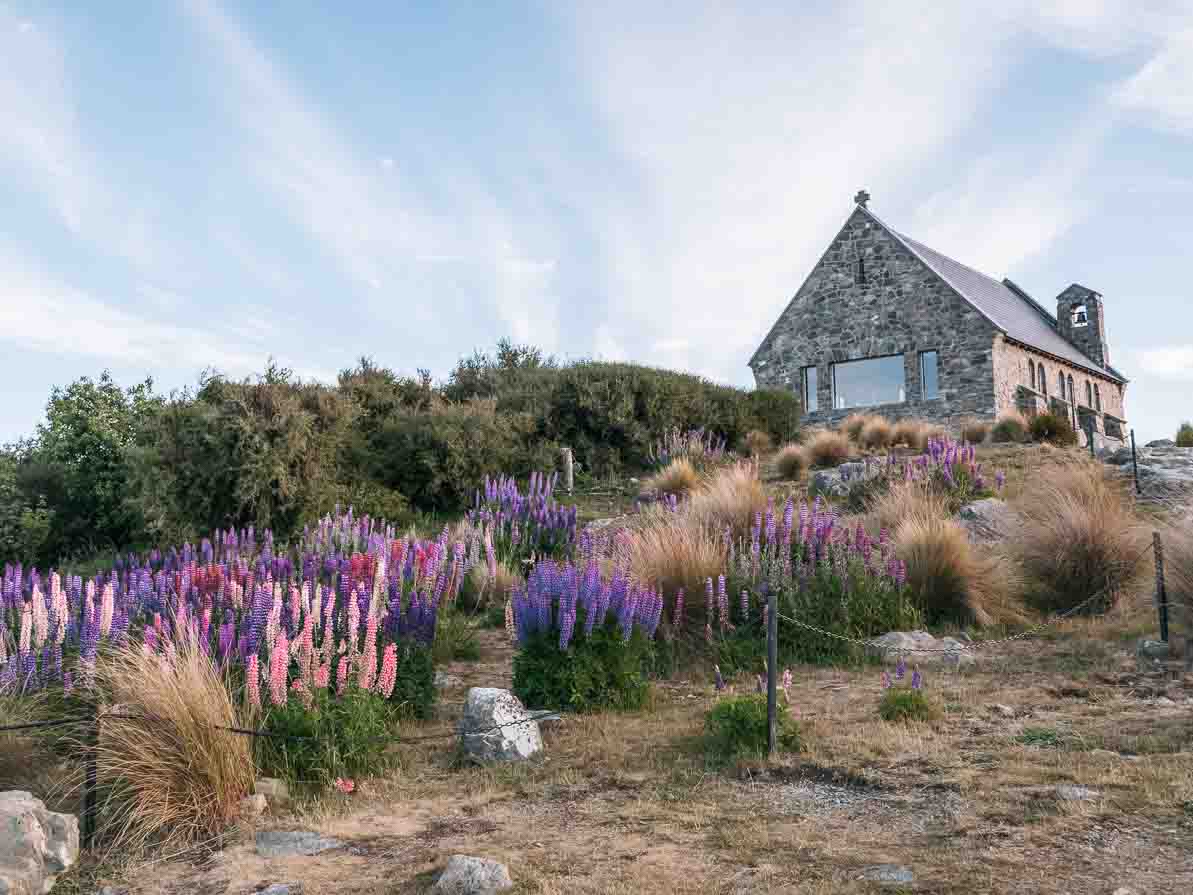 Things to do
See the stars
Tekapo is part of the International Dark Sky Reserve in the Mackenzie Region, meaning that there's minimal light pollution at night so some amazing opportunities for stargazing.
We loved the Tekapo Stargazing hot pools experience, which includes seeing stars and planets through the telescope, learning about astronomy, and then soaking in the hot pools under the stars while hearing about local Maori legends.
Another option is the Dark Sky Project who offer a Summit Experience at the Mt John Observatory each night, or see their indoor multi-media Dark Sky Experience at their base in the Tekapo township.
Photographers might also be interested in an astrophotography lesson with local photographers at Silver River Stargazing.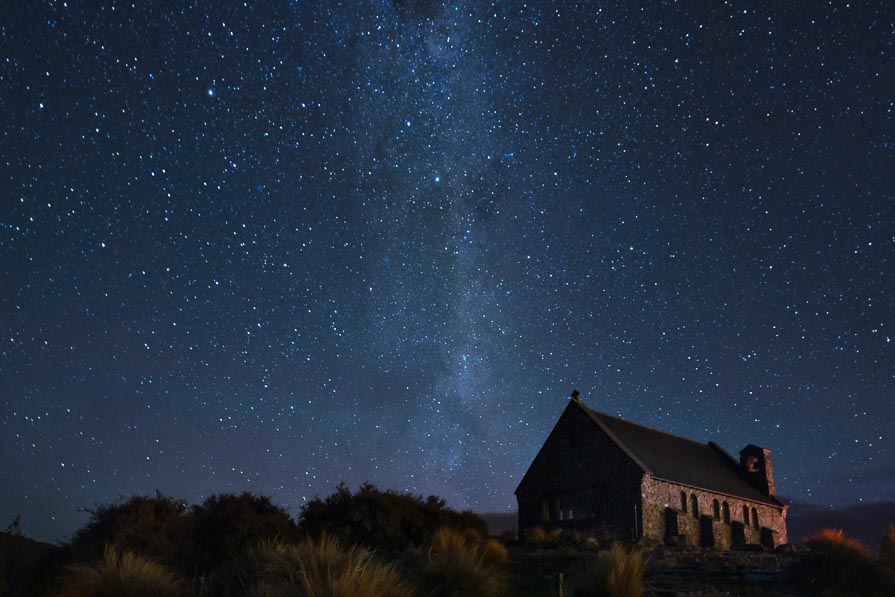 Explore the backcountry
Experience the finest of Tekapo's rural backcountry with a scenic 4WD tour over private high country farms.
Book a tour with Tekapo Adventures here
Soak in the hot pools
Tekapo Springs is the perfect spot for a mid-road-trip relaxation day. There are three hot pools with mountain and lake views, as well as a day spa for extra pampering.
Book your trip to Tekapo Springs here
YOU MIGHT ALSO LIKE: The Best Things to Do in Tekapo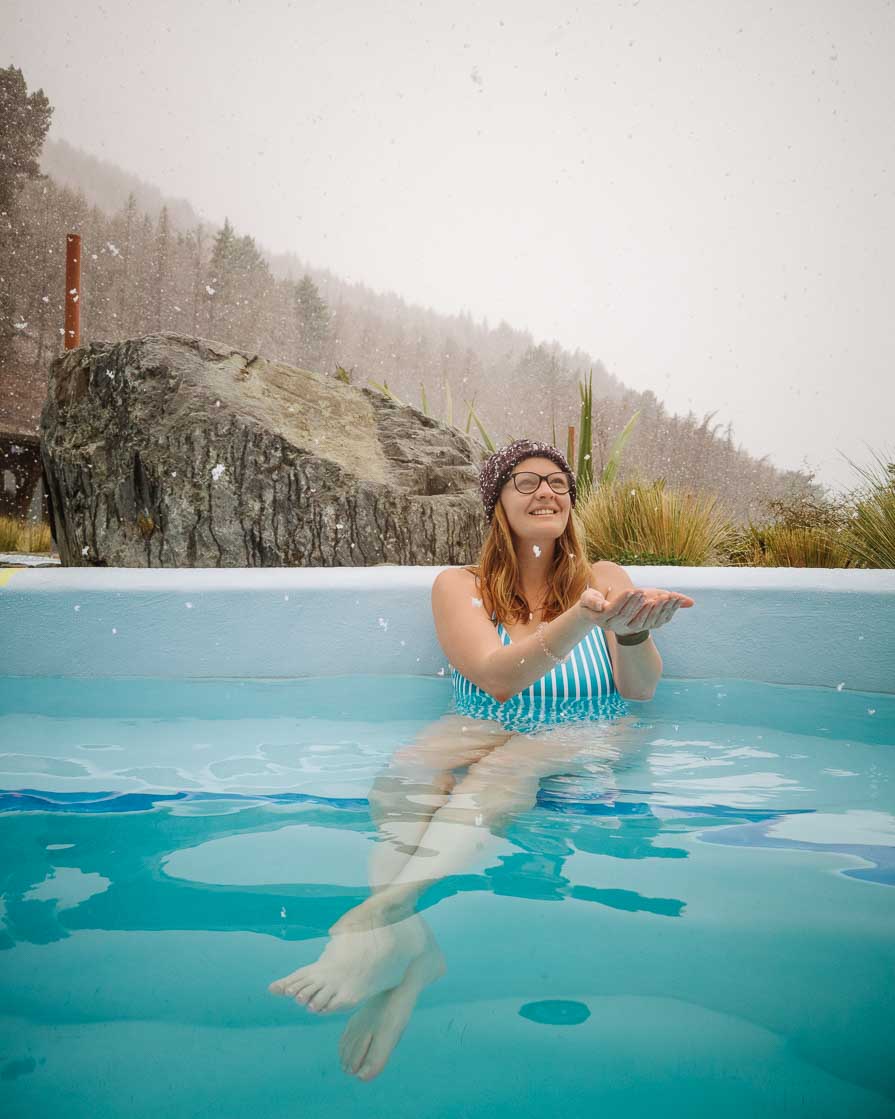 Where to stay
Camping | Tekapo Motels & Holiday Park are in the perfect spot, only a few minutes' walk from the Springs and a short walk or drive to the township
Budget | YHA Tekapo is unbeatable for travellers on a budget, it's a brand new hostel right on the lakefront in the middle of town
Mid-range | Three Rivers Lodge offer modern rooms and stunning views for a great value price
Somewhere fancy | On my second trip to Tekapo I stayed at the stylish Cairns Alpine Resort in one of their two-bedroom lodges. They're beautifully decorated with a high country vibe, equipped with a full kitchen and laundry facilities, and the bed was the most comfortable bed I slept in on our whole trip!
---
Tekapo to Christchurch
I'll admit that I kind of passed off Christchurch as a transit city, a place to arrive or depart from after experiencing the magical South Island. But on my most recent visit I actually managed to explore some of the activities on offer and I was seriously impressed!
If you're flying out of Christchurch I'd still recommend setting aside at least two or three days to experience the city before you head off.
Driving time from Lake Tekapo
About 2 hours 40 minutes
Where to stop on the way
Burkes Pass for a quick photo stop at Three Creeks, packed with Route 66-style memorabilia
Fairlie for a pie stop at the famous Fairlie Bakehouse. I recommend the Pork Belly & Apple Sauce pie, absolutely delish.

Geraldine

for the Barkers Foodstore, an incredible eatery that showcases the iconic Barkers products like sauces, chutneys and cordials
Akaroa and the Banks Peninsula are up near Christchurch and would add on about an hour and a half to your total road trip, but they're well worth a day trip or overnight stay if you have extra time to spare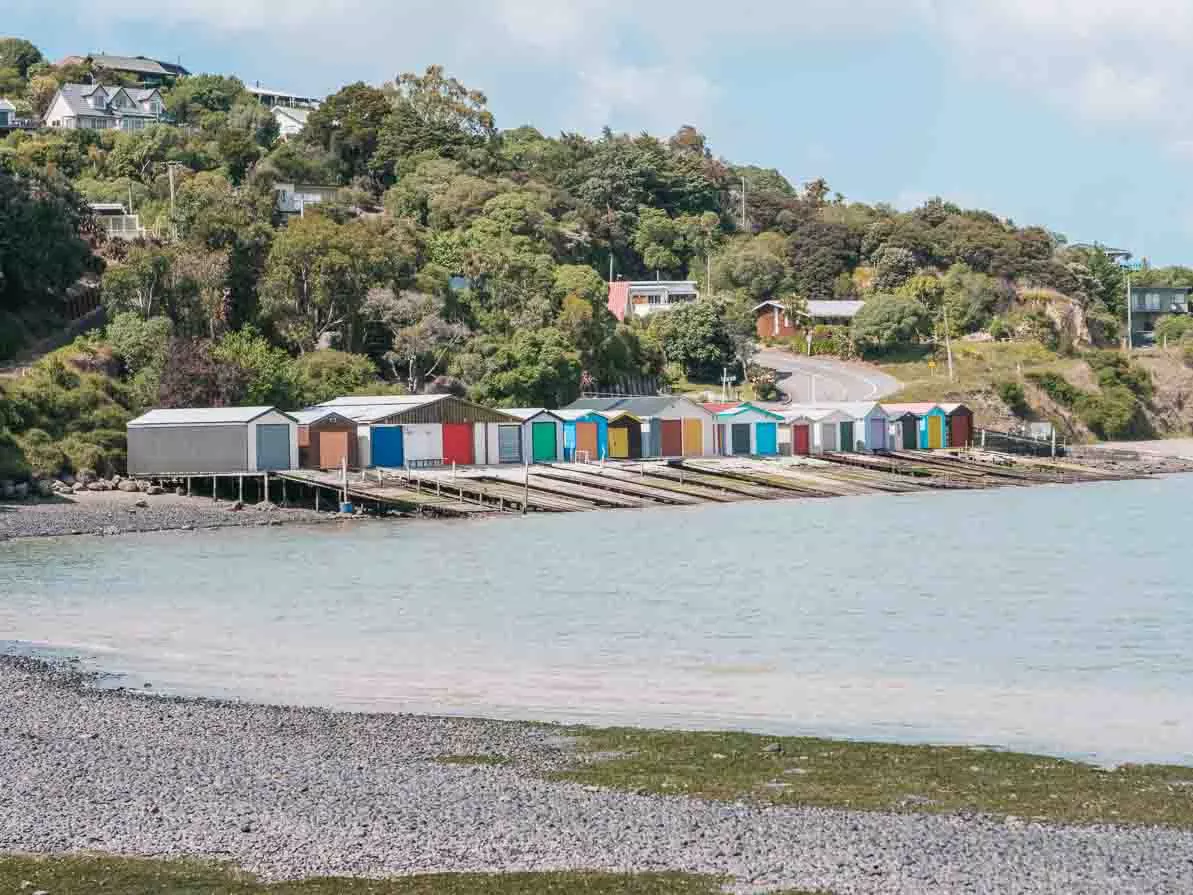 Things to do in Christchurch
Learn about the dark history and current rebuilding efforts of Christchurch
Christchurch was hit by two major earthquakes in 2010 and 2011, the former causing huge damage and the latter killing 185 people and destroying many more buildings.
In the past ten years the city has essentially been rebuilt, with a new town centre, some incredible art installations and innovative solutions to fixing a city that was decimated in a matter of minutes.
To get a real insight into the history I'd recommend a city tour or a Christchurch Tram tour.
Go ziplining
A 10 min drive from the city centre is the Christchurch Adventure Park, an outdoor haven in the Port Hills with mountain bike tracks, walking trails and an epic four-zipline course including the longest and highest ziplines in New Zealand.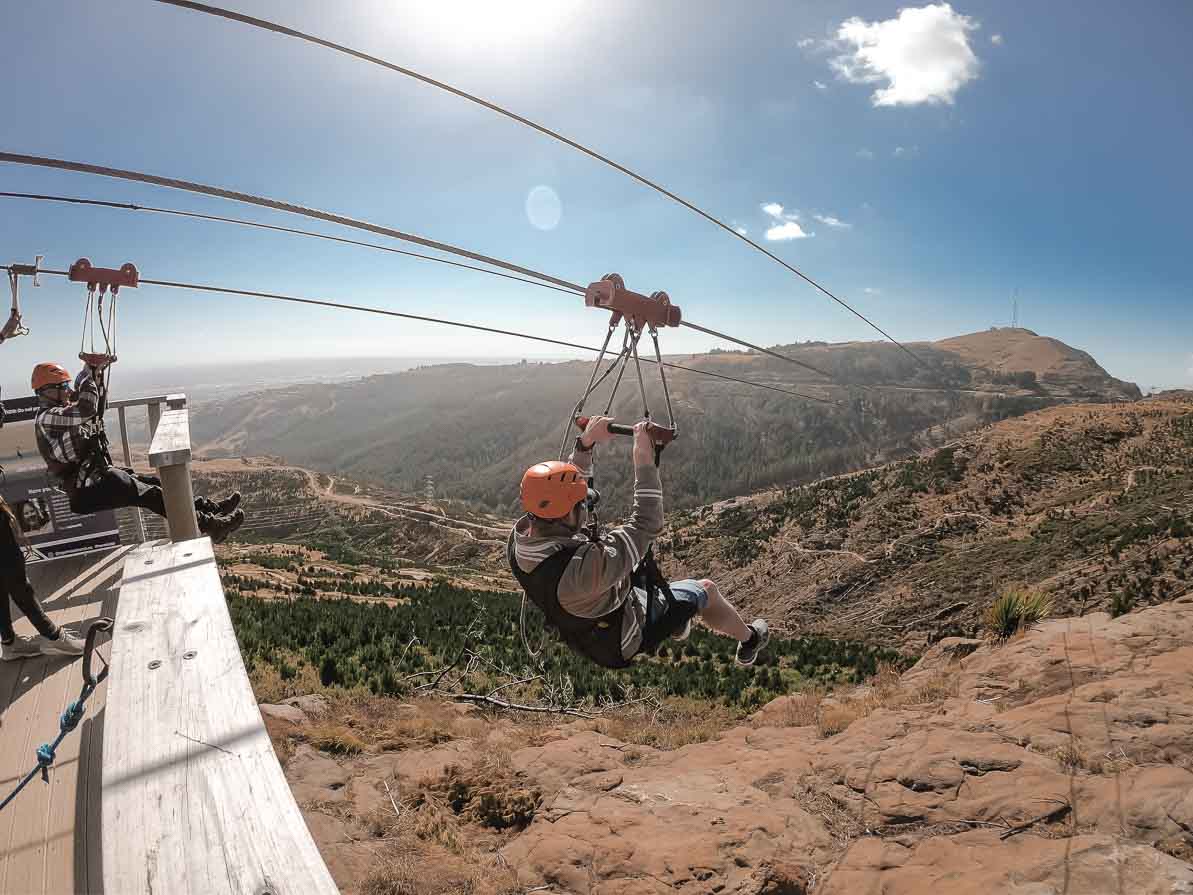 Riverside Market
Riverside Market is an indoor market packed with stalls and shops selling everything from fresh fruit and veges to gourmet grilled cheese sandwiches to fancy cocktails and everything in between.
The laneway leading into the market is worth a stop too, with some gorgeous boutiques selling locally-made products and artwork.
Other eateries
The Christchurch food scene actually blew my mind, I feel like I need to visit for a month to try all the restaurants and cafés on my list!
I'd recommend Miro (the smoked salmon and parmesan waffles are what dreams are made of), Amazonita or the Caffeine Laboratory for brunch, and add Twenty Seven Steps, Earl and Jaba Grill to your dinner options.
Where to stay
Camping | Christchurch TOP 10 Holiday Park has modern facilities and is a short drive from the main city centre
Budget | YHA Christchurch offer basic but good value accommodation in the middle of the city or Jucy Snooze has funky pod-style dorms by the airport
Mid-range | The Tack Rooms are self-contained studio units with modern furnishings and beautiful decor just a short walk from the entertainment district
Somewhere fancy | The Britten Stables is one of the best places to stay in New Zealand, with rooms ranging from studio to one-bedroom self-catered apartment to a full guest house. Guests have access to a shared billiard lounge and a stunning conservatory with a Moroccan-tiled pool.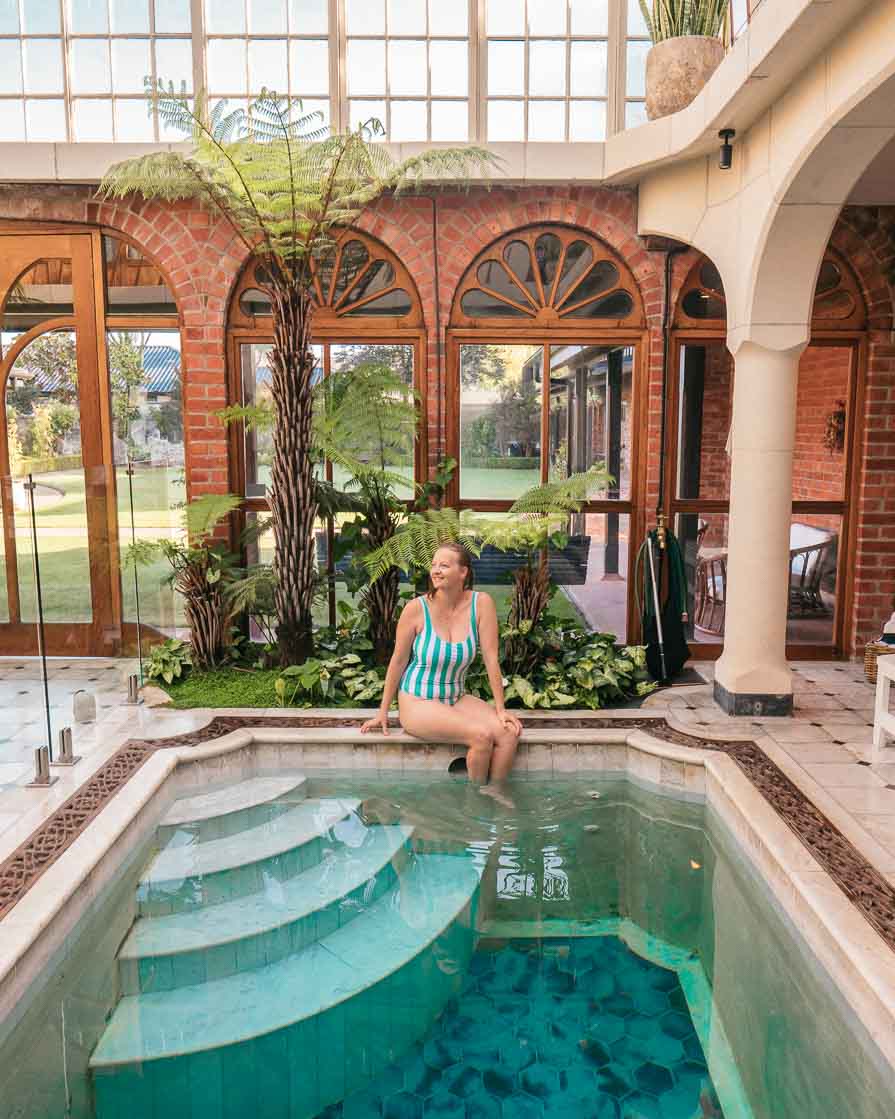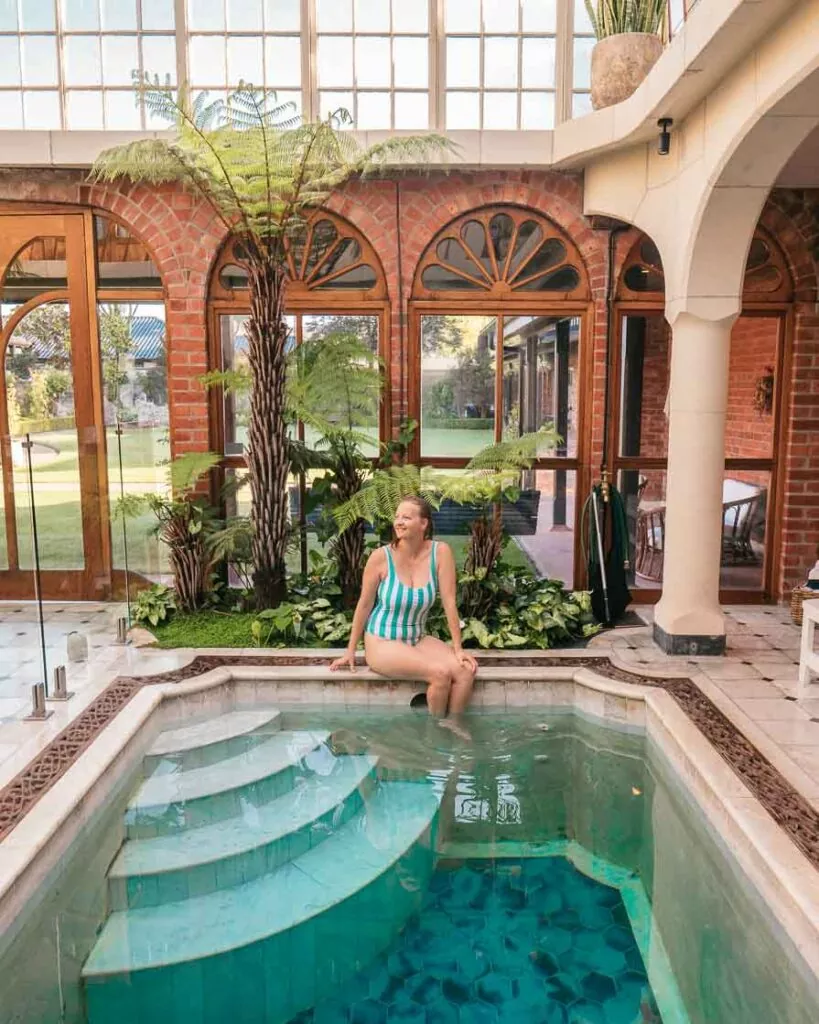 ---
Queenstown to Christchurch road trip itinerary option #2: The Wild West Coast
The second Queenstown to Christchurch road trip option starts off with the same suggestions for Queenstown and Wanaka, then instead of heading up the middle, you'll drive out west and take the coastal route through Glacier Country.
Wanaka to Franz Josef Glacier
Driving time from Wanaka
About 3h 40m
Where to stop on the way
The Blue Pools Track, 1h return flat walk to stunning alpine pools
Fantail Falls, beautiful waterfall easily accessed with a two minute walk from the carpark
Thunder Creek Falls, a super tall waterfall with a viewing platform a short walk from the carpark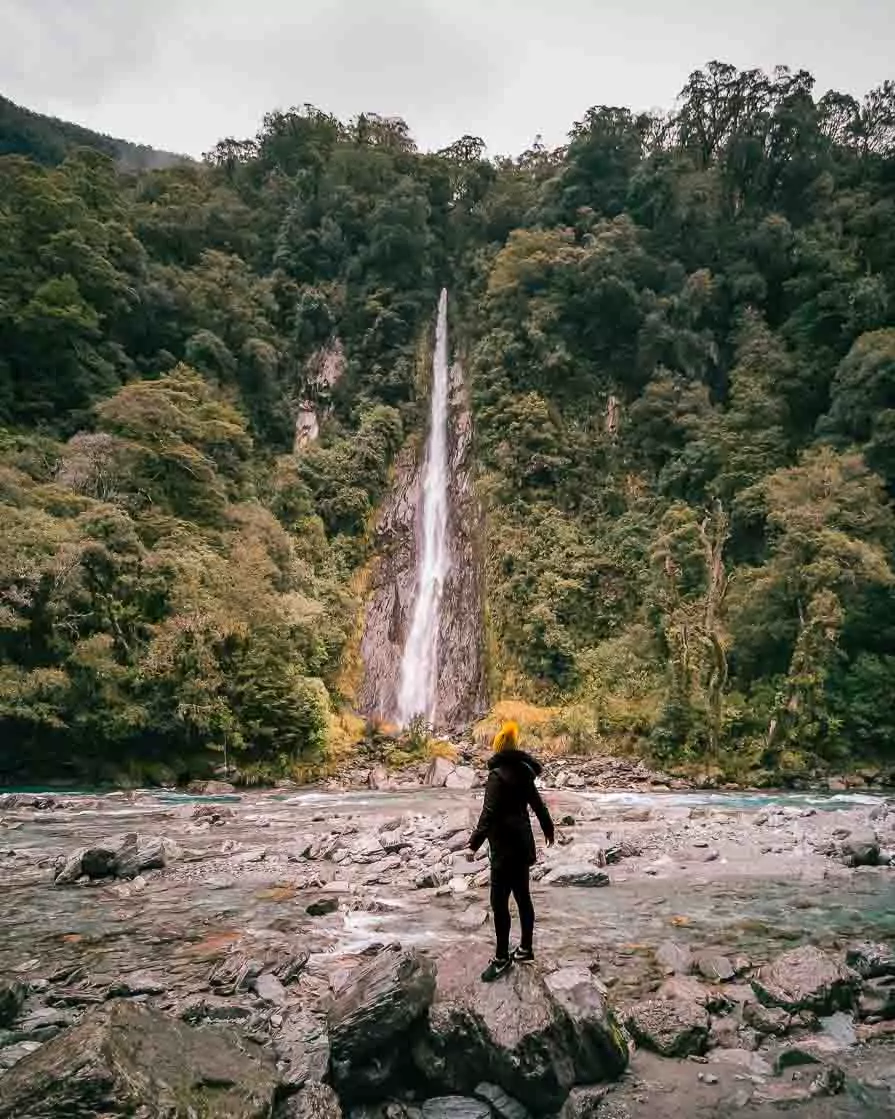 Things to do in Franz Josef Glacier
Do a heli hike
Get kitted out with warm clothes, boots and crampons, jump in a heli for a quick (and epic) flight up to the Franz Josef Glacier, and head out onto the ice for a 2-3 hour walk around the otherworldly icy landscape.
Book a Franz Josef Glacier heli-hike here >>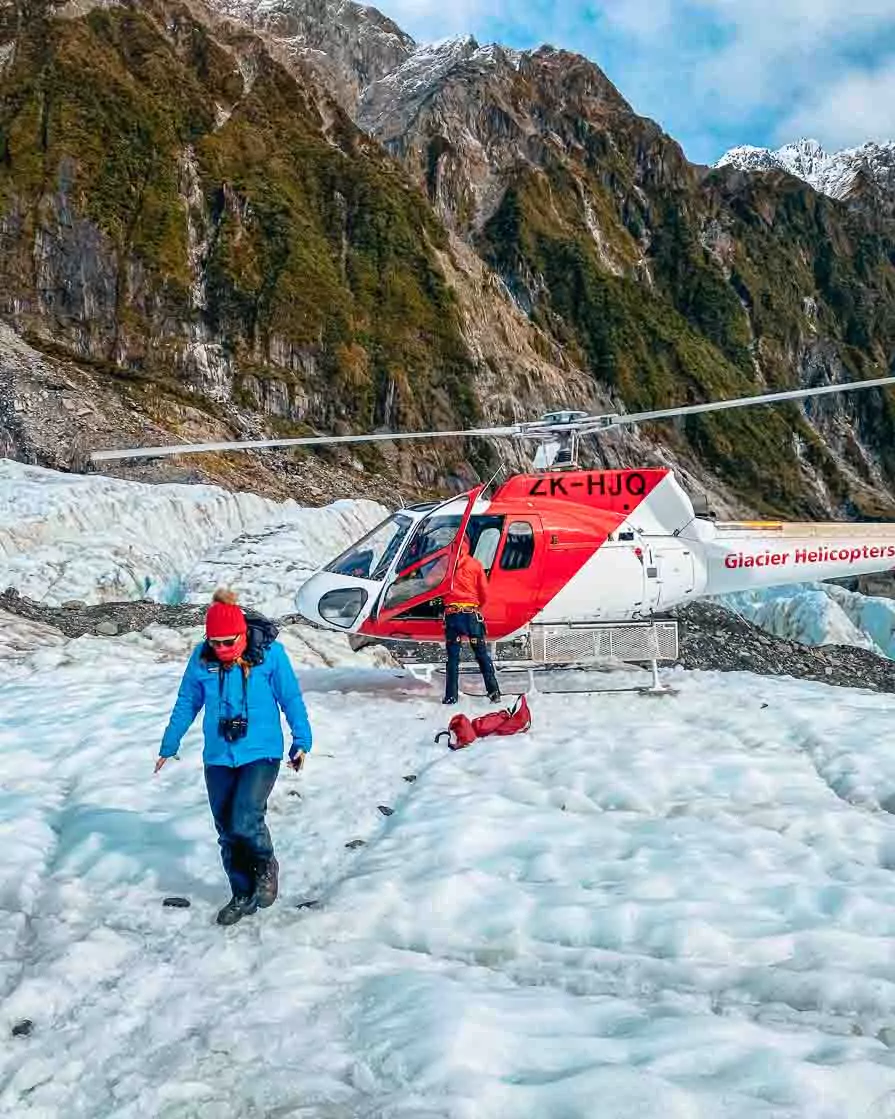 See a kiwi
The West Coast Wildlife Centre has resident rowi kiwi and Haast tokoeka kiwi as well as the prehistoric tuatara, giving you the chance to see New Zealand endangered icons up close in a breeding and raring facility.
You can visit with a self-guided ticket or book a backstage pass to learn from the wildlife rangers.
For a chance at seeing a kiwi in the wild, head to nearby Okarito and get in contact with Okarito Kiwi Tours.
Skydive
Skydiving with views of two glaciers, the rugged coast and the Southern Alps is one for the bucket list.
There are options for 9000, 13500 or 16500ft jumps, or if you fancy yourself as a true daredevil, try the Kea Jump. At an insane 20,000ft it's the highest skydive in New Zealand!
YOU MIGHT ALSO LIKE: 15 of the Best Things to Do in Franz Josef Glacier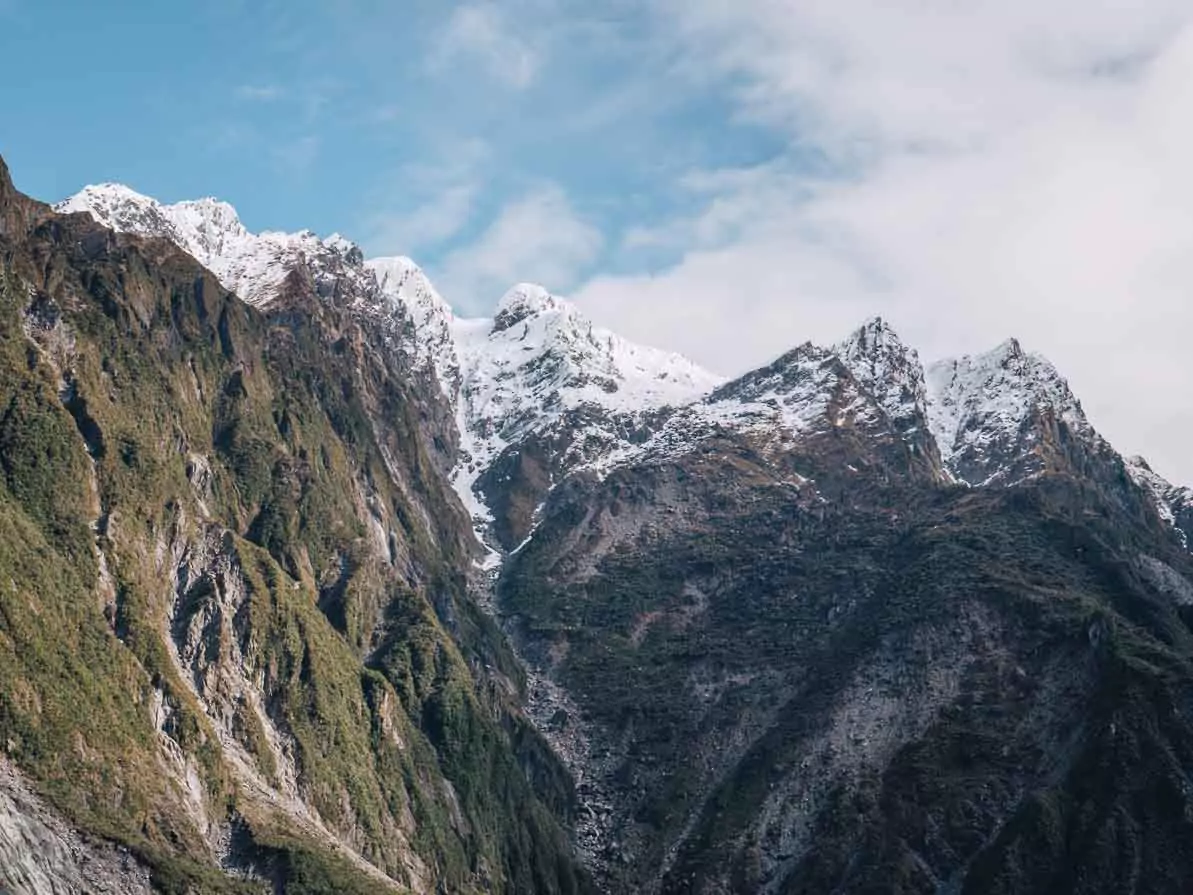 Where to stay
Rainforest Retreat is my go-to for accommodation in Franz Josef regardless of budget.
Rainforest's holiday park has loads of powered campsites nestled amongst native bush with mountain views, and there are dorm rooms and private rooms available with access to shared kitchen and other facilities.
For mid-range accommodation, they've got motel rooms and studio tree huts with comfortable furnishings and private bathrooms.
And if you want a bit of luxury during your Franz Josef visit, check out their newly-built deluxe treehouses!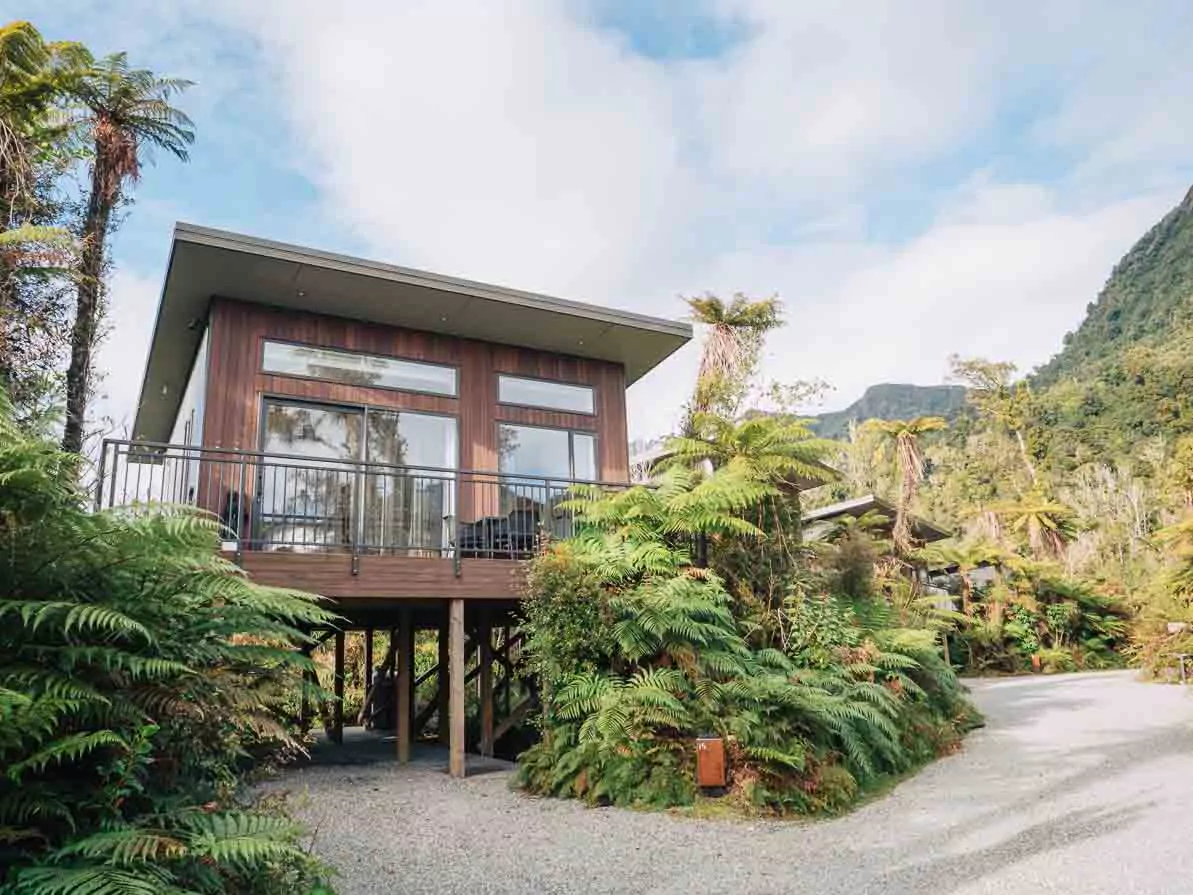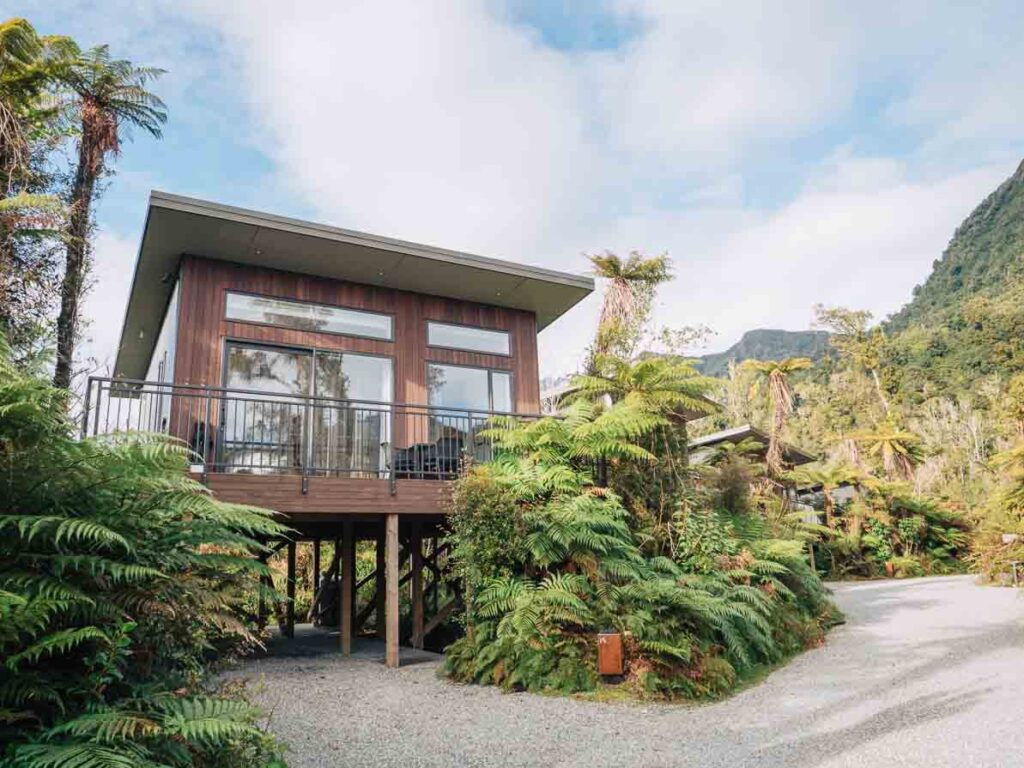 ---
Franz Josef Glacier to Hokitika
Driving time from Franz Josef Glacier
About 1h 40m
Where to stop on the way
Okarito Lagoon for kayaking or a scenic cruise

Ross Beach

for an insane sunset
Lake Mahinapua for picture-perfect mountain reflections
Things to do in Hokitika
Walk the Hokitika Gorge
This easy one hour loop walk has a bunch of incredible photo spots to capture the bright blue glacial water. It's a 25 minute drive (about 31km) from Hokitika town centre.
Carve your own pounamu
Experience the Māori tradition of carving at Bonz 'n' Stonz, with skilled local craftspeople teaching you how to carve your own jade (pounamu), paua or bone. This is the perfect Hokitika activity for a rainy day!
Watch the sunset
West Coast sunsets have to be seen to be believed. Grab some fish and chips, head down to the black sand beach and watch the sky turn red, orange and yellow as you say goodnight to the sun.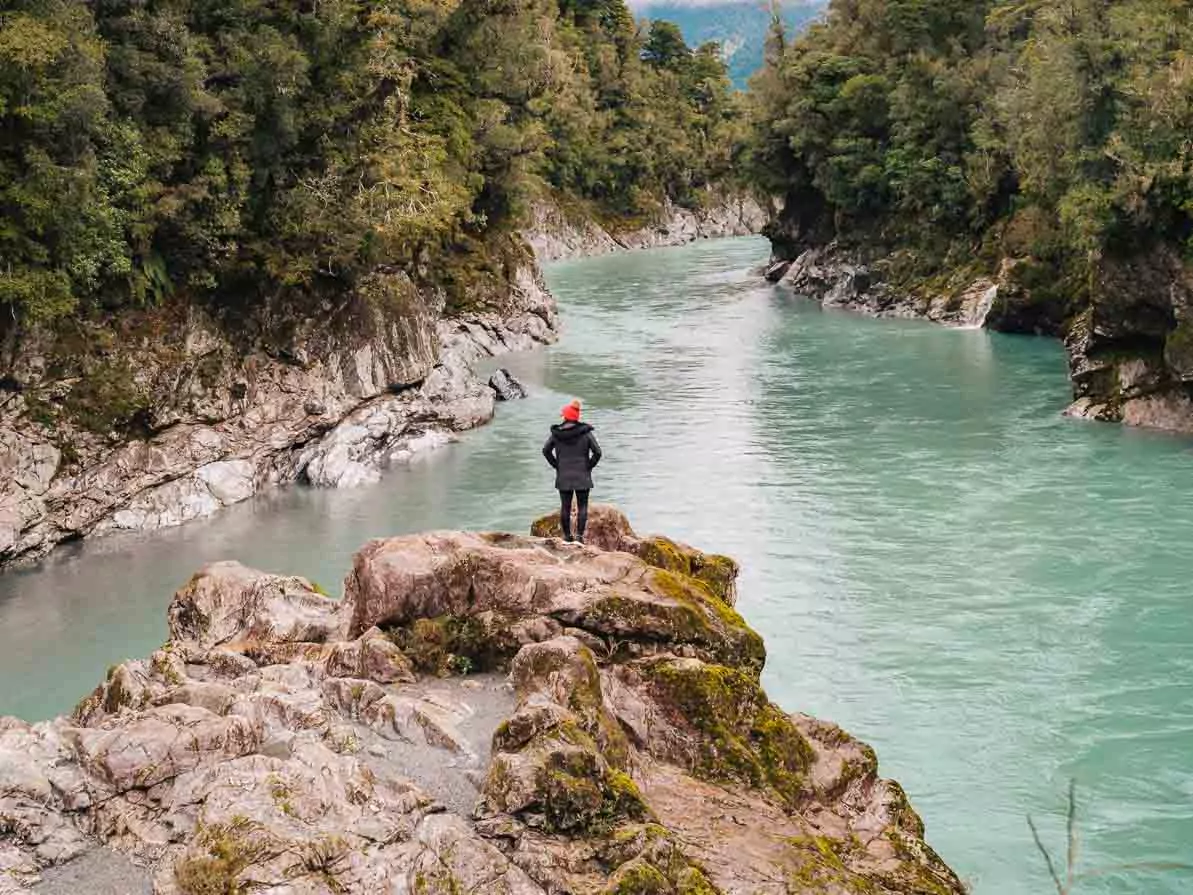 Where to stay
Camping | Ross Beach TOP 10 Holiday Park is one of my favourite campgrounds in New Zealand, 20 mins before you reach Hokitika
Budget | Amberlea B&B is highly-rated and offers cheap rooms and included breakfast
Mid-range | Awatuna Sunset Lodge is rated as the best value option in town, with modern rooms and incredible ocean views
Somewhere fancy | This newly-converted fire station apartment in the middle of town looks epic!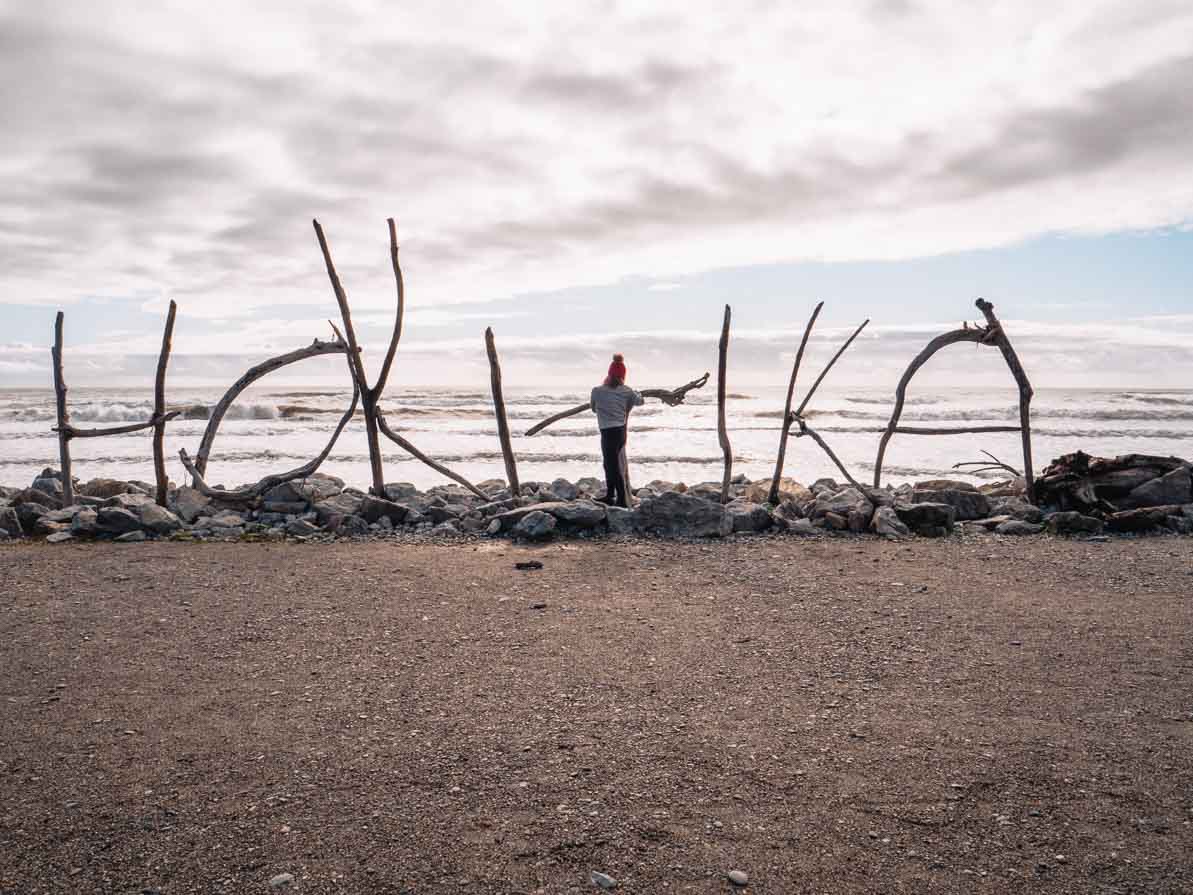 ---
Arthur's Pass
Driving time from Hokitika to Christchurch via Arthur's Pass
3 hours 10 minutes
Places to stop while driving Arthur's Pass
Lake Brunner & Moana for nature walks, bird life and trout fishing
Arthur's Pass Walking Track, 2h 40min return 6.8km walk past waterfalls and alpine wetlands up to the summit
Devil's Punchbowl Waterfall, a 1h return easy walking track
Sheffield Pie Shop to refuel yourself with award-winning pies
Where to stay in Arthur's Pass
Camping | Jackson's Retreat Alpine Holiday Park has been rated NZ's best holiday park in the past, with a full kitchen, communal lounge and dining, and free bike hire
Mid-range | Arthur's Pass Motel & Lodge has modern and cosy motel rooms and apartments
---
And then you'll reach Christchurch!
I hope this Queenstown to Christchurch road trip itinerary has given you some helpful tips & suggestions for your upcoming South Island trip.
MORE NEW ZEALAND TRAVEL GUIDES:
Like this blog? Pin it!