Do you want a true Christmassy adventure and want to see the European Christmas markets by train? This Europe Christmas market itinerary will show you the best markets in Germany, France, Austria and more while travelling by rail.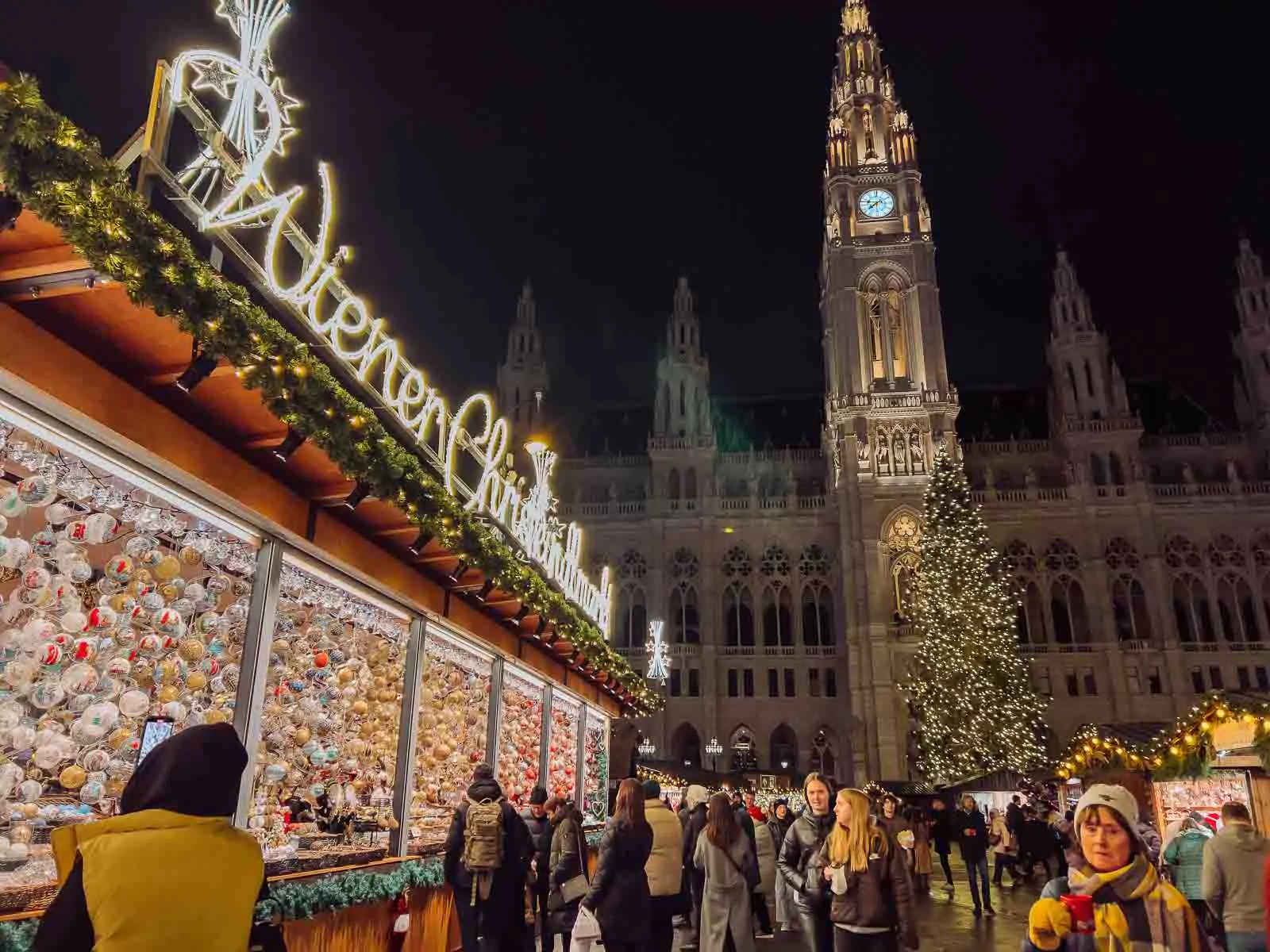 As the weather gets cooler and the days get darker. Europe's Christmas markets come alive with dazzling light displays, charming stalls selling artisan crafts, and the wafting scent of spiced Glühwein, roasted chestnuts or fresh gingerbread cookies.
These markets first began in Germany in the late Middle Ages, but the tradition has since caught on in Austria, Switzerland, France, Italy and even throughout Eastern Europe. Not all Christmas markets are created equal though, and you want to make sure you're hitting the best ones if you're planning a trip around them!
This Europe Christmas market itinerary will take you around 14 cities in five countries, ticking off some of the prettiest, oldest and most authentic markets Europe has to offer. Visit medieval villages, witness mind-blowing light displays, eat your weight in Christmas treats and enjoy the festive atmosphere in places like Strasbourg, Innsbruck, Nuremberg and Prague.
I've also included a bunch of tips to help you navigate the European Christmas markets by train, like exact dates for each of the markets, when the best time to visit is, if a Eurail Pass is worth it or not, and how much to budget for your Europe Christmas market trip.
So pop on some Christmassy music, get out your travel planning notebook and lets run through the perfect itinerary for seeing Europe's Christmas markets by train.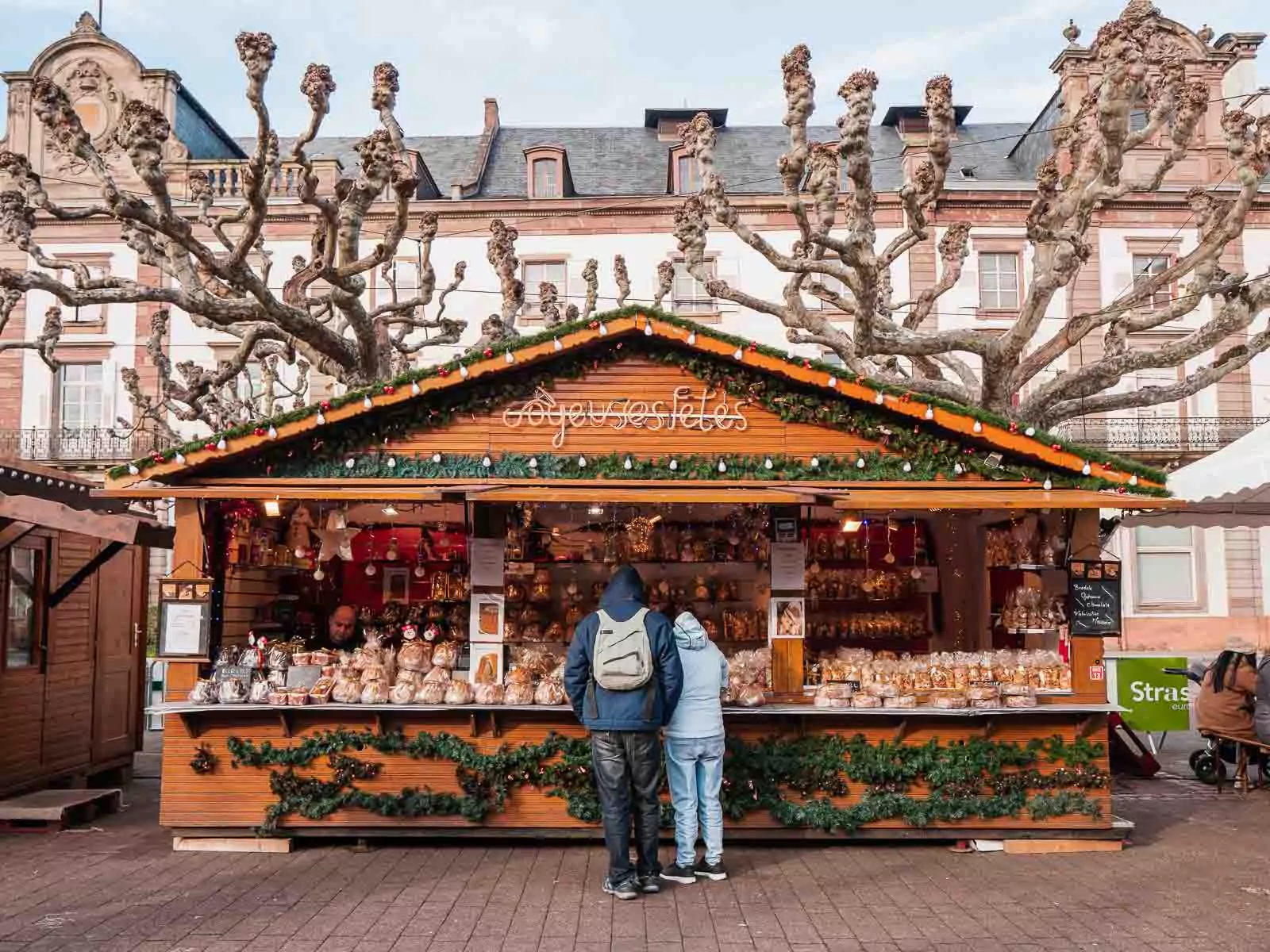 ---
What are the European Christmas markets?
The famous Christmas markets in Europe are traditional street markets that run throughout the festive season in many European cities, selling Glühwein (mulled wine), Christmas decorations, holiday-themed souvenirs and loads of tasty seasonal treats.
While the history of European Christmas markets is disputed, with a number of markets claiming to be the 'original Christmas market', we know that they have been running in Germany since at least the 15th century, and in the following centuries the tradition caught on in Austria as well as German-speaking parts of France, Switzerland and Italy.
These days you'll find some form of Christmas market in most major European cities, though not all are equal, as I discovered. More on that shortly!
Most European Christmas markets are free to enter and wander around, so you can enjoy the insane light installations, live music and Christmassy vibes without spending a cent. If you've got some spending money then you could grab a lumumba (hot chocolate with rum) or some bratwürst, rent some ice skates and try your luck on the rink, enjoy a carousel ride, or stock up on homemade gifts for friends and family back home.
---
What are the best Christmas markets in Europe?
On my recent European Christmas market itinerary I managed to visit a whopping 15 Christmas markets in nine countries. Yes, it was very hectic.
Some of the markets were pure magic and exceeded all expectations, but some of the markets left me unsatisfied. Here are my favourite Christmas markets that are absolutely worth a visit, along with a few that just didn't quite impress me.
The best Christmas markets in Germany
I went to Cologne and Frankfurt which both have a number of huge markets that are easy to walk between. Cologne offers the quintessential German Christmas market experience, and Frankfurt was more of a representation of modern Germany, with street food stalls serving up cuisines from all over the globe. Some other top-rated German cities for Christmas markets are Dresden (who claim to be the first Christmas market, dating back to 1434), Nuremberg and Rothenburg ob der Tauber.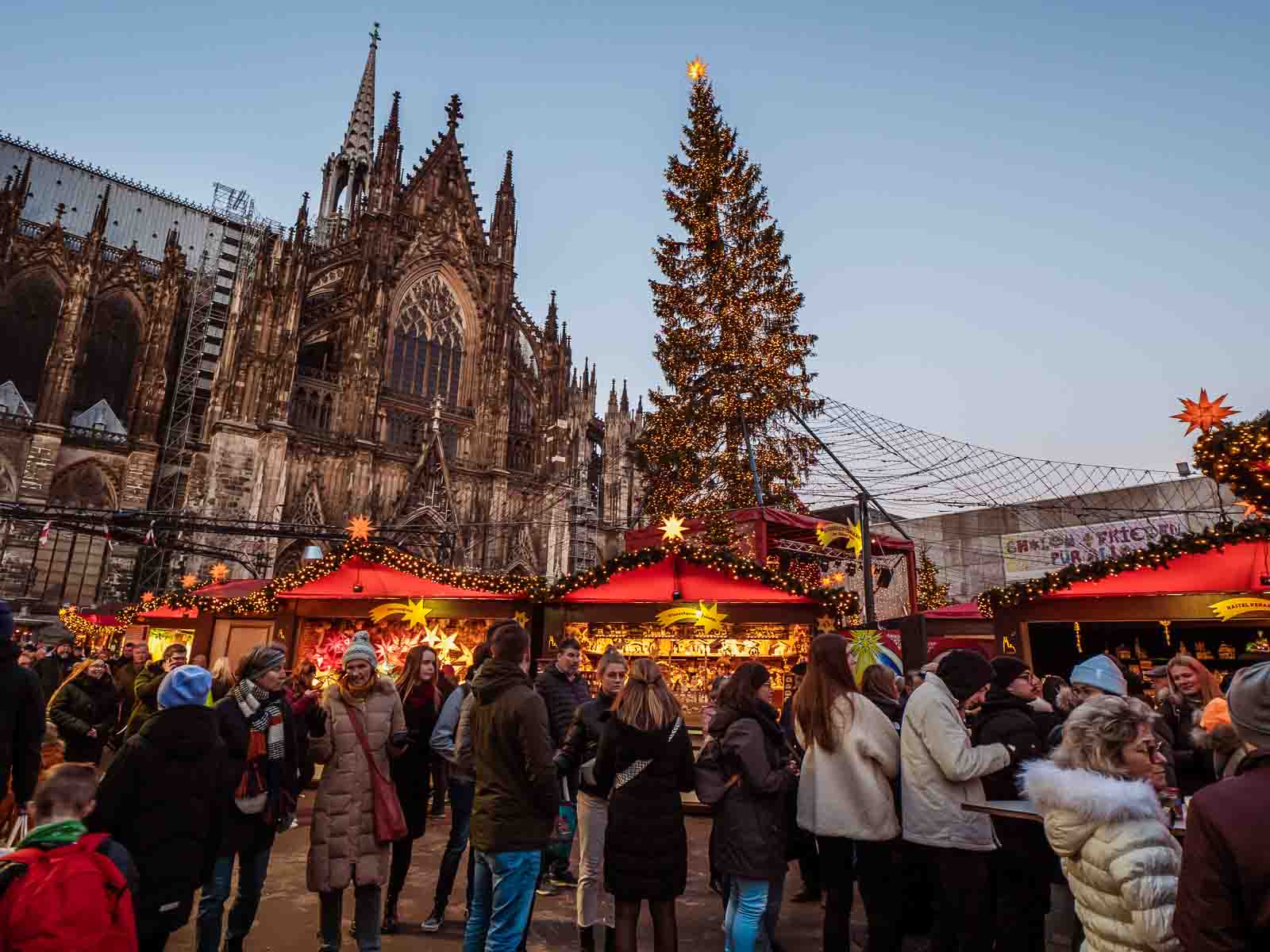 The best Christmas markets in Austria
Austria's best Christmas markets are without a doubt in Vienna, Salzburg and Innsbruck. Vienna's markets are spread over the city and range from regal to traditional to contemporary, and Salzburg and Innsbruck both boast classic Christmas market vibes in their colourful old towns.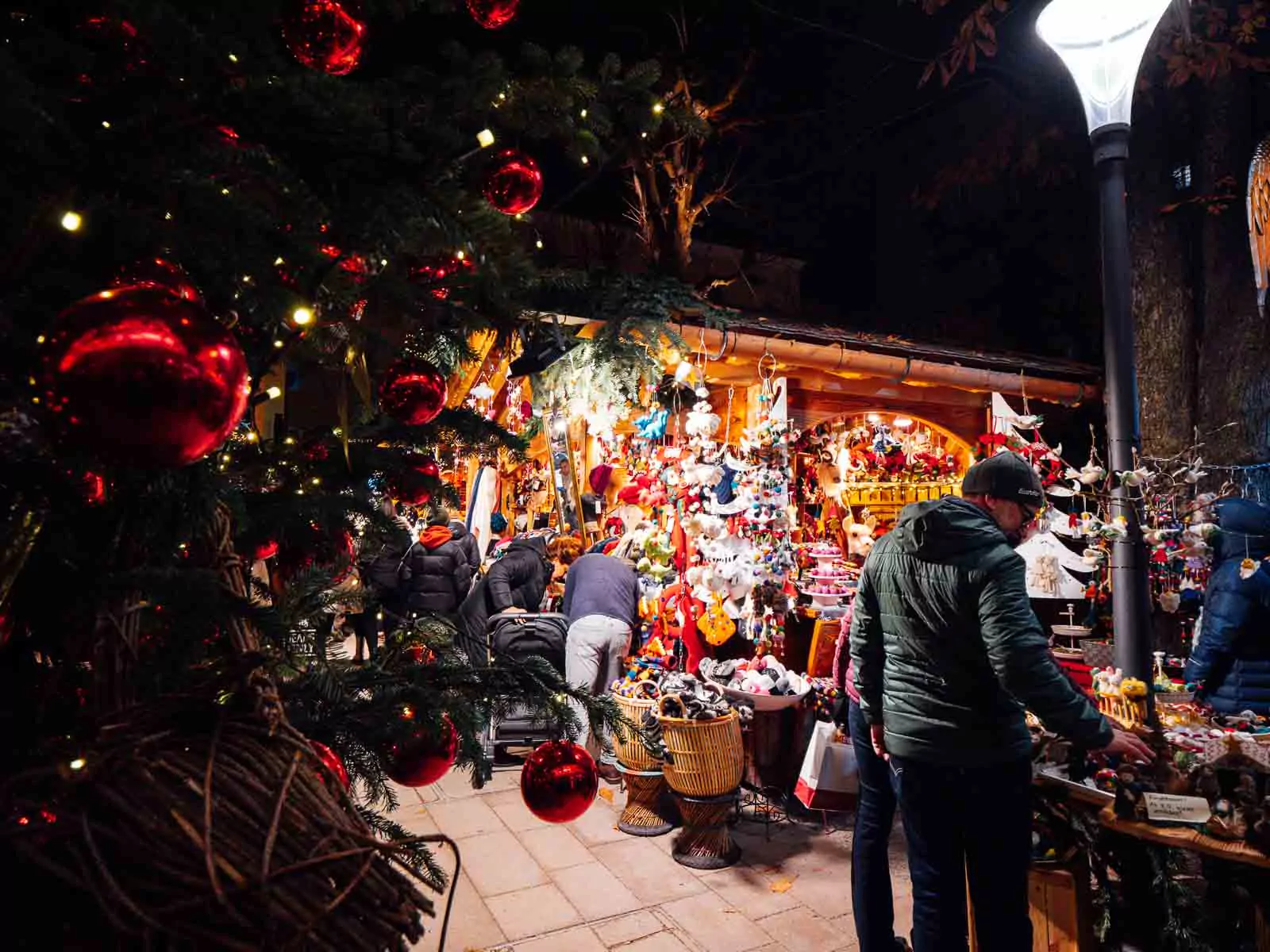 The best Christmas markets in France
With the tradition of Christmas markets leaking into France over the German border, it's no surprise that France's best markets are all located in the Alsace region, right on the eastern edge of the country.
Alsace's biggest city is Strasbourg, which held France's first ever Christmas market in 1570. These days Strasbourg claims the title "Strasbourg, Capital of Christmas", and you'll understand why once you experience the creative Christmas lights, hundreds of independent stalls and undeniable festive feeling.
Nearby Colmar is arguably even more beautiful with a more small-town vibe, or there's Mulhouse (famous for textile souvenirs), Eguisheim (a very charming small market) or Riquewihr (this one has lots of local wines).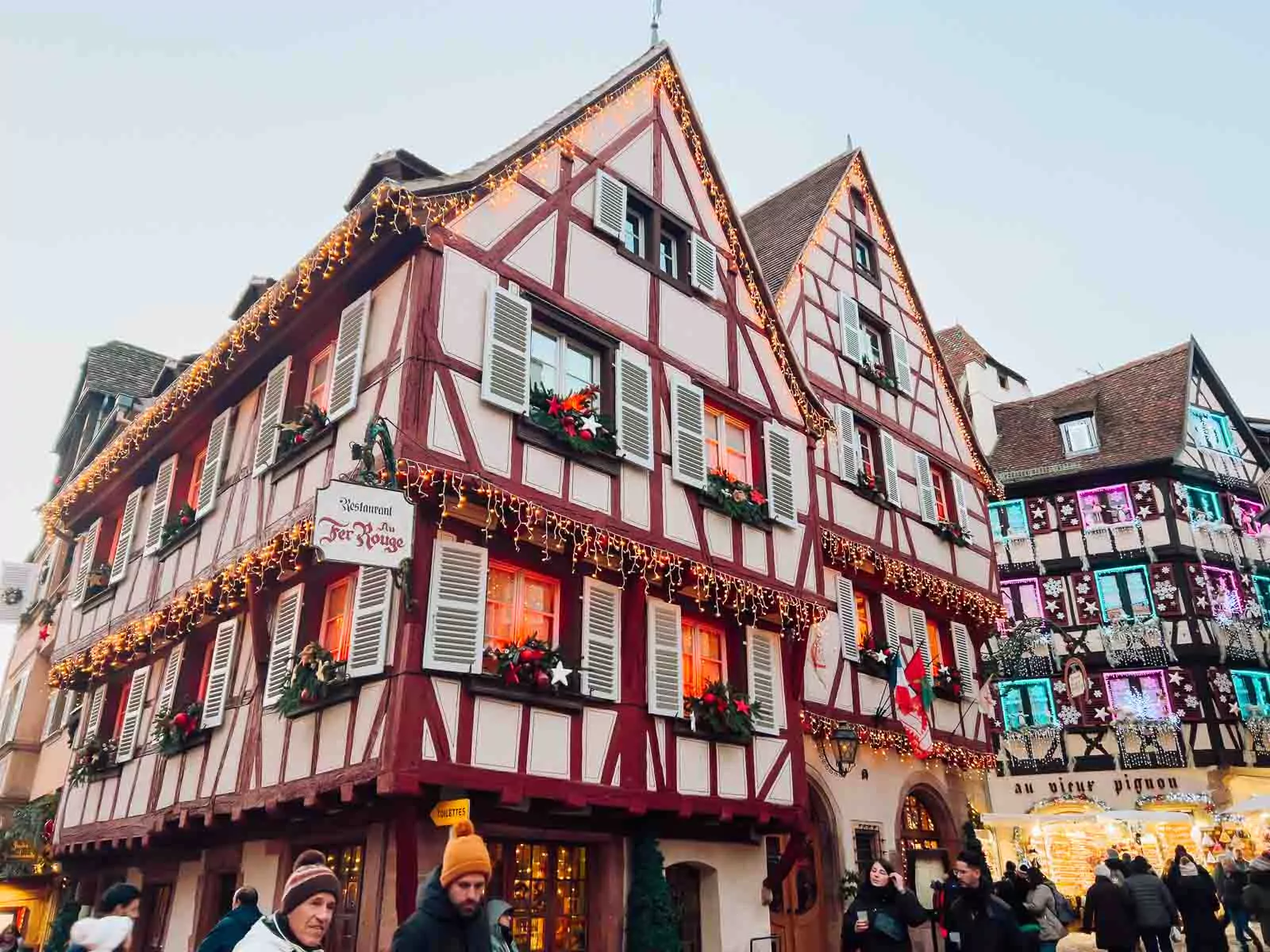 The best Christmas markets on a budget
My top pick for the best Christmas market in Europe on a budget is Prague, Czechia. You'll be able to find affordable accommodation, food and drink is relatively cheap, and many of Prague's must-sees like Charles Bridge and Prague Castle can be accessed for free.
Many other blogs I read in while planning my Europe Christmas market itinerary suggested Budapest as the best budget Christmas market in Europe, but unfortunately I don't think this is the case any longer. In 2022 Hungary was dealing with HUGE inflation, higher than most other countries in Europe, which pushed up stall prices for things like mulled wine, langos and kürtőskalács (chimney cake) to as expensive, if not more expensive, than places like Frankfurt and Berlin. Accommodation in Budapest is still affordable but the food prices were something I absolutely had not budgeted for, so just keep this in mind if you're planning to include it in your Christmas market itinerary.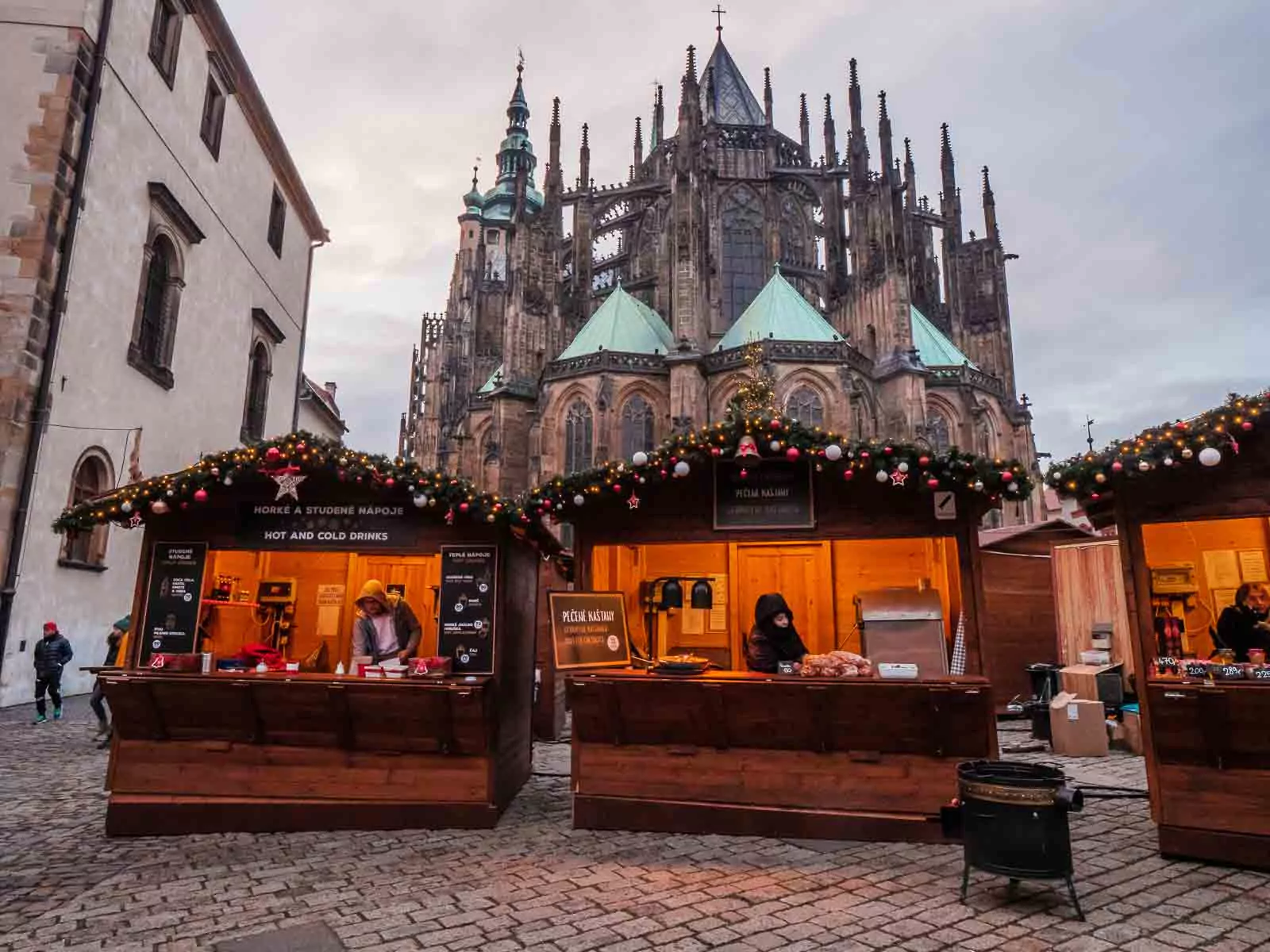 Other noteworthy Christmas markets in Europe
Other markets to add to your European Christmas market itinerary are London's iconic Winter Wonderland, Copenhagen's Tivoli Gardens markets, and the picture-perfect markets in Basel, Switzerland.
---
Why see the European Christmas markets by train?
Europe's rail network is incredible well-connected, particularly in the countries that host the best Christmas markets, like Germany, Austria and France, so catching a train between Christmas markets is an affordable, time-efficient, stress-free way to get from A to B.
It's cost-effective
While low cost carriers in Europe do offer very competitive airfares between hub cities, flying comes with additional costs like booking checked luggage, selecting seats, getting to and from the airport, and buying airport/plane food when you're hungry. If you're travelling with carry on only you might be able to avoid that first one, but in Europe winter chances are you'll want big jackets, scarves and chunky boots, so it's a bit harder to stick to the 7kg weight limit in the cooler months.
If you're catching a train you can take luggage without paying any additional fee, there's always easy and cheap public transport to get to the station, and you can take however much food and drink you want from the supermarket without worrying about weight or getting your water bottles through security.
It's fairly quick
Thanks to a brilliantly connected network of trains and being able to avoid annoying airport lines, your door-to-door journey is often shorter if you train rather than fly.
The journey itself might be longer but train stations are usually closer to the city centre and tourist areas than airports, and you only need to arrive 20 minutes before your train leaves to be able to find your platform and carriage, rather than the requirement of two hours for an international flight.
Most of the trains in this Europe Christmas market train itinerary are only a few hours, with only a couple sitting at the 4.5-5 hour mark.
It's not as stressful as flying
Airports during the festive season are pure chaos, and while train stations aren't exactly a meditation room either, they're certainly easier to deal with. Trains are typically less impacted by the weather so you'll have less chance of cancellation, all of these routes below are serviced constantly throughout the day so you can easily switch to a later train if you miss a connection due to a delay, and the actual train journeys offer beautiful scenery and the chance to stretch your legs much easier than you can on a flight.
---
About this European Christmas markets rail itinerary
How long will this European Christmas markets train itinerary take?
The ideal length of time to follow this European Christmas market itinerary would be 2.5 weeks. This amount of time lets you spend at least one full day in 12 different iconic Christmas market cities, and also allows some downtime for easy stops on the way as well as non-Christmas sightseeing.
If you need a shorter trip you could just choose a section of this itinerary and head to those few places instead. I've got some suggestions for one week trips below the itinerary.
And if you've got more time, you could either slow it down and spend your time in some of these cities, or opt to add on some new ones instead. Again, I've got suggestions for potential add ons at the bottom of the itinerary.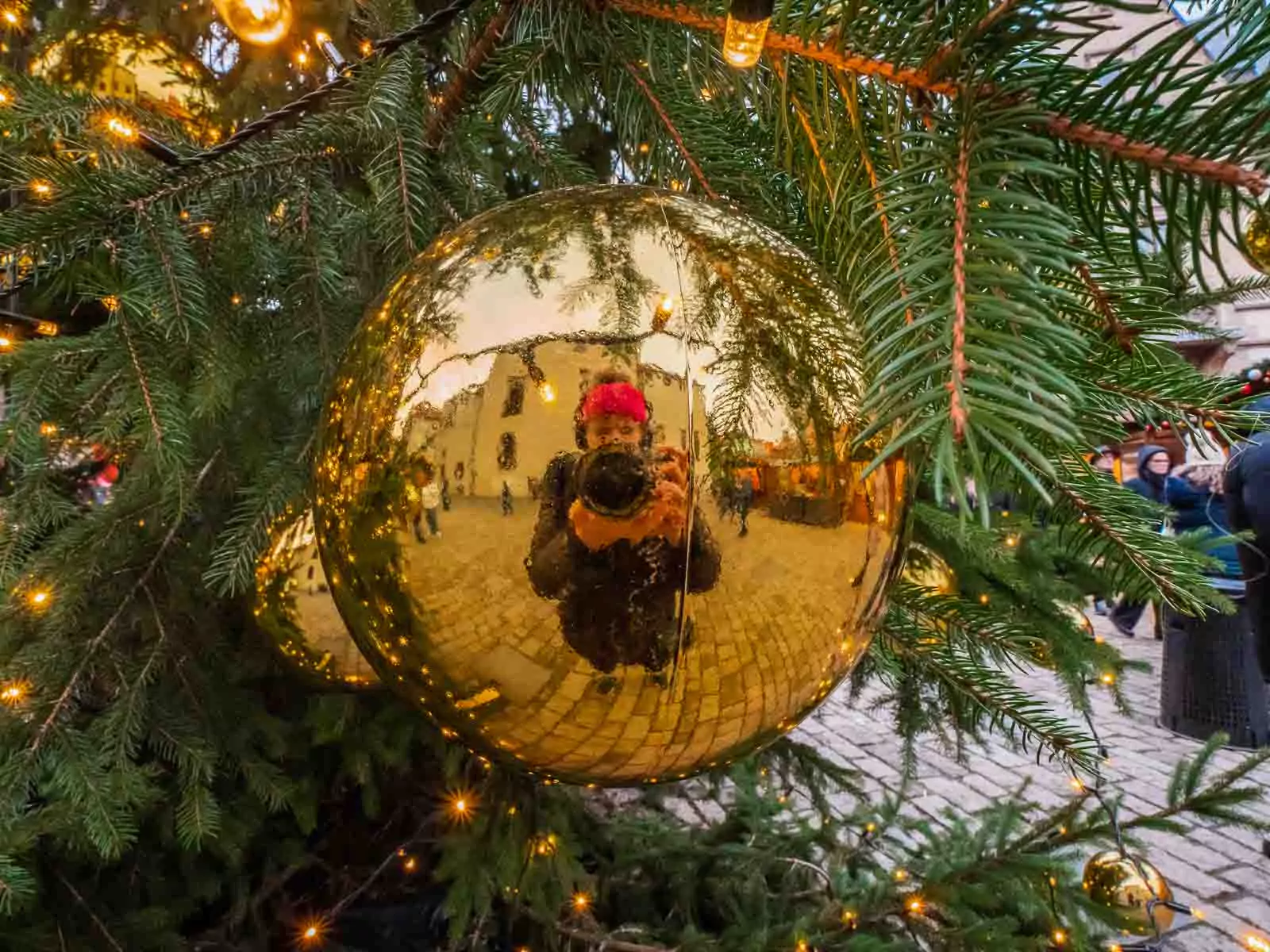 When should I visit the European Christmas markets by train?
Obviously when the Christmas markets are on! Each city has a different start date for their markets so you'll need to research the official opening dates to figure this out. I've included the start dates that have already been announced as well as the official website, so please confirm the dates before you book anything.
Last year I made the mistake of planning my trip based on the dates listed on the Eurostar website, before realising *after booking* that the Strasbourg markets didn't start until the day after I left, all because Eurostar had a typo on their website. I managed to switch some things around luckily but it was very stressful and resulted in an extremely complicated itinerary where I doubled back multiple times. Rookie mistake on my part!
If you're able to, I would recommend visiting at the start of the market season. Local kids are still in school in late November/early to mid-December so while you'll still be contending with tourists, most local families won't be out and about during the school day. This all changes the week before Christmas, when things get absolutely hectic, prices ramp up to their maximum, and you'll be waiting in long lines for your Glühwein.
Who is this Europe Christmas market itinerary for?
This Christmas market itinerary is for:
Travellers from outside Europe who want to make the most of visiting Europe in winter
Christmas addicts who are obsessed with festive vibes and are happy to brave the crowds
Foodies who want to try different culinary treats
This Christmas market itinerary is not for:
People with only a few days, if you've only got a weekend or extended weekend then I'd suggest choosing one hub like Strasbourg, Frankfurt or Salzburg and then doing maybe one day trip from there (Colmar, Cologne or Innsbruck as examples)
Travellers who hate crowds or cold weather
Should I buy a Eurail/Interrail Pass to explore Europe's Christmas markets by train?
What is a Eurail Pass, you ask? A Eurail Pass is a rail pass which covers your train tickets for most trains in 33 countries in Europe, including all of the countries in this itinerary. An Interrail Pass is basically the same except that it's for European citizens, whereas a Eurail Pass is for non-European international travellers.
Whether a Eurail Pass is worth it or not is one of the biggest questions for anyone planning a Europe train itinerary, and unfortunately it's not an easy one to answer.
While the pass covers the cost of train tickets, some trains also require or recommend seat reservations at an additional cost, particularly for high speed trains in countries like France and Italy. Luckily this particular itinerary doesn't include many trains that require seat reservations, and if they do, I've listed the cost in the itinerary below.
A Eurail Pass is worth it if the pass cost + the seat reservations ends up being cheaper than if you bought all of the train tickets point-to-point.
Europe's train tickets are priced dynamically in the same way that airlines sell seats, meaning that prices are based on demand. Prices can change drastically depending on how far in advance you buy them, and inter-city / international prices are likely to rise quicker during busy periods like the weekends before Christmas. Using a Eurail Pass helps you avoid these demand-based high prices, because your pass covers your train ticket, and seat reservations cost the same regardless of the level of demand.
A Eurail Pass also offers flexibility, because your pass covers any train included on the network on that particular travel day. For countries that don't require reservations (like most trains in Germany, Switzerland and Austria), this means you can just turn up at the station on the day and take whatever train you want, provided it's in the Eurail network.
Keep in mind that short train journeys within one country can be quite cheap for point-to-point tickets so be sure to do all the calculations before purchasing a Eurail Pass. It might work out better to buy a 10 travel day pass and use those days to cover the expensive journeys, then just buy cheap point-to-point tickets for your shorter journeys.
If none of this makes sense then no worries, I've got a bunch of Eurail blogs that explain more about using a Eurail Pass:
And if you're ready to buy your pass, you can get it online at Rail Europe.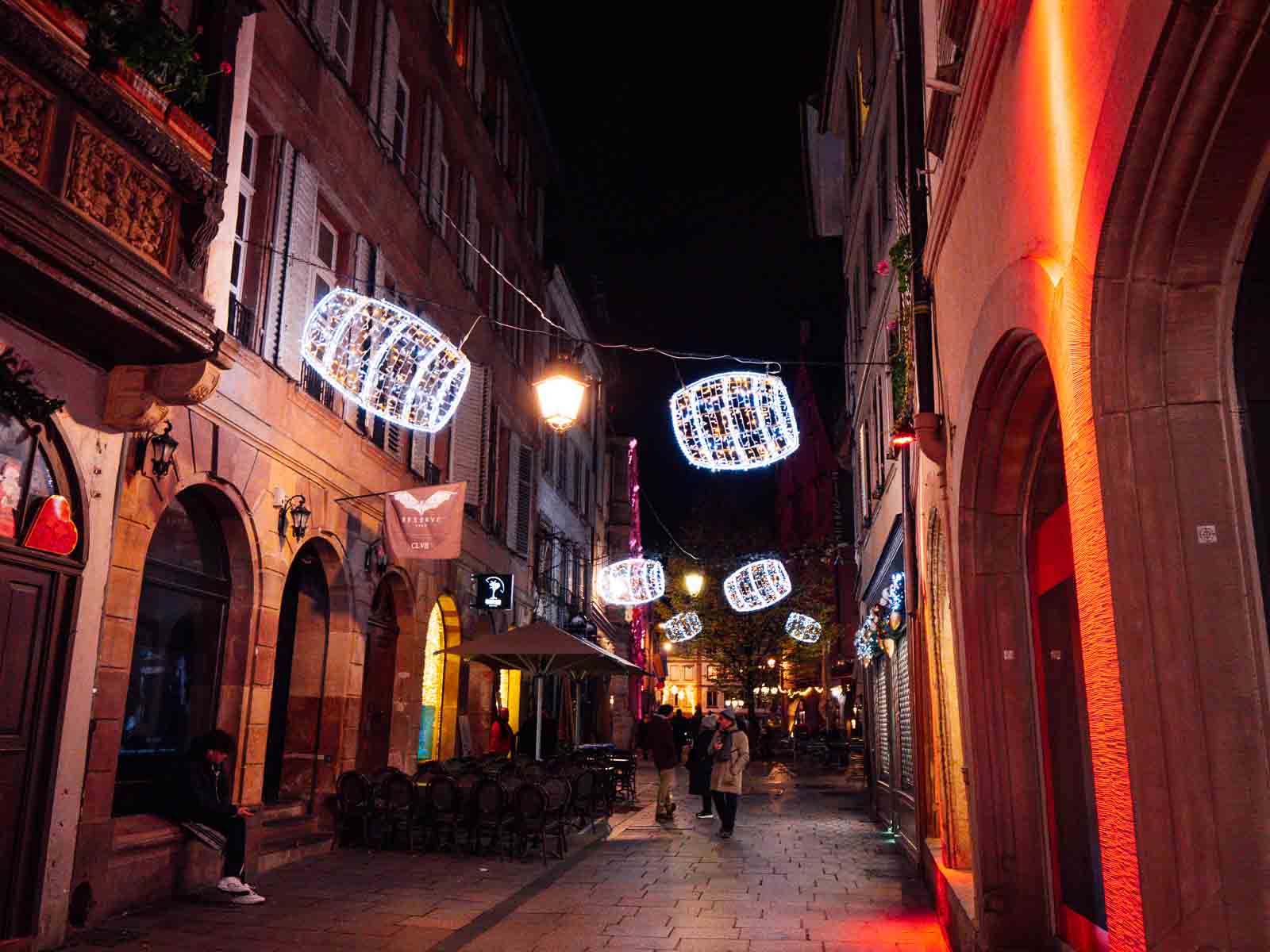 Where does this European Christmas markets train itinerary start?
This train itinerary can easily be made into a loop by connecting Dresden and Frankfurt, so you can start and end anywhere you want.
I'd suggest researching the cheapest cities to fly in and out of and then planning your route from there. Typically you'll find the cheapest flights in and out of major hub cities like Frankfurt, Vienna and Prague.
What should I budget for seeing the European Christmas markets by train?
By far your biggest expense while exploring the Europe Christmas markets will be accommodation.
For small cities that focus heavily on Christmas tourism, like Strasbourg, Salzburg, Colmar and Nuremberg, accommodation options are limited and prices absolutely skyrocket during the market season. If you plan on staying in these spots overnight then you need to book well in advance. To give you an idea of pricing, I paid €42 per night for a bed in a six-bed dorm in Strasbourg during the markets, and that's not even on a weekend!
For bigger cities that have a more steady stream of tourists throughout the year, like Vienna, Prague and Cologne, there's more accommodation available so prices might not be as ridiculous but you'll still want to book in advance if you can.
Aside from accommodation and train tickets which we've already discussed, you'll need to set aside for food, activities and public transport.
Public transport will be minimal, most markets are close to the city centre and easy to get between on foot.
Activities will totally depend on your travel preferences and priorities, all markets in this itinerary are free to enter but there are some extra experiences you might want to add, like palace visits, light festivals, ice skating or sightseeing tours.
Food will also really depend on the city and on how much market food you want to eat, with prices ranging from €3 bretzels to €10 tarte flambées to €20 heartier meals with meat and veges. I'd recommend stocking up on snacks from the supermarket so that you can eat throughout the day without having to pay market prices every time you want a bite to eat.
TRAVEL TIP: I always use booking.com to book rooms with free cancellation, this way I can lock in a good price in advance but still leaves the flexibility to change my plans. Booking direct with hotels may be a bit cheaper (often it's not!) but their cancellation policies often aren't as good.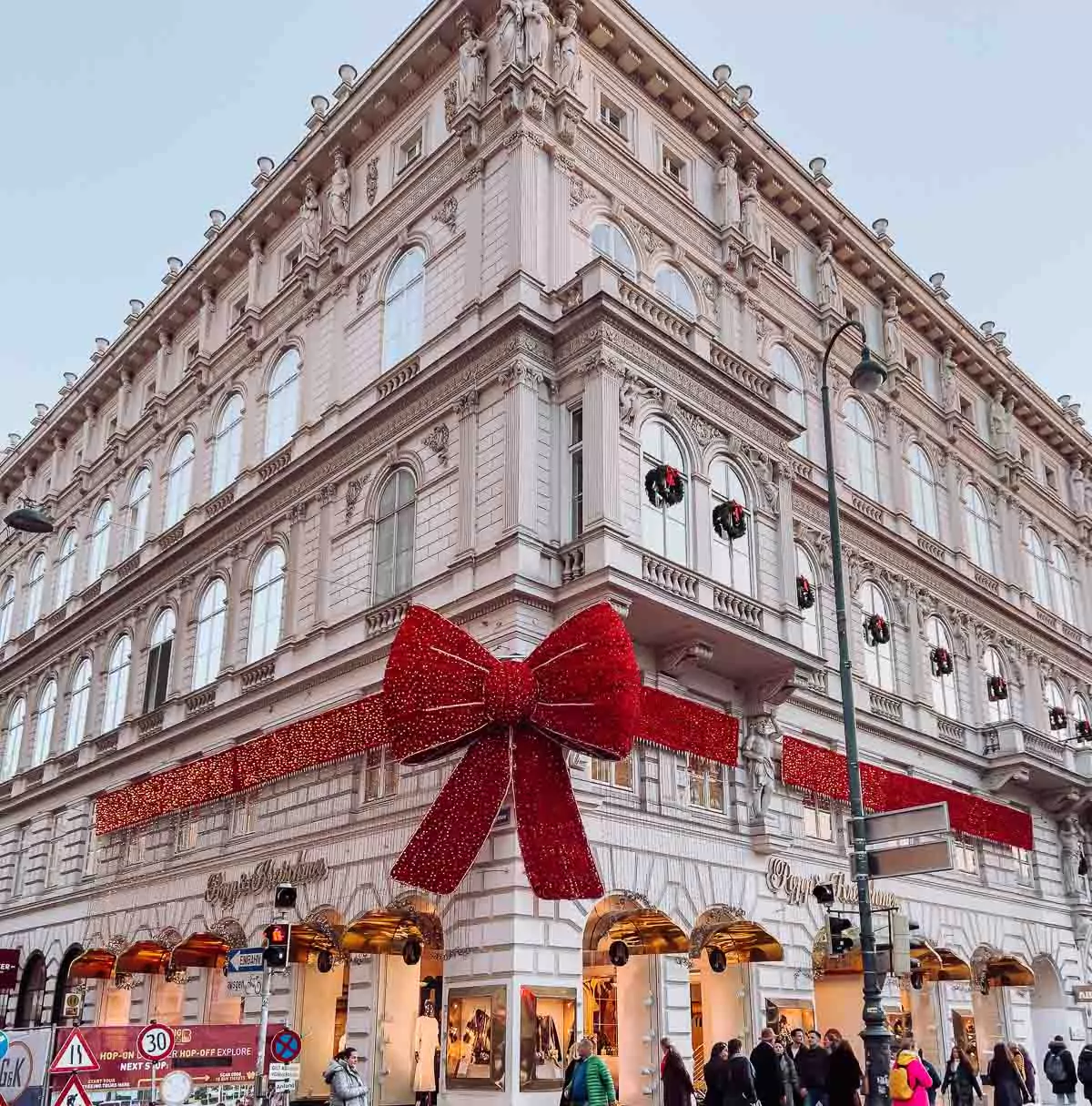 ---
The perfect European Christmas market itinerary by train
European Christmas markets by train: A summary
Arrive in Frankfurt
Cologne day trip
Nuremberg day trip
Frankfurt to Strasbourg
Colmar day trip
Strasbourg to Basel via Mulhouse
Basel to Innsbruck via Zurich
Innsbruck to Salzburg
Salzburg to Vienna
Bratislava day trip
Vienna to Prague
Prague to Dresden
Depart Dresden or return to Frankfurt to fly out
---
Day 1: Frankfurt
Frankfurt Christmas market dates for 2023: 27 November – 21 December (double check here)
While Frankfurt is best known as Germany's financial hub, the city's Christmas markets are a melting pot where old German tradition and modern cosmopolitan culture collide.
The historic Römerberg square transforms into a charming winter wonderland, with lavishly decorated stalls, the scent of freshly roasted chestnuts wafting through the air, and a giant Christmas tree towering above the crowds of market-goers. There's an extravagant two-level carousel for kids or the young at heart, just be careful if you've been indulging in Glühwein or alcoholic hot chocolates or your head will spin for hours!
There are other stretches of markets that are easily reached by foot, many are a bit less authentic with food stalls serving international cuisine like gyoza and bao buns, Peruvian tamales and even curries and dahls.
CHRISTMAS MARKET TIP: You may have seen photos of Christmas-themed mugs, ones shaped like Santa's boot or with a gnome on the front? These mugs are what your hot drinks will be served in throughout all of the Christmas markets in Europe, you pay a cup deposit (usually €3-5) and then get your money back when you return the cup. Or if you want to keep it as a souvenir, wash it out with water and pop it in your bag!
Other things to do in Frankfurt
Visit the Museum District, where you can find museums for natural history, modern art and German culture
Take a food tour to learn about Frankfurt's diverse gastronomic scene
See the city from a river cruise
Where to stay in Frankfurt
Budget | I stayed at MEININGER Frankfurt Airport, a hotel/hostel hybrid that offers affordable dorm rooms and private rooms, along with access to a shared kitchen, laundry facilities and work-friendly spaces. Basic but very comfortable, and in a great location just a short walk from an S-Bahn station that's just ten minutes from the middle of the city.
Mid-range | Motel One Frankfurt-Romer is right in the middle of the action, the Blasky is a funky boutique hotel, Melia Frankfurt is on the fancier end of mid-range or Studiohouse has beautiful self-contained apartments
Luxury | The Sofitel Frankfurt Opera, Roomers, Steigenberger Icon and the JW Marriott are all top-rated five star luxurious options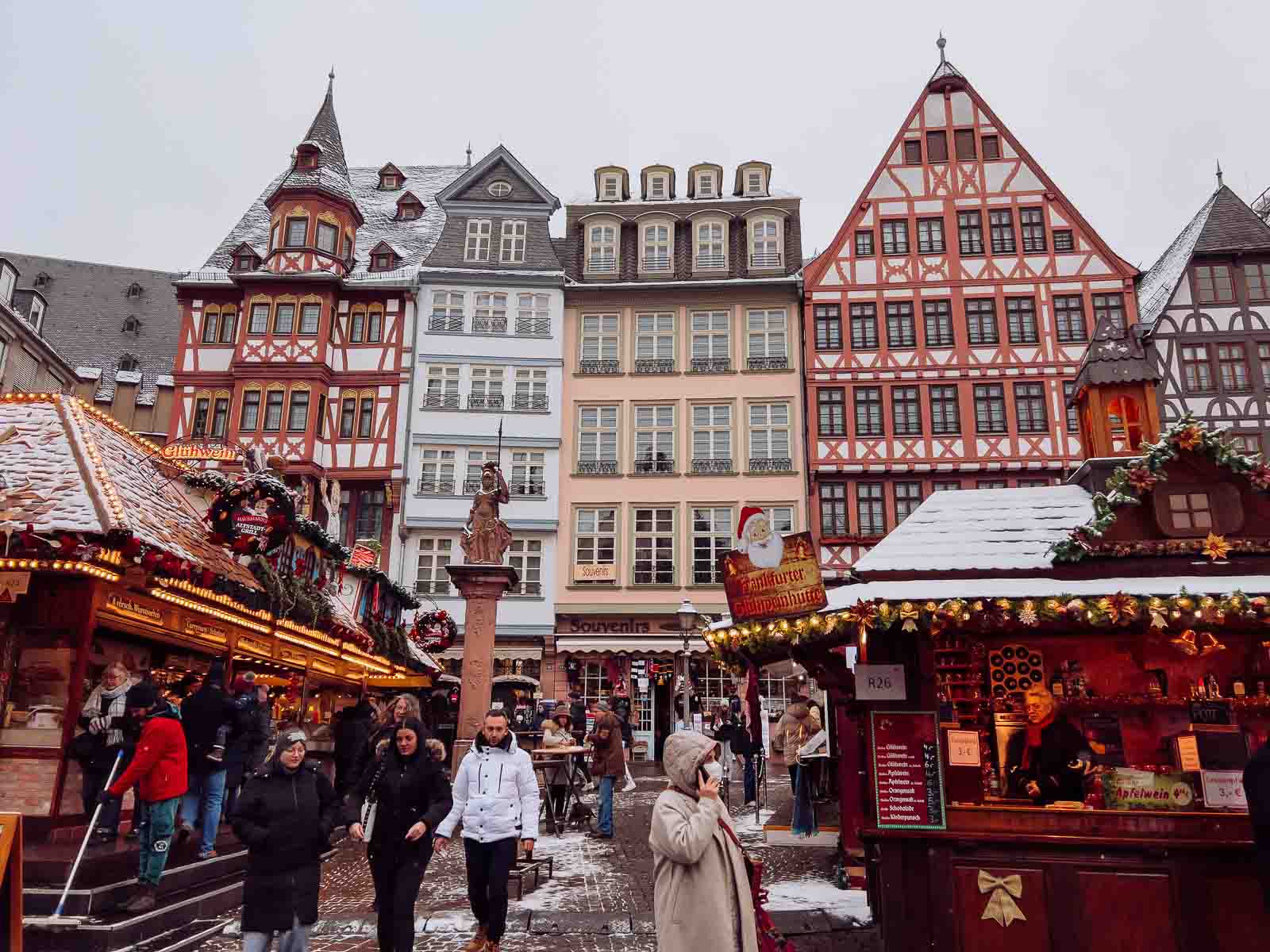 ---
Day 2: Cologne day trip from Frankfurt
Cologne Christmas market dates for 2023: Probably 23 November – 23 December but not confirmed (double check here)
How to get to Cologne from Frankfurt
Direct trains run often throughout the day and take between 1h 5m and 1h 25m, no reservation needed if you're travelling with a Eurail/Interrail Pass.
About Cologne
Cologne's Christmas market is a full day affair, so I'd recommend catching an early train and coming back after dinner.
The main market sits next to the monumental Cologne Cathedral, the largest Gothic church in Northern Europe, and you'll be able to enjoy classic German winter treats like reibekuchen (potato cakes), currywurst and gingerbread. There's a big stage here with live music and other entertainment during most evenings, and it's beautifully decorated with strings of thousands of lights sparkling above the crowd.
There are many more Christmas markets dotted through the city which might be daunting, but they're easily navigated by foot and you can follow the crowds of people walking between them, there's no chance of getting lost!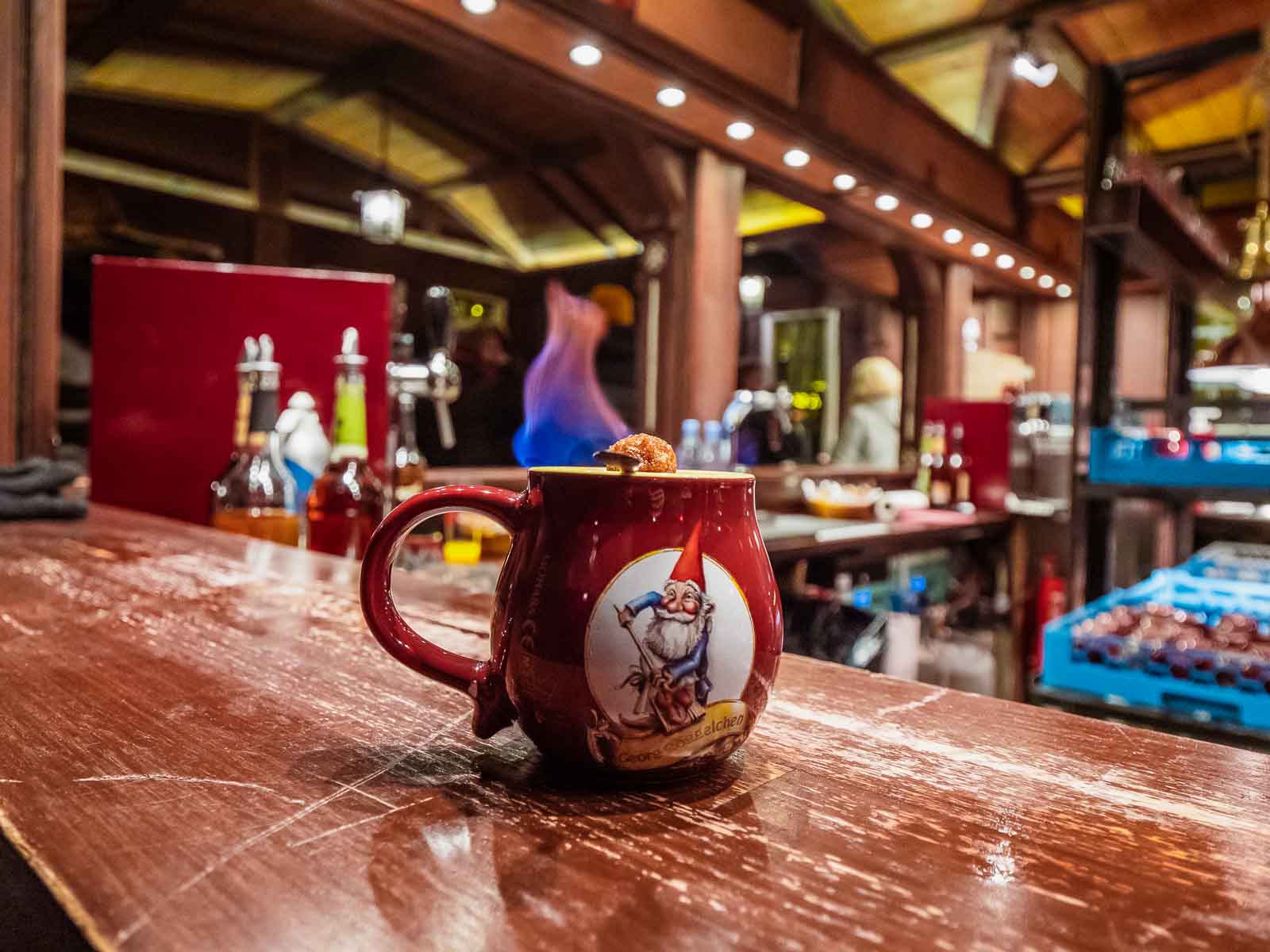 Markt der Engel (Angels' Market) is known for rustic cabin stalls, cute paper decorations in the trees and literal angels with wings wandering around the market.
Nikolausdorf can be found by walking through the 13th century Hahnentor gate at Rudolfplatz, and the market is cute and cosy with family-focused stalls and sweet treats.
But my favourite Christmas market in Cologne was Heinzels Winter Fairytale, where you can ice skate, watch local woodworkers create hand-carved souvenirs, and indulge in culinary delights. Don't miss out on trying feuerzangenbowle here, a flaming punch that's made by soaking a sugar cone in rum and setting it alight over top of a cup of Glühwein. DELISH.
You could spend a night in Cologne if you wanted to but the city gets very busy during the Christmas market season and hotel prices skyrocket, so doing a day trip from Frankfurt will probably save some money.
Other things to do in Cologne
TRAVEL TIP: If you need to get out cash to use at the market, do not use the ATMs in the train station. These will charge you a fee for international cards, about €4! Instead walk out of the train station, and you'll see a BB Bank on the corner of the road that's to the front-right of the train station. These ATMs charge no fees for international cards. You're welcome!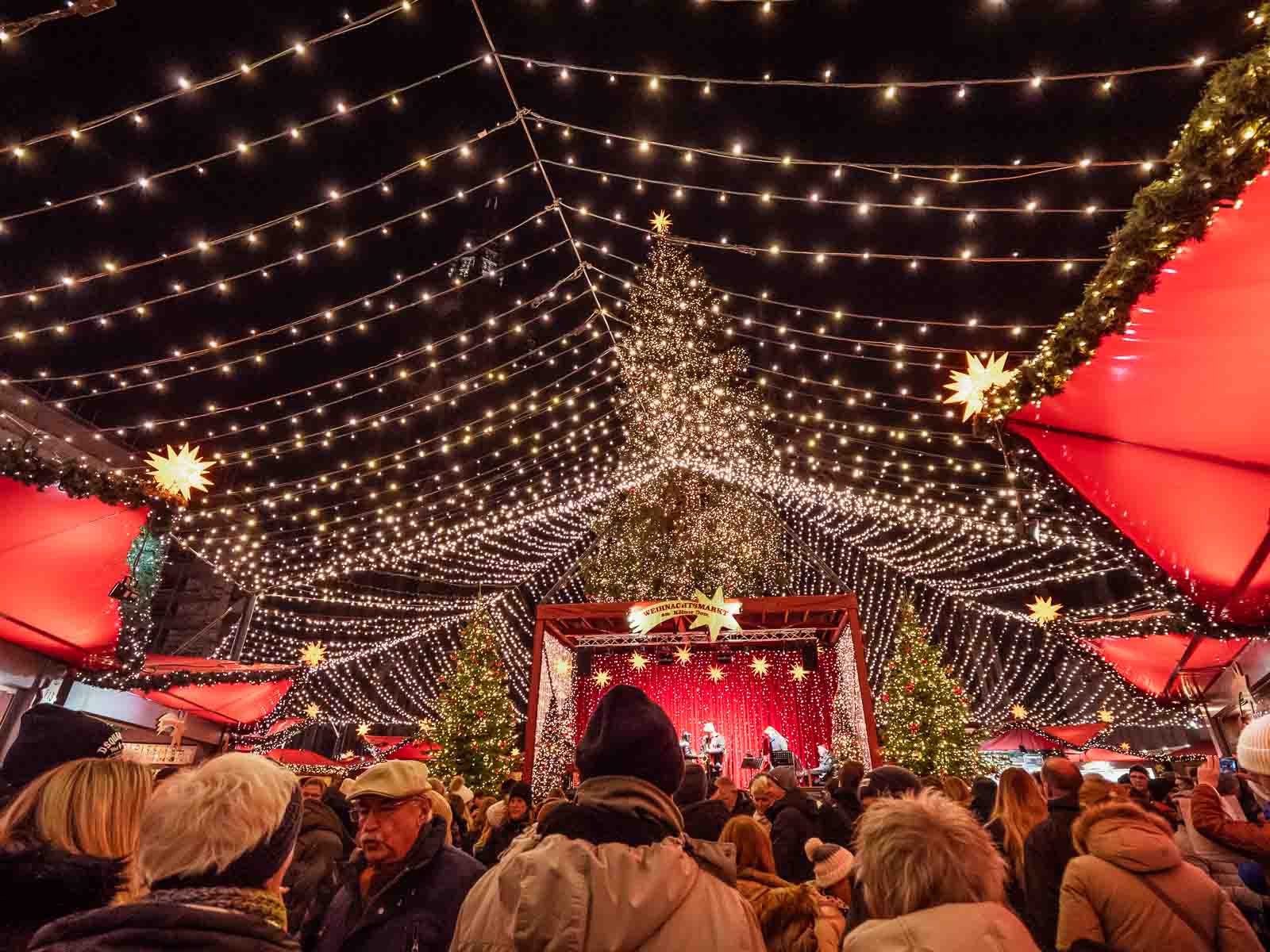 ---
Day 3: Nuremberg day trip from Frankfurt
Nuremberg Christmas market dates for 2023: 1 December – 21 December (double check here)
How to get to Nuremberg from Frankfurt
Direct trains run throughout the day and take just over two hours, no reservation needed with a Eurail/Interrail Pass.
About Nuremberg
Nuremberg's Christkindlesmarkt dates back to the 16th century, and these days it attracts more than two million visitors per year looking to get their festive fix. This market is certainly one of the most photogenic Christmas markets in Europe, the little wooden stands are topped with candy cane striped tarpaulins, you can pick up one-of-a-kind locally designed arts and crafts, and the food stands will have you drooling.
Don't leave without trying Nuremberg Lebkuchen (giant gingerbread) and a Weggla, a circular bun with three Nuremberg bratwurst sausages inside.
You could spend a night in Nuremberg if you want to see the markets over two days, but once again you'll need to book accommodation in advance to get a decent deal, and you'll need to go via Frankfurt or Karlsruhe to get to Strasbourg which is the next stop on this European Christmas markets by train itinerary.
Other things to do in Nuremberg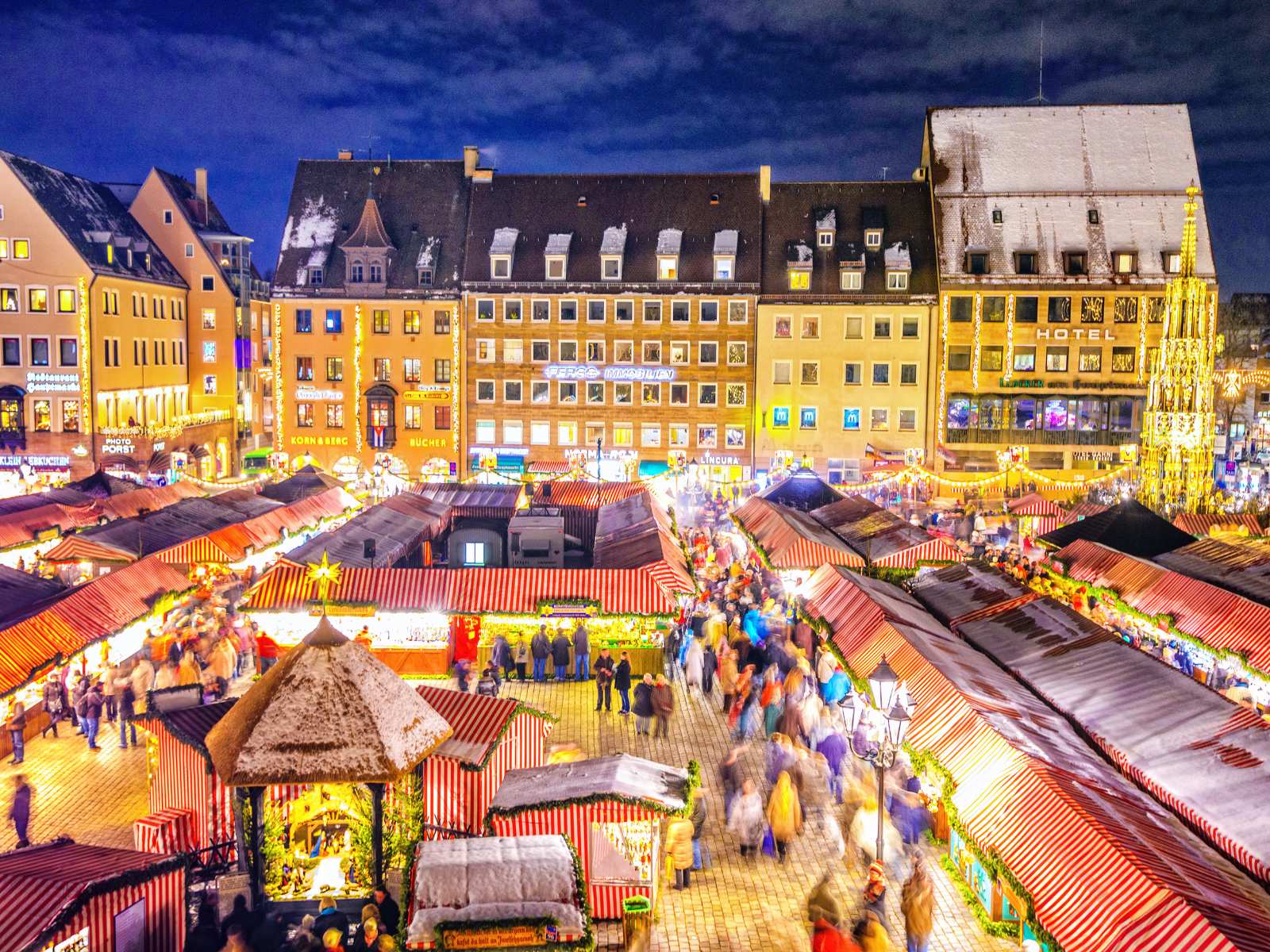 ---
Day 4-5: Strasbourg
Strasbourg Christmas market dates for 2023: Probably 24 November – 24 December but not confirmed (double check here)
How to get from Frankfurt to Strasbourg
Direct trains run a few times a day and take 1h 55m-2h 5m, and there is a seat reservation fee of €19 for Eurail/Interrail Pass holders as it's a high-speed train in and out of France. If you don't want to pay a seat reservation fee you can take a two-train journey with a stop in Offenburg, this is only about 2h 15m and uses a regional train into France which doesn't require reservations.
About Strasbourg
The self-proclaimed (but fair!) Capital of Christmas is home to the oldest Christmas market in France, which has been serving Christmas cheer since 1570. The small city has 13 Christmas markets dotted around the Grande Île (the old town surrounded by a canal), where you'll be able to experience a captivating blend of French and German traditions, cuisine and Christmas events.
The light displays in Strasbourg are worth a trip alone, some must-sees are the grand Strasbourg Cathedral being illuminated behind the main markets, Petite France's themed installations down different alleyways, and the 30m high Christmas Tree which you'll find at Place Kléber Square. See if you can find the famous Teddy Bear House too!
In Strasbourg you'll be able to indulge in traditional Alsatian cuisine like cheese-covered bretzels, a delicious flatbread pizza called a flammekueche in German or tarte flambée in French, or little pastry puffs called chouquettes.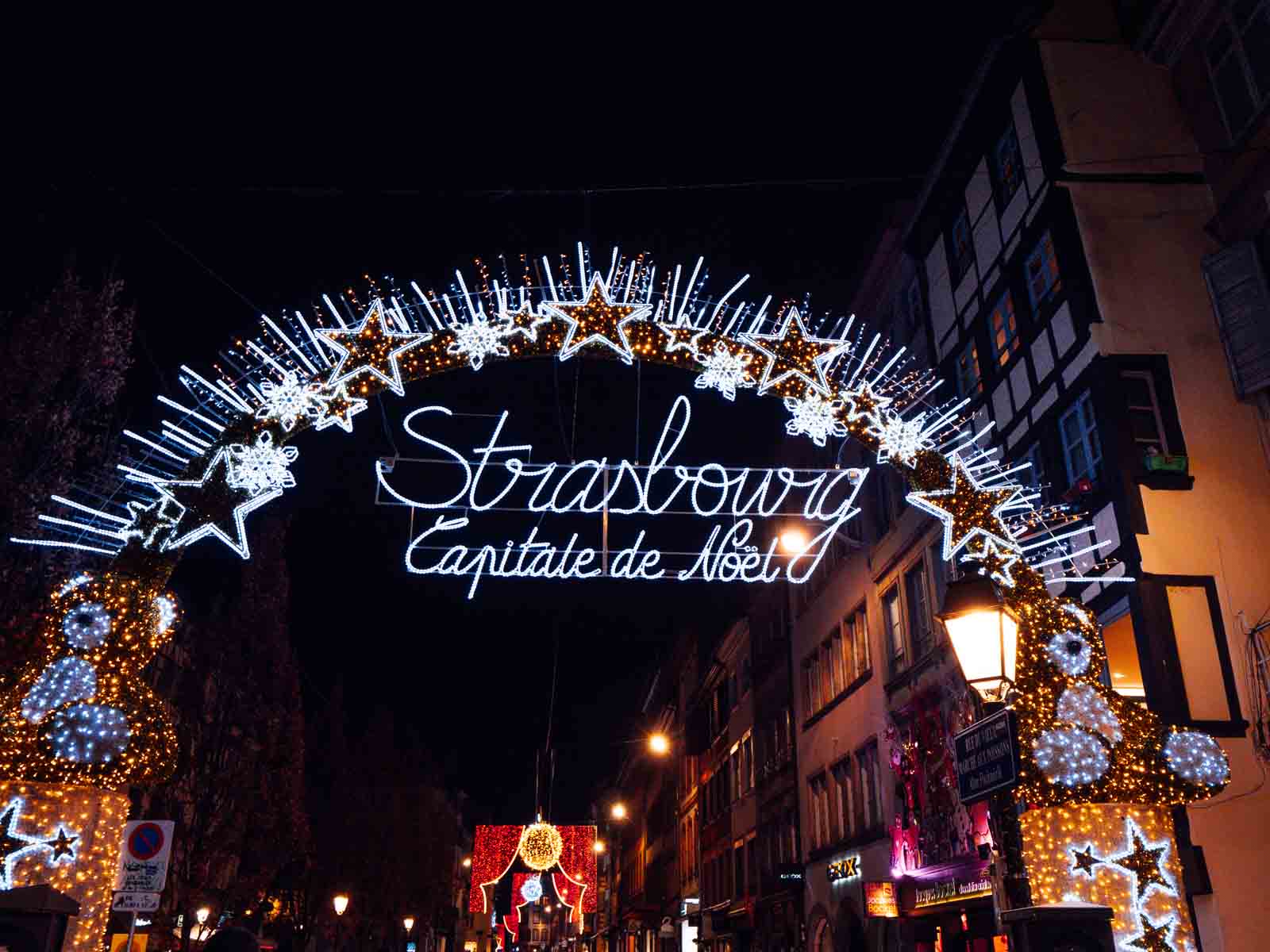 Where to stay in Strasbourg
Budget | I stayed at People Strasbourg, a fancy hostel just a seven minute walk from the main market. The hostel has a great pod-style set up but unfortunately there's no kitchen which meant I ended up spending lots of money on food. There aren't any other decent hostel options in Strasbourg, but for an affordable hotel you could check out Hotel F1 or Néméa Appart-Hôtel Elypséo (both slightly out of the city.
Mid-range | Citadines Eurometropole, K Hotel and Best Western Plus Monopole Métropole are all top-rated, good value options
Luxury | Maison Rouge Strasbourg, Hôtel LÉONOR and Hotel Cour du Corbeau are the best-rated luxury hotels in town
---
Day 6: Colmar day trip
Colmar Christmas market dates for 2023: 23 November – 29 December (double check here)
How to get from Strasbourg to Colmar
There are direct regional trains constantly throughout the day that only take 30 minutes, no reservation needed for rail pass holders but only €14.10 each way so super cheap (and not worth using a Eurail travel day if you have a flexi pass).
About Colmar
Colmar's enchanting Christmas markets are straight off a postcard, you'll see colourful houses decked out with festive frills, beautiful light displays reflecting in the canals, and even makeshift Christmas scenes like little gnome houses.
There are six Christmas markets to explore in Colmar's historic centre with a total of 180 stalls to discover, selling seasonal sweets, local artwork, festive decorations and more.
My favourite part of the Colmar Christmas markets was the Marché Gourmand (gourmet market) at Place de la Cathédrale, where you'll find renowned eateries and expert chefs serving up culinary magic for an incredibly affordable price. You could get a truffle risotto for only €11 and other fancy dishes for less than €15.
Despite being so gorgeous and popular, Colmar is actually one of the cheapest markets on this Europe Christmas itinerary. You can expect to pay €2.50-€3 for a vin chaud (mulled wine), €2.50 for a sugar crepe and €6 for a hearty hot dog.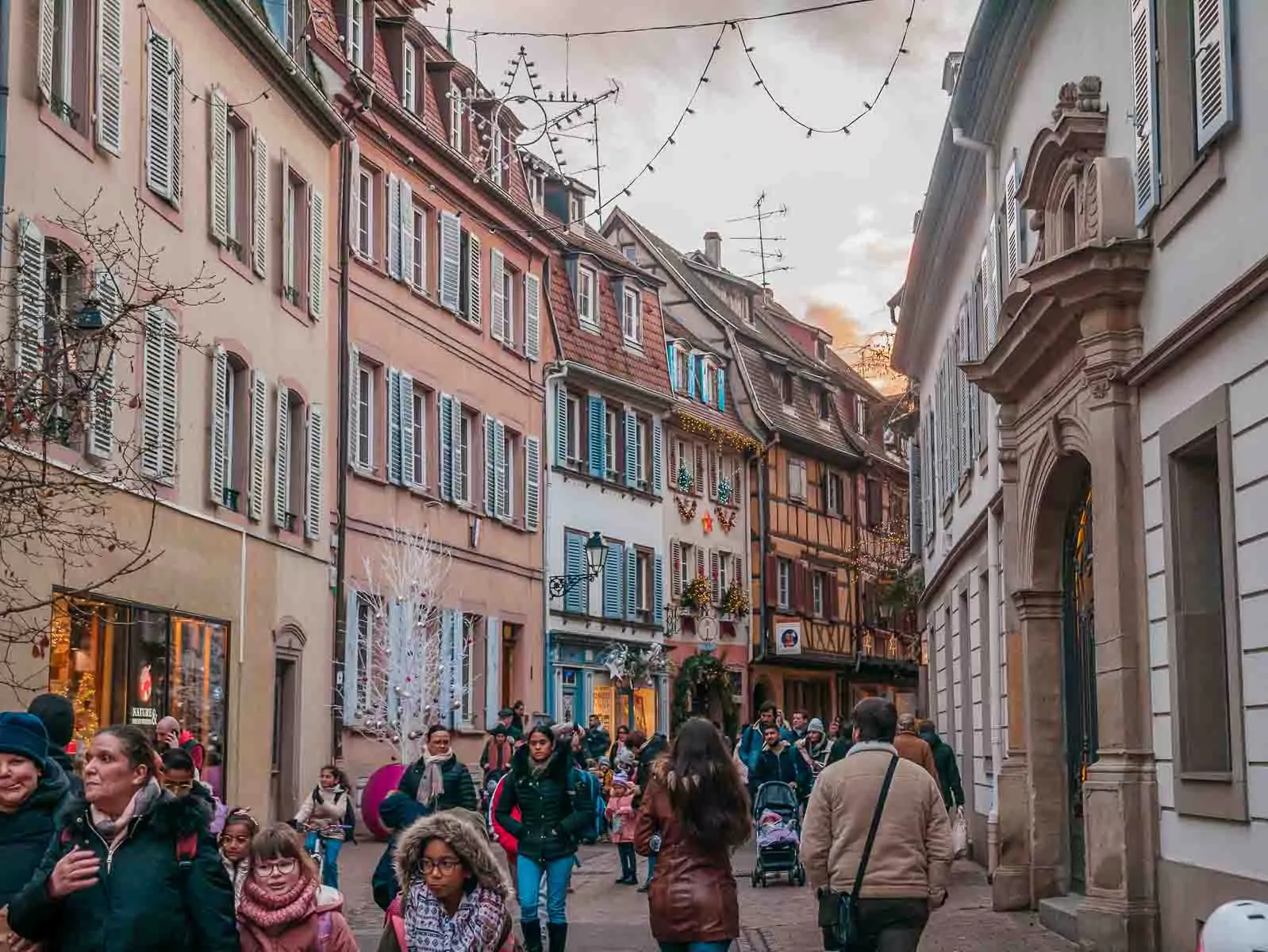 About Eguisheim and Riquewihr
There are some smaller markets in Alsace that are worth a visit if you want to escape the commercialised craziness, especially the picturesque markets of Eguisheim and Riquewihr. They don't have train stations unfortunately but you can reach them with a short bus trip from Colmar if you'd like to visit two or three different market towns in one day. Eguisheim is 16 minutes away by bus and Riquewihr is a 28 minute bus trip.
Colmar accommodation is very limited so I'd recommend heading back to Strasbourg to stay the night before moving on to your next stop.
---
Day 7-8: Basel via Mulhouse
Mulhouse Christmas market dates for 2023: 24 November – 27 December (double check here)
Basel Christmas market dates for 2023: 23 November – 23 December (double check here)
How to get from Strasbourg to Basel
Direct regional trains run about every half an hour throughout the day and take 1h 20m in total, no seat reservation required for rail pass holders.
About Mulhouse
The Strasbourg to Basel train goes via Mulhouse, so I'd recommend getting off the train, paying to store your luggage at the station and seeing Mulhouse's markets before continuing through to Switzerland.
Mulhouse's Marché de Noël pays homage to the city's rich history of textiles and patterns, and you'll see locally-designed and printed fabric draped from façades throughout the colourful old town. If you want to get souvenirs for friends and family back home, Mulhouse has some of the most beautiful gifts to choose from, including jewellery, clothing, hair accessories, bags and more.
About Basel
Basel is one of Switzerland's largest Christmas markets and without a doubt one of the prettiest, with exquisite decorations, magnificent light displays and charming wooden cabins offering homewares, souvenirs and culinary delights.
Sip mulled wine and spiced hot chocolate, enjoy sugary apple fritters, or try a chäsbängel, which is a baguette filled with melted fondue cheese, a.k.a. my dream food.
Be sure to head up the stairwell of St Martin's Tower to get the best view of the lights and markets, tickets are 6CHF and the last entry is at 5.30pm.
Other things to do in Basel
Where to stay in Basel
Budget | SILO Design Hostel, Basel Youth Hostel and Community Hostel are all top-rated hostels, or Guesthouse Casa Esperanza is a cheap but very popular guesthouse
Mid-range | BLOOM Boutique Hotel, GAIA Hotel and HYVE Hotel & Lounge
Luxury | Grand Hotel Les Trois Rois, Hotel Märthof Basel and ART HOUSE Basel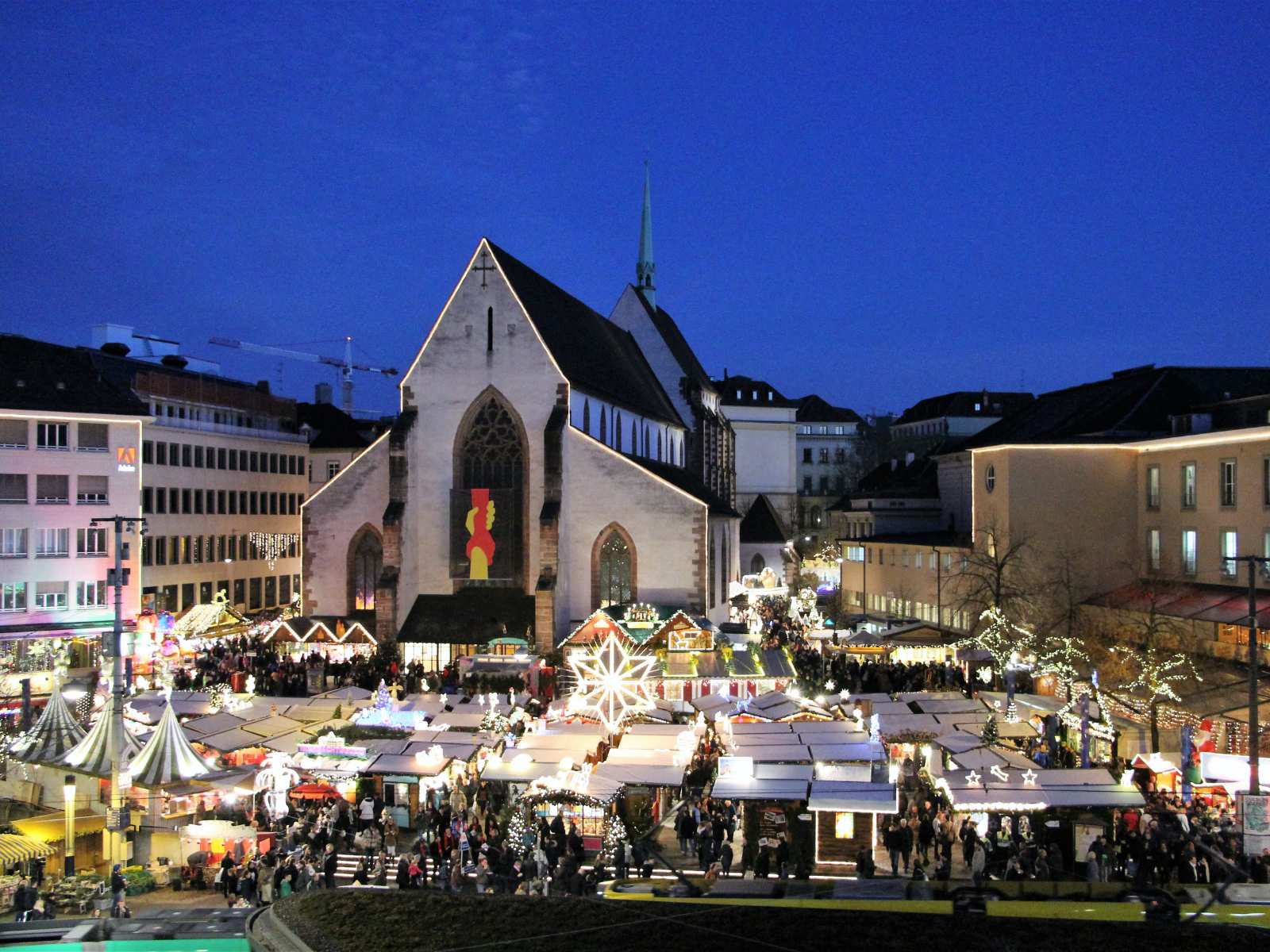 ---
Day 9-10: Innsbruck via Zurich
Zurich Christmas market dates for 2023: Probably 23 November – 23 December but not confirmed (double check here)
Innsbruck Christmas market dates for 2023: Not confirmed yet but usually mid-November to just before Christmas (double check here)
How to get from Basel to Innsbruck
Your first leg is Basel to Zurich, a direct train that takes between 55m and 1h 10m, no seat reservation required for Eurail Pass holders.
You can either choose to store your luggage at the train station and stay in Zurich for the day to explore the city and its markets, or just switch to a Zurich to Innsbruck direct train which runs every two hours, takes 3h 30m, and doesn't require a reservation.
About Zurich
Zurich is a super scenic city that's definitely worth a day trip en route to Innsbruck. Store your luggage in the lockers at the train station and make your way to the Christmas market in the city's historic Old Town, where you'll be able to samples Swiss specialties like chocolate, cheese and wine as well as the usual Christmas market delicacies you've come to love while travelling through Germany and France.
My fellow cheese connoisseurs need to visit the fondue chalet, a cosy wooden cabin serving up melted goodness. Divine!
The reason I haven't included a night in Zurich is because it's one of the most expensive cities in the world, so a day trip gives you the chance to see the city and markets without having to splurge on Zurich accommodation.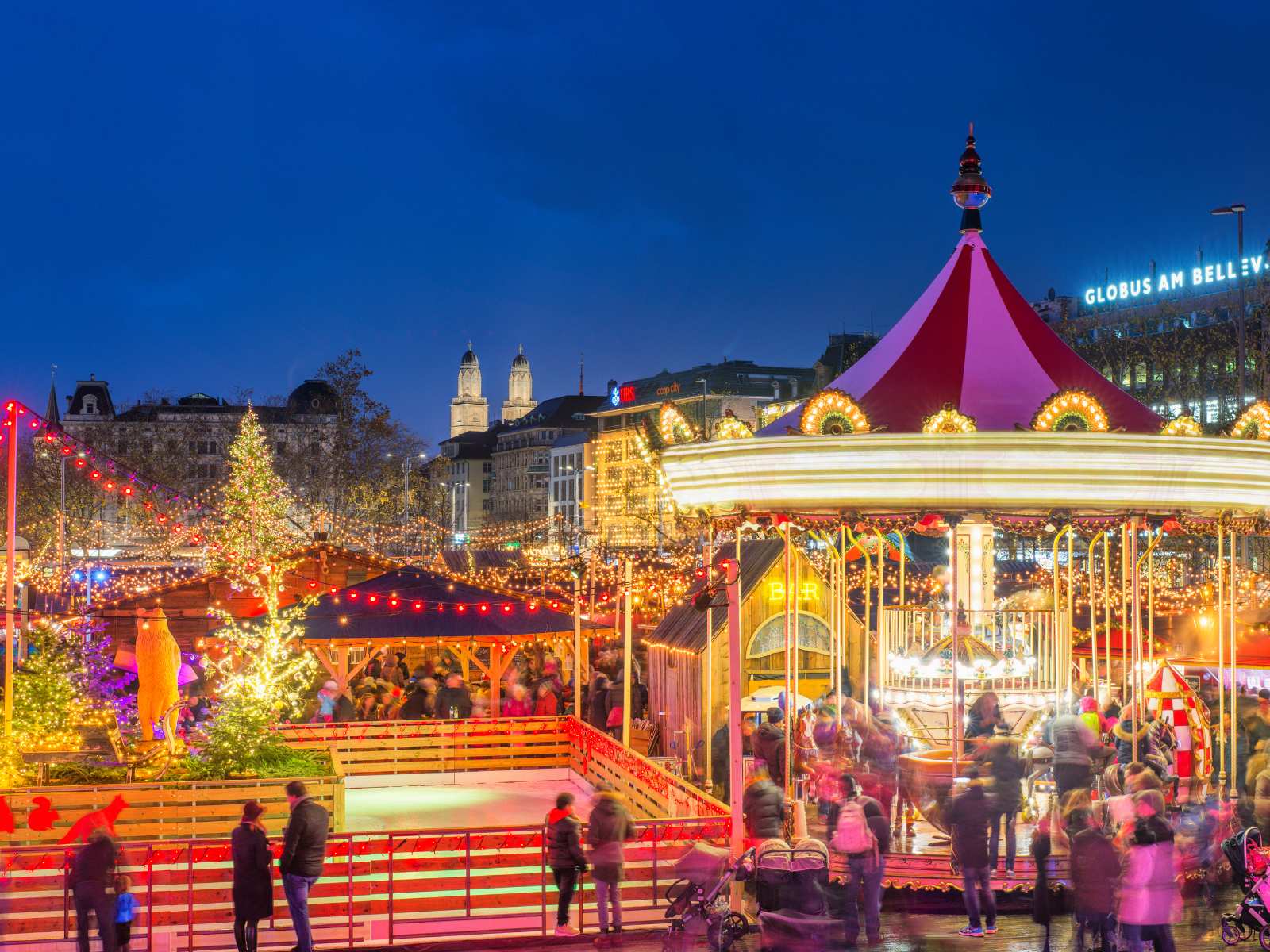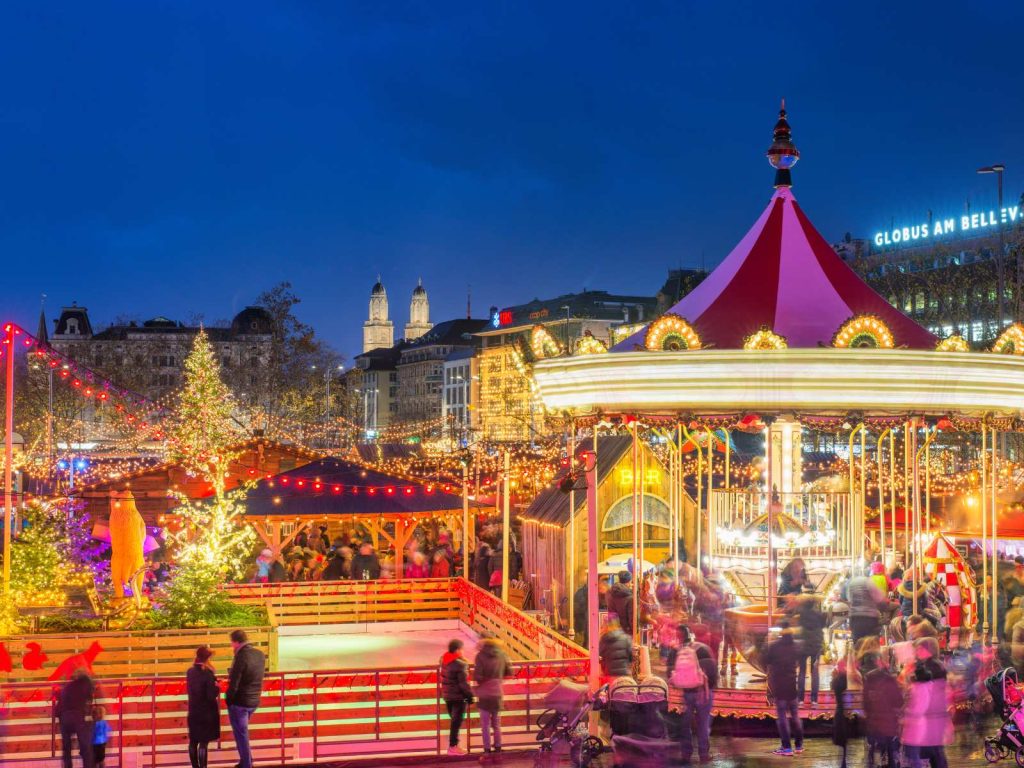 Why Innsbruck
Welcome to Austria! Innsbruck's Christmas markets date back to the 16th century, and these days you'll find six Christmas markets in the city, ranging from traditional Old Town markets to independent arts and crafts markets to markets with a view.
Head to the Old Town for an epic Christmas tree and a light show projected onto the beautiful buildings that border the square, and be there at 5.30pm to hear live music from the historic Golden Roof which looks down onto the market stalls. For a stunning view over the market and out to the mountains beyond you can head up the spiral staircase to the viewing platform of the city tower, tickets are €4.50 for adults.
After ticking off Old Town, wander down the cobblestone roads to get to Market Square, where you'll find the world-famous Swarovski Christmas tree made from tens of thousands of dazzling crystals.
And for the markets with the best view, catch the cable car to the Hungerberg Markets perched on the slopes above Innsbruck. There are only a few small, independent stalls up here but it's worth it to see the city's Christmas lights from above.
Other things to do in Innsbruck
Where to stay in Innsbruck
Budget | Montagu Hostel, MEININGER Innsbruck Zentrum and Pension Stoi
Mid-range | Hotel Neue Post, Hotel Mondschein, Nala Individuellhotel and Faktorei
Luxury | Hotel Maximilian, the PENZ Hotel, aDLERS Hotel Innsbruck and Altstadthotel Weißes Kreuz
Self-contained | Kaiser Max Design Apartments, Apartment Mischa, Quartier 99 and Prada Elf Apartment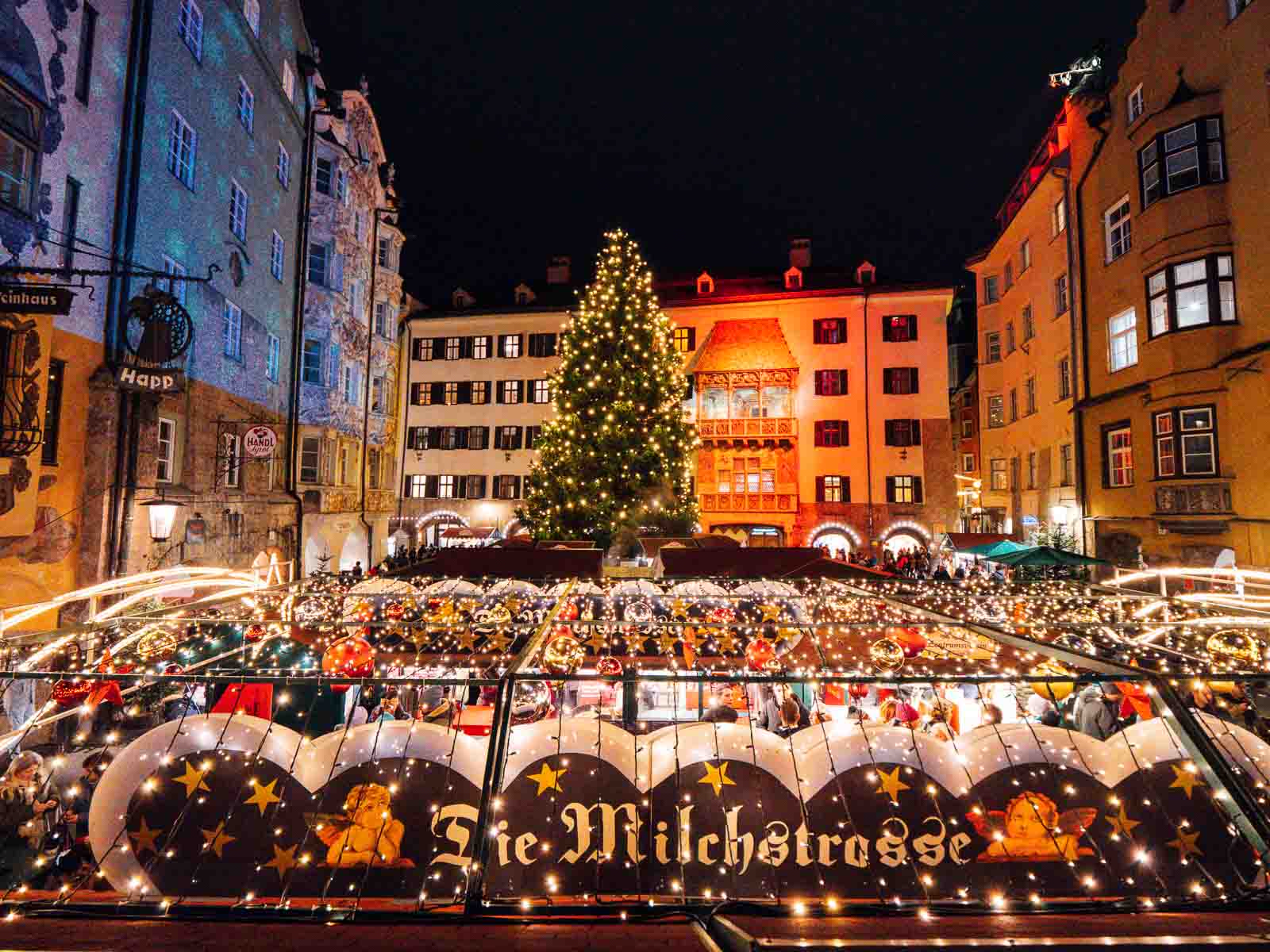 ---
Day 11: Salzburg
Salzburg Christmas market dates for 2023: 23 November – 1 January (double check here)
How to get from Innsbruck to Salzburg
Direct trains run often and take about 1h 50m, no seat reservation required for rail pass holders.
About Salzburg
The hills are alive with the sound of music, and Salzburg is alive with the sound of Christmas!
Salzburg's main Christmas market is one of the most festive sights I've ever seen, with strings of lights draped above the market like stars in the sky, an endless selection of Christmassy treats to try, and handcrafted decorations and souvenirs to purchase. Add in Baroque architecture of the UNESCO-listed Old Town, an ice skating rink, and a medieval fortress up on the hill behind it, and the Christkindlmarkt is one for your Europe winter bucket list.
There are a number of other markets too, including the local favourite at Mirabellplatz, a family-focused market at Schloss Hellbrunn, Stern Market with unique food products and gifts, and a diverse range of stalls at Salzburg Fortress (Hohensalzburg). I'd recommend catching the funicular to the top and then walking down to the Domplatz market.
TRAVEL TIP: Keep an eye out for the creepy Krampus Run, an event typically held on Krampusnacht (5th December) in Austria and Germany, although the frightening tradition seems to be invading other countries too! Krampus is basically evil Santa Claus, a half-goat, half-demon that punishes misbehaving children at Christmas. The Krampus Run is when people dress up as Krampus and parade through the city scaring, chasing and hitting spectators with bunches of sticks. Hilarious, yet somewhat terrifying, to witness and be a part of.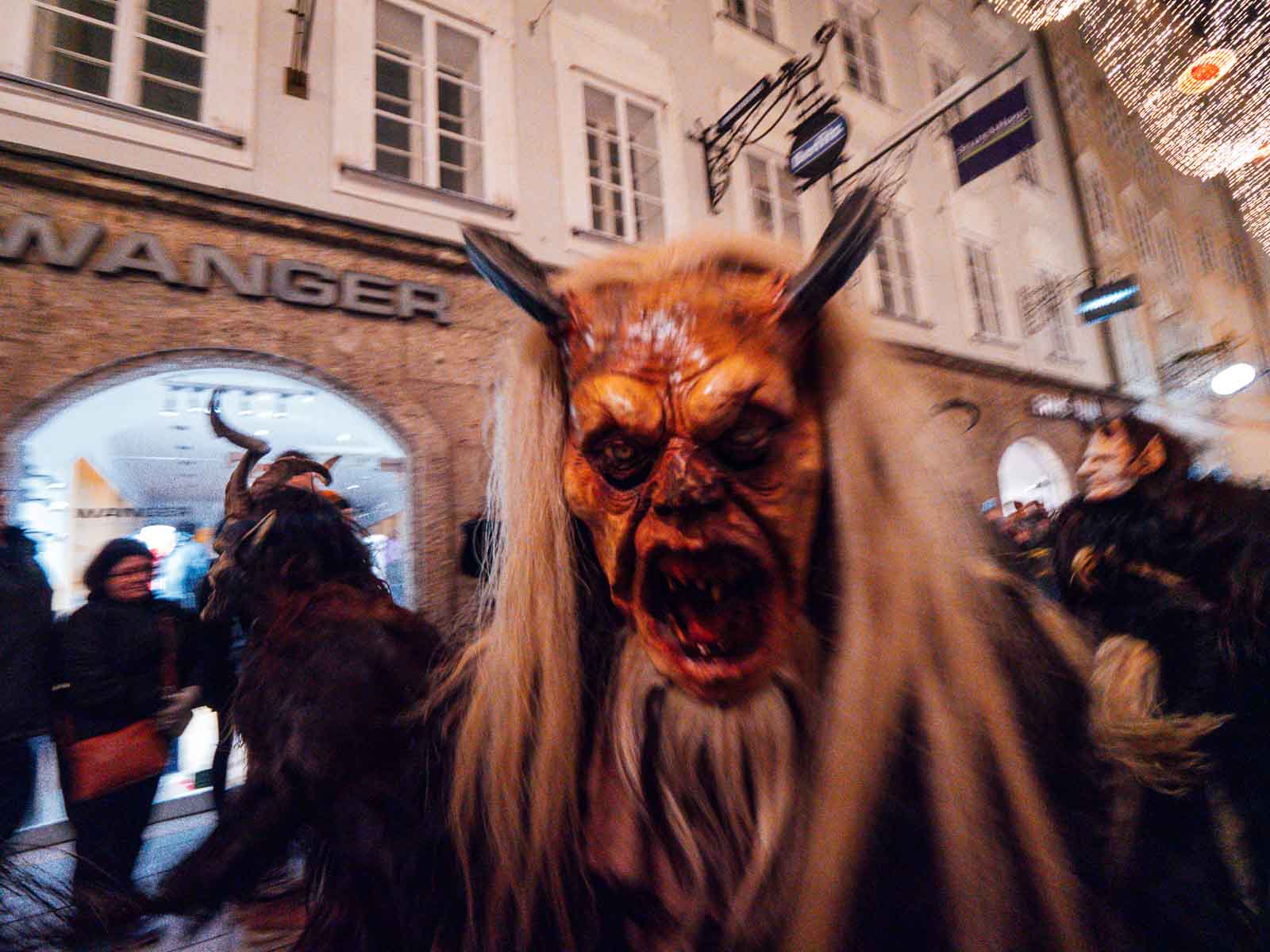 Other things to do in Salzburg
Where to stay in Salzburg
Budget | I stayed at MEININGER Salzburg, a hotel/hostel hybrid with dorm rooms, private rooms, guest kitchen, laundry facilities, hotel bar and bikes for rent. Slightly out of the city but right next to a bus stop, a great budget option. Other budget-friendly options are YoHo Youth Hostel, Stadtalm Naturfreundehaus and The Keep Eco Rooms.
Mid-range | Gästehaus im Priesterseminar Salzburg, Hotel Max 70, B&B Villa Verde and Boutiquehotel am Dom
Luxury | Hotel Bristol, Goldgasse, Hotel Goldener Hirsch and Hotel Sacher Salzburg
Self-contained | Villa Leopoldskron, Villa Maxglen, Mozart's Garden Villa and Villa Salzburg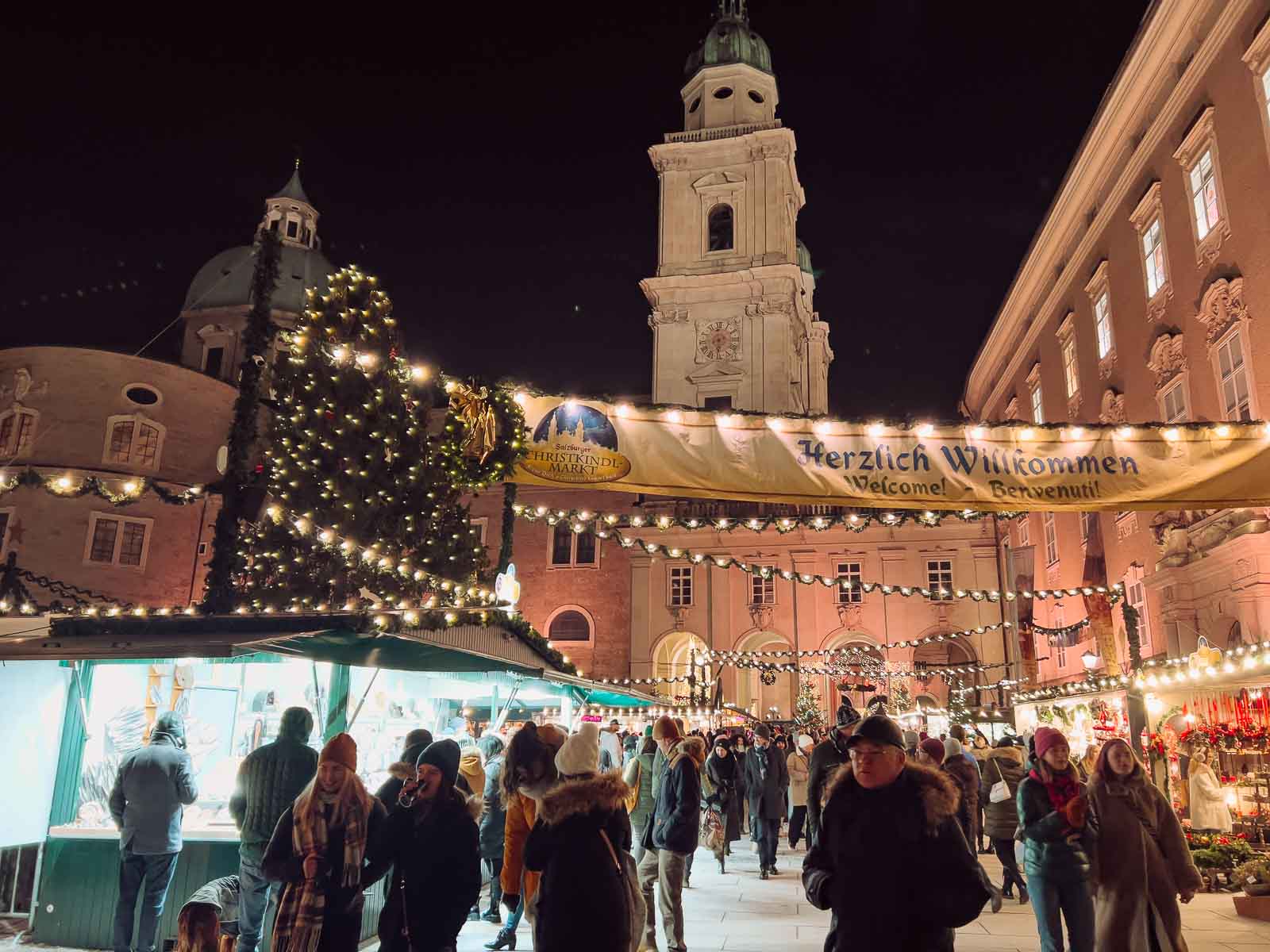 ---
Day 12-13: Vienna
Vienna Christmas market dates for 2023: Probably 18 November – 23 December but not confirmed (double check here)
How to get from Salzburg to Vienna
Direct trains run often and take 2h 25m, no need for a seat reservation.
About Vienna
One of Europe's cultural hubs, Vienna's magic absolutely peaks at Christmas, when it's all lit up by light displays, art installations and buzzing markets throughout the city.
You'll definitely need two days to explore Vienna's markets because they're quite far apart, unlike many smaller cities on this list. If you have longer than 2.5 weeks to complete this European Christmas market itinerary then consider adding a third day on in Vienna.
The main Christmas market takes place at Rathausplatz, where you'll be greeted by a bow-topped light arch. Go ice skating, be dazzled by the impressive Christmas decoration stalls, or head into the neighbouring park to see giant light displays.
Other markets to put on your list are Christmas Village Belvedere which is set in front of the stunning Baroque palace, Spittelberg market for more independent and authentic products, Maria Theresien Square for a smaller version of Rathaus, and the more modern MuseumsQuartier which has artistic light projections, bars, live music and street food.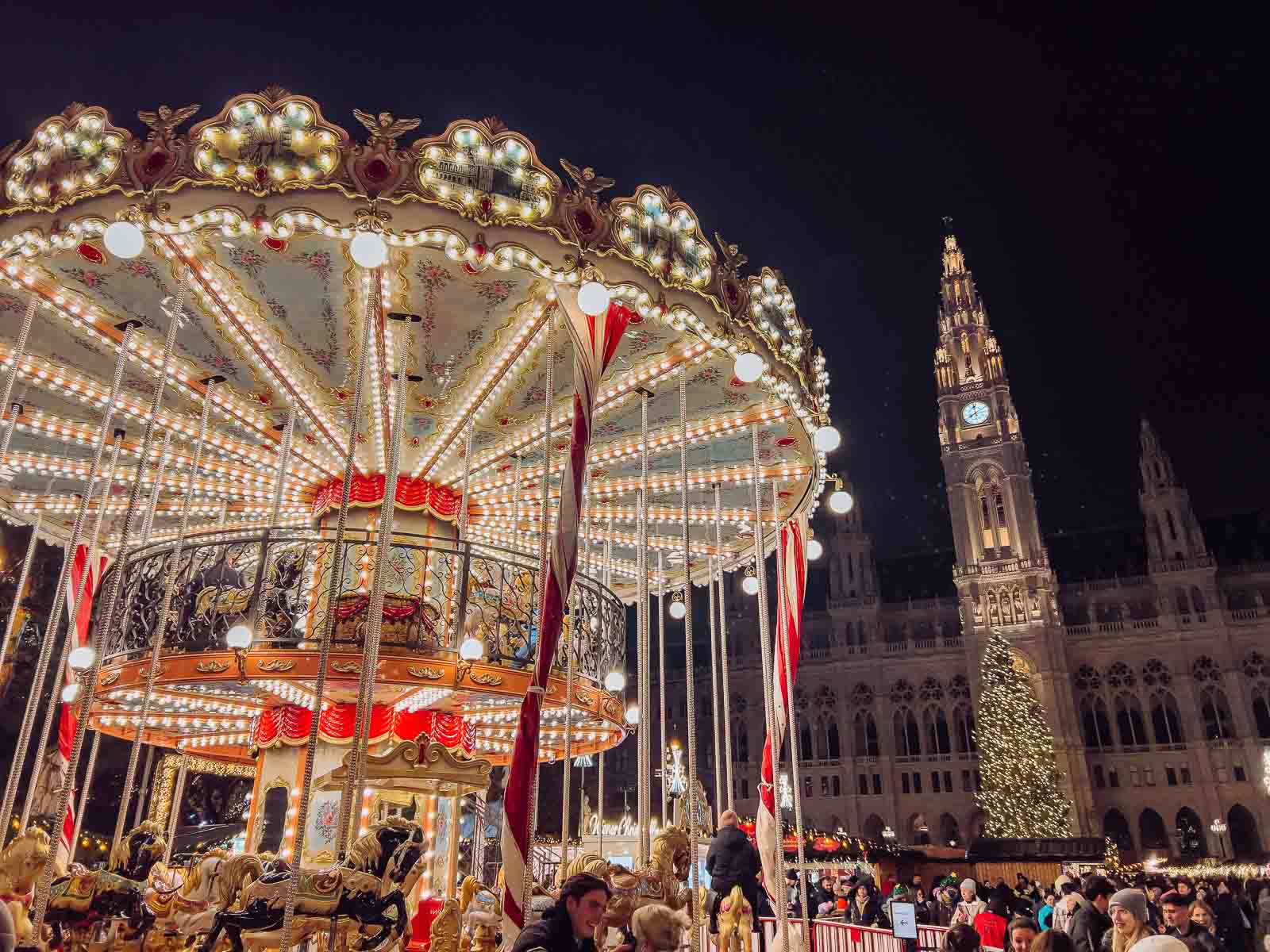 Other things to do in Vienna
Aside from the markets there are plenty of things to do in Vienna, from museums and galleries to coffee houses to opulent palaces.
Where to stay in Vienna
Budget | My absolute top pick for Vienna budget accommodation is JO&JOE Vienna, a funky hostel with loads of facilities, including kitchen facilities, an onsite diner, work-friendly areas, plenty of fun events, a rooftop terrace, comfy dorm rooms and spacious private rooms.
Mid-range | Boutiquehotel Das Tyrol, Rioca Vienna Posto 2, Superbude Prater and ARTIST Boutique Hotel
Luxury | Rosewood Vienna, The Leo Grand, Hotel Sans Souci and Hotel Sacher
Self-contained | Karl und Anton Boutique Apartments, Oliver Apartments and URBM Rise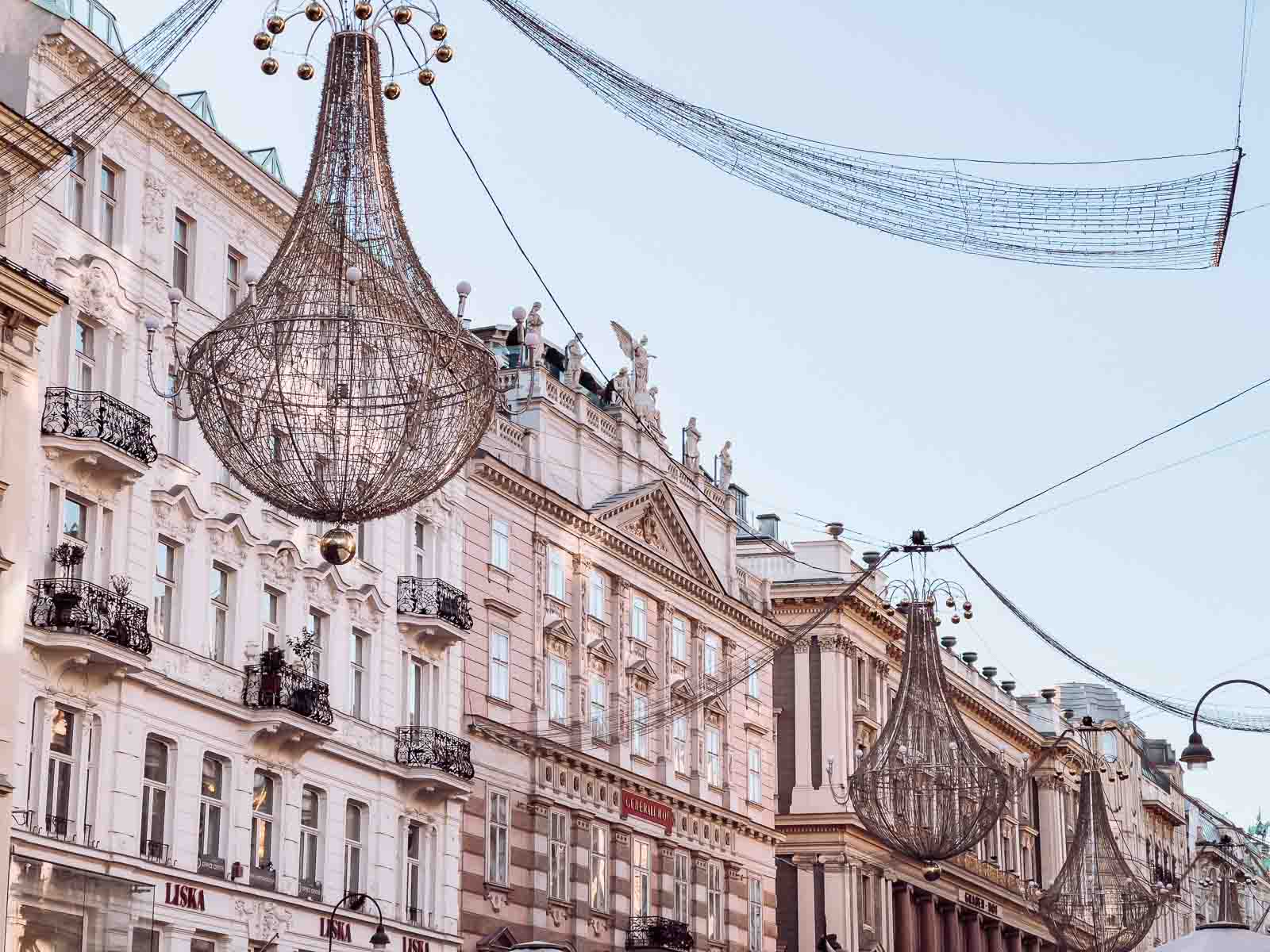 ---
Day 14: Bratislava day trip from Vienna
Bratislava Christmas market dates for 2023: Probably late November – 23 December but not confirmed (double check here)
How to get from Vienna to Bratislava
You can catch a bus with RegioJet or FlixBus for as low as €4, they take between 40m and 1h 20m.
About Bratislava
Offering a different experience to the markets of Germany, France and Austria, Slovakia's capital is well worth a visit for a unique and affordable addition to this Europe Christmas market train itinerary.
There are a few different markets to explore, all easily reached by walking, and your money will go further here so consider using Bratislava for present shopping. Don't skimp on the food either, be sure to try ciganska (a bun with a tasty pork cutlet or chicken fillet), lokse (fried potato dough topped with sweet or savoury stuff) and medovina (honey mead).
Other things to do in Bratislava
Have a cheap wine tasting session with a local sommelier
Explore Bratislava Castle on the hill above the city
Find the Blue Church, it looks like it's from the Smurfs!
Spot all the interesting statues dotted around the city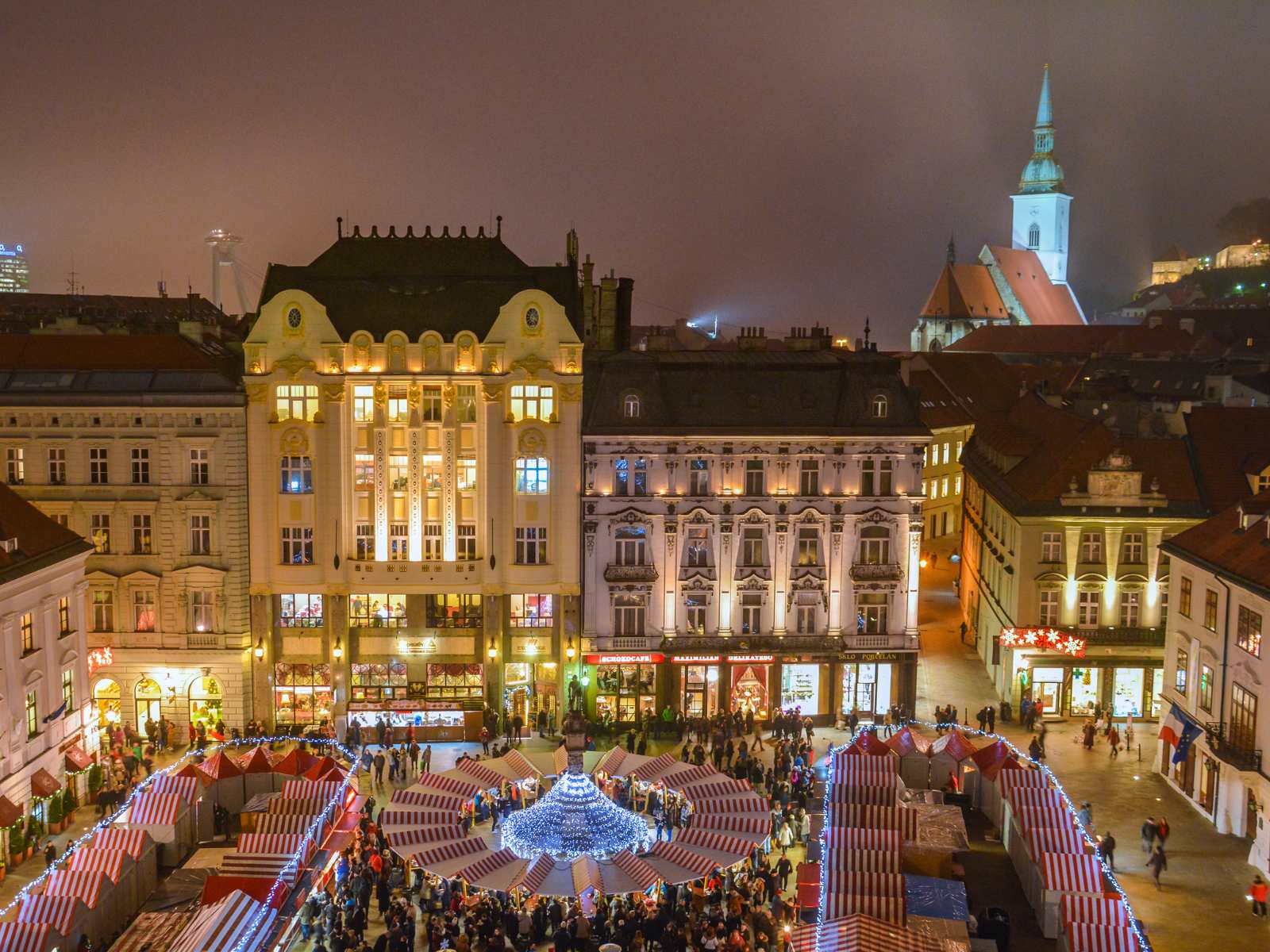 ---
Day 15-16: Prague
Prague Christmas market dates for 2023: Probably 2 December – 6 January but not confirmed (double check here)
How to get from Vienna to Prague
The longest journey on this itinerary, Vienna to Prague direct trains run every two hours or so and they take 4h 25m. Most trains don't require seat reservations for rail pass holders.
About Prague
Budget travellers rejoice, Prague is a fantastic Christmas market option that's genuinely easy on the wallet! Accommodation here is affordable year-round, market food is great value, and there's a bunch of things to see and do that don't require any money at all.
Prague's Old Town Square is one of the most photogenic Christmas scenes in all of Europe, with a stunning wired angel lit up in front of the exquisitely-carved Gothic Church of Our Lady before Týn. Stalls here sell traditional market treats as well as local cuisine like roast pork on a spit, grilled sausages and trdelník (chimney cakes). You can also find a big stage here that has a busy events programme of music and dance performances.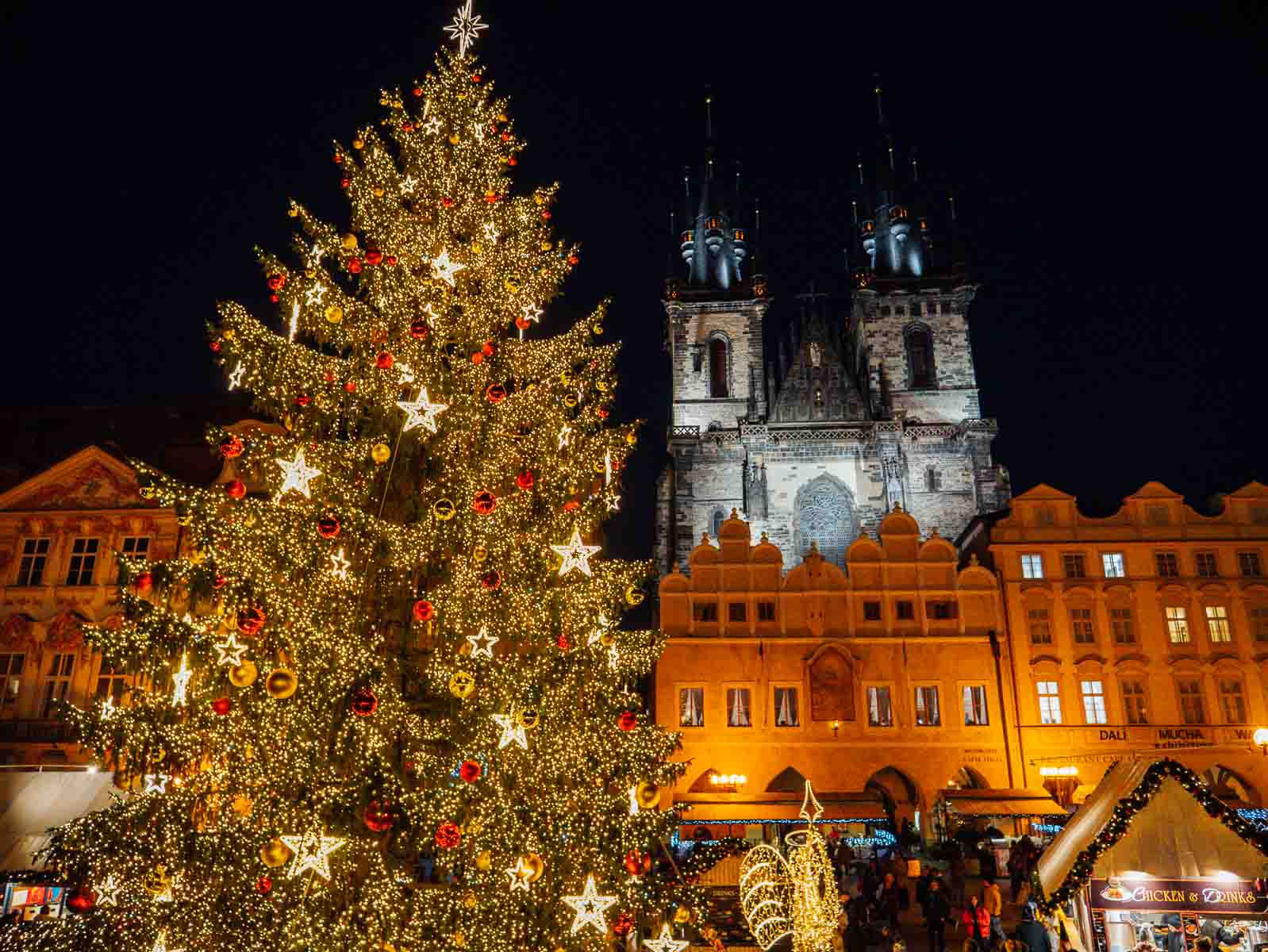 Just a short walk from Old Town Square you can head to Wenceslas Square, which hosts stalls mostly selling handmade arts and crafts.
And no Christmas visit to Prague would be complete without heading up to Prague Castle, the courtyards turn into a winter wonderland with local artisans selling trinkets and artwork, hearty dishes being served up and plenty of epic photo opportunities. From the castle you can walk back to Old Town Square, crossing over the iconic Charles Bridge.
Other things to do in Prague
See the Astronomical Clock's mechanical procession of the 12 Apostles, it happens on the hour between 9am and 9pm
Climb the Old Town Hall tower for the best view of the square
Do a day trip to the infamous Bone Church, a.k.a. the Sedlec Ossuary
Experience the legendary Prague nightlife with a pub crawl
Where to stay in Prague
Budget | I recently stayed at Brix Hostel which is great if you're looking for a social hostel, but not ideal if you need peace and quiet. Other well-rated budget accommodation options are Hostel Little Quarter, Sophie's Hostel, Giotto Apartments, Hostel One Miru and Prague Dream Hostel.
Mid-range | Revelton Studios Prague, Hotel Residence Agnes, Hotel CUBE Prague, Allure Hotel Prague and Unitas Hotel
Luxury | The Julius, Four Seasons, The Grand Mark, Alchymist Grand Hotel and Hotel Republika
Self-contained | Mooo by the Castle, Hotel Diana and Malostranska Residence have options with kitchens/kitchenettes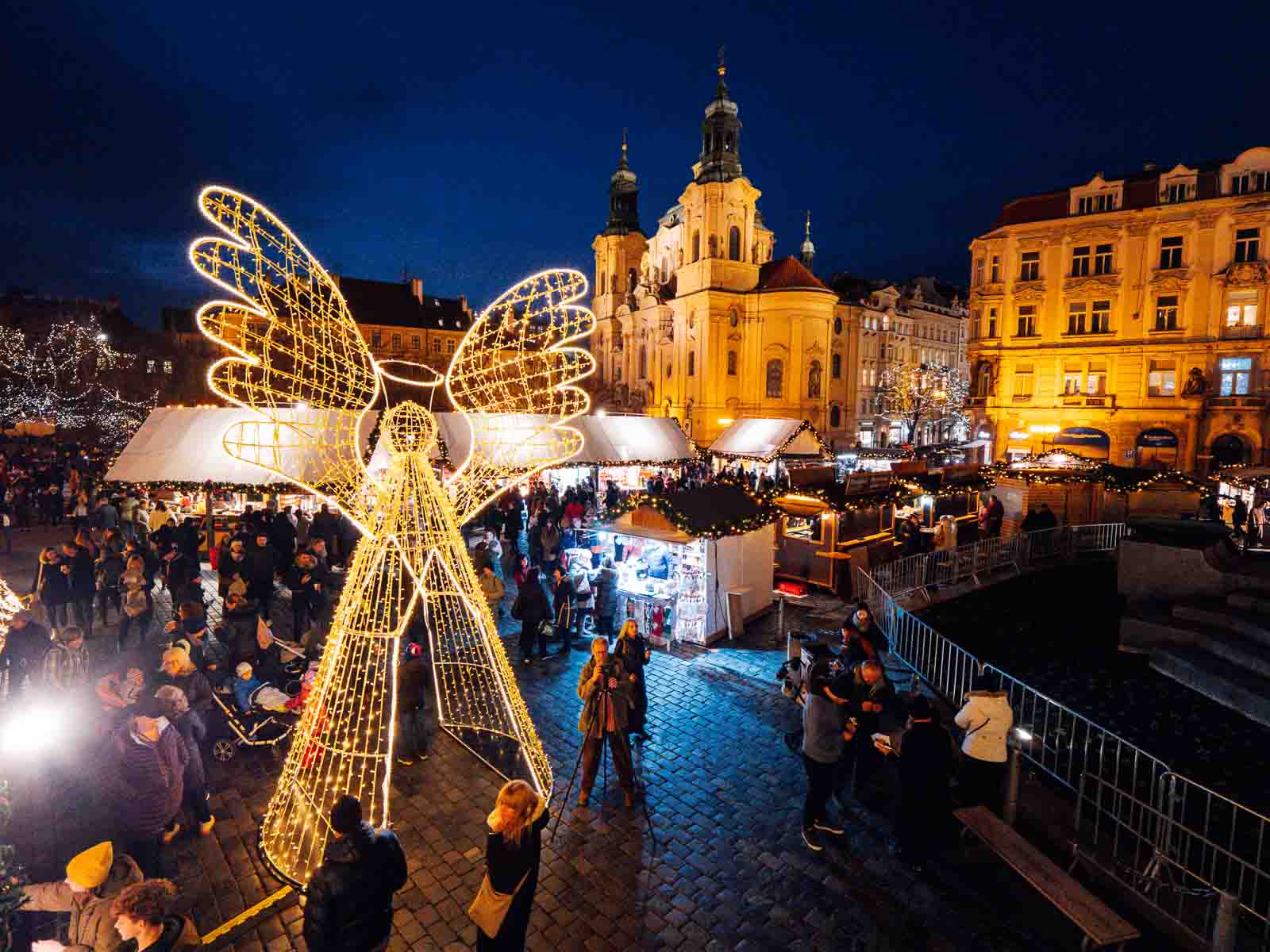 ---
Day 17-18: Dresden
Dresden Christmas market dates for 2023: 29 November – 24 December (double check here)
How to get from Prague to Dresden
Direct trains run every couple of hours and take 2h 27m in total, no seat reservations required for rail pass holders.
About Dresden
It would be illegal to write a Christmas market itinerary for Europe and not include the oldest Christmas market, so we're going to wrap up this trip by heading back into Germany.
Dresden's main market is Striezelmarkt, which has been hosting Christmas revellers since way back in 1434. These days the visitor numbers reach more than 2.5 million people each year! Typically the Striezelmarkt showcased German sweet treats, including striezel (also known as stollen), a spiced bread filled with candied fruits and doused with icing sugar. Eating striezel at the Striezelmarkt is a must-do for any Europe Christmas market itinerary!
There are many other Christmas festivities to experience too, from traditional craft markets to light displays to alpine huts and curling rinks.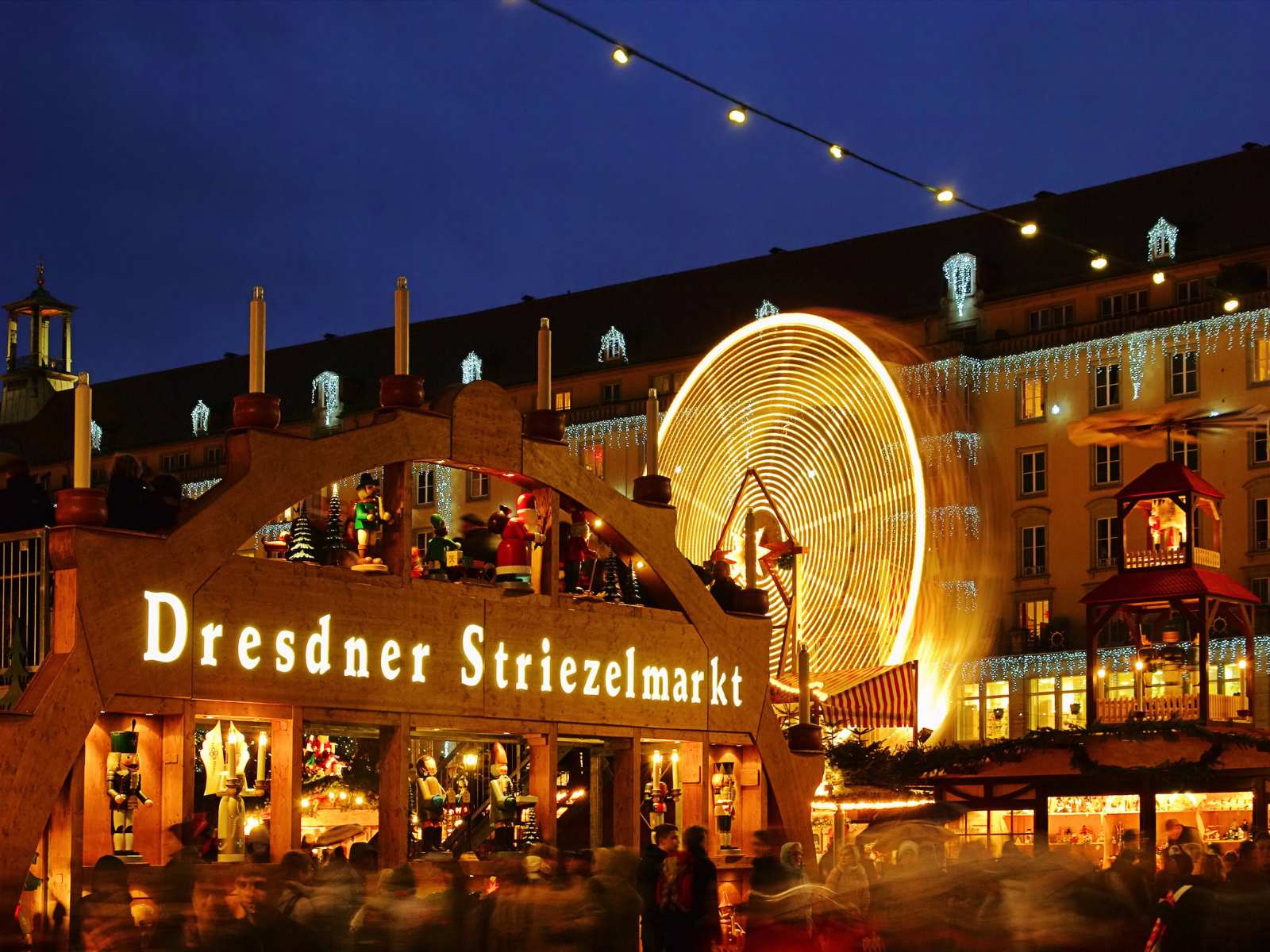 Other things to do in Dresden
Where to stay in Dresden
Budget | MEININGER Dresden Zentrum, Pension Dresdener Panorama, B&B Trobisch and Gastezimmer Richter
Mid-range | mightyTwice Hotel, ARCOTEL HafenCity and Schloss Hotel Dresden Pillnitz
Luxury | Townhouse Dresden, Relais & Châteaux Bülow Palais and Felix Suiten am Zwinger
Then to make the itinerary a loop and get from Dresden to Frankfurt it's a direct 4h 25m train, no seat reservation required for rail pass holders. Too easy!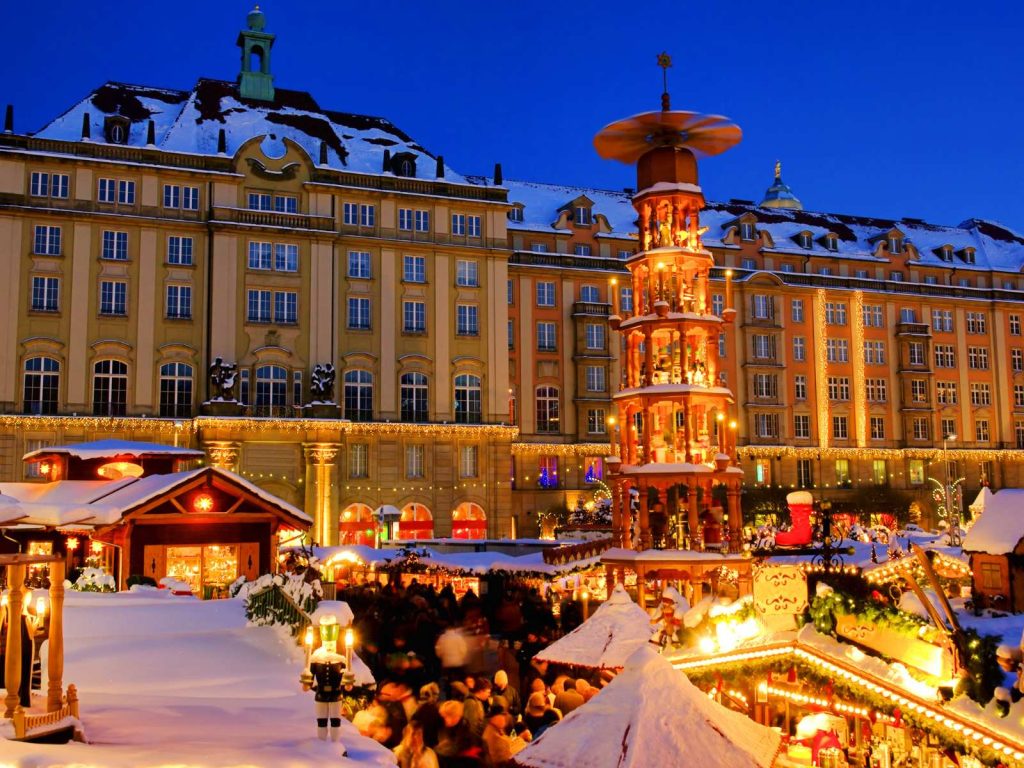 ---
If you have less time
If you only have time for a one week Europe Christmas markets itinerary then you could do any of these legs of the trip:
Frankfurt > Cologne day trip > Nuremberg day trip > Strasbourg > Colmar day trip
Dresden > Frankfurt > Cologne & Nuremberg day trips
Innsbruck > Salzburg > Vienna > Bratislava day trip
Strasbourg > Basel > Innsbruck > Salzburg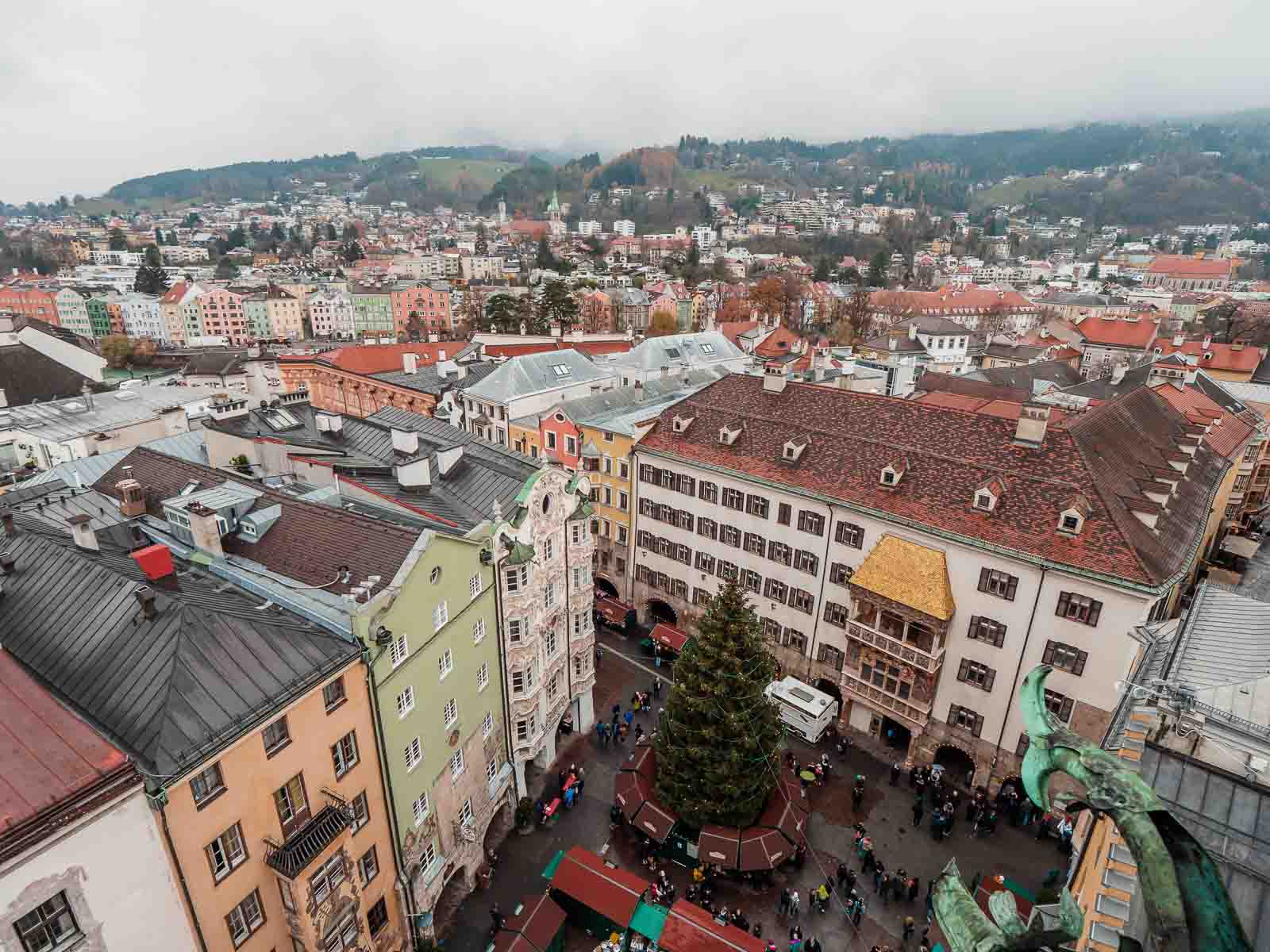 ---
If you have more time
If you have more time to spend exploring the European Christmas markets by train then you could either take your time and add on extra days in places like Strasbourg, Vienna and Prague for general sightseeing, or instead you could add in overnight stops like these:
Zurich between Basel and Innsbruck
Bolzano which hosts Italy's best Christmas market (2h direct train from Innsbruck)
Budapest between Vienna and Prague
Other German cities like Berlin or Munich
Add on a ski holiday, I love Ski Hostel in Switzerland for affordable ski packages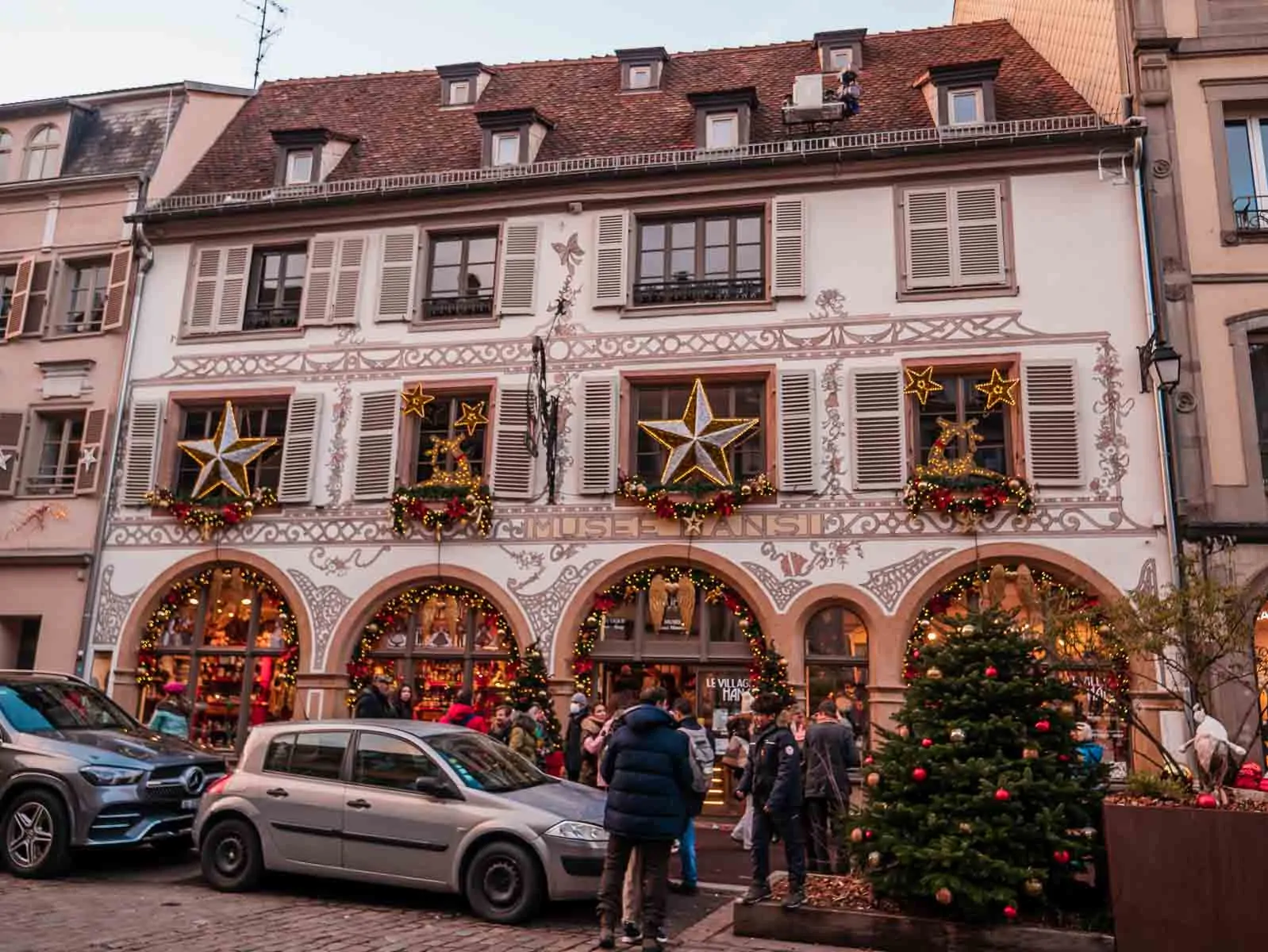 ---
If you've made it all the way to the end of this blog, you deserve a Glühwein! I hope this Europe Christmas market train itinerary has helped you plan the markets you're going to visit this year. If you have any questions about seeing the European Christmas markets by train then please pop a comment below and I'll get back to you as soon as I can.
MORE EUROPE BLOGS YOU MIGHT LIKE: