Planning a trip to Vietnam? This is the ideal three week Vietnam itinerary to take you through the big cities, iconic countryside and beautiful beaches.
One of the questions I get asked the most is if I have a favourite country. The answer is no, I have many, but Vietnam is absolutely up there (along with Italy, Turkey and Iceland if you were wondering!).
For week #32 of my 52 in 52 trip I headed to Vietnam, and thanks to coronavirus cancelling three of my flights I extended a 10 days in Vietnam to a 3 week Vietnam itinerary instead. There are worse places to be stuck!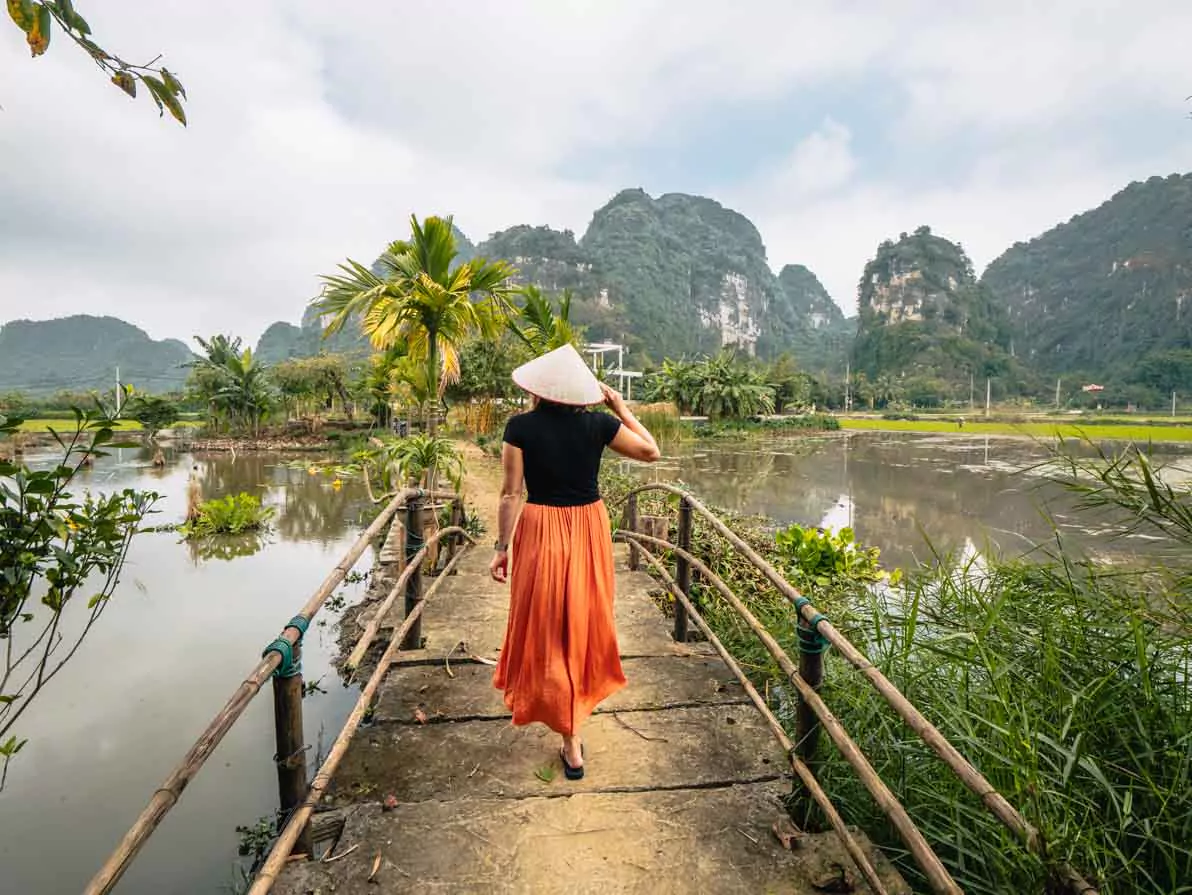 YOU MIGHT ALSO LIKE: FAQs about my 52 countries in 52 weeks trip
I managed to see, do and eat a lot during my three weeks in Vietnam.
I began in Hanoi and ended in Ho Chi Minh City, and in between I squeezed in a Ha Long Bay cruise, rode a bike through rice fields, savoured local eats on three food tours, took a boat ride down the Mekong, fell in love with Hoi An, traversed the Hai Van Pass by Soviet army jeep, and had some downtime on Vietnam's paradise island, Phu Quoc.
Hectic? Sure. Unforgettable? Definitely.
Here's my detailed travel guide on the ultimate 3 week Vietnam itinerary, including the must-sees, must-dos and must-eats, plus how to get from A to B, where to stay, and everything you need to know before you visit Vietnam.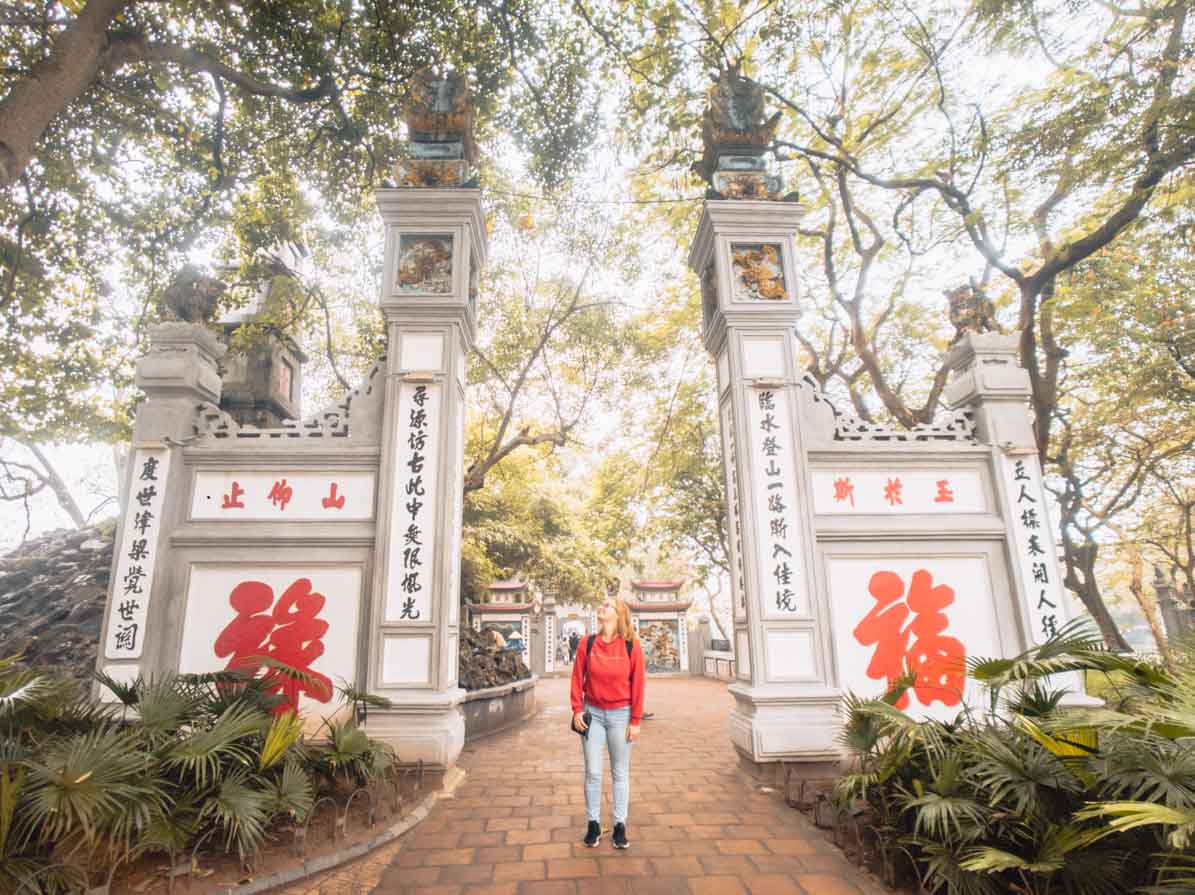 ---
An overview of the ideal 3 week Vietnam itinerary
Day 1: Arrive in Hanoi
Day 2: Full day in Hanoi
Day 3: Hanoi > Ha Long Bay
Day 4: Full day Ha Long Bay
Day 5: Ha Long Bay > Hanoi
Day 6: Hanoi > Tam Coc
Day 7: Full day in Tam Coc, night train to Hue
Day 8: Full day in Hue
Day 9: Hai Van Pass jeep tour to Hoi An
Day 10: Full day in Hoi An
Day 11: Full day in Hoi An
Day 12: Full day in Hoi An
Day 13: Hoi An > Ba Na Hills > Da Nang
Day 14: Full day in Da Nang
Day 15: Da Nang > Phu Quoc
Day 16: Full day in Phu Quoc
Day 17: Full day in Phu Quoc
Day 18: Phu Quoc > Ho Chi Minh City
Day 19: Full day in Ho Chi Minh City
Day 20: Mekong Delta day trip
Day 21: Depart Ho Chi Minh City
Want to know how to get around Vietnam? Book your transportation here.
---
My detailed 3 week Vietnam itinerary
Days 1-2: Hanoi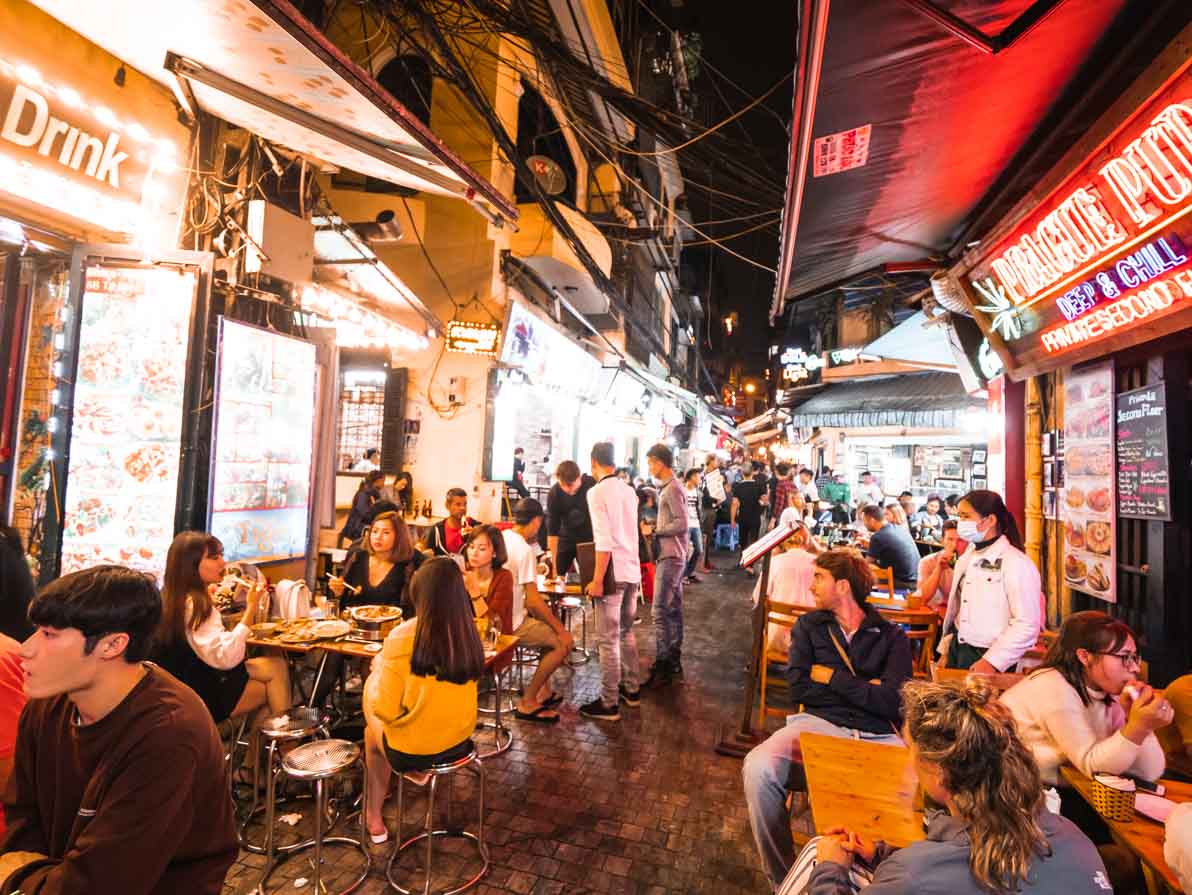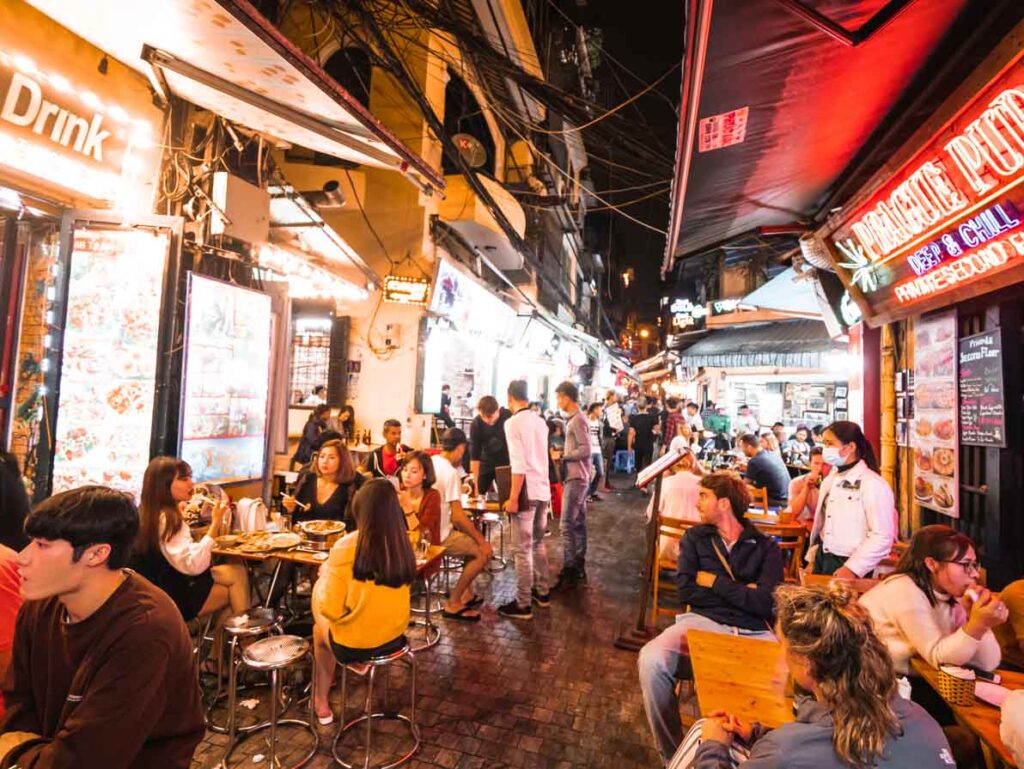 About Hanoi
Vietnam's capital city is a busy but well-preserved mix of French and Chinese influences, where Parisian-style cathedrals sit amongst ancient pagodas and authentic noodle stalls. While Hanoi is an easy gateway to Halong Bay, Sapa in the north and the lush countryside of Ninh Binh, it's also well worth a couple of days of exploring itself if you've got three weeks in Vietnam.
How to get from Hanoi airport to the Old Quarter
Once you land in Hanoi for your Vietnam trip, you've got a couple of options to get to your hotel.
There's a super cheap public bus express to the city, bus #86, it costs 35,000 VND (£1.17) and drops you off at Long Bien bus station, which is about 1.5km from the Old Quarter. The trip takes about 45-50 minutes depending on traffic.
Airlines also have shuttle buses which drop passengers at various stops around the Old Quarter, and tickets are 40,000 VND (£1.35). Check with your airline to see if this is something they offer and to check their stops.
If you prefer a private transfer, you can book one right here through Klook. The price depends on where you're staying and the size of the car you require, but I paid 300,000 VND (£10) to get dropped off at my hostel near Beer Street in the middle of the Old Quarter.
There's also Grab in Hanoi, you'll need to have the app already or sign up with a Vietnamese phone number and you can book a GrabCar to pick you up from the airport for a slightly cheaper fare than a taxi.
PRO-TIP:
If I'm travelling somewhere cheap like Southeast Asia or Eastern Europe, I'll usually book a private airport transfer to make my arrival super simple. You might pay ten times the price of a public bus, but it'll probably still cost you less than £10! For immediate pick up, direct drop off, no need to lug your suitcases down busy tourist streets, I reckon it's worth it. You can book airport transfers for hundreds of different cities right here on Klook.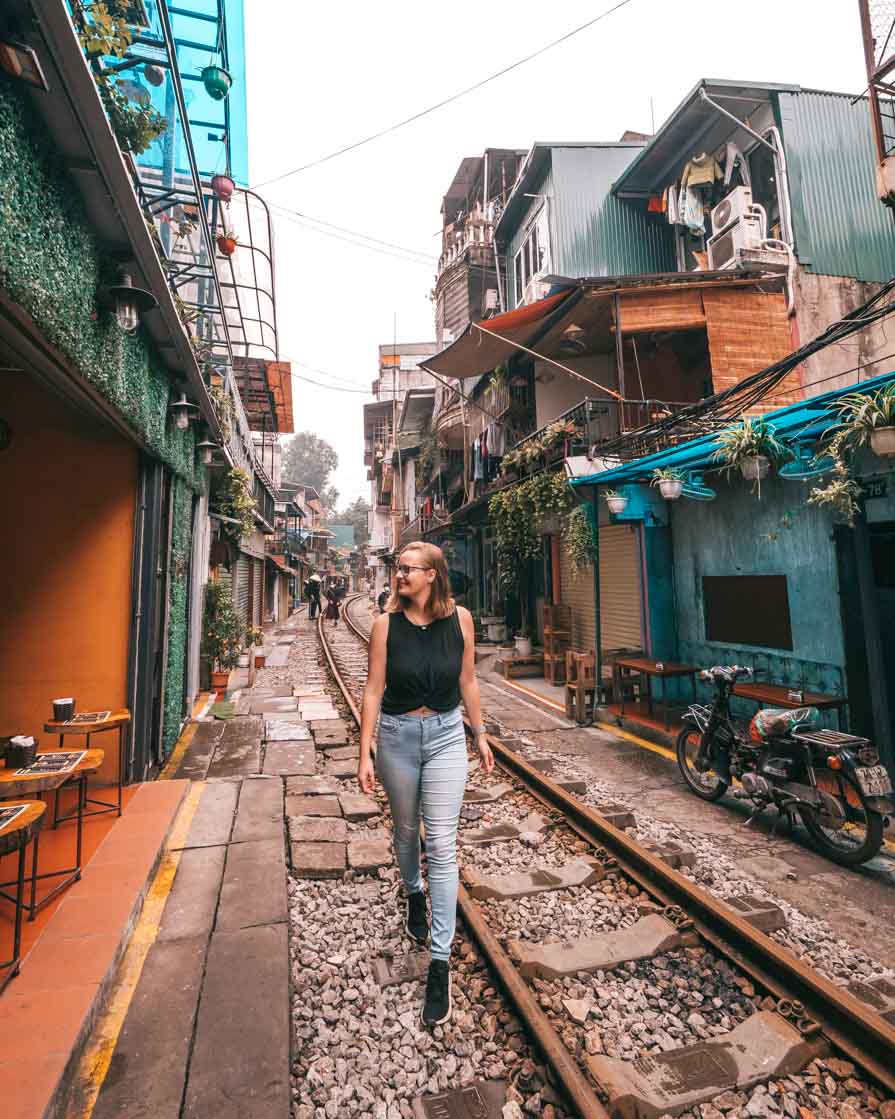 Some of my favourite things to do in Hanoi
With a half day when you arrive and a full day on day two of your Vietnam adventure, there's plenty of time to pick a number of Hanoi's top attractions and experiences.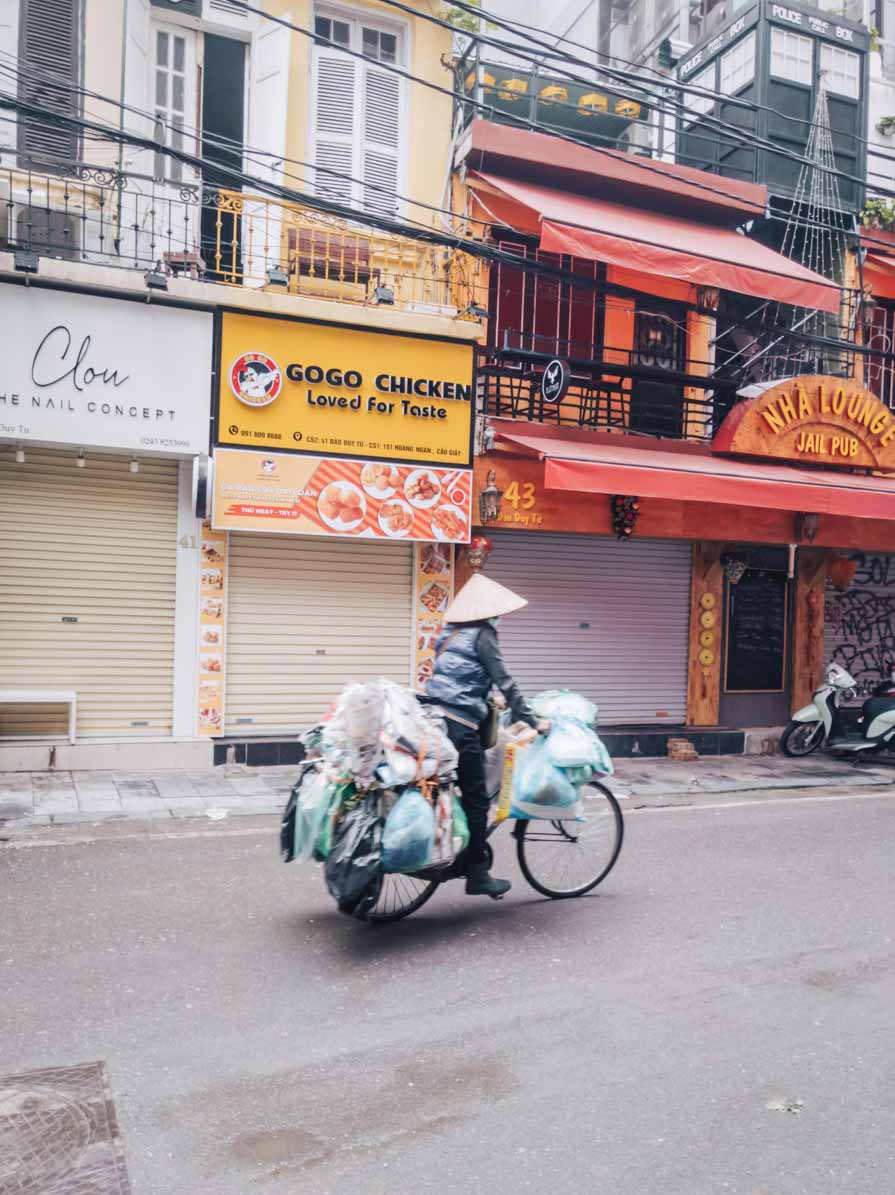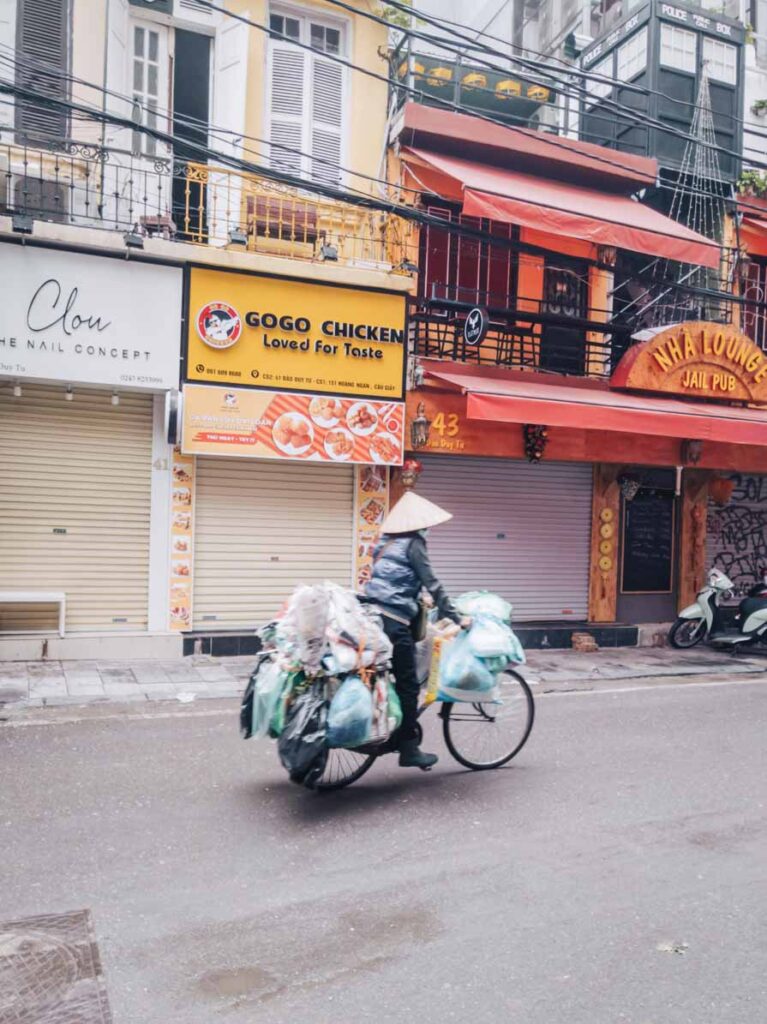 Where to stay in Hanoi
Accommodation is one of the biggest costs for any trip, so when I find an amazing country that's cheap to stay in it's a real game-changer! Vietnam is so cheap, with dorm rooms available for as low as £3 a night and four star hotels from only £20. The accommodation in my 3 week Vietnam itinerary was cheaper than one week in most places I've visited!
I stayed at Senco Female Hostel which was cheap (£3.50 a night) and basic but super central. Other hostels with great ratings are Old Quarter View Hostel, Little Charm Hostel, and Vietnam Backpackers Hostel Original which is a chain you'll find in most major cities.
For hotels, check out Babylon Premium Hotel or Grande Collection Hotel for gorgeous rooms for under £30, or 'splurge' on a room at the luxurious Peridot Grand Hotel, complete with rooftop pool, from only £60 a night.
YOU MIGHT ALSO LIKE: A huge list of all the best places I've stayed around the world
---
Days 3-5: Halong Bay two night cruise (or similar)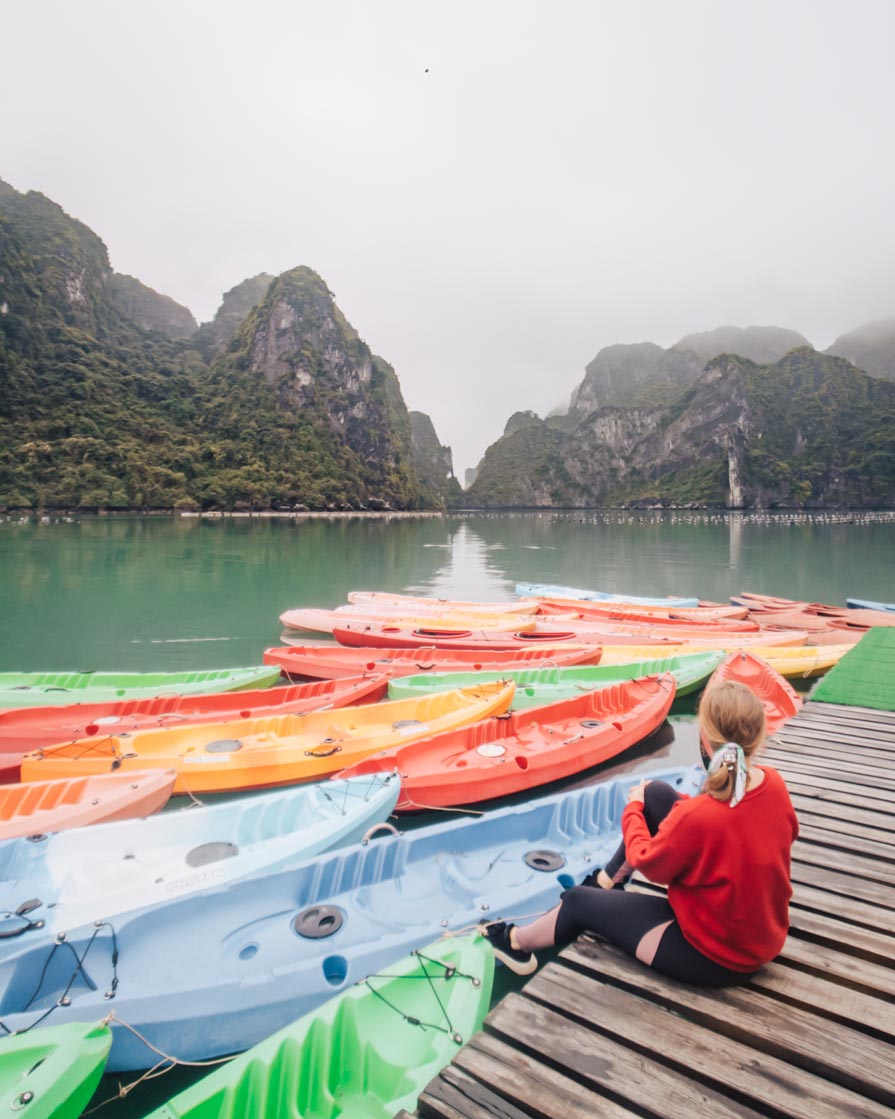 How to get to Halong Bay from Hanoi
Most Halong Bay cruise companies offer a transfer service to and from Hanoi, but if you're extending your Hanoi visit or prefer an alternative transport option you could choose a private driver, shared transfer, train or tourist bus.
A private driver is helpful if you have specific times you need to travel, or if there's a few of you and you can share costs. The drive is about 170km and it'll take three hours in a private car without a stop, you can book one here from £56 for three people.
There's loads of shared transfers available, from £4 for big bus transfers or £8 per person for an air-conditioned minibus.
If you're trying to see how far your money can stretch, there's a train from only £2.50 but it's a long journey at almost seven hours. Not worth a saving of £1.50 in my opinion haha but if you're up for some serious budget travelling, you can book Halong Bay train tickets online here.
YOU MIGHT ALSO LIKE: 15 carry on essentials for long haul flights
About Halong Bay
Halong Bay is one of Vietnam's icons, and for good reason. This UNESCO World Heritage Site is one of the most stunning places in the world on a good day! With jagged limestone karsts dotted around turquoise waters, I wouldn't be surprised if photos from this paradise are what put Vietnam on your bucket list in the first place.
READ MORE: Is Halong Bay worth it? An honest review of my Halong Bay cruise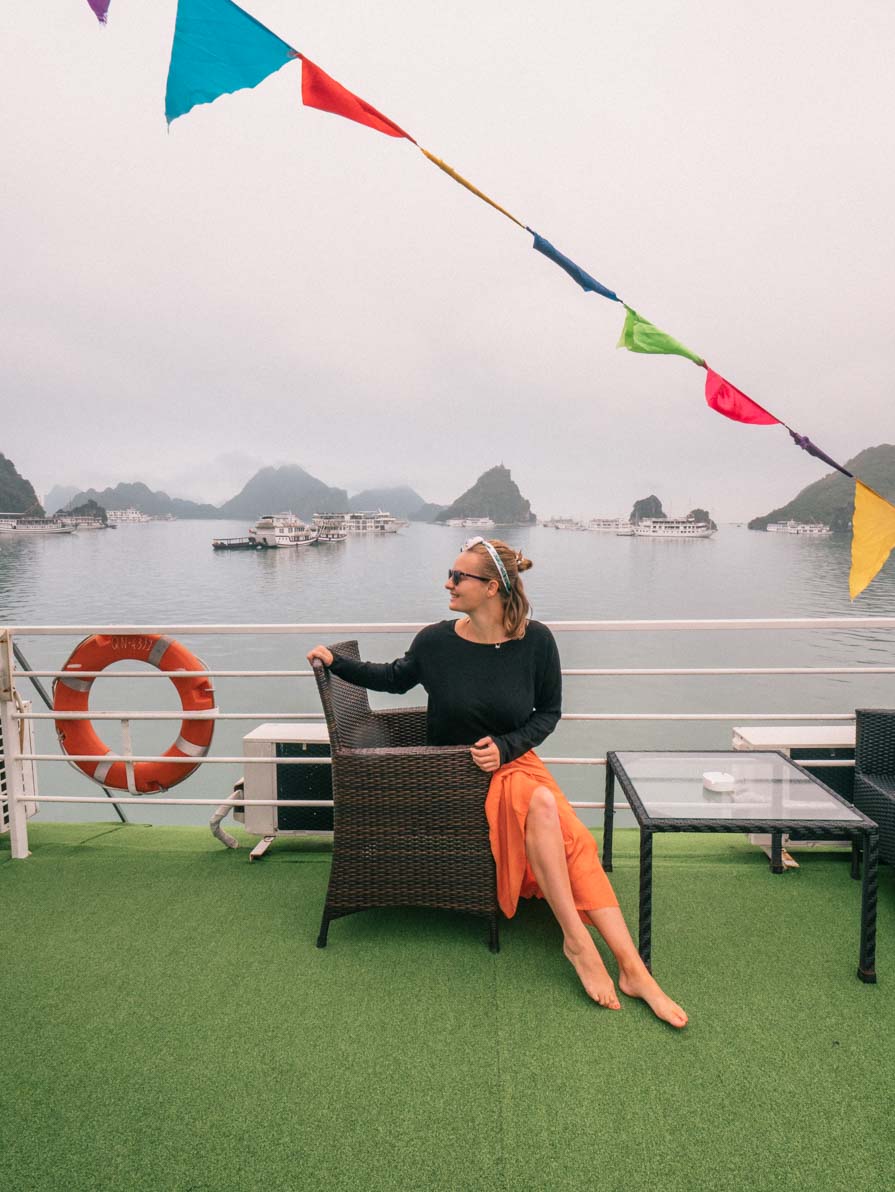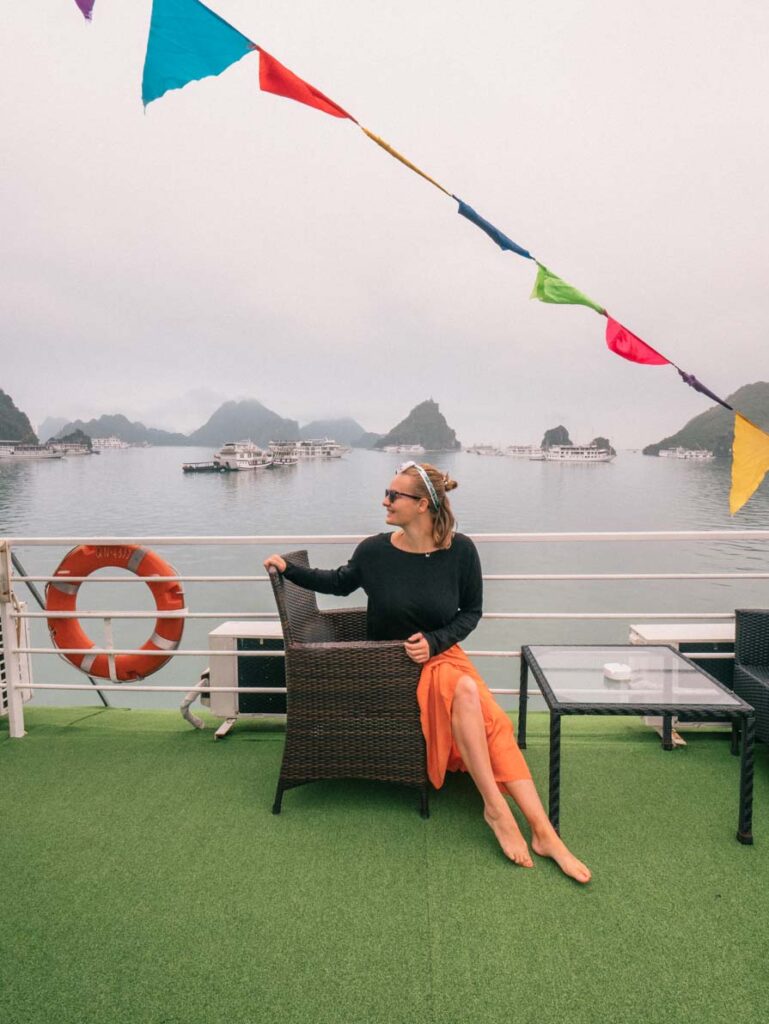 How to choose a Halong Bay cruise
Halong Bay is easy to get to from Hanoi by day trip, overnight trip or two or more nights, or you can jump on a day or multiple day cruise from Halong City.
I would highly advise against a day trip from Hanoi as it's a long drive (2.5-3.5 hours each way depending on traffic) and you won't have time to venture too far into the bay. If you're super tight on time and really want to see it then a day trip is still worth it, but you'll be incredibly rushed.
I decided to go for this two night cruise from Hanoi, it was with Phoenix Cruises and I booked it on the Klook app.
The boat was decent and comfortable enough but there were some small issues, like broken WiFi (tough as I was meant to be working!) and my shower door wouldn't close so I had to flood the bathroom twice a day. I've heard pretty similar things about a lot of Halong Bay boats though so I don't think the standard is particularly high unless you're going for an ultra fancy luxury cruise like this one.
We left early on the first morning to arrive on the boat just after midday, then had a full day in the bay in the middle, and left midday on the third day to arrive back in Hanoi around 5pm.
Having a full boat day on day two meant we could go deeper into Halong Bay and escape the main island stops for the day trips, which was brilliant. We had caves, bays and islands completely to ourselves, compared to the first and third days where we were one of probably 10-20 boats at every single island stop.
If you're heading to Halong Bay, I'd absolutely recommend the two night cruise to help avoid the crowds, but before you lock anything in, here's some real talk…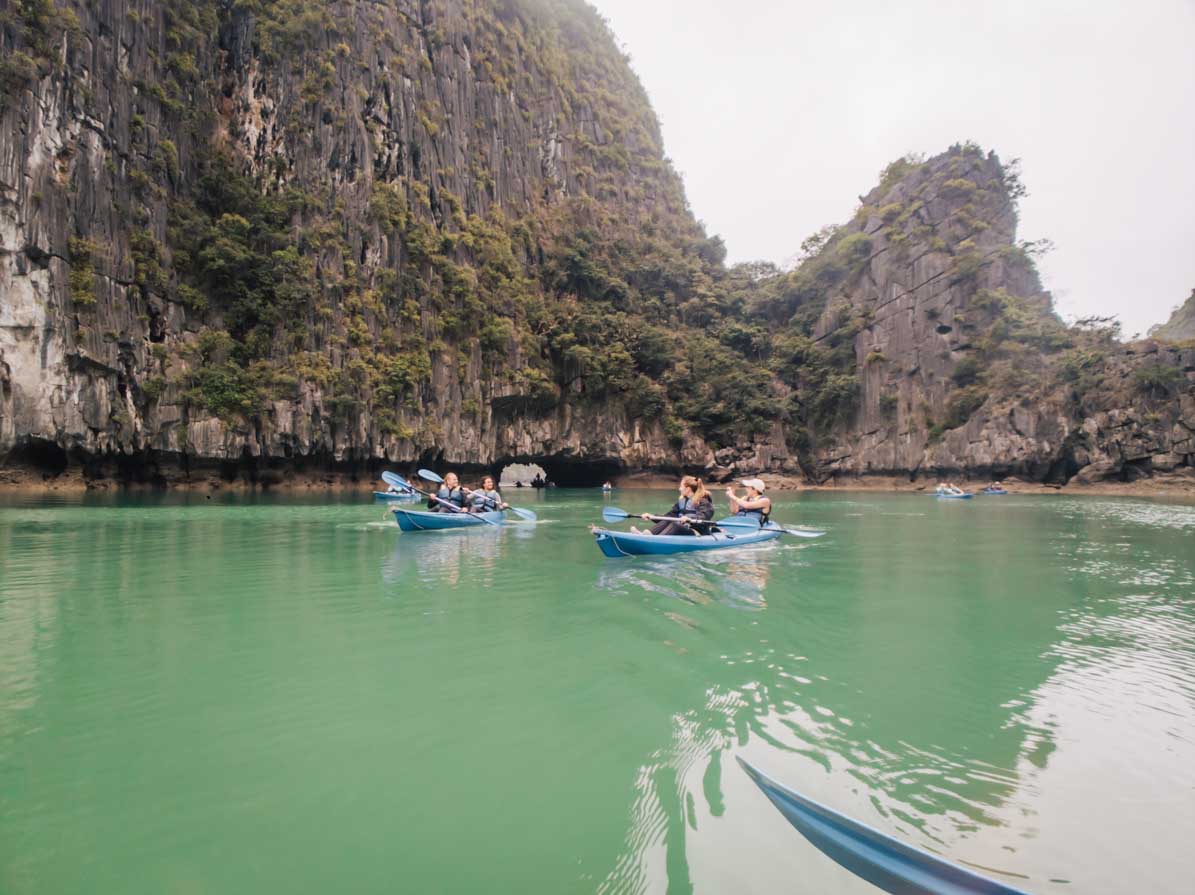 Real talk about Halong Bay
I'm sure this might shock you considering what you've seen and heard, and if you've been there before yourself you might disagree with me completely but… in my opinion, visiting Halong Bay was overrated. There, I said it.
I still think the landscapes are mind-blowing and I don't regret going, but my Halong Bay experience was dampened (literally) by wet and cold weather, tourists behaving badly and an upsetting amount of floating rubbish.
In terms of weather, Halong Bay isn't particularly rain-friendly and I have no doubt I would've loved it if we had some sun and warmth!
Unfortunately the rain meant we were soaked in our kayaks and then spent a whole day in wet clothes aboard a day boat before we returned to our actual boat and cabins in the late afternoon. It also meant we couldn't make use of the 'sun' terrace on the upper deck, and instead stayed in our own cabins.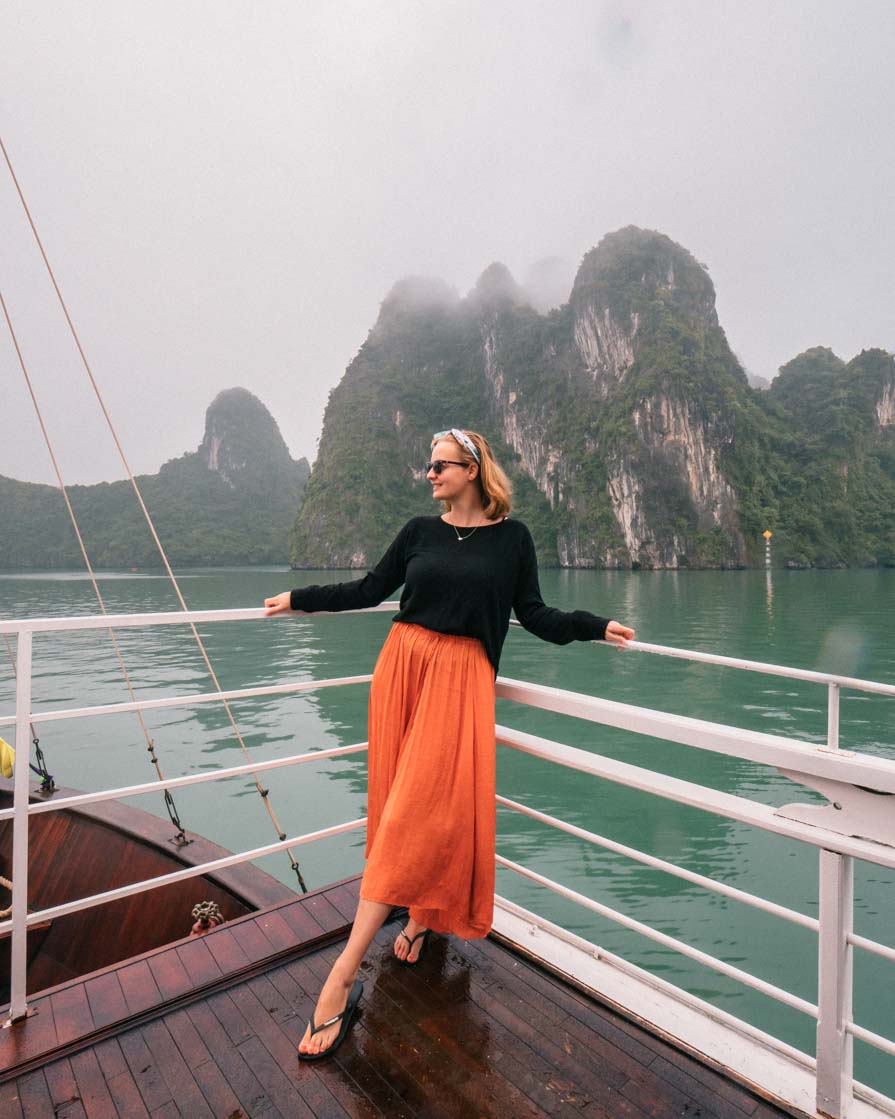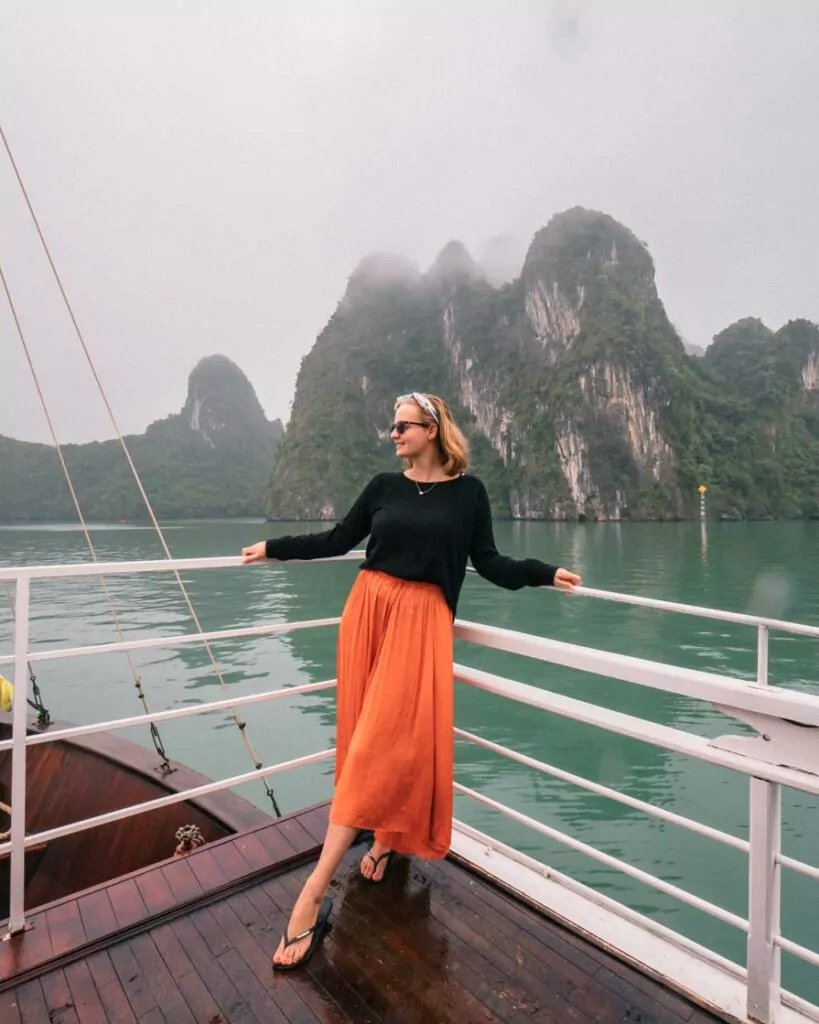 Aside from Mother Nature being a bit tough on us, the impact of tourism on the bay really, really got to me. Overtourism is a major aspect of responsible travel and if I'm honest, once I got there I was actually angry at myself for being part of the problem.
The stops for the day/overnight tours are absolutely teeming with people, tour guides with microphones are yelling in all different languages as people push past trying to rejoin their tour after stopping for photo, rubbish bins are overflowing, wild monkeys are being fed chocolate bars and chips in plastic packets, and there's trails of litter left in the bay when a big boat leaves.
I don't want to be a Debbie Downer over here but I just want to share my honest experience, as always, so you can get a full idea of what to expect.
Alternatives to Halong Bay
The good news is that there are other options!
In this instance I was told that Cat Ba Island and Bai Tu Long Bay are fantastic alternatives to Halong Bay, with the same jaw-dropping landscapes and far less people, but I'm embarrassed to say FOMO got to me and I couldn't bring myself to visit Vietnam without seeing Halong Bay in the flesh.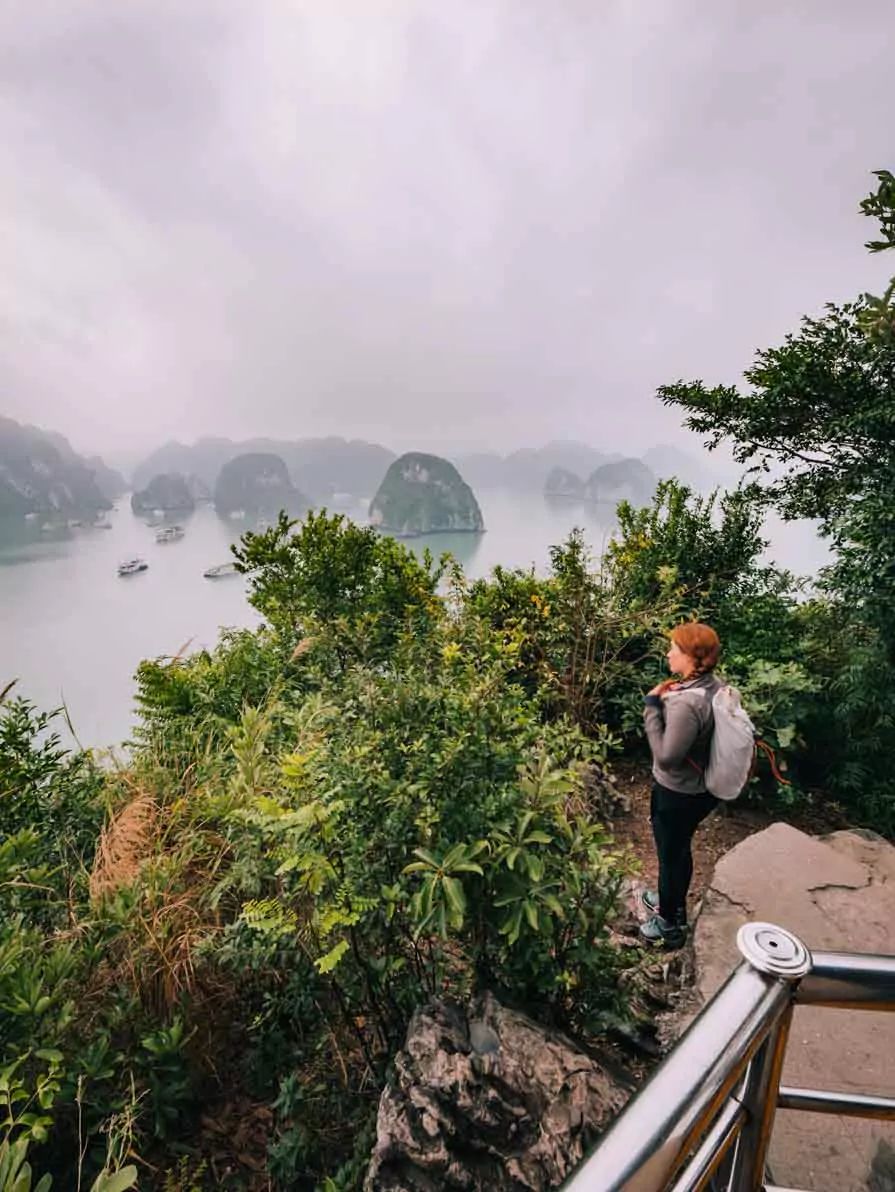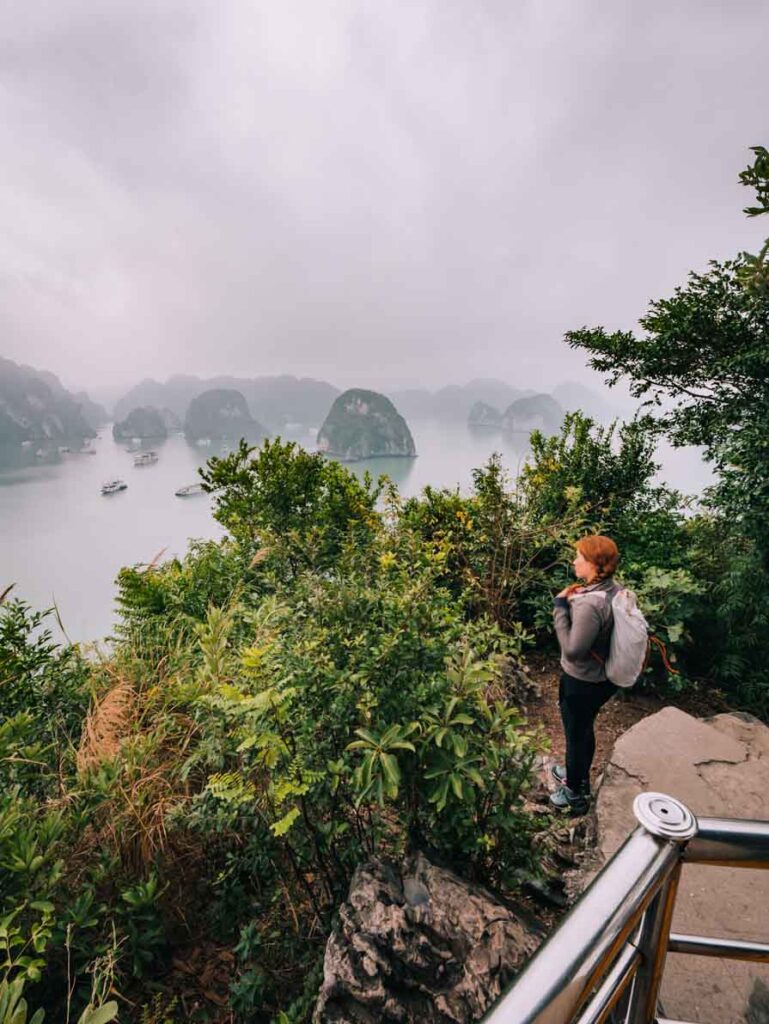 Now that I've seen it, I can honestly say I should've visited Cat Ba or Bai Tu Long Bay instead, so I'd really recommend you consider this too. There are also cruises that visit both Halong Bay and Cat Ba Island so perhaps look into that if you want the best of both worlds.
What to bring to Halong Bay
Togs/swimsuit
Sunblock
Clothes to hike in
Shoes that are suitable for caves/rocks
Warm clothes in case it's cold (it was when I went in February), preferably clothes that are quick to dry
A towel
A rainjacket or poncho
A camera
A GoPro if you have one
Snacks if you tend to get hungry between meals (meals are huge though!)
A Lifestraw, water purifying tablets or filtered bottle if you want to be able to drink tap water (do NOT drink it otherwise)
---
Days 6-7: Tam Coc
About Tam Coc
Tam Coc was an absolute treat after Halong Bay didn't quite live up to my (admittedly very high) standards, and it's only a couple of hours' drive from Hanoi.
I hadn't even heard of Tam Coc before planning my own trip, and it ended up being one of the highlights of my three weeks in Vietnam! The town of Tam Coc is a part of the Ninh Binh province, Ninh Binh town is a 15-20 minute drive from Tam Coc.
Ninh Binh province is known as the Halong Bay on land, and for good reason. With dramatic cliffs towering over endless green rice paddies and little row boats floating down winding rivers, it looks a lot like Halong Bay with less water and more grass. And less people!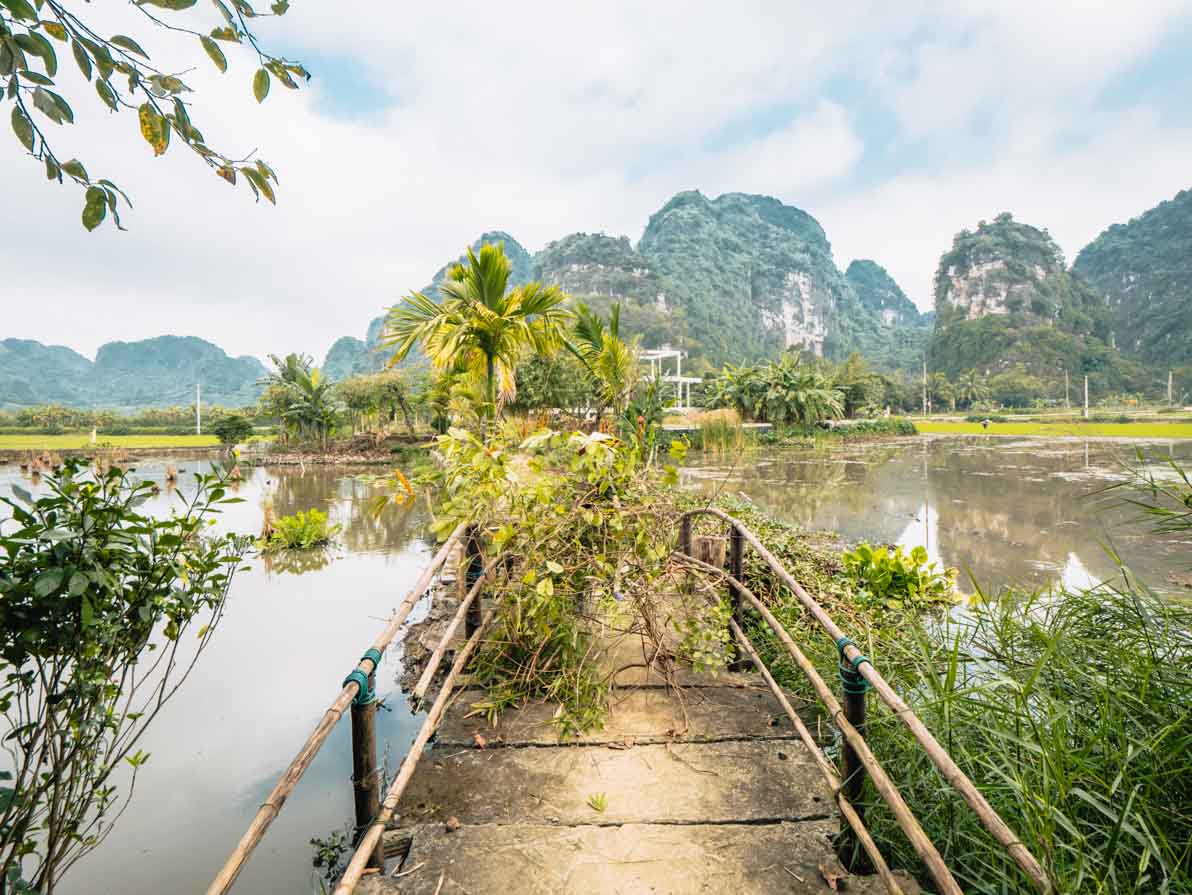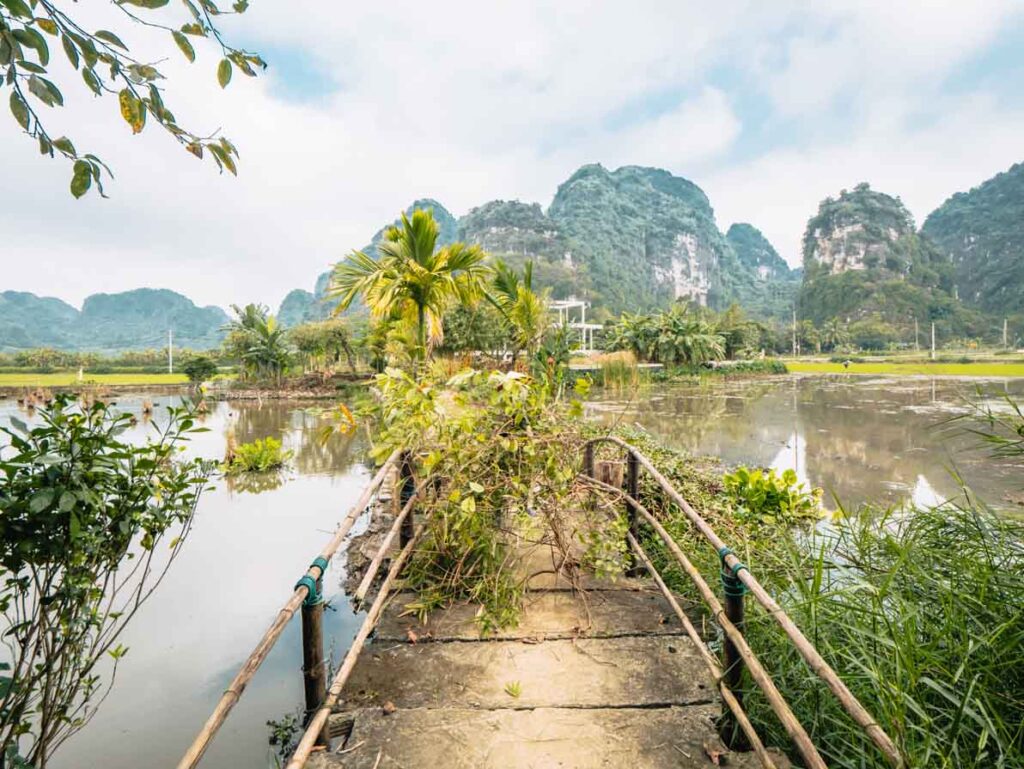 How to get from Hanoi to Ninh Binh or Tam Coc
The trip from Hanoi to Ninh Binh will take you two to three hours, and you can go by bus, train or transfer.
Most hostels and hotels will be able to book a bus for you which includes hotel pick up, and it should cost between 200,000-250,000 VND (£6.70-£8.40). You can catch the bus to Ninh Binh or Tam Coc.
There's also direct trains from Hanoi to Ninh Binh Station which will cost around 120,000 VND (£4) but you'll need to pay for a local taxi to Tam Coc if you're staying there (probably another 80,000-100,000 VND making it the same price as a bus). If you do choose a local taxi, always use Mai Linh Taxis and ask for the meter.
If you want a private transfer from Hanoi to Ninh Binh or Hanoi to Tam Coc, you can book one here on Klook from only £4.75, or a private transfer like this one starts at £51 for up to three people.
YOU MIGHT ALSO LIKE: The ultimate travel guide for 3 days in Dubai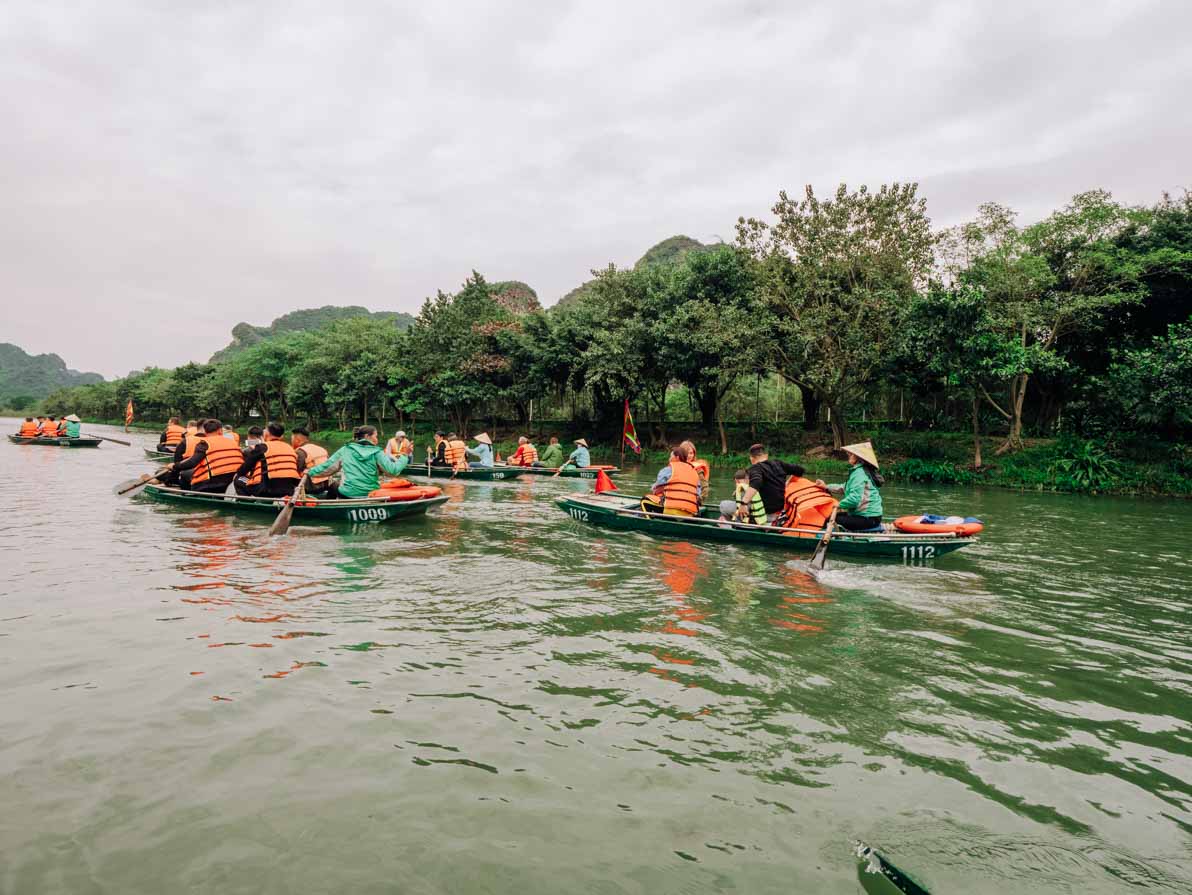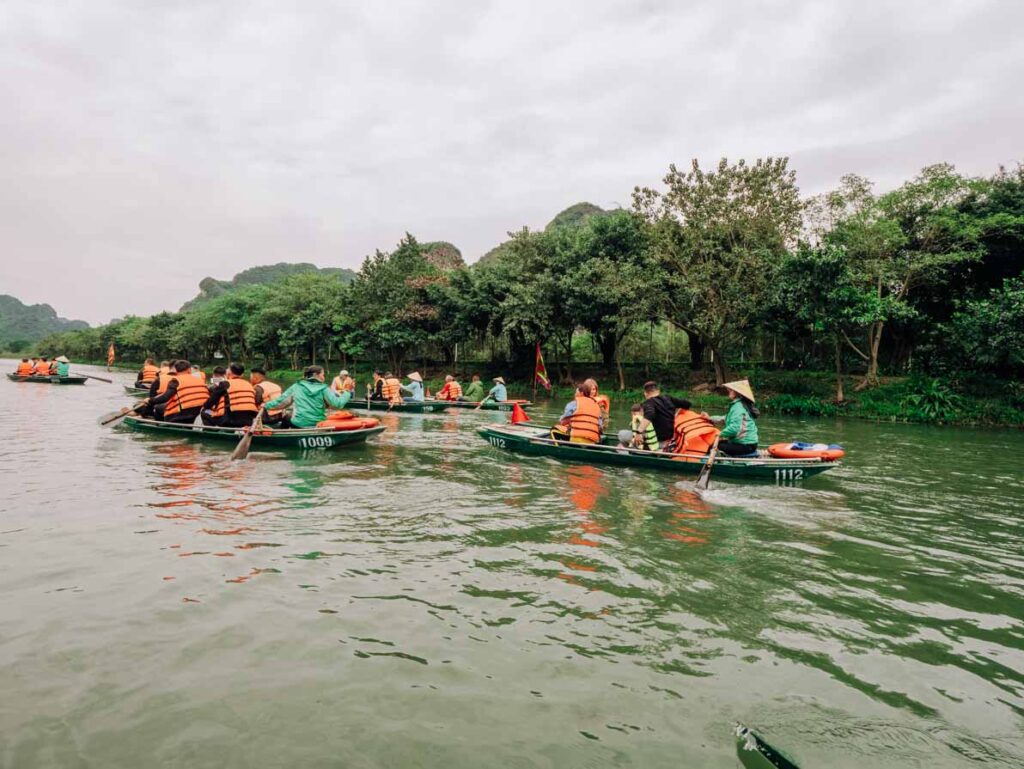 How to get around Tam Coc
Grab is available in the Ninh Binh province so you'll be able to book motorbikes and cars on that, or you can flag a taxi on the street, rent a bicycle, hire a scooter or book a motorbike to drive you around.
Most hostels and hotels have bike rental available (or some even have them for free) and they can easily help you find a motorbike for rent or a motorbike driver for the day. The father at my homestay took me around on his bike for six hours and charged me 300,000VND as a ballpark price, I probably could've got it lower but I didn't want to barter with him as it was a brilliant trip!
Things to do in Tam Coc
A boat trip around Trang An. Tam Coc has its own boat trips but Trang An is better organised, and the Tam Coc boats are known for being quite scammy. The views are STUNNING, one of my Vietnam highlights.
Hike up Mua Caves to the dragon on the rocks
Visit Bich Dong Pagoda
Get a guided tour around Hoa Lu Ancient Capital
Wander around the Bai Dinh temple complex
Jump on a bike and explore the ricefields
Where to stay in Tam Coc
I split my three days in Tam Coc between a lush resort and a homestay, which is one of my favourite ways to travel! Your money goes further, and you get to experience a bit of luxury in one place and a cheap but comfortable stay in the other.
My first night in Tam Coc I spent at the absolutely incredible Tam Coc Garden Resort. This is the type of place that would cost hundreds of pounds a night in other countries, but prices start at only £115 ($230 NZD) a night. It's an authentic Vietnamese experience taken to the next level with an incredible location in the middle of the rice paddies, excellent staff, a brilliant food menu and gorgeous rooms and facilities. One of my all-time faves!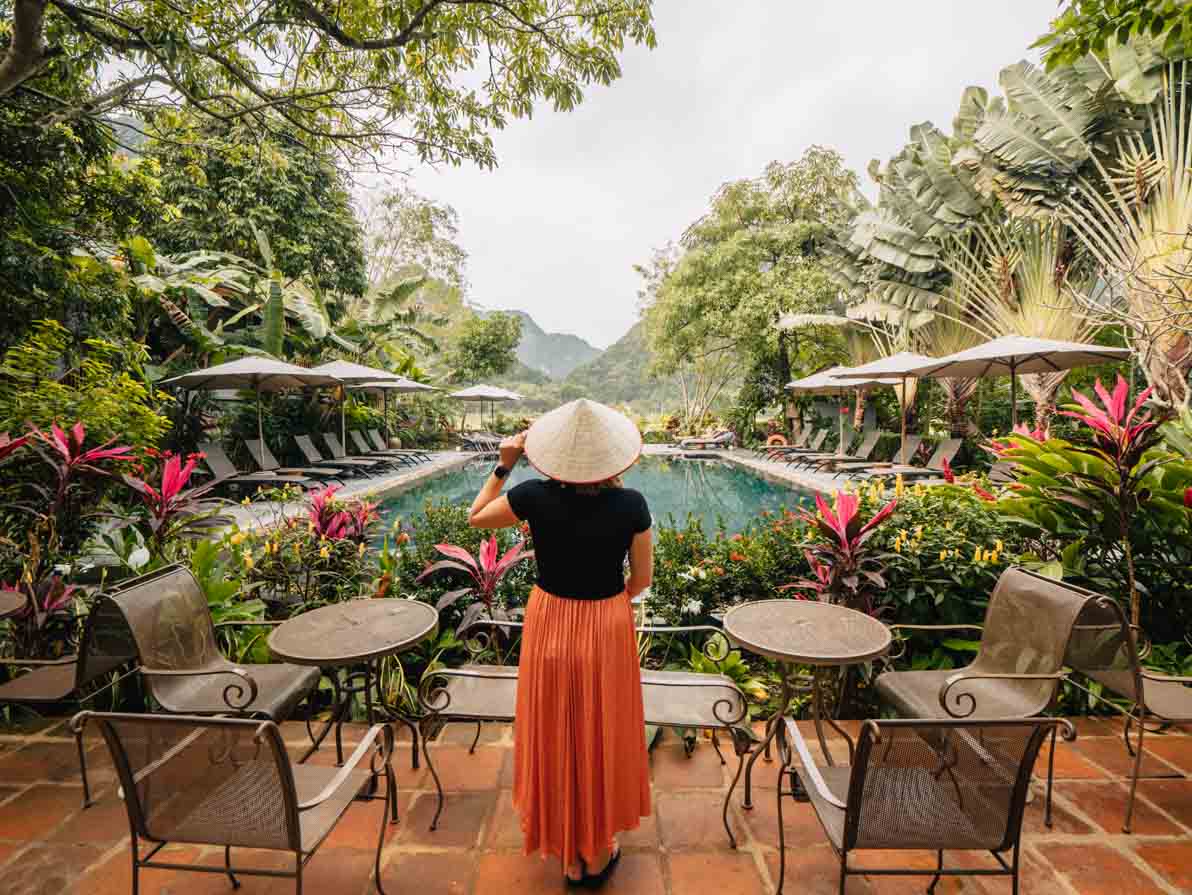 I spent my second night at Phi Hung's Unique Homestay, run by a beautiful local family right in the middle of Tam Coc town. I paid £10 ($20 NZD) for a double room and it was ideal for a cheap night.
---
Day 8: Hue
About Hue
Hue is a hot spot for Imperial Vietnamese architecture and history, and was one of the country's royal capitals in the 19th and 20th centuries.
Unfortunately my full day in Hue was totally rained out so I didn't have the chance to see much, but I've heard rave reviews from history buffs.
How to get from Ninh Binh to Hue
The best way to get from Ninh Binh to Hue is the night train. There are two night train options and they take between 11.5 and 12.5 hours.
The Reunification Express Trains are the cheapest option, with hard seats starting from £22, soft seats from £26 or you can get a lie-down bed from £33. These trains are quite basic and have lower ratings so don't expect anything fancy, you can book online here.
I chose to go with Lotus Train, the deluxe option for the Ninh Binh to Hue night train. We left at 10.20pm and arrived in Hue at 9.30am, and my comfy bed in a 4-berth cabin costs £47 and includes a breakfast pack.
You can book Lotus Train tickets online here, or you can get 20% off your ticket if you book direct with them on WhatsApp at +84868060269 and tell them the promocode FINDINGALEXX.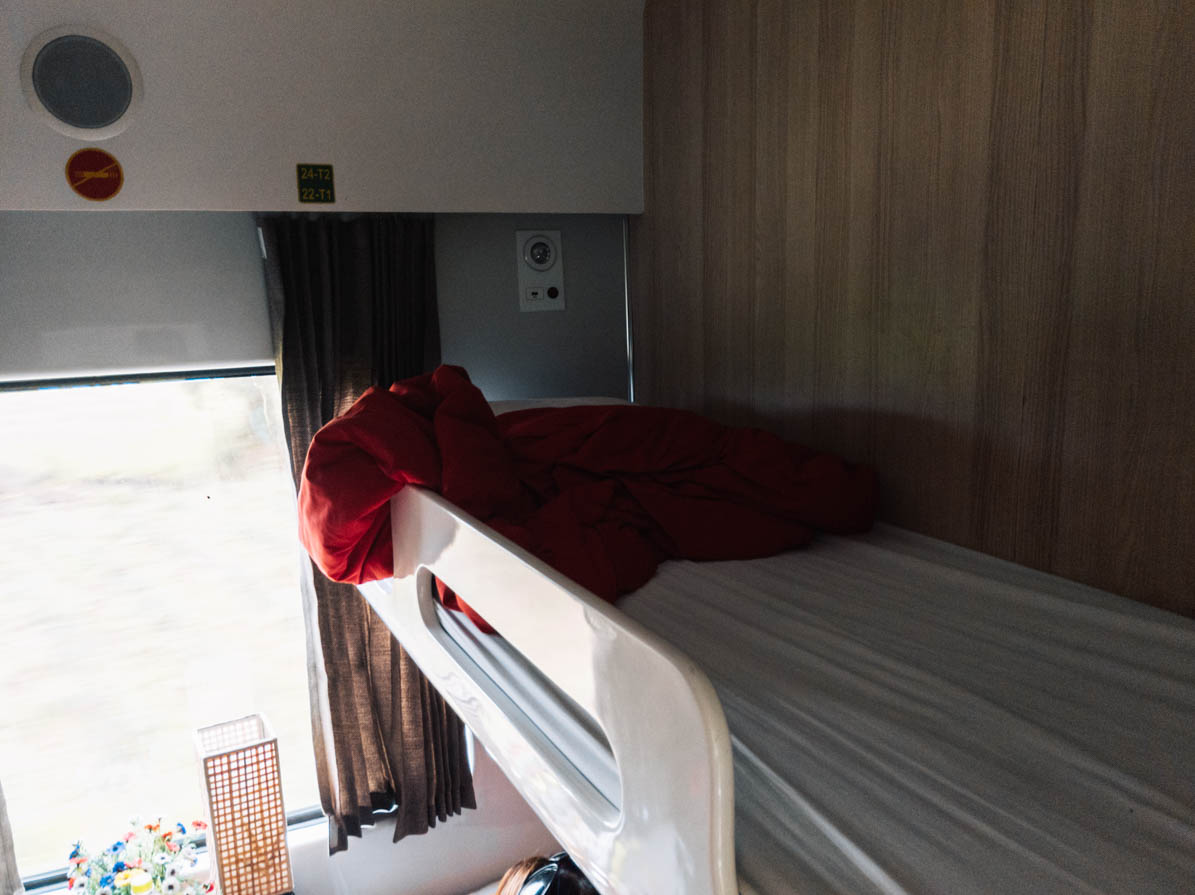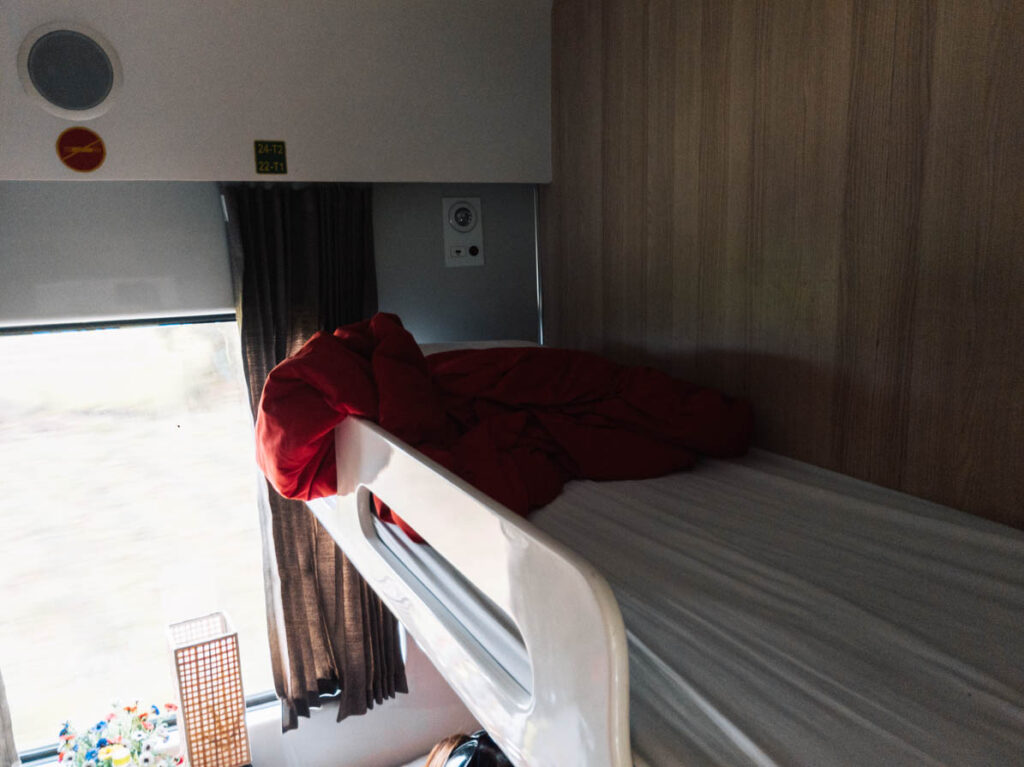 Things to do in Hue
Where to stay in Hue
Sahi Homestay Retreat is one of the nicest homestays I've ever visited. It's only a few months old (as of writing in March 2020), the design is minimalistic and almost Scandinavian, there's a pool and the food at the homestay is all vegetarian and healthy. It felt like a mix between Denmark and Bali!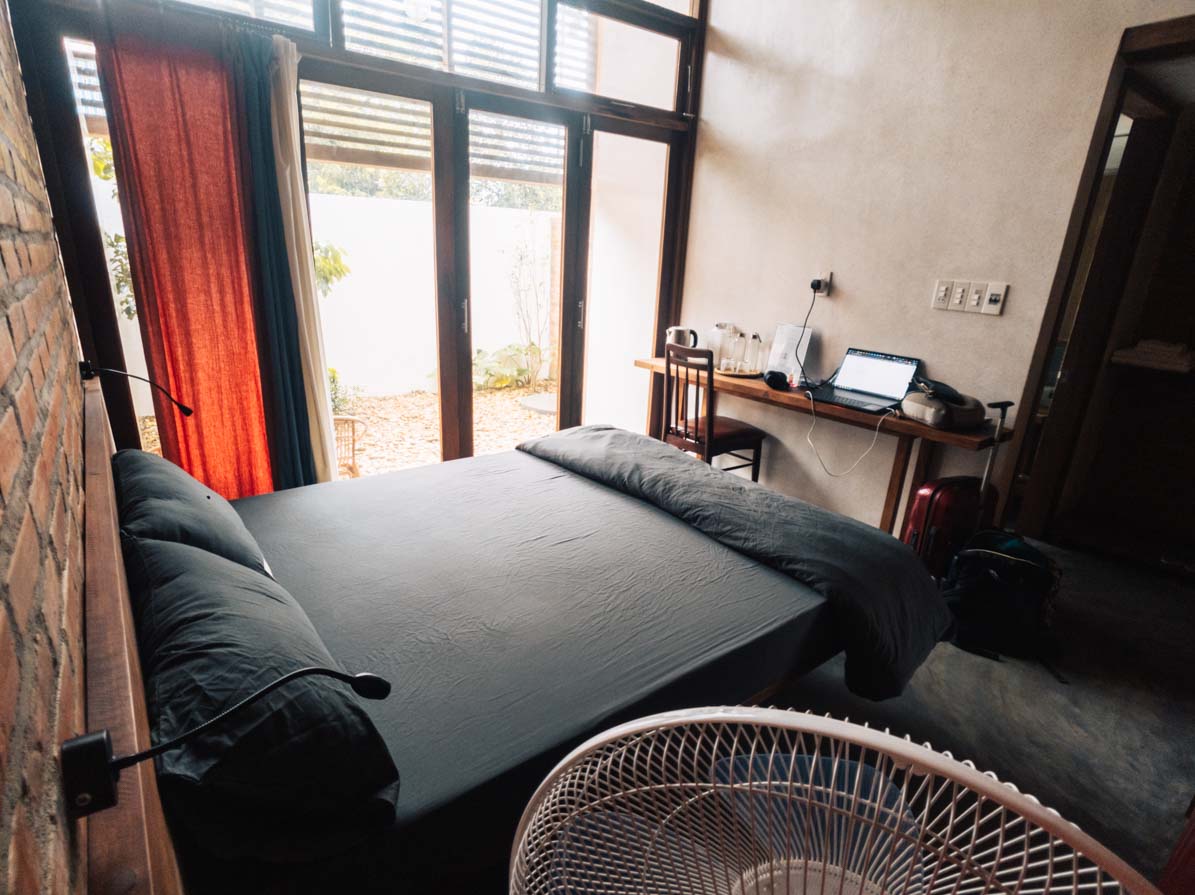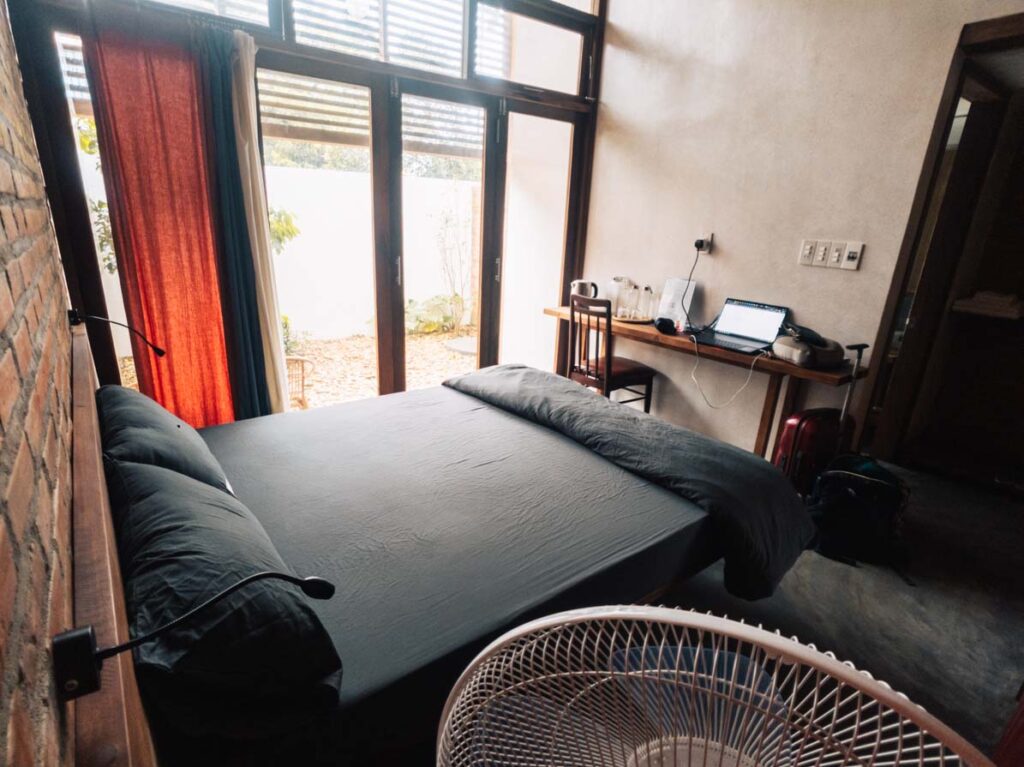 There are hostel dorms available from £6 per night or private rooms from around £25 a night.
For a super social hostel check out Freedom Hostel, and for a slightly fancier option, Hotel La Perle has excellent reviews.
---
Day 9: Hai Van Pass from Hue to Hoi An
The Hai Van Pass is a 20km highway that winds through the mountains between Hue and Da Nang, offering unparalleled views down the valleys and across the ocean.
To make the journey over Hai Van Pass you can get a private transfer, a jeep tour or a motorcycle.
I opted for a jeep tour in a Soviet-era army jeep with the legends at Roadtrippers. The $65USD price included hotel pick-up and drop-off and a full 6 hour road trip with photo stops, a local lunch, an English-speaking guide and drinking water.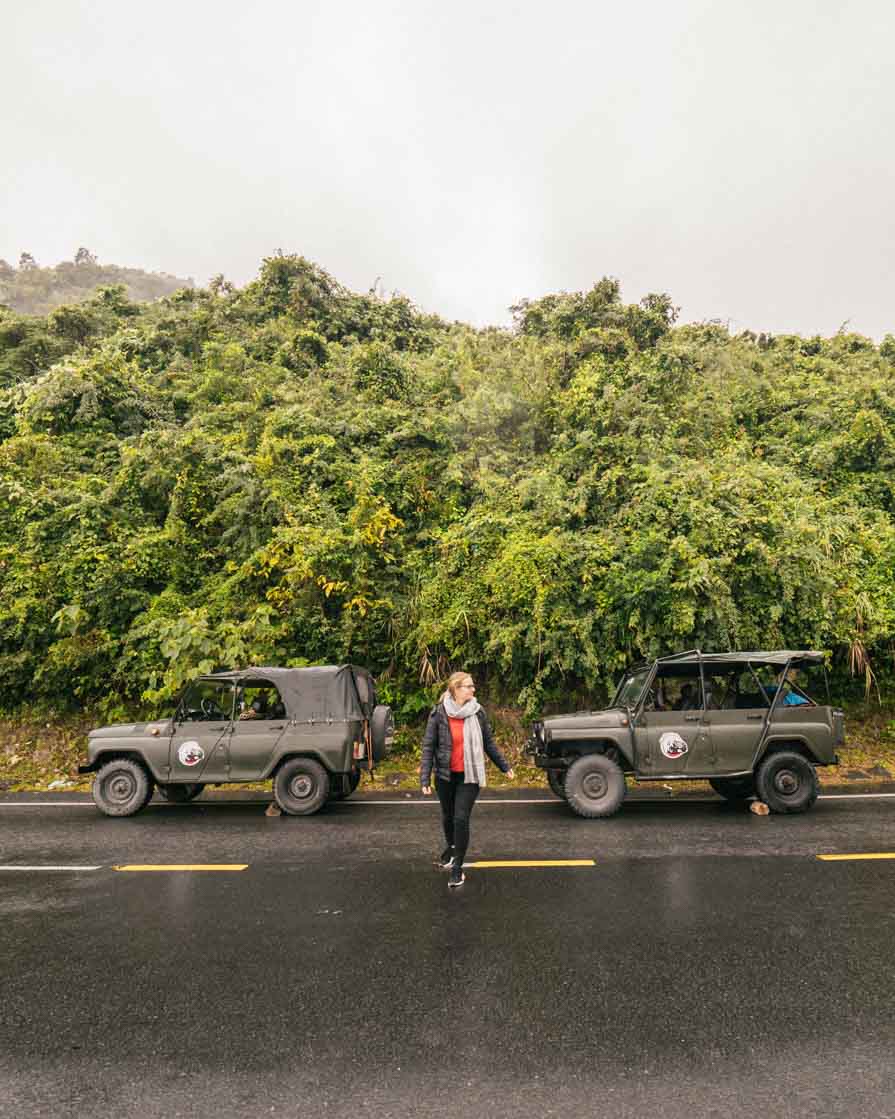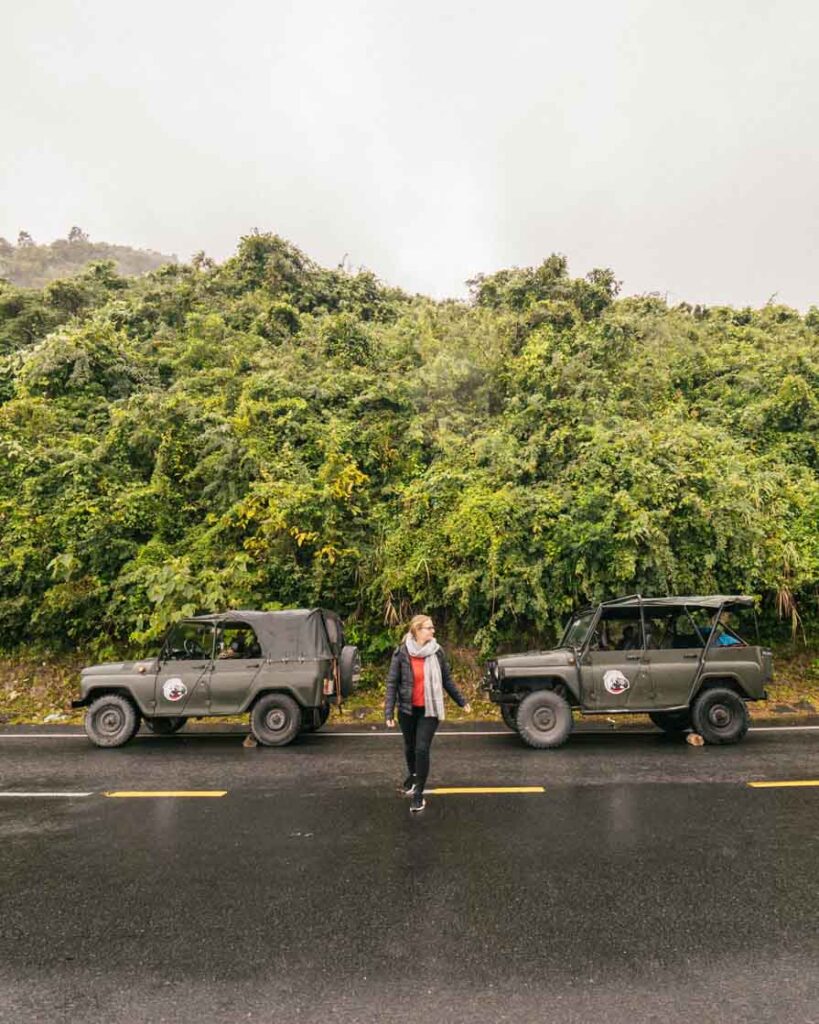 Unfortunately the February weather wasn't ideal for us and we had a lot of rain, fog and mist, but we were #blessed with sun rays peeking through the clouds right as we reached the descent down Hai Van Pass.
The day was a lot of fun, our tour guide was hilarious, and I'll absolutely do it again in better weather conditions to see it in all its glory.
YOU MIGHT ALSO LIKE: The Ultimate Guide to Solo Female Travel
Traversing the Hai Van Pass by motorbike is another traveller favourite, but please be careful if this is what you choose. The pass is very windy and it's full of (other) tourists who might not be experienced riders, as well as local trucks. Rent a bike or book a motorbike tour with a reputable company, and make sure your travel insurance covers you for whatever size bike you choose.
There's also a train available but the train only gets about 10 minutes' worth of views of the pass and there are obviously no photo stops. But it's still better than a bus if you're on a budget!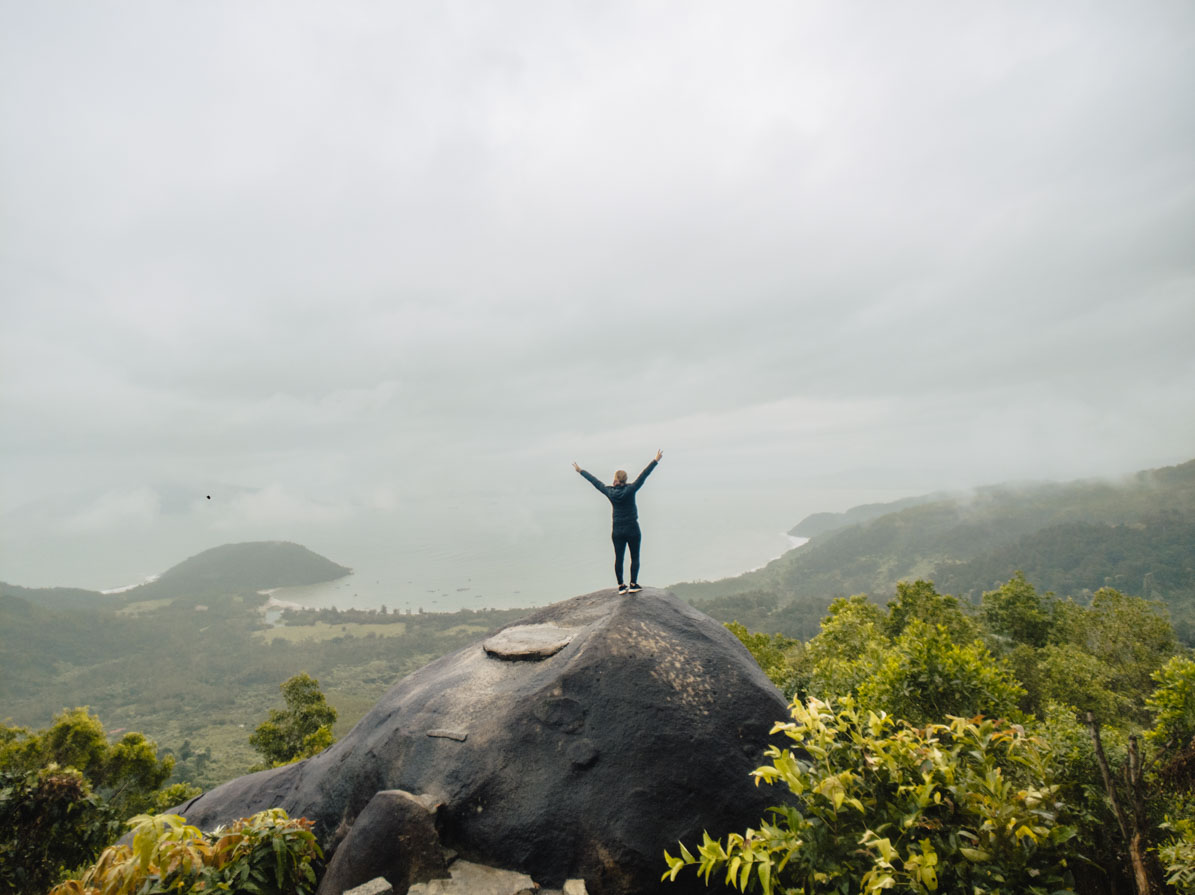 ---
Days 10-12: Hoi An
About Hoi An
Ahhh one of my favourite places in the world! I'm already planning my return to this charming little town, for much longer next time. Hoi An is my number one must do for any 3 week Vietnam itinerary, you just can't miss it.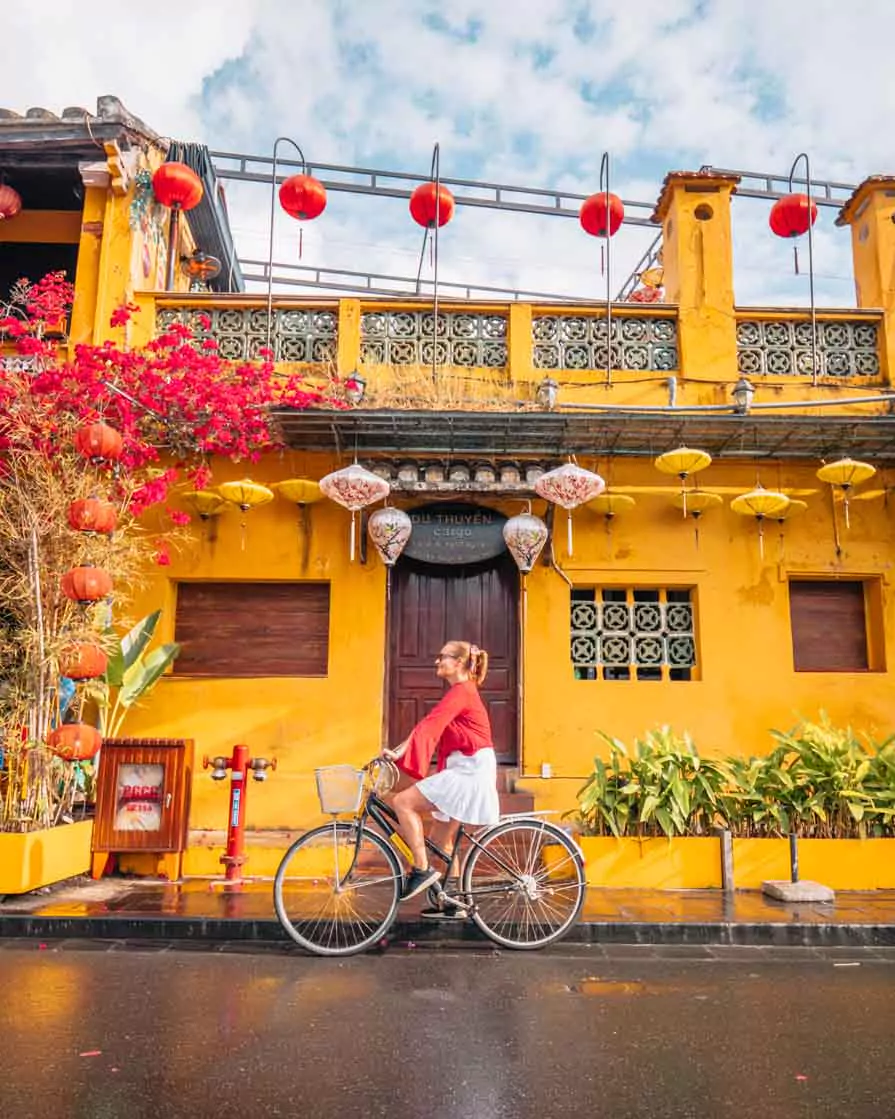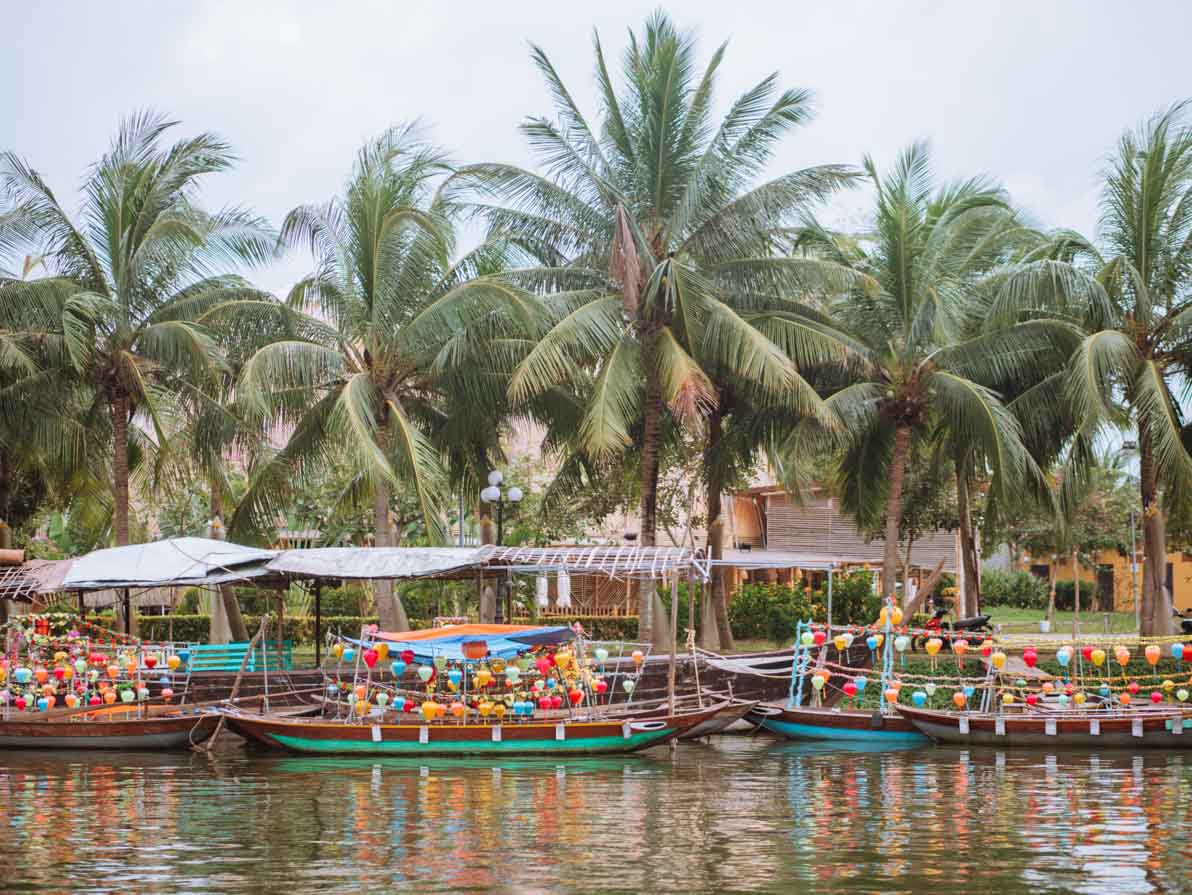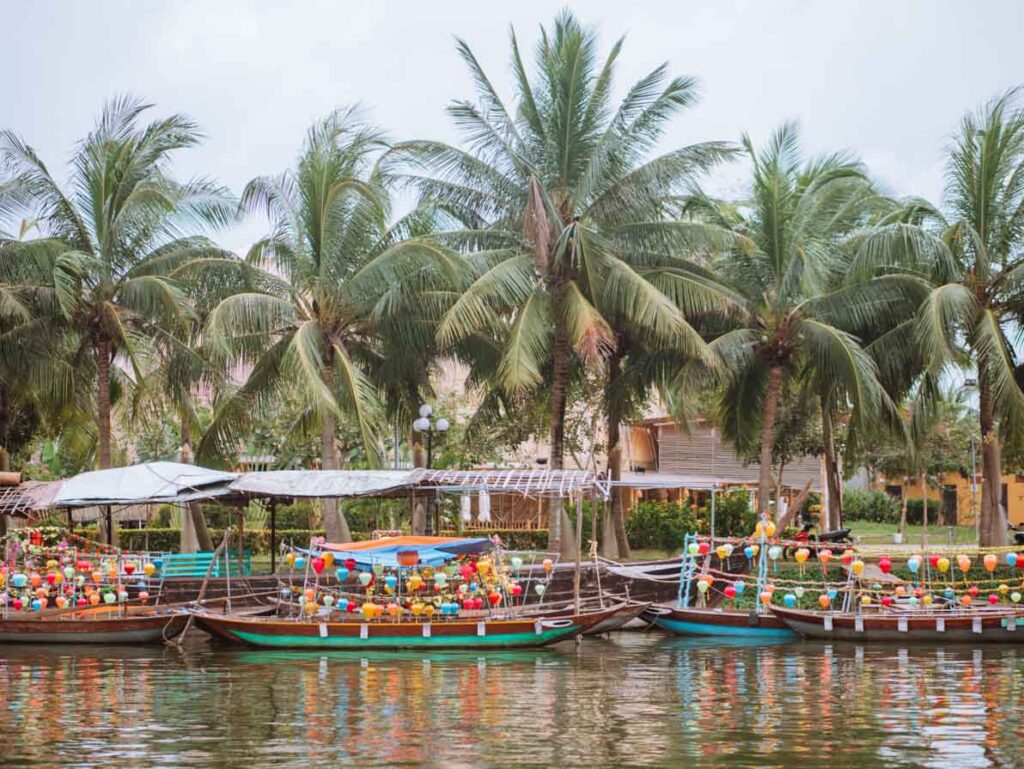 Hoi An's Ancient Town is a UNESCO World Heritage Site, and it's home to colourful buildings from various different eras. There are Chinese temples, Japaneses houses, French restaurants and plenty of local Vietnamese influence too. Outside of the Old Town it's just a short trip to lush rice paddies or golden beaches.
And if you need to spruce up your suitcase, there's no better place to do it because Hoi An is the tailoring capital of the world!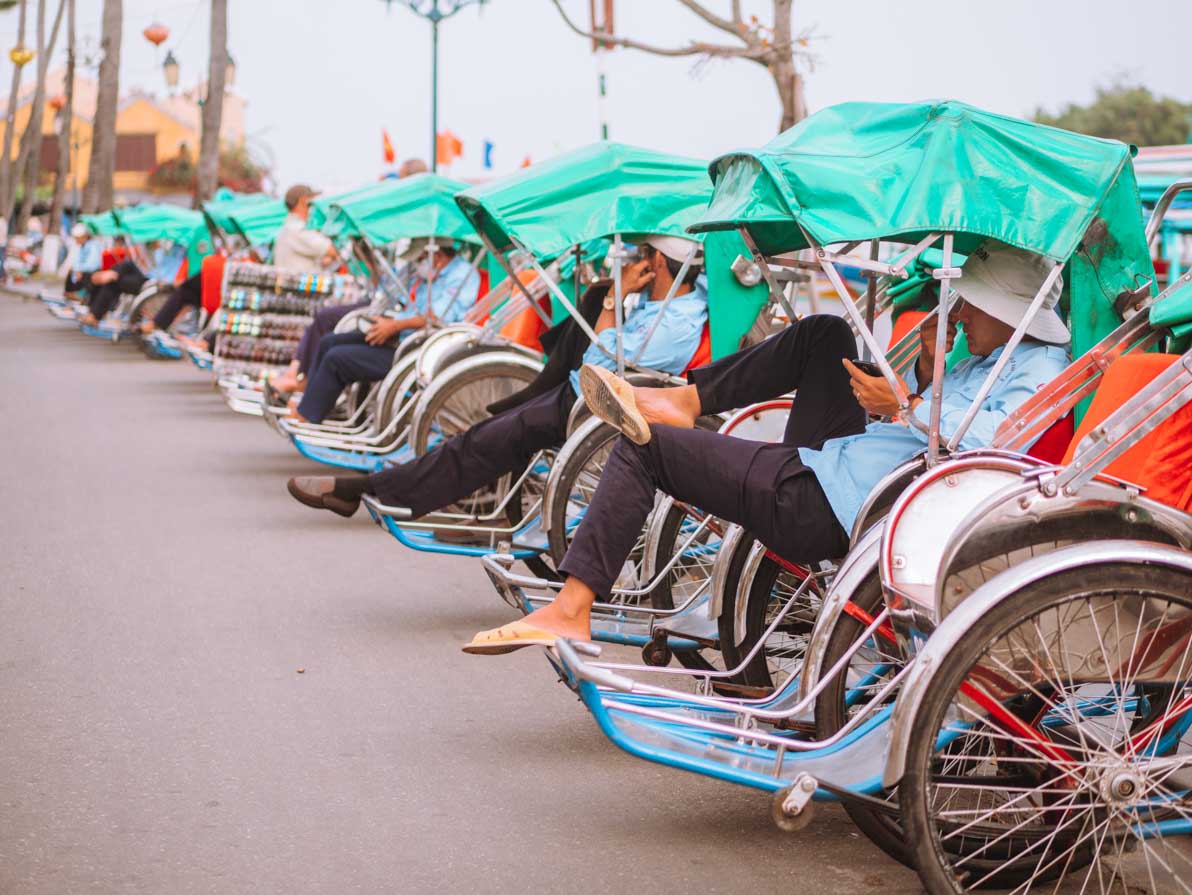 Things to do in Hoi An
Get an outfit (or five) fully tailored to you! I went in wanting one pair of black shorts and left Hoi An with seven items. I had a brilliant experience with Elisa at Yaly Couture's Nguyen Thai Hoc branch (they have three shops) where I bought five items for $130USD, and I also tried a cheaper option in the Cloth Market, Mrs An at Shop 90, who created two beautiful (but lower quality) pieces for $20USD each.
Rent a bike and explore on two wheels
See the incredible Hoi An Lantern Festival in the flesh, which happens every full moon
Take a quick cruise down the river at night to see the city lit up by lanterns
Make your own lantern to take home
Learn to cook local dishes with a cooking class, I did this one and it includes a bamboo boat ride too!
Do a photography tour around the most interesting parts of the city
Chill out on An Bang beach
Head to the Cham Islands for a day or overnight trip
Eat everything. I recommend Morning Glory, Cargo Club for brunch, Bahn Mi Phuong, Ba Dam Vegetarian,
Visit the Central Market at sunrise to get a glimpse of local Hoi An residents going about their morning routine
Try street food and buy your own lantern souvenir at the Night Market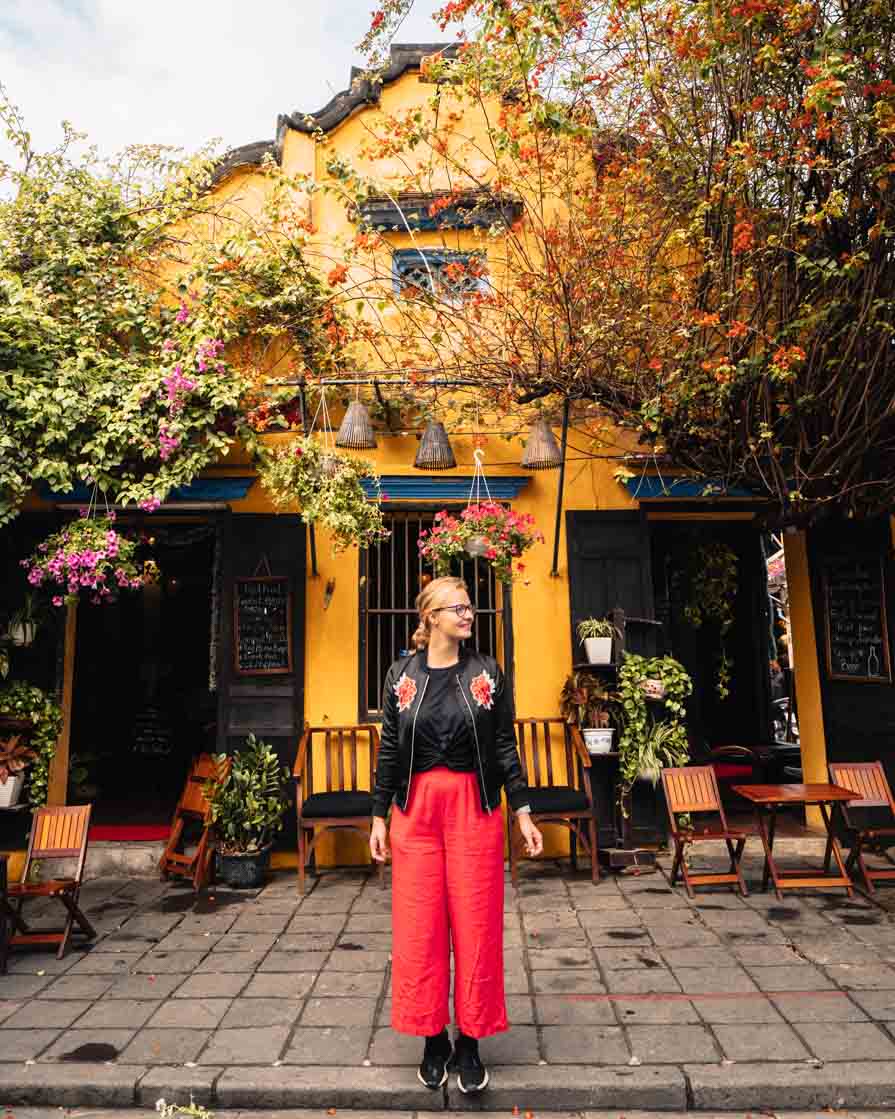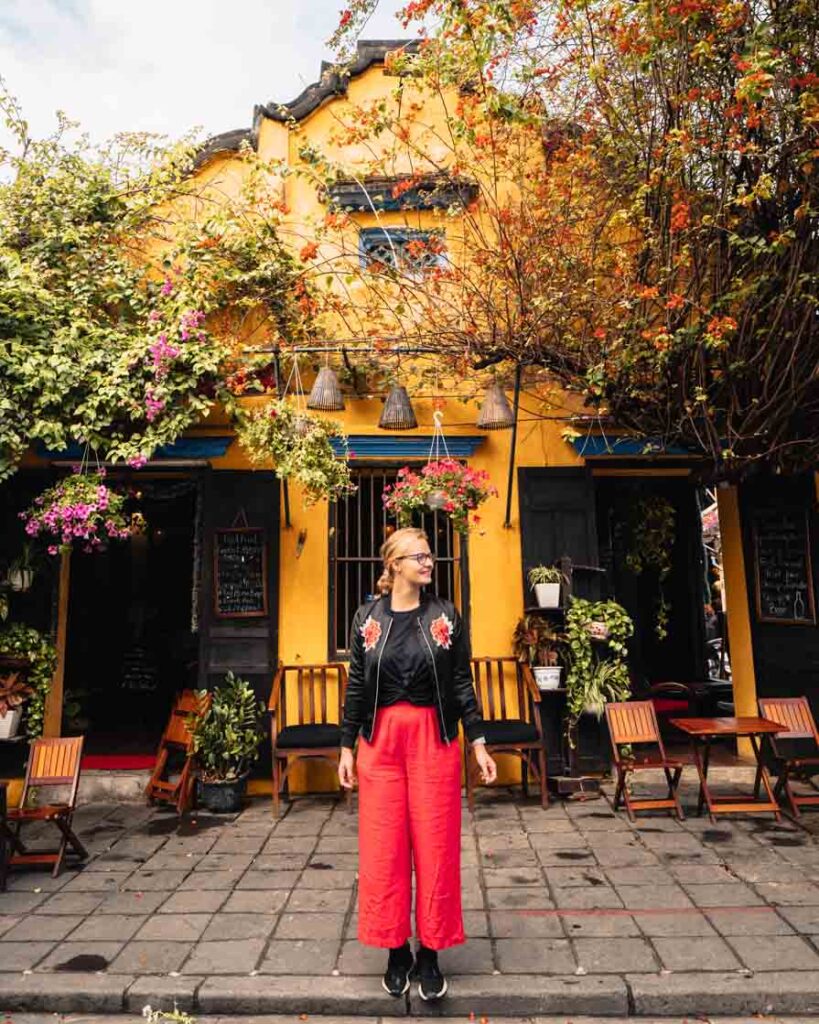 Where to stay in Hoi An
I spent my time in Hoi An staying at the Triple Riverside Villa, a new hotel right on Thu Bon River boasting comfy rooms, an outdoor pool and tropical vibes. There's free bikes for guests so you can explore the city while getting some exercise, and the pool is a god-send after cycling around in Hoi An's infamous humidity.
Prices start from only £18 a night for a double room during low season.
READ MORE: A full review of TRIPLE Riverside Villa in Hoi An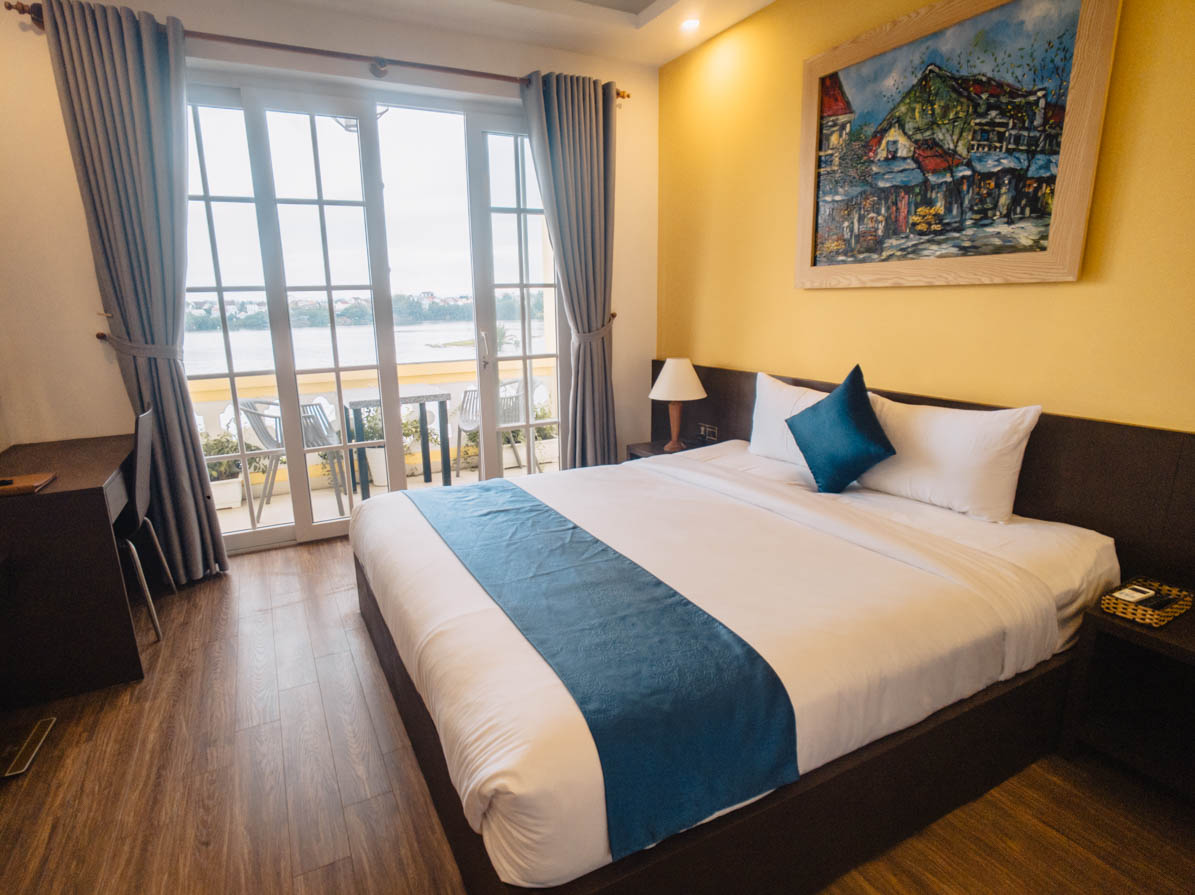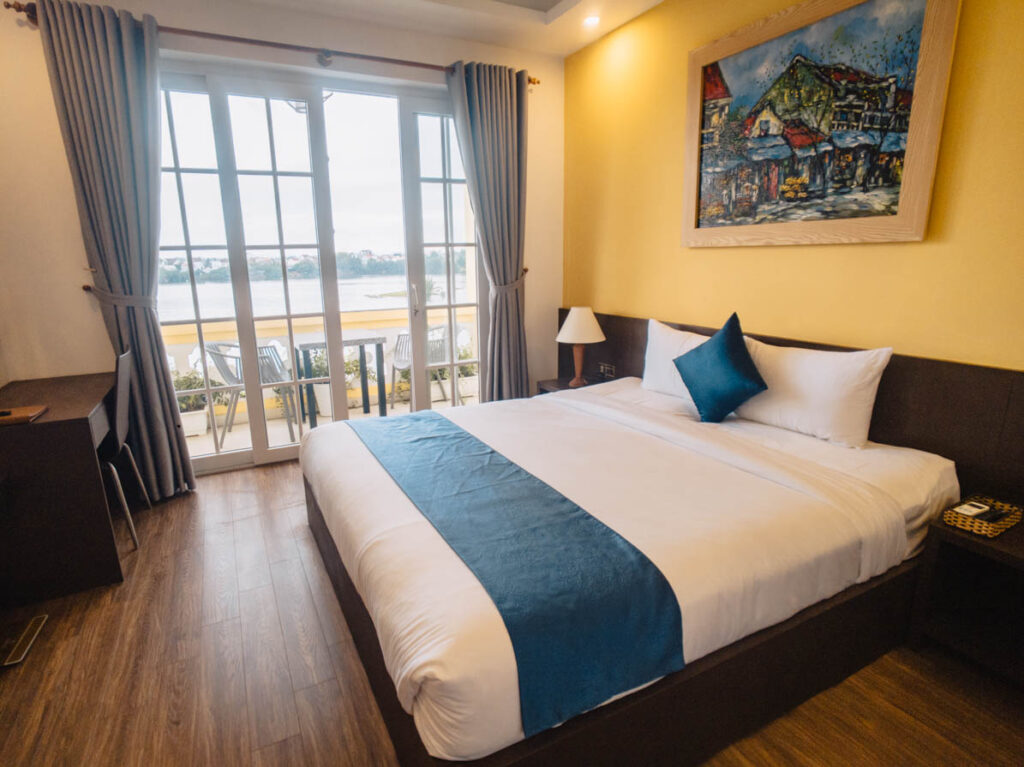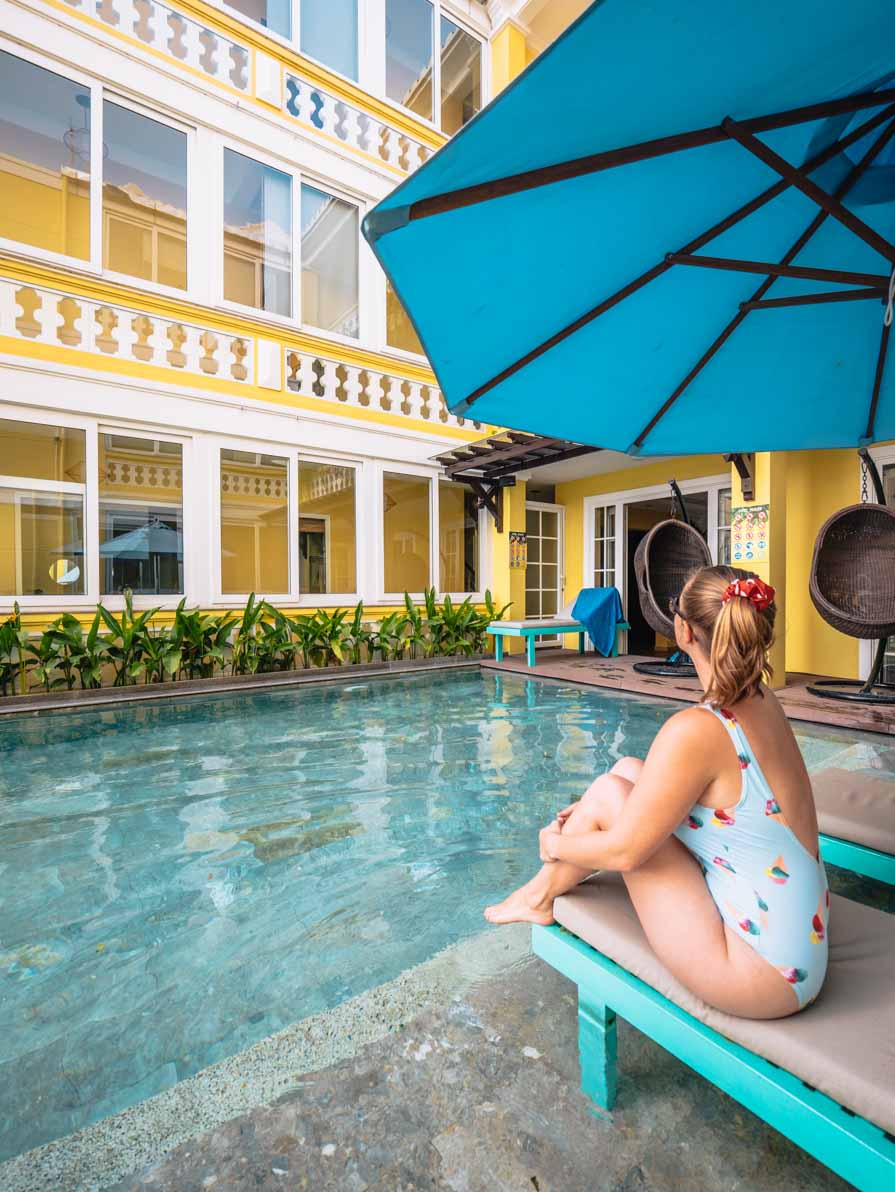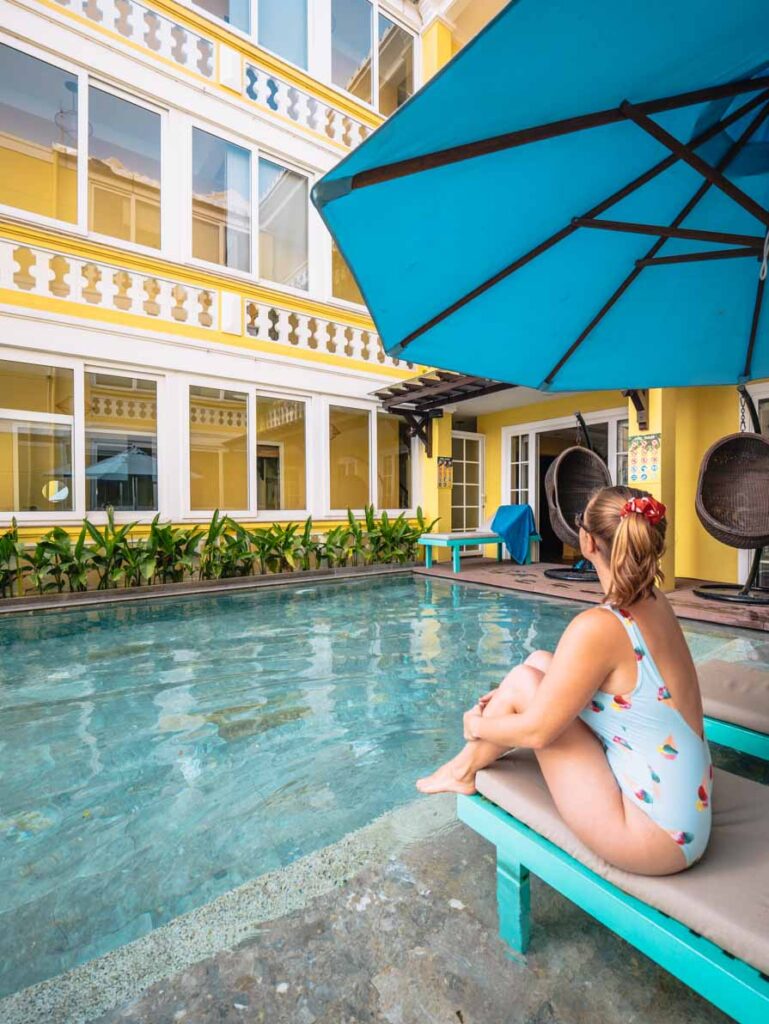 ---
Day 13: Ba Na Hills
About Ba Na Hills
This is a big call but I'm making it anyway: Sun World Ba Na Hills was one of the strangest places I've ever been. It's an amusement park/hotel complex/tourist attraction… 1500m above sea level… themed like a French village… SUPER weird.
You may have seen photos of Ba Na Hills' famous Golden Hands Bridge doing the rounds on Instagram recently, which is what catapulted Sun World onto bucket lists of travellers all over the globe.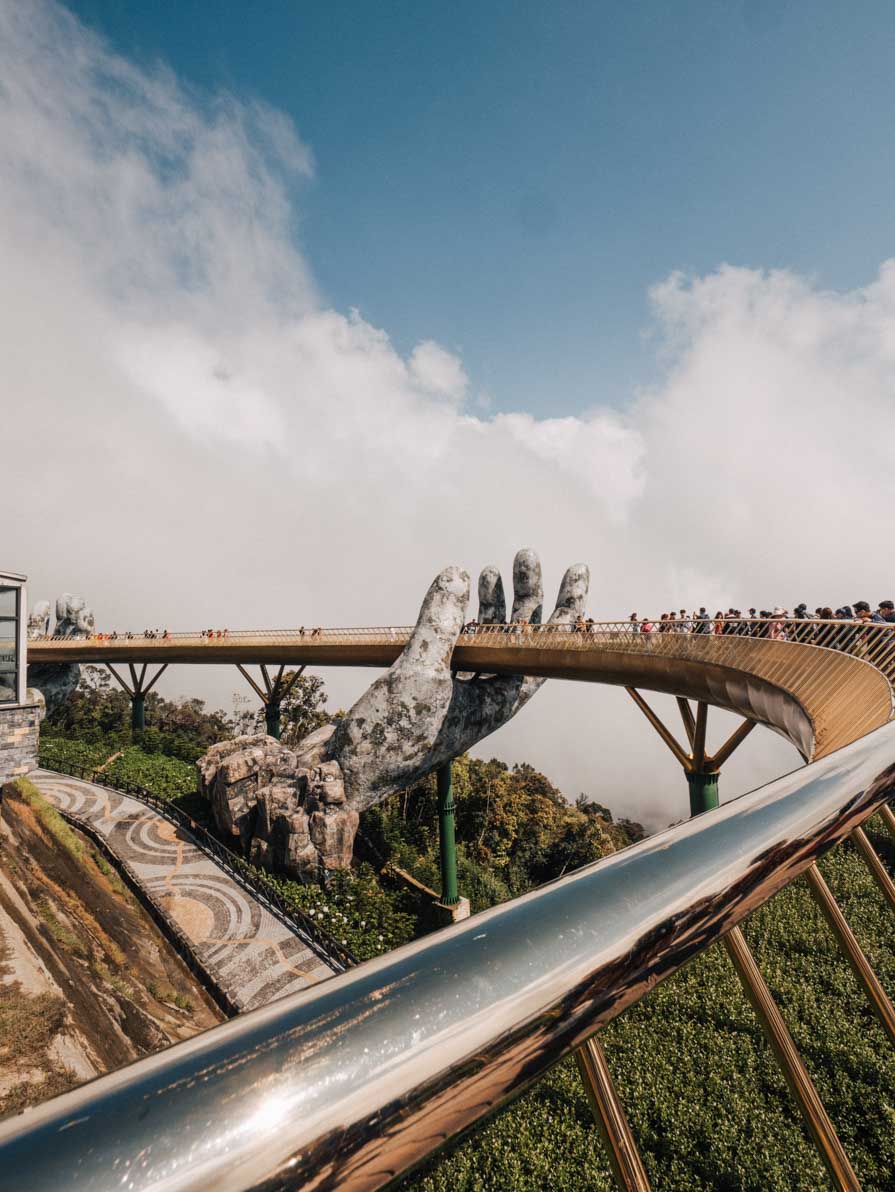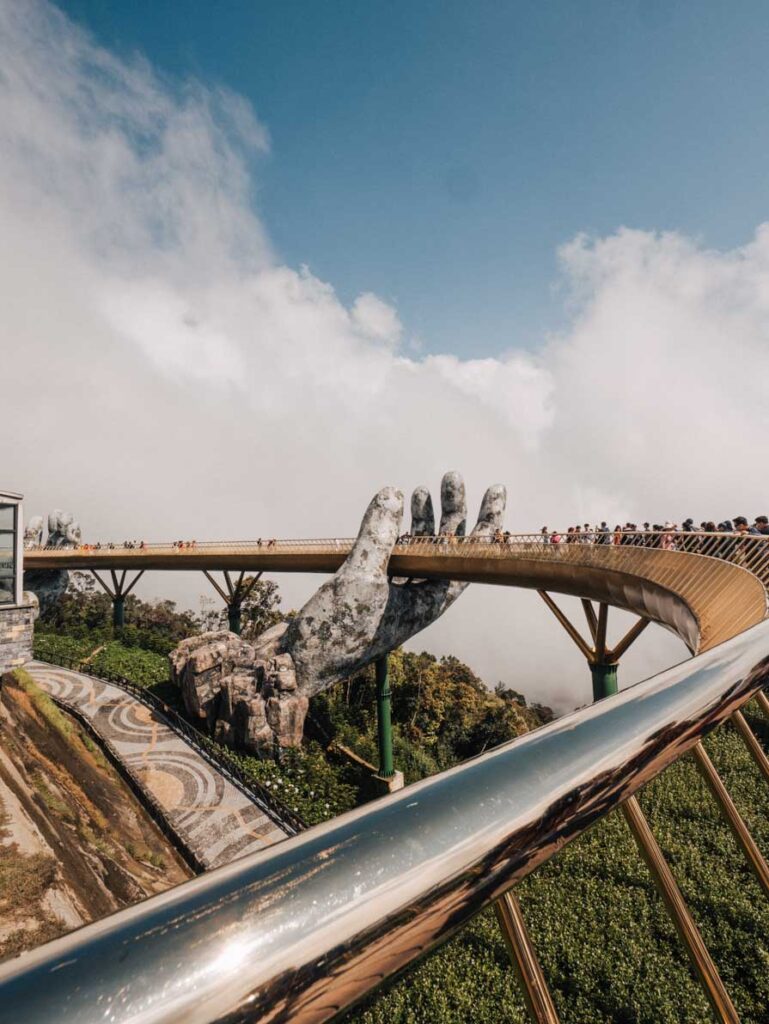 The theme park was already a hit with local and other Asian tourists, particularly South Koreans judging by the Korean signs and restaurant menus, but the bridge going viral has meant a sharp increase of other internationals coming to Sun World for the 'Gram.
What is there to do at Ba Na Hills?
Aside from the bridge (which is actually really impressive and worth a visit), there's an indoor fun park with arcade games and a few carnival-esque rides included in your ticket, two alpine coasters with next level views, a few colourful pagodas, insane views of the rugged mountain range, and architecture that could literally make you think you were strolling down cobble-stoned alleys in 19th century France.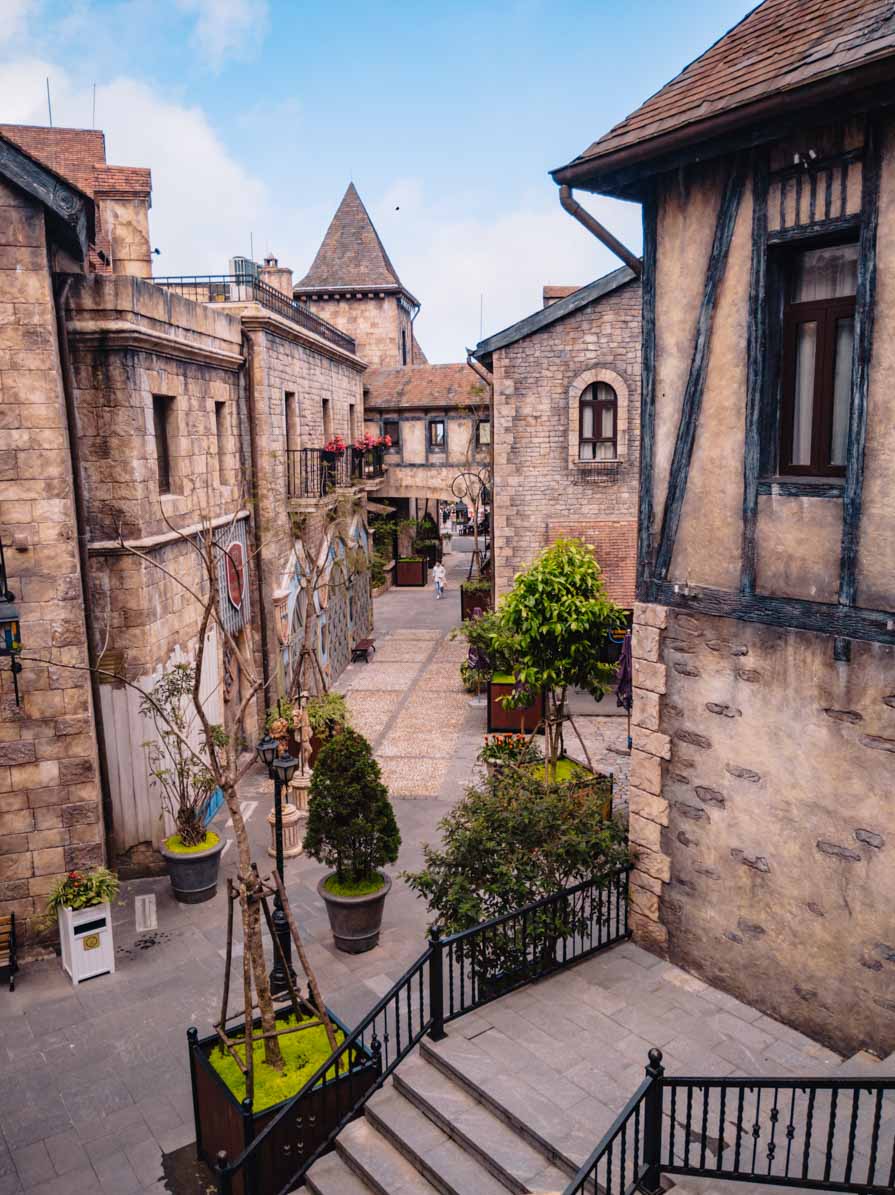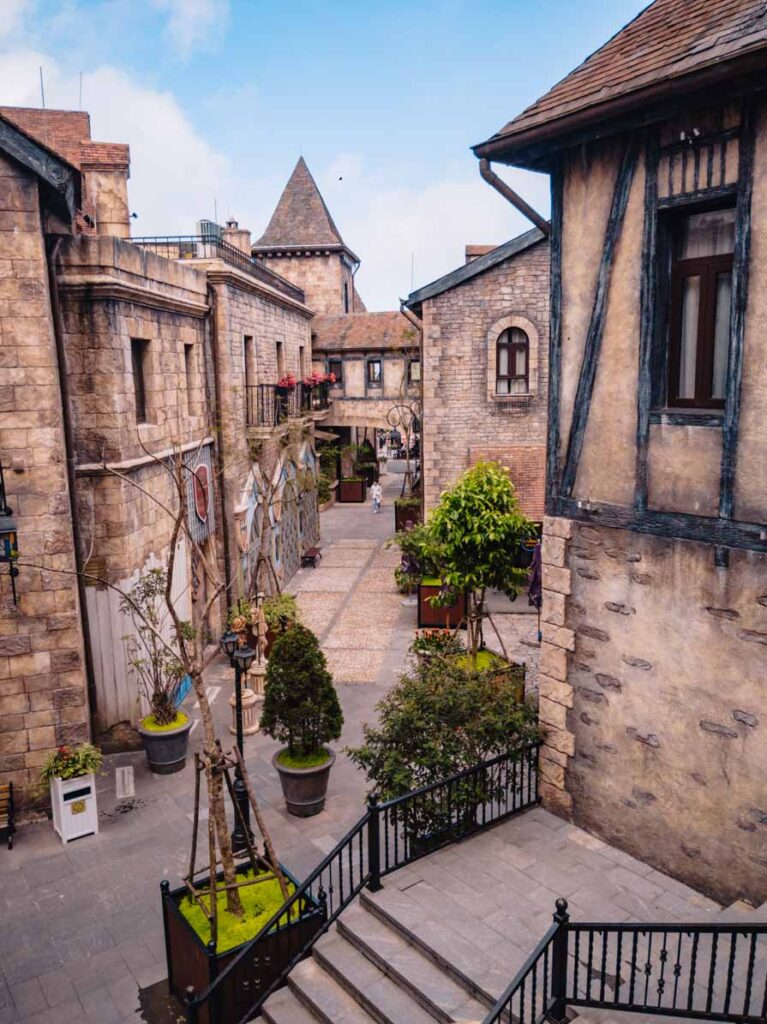 Is Ba Na Hills worth a visit?
It's definitely a tourist attraction so if you hate crowds and gimmicks then this isn't the place for you, but if you're a fan of rides or love soaking up amazing views, then you'll probably love it. I unexpectedly had a great time!
Just note that at 1500m above sea level, the weather is significantly colder than on ground. I went at the end of February and was wearing jeans, a jumper and a puffer jacket, and wouldn't have minded having a scarf too.
How to get to Ba Na Hills
Ba Na Hills is an easy day trip from Da Nang (45 minute drive) or also doable from Hoi An (two hour drive). You can book transfers here or book tickets here.
There's free luggage storage available at the entrance to the park so you could do it on your way between Hoi An and Da Nang too.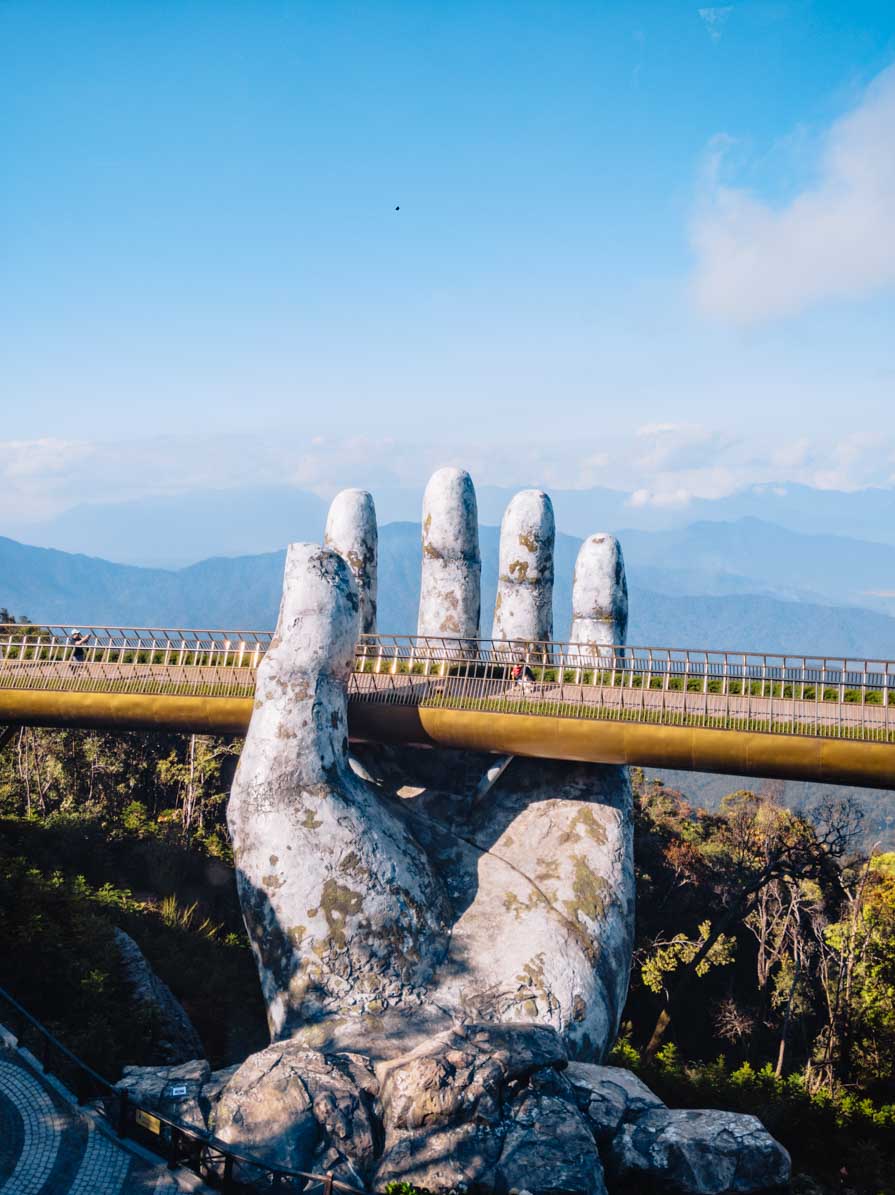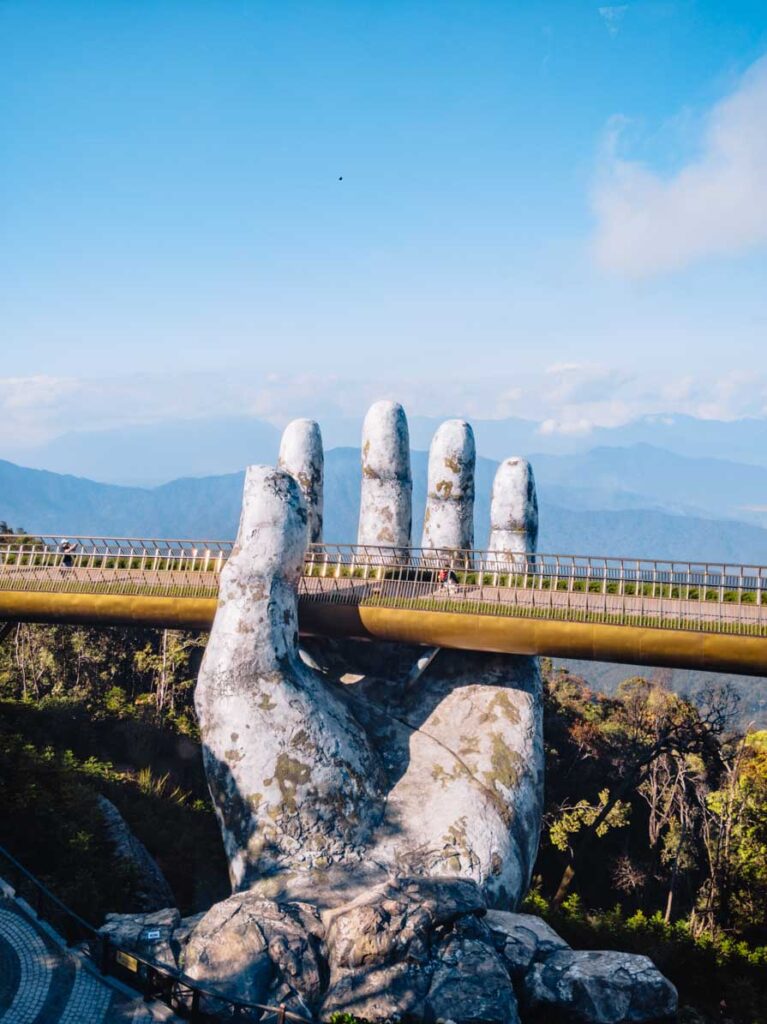 ---
Day 14: Da Nang
About Da Nang
Smack bang half-way down Vietnam's coast is Da Nang, an emerging city booming with recent foreign investment. While the charm and authenticity of other stops on this itinerary definitely overshadow the resort strips and neon-lit streets in Da Nang, there's still enough to do, see and eat to fill a day of exploring or relaxing.
Note: If you'd prefer to make the most of your time and skip Da Nang, you could take a day trip, book a flight for the evening after Ba Na Hills and head straight to Phu Quoc instead, or push the itinerary back a day and have an extra full day in Hoi An or somewhere up north.
Things to do in Da Nang
Where to stay in Da Nang
I spent my night in Da Nang at TRIPLE Apartments. They have two locations, I stayed at the Ngo Thi Sy apartment which was basic but spacious and everything you need for a comfy stay, and their Khue My Dong location looks super funky.
READ MORE: A full review of TRIPLE Apartments Da Nang
---
Days 15-17: Phu Quoc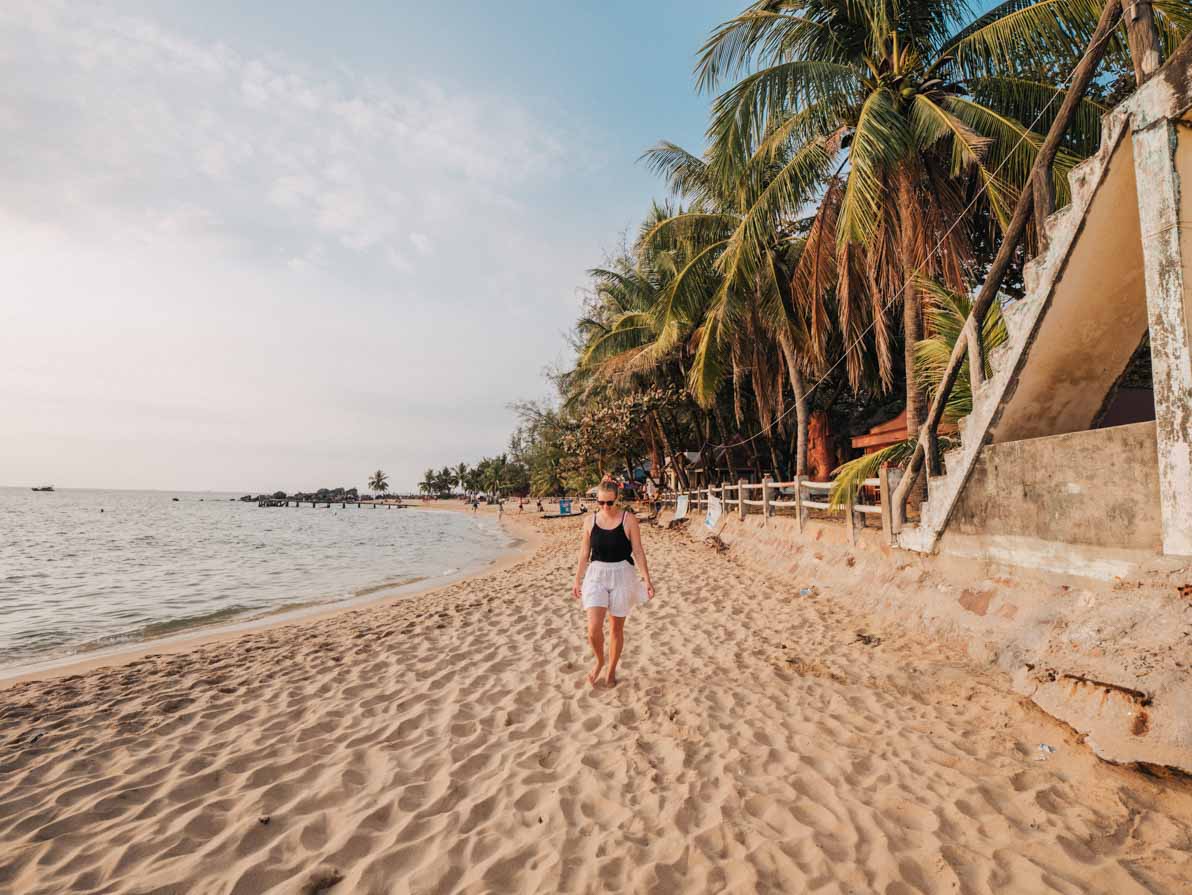 About Phu Quoc
Another place I'd never heard about before planning my own 3 week Vietnam itinerary, Phu Quoc island is actual paradise just off the bottom coast of the country. With beach bungalows, tropical jungle, white sand beaches and crystal clear water, you'd think that the prices would be massively inflated just like other island getaways, right? WRONG!
Phu Quoc is one of Asia's best-kept secrets, and it's a brilliant (and budget-friendly) alternative to Langkawi, Koh Samui or even the Maldives. This is a big call but I'm putting it out there: I reckon this idyllic island is the best value island on the planet.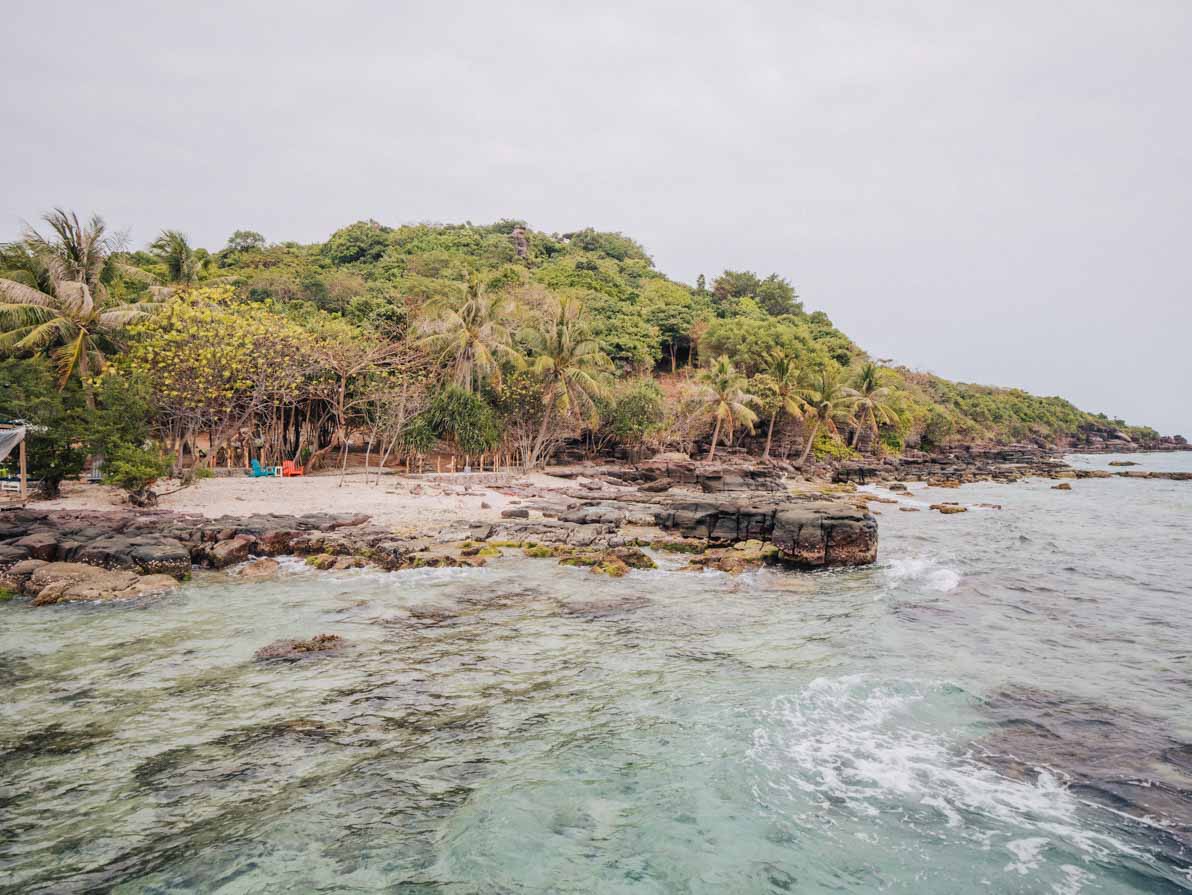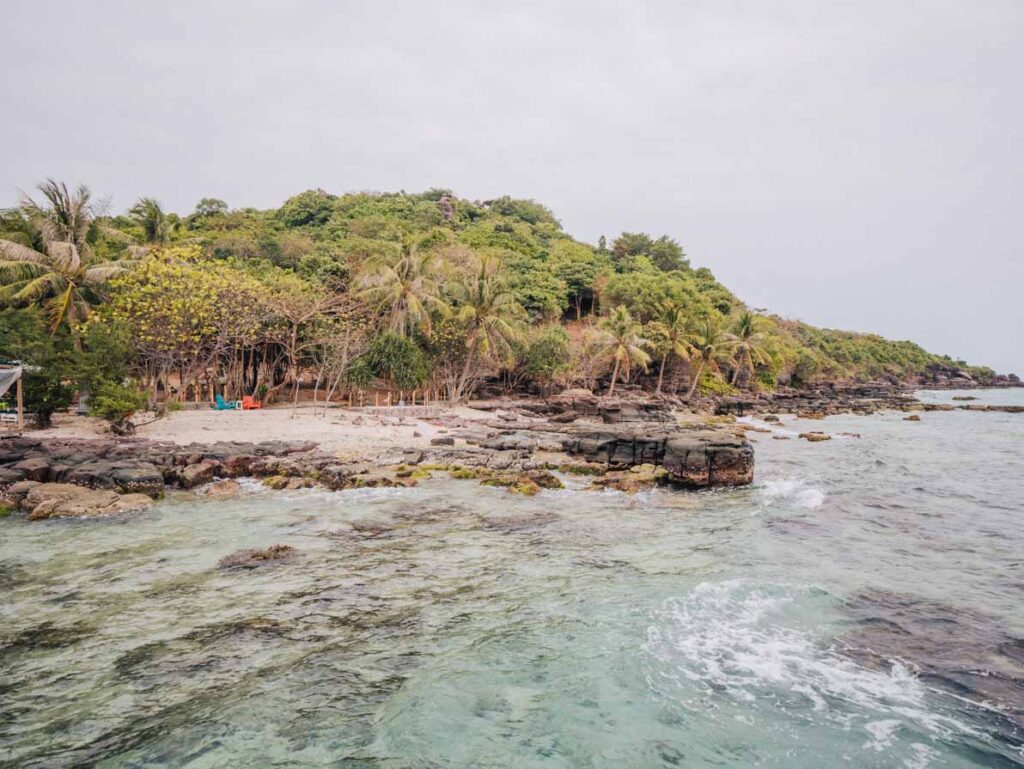 Things to do in Phu Quoc
Relaaaaaxxxx. You've had almost three crazy weeks of exploring this beautiful country, now this is the perfect time to slow down!
Go scuba diving
Take a day trip around the nearby An Thoi islands
Jump on the world's longest cable car
Spend a night in an overwater bungalow for a fraction of what you'd expect to pay
Visit the postcard-perfect Sao Beach
See (don't touch) hundreds of starfish at Starfish Beach
Hike through Phu Quoc National Park
Get a glimpse into the Vietnamese War with a trip to Phu Quoc Prison, where they held Northern Vietnamese soldiers
Taste test local cuisine at Dinh Cau Night Market
Take a tour through a pepper farm or fish sauce factory
Sip cocktails at Rory's Beach Bar
Visit Ham Ninh fishing village
Try cocktails tailored to your preferences at Bittersweet Cocktail Bar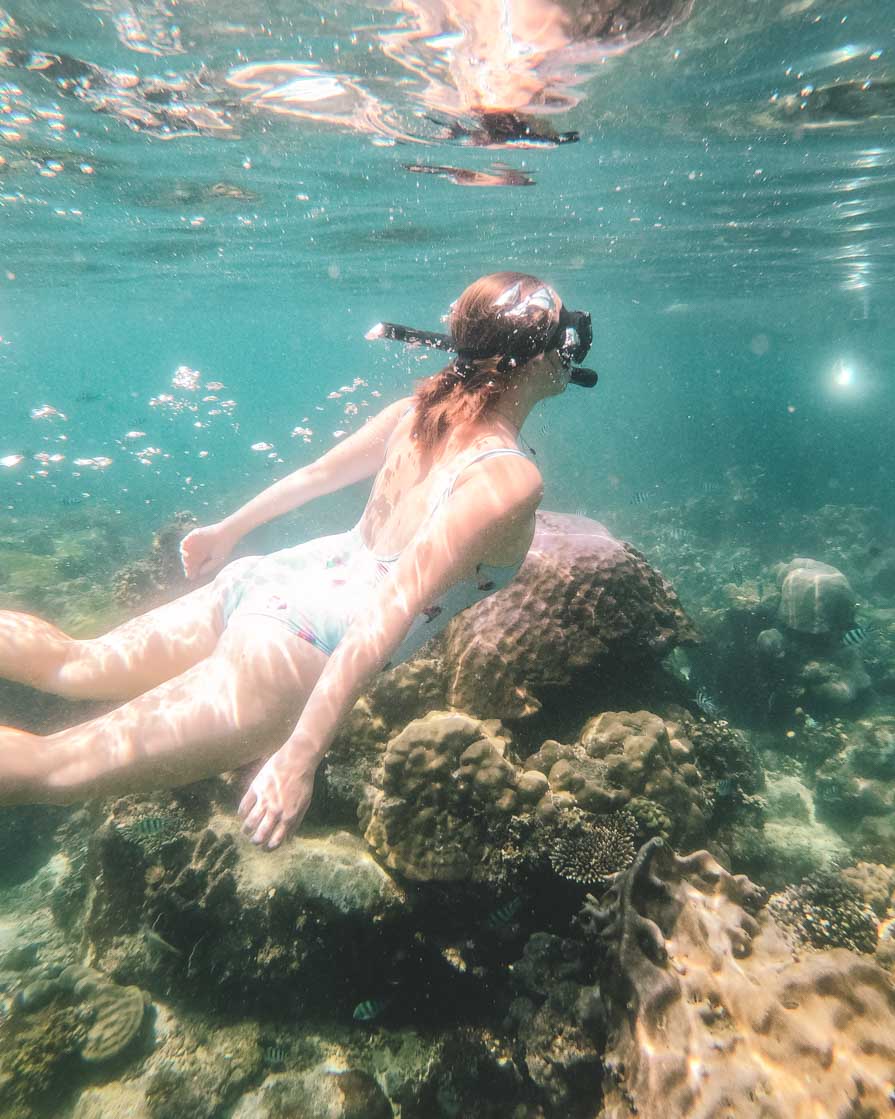 Where to stay in Phu Quoc
One of the reasons why I love Phu Quoc so much is because you get insane value for money.
If you're on a budget, I can't recommend anywhere more than Lana Land Homestay. I spent four days staying at Lana's and basically had to be dragged away when I left!
The homestay has dorm rooms plus private rooms with en suites, there are laundry and kitchen facilities, and it's a ten minute walk from the beach. Lana is super friendly and also holds family dinners and other social gatherings so it's perfect for solo travellers and budget backpackers.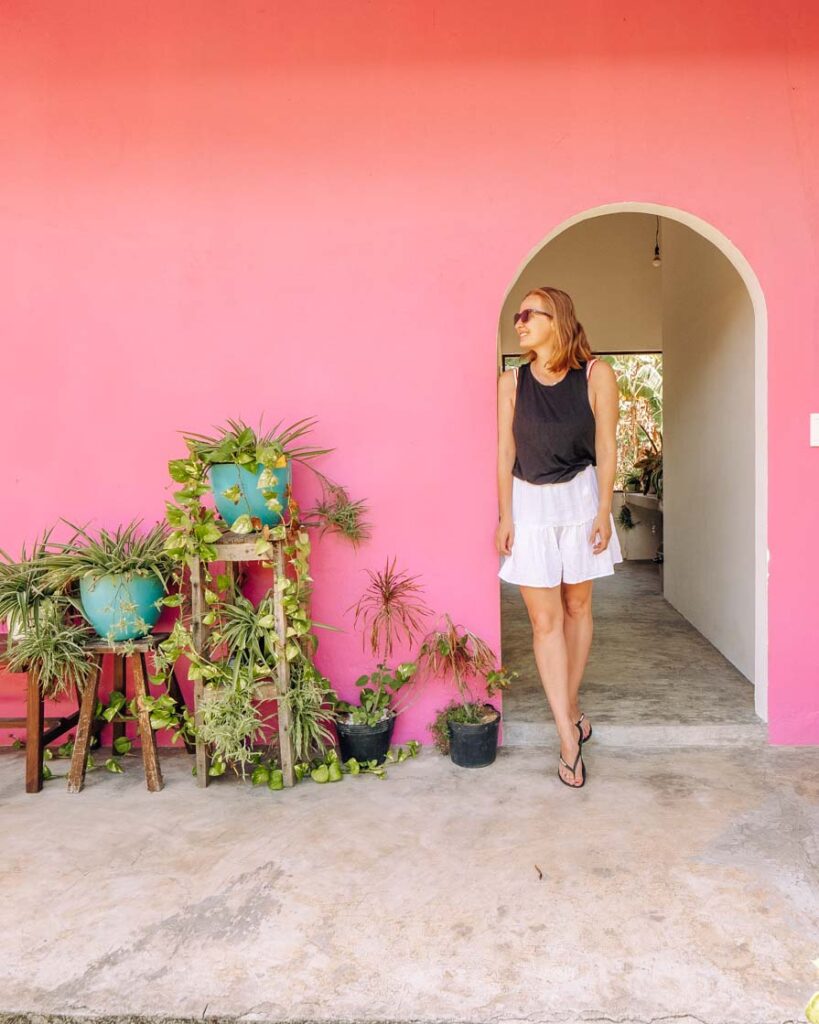 For couples, families or solo travellers with a bit more to spend, take a look at Phu Quoc Valley Sen Bungalows. With cute wooden huts, a huge swimming pool and a buggy to and from the beach and main restaurant area, this is the ideal spot for a Vietnamese island holiday.
And if you want to live like a queen for a night or two, without breaking the bank, you have to spend some time at Naomi Resort's surprisingly reasonable overwater bungalows, from only £50/$100NZD per night. That's the cheapest overwater bungalow I've ever found online!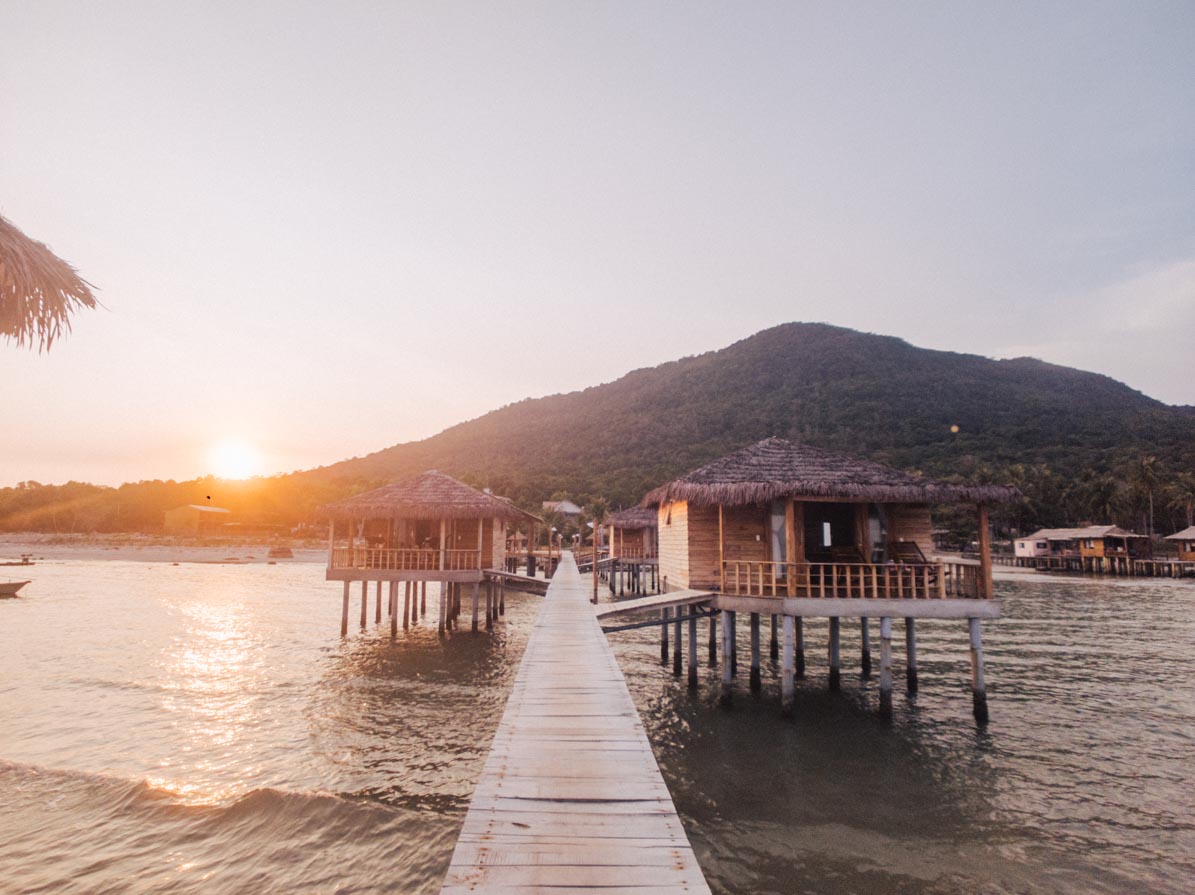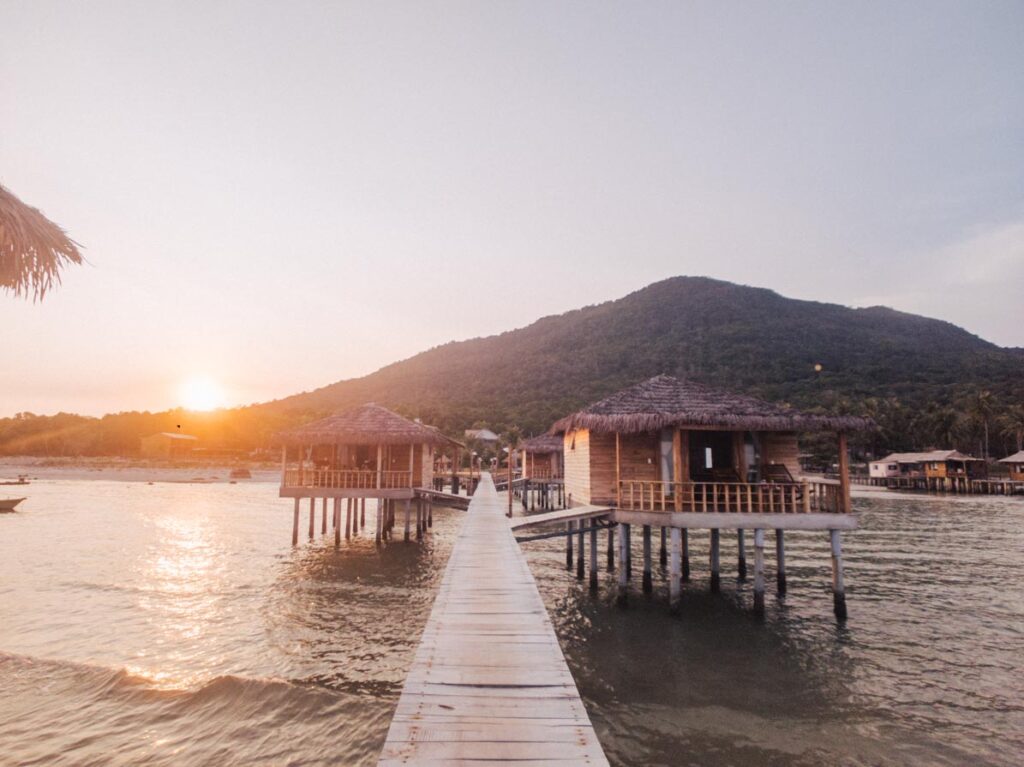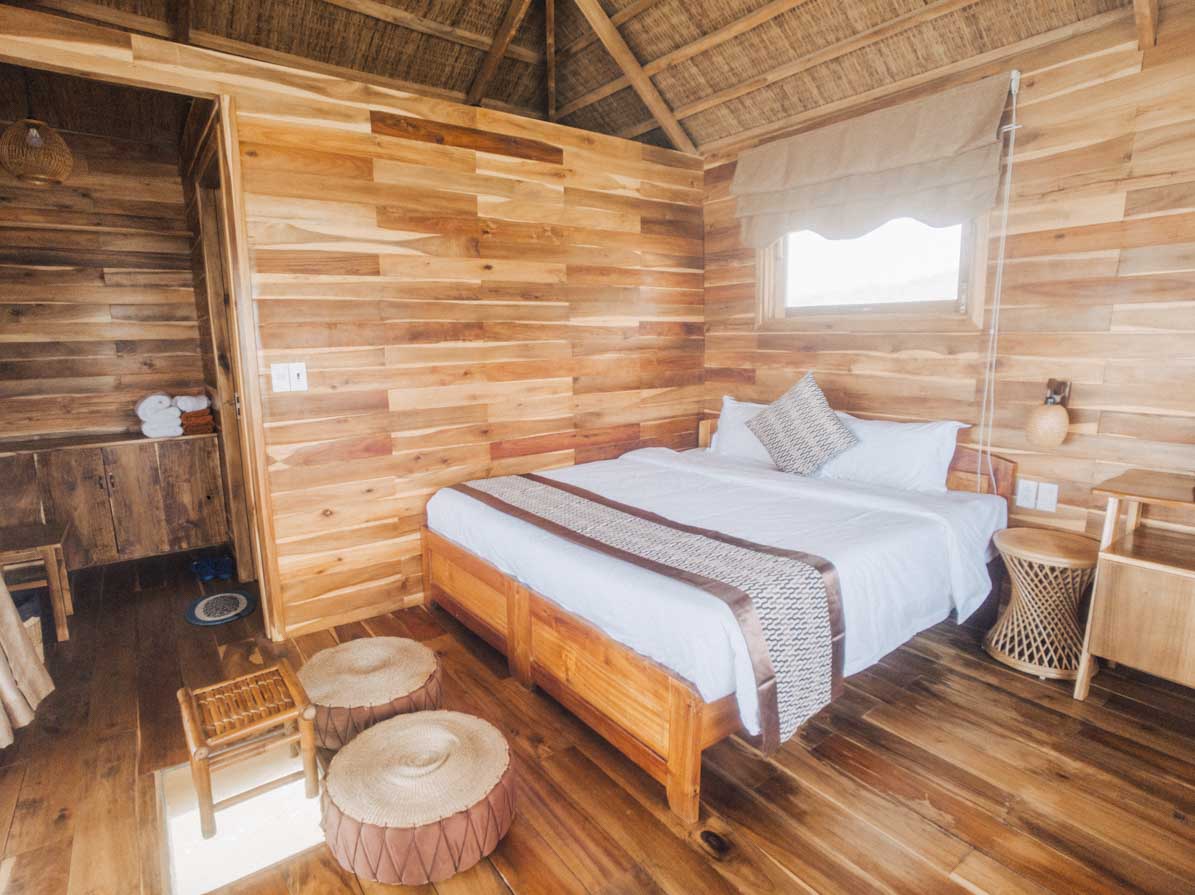 YOU MIGHT ALSO LIKE: How I can afford to stay at world-class hotels without blowing my budget
---
Days 18-20: Ho Chi Minh City
About Ho Chi Minh City
One of the most chaotic cities I've ever visited, Ho Chi Minh City is not for the faint-hearted. It's home to a never-ending pulse of bustling markets, neon-lit shopping streets and a thriving food scene, with plenty of historical and cultural must-sees and dos to fill up any tourist's itinerary.
Things to do in Ho Chi Minh City
Learn all about the Vietnam War with a visit to the Cu Chi Tunnels
Hit one of the many markets the city has to offer
Take a cruise down the river
Explore Chinatown
Go on a craft beer tasting tour
See a different side of the city with this Haunted Saigon motorbike tour
Dine in the dark at Noir, where you're served food by blind waiters in the pitch black
Visit Noir's sister restaurant, Blanc, and order your dinner using sign language
Get a massage
Even better, get a massage at Noir Spa, where the masseuses are all blind (the best massage I've ever had in my life, hands down)
Visit the sobering War Remnants Museum
Shop for a bargain at Ben Thanh Market
Take a cooking class
Do an eye-opening tour around Saigon's slums
See the view of the city from Saigon Skydeck
Watch a circus or theatre show at the Saigon Opera House
See the city by cyclo
Do a day trip or overnight trip down the Mekong Delta
Visit Can Gio Mangrove Forest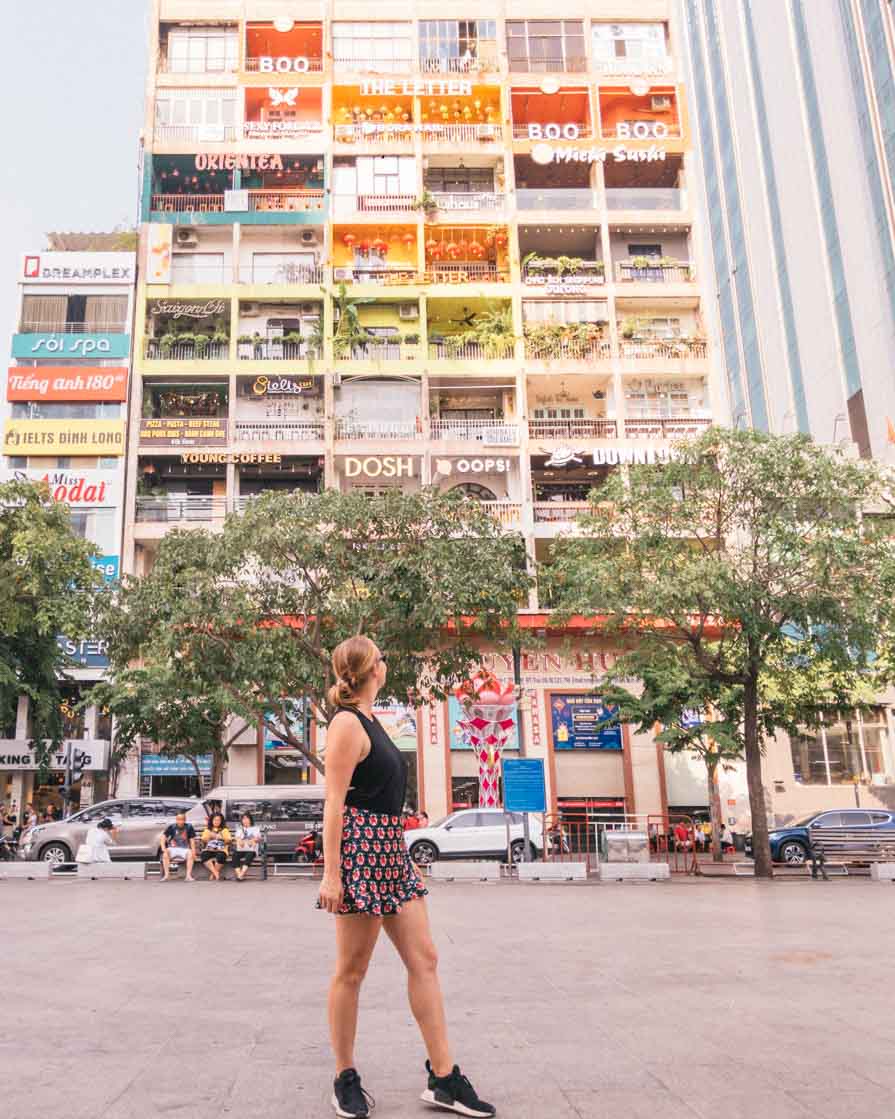 Where to stay in Ho Chi Minh City
I spent my time in Ho Chi Minh City staying at a quaint little guest house called Rest House Pink Church, in District 1.
This place was an absolute haven from the craziness of the city, yet only a short walk from Tan Dinh Market, my WeWork office and lots of shopping, eating and sightseeing spots. It's cheap, the bed is the best I've ever slept in (no joke), and they have two kittens! Win, win, win.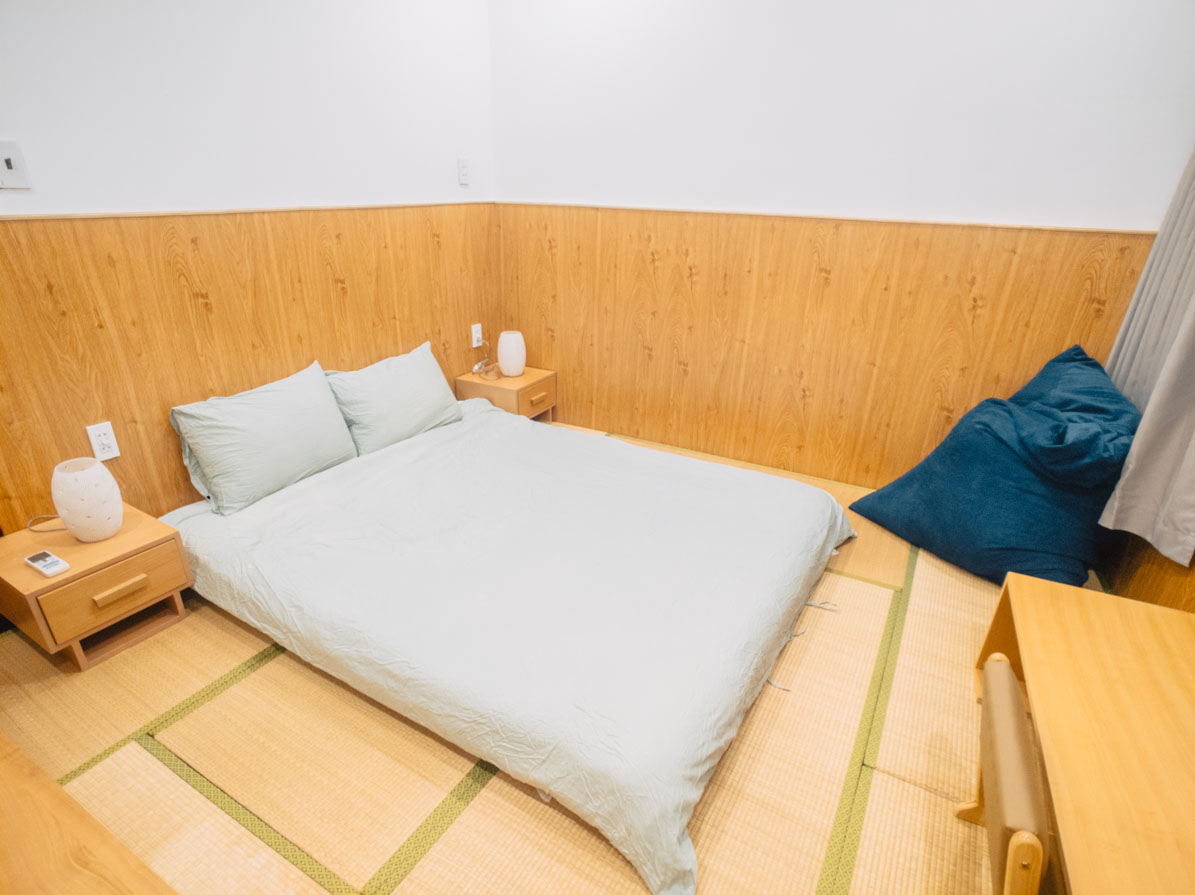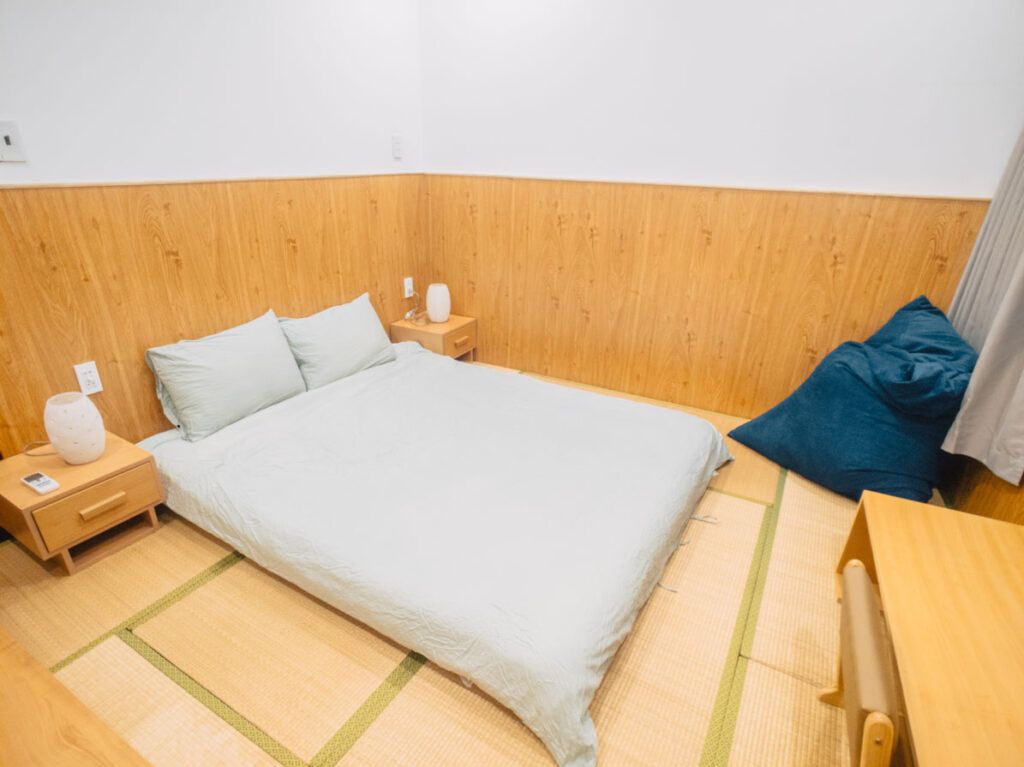 If you're looking for a super cheap option then check out Saigon Fantastic Hotel with beds from only £3/$6NZD, or for a brilliant value fancy stay, you can't go past Grand Hotel Saigon.
If you're staying in HCMC long-term, it's also worth considering renting an apartment. RentPro HCMC have a variety of monthly rental apartments in District 2 and Binh Thanh District aimed at long-term travellers and digital nomads.
---
Day 21: Depart Ho Chi Minh City
You're Vietnam adventure is over for now! Grab is the cheapest way to get to the airport but if you prefer to lock in a transfer then you can book one here on Klook.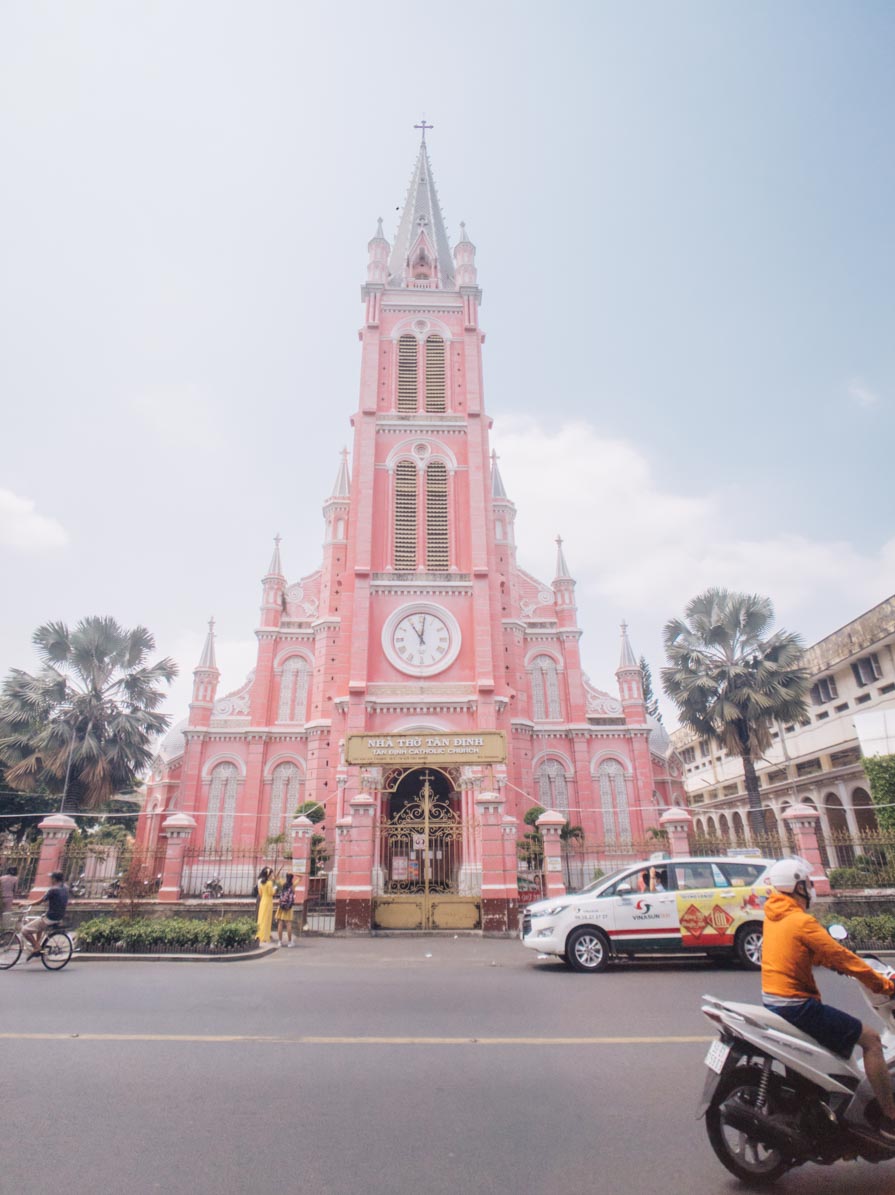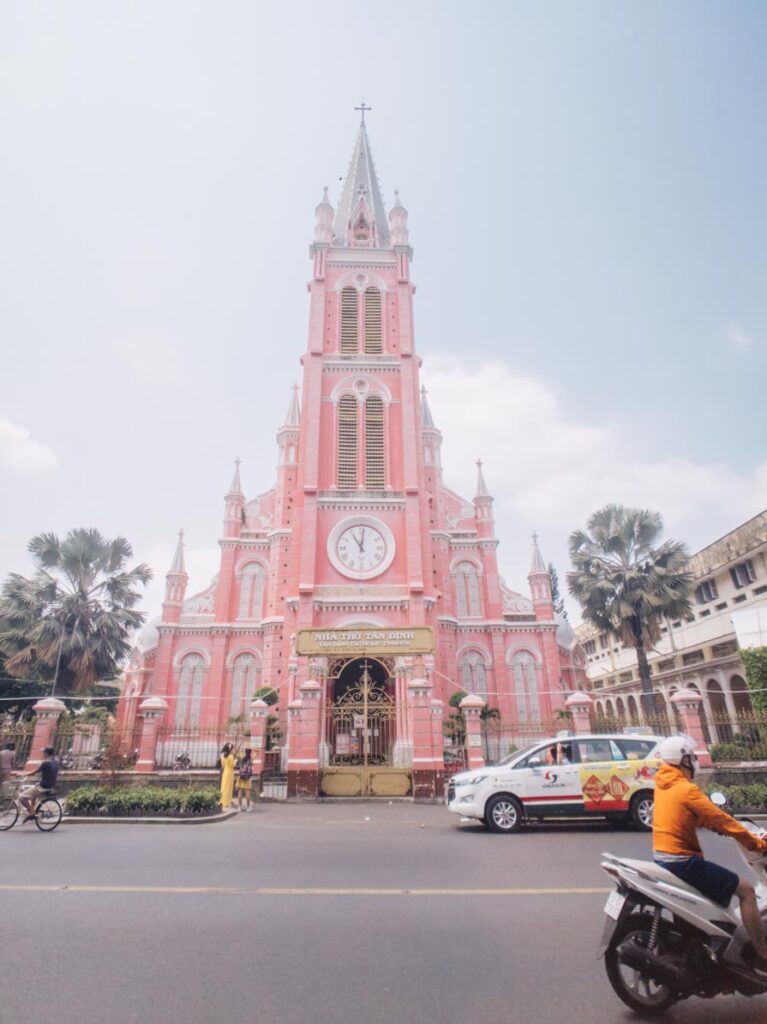 ---
Other places to add or swap in to your 3 week Vietnam itinerary
There are enough incredible places to see and things to do in Vietnam to fill a three month itinerary, so if you're only going over for three weeks like I did then you'll have to prioritise your destinations. I was really happy with how my Vietnamese adventure turned out but there are a few places I didn't make it to which are on the list for my next trip to Vietnam.
Sapa
This mountainous nirvana in Northern Vietnam is an absolute hit with hikers, and it best known as the gateway to many treks to and through the hilltribe villages hidden amongst the valleys and peaks.
Ideal for active adventurers or culture buffs to tack on from Hanoi, perhaps instead of Halong Bay if you prefer people and history over being on the water.
Nha Trang
Pristine white sand, bright blue water and silver skyscrapers adorn camera rolls of Nha Trang's millions of tourists each year. It's a resort town with plenty of oceanfront accommodation and activities for sun lovers of all ages.
Nha Trang is almost half way between Ho Chi Minh City and Da Nang, so it was too awkward for me to add into my three week Vietnam itinerary, but could easily be subbed in if you're spending more time in the south than the north.
Da Lat
Romantic enough to give Hoi An a run for its money, Da Lat's European charm and bright flower gardens set it apart from other tourist hot spots. Stay in a French colonial homestay, sip delicious local brews from funky cafés or get your heart rate up with some white water rafting, rock climbing or paragliding.
Phong Nha
This Unesco World Heritage Site is one place I really wished I had time for on my trip to Vietnam! Home to the oldest karst mountains in all of Asia, at a youthful 400 million years old, the Phong Nha-Ke Bang National Park boasts endless cave systems and underground rivers for keen adventurers to explore.
Mui Ne
With a train ride of less than four hours, Mui Ne's proximity to Ho Chi Minh City has its pros and cons. Both domestic and international tourists bring in tourism dollars to the small coastal community, giving locals an opportunity to make money from something other than fishing, but the entire main stretch of the beach is dedicated to resorts.
If you can't make it to Phu Quoc or Nha Trang, a Mui Ne beach break is a good option for seaside fun.
The final verdict on my three weeks in Vietnam
This is a big call for me, with 57 countries under my belt, but Vietnam is way up there.
The people are friendly and helpful, the food is one of my favourite Asian cuisines, and the value for money is near-unbeatable (right up there with India I'd say!).
At the very least, Vietnam is an essential addition to any South East Asia itinerary, and if you have the time, it's worth spending at least two or three weeks in Vietnam, if not more.
I hope this blog has helped you plan your 3 week Vietnam itinerary! Let me know in the comments if you have any other questions or if you have any must-dos, must-sees or must-stays to add.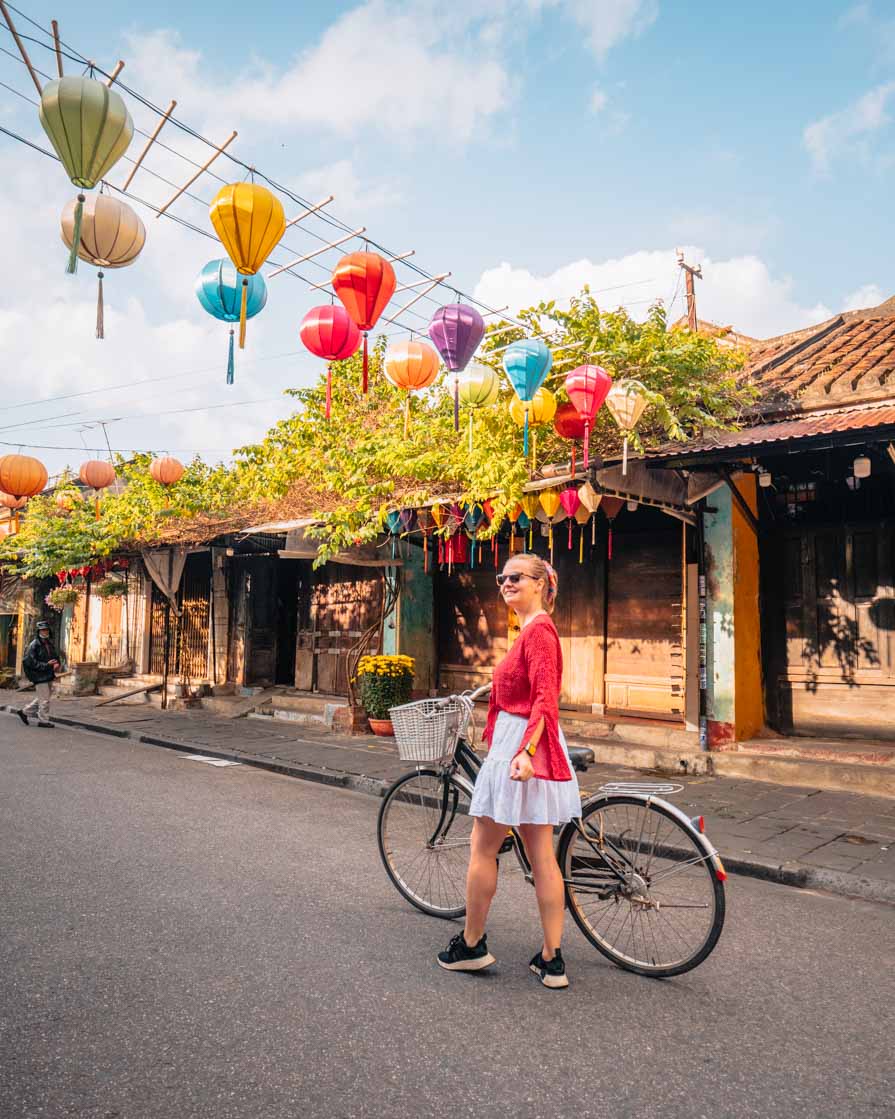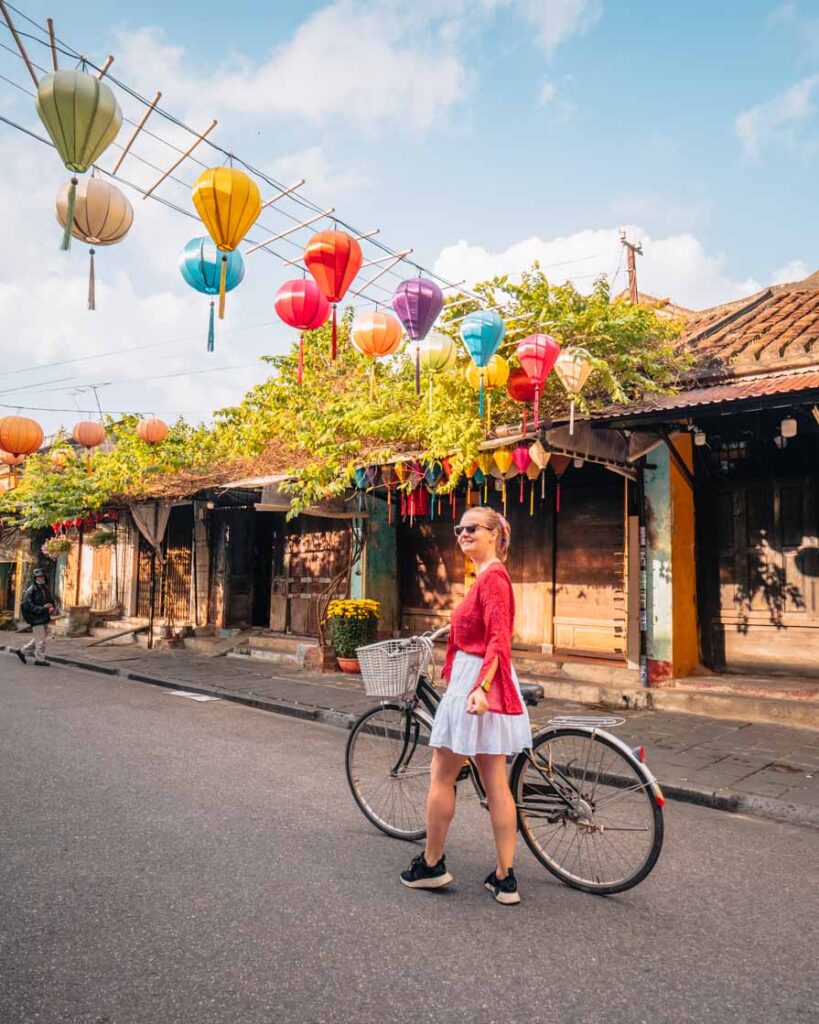 Looking for somewhere to stay during your three weeks in Vietnam? Check out all the hotels and apartments right here, and don't forget to sort by 'review score and price' to see the best value options first.
Like this blog? Pin it!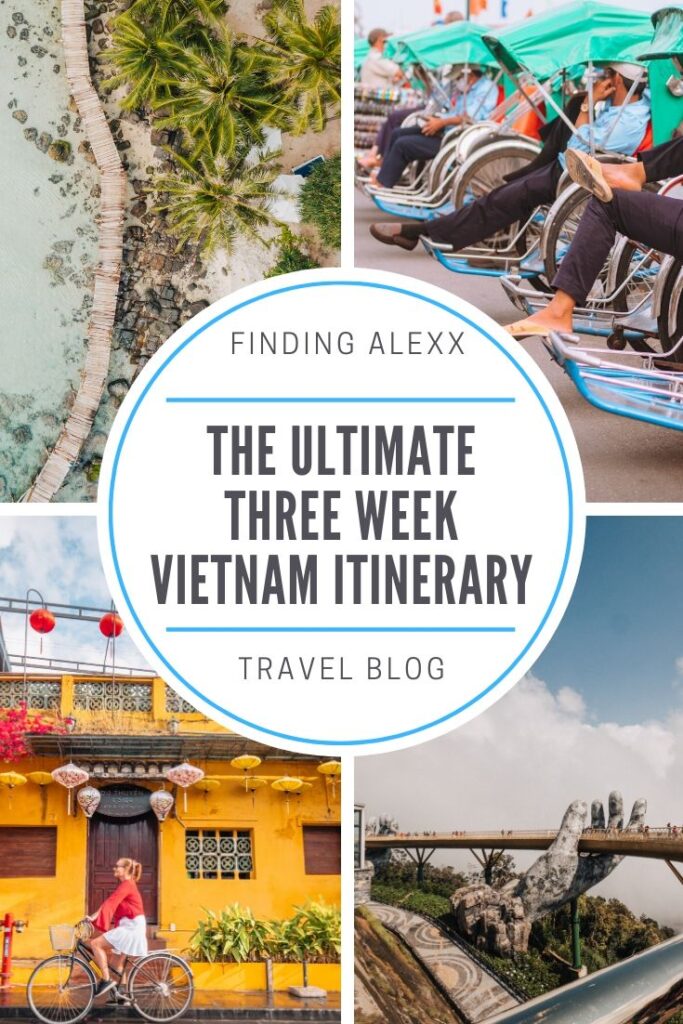 Read more about my 52 in 52 adventure here, see all of my blog posts from the trip here, or check out my Instagram @findingalexx to see all of my travel photos.
All the basic details from my big trip:
How do you find your flights? Skyscanner! I use the Everywhere tool to find the cheapest place to fly to each Tuesday
Do you fly every week? Not every week no, once I have the destination I check trains and buses to see if there's any other transport options aside from flying. If so, I usually book these using the Trainline app.
How do you book your accommodation? I book all my hotels, hostels and apartments on either booking.com or Hostelworld.
Do you have travel insurance? YES, I always travel with travel insurance and you should too. I'm insured for an annual policy with Worldcare NZ.
Do you offset your carbon credits? I sure do! I always offset when I book if the airline gives me the option (Ryanair does), and I also offset all my flights using Co2nsensus.com.
What luggage do you travel with? I travel with a 75cm Samsonite Cosmolite suitcase, a matching Samsonite Cosmolite 55cm cabin luggage hardcase, and a cheap laptop backpack.
What camera do you use? You can see the full list of what's in my camera bag right here.
What laptop do you use? I have a super portable HP Spectre x360 13.3″ laptop, which is an absolute dream to travel with.
For more FAQs about my 52 in 52 trip, see this post.
Big thanks to the following companies for hosting me during my three weeks in Vietnam: Klook, Tam Coc Garden, Lotus Train, Sahi Homestay, Roadtrippers, Triple Riverside Villa, Rest House Pink Church and Lanaland Homestay. As always, all opinions are my own and are based on my personal experience.