Want to add on a tropical island to your Vietnam itinerary? From local fishing villages to waterfall hikes to vibrant night markets, there's loads of fun things to do in Phu Quoc. Big thanks to Catalin from TravelTrained.com for this guest post.
Phu Quoc is a beautiful Vietnamese Island located off the coast of Cambodia. The island is known for its white sandy beaches, incredible luxury resorts and the Phu Quoc National Park, which offers access to hiking trails and a wide variety of wildlife.
Phu Quoc is full of life and culture, just like the rest of Vietnam but with its own flair, ready for you to enjoy. All you need to do is grab your day bag and you are ready to make some memories that you will enjoy for years to come.
Read on for some Phu Quoc travel tips and 12 of the best things to do in Phu Quoc Island.
HELPFUL TIP: If you want to see the full range of activities and things to do in Phu Quoc, you can check out all the tours available for your travel dates on Get Your Guide or find Phu Quoc tours on Klook.
Or skip straight to:
hide
---
Fun Things to Do in Phu Quoc Island
Explore by moped
Phu Quoc's roads are relatively well-maintained, with most of the northern part of the island boasting new roads. What's more, there isn't a lot of traffic compared to other holiday hotspots in Vietnam, so it's much safer than driving a moped in Ho Chi Minh City.
Instead of getting a taxi during your stay, you can rent a moped for around $6-7 USD a day, with a full tank of gas costing less than $2 USD.
It's super important to make sure that you keep your helmet on and strapped tight, both for safety and to make sure you abide by the strict helmet laws of the country. Make sure to follow the speed limit, but if you do get pulled over, be prepared to pay a small fine directly to the police officer that pulled you over.
SAFETY TIP: If you're planning on riding a moped in Vietnam, you'll want to double check that your travel insurance will cover you for any accidents.
Having a rented moped allows you to explore the entire island on your own, at your own pace. To make it easy, most hotels and resorts have mopeds available to rent either on the property or nearby.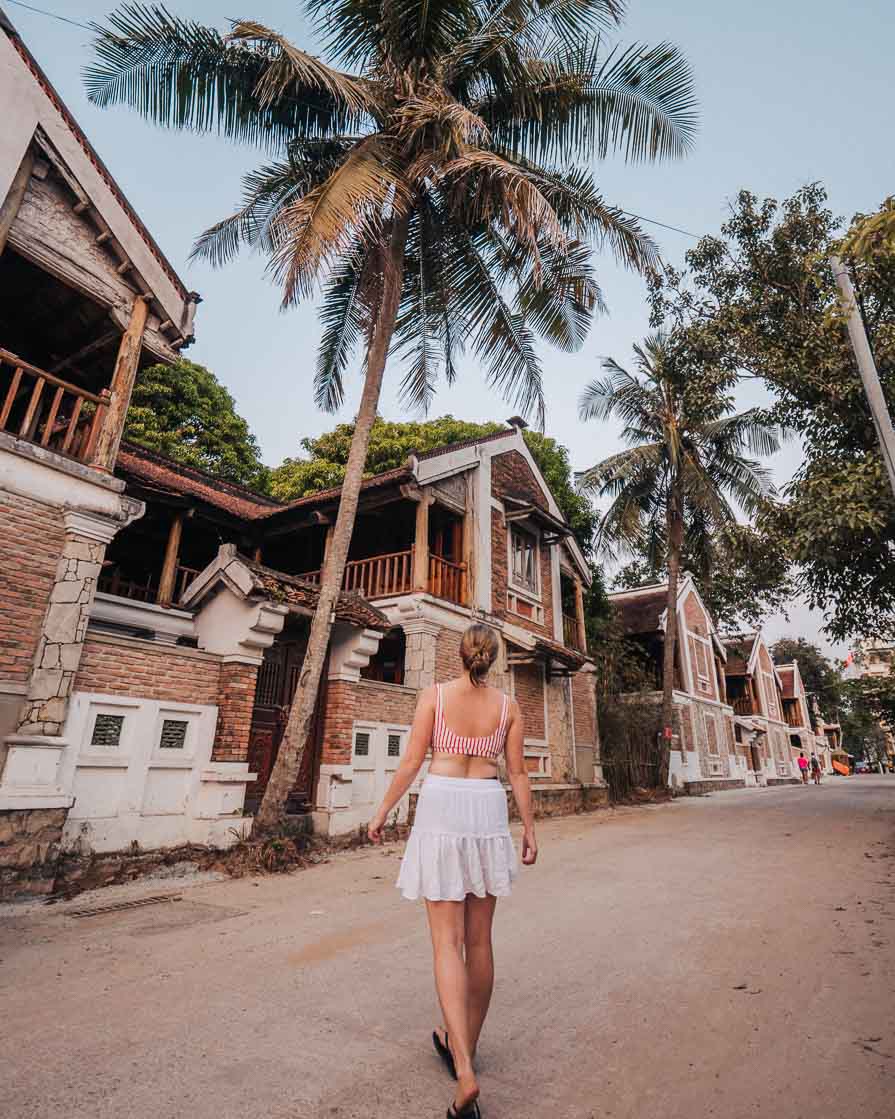 ---
Eat your way around the Dinh Cau Night Markets
Many markets in Vietnam are home to shops for food, local handicrafts, and souvenirs, and while the Dinh Cau Night Markets have those shops, that's not what it's known for.
The night markets are the place to go if you want to get some fresh seafood and sample local Vietnamese cuisine.
Take your time to explore the 100+ shops offering local delicacies that you can only experience on Phu Quoc. The market is open from 5pm-10pm every evening, so it's one of the best things to do in Phu Quoc at night.
---
Visit Phu Quoc Prison
Built in 1949 by French Colonists, Phu Quoc Prison (also known as the Coconut Tree Prison) once held as many as 40,000 Vietnamese soldiers and political figures during the American War (also called the Vietnam War by those in the USA).
In 1995 it was declared a national historic site and opened for the public to visit. After paying the entrance fee, 3000 Vietnamese Dong, you can explore the prison's dark history.
While this may not seem like the most family-friendly excursion, it's a must for history buffs and a reminder that we need to learn from our history to make sure that it doesn't repeat itself.
Recommended tour: Southern Phu Quoc & Cable Car Ride (goes to Coconut Tree Prison, Ho Quoc Pagoda & Sao Beach)
---
Go for a ride on the Phu Quoc Cable Car
Boasting the longest sea-crossing cable car system in the world at almost 8km long, the Phu Quoc Cable Car is found at the southern end of the island.
The ride takes about fifteen minutes, taking you from Phu Quoc Island to Hon Thom (Pineapple) Island. During the ride, you can enjoy a 360° view of the local archipelago, the tiny island, and turquoise water.
---
Check out the Hon Thom Nature Park
Before taking the cable car back to the main island, you might want to take the family to the Hon Thom Nature Park.
Boasting a range of zones from Tropical Fruits, to Wild Animals to Sea Monsters and more, the park is a great way to spend the day if you're looking for things to do in Phu Quoc with kids.
They also offer a series of cultural shows at different times throughout the day and a wide variety of local and international food for when you work up an appetite.
---
Go for a swim at Starfish Beach
Located on the northern tip of Phu Quoc Island, Starfish Beach gets its name from the starfish that gather on the sandbar just offshore.
It's easy to wade out to the sandbar and even easier to spot them lying on the ocean floor. While you will see plenty of people picking them up and taking selfies, it's best to leave them undisturbed as oils on our hands can be dangerous to the starfish.
If you have an underwater camera like a GoPro you can get some great shots without having to disturb the starfish.
This is also a great beach to lounge and soak up the sun, with several restaurants perched on pillars out over the ocean where you can get the freshest of seafood and other classic Vietnamese dishes.
Recommended tour: Kayaking & Starfish Beach tour on Get Your Guide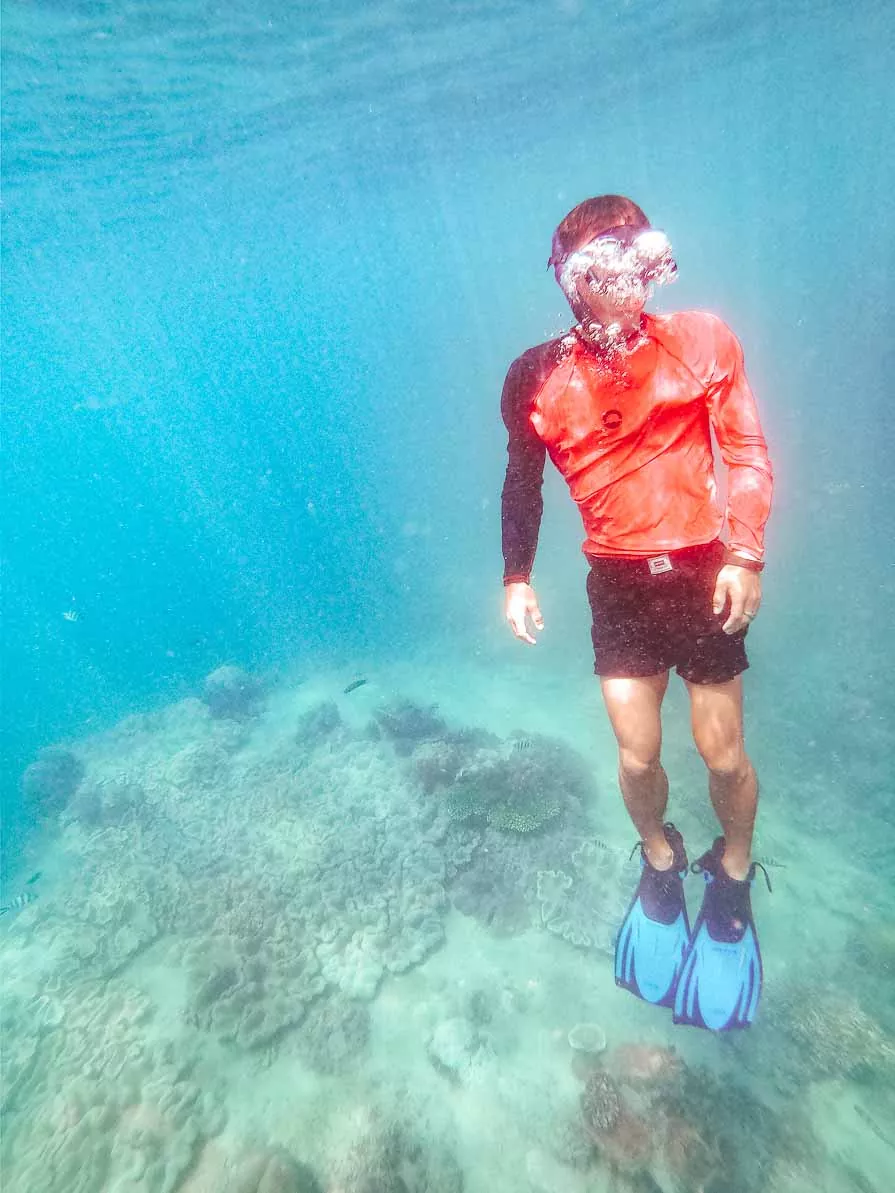 ---
Try fresh seafood at Ham Ninh Fishing Village
Sprouting up around a bustling pier on the east side of the island, Ham Ninh is a fishing village with several local restaurants where you can get some great seafood.
The restaurants are often perched on a series of pillars that allow them to be built right on top of the water. It's a very relaxing day to sit and enjoy some fresh seafood, cold drinks, and just soak in the culture as you watch the locals go about their daily life in this small fishing village.
If you want to get your hands dirty, you can even approach some of the local fishermen and negotiate a price to go out and catch your own fish!
Recommended tour: East Phu Quoc Island Half-Day tour (Ham Ninh, pepper farm, winery, Tranh Stream), rated 5/5 on Get Your Guide
---
Suoi Tranh Waterfall
If you are ready to get those hiking boots on, Suoi Tranh Waterfall is a beautiful and relaxing place to grab some fresh air and enjoy the natural surroundings.
You'll need to take a taxi or ride your moped to the main entrance, but once there it's just a short 20 minute hike to the waterfall.
After taking a dip to cool off you can also explore the areas caves, rock pools, and streams, just don't go too deep in any of the caves, remember safety first.
It's also best to try and visit during the week, as it tends to get a little crowded with locals and tourists alike on the weekends.
Recommended tour: Southern & Eastern full day tour on Klook
---
Go on a boat tour
There are lots of water-related things to do in Phu Quoc, like diving, island hopping, fishing or even a sunset cruise.
Phu Quoc itself has a number of popular beaches but the real gems are the more isolated islands in the An Thoi area, where you'll have colourful reefs with thriving marine life basically all to yourself.
You can either snorkel, get your PADI license or do a dive if you're already certified, or there's one of those cool air bubble helmet things for water walking on the ocean floor!
Recommended tours:
---
Learn about the island's history at Coi Nguon Museum
Another one for the history buffs, the Coi Nguon Museum will teach you all about the island's past and culture.
Located just south of Duong Dong, the museum was established in 2009 and is filled with artefacts its founder collected over fifteen years. The museum boasts over two thousand five hundred antiques ranging from the 5th to the 20th centuries, as well as around 100 traditional paintings.
While learning about the area, it is important to note that many of the artefacts are not protected by glass, ropes or other barriers. While it is nice to get this close to history, it's important to make sure to keep our hands to ourselves and not risk damaging a priceless piece of art or history.
---
Taste test local wine at the Sim Son Wine Factory
Ruo Sim, or Sim wine is made from local fruit that comes from the Rose Myrtle tree, which grows wild in the forests of Phu Quoc Island.
This wine is unique from any other wine you may have tasted in the past. It's made from rice wine, sugar, and fruit, making it quite sweet.
Taking a tour of the winery and enjoying some of the different wines they have will have you wanting to stock up on some for later and maybe try and take some home as gifts if you can.
Also if you fancy yourself as a bit of a wine connoisseur, don't miss Saigon Restaurant and Wine Bar in town!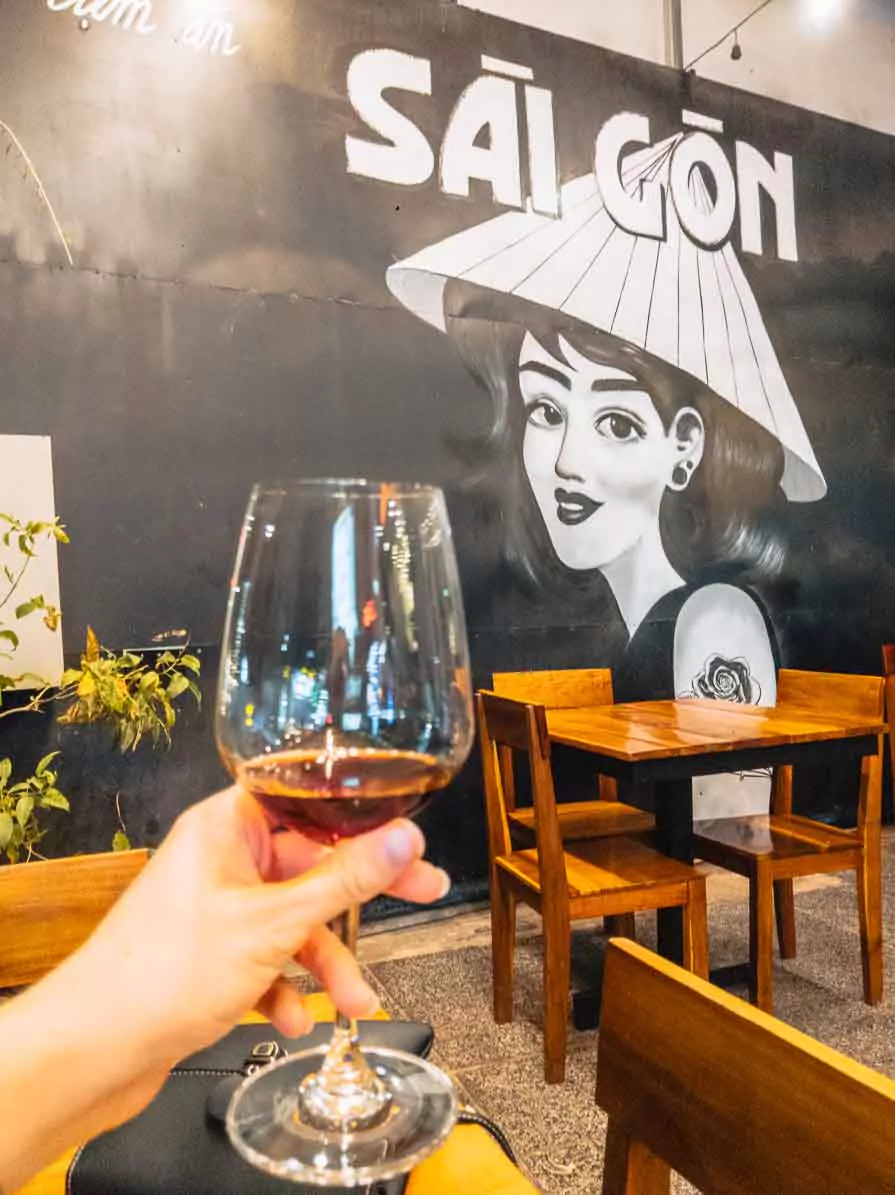 ---
Visit the Ho Quoc Pagoda
And to round up this list of the best things to do in Phu Quoc we end with the Ho Quoc Pagoda. The largest Buddhist temple in Phu Quoc, the Ho Quoc Pagoda is located on the eastern side of the island, right along the coast.
The pagoda is relatively new, with construction being completed in 2012. But it remains a very peaceful and serene area where you can enjoy some stunning views of the ocean while taking a few quiet moments for meditation.
---
Best accommodation in Phu Quoc
Looking for where to stay in Phu Quoc? There's a bunch of Phu Quoc accommodation options ranging from cheap and cheerful hostels to overwater bungalows to ultra-fancy resorts.
On a budget: I spent most of my time in Phu Quoc staying at Lanaland, a super cheap homestay with the most beautiful owners! Lana was incredibly friendly and helpful, it was hard to leave at the end of my trip. They have dorm rooms and private rooms available, clean bathrooms, washing and kitchen facilities and lots of outdoor space to soak up the sun.
Best overwater bungalow: Naomi Resort is on the east side of the island, far from the touristy areas and backed by lush mountains, with overwater bungalows available for a ridiculously low price. I paid $65USD/£48 for my stay and I could dive right into the water from my balcony! This is genuinely the cheapest overwater bungalow I've ever found in all my travel research.
Fancy resort: Looking for somewhere seriously fancy for a special occasion? There are a bunch of 5* resorts to choose from, like the InterContinental (they have a great value 3D2N package available on Klook), Radisson Blu (also have a Klook package available), Fusion Resort (all spa inclusive) or JW Marriott.
---
I hope this list of Phu Quoc things to do has helped you plan out your itinerary for when you visit this beautiful little island.
Heading to Vietnam? These blogs might help too:
Like this blog? Pin it!