Planning on spending five days in Switzerland on an upcoming Europe trip? This 5-day Switzerland itinerary will show you where to go, how to get around, where to stay, what to do and even how much you should budget for your Switzerland adventure.
I often get asked what my all-time favourite country is, and while I can never give a definitive answer (it totally depends on my mood!), Switzerland is always in the top five. Along with Vietnam, Italy, Turkey and New Zealand, if you were wondering.
This captivating country ranks highly on my list for a number of reasons. Low crime rates make it one of the best European destinations for solo female travellers, the scenery is divine and diverse, it's logistically easy to get around thanks to a fantastic rail network, and there is so much to see, do and eat, no matter your travel preferences. Also, fondue. Need I say more?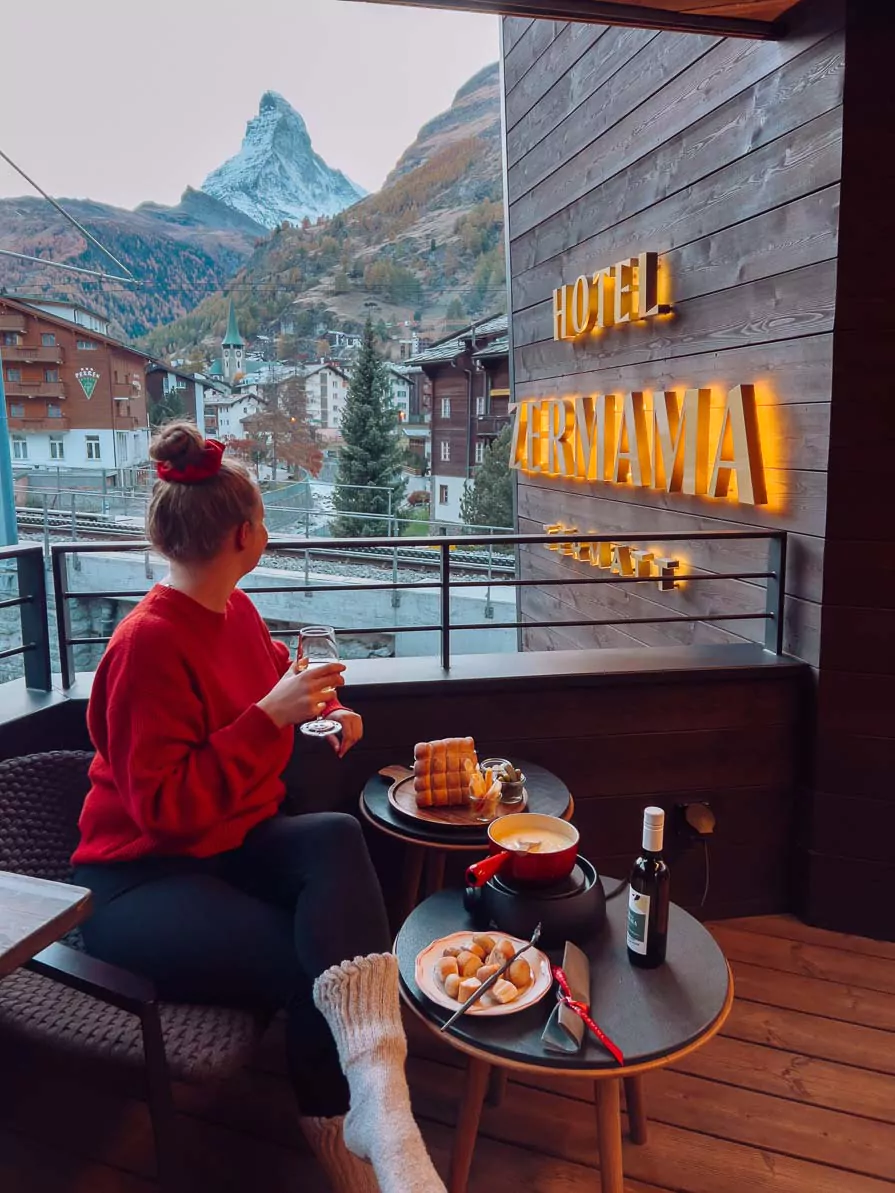 It's no secret that Switzerland can be pricey, but luckily the compact country is easy to explore even on a short trip. This 5-day Switzerland itinerary takes you around a bunch of the highlights, from vibrant lakes in Interlaken to charming mountain villages in Lauterbrunnen to the luxury resort towns of Zermatt and St Moritz.
I've also shared some tips and tricks to help you prepare for your five days in Switzerland, including info on the weather, when to visit Switzerland, what languages people speak, how to get around, and how much to budget for this Switzerland itinerary.
So put on your travel planning hat and let's dive into the ultimate Switzerland 5 day itinerary.
---
5-day Switzerland itinerary summary
Day 1: Zurich to Interlaken, explore Interlaken
Day 2: Lauterbrunnen day trip from Interlaken
Day 3: Jungfrau day trip from Interlaken
Day 4: Interlaken to Zermatt, explore Zermatt
Day 5: Zermatt to St Moritz on the Glacier Express
---
What to know before your 5 days in Switzerland
Weather in Switzerland
Switzerland is totally dependent on the season, and can be quite changeable thanks to its alpine landscapes. Overall the country's climate is moderate, usually not too hot or extremely cold.
In the summer months (June-August) it's typically warm and sunny, though short, sharp thunderstorms can hit without much warning. Always be prepared with a warm jumper and raincoat, especially if you're heading into the mountains.
In autumn (September-November) the weather is unpredictable, sometimes mild and pleasant, sometimes super chilly and dreary, but the changing colours of the leaves make any autumn trip worth it.
Winter (December-February) brings snow and tourism to the country's many ski resorts, which tend to stay open until March, April or early May depending on the altitude. Winter days are short in Switzerland, with the sun rising after 8am and setting before 5pm in some places, so keep this in mind when planning out your day's adventures.
If you're visiting in Spring (March to May) then you can enjoy the days getting longer, the sun melting the snow at lower altitudes, and processions of cows heading back to their mountain pastures.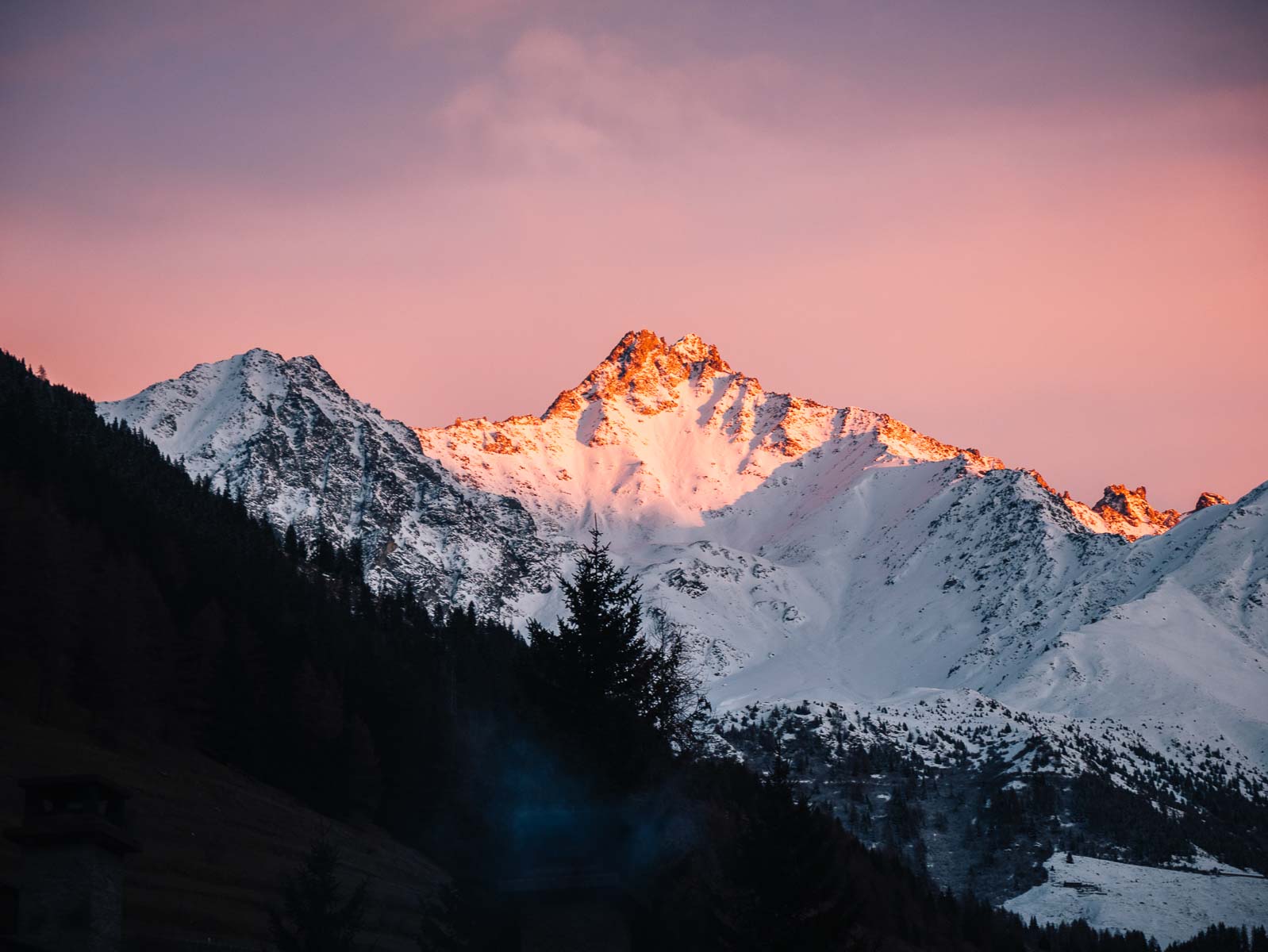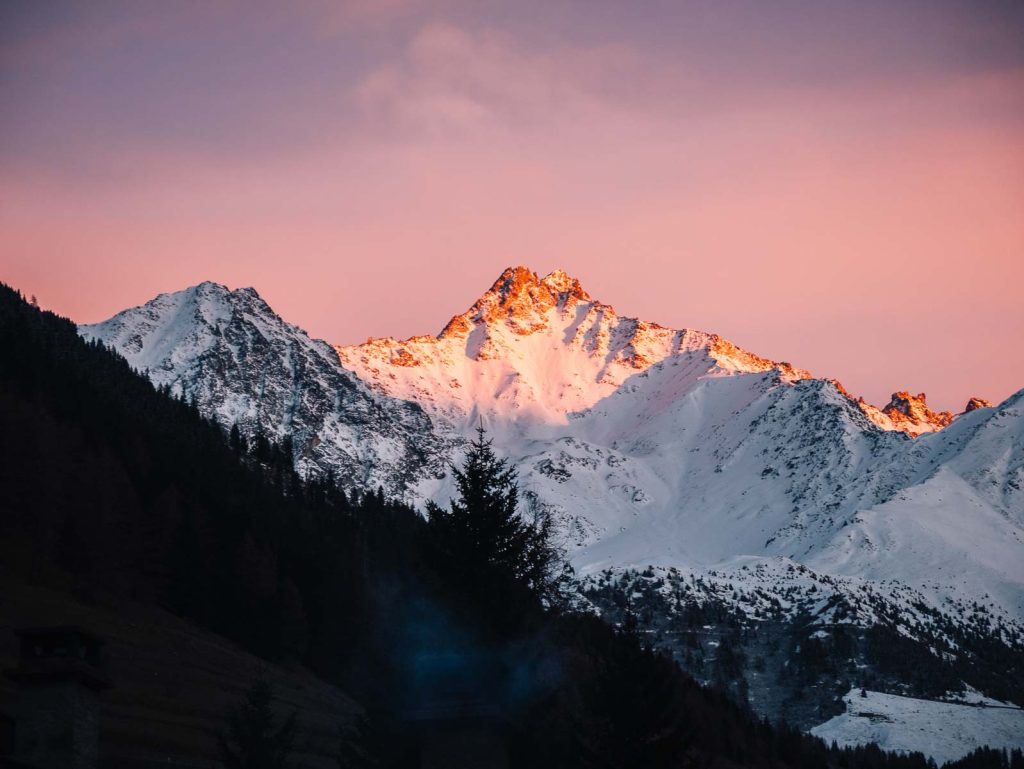 Busy seasons in Swizterland
The busiest months in Switzerland in terms of summer tourism are July and August, when neighbouring countries are enjoying summer holidays and want to escape their hot, humid cities for some time in the mountains. If you're able to avoid these months then you'll be able to take advantage of cheaper prices and less crowds, but if you don't have that option, then ensure you book your accommodation early so you aren't left with only crazy expensive options last minute.
The best time to visit Switzerland is in the shoulder seasons, from May to mid-June, September, and October. These months will bring mild temperatures, fantastic hiking conditions, cheaper accommodation and fewer people around.
For winter adventures, January to March would be best. Many ski resorts open in December however this past year (2022/2023 winter) had a really delayed start to the ski season, and the snowfall wasn't great until mid-January.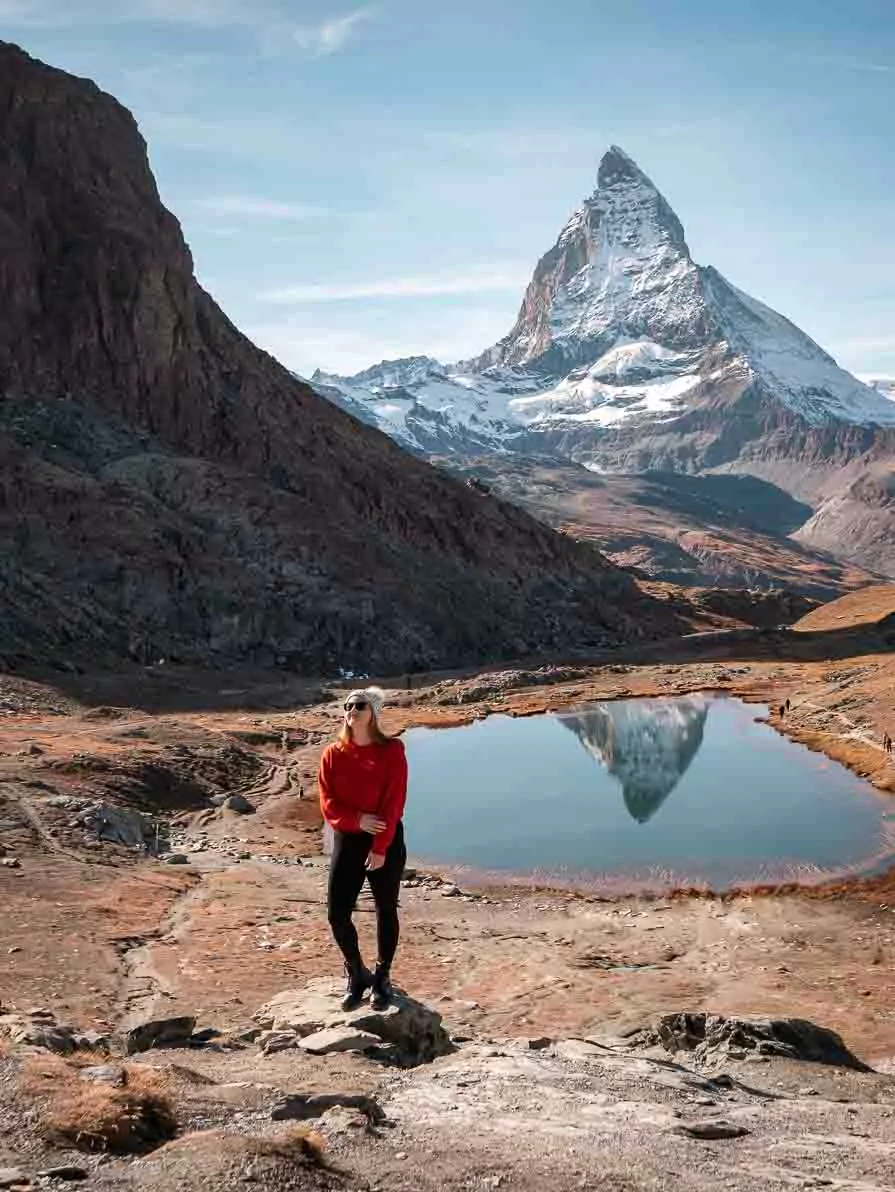 Languages in Switzerland
If you're only monolingual (or as I like to call it, single-lingual, which is a much more fun word) like me, the Swiss are going to blow your mind. The country has four official languages: German, French, Italian and Romansch.
More than 60% of the population speak Swiss German, which is a term that refers to various regional dialects of the German language. The next most commonly spoken language is French with 23%, then Italian with 8%, and Romansch (a Romance language native to the canton of Graubünden) at less than 1%. More than two-thirds of Swiss adults use more than one language at least once a week.
English is regularly spoken by 45% of the population, especially in the tourist cities, so if you're following this five day Switzerland itinerary, chances are you'll be able to communicate in English.
But as always with visiting any country, it doesn't hurt to learn some basics of the local language! When you check into your hotel in each place you should ask them how to say 'hello', 'goodbye', 'please' and 'thank you' at a minimum, this way you'll be able to learn it in the local accent (Swiss German can be different to German-German) and gives you a chance to practice and have them correct you if necessary.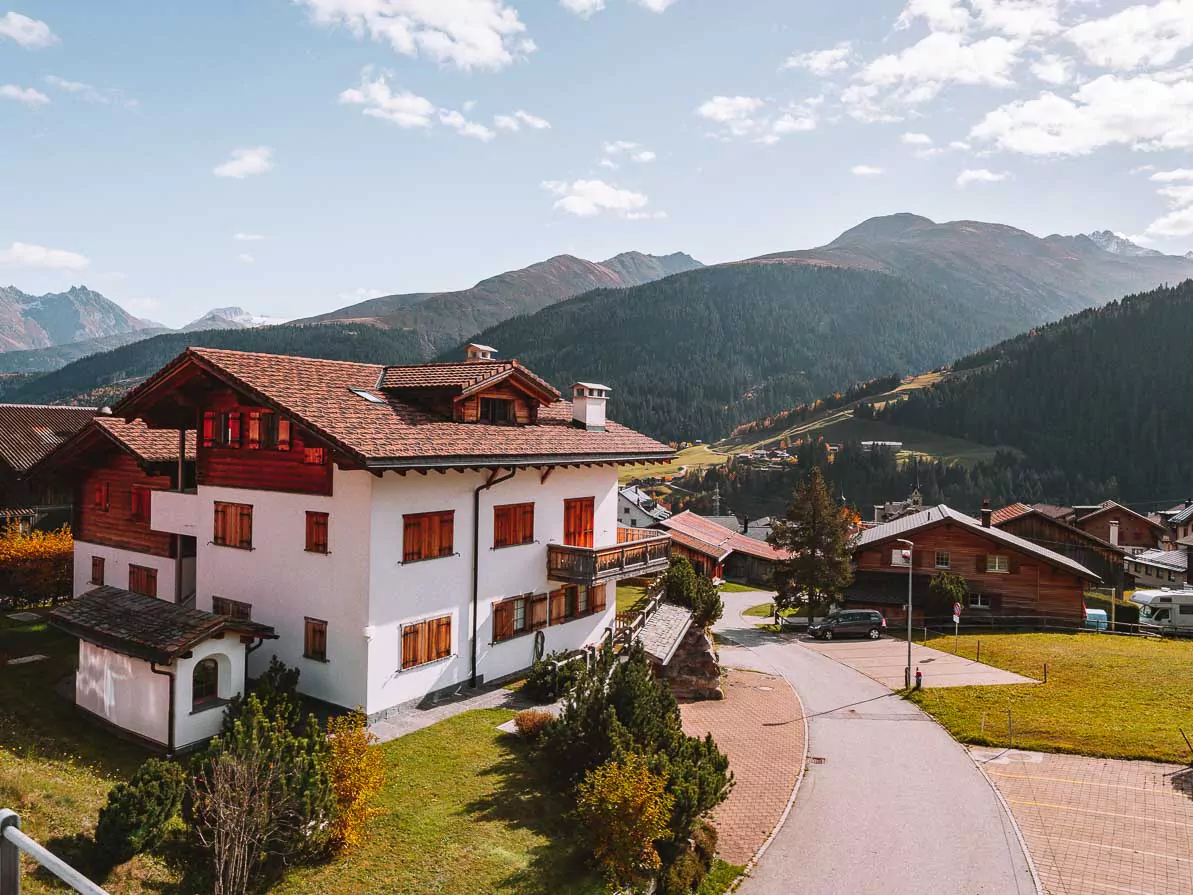 ---
How to get to Switzerland
By plane
Switzerland is well-connected to European hubs and other continents by plane, Zurich's the main airport but Geneva is another popular arrival airport.
SWISS (the national airline) often offers good value long-haul flights to Europe from places like the USA, Australia and New Zealand, sometimes using codeshare partners in the Star Alliance network.
Some low cost carriers also service Switzerland's airports, like easyJet, Vueling, Eurowings and Pegasus.
By train
If you're travelling Europe with a Eurail Pass (or Interrail Pass), Switzerland is super easy to get to and it's a must-visit destination for any Eurail itinerary.
You can get direct trains to Switzerland from all over France, Germany, Italy and Austria, as well as Amsterdam, Budapest and Prague, to name a few. If you don't mind changing trains once or twice you can reach Switzerland from basically anywhere else in Europe.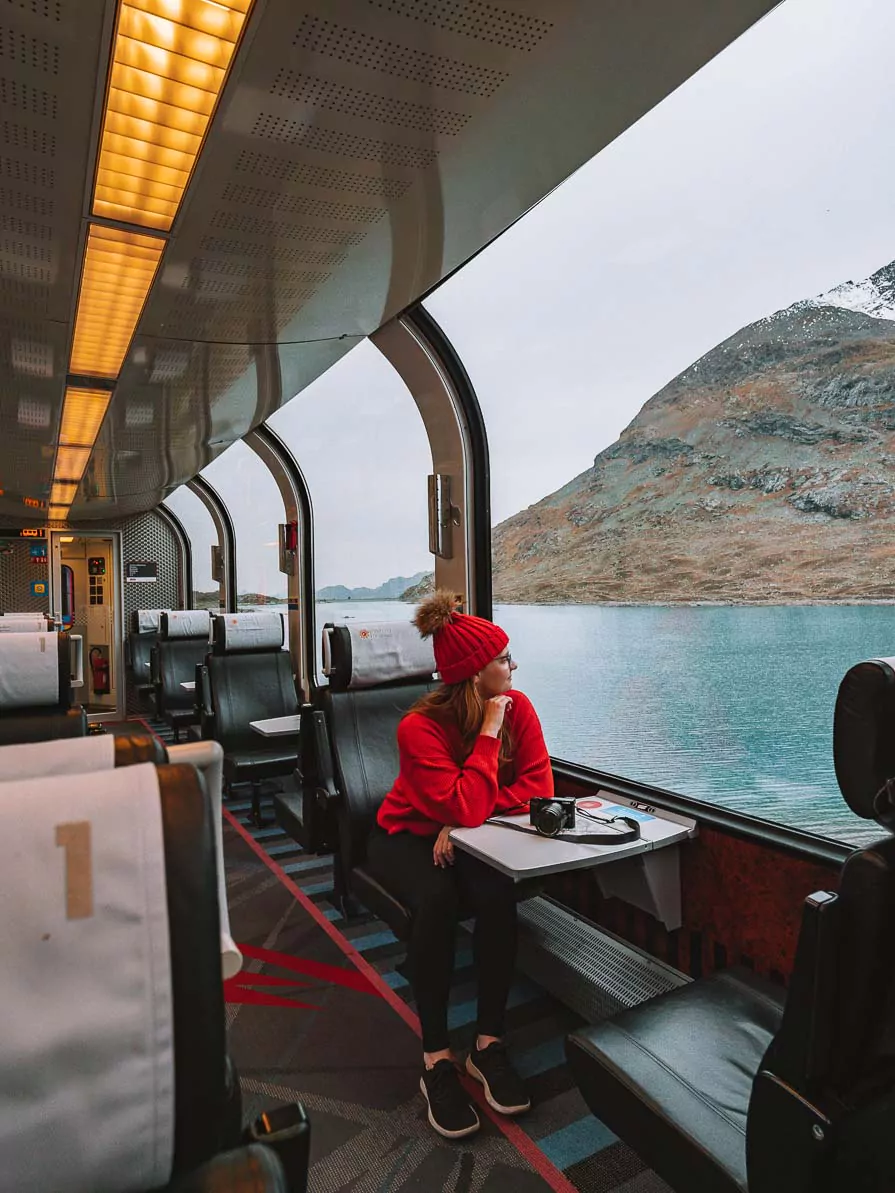 By car
If you're road tripping around Europe (lucky you!) Switzerland is a simple next step after France, Germany, Austria or Italy.
Paris to Zurich is a 6h 30m drive, Munich to Zurich is 3h 25m, Innsbruck to St Moritz is 2h 45m and Milan to St Moritz is only 2h 25m.
You can drive in Switzerland on your normal driver's license from home as long as the license is in English. If your license isn't in English, you'll need to get an International Driver's Permit (IDP) before you arrive in Switzerland. If you plan on driving in Italy before or after your five days in Switzerland you'll need an IDP anyway, as Italy doesn't accept foreign licenses as valid permits on their roads.
Keep in mind that many mountain villages in Switzerland are car-free, including Zermatt on this itinerary, so if you're travelling by car you'll need to park it outside of the village and then catch the train or an electric cab to your accommodation.
---
How to get around Switzerland
The best way to get around Switzerland is without a doubt to use the brilliant rail network. Switzerland's main cities and tourist locations are well connected by regional trains, panorama trains (fancy tourist trains) and mountain railways.
If you're worried about the cost of trains adding up, don't stress, because you can get a money-saving travel pass to help you get the best bang for your buck when planning how to get from A to B.
Swiss Half Fare Card
For this exact itinerary, the Swiss Half Fare Card ends up being the travel pass that offers the best value for money. The Swiss Half Fare Card gives you half price across all trains, buses, boats and public transport, as well as most mountain excursions like the Eiger Express to Schiltorn and Jungfrau Railway in this itinerary.
Swiss Travel Pass
The Swiss Travel Pass is a pass which gives you unlimited access on the Swiss Travel System network, including most trains, buses, boats and public transport between around cities/towns/villages, as well as discounted rates (usually 50% off) for mountain transport like cogwheel trains and cable cars, and free entry to more than 500 museums.
Most transport is totally free once you've got your pass, but the premium panorama trains (like the Glacier Express in this Switzerland itinerary and the Bernina Express from St Moritz into Italy) require a seat reservation on top of the pass.
You can choose the number of days you want on your Swiss Travel Pass and it can either be consecutive days (good for a fast-paced trip where you'll be using inter-city trains most days) or a flex pass where you choose your travel days (better for longer trips where you'll only be moving every 2/3/4 days).
For this itinerary using a Swiss Travel Pass ends up being a bit more expensive than the Swiss Half Fare Card, but if you're spending more than five days in Switzerland it may end up cheaper for you to go with the Swiss Travel Pass instead.
Other rail passes
If you're travelling with a Eurail Pass or an Interrail Pass you can also benefit from unlimited train transport between towns and cities, although these passes don't cover boats, buses and public transport like the Swiss Travel Pass. You also won't get the same discount on mountain railways, but you might get 15-30% off on some of them.
If you're doing a big Europe trip with a rail pass and have five days in Switzerland, I'd recommend doing some calculations to see if you'd be better off getting a shorter Eurail Pass (e.g. 10 travel days) as well as a Swiss Rail Pass for 6 days, or if it's cheaper to get a longer Eurail Pass (15 days) to cover your time in Switzerland but have to pay for mountain transport at full price.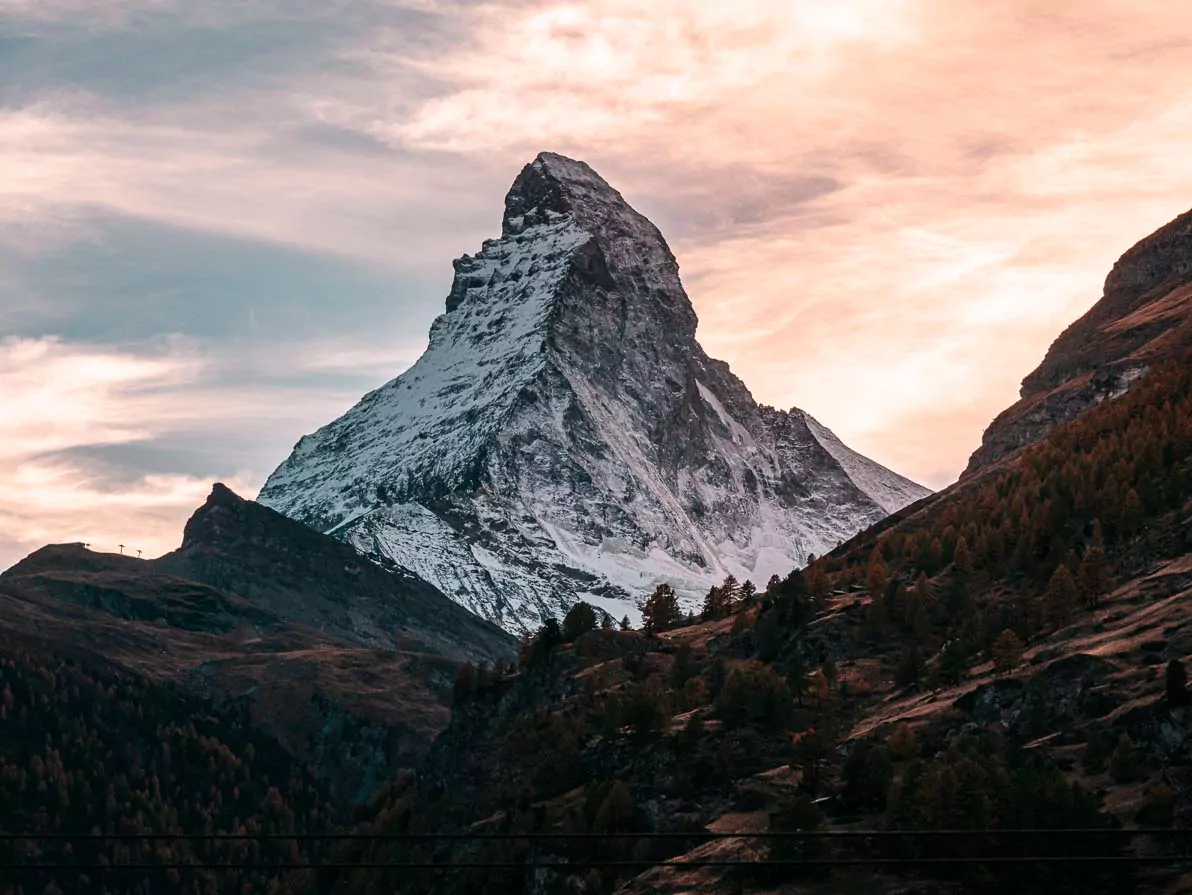 ---
What to budget for five days in Switzerland
While visiting Switzerland certainly isn't easy on the wallet, spending five days in Switzerland doesn't have to totally break the bank.
If you're expecting to live the high life, with beautiful hotel rooms, fancy dinners out and visiting every mountain viewpoint then sure, you're going to spend a lottttt, but if you're happy to stay in hostels or budget hotels, don't mind self-catering a couple of meals a day and are keen to make the most of free hiking opportunities and the rail pass discounts, you might be surprised that you can keep it relatively affordable.
Please note: These prices are totally subject to change depending on the time of year you visit, how far in advance you book and what city you're in. Always check current accommodation pricing for your travel dates before confirming flights because you don't want to buy flights and then realise your hotel will cost you three times as much as you expected!
Also please note that 1CHF usually hovers around 1EUR (+/- 5%) to give you an idea of the exchange rate.
Accommodation
If you're looking for budget accommodation in Switzerland, you can expect to spend around 35-65CHF for a bed in a shared dorm room at a hostel (maybe more expensive for touristy destinations in the high season). These hostels typically have a kitchen or at least a kitchenette with some cooking facilities, so you'll be able to save money on food too. For a private room in a hostel or guesthouse you will likely pay between 75-110CHF, the lower end will probably have a shared bathroom, the higher end might have an ensuite.
For mid-range accommodation in a 3* or 4* well-rated hotel or guesthouse, prices are likely to be anywhere from 140 to 300CHF per night depending on the level of service it offers and the location.
For a more luxurious stay in a fancy 5* hotel or resort, you'll probably be spending upwards of 300CHF and up to four figures per night if you want to go all out.
I always search for accommodation using Booking.com and cross-check with the direct website to see if booking direct is any cheaper (it's usually not) or offers any extra benefits like free breakfast and late checkout.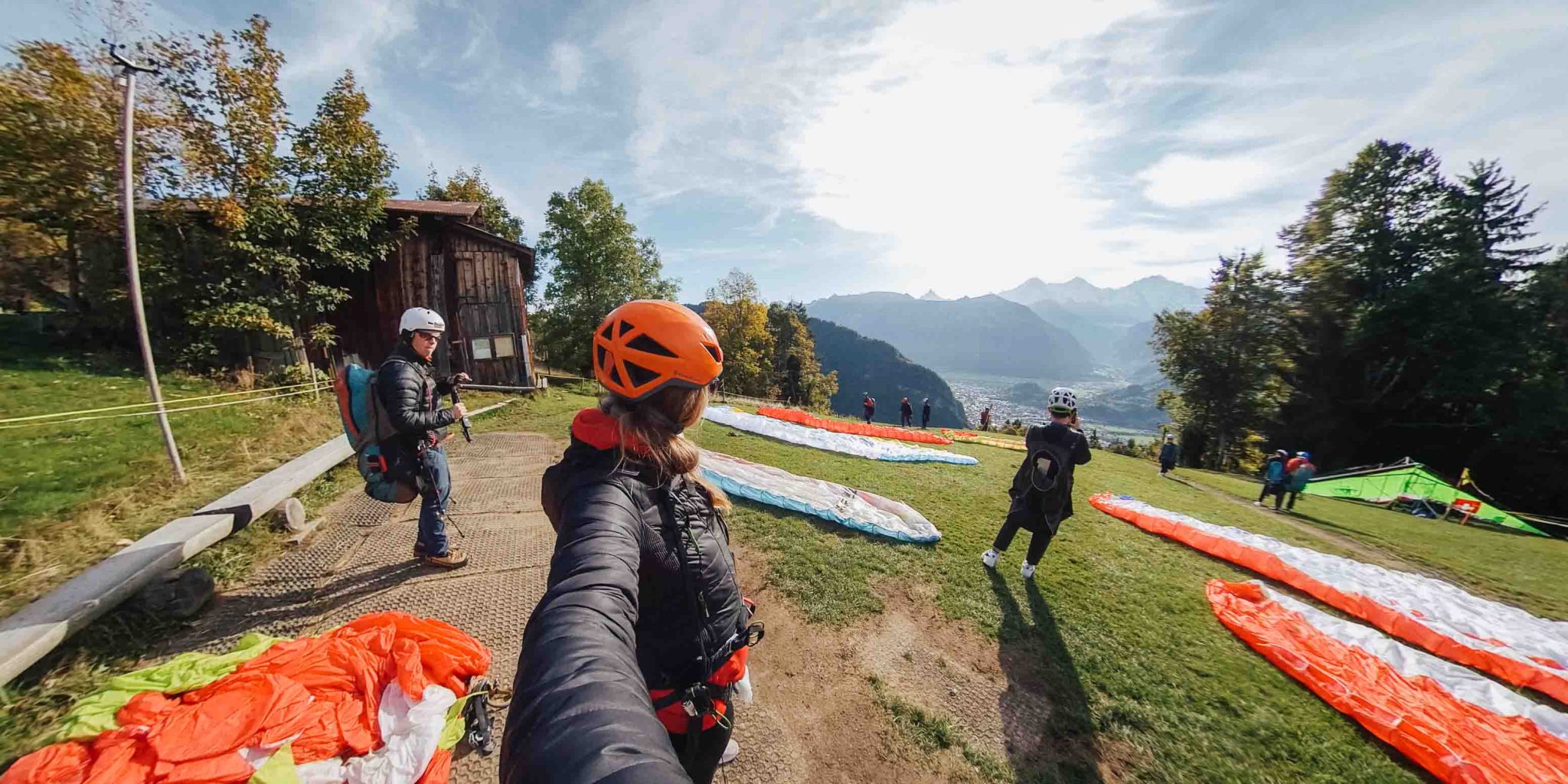 Transport
A quick note before these numbers scare you: This particular Switzerland itinerary includes a few expensive journeys, including visiting the Schiltorn summit, heading up to Jungfrau and taking the Glacier Express. If you're visiting Switzerland on a budget you could absolutely do this itinerary for cheaper and spend your days enjoying free hiking trails rather than going up the mountains, and the Glacier Express route can be done on cheaper regional trains if you don't mind switching trains, find out more in my Glacier Express guide.
Your transport costs will depend on your exact route, how far in advance you book your tickets, if you need flexible tickets or can commit to an exact time, and if you use a rail pass.
In Switzerland many of the inter-city routes offer 'Supersaver' tickets if you book weeks in advance, these are cheaper tickets but require you to choose an exact train and the ticket is only valid for that train (not any other trains on the same route at a different time). If you want a flexible ticket for any train on that route, or if you're booking too close to your departure date and the Supersaver tickets are sold out, you can get a point-to-point ticket valid for any train on that route on that day.
Let's assume we're sticking with this exact Switzerland 5 day itinerary, here are some calculations based on different situations.
If I was booking this route with Supersaver tickets without using any travel pass for a trip in 60 days time, here are the prices:
Zurich to Interlaken: 56CHF
Interlaken to Schiltorn return: 132CHF
Interlaken to Jungfrau return: 213.80CHF
Interlaken to Zermatt: 48CHF
Zermatt to St Moritz on the Glacier Express: 191CHF
Total: 640.80CHF
If I had a Half Fare Card and was booking 60 days in advance, here are the prices:
Zurich to Interlaken: 28CHF
Interlaken to Schiltorn return: 66CHF
Interlaken to Jungfrau return: 106.90CHF
Interlaken to Zermatt: 24CHF
Zermatt to St Moritz on the Glacier Express: 115CHF
Total: 339.90CHF
If I was booking this route for next week on the other hand (with a flexible ticket), with no travel pass, here are the prices:
Zurich to Interlaken: 70CHF
Interlaken to Schiltorn return: 132CHF
Interlaken to Jungfrau return: 213.80CHF
Interlaken to Zermatt: 83CHF
Zermatt to St Moritz on the Glacier Express: 191CHF (but would likely be sold out if booking last minute!)
Total: 689.80CHF
And for the route using a flexible ticket next week with a Half Fare Card, here's what I'd pay:
Zurich to Interlaken: 35CHF
Interlaken to Schiltorn return: 66CHF
Interlaken to Jungfrau return: 106.90CHF
Interlaken to Zermatt: 41.50CHF
Zermatt to St Moritz on the Glacier Express: 115CHF
Total: 364.40CHF
If I had a Swiss Travel Pass, here's what I'd be paying for each trip:
Zurich to Interlaken: 0CHF
Interlaken to Schiltorn return: 42.80CHF
Interlaken to Jungfrau return: 141.80CHF (this is more expensive than using the Half Fare Card, because a Swiss Travel Pass only gives you a third off the price of the Jungfrau trip, compared to half off with the Half Fare Card)
Interlaken to Zermatt: 0CHF
Zermatt to St Moritz on the Glacier Express: 39CHF
Total: 223.60CHF
And finally, if I had a Eurail or Interrail Pass, here's what I'd be paying for each trip:
Zurich to Interlaken: 0CHF
Interlaken to Schiltorn return: 81CHF
Interlaken to Jungfrau return: 160.60CHF
Interlaken to Zermatt: 0CHF
Zermatt to St Moritz on the Glacier Express: 39CHF
Total: 280.60CHF
Let's pull that into one easy section to compare the cost of transport for this itinerary with different passes.
No pass, booking Supersaver tickets in advance: 640.80CHF
Half Fare Card, booking Supersaver tickets in advance: 339.90CHF + Half Fare Card 120CHF, total 459.80CHF
No pass, booking flexible tickets close to travel date: 689.80CHF
Half Fare Card, booking flexible tickets close to travel date: 364.40CHF + Half Fare Card 120CHF, total 484.40CHF
Swiss Travel Pass: 223.60CHF + 6 day consecutive pass 359CHF, total 582.60CHF (but has an extra day which will cover your train back to Zurich or the Bernina Express to Tirano in Italy)
Eurail/Interrail Pass: 280.60CHF + five day Eurail pass 290CHF, total 570.60CHF
Things to note:
Read more: Is a Eurail Pass worth it?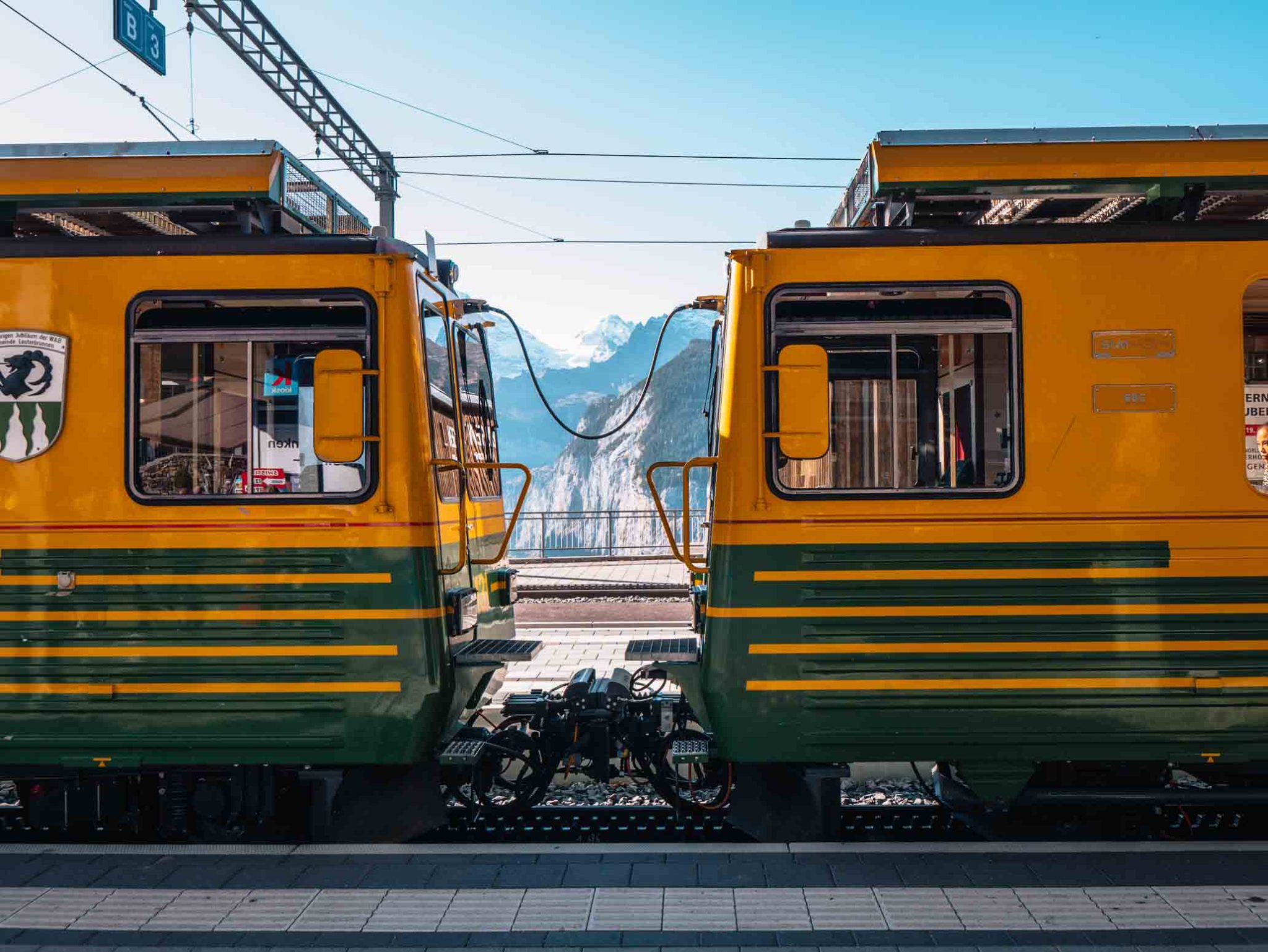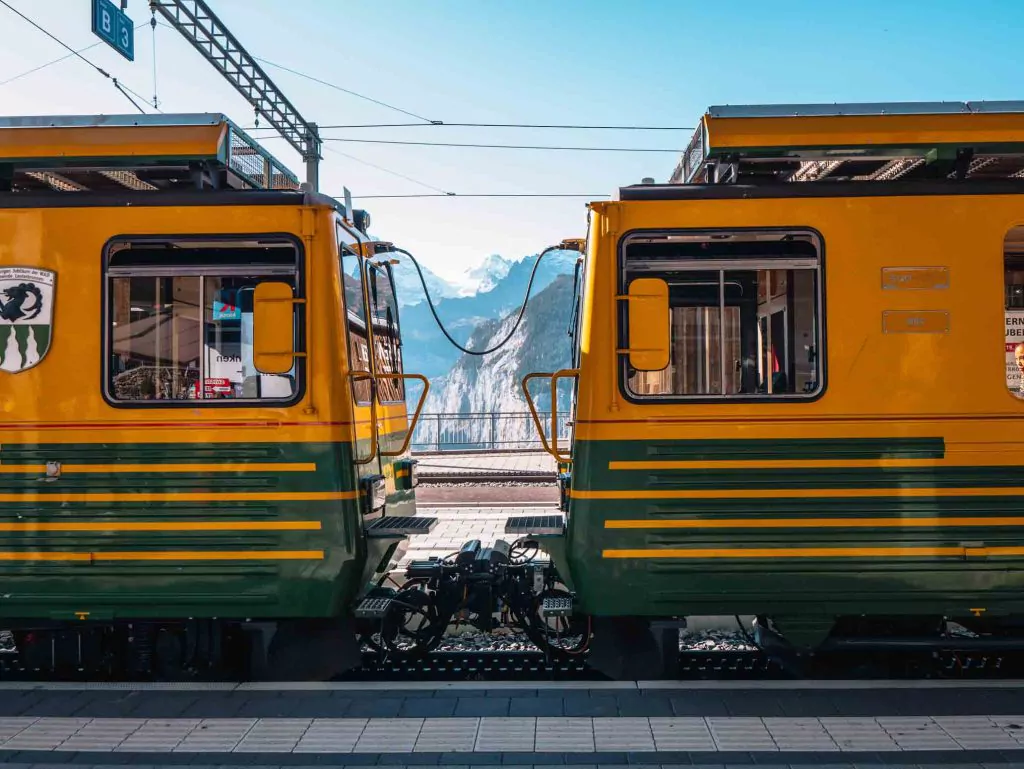 Food
If you're on a really tight budget and you have a kitchen at your accommodation to cook things like pasta, rice or noodles, or you're happy to live off supermarket foods like fruit, crackers, bread rolls, pastries and juice, you could keep your food costs to less than 100-120CHF for five days if you shopped at big supermarkets. This budget wouldn't include more expensive snacks like muesli bars, ready-made sandwiches or salads, any alcohol, or any meals out.
A meal out at a decent but not fancy restaurant will set you back about 25-35CHF for a main, for somewhere more upmarket you might spend 50CHF or more on a main.
A local beer or wine typically starts from 6/7CHF, more expensive in fancy bars and restaurants.
---
The ultimate 5-day Switzerland itinerary
Who is this Switzerland 5 day itinerary for?
This Switzerland itinerary is best suited to fast-paced travellers who want to make the most of each day, don't mind moving around a bit, and who are more interested in the landscapes and nature than city breaks and museums.
Day one: Zurich to Interlaken
At the risk of sounding harsh, if you only have five days in Switzerland, I don't think Zurich should be a priority. It's a beautiful city with some cute, colourful buildings in the Old Town and there's an impressive selection of museums, but it's super expensive, very commercialised and certainly isn't as stunning as other parts of the country.
I'd recommend arriving into Zurich and heading straight to Interlaken to begin your Switzerland adventure.
How to get from Zurich to Interlaken
Direct trains run every two hours, or trains with one train change in Bern run more often, both trains take just less than two hours.
How to get from Geneva to Interlaken
If you're arriving into Geneva instead, you can make a two-train journey from Geneva to Interlaken with a short stop in Bern, it'll take between 2h 45m and three hours.
About Interlaken
Interlaken is commonly referred to as the Adventure Capital of Europe, and I think the vibe is super similar to Queenstown in New Zealand!
There are lakes to kayak, walking trails to hike, slopes to paraglide off and peaks to summit. Anyone who enjoys outdoor adventures while travelling is going to absolutely love it here, but even if you prefer to sightsee rather than get too sweaty, it's equally as impressive from a bus, a boat or an easy-to-reach viewpoint.
Things to do in Interlaken
Bonus tip of what not to do in Interlaken: Lose your wallet! I lost my wallet during a day of hiking, and didn't realise until I went to pay for my dinner (fondue, of course) and realised it wasn't in my bag and I hadn't seen it since 9am that morning. Yikes. I was able to pay with Apple Pay before my bank cancelled my card completely (which obviously cancelled my Apple Pay too) leaving me with literally no way of paying for anything as a solo traveller in one of the most expensive countries in the world. It was a weekend too so even the Western Union shops were closed. Cue a VERY stressful 12 hours with no sleep, many tears on the phone to the bank and to my parents, and a bit of a breakdown to the Balmers Hostel staff who gave me a hug and a free cider (legends). The next morning I got up early to retrace my steps, as I was walking past reception the staff let me know that a bus driver had found my wallet with my hostel key in it and had detoured her bus that morning to drop it off! Switzerland is THE BEST! I bought some chocolate for the driver and asked the bus station staff to give it to her when she finished her work day so I hope she got it.
Lesson to learn from this: DO NOT PUT ALL YOUR MONEY IN ONE PLACE for the love of all travel gods, this is an absolute rookie mistake and I'm embarrassed that I did something so silly. Always have a back up card and some easy-to-exchange cash like Euros, Pounds or USD in a safe place like a zipped pocket of your suitcase. These days I also travel with AirTags in my bags, including one in my wallet, which would have saved a lot of stress as it would have alerted me that I'd left it behind as soon as I got off the bus.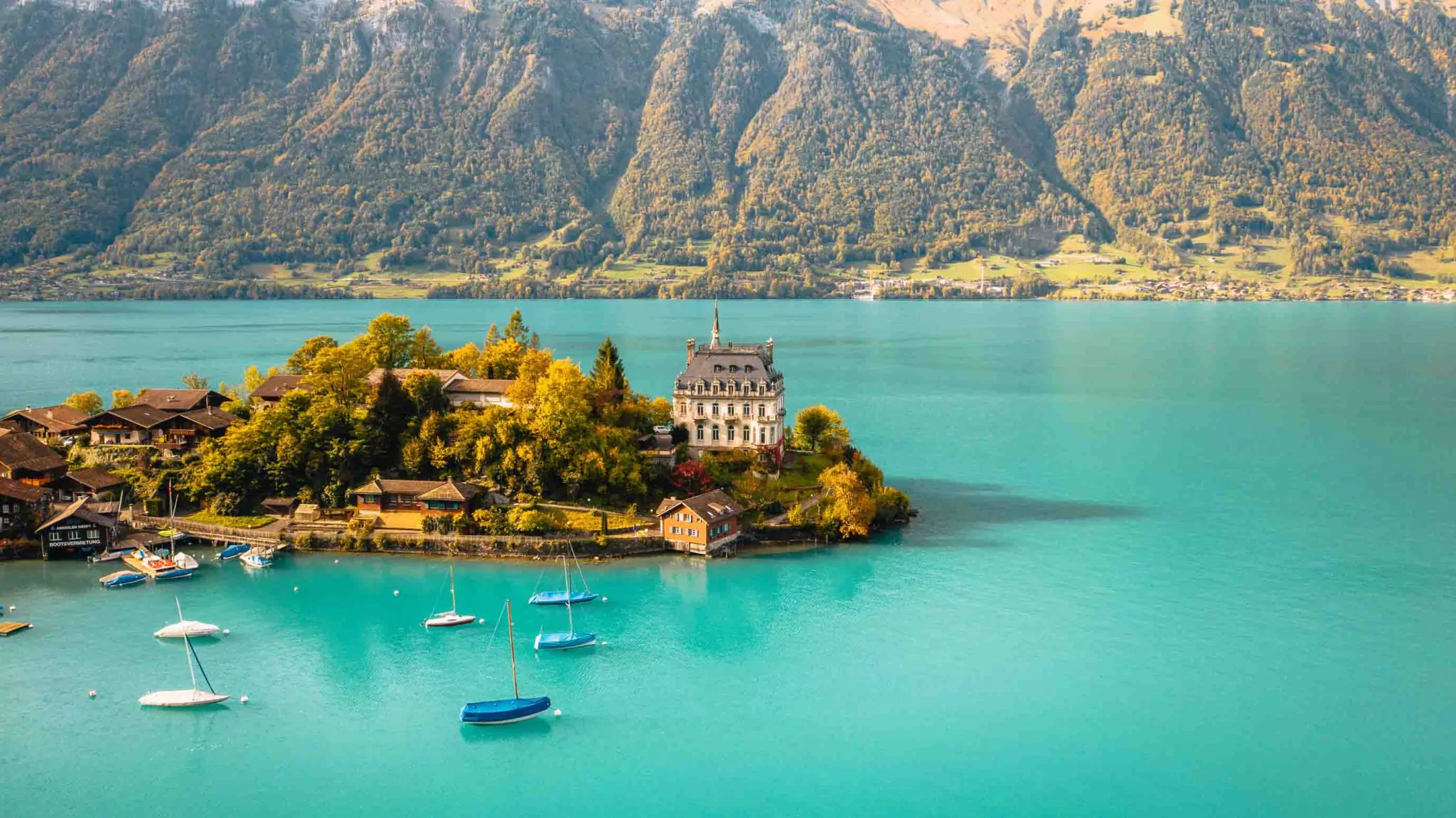 Where to stay in Interlaken
Budget | Balmers Hostel is an Interlaken icon, and it's one of the best hostels in Europe in my opinion. Super friendly staff, basic but comfortable rooms, cosy common areas with hammocks and beanbags, incredible value for money, and plenty of opportunities to meet fellow travellers. If Balmers isn't available then some other top-rated budget options are Interlaken Youth Hostel and Adventure Hostel.
Mid-range | For something comfortable but not too pricey you could consider Hotel Bernerhof, the Hey Hotel, Boutique Hotel Bellevue or Hotel Interlaken
Luxury | The best-rated five star hotel is Victoria Jungfrau Grand Hotel & Spa, or for a luxurious apartment stay there's the Swiss Hotel Apartments
---
Day two: Lauterbrunnen day trip
Day two of this five day Switzerland itinerary takes you to Lauterbrunnen, a picture-perfect village that looks like it's straight off a postcard.
How to get from Interlaken to Lauterbrunnen
It's only a short 20 minute train from Interlaken Ost station to Lauterbrunnen.
About Lauterbrunnen
As far as photogenic destinations go, I can guarantee that the valley village of Lauterbrunnen is one of most picturesque places you'll ever see.
Quaint alpine chalets are tucked into the hilly terrain, a sky-high waterfall tumbles over the jagged cliffs behind the town (and 71 other waterfalls can be seen flowing into the valley too), and the height of the mountains means you'll get dramatic lighting conditions around two hours after sunrise and before sunset.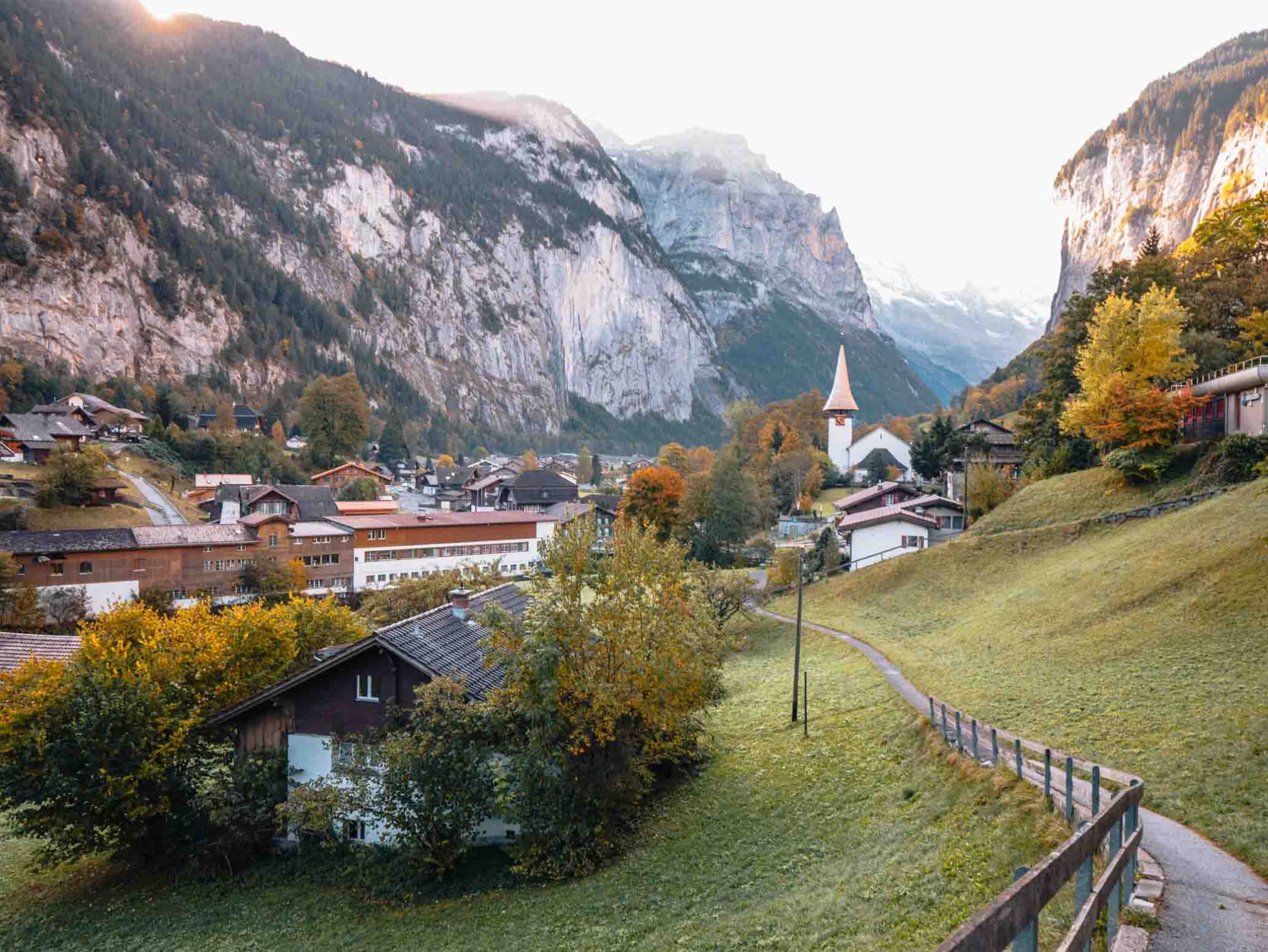 Things to do in and around Lauterbrunnen
Should you stay in Lauterbrunnen?
There are some nice places to stay in Lauterbrunnen (as well as in Mürren, Grindelwald or Wengen nearby), so you could either choose to move your luggage here for two nights (day two and day three), or just stay in Interlaken for the first three nights and use that as a base for day trips if you'd prefer to sleep in one place for longer.
If you do choose to stay in or near Lauterbrunnen, here are some top-rated options.
Budget | Valley Hostel, Alpine Base Hostel and Camping Jungfrau in Lauterbrunnen, or Mountain Hostel in Gimmelwald or Eiger Guesthouse in Mürren
Mid-range | Hotel Silberhorn, Hotel Staubbach, Hotel Oberland (all in Lauterbrunnen) and Berghaus Männlichen (Grindelwald) are all great value options for a mid-range budget
Luxury | Hotel Regina, Alpine Hotel Wengen and Beausite Park Hotel are all beautiful 4* options in Wengen, or Belvedere Swiss Quality Hotel is a stunning 4* hotel in Grindelwald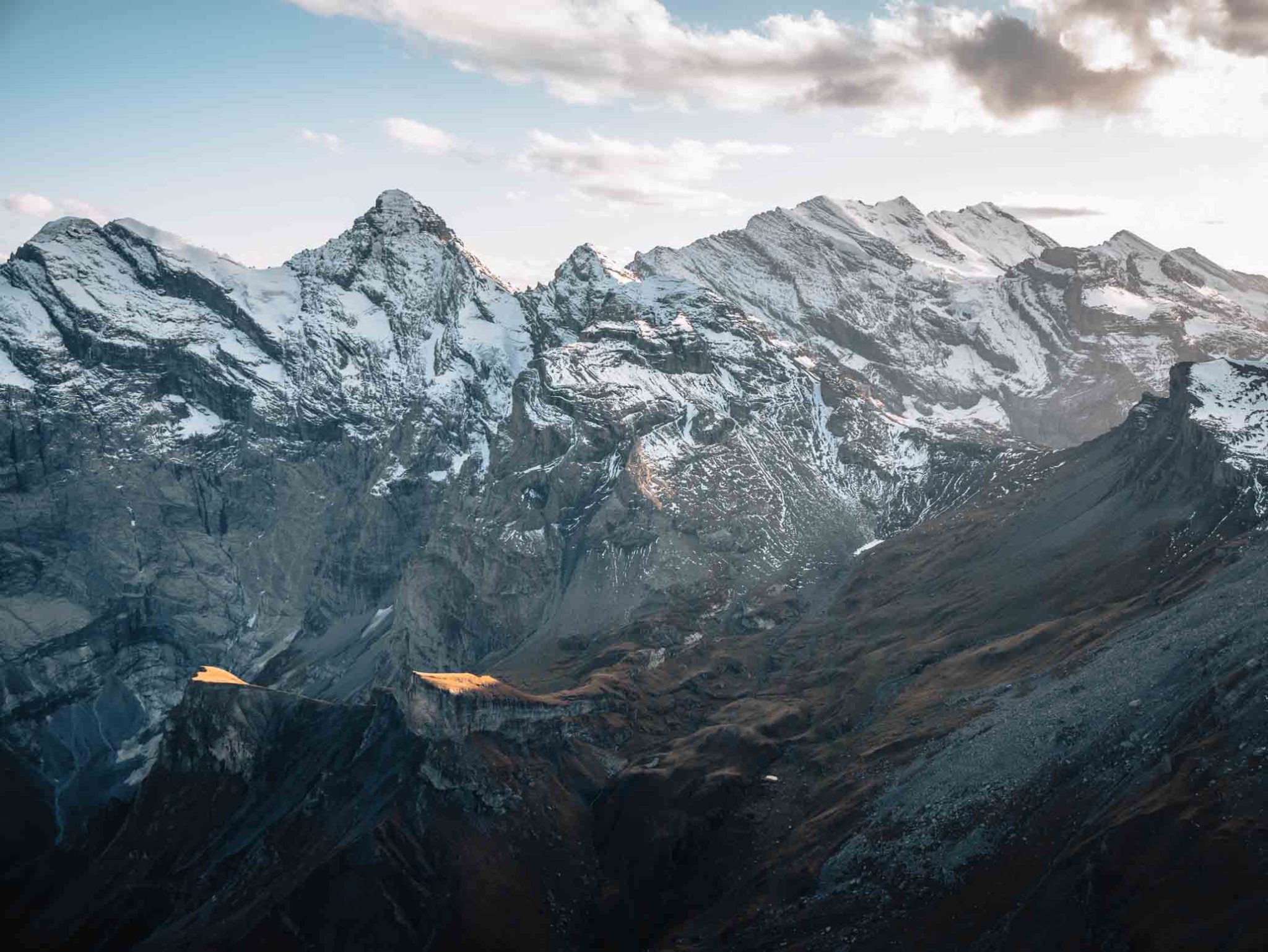 ---
Day three: Jungfraujoch day trip
Day three of your five days in Switzerland gives you the chance to experience "the Top of Europe" on a day trip from Interlaken or from Lauterbrunnen.
About Jungfraujoch
One of the highest peaks in the Bernese Alps, Jungfrau towers above the valleys at more than 4100m tall. But despite this area being known as "the Top of Europe", the mountain isn't actually the tallest in Europe, in Switzerland, or even in the Bernese Alps!
PS: Mount Elbrus is the highest in Europe at 5642m, Monte Rosa is Switzerland's highest at 4634m, and Finsteraarhorn is the tallest in the Bernese Alps at 4274m.
What the "Top of Europe" actually refers to is that the Jungfraujoch train station is the highest railway station in Europe, sitting at an unbelievable 3454m above sea level. What's even more impressive is that the station was opened way back in 1912!
These days it's a very touristy attraction, but one that should be on your Europe bucket list nonetheless.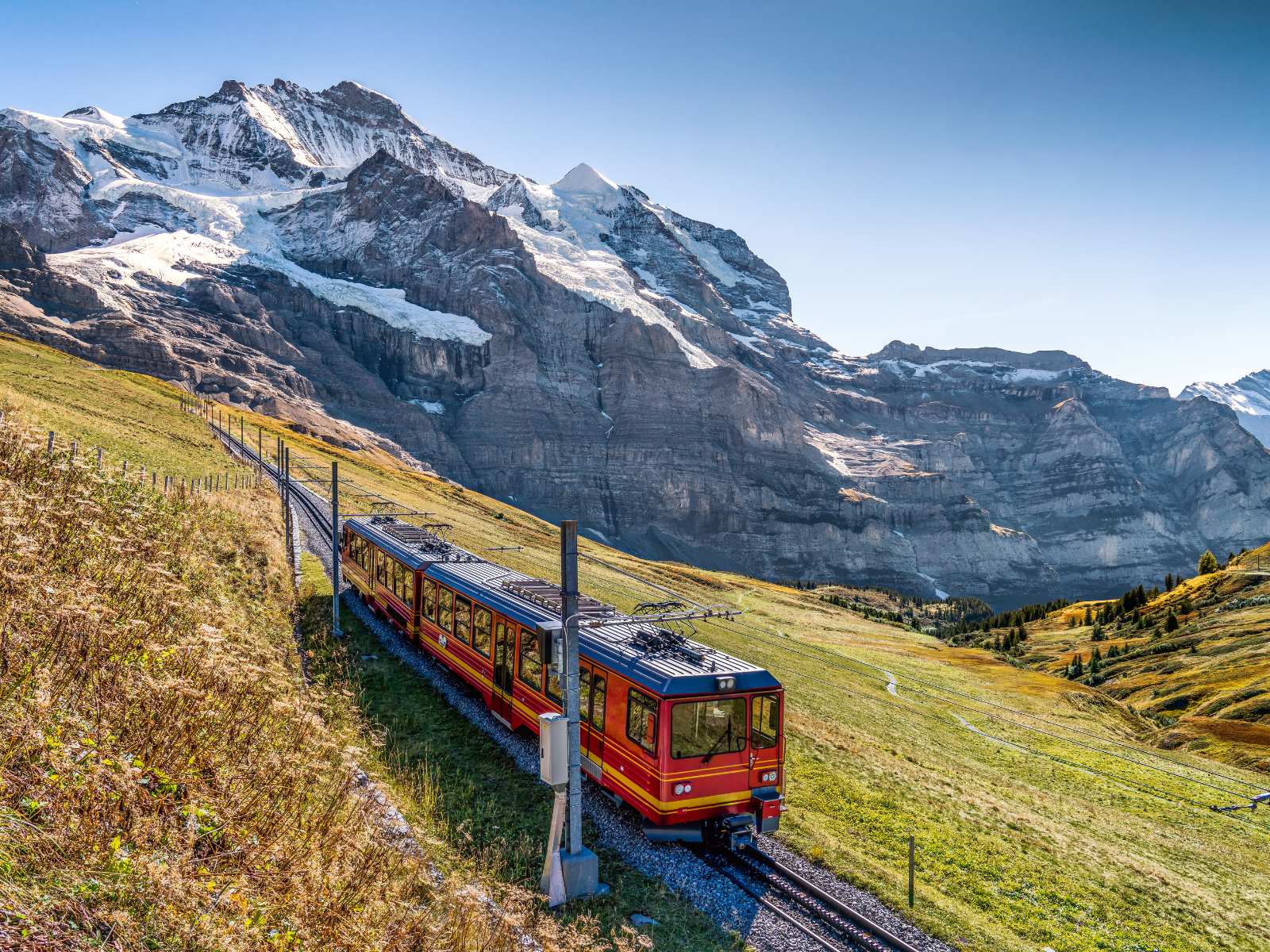 How to get to Jungfraujoch
You could either go to Jungfraujoch with a group tour, or choose to go independently with a combination of trains and gondolas.
There's a new way to reach Jungfraujoch from Interlaken, which is also the fastest way at about 1h 30m. Start by taking the train to Grindelwald, then switch to the fancy new Eiger Express gondola for a 15 minute journey to the Eiger Glacier Station. From here you'll change to the Jungfrau Railway which takes you through mountain tunnels to reach the Top of Europe train station. You can book tickets online here if you have a Swiss Travel Pass or Eurail Pass, or book them online here if you're buying tickets without a rail pass.
For the old, traditional experience of reaching Jungfraujoch, you can take the Wengenalp Railway from Lauterbrunnen to Kleine Scheidegg Station, then change to the Jungfrau Railway from there. This takes about 90 minutes from Lauterbrunnen, plus another 20 minutes to get there from Interlaken, so 1h 50m total.
TRAVEL TIP: Sit on the right side of the Jungfrau train for the best views!
While the journey to Jungfrau might sound a bit confusing, there's very clear signage and staff who can help you get to where you need to be, as well as plenty of other tourists who will be going to the same place as you. But if you'd prefer to relax during the journey and have all the logistics sorted by someone else, there is a top-rated day tour you can take.
Visiting Jungfrau on a tour
This guided day trip to Jungfrau from Interlaken gives you the best of both worlds, with your journey there using the Eiger Express gondola and your journey back using the Wengenalp Railway to Lauterbrunnen and then back to Interlaken, without any stress on your side.
With this day tour you can't get any discounts for travel pass though, so if you have a Swiss Travel Pass or Eurail Pass you'll need to just book the tickets yourself to make use of the discount.
---
Day four: Interlaken to Zermatt
How to get from Interlaken to Zermatt
An easy train journey with two changes, taking around 2h 15m. The first train is a short 22m train from Interlaken to Spiez, then change to get on the Spiez-Visp train (26m), then a final change to catch the Visp-Zermatt train (1h 6m).
Switzerland train stations are very easy to change at, lots of staff to help, lots of tourists doing the exact same change, and these particular trains run constantly throughout the day so in the unlikely chance that you miss your connection, there will be another train coming in half an hour or less.
About Zermatt
Best known as one of Switzerland's most iconic winter resorts, Zermatt is actually worth a visit at any time of the year, with incredible hiking opportunities through summer, vibrant colours in autumn and wildflowers blooming on the alpine meadows throughout spring.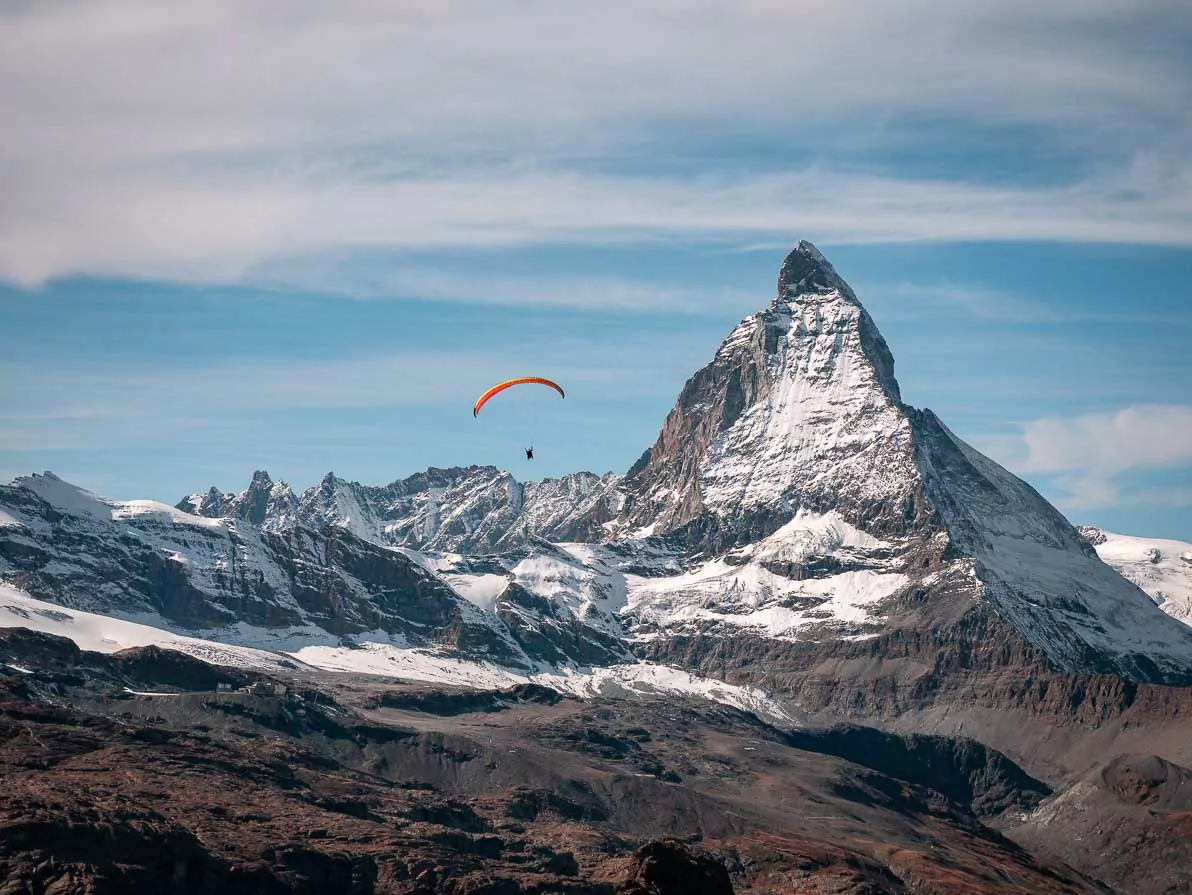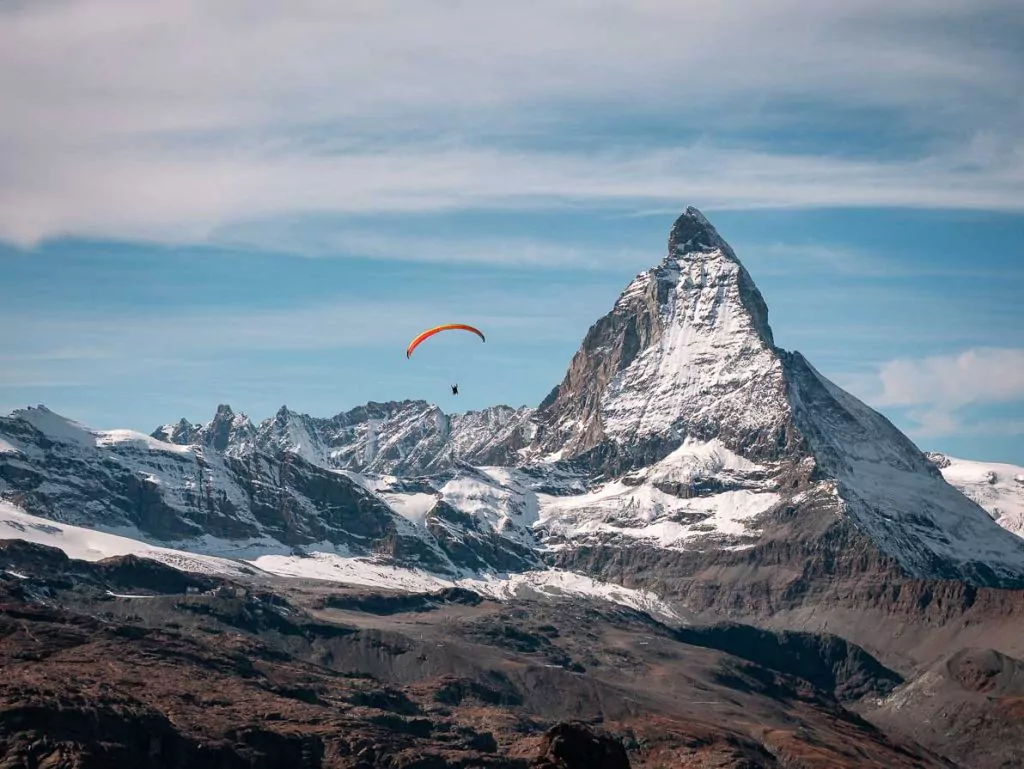 Things to do in Zermatt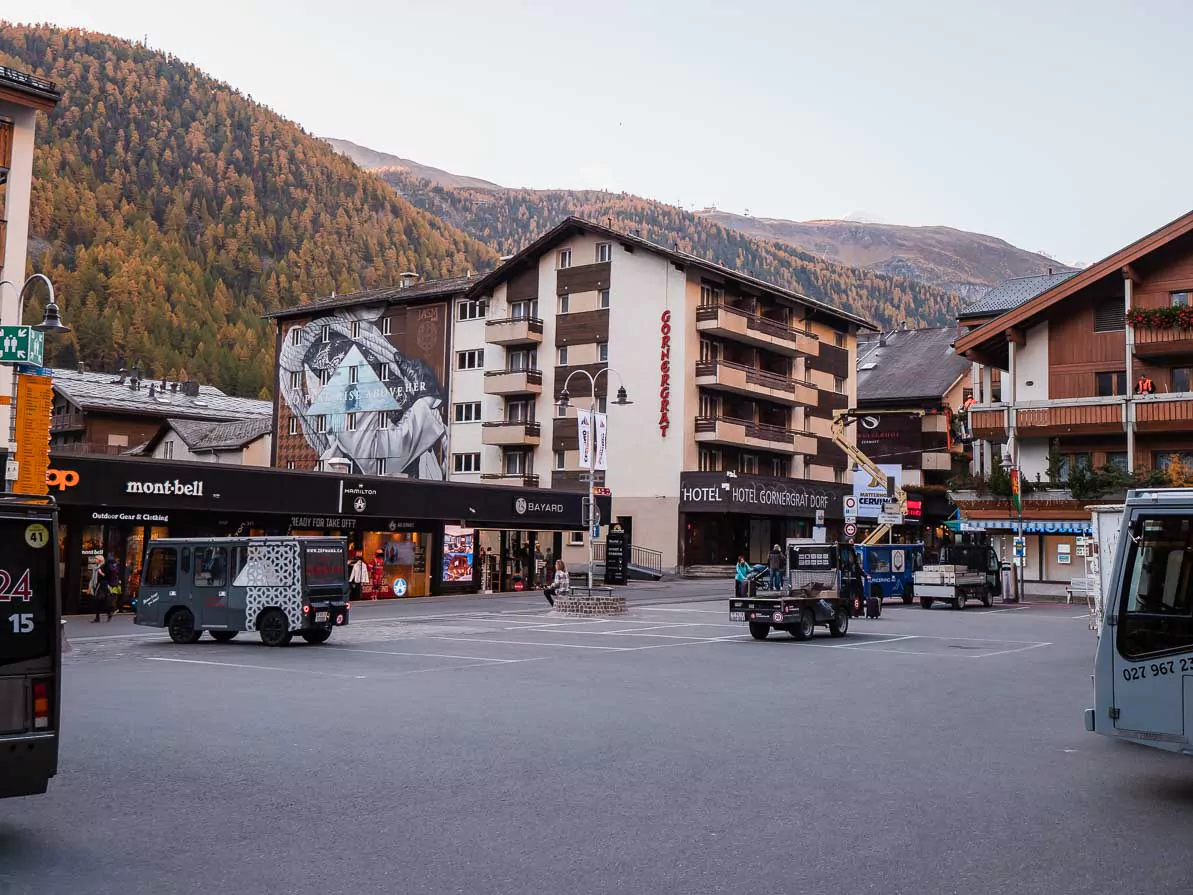 Where to stay in Zermatt
Budget | Zermatt Youth Hostel is the top-rated budget option, or ALPINA Budget Rooms, Hotel Alphubel and Le Petit Charme-Inn are also rated over 8/10 on booking.com
Mid-range | Chesa Valese, SchlossHotel Zermatt, Unique Hotel Post and Schallers Tannenhof are all well-rated with rooms for an average budget
Luxury | Where I stayed, Hotel ZERMAMA, actually offered incredible value for money and would probably fit nicely in the mid-range budget, but it was SO dreamy and luxurious that I'm putting it under luxury instead because that's what you can expect here. The rooms are divine, with options ranging from cosy single rooms (yay for solo travellers!) through to spacious suites with bathtubs and balconies. There are lots of amazing little details, like in-room yoga mats and resistance bands with workouts on the TV, faux fur coats for chilly evenings and the aforementioned fondue set, and the staff, food options, location are all brilliant. I adore this place, I can't wait to return!
Self-contained | Studio MIA, Alpenblick Superior and Piccolo Fiamma all have options with a kitchen/kitchenette
---
Day five: Zermatt to St Moritz
How to get from Zermatt to St Moritz
For your final day of this 5-day Switzerland itinerary, the actual journey is the experience. You'll catch the renowned Glacier Express panorama train from Zermatt to St Moritz, one of Switzerland's famous tourist trains and hands down one of the most scenic train journeys in the world.
About the Glacier Express
This eight-hour train slowly meanders through valleys, around mountains and over alpine passes, offering its passengers some of the most stunning scenery ever witnessed through a train window. And the windows are BIG too, curving at the top to give you uninterrupted views of Switzerland's magical landscapes.
The Glacier Express is a popular route, for obvious reasons, and you will need to reserve seats in advance. Tickets are pricey but you can save A LOT by using a Swiss Travel Pass or Eurail Pass, that way you'll only need to pay the seat reservation.
For more details on this incredible train journey, read my detailed Glacier Express travel guide.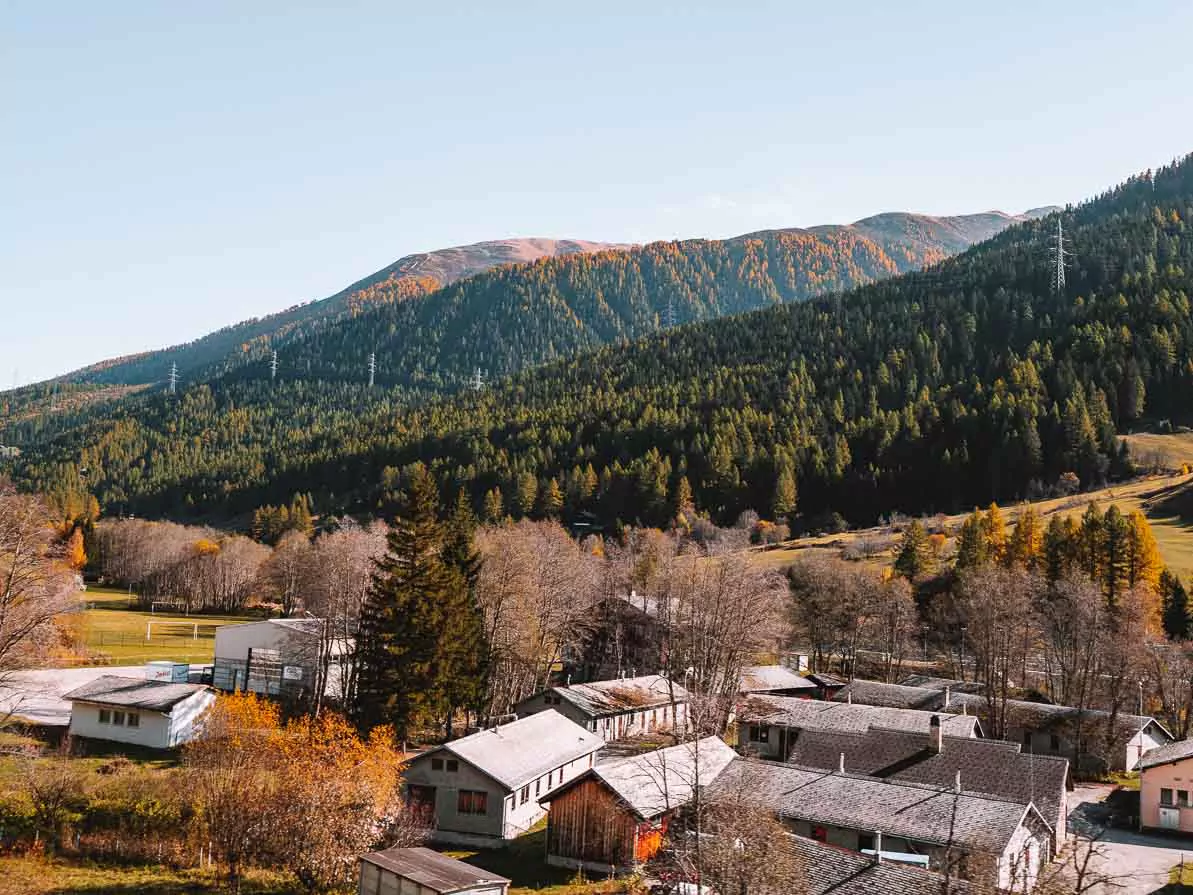 About St Moritz
The birthplace of alpine tourism since the mid-1800s, St Moritz boasts 5* hotels, fancy ski resorts and gourmet restaurants, and it's the ideal place to enjoy a bit of luxury at the end of your five days in Switzerland. And if you're travelling on a budget then don't stress, spend your night at a cheap and cheerful chalet, grab a sandwich from the supermarket and enjoy it lakeside with incredible views that won't cost you a cent.
Things to do in St Moritz
Where to stay in St Moritz
Unique | I spent two nights at one of the most unique accommodation spots in the world, a historic observatory with mountain views, a turning mechanism and a cog-wheel window for stargazing. The observatory is located at Randolin's Berghotel and also gives you access to the hotel's beautiful spa and wellness area. One for the bucket list for sure, a true once-in-a-lifetime experience!
Budget | St Moritz Youth Hostel or Hostel by Randolin's are the top-rated budget options for dorm rooms or cheap private rooms
Mid-range | Randolin's Berghotel also has mid-budget hotel rooms that offer a comfortable stay, great facilities and incredible views for an affordable price, or you could also look at Hotel Piz, Chesa Languard or Boutique Hotel Cervus
Luxury | Suvretta House is an iconic St Moritz luxury hotel, Kulm Hotel has incredible reviews, and Carlton Hotel is one of the Leading Hotels of the World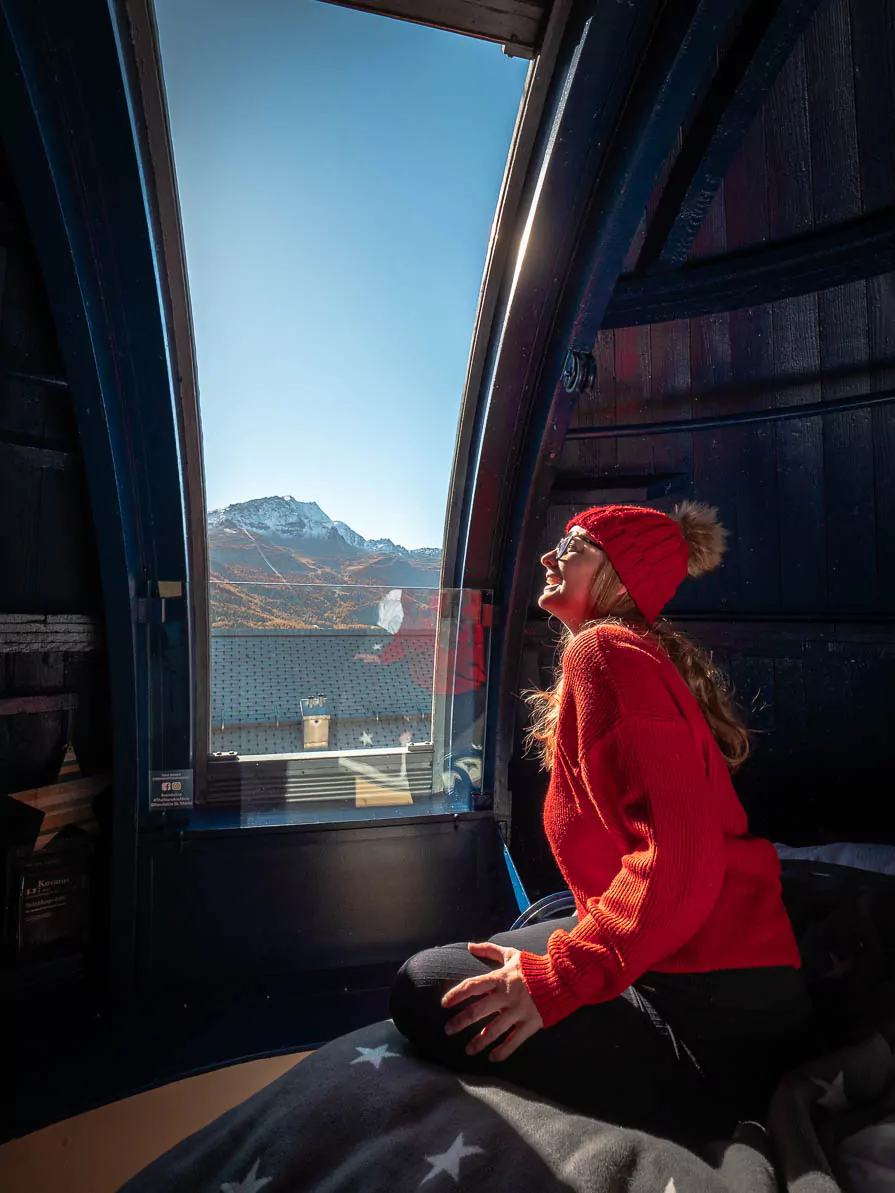 ---
After St Moritz
At the end of your Switzerland 5 day itinerary, you could either catch the train back to Zurich to fly out (3h 10m-3h 40m, one change in Chur or Landquart) or if you're continuing your Europe trip, I'd recommend catching another panoramic train, the Bernina Express, through to Tirano in Italy.
From Tirano you can either stay a while to enjoy the sleepy Italian mountain village or take a same-day train onto Milan, where you can then fly or train to any number of cities.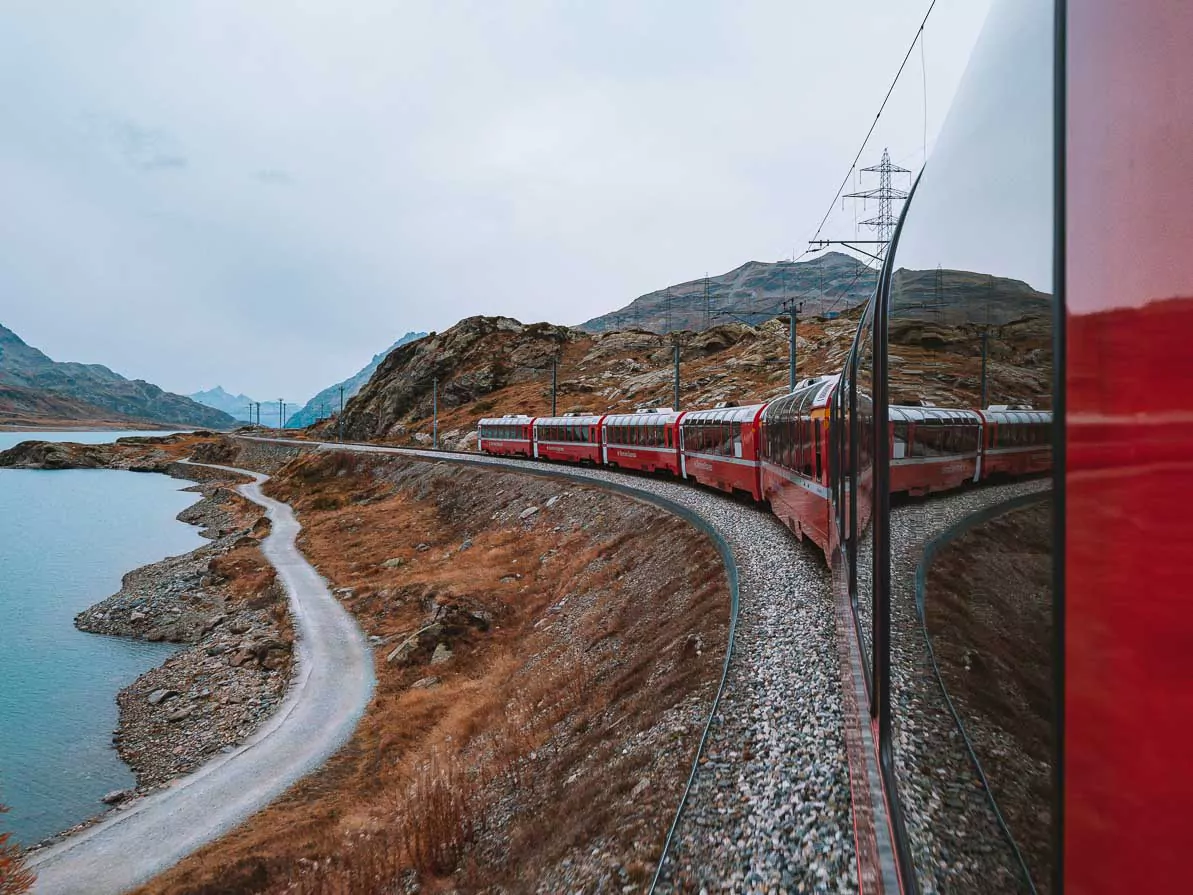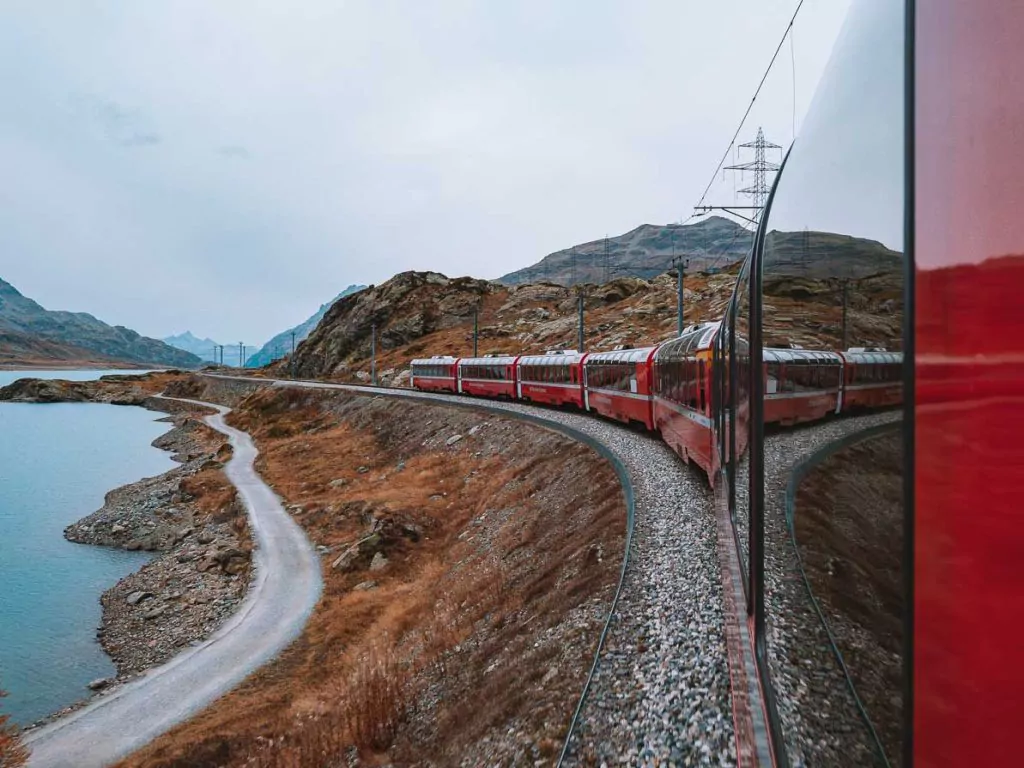 ---
And there you have it, a detailed itinerary for 5 days in Switzerland! I hope this itinerary has helped you plan your five day Switzerland trip, and I hope you have the most incredible time.
As always, if you have any questions please feel free to leave me a comment and I'll get back to you as soon as I can.
MORE SWITZERLAND & EUROPE BLOGS YOU MIGHT LIKE: