Planning to spend a week in Queenstown? This 5 day Queenstown itinerary covers all the usual suspects as well as some hidden gems beyond the obvious attractions. Whether you're visiting Queenstown in winter or in summer, here are some travel tips for making the most of five days in Queenstown (with options for longer or shorter itineraries).
Queenstown is undeniably New Zealand's premiere tourist destination. With a picture-perfect lake bounded by rocky mountains, a seemingly endless supply of thrilling adventures on offer, and easy access to wineries, ski fields, hiking trails and luxury lodges, it definitely deserves the hype it gets.
Queenstown is one of my all-time favourite cities, and it's one of those places I'll happily return to time and time again. I used to come down here for skiing trips when I was at school, and now I aim to make an annual pilgrimage to this part of Aotearoa (New Zealand) when I'm home for a couple of months each year.
If you're visiting Queenstown for the first time, this five day Queenstown itinerary will help you plan a trip to see all the best bits, some you've definitely heard of, some you probably haven't.
Read on for the best way to experience Queenstown in five days, plus my suggestions on where to stay in Queenstown, and some travel tips to help you make the most of your time.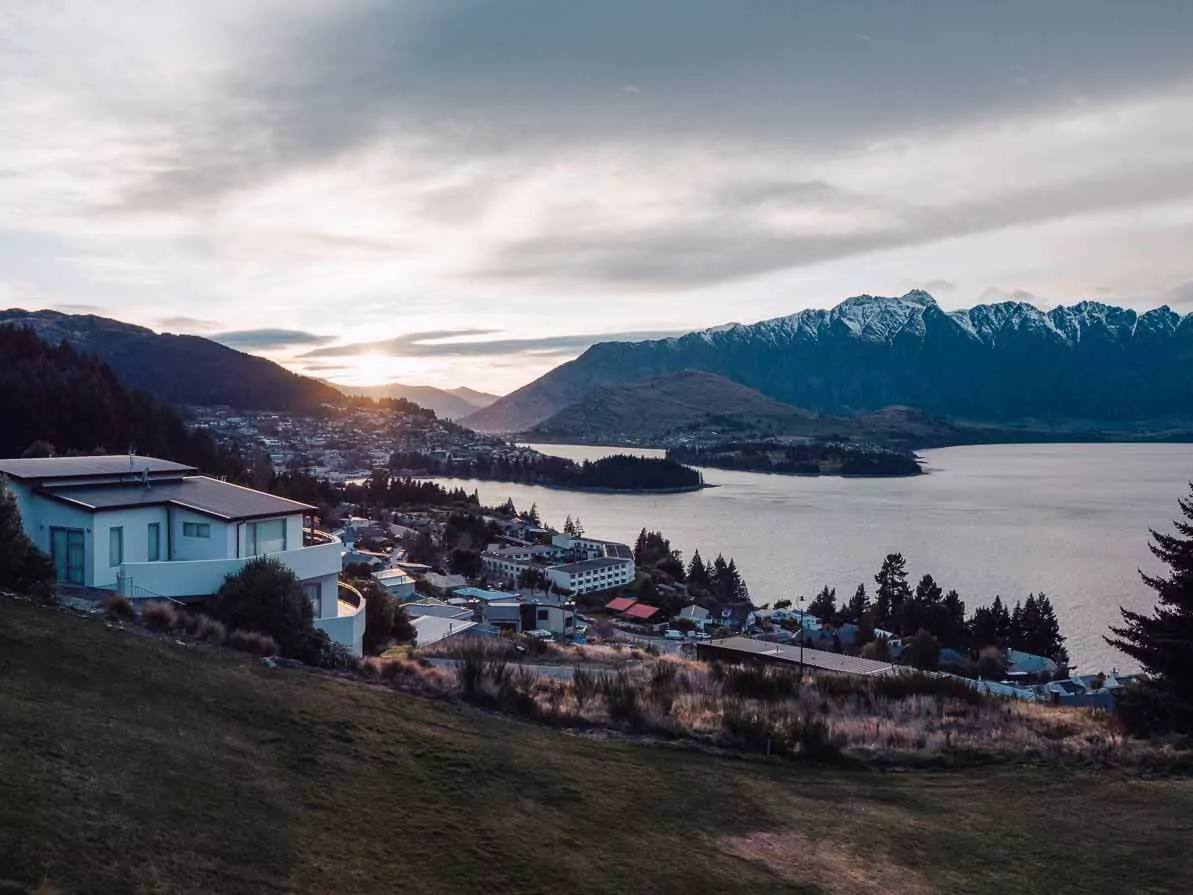 ---
How to get around Queenstown
You'll arrive in Queenstown by flight, car or bus.
If you're driving to Queenstown, it's just under 6 hours from Christchurch or just under 5 hours from Franz Josef Glacier.
If you're arriving by air, the airport is a 15 minute drive from Queenstown's main centre and there's public transport options, shared shuttles and private transfers available if you don't have your own car. You can book your Queenstown Airport shuttle here.
Getting around Queenstown with a rental car
If you're comfortable driving, I'd highly recommend booking a rental car in Queenstown so you have easy access to explore the nearby gems of Arrowtown, Glenorchy, Wanaka and beyond.
TRAVEL TIP: Snap Rentals are my go-to rental car company in Queenstown, they offer fantastic value and equally good service. Their depot is right opposite Pak'n'Save, the budget supermarket chain in New Zealand, be sure to make a stop to top up on snacks before kicking off your Queenstown itinerary.
Parking in Queenstown is a bit of a nightmare at the best of times, so make sure to reserve a carpark when you book your hotel.
Getting around Queenstown without a rental car
If you don't want to deal with parking and traffic, or if you aren't able to or confident enough to drive in New Zealand, you can still easily experience the best of Queenstown without your own four wheels.
The town itself is small so you can easily walk from one side to the other, and if you're planning an activity outside of the town centre, many of the tourism suppliers offer free shuttles for customers staying in Queenstown. There's a public bus system that services many of the main roads, and there's also Uber if you want a quick and easy private ride.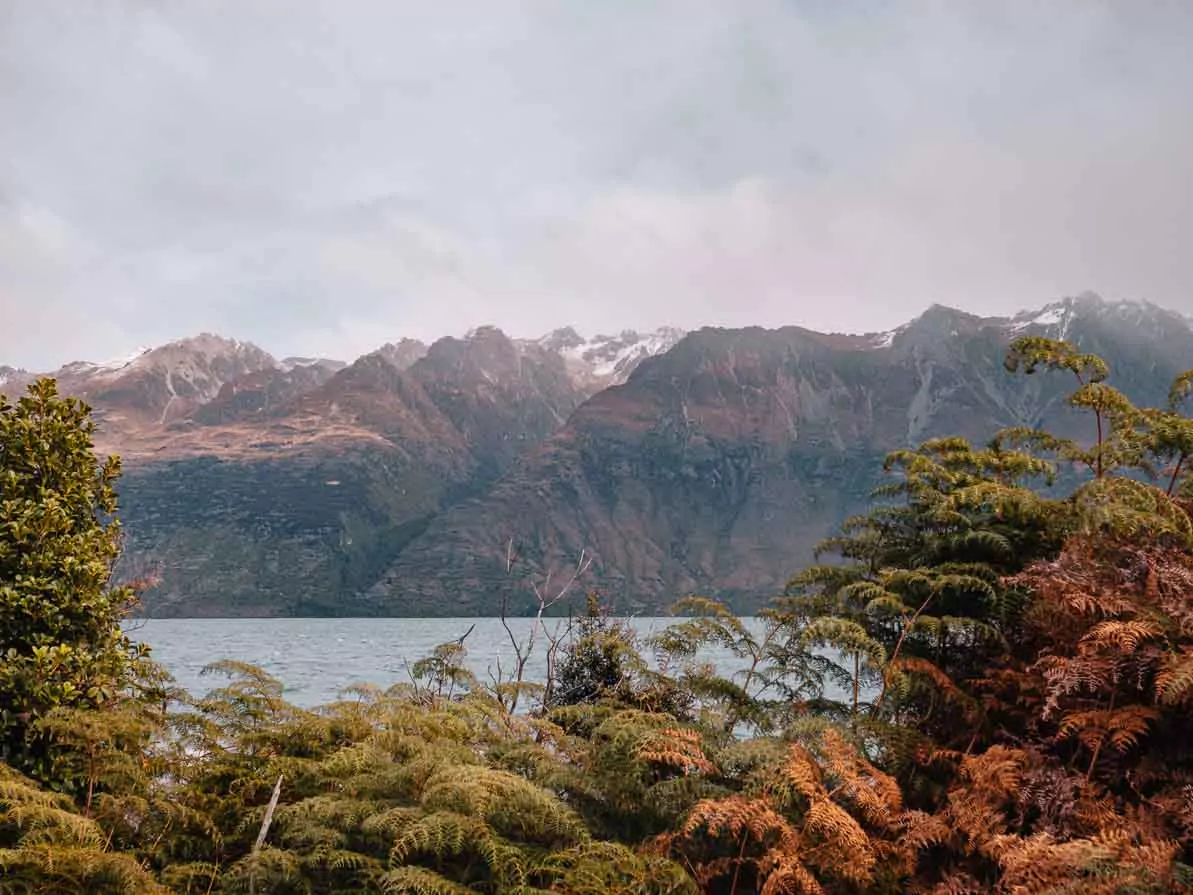 ---
When to visit Queenstown
Queenstown is one of those unicorn year-round destinations so it totally depends on what you're after.
Winter | Keen for a bit of snow? Winter in Queenstown is world-class, with some of the best skiing on offer in the whole southern hemisphere and a pumping après-ski scene to boot. The ski fields are open from around mid-June to mid-October, depending on snowfall.
Winter in Queenstown (June to August) is reasonably mild compared to other ski towns around the world, with average temperatures ranging from -2°C to 8°C. It does sometimes snow in the township itself in winter however at only 310m above sea level and with a giant lake right there which warms the area, the snow generally melts after only a couple of days. The mountains however will be doused in powder throughout the season.
Summer | Summer in Queenstown (December to February) is a whole other kettle of fish, with long days of sunlight (around 5am-10pm in mid-summer) and average temperatures between 20°C and 30°C.
With plenty of adventures on the lake (cruises, kayaking, swimming) as well as on land (hikes, wineries, bike trails) seeing this typically winter-wonderland destination in warmer weather is worth adding to your New Zealand bucket list.
Spring + autumn | In the shoulder seasons (March to May + September to November) expect temps of between 8°C and 25°C, landscapes that come alive with flowers blooming in spring or vibrant autumn colours, and lower prices with less tourists.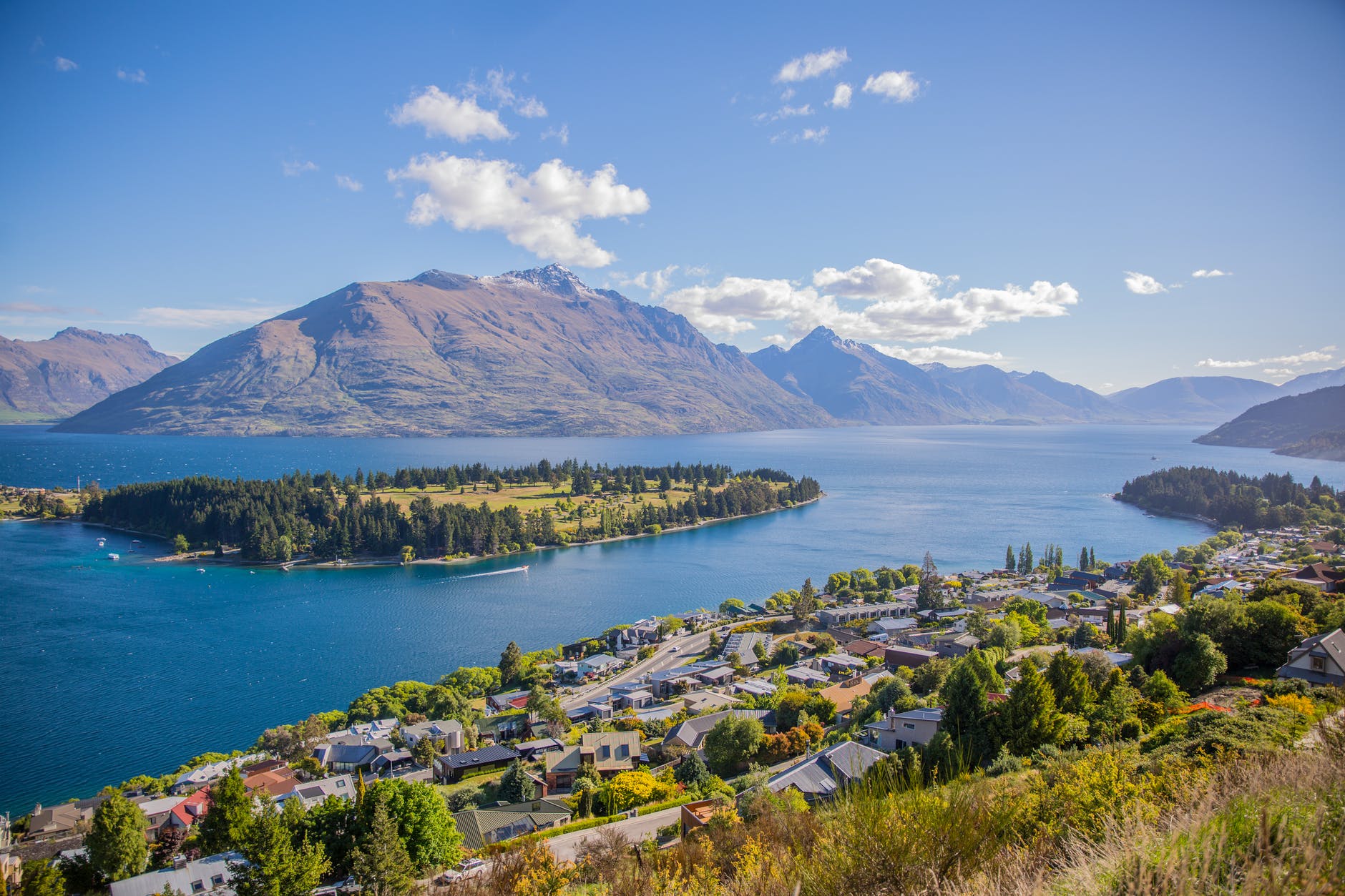 ---
5 Day Queenstown Itinerary
This five day Queenstown itinerary is my suggested itinerary for first-timers to spend 5 days in Queenstown. If you have a specific interest, like culinary adventures or high-octane thrills for example, or if you're visiting for a shorter or longer time period, I've given you some options to change up the itinerary at the bottom.
Already visited Queenstown on a previous South Island trip? Consider spending some of your time in alternative destinations like Wanaka, Milford Sound, Te Anau, Stewart Island or Franz Josef Glacier instead.
Day 1: Get your bearings
Note: The Skyline Gondola is closed for refurbishment until 1 July 2023, when it will reopen with a brand new gondola system! They're switching from 4-seat gondolas to 10-seat gondolas and they'll no doubt be busy in the weeks after opening, so if you're visiting in or after July then book ahead to ensure you get a spot.
Unfortunately, this means that all the activities suggested for day one (the gondola, the luge, Ziptrek ziplining and Stratosfare buffet lunch) are all closed for the moment. In the meantime I'd suggest skipping straight to day two of this Queenstown itinerary, and you can fill your spare day with an additional day trip or a chilled out treat yourself day with wineries, hot pools and good food.
Morning
To kick off your Queenstown adventure, go for a wander around the city centre and the lakefront to get your bearings.
Treat yourself to a nice brunch (I'd recommend Yonder, Bespoke Kitchen or Vudu) or opt for an iconic Fergburger for lunch! The line can get long so it's best to order online or by phone, then pick up your burger of choice and eat it down at the waterfront.
Afternoon
Tick off one of Queenstown's must-dos with a gondola trip, which takes you up 450m on the steepest cable car in the southern hemisphere.
The view from the gondola is pure magic, overlooking Lake Wakatipu, the Remarkables mountain range, Coronet Peak and Queenstown itself.
Once you're up there, there's a few activities to choose from.
One of the most popular things to do in Queenstown is the Luge, a gravity-powered go-kart-looking-thing that you can drive down a couple of tracks from the gondola.
The Blue Track is the leisurely option, with incredible views and easy bends for first-time riders and kids. The Red Track is steeper, with sharper corners and more thrilling, ideal for racing your travel buddies.
You can get gondola + luge tickets depending on how many luge rides you want, starting from $61 for gondola + 2 luge rides, to $69 for gondola + 6 luge rides.
Book your gondola and luge combo here.
If you're keen to try something even more adventurous, Ziptrek Ecotours run zipline tours from their treehouse just a short walk from the top of the gondola. Ziptrek aren't associated with the gondola so the signage isn't great but turn left at the top of the gondola and you'll soon see the track to the treehouse.
Ziptrek have six epic ziplines on offer, with three tours to choose from (either two, four or all six ziplines). We did the Kea Tour, which does all six ziplines including the steepest zipline in New Zealand!
Their ethos is all around sustainability and eco-friendly tourism, and throughout the tours you learn about conservation of flora and fauna, Queenstown's history and even a bit of Maori mythology. And as an added bonus, as you're zipping between sky-high treehouses you'll be treated to killer views of the lake and mountains!
Click here to learn more about Ziptrek Ecotours and book a zipline tour.
Other activities available up the gondola are the onsite Stratosfare Bar and Restaurant (which serves up an impressive buffet-style lunch and dinner), The Ledge Bungy and Swing, G Force Paragliding (more on that below) and a range of hikes either further up the mountains or back down to Queenstown.
---
Day 2: Get your heart racing
Did you really come to Queenstown if you didn't get a bit of an adrenaline rush?
On your second day of your 5 day Queenstown itinerary I'm challenging you to get out of your comfort zone.
Morning
Let's get the scary ones out of the way shall we? Pick your thrill: Skydive, bungy or paraglide.
It's widely recognised that Queenstown is one of the most beautiful places in the world for a skydive, with bird's eye views of lakes and mountains as far as the eyes can see.
With altitude options of 9,000, 12,000 and 15,000ft (the latter involving an insane freefall at up to 200km/h for up to 60 seconds), NZONE Skydive are the most experienced tandem skydive operators in New Zealand.
The Queenstown skydive is more expensive than other NZ skydive options but you're paying to jump out of a plane in one of the most iconic skydive destinations in the world, so it's well worth it if you can afford it.
Better yet, check bookme.co.nz for last minute deals on Queenstown skydives and you might nab yourself a sweet discount.
If you like the idea of jumping, swinging or catapulting instead, check out the various AJ Hackett bungy options around Queenstown.
The Kawarau Bridge Bungy is the original commercial bungy location, and it had a huge hand in creating Queenstown's "Adventure Capital" reputation. The jump is 43m high and there's also a zipline onsite for a less terrifying adventure.
The Nevis site is a step up in terms of thrill level, with the highest bungy in Australasia (143m), the 300m arc infamous Nevis Swing and an extreme catapult that will have you flying at 100km/h for 1.5 seconds.
There's also the Ledge Bungy & Swing available at the top of the gondola that I mentioned for day 1.
For a slightly lighter thrill if you want to try something epic but don't like the idea of a freefall (me either), try paragliding in Queenstown!
Paragliding involves being harnessed in with your instructor, running down a slope or off a launch pad and floating through the sky for 10-20 minutes towards the landing pad.
You'll still get the incredible views and the thrills from being so high above ground, but you'll be more supported with a seat-style harness so your body isn't dangling like when you skydive. And if you want to push yourself further out of your comfort zone, tell your instructor to do some spins. It's like being on a rollercoaster!
You can paraglide with G Force from the gondola, however I highly recommend going with Coronet Peak Tandems instead who offer higher take offs which means more time in the air.
If you're really not keen on heights, consider taking a jet boat trip to get your adrenaline pumping. Zoom through canyons, around rocky bends and over crystal clear alpine water while feeling the wind whip through your hair at speeds of up to 85km/h.
The jetboat options in Queenstown are Shotover Jet, K-Jet, Go Orange, Dart River Adventures and Skippers Canyon Jet.
You can check all the current deals on Queenstown jet boat tours on Bookme here.
Afternoon
After a busy morning, take it easy this afternoon with a scenic cruise on Lake Wakatipu aboard the 109-year-old TSS Earnslaw. Learn about the boat's history in the onboard museum, or sit back and enjoy the views with a wine in hand.
You can either do the 90 minute cruise, or opt to extend your trip with a stop at Walter Peak High Country Farm for a BBQ.
Evening
Get amongst Queenstown's vibrant entertainment scene with dinner and drinks on the town.
If you want somewhere fancy, check out Botswana Butchery, Rata, the Grille at Eichardt's or Nest at Kamana Lakehouse.
For cheap eats, head to Caribe Latin Kitchen, Searle Lane, Fergbaker or Fergburger, or Fat Badgers.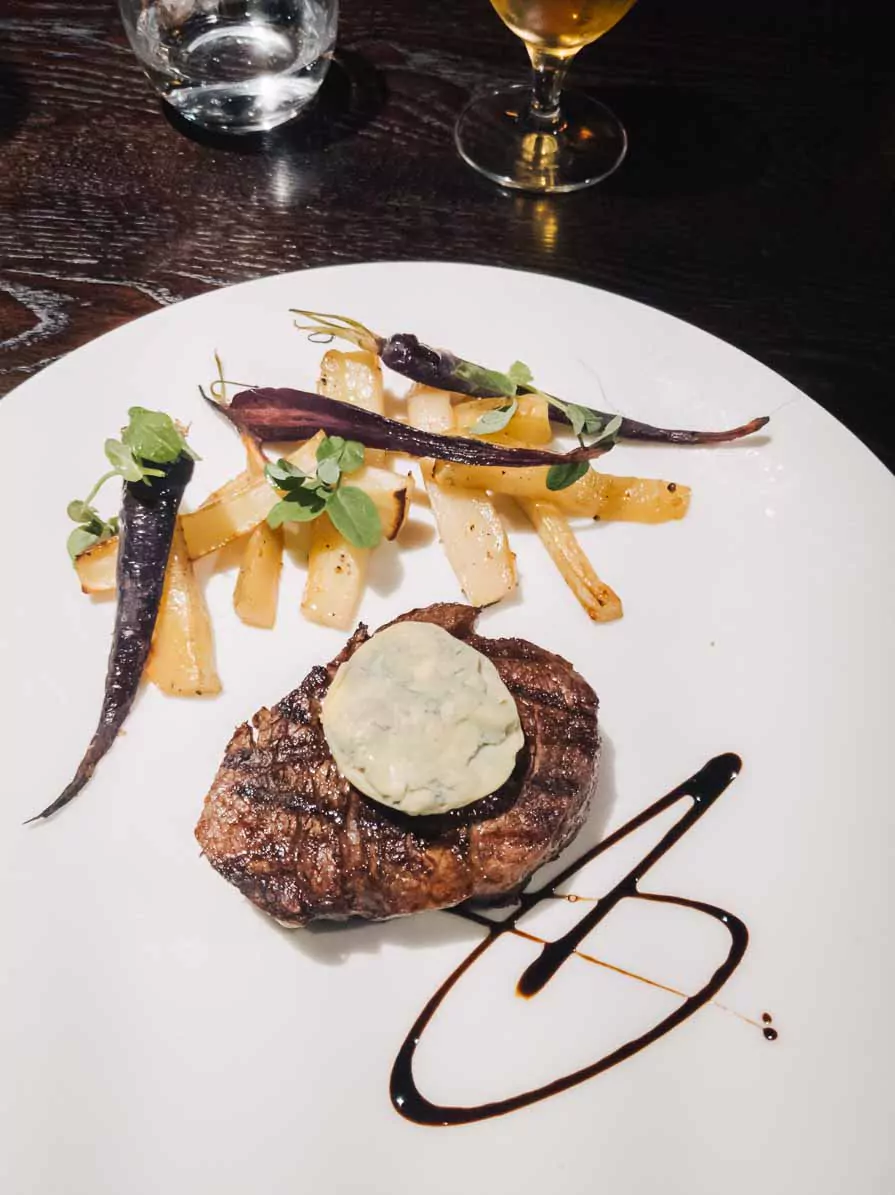 ---
Day 3: Go on a seasonal adventure
Ski season (mid-June to end of September or mid-October)
If you're heading to Queenstown in winter, I'm going to assume you're keen for some mountain time.
There are four main commercial ski areas that are accessible from Queenstown: The Remarkables, Coronet Peak, Cardrona and Treble Cone.
If you don't have your own car there are shuttles that run from Queenstown to all four ski fields, and you can either hire your gear in town (we always use Browns Ski Hire, great service) or once you get up the mountain.
Spring, summer and autumn
For the warmer months, I'd highly recommend trying out one of the many hiking trails on offer in the area.
You could do the one hour Tiki Trail up to the top of the gondola, the full day Ben Lomond Summit hike (6-8 hours), the flat and easy 2-3 hour Lake Hayes loop, or Tobin's Track (1-2 hours) or Sawpit Gully (2-3 hours) both starting in Arrowtown.
If you enjoy exploring on two wheels instead, the Queenstown Trail is a 130km-long Great Ride with lots of different sections for short rides, half-day rides or full-day rides. You can get more info on the trails here.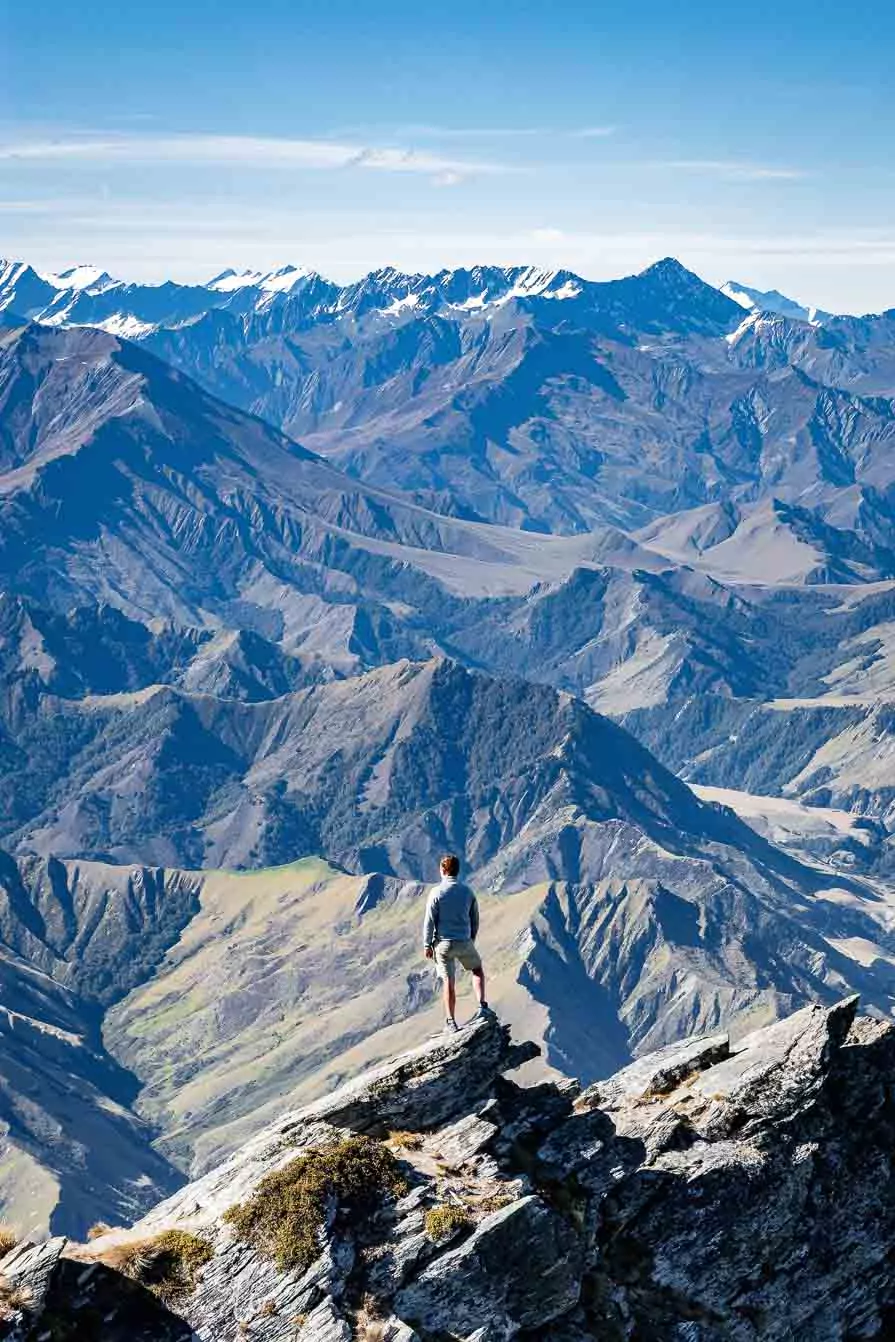 ---
Day 4: Enjoy some sightseeing
Day four in your 5 day Queenstown itinerary is for sightseeing, with a few different options depending on your preferences.
Scenic flight
If you can afford it, a scenic flight around Queenstown is an absolute bucket list experience.
The cheapest option is this 20 minute helicopter flight with an alpine landing, available for only $150 on GetYourGuide.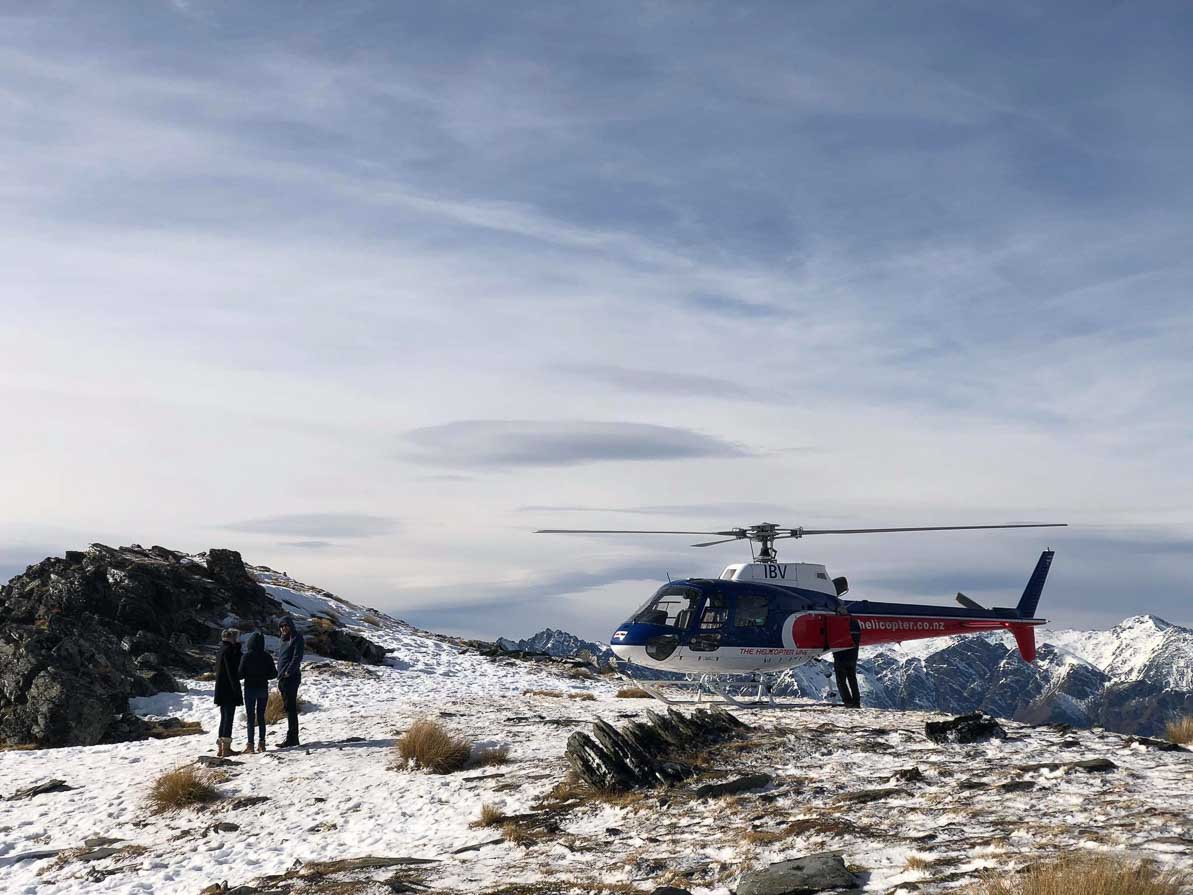 There are longer flight options if you've got a higher budget, or if you want to go all out you can't beat a scenic flight either over Milford Sound, or stopping at Milford Sound for a cruise (known as a Fly Cruise Fly tour).
On my latest trip to Queenstown I was lucky enough to lock in a last minute Milford Sound scenic flyover with local legends Glenorchy Air, and oh my gosh it was absolutely a highlight of my South Island road trip. We spent an hour and 20 minutes in the air and I was basically speechless the whole time!
I highly recommend booking a Fly Cruise Fly if you haven't been to Milford Sound before and if you don't have time to do the drive there, but if you've cruised before then a scenic flyover is 100% worth the money and a good addition to any Queenstown itinerary.
Milford Sound
If you're keen to make the drive to Milford Sound yourself it is doable in a day if you don't mind a long road trip. The drive is about four hours each way without stops, but I'd suggest setting aside at least an hour extra for various photo stops on the way there.
If a bus tour sounds more up your alley, there are a number of large group, small group and private options that leave from Queenstown.
In saying that though, Milford Sound is a stunning destination in its own right and it really does deserve at least an overnight trip (either stay in Milford itself or in Te Anau, half way between Milford Sound and Queenstown). There's loads of things to do in Milford Sound to pack out your visit, so if you have time, I'd highly recommend giving it its own section in your itinerary.
Read more: The Best Things to Do in Milford Sound
Arrowtown
For some sightseeing closer to Queenstown, Arrowtown is a charming little gold rush village that will take you back in time. It's less than 20 minutes' drive from Queenstown and there's a bunch of cafés, gift shops and restaurants that are worth visiting.
I love the Gibbston Valley Cheesery for cheese and deli goods, Patagonia Chocolates for sweet treats, the Chop Shop for brunch and Slow Cuts for a heartier meal.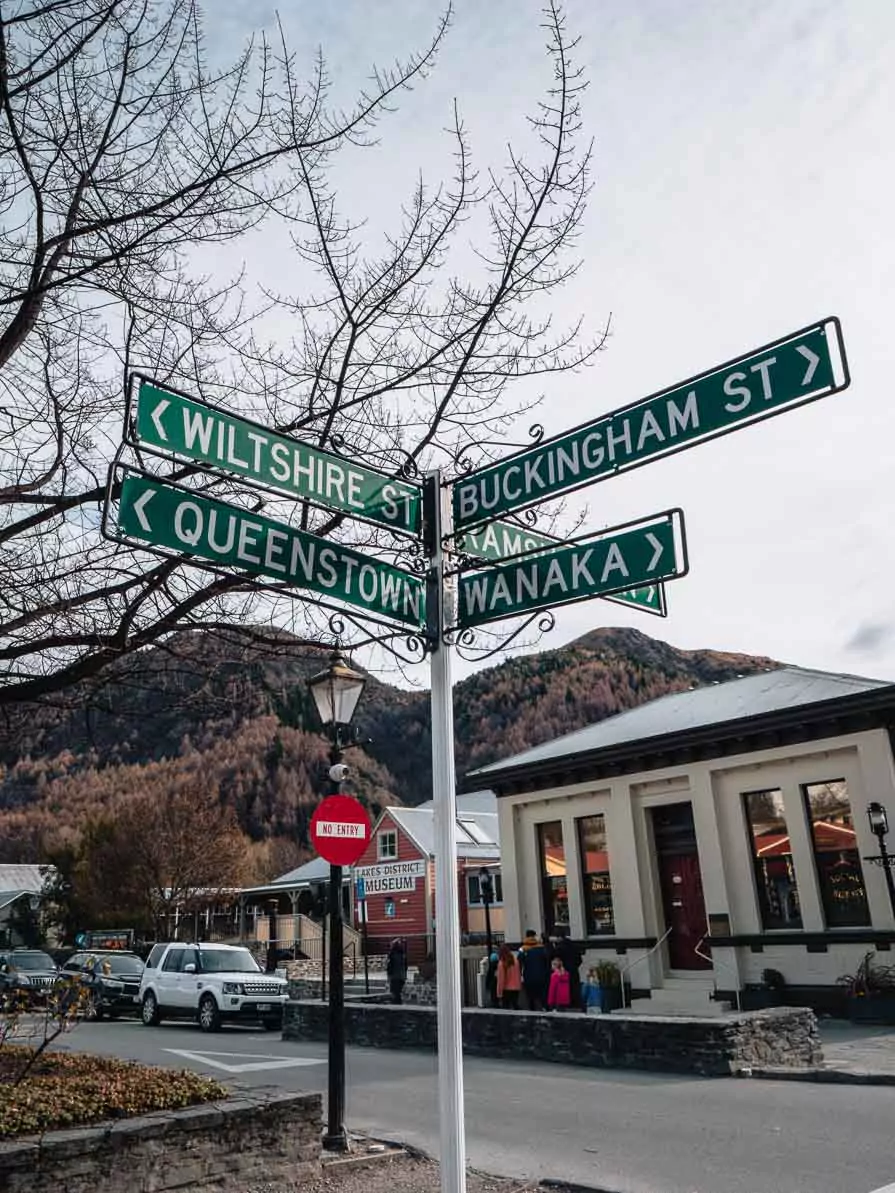 Skippers Canyon
Skippers Canyon is home to the infamous Skippers Road, named as the most dangerous road in the whole of New Zealand. This sightseeing adventure is not for the faint of heart.
Best explored by a guided 4WD tour, Skippers Canyon is 22km long with the Shotover River running between its cliffs. The area was used in the gold mining days, and gold is still being found on the river's shores!
Skippers Road towers above the river with loose schist on one side and a sheer drop on the other. Much of the road is one-lane-only, and you wouldn't want to meet another car on your way in or out.
The road is so dangerous that rental companies don't allow their cars to be driven, and I would NOT recommend driving it yourself unless you're in your own beasty 4WD and you have experience with off-roading on gnarly gravel roads without any barriers.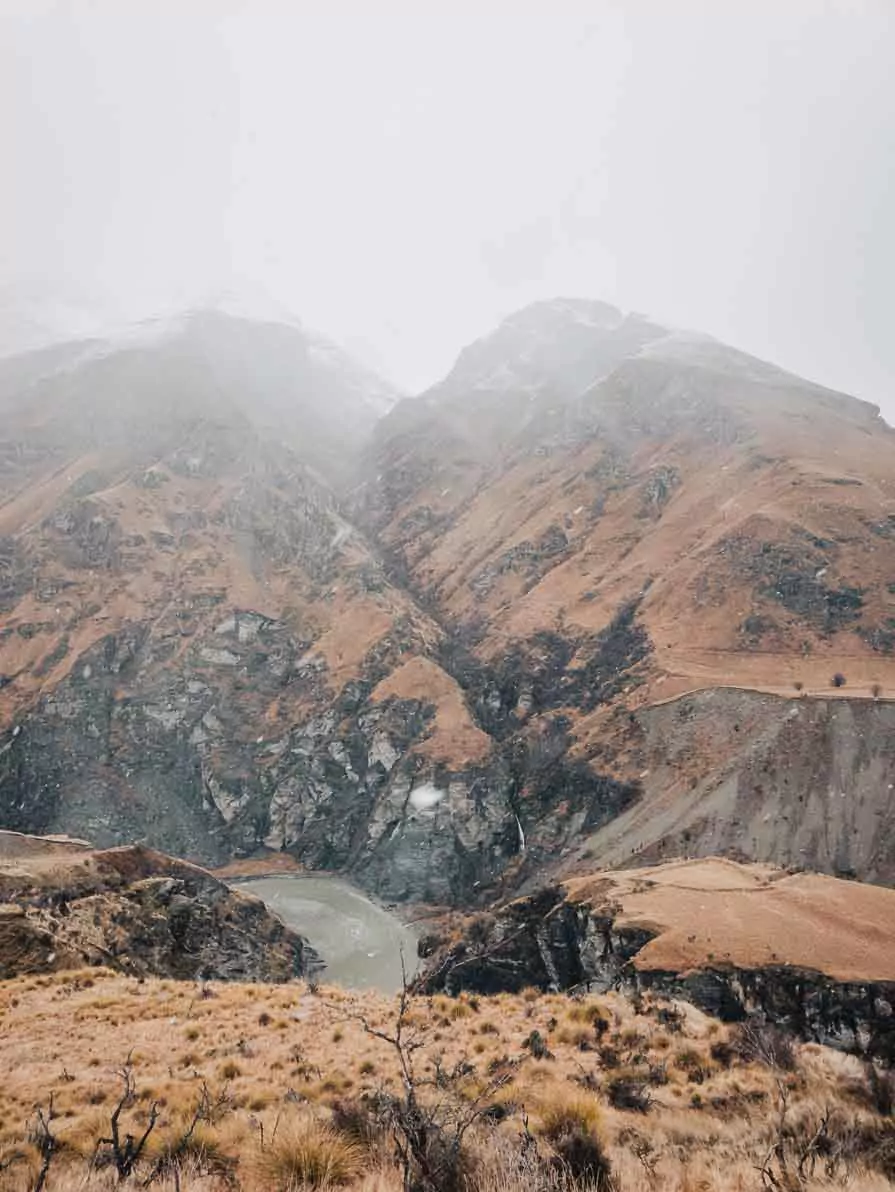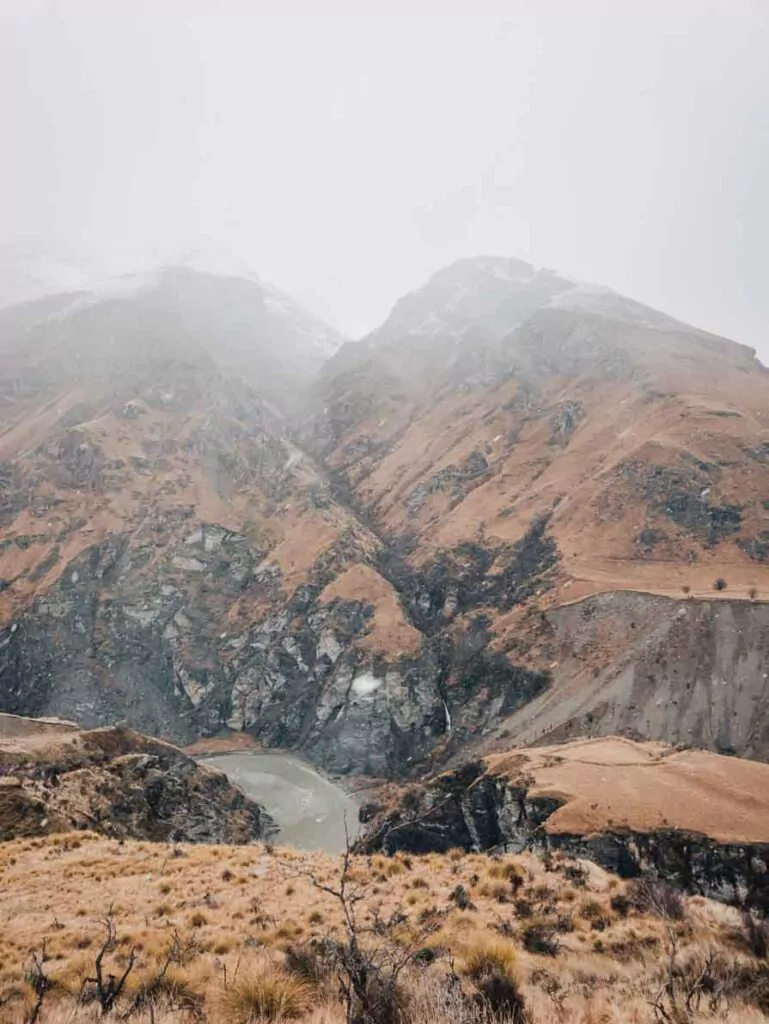 If you are keen to tick the country's scariest road of your New Zealand bucket list, book a Skippers Canyon tour with Nomads Safaris, a locally-owned and operated company who offer a range of 4WD safaris in the area.
Our local guide, Dave, was an absolute legend, giving us loads of info about the gold mining history of Skippers Canyon as well as stopping for some of the most magical views I've ever seen.
You can book your Nomad Safaris Skippers Canyon tour here, and check out their other 4WD adventures: Macetown 4WD, Lord of the Rings Queenstown, or Lord of the Rings Glenorchy.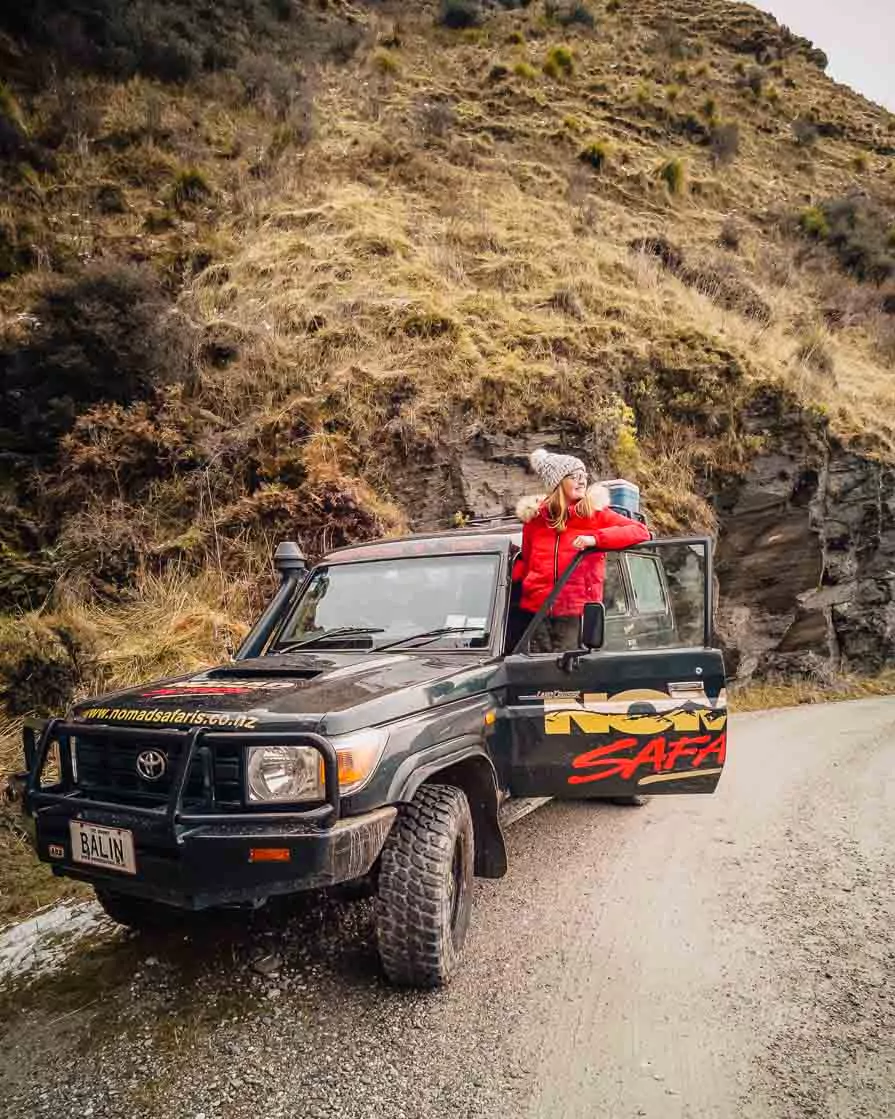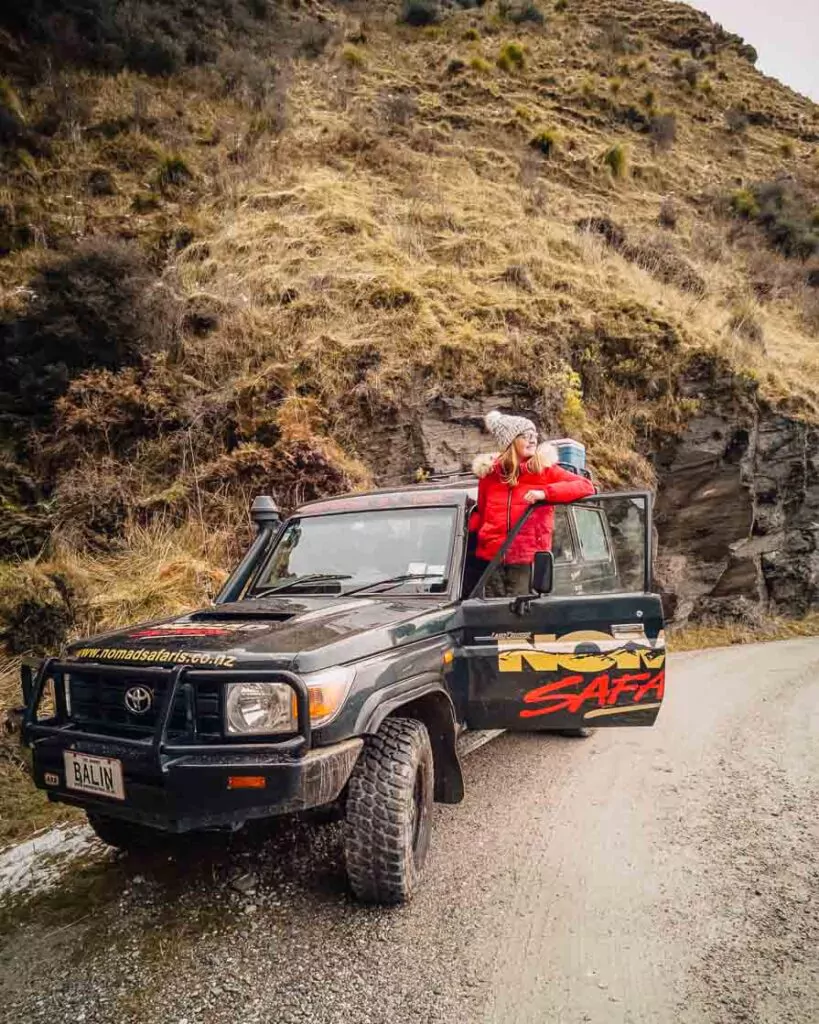 Glenorchy
The drive from Queenstown to Glenorchy is one of the best things to do in Queenstown, and it's known as one of the most beautiful drives in the world.
The road winds around Lake Wakatipu to your left with mountain ranges lining your right, with a few famous photo stops along the way. The drive is about 45 minutes without stops, with Bennett's Bluff Lookout being the main photo spot to capture the iconic road + lake + mountain shot.
Glenorchy Village is small and quiet but there's a few different adventure activities on offer to help you get up close and personal with the area, as well as loads of walks around Glenorchy as well as nearby Paradise and Kinloch.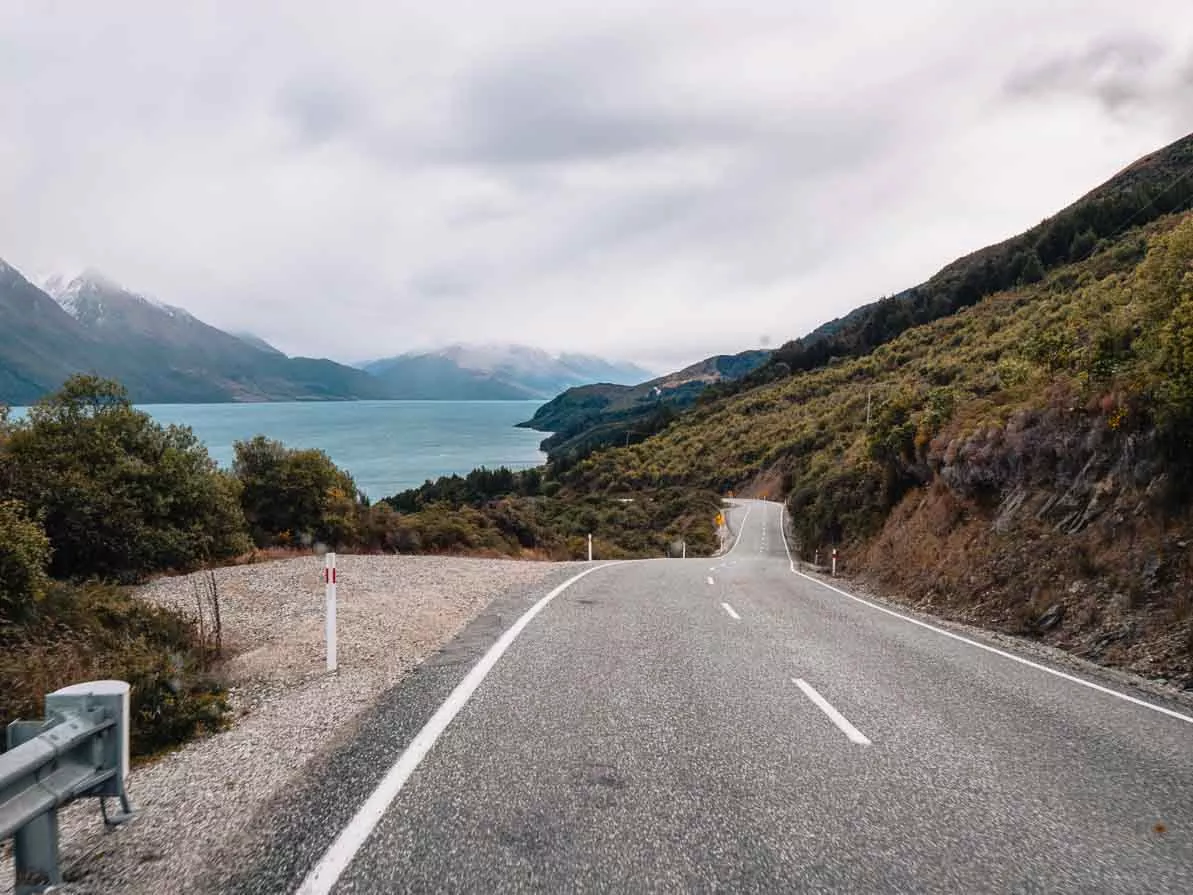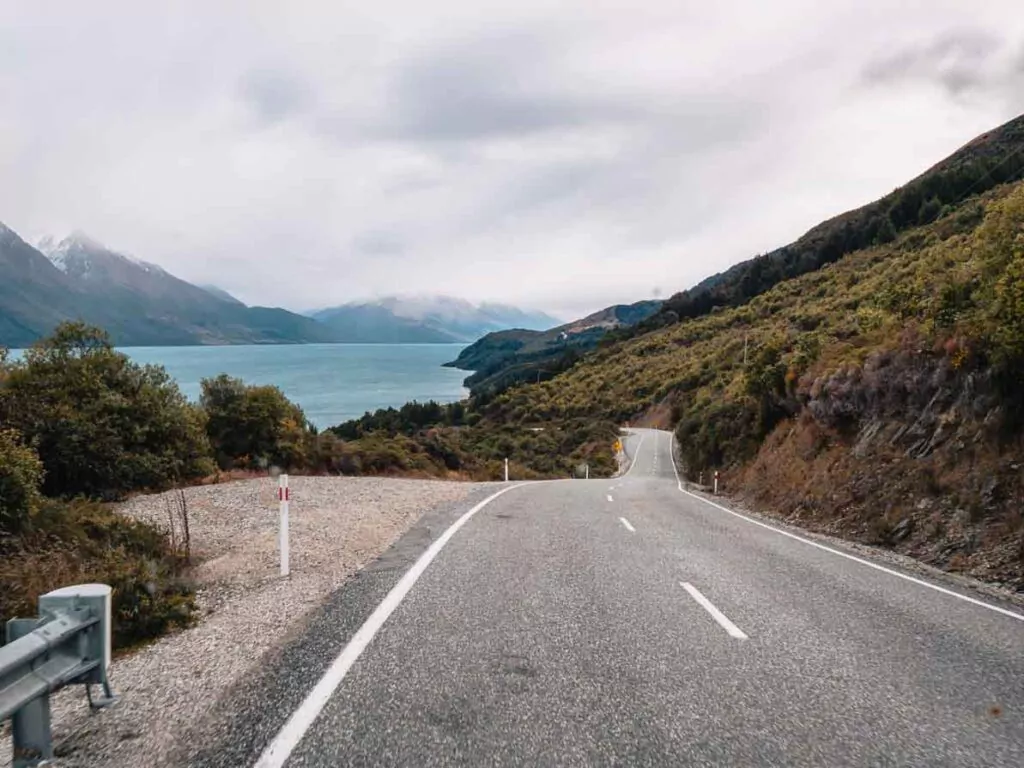 You could try a jetboat tour, hire an e-bike, go ziplining, do a horse trek or take a funyak (like a kayak-raft hybrid) down the river. If you're a LOTR fan, there are a number of film locations from both Lord of the Rings and The Hobbit, as well as Narnia, so take your camera and get exploring.
Check out all the Glenorchy activities available on GetYourGuide or click here to see the best-rated Glenorchy things to do on Viator.
There's also the option of doing an organised tour from Queenstown to Glenorchy, like this Lord of the Rings half-day tour or this 4WD bus tour to Glenorchy and Paradise.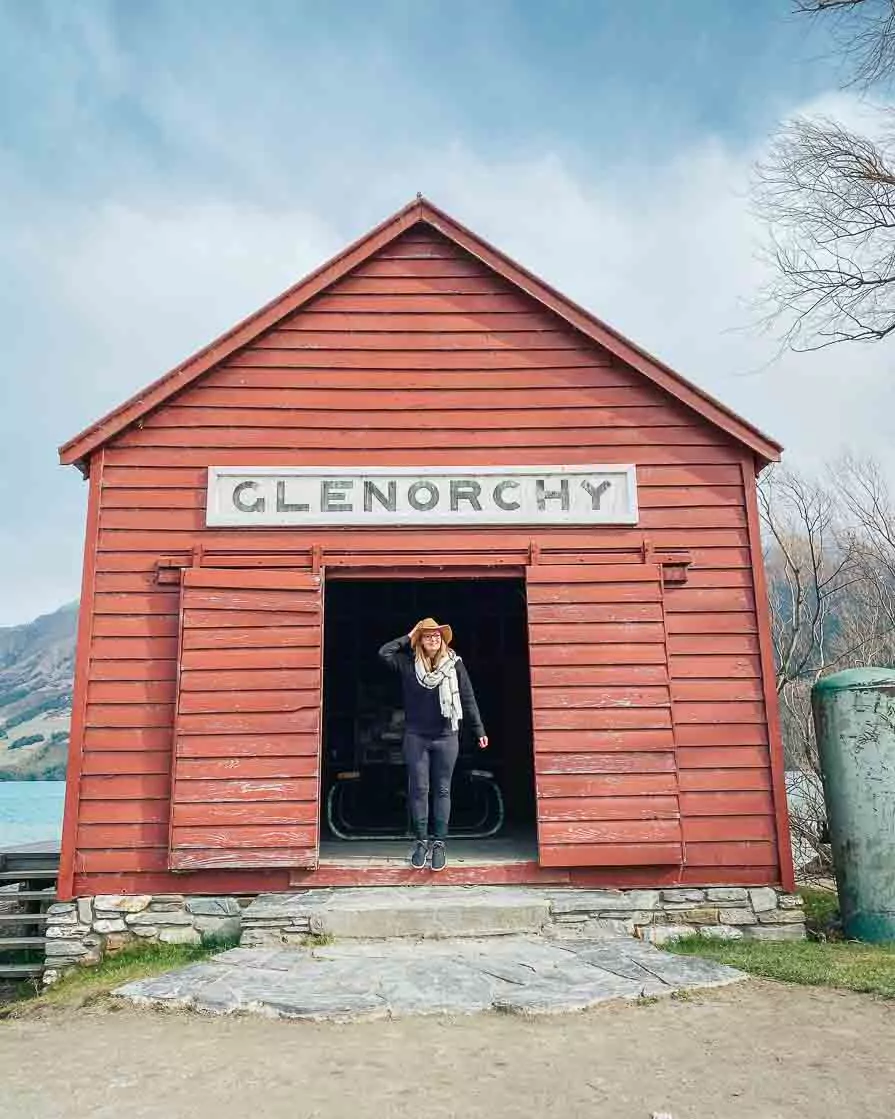 Wanaka
If you haven't set aside another part of your trip for Wanaka, it's one of the best day trips to add to your Queenstown itinerary.
It's only an hour's drive if you are game enough to take the steep and sharp Crown Range Road, or an extra 20 minutes if you go the flat way via Cromwell.
SAFETY TIP: The Crown Range Road is well-maintained and confident drivers will be totally fine. If you're not confident driving on the left side of the road, or if it's winter and you're not used to driving in cold conditions, I'd suggest taking the Cromwell route instead.
Once you're over the hills, there's loads of things to do in Wanaka. Do one of the famous hikes (like Roy's Peak), challenge yourself to a cable climb or head to Puzzling World, full of optical illusions and brain games.
READ MORE: 25 Epic Things to Do in Wanaka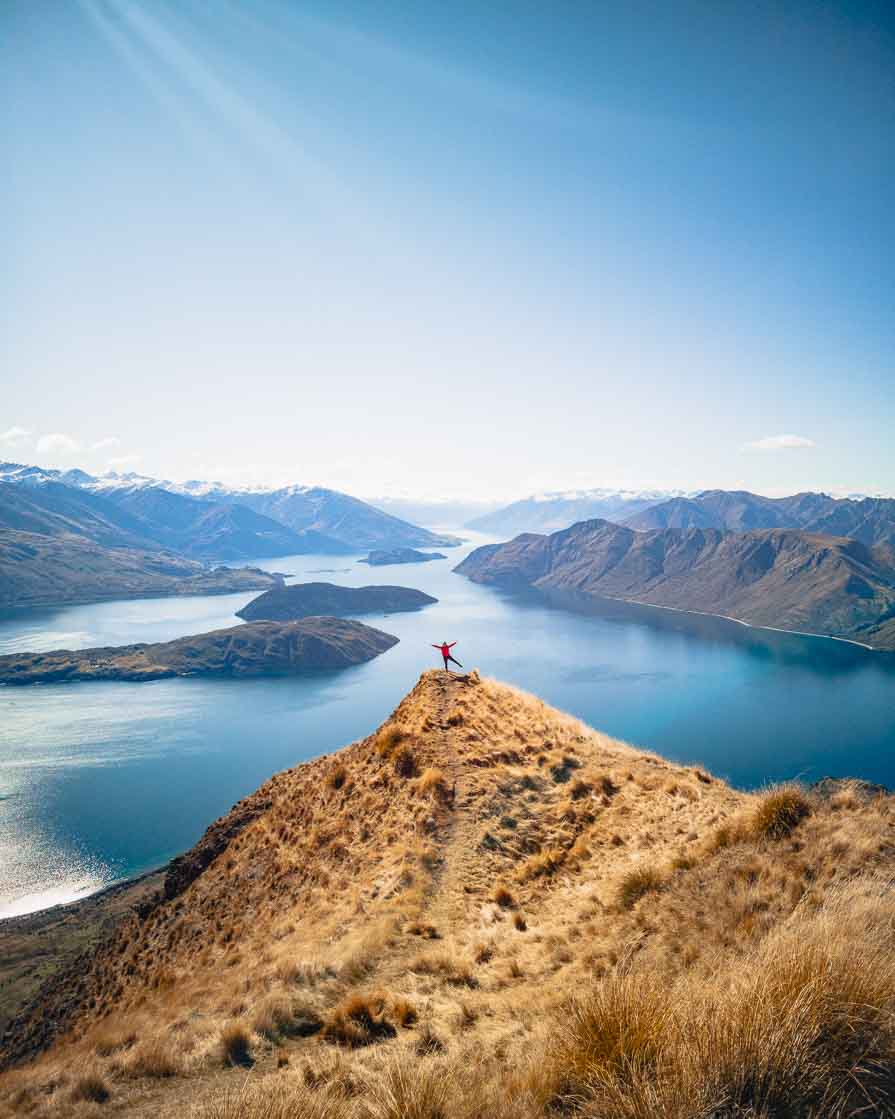 ---
Day 5: Slow day
You've had four days so far of thrills, sightseeing and adventure, so for your final day in Queenstown it's time to relax.
Daytime
Enjoy a slower start to the morning with a brunch or coffee stop, before getting ready for a day of wine and good food.
Central Otago is one of New Zealand's premiere wine locations, with wineries ranging from world-renowned commercial estates to national icons to family-owned boutique vineyards. Queenstown offers easy access to six main wine regions: Gibbston, Cromwell, Bengido, Bannockburn, Wanaka and Alexandra.
You can do a self-drive tour (with a sober driver of course), a hop-on hop-off bus tour, a small group winery tour, a self-guided bike tour or a private food and wine tour.
Recommended tour: I recently tried out the Wine Sampler by Altitude Tours, which has been rated as the Top Wine Experience in the world on TripAdvisor! It's a 5 hour Gibbston Valley tour from 10am with four wineries + more than 18 tastings, or for an even busier day you could choose their full day 8 hour tour around four of the wine regions in Central Otago.
Some of the most popular wineries are Amisfield, Gibbston Valley, Wet Jacket and Mt Rosa.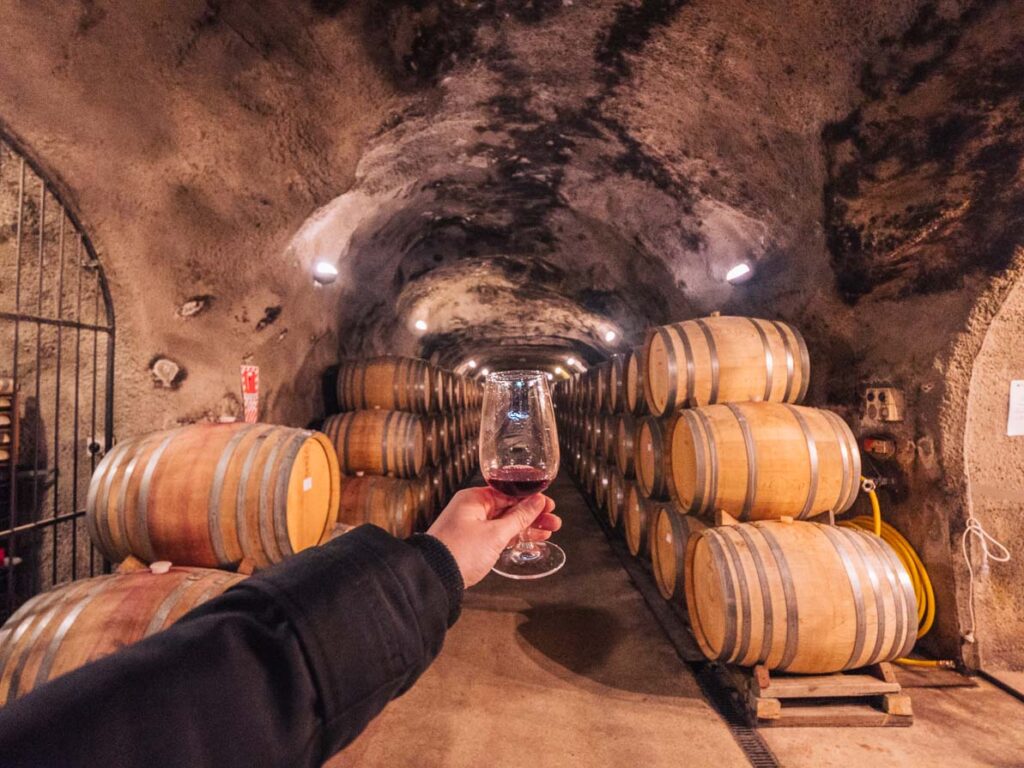 Afternoon/Evening
Wrap up your Queenstown itinerary with a well-deserved soak at the stunning Onsen Hot Pools.
Rising to the highest levels of Insta-fame in the past five years, these Japanese-inspired hot pools have an incredibly photogenic outlook over the Shotover River.
They book out well in advance so lock in your time ASAP.
QUEENSTOWN HACK: If Onsen Hot Pools are all booked up, or you want to go somewhere a bit different instead, consider spending a night at Kamana Lakehouse. This is my favourite hotel in Queenstown and they have their own private hot pools with mountain and lake views exclusively available for guests to book. They do cost extra, although they're cheaper than Onsen, or you could book their top room and get a private outdoor tub on your balcony.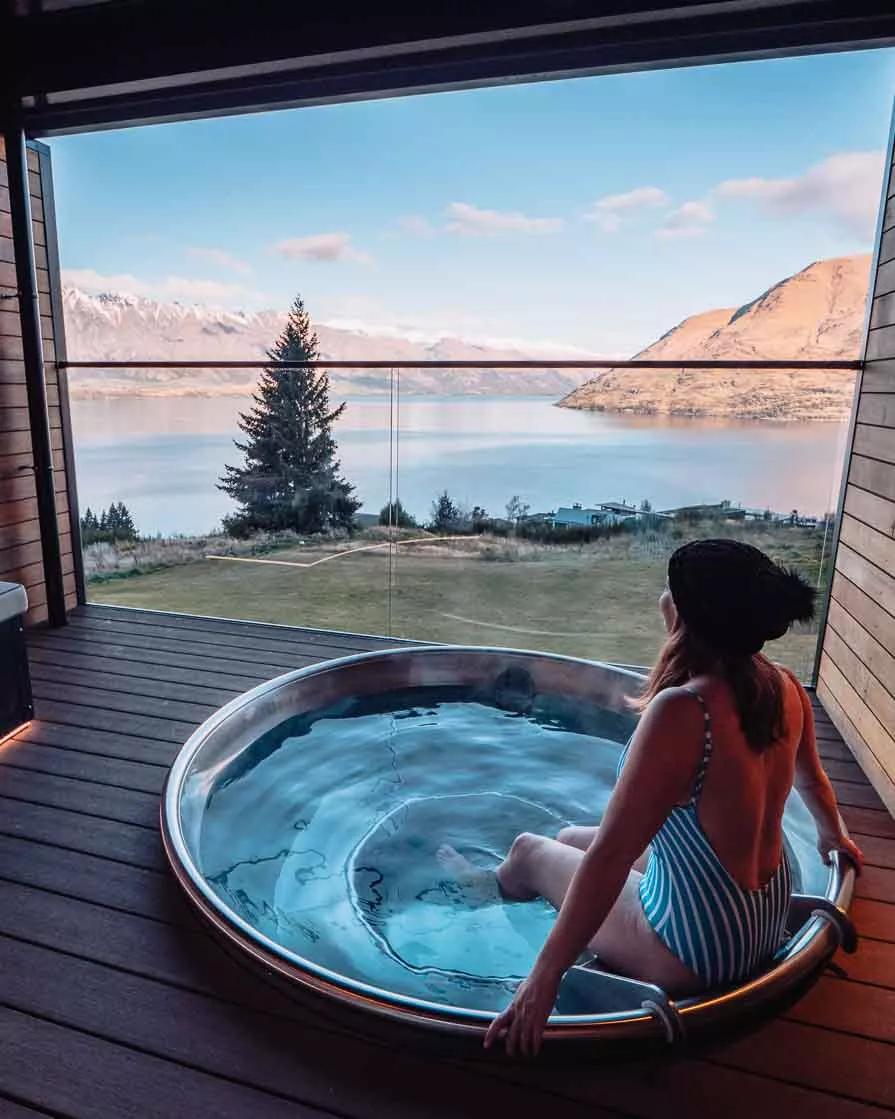 ---
Other Queenstown itinerary options
If you have a week in Queenstown (or more)
Woohoo! This beautiful place always deserves more time and with a week in Queenstown you'll be able to take your itinerary a bit slower, and hopefully will be able to add on an overnight in Te Anau or Milford Sound to have a more thorough experience in Fiordland National Park.
I'd also recommend splitting your time between Queenstown and Wanaka if you can, for example five days in Queenstown and two or three days in Wanaka, so you're able to explore that side of the Crown Ranges without having to make that drive each day.
If you only have three days in Queenstown
If you're having to condense a five day Queenstown itinerary into three days, I'd keep day one (get your bearings + gondola), day two (thrill activity + lake cruise) and day four (sightseeing to nearby towns).
If you really want to get out of your comfort zone
There are a couple more activities for thrill seekers that I couldn't fit into the short Queenstown itinerary, but if you want to spend more time doing active adventures then you could consider adding the following to your trip: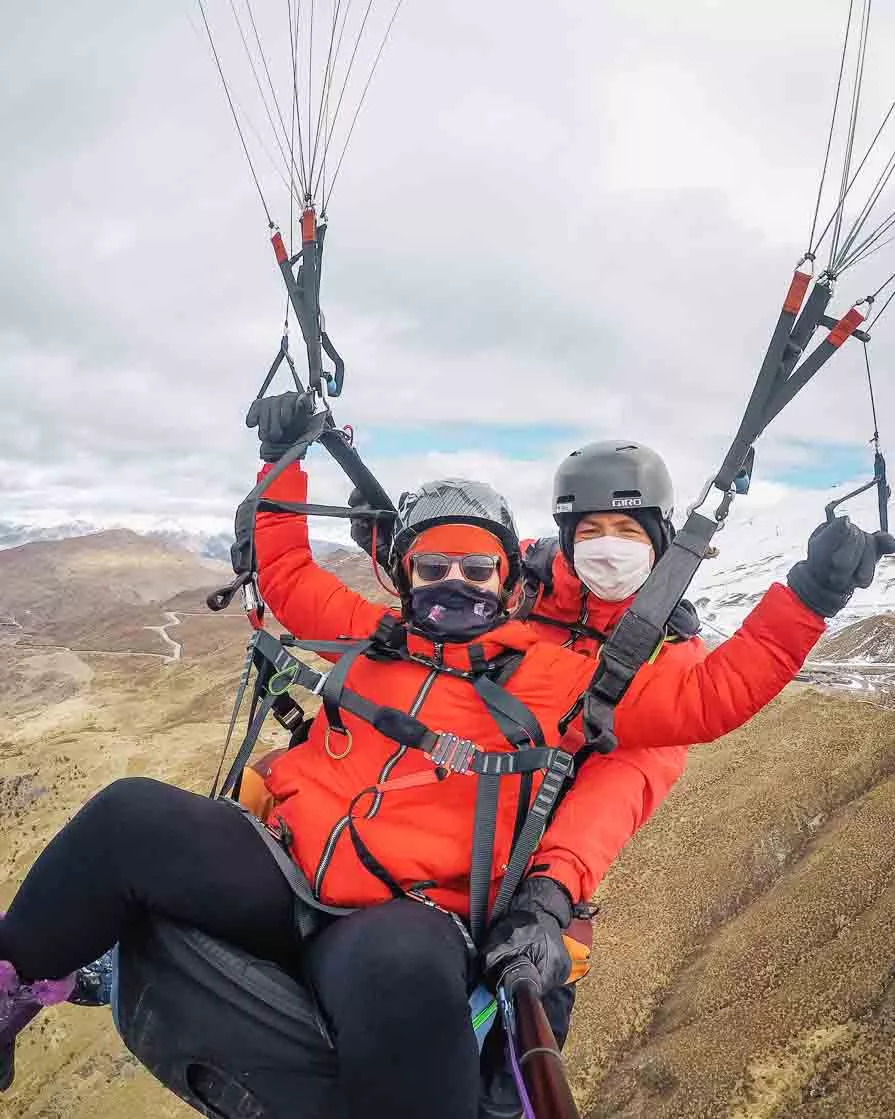 If you're celebrating something special and don't mind splurging on something epic
While Queenstown has activities and accommodation that are accessible for all budgets, there's also a bunch of companies who cater to what the travel industry calls HNWIs, or high net-worth individuals.
While that may not be me or you (or maybe it is you, and if so then congrats!), it does mean that if you have something special to celebrate, like a birthday, engagement, anniversary or a lotto win, Queenstown is hands down the place to do it.
Some of the best luxury experiences to add to your Queenstown itinerary are:
---
The best accommodation in Queenstown
Queenstown is definitely one of the most expensive places to visit in New Zealand, but you can get great value by staying at hostels, apartments with self-catering facilities, or hotels with extras like parking and breakfast included.
On a budget
Mid-range
Kamana Lakehouse is my favourite hotel in Queenstown, with modern rooms, a world-class restaurant and private hot tubs overlooking the lake available exclusively for guests to book. It's the highest hotel in Queenstown and offers the most incredible view while benefitting from the peace and quiet of the Fernhill neighbourhood. Absolutely dreamy!
Other mid-range options are:
Somewhere fancy
Self-catering
---
It'll be busy, but there's your five day Queenstown itinerary! Do you think I've missed anything important? Let me know in the comments and I'll see if I can squeeze it in.
RELATED BLOGS YOU MIGHT LIKE:
Like this blog? Pin it!
Big thanks to Ziptrek Ecotours, Nomad Safaris and Kamana Lakehouse for hosting me on my Queenstown itinerary. As always all opinions are my own and are completely based on my personal experience.