Plan your New Zealand itinerary with confidence after reading up on all the best places to visit in the South Island. I hope this helps!
Looking for the best places to visit in the South Island of New Zealand? Te Waipounamu (the te reo Māori name for the South Island) is one of my favourite destinations on the planet, and there are plenty of South Island attractions to add to your New Zealand to do list.
I know it's a cliché, but New Zealand's South Island truly has it all. Infinite mountain ranges, pristine national parks, vibrant cities, golden beaches and plenty of bucket list experiences to suit any budget.
Throw some iconic filming locations, a few glamping spots from your dreams and world-class eateries into the mix, and you've got the makings of a trip that you'll never forget.
YOU MIGHT ALSO LIKE: The Ultimate New Zealand Bucket List
With more than enough things to see and do to fill an itinerary of any length, I've tried to round up 22 of the best places to visit in the South Island to help you plan your trip. Here goes!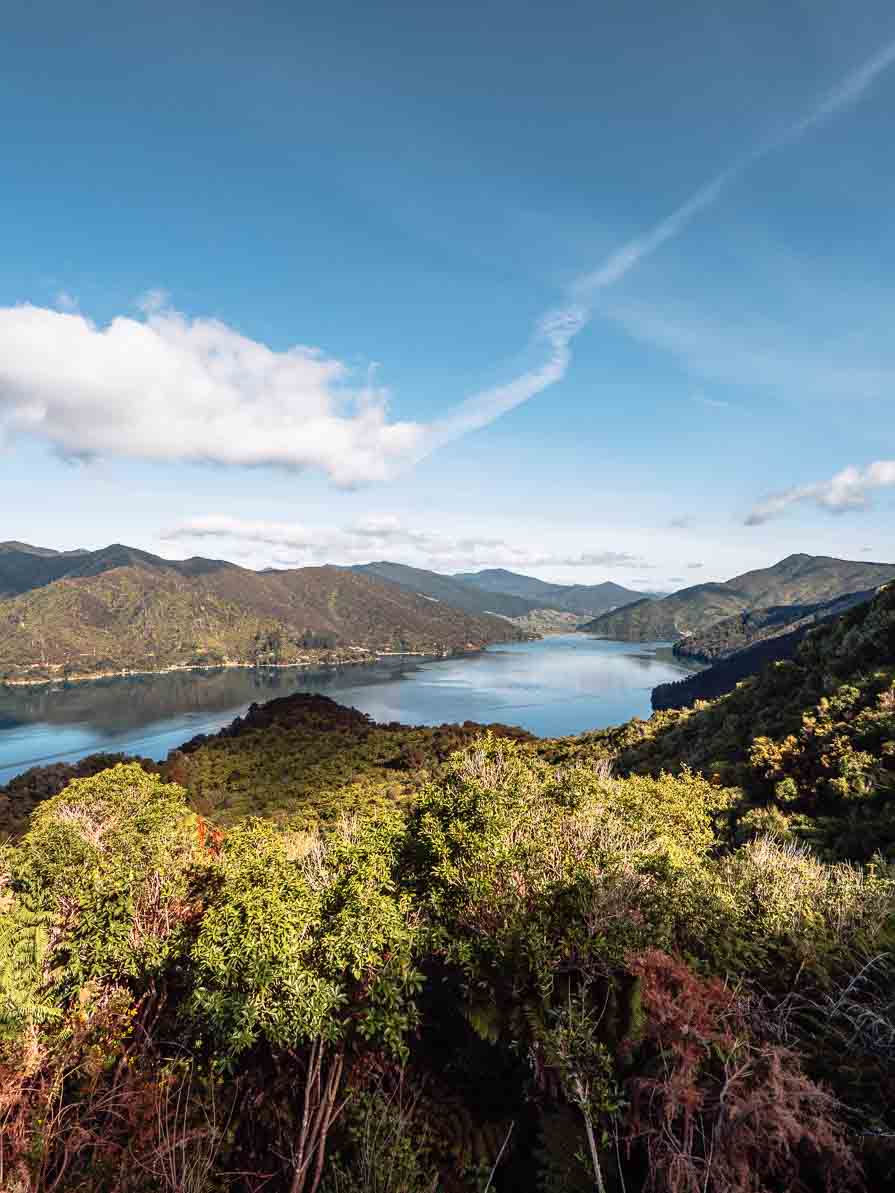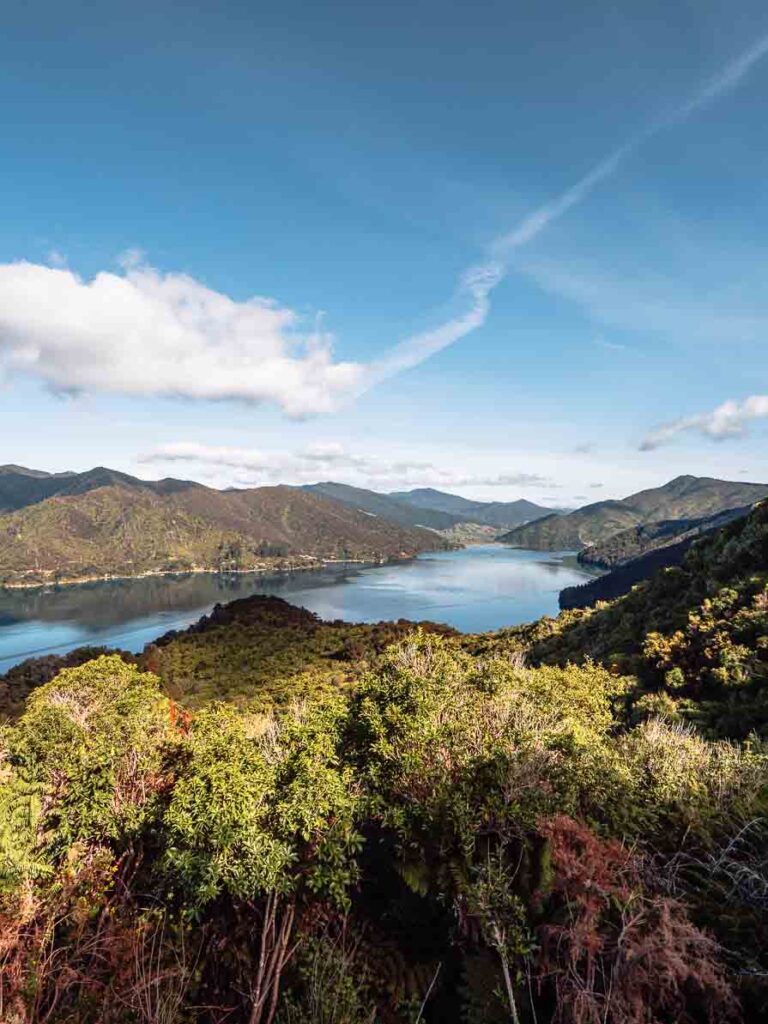 ---
The Best Places to Visit in the South Island
Picton
Location: In the northeast corner of the South Island
If you're catching the ferry from Wellington, Picton will be your point of arrival. This relaxed port town is the gateway to the maze-like Marlborough Sounds, and is a great place to base yourself if you enjoy sailing, hiking or wine (or all the above!)
Where to stay in Picton: Anchor Down B&B are a budget-friendly option with excellent reviews, or Sennen House Boutique Accommodation is a fancier alternative on a historic homestead
Must-do activity: A DOC-approved dolphin swimming tour with E-Ko Tours, it's one of my life highlights!
A hidden gem: Not so hidden for hikers but Anakiwa is a little village in Queen Charlotte Sound, and it marks the beginning of the Queen Charlotte Track. Do the four hour return walk to Grove Arm Lookout for insane panoramic views.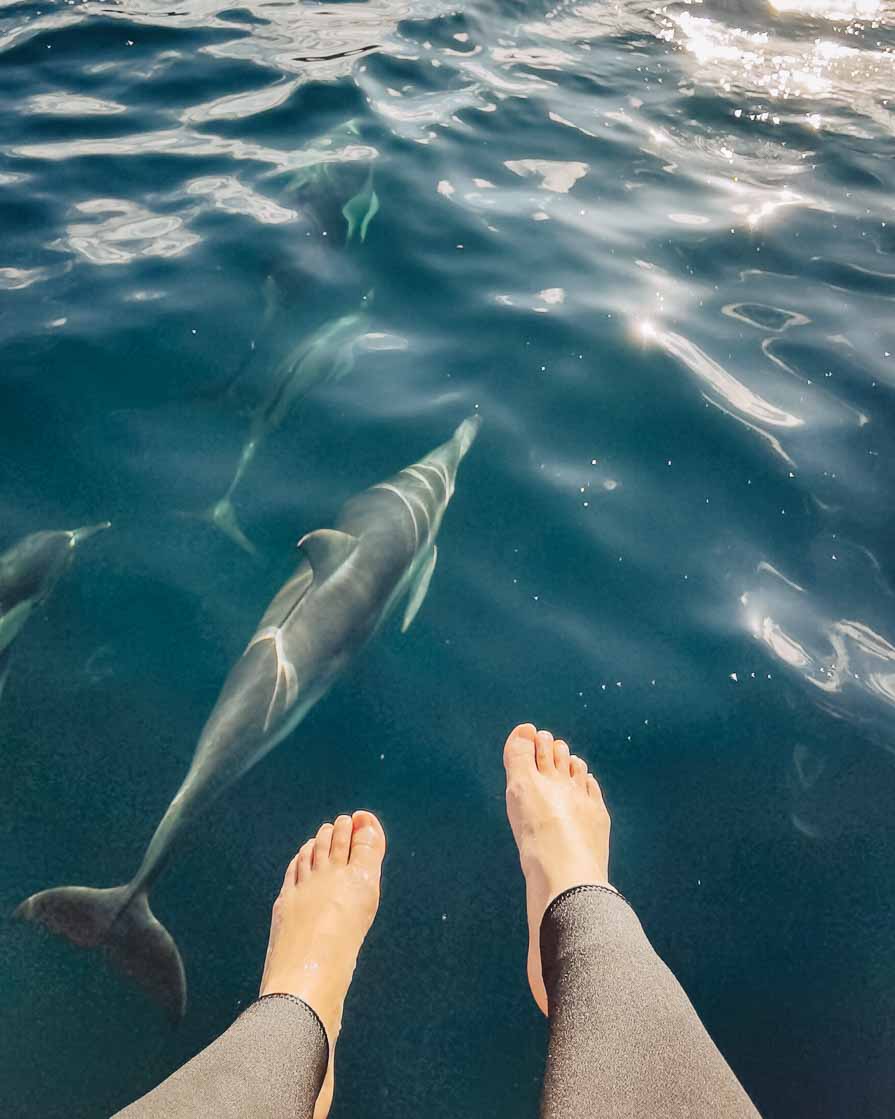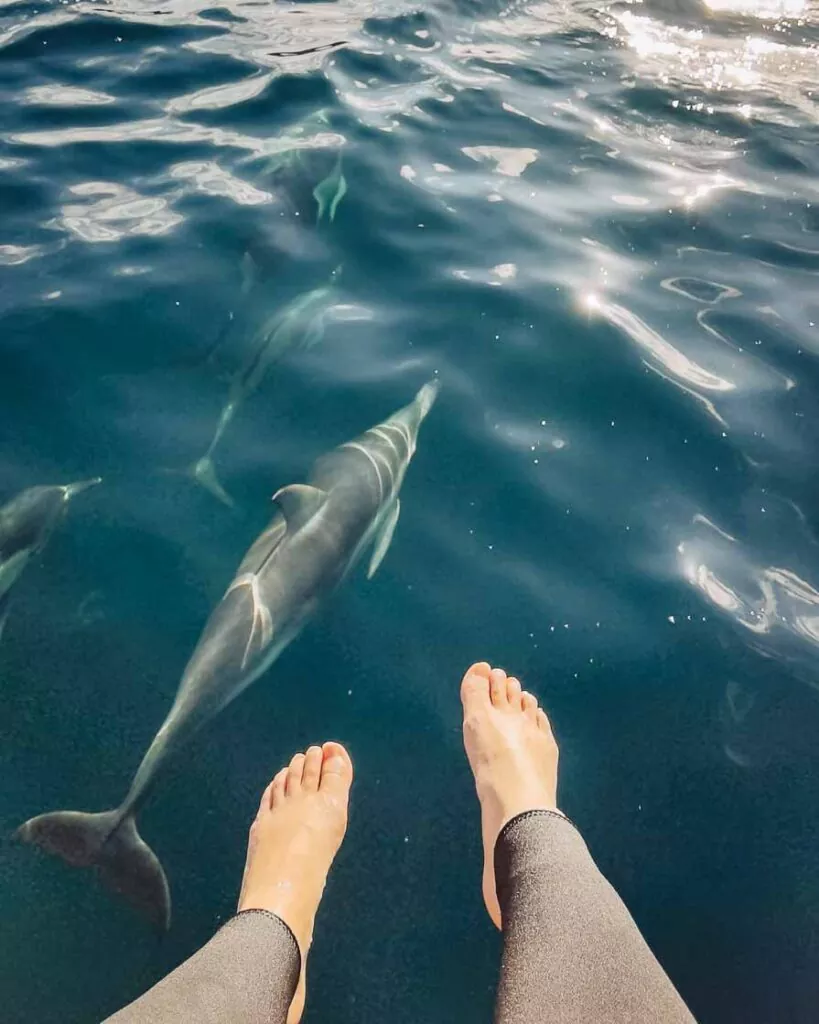 ---
Blenheim
Location: 30 minutes' drive south from Picton
Vinos and foodies, this one's for you. Sunny Blenheim is a brilliant hub if you want to explore Marlborough's vineyards, either with a designated sober driver, by bike or with a group tour.
If you need a break from the grapes be sure to visit the Omaka Aviation Heritage Centre, where Peter Jackson has recreated wartime scenes with his private historical aircraft collection.
Where to stay in Blenheim: Alfred's@115 Motel is cheap and cheerful, or the Nineteenth is a luxurious self-catering Airbnb set amongst a private vineyard
Must-do activity: A self-guided bike tour around the wineries with Explore Marlborough
Must-eat meal: A summer lunch at Wither Hills vineyard, or divine share plates at Scotch Wine Bar
A hidden gem: The Makana Confections chocolate factory, their butterscotch truffles are to die for
---
Nelson
Location: About halfway along the northern coast of the South Island, two hour drive from Picton
Winning the crown for most sunshine hours in a year in both 2018 and 2019 (and coming in second in 2020), Nelson is a charming little spot that's especially loved by families and retirees, although travellers of any age will be impressed.
The local art industry is thriving, as is the culinary scene, with galleries, cafes and restaurants dotted throughout the area. Nelson offers easy access to short hiking trails and stunning gardens, as well as the golden sands of Abel Tasman National Park.
Where to stay in Nelson: Pepin Island is a private island with three glamping huts set amongst a working farm about 20 minutes out Nelson. Prices start from only $190 a night for two people which is excellent value for any NZ accommodation, let alone a private spot with an outdoor bath and stunning views! We stayed in the Passage Hut, a 30 minute walk from the carpark (the shortest walk of the three huts).
Another option on the other side of the city is Rabbit Island Huts, more accessible and a great option if you're heading up to Abel Tasman. These huts have comfy beds and TVs, and you get access to a shared kitchen, lounge and a private outdoor bath which guests can reserve.
Best eatery in Nelson: There's lots to choose from, but the apple crumble pancakes I had from Pic's Peanut Butter World will go down as one of the best brunches in history
Must-do activity: Explore the quirky gift shops, my favourite is the Little Beehive Co-Op
One of the best-known Nelson activities is the World of WearableArt Museum, but it's currently closed until borders reopen.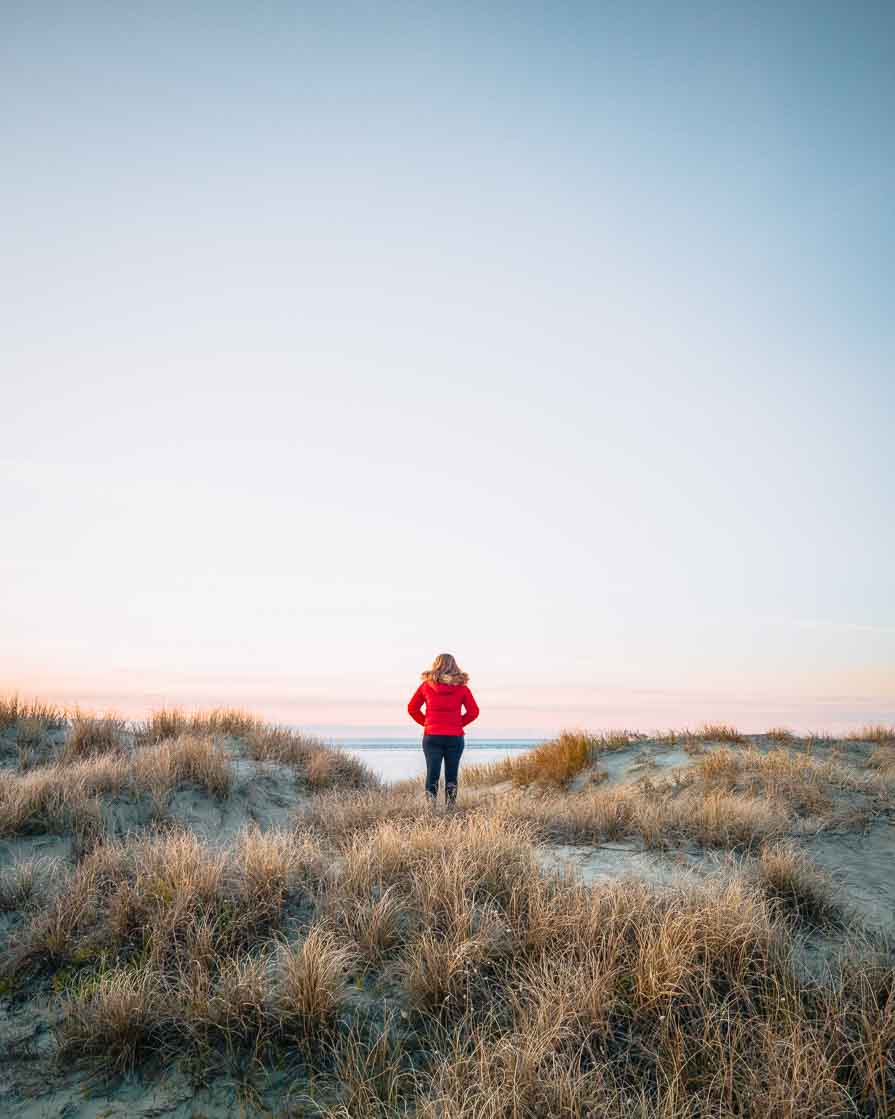 ---
Abel Tasman
Location: The top of the South Island
Whether you're an active adventurer or prefer to sit on the beach rather than hike along them, the stunning Abel Tasman National Park is a South Island must see.
Thick native forest borders tropical-looking beaches, curious marine mammals swim alongside kayakers, and super chill coastal towns offer great value accommodation and eateries.
If you're planning to hike the Abel Tasman Coastal Track be sure to book your huts in advance on the DOC website.
Where to stay in Abel Tasman: Abel Tasman Lodge is New Zealand's #1 rated small hotel, and for good reason. They offer sun-soaked newly-renovated chalets just five minutes from the National Park, and they're climate-positive, meaning they offset at least 120% of their carbon footprint. If you're in a campervan then check out The Barn at Marahau.
Must-do activity: See the National Park and Tonga Island Marine Reserve from the water with a small group boat tour run by Abel Tasman Eco Tours. You'll be shown around by a local skipper with endless knowledge of the region's marine and bird life, learn about how the environment is changing and how we can help, and even stop at a few of the most stunning bays you'll ever see. Guaranteed! One of the most enjoyable tours I've ever been on (and that's saying something).
Must-eat meal: Donuts at the Smoking Barrel in Motueka
A hidden gem: If you're up for a bit of thrill-seeking, book an adventure with Abel Tasman Canyoning on Get Your Guide! You'll get kitted out into a wetsuit and safety gear, then hit the canyons for a day of sliding down waterfalls, abseiling over creeks, scrambling through canyons and insane scenery all round. These guys were closed for winter when we were there but I'm planning a trip back down to Abel Tasman just for this.
---
Nelson Lakes National Park
Location: Right in the middle of the top quarter of the South Island, halfway between Kaikoura and Westport, and about an hour south of Nelson
One of the lesser-known National Parks in New Zealand, Nelson Lakes shouldn't be overlooked. Made up of 16 lakes, Nelson Lakes NP is an adventure paradise in both winter and summer.
Colder temperatures bring fresh powder to the off-the-beaten-track Rainbow Ski Field, whereas summertime means kilometre after kilometre of hiking trails and mountain bike tracks, as well as fishing, boating and lake swims.
Where to stay in Nelson Lakes: Wairau Pass B&B is the best-rated accommodation in Nelson Lakes
Must-do activity: Jump off the famous jetty at the glacial Lake Rotoiti. Pics or it didn't happen! (Beware of the resident eels).
---
Kaikoura
Location: On the South Island's east coast, 1h 40m south of Blenheim and 2h 30m north of Christchurch
Surrounded by the ocean and with a backdrop of snowcapped mountains, the Kaikoura Peninsula has the best of both worlds. Swim with dolphins, go whale watching, see seals playing under a waterfall, and wrap up an epic day with a fresh seafood dinner.
Where to stay in Kaikoura: For budget-friendly check out First Light Kaikoura, for something fancy consider the Hamptons B&B, or for a unique stay look at the stunning Manakau PurePods (a glass box set on a working farm, ideal for an off grid getaway)
Must-do activity: Get up close and personal with marine wildlife! Swimming with dolphins is my number one recommendation for things to do in Kaikoura, or you could whale-watch from a boat or a plane, or go kayaking and see what animals you can spot.
Must-eat meal: "Kaikoura" is the te reo Maori term for "to eat crayfish", and that's exactly what you should do here. From Nin's Bin, a beachfront food shack, to be specific.
---
Hanmer Springs
Location: 1h 30m north of Christchurch
Hanmer Springs is a resort-style town that's ideal for a relaxing getaway. The main attraction in this alpine village is the Hanmer Springs Thermal Pools, with 22 different natural hot pools and water slides.
If you want to get your heart racing first though you can sign up for white water rafting, a jet boat ride or quad biking.
Where to stay in Hanmer Springs: Kakapo Lodge has great ratings for backpackers, Hanmer Springs TOP10 Holiday Park has both campsites and private rooms available, and the St James Premium Accomodation is a bit on the pricey end but totally worth it
Must-do activity: The Hanmer Springs Thermal Pools & Spa, just dreamy
Must-eat meal: Dumplings from MK Restaurant, who have a whopping 4.9/5 rating from 270 reviews on Google
A hidden gem nearby: If you're a truffle fiend like me, add a truffle hunt with Kings Truffles in Waipara (one hour south of Hanmer Springs on the way to Christchurch) to your New Zealand bucket list. Truffle season runs from June to August.
---
Lewis Pass
Location: A mountain pass that connects the east coast to the West Coast
Though not as famous as its fellow alpine passes further south (Arthur's and Haast), Lewis Pass is still nothing short of striking.
If you're flying in and out of Christchurch for a quick South Island getaway and want to tick off some of the West Coast, I recommend going across Lewis Pass one way and Arthur's Pass on your return.
Where to stay in Lewis Pass: Lewis Pass Motels and Reef Cottage B&B both offer decent accommodation with great reviews
Must-do activity: Maruia Hot Springs for a serene hot pools experience, you can pop in for a day retreat (I'd recommend booking the option with lunch, it's delicious), or spend a night (or more) in their retreat rooms or glamping pods which includes 24 hour access to the hot pools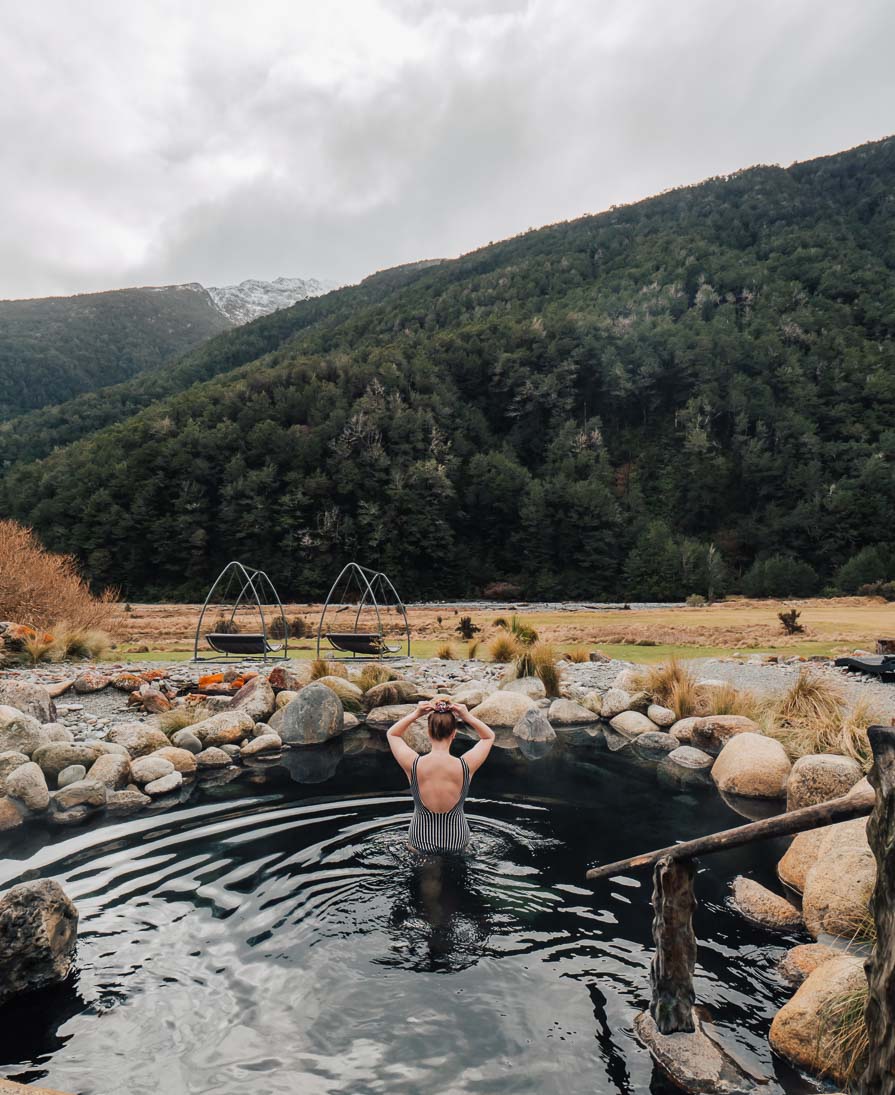 ---
Hokitika
Location: On the West Coast, 30 minutes south of Greymouth
Hokitika is probably one of the most underrated places to visit in the South Island. Rich in both scenery and culture, this chilled out West Coast town is worth at least a day-long adventure.
Glow worms, scenic walks, insane sunsets and the famous Hokitika Beach Sign await! Just don't touch the 'T', the branch falls off. Speaking from experience.
Where to stay in Hokitika: Awatuna Sunset Lodge is the best-rated B&B in Hokitika, and if you're in a campervan then check out Ross Beach TOP10 Holiday Park which is about 20 minutes south
Must-do activity: The Hokitika Gorge walk, it's a 2km one hour round trip (and free), or the new West Coast Treetop Walk ($32, book online here)
Must-eat meal: Brunch at Gatherer Wholefoods, your stomach will thank you
A hidden gem: Carve your own pounamu (greenstone) with the legends at Bonz'n'Stonz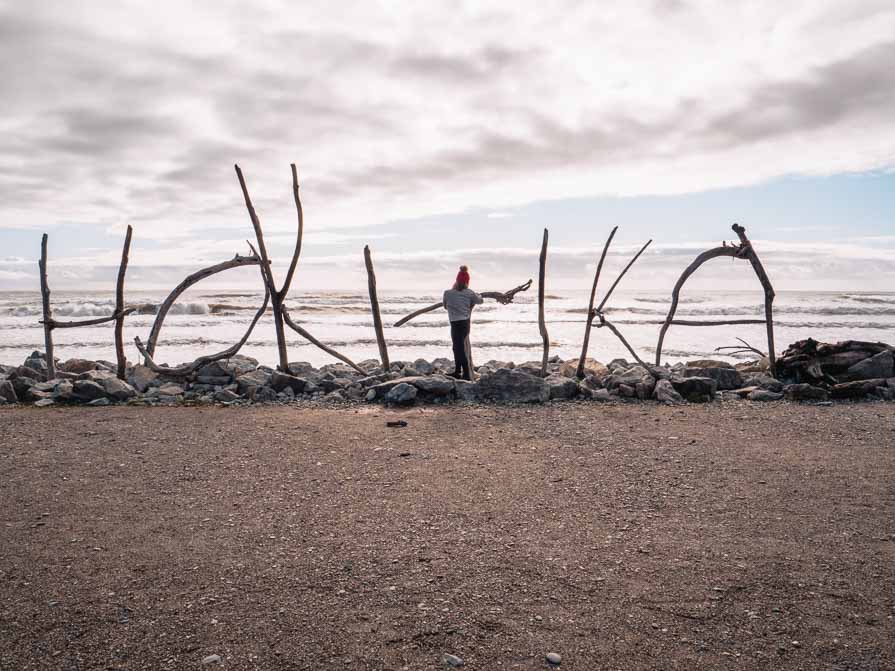 ---
Franz Josef Glacier
Location: About halfway down the island on the West Coast
Potentially one of the heaviest-hit destinations in terms of reduced tourism due to border restrictions, Franz Josef Glacier (and nearby Fox Glacier) are in desperate need of Kiwis to visit. And the bonus for you is that you'll see it at its quietest!
Pre-pandemic this place was a pumping tourist hot spot, with packed restaurants and neon no vacancy signs hanging outside hotel after hotel. But during our trip here we had an entire glacier all to our group of 10 for three hours (they used to take up to 180 people a day on the helihike) and enjoyed our lush cabin without any tour buses turning up.
It's a long drive (about 4.5 hours from both Queenstown and Christchurch) but if you've got a bit of time to explore the South Island, the wild West Coast and these glaciers are absolutely must-dos.
Where to stay in Franz Josef Glacier: Rainforest Retreat has stylish chalets, cosy cabins and a campground for campervans, just a short walk from the main town centre
Must-do activity: A helihike, it's a crazy feeling to walk between ice walls on an actual glacier
A hidden gem: Nearby Okarito (25 min drive) is worth a visit, and a kayak trip on Okarito Lagoon will not disappoint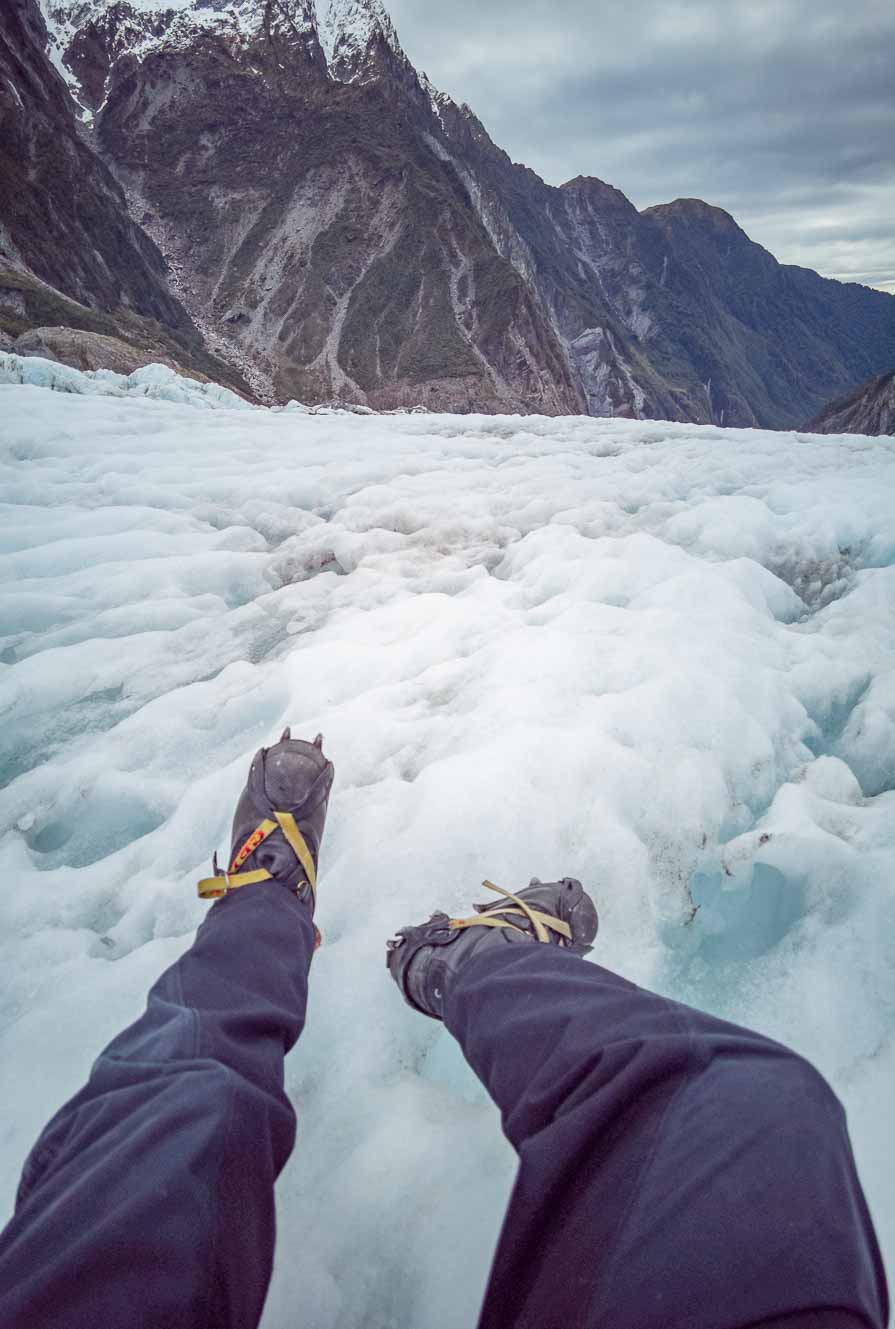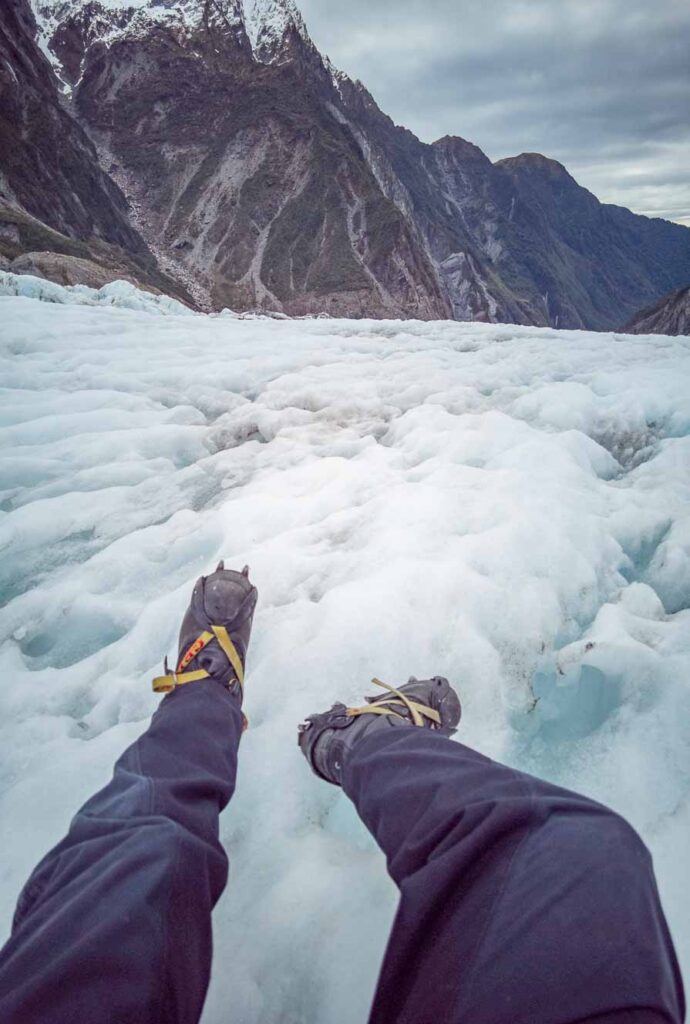 ---
Arthur's Pass
Location: Another mountain pass connecting the coasts, and the most direct route from Christchurch to the West Coast
Up there on the list of New Zealand's most scenic roads, driving over Arthur's Pass will be a highlight of any South Island road trip. Make your way through winding valleys, over glacial rivers and past alpine villages on your way to or from the wild West Coast.
Where to stay in Arthur's Pass: Arthur's Pass Alpine Motel offers spacious and comfy rooms, The Nook is a highly-rated private apartment available for rent, and Jackson's Retreat Holiday Park is a brilliant campervan park which also has private rooms
Must-do activity: Visit Castle Hill to see gigantic limestone boulders amongst the high country hills
---
Christchurch
Location: Almost halfway down the east coast of the South Island
Christchurch has been dealt a pretty terrible hand in the past decade, but the resilience of the city is something to admire. Both restoration and transformation are a constant here these days, and even if you've been before, I guarantee you'll see something new and exciting when you visit again.
Christchurch is a main transport hub and offers easy access to Kaikoura, Hanmer Springs, the West Coast via Arthur's Pass, Tekapo, Aoraki Mount Cook Village and loads more popular places to visit in the South Island.
Where to stay in Christchurch: The Tack Rooms offer brilliant value for a great location, Britten Stables is ultra-stylish and has a Moroccan-inspired pool straight out of my dreams, and Jucy Snooze is a cheap option with easy access to the airport
Must-do activity: Take a ride on New Zealand's longest zipline at Christchurch Adventure Park
Must-eat meal: Anything at Riverside Market! A cookie pie from Moustache, a grilled cheese toastie from Charing Cross Cheesery or sweet treats from Bohemian Bakery are a good place to start.
---
Akaroa
Location: 1h 20m southeast of Christchurch, on the Banks Peninsula
Once home to the first French settlers in New Zealand, this quaint coastal town has retained its French flair over the past 170+ years.
On land you could wander around historic homesteads, taste test some French-inspired fine dining, or lace up your hiking boots and explore one of the many scenic reserves. And if you're game enough to hit the water, you could try kayaking or opt for a refreshing dolphin swim.
Where to stay in Akaroa: Akaroa has some super funky places to stay, like Te Wepu Glamping Pods, Silo Stay and the Banks House B&B
Must-do activity: Swim with dolphins or do a kayak safari
A hidden gem: This place isn't hidden to anyone who's visited Akaroa before, but on the off chance you haven't heard of it, you have to visit the Giant's House. It's a quirky homestead with beautiful gardens and colourful mosaic sculptures!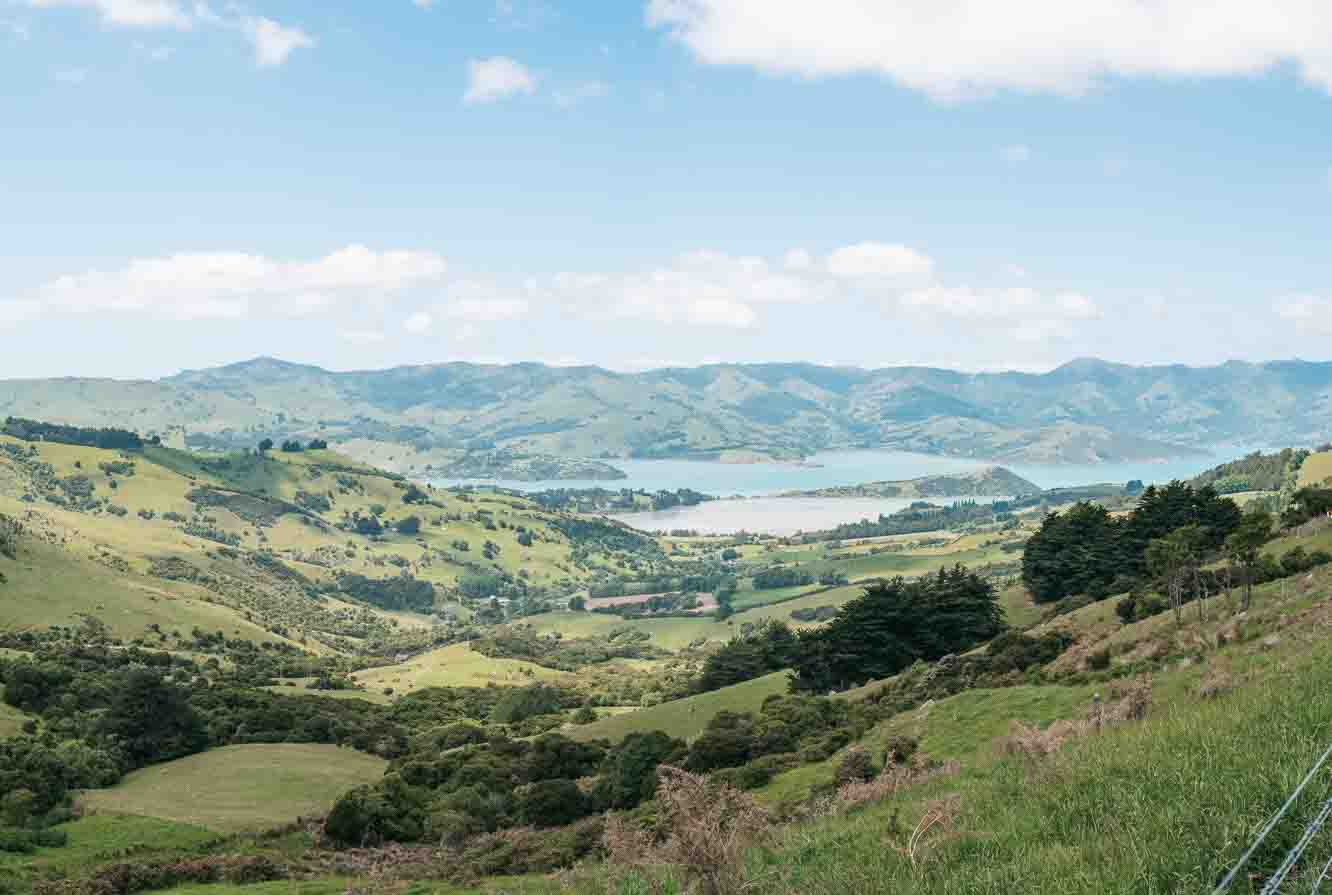 ---
Lake Tekapo
Location: In Mackenzie Country, about halfway between Christchurch and Queenstown (2h 50m from both)
With stunning landscapes, incredible stargazing opportunities and easy access to adventure activities, Lake Tekapo's got something for every type of traveller.
Visit in winter and you could experience snowfall while in a hot pool, skiing at one of the lesser-known South Island ski fields, or capturing pristine nightscapes of the Milky Way. If your trip is in summer then you'll be treated to pink and purple lupins bordering the bright blue lake, plus have your pick of multiple short walks and bike trails around the area.
READ MORE: The best things to do in Tekapo
Where to stay in Tekapo: Lake Tekapo Motels & Holiday Park have campsites and cabins on a budget, YHA Tekapo is brilliantly located right in the middle of town, and the Alpine Lodges at the Cairns are brilliant for a fancy stay close to town or if you are travelling as a family. There's even alpacas, pigs and sheep for the kids to feed!
Must-do activity: Stargazing! You can go stargazing at the hot pools, killing two birds with one stone and a $99 ticket, or for a cheaper option check out Chameleon Stargazing who offer 90 minute sessions for only $55 which is incredible value.
Off the beaten track adventure: A 4WD safari with Tekapo Adventures through the backcountry stations in rural Mackenzie
Must-eat meal: Fairlie Bakehouse Pies, stop at the mothership itself in Fairlie or you can buy them at the Greedy Cow Café in Tekapo's main centre
A hidden gem: Stop at Burkes Pass on the way from Christchurch, it's a historic village themed like Route 66!
---
Aoraki / Mount Cook Village
Location: Right at the base of Aoraki Mount Cook
Aoraki / Mount Cook Village is the closest village to New Zealand's highest mountain, Aoraki / Mount Cook, which stands at a cloud-piercing 3,724m. In fact Aoraki actually means Cloud Piercer in te reo Maori!
The village itself is small but a great base for exploring the National Park, whether you're planning on doing some short hikes or just relax and take in the dramatic scenery.
Where to stay in Mount Cook Village: Aoraki Court Motel is the best-rated motel in town, the YHA has cheap options for budget travellers, and the Hermitage Hotel has luxurious rooms with excellent views
Must-do activity: Tasman Glacier Hike (one hour return) or the Hooker Valley Track (three hours return)
Must-eat meal: Smoked salmon paté from High Country Salmon, which is in Twizel near the turn-off to Aoraki / Mount Cook. DIVINE!
---
Omarama
Location: In South Canterbury, an hour south of Tekapo and two hours north of Queenstown
Omarama is a tiny blink-and-you'll-miss-it town right at the end of the spectacular Lindis Pass if you're driving north (or at the start if you're heading south!). There's not too much to do here but it's worth a quick stop for at least a hot tub soak and a visit to the Clay Cliffs.
Where to stay near Omarama: 45 minutes east of Omarama, towards Oamaru, is Valley Views, a remote glamping spot run by a family who have thought of every single detail. I can't recommend this place enough! Another nearby glamping option which I love is Nest Treehouse, on the opposite side of the river from Valley Views.
If you're heading north and need somewhere closer then check out SkyScape, an eco-friendly glass pod ideal for stargazing, or the beautifully rustic High Country Cabin for a luxurious rural experience. Both of these are just a short drive from Twizel, which is 20 mins from Omarama.
Must-do activity: Omarama Hot Tubs
A hidden gem: Omarama Clay Cliffs are a set of unusual clay pinnacles that seem so out of place amongst the Mackenzie Country's rolling hills and glacial rivers. The cliffs are actually on private land, so you'll need to pay $5 per vehicle on arrival (cash only) and they're a 20 minute drive from Omarama itself.
---
Oamaru
Location: On the east coast in north Otago, 1h 30m north of Dunedin
Probably one of my favourite small towns in New Zealand, Oamaru was unexpectedly awesome! Beautiful heritage buildings, funky shops and eateries, a steampunk museum and a penguin colony, what's not to love?
Where to stay in Oamaru: Oasis on Orwell B&B has a crazy 9.9 rating on booking.com, and Highlands on Homestead is a farm stay with fantastic reviews
Must-do activity: Steampunk Museum for the light room
Must-eat meal: Hot smoked salmon at Riverstone Kitchen, an award-winning restaurant just north of Oamaru
A hidden gem: One of the best giftshops I've ever been into, Presence on Harbour
---
Dunedin
Location: On the east Otago coast
This bustling student town is known for street parties and rowdy rugby games, but there's actually plenty to see and do beyond tequila shots.
Visit historic homes, museums and castles (yes seriously, Dunedin has an actual castle), escape into nature with a trip to Tunnel Beach or Taiaroa Head, or tick 'walk down the world's steepest street off' your bucket list at Baldwin Street.
Where to stay in Dunedin: Bluestone on George and Amross Motel are both mid-range options, or splurge on a night at Larnach Castle for something special
Must-do activity: Larnach Castle is fascinating, from the dark story behind the home to the building restoration and incredible gardens
Must-eat meal: Pub food with a craft beer tasting rack at Emerson's Brewery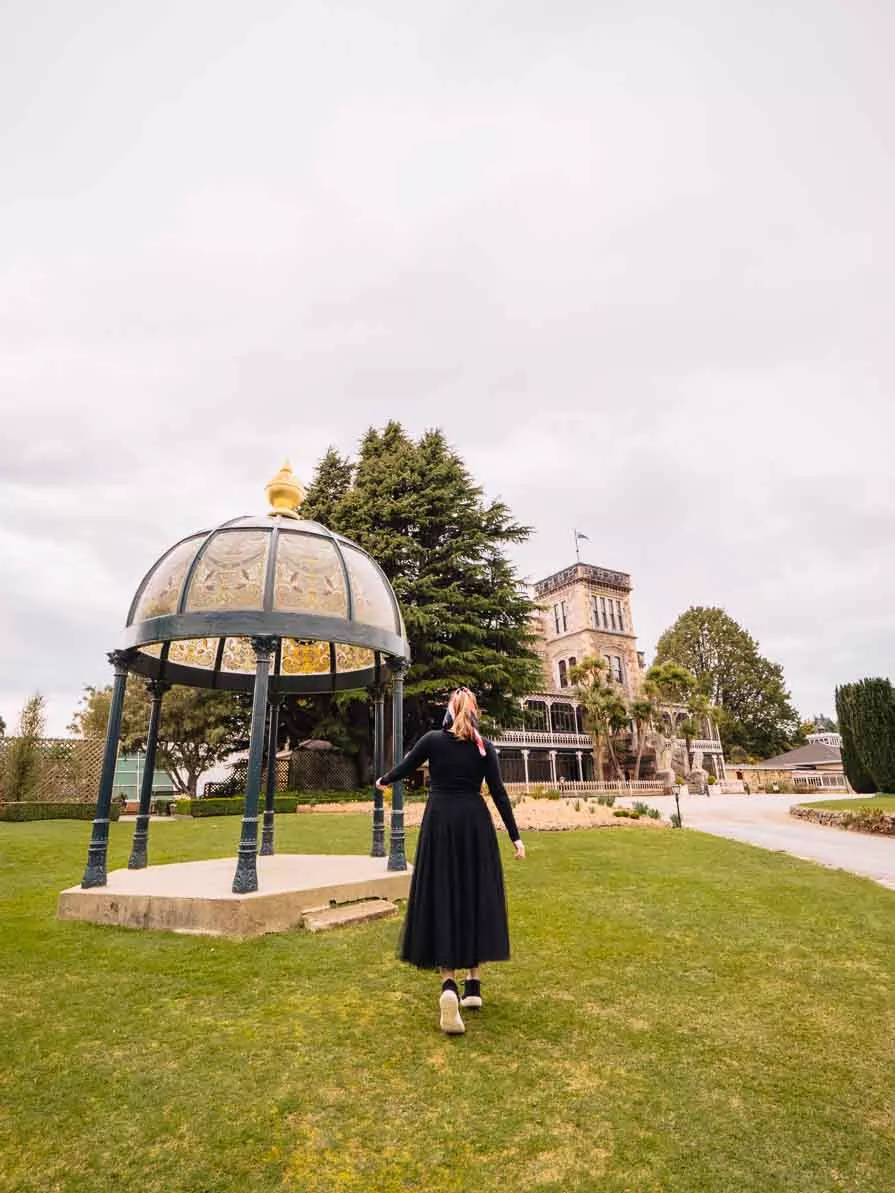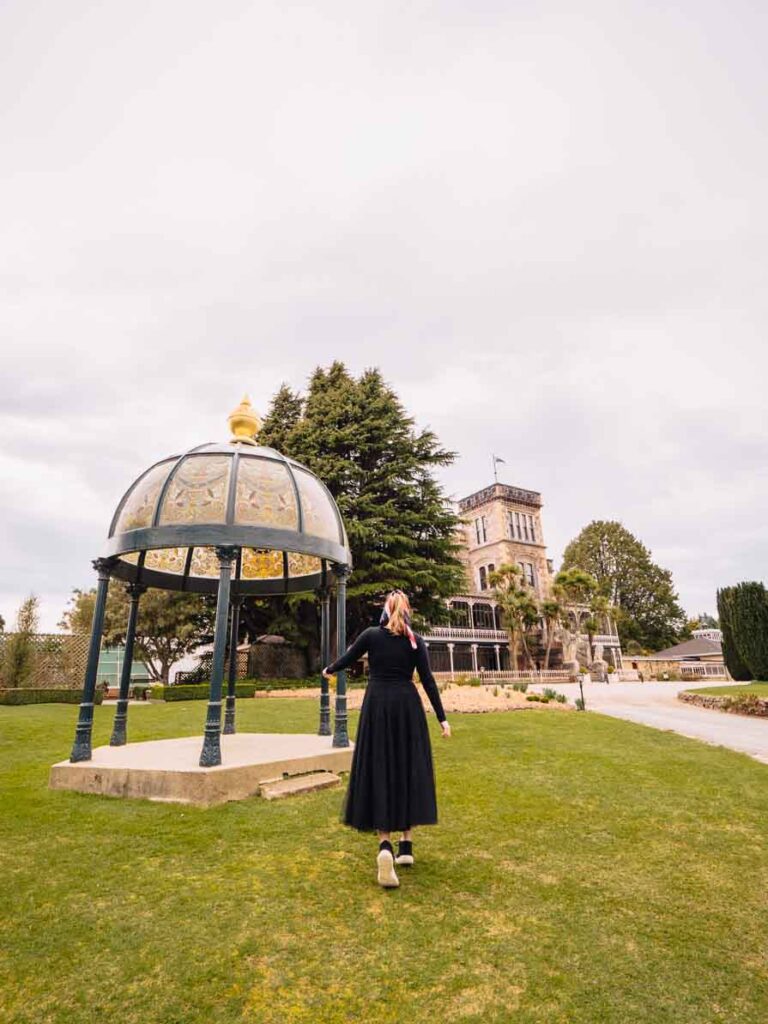 ---
The Catlins
Location: The Catlins is an area comprised of the southeast corner of the South Island, from Balclutha to Invercargill
The Catlins is lesser known than other places to visit in the South Island, but the landscapes and wildlife truly rival the hot spots that get the most attention. And the bonus here is that you're likely to have some of the spots all to yourself!
Search for mammoth sea lions on golden beaches, take a hike around the rugged coastline, feel the Antarctic breeze at Slope Point, or wait patiently at Curio Bay at dusk to try catch a glimpse of penguins coming in from the sea.
Where to stay in the Catlins: We stayed at this cosy little Airbnb near Curio Bay, this Seascape Accommodation is also worth a look, and if you're on a tight budget check out the Lazy Dolphin Lodge
Must-do activity: We did the most incredible sunrise kayak around Nugget Point with Catlins Kayak and Adventure, where we managed to spot a rare yellow-eyed penguin and loads of seals!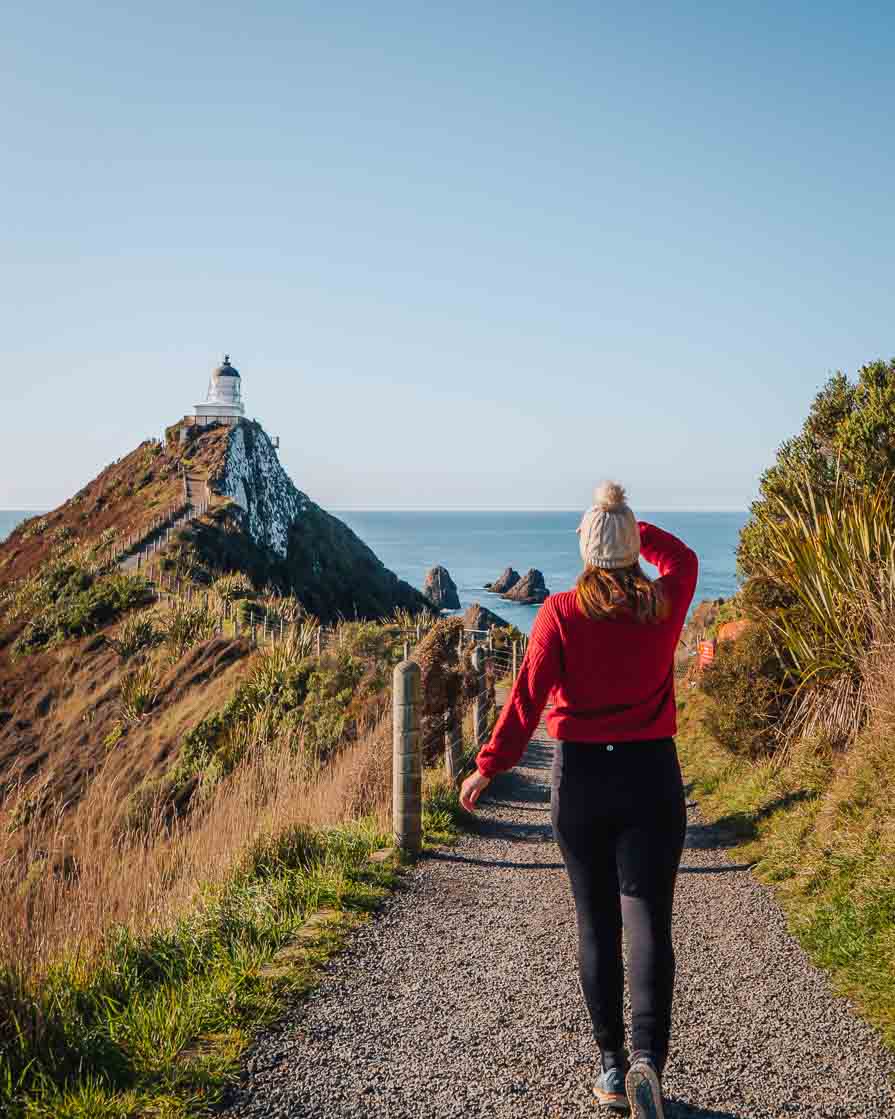 ---
Wanaka
Location: Just over an hour's drive from Queenstown over the Crown Range
A brilliant alternative to Queenstown if you prefer a more local vibe over a bustling metropolis, Wanaka is bursting with epic adventures, quirky dining options and unique experiences for the whole family.
If you're planning a trip to Queenstown I'd recommend setting aside a night or two in Wanaka as well to get the best of both worlds.
Where to stay in Wanaka: Glendhu Bay Motor Camp is one of the best campsites we stayed at, Archway Motels is my favourite motel in town (brilliant value for money) and Cross Hill Domes in nearby Wanaka is my pick for a luxury glamping experience.
Must-do activity: Wildwire Wanaka, the world's highest cable climb up a water fall! This was one of my favourite South Island attractions from our campervan adventure.
Must-eat meal: Brunch at Urban Grind or dinner at Wanaka Gourmet Kitchen
A hidden gem: See the city by trike with Wanaka Trike Tours
---
Queenstown
Location: Central Otago, near the bottom of the South Island
The main gem in the South Island's tourism crown, Queenstown is somewhere every single Kiwi or international traveller should visit.
Whether you're there for a ski holiday, some thrill-seeking, a romantic getaway or to explore the gastronomy and entertainment scene, I guarantee your stay won't be long enough.
Where to stay in Queenstown: Kamana Lakehouse is a newly-renovated stunning boutique hotel with epic views over Lake Wakatipu, as well as private hot tubs exclusively available for guests to book. If you're on a budget then check out YHA Queenstown Lakefront, or for somewhere self-contained or for a group I love Chambers Penthouse, a luxury three bedroom apartment right in the city.
READ MORE: My Review of the Kamana Lakehouse in Queenstown
Must-do activity: Too many! But paragliding from Coronet Peak and ziplining through the forest should both be on your Queenstown list.
Must-eat meal: Also too many, but brunch at the Boatshed Café was brilliant and I loved dinner at Nest, the restaurant in the Kamana Lakehouse hotel
A hidden gem: I've been to Queenstown nine times now and only just managed to visit Skippers Canyon, home to the most dangerous road in New Zealand! We did a half-day jeep tour with Nomad Safaris and it was epic.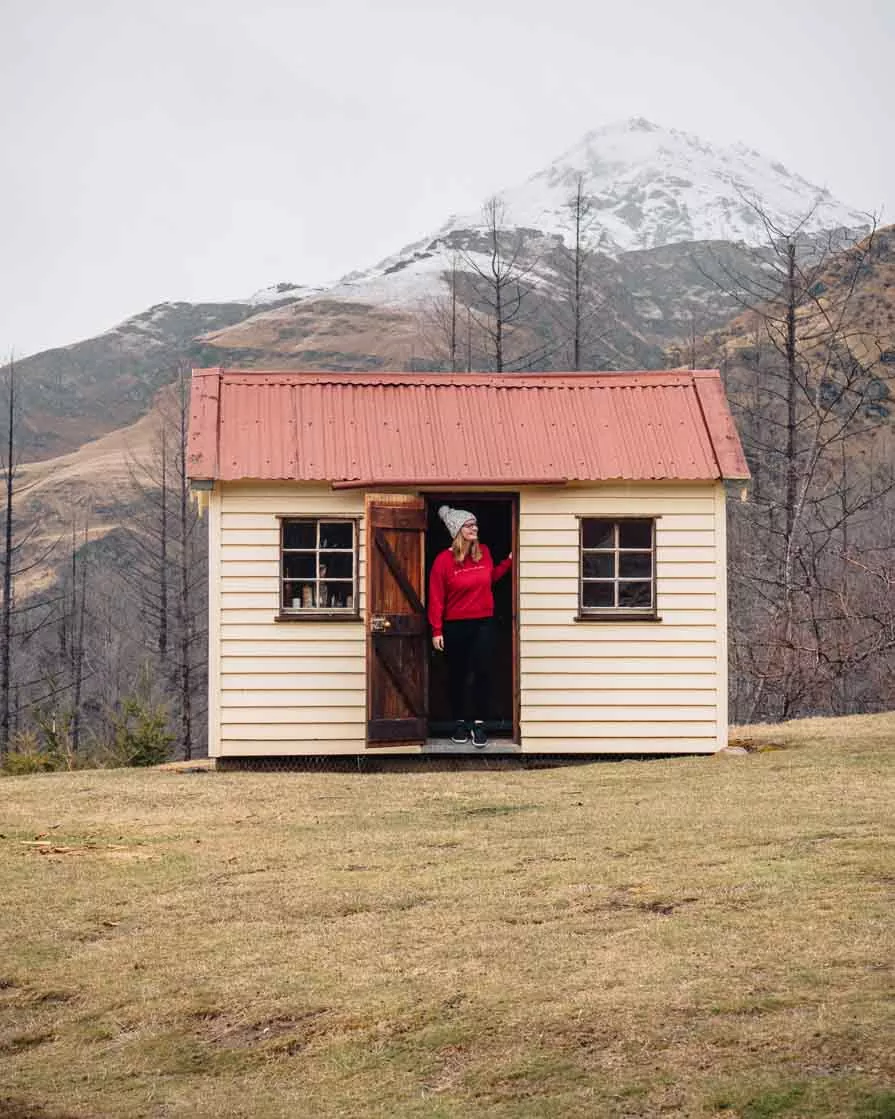 ---
Glenorchy
Location: At the northern end of Lake Wakatipu, about 45 minutes' drive from Queenstown
This sleepy lakeside town is another Central Otago option, much quieter than both Queenstown and Wanaka, but within easy reach to the Routeburn Track and other active adventures.
Get your thrills by jetboating or ziplining, soak up the killer views by horseback or e-bike, or challenge yourself with the 33km Routeburn Track, one of New Zealand's Great Walks.
Where to stay in Glenorchy: Camp Glenorchy Eco Retreat is probably the fanciest campground in the country, with campervan spots as well as dorms and private rooms. For something suuuper flash, and I mean five star luxury flash, check out Blanket Bay.
Must-do activity: If you're a Lord of the Rings fan, you'll love this LOTR jeep safari with Nomad Safaris
---
Te Anau
Location: In Fiordland, in the southwest corner of the South Island
Best known as the gateway to Fiordland National Park and the famous Milford Sound, Te Anau has enough going on to hold its own as a tourist destination.
READ MORE: 10 Epic Things to Do in Te Anau
Rent a bike and do the Lake2Lake cycle trail, see the glowworms or try spot an elusive takahe at the Te Anau Bird Sanctuary.
This lakeside town is feeling the effects of border restrictions, so your visit will be massively appreciated.
Where to stay in Te Anau: Anchorage Motel for somewhere central and budget-friendly, Radfords on the Lake for a more luxurious motel experience, or Fiordland Lodge if you're looking to splurge
Must-do activity: A boat trip on the lake, check out Faith in Fiordland or Cruise Te Anau
Must-eat meal: Bao from the Bao Now food truck right in the middle of town
A hidden gem: The Atawhenua Shadowland movie at Fiordland Cinema, it's a short film all about Fiordland's history with the most incredible aerial footage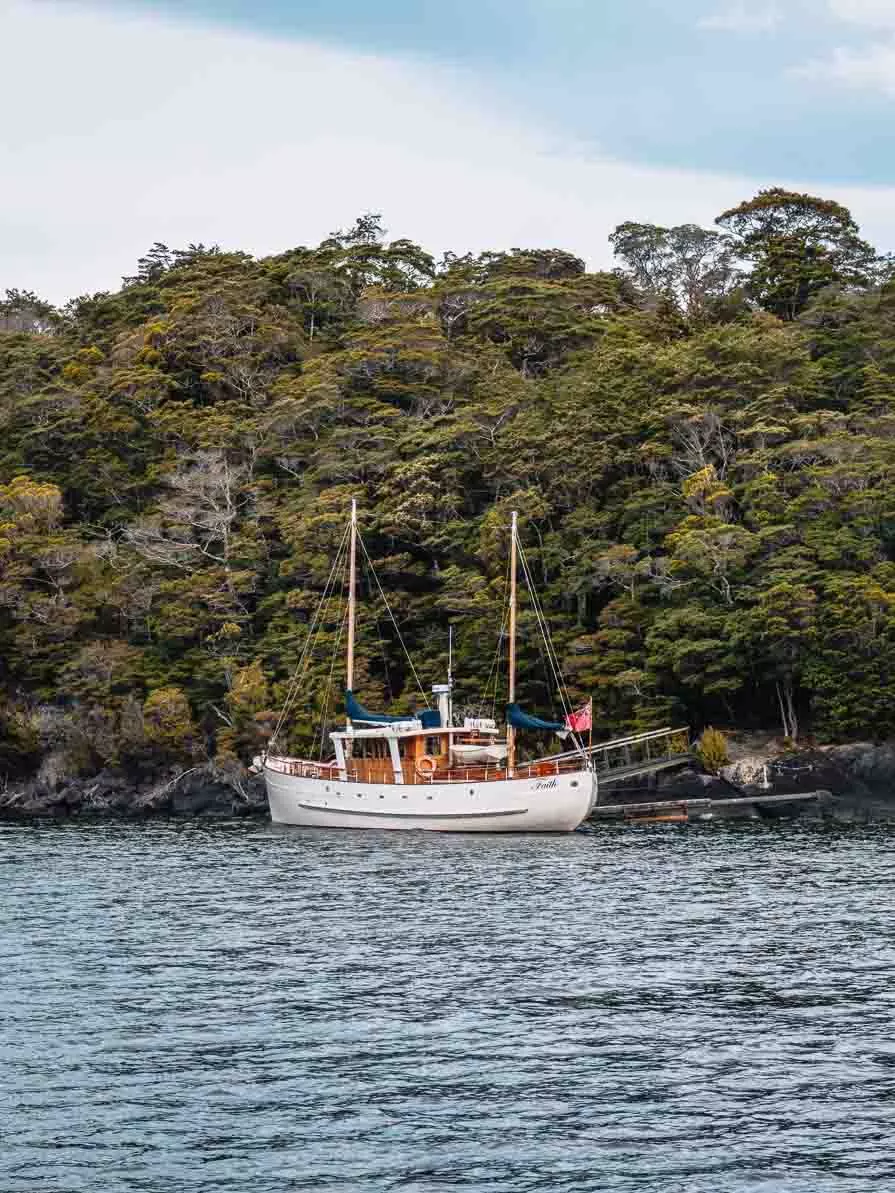 ---
Milford Sound
Location: In the northern part of Fiordland National Park, a 1.5-2 hour drive from Te Anau
Driving to Milford Sound from Te Anau is a South Island highlight in itself, with the scenic journey being named as one of the best drives on the planet. And it only gets better once you arrive, to gigantic mountains and thundering waterfalls.
Spot a cheeky kea, find the Instafamous Milford Sound swing, and hit the water with a cruise or kayak tour. This part of New Zealand is pure magic.
YOU MIGHT ALSO LIKE: 11 of the Best Things to Do in Milford Sound
Where to stay in Milford Sound: Milford Sound Lodge has stylish chalets with sweet views, as well as a campervan park surrounded by lush forest. Facilities are excellent and the on-site restaurant serves up some delicious meals made with locally-sourced ingredients.
Must-do activity: Kayaking with Rosco's Milford Kayaks is hands down one of the best things I've ever done in my life. This is probably my number one recommendation for the best things to do in the South Island!
---
Stewart Island
Location: The little island at the bottom of the South Island!
The fact that so many Kiwis haven't visited Stewart Island is such a shame, it's an incredibly unspoilt part of Aotearoa and all New Zealanders (and international visitors too) should have it on their South Island bucket list.
Known as Rakiura in te reo Maori, the island is home to more than 10,000 kiwis (the bird, not the people) and is probably the best place in the country to spot the national icon in the wild.
RELATED READ: The Best Things to Do on Stewart Island
Where to stay in Stewart Island: Stewart Island Backpackers is basic but great value, or there's a bunch of Stewart Island Airbnbs to choose from on the island
Must-do activity: Kiwi spotting! We did a tour with Ruggedy Range and it was absolutely incredible, we managed to spot five kiwis, we were with three for a decent amount of time, and even saw one male kiwi perform a mating call.
Must-eat meal: Hot smoked salmon baguette from the South Sea Hotel pub. Even better on a Sunday night while you're trying your luck in the weekly pub quiz.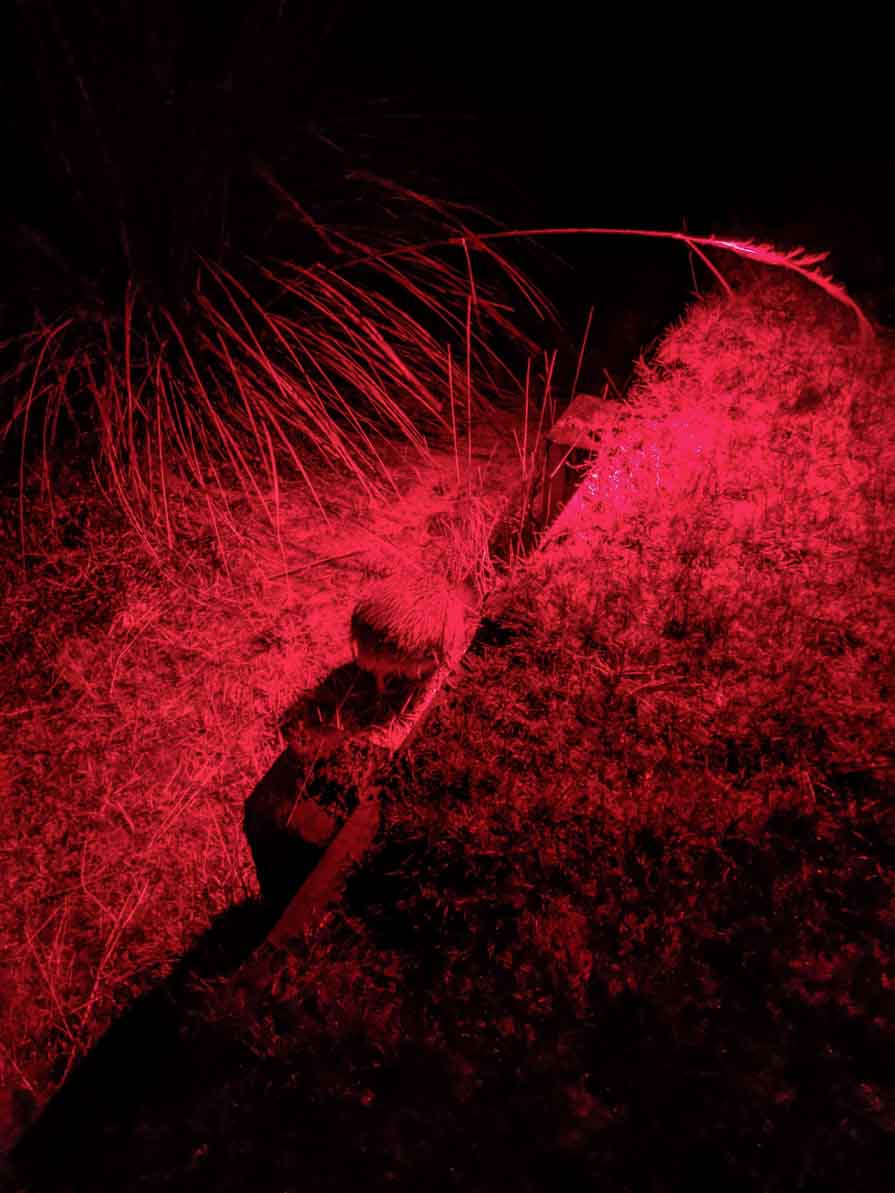 ---
Now are you ready to plan your South Island itinerary? I hope this extensive list of places to visit in the South Island, as well as some of the best South Island attractions and lesser-known destinations, has made your travel planning a little bit easier!
This is by no means a definitive list of South Island destinations to add to your bucket list, there's simply too many to write about, but it's a great starting point to map out a road trip.
If you want to read more about the most epic things to do in New Zealand, check out my huge New Zealand bucket list blog!
Like this blog? Pin it!