If you're planning on driving to Milford Sound from Te Anau, let me tell you this now: you're in for an absolute treat.
They say "the journey is more important than the destination", and this is no truer than on the 120km-long Milford Road from Te Anau to Milford Sound in Fiordland. Rain or shine, winter or summer, self-drive or guided tour, this particular highway is often mentioned in round ups of the most beautiful drives on the planet. And for good reason!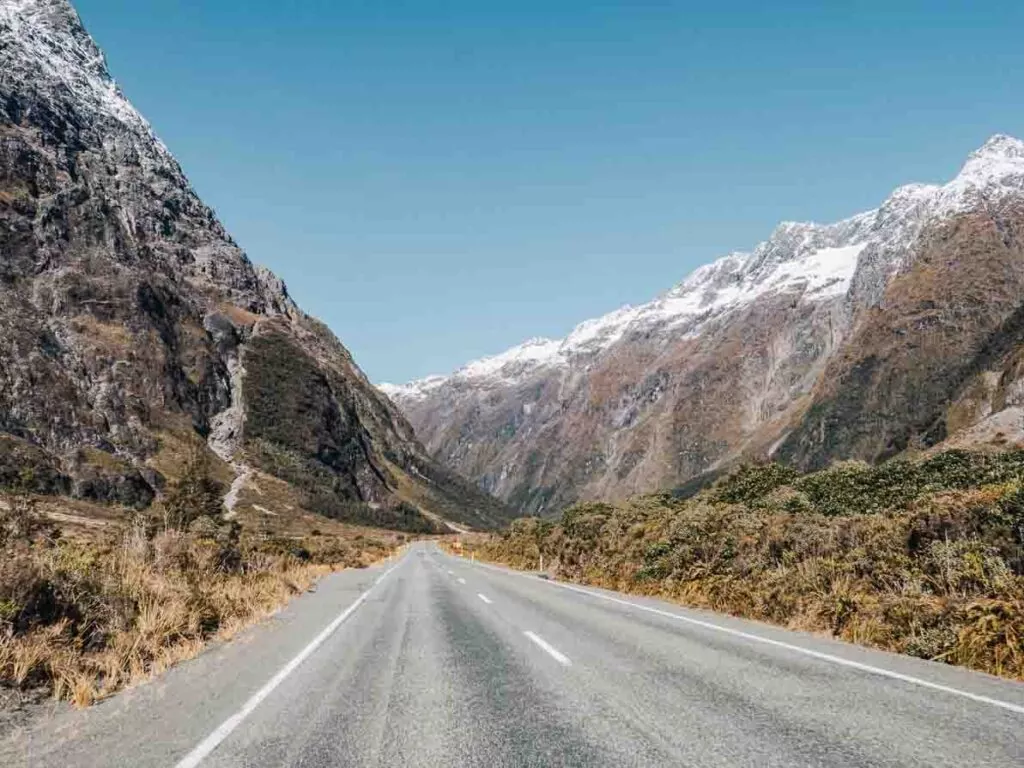 You'll soak up a variety of dramatic landscapes, from vast plains to lush rainforests to snow-capped mountains that stretch into the clouds, with a few short hikes and viewpoints dotted in between.
Blue skies and sunshine are always nice, but Fiordland is equally as stunning in the rain, when thousands of waterfalls cascade down sheer cliffs on the second half of the drive. So regardless of the weather, if the road is open, you'll be impressed.
RELATED READ: 22 Epic Places to Visit in the South Island
I've driven the road myself three and a half times, the half on a private tour when we could only get one way due to a road closure. All of these were incredible experiences and I've managed to see the road in all different conditions and as both a driver and a passenger.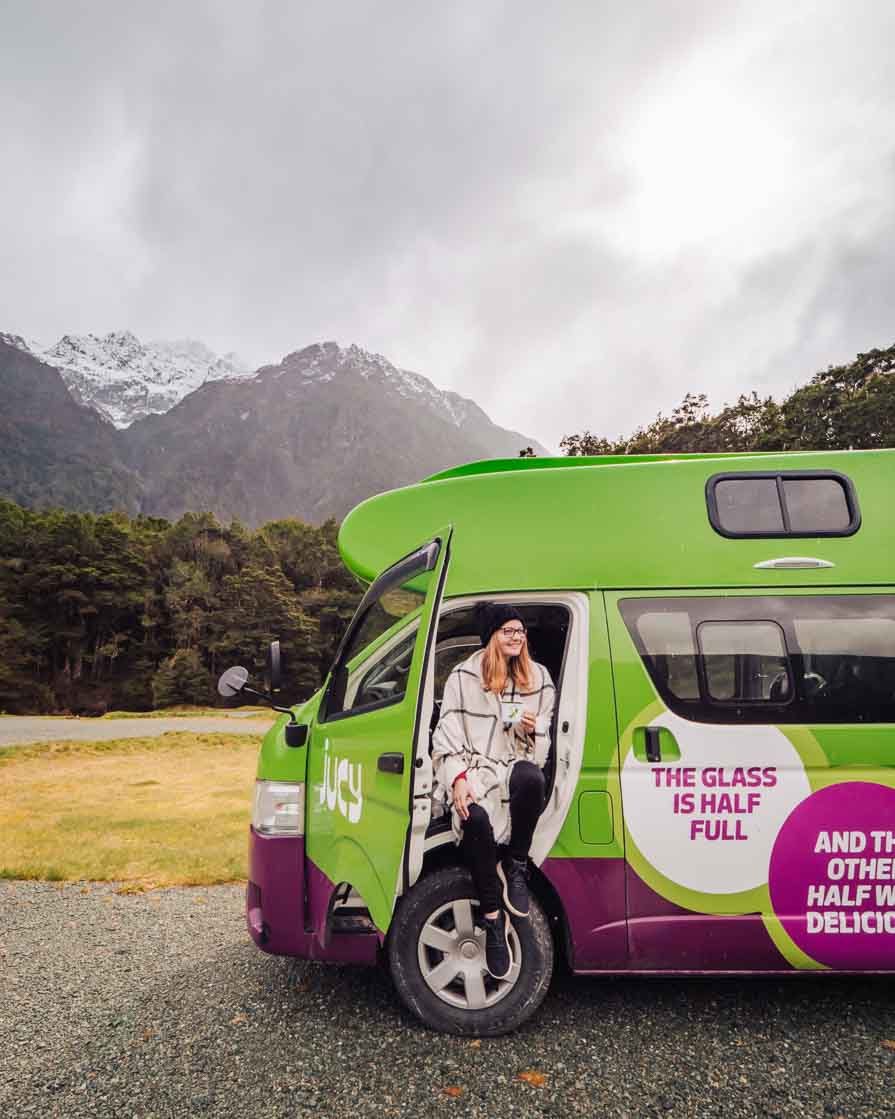 If you want to know how to get to Milford Sound, the best Milford Sound tours, photo stops on the Milford Road and what to do when the road to Milford Sound is closed, as well as top tips for the Milford Road and Milford Sound, I hope this extensive Milford Road guide helps!
---
Is it worth driving to Milford Sound?
When I was doing my keyword research, it told me that this is a frequently asked question about Milford Sound. Which is unbelievable but I guess I have to answer it!
If you're one of the people asking Google this question, the answer is a resounding YES. Milford Sound is hands down one of the most magical places I've been in all my travels, and I'm embarrassed it took me 28 years to make it to this corner of my country. In the three years since then I've returned a number of times, and I'll always take an opportunity to do at least a day trip if I'm heading to the southern part of the South Island.
And aside from the mind-blowing views, there's loads of things to do in Milford Sound, from day cruises to kayak trips to scuba diving and hiking.
This place is something special, and it's absolutely worth visiting on your New Zealand adventure. Don't believe me? Here's a few photos to prove it.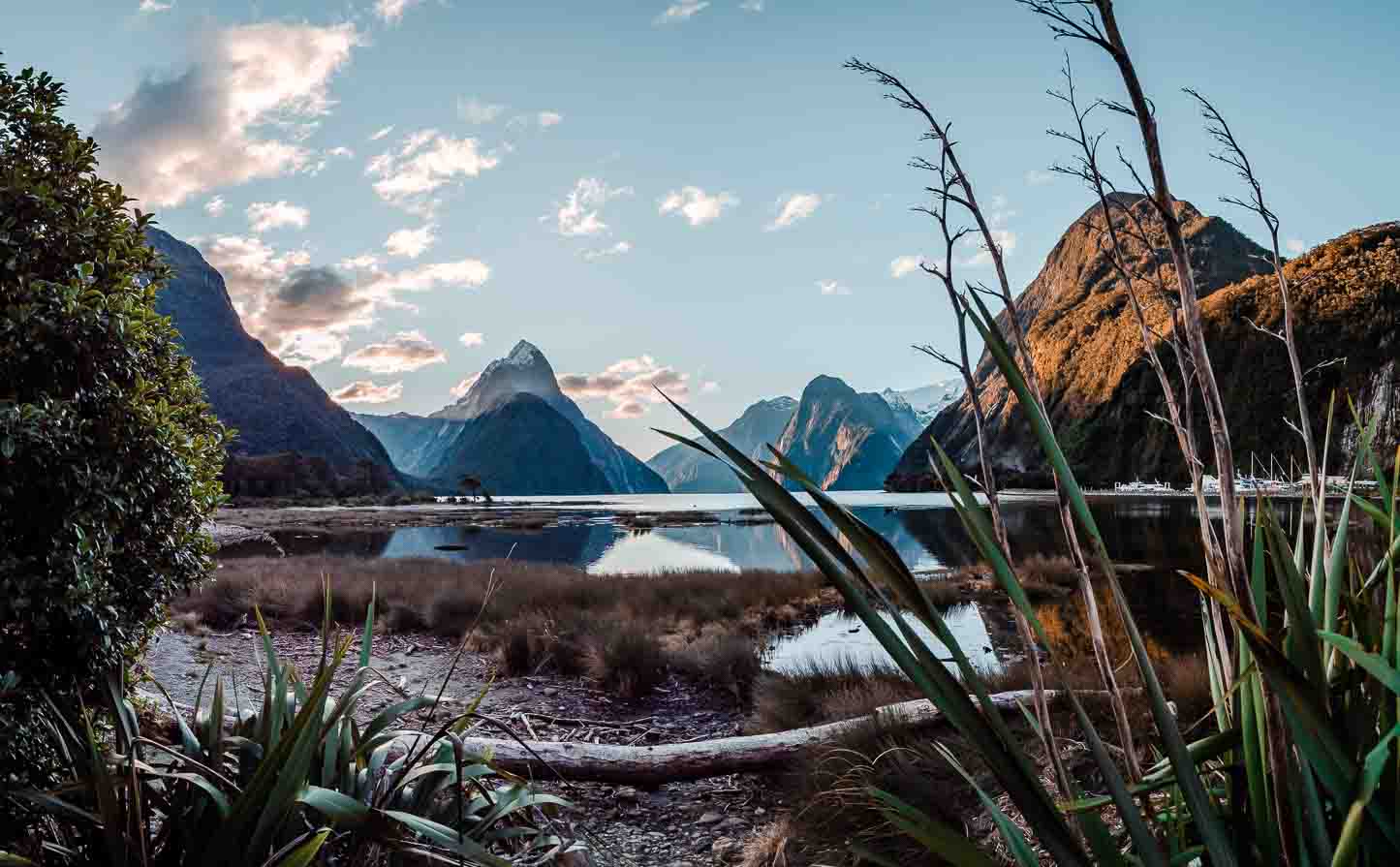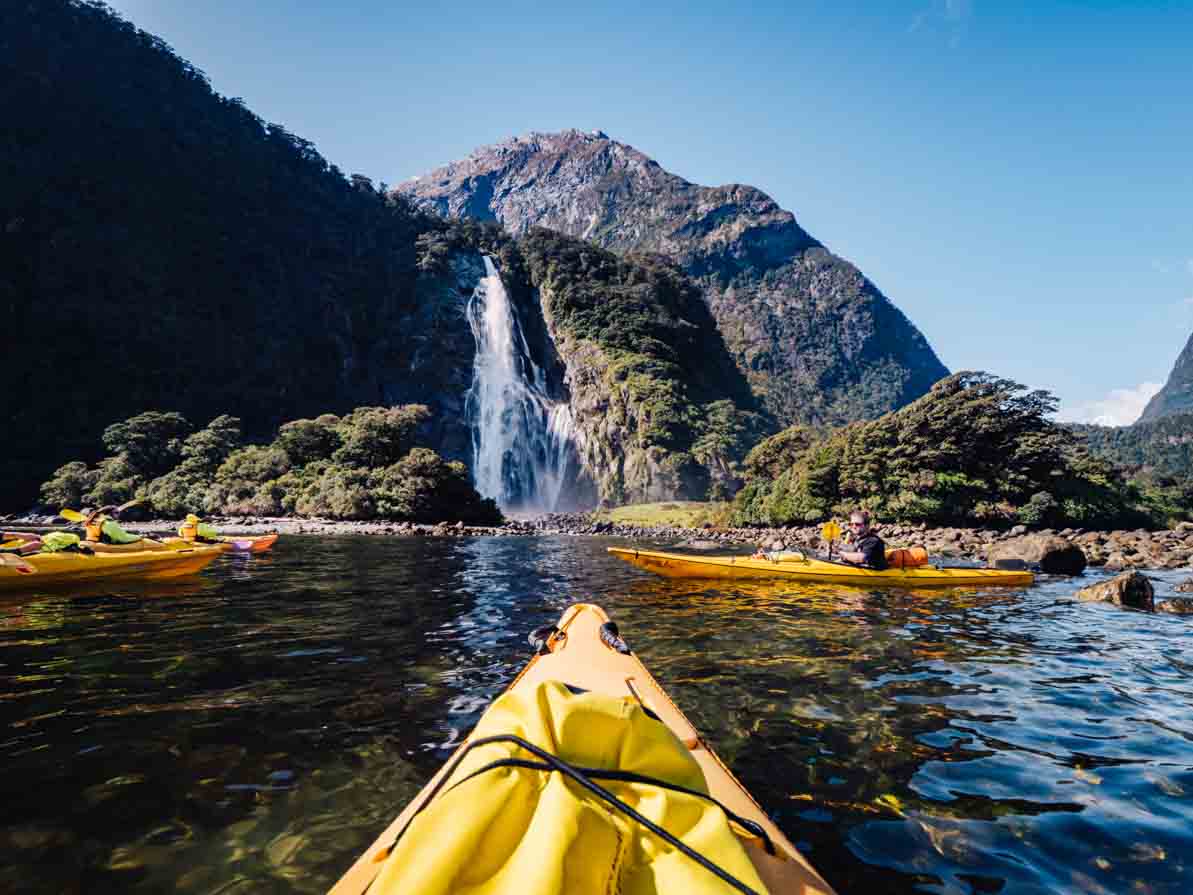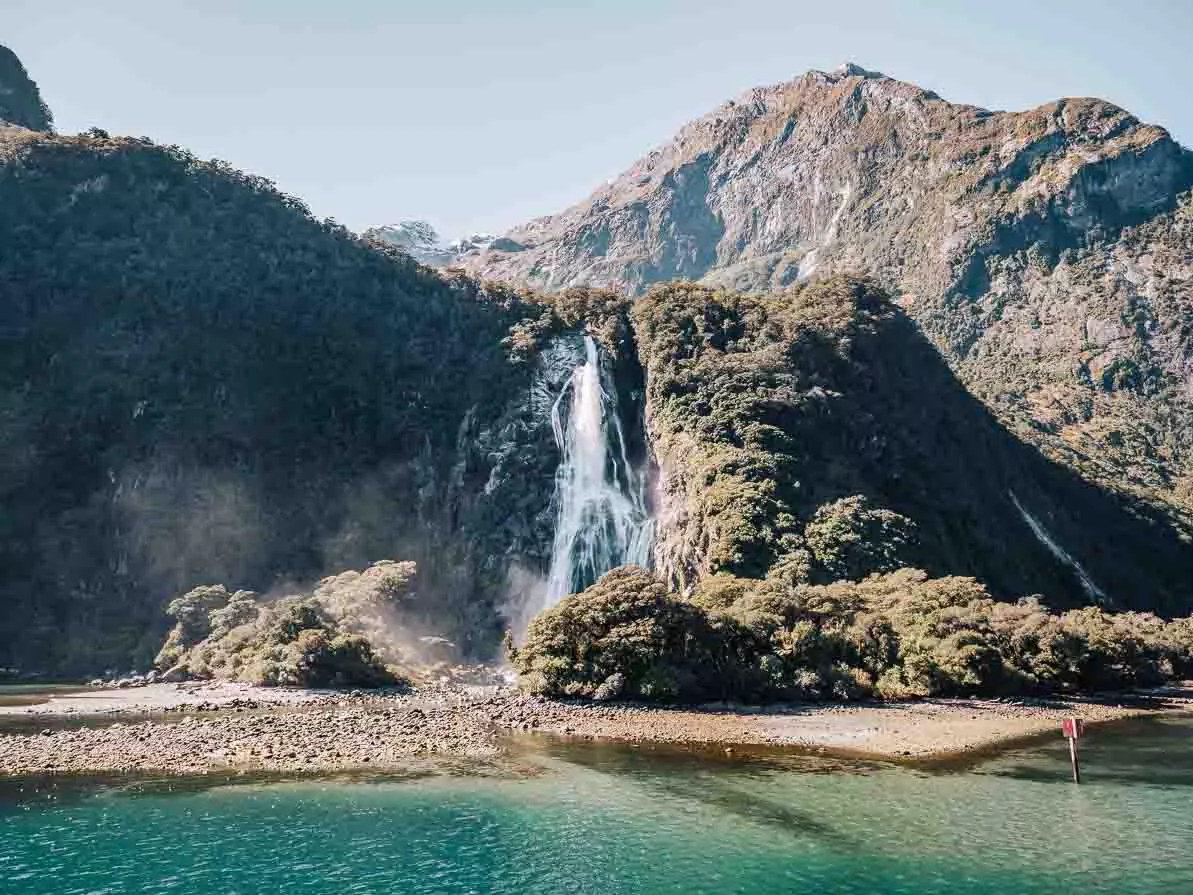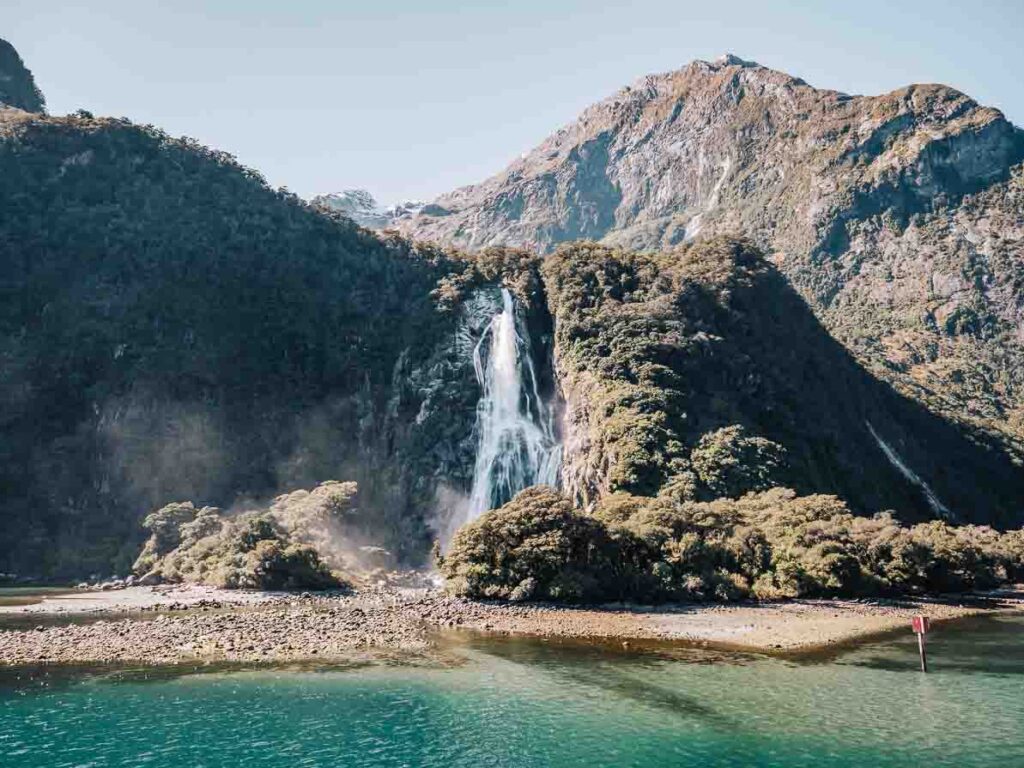 ---
How to get to Milford Sound
Whether you're exploring in a campervan, driving your own car, opting for a guided tour or splurging on a scenic flight, there are a number of different ways to get to Milford Sound from Te Anau, Queenstown and beyond.
Self-driving the Milford Road
If you've got your own vehicle and you're a confident driver, the driving the Milford Road has to be at the top of your New Zealand bucket list.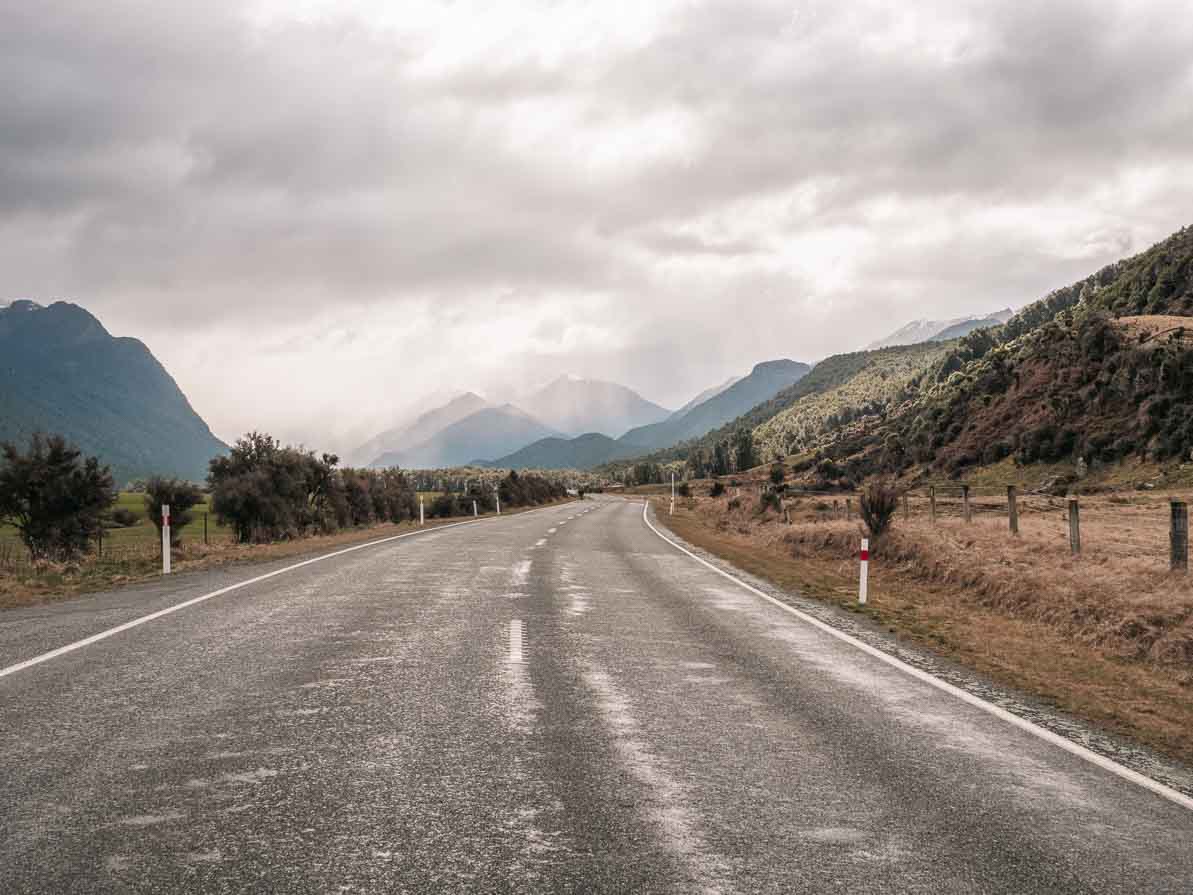 It's an easy hour and a half from Te Anau, however with photo stops and short walks included I'd recommend setting aside 3-4 hours, depending on what you want to see and do on the way.
Driving from Te Anau to Milford Sound and back in one day is possible if you've got an itinerary to follow, but I'd suggest spending a night in Milford if you can to break up the trip and give you a bit more leeway. Queenstown to Milford Sound and back (three and a half hours each way) in one day in your own car is not recommended, if you're short on time then opt for an organised day trip instead.
The road is a well-maintained highway but there are sharp corners, steep inclines, avalanche zones, and traffic can be busy in summer, so you do need to be an experienced and confident driver. In winter the road can get icy so you may need to carry chains, but signs as you drive out of Te Anau will let you know if so.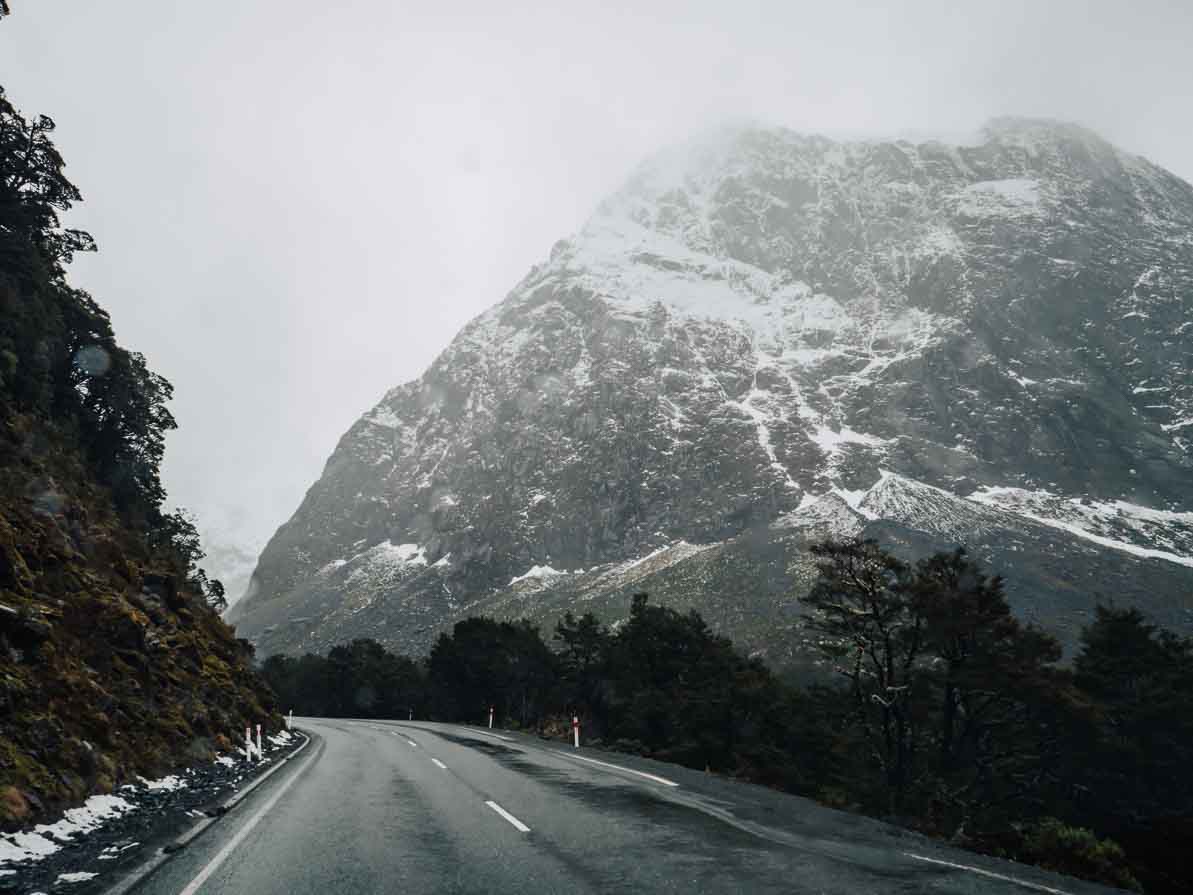 Self-driving means you can stop where you want, when you want, for however long you want, and it's the best way to get to Milford Sound if you have a bit of time to spare.
Milford Sound tours
If you're not keen on doing the drive or if you're pressed for time and want to make the most of your visit to Milford Sound, then there are plenty of Milford Sound tours to get you there and back, either from Te Anau or from Queenstown.
YOU MIGHT ALSO LIKE: Milford Sound vs Doubtful Sound – Which One Should You Visit?
A number of companies run group tours along the Milford Road to Milford Sound, and include a cruise on the fiord itself, starting from $130-$160 per person including lunch depending on the season. You can see some tour options at Real NZ, Jucy Cruise or Southern Discoveries to name a few, and make sure you check BookMe.co.nz in case there are any deals for your travel dates.
These tours run daily, they do have a few photos stops included, and some are on buses with panoramic glass ceilings for maximum view potential! But as with all bus tours, you'll be with up to 50 other travellers and there's no flexibility with stops or timing, so there's pros and cons.
Great value, super easy, but more 'touristy' than other options.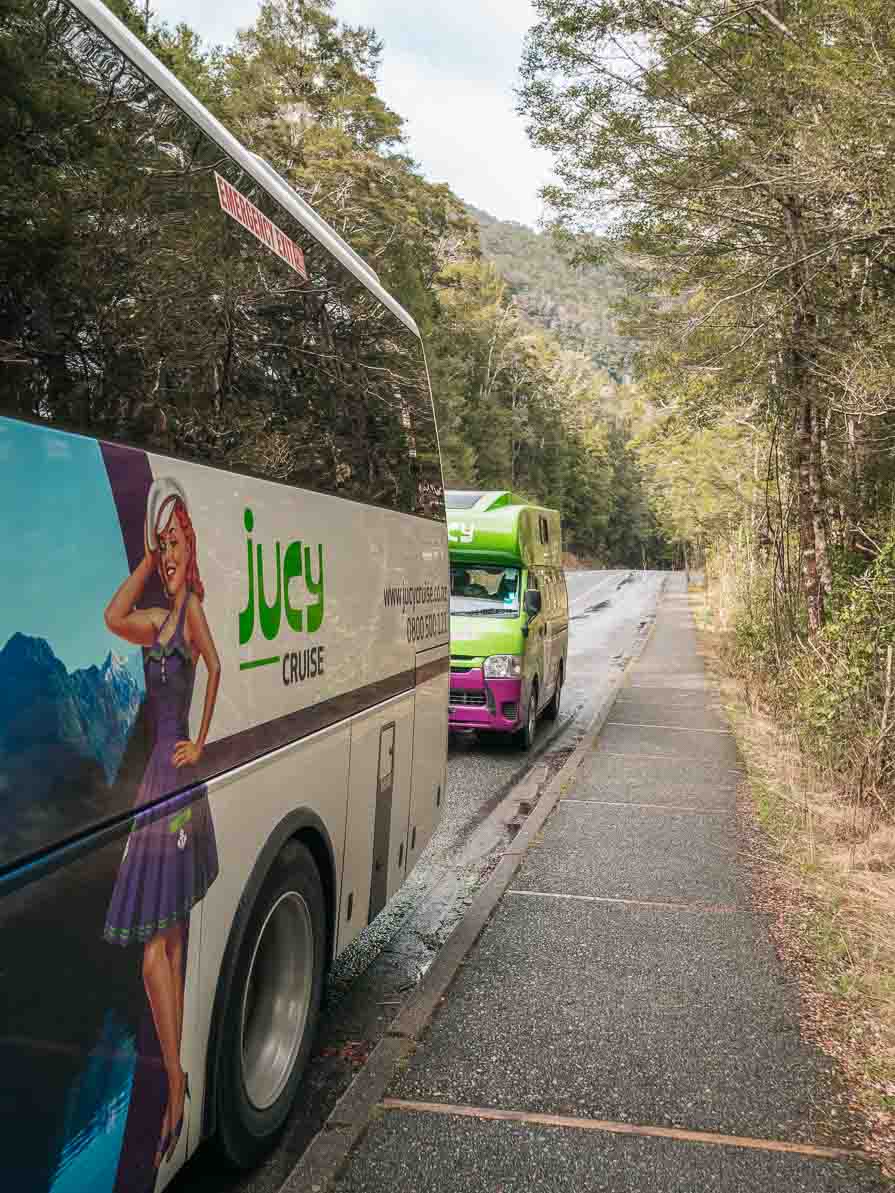 If you're able to spare a bit more money though, a luxury day trip to Milford Sound from Te Anau is a brilliant option. Envy Experiences are local tour operators who run sustainable Milford Sound day trips with their electric Tesla Model X.
The car has vertically-opening doors, a panoramic glass ceiling and loads of room, ideal for a long day of sightseeing. I took my parents on this one when we went to Fiordland after I wrapped up my New Zealand road trip, and although we only got half way (the road was closed due to avalanche risk), we still had a brilliant few hours visiting some breathtaking viewpoints and photo stops.
Tours start from $250 per person including lunch, a cruise, personalised service and a private guide who can answer all your Milford Sound questions.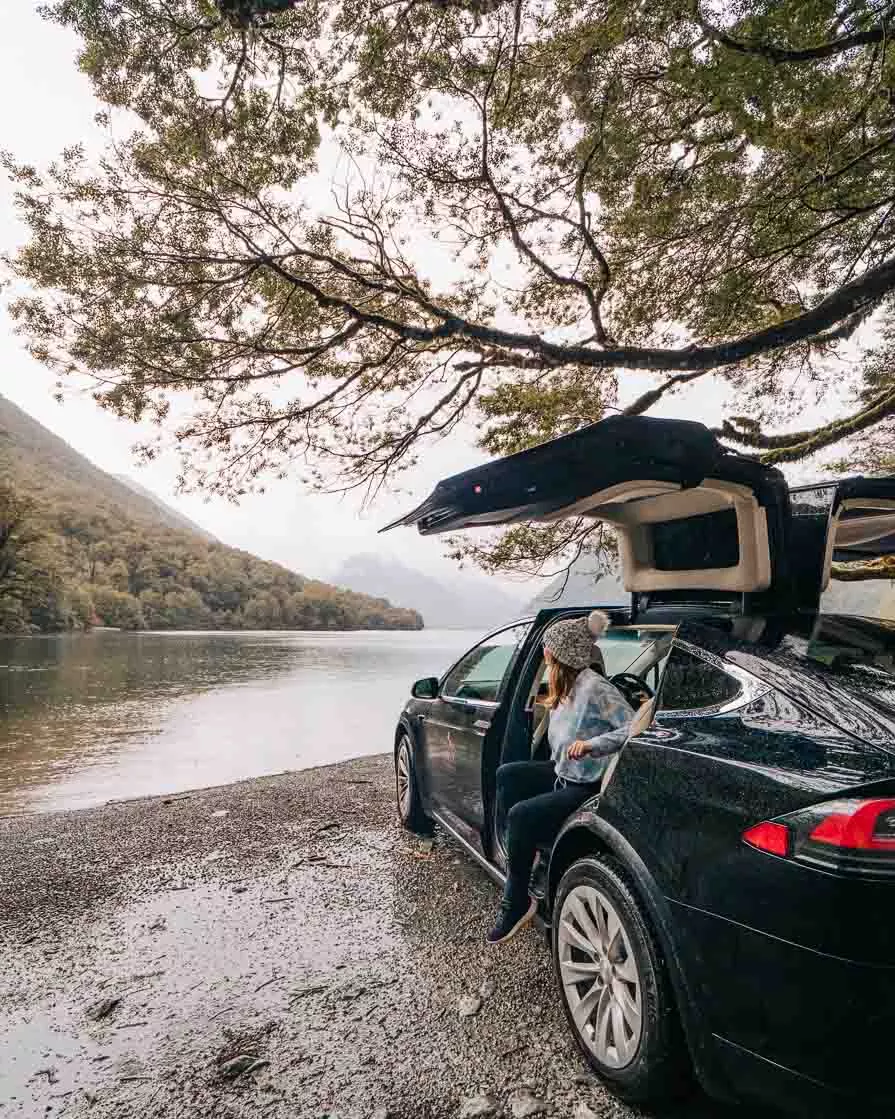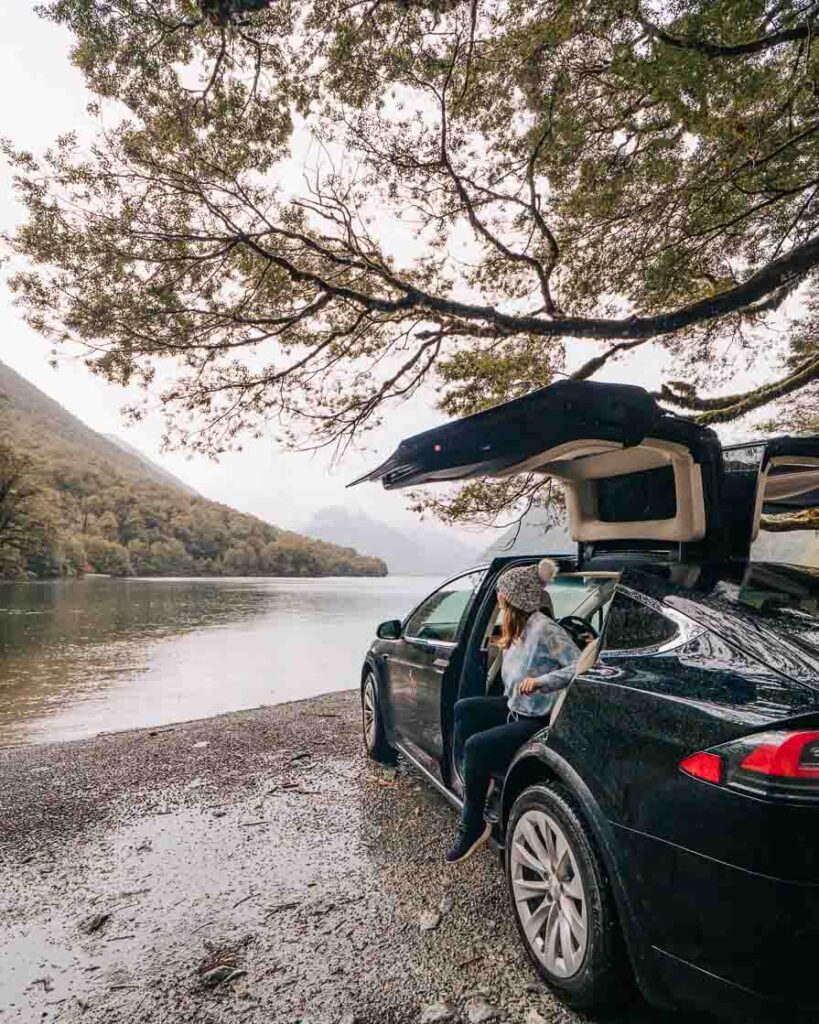 TOP TIP: Private tours are obviously more expensive than group tours but the benefits usually far exceed the cost. You'll get the best bang for your buck, you'll see much more than on an organised day tour, and you can often alter the tour itinerary to suit your interests, whether that's hiking, photography or nature. They're especially worth it if you're travelling with friends or family, and might end up being cheaper than booking multiple tickets on an organised tour.
Scenic flights to Milford Sound
Not sure if you have enough time to spend an entire day travelling to and from Milford Sound? A scenic flight might be more up your alley if you've got cash to splurge.
There are Milford Sound scenic flights available from both Te Anau and Queenstown, and you can choose from a scenic flyover, a flight with a landing, or a flight with a cruise included.
If you'd prefer to take a bus on the way in, do a cruise, and fly out (or the other way round) that's possible too.
Flights are pricey, but the aerial views of Fiordland National Park are unbeatable and it's the most time-efficient way to experience Milford Sound.
Distance from Te Anau to Milford Sound
Driving from Te Anau to Milford Sound is 118km, and Google says it'll take an hour and 25 minutes with no traffic and not taking into account the fact that you'll stop every ten minutes because "it's the most beautiful view on the planet". Speaking from experience.
Distance from Queenstown to Milford Sound
Queenstown to Milford is a long drive, a total of 290km taking three and a half hours without traffic, photo stops or breaks for food.
---
Where to stay in Milford Sound & Te Anau
If you want to make the most of your time in Fiordland then I'd recommend spending a night in Milford Sound if you can, or at least staying in Te Anau for one or two nights to break up the long drive from Queenstown.
Te Anau | My top Te Anau accommodation recommendation is Radfords on the Lake, a stunning lakefront motel with brilliant reviews. They have spacious, comfortable and stylish rooms, and they exude classic Kiwi hospitality. I always spend a night here before driving to Milford Sound so I can hit the road early and enjoy the drive without the crowds that come after 9-10am.
Milford Sound | Milford Sound's only accommodation is Milford Sound Lodge, and it's certainly one for the bucket list. They have beautiful studios as well as two-bedroom chalets with incredible views of Milford Sound's jagged cliffs, as well as a top-rated restaurant, guest kitchen, laundry facilities and more.
---
The best photo stops while driving to Milford Sound from Te Anau
1. Te Anau Downs
The first viewpoint you'll come across on your way out to Milford Sound from Te Anau is Te Anau Downs, about half way up Lake Te Anau, where the Milford Track begins. Hikers will catch a boat from Glade Wharf to the other side of the lake to kick off their four day adventure through the mountains and valleys.
If you're not hiking, this spot is still worth a stop to get some photos looking back towards Lake Te Anau. I'd recommend passing the first car park and pulling into the one just a few seconds further along the road, this is slightly higher so has better views.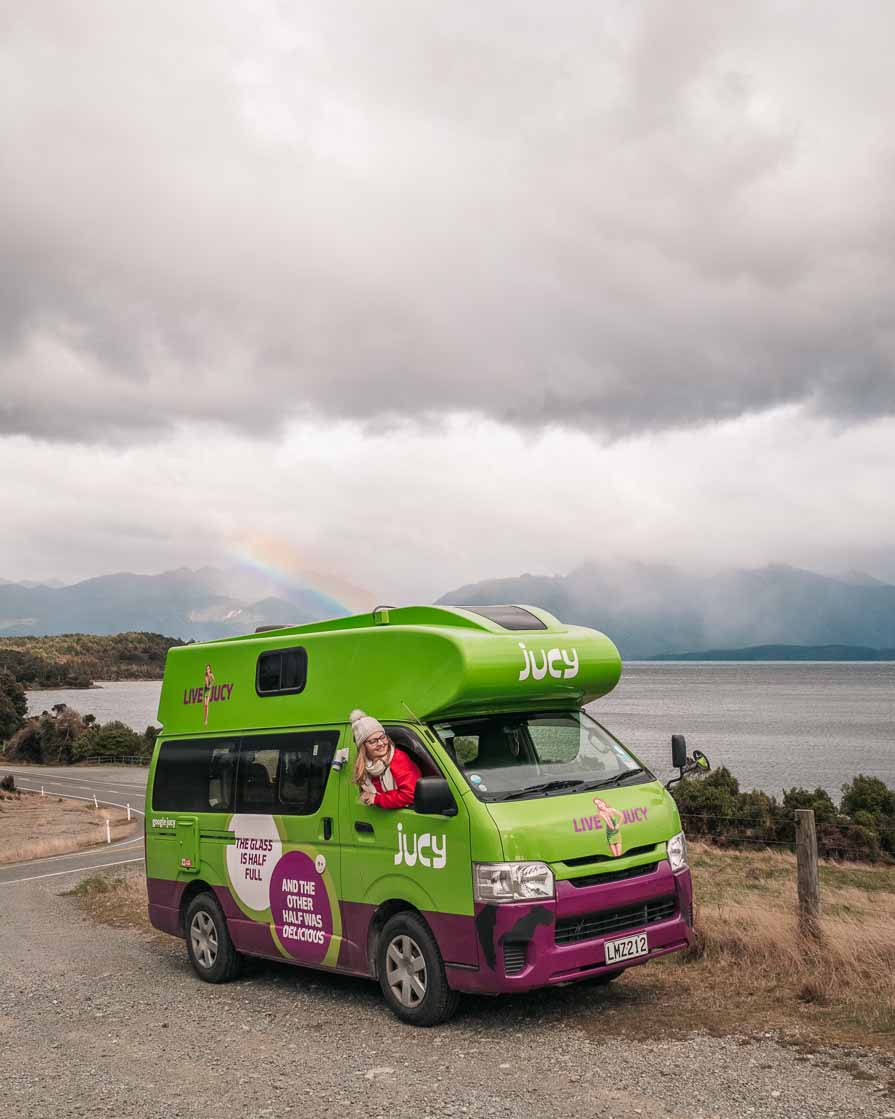 2. Eglinton Valley
This expansive valley looks like it could be straight out of Lord of the Rings, with tussock-covered plains flanking a glacial river that flows down the middle.
There's a long stretch of road to pull over in the Eglinton Valley and most tour buses stop here for photos, so it does get busy during peak season.
3. Mirror Lake
New Zealand's South Island is home to quite a few mirror lakes with stunning reflections on a clear day, but the Mirror Lake along Milford Road is something special, with cloud-piercing mountains standing tall behind it.
This stop is fully accessible with ramped boardwalks two minutes from the road.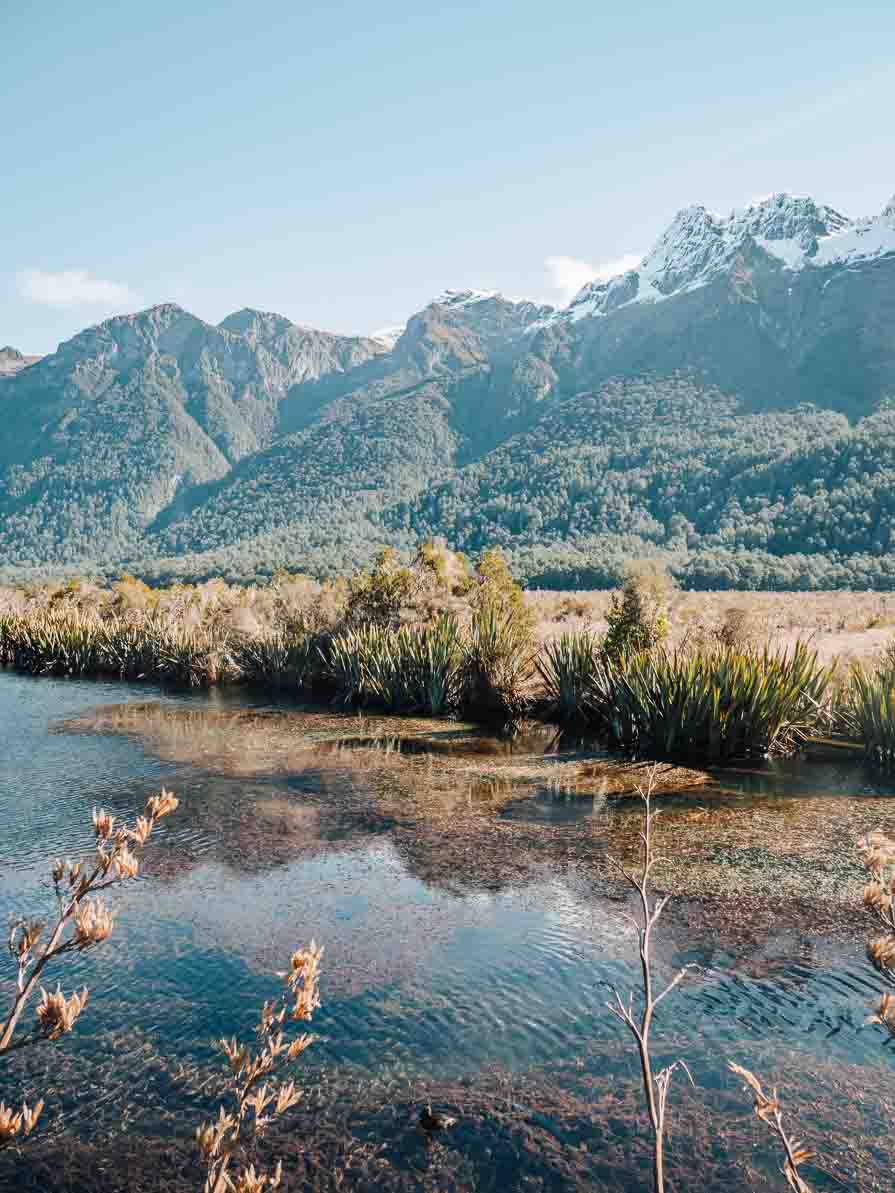 4. Knobs Flat
Knobs Flat is the only serviced campground between Te Anau and Milford Sound, and they have cute cabins available if you don't have a van. This is where the workers lived when they were building the road years back.
There's also a public restroom here, the last flushing toilets before you reach Milford Sound.
5. Cascade Creek
This huge campsite has LOADS of space for tents, cars and campervans, and in busy periods it's packed with visitors. It was so eerie seeing it while New Zealand's borders are closed, with only a few vans parked up compared to the full capacity of 120.
We didn't stay here because we had two nights at the beautiful Milford Lodge right in the fiord, but if you are in a self-contained vehicle and want to spend a night along the road, this is the spot. Doze off under moonlit mountains and wake up to native birdsong before enjoying the rest of your Milford Road journey.
There's clean toilets, sheltered cooking and dining spaces, and you'll need to pay cash at the self-registration kiosk. It's $15 per night per adult, and $7.50 per night for kids over 5. Bookings are required for summertime, you can book on the DOC website.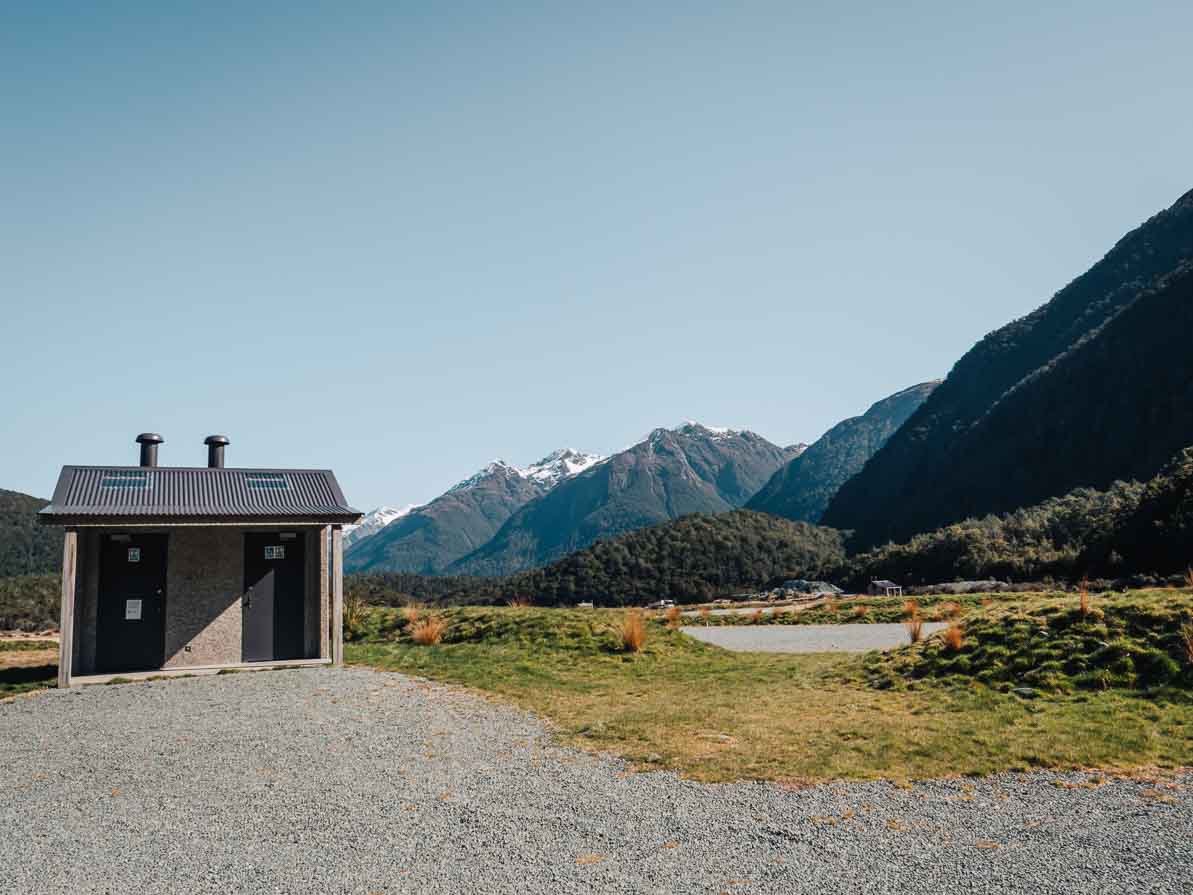 6. Lake Gunn Nature Walk
On your way down the drive way to Cascade Creek, you'll pass by a small carpark underneath towering mossy trees. Park up here and pop on your walking shoes for one of Milford Road's best short walks.
A 45 minute loop will take you through the ethereal forest to the stony shores of Lake Gunn, surrounded by rugged mountains that reflect beautifully in the water on a calm day.
This is a flat, easy walk and is great for kids.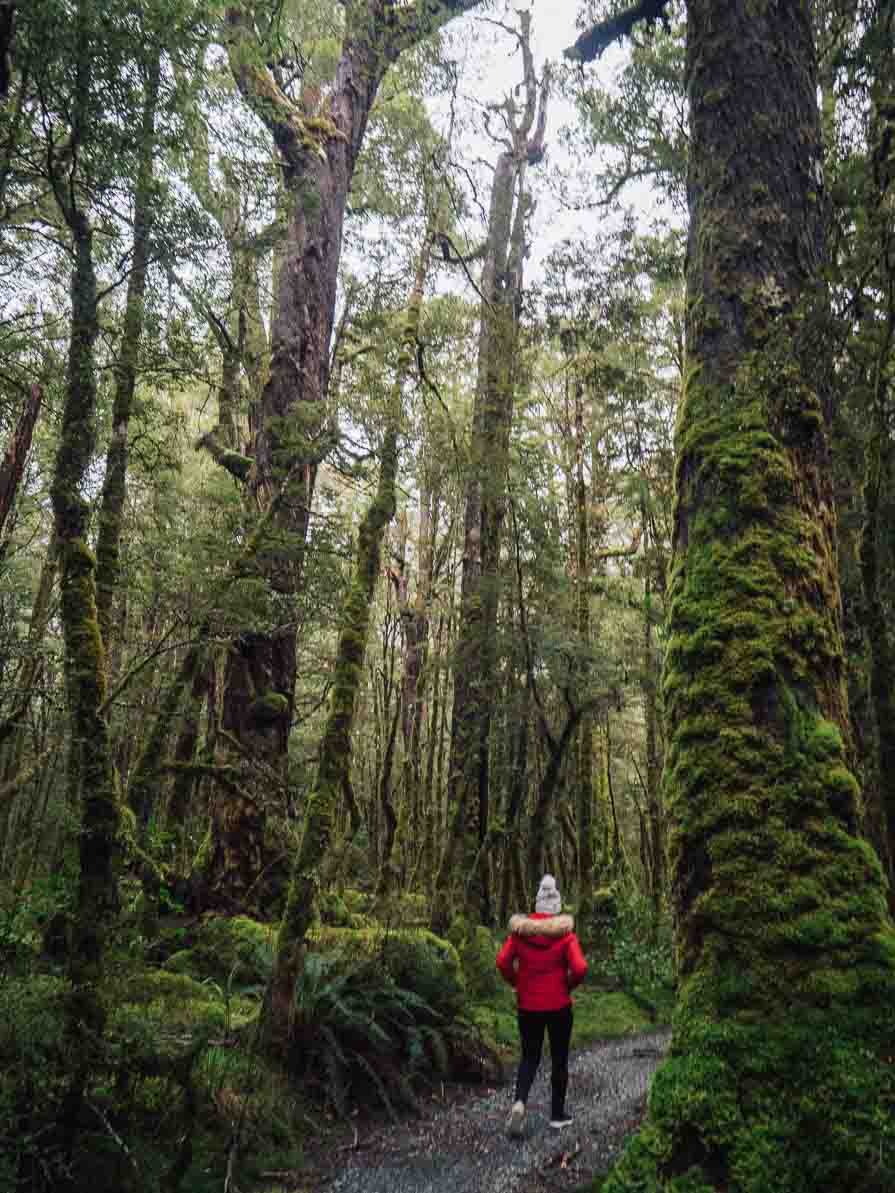 7. Key Summit Hike
(Currently closed due to weather damage, check here for updates)
If you're looking for more of a challenge with a huge reward, the Key Summit Track is a worthwhile half day hike. It's connected to the Routeburn, one of the 10 Great Walks, and begins at the Divide, which is the Routeburn start/end point 85km along Milford Road.
The hike is classed as intermediate but is family-friendly, provided everyone is fit enough for about an hour of gradual uphill plus 20 minutes of a steeper climb. And once you reach the top you'll be treated to panoramic views of snowy peaks, alpine tarns and a well-deserved rest.
8. Pop's View lookout
With sweeping views over the Hollyford Valley, this roadside lookout was where I really started to grasp the magnificence of Milford Sound. On a clear day you'll be able to see the infinite stretch of mountains, and if it's foggy you might be able to catch a glimpse of native forest canopy and jagged cliffs rising from the fog.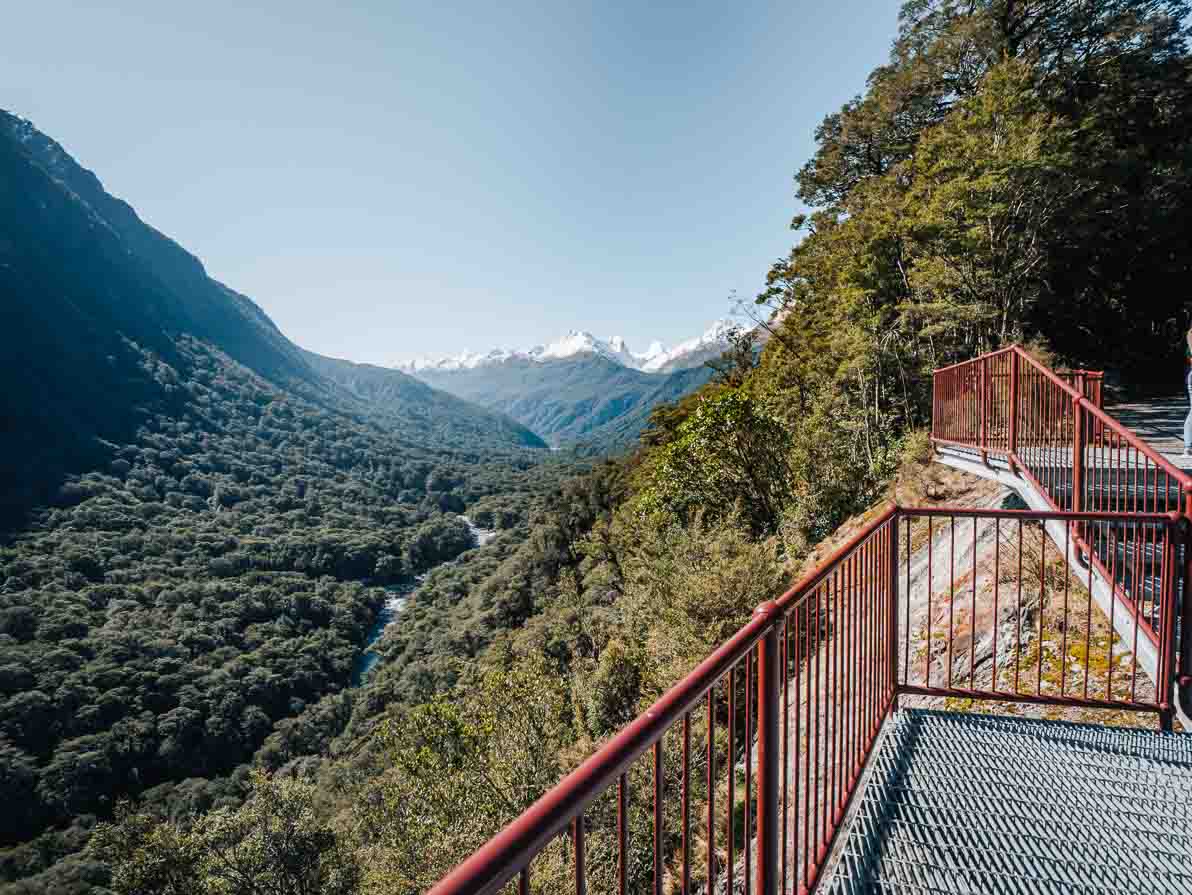 9. Lake Marian
(Part of this track is currently closed due to weather damage, check here for updates)
A three hour return hike will take you through native forest, across a swing bridge, past roaring waterfalls and to a sublime glacial lake.
For a shorter walk you can just opt to see the Lake Marian Falls instead, which will take around 30 minutes return.
10. Monkey Creek
Probably my favourite photo stop on Milford Road, Monkey Creek in Hollyford Valley is just divine. The icy creek is fringed by sheer cliffs and sky high peaks, and you can see the road winding further towards the fiord.
The glacial spring water here is totally safe to drink so fill up your drink bottle, try and spot a kea or a whio (a native duck), and enjoy the magical views.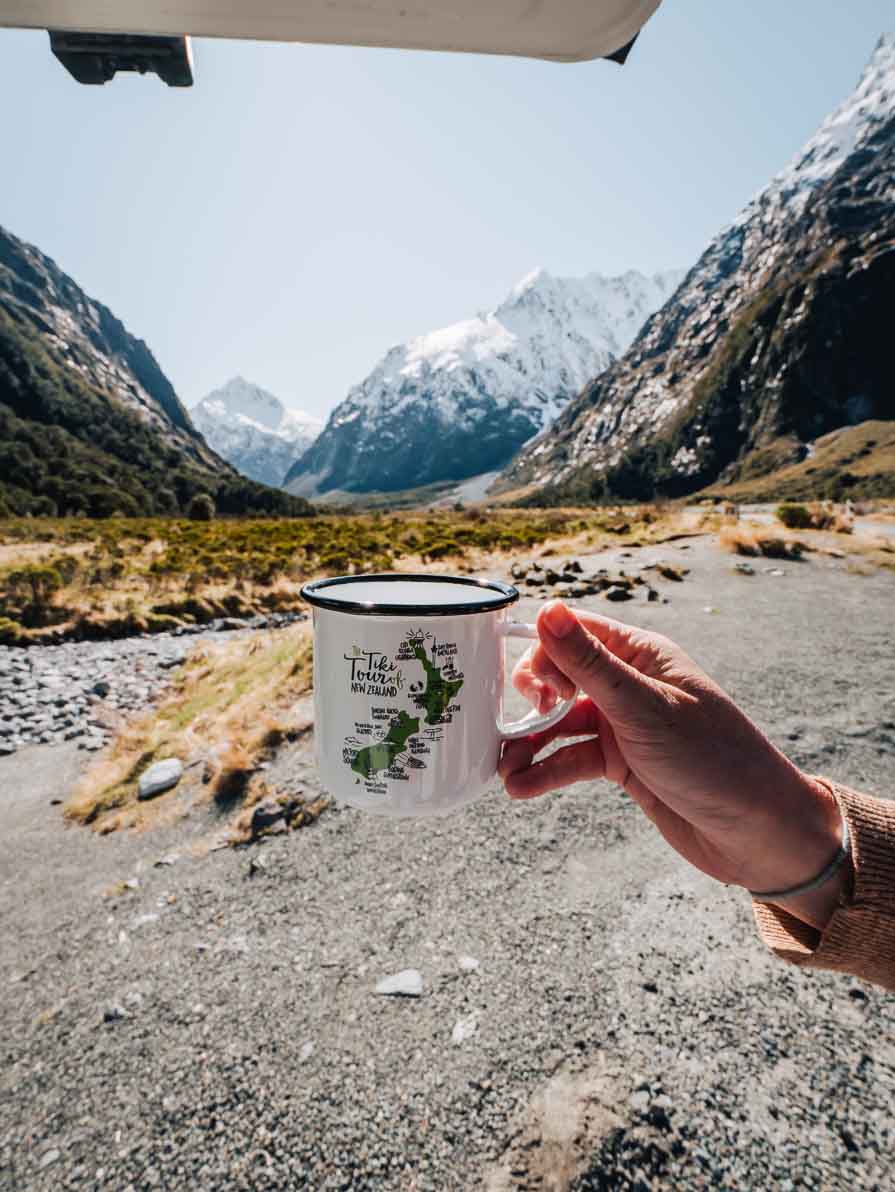 ---
What to do if the Milford Sound road is closed
The Milford Road conditions are carefully assessed every day by an avalanche control team, who monitor, predict, prevent and manage avalanches along the highway.
Because Milford Sound gets an annual rainfall of a whopping 6.7 metres, the fact is that weather can affect the conditions. If you are visiting at a time of heavy rain or snowfall, it is likely that the road to Milford Sound may be closed temporarily.
If this is the case, there will be a road block at the start of the highway to Milford Sound that will let you know of any closures and at what point along the road they are, and if you're still keen to drive to some of the viewpoints before the closure, you'll be able to. You can check current road conditions and status on the NZTA website.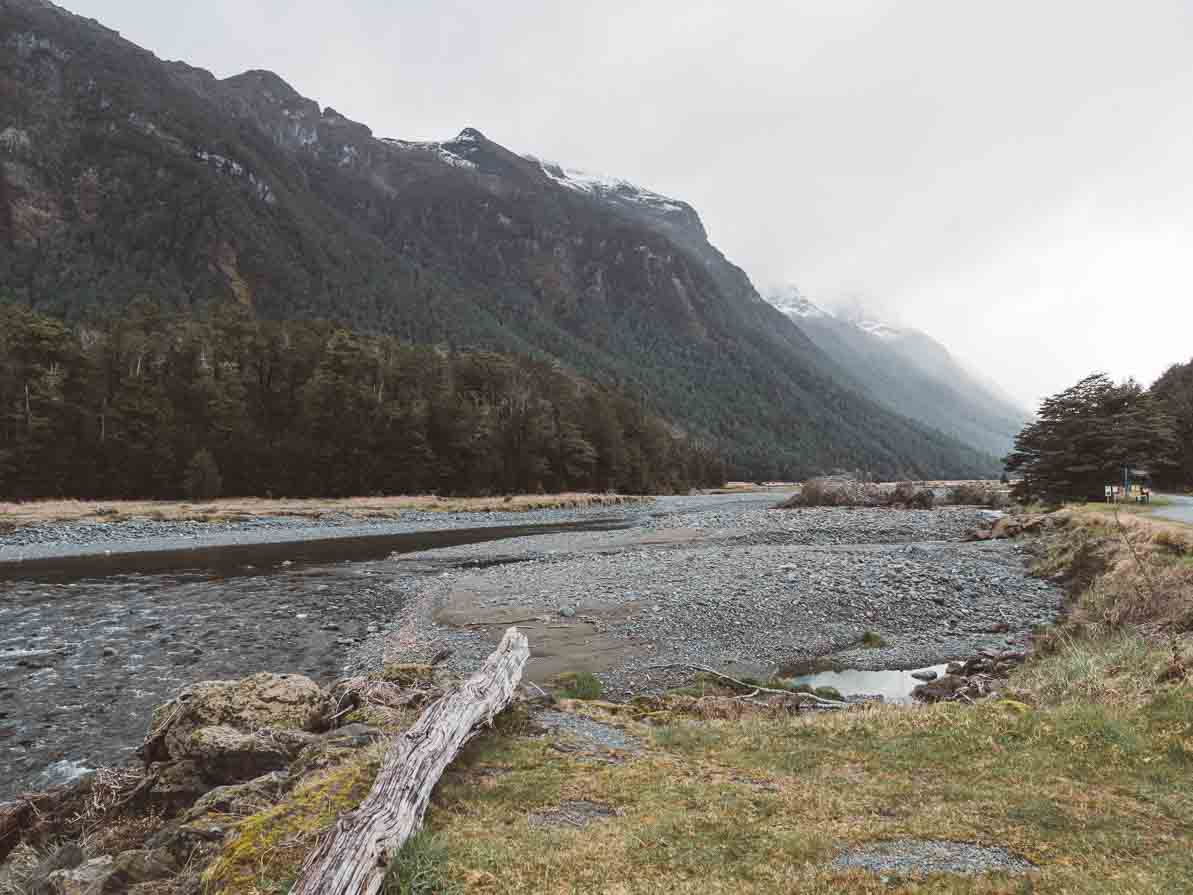 If the road is closed while you're at Milford Sound, the Milford Sound Alliance can sometimes organise a convoy back to Te Anau if it is safe to do so. Milford Sound is remote and there's only one way in and out, so despite its beauty, it's not the kind of place you want to be stuck indefinitely without access to food.
TOP TIP: If you're driving to Milford Sound and your trip is hampered by bad weather and/or road closures, don't stress, there's plenty to do in the area to keep you busy. Check out my blog on the best things to do in Te Anau, consider taking a trip to Doubtful Sound instead, or if the road is closed but skies are blue, see if any scenic flights are running to see it from the sky.
---
Helpful tips for driving to Milford Sound
Milford Sound itself has limited facilities, with only two (quite pricey) cafes and no shops, so stock up on food and drink at the Fresh Choice in Te Anau
There's no petrol stations along the Milford Road and petrol is limited (read: expensive) in Milford Sound, so top up your tank at Te Anau and you'll have more than enough for the return drive
You'll run out of cellphone reception about a third of the way from Te Anau to Milford Sound, and you won't get it again until you're back after your trip.
If you're staying overnight in Milford Sound at Milford Sound Lodge & Campervan Park, there is satellite internet available which can be patchy. It's free for Lodge guests but if you're camping then it's $15 for 1GB. Best to let your friends and family know that you'll be off the grid for your stay, enjoy a rest from phone notifications, and update your Instagram Story when you're back in civilisation.
Take it easy! New Zealand roads take longer to drive than expected due to viewpoints, tour buses, conditions and traffic. Give yourself plenty of time and drive safely.
There's LOADS of epic activities and experiences in Milford Sound to suit all budgets and travel styles, for a full list you can read my detailed blog on things to do in Milford Sound
---
Have you got anything else you want to know before driving the Milford Road from Te Anau to Milford Sound? Let me know in the comments and I'll add it to the blog! Safe travels and have the best time ever in one of my favourite places.
RELATED READS:
Like this blog? Pin it!