Kia ora! Looking for epic things to do in New Zealand? Whether you're planning a domestic adventure around our beautiful backyard of Aotearoa, or you're planning on visiting New Zealand from a faraway land (or neighbouring country, hey Aussies!), this Ultimate New Zealand Bucket List is going to help you pull together your entire New Zealand trip.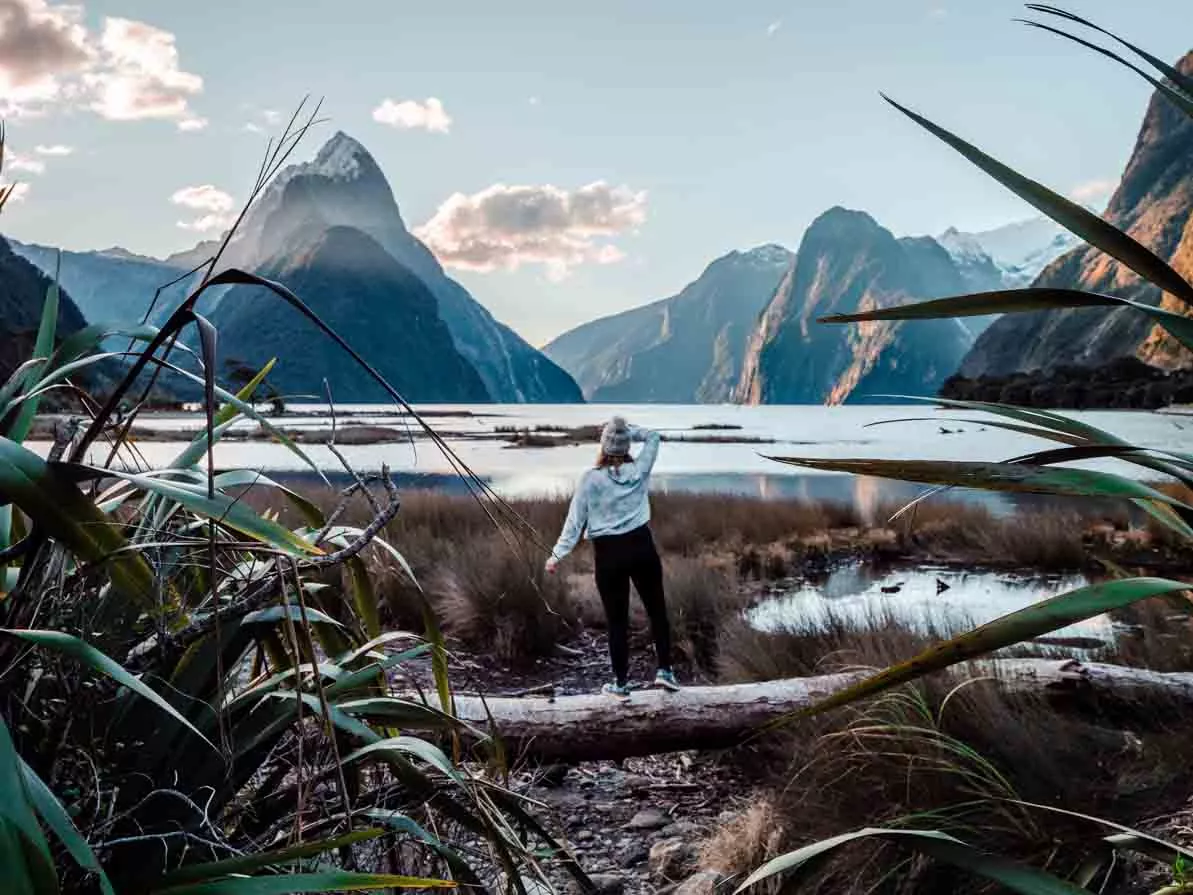 I spent almost three months on the road in a Sunrise Holidays campervan exploring NZ in 2020 and 2021 after a certain virus ruined my international travel plans, but the silver lining is that I saw so much of my country that I hadn't seen.
We voyaged from Cape Reinga to Bluff, from the East Coast to the West Coast of both islands (and Stewart!). And now I can share all the best views, activities, places to stay and food to eat with you all. New Zealand has so much to offer travellers, both domestic and international, and I might be a bit biased but it is without a doubt one of the most beautiful countries in the world.
So from peaceful stargazing tours to heart-pumping thrills to educational adventures and everything in between, here's a huuuge list of more than 60 of the best things to do in NZ to add to your New Zealand bucket list.
---
The Ultimate New Zealand bucket list
See where two oceans meet at Cape Reinga/Te Rerenga Wairua
Where: Northland
Sitting at the tip of New Zealand's North Island, Cape Reinga (Te Rerenga Wairua in te reo Māori) is something special. In Māori culture, this spot is known as the leaping place, where the spirits of those who have passed enter the ocean to make their final journey to their resting place.
You'll probably recognise the lighthouse from Instagram, but did you know that here you can witness two oceans collide? The Tasman Sea and Pacific Ocean meet at this point, creating a beautiful criss-cross pattern in the waves that you just have to see with your own eyes.
---
Ride the sand dunes at 90 Mile Beach
Where: Northland
90 Mile Beach is a 88-kilometre (yes, it annoys me too) stretch of coastline on the western side of the tip of the North Island, bordered by towering sand dunes that look more like the Sahara Desert than New Zealand. And riding down the Te Paki Sand Dunes on a boogie board (small plastic surfboard-type thing that you lie down on) is a must-do!
It costs $15 to rent a boogie board at the dunes, and you're free to climb up and surf down for a few hours. You'll get sandy, obviously, so wear comfy clothes that you don't mind getting dirty.
FUN FACT: At low tide the beach is actually an official highway, though you'll need a 4WD and it's best to take a tow rope just in case. Rental cars usually aren't allowed, check your contract before hitting the sand.
---
Learn about Māori culture
Where: Rotorua, Bay of Plenty & Waitangi, Northland
The Māori people are the indigenous people of Aotearoa New Zealand, and they first arrived on the shores over 1000 years ago. Our country's Māori heritage is something New Zealand is really proud of, and we want to show it off to visitors.
You'll hear Māori words (kia ora!) and experience Māori customs (like the haka at sports games) in day-to-day life in New Zealand, but I'd highly recommend getting a more in-depth lesson by visiting a marae.
You can do this in a number of places around the country, but the best-known spots would be Te Pā Tū (previously Tamaki Maori Village) or Mitai Māori Village in Rotorua, or the Waitangi Treaty Grounds in Northland, where the treaty was signed between Māori tribes and the Crown back in 1840.
---
Take a dip in a hot pool
Where: All over
My love for pools is no secret, so I obviously had to test out as many hot pools in New Zealand as I could on our road trip. For research purposes, of course!
The country's hot pool scene is seriously impressive thanks to underground geothermal activity, and there's a bunch of steamy paradises for you to soak in on both islands.
In Rotorua, my top two picks are the Polynesian Spa (luxurious lakeside pools with private + spa options) and Waikite Valley (surrounded by native bush with campervan spots for overnight parking). For a free hot water stream, visit Kerosene Creek, a short drive from Rotorua.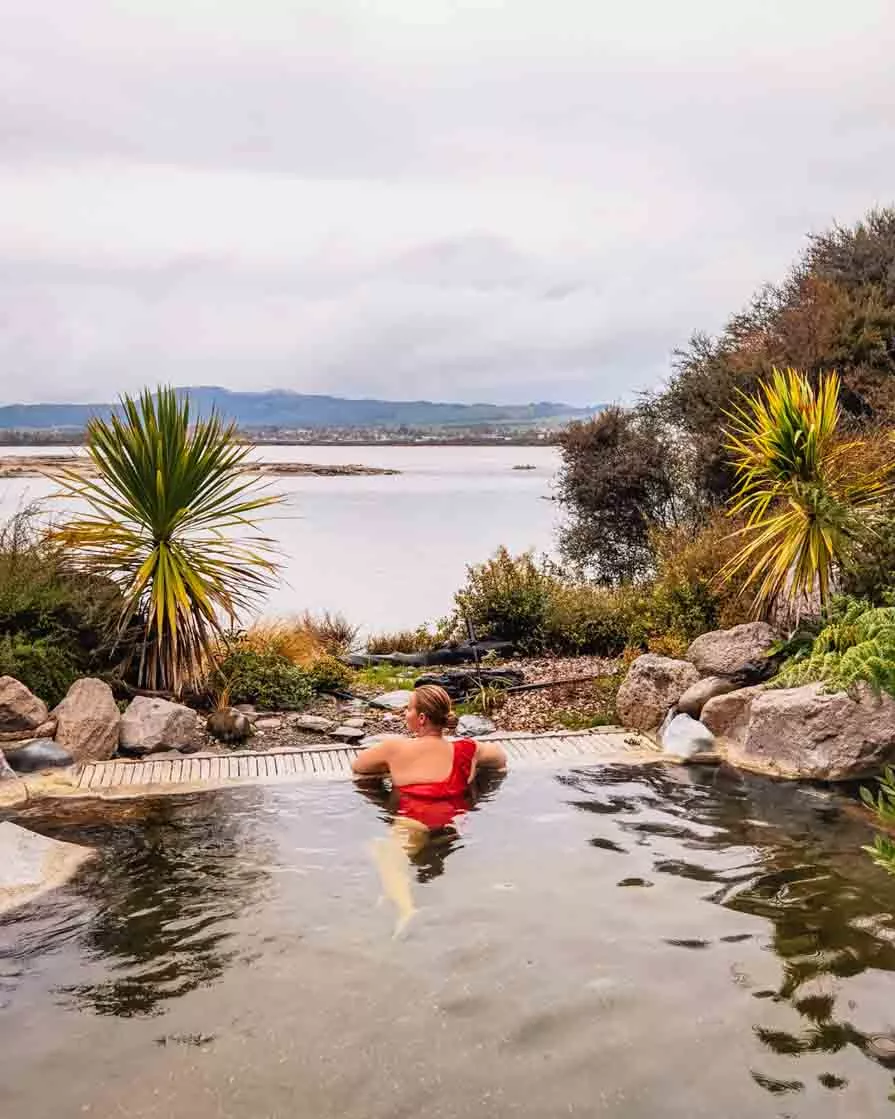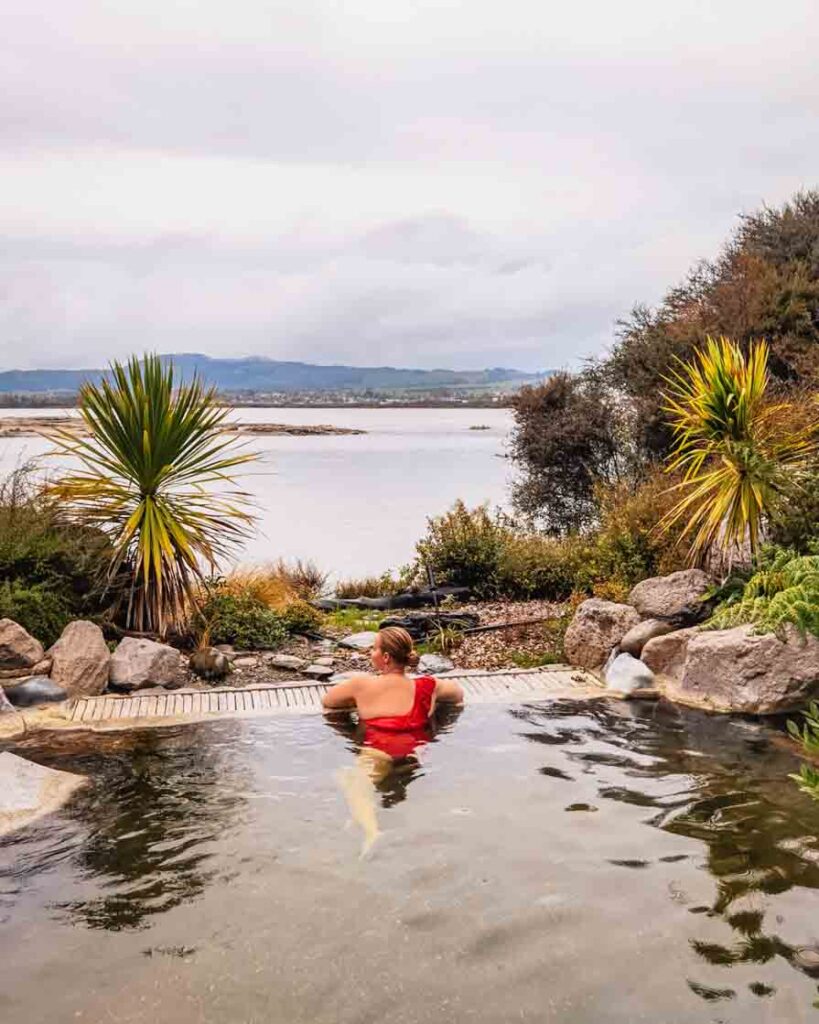 In nearby Taupō I loved the Wairakei Terraces hot pools, and DeBretts has great reviews for families with children. Other North Island hot pools worth visiting are Ngawha Springs in Northland, the Lost Spring in the Coromandel, and you can dig your own hot pool at the aptly-named Hot Water Beach also in the Coromandel.
For a good soak in the South Island, head to Omarama Hot Tubs, Tekapo Springs or Hanmer Springs in Canterbury, Maruia Hot Springs on the Lewis Pass, Glacier Hot Pools on the West Coast, or Kamana Lakehouse (for hotel guests only) or Onsen Hot Pools in Queenstown.
---
Wake up early to catch an East Coast sunrise
New Zealand is the first country in the world to see the sun rise each morning, and the North Island's East Cape is the best spot to watch it. Park up your van and open the back door to the ocean, or head to the beach with a picnic blanket and a hot drink to sip while you enjoy the changing colours in the sky.
FUN FACT: Samoa is officially the first country in the world to welcome a new day, but due to the curvature of the earth, New Zealand's East Cape sees the sunrise first.
---
Or relax while you watch a West Coast sunset
The West Coast is known for black sand beaches, wild weather and sunsets that set the sky on fire. There's no better place to get comfy with a paper plate of fish and chips for a classic Kiwi beach dinner.
LOCAL TIP: One of the best sunsets of my whole trip was at Ross Beach Top 10 Holiday Park on the West Coast of the South Island. They've got fire pits (many areas in New Zealand have a fire ban so you normally can't just start your own), the holiday park has modern facilities, and you'll get to see fiery colours over the West Coast's famous black sand beaches.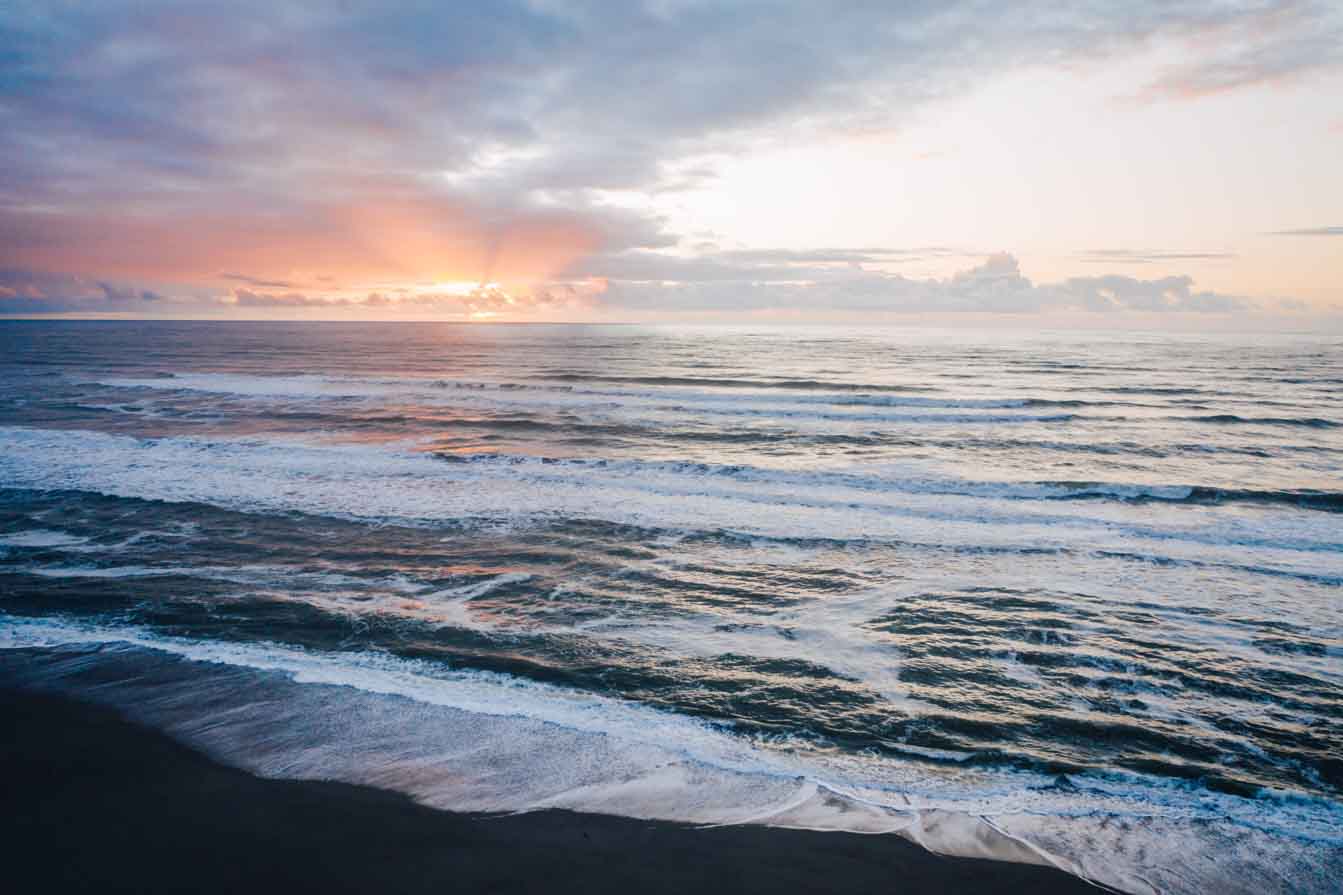 ---
Do a wine tour
Where: All over
From the whites of Waiheke Island to the reds of Central Otago, both the North and South Island have world-class wineries to explore.
Some regions have wine trails easily accessible by bike (like Marlborough and Hawke's Bay), some have hop-on hop-off buses (Waiheke Island and Queenstown) and some are best explored with a sober driver or a private tour (Northland and Central Otago).
BOOK IT: I've got a few favourite wine experiences from my New Zealand travels. My Northland pick is Rogue Pony Tours, in Hawke's Bay I recommend the Takaro Trails self-guided bike tour, and in Queenstown you can't go wrong with the award-winning Wine Sampler by Altitude Tours.
---
Swim with dolphins in the wild
Where: Tauranga, Picton, Akaroa & Kaikoura
Animal lovers rejoice, you can swim with these beautiful marine mammals in a number of places around New Zealand. And it's MAGICAL!
We went for a winter dolphin swim with the brilliant team at E-Ko Tours in Picton, the South Island town where the Interislander ferry comes in from Wellington. We saw and swam with two different pods of common dolphins and dusky dolphins, and a seal joined in the fun too!
Captain Paul and his E-Ko crew are incredibly dedicated to sustainable tourism and everything they do is in line with Department of Conservation regulations around contact with the animals, so you can be sure that your enjoyment isn't having a negative impact on these majestic creatures.
On my most recent trip to the South Island, I tried dolphin swimming for the second time, this time in Kaikoura. This trip was rougher in terms of the swell (as it's in the open ocean rather than in the Sounds) but we actually saw more dolphins! A dolphin swim is absolutely something to add to any South Island road trip itinerary.
You can also swim with dolphins in Tauranga in the North Island and Akaroa in the South Island.
---
Zip through the trees with a zipline tour
Where: All over
Hold onto your helmets and fly through the trees with a zipline tour! You can find ziplines in Auckland, Waiheke Island, Rotorua, Wellington, Christchurch, Queenstown and more.
If you're in the South Island, I'd definitely recommend checking out Ziptrek in Queenstown. You can choose from experiencing two, four or all six of their ziplines, and they're home to the steepest zipline in the world! You'll zoom down 30 storeys in 10 seconds, getting up to an exhilarating 70kph.
My top pick for the best zipline in the North Island, and potentially my favourite zipline experience in the world, is Rotorua Canopy Tours.
These guys are absolute legends, and their Ultimate Canopy Tour is a 3.5 hour-long adventure that takes you on 6 ziplines totalling 1200m in length, across swing bridges, around cliff walks and wraps up with an 18m controlled descent.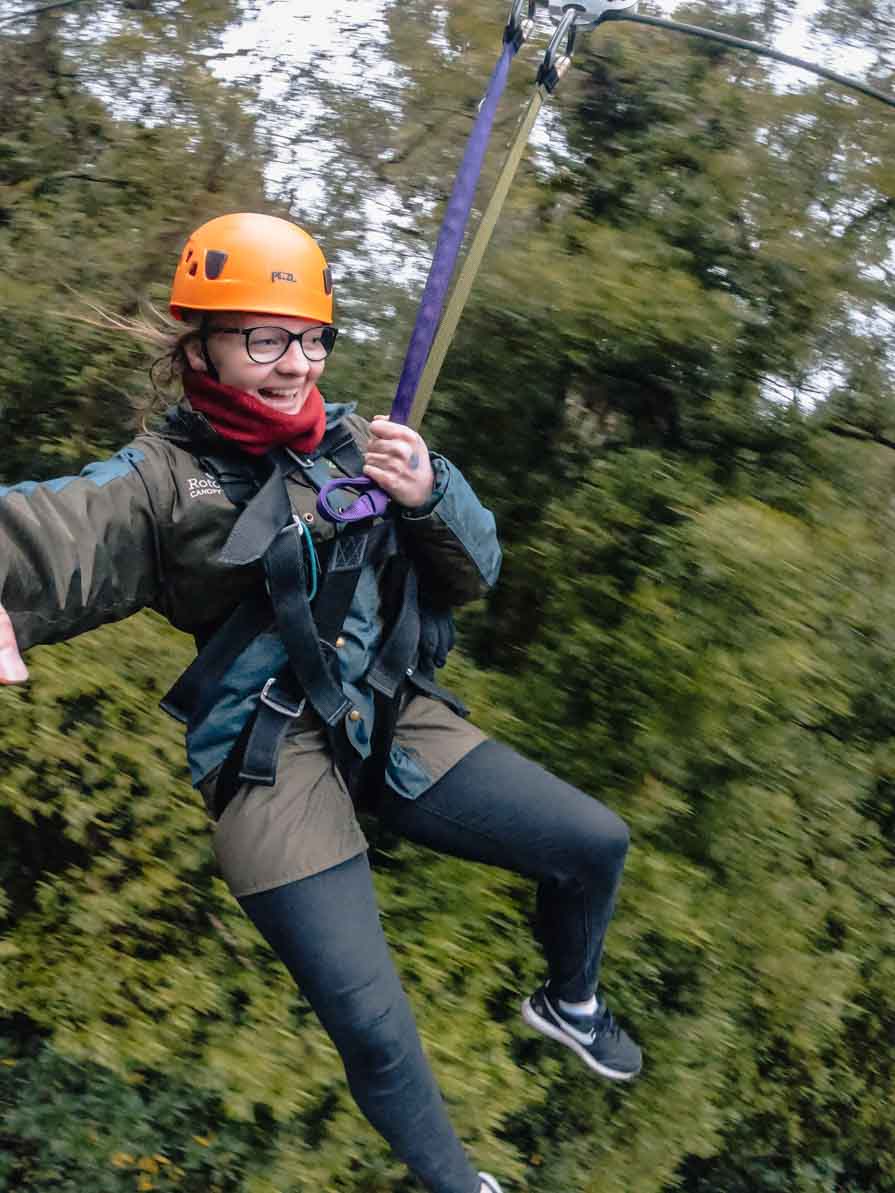 And while you're having the time of your life at the top of the native forest, you'll be able to soak up some mind-blowing views and learn all about sustainability and how the tour company is helping this forest's flora and fauna flourish. Say that that three times fast!
If you're in Auckland you can also book an Ultimate Canopy Tour day trip including transfers.
---
Treat yourself to a high tea
Where: Auckland, Hamilton & Wellington
If you feel like some fancy finger foods and a nice cuppa, there's are some great high tea options to choose from around New Zealand.
Head to t-Lounge by Dilmah for Wellington's top-rated high tea, for a casual kiwi take on an English classic get the high tea & bubbles at Batch Winery on Waiheke Island, or visit the only commercial tea estate in New Zealand, Zealong Tea in Hamilton.
---
Enjoy a night on the town
Where: All major cities
New Zealand is best known for its landscapes, mountains, beaches and nature, but some of the cities have a pumping entertainment scene as well.
In Auckland, head to the Viaduct Harbour for a drink in the sun after a day of exploring, or visit K Rd for eclectic nightlife and epic parties.
Wellington's cultural scene is known for being a bit different, with nighttime activities ranging from live music to comedy shows to cocktail bars to indie bars with craft beers you've never heard of.
Queenstown is packed with backpacker-friendly pubs, Dunedin is a student city with cheaper prices and lots of student-focused events, and Christchurch has new bars and clubs cropping up around the city.
---
Drive along the most dangerous road in New Zealand
This one's not for the faint-hearted, with sharp corners, steep barrier-less cliffs, bumpy gravel and icy conditions in winter… But the road into Skippers Canyon is a Queenstown must-do if you want an adventure out of the city.
Rental companies won't allow cars here, and unless you have a sturdy 4WD and you're skilled at the art of reversing winding roads for 4km if you come across another car (which I assume you aren't) it's best not to risk your own car either.
I'd recommend doing a thrilling trip into the canyon with Nomad Safaris, legendary local tourism operators who have a fleet of Defenders and Land Cruisers (complete with knowledgeable drivers) to take you into Queenstown's backcountry, canyons and mining settlements. I took my dad on this day trip and he loved it, we even got to pan for gold in the Shotover River! I'm now the proud owner of about 0.1 grams of gold. Can I buy a house with that?
ATTENTION LOTR FANS: Nomad Safaris also run highly-rated small group tours around Lord of the Rings filming locations! If you're keen to see some of the mountains, forests and rivers that were transformed into Tolkien's Middle-earth for the LOTR and Hobbit trilogies, this road trip day tour needs to be on your New Zealand bucket list.
---
Go skydiving
Where: All over
Fancy throwing yourself out of a plane? I think you're crazy, but New Zealand is the place to do it.
You can skydive in Taupō, Queenstown, Abel Tasman and Auckland, to name a few.
---
Or try bungy jumping
Where: Auckland, Rotorua, Taupō, Queenstown
If you'd prefer to be attached to a rope when you jump, bungy jumping might be for you. AJ Hackett is a Kiwi entrepreneur who commercialised bungy jumping, you can even bungy jump at the world's first commercial bungy jumping site in Queenstown over the Kawarau Gorge.
You can also bungy in Taupō, Rotorua, off the Auckland Harbour Bridge and at the Nevis River in Queenstown, currently the country's highest bungy at 134m.
For true daredevils, consider testing yourself with the Queenstown Thrillogy, a triple threat of the original Kawarau Bungy, Nevis Bungy and the Nevis Swing. Now that's something to write home about.
---
Try paragliding
Looking for a thrill without having to freefall? Paragliding is perfect for you!
I first paraglided in Interlaken, Switzerland, and as soon as my feet left the ground I was obsessed. It's incredibly peaceful, the views are unbeatable and you get an adrenaline rush without hurtling through the sky. That's my kind of activity!
So when I saw that you can paraglide in Queenstown, off a snowy mountain no less, I jumped at the chance and managed to convince my dad and a friend to do it with me. We went with the team at Coronet Peak Tandems, they run the highest paraglide tour in the city (twice the height of the one off the Queenstown Gondola) which means even more time in the sky. This was one of my absolute top highlights of our New Zealand road trip.
BOOK IT: You can lock in a paragliding trip with the fantastic team at Coronet Peak Tandems right here.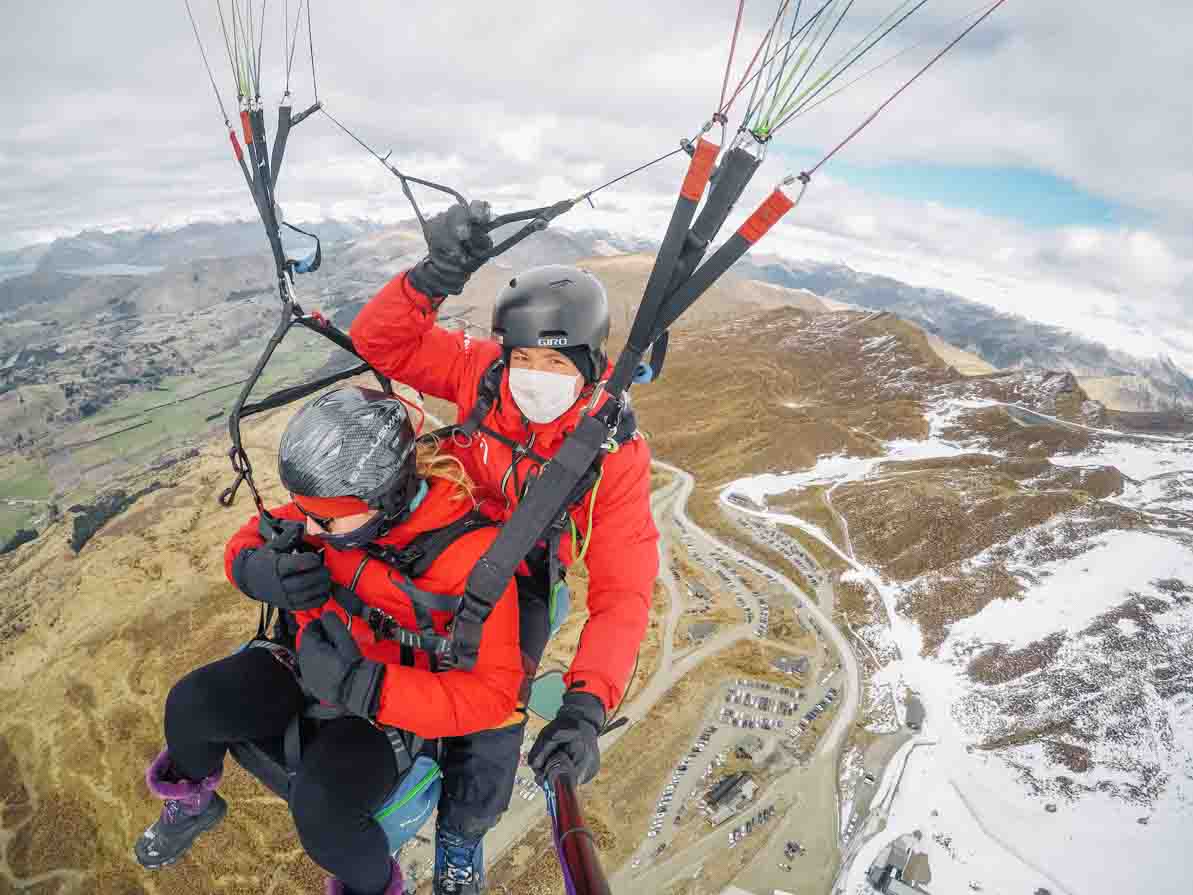 ---
Float through the sky in a hot air balloon
Where: Waikato, Hawke's Bay, Canterbury, Queenstown
For a more relaxing and less hair-raising activity with a view, you can book in a hot air balloon ride over farms, forests, rivers and lakes in various spots around the country, including Queenstown and the Waikato.
---
Find a vintage souvenir at an op shop
Where: All over
Whether you're looking for some new threads or a piece of antique decor, there are well-stocked vintage stores and op shops in the big cities and small towns.
Some destinations of note would be Thames, Bulls, Hastings and Waipu in the North Island, and Dunedin, Akaroa and Oamaru in the South Island.
---
Take a scenic flight
Where: All over but best ones in Milford Sound, Queenstown, Mt Cook, Abel Tasman, West Coast, Auckland and Taupō
To be honest, if you manage to fly on a clear day, any flight in New Zealand is a scenic flight, but a proper scenic flight is well worth the money too.
The most common New Zealand scenic flights on tourist's bucket lists are Milford Sound, Queenstown/Wanaka, Mt Cook and Franz Josef Glacier.
I recently ticked a Milford Sound scenic flyover off my New Zealand bucket list, with a 1h 20m flight from Queenstown with Glenorchy Air, and it was pure magic. The views are insane, you'll see braided rivers, snowy peaks and alpine lakes hidden in the Fiordland mountains.
If you're keen to explore more of Milford Sound then consider the Fly-Cruise-Fly, but if you're low on time then the shorter Milford Sound flyover is a brilliant addition to any Queenstown itinerary.
INSIDER TIP: You've probably seen the famous Roy's Peak hike on Instagram, but did you know you can get a 20 minute heli ride to the same mountain? We booked with Aspiring Helicopters and it was $250 per person for a heli tour over Wanaka with a landing at Coromandel Peak on Mt Roy.
---
Do a heli hike
Where: Franz Josef Glacier & Fox Glacier, West Coast, and Aoraki Mount Cook, Canterbury
The Franz Josef heli hike was the priciest activity we did on our entire trip but it was definitely worth it. Get decked out in winter-friendly layers and boots, jump in a helicopter, land on the Franz Josef Glacier and spend a couple of hours exploring icy caves and ridges while learning about the glacier's history.
You can opt for a helihike of nearby Fox Glacier as well, or go for Tasman Glacier at Aoraki Mount Cook.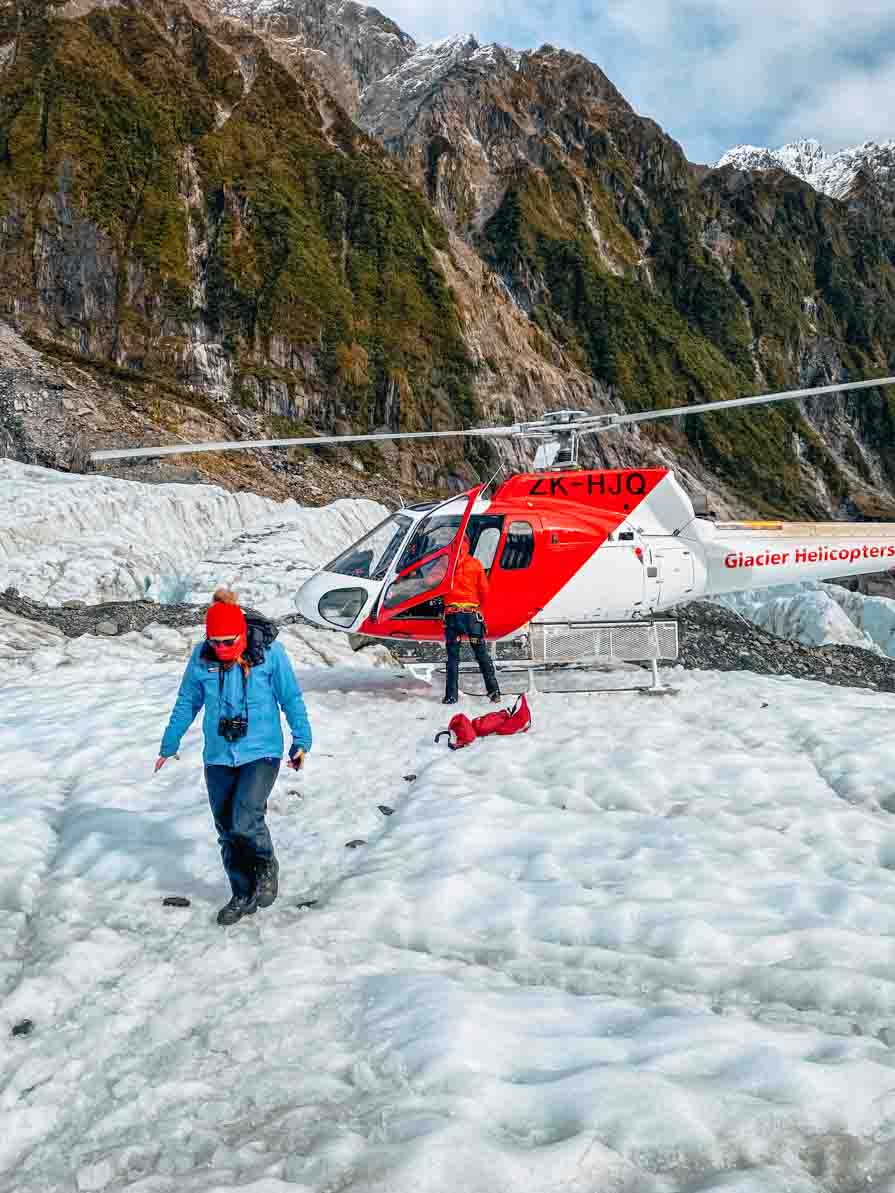 ---
Go stargazing
Where: Tekapo, Stewart Island, Great Barrier Island, Castlepoint, West Auckland and the Coromandel
New Zealand boasts a number of Dark Sky Reserves, where minimal light pollution means constellations shine bright on a clear night. There are a bunch of observatories and stargazing tours available for booking, or photographers might want to go for a proper astrophotography workshop instead.
DON'T MISS: For a stargazing trip with a twist, go with Tekapo Stargazing. You'll get to see the stars and planets through a microscope, then throw on your togs (swimsuit) and take a dip in the Tekapo hot pools under the night sky for more astronomy and storytelling.
---
Do a Great Walk
Hikers travel from around the globe to tick off one, some or all of New Zealand's 10 Great Walks, the most popular multi-day tramps around the country. The huts book up early for the summer months so you'll need to book your spot on the Department of Conservation website in advance.
The Routeburn is the shortest at 32km (can be done in two days), the Milford is probably the most popular, and the Abel Tasman Coast Track is the flattest. But the Tongariro Northern Circuit gives you the chance to watch sunrise over a volcano, the Rakiura Track has resident kiwi that you will likely see and hear, and the Whanganui Journey is actually a kayak/canoe rather than a walk. So each walk has its benefits!
---
Or take a day hike
If the thought of a multi-day hike hurts your knees (SAME) but you still want to witness Aotearoa's dramatic landscapes, there's a tonne of day hikes to choose from.
The most popular ones are the Tongariro Crossing (8 hours, 16km), Roy's Peak in Wanaka (5-6 hours depending on fitness, 16km and 1300m elevation) and the Hooker Valley Track near Mount Cook Village (3 hours return, 10km).
---
See a kiwi (the bird, not the fruit)
Where: Conservation sanctuaries around the country, or Stewart Island, Fiordland, West Coast and Northland for wild viewings
This funny-looking flightless bird is New Zealand's icon, so much so that in WWI Australian soldiers gave the nickname 'Kiwis' to their New Zealand comrades.
There are a number of conservation centres and sanctuaries around the country for you to see a kiwi in captivity, like the Otorohonga Kiwi House, Franz Josef Wildlife Centre and Orana Wildlife Park, but nothing beats seeing a kiwi in the wild.
To maximise your chances of seeing a kiwi in its natural habitat, I'd recommend heading to Stewart Island, Okarito on the South Island's West Coast, or Trounson Kauri Park in Northland, and booking a tour with a professional guide.
THE BEST KIWI SPOTTING TOUR IN STEWART ISLAND: We spent an evening searching for kiwis on Stewart Island with Furhana from Ruggedy Range. She's been running tours there for more than 21 years, and she's incredibly knowledgeable about the birds, as well as being focused on sustainable and responsible tourism that doesn't negatively impact the kiwis. We saw five in total, including two for a decent ten minutes each, complete with seeing a male kiwi call for its mate. It was an extraordinary experience that I'll never forget.

You can book your ferry from Bluff to Stewart Island here.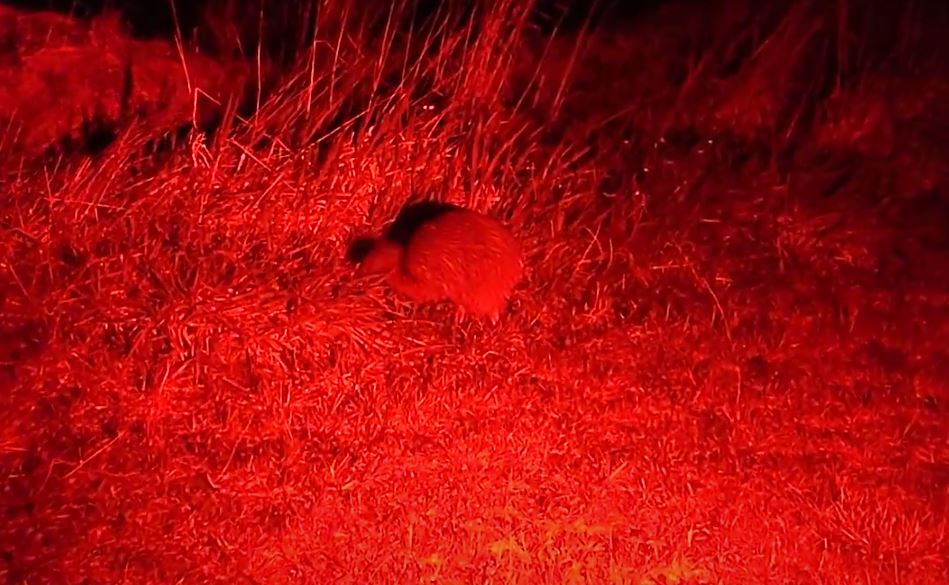 ---
Cross the Cook Straight by boat
Where: Wellington <-> Picton
Getting from the North to the South Island by ferry is an experience in itself! This journey takes about four hours from Wellington to Picton or vice versa, and the companies that run this route are the Interislander and the Bluebridge. Sailing into the Marlborough Sounds on a sunny day is pretty magical, and should be high up on your New Zealand bucket list.
The Bluebridge is a tiny bit cheaper, has smaller boats with less facilities, but has cabins available on all boats. The Interislander has newer and larger boats (one of which has cabins), more facilities, but it's harder to get a seat with a view. Both ferries have options for cars and campervans too.
TOP TIP: The conditions can get rough so take seasickness pills if you are prone to nausea.
---
Try a hangi
Where: Rotorua
A hangi is a traditional Māori dinner, where food is cooked in an underground steam oven, resulting in tender, smoky goodness.
You'll find hangi trucks at various food festivals and night markets, but your best bet for taste testing this unique style of cooking is in Rotorua at one of the Māori cultural centres like Tamaki Māori Village or Mitai Māori Village.
---
Go kayaking
Where: Basically anywhere with water
In a country with more than 15,000 kilometres of coastline, and countless lakes and rivers, you can kayak pretty much anywhere. Most beaches will have at least one local kayak rental place, and many have SUPs available if that's more your style.
We had two epic kayaking experiences on our huge New Zealand road trip that I think everyone should add to their New Zealand bucket list.
The first was a sunrise paddle in the Catlins, an untouched and underrated coastal area in the Otago region, one of my favourite places to visit in the South Island. Our 5.30am wake up on a chilly winter morning was worth it as soon as we hit the water with our local guide Jared from Catlins Kayak & Adventure, ready to explore the rugged coast as we searched for (and found!) seals and penguins.
This is an area that so many tourists and domestic travellers skip, which is a giant mistake! It's a wild and wonderful part of the country.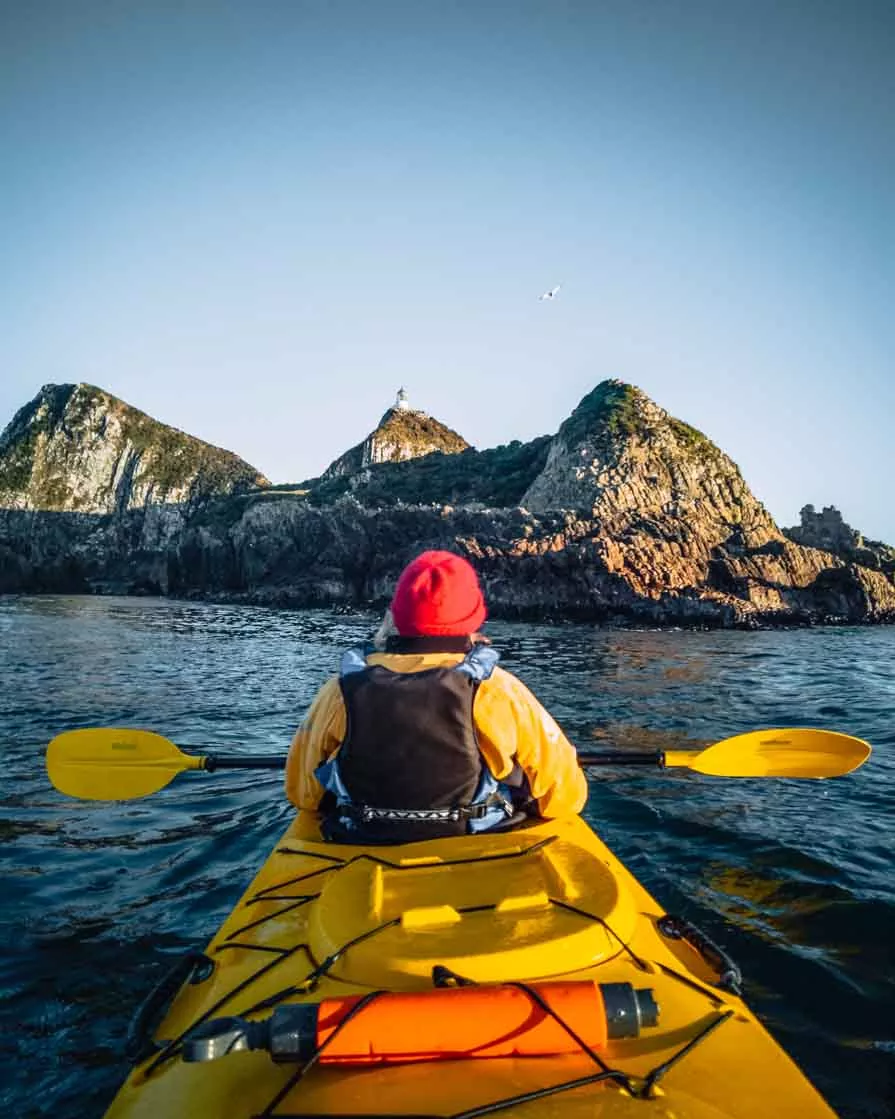 Our second kayak trip was, and I know this is a big call, one of the best activities I've ever done on all of my travels. We did a three hour kayak tour in the world-renowned Milford Sound with Rosco's Milford Kayaks, and the views were so beautiful I almost cried. Book your kayak tour here, I guarantee you'll have the most incredible time.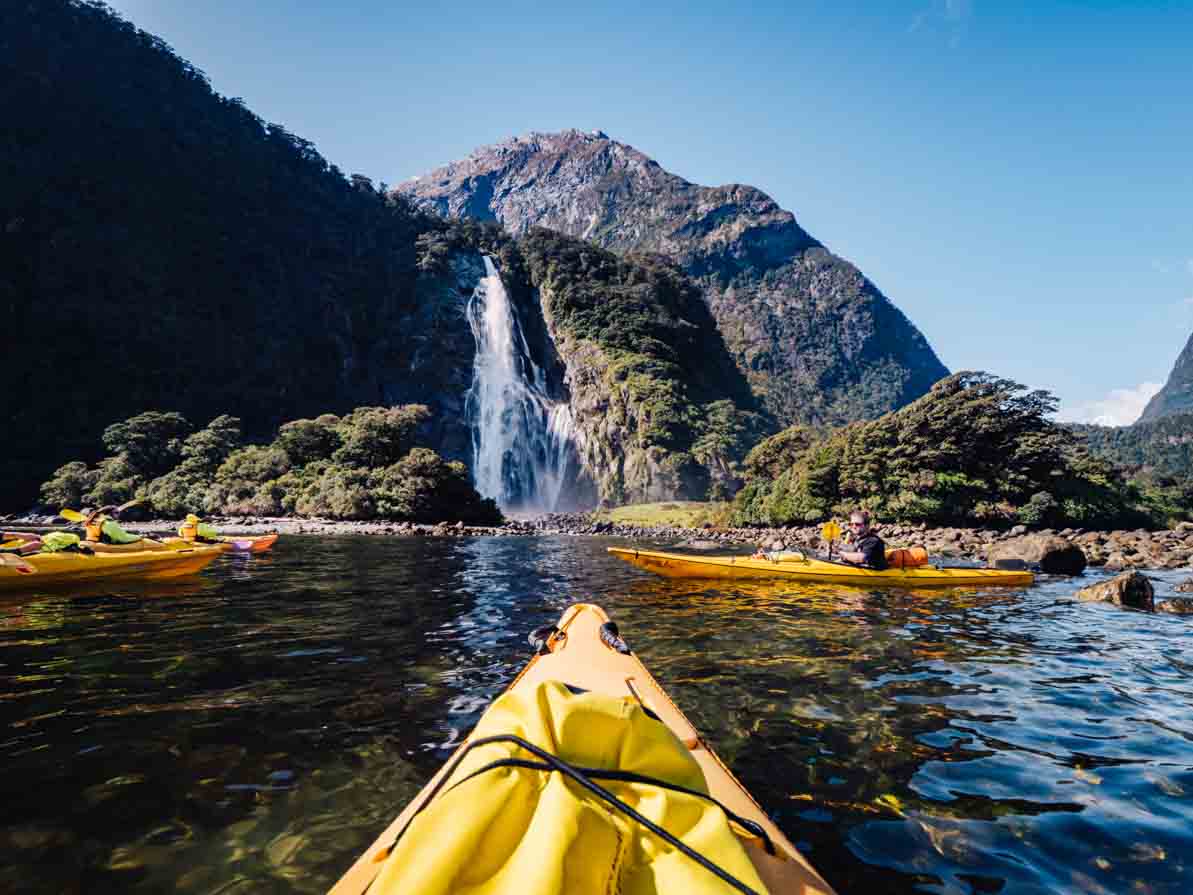 ---
Test yourself with white water rafting
Where: Rotorua, Hawke's Bay, Tauranga, Tongariro, Queenstown
Rafting through white water rapids is one of New Zealand's best adventure activities! There's a rafting trip for you no matter your previous experience, ranging from gentle grade one rapids through to heart-pumping grade fives.
For a true test of courage, book a spot on the Kaituna River and take on the highest commercially rafted waterfall in the world. I've done that trip three times and the 7m plunge is epic every single time.
---
Hit the snowy slopes
Where: Ruapehu, Mount Hutt, Aoraki Mount Cook, Queenstown and Wanaka
Prefer beanies to bikinis? If you're heading to New Zealand in winter, you're in for a treat.
World-class mountains await in both the North and South Island, with the major areas being Ruapehu in the North Island, and Canterbury and Queenstown in the South. Outside of the main ski resorts there's also cross-country skiing, heliskiing and private ski areas if you're fancy like that.
My personal favourite ski field is Cardrona, which sits half way between Queenstown and Wanaka. There's plenty of runs for all skill levels, some great eateries, and insane views over the Cardrona Valley and Crown Range.
---
Drive the Milford Road
Where: Fiordland National Park
New Zealand's got a number of stunning roads (the Haast Pass, Queenstown to Glenorchy, the Great Coast Road to name a few), but none are more impressive than the drive from Te Anau to Milford Sound. Often named as one of the most scenic roads in the world, the Milford Road is the number one road trip on my New Zealand bucket list.
At just 120km from Te Anau to Milford, Google will tell you it'll take about an hour and a half, but I'd recommend setting aside a half day for the numerous photo stops and a few short hike opportunities you won't want to miss.
TOP TIP: In winter you may need chains as the road can get icy. If you don't feel comfortable driving, or if you would just prefer to enjoy the views from a passenger seat, consider taking a luxurious and eco-friendly day trip with Envy Experiences. In a Tesla with a panoramic windscreen no less!
---
Visit Milford Sound
Where: Fiordland National Park
After driving this magical road across plains, through forests and under mountains (literally, the Homer Tunnel is 1.2km long through the middle of a mountain range), you'll arrive in what Rudyard Kipling deemed the 8th Wonder of the World, the mind-blowing Milford Sound or Piopiotahi in te reo Māori.
Milford is one of Aotearoa's most dramatic landscapes, with rugged peaks and sheer cliffs rising vertically from calm waters, and glacial waterfalls spraying icy water onto the boats that carry tourists around the fiord. If you're lucky you might spot dolphins, seals and penguins enjoying the killer views too.
Many tourists visit for a quick day trip from Te Anau or Queenstown, but there's actually plenty of things to do in Milford Sound to warrant an overnight trip. Consider spending a night there to make the most of the experiences on offer, and you'll get to see sunset, stars and sunrise too.
---
Do a cruise in Doubtful Sound
Where: Fiordland National Park
If you prefer experiences that take you off the beaten track, or if you want to add another fiord to your New Zealand bucket list as well as Milford Sound, Doubtful Sound is tucked away in a less accessible spot (you do a boat trip, bus ride and another boat trip to get there) but with equally striking views and fewer people to share them with.
YOU MIGHT ALSO LIKE: Milford Sound vs Doubtful Sound – Which One Should You Visit?
Doubtful Sound is said to have more wildlife due to less human interaction, dolphins are more common here than in Milford, and there are an infinite number of waterfalls that start thundering down after a rainy day.
TOP TIP: The overnight cruises are pricey, but I've heard from many people that it's well worth staying the night if you can. You'll get to go deeper into the fiord, experience a night under the stars, and wake up in one of the most untouched places on earth.
---
Roll down a hill in an inflatable ball called a Zorb
Where: Rotorua
Have you seen those big blow up plastic balls that roll down hills with humans inside? They're called Zorbs, and they're LOADS of fun. You can test out this ultra-creative New Zealand invention at Zorb Rotorua.
---
Have fish and chips for dinner
Where: Literally every beach in New Zealand
New Zealand's cuisine is a mix of lots of other cultures who settled in the country, and fish and chips are no exception. But I'll let you in on a secret: ours are better than the UK. There's no vinegar and mushy peas here*, just freshly-caught fish fried in a crispy golden batter, no seasoning or weird sides necessary.
*You can probably ask for vinegar and mushy peas if you really want them.
LOCAL TIP: Mangonui Fish Shop in Northland is probably the best fish and chips I've had, complete with a fiery sunset over the harbour. Not cheap, but it's worth the stop.
---
Go whale watching
Confession: I'm TERRIFIED of whales so this one is tough for me to write but I'm pushing through it for you guys. You can see these gigantic creatures at a number of locations throughout the year, but the most well-known would be Kaikoura and the Hauraki Gulf in Auckland.
---
Watch a geyser erupt
Where: Rotorua
New Zealand's geothermal activity can be thanked for some of the North Island's most dramatic landscapes, like steamy native forests, bubbling mud pools and exploding geysers.
You can see geysers and brightly coloured geothermal pools at Wai-O-Tapu Thermal Wonderland, Waimangu Volcanic Valley, or see the Southern Hemisphere's largest geyser, Pōhutu Geyser, at Whakarewarewa Thermal Village.
---
See a movie in a funky cinema
If you want a break from exploring, or if you need a wet weather activity, Aotearoa has some quirky cinemas dotted around the country that are worth visiting.
If you're in Gisborne, a visit to Sally and her team at the Dome Cinema is a MUST. It's in a beautiful old building with huge ceilings and great acoustics, there's a bar and restaurant for pre/post-drinks OR an intermission top up, and the cinema staff seat everyone personally in their bean bags. And I mean personally, like they zhuzh the bean bag and hold it while you sit down, then give you your blanket. So wholesome!
Other great theatres to add to your New Zealand bucket list are the Roxy in Wellington and Cinema Paradiso in Wanaka.
---
Try freedom camping
While the term freedom camping implies you can park up and camp anywhere, this isn't the case. However, there are a bunch of seriously impressive freedom camping spots in stunning places all over the country that you can park up in overnight for free!
Waking up in a campervan to sunrise over the ocean from your totally free campsite is something you have to experience at least once on your New Zealand road trip.
TOP TIP: Download the Rankers app for the best info and reviews on freedom camping, DOC campsites and holiday parks.
---
See a city in a different way with a trike tour
This one's ideal for the speed fiends out there! City tours with a local are always a lot of fun, but you can take it to the next level by jumping on a trike, a three-wheeled motorbike.
On our New Zealand campervan trip we tried trike tours in both Napier and Wanaka, and both were brilliant! You can also do them in Tauranga, Paihia, Marlborough and Dunedin.
---
Climb a waterfall
Where: Wanaka
Don't go chasing waterfalls, climb them instead…? Maybe that's not the words, but I stand by it.
Climbing 320m up vertical cliffs on a via ferrata (climbing path with metal rungs and cables) at Wildwire in Wanaka is by far one of the coolest things to do in New Zealand, and it's the highest waterfall cable climb on earth.
It'll challenge you both mentally and physically, but it's SUPER fun, the views are insane, and the buzz you get at the end is unbeatable.
---
Find some glowworms
Where: Northland, Waitomo, Te Anau, West Coast
These shiny little creatures are actually maggots, but for the sake of romance we can forget that for the moment.
In damp caves in a few spots around the country, you'll find bioluminescent dots hanging from the cave ceilings. The most famous glowworm destination is the Waitomo Caves in the North Island's Waikato region, but you can also see them in Waipu in Northland, Te Anau in Fiordland, and in a few spots on the West Coast.
---
Go black water rafting
Where: Waitomo
If you do head to Waitomo and you like a bit of a thrill, you HAVE to try black water rafting.
Chuck on a thick wetsuit to keep you warm, grab an inflatable tube, and head off into the dark depths of the Waitomo Caves, squeezing through rocky openings and floating down rapids in the dark under bright glowworms. Magical, and one of the most unique things to do in New Zealand!
There are two popular black water rafting options depending on the level of thrill you want. The three hour Black Abyss is a medium-thrill option with a tube river float under glow worms, squeezing through some tight gaps and some small jumps off waterfalls in the dark.
For a more major thrill, the five hour Black Labyrinth includes a 35m abseil into a pitch black cave, a zipline in the dark and the opportunity to climb up waterfalls to get back to ground level. So epic!
---
Visit a vintage car museum
I've grown up in a vehicle-obsessed family so I can appreciate a good classic car, and there's a number of impressive car collections around the country that car buffs might enjoy.
Hooters Vehicles in Napier, Southward Car Museum just out of Wellington, Classic Car Museum in Napier (currently closed due to COVID) and Highlands Museum in Cromwell are all ones to put on your New Zealand bucket list.
---
Treat yourself to a tasty meal
Where: All over
The gastronomic scene in Aotearoa is on fire right now, with options ranging from fine dining to fusion restaurants to creative culinary experiences.
Want something fancy? In Auckland visit Sidart for magnificent tasting menus, in Wellington book a table at Logan Brown, and in Queenstown two worth visiting are Nest Restaurant at Kamana Lakehouse, and The Grille at Eichardt's.
For somewhere a bit more casual but still classy and delicious you can check out Osteria in Taupō, Riverstone Kitchen near Oamaru, Fleur's in Moeraki or Mister D's in Napier.
---
Go boating
With options ranging from electric self-drive donut boats to fishing charters to elegant lake trips or wildlife cruises, there's a boating option for every kind of taste and budget.
In Lake Taupō, couples and groups will love a session with a Doughboat! These pink donut-shaped boats come with an easy DIY motor, a bluetooth speaker for your tunes, and you can bring snacks and drinks. We did it at sunrise which was stunning but an afternoon cruise with music, nibbles and friends would be ideal too.
In Fiordland, you've got your pick of boating adventures, and a lake cruise is one of the best things to do in Te Anau. Head out onto Lake Te Anau, the second-largest lake in New Zealand, with local boatie Peter and his beautiful NZ-made launch on Cruise Te Anau, or for a different experience you could book an afternoon tea cruise with Adam and George on Faith in Fiordland, a 1935 sailboat from the UK that once hosted Winston Churchill. True story!
For nature lovers and bird spotters, there's probably no better place to be on the water than in Abel Tasman National Park. This absolute gem at the top of the South Island is home to golden beaches flanked by thick native forest, and you can explore the park at your own pace with a ferry, or get a more in-depth experience with Abel Tasman Eco Tours.
We went on a day tour with Abel Tasman Eco Tours and it was pure magic, our local skipper was an expert on the ecology and history of the area and he truly showed us the best that the park has to offer. We had lunch at the most beautiful bay, Te Pukatea, and during the trip we managed to spot penguins, weka, sting rays and a tonne of sea birds. Dolphins, seals and even orcas are other common creatures you might come across!
You'll find other wildlife cruises in many spots around the country, including the dolphin viewing trips with Fullers in the Bay of Islands, cruises in the Otago Peninsula, Picton and more, and for budding fishermen and women it's worth heading to the Coromandel to spend a day on a charter trying your luck at getting dinner.
---
Shoot photos of the Milky Way
Where: Anywhere with dark skies
If you're exploring New Zealand between February and October and you have a bit of a penchant for photography, you're in luck. This half of the year is the best time to see, and shoot, the Milky Way, as it sits brightly in the sky.
---
See New Zealand's Parliament building, the Beehive
Where: Wellington
Some countries have castles, some have mansions, but here in New Zealand we have a giant grey beehive sitting in the middle of Wellington. Strange…
---
Spend a day exploring Te Papa Museum
Where: Wellington
Te Papa is a world-class museum, and it's worth setting aside a full day for it so you don't feel rushed. You can visit for free but there are some special exhibits that have an extra cost.
If you're looking for souvenirs of gifts, particularly for kids, there's a great gift shop there too.
---
Visit Hobbiton
Where: Matamata, Waikato
LOTR fans are guaranteed to love their time in New Zealand, but you can't come to the land of hobbits and not visit the Hobbiton movie set.
Located in Matamata in the Waikato region, you can wander around the shire and pop into hobbit holes before having a cold one at the Green Dragon Inn. Frodo says hi!*
(*I've never seen the movies so I'm not sure if this reference even makes sense. Sorry Peter Jackson!)
---
See how movie magic comes to life at Weta Workshop
Where: Wellington
See what goes on behind the scenes and learn exactly how movie magic is brought to life with a tour through the Weta Workshop.
You can choose from the original tour of the Weta Cave or a Miniature Effects tour all about the visual trickery, or book a combo of both. They also have excellent classes for different arts and crafts too, like sculpting, SFX make up and leatherwork.
---
Find a seal colony
Where: All over
New Zealand fur seals are super cute little creatures found all around the coast of both islands, and there's a number of great (if a bit smelly…) seal colonies that are easily accessible to animal lovers.
In the North Island your best bet is probably Castlepoint and the Red Rocks walk in Wellington, and in the South Island you'll find colonies in most coastal regions, but Kaikoura, Milford Sound, Tauranga Bay and the Marlborough Sounds are popular spots for viewing.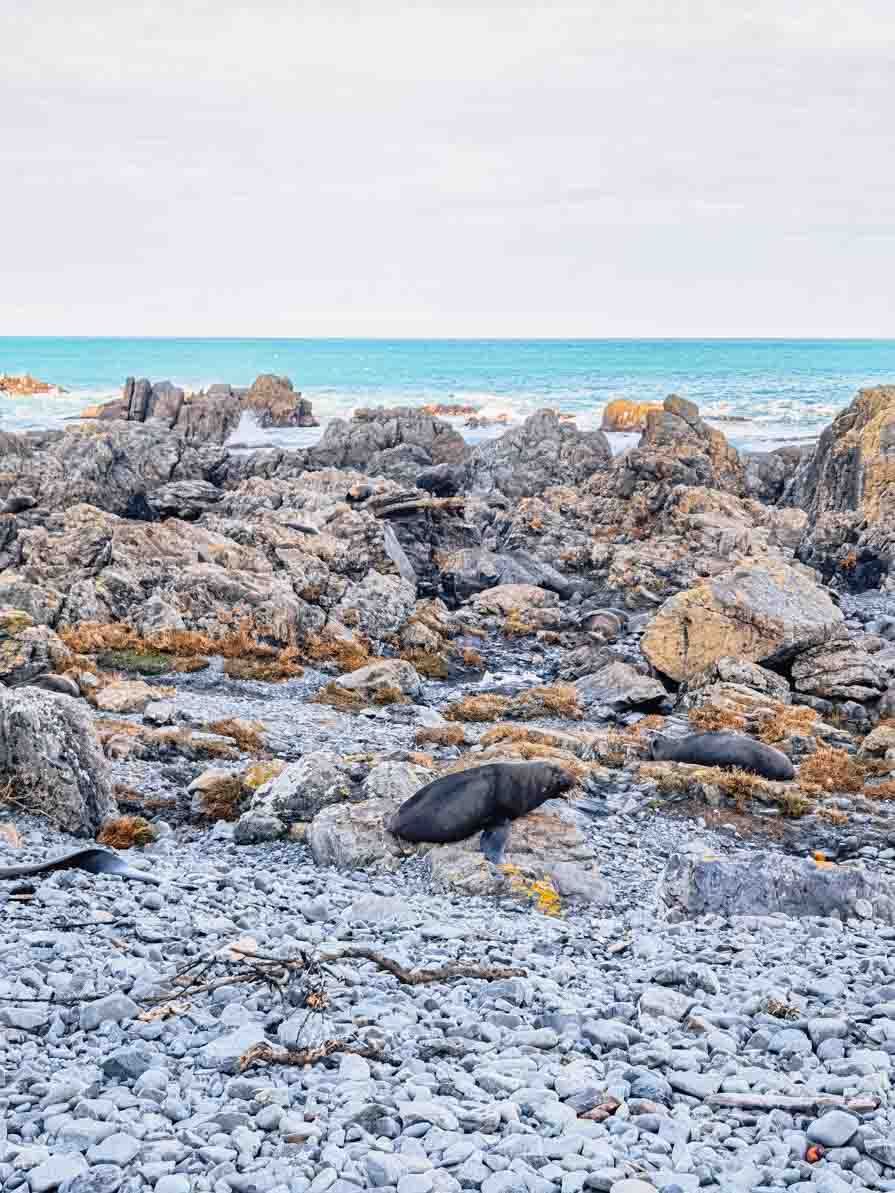 ---
Get some knick-knacks to take home
Where: All over
There are some seriously talented creatives and small businesses in New Zealand who sell arts, crafts and trinkets, ideal for some New Zealand memorabilia.
Some of my favourite Kiwi brands and shops are Moana Road, Iko Iko, Flo & Frankie, Love Thy Land and Brandland.
---
Go glamping
Where: All over
With lush forests, vast rural areas and snowy mountains, New Zealand is a gold mine for glamping escapes. It's on my own New Zealand bucket list to do a glamping tour of the country!
Some beautiful glamping spots that are worth checking out are Pepin Island in Nelson, Underhill Valley near Hamilton, Te Wepu Pods near Akaroa, and Slipper Island in the Coromandel.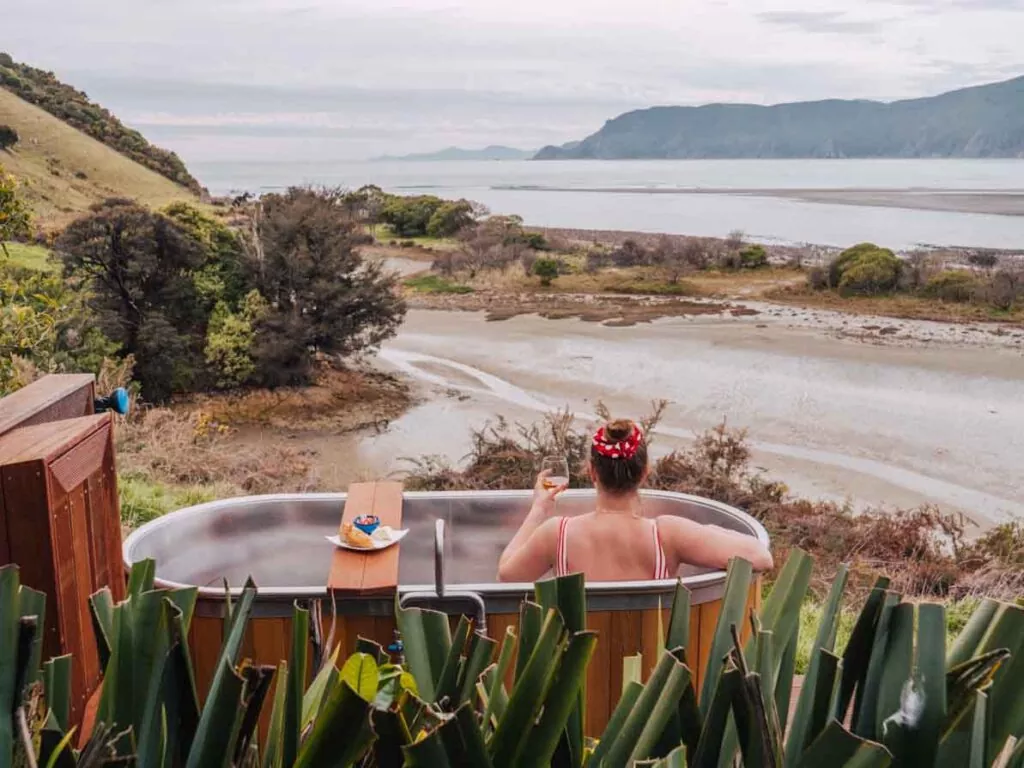 And if your trip takes you to the Canterbury region you have to book a night at Valley Views in the Waitaki Valley, which is the best glamping place I've ever stayed.
These off-grid domes are luxurious with magical views, there's a fully equipped shared kitchen, and you can even opt for a soak in the private open-air bath in the forest behind the domes. I don't say this lightly but this is the glamping spot of my dreams.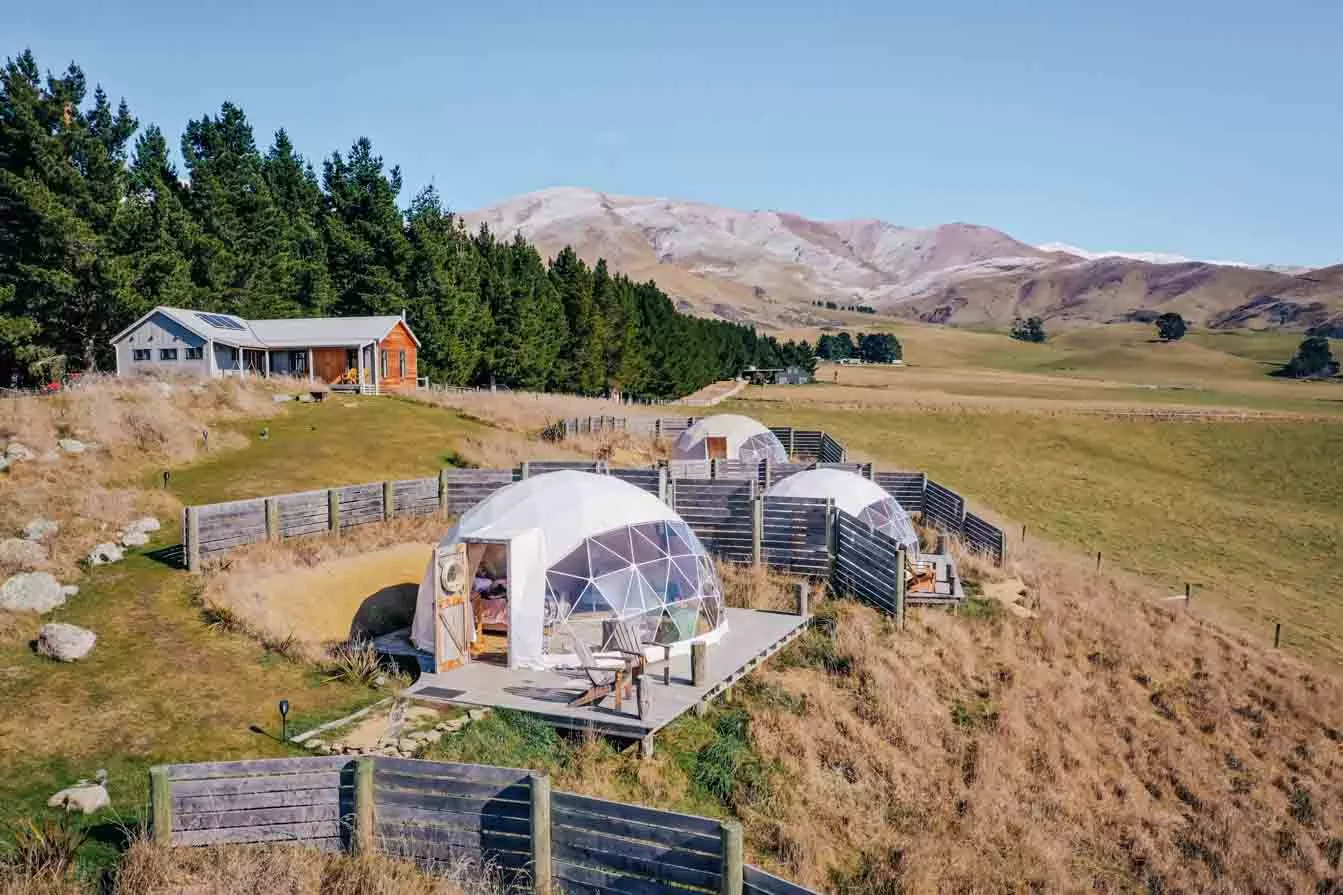 ---
Visit the punniest town in the country
Where: Bulls
Small towns are a common sight on long drives around New Zealand, but Bulls is worth a stop if you want a laugh. It's unmiss-a-bull, you might say…
This town has really run with the bull puns, so much so that many of the town's shops have played in. There's the police station (Const-a-bull), the library (Read-a-bull) and the town hall (Social-a-bull) to name a few!
---
Try your luck at a pub quiz
Pub quizzes are a weekly event at loads of bars and pubs around the country. You can find a list of bars that hold 'Believe It Or Not' quizzes (a Kiwi quiz events company) right here, Google 'pub quizzes in (your location)' to find your local, or wander down the street on a weeknight and try your luck.
---
Get amongst New Zealand's impressive brunch scene
While our local cuisine is a mish-mash of seasonal ingredients, seafood, Māori and Pasifika dishes and influence from all the other cultures who call New Zealand home, there is one meal we're brilliant at… Brunch!
You'll find funky cafes serving up eggs benny, smoked salmon bagels and French toast in all towns and cities, but some of my favourites are Springvale Cafe in Whanganui (best eggs benedict of my life), Cozy Corner in Taupō, Archie's in Hamilton, Pic's Peanut Butter World in Nelson, and Bespoke Kitchen in Queenstown.
---
Try and catch Mt Taranaki on a clear day
Where: Taranaki
The elusive Mount Taranaki is known for being shy and hiding behind the clouds, so you're damn lucky if you manage to see it in all its glory. Take in this magnificent volcano from viewing spots around New Plymouth and the Taranaki coast, or lace up your hiking boots and do a day or overnight hike.
---
See the Church of the Good Shepherd at Lake Tekapo
Where: Lake Tekapo, Canterbury
Sitting right on the rocky shores of Lake Tekapo, this 1935 stone church is the most photographed church in New Zealand. On a clear day you'll see the Southern Alps and Tekapo's iconic blue glacial water behind it, and at night a good long exposure photo can capture the church basking under the bright Milky Way.
---
Watch penguins come into land at dusk
Three different species on penguins breed on New Zealand's shores: the yellow-eyed penguin, the Fiordland crested penguin, and the little penguin. On our road trip we were lucky enough to see all three!
The best places to watch penguins make their nightly journey ashore are the Blue Penguin Colony in Oamaru, various beaches on the Otago Peninsula, Curio Bay in the Catlins, and by the ferry dock in Stewart Island, and you've got a good chance of seeing the Fiordland crested penguin on a Milford Sound cruise.
RESPONSIBLE TRAVEL TIP: As with any wildlife, always keep your distance and never approach penguins as they're coming in to land.
---
Make friends with a kea
Do other countries have cheeky birds that try and eat your windscreen wipers, or is that unique to New Zealand? These intelligent alpine parrots are found in the mountains and rainforests of the South Island, and they're lots of fun to watch. They try to eat anything and everything, from clothes off clotheslines to wing mirrors to skis on your ski racks!
Unfortunately the kea is an endangered species, and human interaction and vehicle accidents have contributed to the dwindling population. While I don't blame you if you enjoy watching a kea show off around you, it's important to never feed them or leave anything out that they can eat.
---
Bike (or e-bike, no judgement) along one of the cycle trails
With 22 Great Rides and hundreds of kilometres of cycle paths, cyclists, mountain bikers and e-bikers alike will fall in love with exploring NZ on two wheels.
Trails of note are the Redwoods Forest for mountain bikers, the Lake 2 Lake trail in Fiordland for a short ride, or the epic Alps 2 Ocean multi-day cycle trail from Aoraki Mount Cook to Oamaru. For somewhere a little less known, check out the incredible St James Cycle Trail near Hanmer Springs, it's a bit hilly and gravelly (highly recommend an e-bike haha) but the views are magical and you can stop off at the Cow Stream natural hot pools for a break.
ON YA BIKE: If you're in Fiordland, the cycle trail from Lake Manapouri to Lake Te Anau is a brilliant way to see a different side of the area outside of the fiords, and one of the coolest things to do in Te Anau. Rent a bike or e-bike from local Te Anau legends Wild Rides, chuck on your helmet, and hit the trail for a bit of exercise and some incredible views.
---
Take a jet boat ride down one of the country's famous rivers
Another one to add to your thrill-seeking bucket list! If you love rollercoasters and don't mind a bit of a splash, jet boating is for you.
Queenstown's Shotover Jet is the most iconic jet boat experience in New Zealand, but you can also try it out in Taupō, Glenorchy, Auckland, Rotorua and more.
LOCAL TIP: While the Huka Falls jet is probably best known in Taupō, we went with Rapids Jet who are the only jet boating company in New Zealand to actually take the boat through white water rapids! This definitely took the experience up a notch.
---
Visit the world-class Hamilton Gardens
My hometown of Hamilton, in the mighty Waikato, isn't really known as a pumping tourist destination but the Hamilton Gardens are seriously world-class. They've got a 4.7 rating on Google from almost 10,000 reviews, so I'm not even saying this because I'm biased!
Entry is free and you can visit 21 themed gardens, including an Indian garden, Italian garden, traditional Māori garden and a brand new (and very Instagrammable) Surrealist garden. Absolutely worth a visit if you're making the drive from Auckland heading south.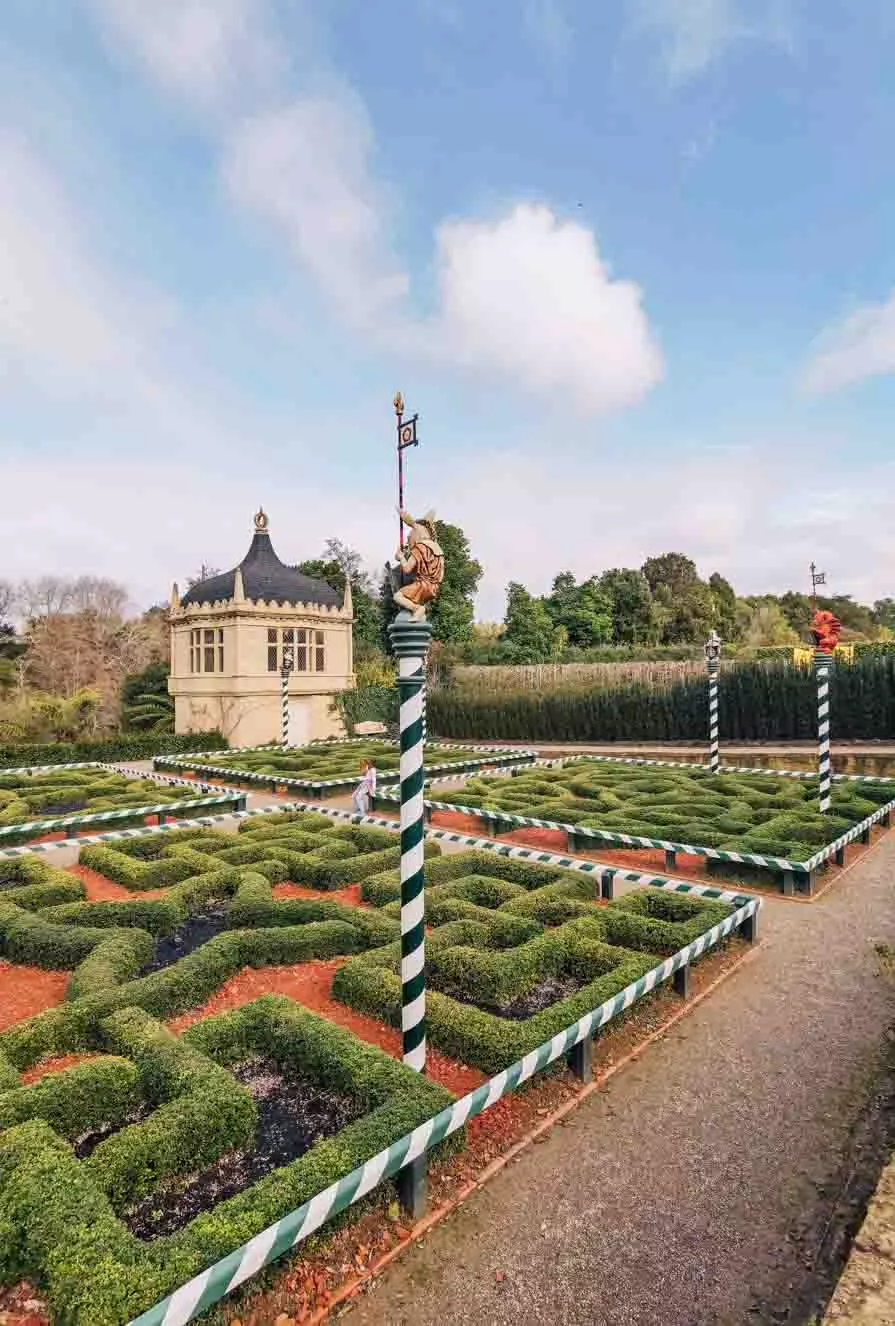 ---
Spend a night at a winery
What if I told you that there was a way to find a local winery, park your campervan in the carpark, taste test the wines and buy your faves, then retreat back to your home on wheels and enjoy your bottle without having to drive anywhere for the night? The dream, right?
Okay2Stay is a brilliant little membership platform that allows self-contained campervans and motorhomes to park at wineries, farms, cafes and other food and drink producers overnight in exchange for you buying some local products.
It's a fantastic way to support a small local business, try tasty new treats or beverages, and avoid having to pay for a taxi or take one for the team as a sober driver. It's a win-win-win!
---
PHEW! Thanks for sticking with me, I hope you found some epic activities and experiences to add to your New Zealand bucket list. Let me know which activities you're most looking forward to in the comments!
RELATED READS: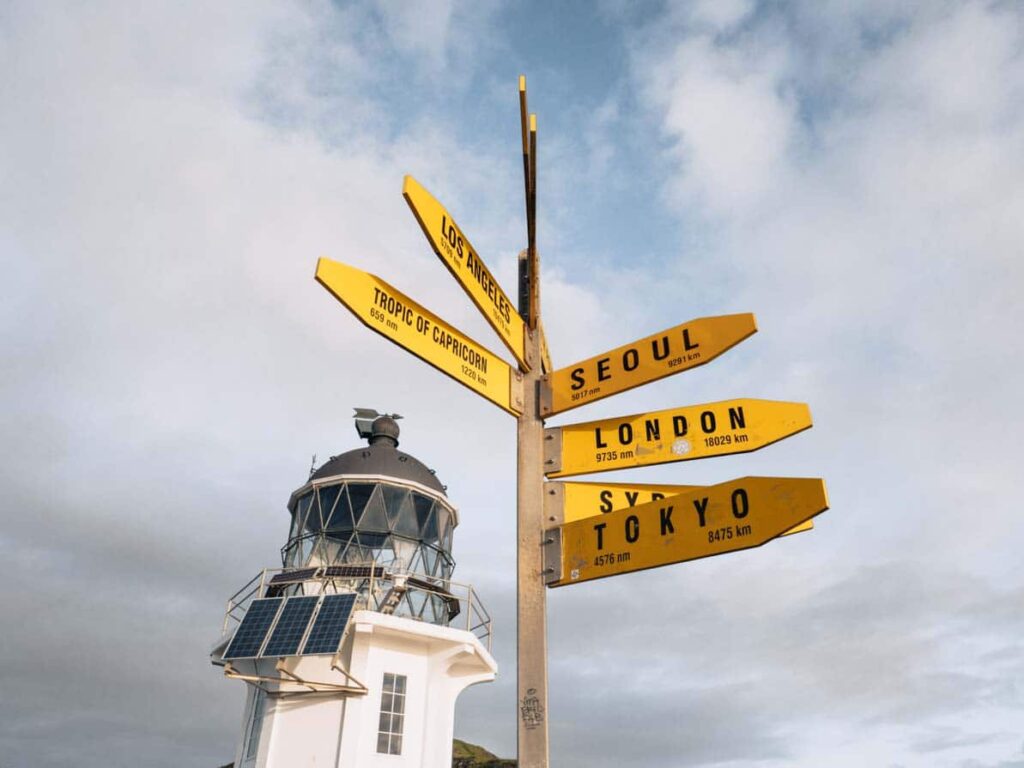 Like this blog? Pin it!