So you've already made the brilliant decision to explore Fiordland National Park. Congratulations! Your next step is choosing whether to spend your precious time at Milford Sound vs Doubtful Sound (or both), and I've pulled together a little comparison guide to make that choice much easier.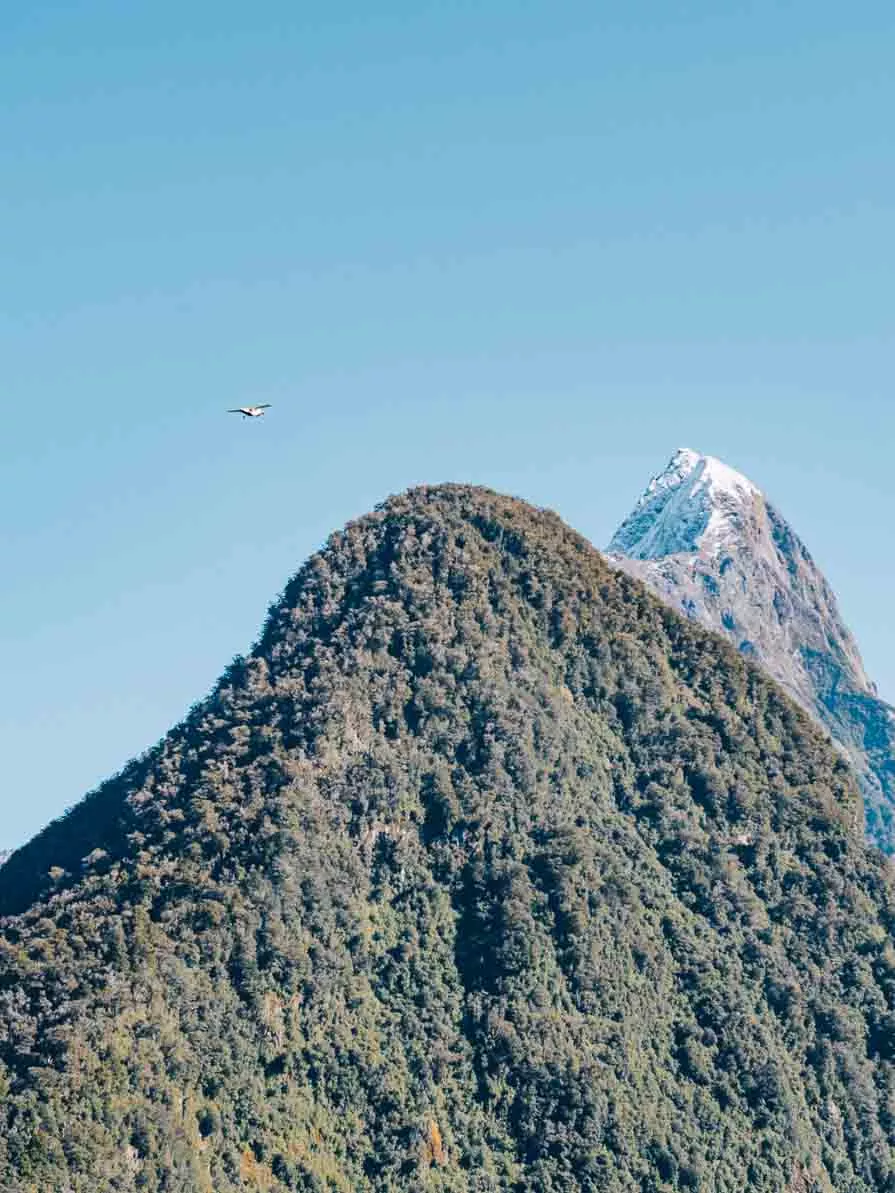 If you're familiar with the feeling of frustration when trying to decide an itinerary, you're not alone. I too suffer from chronic indecision, also known as "analysis paralysis", and I tend to get myself into a dangerous cycle of overthinking every travel decision I have to make. Okay let's be real, every life decision too.
I get analysis paralysis so bad that when faced with a year of travel, I literally left my itinerary up to the cheapest flight every week to decide where I could go, because how am I meant to choose between 195 countries? You can read more about that insane trip here.
YOU MIGHT ALSO LIKE: 22 of the Best Places to Visit in the South Island
During my time in Fiordland, I made sure to set aside enough days to be able to experience both Milford Sound and Doubtful Sound, but I understand many people don't have that luxury of time or budget.
So to help you make a final decision between visiting Milford Sound or Doubtful Sound, here's a deep dive into how easy it is to get to each fiord, the activities on offer, the scenery, how much you'll need to spend, and what type of travellers each one is best suited to.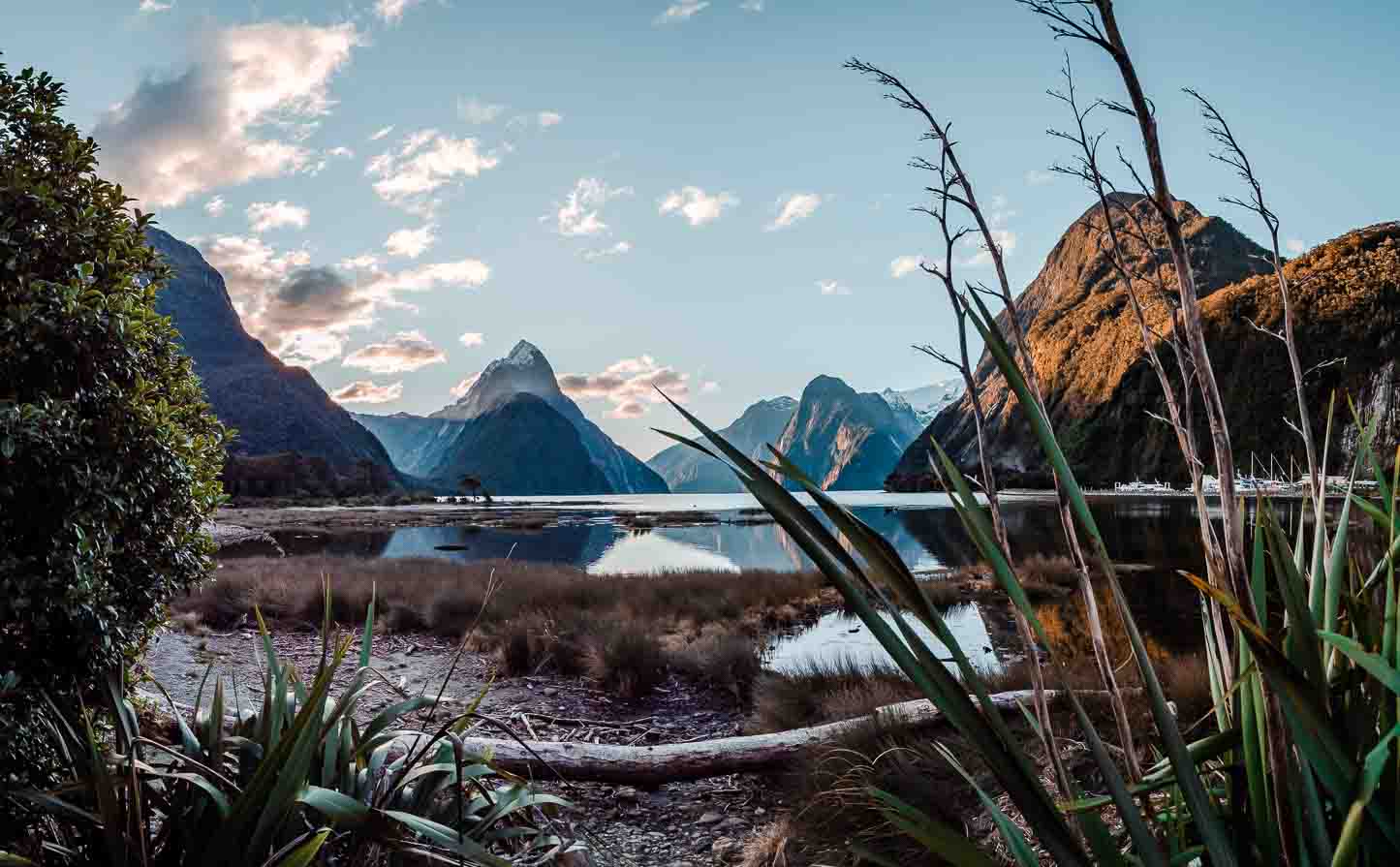 ---
Milford Sound vs Doubtful Sound: A breakdown
Getting there
Milford Sound
Milford Sound is more accessible which is a big plus if you're short on time. You can drive to Milford Sound from Te Anau along the stunning Milford Road in 2-3 hours (depending on stops), or from Queenstown in 4-5 hours. There are also group tours, private tours or scenic flights from both Te Anau and Queenstown.
My top tour recommendations: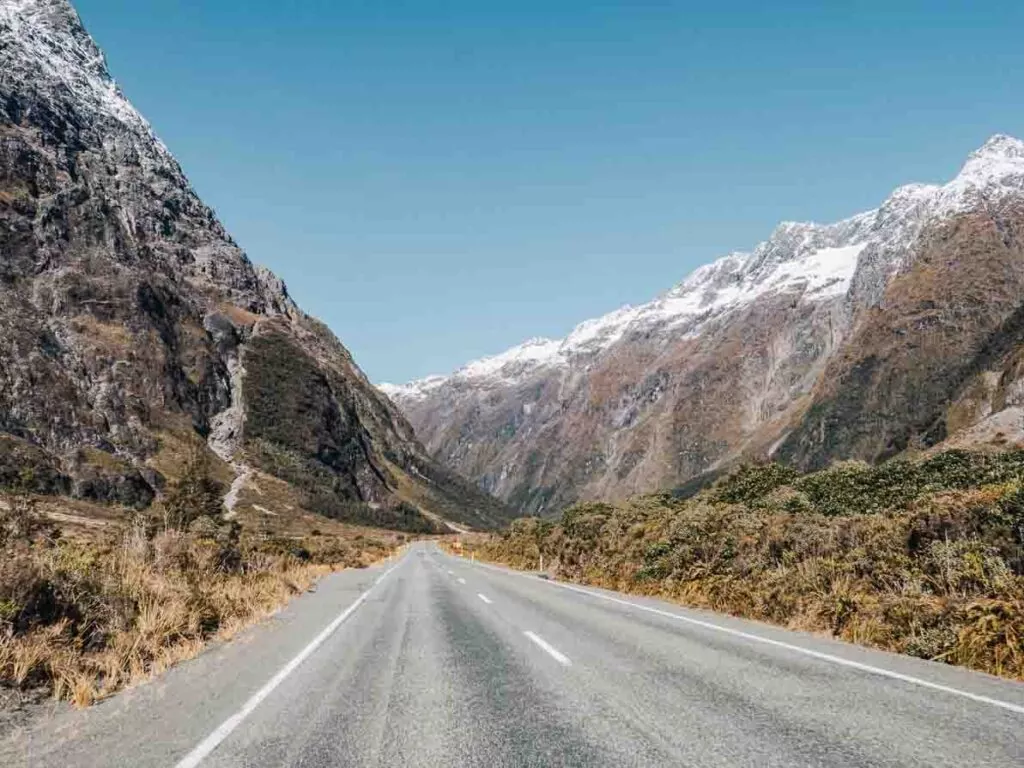 Doubtful Sound
Doubtful Sound is deeper into the National Park, and the remoteness means less human interference and smaller crowds, though it does take longer to get there. Public access is restricted, so the vast majority of visitors will need to travel with an organised day tour or overnight tour from Lake Manapouri.
Your first boat will take you from one side of Lake Manapouri to the other, then you'll jump on a coach to travel through rainforests and past rushing waterfalls over the Wilmot Pass, before you reach your third and final vessel in the Doubtful Sound itself.
The entire day to and from Lake Manapouri takes just under 8 hours, 9 hours if you're coming from Te Anau, and 13 hours from Queenstown. It's a long day on multiple forms of transport, and may not be ideal for young children if your kids aren't used to long travel days.
Doubtful Sound is also accessible by scenic flight from Te Anau or Queenstown, but you'll need to take a seaplane flight if you want to land in the fiord itself rather than on one of the mountains.
---
Scenery
Milford Sound
Milford Sound's glacial waters are flanked by mighty peaks and steep cliffs, creating an iconic landscape that you've almost certainly seen on Instagram. I know the photos are impressive, but seeing it with your own eyes is something else entirely.
Due to the ease of accessibility, Milford Sound is home to more tour boats, so your view is more likely to be interrupted by a floating distraction. Even so, the size of the fiord means you'll still get plenty of time to soak up some of the scenery without any other boats in the way.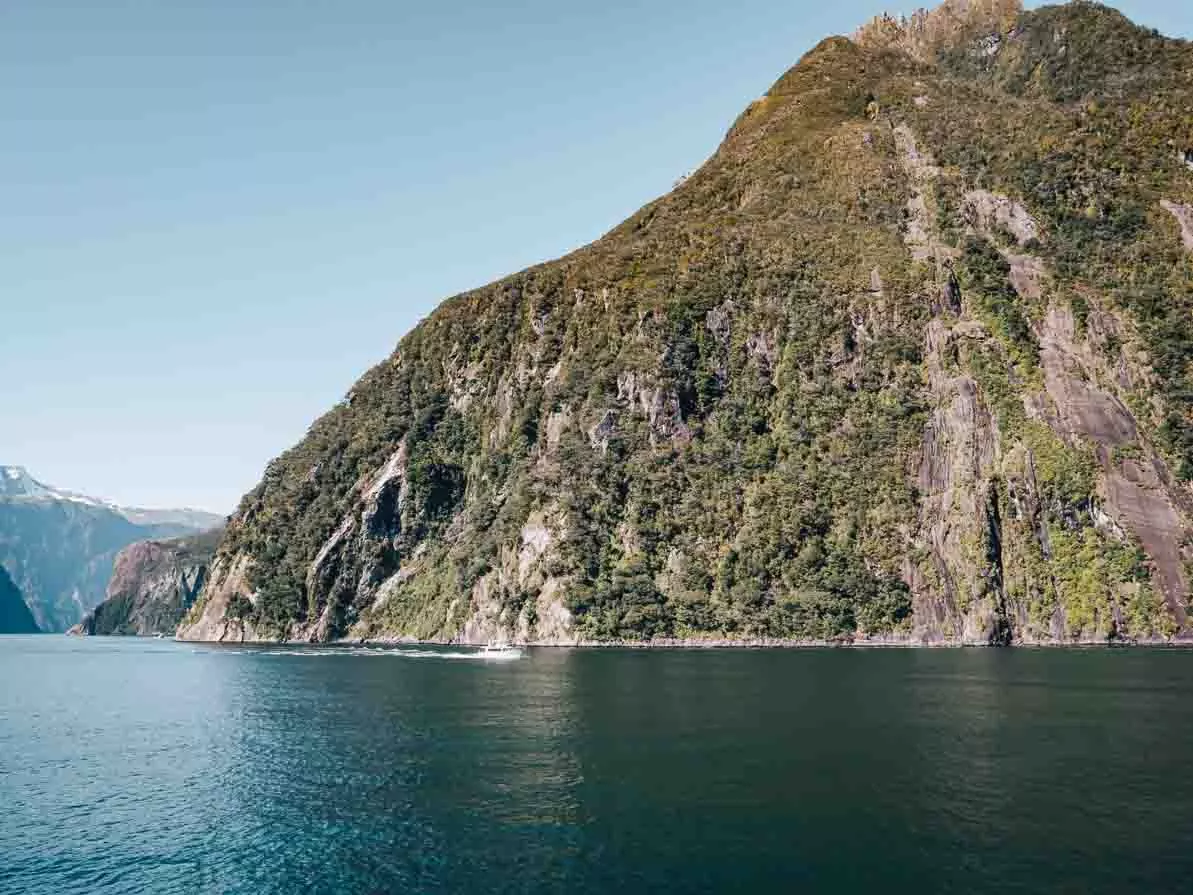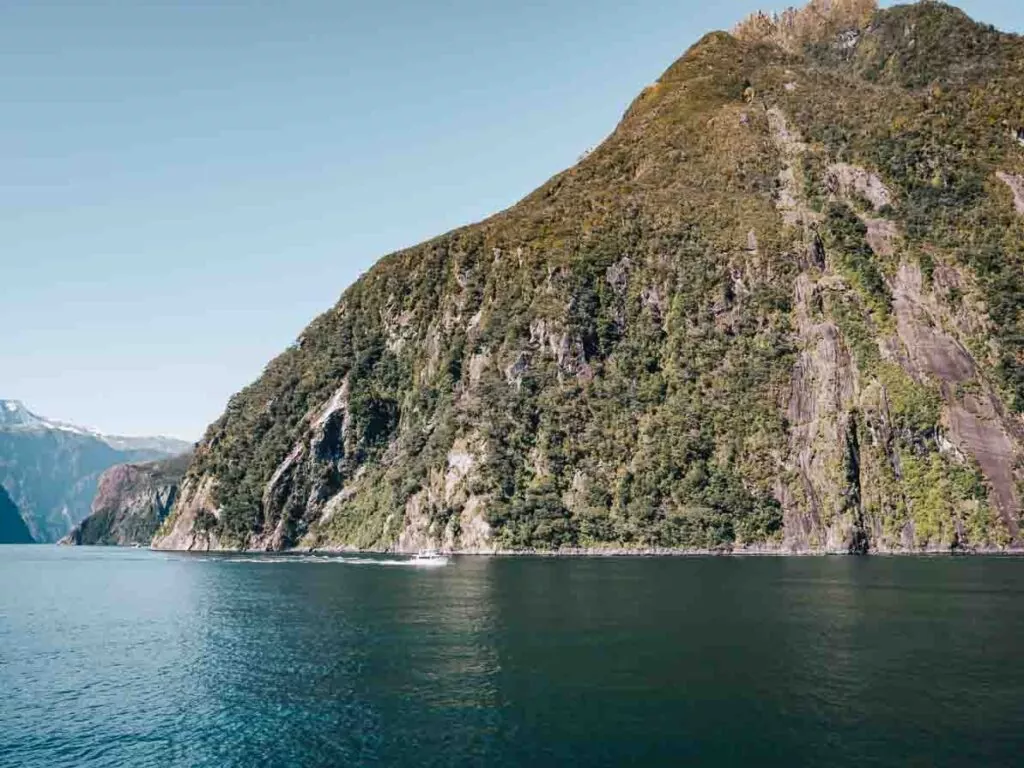 Doubtful Sound
Doubtful Sound's scenery is less dramatic but equally captivating, with dense vegetation, fewer cliffs, smaller mountains, more waterfalls and a higher chance of seeing local wildlife. Peace, serenity and unspoiled nature are key selling points for Doubtful, over the striking views in Milford.
---
Geography
FYI: There are fourteen fiords in Fiordland, some of which have been incorrectly named as 'sounds' by early European settlers. They also decided to spell it 'fiord' instead of 'fjord', just to be difficult. Confusing, I know!
Milford Sound
At 16km in length from innermost point to the Tasman Sea, Milford Sound is easily explored on a short cruise. The most iconic mountain in the area is Mitre Peak at 1692m tall, but the tallest is actually Mt Tutoko at 2723m.
Lady Bowen Falls and Stirling Falls are the fiord's most well-known waterfalls, at 162m and 151m high respectively, and the Sutherland Falls (only seen on the Milford Track hike) are a whopping 580m tall.
After a storm, Milford Sound's steep rock faces begin to cascade with sky high temporary waterfalls.
Doubtful Sound
At 40km long, Doutbful Sound is significantly larger than its counterpart, with a number of 'arms' branching off to create more of a maze than the fairly linear Milford.
The mountains here are more rolling than cloud-piercing, but the waterfalls are even more striking. Helena Falls stands tall at 220m, and Browne Falls tumbles down from between 619m and 838m, depending on who you speak to.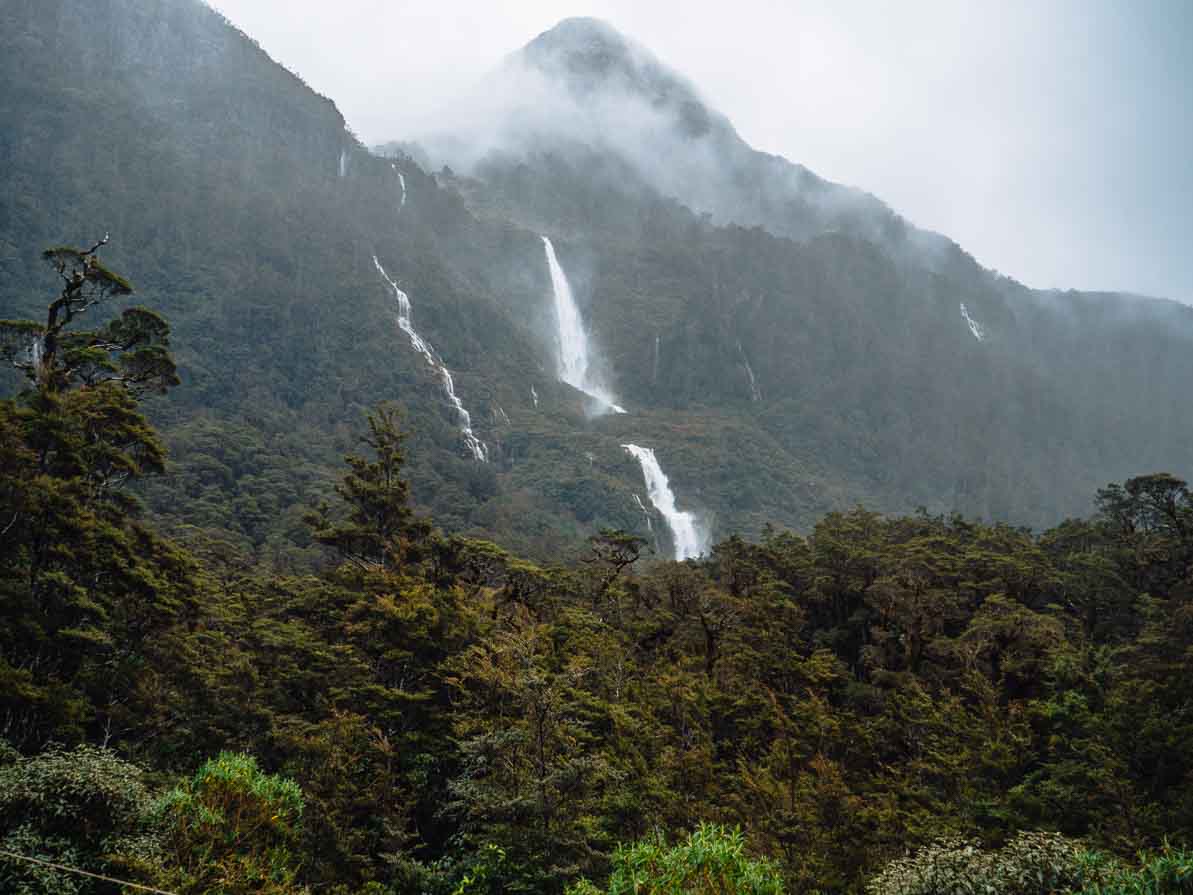 ---
Activities
Milford Sound
If you're looking for adventures, there are lots of fun things to do in Milford Sound to fill your itinerary.
As well as the classic day cruises, you could try a kayak tour (I HIGHLY recommend Rosco's Milford Kayaks), scuba diving, short hikes, the underwater observatory or a spot of fishing.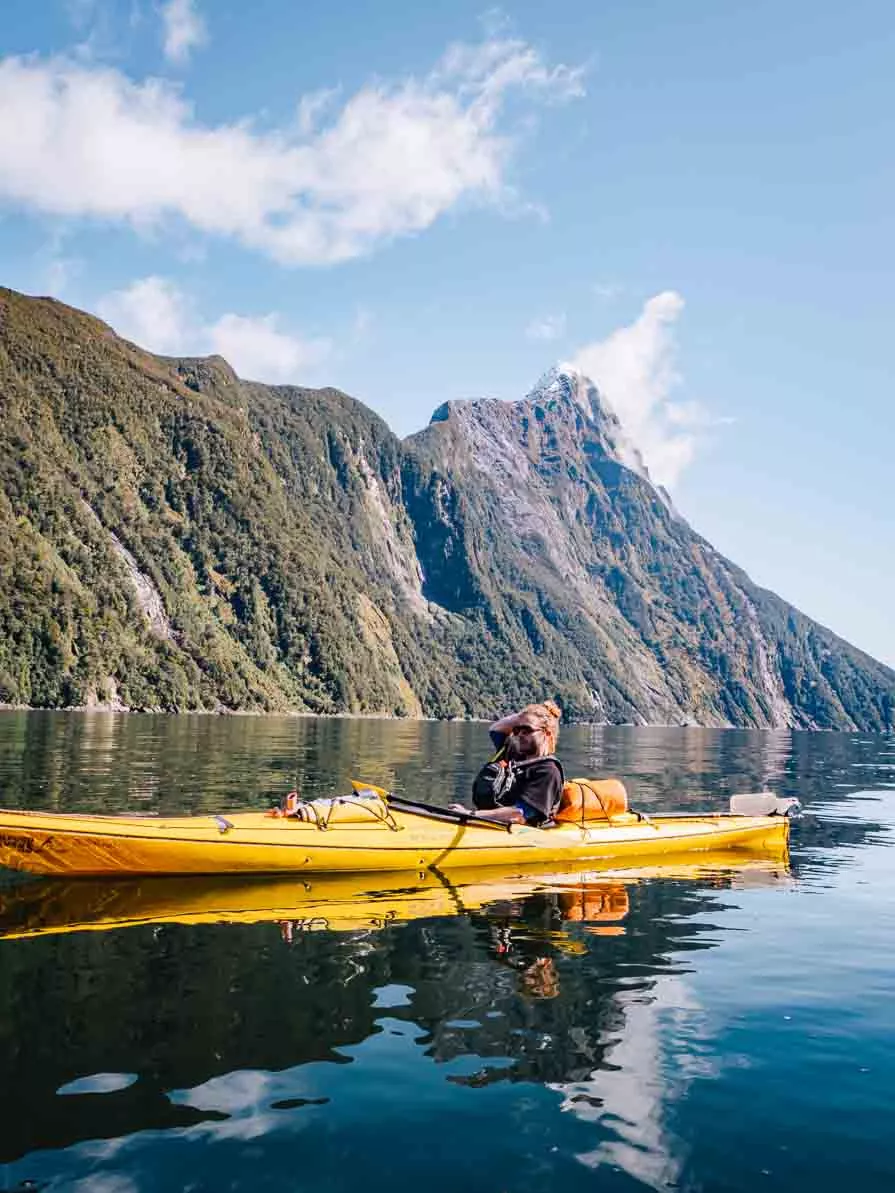 RELATED READ: 11 Epic Things to Do in Milford Sound
Doubtful Sound
Because Doubtful Sound is only really accessible on an organised tour, the only things to do in the area are whatever's available on your cruise.
Day cruises offer sightseeing, wildlife spotting and commentary, but to experience Doubtful at its best I'd recommend going on an overnight cruise, where you'll also get access to kayaks to see the fiord from sea level.
---
Wildlife
Milford Sound
On our trip to Milford Sound we saw fur seals, Fiordland crested penguins and a single bottlenose dolphin (lovingly referred to as Nigel No Mates), the Fiordland trifecta! There's an abundance of bird life in the Milford Sound, with cheeky kea, South Island robins, kaka, tui and more flitting around the canopies. In the water there's penguins, seals, dolphins and thriving underwater life too.
But a general rule is that the more boats, the less wildlife, so in peak travel times you potentially might not be so lucky in Milford.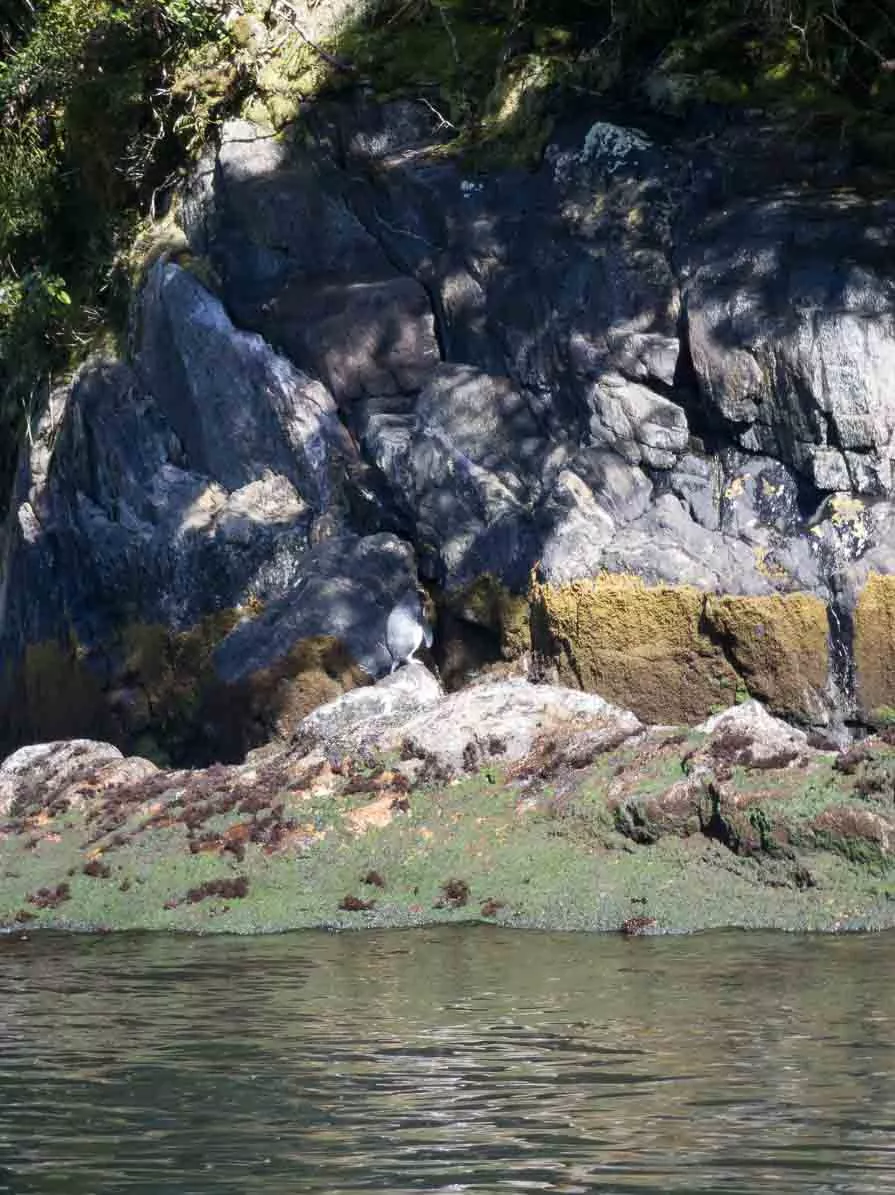 Doubtful Sound
If wildlife is the reason for your trip, the remote and rugged wilderness of Doubtful Sound might be more up your alley. Because this fiord is calmer and quieter, it's home to larger groups of animals, which means more of a chance of spotting them from your boat or kayak.
Keep an eye out for the resident pod of bottlenose dolphins (compared to a few occasional visitors in Milford Sound), see penguins nesting along the rocky shoreline, and watch fur seals sunbathing on the rocks.
---
Weather
Milford Sound
With over 6.7m of annual rainfall, almost three times the annual rainfall of the Amazon Rainforest, Milford Sound is known for being wet and wild. It rains here about 200 days of the year!
But don't let rainy weather dampen your spirits, that's when the fiords waterfalls come alive. Just make sure you bring a decent raincoat…
Doubtful Sound
Though only about 100 kilometres south of Milford Sound as the crow flies, Doubtful Sound does get slightly less rain in total over a similar number of rainy days. Annual rainfall here is between 3m and 6m.
Our day in Doubtful Sound was actually very stormy and much wetter than our day in Milford Sound! But the waterfalls we saw were absolutely next level.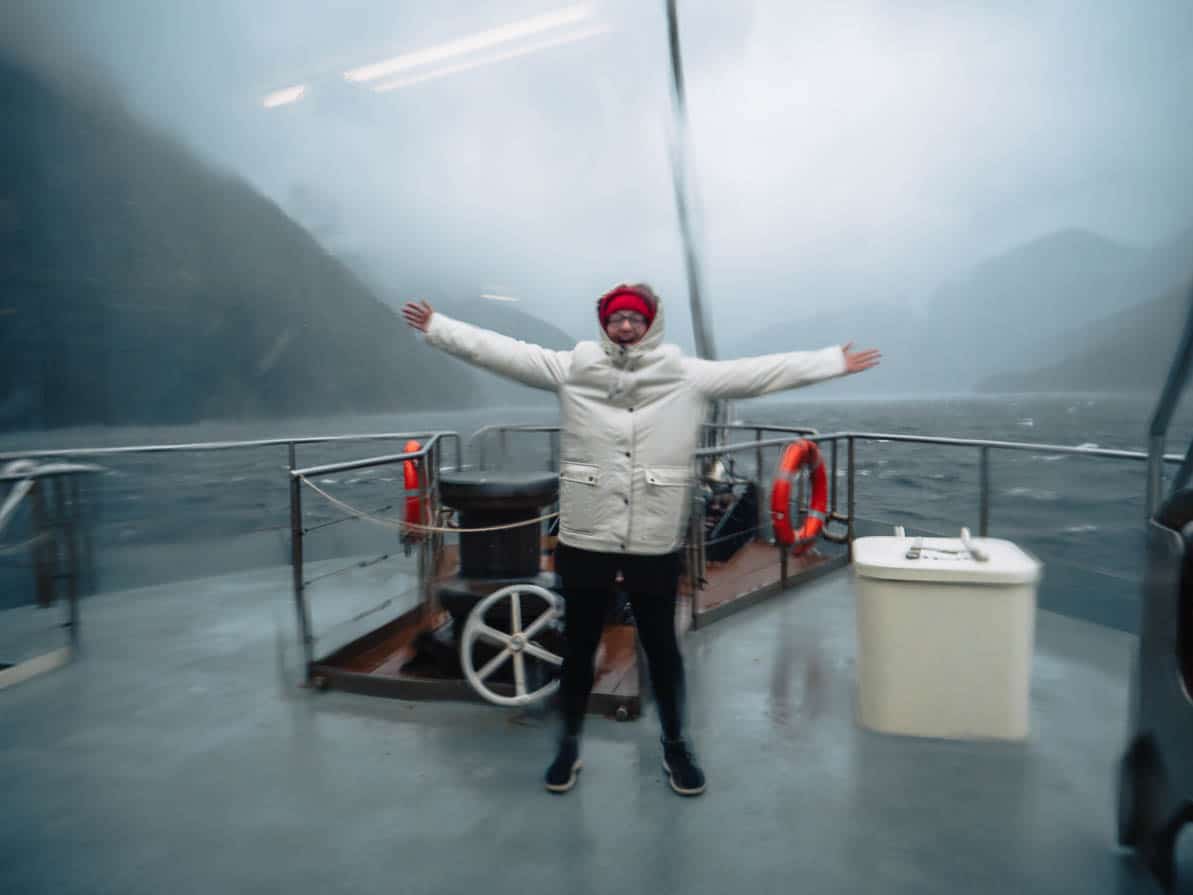 ---
Price
Milford Sound
If you're on a tight budget, Milford Sound is the best option and can give you an incredible experience while keeping costs low. You can drive there yourself, cruises start from only $69, and then head back to Te Anau or Queenstown in time for dinner.
If you'd prefer to spend the night, accommodation at the Milford Sound Lodge starts from $50 for a powered campsite for campervans/$245 for a chalet for two people, or an overnight cruise will set you back about $250.
Doubtful Sound
Doubtful Sound cruises are more expensive because of the transport required to reach the fiord, with day cruises starting from $179 per person and overnight options from $299.
---
Bucket list experience
Milford Sound
As one of the most popular tourist destinations in the country, Milford Sound is hands down one of the best New Zealand bucket list experiences. Once deemed the 8th Wonder of the World by Rudyard Kipling, many travellers would say a New Zealand itinerary is incomplete without a visit to this magical corner of the South Island.
If your aim is to visit the major tourist spots while there's fewer people in the country due to border restrictions, then Milford Sound is well worth the addition to your Aotearoa adventure.
Doubtful Sound
Doubtful Sound is lesser known and lesser visited than Milford Sound, so it doesn't hold the same iconic fame than its northern counterpart.
In saying that though, for landscape photographers, wildlife lovers or those who prefer getting off the beaten track, a visit to Doubtful Sound may well be a top travel goal.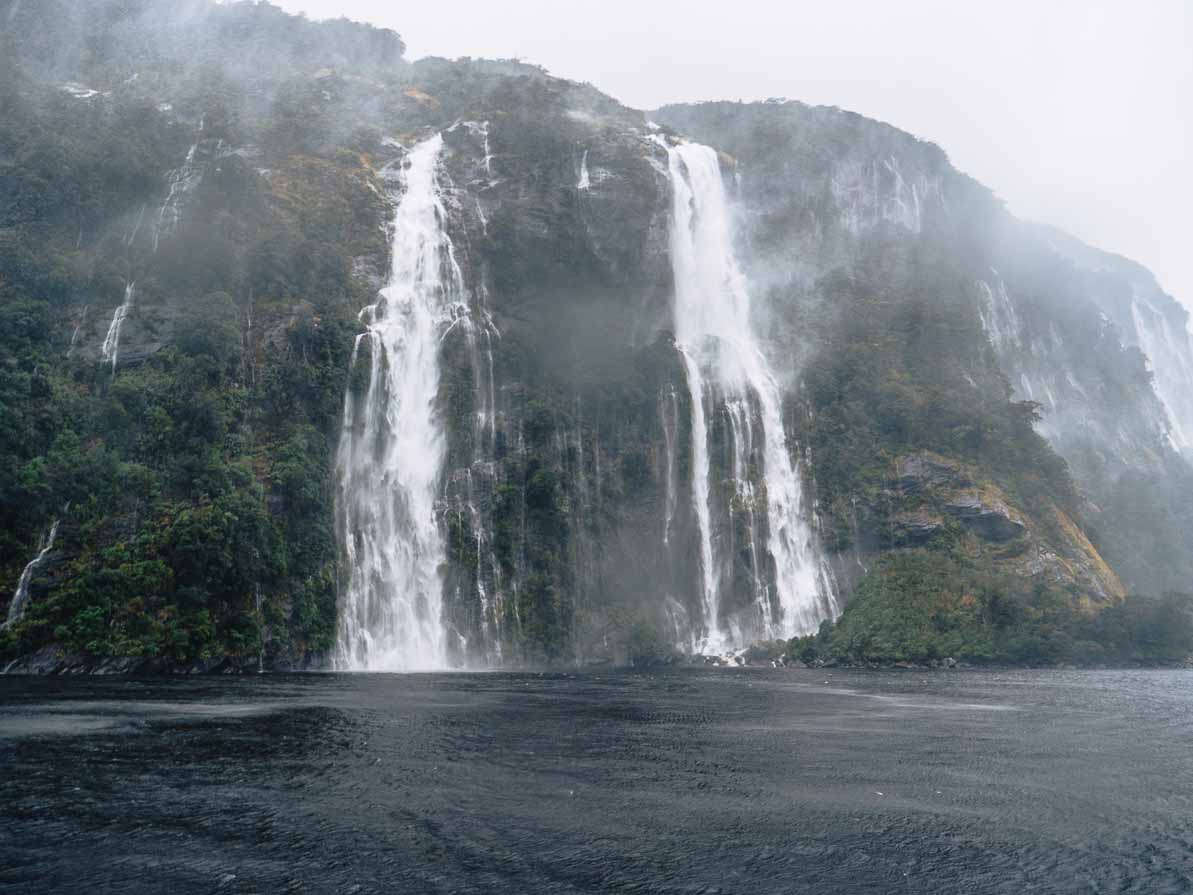 ---
The verdict on Milford Sound vs Doubtful Sound
What type of travellers are Milford Sound and Doubtful Sound best for?
Rather than stating which fiord is the best overall (because that's impossible!), I think each of them is best suited to different types of travellers.
Who should visit Milford Sound?
First-time visitors to Fiordland National Park
Anyone pressed for time who can only spend a day in Fiordland
Anyone on a tight budget
Families with young kids
Scuba divers
Anyone wanting to hike the Milford Track or other hikes along the Milford Road
Who should visit Doubtful Sound?
Those who prefer off the beaten track destinations
Wildlife and nature photographers
Anyone with money to splurge on an overnight cruise
Families if your kids are comfortable with long travel days
---
Did I prefer Milford Sound or Doubtful Sound?
It's a bit of a cop out to write a comparison blog but not state my own personal preference.
While I really loved my days at both fiords, for a number of reasons, I would have to say that Milford Sound was my favourite. The main reasons being:
We were luckier with the weather in Milford! We arrived in rain so saw it when it was wet and wild, but woke up to beautiful blue skies. On the other hand, our day in Doubtful was really stormy and meant that I was unable to take as many photos because my camera was getting too wet.
We saw the Fiordland trifecta (seals, dolphins and penguins) in Milford Sound but didn't see any wildlife in Doubtful because it was too wet and windy to stand outside on the viewing deck (normally Doubtful is better for seeing wildlife so it seems like we were an anomaly)
We spent two nights at Milford Sound lodge which meant we were able to slow down and really enjoy our time without being rushed
In Milford Sound we did a kayak tour which was one of my trip highlights
Due to COVID, smaller crowds at Milford Sound were spread out over a number of companies who were running tours. This meant that our Real Journeys cruise was at about a third capacity on a weekday
We visited Doubtful on a weekend which meant the boat was at full capacity, one of the only times on our entire three month road trip where it was busy! So although Doubtful normally is much quieter and calmer, we had the opposite just due to timing.
---
So should you visit Milford Sound vs Doubtful Sound?
I can't tell you exactly which one to pick because it will depend on your budget, timeframe and priorities, but if you're a Kiwi or you're living in New Zealand at the moment I can tell you this: You just have to go as soon as you can.
There hasn't been a better time to visit Fiordland National Park, whether you opt for Milford Sound or Doubtful Sound, in YEARS. The infrastructure in the region has been built to support up to a million visitors a year and they're now running at a much lower capacity due to travel restrictions and lower tourism.
That means you're able to choose from a range of experiences provided by world-class tourism operators, and see some of the most incredible and untouched places on the planet, without having to share them with thousands of others. This is an incredibly unique opportunity and one small silver lining to the absolute sh*tshow that 2020 has been. MAKE THE MOST OF IT.
---
I hope this Milford Sound vs Doubtful Sound comparison has made your decision a little easier! I'd love to know which one you end up choosing, let me know in the comments. Happy exploring!
RELATED READS: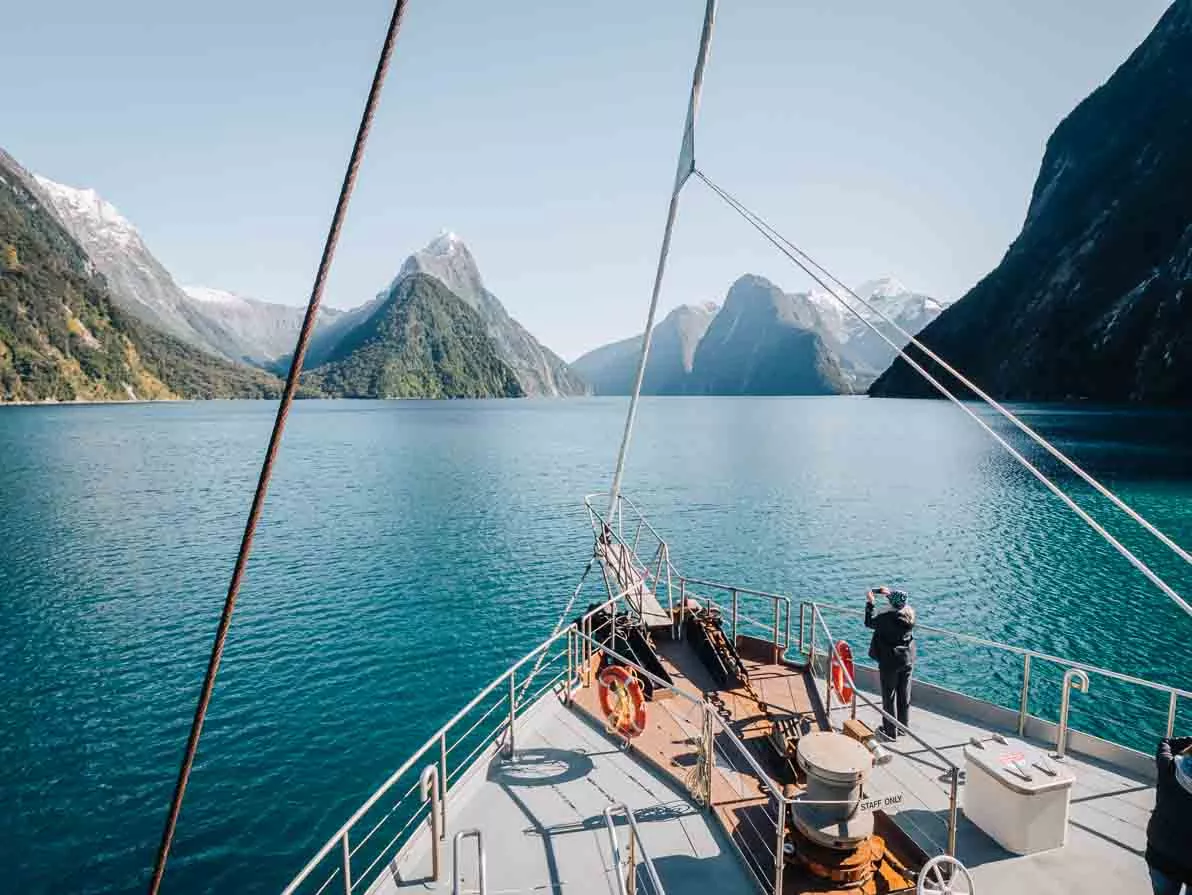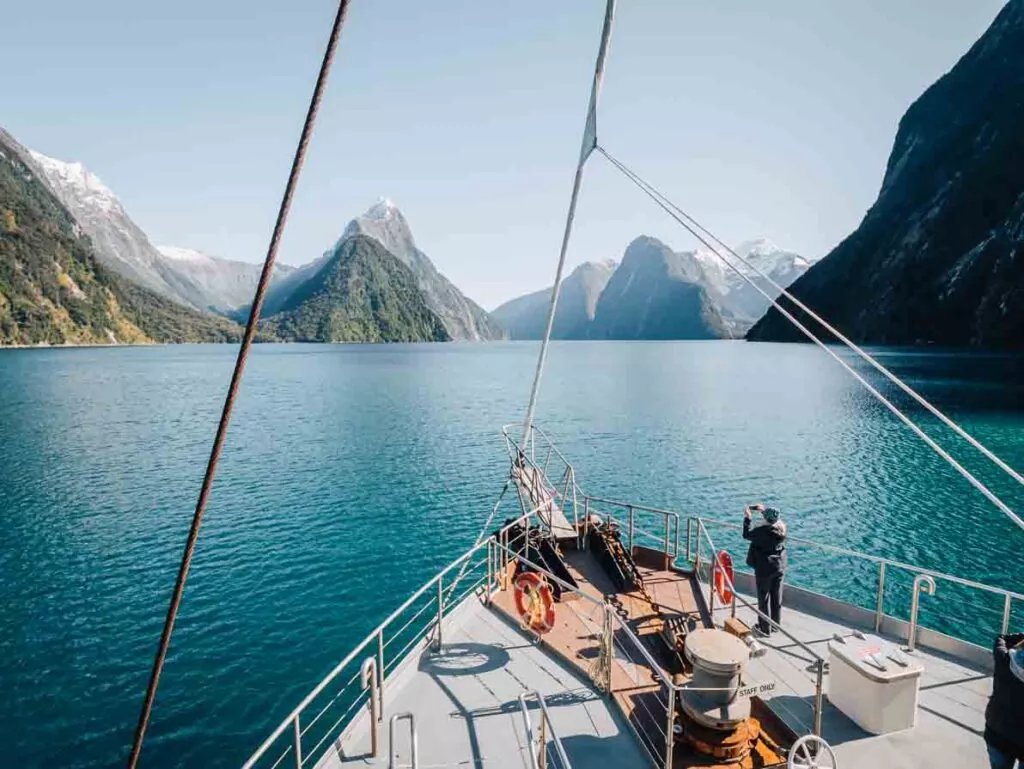 Like this blog? Pin it!
Huge thanks to Destination Fiordland for hosting me during my trip to Te Anau and Milford Sound. As always, all opinions are my own and are based on my personal experience.