Milford Sound is one of New Zealand's most popular destinations, with over a million tourists visiting per year (pre-2020) for a glimpse at this magical corner of Fiordland. But what many people don't realise is that beyond a cruise on the fiord, there's loads things to do in Milford Sound that warrant more than a day trip.
RELATED READ: 22 South Island Destinations You Have to Visit
From bucket list adventures to rewarding hikes to chasing waterfalls, here's a list of the best things to do in Milford Sound, plus some helpful travel tips and info to help you plan the ideal Milford Sound itinerary.
---
What is Milford Sound?
It's hard to describe one of the most beautiful places on the planet but I'm going to give it a go. Think pristine glacial water, cascading waterfalls, lush rainforests, playful wildlife and minimal light or sound pollution and that's a good start.
Milford Sound, or Piopiotahi in te reo Maori, is nestled in the northern corner of Fiordland National Park, on the southwest coast of the South Island.
Despite its name, this 'sound' is not actually a sound at all, it's a fiord. European settlers incorrectly named it, along with Doubtful, Dusky, Bligh and other fiords, a 'sound' for whatever reason, and at the same time they spelled New Zealand's fjords as 'fiord' just to be annoying.
Geographically, fiords are narrow inlets flanked by steep cliffs, caused by glacier erosion, whereas sounds are river valleys that have been flooded by the ocean. Semantics, your honour!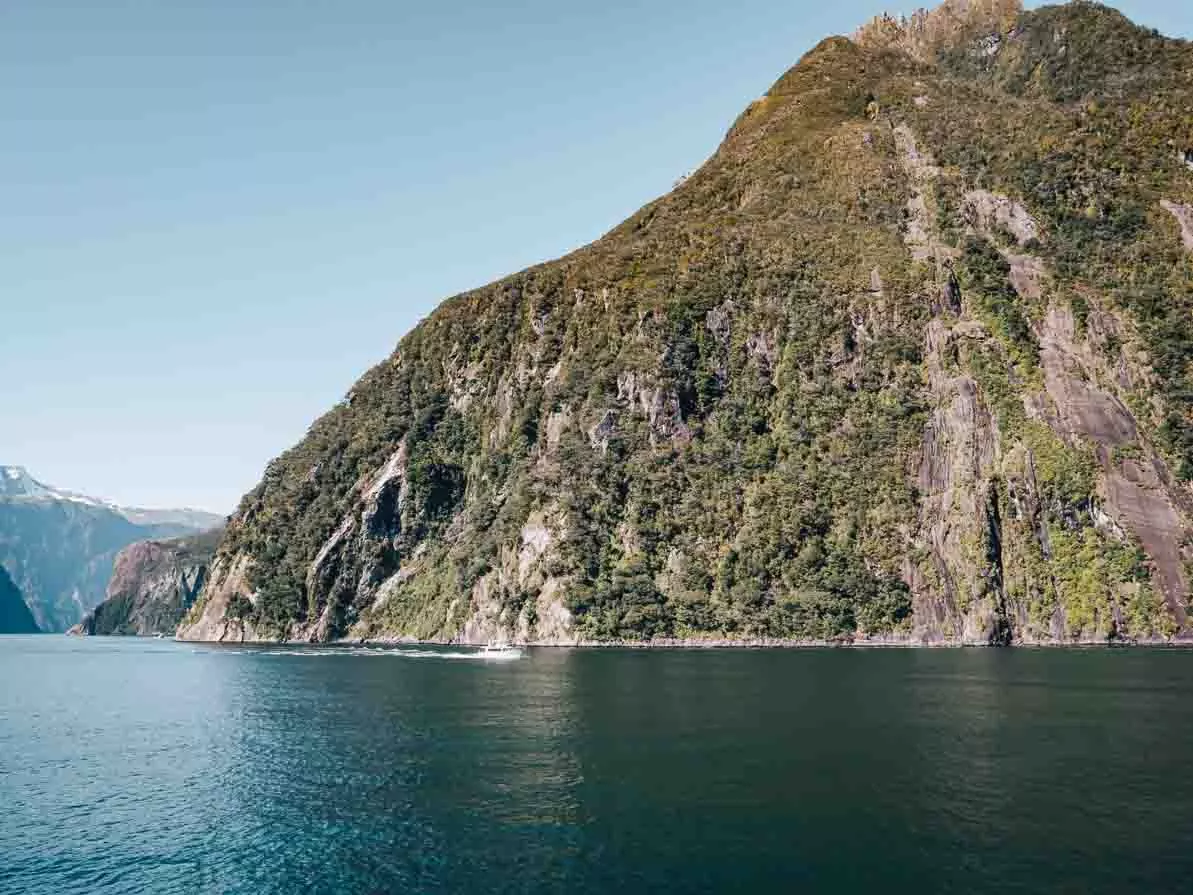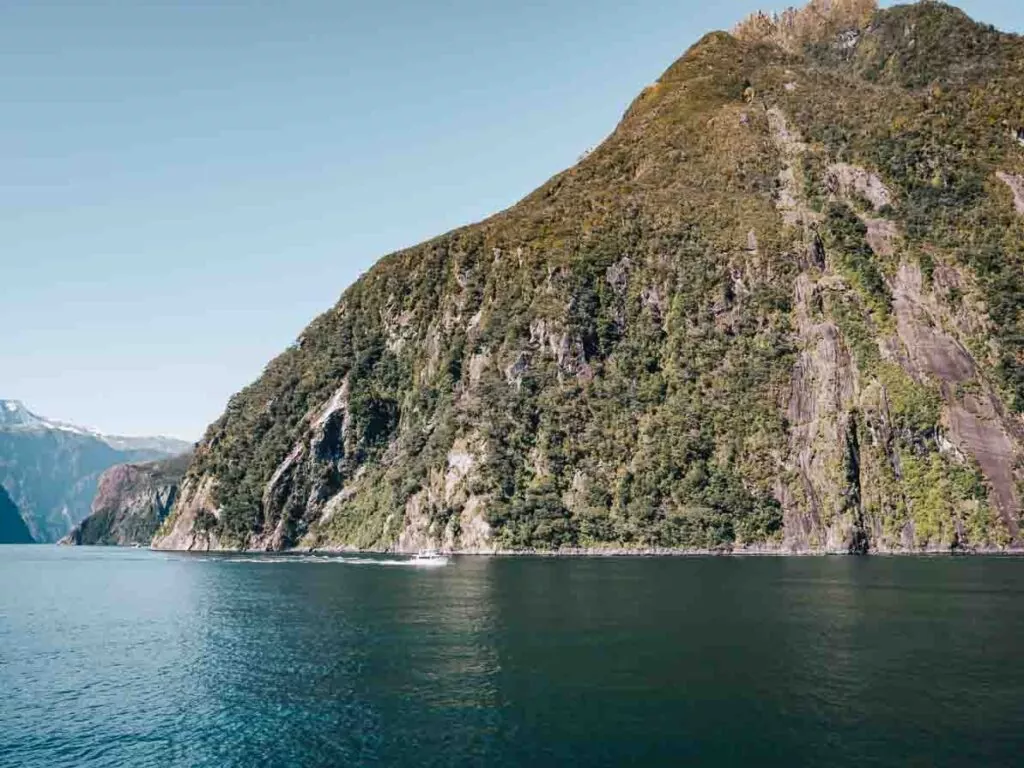 ---
Best time to visit Milford Sound
Milford Sound is captivating in any season, whether you've got blue skies and glistening glacial water, or ominous clouds with countless temporary waterfalls.
New Zealand's weather is hard to pick, and Milford Sound's annual rainfall of 6.7m over 200 rainy days means more than likely you're going to get a bit wet. Luckily, inclement weather in Fiordland National Park is all part of the magic!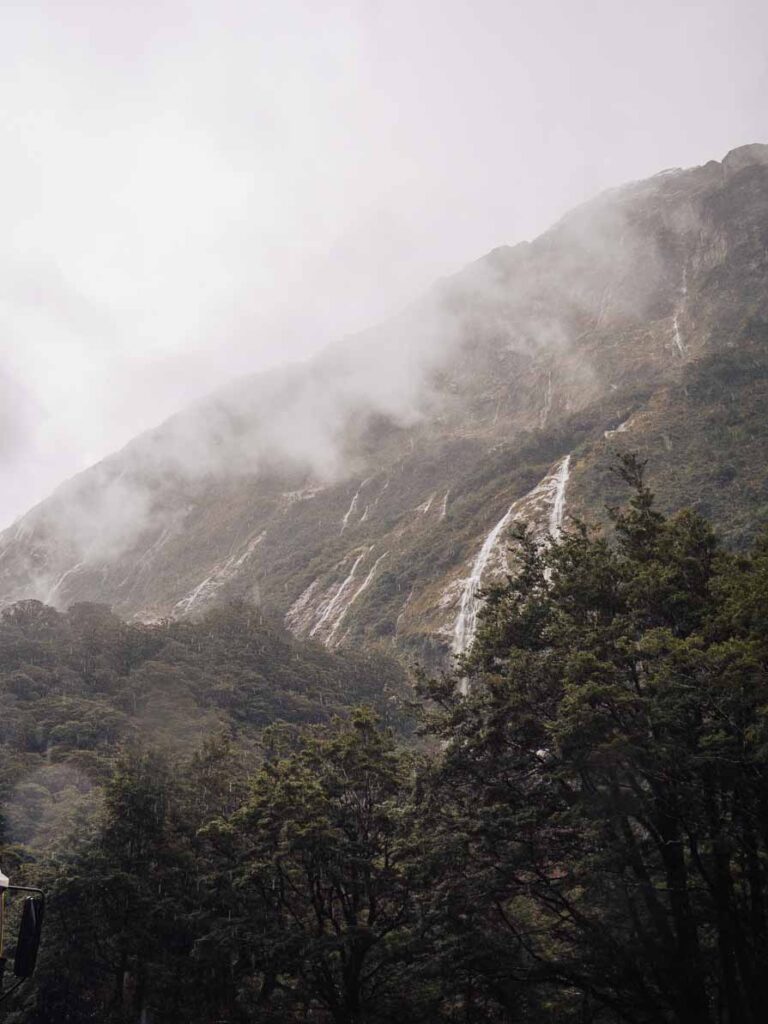 Rainfall is fairly consistent year-round but there are pros and cons of both summer and winter visits.
Warmer months on average bring slightly more rainfall and higher humidity, but average temperatures are around 18-20°C with highs of up to 27°C. Summer is peak season for the area so expect to share it with more tourists, and sandflies are rampant, so definitely take some insect repellent to avoid itchy bites.
In winter, average temperature is from 6-10°C, and the mountains and higher altitude sections of the Milford Road will get snowy. Winter may require extra layers but the cooler weather generally increases wildlife activity so you might have more of a chance to see dolphins, seals and penguins.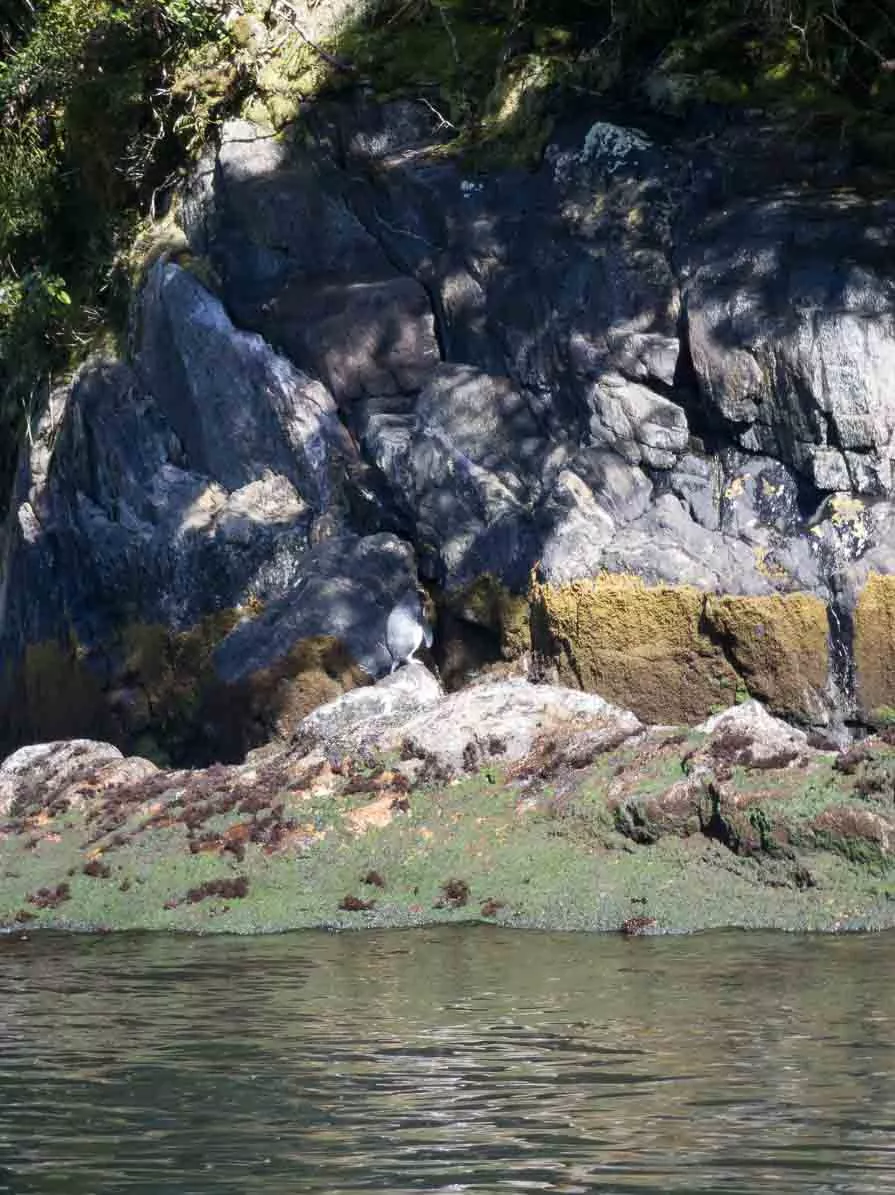 ---
Is Milford Sound overrated?
Full disclosure: I visited Fiordland for the first time in September 2020, when New Zealand's borders had been shut for six months. Annual visitor numbers have dropped dramatically due to COVID and travel restrictions, so my experience was very different to anyone who visited before the pandemic.
But if you're reading this then I can only assume it's post-pandemic, unless time travel has been invented, so my experience is more relevant to you than someone who wrote about visiting last year.
With that in mind, I can safely say that our experience in Milford Sound was NOT overrated at all, and I would highly, highly recommend you visit there as soon as you can.
RELATED READ: Milford Sound vs Doubtful Sound – Which one should you visit?
If you're a Kiwi or you're currently in New Zealand while the borders are closed, there has never been a better time to visit Milford Sound and Fiordland National Park. Visitors right now are able to benefit from strong infrastructure, bargain deals and the lowest tourist numbers in YEARS. This is truly something you don't want to miss.
And on that note, let's move onto the best things to do in Milford Sound!
---
The best Milford Sound cruises
Best Milford Sound day cruise
There are a number of companies offering day cruises in Milford Sound and from my research, they're all a similar product and follow the same itinerary, however the boat set up does differ depending on the company and specific tour.
We did our first day cruise with Real Journeys, one of the major tourism operators in the Fiordland region. Our boat was comfy with great facilities, the captain's commentary was hilarious and full of dad jokes, and we managed to see a trifecta of fur seals, Fiordland crested penguins, and bottlenose dolphins!
Real Journeys have options for the cruise only, a bus transfer to/from Te Anau, or transfers to/from Queenstown either by bus or by scenic flight.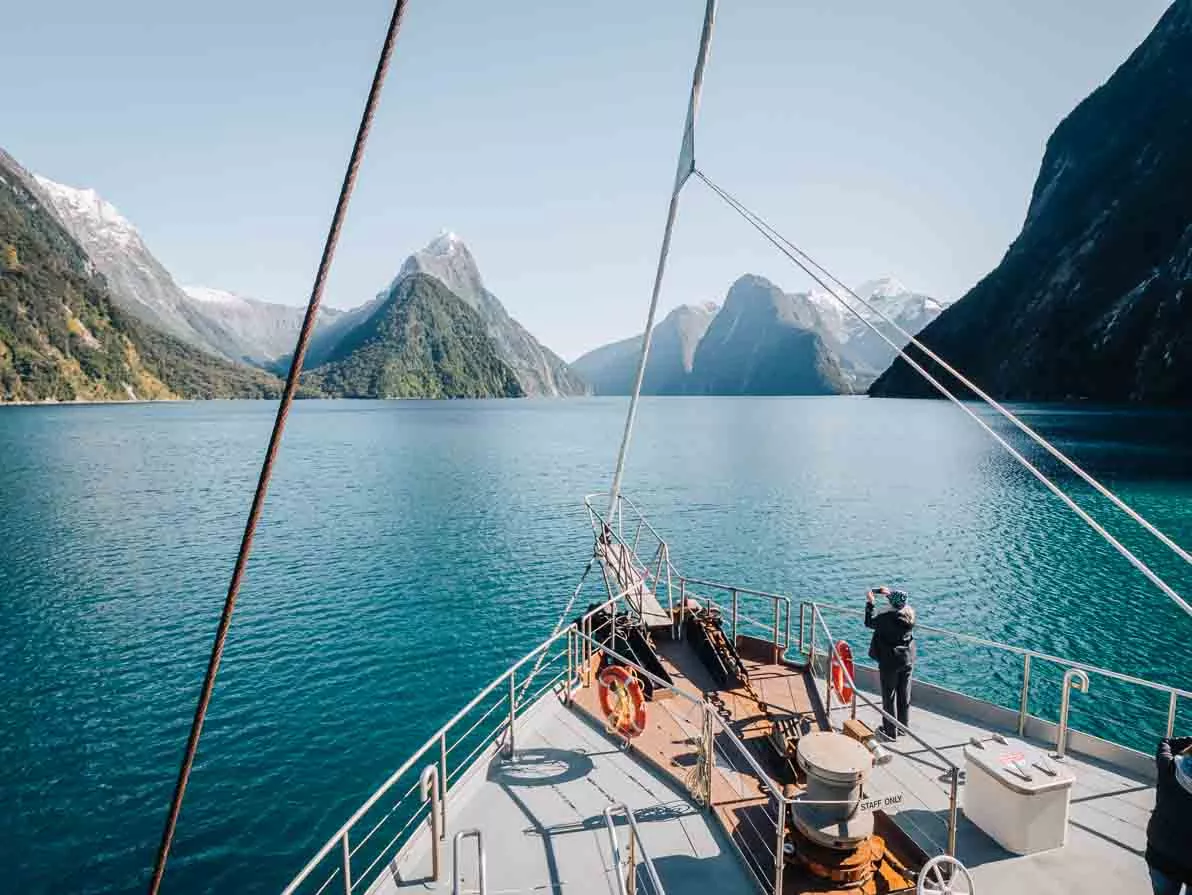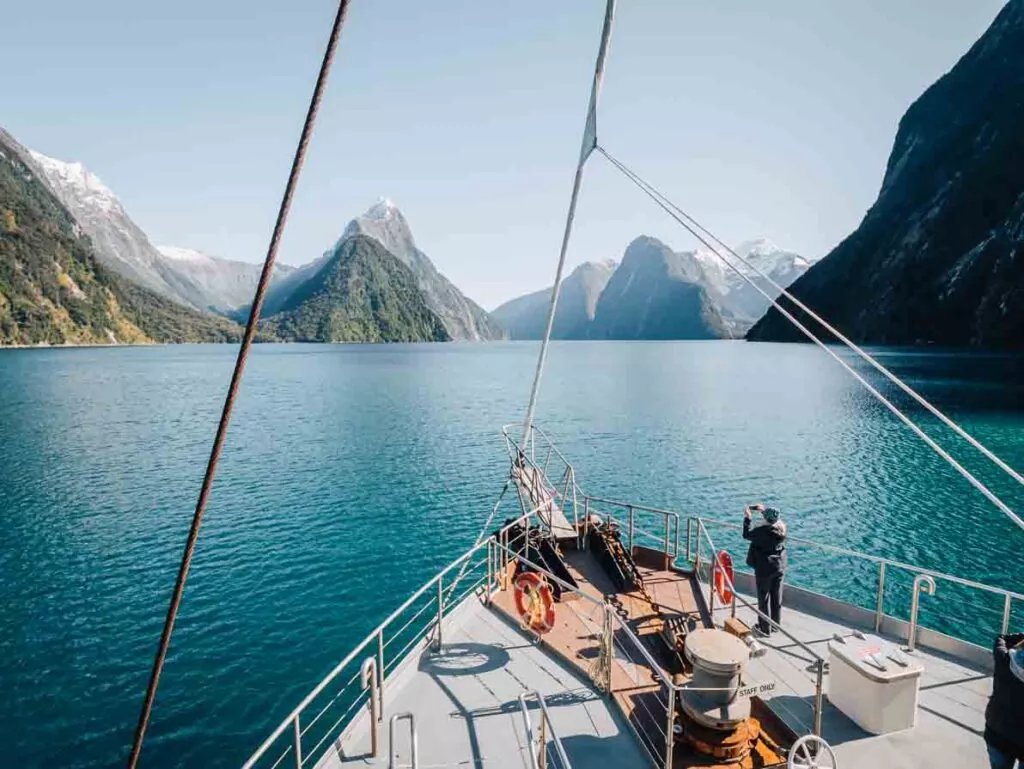 Then on my second visit to Milford Sound I tried out the Discover More cruise with Southern Discoveries, which includes a visit to the Underwater Observatory (more on that later in the blog post). The boat was much smaller and less busy, I sat right behind the captain and chatted to him about Fiordland, and I also had a picnic lunch with a sandwich, fruit and some other snacks.
Your ideal cruise will depend on your travel preferences. For a grander experience then Real Journeys is probably more up your alley, but for a local vibe plus the chance to see the incredible underwater observatory then Southern Discoveries is a my top pick.
Please note that each company has different boats so you won't necessarily have the exact same experience as me even if you book the same cruise.
Best overnight cruise in Milford Sound
Due to the pandemic, many activities weren't running at full capacity when we visited, but this experience is so high on my New Zealand bucket list. Spending the night on the water in the fiord would be a dream come true!
Real Journeys will be running their overnight cruises in Milford Sound from November 2020 on the Milford Mariner, which is the boat we did our day cruise on.
You get a double/twin cabin with an ensuite, access to kayaks and a tender, a buffet dinner, an onboard nature guide to help you spot and identify birds and sea creatures, and a cooked breakfast.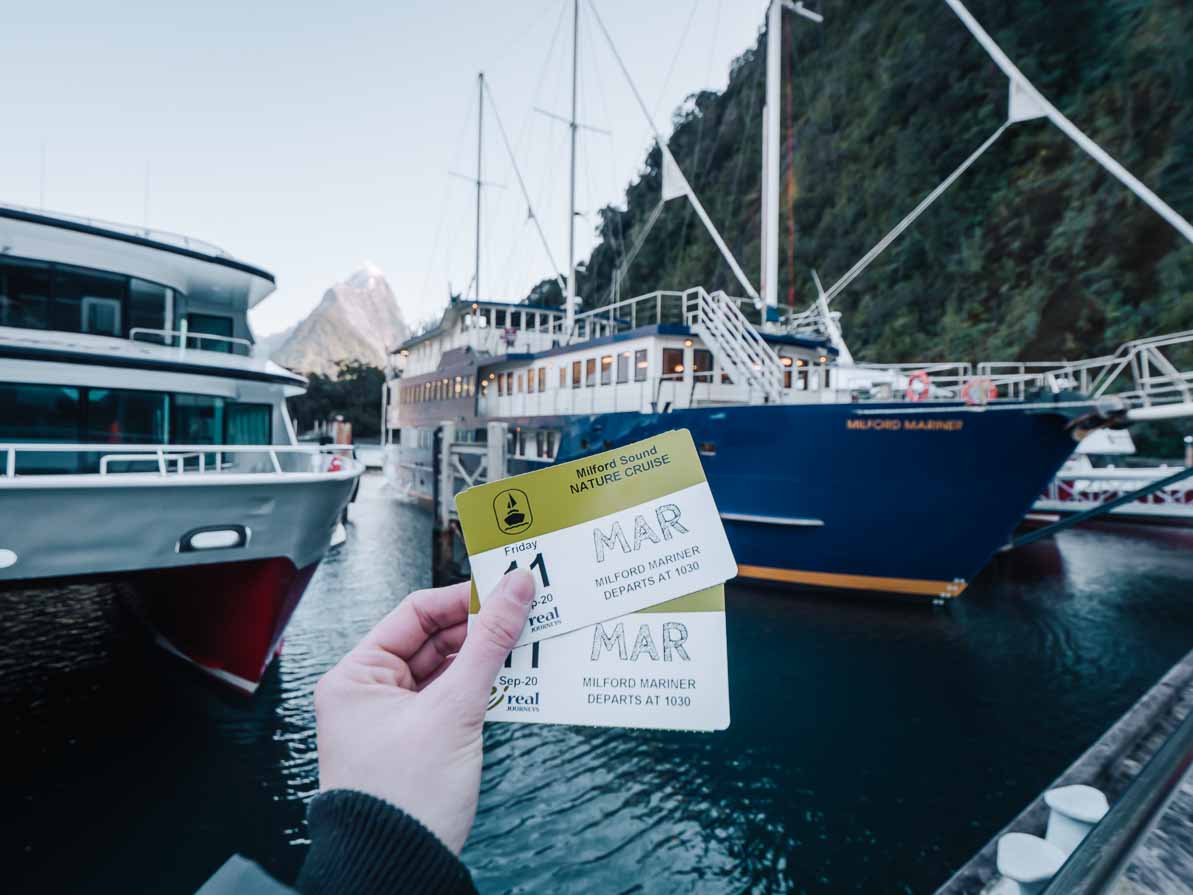 Kayaking in Milford Sound
Kayaking in Milford Sound with Rosco's Milford Kayaks is one of the highlights of all of my travels around the world! If you're up for a bit of physical exercise coupled with the most insane views you've ever seen, you've got to add this to your itinerary.
They have a range of kayak trips depending on how much time you have and how long you'd like to paddle for, and you can either meet them in Milford Sound or book a transfer from Te Anau and back.
We went for the Sunriser Classic, which started at 9am and included just over three hours of paddling. Floating right on the dark glacial water looking up to the snow-capped Mitre Peak and thundering Lady Bowen Falls was overwhelming, at one stage I was literally on the verge of tears. It was an experience I'll never forget!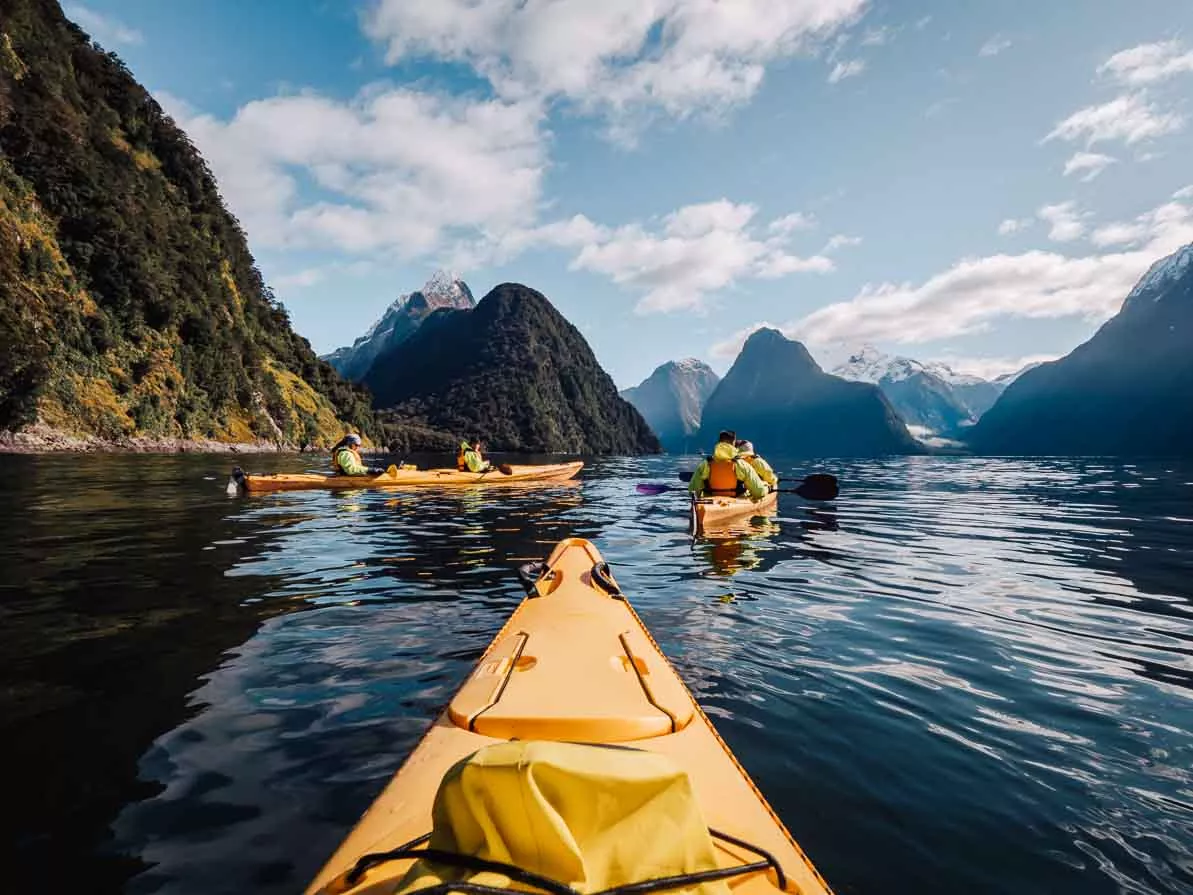 The paddle was slightly tiring after three hours but conditions were perfect, our our legendary guide JD told us all about the fiord's history, geography and wildlife. We spotted a rare Fiordland crested penguin (also known as tawaki), and we even got a front row seat to watch a fur seal catch, play with and eat a fish!
If you only have enough time or money to choose one thing to do in the area, I would strongly suggest a Milford Sound kayak trip.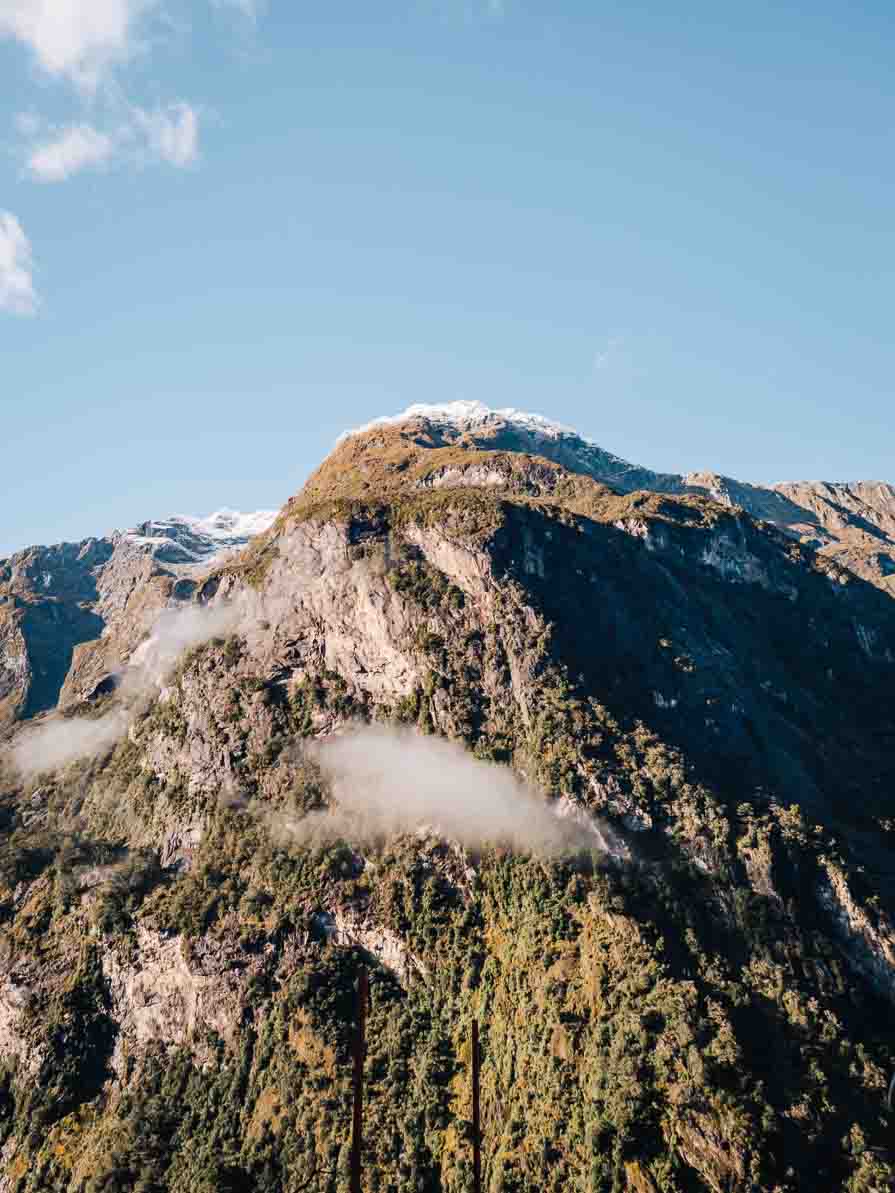 Free things to do in Milford Sound
Drive to Milford Sound from Te Anau
Not exactly in Milford Sound, but one of the best parts of any Fiordland trip is the drive from Te Anau to Milford Sound.
Milford Road is 120km long, and I'd recommend setting aside 3-4 hours including photo stops and a few short walks.
To read all about driving to Milford Sound, as well as the best photo spots, transportation options and important travel tips, read my full guide to the Milford Road.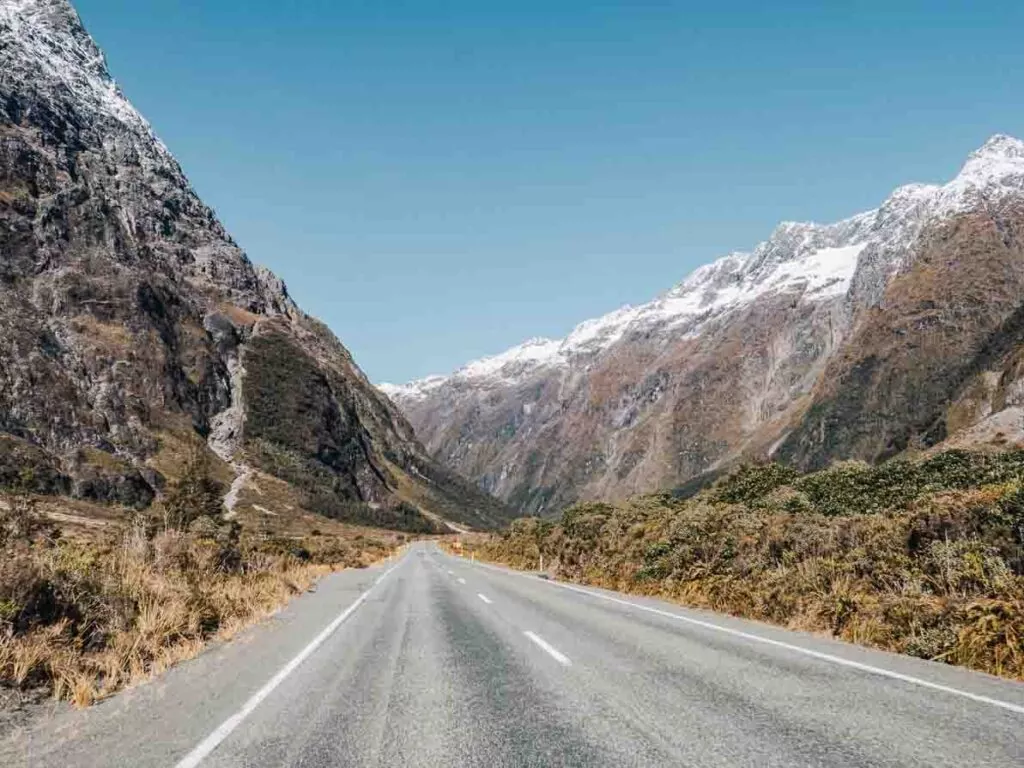 Take a hike
There's a bunch of hikes around Milford Sound and the Milford Road, with options to suit every skill level. Always take bottled water, insect repellent (for those pesky sandflies) and something to take photos with!
If you're lucky enough to be visiting in summer, the Bowen Falls Walk is also easily accessible from the township. This one has a $10 fee for a boat trip to and from the starting point of the track (from the Freshwater Basin Terminal), and it'll take you about 30 minutes in total including the short boat ride. This track winds through native bush up to a viewing platform of the mighty Lady Bowen Falls.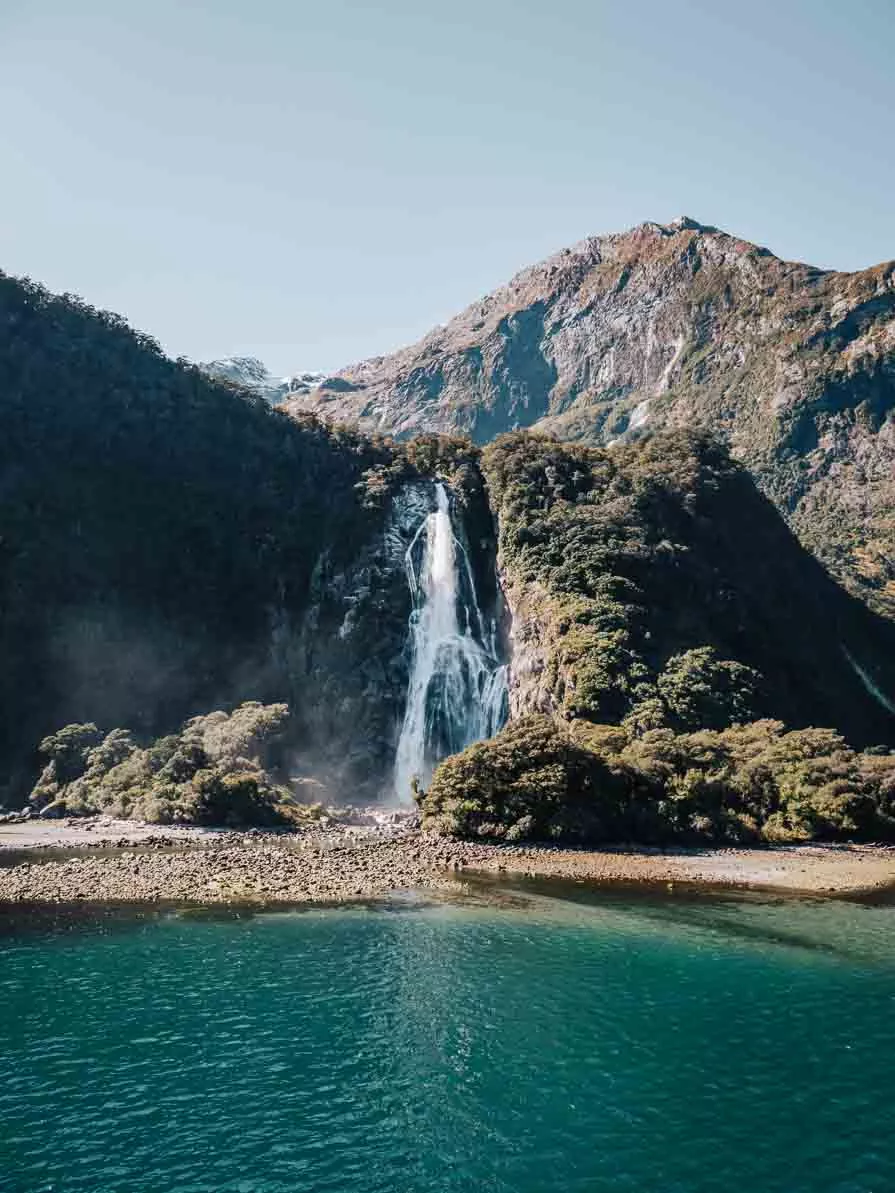 For something short and rewarding, check out the Milford Sound Lookout Track which starts just behind the café, A 10 minute walk will take you to a viewpoint overlooking the stunning fiord.
Another option in Milford Sound itself is the Foreshore Walk, which takes you through native beech forest and along the shore of the sound, with epic views of the impressive 1692m tall Mitre Peak.
Along the Milford Road there's the Lake Gunn Nature Walk, the Key Summit Track and the Lake Marian Track, and for serious hikers there's the Routeburn Track from Milford Road to Glenorchy, or the Milford Track from Te Anau Downs to right through to Milford Sound.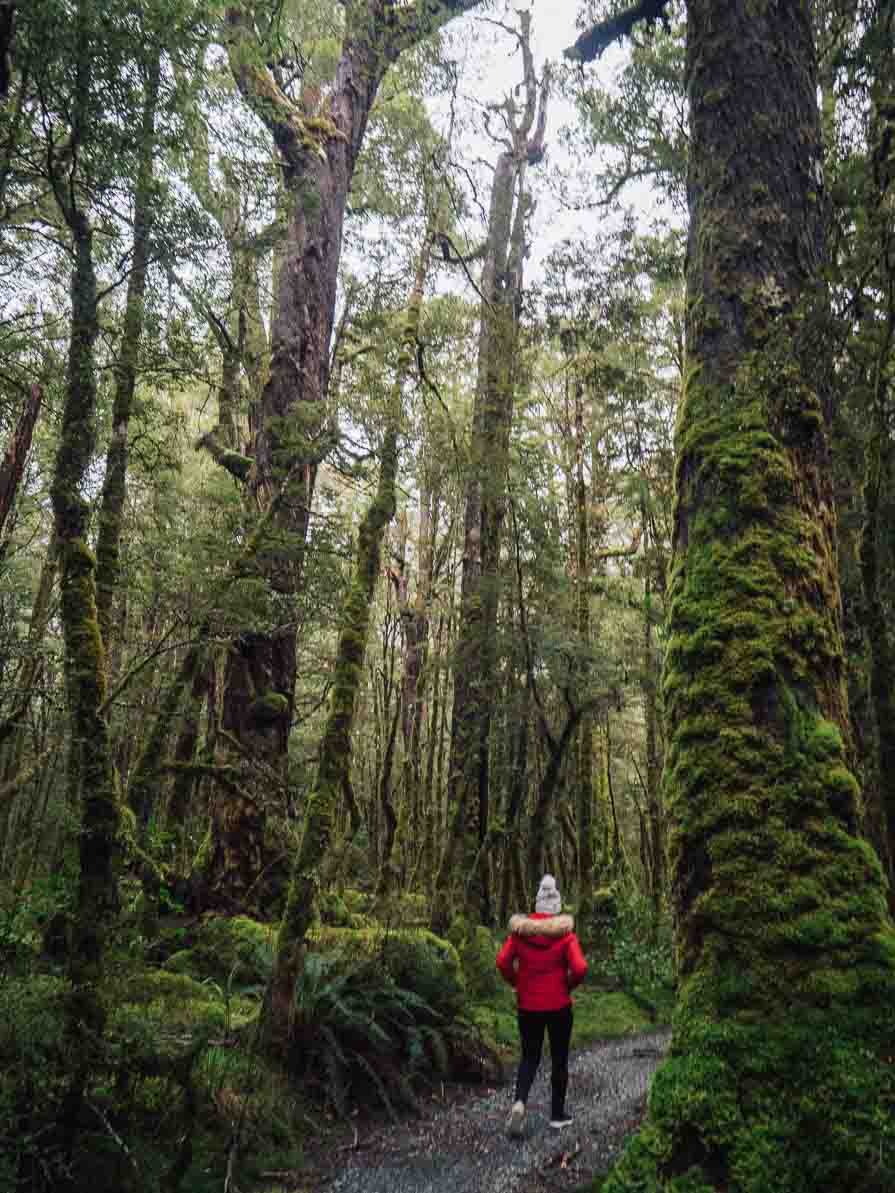 Watch the sunset
A Milford Sound sunset is something special if you manage to catch the right conditions, with calm water, fiery skies and clouds hovering over sharp peaks.
There's a couple of great sunset spots at Milford, like the walkway into the harbour from the ferry terminal, the foreshore walk, and the end of Deepwater Basin.
Take a warm jacket for when the temperature drops once the sun falls behind the mountains, and don't forget insect repellent for the sandflies.
Search for some native birds
Fiordland's rugged landscapes and seascapes are home to a number of native birds, like the cheeky kea, kaka, South Island robin, Fiordland penguin, weka, tui and kakariki. The most remote parts of the Milford Track even have some local Fiordland kiwi, or tokoeka.
RESPONSIBLE TRAVEL TIP: Never feed native birds, it encourages them to rely on human interaction and can contribute to the dwindling numbers of endangered and vulnerable species.
Go stargazing
Another treat for those looking to spend a night, stargazing on a clear night is a magical experience.
Head down to the foreshore with a hot thermos and watch the moon light up the snowy peaks surrounding you.
Chase waterfalls
It's easy to let rainy weather dampen your experience (pun intended) but I mean it when I say Fiordland is best seen in the rain. Which is lucky, considering how wet it is!
Milford Sound comes alive during storms, where hundreds of temporary waterfalls begin to cascade over cliff edges and down jagged rockfaces. Permanent waterfalls like the Lady Bowen Falls (viewable from the foreshore) and the Stirling Falls (viewable in the distance but best seen on a cruise) are pretty magnificent too.
We arrived in wet weather and managed to see Milford Road in all its rainy glory, before waking up to blue skies and a few leftover waterfalls the following morning. The best of both worlds!
---
Other things to do in Milford Sound
Visit the Underwater Observatory
Milford Sound's underwater world is home to a phenomenon called deep water emergence which results in an incredibly unique underwater flora and fauna.
In the most simple terms, deep water emergence is where species normally exclusively found in deep water live much closer to the surface. Fiordland National Park experiences deep water emergence because the glacial freshwater pouring into the fiords from waterfalls doesn't mix with the saltwater from the ocean, creating a layer of freshwater on top which stops sunlight reaching the seawater underneath. Thanks for coming to my deep water emergence TED Talk.
The Southern Discovery Underwater Observatory is the easiest way to see the effect of deep water emergence, with viewing platforms 10 metres below sea level. You can only access the observatory in conjunction with a Southern Discoveries cruise, with the observatory season starting in mid-November.
Go diving in Milford Sound
Divers from all over the globe come to Fiordland to dive in these special conditions, and are rewarded with black coral (which is actually white), monster crayfish and a huge variety of other sealife.
Local diving tour operators Descend run underwater tours into the fiord, with options for beginner divers, qualified divers and experienced divers looking for a challenge. They also offer drysuit training if you're keen to expand your diving repertoire.
While it's not exactly a tropical dive destination like Fiji or Thailand, the thriving wildlife and underwater vegetation is unlike anywhere else on the planet.
---
How to get to Milford Sound
Driving the Milford Road
Self-driving the Milford Road from Te Anau to Milford Sound is a must-do if you have your own vehicle. It'll take you between 2 and 4 hours from Te Anau depending on how many stops you want to make, and it takes you past impressive valleys, abundant rainforests and steep mountains.
Read more about driving to Milford Sound with my Milford Road travel guide.
Milford Sound tours
Whether you're staying in Te Anau or Queenstown, there are a number of tour companies who can organise your Milford Sound tour.
We travelled with Real Journeys for our day cruise and they offer bus transport from Te Anau and Queenstown.
For a more premium experience, check out Altitude Tours who run day trips from both Queenstown and Te Anau. They have luxury Mercedes Sprinter vans to make the trip as comfortable as possible.
And if you're looking for a bespoke private tour, I highly recommend checking out Envy Experiences, a local supplier who runs sustainable tours to Milford Sound in an electric Tesla Model X.
I did this with my parents on my second trip to Milford Sound and it was incredible to be able to enjoy the views without worrying about the driving, have all of our questions answered by a knowledgeable local, and even find some secret photo spots I had missed on my first trip.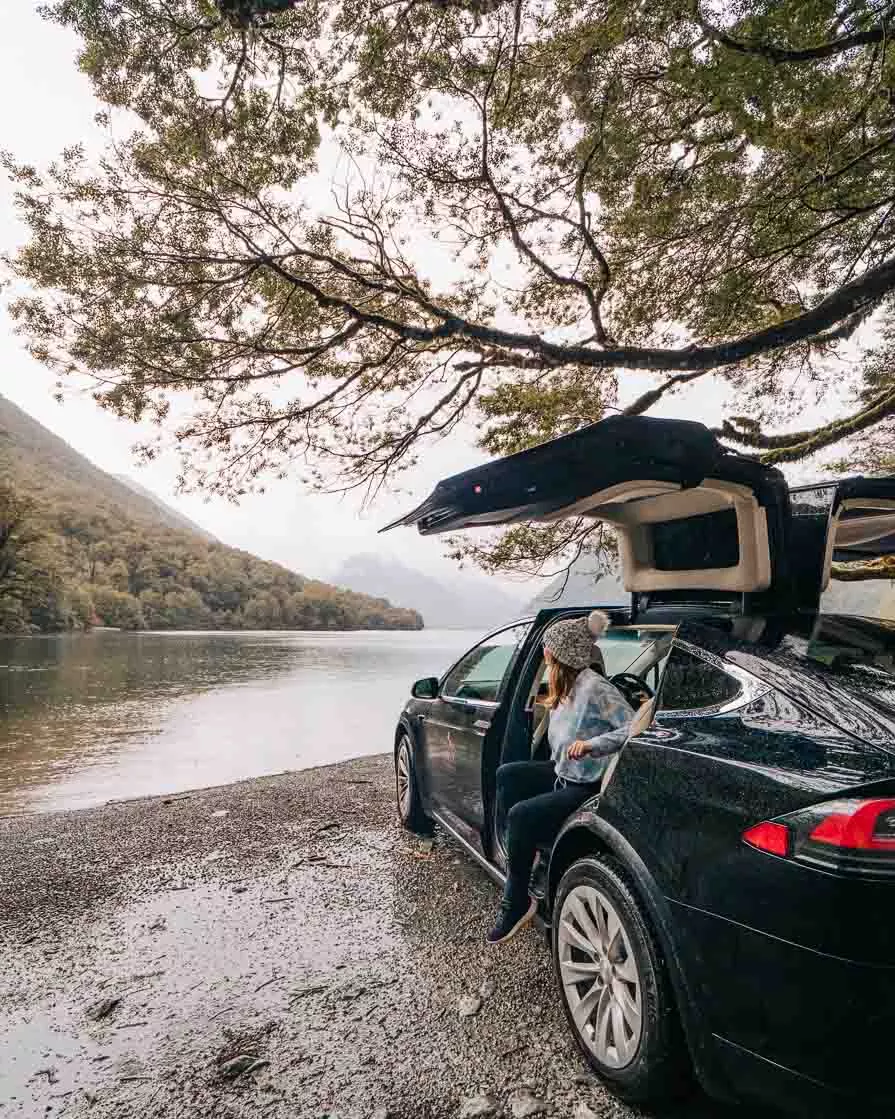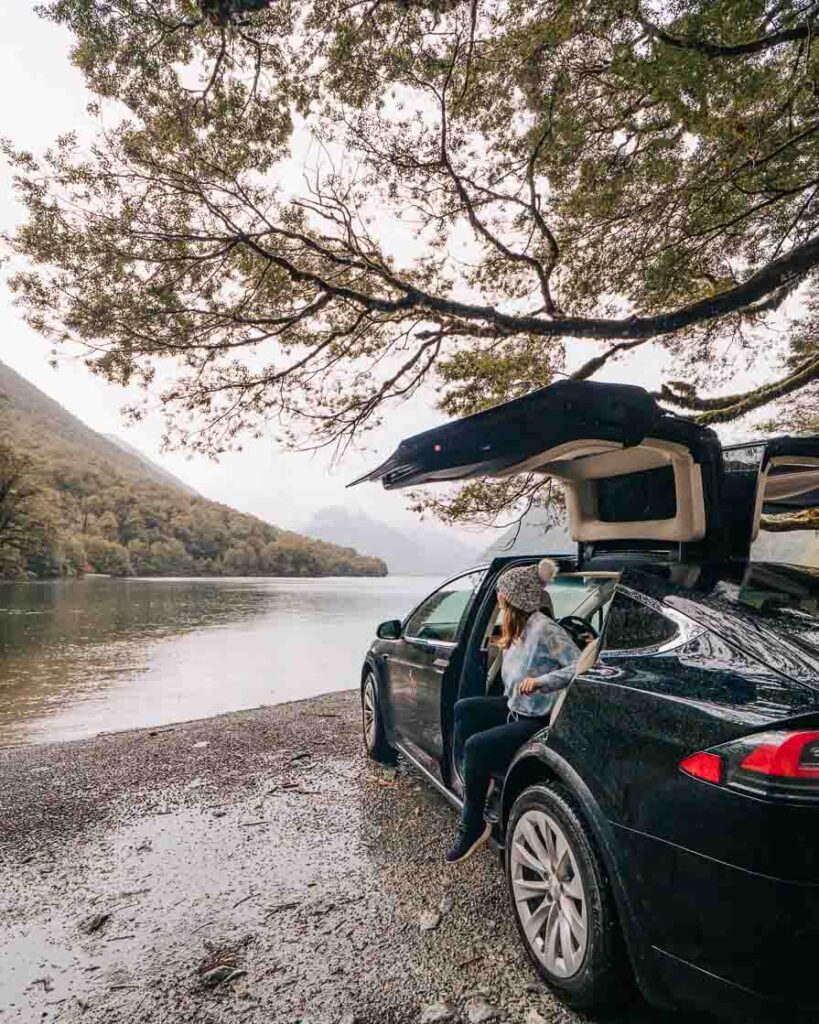 Milford Sound scenic flights
If you're short on time but not on money, a scenic flight to or over Milford Sound is guaranteed to be one of the best things you'll ever do.
Flights go from both Te Anau or Queenstown and you can choose from a flyover, a brief landing or a longer landing with a cruise included.
On my most recent trip to Queenstown I opted for a Milford Sound scenic flyover with the legends at Glenorchy Air and it was honestly one of the greatest things I've ever done in my life. It was about 1h 20 minutes in the air total, so only about two hours from pick up to drop off, which meant it didn't cut too much into my Queenstown itinerary. I'd already done a cruise (twice actually!) so for me the flight without a landing was ideal.
BOOK IT: Looking to splurge on a once-in-a-lifetime Milford Sound experience? This Queenstown to Milford Sound helicopter flight gives you a two hour round-trip flight with two landings included, one at Milford Sound and one on the mighty Tutoko Glacier. Perfect for a special occasion!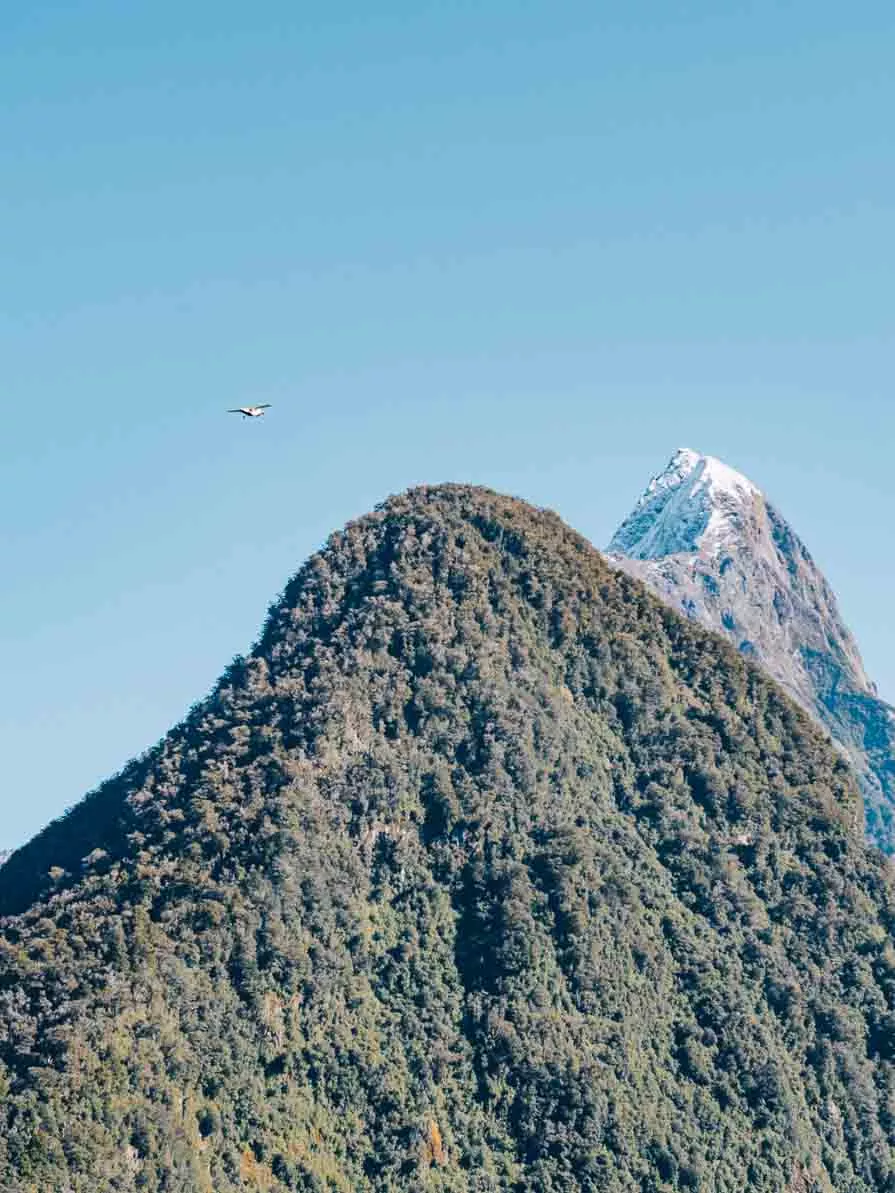 ---
The best Milford Sound accommodation
Milford Sound Lodge Chalets
Milford Sound Lodge is the only accommodation provider in Milford Sound, and it's brilliant. They have three chalet styles to choose from: mountain-view studios with a mini-fridge, two bedroom forest chalets with a kitchenette (fridge + microwave), and premium riverside studio chalets with a kitchenette and breath-taking views.
I stayed in the mountain-view studio on my second visit to Milford Sound and it was pure magic, incredible views right outside your window, breakfast delivered to your door each morning and easy access to walks around the bush and foreshore.
The Lodge also has an on-site restaurant with a delicious menu, serving up locally-sourced ingredients for lunch and dinner.
Rainforest Campervan Park at Milford Sound Lodge
If you're exploring New Zealand in a campervan, you can park up overnight at Rainforest Campervan Park, part of the Milford Sound Lodge. The park has powered sites to top up your batteries, clean kitchen and bathrooms facilities, and is set amongst a dramatic rainforest with an abundance of birdlife.
Keep an eye out for kea, a cheeky mountain parrot, who will try and eat anything and everything. That includes your windscreen wipers!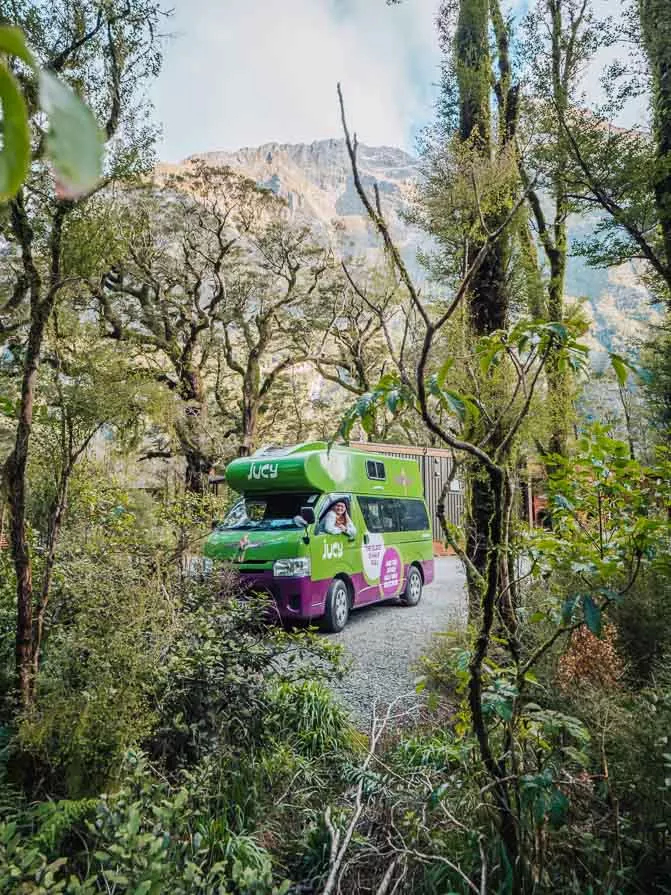 Milford Sound overnight cruise
If you want to maximise your time here and experience the fiord at its best, consider an overnight cruise. This way you'll get sunset and sunrise on the water, a much higher chance of seeing wildlife, and be able to jump into a kayak to explore right at sea level too.
Cascade Creek DOC campground
Cascade Creek is a DOC campground that's just over half way from Te Anau to Milford Sound, and it's got 120 sites for campervans and tents. It costs $15 per adult per night ($7.50 for kids over 5, under 4s are free) and that's payable by cash to the self-registration kiosk. From November 2020 you'll need to book your spot on the DOC website.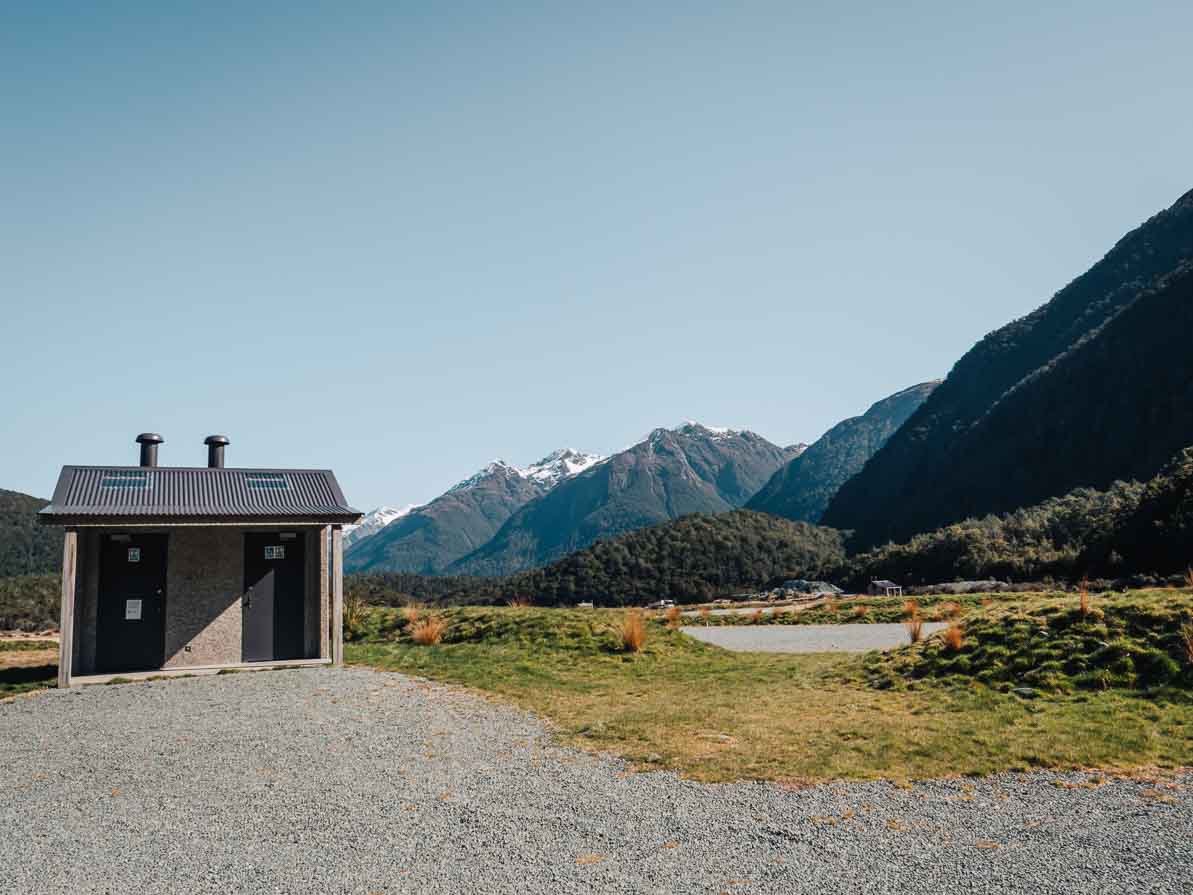 ---
I hope this travel guide has helped you plan some epic things to do in Milford Sound! If I've missed anything important of the list, or if you have any questions about the area or anywhere else in Fiordland, just let me know in the comments.
RELATED READS:
Like this blog? Pin it!