Planning a New Zealand North Island road trip? You're in the right spot. This post covers everything you need to know to plan an epic three week North Island road trip, as well as options for one or two weeks in the North Island or longer suggestions if you're lucky enough to have more time.
While the South Island tends to get more attention in terms of tourism, New Zealand's North Island isn't to be scoffed at. It's got thriving cities, some world-class wine regions and adventure activities for the thrill seekers, as well as having snow-capped mountains and surf beaches within a few hours of each other.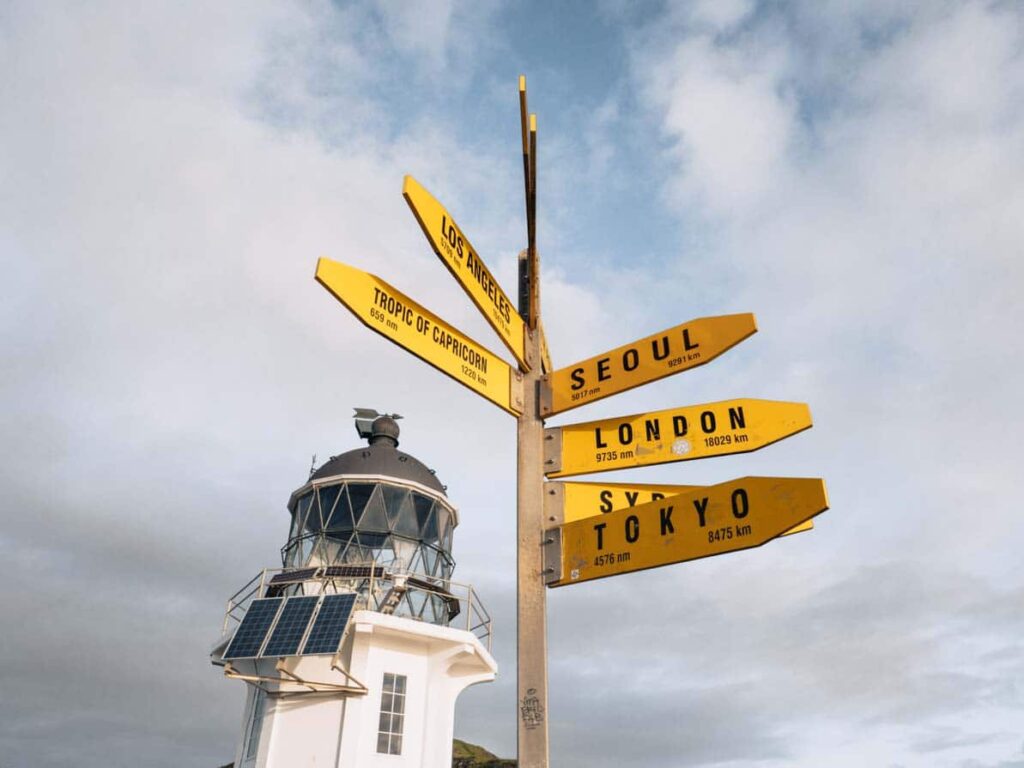 If you're a Kiwi wanting to discover your own backyard, thanks for being a legend and supporting local tourism operators. They need our help and being able to see our own country with fewer crowds and people on the road is a once-in-a-lifetime opportunity that we really shouldn't pass up!
I built this epic North Island road trip itinerary last year for my own Aotearoa adventure and had the most incredible time visiting places I'd never been before, despite growing up in the mighty Waikato and spending eight years living in Auckland ????
And if you're an international traveller planning for a trans-Tasman bubble trip or a future New Zealand trip, I'm sure you've heard of Auckland, Hobbiton, Rotorua and Wellington, but there are plenty more places in the North Island to add to your New Zealand bucket list.
I hope this guide helps you plan an incredible North Island road trip, and if you have any specific questions feel free to message me on IG at @findingalexx.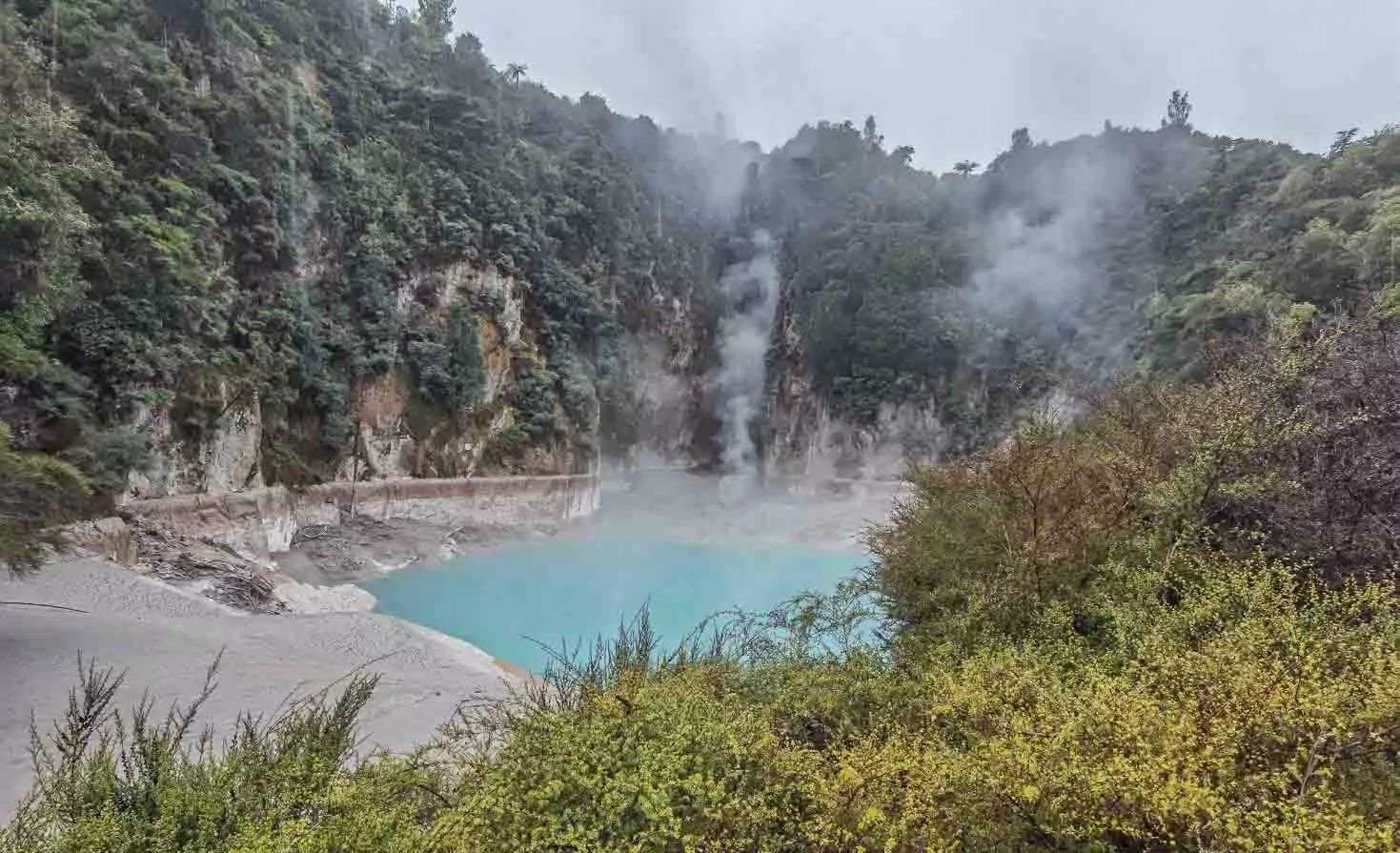 ---
North Island road trip itinerary overview
Stop #1: Auckland
Stop #2: Waiheke Island
Stop #3: Paihia
Stop #4: Cape Reinga
Stop #5: Tutukaka
Stop #6: Coromandel Peninsula
Stop #7: Mount Maunganui
Stop #8: Rotorua
Stop #9: Hamilton & Raglan
Stop #10: Waitomo Caves
Stop #11: New Plymouth
Stop #12: Tongariro National Park
Stop #13: Taupo
Stop #14: Napier
Stop #15: Martinborough
Stop #16: Wellington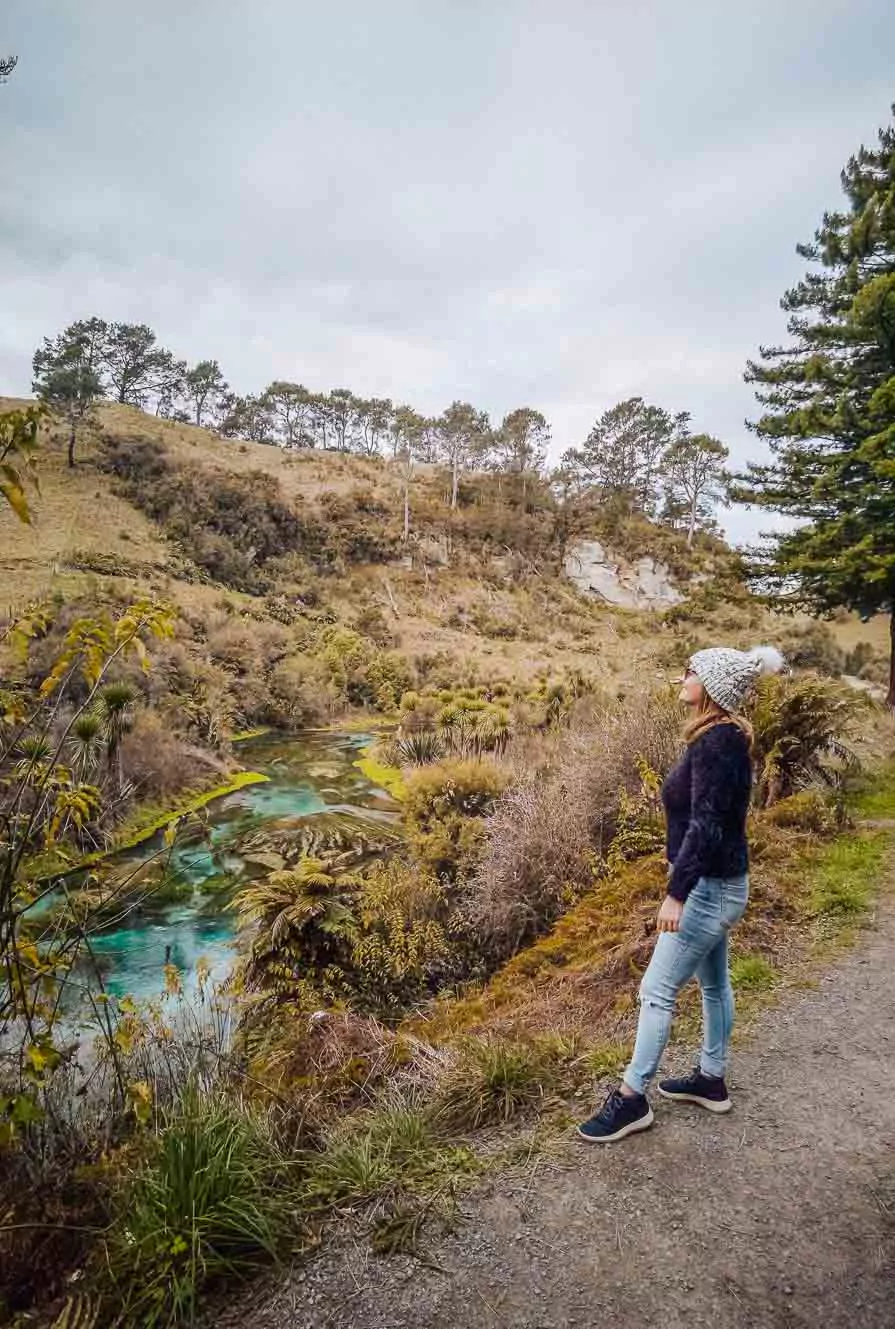 ---
North Island road trip map
---
How long to spend in the North Island
If you're able to fly into Auckland and out of Wellington (or catch the ferry to the South Island), I think you could see the key North Island tourist spots with a week as a minimum, but you'd be in a rush.
Two weeks would be best suited for the major spots at a slightly slower pace, but three weeks or more would be ideal to experience some lesser-visited areas and be able to have a couple of days in the busier destinations.
Here are some North Island itinerary options for different time restrictions.
1 week North Island road trip
If you are super short on time and only have a week, I'd suggest doing an Auckland to Wellington road trip via Rotorua, Hobbiton, Waitomo Caves and Taupo. You'll have to prioritise activities that are important to you because you won't have time for them all but you'll still be able to experience some of the best things to do in the North Island.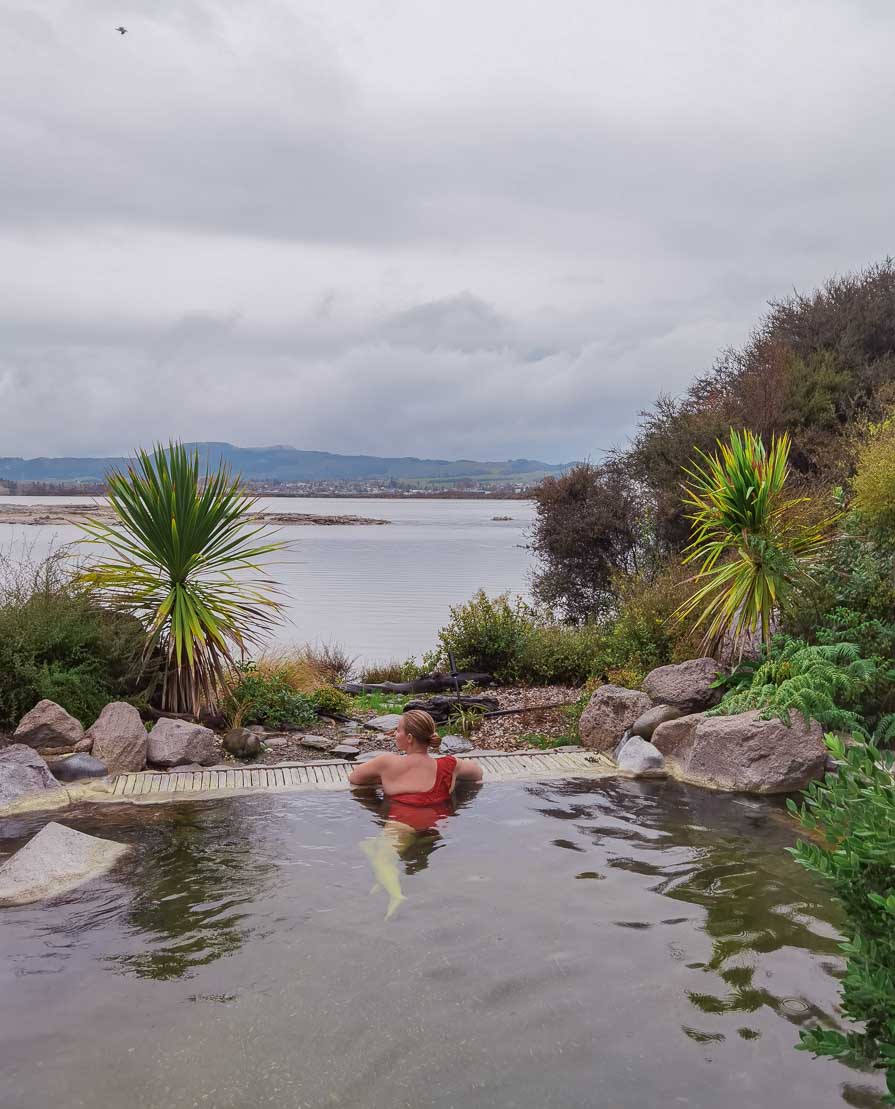 2 week North Island road trip
If you have two weeks in the North Island, you could customise the below itinerary to fit your preferences.
If you're visiting in winter or you're not fussed on beaches then consider skipping Northland and/or the Coromandel, if you aren't interested in hikes then you could miss New Plymouth and Tongariro, and if you're not a big wine drinker you could skip Napier and Martinborough.
3 weeks in the North Island (or more)
The route below fits perfectly into a three week road trip, and at the end of the itinerary I've got some options for alternatives or additions based on your interests.
You could definitely spend more time in Auckland or Wellington, and there are other places like Gisborne (don't miss the Dome Cinema if you head there), Whanganui and the Kapiti Coast which you could add on.
Starting and ending from the same place
My North Island road trip itinerary is based on starting in Auckland and ending in Wellington (or vice versa), but if you fly in and out of Auckland you can just add a day to relocate from Wellington back up north.
The drive from Wellington to Auckland is just over eight hours without stops (645km) so it's doable in a day if you're happy to drive for that long, otherwise add an overnight stop in Taupo which is about half way.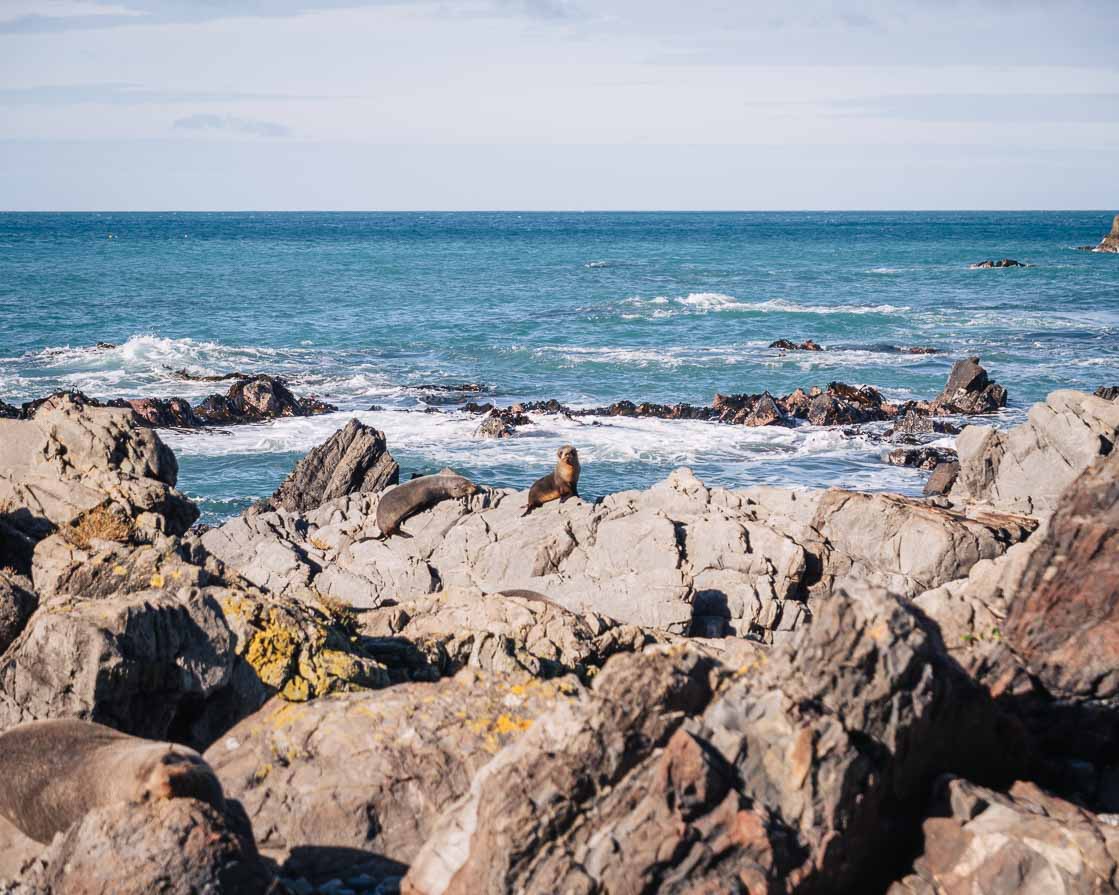 ---
Hiring a car or campervan
New Zealand's regional transport options are limited so I'd highly suggest hiring a car or a campervan for your road trip if you don't already have your own transport.
Click here to check out car hire options on rentalcars.com for your North Island road trip, they show all the options from different rental car companies so you know you're getting the best deal. I've used Apex, Snap Rentals and GO Rentals recently and have had great experiences with all of them.
For a campervan you can cross-check prices of different companies here. If you want a big motorhome I used one from Sunrise Holidays last year which was ideal, modern and comfortable with brilliant insulation and heating. We also tried out a Jucy van which is much more basic but a great option on a budget.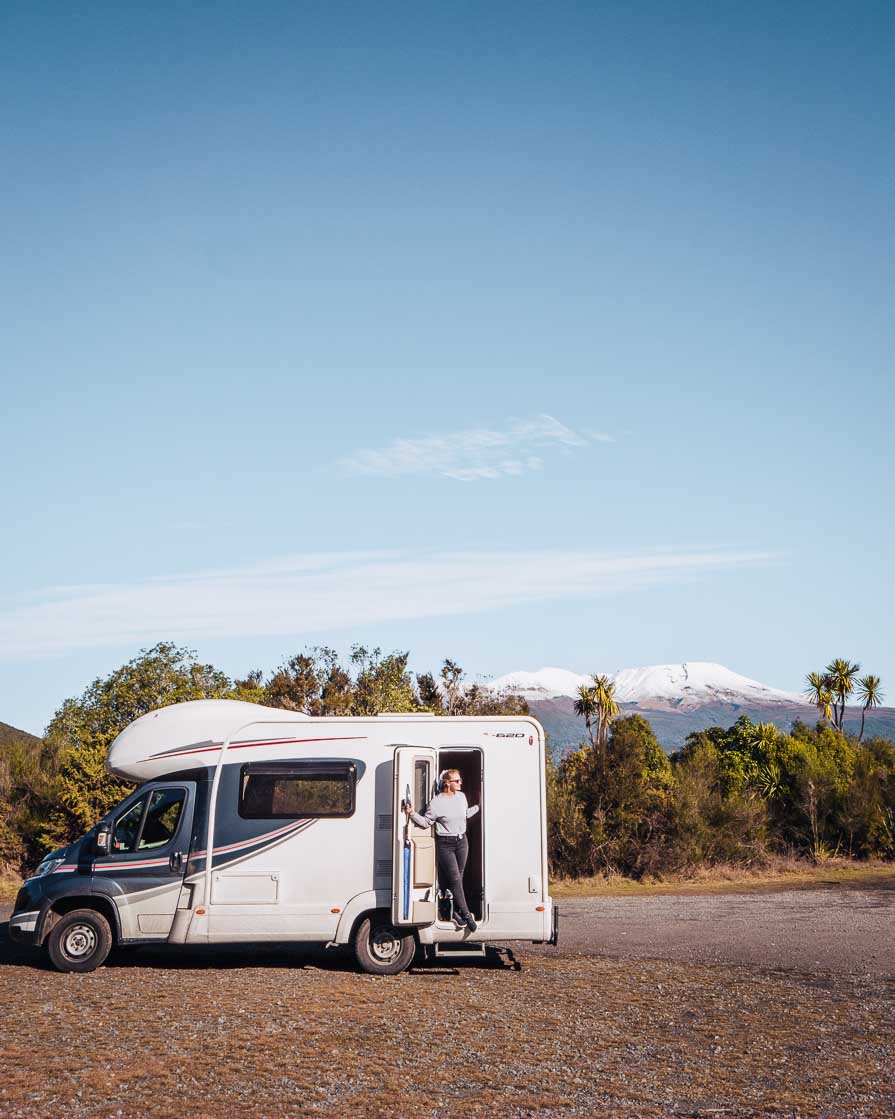 ---
North Island road trip or group tour?
If you aren't keen on driving or if you're travelling solo and would prefer to explore the North Island with like-minded travellers, there are group tours that follow a similar North Island road trip itinerary.
I haven't personally done a group tour in New Zealand yet but I've done quite a few around the world and I think they're a brilliant option for solo travellers especially. New Zealand is expensive to travel around in terms of gas, car hire, accommodation for one etc. so joining a group tour and sharing those costs can often save you money.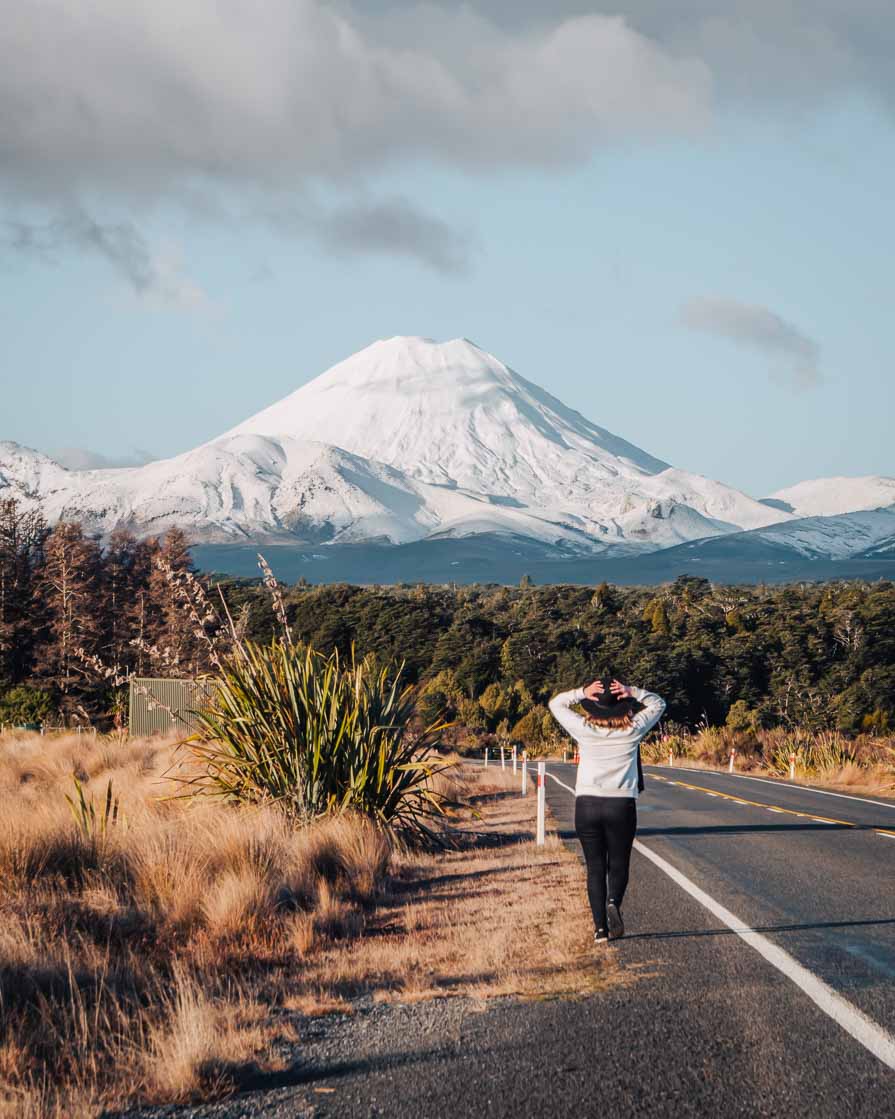 Here are some of the best options for New Zealand group tours, or you can see all the options on one page right here at TourRadar.
G Adventures
Global small group tour company with a range of tour styles including Classic (no age limit), 18-to-Thirtysomethings (18-39), Active, National Geographic Journeys (luxury adventure tours). I've done G Adventures tours in Indonesia and Cambodia/Vietnam and loved them both.
Check out all G Adventures New Zealand tours >
Contiki
Global youth tour company for 18-35 year olds. They're definitely known for their party vibes but they aren't only for drinking! I've done Contiki tours in the USA (when I was 20), Europe (24) and Southeast Asia (27) and have only had good experiences with them.
Check out all Contiki New Zealand tours >
Kiwi Experience
Kiwi Experience is one of the most popular ways to explore New Zealand for backpackers. They offer hop-on hop-off passes on their extensive bus network allowing you to see the country at your own pace (currently paused due to COVID, restarting Oct 2021), as well as small group tours (available now).
Learn more about Kiwi Experience >
Haka Tours
Kiwi-owned small group tour provider mainly focusing on the 25-40 age group (but no hard limit), but also with Haka Plus tours which include upgraded accommodation. These guys are actually ranked as New Zealand's #1 tour company!
Stray
Stray is similar to Kiwi Experience, with a hop-on hop-off network that's currently hibernated, but with small group tours available now.
Wild Kiwi
These guys are quite new but they're a sister company to Medsailors, who run EPIC sailing trips in the Mediterranean (like the one I went on, Croatia Sailing). Wild Kiwi has flash-packing tours for 18-35s, guided by locals.
Backyard Roadies
Another newbie to the scene, Backyard Roadies are specifically focused on helping young Kiwis explore more of their own backyard. Their short tours are designed to be accessible (in terms of budget + length), meaningful and ethical.
Learn more about Backyard Roadies >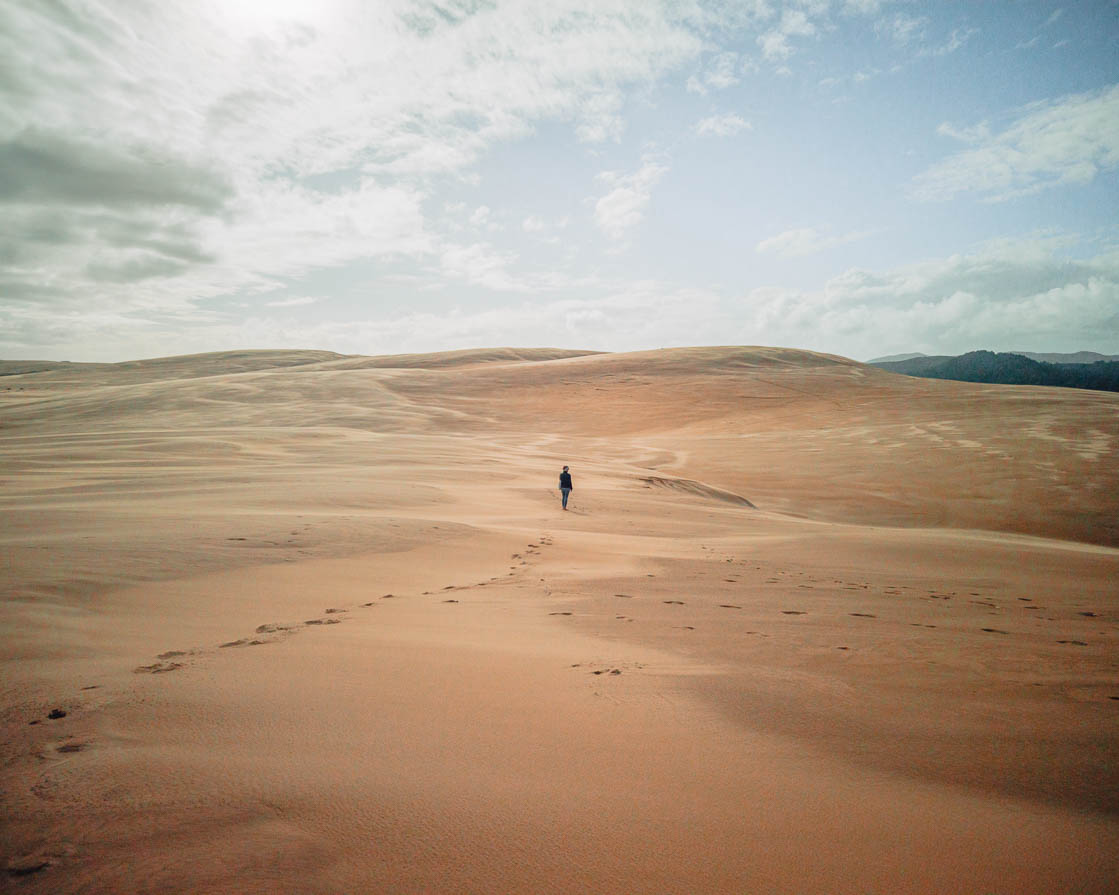 ---
The perfect North Island road trip route
Day 1: Arrive in Auckland
Auckland is New Zealand's biggest city, home to 1.7 million people, including me for eight years.
While it gets a pretty bad rap for traffic and house prices (a cool $1.2 million on average, no biggie), the city is actually a melting pot of culture with some really amazing open spaces, a vibrant entertainment scene, brilliant eateries and easy access to beaches, wineries, waterfalls and day hikes.
Things to do in Auckland
Eat! There are options for all tastes and budgets but some of my favourites are Odette's for brunch, Blue Breeze Inn for Asian fusion, Amano for Italian, Jervois Steak House for a fancy meal and Soul Bar for luxury dining on the water
Walk up Mount Eden, a dormant volcano with incredible views of the city
Head up the Sky Tower and even jump off it if you dare!
Drive out west to the Waitakere Ranges for black sand beaches, waterfalls, gannet colonies and some amazing day hikes
Spot whales and dolphins on this half-day eco-cruise
Where to stay in Auckland
Camping | There's not really any decent camping options in Auckland and parking can be a nightmare in the city, so if you're hiring a campervan I'd recommend picking it up once you leave Auckland.
Budget | Haka Lodge, YHA Auckland and the Attic are the best-rated hostels, with options for dorm beds and private rooms
Mid-range | The Convent Hotel in Grey Lynn is tastefully decorated and offers great value (rooms from around $150 a night which is cheap for Auckland!)
Luxury | The Sofitel Viaduct Harbour, the Park Hyatt Auckland and Hotel DeBrett are some of the most popular luxury hotels in Auckland, or for somewhere self-catering check out the Swisse-Belsuites Victoria Park
---
Day 2: Waiheke Island day trip
Waiheke Island is one of the best day trips from Auckland, with things to do for wine connoisseurs, foodies, beach lovers and active adventurers.
The Waiheke Island ferry costs $42 return from downtown Auckland and takes about 40 minutes, or the car ferry leaves from Half Moon Bay (in East Auckland) and costs $102 return for a car and between $19 and $23 for an adult.
Waiheke is super easy to explore without a car however, so don't feel like you need one! There are taxis all over, public buses which cover the whole island, transfers to wineries and activities from the ferry terminal, and an awesome hop-on hop-off bus with 16 stops around the island.
Things to do on Waiheke Island
Hit the wineries. The most popular ones are Mudbrick, Stonyridge and Cloudy Bay, and some lesser-known options that I love are Tantalus Estate (delicious dessert wines), Batch Winery (an amazing high tea) and Man'O'War (who make my all-time favourite pinot gris).
Try your hand at archery and clay shooting at Wild on Waiheke, a winery + brewery + activity provider
Enjoy the island's microclimate at the one of the many beaches, like Oneroa, Onetangi and Palm Beach
Zip through the treetops with an EcoZip zipline tour
Where to stay on Waiheke
You can easily visit Waiheke Island on a day trip from Auckland but if you'd like to stay the night you could try Kiwi House Waiheke for somewhere highly-rated but cheap and cheerful, or Delamore Lodge for somewhere fancy (complete with an ocean-view infinity pool!).
---
Day 3: Paihia
Drive time from Auckland: 3 hours (230km)
Paihia is the gateway to the Bay of Islands and the "Winterless North" as it's known colloquially.
Paihia itself is a laidback coastal town with a few eateries and places to stay, but the main drawcard is access to Waitangi Treaty Grounds, the historic town of Russell and the indulgent food & wine mecca of Kerikeri, as well as almost 150 paradise islands scattered around the area.
Things to do in and near Paihia
Explore the region in style on a private tour with Rogue Pony, run by local guides who will take you around wineries, historic sites and incredible viewpoints in a funky Jeep or a V8 Mustang Convertible
Catch the ferry to Russell and enjoy a fancy dinner at the iconic Duke of Marlborough restaurant
Do the Rock Adventure Overnight Trip, the only overnight cruise in the Bay of Islands with options for fishing, kayaking, target shooting and more! These guys didn't have availability when I was in Northland but it's been on my to do list for ages, the tour has brilliant ratings. They also have a day cruise available if you can't fit an overnight into your Northland itinerary.
Taste test local wines at the vineyards, I rate the Marsden Estate and Paroa Bay Winery
Go for a scenic flight to get the best view of all the islands
Try spot dolphins and see a famous unique rock formation on a Fullers Hole in the Rock cruise
Learn about New Zealand's history at the Waitangi Treaty Grounds, where the Treaty of Waitangi / Te Tiriti o Waitangi was signed
Where to stay in Paihia
Camping | Paihia TOP 10 Holiday Park is located right on the water between Paihia township and Opua or Russell TOP 10 Holiday Park is ideal if you're on the other side of the harbour
Budget | Peppertree Lodge was where we stayed and it was ideal, with comfy rooms, a huge kitchen and great location near eateries and close to the water
Mid-range | Absolute Bliss Apartments have a 9.6 rating on booking.com and offer kitchenettes, modern amenities and brilliant value, or Changing Tides BnB is another option that's slightly cheaper
Luxury | The Sanctuary and The Boathouse are stunning options near Opua (just south of Paihia), or head over to Russell and check out the ultra-luxurious Donkey Bay Inn or the Eagle's Nest, both known as some of the best luxury accommodation in New Zealand
---
Day 4: Cape Reinga (stay in Ahipara)
Drive time from Paihia: 2h 35m to Cape Reinga (198km)
Cape Reinga is the northernmost point of New Zealand, marked by an iconic lighthouse and signpost showing distances to cities around the world. It's also where the Tasman Sea and Pacific Ocean meet, creating crazy criss-cross patterns in the waves.
Maori legend considers Cape Reinga (known as Te Rerenga Wairua in te reo Maori) as the departure point for souls making their way to their spiritual homeland of Hawaiki, and this legend is marked physically by an 800+ year old pohutukawa tree where the spirits slide down a root into the ocean below.
Cape Reinga is super remote and there's minimal food and accommodation options nearby, so you'll need to visit during the day and then head back down to stay somewhere for the night. There's also quite a few epic places to see and things to do on the way, so make sure you set aside some time for the stops.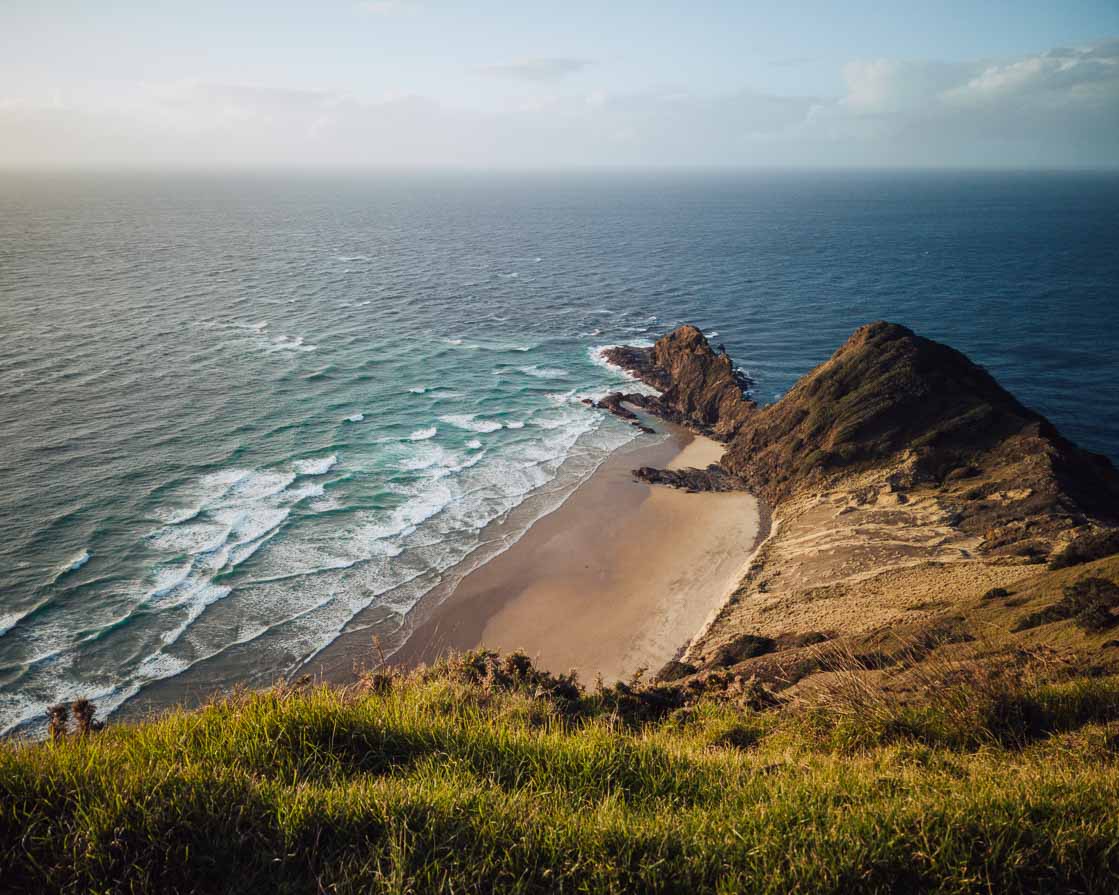 Ninety Mile Beach
Ninety Mile Beach is a 54 mile/88km-long (yes, the name is infuriating) sandy stretch along the western coast of the Far North between Kaitaia and Cape Reinga.
It's an official highway however it's only suitable for 4WD vehicles, not accessible during high tide, and most rental car companies have clauses that won't cover you for driving there.
If you don't have your own 4WD, consider taking a bus tour from Paihia which will show you all the best spots along Ninety Mile Beach, take you up to Cape Reinga, and then return you back to Paihia for a second night.
Te Paki Sand Dunes
One of the best stops on the drive up to Cape Reinga is the famous Giant Sand Dunes of Te Paki, where you can rent a boogie board (or bring your own) and surf down them head first!
Boogie board rental is $15, you could probably buy one cheaper yourself at the Warehouse which might be useful if you're planning on using it at the beach throughout your trip, but buying it just to throw it out after is wasteful so try and avoid that if possible.
The landscape is seriously jaw-dropping, the dunes are so huge that I forgot I was in New Zealand for a moment. The walk up to the top is a hard slog and it's super steep but zooming back down was super fun.
Cape Reinga
Cape Reinga is beautiful at any time of the day but we absolutely loved our visit at sunset. We took the day to make our way up from Paihia, then got to Cape Reinga at about 5om where we had it almost to ourselves!
You can add it to your Far North itinerary at whatever time it suits best, but there's no shade so avoid the middle of the day or make sure you take a hat and load up on sunblock.
Other things to do on the way
Stop by Matauri Bay for a dip! This stunning beach is one of Northland's best hidden gems. There's also a holiday park right on the water if you've got a night to spare.
Get a feed at Mangonui Fish Shop, serving up freshly caught seafood. This place has been ranked as one of the best fish and chip shops in NZ and their prices have risen because of it, but it'll still worth a visit.
See the white sandy beaches in Karikari Peninsula
Stop for gas and food in Kaitaia, it's the last town before you head up to the top!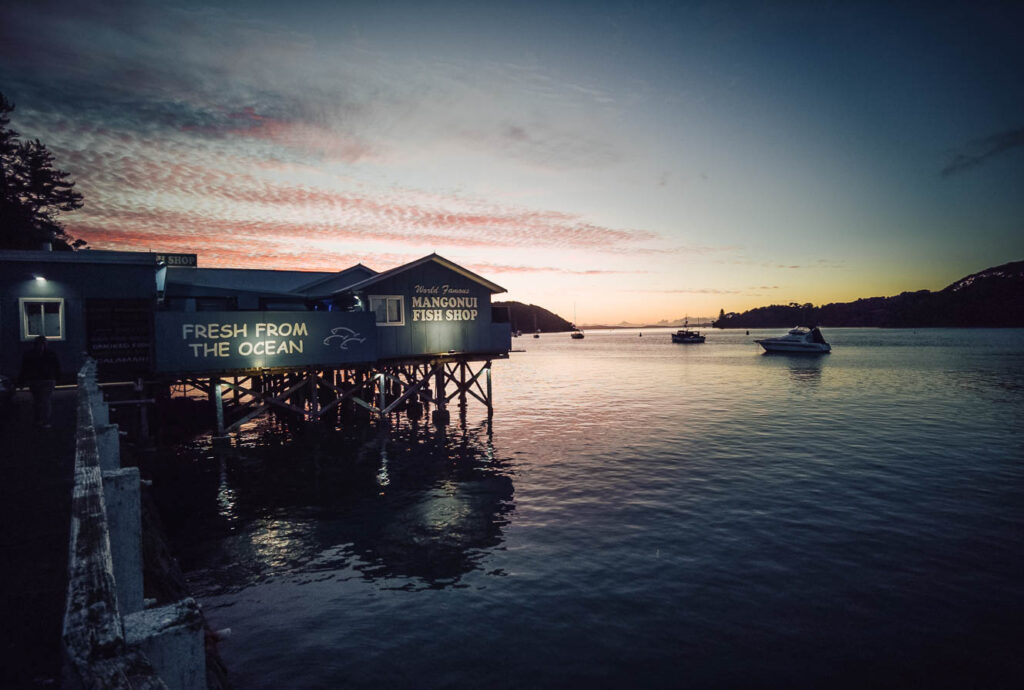 Where to stay near Cape Reinga
There's no accommodation at Cape Reinga so here are some options further south depending on how far you'd like to drive.
Camping | Taputupotu DOC Campsite is the closest place to camp, just a five minute drive from Cape Reinga, with basic facilities like cold showers and non-flush toilets. For better facilities you could try Houhora Head Holiday Park, 50 min south of Cape Reinga.
Budget | Tekao Lodge offers cheap rooms 30 mins south of Cape Reinga
Mid-range | Araiawa Raio Lodge Pukenui is about 55 minutes south of Cape Reinga, or Heartland Eco Retreat is in Ahipara, 1h 45m south of Cape Reinga
Luxury | For somewhere fancy check out the Fern Ridge Hideaway with an outdoor bath and stunning views just south of Kaitaia (1h 20m south of Cape Reinga), or the Old Oak Boutique Hotel back down in Mangonui (1h 35m south)
---
Day 5: Tutukaka
Drive time from Kaitaia: 2h 20m (174km)
Drive time from Cape Reinga: 3h 40m (278km)
Tutukaka is a playground for both on-water and underwater adventurers, home to some of New Zealand's most epic dive spots, beaches and bays.
It's best known as the gateway to the Poor Knights Islands, a protected marine reserve 23km off the coast offering dramatic drop offs and arches created by volcanic activity millions of years ago. The marine life here is abundant, boasting incredible biodiversity for divers to experience for themselves.
If you're not a diver you can also snorkel, horse trek, cruise and paddle board around the laidback Tutukaka Coast.
Things to do in Tutukaka
If you're a certified diver or if you've ever considered trying SCUBA, diving in Tutukaka is an absolute must-do. Jacques Cousteau, the inventor of SCUBA, even called the Poor Knights Islands one of the best dive spots in the world! I did a dive with local legends Dive! Tutukaka and we had a brilliant time.
If you don't want to dive, Dive! Tutukaka also offers snorkelling gear, kayaks or just boat cruises
Explore Tutukaka's coastline while testing your balance with a SUP (stand up paddleboard) tour with Sup Bro Tours
Take an eco tour around wrecks, ruins and stunning natural scenery with Pacific Coast Kayaks
Trot along Sandy Bay on horseback with Sandy Bay Horses
Go beach hopping, some spectacular ones to add to your list are Whale Bay, Matapouri Beach and Whangaumu
Do the short 10 min walk to Whangarei Falls
Where to stay in Tutukaka/Whangarei
Camping | Tutukaka Holiday Park has basic facilities for a low price, or there's a highly-rated freedom camping spot right by Matapouri Beach, download the Rankers app to see the details
Budget | The Cell Block Backpackers in Whangarei has dorms and private rooms for cheap, and Whangarei Falls Holiday Park has a hostel onsite with decent reviews
Mid-range | True North Tutukaka and Pacific Rendezvous Motel are both rated 9/10 on booking.com
Luxury | The Glasshouse is an architecturally-designed villa in Taiharuru, a short drive from Whangarei, with mind-blowing views over the ocean
---
Days 6 & 7: Coromandel Peninsula
Drive time from Tutukaka to Whitianga: 4h 50m (376km)
I might be biased considering I spent every single summer holiday here throughout my childhood, but I think the Coromandel Peninsula is a must-do for every North Island road trip!
You could easily spend a week or two discovering secluded bays and refreshing swimming spots in this area, but for the sake of this itinerary, I'd recommend setting aside two nights to see the main hot spots.
Many international tourists choose to base themselves in Whitianga because it offers easy access to Cathedral Cove and Hot Water Beach, however Whangamata, Coromandel Town and Cooks Beach also have a decent range of accommodation options.
Cathedral Cove
Cathedral Cove is the main tourist destination in the Coromandel, and it gets around 150,000 visitors per year (in normal times). Yup, it's busy!
It's only accessible by foot or by water, but the clear water and iconic rock formations make it worth the effort.
You can walk to the beach if you're okay with walking 45 minutes one way along a rocky path. It's not a difficult walk but there are steps and uneven sections, so I'd recommend wearing actual shoes rather than jandals if you're worried (or take the boat instead).
Keep in mind that from October to April the carpark is closed due to traffic control so you'll have to use the park'n'ride service, which costs $5 return per adult or $3 per child.
There are a few different boat options to experience Cathedral Cove. A water taxi from Hahei for $15 each way (runs October to April) which will allow you to swim or relax for however you want, ideal if you're keen to spend a whole day at the beach or if you have specific timing you have to work around.
You could also go for this two-hour glass bottom boat tour to get a sneak peek at the underwater life (it also includes a snorkelling stop), this two-hour small boat cruise with Cave Cruzer meaning you have access to smaller caves plus better photography opportunities, or this three-hour sailing trip which includes a drink and snack.
Other things to do in the Coromandel
Visit Tairua, my little beach town! My family has been coming here for decades, and my grandparents now live here for the warmer half of the year. It's got super local vibes, a great fish and chip shop (Surf 'n' Sand), awesome surf spots, a fishing club with cheap drink deals, and a couple of brilliant brunch spots. Don't miss the 15 min walk to Mt Paku Summit, you get the most insane 360 degree view over the estuary and across to Pauanui.
Soak all your worries away with a visit to the Lost Spring Hot Pools in Whitianga
Kayak of paddle board out to Donut Island from Whangamata
Take or rent a spade and dig yourself a private geothermal hot pool at Hot Water Beach
The Kauaeranga Kauri Trail is better known as the Pinnacles Walk, a full day or overnight walk with impressive views over native bush
See the view from Shakespeare Cliff Lookout
Spend a couple of hours in the treetops with Coromandel Zipline Tours
Where to stay in the Coromandel
Camping | Shelly Beach TOP 10 Holiday Park has powered sites + cabins in Coromandel Town, or Mercury Bay Holiday Park is a great option in Whitianga
Budget | Anchor Lodge Motel in Coromandel Town has backpacker rooms for a good price, or Tatahi Backpackers in Hahei is budget-friendly too
Mid-range | Pipi Dune Bed & Breakfast in Whitianga is super cute and Hush Boutique Accommodation is a good mid-range option for Coromandel Town
Luxury | Casa Aquila and Tangiaro Retreat are two luxurious options in the Coromandel Peninsula
For a family or group | My parents have an Airbnb in Tairua right on the water, with three bedrooms and room for up to 8 guests. I've spent many weekends here with friends and it's a quintessential kiwi bach experience if that's what you're looking for! Book it here >
Glamping | Slipper Island Resort is a private island off the coast of Tairua with safari tents and lodge rooms available. You can even rent out the whole resort if you've got 30 people! Read my full review of Slipper Island or book it here >
---
Day 8: Mount Maunganui
Drive time from Whitianga to Mount Maunganui: 2h 35m (171km)
Colloquially known as "The Mount" in Aotearoa, this bustling coastal hub is a summertime mecca for beach lovers.
The mountain itself is names Mauao, meaning 'caught by the dawn' in te reo, which is apt given that a sunrise up Mount Maunganui should be on everyone's New Zealand bucket list.
Unlike many New Zealand beach towns, Mount Maunganui boasts decent infrastructure, loads of accommodation options, a main street packed with shops and so many cafés you'll have a hard time choosing where to brunch.
Nearby Tauranga is the fourth-largest city in the North Island, with its own busy city centre, a couple of shopping malls and even a hotel with an infinity pool and overwater rooms!
Things to do in the Mount
Walk up Mauao for sunrise, the views are just stellar
Rest your legs afterwards with a visit to the Mount Hot Pools
Hit the waves with a surf lesson, there are signs for instructors along the main beach
Try a Copenhagen Cone, the best ice cream in town
Go skydiving for the best views of the Bay of Plenty, including the Mount, Tauranga, White Island and even Mount Taranaki on a clear day!
See the Mount and Tauranga while getting a serious thrill with this V8 trike tour
Swim with wild dolphins (I've done this in Picton and Kaikoura and both experiences have made it onto my mental life highlight reel!)
Go for an evening kayak tour to see glow worms, complete with wine and cheese in a glorious setting before your trip
If you'd like to learn about the Māori history around Mauao, consider this cultural walk complete with stories about the significance of the maunga (mountain)
Where to stay at the Mount & Tauranga
Camping | Mount Maunganui Beachside Holiday Park is as close to Mauao as you can get but it does get booked up during peak season, so Cosy Corner Holiday Park is another option
Budget | Wanderlust Hostel in Tauranga looks epic, or Seagulls Guesthouse is a highly-rated option in Mount Maunganui
Mid-range | The Mission Belle Motel has sun-soaked compact rooms for a great price and the Pacific Apartments has self-contained studios right by Mauao
Luxury | Trinity Wharf in Tauranga is my favourite hotel in the area, and it's the cheapest infinity pool hotel in New Zealand! Other luxurious options are Belle Mer Beachfront Apartments and Pacific Palms Resort
---
Days 9 & 10: Rotorua
Drive time from Mount Maunganui to Rotorua: 1 hour (73km)
Rotorua is basically the Queenstown of the North Island but with two additional bonuses of geothermal activity and being a hub of Maori culture.
There are so many things to do in Rotorua that you could easily could fill a week-long itinerary, from thrill activities to nature walks to hot pools to high tea.
My dad's family is from Rotorua, we're a part of the Ngāti Whakaue iwi (tribe) and our iwi is based at Ohinemutu, a living Maori village on Rotorua's lakefront.
You can wander through the village free of charge and I highly suggest you do, we have a beautiful church right on the lake and geothermal activity bubbling under the ground. Just be sure to keep to the paths and don't walk onto any private land or enter the maraes without an invitation.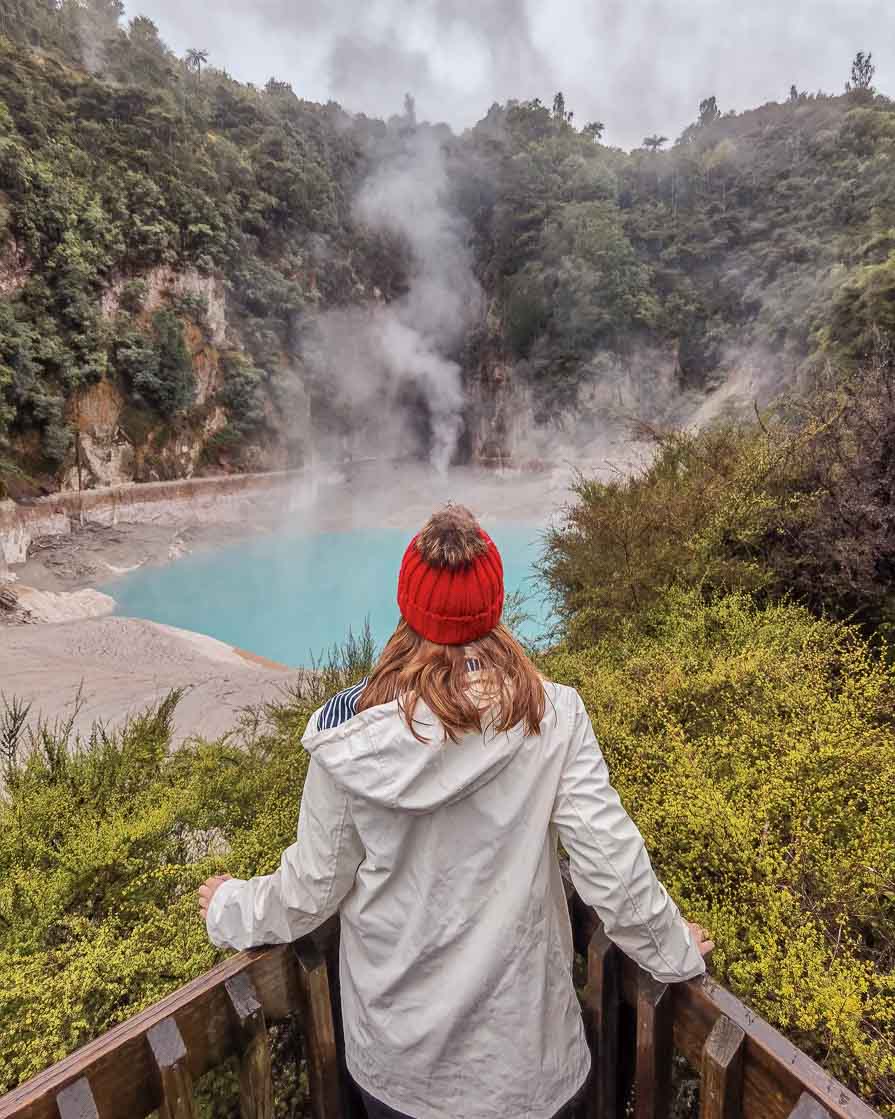 Things to do in Rotorua
For more tips on Rotorua activities check out my in-depth destination guide: 25 Epic Things to Do in Rotorua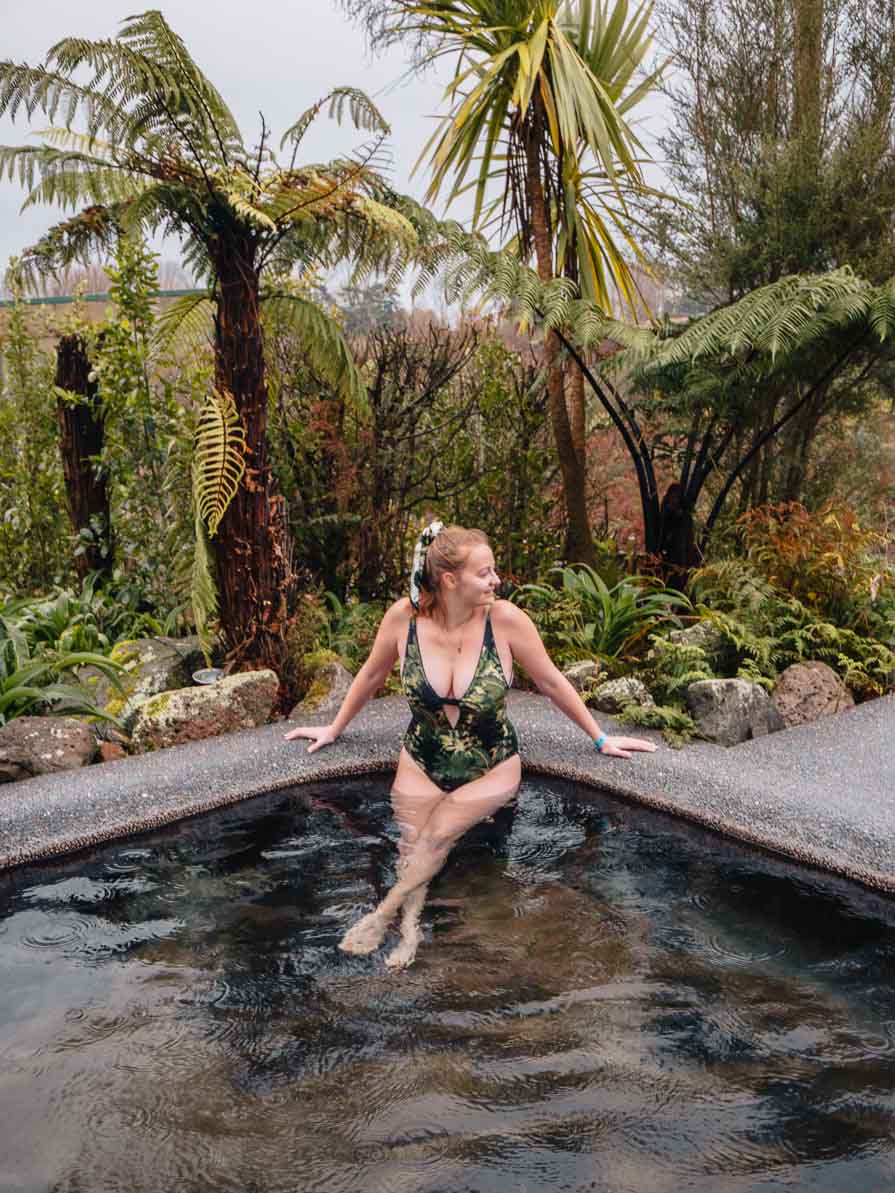 Where to stay in Rotorua
Camping | There's a freedom camping spot right by the Polynesian Spa, or Rotorua Lakeside Holiday Park is a good option if you need facilities
Budget | YHA Rotorua is the best budget option in town, with dorms and private rooms available
Mid-range | Quest Rotorua and the Pullman are both decent options in the city that won't break the bank
Luxury | For a luxury experience in Rotorua you can't go past Solitaire Lodge, set on Lake Tarawera with access to a private beach and magical views
Glamping | I've got a full blog on glamping in Rotorua but my favourite spot is Finesse Luxury Glamping
---
Day 11: Hamilton & Raglan
Drive time from Rotorua to Hamilton: 1h 24m (108km)
My hometown! I grew up in Hamilton before moving to Auckland for university (and later London), and I've had to return thanks to something that starts with C and ends with OVID-19.
Hamilton gets a bad rap for being boring but I really think that's undeserved, the city is home to a growing food scene and world-class gardens, and there are an endless number of short walks within an hour's drive.
Most tourists probably drive straight through Hamilton, but adding a night here (or in the beach town of Raglan 30 minutes west) will give you some time to enjoy the food on offer as well as tick off some of the epic scenery in the mighty Waikato region.
NOTE: If you'd like to visit Hobbiton (you probably should if you're in the area!) then you'll want to add that in as a slight detour while driving from Rotorua to Hamilton.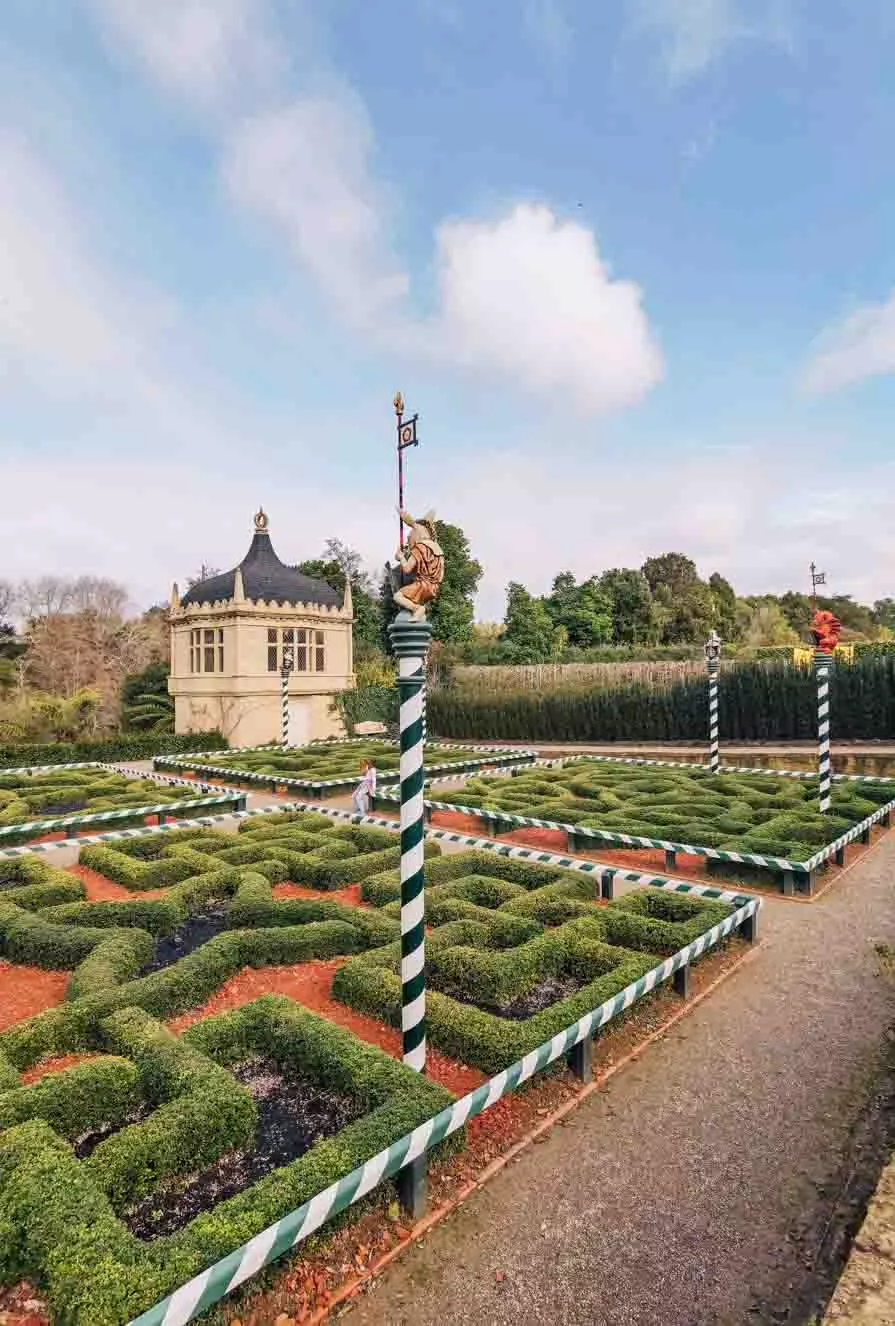 Things to do in Hamilton & Raglan
The Hamilton Gardens are reason alone to stop in Hamilton, they even won the global title of International Garden of the Year in 2014! The gardens are unique in that instead of focusing purely on plant collections, Hamilton Gardens is based around garden design. There are more than 20 gardens in total so set aside a couple of hours to see them all. My favourites are the Indian Char Bagh Garden, the Italian Garden, Te Parapara Garden (traditional Maori garden) and the newly-opened Surrealist Garden.
Go for brunch! I'm a brunch fiend and I always try and eat my way around a city, so I've tried the vast majority of Hamilton's brunch options. Go to the Kirk or Sisterfields for something Instagrammable, Sentinel Cafe for something in the CBD, Punnet for an option on the way to Cambridge or Archie's is my favourite suburban option
Wander along the river, there's a long walking and bike track
Head out to Raglan and go surfing
Visit the Bridal Veil Falls on the way out to Raglan (10 mins to the viewing platform, another 10 mins to the base of the falls)
See the bright blue water at Putaruru's Blue Spring/Te Waihou. The main walk is 1.5 hours each way but if you drive to the Leslie Road carpark and walk from the other way it's only 15 minutes to the main spot. This spring is protected so do not touch the water, however tempting it may be!
Where to stay in Hamilton
Budget | If you're on a tight budget I'd suggest staying in Raglan for a night, which has a better range of cheap but decent accommodation. Two of the best options are Solscape and Raglan Backpackers.
Mid-range | Camelot on Ulster and Albert Court Motor Lodge are both motels with great reviews and good facilities
Luxury | The Hilly House is at the top of my list for a luxury getaway in the Waikato, you can book it on Bookabach (I can't link to the exact page but just click here, then search 'Hilly House' and it will come up)
---
Day 12 day stop: Waitomo Caves
Drive time from Hamilton to Waitomo Caves: 56 minutes (68km)
The magical Waitomo Caves are one of New Zealand's most popular tourist attractions, and for good reason. You just have to look up to see why!
Waitomo Glow Worm Caves
With millions of shiny glow worms dotted all around the top of the limestone caves, this place truly has to be seen to be believed. There are quite a few different places to see glow worms in New Zealand but Waitomo Caves is certainly the most impressive display, as well as being the most commercial.
You can see the glow worms in a number of different ways depending on your budget and taste for adventure.
The cheapest way to see the glow worm caves is the classic Glow Worm Cave 1 hour tour for $55, which includes a boat tour in the darkness under a ceiling packed with tiny shimmering creatures. There's also the Ruakuri Cave (also $55) which is accessible to wheelchairs and allows photography of the glow worms, and I'd recommend adding on the Aranui Cave which doesn't have glow worms but does have a spectacular collection of stalactites and stalagmites.
For a longer and more in-depth experience, check out this three hour small group eco-tour which will get you up close and personal with the glow worms in unspoilt privately-owned caves.
Black water rafting
My absolute favourite thing to do in Waitomo, and actually one of the best things to do in the North Island, is black water rafting through underground rapids below a sky of glow worms. Yep, it's as epic as it sounds.
Run by the same company who look after the commercial glow worm caves, there are two black water rafting options to choose from, but they're not for the faint-hearted.
You can do the three hour Black Labyrinth tour, where you will do a short bush walk, clamber through some tight caves and jump off waterfalls in the dark before floating in a tube underneath the glow worms.
For an even more thrilling experience, check out the Black Abyss tour. This one is five hours in total, and it kicks off with a 35m abseil and then a zipline into the caves! You'll spend a decent chunk of time floating through the caves before climbing up underground waterfalls to reach the outside world again.
I will say though that the tour photos are probably the least flattering photos you will ever see of yourself. No one looks good in a tight wetsuit and helmet.
Other things to do in Waitomo
For a free way to spot glow worms, you could do the Ruakuri Bush Walk at night (with a torch to get you there safely, obviously). This walk doesn't go right into any caves but you can see the glow worms lit up along the banks of the track.
The thundering Marakopa Falls are a short 20 min return walk through lush native bush
Get up close and personal with New Zealand's flightless national bird at the Otorohanga Kiwi House, 15 mins north of Waitomo Caves
Where to stay in Waitomo
Camping | Waitomo TOP 10 Holiday Park has campsites and budget cabins available
Unique | Ever wanted to sleep in a Hobbit House or an aeroplane? Woodlyn Park has a bunch of unique accommodation options just a short drive from Waitomo, as well as powered sites for campervans
Budget | Waitomo Caves Guest Lodge has basic but comfortable rooms with beautiful garden views and access to kitchenette facilities
Mid-range | Abseil Inn is a bed & breakfast with a shared lounge and BBQ for guest use
Luxury | Waitomo Boutique Lodge is 30 minutes from the glow worm caves, with free cooked breakfast, an outdoor pool, hot tub and tennis court
---
Days 12 & 13: New Plymouth
Drive time from Waitomo Caves to New Plymouth: 2h 25m (171km) or 3h 10m direct from Hamilton
With easy access to black sand beaches as well as the mighty Mount Taranaki, the coastal city of New Plymouth may be slightly off the beaten track (if 'the beaten track' is State Highway 1) but is totally worth adding on to your North Island road trip.
The natural highlights of the mountain, wild west coast surf spots and thick forests are definitely a reason to visit, but the buzzing arts scene and local eateries are reason to stay for longer!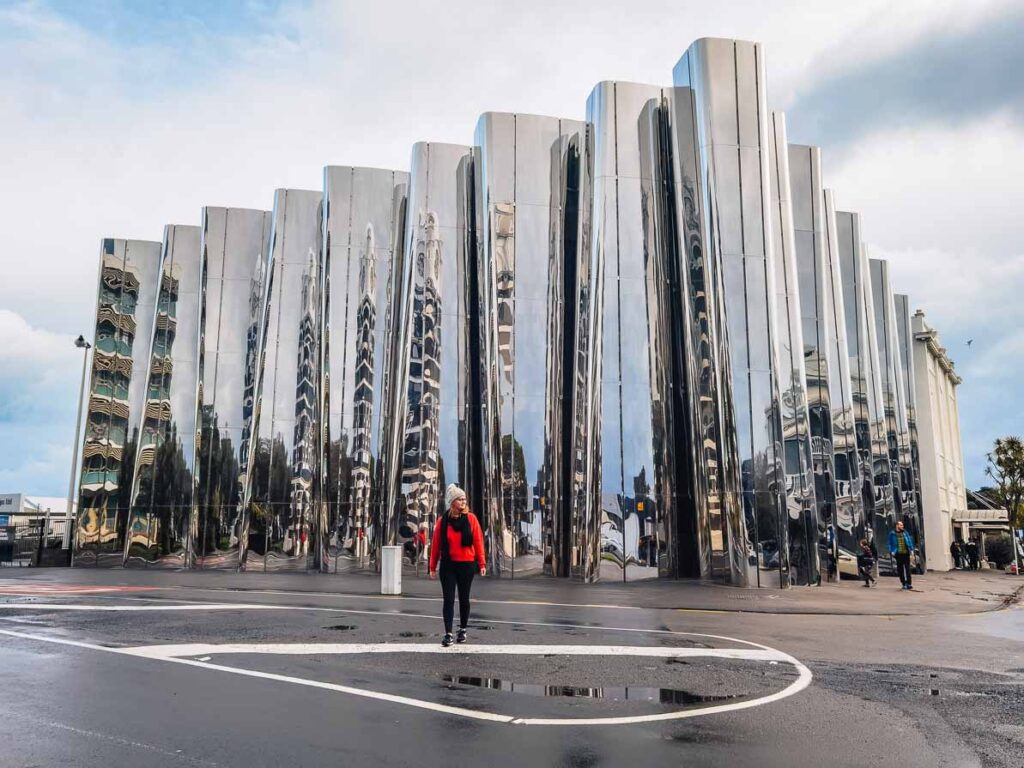 Hiking Mount Taranaki
There are a range of hikes available depending on your fitness level and how much time you have, but the Pouakai Tarns walk is probably the most popular and definitely the most Instagrammable.
It's an in-and-out track just over 12km in total and DOC suggests setting aside 4-5 hours round trip, but many people spend the night at the Pouakai Hut to be able to see both sunset and sunrise at the reflective tarn for the best photos of the mountain.
You can book your spot at the Pouakai Hut here >
Other things to do in New Plymouth
See the views from the top of Paritutu Rock after a short but steep walk/climb. Wear proper shoes because you'll be scrambling your way up the last little bit using a chain rope for support.
See the Three Sisters and the Elephant rock formations in Tongaporutu, but make sure you visit at low tide to be able to access that part of the beach
Walk across the funky Te Rewa Rewa Bridge
Go for brunch at Federal Store, I guarantee you won't regret it
Set aside a few hours to explore the contemporary art galleries and incredible gift shops selling locally-made crafts and kiwiana-themed art
Where to stay in New Plymouth
Camping | Fitzroy Beach Holiday Park and Belt Road Seaside Holiday Park both have excellent ratings
Budget | Purakau Bed & Breakfast is a charming little B&B perfect for travellers on a budget
Mid-range | The State Hotel is a brilliant option right in town and the Residence Fitzroy has modern self-contained apartments near Fitzroy Beach
Luxury | King & Queen Hotel Suites have luxury apartments available opposite the art gallery, or Country Retreat Glamping offers a sophisticated safari tent glamping set up
---
Day 14: Tongariro National Park
Drive time from New Plymouth to Tongariro National Park: 3h 20m (261km)
DRIVING TIP: The easiest way to get from New Plymouth to National Park is to take SH3 north of New Plymouth, then turn onto SH4 at Te Mapara.

Another more thrilling option with windy roads and tight corners is to take SH3 south from New Plymouth to Midhurst then turn onto SH43, also known as the Forgotten World Highway.

Whatever you do, do not accidentally take the road in between these two options, unless you want the three hour trip to take you twice as long and almost kill you multiple times along the way.

We made this mistake in our HUGE 6.3m campervan and then dealt with 100+kms of dirt road, speeding trucks coming straight at us around corners, landslides, cows in the middle of the road and a terrifying moment where we thought we were about to run out of gas 50km from the nearest gas station. 0/10 would not recommend, please learn from my mistake.
A trio of volcanoes stand tall amongst the North Island's Central Plateau, with a plethora of hikes, two ski resorts and other outdoor adventures to get you moving.
Tongariro NP was the first National Park in New Zealand after Ngati Tuwharetoa (the local tribe) gifted it to the people of Aotearoa. It holds dual Unesco World Heritage status for spiritual significance to Maori as well as outstanding natural landscapes, including moon-like craters and brightly-coloured alpine lakes.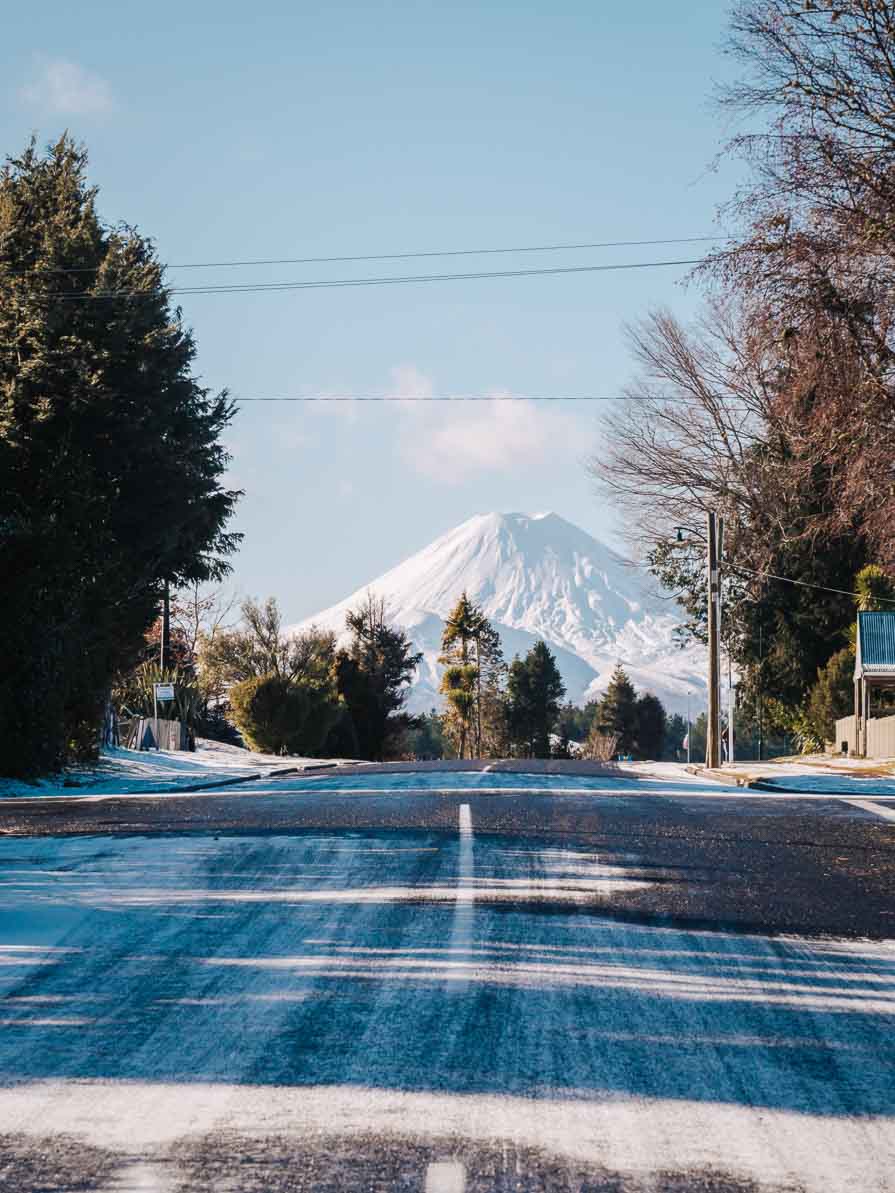 The Tongariro Crossing
The obvious must-do here is the Tongariro Crossing, New Zealand's most popular day hike, but there are some other attractions to add to your North Island itinerary too.
Completing the 19.4km day walk is a rite of passage for any active Kiwi or international visitor, and it's a mainstay of local shcool camps.
The walk takes 7-8 hours during the warmer months (Nov to May) and is rated Intermediate by DOC, however if you're planning on doing it in winter/spring (June to October) you'll need to set aside around 9 hours and you'll need alpine skills and gear (or an experienced guide) to complete it.
No matter what time of the year you go make sure you have enough water and food, take layers in case of inclement weather, and check conditions with the local information centre or shuttle operators to make sure you're aware of any issues.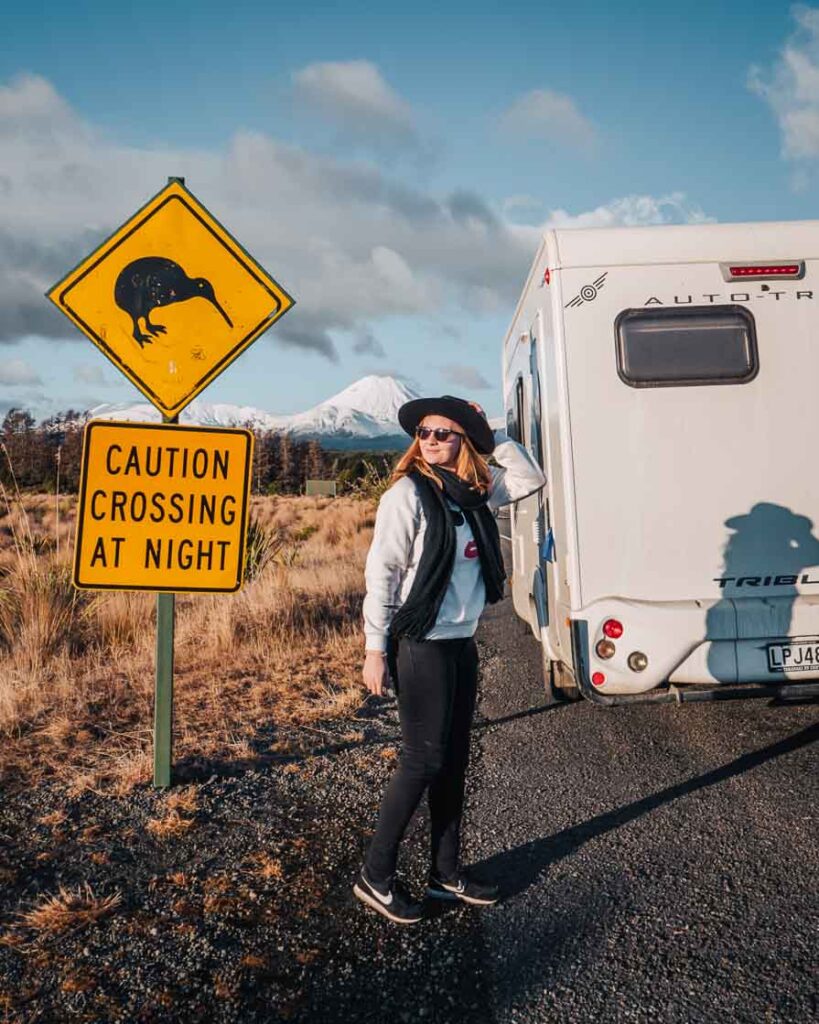 Other things to do in Tongariro National Park
After your hike you deserve a rest, so why not enjoy a fancy high tea at the iconic Chateau Tongariro Hotel. Take a seat in their sophisticated lounge and enjoy a glass of bubbles with club sandwiches and sweet treats with a view of Mount Ruapehu.
If you're a sucker for exercise and a huge day hike wasn't enough, or if you need a rainy day activity, Vertigo Adventure Centre has some fun indoor rock climbing walls with auto-belay systems meaning you and your travel buddies can all climb together
For a shorter alternative or add on to the Tongariro Crossing, there are tonnes of easy walks in the area. You could consider Tawhai Falls (20 mins return), Taranaki Falls (2 hour loop), Mangawhero Forest (1 hour loop) or Rotopounamu (2 hour loop)
Hit the slopes on an active volcano! There are two ski fields on Mt Ruapehu: Whakapapa which is ideal for beginners and intermediate skiiers/snowboarders, or Turoa which is more suited to intermediate/experts.
Where to stay in National Park and the Ruapehu District
Camping | You can freedom camp at National Park Village Kiwi Camp, or Whakapapa Holiday Park is the best-rated option with powered sites
Budget | Howards Mountain Lodge in National Park Village (closer to Whakapapa ski field) has basic dorms, private rooms and even a five-bedroom home to rent, or YHA Station Lodge Ohakune has excellent reviews and is better for Turoa visitors
Mid-range | Tongariro Suites, Tongariro Crossing Lodge, The Gables B&B and Rocky Mountain Chalets are also all great options for good value mid-range accommodation.
Luxury | Night Sky Cottage is a boutique eco-friendly off-grid hideaway that can fit four guests, or the Chateau Tongariro is the quintessential luxury experience in the National Park if you're looking for opulence (although recent reviews do mention the rooms being a bit outdated).
Somewhere unique | I recently stayed at the newly-renovated Old Post Office Lodge in Owhango, a two-wing, seven-bedroom self-contained lodge with impeccable interior design and bonuses like a sauna, outdoor fire and hot tub. You can rent the whole thing for a large group (up to 18 guests, from $700), rent one of the two wings, or rent on a per bedroom basis (from only $100). It's 15 minutes to National Park Village and 25 minutes to Whakapapa, ideal for families heading to the mountain or groups looking to try out the hikes and bike trails.
---
Days 15 & 16: Taupo
Drive time from National Park Village to Taupo: 1h 20m (100km)
The largest lake in the Southern Hemisphere (it's the size of Singapore!), Lake Taupo and its resort town of the same name are one of the North Island's most popular destinations.
Visiting on a clear day will take your breath away, with the mighty volcanoes of Tongariro National Park watching you from a distance.
The town has most certainly been hit by travel restrictions but there are still plenty of things to do in Taupo (both free and paid) to keep you busy no matter what you're into.
Any trip to Lake Taupo requires at least one water activity, whether it's a cruise to the spectacular Huka Falls, a drive-your-own boat trip on the lake itself or a visit to geothermal hot pools. Then on land you can hike, bike or eat to your heart's content. Prefer your adventures in the air? Skydiving, bungy jumping and scenic flights are all on offer.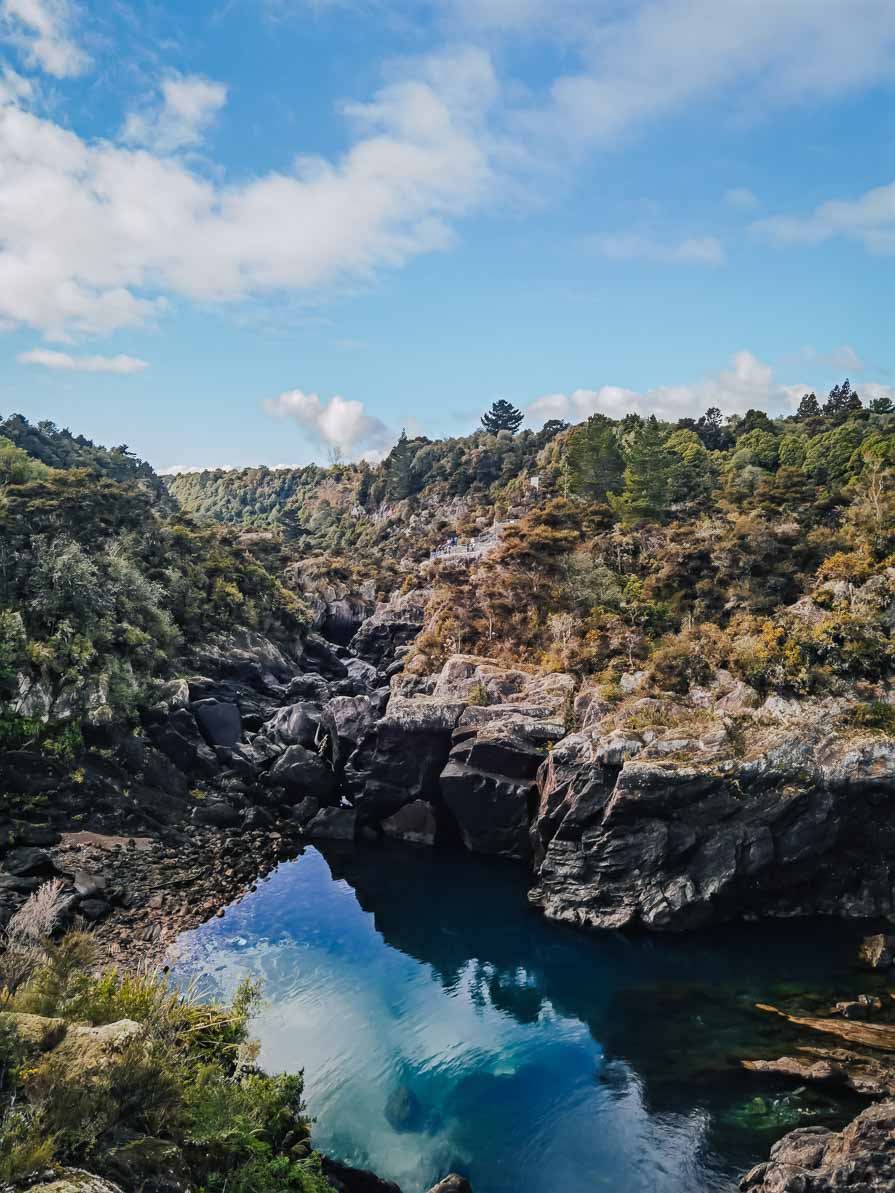 Things to do in Taupo
Play captain with your own Doughboat! These bright pink electric boats fit six passengers and are a unique way to experience the lake, with the added bonus of being eco-friendly. Stock up on snacks or even order a pizza, throw on your matching pink life jacket (safety first), hook up your phone to the Bluetooth speaker and you've got your own little party on the water.
Watch 220,000 litres of water thunder over Huka Falls every second. Yep, you read that right! It's just a short walk from the carpark to the falls, and then there are a few longer walks available if you'd like to make your way up or down the river.
The Rapids Jet is the only jet boat company in New Zealand to actually take you through white water rapids, as opposed to other jet boat options which stick to the flat parts of the river. We did the Rapids Jet trip on a very cold winter morning so I'd recommend rugging up with beanie, scarf and gloves, and enjoy a thrilling 35 minute boat ride on the Waikato River
Enjoy the growing local food scene. I love Cozy Corner for brunch and Sorrento Wine Bar for dinner!
You don't need to head to Queenstown for a bungy jump, in Taupo you can bungy jump off a 47m-high platform above the river
Enjoy mountain and lake views from 9,000ft, 12,000ft or a slightly insane 18,500ft skydive with Taupo Tandem Skydive, who are actually the top-rated skydive company in New Zealand
See the Ngatoroirangi Mine Bay Maori Rock Carvings, a famous piece of contemporary art created by traditional Maori carver Matahi Brightwell. You can see the 14m carving by catamaran, yacht or kayak.
If kayaking floats your boat, this 2 hour guided kayak trip will take you down the Waikato River with stops at swimming holes, nature reserves and thermal springs
Enjoy some rest and relaxation at the hot pools. I love Wairakei Terraces (adults only) but DeBretts is a family-friendly option and Spa Thermal Park has a free hot pool where geothermal mineral water flows into the Waikato River.
For more Taupo travel ideas check out my in-depth blog: 19 of the Best Things to Do in Taupo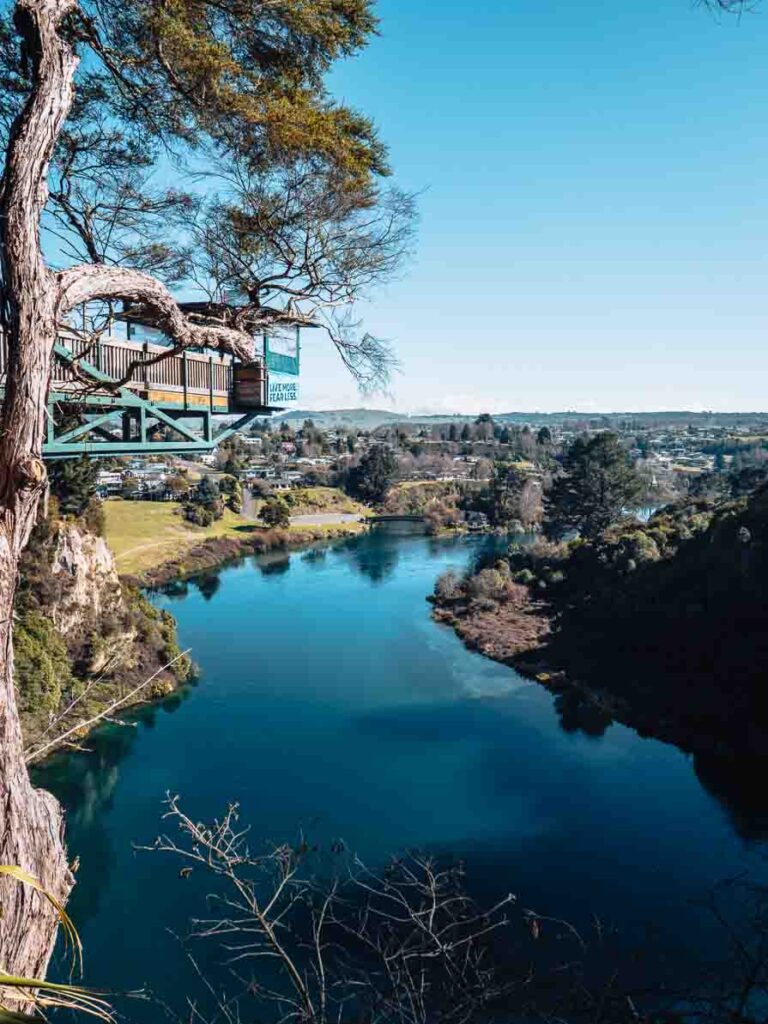 Where to stay in Taupo
Camping | Taupo TOP 10 Holiday Park is awesome, with sunny spots separated by hedges for privacy, a huge kitchen and thermal plunge pool
Budget | Haka Lodge Backpackers has great value dorm and private rooms a short walk to restaurants and shops
Mid-range | Taupo's Treat is the cutest little self-contained homestay complete with freshly-baked bread and fluffy chickens (you can read a full review of Taupo's Treat here) or Acacia Lake View Motel is on the main road right on the lake
Luxury | For somewhere romantic check out Dunalistair House, or for somewhere ultra-luxe then Huka Lodge is unbeatable. If it's good enough for Queen Elizabeth, it's good enough for you!
If you want more suggestions for Taupo accommodation, read my full blog on the best places to stay in Taupo.
---
Days 17 & 18: Napier & Hawke's Bay
Drive time from Taupo to Napier: 1h 45m (141km)
Probably my favourite small city in New Zealand, Napier and the surrounding region of Hawke's Bay are a must-visit for anyone who loves food and wine as much as I do. There are enough cellar doors and world-class winery restaurants to keep you busy for weeks!
Aside from eating and drinking the day away, there are also some incredible beaches and mountain views to enjoy, an impressive range of gift shops and antique stores, and a fascinating past to learn about.
Wine and food in Napier & Hawke's Bay
Alright, we all know this is the main reason to visit this area.
It's hard to give a full run down of the options because I (unfortunately!) haven't been able to personally visit them all, however some stand outs for me were the Urban Winery for food and music, Black Barn for views, and Church Road for a classic Hawke's Bay experience.
If you have a car and a sober driver, you could easily do a self-drive winery tour with the help of the Hawke's Bay Wine & Food map. If you'd prefer to get some exercise between cellar doors, you could do a self-guided bike tour along coastal paths which ends with three wineries.
There are a bunch of guided tours available too, like this small group half-day tour, this gourmet lunch + wine tour, this twilight winery tour or this luxurious private tour including 4 wineries, Devonshire Tea and a platter lunch. Fancy!
Te Mata Peak
You can't miss the walk or drive up Te Mata Peak to see the 360° view.
The drive is windy and narrow with a steep drop (there's a barrier though) so if you're not a confident driver or if you're in a wide vehicle it might be best to walk, there are walking tracks from 40 mins to 2.5 hours long.
We did the drive in our 6.3m campervan and we were totally fine but there weren't many other people there when we visited, so busy days + big vans might not be ideal.
Other things to do in Napier
I recommend getting your bearings with a super unique way to see the city, a trike tour! These local legends have a range of trips available, from short and sharp motorway bursts through to extended drives around rural Hawke's Bay or even food and wine tours via trike.
Get amongst the Art Deco vibes with a city tour by vintage car
Head out on a day tour to Cape Kidnappers to see the gannet colony
Where to stay in Napier
Camping | Perfume Point in Ahuriri is one of my favourite freedom camping spots in New Zealand, right by the ocean with clean public toilets. For holiday parks check out Hawkes Bay Holiday Park which is slightly out of the city but has far better reviews than the options closer to town.
Budget | Greenmeadows on Gloucester has self-contained motel studios for a great price, or Archie's Bunker and Toad Hall Backpackers are two hostels with decent reviews
Mid-range | Pebble Beach Motor Inn has modern studios right on Marine Parade
Luxury | The Dome and the County Hotel are both fancier options for a luxurious stay (although accommodation in Napier is pretty cheap so even the nice hotels are less than $250 a night)
---
Day 19: Martinborough
Drive time from Napier to Martinborough: 3h 10m (267km)
Even more wineries await as you head south on your North Island road trip to Wairarapa, where historical towns and decadent vineyards are bordered by a spectacular coastline.
I've only allowed for an overnight trip here but if you are a sucker for cute buildings, gastronimic delights and exploring at a slower pace then consider adding on some extra time here if you can.
Things to do in Martinborough
Explore the wineries. Martinborough has more than 20 cellar doors within biking distance of the main square in town, and there are bike hire options or guided bike tours as well as small group walking tours around the wineries. My favourite is Poppies, they do a delicious rosé and a brilliant platter!
Taste test some local beer from Tui Brewery or Martinborough Brewery, or try locally-distilled spirits from Reid+Reid or Lighthouse Gin
C'est Cheese in Featherston is an essential stop for any cheese lovers (meeeee!)
Shop til you drop in Greytown, a charming little town packed to the brim with quirky gift shops, independent clothing boutiques and antique stores
Spot fur seals and climb the 250 steps to the top of the lighthouse at Cape Palliser, the southernmost point of the North Island (check out this Cape Palliser walking tour if you want to go with a local guide)
If you're lucky enough to be visiting on a weekend, be sure to head to one of the many farmers' markets in the Wairarapa region. Check with your accommodation to find the closest one near you.
Head down to the Putangirua Pinnacles to see some otherworldly rock formations
Explore the Patuna Chasm (open from mid-November to end of March)
Where to stay in Martinborough & nearby
Camping | Martinborough TOP 10 Holiday Park has great facilities onsite, or Morrison's Bush Campground is a super cheap ($5 a night) option for self-contained campers
Budget | There are no hostels in Martinborough that are open right now but the TOP 10 has cabins available for a low price
Mid-range | Swan House, Te Kopura Lodge and Pinot Villas are all mid-range options with excellent reviews
Luxury | The Martinborough Hotel is a town icon with decadent suites available for a surprisingly low price, Te Pamu Escape is a stunning glamping spot near Masterton and Peppers Parehua is a classic five star hotel
Unique | For a luxury off-grid getaway near Martinborough you can't beat Moonlight Peak, a gorgeous hilltop container-style home with luxurious furnishings for maximum comfort. My sleep here was actually one of the best on my whole North Island road trip, despite being caught in a heavy wind warning! And the woodfired hot tub views are just insane.
Self-contained | Go To Martinborough is a locally-owned and operated holiday home rental platform with a bunch of incredible houses to choose from no matter your group size, budget or travel style.
We stayed at the Orange Door, a two bedroom villa with tonnes of living space, a full kitchen and a dreamy bath with orchard views. I'd stay there again in a heartbeat, the ideal location for a girl's trip or a winery weekend!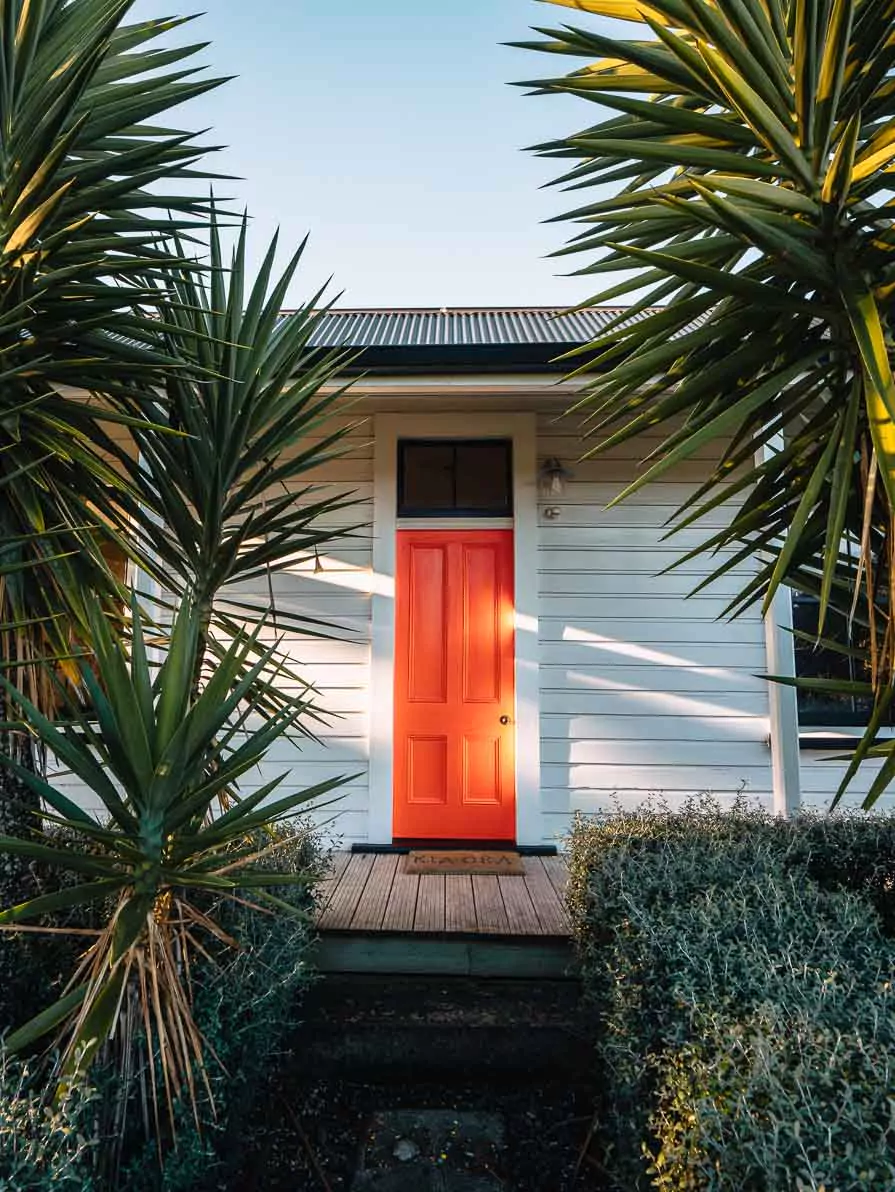 ---
Days 20 & 21: Wellington
Drive time from Martinborough to Wellington: 1h 10m (82km)
You made it! And the pot of gold at the end of this North Island road trip is Wellington, New Zealand's windy capital city.
Wellington has many things to brag about but the major highlights here are its buzzing cultural scene, award-winning restaurants, the world-class Te Papa Museum, picture-perfect waterfront and easy access to mountains, beaches and bush walks.
Things to do in Wellington
Learn about Aotearoa's history and culture with the interactive exhibits at Te Papa
See the Beehive, New Zealand's wacky parliament building
LOTR fans can't miss going behind-the-scenes at Weta Workshop to see how Hollywood movie magic is made in little ol' NZ
Dive head first into the food and drink scene. Some of the best spots are Fidel's for brunch, Fix & Fogg's Window for peanut butter treats (life-changing), and Jano Bistro or Hiakai for something ultra-fancy.
Go crazy in the gift shops, boutiques and vintage stores. Ikoiko is my favourite!
Enjoy Oriental Bay on a sunny day
Spot native birds and learn all about conservation at Zealandia, rated one of the World's 100 Greatest Places by Time Magazine in 2019
Take the bright red cable car up the Kelburn hillside for epic views over the city and harbour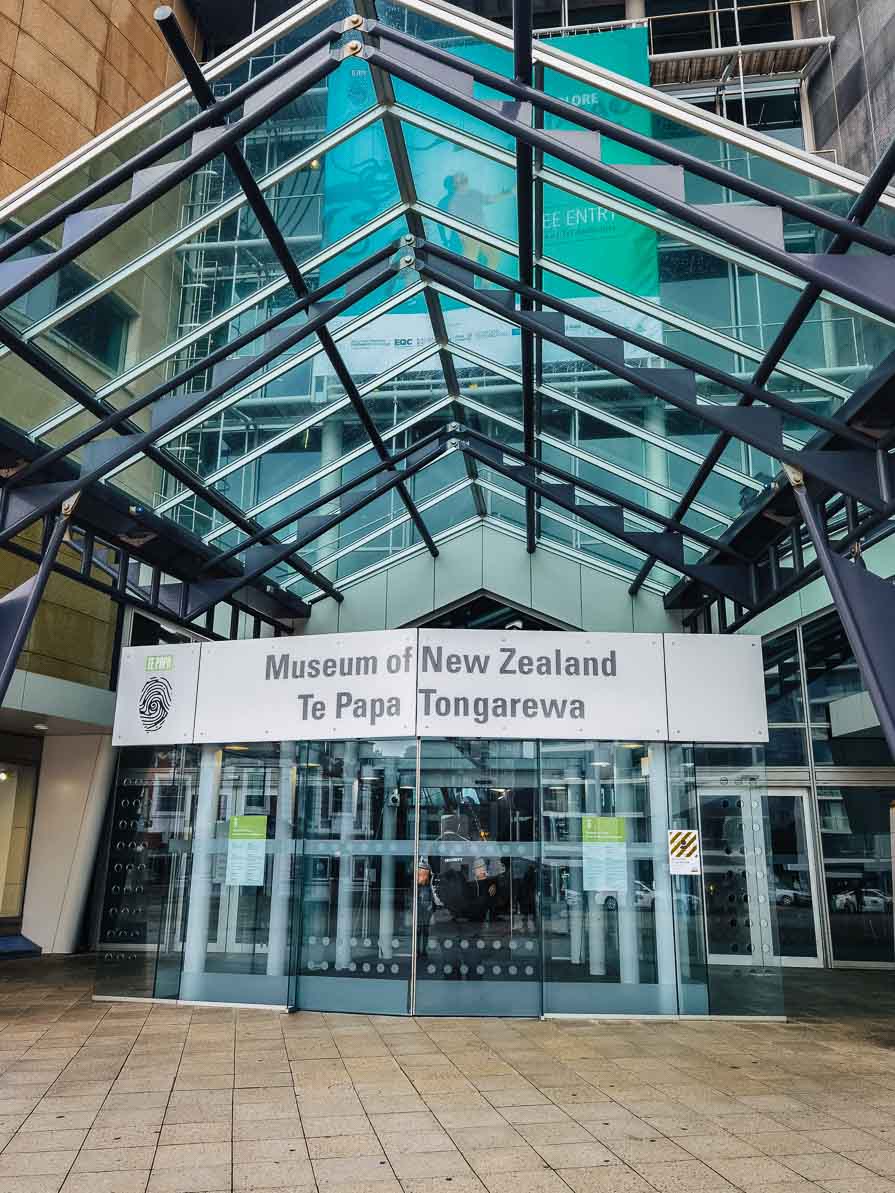 Where to stay in Wellington
Camping | Wellington's streets are quite narrow, meaning it's not an ideal city for a campervan. We stayed out at Wellington TOP 10 which is actually in Lower Hutt, but it had recently renovated facilities and was ideal for our big van. An option actually in the city is Camp Wellington Campervan Park.
Budget | I stayed at YHA Wellington on my most recent trip and loved it, basic but comfy rooms, a huge kitchen, and a short walk to Courtenay Place, Oriental Bay and Te Papa. Marion Hostel and the Dwellington are two other well-rated hostels in the city too.
Mid-range | Gilmer Apartment Hotel has basic but comfortable studios and apartments for a decent price, or the Boulcott Suites are another highly-rated option
Luxury | The InterContinental is a gorgeous five star hotel (they also do an excellent high tea), or the Bolton, QT Wellington and the Sofitel all have excellent reviews
---
Alternative options for your North Island road trip
If you like active adventures
The most popular multi-day hikes in the North Island would be the Cape Brett Trail in Northland, Lake Waikaremoana on the East Cape, and at Mount Taranaki near New Plymouth, so consider adding these onto your trip and spending less time in the cities.
If you're a foodie
If you're all about your food, I'd recommend spending a bit more time in Auckland and Wellington. Both cities have an impressive gastronomic scene and there are eateries for you to experience from all different cuisines.
If you like wine
If you like wine you might want to add on more time in the Hawke's Bay and Martinborough. I'd recommend spending an extra night in each spot so you can do a proper wine tour (like this one for Hawke's Bay or this one for Martinborough) without having to worry about doing a long drive the following day.
If you want more beach time
If you're doing your North Island road trip in summer and want to make the most of the sun and heat, focus your itinerary around Northland (like Kai Iwi Lakes and Waipu Cove, where they have an epic holiday park right on the beach), the Coromandel, the Bay of Plenty (Tauranga and surrounds) and the East Cape.
---
North Island road trip travel tips
Now that you've hopefully got a rough itinerary for your road trip around the North Island, there are some things you need to know before you go.
What to pack for the North Island
Regardless of what season you're visiting, come prepared with a range of clothing. That means always bring your togs (the Kiwi word for swimsuit) in case of beaches or hot pools, jandals (flip-flops) for convenience, a waterproof jacket, an umbrella and a scarf.
If you're getting a campervan for your North Island road trip, some other essentials you'll want to bring are a head torch (super handy at campsites), rubbish bags to dispose of your rubbish responsibly, an emergency and first aid kit, reusable shopping bags and quick-dry microfibre towels.
It's also a good idea to pack some sunblock and insect repellent for summer, and a hot water bottle for winter.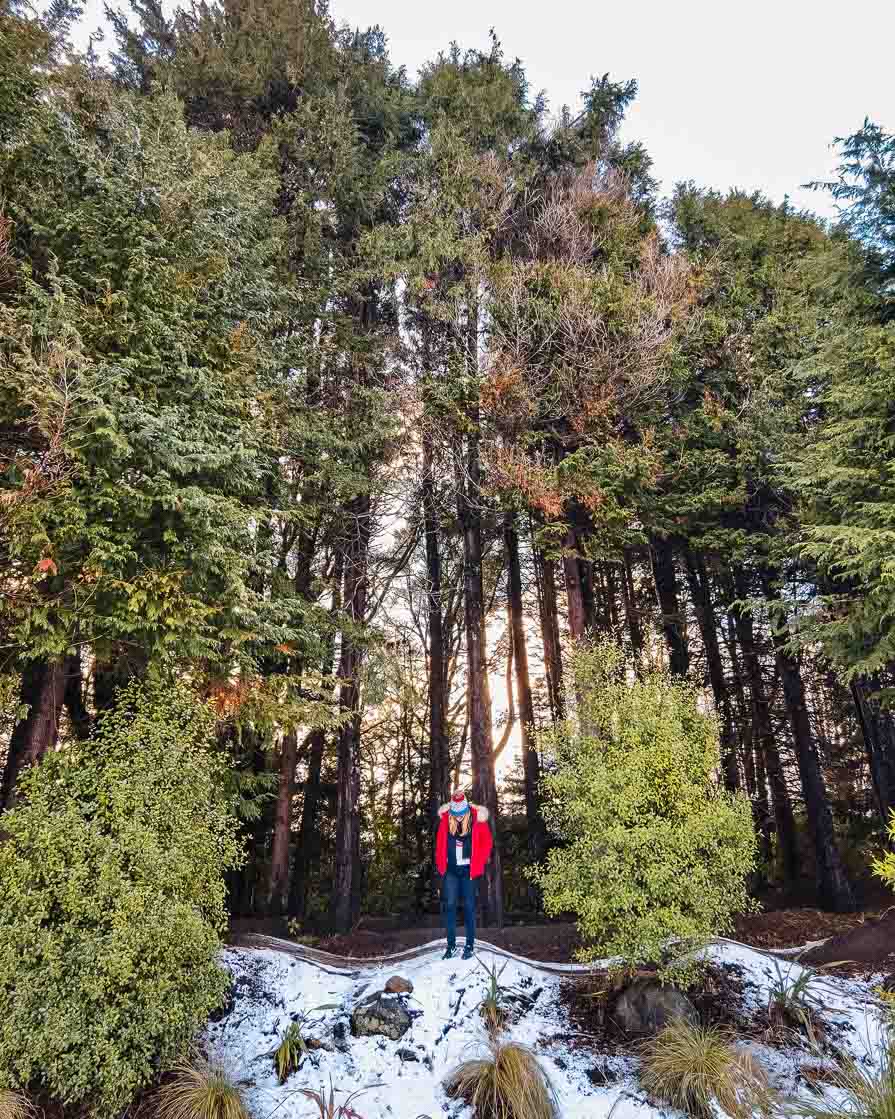 Be prepared for the weather
One thing to know about New Zealand's weather is that it can change in an instant. You might have a perfectly sunny day one minute and then twenty minutes later there's a hail storm!
You could check the weather forecast before you plan any outdoor activities but also take the predictions with a grain of salt, you don't want to cancel plans for a winery day and then the predicted rain never turns up ????
Always carry clothing options for a potential weather change, avoid going hiking if the weather forecast looks dodgy, and don't forget that there are loads of things to do in the North Island whether it's sunny, raining, or both!
Phone service isn't a given
New Zealand's cellphone service is notoriously bad, and there are many places in both the North and South Island that will be completely off grid.
I always try and book accommodation or campgrounds with free WiFi so I'm able to at least plan the next day's adventures and download directions.
Many rural areas and the mountains in particular have shoddy service, so if you're planning on going for a hike, make sure someone knows where you're going and when you're due to get back. That way if you don't get in touch with them, they'll be able to contact local search and rescue to let them know you might be in trouble.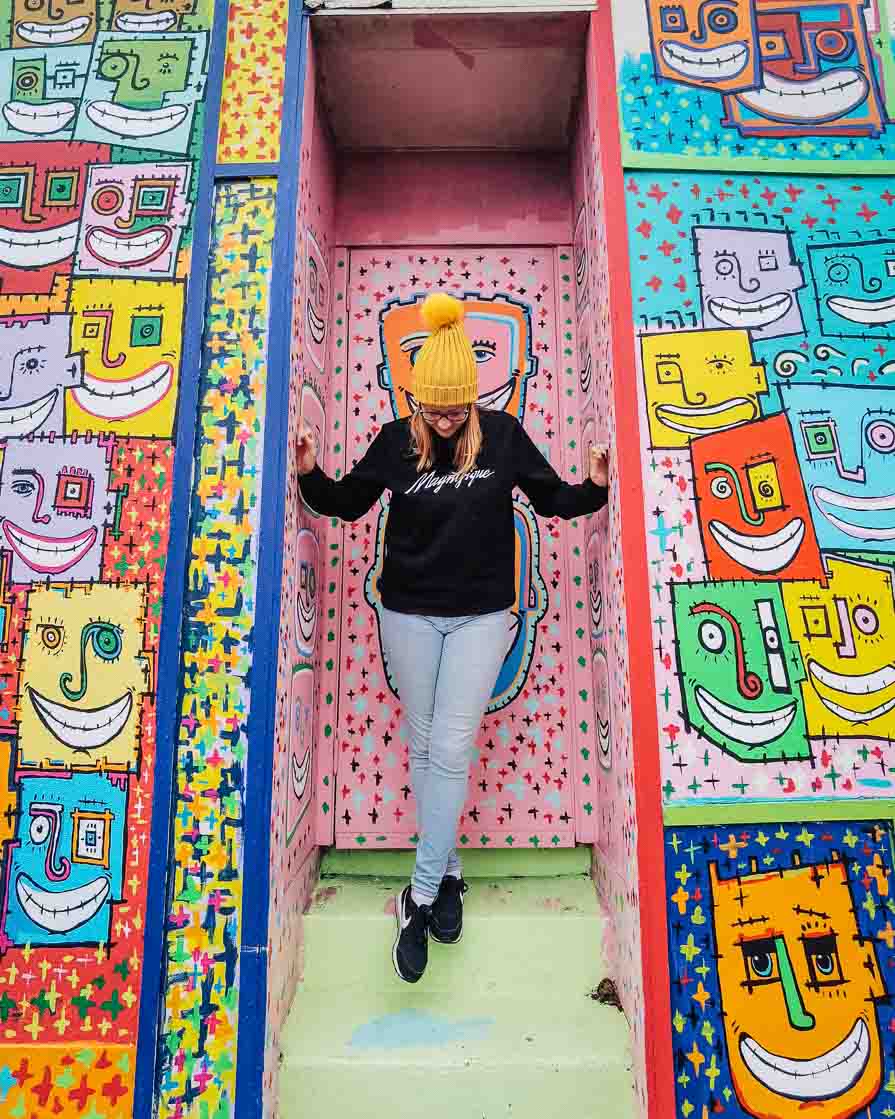 ---
How to see the North Island on a budget
Here are a bunch of tips to help you save $$$ on your North Island road trip.
Buy a TOP 10 Holiday Park membership card for $49 (for two years), it gets you 10% off all TOP 10 campgrounds, 15% off Interislander tickets and discounts on more than 500 travel operators
Check out the activities available on Bookme.co.nz, a discount website for last minute travel deals. You could get up to 60% off scenic flights, skydives, cruises and more!
Join the New Zealand Travel Tips (NZTT) Facebook group for member-only deals on activities around the country
Food is pretty expensive in New Zealand, but you can save money by cooking your own meals. Make sure you buy in-season produce and check out farmers markets for cheap fruit and veg.
In terms of supermarkets, Pak'nSave is definitely the cheapest. Countdown, New World and Fresh Choice have similar prices but check their websites for their weekly deals. Many cities also have Asian supermarkets which are great for fresh produce and meat.
Avoid alcohol if you really want to save, drinks in New Zealand are about $7-8 for a beer or wine, and even more expensive in Auckland and Wellington or the tourist towns.
If you do want to treat yourself to a dinner out, check First Table to book an early or late table for $5-10 and you'll get a 50% discount on food
Download the Rankers and Campermate apps to get the low down on the best freedom camping spots and holiday parks to make sure you're getting the best bang for your buck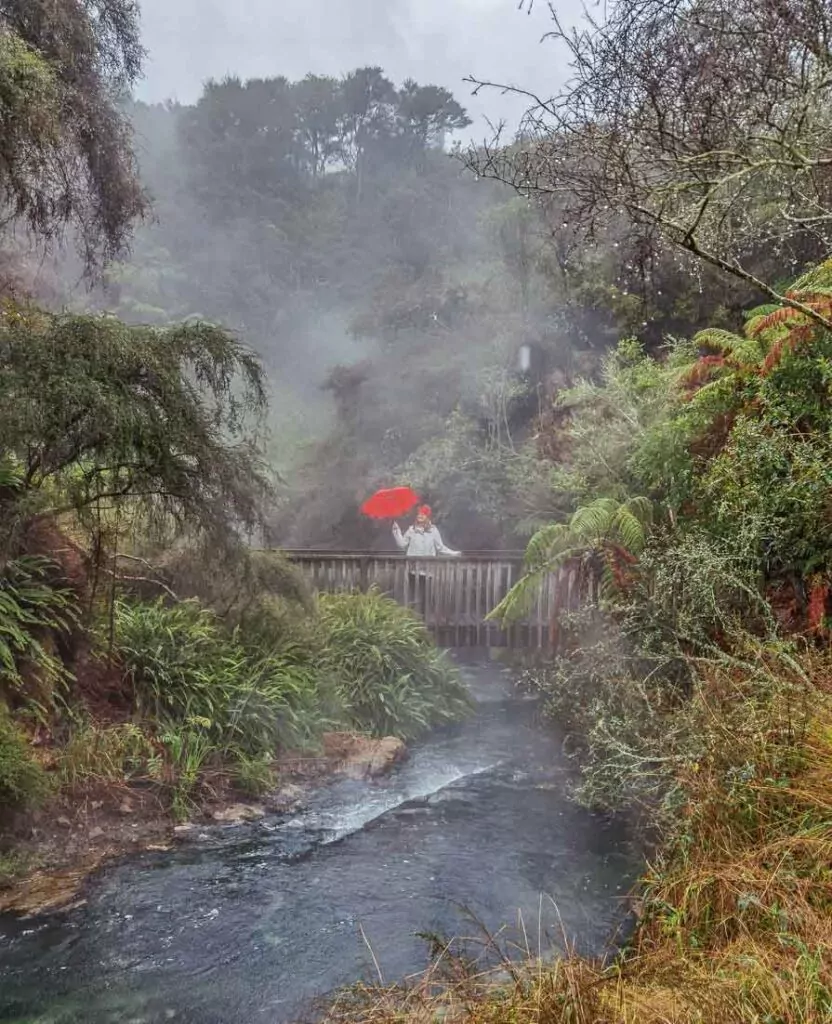 ---
Planning a big New Zealand road trip?
I've got a tonne of helpful travel guides for all around New Zealand which will help you make the most of your time and money on the road. Here are some blogs that you might also want to read:
---
Well done for making it to the end of this monster blog post! I hope I've helped you plan your North Island road trip itinerary, you're going to have the BEST time.
If you have any questions pop them in the comments below or head over to Instagram @findingalexx and flick me a message.
Like this blog? Pin it!