Looking for the best things to do in Taupo? Whether you're heading there for a chilled out getaway or an active adventure, and whether you're looking to splurge or you're on a tight budget, this list will give you some brilliant ideas of fun things to do in Taupo.
From geothermal hot pools to thrilling adventures to nearby hiking trails and ski slopes, Lake Taupo and its surrounds have plenty of epic things to do to suit your travel style.
One of New Zealand's best-known resort towns, Taupo boasts a range of superlatives. The lake is the largest freshwater lake in the Southern Hemisphere, and it marks the start of the country's longest river, the mighty Waikato. Taupo is also home to the thundering Huka Falls, the most-visited natural attraction in Aotearoa.
Throw in some infamous New Zealand activities, a few unique options you probably haven't seen before, some mouth-watering local kai (food) and funky places to stay, and you've got the makings of an unforgettable Central North Island adventure.
Or skip straight to:
hide
---
The Best Things to Do in Taupo
1. Skydive
With insane views over the massive lake as well as the Central Plateau's snowcapped mountains, Taupo Tandem Skydive is the top-rated skydive in New Zealand. And with Queenstown, Abel Tasman and the Bay of Islands to compete with, that's saying something!
They've completed over 200,000 tandem skydives since they opened in 1992 and they're true legends in the thrill activity scene. Prices start from $199 for the 9,000ft jump which is the best price in New Zealand, or get a longer freefall with the $399 18,500ft jump.
Book it here: Taupo Tandem Skydive
2. Bungy
For a cheaper thrill that's no less thrilling (or is even more thrilling according to many people who have done both), try a bungy jump instead.
Go solo or take a friend with you on a tandem jump, and freefall from a 47 metre platform above the Waikato River.
Book on Klook to get a discounted rate from only $162 (down from $180): Taupo Bungy Experience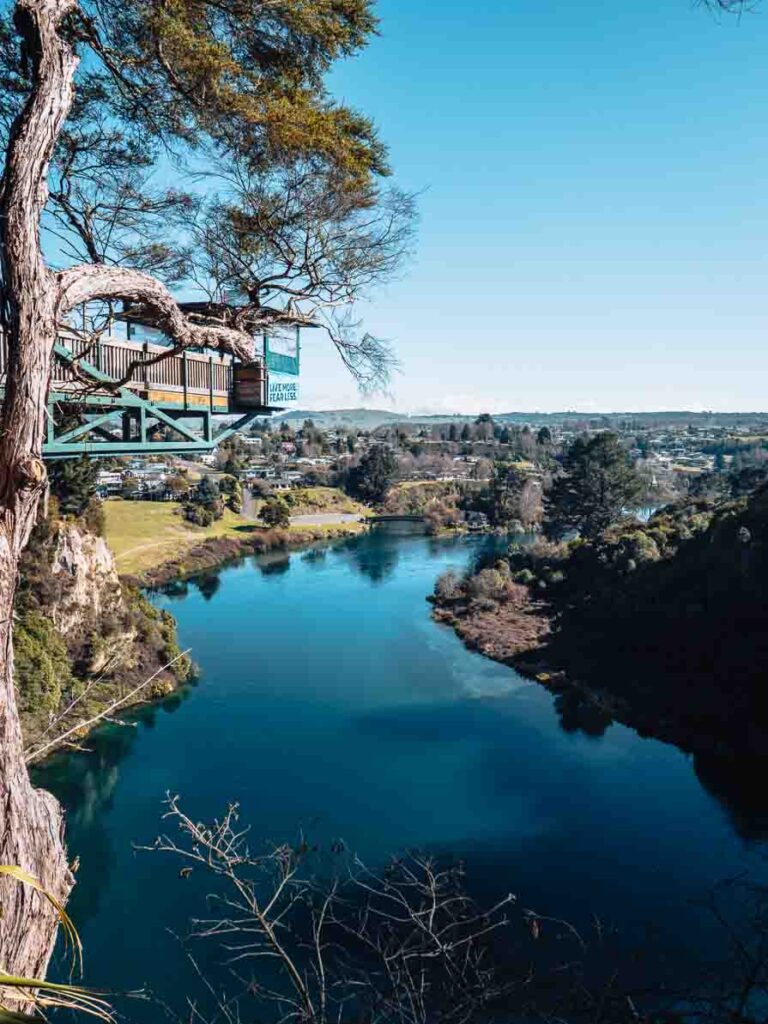 3. See the powerful Huka Falls
With over 220,000 litres of water rushing over this waterfall every second, Huka Falls is an absolute must-see and one of the best free things to do in Taupo.
The Huka Falls are easily accessed with a short walk from a carpark less than 10 minutes from Taupo's town centre, or you can choose to walk from the Spa Thermal carpark (an hour one way) or from Aratiatia Dam (two hours one way).
4. Jet boat
Get up close and personal with some river rapids with a heart-racing jet boat trip on the Waikato River.
Hukafalls Jet is probably the best-known Taupo jet boat ride, however the nearby Rapids Jet is actually the only jet in New Zealand to actually take you through white water rapids.
They're a 15 minute drive from Taupo (or 50 minutes from Rotorua) and your boat ride will give you an exhilarating 35 minutes on the water. This is what we did on our North Island road trip and I highly recommend it.
Book it here from $95 (down from $125): Rapids Jet Taupo
Another unique jet boat option is The Squeeze with River Jet, where you'll disembark the boat and venture through a narrow rocky canyon to reach a naturally heated hot spring. Add that to your New Zealand bucket list!
5. Hire a Doughboat
For a bit of a twist on your usual Lake Taupo boat trip, grab some mates, pack up a picnic and hire a pink Doughboat!
The only experience of its kind in New Zealand, Doughboats are electric boats that you can self-drive and can fit up to six people for a two hour session.
They're super easy to operate, each boat has a bluetooth speaker, and you can take your own food or book a pizza or platter before your trip. Prices are $144 for two people, then $20 for extra people up to six in total.
Book it here: Doughboats Taupo
6. See the Aratiatia Dam release
The Aratiatia Dam release is pretty incredible to watch, and kids will love it! It's about 16km from Taupo and there's plenty of parking, plus a few different viewing points (get there early to get a spot at the furthest viewpoint).
The dam opens three times daily in winter (10am, 12pm, 2pm) plus a fourth time at 4pm in summer.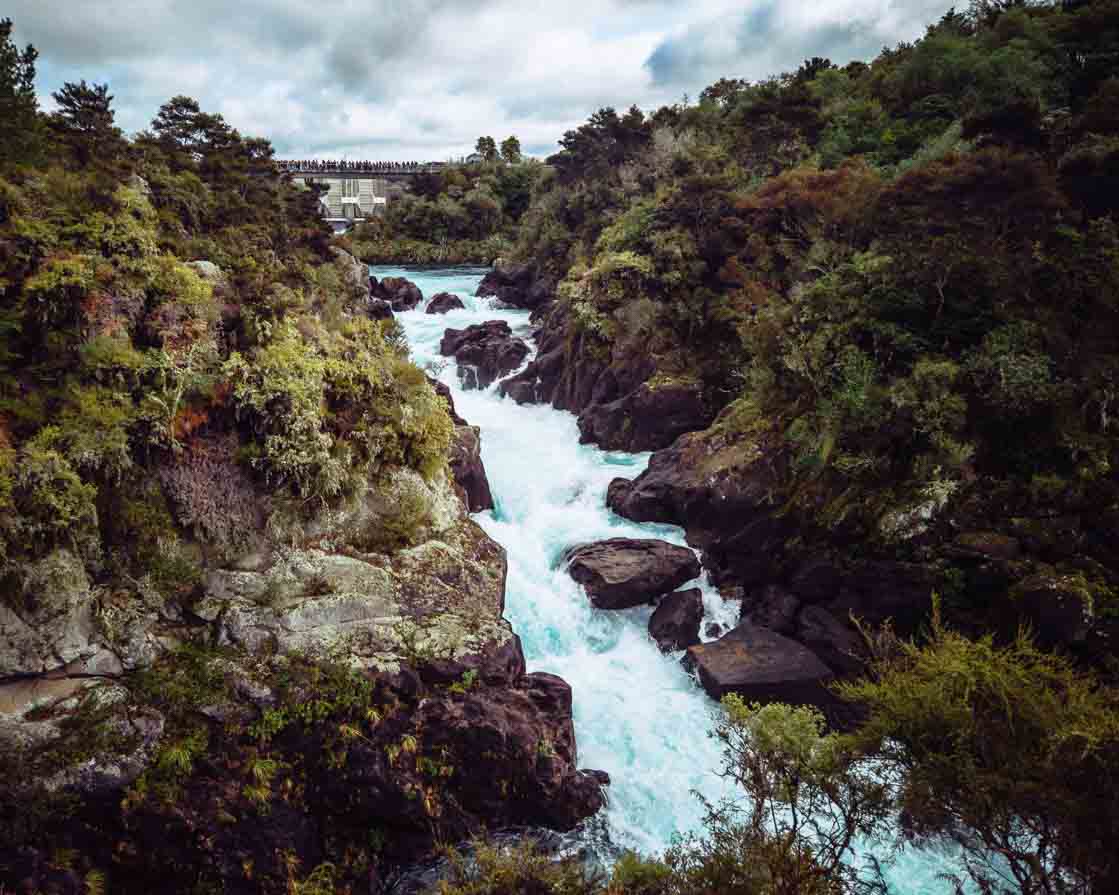 7. Take a scenic flight
Seeing the lake from the sky is one of the best things to do in Taupo, and it gives you a bit of scale to understand the magnitude of this natural landmark.
Taupo Floatplane offers a flight over the lake, Mount Ruapehu and Mount Tongariro.
Get more details here: Taupo Floatplane
8. See the Ngatoroirangi Mine Bay Maori Rock Carvings
Sculpted by traditional Maori carver Matahi Brightwell, the 14m high carving of Ngatotoirangi (the artist's ancestor 27 generations back!) is one of the most famous contemporary Maori artworks in the world.
You can reach the carvings by kayak, catamaran or yacht.
Sustainable travel tip: Sail Barbary are the only sustainable sailing company on Lake Taupo, you can book a trip on their eco-friendly yacht through Airbnb Experiences right here.
9. Go kayaking or paddle boarding
If you want to learn about local history and nature then book a guided kayak tour, or opt to go solo and explore at your own pace.
If you'd prefer to work your full body and test your balance, check out this paddle boarding trip on Airbnb Experiences.
10. Enjoy some of the local cuisine
Taupo's food scene is seriously impressive, with a huge range of eateries to satisfy any craving.
My top pick for brunch is the Cozy Corner, and other delicious options are Storehouse, Cafe Ninety Nine and Victoria's Cafe.
For a fancy dinner you can't miss Sorrento (the pork belly is to die for), and I also loved the Bistro, Master of India and Vine Eatery.
For great cocktails head to Plateau Bar + Eatery, and for the best sunset visit Two Mile Bay Sailing Club.
11. Soak in the hot pools
You might think Rotorua is home to the best North Island hot pools but Taupo gives it a run for its money!
Families with young kids will love DeBretts Spa Resort, a waterpark with a range of public and private pools as well as a warm water playground and hydroslides. There's also a holiday park here so you can stay onsite, and a day spa for ultimate relaxation.
If you'd prefer to avoid children, head to the Hot Thermal Pools at Wairakei Terraces which are adults only (14 and over). They're open til 9pm in summer or 8.30 in winter (except for Thursdays when they close at 7pm).
12. Go white water rafting
Kick off your day with a pick up in Taupo and then get kitted out in warm gear before you hit the rushing rapids of the Tongariro River.
The river is Grade 3 which is ideal for first-time paddlers or experienced rafters looking for an adventure with stunning views. Lunch is included afterwards so you'll return home with a smile on your face and a full belly!
Book it here: Tongariro River Rafting
Want to challenge yourself to a more thrilling rafting trip? Head up to Rotorua and take on the highest commercially rafted waterfall in the world (for real, it's 7m high!) with this Grade 5 rafting trip from Kaituna Cascades.
13. Wander around the Craters of the Moon
With an otherwordly landscape showcasing Taupo's natural geothermal activity, the Craters of the Moon Geothermal Walk is perfect if you're looking for cheap things to do in Taupo. Entry is only $8 for adults or $4 per kid.
14. Do the Tongariro Crossing
Commonly known as the best day hike in New Zealand, the Tongariro Crossing offers dramatic views that will blow your mind.
It's 19km one way through Tongariro National Park, taking you past striking crater lakes, rugged valleys and ancient lava flows.
You can drive to the start point and shuttle back to your car at the end, or book a shuttle to and from Taupo or Turangi.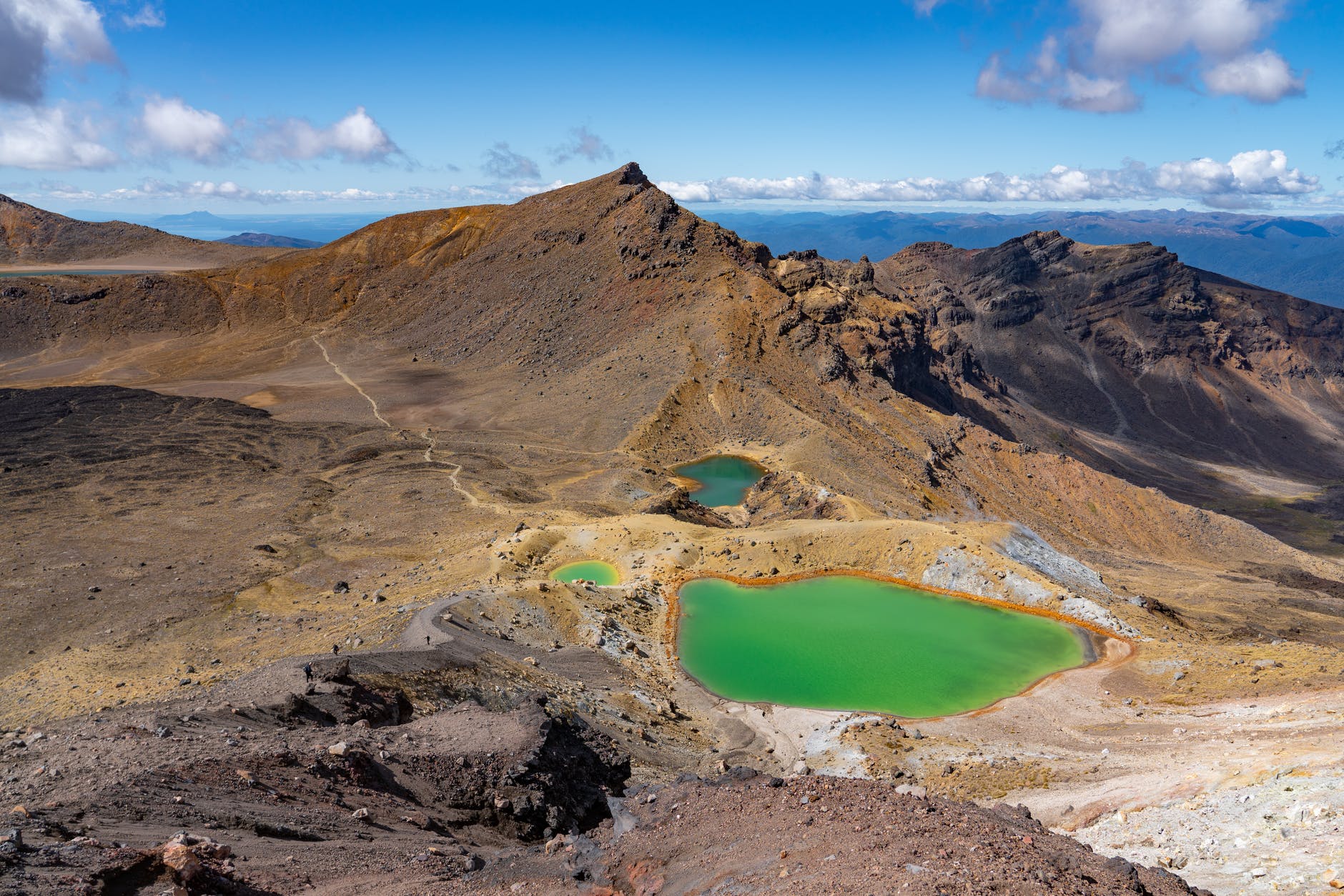 15. Hit the slopes
Taupo offers easy access to Mount Ruapehu, the premier ski resort of the North Island.
Ruapehu has two ski areas, Whakapapa (the largest ski area in NZ and brilliant for beginners) and Turoa (epic terrain parks and NZ's highest lift).
The ski resort is about 1h 20m from Taupo, and both areas should be open from the start of July to mid-October 2021.
16. Forgotten World Adventures
An hour and a half's drive from Taupo town centre to the west of the lake is Forgotten World Adventures, a funky way to see a lesser-visited part of the North Island.
You'll be taken along a 40km railway in a repurposed golf cart, complete with a knowledgeable local guide, stops at historical villages and lunch included.
This unique Kiwi-owned tourism operation has won a number of awards, for good reason, and you'll be supporting a hardworking local team when you book your Forgotten World Adventure.
17. Go for a swim!
If you need to cool off after a hot summer's day, or if you fancy a refreshing plunge in winter, the lake is the perfect place for a swim.
There are a number of dedicated swimming areas on the lake's shores, like Kinloch, Main Beach, Yacht Club and Pukawa to name a few, but it's best to grab some info from the local information centre to choose a swim spot that's safe for the conditions when you're there.
18. Find the best street art
Taupo's street art scene has been thriving for a few years now, with vivid graffiti plastered through some of the main walkways in town.
Each year Taupo even holds a street art festival called Graffiato, the first of its kind in New Zealand, each year in October. Keep an eye on this page for more details for 2021.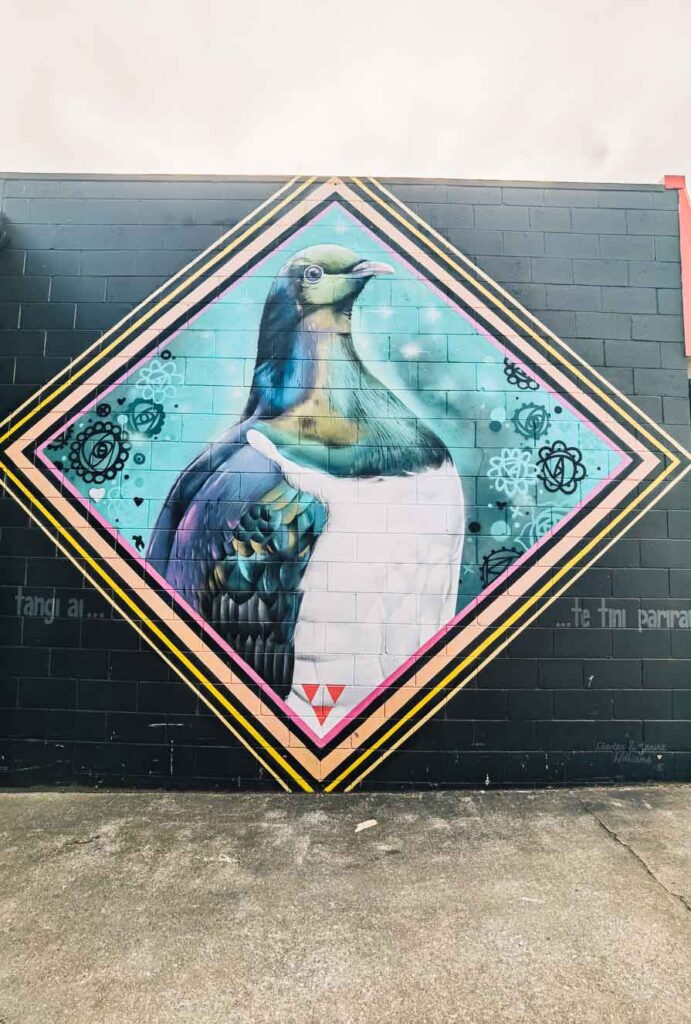 19. Head to Rotorua
If you think you've seen everything Taupo has to offer (which would be impressive!) then you might want to consider heading to nearby Rotorua to fill the rest of your itinerary.
With ziplining, mountain biking, Maori cultural tours and more, here's a detailed guide to the best things to do in Rotorua.
---
The Best Taupo Accommodation
There are some brilliant places to stay in Taupo to fit into any budget, whether you're looking for cheap and cheerful or somewhere to splurge.
If you're in a campervan: We parked up our Sunrise Holidays campervan (her name was Judy and we loved her!) at the Taupo TOP 10 Holiday Park.
These guys were excellent, great service, really clean facilities (the most sparkling campground kitchen I've ever seen!) and easy access to town.
For freedom campers in self-contained vans, there are a couple of designated freedom camping spots outside of the main town centre, you can find all the info on the Rankers app.
If you want to go glamping: Mountviews Glamping is a highly-rated (4.95/5!) lotus belle tent with stunning views near Acacia Bay, Kinloch Glamping Retreat is a huge yurt with an outdoor bath, and Kowhai Korner is a super cute eco-friendly tiny house.
Love glamping? Same! Read my full guide to Glamping in New Zealand and find an ideal glamping getaway for you.
On a budget: Haka Lodge (not to be confused with the extremely non-budget Huka Lodge) is a backpackers right in the middle of town offering brilliant value for dorm rooms and private rooms.
Best value: Taupo's Treat Airbnb is one of the best Airbnbs in Taupo, we absolutely loved our stay there. It's a self-contained cottage with a huge bed plus sofa bed, a well-equipped kitchen and an outdoor bath. Prices start from only $139 a night, bargain!
YOU MIGHT ALSO LIKE: The Best Airbnbs in Taupo
If you want to treat yourself to somewhere fancy: The Couples Retreat at Dunalistair House on the world-renowned Kinloch Golf Course is ideal for a romantic getaway or celebrating a special occasion.
And if you're looking for somewhere extra fancy, and you're happy to splurge, Huka Lodge is fit for a queen. Literally, the actual queen, Lizzie herself, stayed there.
For a group: Botanical Hideaway offers a good value option for groups (up to 12 people) with loads of outdoor space, or Taupo's Edge Villa is an Airbnb Luxe option with stunning views for up to 8 guests.
---
Hopefully you've been able to use this list of the best things to do in Taupo to build out an epic Taupo itinerary for your upcoming adventure. As always, if I've missed anything important just let me know in the comments.
RELATED READS:
Like this blog? Pin it!
I received some of these Taupo attractions for free or for a discounted rate in exchange for content. As always, all opinions are my own and are based on my own personal experience. Big thanks to Taupo's Treat, Taupo TOP 10 Holiday Park, Doughboats, Rapids Jet and Osteria for hosting me.