Want to sleep overnight at the Great Barrier Reef with Cruise Whitsundays? Enjoy the Milky Way from your Reefsleep rooftop tent or opt for the Reefsuites Great Barrier Reef underwater hotel, the only underwater hotel in Australia.
As far as bucket list experiences go, this has got to be up there with the most unique and epic accommodation experiences in the world.
The Great Barrier Reef in itself is an absolute phenomenon, so big that it's visible from space, with a vibrant, bustling world under the surface. No Queensland road trip is complete without a visit to the reef, but if you want to take your Great Barrier Reef experience to the next level, a visit to Cruise Whitsundays' Reefworld pontoon is the way to do it.
Offering both day trips and overnight adventures, Reefworld is a must-visit if you're spending any time at Airlie Beach or Hamilton Island, but spending a night out on the pontoon is an unforgettable experience that I cannot recommend highly enough.
Read on for loads more info on Reefworld, Reefsleep (the tents on top), Reefsuites (the underwater hotel), when is best to go, what you need to take and what a Reefworld itinerary looks like.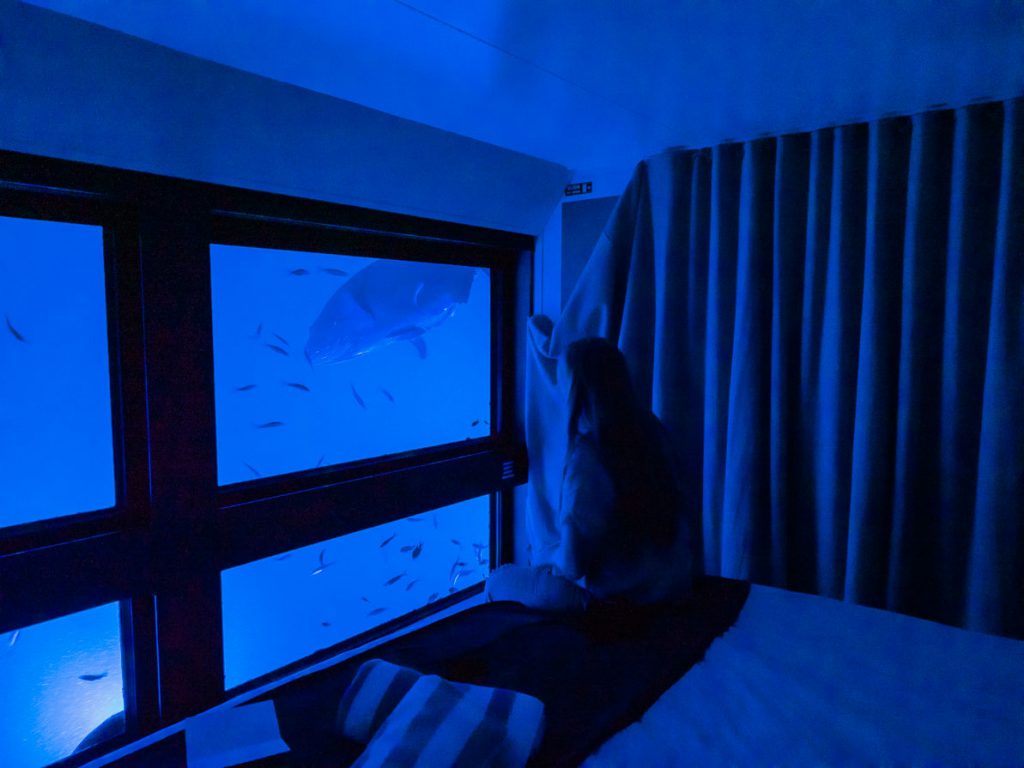 ---
Where is Reefworld?
Reefworld is a pontoon located out at Hardy Reef on the outer Great Barrier Reef, which is the largest coral reef system in the world at a whopping 2300km long. The pontoon is 39 nautical miles from shore, about three hours by boat from Airlie Beach.
---
What can you do out at Reefworld?
Reefworld is a one-stop-shop to get you up close and personal with the Great Barrier Reef, whether you want a day trip or an overnight trip, and if you want to stay above sea or underwater. Yes, for real!
There's a patrolled snorkelling area that you can snorkel in all day to try and spot fish, clams, turtles, eels and more, there's a full pontoon with both sunny and shaded areas, there's guided snorkels and dives available at an extra cost, and there's a semi-submarine and an underwater observatory for easy fish spotting too.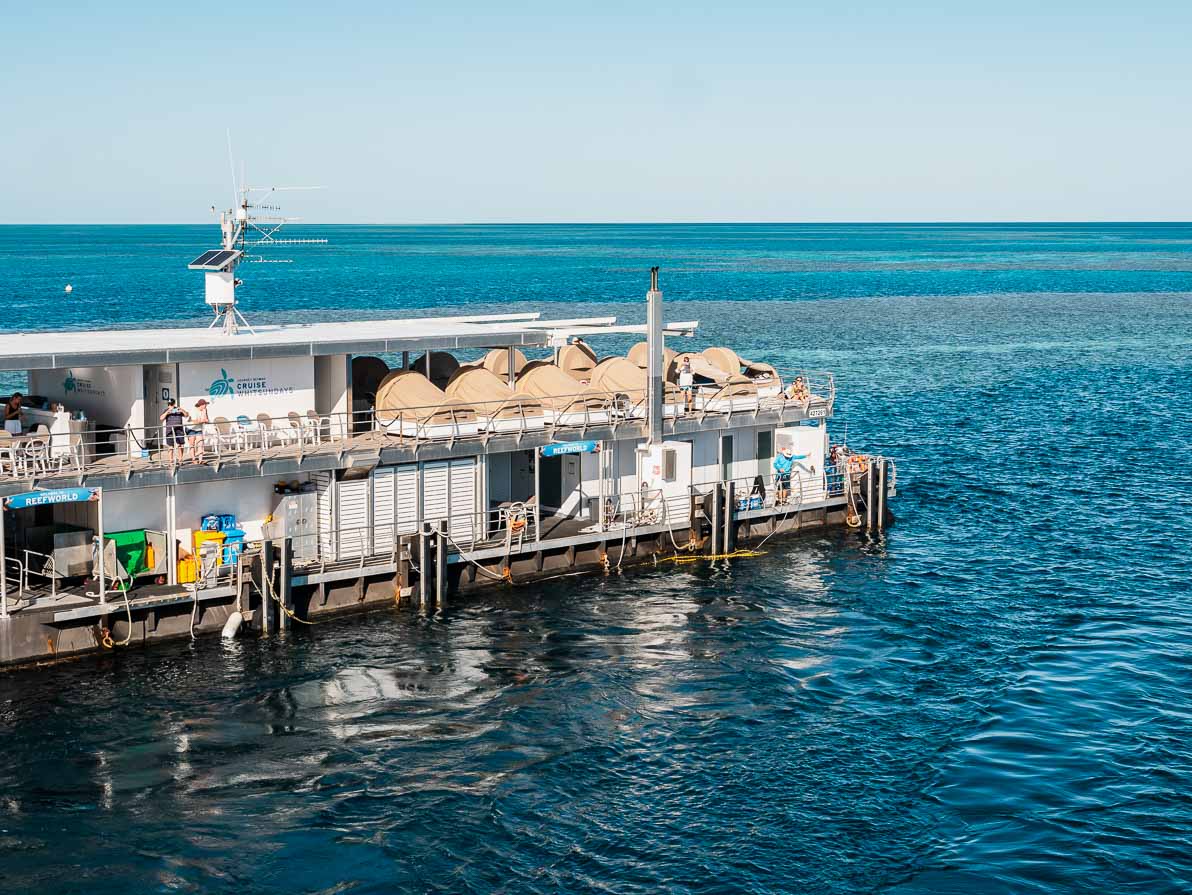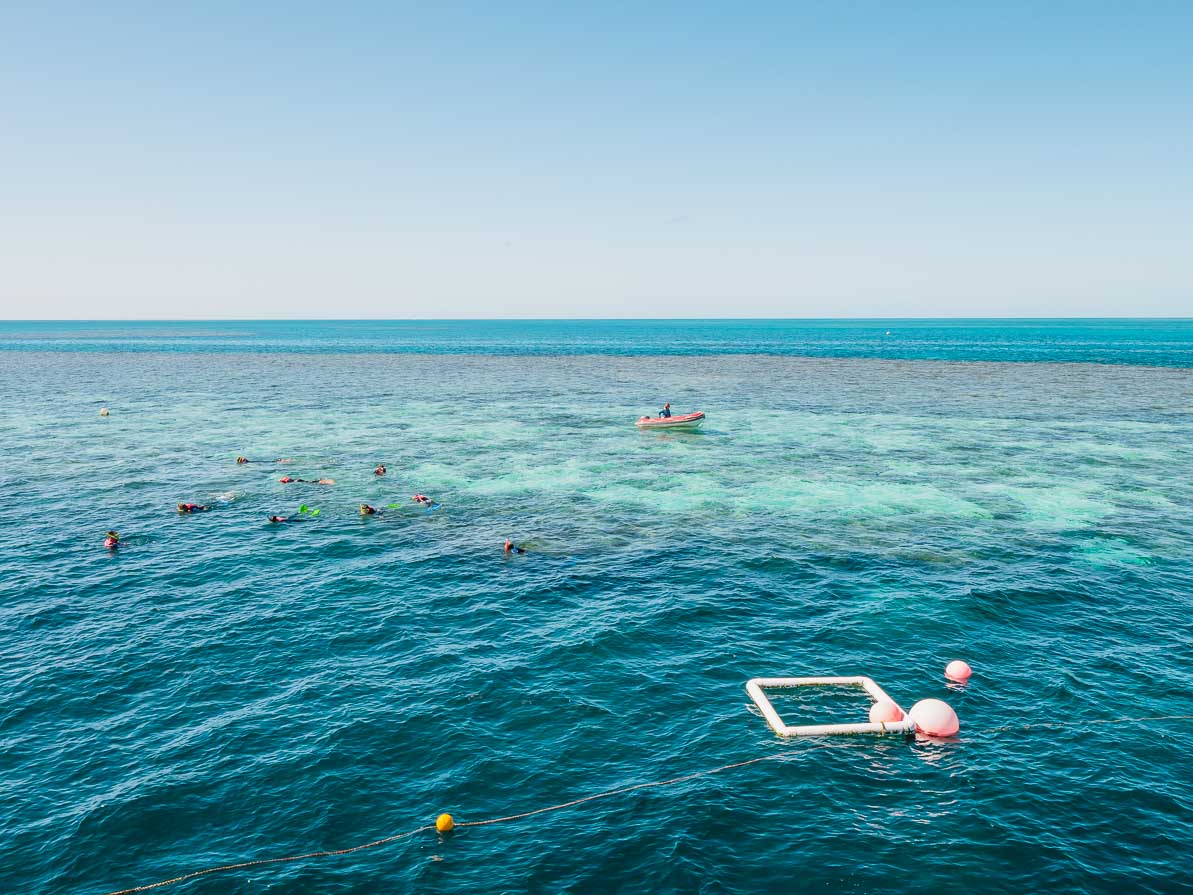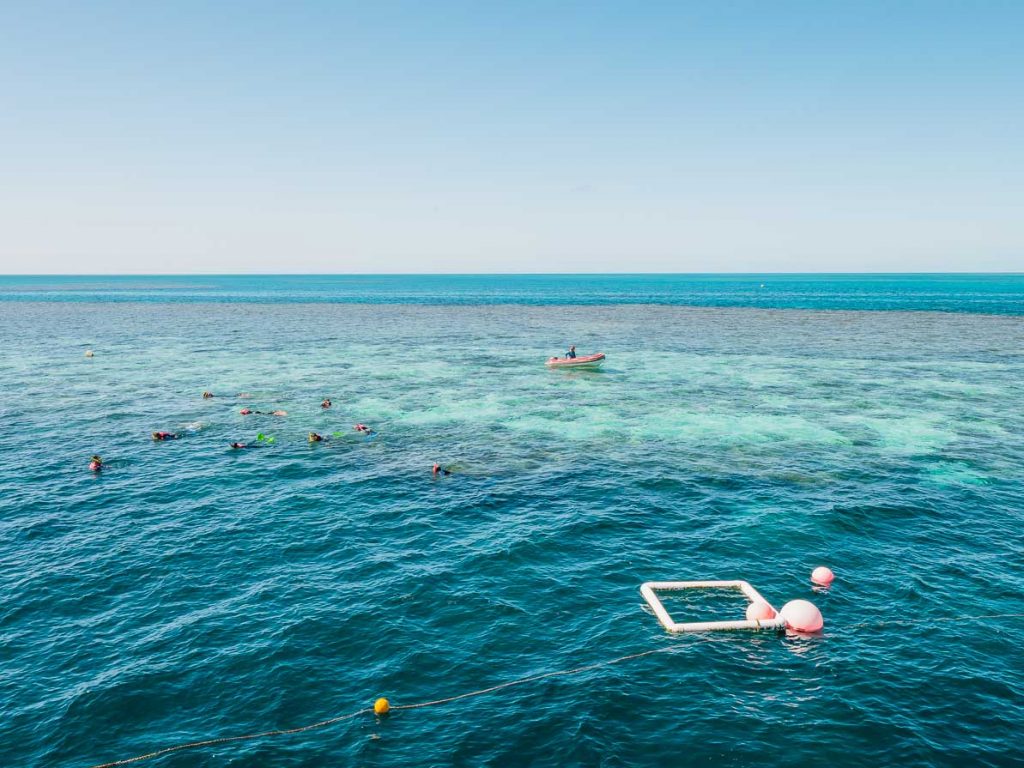 ---
Sleeping under the Milky Way: What is Reefsleep?
Reefsleep is an overnight Great Barrier Reef experience that includes:
Two days, one night on the Reefworld pontoon sleeping in a comfortable swag under the stars
Ferry transfers to and from Reefworld from Airlie Beach or Hamilton Island
All-inclusive food and drink (excluding spirits, you can purchase those at your own cost)
Snorkelling gear
24 hour access to the underwater observatory
A semi-submarine trip to see the reef without getting wet
And the opportunity to add on activities like a guided snorkel safari, a helicopter ride over the famous Heart Reef, an introductory dive or a certified dive if you have your dive ticket
PHEW!
The swags themselves are surprisingly comfortable, with a double bed, a light, mini fans and the option to sleep with the tent wide open, have a bug net window (kind of unnecessary as there are no bugs that far from land) or to close it up completely.
There are 12 swags on the top deck each with a storage locker underneath the bed, as well as a couple of showers and bathrooms, a big dining table, and some bean bags for chilling out, with this half of the top deck reserved for Reefsleepers only (no day guests allowed).
On the other side of the pontoon's top deck is a bar area with lots of tables and chairs, this is accessible by day trippers too.
---
Great Barrier Reef underwater hotel: What are Reefsuites?
Reefsuites offers the same in terms of transport, food and drink, but you get to sleep in one of two underwater (!!!!) suites on the pontoon, getting you up close and personal with the locals.
And by locals, I meant LOADS of fish.
The Reefsuites are pretty luxurious, with a double bed looking out towards floor to ceiling windows under the sea, as well as a full bathroom.
You've got to go down a couple of metres of stairs to get to your room so it may not be a great idea if you're claustrophobic, and I can't promise you'll sleep particularly well because the neon light is on all night to attract the fish to your window, but you can sleep when you're back on land! This is the only underwater hotel in Australia and it's absolutely a bucket list experience.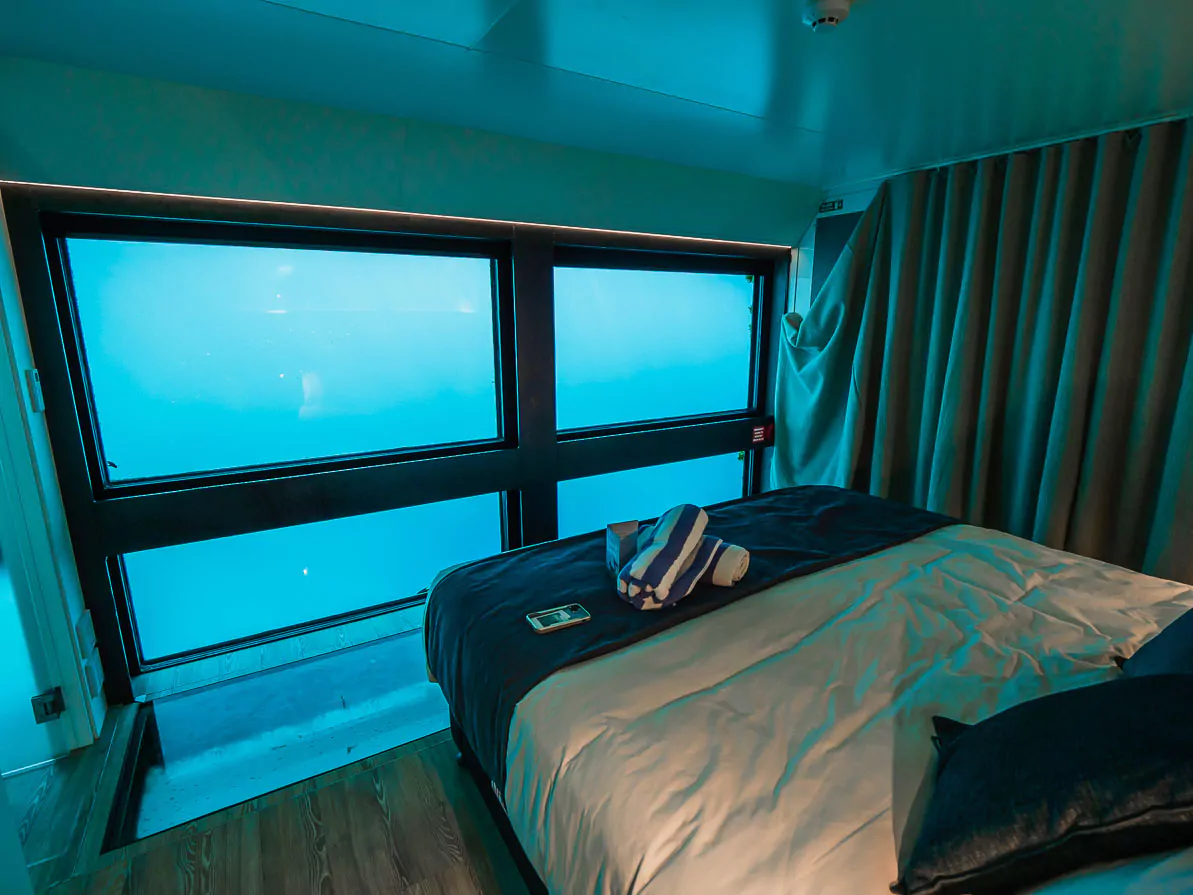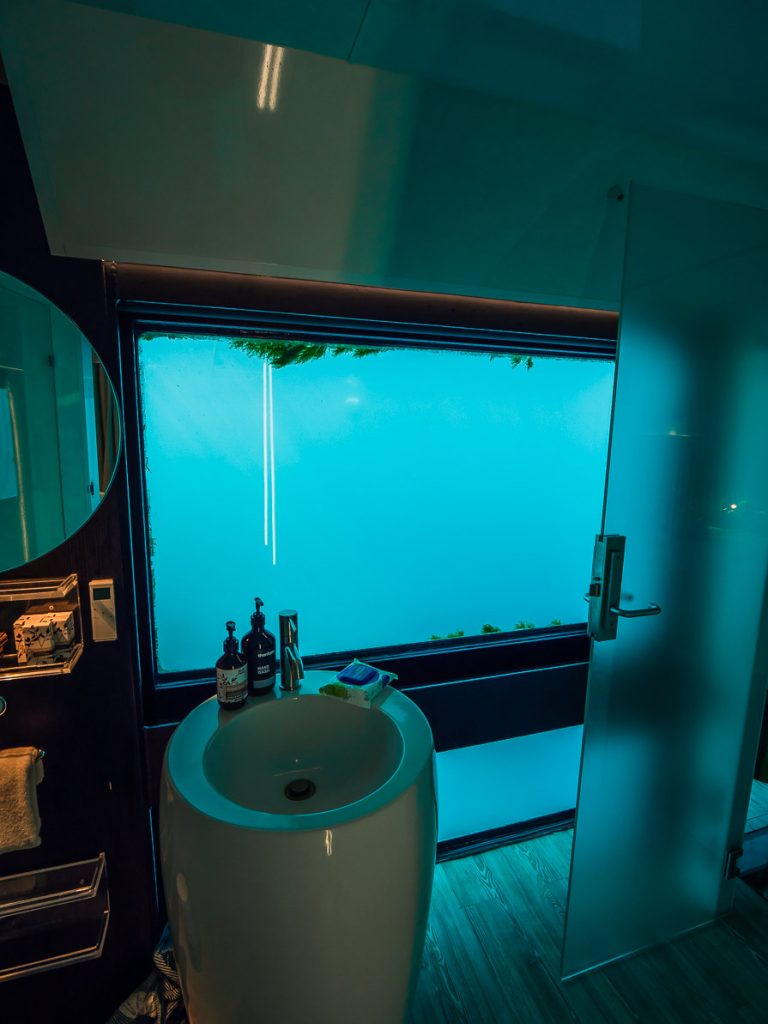 ---
The Reefsleep/Reefsuites itinerary
Depart from Airlie Beach or Hamilton Island
The Cruise Whitsundays catamaran to take you out to Reefworld leaves from Airlie Beach at 8am (check in at 7.30am) and goes via Hamilton Island, departing there at 9am. It's about two hours from Hamilton Island to get to the pontoon on the outer reef, three hours from Airlie, so you'll arrive at 11am. This boat is shared with the Reefworld day trippers too but the overnight guests get priority boarding and priority seating (winning!).
Much of the boat trip is taken up with briefings from the staff about your overnight experience as well as the different activities on offer, and there's a morning tea provided which includes granola, yoghurt, muffins and fruit.
Day at Reefworld
From your arrival at Reefworld at around 11am until the day trippers depart at about 3pm, you have access to all the activities on offer! You could enjoy the Queensland weather from the sun loungers, get the best view of the reef with a helicopter ride, book in for a dive, head out on a guided snorkel safari to spot sea life, go for a cruise in the semi-submarine, or just hang around in the safe snorkelling area right in front of the boat (which is patrolled by lifeguards).
If you're not a confident swimmer there's pool noodles for extra buoyancy or life jackets if you prefer, and there's full body stinger suits as well as wetsuits to go over top if you want a bit more warmth, although I went at the start of June and the water was a toasty 26 degrees!
I booked a dive first thing, diving the Great Barrier Reef was at the very top of my Australia bucket list so I was beyond excited to tick this off. I got my PADI Open Water license in Thailand back in 2015 so I was able to book a certified dive, which is still guided but you put on all your own gear, and you can dive up to 18m deep. The fish life here is absolutely insane, you will immediately understand why it's so often listed as one of the best diving spots in the world.
Reefworld offers introductory dives for those who haven't dived before, they can go up to 6m and you have one guide for every two people, with the dive guide doing everything from gear set up to getting your buoyancy right to literally holding your hand and guiding you if you want! This is ideal for anyone who wants to experience the reef at its best, as well as anyone who reckons they might want to do get their diving license but wants to give it a bit of a trial first.
While it may look relaxing, diving actually exerts so much energy, so after 40 minutes underwater I was absolutely starving and ready for another meal. Lunch is served between around 12.30 and 2.30pm, we had DIY buns and wraps as well as a couple of curries and rice.
After lunch there's plenty more daylight to partake in the Reefworld activities, I decided to try out the semi-submarine and spent a couple of hours in the snorkelling area searching for a turtle with no luck.
Once the day trippers leave
After 3pm when the day trippers and the previous night's guests head back to the mainland, Reefworld is all yours.
There can be up to 28 overnight guests at Reefworld and usually they do get booked out pretty far in advance, but somehow I managed to swing an absolute fluke and only had to share the pontoon with two couples in the underwater suites, so I had the entire Reefsleep top deck to myself. What a win!
A fancy cheeseboard is brought out at around 3.30pm, and then the crew will check with you if you want to book any in-water activities (like the guided snorkel or the dives) outside of day trip hours. I'd recommend making the most of the opportunity to swim the reef once everyone has left, the fish are much more active when there's only a few of you snorkelling around.
Our crew booked a guided snorkel safari for 4pm, where we got to take advantage of the low tide and see much more of the reef than when we were snorkelling earlier in the day. The guided snorkel goes outside of the safe snorkel area and you're with a guide the whole time, who points out all the different fish and other underwater life.
Two minutes into our snorkel safari we spotted a huge green sea turtle that hung out with us for a couple of minutes as we drifted along, mission complete! We also spotted Maggie, the huge Maori Wrasse that frequents Reefworld, as well as a couple of Nemos and about twenty million other fish.
The evening at Reefworld
Access to the water closes at 5pm for safety, so after our snorkel safari we got showered and cleaned up for sunset canapes at 6pm on the top deck. Sunset was just magical, there's something about being on the water with no other boats or humans in sight, it feels as though the world has stopped for a moment.
The canapes were seriously impressive too, we got a mini platter with an oyster, a scallop with nduja sauce, a prawn, a hoisin beef bao, seaweed salad, a feta quiche and a garlic-stuffed mushroom.
Once you've witnessed the sky change colour, it's time to head downstairs for dinner, which was equally impressive. We had scotch fillet steak with sweet potato puree and greens*, and dessert was a chocolate walnut brownie with cream.
*All my real-life friends know that I'm not a huge vegetable fan so you better believe me when I tell you these vegetables were absolutely delicious. Broccolini, asparagus, kale and mushrooms, cooked perfectly, sautéed in something mind-blowing. I would eat all my vegetables if they all tasted like this.
After dinner the night is yours, we enjoyed a couple (okay, more than a couple) more drinks before the bar closes at 8pm, then watched the huge groupers hang around the underwater neon light while the smaller fish chased each other around.
Overnight at Reefworld
The swags are super comfortable, with the option to sleep open air under the stars, do up the mesh net, or do up the waterproof cover if you want to be fully enclosed.
I'm sitting in my swag right now typing this, it's 11.30pm at the start of June and I'm sitting in my shorts and tshirt with the covers fully open! Sleeping under the stars is something I always try to say yes to, especially when you're literally miles away from any light pollution. Seeing the Milky Way from an open-air tent in the middle of one of the seven Natural Wonders of the World is a once-in-a-lifetime experience.
If you want to close the covers but don't want to overheat there's little fans you can plug in, but if you want to charge phones or other devices you'll need to use the plugs in the bar area as the swag plugs don't have enough power and you might trip a fuse. The swags also have a light inside.
Morning of day two at Reefworld
Waking up from a Reef Sleep swag has got to be one of the best wake up experiences in the entire world. Have you ever seen anything this beautiful?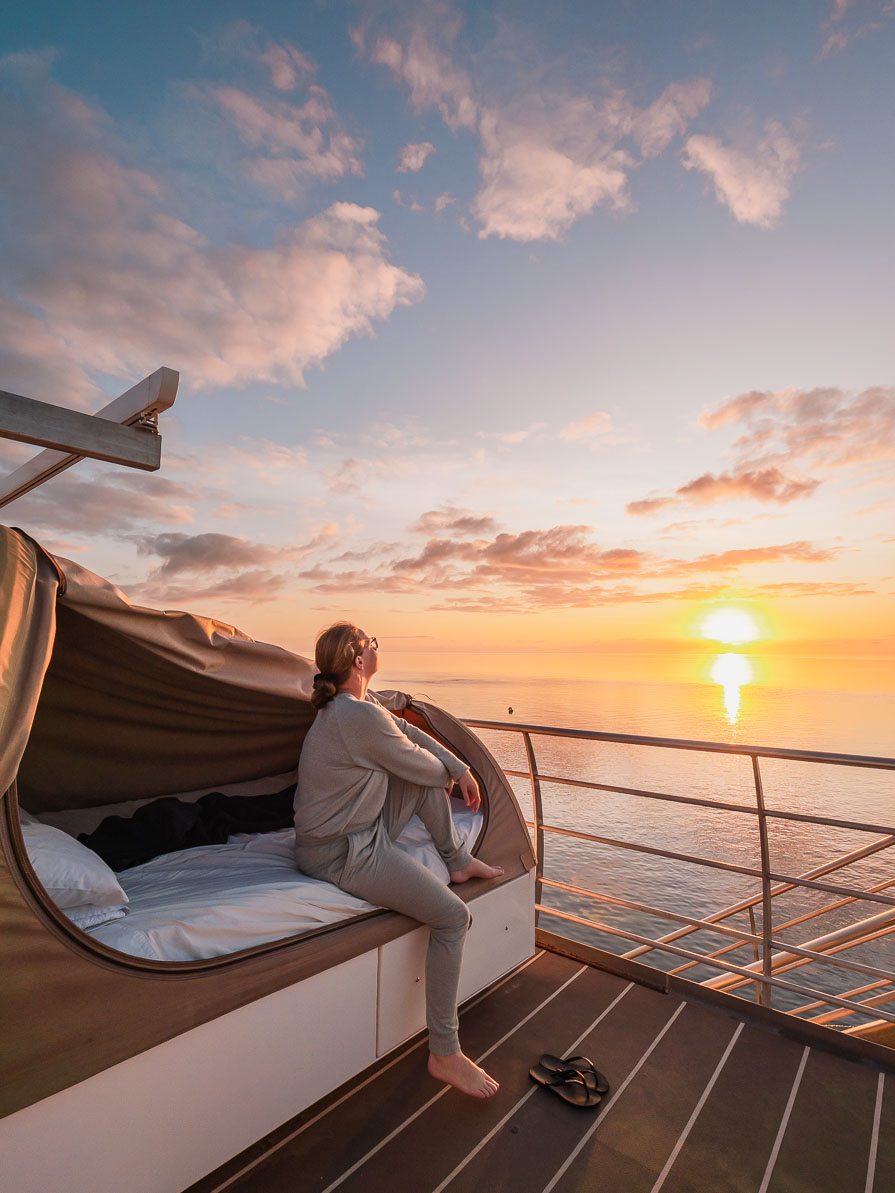 I am not a morning person, in fact I'm the total opposite and prefer to be fast asleep until at least 9am, but this sunrise was well worth losing a couple of hours of sleep. Let's be honest, I went back for a post-breakfast nap afterwards anyway.
After you've taken a million and one sunrise photos, breakfast is served from 7-8am, with a first course consisting of fresh fruit, yoghurt and granola, before a hot breakfast comes out (we got avocado and poached eggs on toast with bacon). Then it's time to make the most of the few hours before the next lot of day trippers arrive at 11am.
I decided to book another certified dive for the second morning, the current was much stronger this time so we just took a boat out about five minutes from the pontoon and then just drifted back to our home base. No more turtles but some giant clams, colourful nudibranchs and a huge moray eel all said hello.
Post-dive our small group of five overnight guests were served pastries for morning tea as the boat arrived with the next round of guests. They allow all overnight guests to have access to the private areas of the boat until 2pm, with Reefsuite guests checking out of their underwater hotel room at 11am to migrate up to the Reefsleep swag deck, which was great as we were able to relax and lie down away from the craziness.
Afternoon of day two at Reefworld
Our lunch was served up on the Reefsleep deck, we had baked chicken with mashed potato, grilled tomatoes, asparagus and pesto, and lunch-dessert was berry yoghurt parfait.
After lunch you'll have an hour and a half or so before it's time to get back on the boat, so live your best boat life while you can! I could've squeezed in another dive if I wanted to but I was too disorganised and had to pack up my stuff so I decided to do a quick snorkel instead, and the friendly Maori wrasse Maggie came up to personally see me off.
At 2pm it's time to check out of the Reefsleep area (sad face!) and move your belongings onto the boat for departure between 2.30pm and 3pm.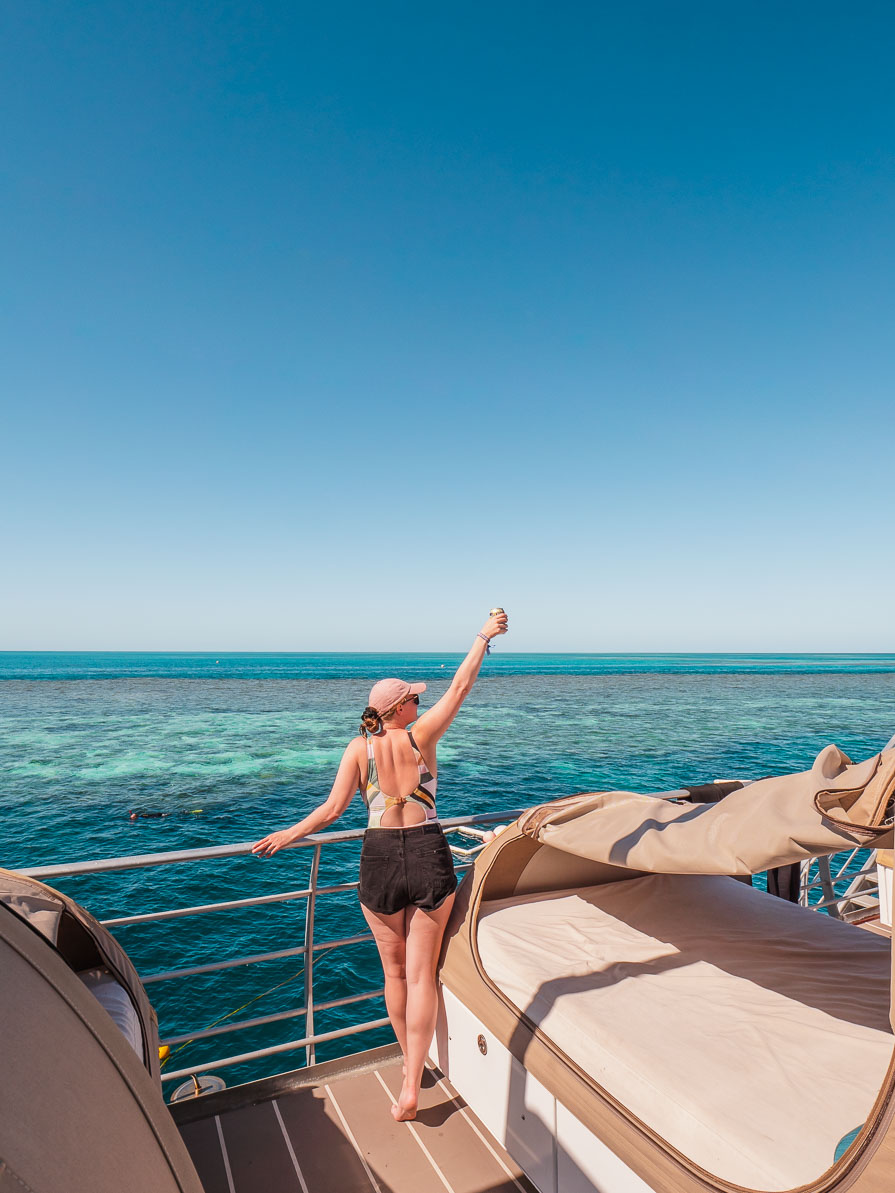 Depart Reefworld back to the mainland
On the boat trip home Reefsleep guests have priority seating yet again so you can soak up the last little moments of feeling special before hitting the mainland.
On the way back the Reefworld staff come around to show you photos that are available for purchase from the photographers out at the pontoon, who have been snapping away taking photos on deck as well as underwater while you were snorkelling or diving. Photos can be bought per photo or in a package, I didn't need to buy any as I took my own GoPro, but they're a great souvenir if you didn't have an underwater camera. Afternoon tea is served during the three hour trip too.
---
How much is Reefsleep?
Reefsleep is $610 per person twin share or $810 if you're travelling solo.
How much is Reefsuites, the Great Barrier Reef underwater hotel?
Staying in a Reefsuite is $995 per person twin share of $1400 for solo travellers.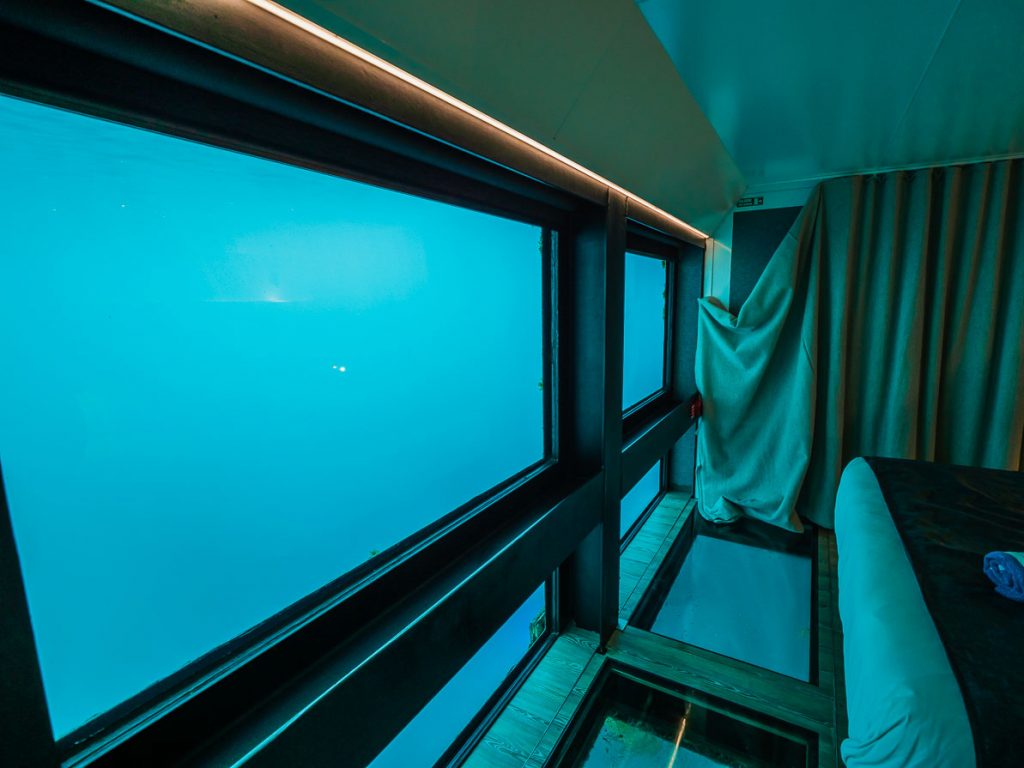 Is Reefsleep worth it?
Abso-freakin-lutely. I can honestly hand on heart say that my Reefsleep experience was one of the coolest things I've ever done, and I have been extremely fortunate to live a life where I do a lot of cool things.
For me it would be up there with standing under the Northern Lights, hot air ballooning in Cappadocia, and watching the sun rise over the Taj Mahal. Bucket list experiences that you'll never, ever forget.
Reefsleep is an expensive one-off cost *but* if you look at the inclusions it's actually brilliant value. The day trip is $285 per person, so for just an extra $325 per person you're getting an incredible accommodation experience, canapes, a chef-cooked dinner and breakfast, unlimited beer, wine and soft drinks, and the opportunity to enjoy the reef with far less people. Airlie Beach is expensive too, so if you just did the day trip and then stayed at an AB hotel and ate dinner and breakfast at a restaurant you're probably looking at a similar cost!
I reckon Reefsleep is something worth saving for so you can fit it into your trip without feeling like you're spending too much on one thing. And if you have something to celebrate, it's the perfect place for it.
Is the Great Barrier Reef underwater hotel room worth it?
I didn't stay in the underwater hotel room (unfortunately!) but my lovely pontoon-mates Jess and Sam invited me down to their room to check it out and take some photos, and once again I think this is a once-in-a-lifetime experience that is worth the splurge if you can afford it.
What's the day trip like?
The day trip is $285 per adult or $132 per child. It's a long way to go, with three hours there, four hours on the pontoon and then three hours home, but there's no denying that Reefworld offers a unique Great Barrier Reef experience on the outer reef with thriving underwater life and no disruption from other boats.
If you have time I would definitely suggest an overnight stay rather than the day trip just to make the most of the pontoon, but if you can't afford to spend the night (in terms of money or time!) then the day trip is still an epic thing to do.
Reefsleep FAQs
Can kids do the Reefsleep or Reefsuites?
Kids aged six or over are allowed on the overnight trip, but they pay adult prices.
Where can you park?
There is paid parking available at the Port of Airlie marina.
What should you bring?
Bring a small overnight bag with the following:
Swimwear and a towel
Sunscreen and a hat
Pyjamas
Camera and GoPro if you want them (though they do have a limited number of GoPros available for hire)
A warm jumper or jacket in case it gets chilly at night
When is the best time to go?
The reef is worth a visit year-round, but if you're flexible then the best time would be between May and October, when temperatures are mild, there is less rainfall and less chance of stingers.
I visited in June and was worried about if it would be too cold at night or in the water but it was absolutely divine, even compared to New Zealand water in the summer! They do offer stinger suits for snorkelling and you can request a wetsuit if you get particularly cold.
What's a stinger suit and why do I need one?
A stinger suit is a thin 1mm full-body swimming costume to protect your skin from stingers a.k.a. jellyfish. There are a variety of jellyfish found in Queensland's tropical waters, and they are more likely to be found from November to May, but stinger suits are available for Reefworld guests to wear year-round. They also offer sun protection as an added bonus!
Is there WiFi?
There's no WiFi or cellphone reception out at the pontoon, so you'll be off the grid. Enjoy it!
Will I get seasick?
The three-hour boat trip does go across the open ocean so if you're prone to seasickness then take some medication for the trip. Once you're on the pontoon it is very stable and you forget that you're on the water, but in bad weather you can probably feel the swell a little so if you are really sensitive to movement, take enough pills to get you through two days (absolute worst case scenario).
Is it eco-friendly?
Australia has extremely strict regulations for tourism operators to meet in terms of both the environment and wildlife, and the Great Barrier Reef is no different.
Reefworld is located on the Hardy Reef in a green zone, which means there's no fishing allowed, and while fish-feeding is heavily restricted on the GBR (feeding fish changes their natural behaviour which can impact reef health), Reefworld has a rare permit to feed the fish in line with set rules, like what they can feed them, how often to feed them and where to feed them.
Cyclone Debbie was a category four tropical cyclone that hit the Whitsundays in 2017 which caused underwater landslides and damaged some of Hardy Reef, and feeding fish in the right areas of the reef means that the fish are able to stay in that area despite the damaged reef, which in turn helps the living coral survive and grow.
What's the accessibility like?
Unfortunately boat out to Reefworld and the pontoon itself does require stairs to move around so it's not wheelchair accessible. If you can handle 5-10 stairs to get on and off the boat plus 15 stairs up to the top deck then you would be okay.
---
Has this blog post put Reefworld on your bucket list? Whether you want to sleep under the stars with Reefsleep or treat yourself to the epic Great Barrier Reef underwater hotel room experience, or perhaps you just want to head out for a day trip, Reefworld is something that has to be on your Australia itinerary.
Find out more about Reefsleep & Reefsuites here.
Other Australia blog posts you might like:
Huge thanks to Cruise Whitsundays for hosting me on the Reefsleep experience. As always all opinions are my own and are based on my own personal travel experience.