Kangaroo Island is one of those bucket list destinations that should be on any Adelaide itinerary if you can squeeze it in. From mind-blowing landscapes unseen anywhere else in Australia to wildlife, culinary and adventure experiences on offer, I can guarantee it's worth the ferry ride over. Just make sure you stay a while!
Lovingly known as "KI" to locals, Kangaroo Island is an absolute gem of a place, located southwest of South Australia's Fleurieu Peninsula.
I recently spent some time in Adelaide to visit one of my best friends who lives there, and I knew that I had to find time to add Kangaroo Island into my plans. I had a busy three days in Adelaide to experience the best of the city, before heading over to KI for two nights with my best friend and her husband in tow (yes, I third-wheeled a romantic holiday).
And wow, were we blown away.
The beaches were straight off a postcard, the activities on offer were plentiful and varied, and there were too many animal encounters to count. Throw in some incredible gastronomic experiences, super cute accommodation options and the back story of KI's recent history, and you've got yourself the makings of a seriously unforgettable trip.
If you still need convincing, here are all the reasons why you need to visit Kangaroo Island, as well as top travel tips on how to get there, how long to visit for and where to stay.
Read more: The ultimate Australia travel guide
This blog may contain affiliate links which earn me a commission when you book your travel, at no extra cost to you. This allows Finding Alexx to continue providing detailed travel tips and itineraries. Thank you for your support!
How to get to Kangaroo Island
The easiest way to get to (and around) Kangaroo Island is to take your own vehicle over on the SeaLink ferry that leaves from Cape Jervis and arrives into Penneshaw on KI after just a 45 minute trip. The ferry runs multiple times a day but early morning and late afternoon sailings can get booked pretty far in advance, especially on weekends, so I suggest locking in your ferry tickets as soon as you know your travel dates.
Cape Jervis is about 1.5-2 hours from Adelaide CBD by car, or if you're not driving there are bus connections from the city which you can also book through SeaLink.
The ferry process is super smooth, you just need to check in 30 minutes prior to your scheduled departure and they'll let you know where to go. If you're driving you wait in line until they show you where to park, or if you're a car passenger or a walk-on passenger then you can chill in the departure lounge until boarding. The ferries are modern and comfortable with AMAZING views, as well as free WiFi and a full café if you're hungry or need a coffee.
So simple, so easy, so straightforward!
SeaLink tickets are $98 return for adults, $50 for kids and $196 for cars or campervans. AND the ferry is even pet-friendly if you're bringing over a doggo!
How to get around Kangaroo Island
There are no taxis or public transport on Kangaroo Island, so if you don't have your own vehicle, I would highly recommend hiring one if you want to explore at your own pace. SeaLink currently has a brilliant deal running with the local Budget Rent-A-Car branch where you get the second day free with any one day rental, so check them out here.
If you don't want to drive, there are a number of day trips or overnight tours on offer to show you the best of Kangaroo Island without needing your own car. Some of the top-rated options are:
Where to stay in Kangaroo Island
We stayed at a gorgeous, newly-renovated property called Seaview Motel in Kingscote, just a couple of minutes from the main street's shops and eateries.
Seaview offers brilliant value, with rooms from only $150 per night, which is super cheap for what you get. Decent-sized rooms, comfortable beds, really cute interior design and local artwork, plus the location is ideal for exploring. The motel also has a new restaurant called the Odd Plate which serves up seasonal share plates.
You can search your travel dates for Seaview Motel here.
If you're looking for a cheaper option then check out the Fig Tree B&B or KI Dragonfly Guest House, for a more unique place to stay check out KI Seafront's glamping tents, or for a luxury experience have a look at the stunning Ecopia Retreat.
How long should you visit Kangaroo Island for?
We spent two days on Kangaroo Island and we had a fantastic time but it absolutely was not enough time. With two days we managed to see a couple of beaches, try a few activities and spend a few hours exploring Flinders Chase National Park, but we didn't make it to any of the beaches or photo spots along the northern coast, and our time in Flinders Chase was rushed.
I would say that three days/two nights is what you'd want to aim for if you can fit that in, or if you spent five days on the island you'd be able to see all the best spots without feeling like you're too busy.
If you can only fit in a day or two then I'd highly recommend trying out one of the tours I mentioned above to make the most of your short visit and ensure you can tick off the major hot spots.
Can you visit Kangaroo Island solo?
On this trip I had two travel buddies, but yes, you can absolutely visit Kangaroo Island solo! I would have no qualms in returning by myself for a longer trip next time.
The one thing to be aware of when travelling Kangaroo Island solo is that the environment can be harsh, with strong wind and sometimes dangerous currents in the sea. If you're travelling solo it's extra important to be aware of weather forecasts, be prepared with things like food and water with you and in your car as well as warm clothing in the cooler months, and let people know where you're planning to go each day so someone can sound the alarm if you don't get in touch later that night.
Reasons to visit Kangaroo Island
The views
Our very first stop after arriving on Kangaroo Island was the Prospect Hill viewpoint, a short but steep walk to the highest point on the island. Prospect Hill can be found off Hog Bay Road, the main road that runs from Penneshaw to the rest of the island, so it can't be missed. Park up and hit the stairs for 500 steps up to panoramic views across KI's wild and wonderful landscapes.
Other must-visit viewpoints are Red Banks Beach, the Remarkable Rocks (more on them later), Vivonne Bay Jetty and Reeves Point.
The beaches
With more than 540kms of coastline, it's no wonder that Kangaroo Island has an impressive selection of beaches to swim at or sunbathe on.
My favourite beach that we visited was Vivonne Bay, which boasts bright blue water and silky white sand. Many of the southern beaches are quite exposed and at the mercy of the sea conditions but Vivonne Bay's U-shape means the water is generally calmer than the nearby options.
Other worthwhile beach stops to add to your Kangaroo Island itinerary would be Emu Bay, Stokes Bay, Western River Cove and Red Banks Beach. If you're up for a decent hike then you could also consider Hanson Bay, it's part of the Kangaroo island Wilderness Trail but can also be visited on a day trip with around 7 hours of walking to get there and back.
The rock pools
South Australia is known as the rock pool state, and Kangaroo Island punches above its weight for such a small part of SA. The rugged coastline means that you'll find rockpools all over the island but the best ones are at Vivonne Bay and Stokes Bay.
Always be careful climbing down rocks to reach any rock pools, and obviously obey any and all signage and barriers to avoid doing damage to the environment.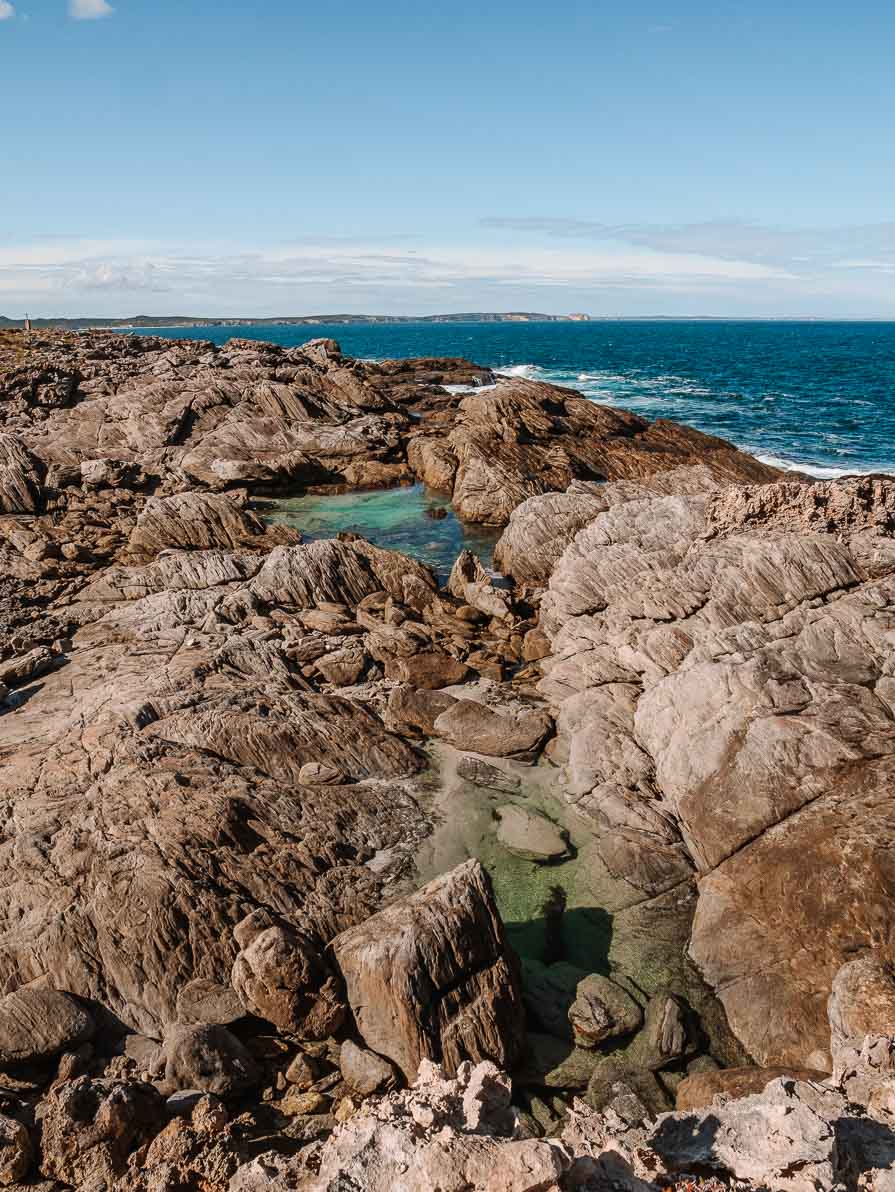 Flinders Chase National Park
Flinders Chase National Park takes up a big chunk of Kangaroo Island, and it boasts a number of famous things to see like the Remarkable Rocks, Admiral's Arch and Cape du Couedic Lighthouse. You'll want at least a few hours to be able to tick those three spots off the list, and longer if you wanted to try out one of the many hiking trails in the park
The entry fee to Flinders Chase National Park is $12 per adult and $6.50 per child, payable online here (in advance or after your trip) or at the visitors centre if they're staffed when you visit. Please note that Flinders Chase is pretty much off the grid, there are toilets at the visitors centre but not many anywhere else, there's no food or drink for sale anywhere, and the cellphone reception is limited, so take food and water and if you're travelling solo then let someone know where you're going.
The Remarkable Rocks are my favourite park of Flinders Chase, they are appropriately named! Gigantic red and brown granite boulders precariously balance on a sloping cliff that sits high above crashing waves, one of the most unique landscapes I've seen in Australia.
The park was absolutely ravaged by the Kangaroo Island bushfires in summer 2019/2020, with 96% of the park destroyed (including boardwalks and other infrastructure) and a devastating amount of wildlife killed. Basically all of the growth you see now is fresh, and wildlife is once again starting to thrive in the area. Which brings me to…
The wildlife
Oh my gosh, the amount of wildlife we saw on Kangaroo Island absolutely made my trip! We saw kangaroos, tammar wallabies, koalas, possums, fur seals, bandicoots (yes, these are real things and not just from Playstation) and even an echidna all in the wild.
You've got to be very careful driving at dusk or dawn as Kangaroo Island's wildlife is extremely active at these times of the day, when there's still a bit of sunlight but less cars, people and heat. We had a slow trip back from Flinders Chase National Park one night as we had to contend with wallabies, echidnas and koalas on the road!
If you want to increase your chance of sightings, the fur seals can be seen at Admiral's Arch in FCNP, sea lions can be spotted at Seal Bay Conservation Park (confusing name, I know) and you can do a koala walk with Little Sahara, $47 per adult for a two hour walk through native bushland with a guaranteed sighting.
Hanson Bay Wildlife Sanctuary offers the chance to see animals in their natural habitat. They are a wildlife conservancy, where the animals must be able to survive in the wild on their own, rather than somewhere that might house injured animals that need care from humans. Hanson Bay was caught up in the bushfires and lost all of their buildings as well as many animals, so if you're keen to support an organisation doing amazing things for local wildlife then they're a great option.
The food
Kangaroo Island's culinary scene is world-class, and there are countless eateries to suit any taste buds.
For ocean-to-table seafood (you are on an island, after all) head to Kangaroo Island Fresh Seafood in Kingscote, the Oyster Farm in American River or KI Fish & Chips in Penneshaw. For a classic Australian pub meal we enjoyed the Queenscliff Hotel, KI Tru Thai is the best-rated Asian food on the island, Fire & Smoke serves up pizza, pasta and parmies, Cactus does the best brunch on the island, and Sunset Food & Wine offers modern dishes with stunning views.
Don't forget to also try out some Ligurian bee honey. Kangaroo Island has some of the purest Ligurian bees left anywhere in the world, and there are restrictions imposed on bringing any honey or bee-products over from the mainland to protect the population. You can visit the Island Beehive or Clifford's Honey Farm to learn more about the local bees, taste the honey and buy some souvenirs.
If you're looking for a once-in-a-lifetime gastronomic opportunity, check out Gastronomo's limited time only Enchanted Fig Tree dining experience, where you can dine amongst the limbs of a fig tree.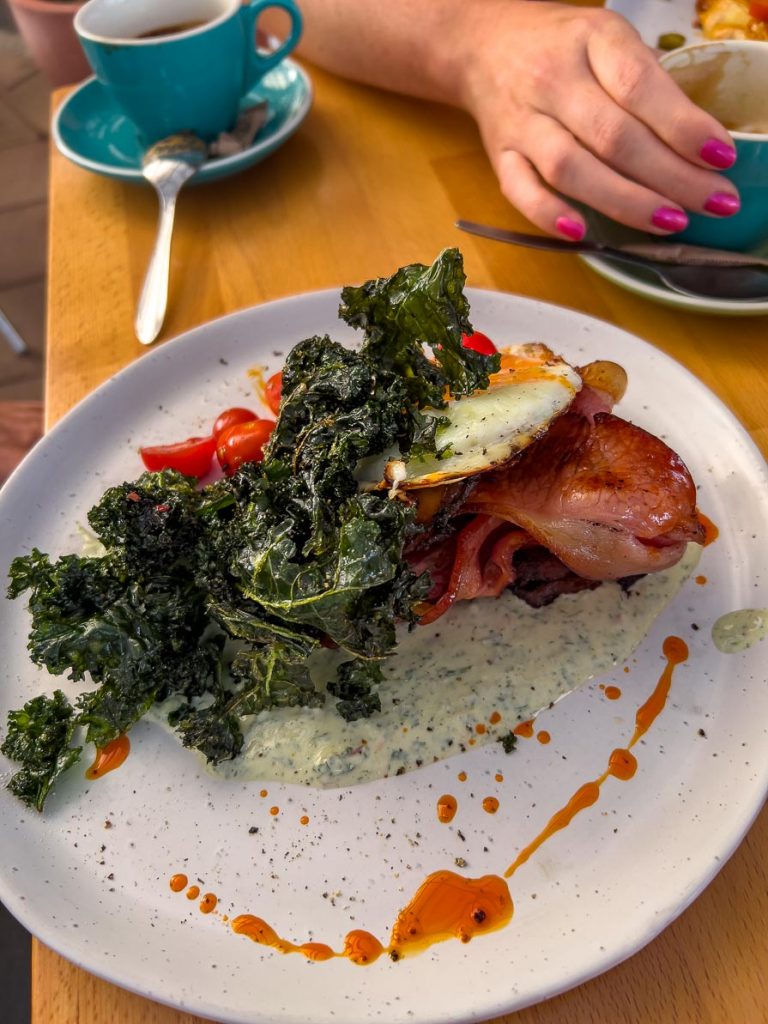 The drink
Food is only one piece of the Kangaroo Island puzzle, but KI also boasts some amaaazing beverage-based experiences.
Gin lovers can't miss KI Spirits, an award-winning craft gin distillery that offers tastings, cocktail masterclasses and even a blend-your-own-gin experience, where you get to take home a bottle of your own delicious creation. KI Spirits proudly uses local Kangaroo Island botanicals, many from their own land and gardens, to make gin as well as vodka and liqueurs. They also have a food truck serving up delicious dishes made from local produce, so set aside a couple of hours to enjoy your visit.
Wine connoisseurs rejoice, there's plenty for you here on the island too. False Cape Winery is an easy stop when you first arrive or before you leave, just a short drive from the ferry terminal at Penneshaw. Bay of Shoals Winery is a great stop for anyone with maritime interests, with loads of boat-related trinkets to see while you enjoy a glass of gold-medal-winning Shiraz. And for the most mind-blowing cellar door view on the island, maybe even in Australia, Dudley Wines' clifftop cellar door has to be on any wine drinker's Kangaroo Island itinerary.
If beer is more your thing, Kangaroo Island Brewery has tastings, Ploughman's platters available daily, pizzas on weekends and sometimes has live music too.
The adventures
If you're visiting Kangaroo Island on a budget, I've already mentioned loads of free and cheap things to do on Kangaroo Island to keep you busy. But if you do have a bit of spending money and want to tick off some epic experiences during your trip, there are some super fun adventures on offer around the island.
One of the highlights of our trip was an e-bike trip through native bush and sand dunes with Little Sahara Adventures. We saw wild koalas, tested our biking skills by riding up and down soft, slippery hills of sand and then finished up the trip with some sandboarding and tobogganing down the dunes. Little Sahara also runs 4WD buggy tours if you want to enjoy the thrills without having to work too hard!
If you've got the need for speed, there's an extreme quad bike tour that takes you across beaches, through bushland and then over rocky trails to reach viewpoints only accessible by quad bike, or for something a bit more relaxing why not try a guided kayak tour down the Harriet River?
For an up close and personal wildlife encounter, jump on board with Kangaroo Island Ocean Safaris for a snorkelling tour with seals and dolphins, or stay dry and enjoy an ocean safari from above the water.
If you want to see some other wildlife that call the island home, there's a highly-rated nocturnal wildlife 4WD tour that gives you a front row seat to all the animals that come out after dark.
The peace and quiet
Visiting KI feels like you're worlds away from the hustle and bustle of Adelaide CBD, and even from endless streams of trucks that you find on country roads throughout Australia. For most of our trip we were the only ones in each area, we had places like Vivonne Bay rock pools, the Remarkable Rocks and Admiral's Arch all to ourselves!
Pull over while driving (somewhere safe, obviously), turn off the engine and hear what it sounds like to be somewhere with absolutely no sound pollution coming from other humans.
The resilience
The devastation that Kangaroo Island faced from the 2019/2020 bushfires was immense, with more than 100,000 animals killed, many more displaced, buildings destroyed and sadly causing the deaths of two KI locals.
As if that start to 2020 wasn't rough enough, the impact on tourism from the pandemic's border restrictions just doubled down on the island's economy. But now that South Australia is open and ready for business, KI's tourism industry is starting to rebuild, reconnect and remind travellers why they have to put Kangaroo Island on their Australia bucket list.
Come to the island, experience all it has to offer, meet the local wildlife, eat the delicious food and drink the divine gin, wine and beer. And most of all, know that your tourist dollars are going to a fantastic little community that has been dealt a rough hand over the last couple of years, but that continues to provide one of the best travel experiences in Australia.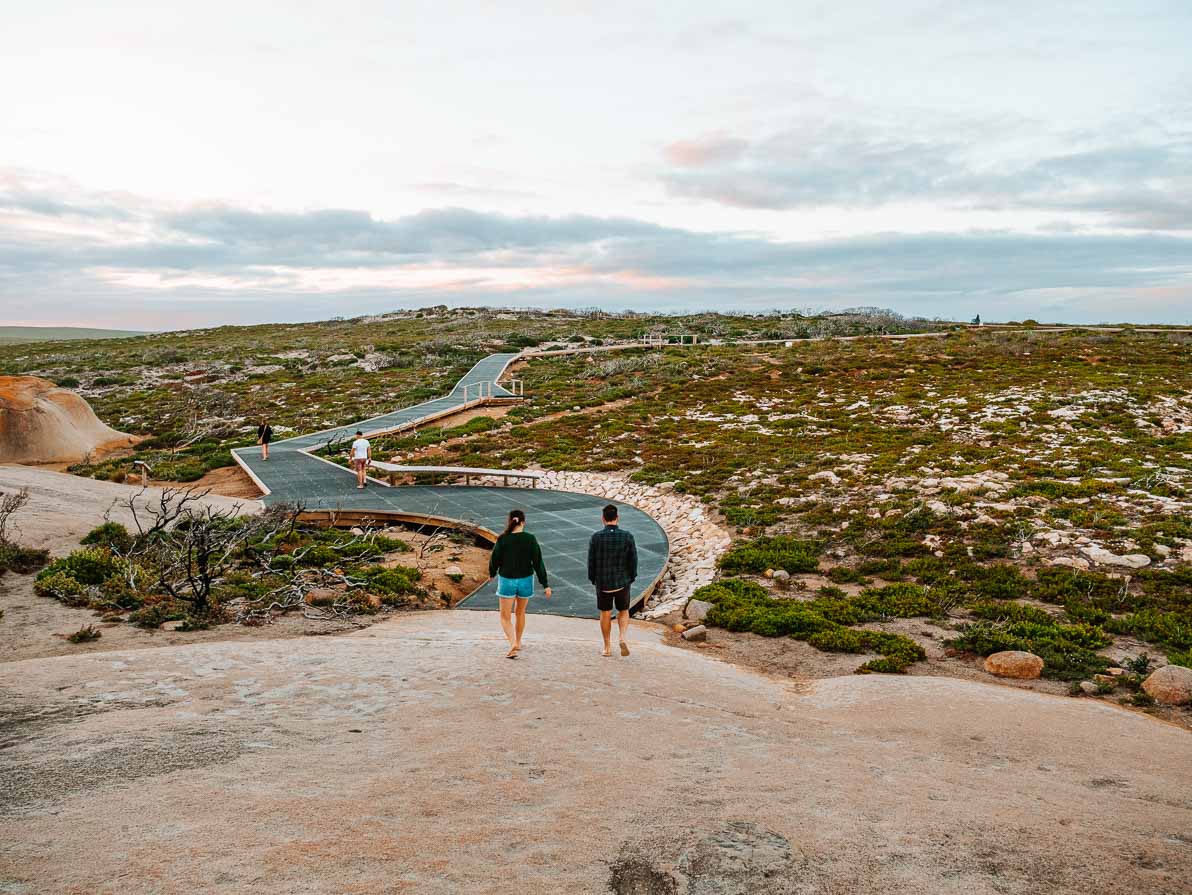 ---
Huge thanks to SeaLink Ferries for sponsoring my trip to Kangaroo Island. As always all opinions are my own and are based on my personal experience.