If you're looking for a self-contained place to stay in Sydney, ADGE Apartments offer some of the best value apartments in the city.
If you're heading to Sydney and want somewhere comfortable and spacious in a great location without breaking the bank, ADGE Apartments is the perfect spot.
Rooms start from just $269 per night on weekdays and $314 on weekends, which is crazy low for somewhere in Sydney that also has a full kitchen so you can save money on food. Here's some more info on ADGE Apartments and why you should consider them for your next Sydney trip.
Where are ADGE Apartments?
Adge Apartments are located on the corner of Campbell and Riley Streets in Surry Hills, which is probably my favourite suburb in Sydney! It's super chill with some gorgeous terraced houses, boutique shops, quirky cafes and brilliant restaurants. It's also one of the nicer parts of Sydney to walk around, and it's well-lit and safe at night.
If you do choose to stay at ADGE make sure you try out nearby Reuben Hills for brunch (their Nutella hot chocolate is to die for!) and NOMAD for a Middle East-inspired fancy dinner.
What are the apartments like?
My mum and I stayed in a two bedroom apartment at ADGE and it was exactly what we needed, loads of space, comfortable and offering easy access to Sydney's hot spots. There was wardrobe storage space, a dining table which doubled as a workspace for me, a balcony with outdoor seating, and comfy couches. There was also a washing machine and dryer which is fab for an extended stay.
The carpet, as you can see, is very Austin Powers-esque and the theme continues with funky Smeg fridges in each apartment. The kitchens are well-equipped which is a real game changer because Sydney food isn't cheap! ADGE would be perfect for an extended getaway if you didn't want to eat out every day.
One strange thing about our apartment was that the bathroom was off the master bedroom so I had to walk through mum's room to use the bathroom, but that wasn't such an issue for us. It just wouldn't be ideal for a group of two couples or for a work trip.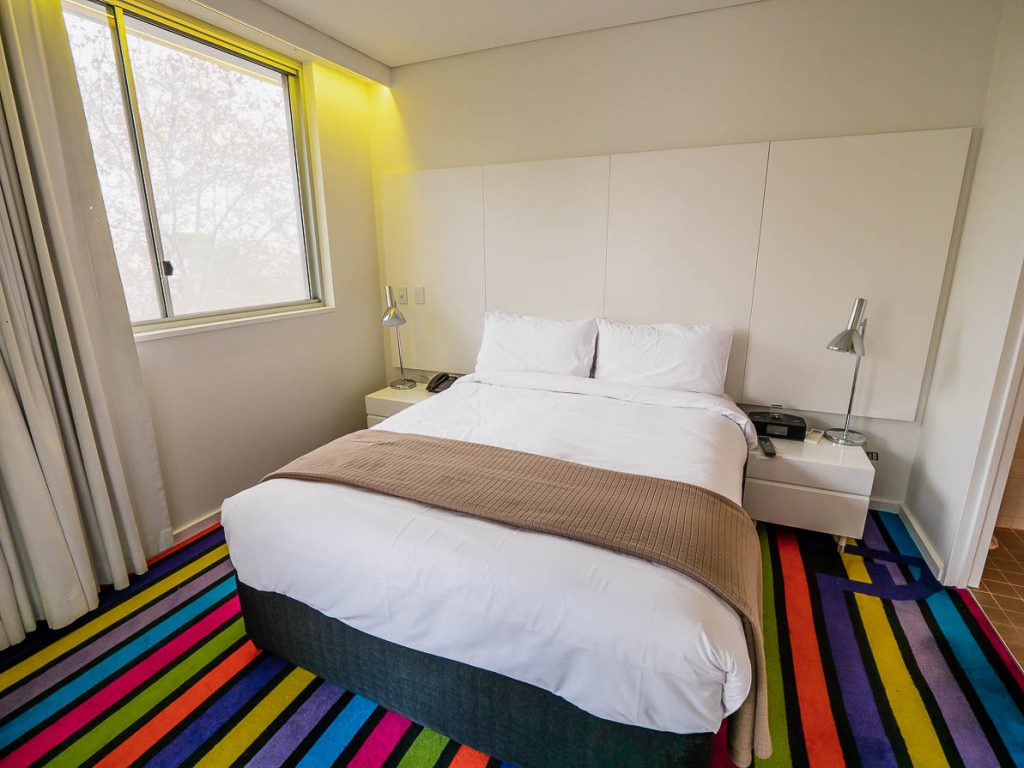 Anything else to note?
At the time I stayed (May 2022) ADGE was completely contactless due to Covid which makes things super easy, you just pick up your key from the postbox downstairs and then drop it at reception when you leave. There's no housekeeping as standard right now however if you are staying for a while you can request this by phone, and the staff are quick to respond and super helpful.
The final verdict on ADGE Apartments
ADGE Apartments offer fantastic value for money, and you'd be hard-pressed to find anywhere self-contained that offers this much space in such a good location for less than $500-$550 a night in Sydney. ADGE Apartments start from $269 in the low season, with average prices year-round sitting between $320-$370, which is really cheap for what you get.
It boasts an 8.8/10 rating on booking.com and it's ranked #9 of all 508 hotels and apartments in Sydney on TripAdvisor, seriously impressive!
I'd recommend ADGE Apartments for anyone looking for a good value stay for their Sydney getaway.
Search your travel dates here >>
Are you going further than just Sydney?
Here are some useful Australia links to help you plan your trip:
My ultimate Australia travel guide has all you need to know before you go
I use booking.com to find all my accommodation, just search your dates and then sort it by 'reviews and best price' to find the best value places to stay
I use Skyscanner to find my flights and then I always book direct with the airline to avoid any third-party difficulties if flights get cancelled or changed
I use GetYourGuide, Viator and Klook to find the best things to do in each destination, as well as checking discount sites like BookMe or Groupon for last-minute deals
I use Covermore NZ travel insurance for my annual insurance policy and I've had a fantastic experience with them so far, they're also in Australia but if you're from elsewhere then you could check out SafetyWing or World Nomads who both provide top-rated policies
And some other Australia blog posts that you might want to read next: