Planning a three day Great Ocean Road road trip? This coastal route is often named one of the world's most beautiful drives, and for good reason. It can be tricky to plan though, with loooads of worthwhile stops depending on what you're into, so here's a detailed Great Ocean Road 3 day itinerary, along with options for shorter/longer trips, suggestions on where to stay, and what you need to know before you go.
From cliff-top lookouts to rainforest walks to wildlife spotting opportunities, the Great Ocean Road is something that should be on everyone's Australia bucket list.
I kicked off my 2.5 month Australia solo road trip with a week in Melbourne before booking a rental car through Klook to take me along Great Ocean Road and onto Adelaide to be there for one of my best friend's 30th birthdays. The weather was a bit wild as we were coming into winter but gosh, the coastline of Great Ocean Road as well as the inland adventures in the Great Otways National Park honestly blew me away. It was a brilliant start to the 5000+ kms I was going to be driving solo during the coming months!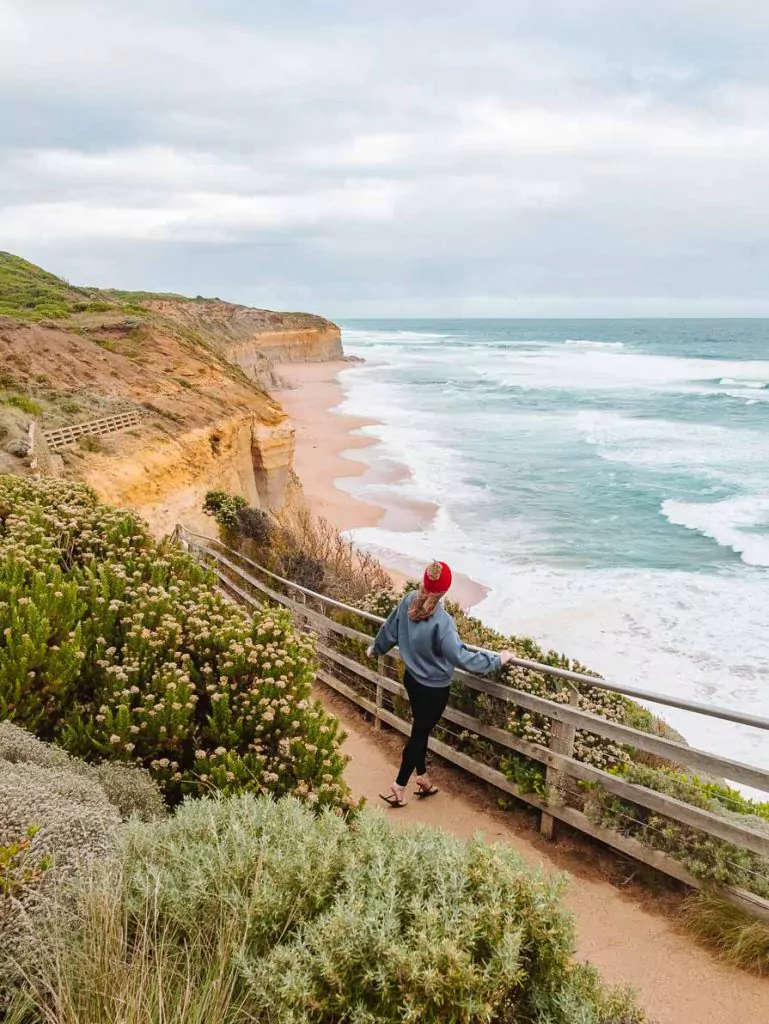 There is so much to see and do along Great Ocean Road that it can be easy to get distracted and lose track of time, so I'd definitely recommend planning a proper Great Ocean Road itinerary that maps out your top priority stops, as well as some secondary ones in case you have extra time or you end up needing to change plans due to weather.
This itinerary is the exact three day Great Ocean Road itinerary that I had planned, starting in Melbourne and finishing in Warrnambool at the other end of the road. Unfortunately some stormy weather got in the way but I wanted to give you all the juicy details (and every single Google Maps pin I had!) so you can build your ideal Great Ocean Road trip.
So here's all you need to know about driving Great Ocean Road, including where to go, where to stop on the way, photo spots, food you can't miss, viewpoints, epic activities that are worth a splurge, and loads more.
This post includes affiliate links which help me earn a small commission at no extra cost to you.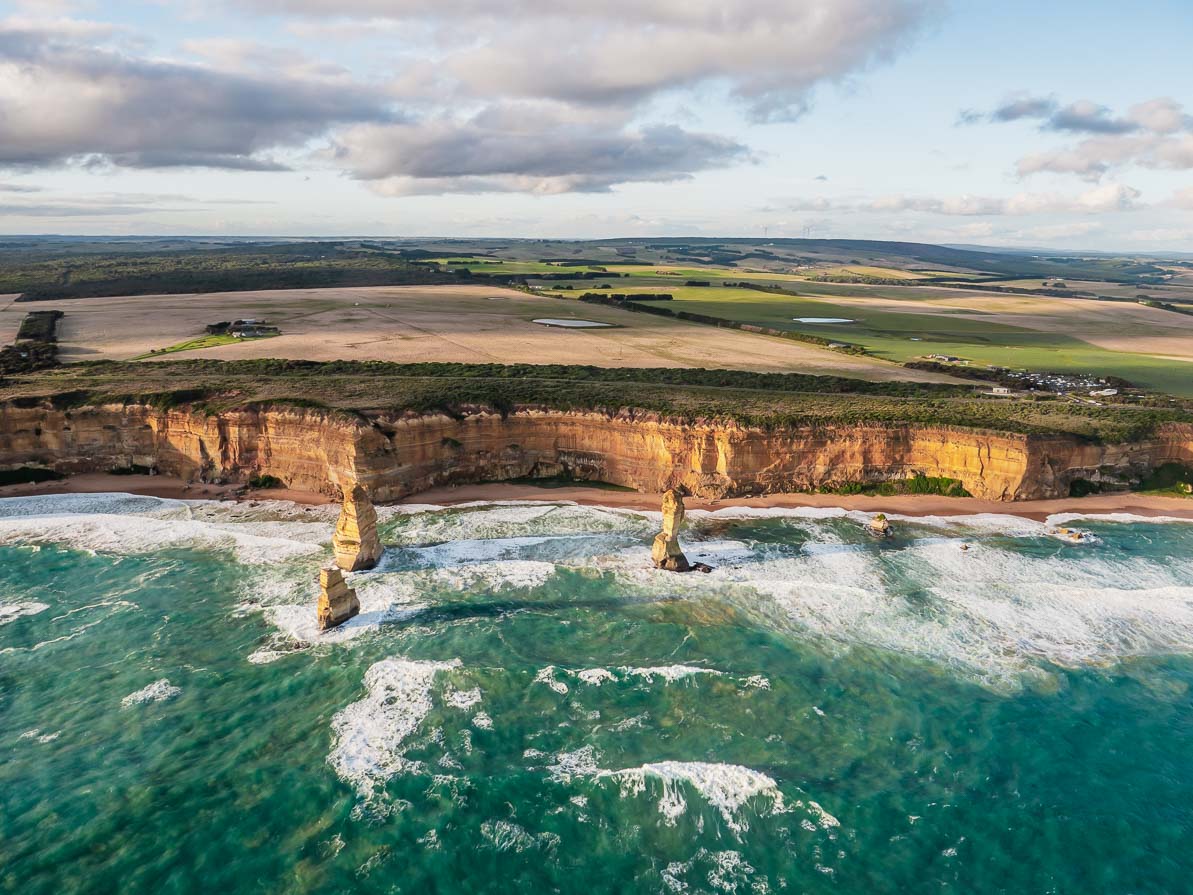 ---
Great Ocean Road 3 day itinerary map
---
Great Ocean Road three day itinerary summary
This itinerary covers three full days of travel travelling one way along Great Ocean Road from Melbourne to Warrnambool. If you want a three day Great Ocean Road itinerary returning to Melbourne you can scroll to the bottom of the blog post for suggestions on a shorter trip, or just pick the bits from this blog post that tickle your fancy to plan a more succinct trip.
Day one: Drive from Melbourne to Apollo Bay along the surf coast with lots of beaches and lookouts
Day two: Drive from Apollo Bay to Port Campbell via the Otways with rainforest walks and waterfalls plus a Twelve Apostles sunset if you have time
Day three: Drive from Port Campbell to Warrnambool with more time at the Twelve Apostles plus many other incredible beaches and rock formations along the coast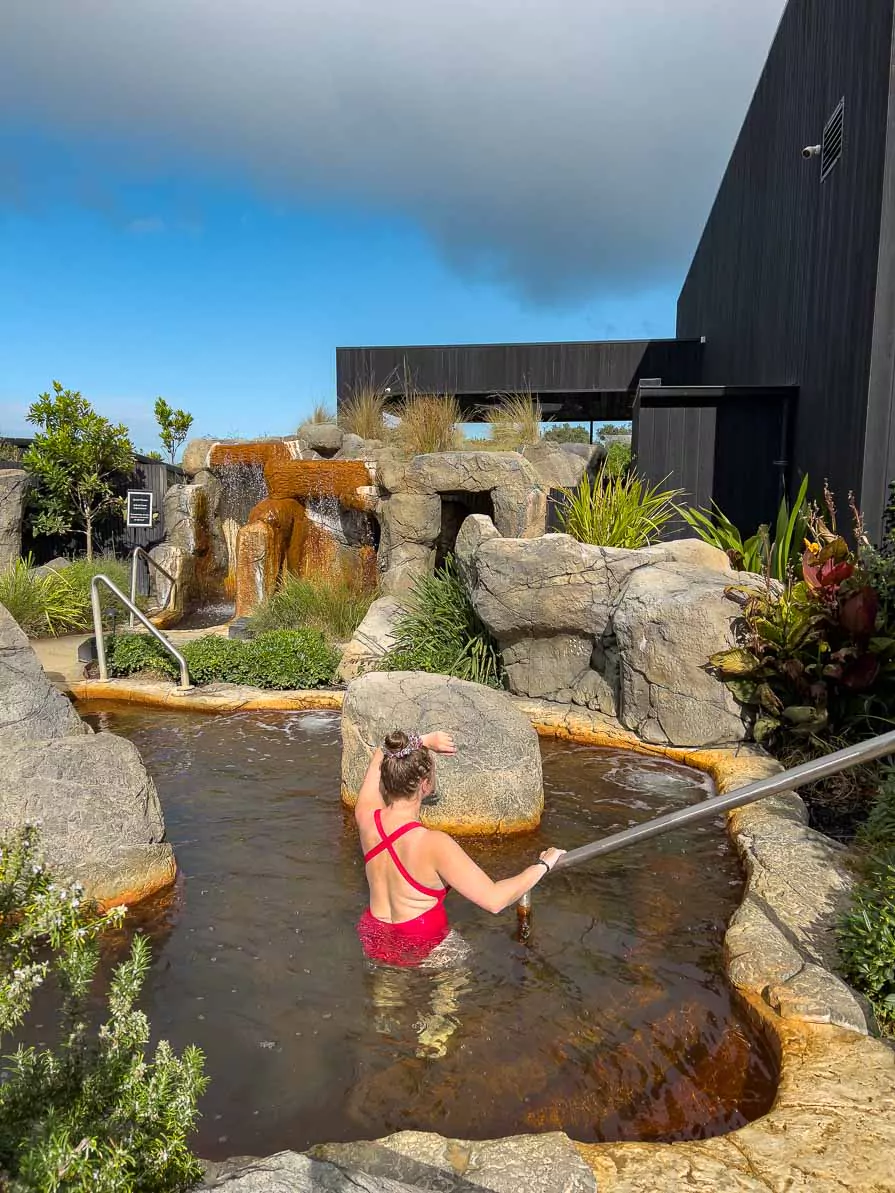 ---
Where does Great Ocean Road start and finish?
Great Ocean Road officially runs from Torquay to Allansford.
Most Great Ocean Road itineraries however will take you through to Warrnambool (12kms from Allansford) or Port Fairy (a further 26kms from Warrnambool).
---
How long does it take to drive the Great Ocean Road?
In terms of kms and actual travel time, the official route from Torquay to Allansford is 240kms and will take around three hours and 45 minutes without stopping, but most people would be driving from Melbourne to Port Fairy which makes it 374kms and five hours, 25 minutes in total one way.
If you wanted to drive the coastal route on the way to Port Fairy and then return to Melbourne inland, you're looking at about nine hours of driving without stops.
In terms of travelling, your Great Ocean Road trip can take you as little or as long as you need it to.
If you're based in Melbourne or Geelong and you don't mind a long day in the car/in a bus, you could definitely see some of the highlights of Great Ocean Road on just a one day trip, but that will just be scratching the surface of what the Great Ocean Road has to offer. Here are a few popular day tours if that's what you're looking for:
I managed to do Great Ocean Road over two nights/three days to get from Melbourne to Warrnambool and I did manage to see a lot, but if you scroll to the bottom of this blog post you'll find some suggestions for what to do if you have less time or more time.
---
Should I take a car or campervan along Great Ocean Road?
Both cars and campervans are common choices for Great Ocean Road trips so it's totally up your budget and your travel style.
I booked a Mitsubishi Outlander through Klook for nine days (driving Melbourne to Adelaide) which was ideal for this trip, lots of space for my luggage, a comfortable and safe car for long drives, and a great music system to keep me awake and upbeat for long drives by myself.
Travel tip: I used Klook for all my rental car needs in Australia, you can search your travel dates and they pull up all the options from rental companies like Hertz, Sixt, Avis, Budget and more so you know you're getting the best deal. They also offer free cancellation so you can lock in a good price early on and then cancel or amend it if your plans change.
I saw plenty of campervans on Great Ocean Road too and there's loads of options for vans to spend the night, from freedom camping spots around the Otways to national park campgrounds to private holiday parks. Some of Australia's most popular campervan companies are Jucy, Spaceships and Britz.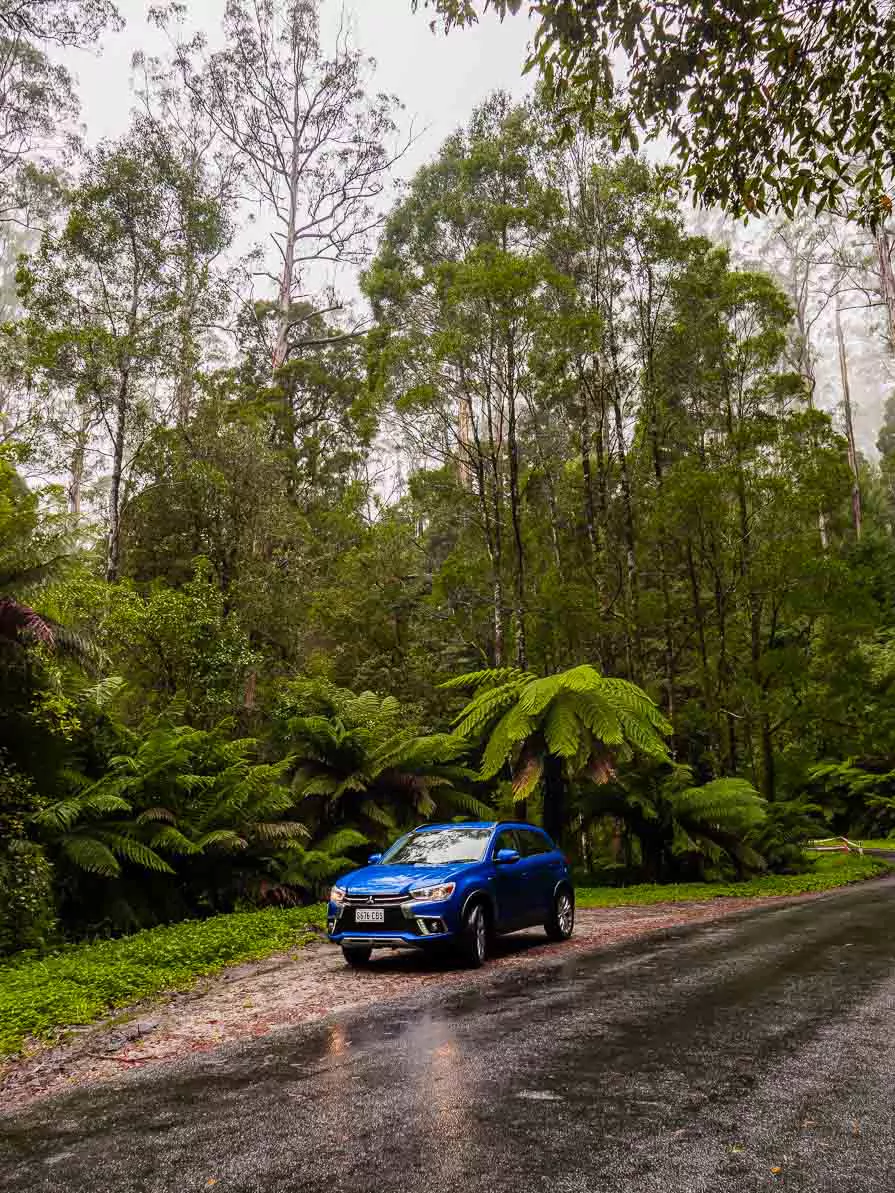 ---
Can I do a three day Great Ocean Road tour?
There are some multi-day tours available on Great Ocean Road, these are the best-rated that I've seen:
---
When is the best time to drive the Great Ocean Road?
Melbourne weather is so changeable that many people say that the city often gives you four seasons in one day, and the rest of Victoria isn't much different. The coastline especially is extremely exposed, so one second it might be warm and sunny, and then the wind changes and suddenly you're getting a gale-force wind coming from the ocean.
You can drive Great Ocean Road in winter if you're prepared to deal with inclement weather. It very rarely gets icy and it snows only maybe once every couple of years, but you should expect rain and wind during the winter months. The other tough thing about winter is lack of daytime hours, which means you'll find it harder to fit in all you want to see in the day, and you have to plan hikes with plenty of daylight for you to get back to your car.
Summer can be super hot and busy with international tourists and school holidays, but you're much more likely to avoid the cold weather. If you visit in summer you'll need to be prepared for very hot temperatures, so make sure you've got sunblock, hats, and always keep extra water in your car.
I visited in mid-April and it was pretty grey and drizzly, which made for amazing waterfalls in the Otways but not so great for beach sunrises and sunsets, and it was getting dark at about 6pm so I lost the few extra daylight hours that you'd see in the middle of summer.
I reckon the sweet spot is either side of summer, so November/early December before it gets too busy and then February/March once kids are back at school and people are back at work. These months will give you the best chance of less people on the roads and lower accommodation costs while still enjoying (hopefully!) sun and warmth.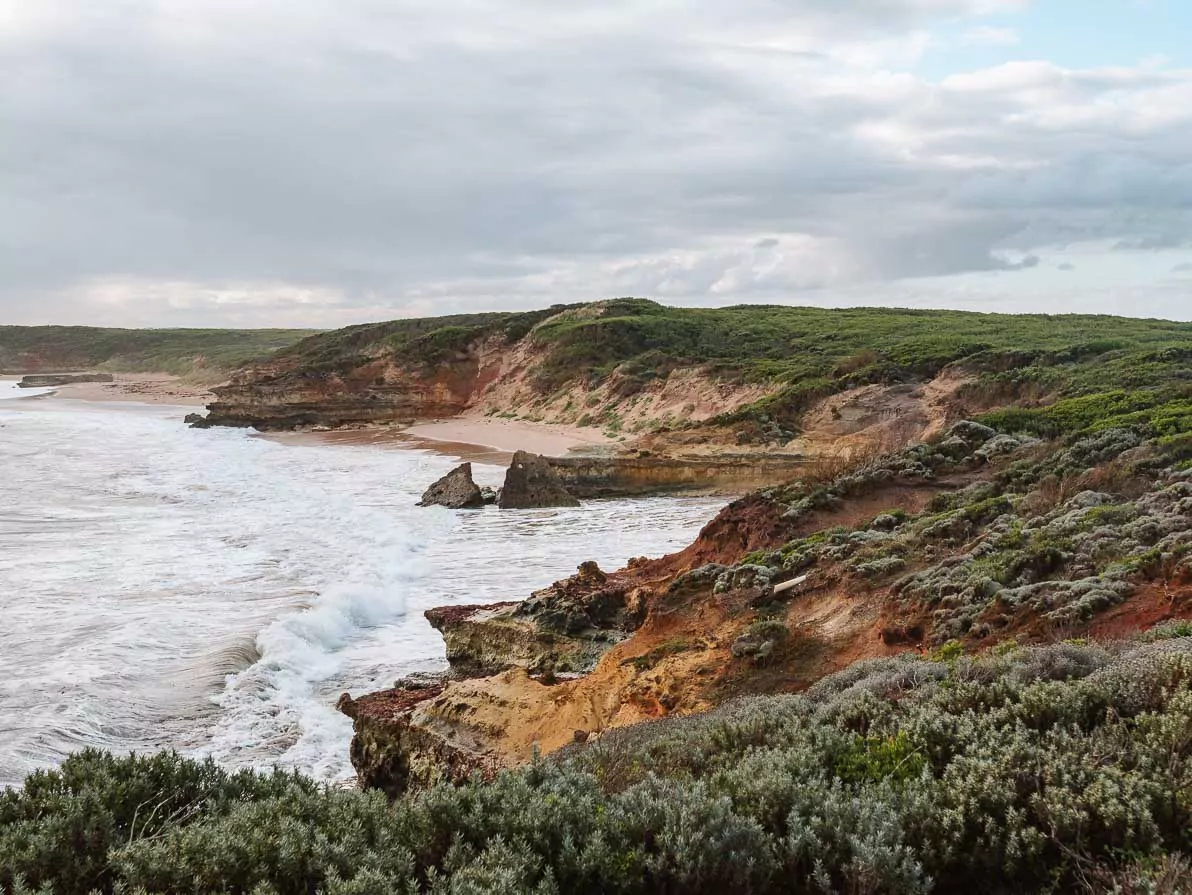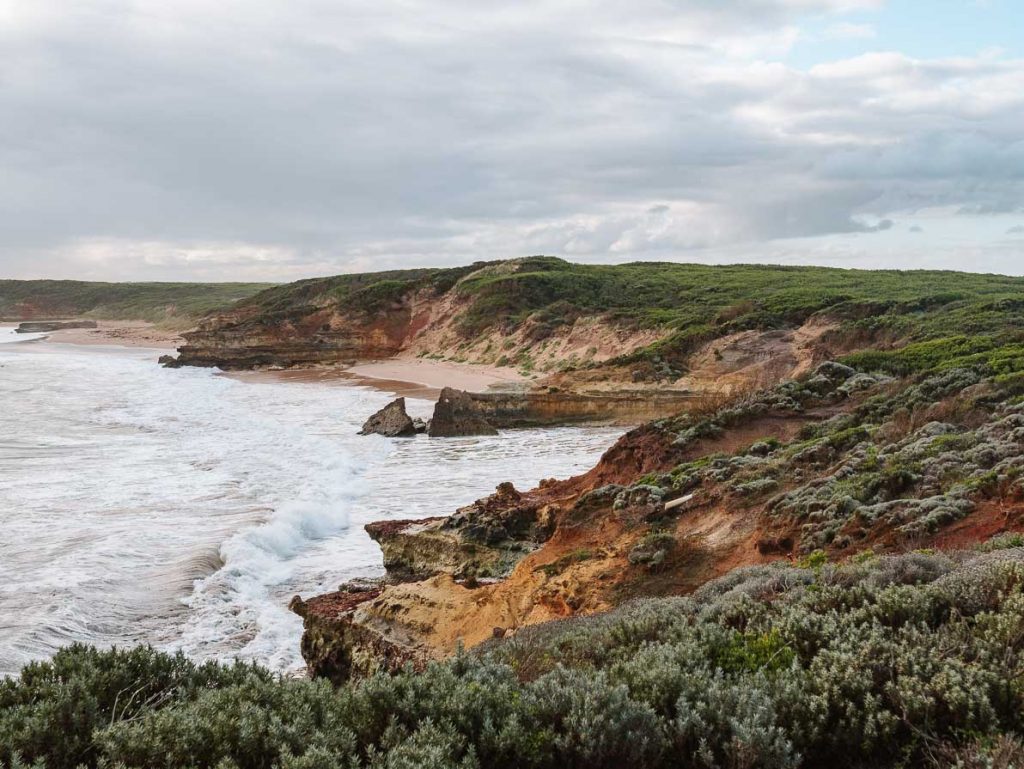 ---
The ultimate Great Ocean Road 3 day itinerary
This itinerary is based on what I had pinned and planned for myself during my three days on Great Ocean Road. I've got a lot of activities and viewpoints listed here, I don't expect you to do them all (although I would be extremely impressed if you did) but I want to give you the full picture of the area so you can pick and choose what is most important to you.
Great Ocean Road itinerary day one: Melbourne to Apollo Bay
Your first day on Great Ocean Road includes some trendy towns, great surf spots and a lottttt of viewpoints, so make sure your phone or camera is fully charged and let's hit the road.
Driving time from Melbourne to Apollo Bay
2 hours and 45 minutes
Where to stop between Melbourne and Apollo Bay
Geelong (59 mins from Melbourne)
Not exactly a recommended tourist stop but in case you're a cheese fiend like me, Geelong is home to Splatters Cheese Bar, Australia's only cheese train restaurant, like a sushi train but with cheese. I was absolutely gutted because I got so excited for it, only to find out it was closed on Mondays (and Tuesdays and Wednesdays). Worth a stop if you love cheese, otherwise just continue straight to get to the coast.
Great Ocean Road Skydive (near geelong)
If you'd like to get your heart rate up and experience the scenery from the sky, you could opt to kick off your Great Ocean Road itinerary with a skydive over the Great Ocean Road!
Torquay (20 mins from Geelong)
Torquay is a quaint seaside town that's a common weekend and holiday getaway for Melbournites, and it's a brilliant gateway to some of the best surfing Victoria has to offer, and there's also a bunch of surf schools where newbies can dip their toes in with a surf lesson.
If you're keen on catching some waves it might pay to spend a night here, otherwise it's nice as a quick stop for a coffee or some food before a big day on the road. I recommend Little Things Big Things for delicious smoothies and hearty toasted sandwiches.
Bells Beach (12 mins from Torquay)
Known best for hosting the Rip Curl Pro competition each Easter, Bells Beach is just 12 minutes from Torquay and offers world-class surf opportunities, best for those who are experienced and confident in the waves.
Point Addis Marine National Park (18 mins from Bells Beach)
Point Addis has a few different trails and lookouts depending on how long you want to stop for. The Point Addis Lookout is a short boardwalk offering mind-blowing views of the rugged cliffs along the coast, this is a must-stop for your first day on Great Ocean Road.
If you'd like to explore Point Addis more in-depth you could wander along one of the beaches, take the 1km loop track from Ironbark Carpark, or opt to walk some of the Surf Coast Walk.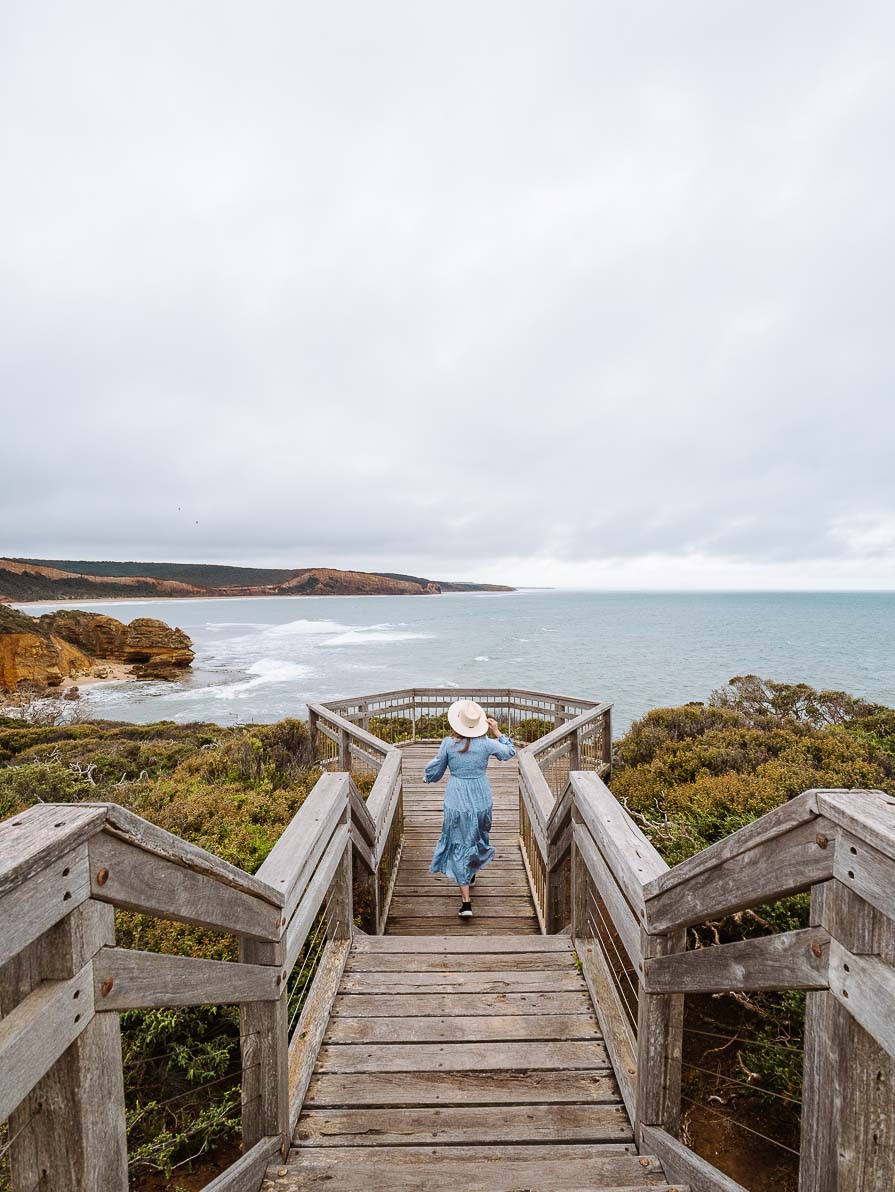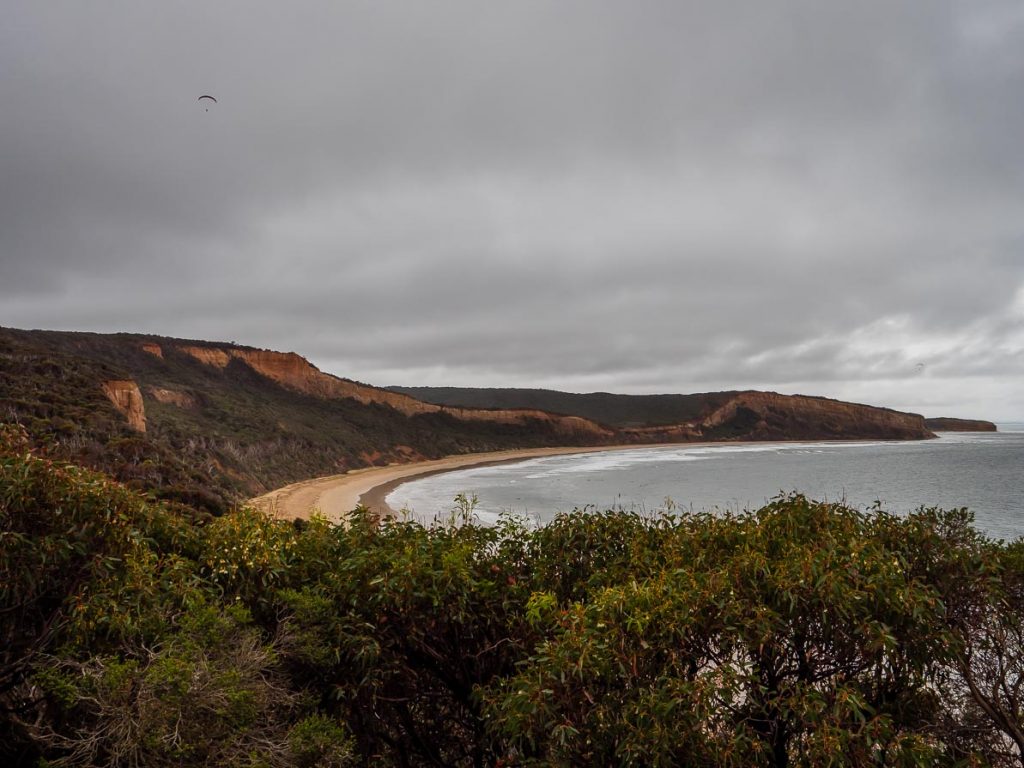 Split Point Lookout & aireys inlet (30 mins from Point Addis)
Australians might recognise Split Point Lighthouse from the 90s kids TV show Round the Twist, but beyond nostalgia, Split Point Lookout and the cute seaside town of Aireys Inlet also offer some easy trails, picnic spots and stunning coastal views.
Memorial Arch at Eastern View (5 mins from Split Point Lookout)
The Memorial Arch was built to commemorate the returned WW1 soldiers who built the Great Ocean Road between 1919 and 1932. There's a carpark here with some more info on the arch, so it's a quick and easy photo stop.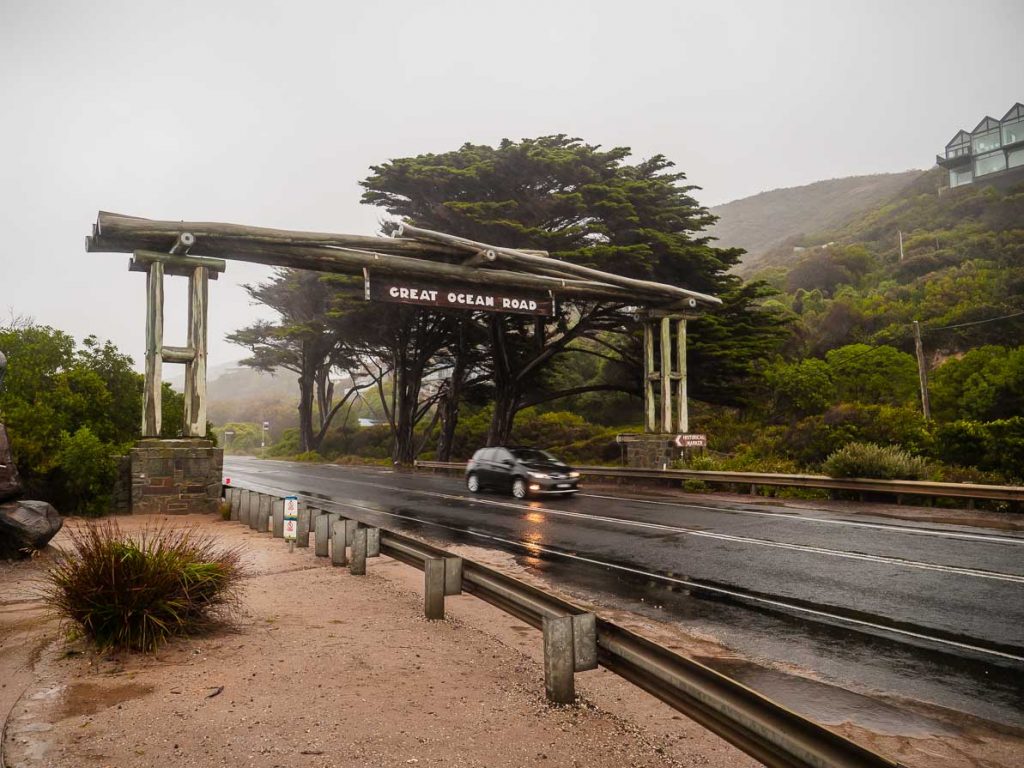 Lorne (16 minutes from the Memorial Arch)
Lorne is another popular beach holiday spot with loads to see and do nearby, so if you had more time than three days to do the drive then it could be a good option for an overnight stay.
The town itself is bustling, with an array of boutique shops, Instagrammable cafes and fancy restaurants, so consider stopping here for lunch on the first day of your Great Ocean Road itinerary. HAH Cafe was one that I had pinned on my map but unfortunately didn't have time to stop for.
If you want some time in the sea or on the sand, Lorne is home to a wide, golden beach with ample opportunities for sunbathing, swimming or surfing, and the town's best views can be found at Teddy's Lookout which overlooks the spot where the St George River meets the ocean.
Within a short drive of Lorne there's a bunch of waterfalls to check out, ranging from quick walks to the viewpoint to full day hikes depending on what you're looking for.
Erskine Falls is an easy first stop, just 15 minutes north of Lorne with the option of either seeing the falls from a lookout by the carpark or taking a short but steep walk down the stairs to get to the lower viewpoint. The falls are 30m high so they're pretty impressive! Other waterfalls worth adding to your Lorne plans are Sheoak Falls, Phantom Falls, Henderson Falls and Upper Kalimna Falls.
Kennett River Nature Walk (26 mins from Lorne)
If you've ever wanted to see Australia's fuzzy little mascot in its natural habitat, Kennett River Nature Walk is a must-visit. The Kennett River Nature Walk is lined with eucalyptus trees, where koalas are most likely to be found, and the likelihood of spotting a couple of sleeping koalas in the tree bows is high.
Cape Patton Lookout (6 Mins from Kennett River)
Cape Patton is an easy pull-off carpark that offers brilliant views right down the coast on a clear day. On a stormy day you'll be able to hear the waves crashing below, but be careful when opening car doors as I witnessed someone losing the contents of their centre console when both front doors were open at the same time!
Marriner's lookout
The last lookout on day one of Great Ocean Road, Marriner's Lookout is a beautiful spot to see the curve of Apollo Bay. It's a ten minute walk from the carpark which is a bit steep in some sections but not too difficult. If you've got a good weather day I'd highly recommend spending sunset up here.
Apollo Bay
You've made it to your first overnight stop on your Great Ocean Road itinerary, woohoo! Apollo Bay is a small but busy tourist town with everything you'd need during a road trip. There's some great accommodation for different budgets (see my recommendations below), an IGA and a few other convenience stores, some fish and chip shops, bars and restaurants, and a few tourist operators that offer various tours and experiences.
Apollo Bay can get pretty packed on weekends and school holidays though so be sure to book in advance if you're travelling during those times.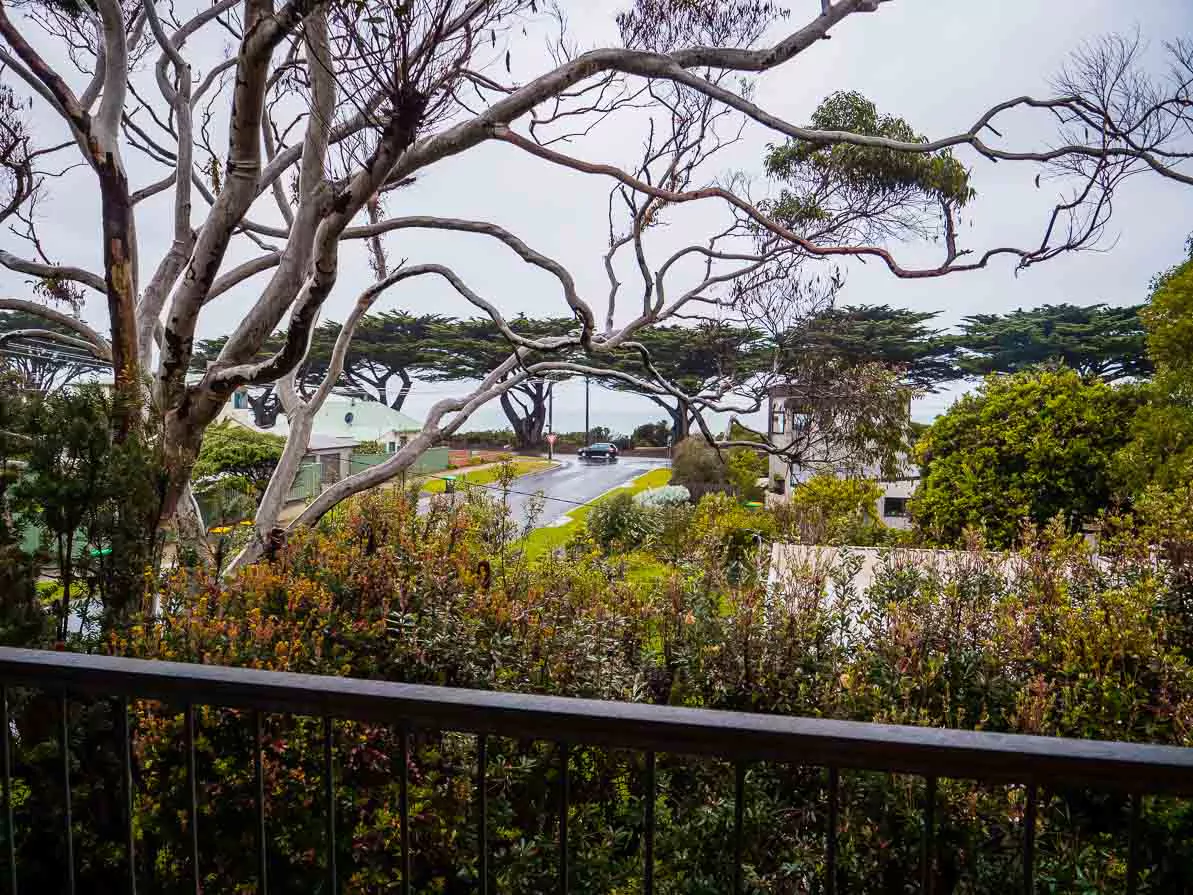 Wildlife Wonders
Just a few minutes around the coast from Apollo Bay is Wildlife Wonders, an animal sanctuary where you'll get the chance to see koalas, bandicoots, wallabies and more. You can even book a guided walk with a conservation expert to get a full lesson on the wildlife that call the Otways home.
Where to stay in Apollo Bay
Camping | The best-rated campsites in Apollo Bay are Big4 Apollo Bay and Marengo Family Caravan Park, but if they're full you could also check out Apollo Bay Holiday Park or Apollo Bay Recreation Reserve.
Budget | Apollo Bay Eco YHA is a highly rated budget option with dorm beds from about $40 and private rooms from $94. 32 Scenic Apollo and Angela's Beach Stays also offer cheap and cheerful private rooms with shared bathrooms.
Mid-range | The Sandpiper Motel is a quaint, comfortable motel in Apollo Bay that offers brilliant value just a short walk from the ocean. With rooms from just $115 per night it's the perfect place to base yourself for a few days in Apollo Bay while you explore the Great Otway National Park.
Luxury | There are some luxurious apartments in Apollo Bay if you're looking for somewhere fully self-contained, like Beacon Point Villas, Apollo Bay Cottages and the Dolphin Apartments. For a fancy guesthouse experience check out Skippers Apollo Bay, they have beautifully-decorated rooms with a homemade breakfast served each morning.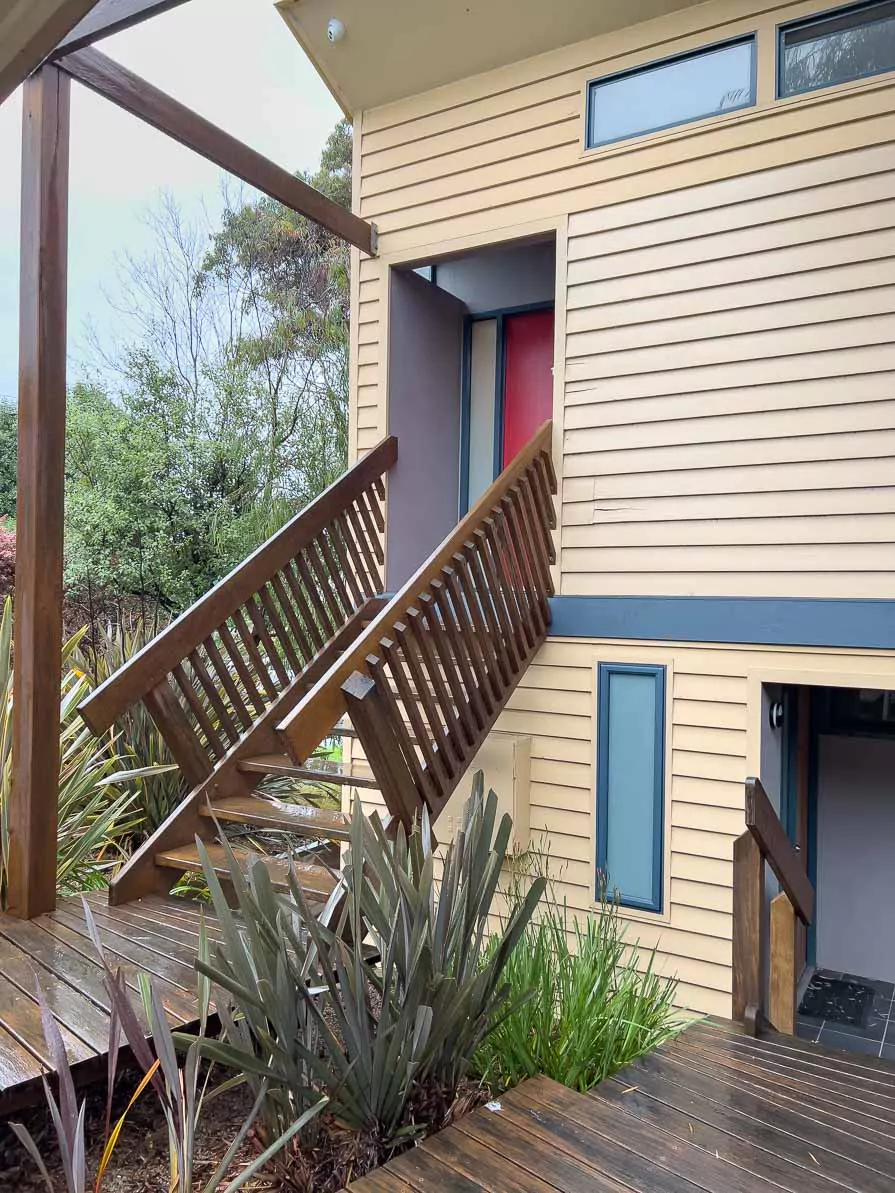 ---
Great Ocean Road itinerary day two: Apollo Bay to Port Campbell
This is the day you'll experience the lush rainforests of the Great Otways National Park, with the aim of reaching the iconic Twelve Apostles for sunset if you have time. There's lots to get through though and no matter when you're travelling, chances are you'll be competing with tour buses and other self-drivers, so figure out what places are most important to you and make your plan from there.
Driving time from Apollo Bay to Port Campbell
1 hour 45 minutes if you're taking the C159 (to visit waterfalls) or 1 hour 25 minutes along Great Ocean Road (not as many places to stop)
Where to stop between Apollo Bay & Port Campbell
Cape Otway Light Station (30 mins from Apollo Bay)
I'm just adding this one in first as it's somewhere that a lot of people have probably heard of, but as of July 2022 it's changed hands from the current owners to Great Ocean Road Parks so the Light Station and its eateries are going to be closed for the foreseeable future.
Castle Cove Lookout (30 mins from Apollo Bay)
If you're taking the Great Ocean Road (B100) route up to the northern part of the Otways, Castle Cove Lookout is a fairly easy stop to make. The view isn't as panoramic as other viewpoints on the previous day or upcoming days but if today's weather is better than yesterday then it's still worth a visit.
great Otway National Park Walks and Waterfalls
The Great Ocean Road might be known best for its coastal sightseeing opportunities, but one of the best things about the drive is that it also offers easy access to the Jurassic Park-like Great Otway National Park.
The Otways have loads of outdoor adventures on offer, from rainforest walks to waterfall hikes to ziplining courses, so I'd recommend setting aside a decent chunk of your day to see the best of the national park.
Maits Rest Rainforest Walk is about 15 minutes from Apollo Bay along the Great Ocean Road which is the southern road (as opposed to the C159 that you'll be driving along to reach most of the other spots). Maits Rest is an easy 30 minute loop boardwalk that's quite accessible compared to many of the other Great Otway walks, so it's a good option for little ones or anyone not keen on too many steps or rough ground.
The forest here is so lush and it's easy to forget that you're just a short drive from gigantic cliffs that overlook the ocean! Keep an eye out for native birds, possums, wallabies and other creatures in the trees and along the forest floor.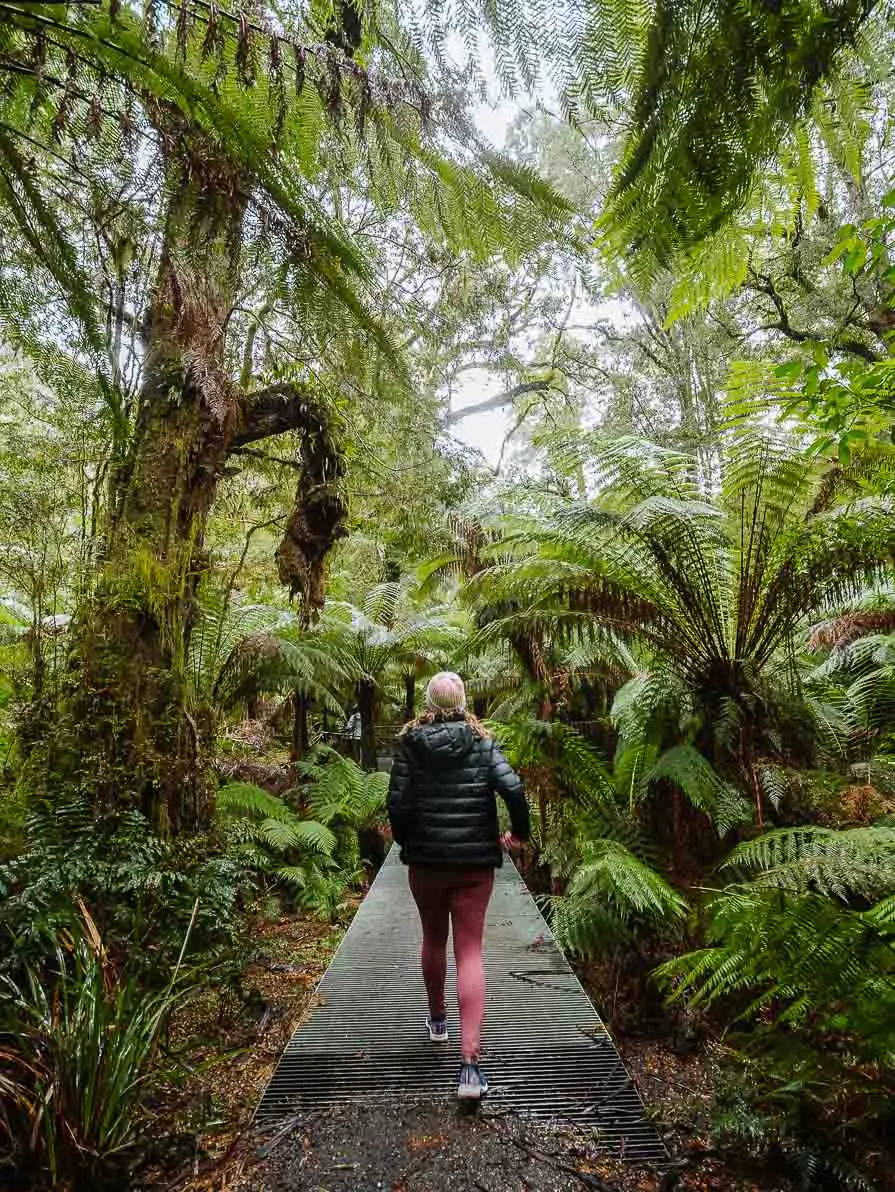 After Maits Rest, you want to head up to the C159 for easy access to the next spots I'm going to mention. You could either continue driving west and then turn back east at Lavers Hill to get onto the C159 (the easiest drive), or you could take the very windy but shorter drive along Binns Road to cut right through the Otways. This road is also used by logging trucks so you need to be careful as you're coming around corners.
The Californian Redwoods are a good next stop in the Otways, they're 30 minutes from Maits Rest if you take the shorter road through the middle, or 50 minutes if you stick to the main highway. The Redwoods are seriously impressive, dwarfing tourists that walk between them and towering over us at up to 60m tall. There's no specific track to follow here, just wander beneath the giant trees and soak up the views, plus there's a couple of picnic tables if you want to stop for a bite.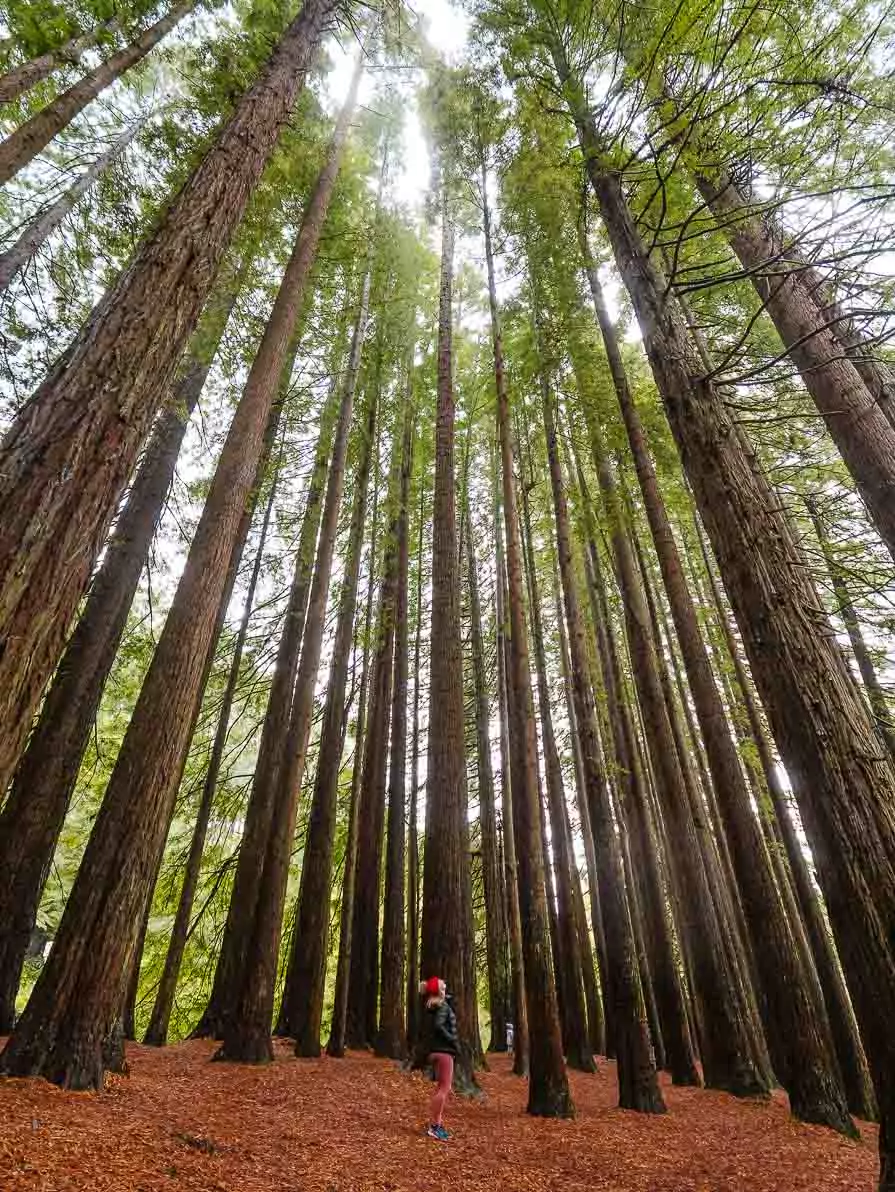 Just a couple of minutes from the Redwoods is another worthwhile stop, Hopetoun Falls. There's a viewpoint up near the carpark that provides a great vantage point looking down to the falls, but for the best view you're going to have to take the steep but well-maintained track down to the lower viewing platform. The stairs take about five minutes to get down and probably ten minutes to get up.
At the end of the track I saw a lot of people jump the fence to get closer to the falls, but there are signs asking people to stay within the boundaries as the eco-system is incredibly fragile and you never know what flora and fauna you might be trampling on. If you want to get closer to waterfalls or go for a dip there are plenty more waterfalls in the Otways to do so, please don't harm the environment because you want a specific Instagram photo.
Travel tip: The carpark here was crazy when I visited, it's long and narrow so on busy days most people drive to the front of the carpark and then have to turn around to go all the way back to park at the end.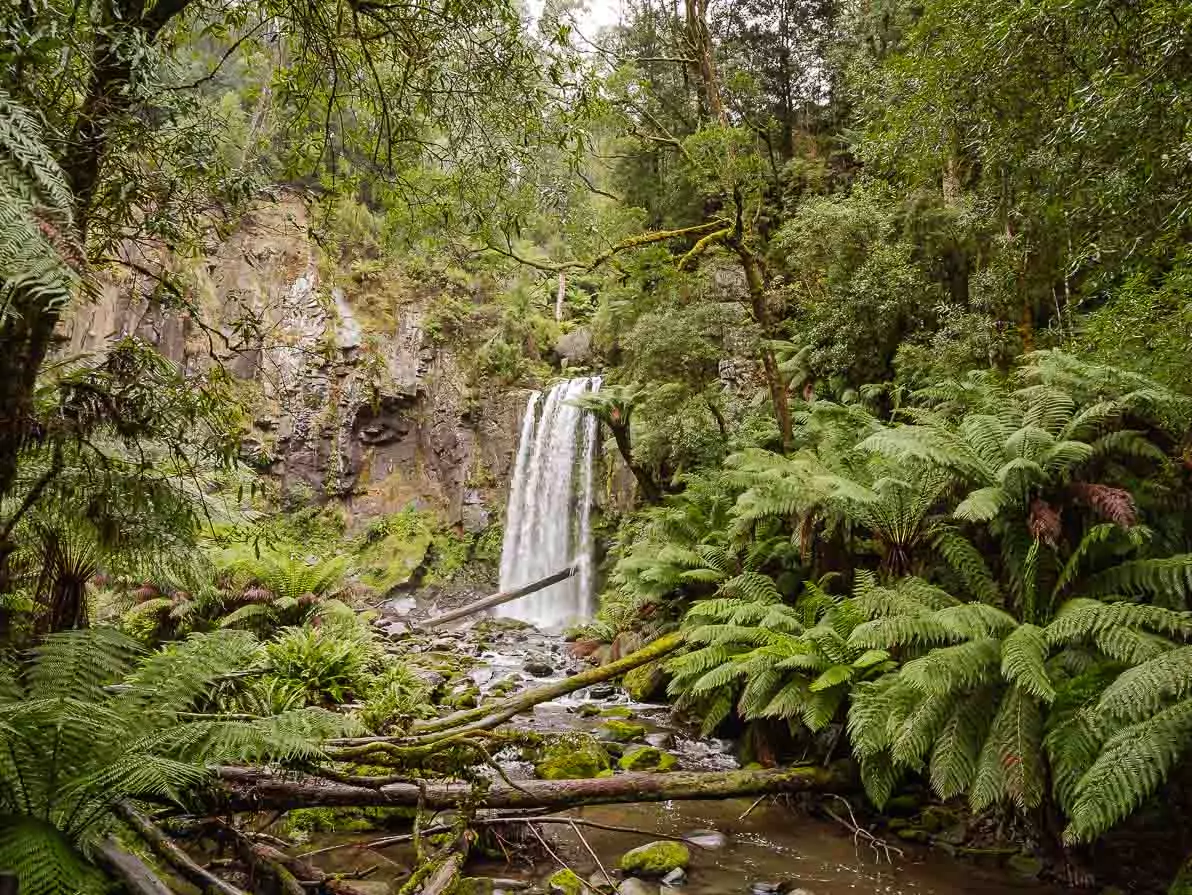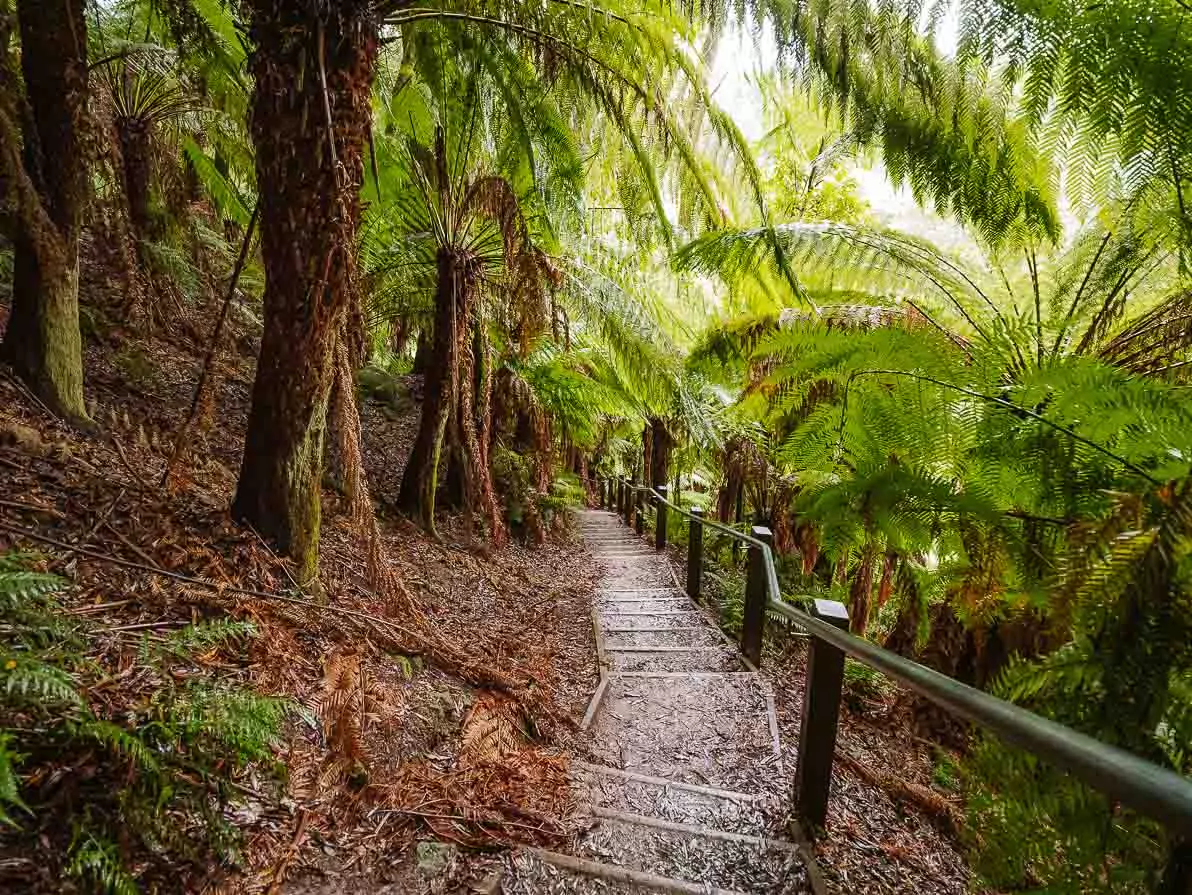 The carpark for Beauchamp Falls is less than 20 minutes from Hopetoun Falls, but this one is a longer walk (3km, 1-1.5 hours return depending on your fitness) with a more challenging track that can get pretty slippery. I didn't make it here unfortunately but this Beauchamp Falls guide has all you need to know. A lot of the reviews online mention swimming in the waterfall plunge pool so I assume it's allowed here, but as always check for signs before going off track, for your safety as well as protecting the environment.
From Beauchamp Falls you can start heading west again, with the loop walk for Triplet Falls and Little Aire Falls about 25 minutes away. The loop walk is about 2.5-3 hours in total, or you could just do Triplet Falls which is about an hour return.
Otway Fly Treetop Adventures (8 mins from Triplet Falls carpark)
If you fancy yourself as a bit of a daredevil, a zipline tour at Otway Fly Treetop Adventures might be up your alley! The zipline tour is $108 per adult if you pre-book (or $120 if you book when you get there) and includes 2.5 hours flying through the canopy of the Great Otway National Park trees.
There's also a treetop walk here which is suspended 25-30m above ground offering the best views in the Otways, tickets are $23.40 pre-booked or $26 walk-up.
Twelve Apostles for sunset (Especially if you're a photographer)
The Twelve Apostles are the most iconic view of Great Ocean Road, and while they are certainly beautiful during the day, it's something special when the sun starts going down behind them and you start getting contrasting shadows and colourful skies. I highly recommend heading here for golden hour (the hour before sunset) if you can to soak up the magical light, especially if you're a photographer!
You'll want to come back the following day to tick off the various viewpoints but sunset is well worth it. You could head to the main viewpoint at the visitors centre for a good view high up, but I reckon taking the Gibson Steps down to the beach is the best idea for photos, so you can shoot the golden sand with the craggy rocks eclipsing the sunset. Such a cool environment for photos.
Where to stay in Port Campbell
Camping | There isn't a huge amount of camping options along this stretch of the Great Ocean Road but Port Campbell Recreation Reserve and NRMA Port Campbell both offer powered and unpowered sites.
Budget | Sow & Piglets Guesthouse has dorm beds from $36 and privates from $101, or the NRMA also has cheap studio apartments.
Mid-range | Port Campbell Motor Inn, Port O' Call Motel and Daysy Hill Country Cottages are highly-rated without breaking the bank.
Luxury | There aren't any super fancy hotels in Port Campbell but there are some gorgeous holiday homes, like Anchors Port Campbell (a one bedroom cottage), Oceanhus (three-bedroom apartment) and Coastaways (three-bedroom house).
---
Great Ocean Road itinerary day three: Port Campbell to Warrnambool
Today you've got time to swing back to the Twelve Apostles to see it in a different light and to tick off all the other spots you missed yesterday, before making your way up the coast past some secret beaches, mind-blowing viewpoints and finally reaching the cute little resort town of Warrnambool, where you can treat yourself to a hard-earned hot springs soak.
Driving time from Port Campbell to Warrnambool
55 minutes
Where to stop between Port Campbell & Warrnambool
Back to the Twelve Apostles to properly explore
Ahh, the jewel in the Great Ocean Road's crown! The Twelve Apostles are at the top of many travellers' Australia bucket lists, and they're one of the most popular tourist spots in the country. The coast here is ever-changing too, with erosion and exposure to the elements constantly changing the landscape, so what you see and take photos of today might look very different if you return in a decade.
If you're an early riser you could get to the Twelve Apostles for sunrise. I can't tell you if it's worth it or not because I tend to sleep in until 10am, but I have seen photos where the sky behind the Apostles is soft shades of pink as the sun rises in the opposite direction. Whether you wake up at 6am or 11am, the Twelve Apostles are the recommended first stop for day three of this Great Ocean Road itinerary.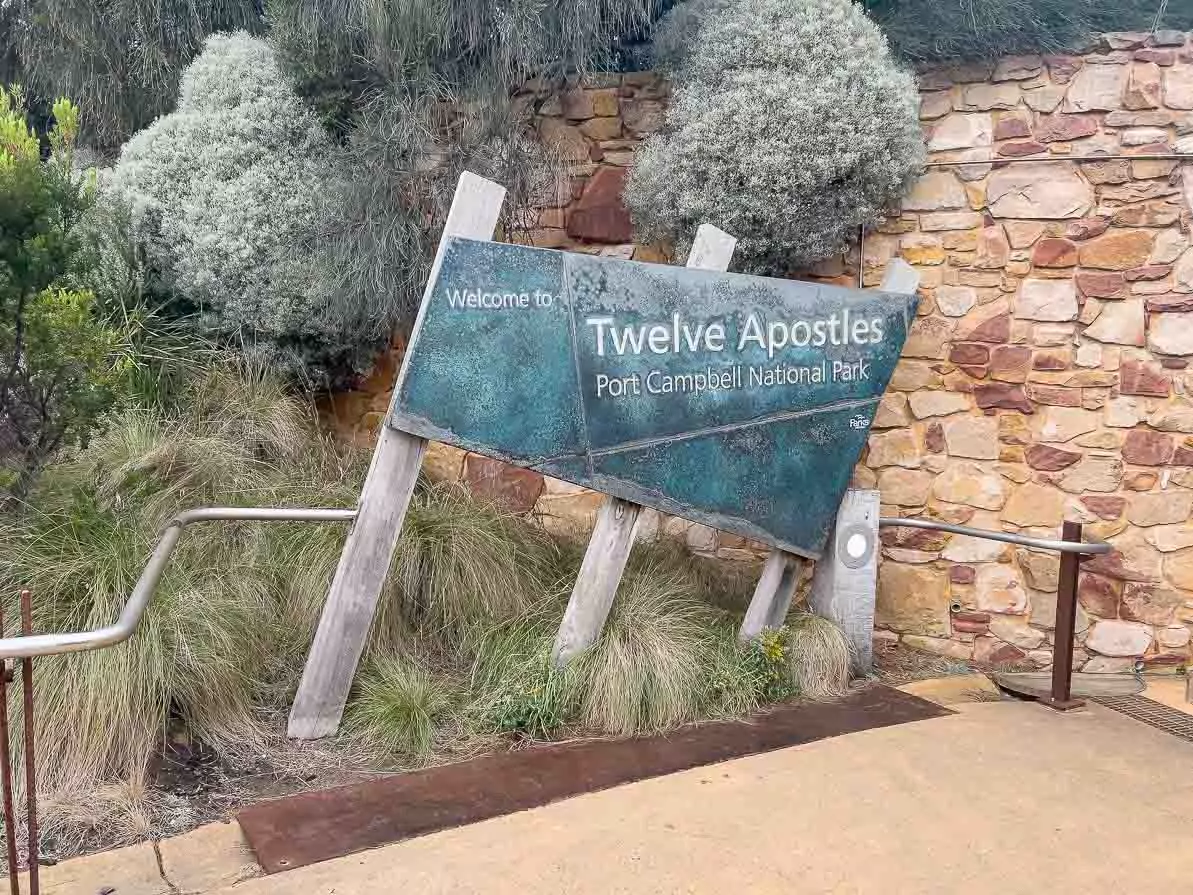 Park at the main visitors' centre and head to the viewing platform, it's the most popular in the area so it'll be busy but it does provide a great view along the beach where you can see the jagged cliffs and a few Apostles standing tall in the ocean. This path is also wheelchair-accessible unlike a lot of other paths along Great Ocean Road.
With a name like 'the Twelve Apostles' you kind of expect to see 12 sandstone stacks in the water, so don't be confused when you can only count six. There were originally only nine stacks, then one collapsed in 2005, and another collapsed in 2009, leaving seven that we can see today. You'll be able to spot all seven from a helicopter flight but only six can be seen from the viewpoint.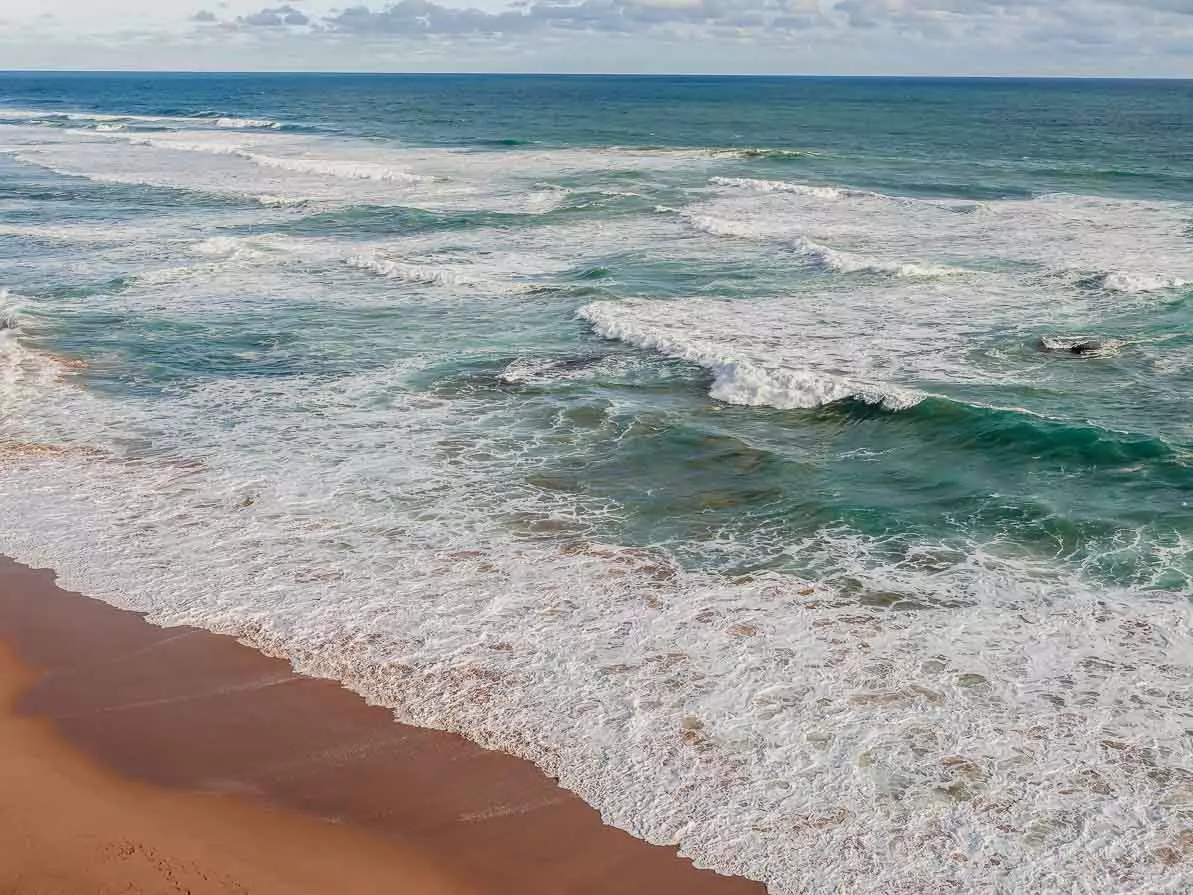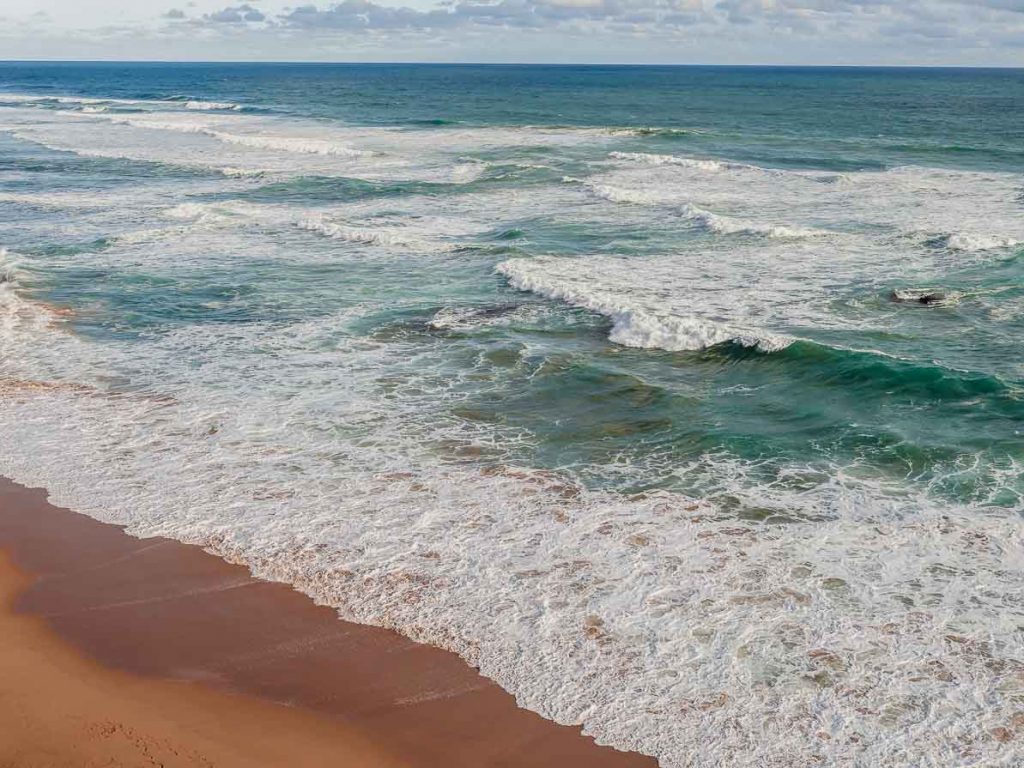 HONEST REVIEW: I got FOMO when I was at the Twelve Apostles seeing the helicopters fly past and decided to book onto a scenic heli flight that afternoon, at a cost of $165 for 16 minutes. The flight goes past the Apostles, Loch Ard Gorge, the Arch and London Bridge before turning around and coming back at a higher altitude.

To be completely honest, this was probably the least impressive scenic flights I've done (and yes, I know how wanky that sounds 😂), and it pales in comparison to the wonders of a flight over the Great Barrier Reef, the Whitsundays or Milford Sound over in New Zealand. If you have the money to spend and won't have to give up any other experiences then the views are still epic, but if you can only afford one scenic flight in Australia I highly recommend saving it for Queensland.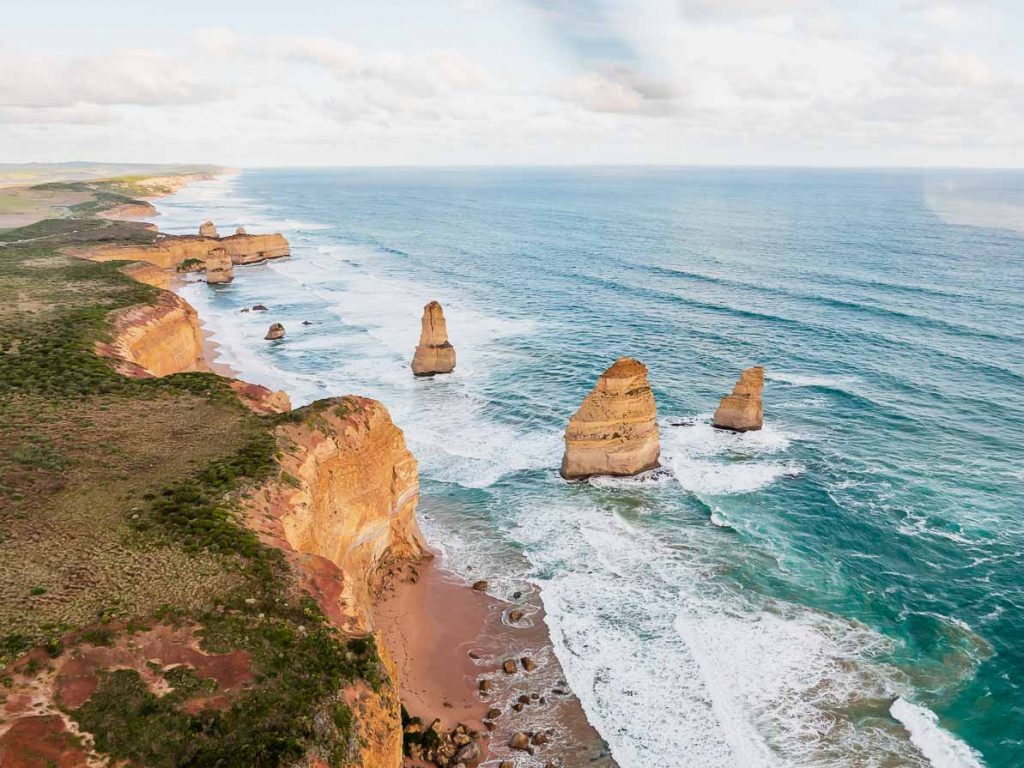 GiBson Steps (2 mins from the apostles)
From the main area you can either walk 1km along the Great Ocean Road Walk or drive to the Gibson Steps designated carpark (although the carpark only fits about 20 cars so it can be difficult to find a spot). The viewpoints right by the carpark are cool but the best view without a doubt is down at the beach, which you can access by walking down the 86 steep, sandy steps.
The steps are thought to have been originally carved out of the sandstone cliffs by the indigenous Kirrae Whurrong people, and they were maintained and improved by a local settler before eventually having safety rails installed to keep visitors safe while accessing the beach. The steps are closed often if the tide is too high or the wind is too strong, this coast is unforgiving and the sea conditions can change quickly so you just don't want to be by the water when the weather is bad.
Fun fact: What many visitors don't know is that the two 40m+ rock formations sticking out of the ocean by the Gibson Steps aren't actually part of the Twelve Apostles, they're separate stacks named Gog & Magog.
Loch Ard Gorge (6 mins from gibson steps)
Named after a ship that crashed into Muttonbird Island in 1878 leaving only two survivors out of 54 passengers, Loch Ard Gorge is one of the most stunning spots along the Great Ocean Road (amongst some seriously strong competition!). The colours here absolutely pop, with yellow cliffs, orange sand and bright turquoise water coming together, and it's a less busy spot for a Great Ocean Road sunset compared to the main Twelve Apostles viewpoint.
There are a bunch of different walks and viewpoints from the carparks near Loch Ard Gorge, give yourself an hour at least to visit the lookouts and head down to the beach.
London Bridge (16 mins from Loch Ard Gorge)
A good example of how the coast can change drastically from decade to decade, London Bridge was a natural archway and tunnel that collapsed in 1990 and became disconnected from the mainland. At the time you were able to walk onto the archway, so two tourists that were on the other side once it collapsed were rescued by helicopter! Free scenic flight? Yes please.
This is a great spot for wildlife viewing too, at dusk you might be able to see Little Penguins waddling out of the ocean and onto shore for the evening, and in winter if you're lucky you might spot Southern Right whales and Humpback whales migrating to warmer waters.
The Grotto (5 mins from London Bridge)
You've probably seen this one on Instagram and I'm going to be honest, I felt like it was super overrated.
It's a short walk down steps to get to the famous viewpoint and the view is pretty cool, the rockpool reflects the rocks and the sky, but if you've seen photos of people walking along the rocks by the water or underneath the arch they've jumped the safety barrier to get there. And if you think that's a good idea, please refer back to the previous paragraph where I mentioned an arch collapsing!
I probably saw it on a bad day as it was grey and gloomy by the time I got there so it wasn't as magical as I had expected it to be, and there was a longgg line on the stairs to take photos, so hopefully you have a better experience than I did.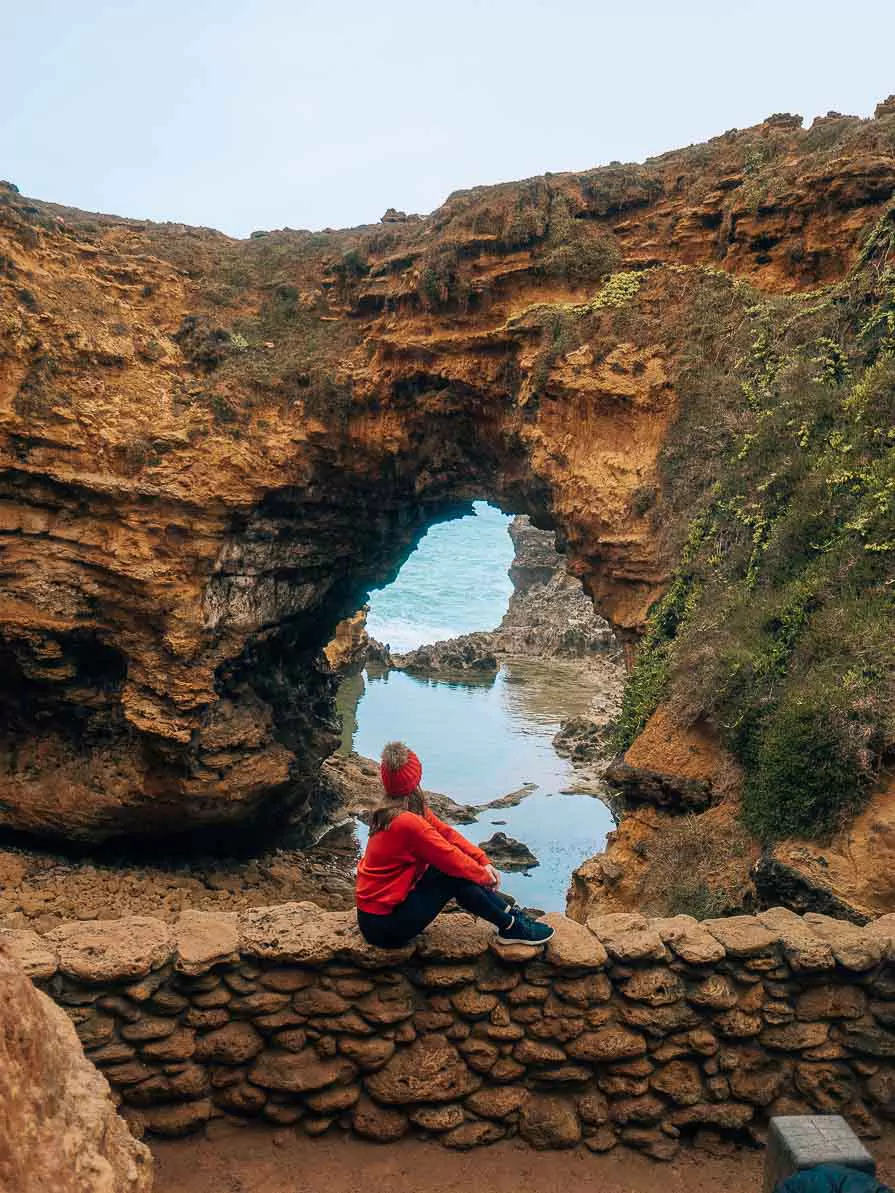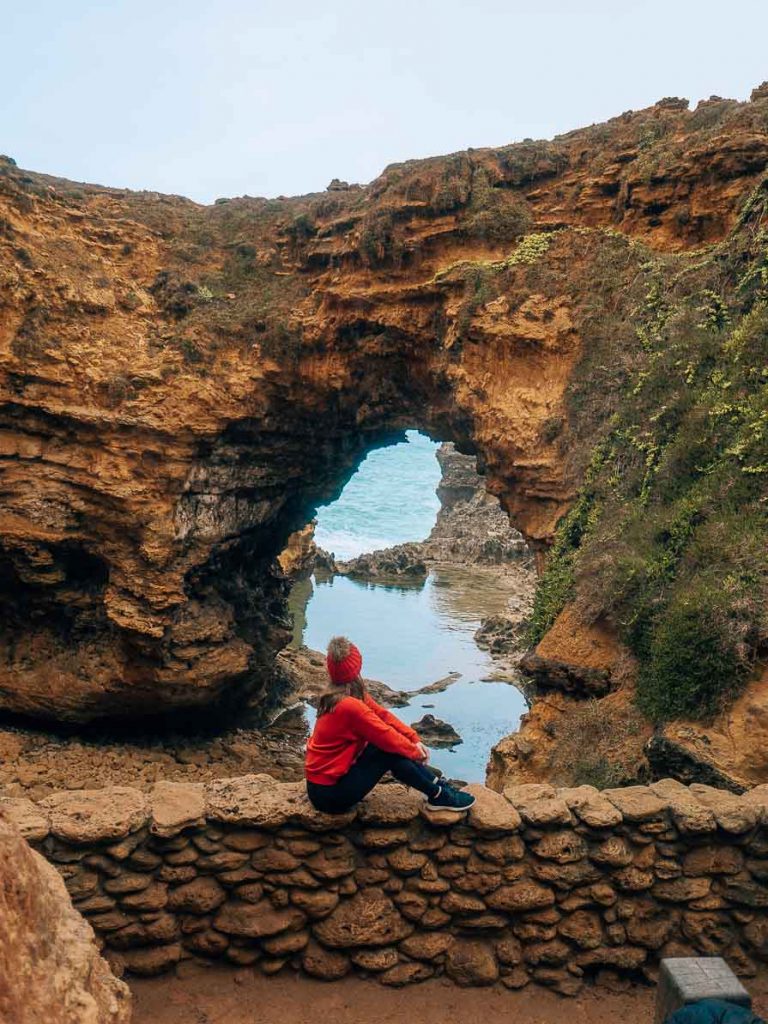 Halladale Point (7 mins from the Grotto)
Yet another incredible coastal photo spot. It was less busy here than other viewpoints closer to the Twelve Apostles too if you want some peace and quiet away from hordes of tourists.
Sandy Cove (my absolute favourite, 27 mins from Halladale Point)
If you're looking for somewhere to enjoy the rugged Great Ocean Road views while relaxing on a beach that you probably have all to yourself, come to Sandy Cove. This place isn't really signposted and isn't even on Google Maps, so you're unlikely to run into anyone else except maybe local photographers who know the spot!
I heard about it from Caitlyn from @_thewanderlusttimes and when I got there I spent an hour soaking in the golden hour sunlight and taking photos before realising it was getting dark quickly and I should probably head back to my car because there was no cellphone reception and no one knew where I was (rookie mistake). But the moral of the story is that Sandy Cove is absolutely worth a visit, and it will be hard for you to leave!
To get there you can put in Childers Cove in your maps app, then when you take the 90 degree right corner on Childers Cove road you'll see a small carpark in front of some bush (where I've badly circled it on the screenshot below). Park here and it's a five minute walk down to the beach, then for the best views head along the beach to the other end for the photos in front of the limestone stacks.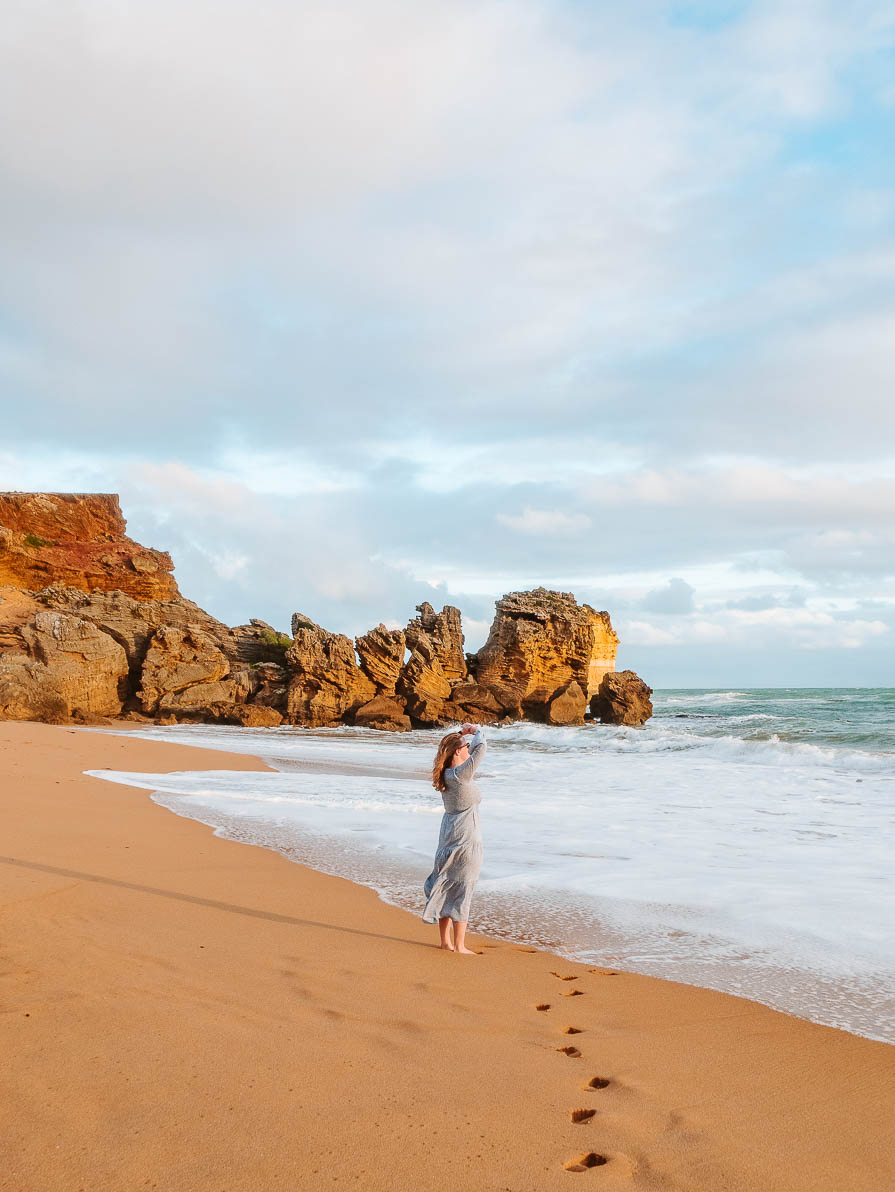 MurnanE's Bay & Childers Cove (right next to Sandy Cove)
Both of these bays are a quick walk down to the beach from the carpark, offering picture-perfect photo spots especially at sunset. Childers Cove had quite a few people there when I visited but Murnane's Bay was empty so I parked up, grabbed my tripod and took some photos while I had the beach to myself.
Magic Rock (17 mins from Childers Cove)
This rock looks like it's defying gravity, and judging by the top-heavy proportions it's probably not going to be around forever, so try to see it while it's still standing! Park at the end of Kileens Road and follow the track for about half an hour, and the track is rocky to get down to the beach so wear proper shoes. You can see another one of Caitlyn's Reels for detailed instructions.
Logans Beach (24 mins from Magic Rock)
If you're driving Great Ocean Road in winter, head to Logans Beach Whale Watching Platform for a chance to see these gentle giants. The female Southern Right whales come here every winter between June and September to calve in warmer waters.
Point Ritchie (5 mins from Logans Beach)
Point Ritchie is on the other side of the river mouth from Logans Beach, the carpark overlooks the ocean so it's a nice place to park up for a view while keeping warm.
Stingray Bay (11 mins from Point Ritchie)
A calm, shallow bay which is a rarity along the wild coast of the Great Ocean Road, with good opportunities to spot fishes and seals if you're lucky. At low tide you can walk across to one of the islands (the other is locked) and you can walk over to Pickering Point and Thunder Point which are both worth a visit as well (or drive there if you don't want to walk).
Deep Blue Hot Springs
I am truly saving the best for last, because there is nothing better than walking into a natural hot pool under the stars after driving hours and hundreds of kilometres over a few days! Deep Blue Hot Springs is a geothermal bathing sanctuary with fifteen different pools, caves and waterfalls to relax and rejuvenate in. They offer early rising, morning, afternoon and twilight sessions (the twilight one being adults only) and it was the perfect way for me to round up my three day Great Ocean Road itinerary.
Deep Blue Hot Springs also has an on-site hotel which is well worth considering if you want somewhere luxurious to stay, it's somewhere I will always return to when I'm in the area. Lush rooms, gorgeous hot pools, good food, all I could ever want!
Related post: What it's like to visit Deep Blue Hotel & Hot Springs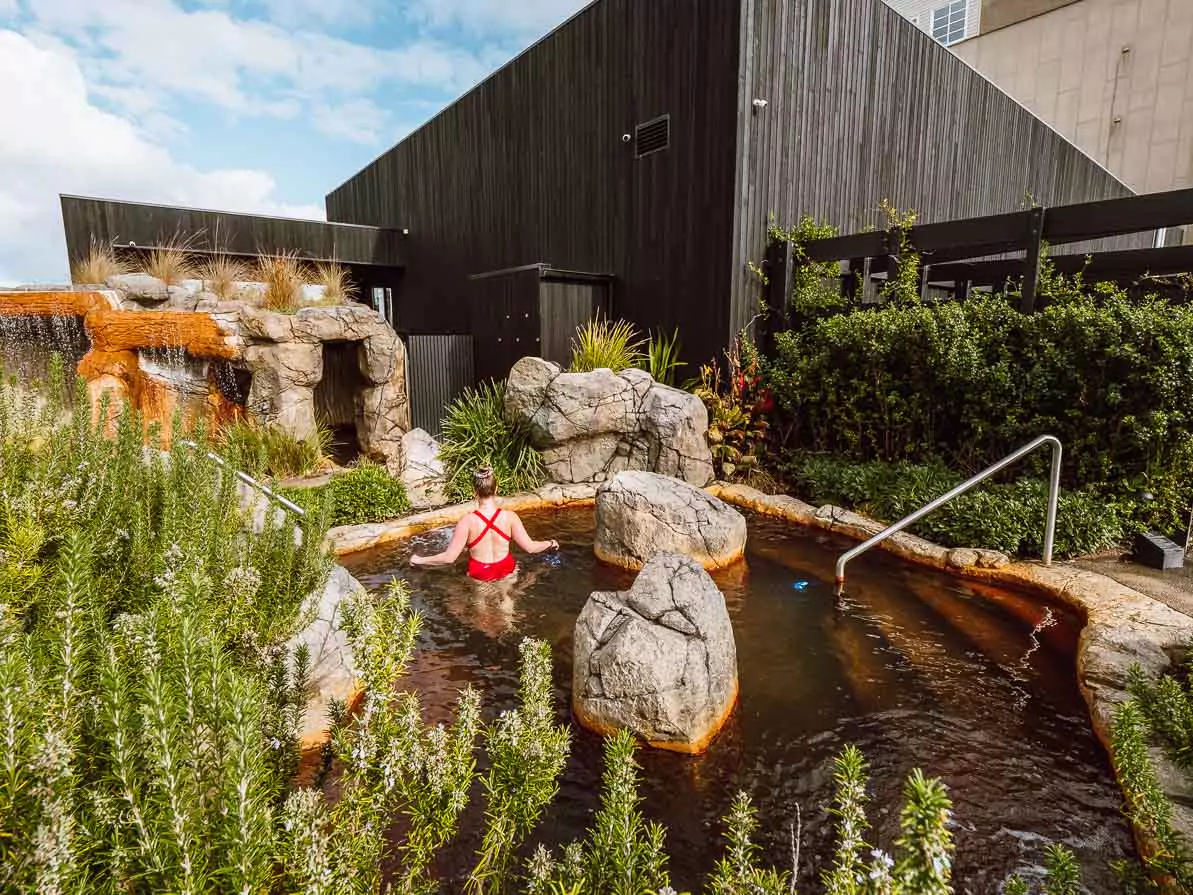 Where to stay in Warrnambool
Camping | BIG4 has two well-rated holiday parks in Warrnambool (Figtree and Riverside), and Surfside Holiday Park also has great reviews.
Budget | The only hostel in Warrnambool that I could find was the Cally Hotel that offers dorm rooms from $35, it's not particularly highly-rated (7.6/10 on booking.com) but it is the cheapest option in town. If you are happy to spend up to $100 per night there's some decent B&Bs like Your Home Away From Home and motels like Mahogany Motel.
Mid-range | Eight Spence, Botanic Apartments and Quest Warrnambool are all good options if you want somewhere comfortable without needing to splurge.
Luxury | Deep Blue Hotel & Hot Springs is absolutely my top recommendation for a luxury stay in Warrnambool, and rooms start from only $170 in low season or from $309 in high season. Brilliant value for the quality of accommodation.
---
If you have less time for your Great Ocean Road itinerary
If you do only have one day on Great Ocean Road I would highly recommending doing a small group tour to make the most of your time, they'll be able to take you to the main spots that you wouldn't want to miss, and they know the best order/best times to visit too.
If you are adamant that you'd like to do a day trip from Melbourne in your own car then your best bet is to wake up early and head straight to the Twelve Apostles, that would be about 2h 45m-3h by car with no other stops depending on traffic.
Once you've seen the Apostles you could continue along the coast to visit some more viewpoints on your way home, or you could head into the Otways to see the Redwoods and a waterfall or two before taking the inland route home which is quicker (about 2h 30m from the waterfalls in the Otways).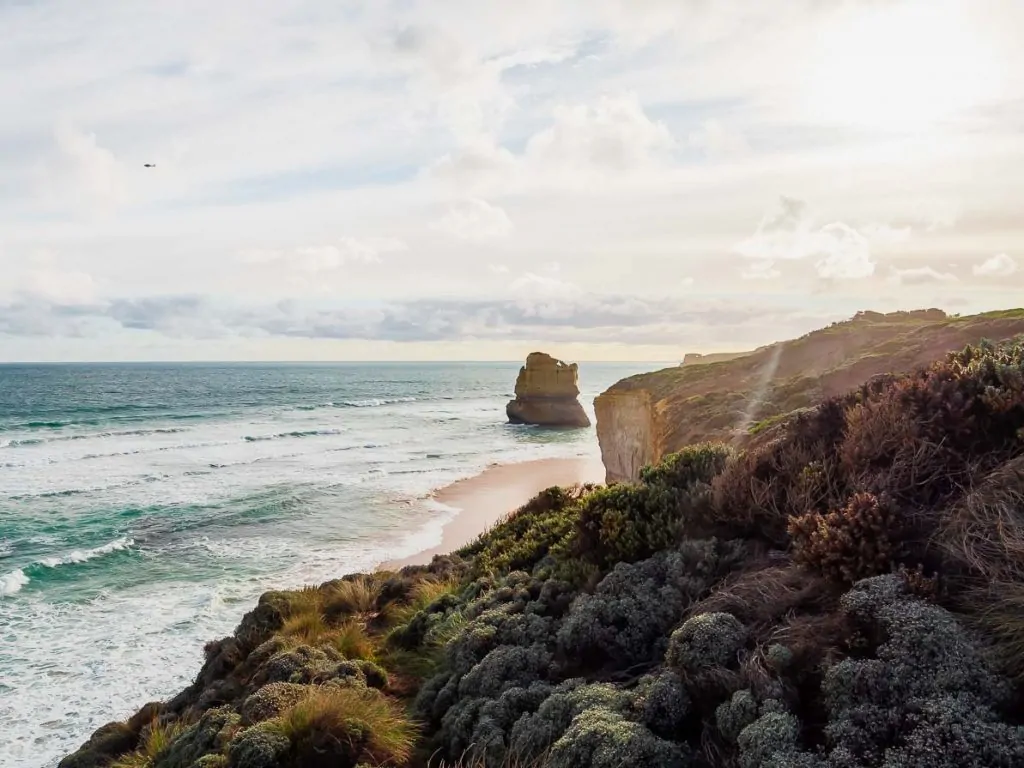 If you had two nights to do Great Ocean Road (and had to return to Melbourne on day three) you've got two good options.
You could just spend a night in Apollo Bay and Port Campbell and skip my day three recommendations in order to just drive home instead
You could drive all the way to Port Campbell on your first night via the Otway waterfalls (3h 30m), then you could spend your second day exploring the Twelve Apostles and the viewpoints along that coast and stay at Warrnambool for night two, then head back to Melbourne the next morning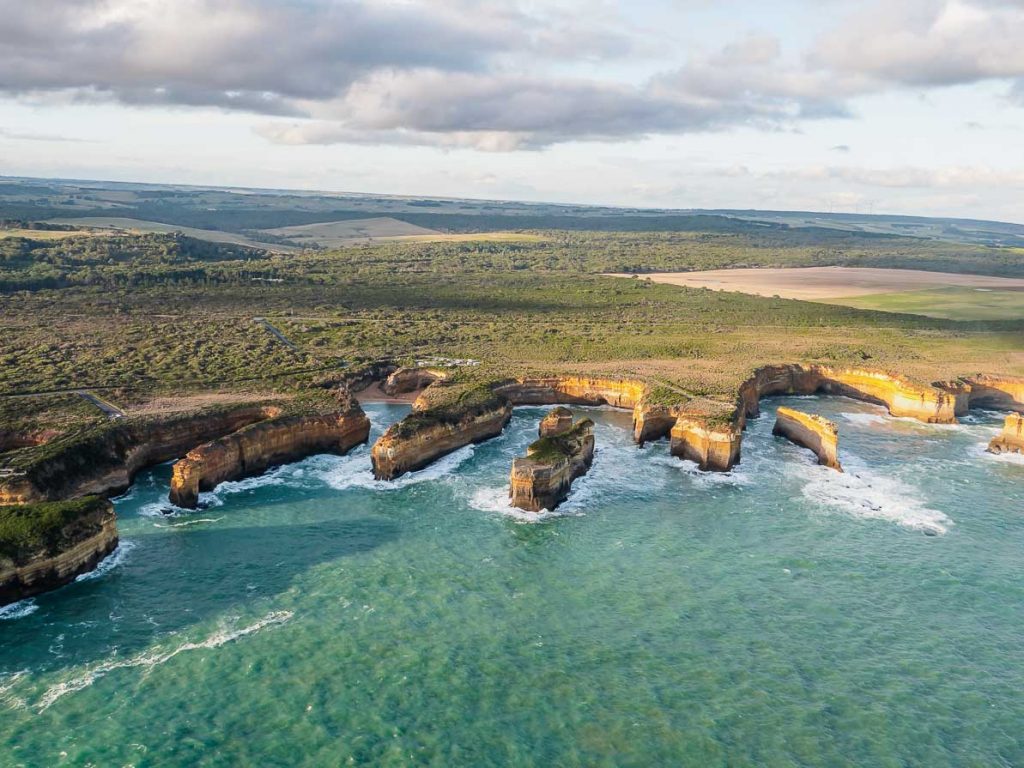 ---
If you have more time for your Great Ocean Road itinerary
If you have five or more days, that's plenty of time to tick off a bunch of the hikes and activities on offer along the coast and at Great Otways.
You could easily spend two or more days in Apollo Bay as it's a good base for the Otways, and if you wanted to do the 3-4+ hour waterfall hikes then they could keep you busy for a few days at least.
The Twelve Apostles are basically just a bunch of viewpoints that you want to see but there isn't a huge amount to actually do, so I'd recommend also adding time on further along the road at Warrnambool (where you could easily spend a couple of days relaxing at the hot pools).
And if you're keen to explore even more of Australia, why not make the full drive from Melbourne to Adelaide? This is what I did and there was some epic stops and activities to tick off on the way, like:
---
Phew, that was a big one! I hope this three day Great Ocean Road itinerary has helped you plan out your photo spots and overnight stops on your road trip. I'd love to know if you have anything to add, pop your suggestions in the comments and I'll keep them in mind for my next Great Ocean Road trip.
Here are some useful Australia links to help you plan your trip:
And some other Australia blog posts that you might want to read next: