A Brisbane to Cairns road trip is hands down the ultimate way to experience Queensland, and this super detailed Brisbane to Cairns road trip itinerary tells you all you need to know in order to plan the perfect trip.
Is roadtripping the Queensland coast at the top of your Australia bucket list? If it's not already then it should be, and by the end of this blog post I can guarantee that it will be.
From an endless selection of beaches to visit, world-renowned diving opportunities, incredibly unique landscapes and some wildlife experiences you won't find anywhere else on the planet, Queensland is something special.
And no matter whether you prefer poolside cocktails, active adventures or epic bucket list experiences (or a mix of all three), the Sunshine State is sure to blow the mind of any type of traveller.
I did the Brisbane to Cairns drive in June 2022 as part of my 2.5 month Australia solo road trip with Klook, my first (proper) international travel destination after being "stuck" in New Zealand for two years while our borders were closed, and I reckon this part of Australia is one of the most incredible road trips in the world.
Read more: The ultimate Australia travel guide
I spent almost four weeks travelling the 1700kms+ between Brisbane and Cairns, with overnight stops at 11 different places, and I'm going to give you all the details of what I got up to so you can easily replicate my trip without needing to scour the internet for hours.
I'll tell you which overnight stops are worth it, where to stay, how long to stay for*, activities to do and other travel tips to ensure you have the best time possible. When I say this is the 'ultimate road trip itinerary', I mean ultimate.
*When I say how long to stay for, I mean the *minimum* amount of time you need to be there to enjoy your visit. If you have three months to complete this Brisbane to Cairns road trip then you can spend a week or more in different places!
If you think this itinerary won't help you because you have less time than I did (or more, you lucky thing!) then don't stress, at the bottom of the blog post you'll find suggestions on what you could cut if you needed to shorten the trip, or where you could extend if you've got time to spare. You can navigate straight to those sections in the table of contents just below.
So here goes, this is my ultimate Brisbane to Cairns road trip itinerary, along with a bunch of tips and tricks to help you make the most of your money and time while travelling through Queensland.
If you're planning a bigger Australia road trip than just driving from Brisbane to Cairns, check out my other road trip itineraries:
---
Brisbane to Cairns road trip map
---
Brisbane to Cairns road trip summary
If you just want to know where to go between Brisbane and Cairns, here's a quick bullet point summary of my recommended stops.
Brisbane
Noosa
Hervey Bay
Fraser Island
Lady Elliot Island
Agnes Water & 1770
Yeppoon & the Capricorn Coast
Airlie Beach & the Whitsundays
Townsville & Magnetic Island
Mission Beach
Cairns
Read more: 50+ things to add to your Australia bucket list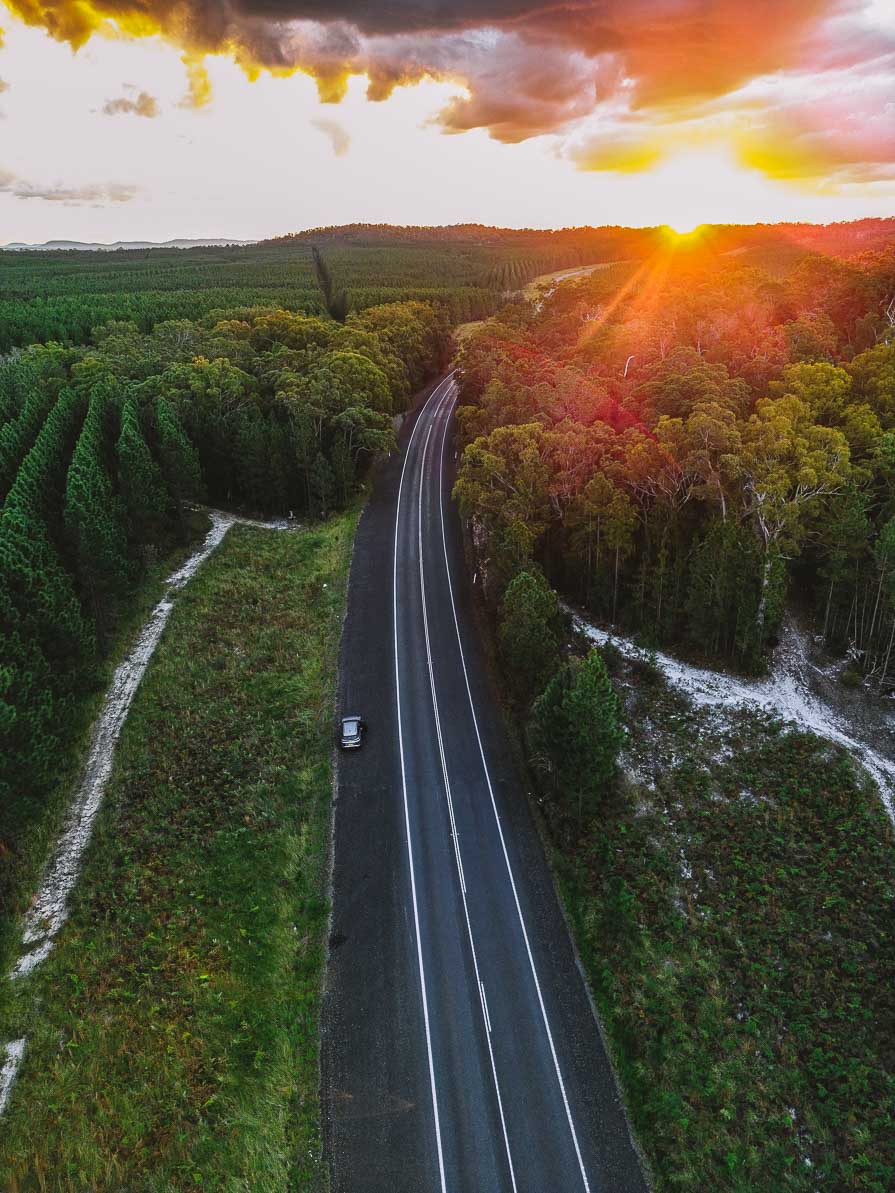 ---
How long will it take to drive from Brisbane to Cairns?
The drive from Brisbane to Cairns is just under 1700kms if you drove straight there along the highway close to the coast, which would take 19h 30m of straight driving. Australia's not small!
The trip I did included lots of coastal stops slightly off the motorway so in total it was about 1870kms, and just over 22 hours of driving.
In terms of how long you should set aside from your Brisbane to Cairns road trip, you'd need at least a week to be able to actually enjoy your trip. A week-long trip would probably include a few long drive days and just the classic stops at Noosa, Hervey Bay/Fraser Island and Airlie Beach before having a day or two to explore Cairns.
If you can set aside two weeks you'll be able to take it easy and won't need to spend any longer than 3-4 hours in the car each day. Three or more weeks and you'll have much more freedom to explore smaller beach towns and tick off loads of the must-do activities on offer in Queensland.
Travel tip: I used Klook for all my rental car needs in Australia, you can search your travel dates and they pull up all the options from rental companies like Hertz, Sixt, Avis, Budget and more so you know you're getting the best deal. They also offer free cancellation so you can lock in a good price early on and then cancel or amend it if your plans change.
---
When is the best time for a Brisbane to Cairns road trip?
The best time to drive from Brisbane to Cairns is between May and October, for a number of reasons.
Firstly, it's the dry season, so humidity is significantly lower and there's less likelihood of tropical weather systems bringing torrential rain and accompanying flooding. Secondly, it's outside of the marine stinger season, which is when jellyfish are most prevalent in tropical Queensland.
If you visit between November and May you need to be prepared for very hot, humid, wet weather, but if this doesn't phase you then you can take advantage of lower prices and less tourists. If you do choose to go during wet season then I'd recommend setting aside more time, as bad weather can cause road closures and sometimes totally cut off some coastal towns.
In dry season, I personally prefer travelling at the start or the end, as it's a bit cheaper and less busy. Places like Cairns and Airlie Beach in particular will be super busy with Australian tourists during their school holidays (usually two weeks around Easter, start to mid-July and end of Sept to early Oct) so travelling in May/June and October provide the best chance of good weather, mild temperatures, stinger-free swimming and cheaper hotels.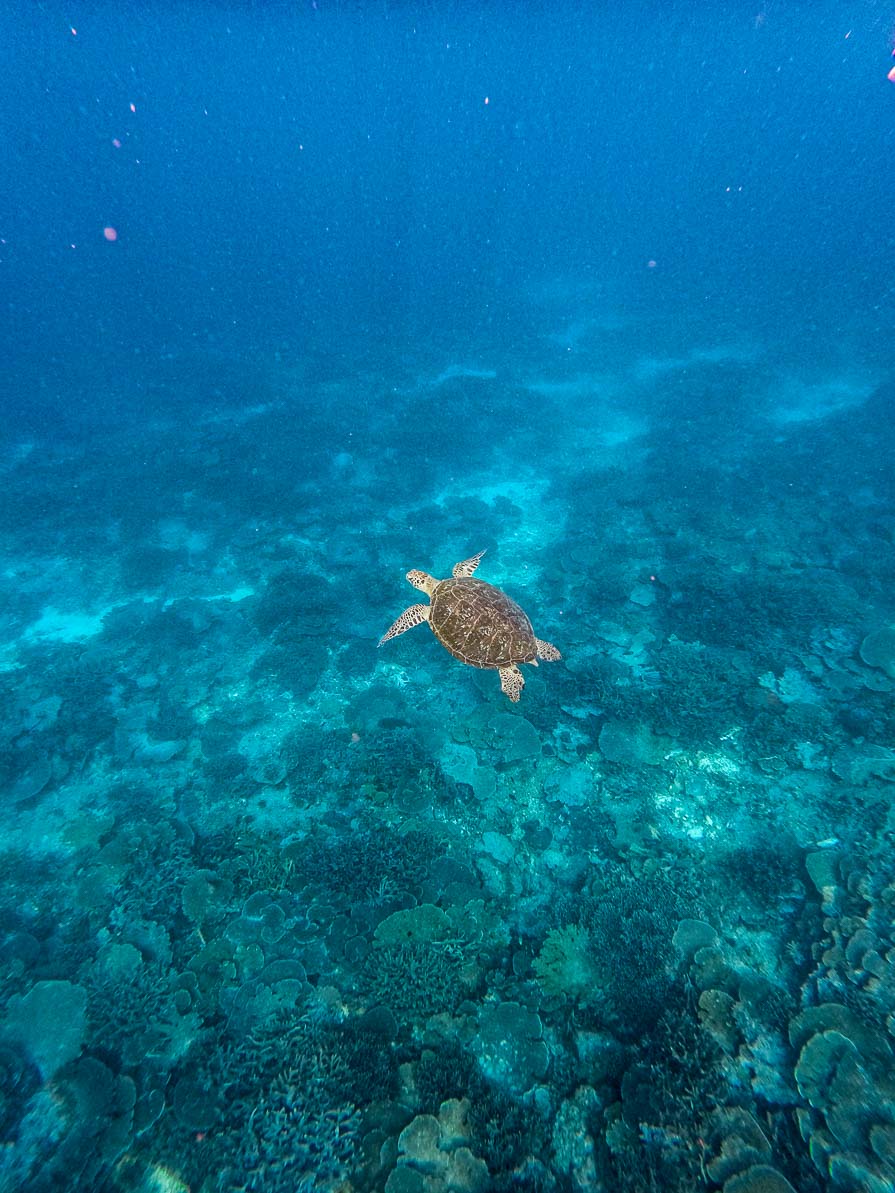 ---
Things to know before your Brisbane to Cairns road trip
Before planning your Queensland road trip though, there are a few things you need to know in order to stay safe and have an incredible trip.
Stinger season
As I just mentioned, stinger season is when dangerous jellyfish like the box jellyfish and the Irukandji inhabit the coastal waters of Queensland and pose a serious risk to surfers, snorkellers and divers. Which sounds super scary, but that's where stinger suits come in!
If you choose to do any water activities in Queensland, every single company will have full-length stinger suits to wear, these will probably be compulsory during stinger season and outside of stinger season you can choose to wear one if you wish. I always wore one just to be extra safe, plus they give the added bonus of sun protection while snorkelling.
Stingers can actually be found in tropical Queensland year-round but they are much less likely in the cooler months of May to November.
The cost of activities (in terms of both money and time)
This part of Australia has a lot of tourist activities to choose from, so you'll want to set aside some additional budget for things like day trips, boat tours and other experiences.
Your average Queensland road trip will likely include at least one island visit (so you need ferry tickets), a snorkel or dive day trip to the Great Barrier Reef, and a scenic flight, which could come to upwards of $500-600 total just for those three. You could definitely cut these out if you wanted to stick to a budget, but just be aware that the water-based or air-based experiences can get pretty pricey.
In terms of timing, you usually need to book these day trips and experiences in advance and they can take up a decent chunk of your itinerary, so the more time you have to spend in Queensland the better.
Travel tip: You can book all your East Coast Aussie tours via RTW Backpackers, they're experts in Australia travel and can help you find the perfect tours to suit your travel style and budget.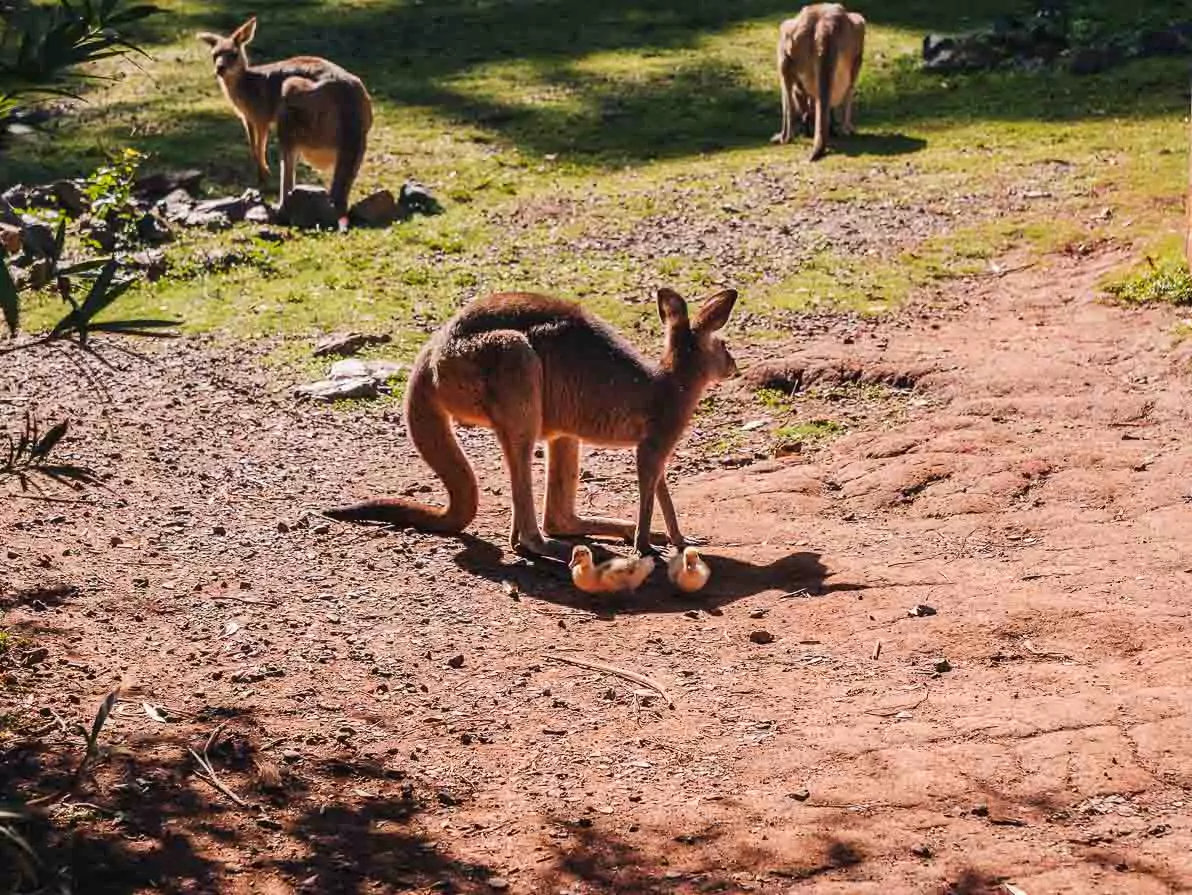 Speed limits & driving safety
Unlike my experiences on the Great Ocean Road and my Sydney to Byron Bay road trip, Queenslanders seem to treat the speed limit as a guideline rather than a rule.
I'd never condone speeding, especially when you don't know the roads, but I will say that people drive so fast that they made me worry that my speedometer was incorrect when I had cruise control set to the limit, every single person was passing me!
In saying that though, many of the roads in Queensland are in pretty horrendous condition due to extreme weather and so many trucks, pot holes galore. If you travel after 9pm be prepared for long waits for road works and/or detours that add 30-60 minutes onto each trip.
Another thing to be aware of while driving, like the rest of Australia, is animals jumping out in front of your car. Dusk and dawn are the worst times for this as it's when kangaroos and other animals roam around for food before and after the daytime heat, and you don't want to know what happens to a car when it meets a kangaroo at full speed. Avoid driving at these times if at all possible, or make sure you are super alert and have your peripheral vision switched onto full.
Long drives
There are some long drives up the Queensland coast, particularly if you're having to do the trip quickly and don't have time to make all the suggested stops, so always make sure you've got food, water and an energy drink in the car in case you start getting tired in the middle of nowhere.
There are a few parts of the highway where there's no gas for maybe 60-80 kms so always keep an eye on your fuel level to avoid getting stuck and needing to call for assistance. If your rental car has an option to add this on when you book it, I'd definitely recommend it for peace of mind.
Travel insurance
Travel insurance is essential for any international travel, especially to Australia where there can be pretty extreme weather that can cause travel delays, as well as lots of active adventures that may cause injury.
I travel with an annual policy from Covermore NZ (who have been brilliant in terms of customer service so far) but if you're not from NZ then I've heard great things about SafetyWing and World Nomads.
---
How to use this Brisbane to Cairns road trip itinerary
This itinerary is biiiiig, in fact it's 9000+ words big! Which can be pretty overwhelming if you're just in the early stages of planning your Brisbane to Cairns road trip.
I've tried to answer all the classic questions I get asked about each destination ("how long should I go for?", "where should I stay?", "what are the must-dos?") so there's a lot of info in here, but if you're in the early planning stages you might just want to skim read the summary of each destination and take note of the destinations that sound like places you want to go to.
Once you've got a shortlist of destinations you can map them out to see how many days you might need (or how to fit them into the timeframe you already have), then come back and check out my suggestions for activities and accommodation to see what you might want to book.
I'd recommend setting up a bookmark tab on your browser where you can bookmark this blog post and also bookmark any hotels, tours or experiences you like. There's nothing worse than hearing about something epic for an upcoming trip but then losing the link and never being able to find it again!
---
Brisbane to Cairns road trip itinerary
Brisbane
How long to stay in Brisbane: 1-2 days
Queensland's capital city is a hub of culture and culinary delights, with plenty to see and do to kick off your Brisbane to Cairns itinerary. You could easily spend a week or more here but in the interest of seeing more of Queensland, I'd recommend staying a day or two.
Things to do in Brisbane
Where to stay in Brisbane
Budget | Selina Brisbane and Brisbane Quarters are two highly-rated hostels, and Amelia Boutique Hotel is a top-rated budget hotel in a great location
Best value | My go-to for Brisbane is Il Mondo Boutique Hotel, it's in Kangaroo Point and has super comfortable, spacious rooms and apartments, as well as brilliant service and a swimming pool.
Luxury | Check out Ovolo the Valley, the Calile and W Brisbane for a luxurious stay in Brisbane.
---
Noosa & the Sunshine Coast
Drive time: Just under two hours, 148km
Where to stop on the way:
Bribie Island to see turtles, dugongs and dolphins (it's connected to the mainland by bridge so an easy add on to your road trip)
The Glass House Mountains, a collection of 11 peaks in the Queensland hinterland with waterfalls and walks to explore. Head up Mt Ngungun for the most famous view, it's only 20-40 minutes to the top.
Australia Zoo, made famous by Steve Irwin and still owned and run by his family
Point Cartwright Lighthouse on the other side of the Mooloolaba River from Mooloolaba, it has spectacular views and some beautiful memorial plaques to read as you wander around the reserve
First Bay Coolum, a quintessential Queensland bay that looks like it's straight off a postcard
How long to stay in Noosa: 2-3 days
The term 'Sunshine Coast' refers to the area of Queensland from Caloundra (just past the Glass House Mountains) up to Great Sandy National Park, and Noosa is the most popular resort town in the region.
If you enjoy getting out and about you'll love Noosa, with loads of activities both on water and on land, or if you prefer lazy days on the beach or by the pool it ticks those boxes too.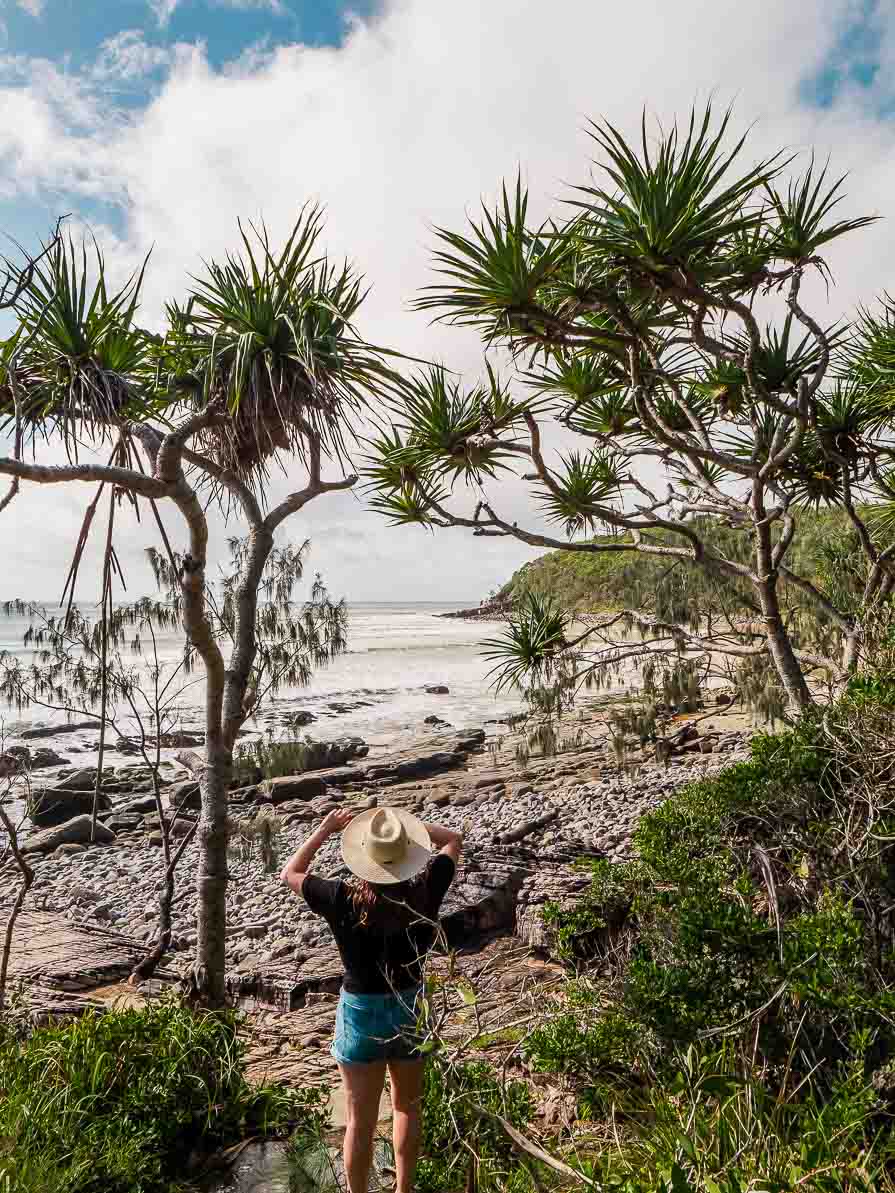 Things to do in Noosa
Noosa National Park has a bunch of walks to choose from depending on how long you want to explore for. The 10.8km return coastal walk is a classic, and if you're short on time you can turn around whenever you feel like it to make your way back to the carpark.
Important: The famous Fairy Pools are probably the most Insta-famous part of the coastal walk and as of 11 August 2022, this part of the track is closed for construction and you won't be able to access them. I wish someone told me this before I walked there on a 32° day!
Learn to surf at Noosa Heads Main Beach or go on a paddleboard tour
If you're in Noosa on a Sunday morning then don't miss the Noosa Farmers Market, or on Wednesdays or Saturdays you can head a bit out of town to the Eumundi Market, Australia's best artisan market
Skydive from 15,000 feet, getting the best view of the whole Sunshine Coast
Spot dolphins on an Ocean Rider safari boat tour or go whale watching during whale season
See a different side of Noosa with a boat tour through the Noosa Everglades
Where to stay in Noosa
Budget | I am OBSESSED with Bounce Noosa, it's the coolest hostel I've ever stayed in in Australia and one of the best in the world for sure. The hostel has budget-friendly dorm rooms plus ultra-stylish private rooms, but the real selling point is the stunning glass-sided pool with deck chairs and a bar serving up fancy cocktails. Take me back!
Mid-range | Noosa Valley Manor B&B, Noosa Hinterland B&B, Anchor Motel Noosa and Drifters Apartment are great options for a mid-range travel budget.
Luxury | L'Auberge Noosa, RACV Noosa, the Sofitel and Hotel Laguna are all fantastic luxury hotels, or else there's a bunch of fancy apartments to choose from if you want somewhere self-contained.
Unique | Habitat Noosa is about half an hour's drive from Noosa Heads, and it's an eco-friendly campground that also offers luxury safari tents for travellers who love glamping, like me! The tents are really well-equipped with hot showers, flushing toilets and a mini fridge, and you can watch wild kangaroos hop right past you as you sit on your deck with a glass of wine or huddle around the fire on those chillier winter nights. So dreamy.
---
Hervey Bay
Drive time: Two hours, 159km
Where to stop on the way:
On your way out of Noosa make sure you stop at Mount Tinbeerwah for 360° views across the Noosa hinterland
Rainbow Beach is on the coast so a bit out of the way from the main highway, but the rugged cliffs and gigantic sand dunes make it worth it. It's best explored by 4WD so if you don't have your own, I'd recommend booking onto a 4WD tour.
How long to stay in Hervey Bay: 2-3 days including K'gari (Fraser Island)
Hervey Bay is best-known for two things: being the gateway to K'gari, and being the whale watching capital of Australia.
Set aside a day or two to enjoy Hervey Bay itself before heading over to the island. A day trip will suffice but to experience the best of Fraser you'll want to spend at least one night there.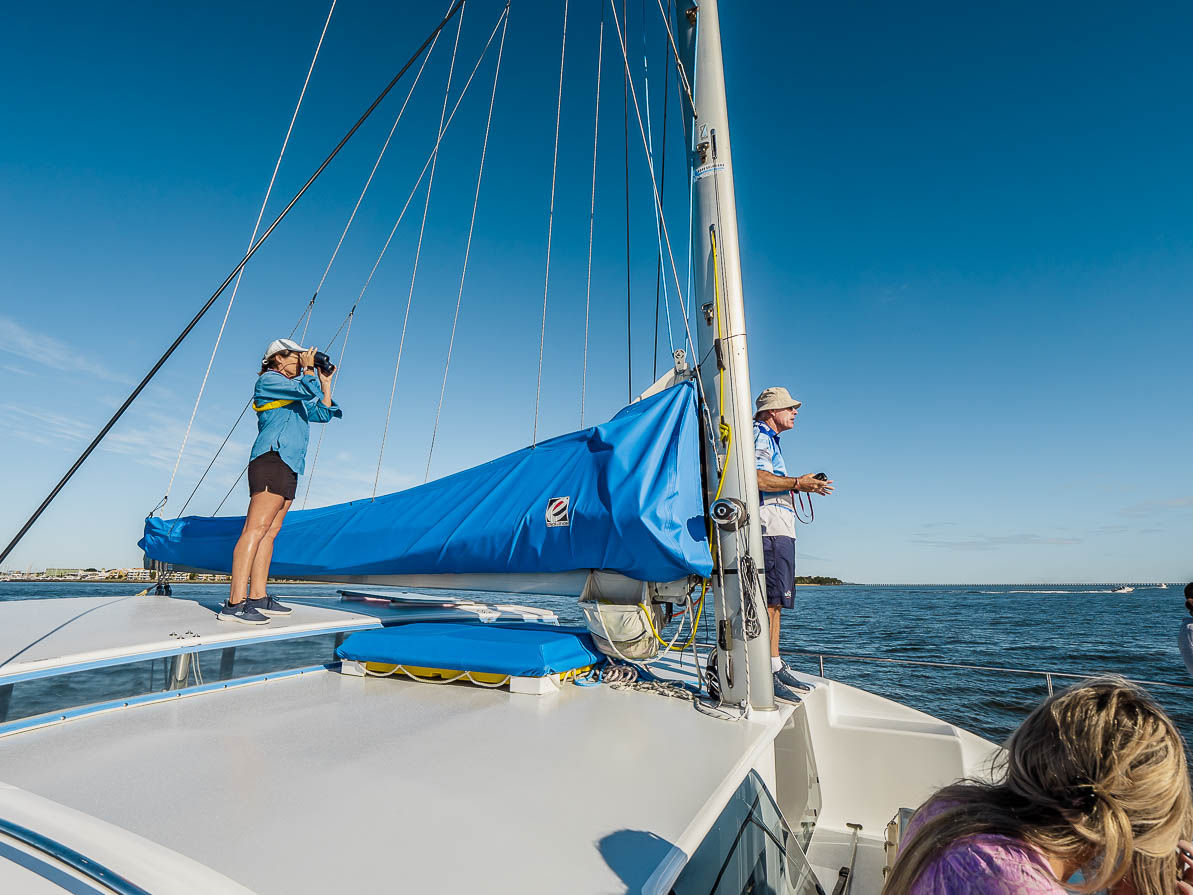 Things to do in Hervey Bay
Spot whales, dolphins and other marine life on an eco-friendly catamaran with Blue Dolphin Tours. These guys are local legends with more than 35 years' experience with marine mammals, and you'll not only be able to spot wildlife but you'll also learn loads from Skipper Peter. From July to October to October they run whale watching encounters that offer an immersive experience by getting you up close and personal on the in-water platform, or in the other months you can book a dolphin watching cruise around K'gari Fraser Island, with the opportunity to swim off the shores of Fraser Island and even be dragged behind the boat in the boom net.
For a bit of ocean luxury, book a spot on Blue Dolphin's Champagne Sunset Sail and watch the sky turn to fire as you're sipping a bubbles and snacking on cheese and crackers. Life doesn't get any better than this!
Learn about the local Butchulla tribe and their way of life, their food and their traditions with a Djinang Cultural Walking Tour
Hire a bike an ride along the Esplanade, a 17km beachside footpath and cycle path from Urangan to Point Vernon. Stop at Enzo's for brunch with a view, or if you need some refreshment then Planet 72 Icecreamery which is home to flavours like Coconut Raspberry Swirl, Orange Crème Brûlée, Cake Batter, Jaffa and Burn Fig & Marscapone. Yummmm.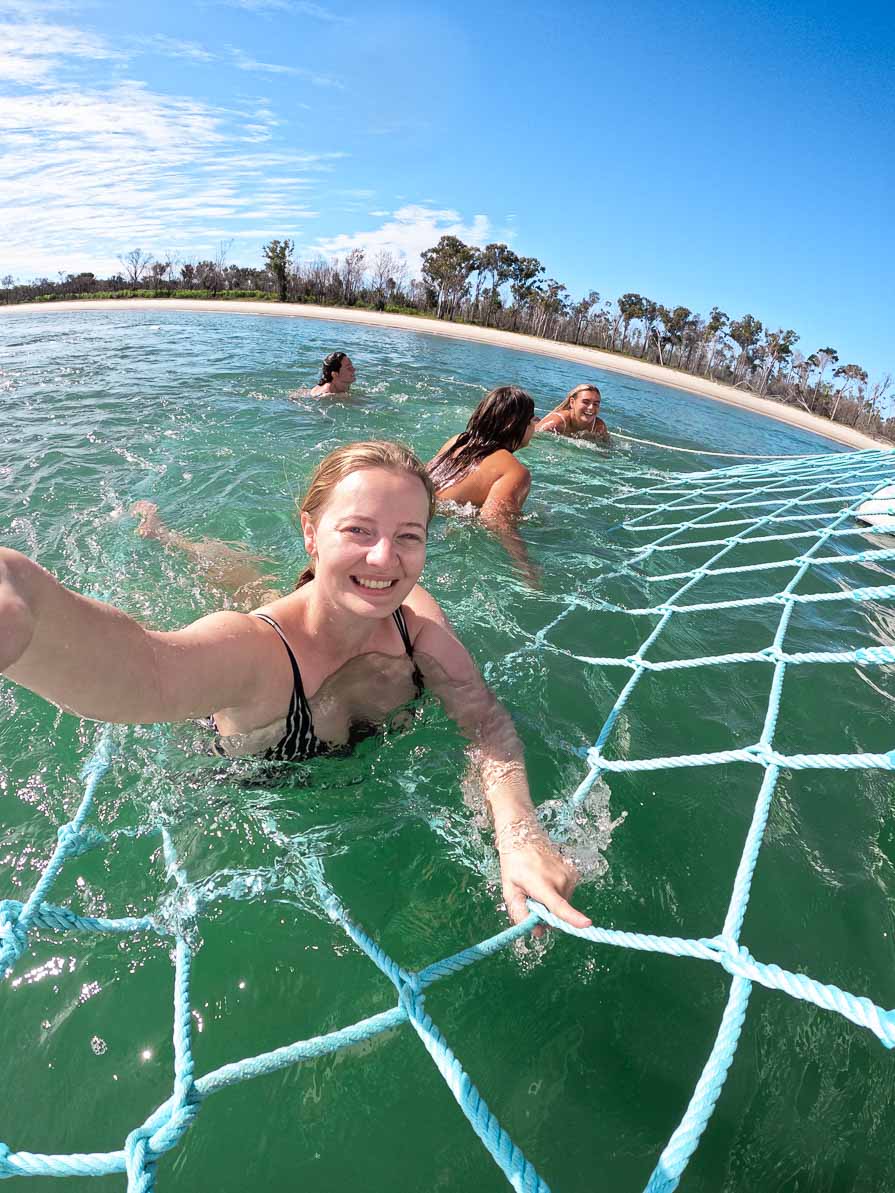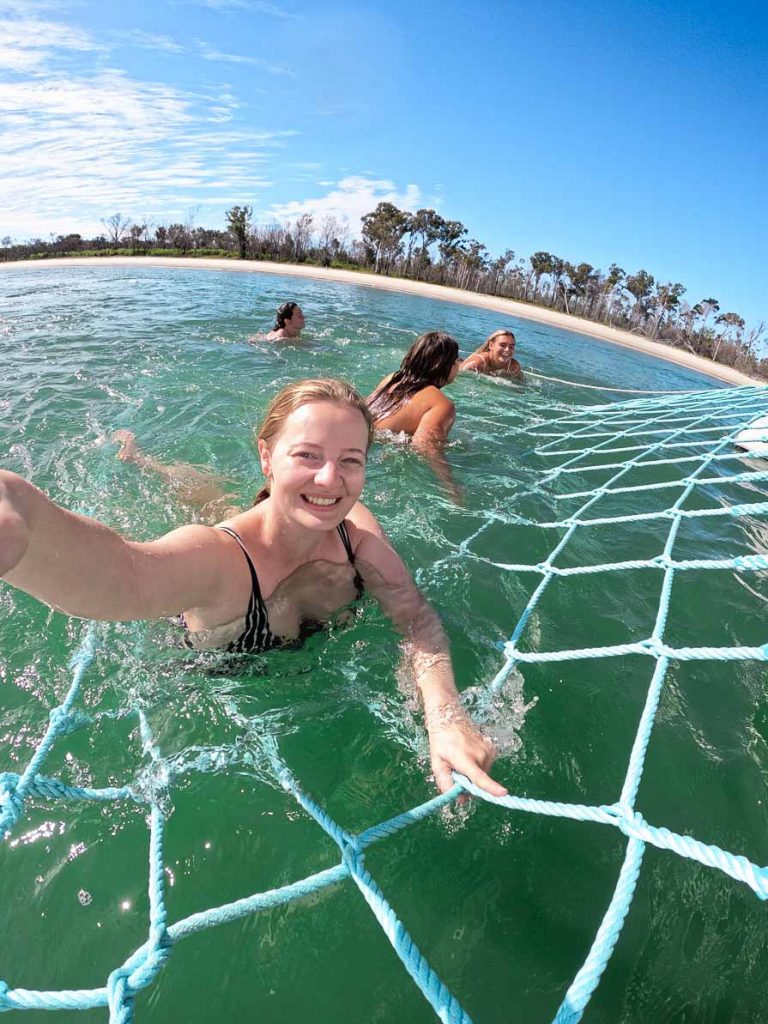 Where to stay in Hervey Bay
Budget | Hervey Bay Flashpackers has okay ratings if you're on a really tight budget (7.8/10 on booking.com) or the Beach Motel and Hervey Bay Motel are slightly more expensive but with much better reviews.
I don't normally suggest where *not* to stay but I wouldn't want anyone to make the same mistake as me. I booked a cheap room at Colonial Village Resort YHA and it was horrendous, I would've preferred to sleep in my car at a campground. The budget double room smelt like dog and cigarette smoke, there were dead bugs in every corner and the bed was the least comfortable bed I've probably ever slept in. Avoid at all costs.
Mid-range | Sunseeker Motel, Shelly Bay Resort and Torquay Terrace B&B are all great value options.
Luxury | Akama Resort, Oaks Hervey Bay and the Ramada are all classic beachfront luxury resorts.
A must-do add-on: K'gari (Fraser Island)
World Heritage-listed K'gari (which means 'paradise' in the Butchulla language) is the world's largest sand island, coming in at a whopping 120km by 15km. The island is unlike anywhere else in the world; it has rainforest growing through sand, crystal clear freshwater dune lakes that make perfect swimming spots, and ever-moving sand dunes.
There are four main ways to explore K'gari:
If you have your own 4WD (and you're comfortable driving it on sand), you can take it over on a ferry and make your own way around the island for a couple of days. If you're going to do this make sure you understand the tides, watch for signs that warn you of things like dangerous creek crossings, and of course always watch for people on the beach.
You can also join a multi-day 4WD tag-along tour with your own car, this way you can have the comfort of your own vehicle while making the most of expert guides who know what they're doing.
If you don't have your own 4WD of if you'd prefer not to drive on the island, there are some brilliant 4WD coach day tours or overnight tours that go over to K'gari
And for a more unique way to see Fraser Island away from other tourists, check out this epic Remote K'gari day trip that includes a scenic cruise to and around the island, wildlife spotting opportunities, kayaking, beach fun and a bushwalk.
Unfortunately my K'gari plans were hampered by bad weather, and I had my Fraser Island trip cancelled altogether! I had booked the Remote K'gari day trip as well as an overnight tour but both were called off.
Luckily I was able to step foot on the island while on the dolphin watching cruise with Blue Dolphin, we pulled up close to the shore and jumped into the water for a short swim/wade onto the beach, but I know a ten minute beach stop doesn't really count 😉 it just gives me another reason to go back!
---
Lady Elliot Island
How to get there: Lady Elliot Island is only accessible by flight, and flights leave from Hervey Bay (40 mins), Bundaberg (30 mins), Brisbane (just under 1.5 hours) and the Gold Coast (just under 2 hours).
How long to stay: 1-2 days, longer if you want to dive
Lady Elliot Island is somewhere that you probably won't see on your average Brisbane to Cairns itinerary blog post, but in my experience it's one of the most unique and epic things to do in Queensland. If you love marine life and are keen to learn more about sustainable tourism then this is something you just can't miss!
This tiny coral cay is located right at the southern end of the Great Barrier Reef, and it's only 42 hectares in size which means you can walk around the entire coastline in about 45 minutes. You can either visit Lady Elliot Island on a day tour from the mainland or you can stay overnight (or longer). It's famous for being the home of the manta ray, but you also might spot turtles, octopus and beautifully vibrant coral reefs.
Lady Elliot Island Eco Resort runs all the island's accommodation, the restaurant and the land and water activities. There are units, cabins and glamping tents to choose from, and your overnight stays also include breakfast, dinner and some water activities (lunch at your own cost, choose from a la carte of buffet).
The island is almost totally off the grid, with no phones, TVs and very limited WiFi, and the resort is focused on minimising its impact on the Great Barrier Reef and preserving it for future generations.
I did the day trip from Hervey Bay which was absolutely incredible, although next time I will absolutely go for an overnight trip! The day trip gives you about six hours on the island and includes a welcome drink, island orientation, glass bottom boat tour, a guided snorkel safari, snorkelling gear for your own snorkelling adventures, a buffet lunch, a towel and reef shoes, and an afternoon activity of your choice like reef walking or kayaking.
Things to do on Lady Elliot Island
Enjoy being off the grid! Switch on that out-of-office and tell your friends you'll be out of civilisation for a while.
Spot manta rays on a snorkel safari, the chances of seeing them here are probably the highest of anywhere in Australia. Unfortunately due very rare weather when I was there we couldn't snorkel in the usual spot which meant no mantas for us! We did see a few turtles and lots of other cool stuff though.
Learn about the reef from a marine biologist with a reef walk at low tide, where you can walk on the sand between the coral (very carefully!) and spot things like anemonefish, sea cucumbers and starfish
Go on a walking tour around the island and learn about the sustainable practices that run the resort behind the scenes
If you're staying for a night or more then you can also partake in a sunset cruise, stargazing, turtle treks between November and April, and an evening tour to see nocturnal creatures
You can also dive here if you're staying long enough to have a long enough surface interval (18 hours after multiple dives)
Where to stay in Lady Elliot Island
Lady Elliot Island Eco Resort is the only accommodation on the island.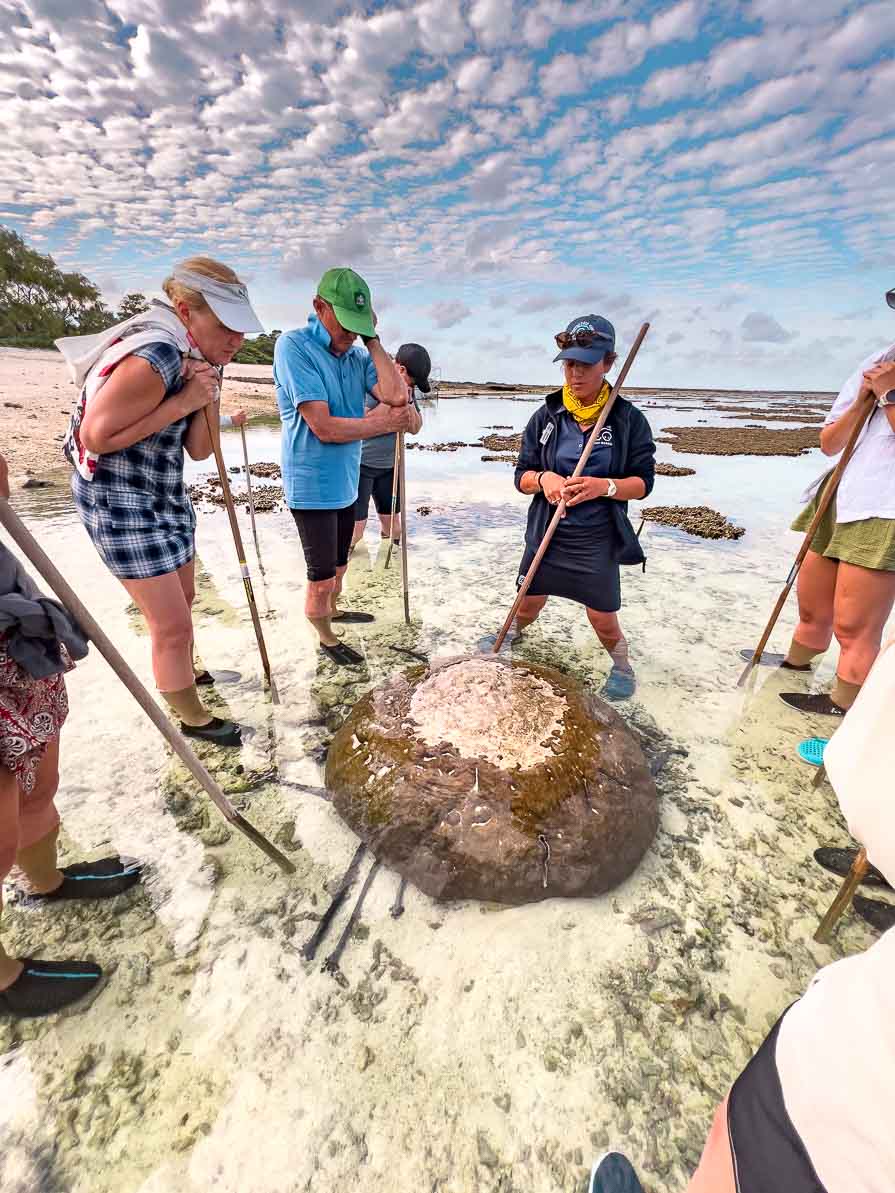 ---
Agnes Water & 1770
Drive time from Hervey Bay: 2h 45m, 227km
Where to stop along the way:
Bundaberg for turtle-spotting (November to March), plus a visit to the Bundaberg Rum Distillery and the Bundaberg Barrel (the ginger beer company)
Lady Musgrave Experience, you can do a day trip to a Great Barrier Reef pontoon from Bundaberg for incredible snorkelling and diving. If you're keen for this it might be worth spending a night or two in Bundaberg itself.
How long to stay in Agnes Water: 1-2 days
Awarded the title of Queensland's top small tourism town in 2021, Agnes Water and its neighbour 1770 are the perfect place for a chilled out beach holiday on your way up the coast.
They're less touristed than other hot spots on this Brisbane to Cairns road trip (although they have definitely grown in popularity in recent years), which means fewer organised (and expensive) activities and more freedom to explore the beaches and tracks at your own pace.
Things to do in Agnes Water & 1770
Go swimming! Main Beach is just that, the main beach, patrolled by lifeguards on summer weekends and public holidays. Chinaman's Bay and Workman's Bay are less exposed so safer to swim at, and more beautiful too.
Take a kayak tour with 1770 Liquid Adventures and watch sunset from the water
Walk along the coast and then swim in rock pools on the 2hr Red Rock Trail
If you're driving a 4WD you could head to Eurimbula National Park or Deepwater National Park for some epic off-roading and camping opportunities
For the quintessential 1770 experience you have to jump on a LARC tour, a bright pink amphibious vehicle that takes you over sandy beaches, through crystal clear creeks and up to the headland for next level views
Where to stay in Agnes Water & 1770
Budget | Backpackers at 1770 and Cool Bananas Backpackers both have fantastic reviews for cheap and cheerful accommodation
Mid-range | Mango Tree Motel, Agnes Water Beach Club and Loka Santi are good options for decent value places to stay
Luxury | 1770 Getaway and Sunrise at 1770 Holidays are the best luxury accommodation on offer
---
The Capricorn Coast
Drive time from Agnes Water to Yeppoon: 3 hours, 265km
How long to stay: 2-4 days
Another Queensland region that is overlooked far too often, the Capricorn Coast is a super diverse area serving up adventures in all forms, from 4WD beach drives to island visits to arty beach towns, all within 30 minutes of each other.
The main tourist centre of the Capricorn Coast is Yeppoon, so you could choose to use it as a base while you day trip to nearby spots like Byfield or Great Keppel Island, or opt to stay overnight in those destinations instead.
Yeppoon itself has loads going on, and it punches well above its weight in terms of both culture and cuisine. Great Keppel Island offers one of the most affordable ways to experience the Great Barrier Reef, with white sand beaches, thick rainforest ready to be explored and world-class snorkelling just off the shore. And beautiful Byfield, one of my all-time favourite places in Australia, boasts some of Queensland's best swimming spots and off-roading opportunities.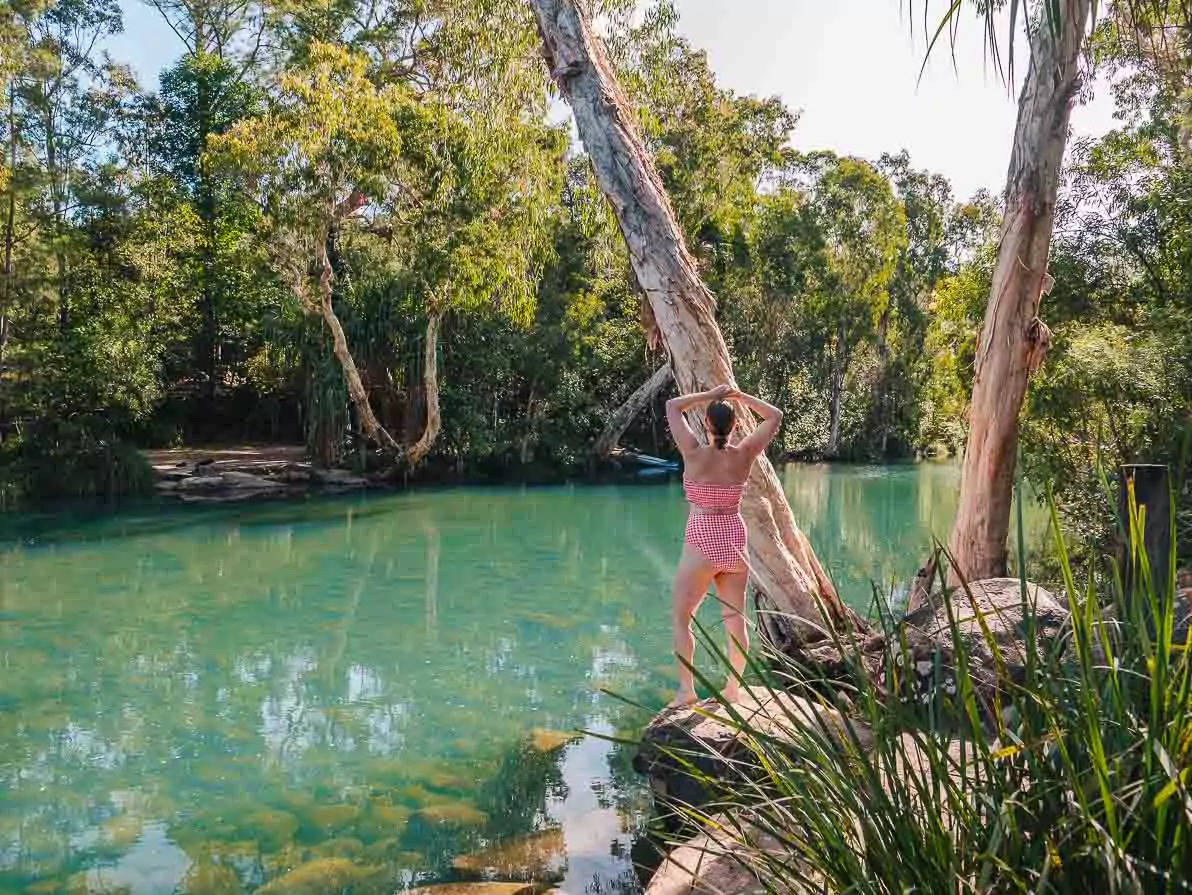 Things to do on the Capricorn Coast
Meet the koalas, kangaroos, wombats, cassowaries and more at Cooberrie Park Wildlife Sanctuary, an incredible place that homes injured, orphaned and confiscated animals. They aim to rehabilitate those that have a chance of going back into the wild, and those that don't get to live out the rest of their days at Cooberrie with fellow animal friends and the fantastic sanctuary staff. Like a beautiful little animal retirement village!
Swim in a massive beachfront infinity pool, for free. Yeppoon Lagoon is a 2500sqm pool in the heart of town with a kids' play area, lap swimming section and picnic areas with BBQs so you can make a day of it.
Choose from a seemingly endless selection of beaches to relax and rejuvenate at
Do a DIY art walk around Yeppoon and see how many murals and sculptures you can spot
Head out to Great Keppel Island, you could do a sailing day trip from Yeppoon or spend a night or two (or more if you had time) at Great Keppel Island Hideaway, an affordable tropical paradise perfect for those on a tight budget
Explore the 390 million year old Capricorn Caves, which offer a few different tours depending on your travel style, from family-friendly and wheelchair accessible educational tours through to intense caving adventures relying on your head torch to show you the way
Get amongst the local food and drink scene. Yeppoon Community Market sells the best seasonal produce every Saturday (6am-10am), Baked on 44 is a brilliant French bakery + delicatessen with lots of European cheese, meats and other treats, and Vue Wine Bar & Restaurant serves up colourful cocktails and fine dining cuisine with an epic mural and an impressive view of Yeppoon's Main Beach.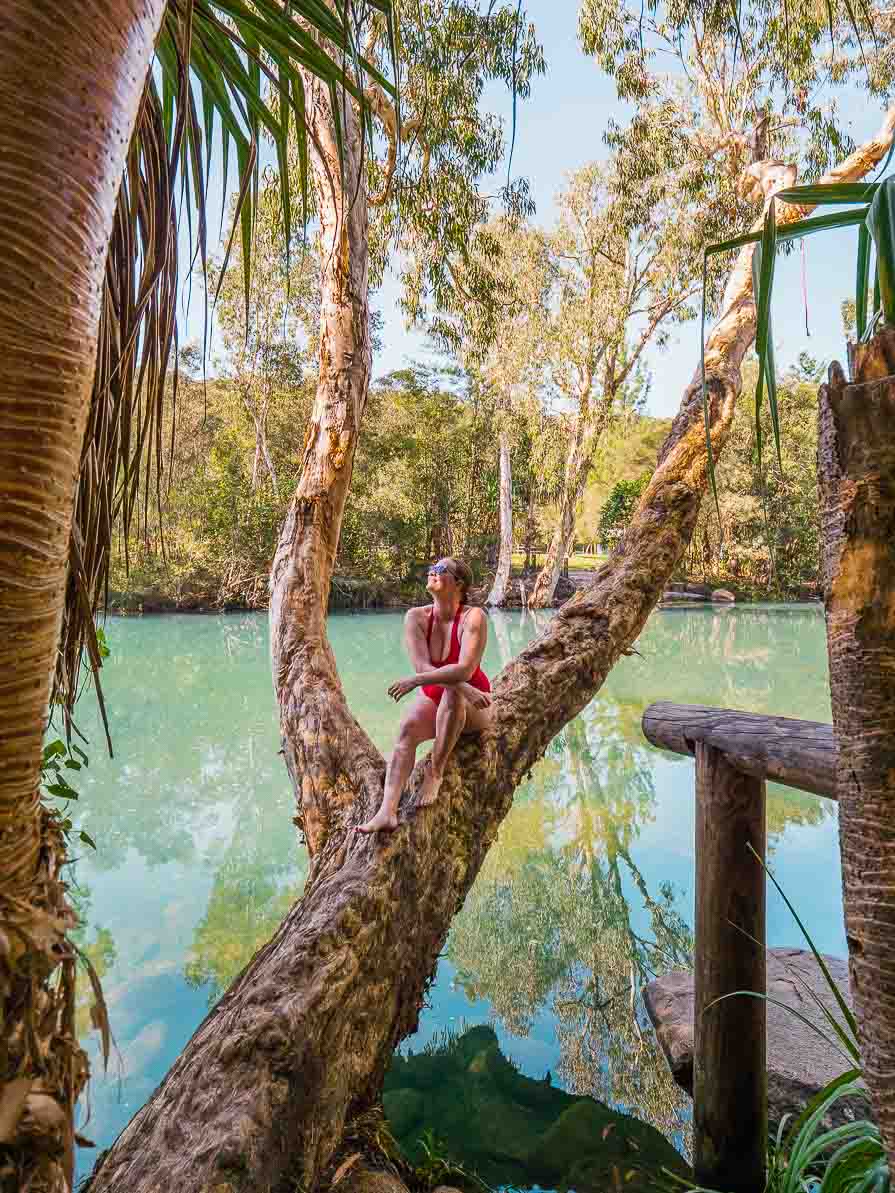 Where to stay on the Capricorn Coast
Budget | Budget travellers can't go past Yeppoon Beachouse, a back-to-basics but very affordable backpacker hostel rated 9.2/10 on booking.com
Mid-range | Yeppoon Surfside Motel looks like it's come straight off a Pinterest board, with boho décor, light and bright bedrooms and a lush pool area. Other mid-range options are Beaches on Lammermoor if you want something self-contained and Sail Inn Motel if you're looking for something a little cheaper.
Luxury | There's no five star hotels along the Capricorn Coast but there are some fancy apartment buildings, Oshen Yeppoon is at the top of my wishlist for my next visit and there's also Salt Yeppoon, Echelon Apartments and Villa Mar Colina.
Unique | I stayed at the gorgeous Getaways at Byfield, they have a few cottages overlooking a lagoon with minimal light pollution or any sounds other than birdsong. My cottage had a super comfortable bed, TV, full kitchen, spa bath, indoor fireplace, heat pump/air con, and an outdoor BBQ for cooking up a storm.
More about Byfield, my favourite part of the Capricorn Coast
I'm giving Byfield its own little section because, and I can't emphasise this enough, it's one of the most underrated destinations I've ever been to.
30 minutes' drive will get you to Byfield village which consists of a school, a general store and a cafe, but the main drawcards are the natural swimming holes, untouched eco-systems, epic 4WD tracks and off-grid camping spots in Byfield State Forest and Byfield National Park.
The absolute must-do of Byfield is swimming at Upper Stony Creek, a beyond stunning croc-free freshwater creek and swim spot with picnic tables and BBQ for a cooked lunch. You could just stop in at Upper Stony Creek for a refreshing dip on your way up the coast, or stick around for a night or a few if you'd like to take advantage of some of Queensland's more remote 4WD trails.
---
Airlie Beach
Drive time from Yeppoon: 5h 30m, 506km
Where to stop on the way:
Stop off at Mount Archer National Park on your way out of Yeppoon, head up to the Nurim circuit elevated boardwalk for panoramic views over Rockhampton and beyond
The Capricorn Caves are also on the way out of Yeppoon if you want to tick that off while heading north
You could stop at Clairview, Carmila or Mackay for a bite to eat if you need a break during the long drive
Finch Hatton Gorge is a slight detour (4.5 hours from Yeppoon, then 2 hours to Airlie Beach) but is one of the best rainforest areas to explore in the Queensland hinterlands, with waterfalls, swimming holes, rainforest walks and plenty of wildlife spotting opportunities
How long to stay in Airlie Beach: 3-5 days
With easy access to some of the best beaches in the entire world, the iconic Heart Reef and so many water activities that could fill even a month-long itinerary, it's no surprise that Airlie Beach is one of the most popular tourist destinations along the Brisbane to Cairns road trip route.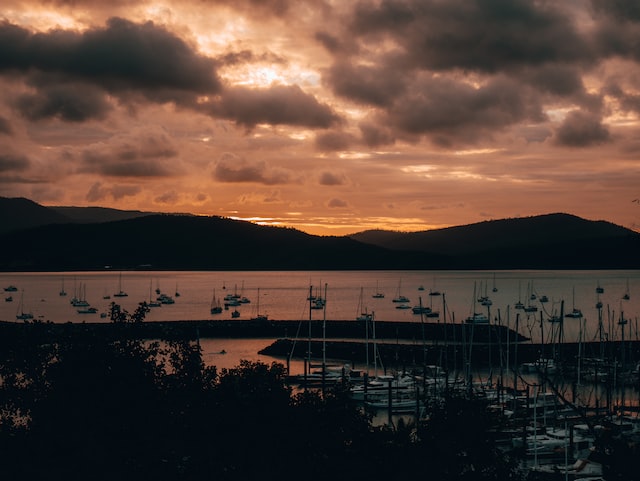 You'll want to spend at least three days here, ideally more, but not because Airlie Beach itself is a nice place to be (more on that in a moment…). There's just too many things to tick off in this part of the coast to try and squeeze it into a day or two, and you'll be setting yourself up for disappointment if you plan on making a whirlwind visit.
You need at least a full day to visit Whitehaven Beach and experience the Whitsundays, and at least another full day if you'd like to head out to the Great Barrier Reef for snorkelling or diving, so that's two full days taken up already. If you're keen for any other activities, like jet skiing, a scenic flight, rainforest walks, skydiving etc. then you can see how three days in Airlie Beach gets packed pretty quickly!
But now for the real talk: Airlie Beach itself is a tacky hellhole. Yup, I said it. The main drag is packed with overpriced cafes and gross backpacker bars, you'll pay a 25% premium on anything you buy just because it's a tourist town, and you can't walk down the street as a solo female after 8pm without getting harassed by drunk losers on lads' weekends or stag dos (bachelor parties). If this isn't your scene then I'd recommend booking accommodation up on the hill or around by the marina to avoid spending too much time in the not-so-nice parts of town.
Unfortunately for budget travellers, Airlie Beach is one of the most expensive destinations in Queensland.
All the good beaches are on the Whitsundays, at Airlie itself the best place to swim is in the lagoon which is often paaaacked with kids. Things like boat trips and scenic flights don't come cheap so expect to spend up large if you want to tick these off, and if you need to save on money then book somewhere where you can cook your own food, because the restaurants in town are pricey and not great.
Things to do in Airlie Beach
My absolute top recommendation for things to do in Airlie Beach is a day out with the legends at Ocean Rafting, it's hands down the most epic way to see the Whitsundays! They have full day boat tours that take you to Hill Inlet for the best Whitehaven Beach views, give you a packed lunch to eat on the boat or on the world-famous beach, and tick off some incredible snorkelling spots. You can save 10% on any of their tours with the promocode FINDINGALEXX if you book direct on their website.
They also have a Fly & Raft tour which includes a scenic flight over Heart Reef before the day on the boat, which is basically the dream Airlie Beach package. You can save 10% on this one too!
If you'd prefer to just do a scenic flight, there are loads to choose from. This one hour scenic flight is the best value at $259 per person, or there's this cruise package which includes a short Hill Inlet heli flight for $249 (this doesn't go over the reef through), or this epic seaplane tour that includes a lunch and snorkel stop at a private bay. What a dream!
For the ultimate view while getting a bit of an adrenaline rush, get out of your comfort zone and book a skydive over the Whitsundays
Spend a night in the Whitsundays with an overnight sailing trip
Explore hidden bays and private islands on a jet ski tour
Do a full day trip out to the Outer Great Barrier Reef where you can dive and snorkel to your heart's content
Experience the other side of Airlie Beach with a segway tour through the rainforest
If you want to see the underwater life without getting wet then try a glass-bottom boat tour
Enjoy sunset from a catamaran with a bubbles in hand with this sunset cruise
There are two swimmable beaches in Airlie Beach, one actually called Airlie Beach and one called Boathaven Beach, but I wasn't a huge fan. There are much nicer beaches on other parts of the coast, I'd recommend just swimming in the Airlie Beach lagoon if you need to cool down. Or better yet, book accommodation with a pool!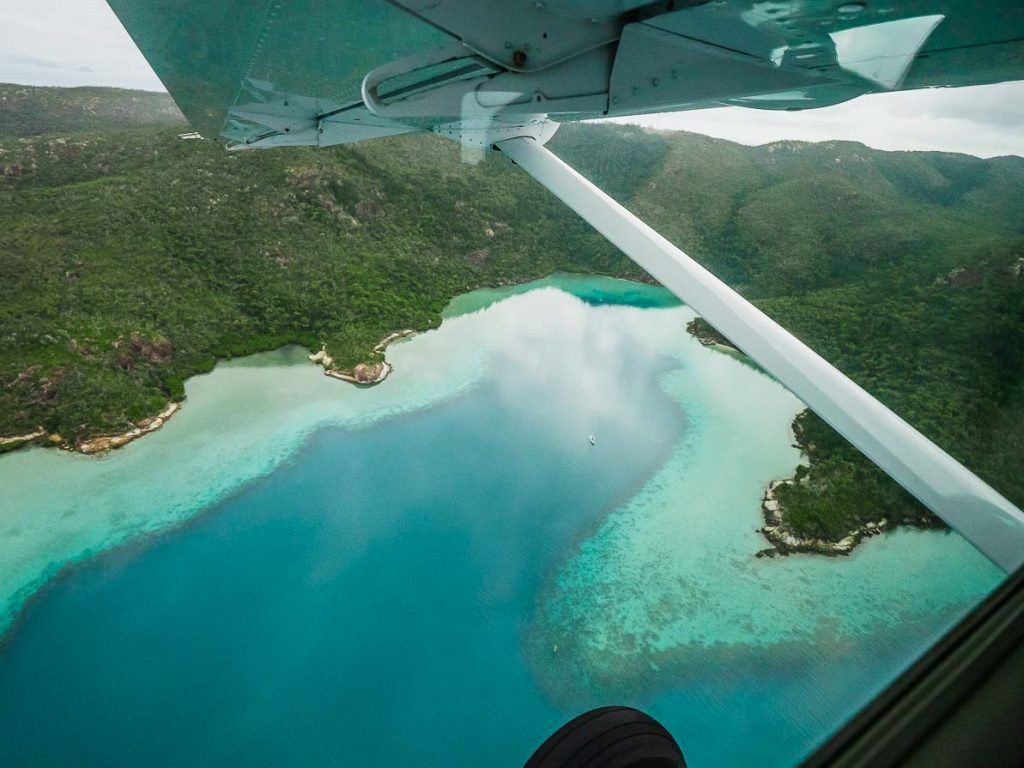 Where to stay in Airlie Beach
Budget | I stayed in two hostels in Airlie Beach that I can provide personal reviews for. Backpackers by the Bay was a classic back-to-basics backpacker hostel for those on a shoestring budget. No air con in winter (despite 30° heat!), messy living areas and pretty run-down in general, but for a super cheap night near the Port of Airlie before an early morning boat trip it's not the worst option. I had a basic private room (literally just a bed) but there are dorms too.
I also spent a night in a private room at Magnums, the room was probably the biggest hostel room I've ever stayed in with a comfy bed and a desk which was great for work, but it was pretty expensive ($180 for one night!) and had no sound proofing so I could hear drunk people chatting while smoking outside my room until 3am. Magnums is one of the famous party hostels, keep that in mind before booking.
Best value | There is no doubt that Sea Star Apartments offers the best value accommodation in all of Airlie Beach. They've got 1, 2 and 3 bedroom fully self-contained apartments (I had a one beddie and it was super spacious) with the most amazing views right over the town and out to the islands, but best of all they have an infinity pool (!!!) and rooms start from only $174-$320 per night depending on the time of year, which is definitely at the lower end for Airlie Beach accommodation. I spent three nights here and honestly didn't want to leave!
Luxury | Coral Sea Marina Resort is the most iconic Airlie Beach luxury hotel, then there's Mirage Whitsundays, Harbour Cove and ultra-fancy holiday homes like Mandalay Luxury Retreat
Unique | If you're looking for a once-in-a-lifetime bucket list experience then I highly, highly recommend booking a Reefsleep or Reefsuites night with Cruise Whitsundays. This is an overnight Great Barrier Reef experience allowing you to either sleep in a luxury swag tent on the top deck of the Reefworld pontoon or an underwater hotel room where you can see fish from the comfort of your own bed. You can read my full Reefsleep review or if you're already convinced you can book your stay here.
Potential add-ons: Daydream Island, Hamilton Island and Hayman Island
On top of your Airlie Beach stay, or even instead of, you could opt to spend a night or two out on one of the Whitsunday Islands.
Hamilton Island is the busiest resort island, with a range of accommodation, lots of shops and some great restaurants. Long Island has an affordable self-catering resort (Palm Bay Resort) as well as a higher-end boutique retreat (Elysian Retreat). Daydream Island is great for families, and then there's Hayman Island which is an ultra-luxurious private island and resort.
---
Townsville
Drive time from Airlie Beach: 3h 30m, 272km
Where to stop on the way:
Bowen is a relaxed seaside town about an hour north of Airlie Beach, worth a visit to do the quick walk up to the Rotary Lookout for magical views over Horseshoe Bay, or to swim at beaches that are far nicer than the ones in Airlie
How long to stay: 1-2 days
Townsville was a really interesting destination for me. I hadn't heard great things before I went (I was told there's nothing to do and that crime rates are high), however I was actually pleasantly surprised at the vibe and I really enjoyed my two days there.
I used it as a bit of a recovery period from the previous hectic two weeks of road tripping, and prices for both accommodation and food are cheaper than other parts of Queensland so I didn't feel the same pressure to make the most of every second.
Stay for at least a night on your way to Magnetic Island, or if you need a few slow travel days to recuperate then consider making Townsville the spot for it.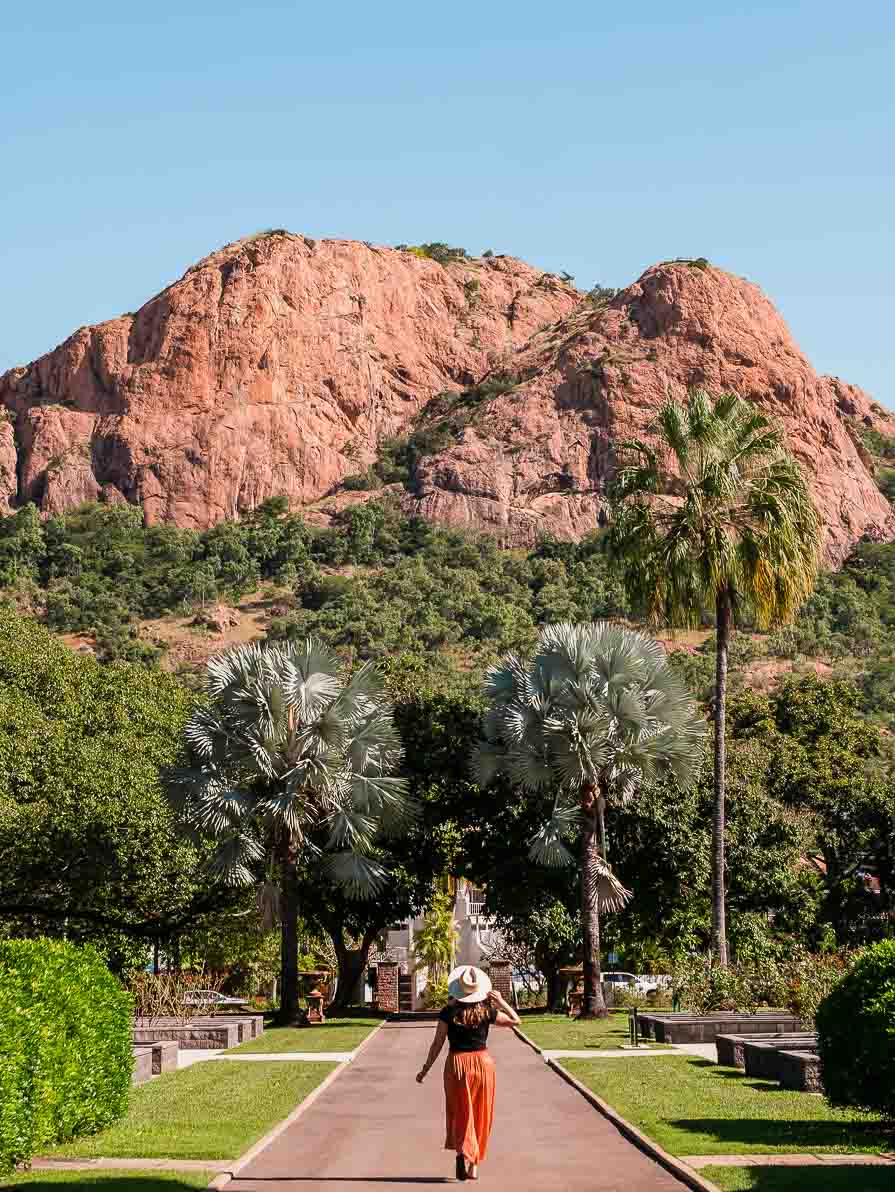 Things to do in Townsville
Walk through the botanic gardens, there are three to choose from! I personally loved the Queens Gardens, they have a perfectly-located tree-lined walkway that looks like it leads right up to Castle Hill. The others are Anderson Gardens and the Palmetum.
See the city from the top of Castle Hill, a 286m-high pink granite monolith which stands alone in the middle of Townsville. You can walk up, bike up or drive up to the top.
Go diving! Townsville offers easy access to some of the best diving spots along the Great Barrier Reef and Queensland coast like the Yongala Wreck, and there's plenty of day trips to choose from whether you're a brand new beginner or an experienced scuba diver.
For a unique underwater experience, go snorkelling or diving at the Museum of Underwater Art, where you'll see underwater sculptures that have been built to allow coral planting to support regeneration of the reef
Townsville has a fantastic café scene which I wasn't really expecting, I loved Hoi Polloi and Betty Blue & the Lemon Tart
Sip some creative cocktails at Hooch & Fellow, or grab a refreshing beer while overlooking the pool at Quarterdeck in the Ville Resort-Casino
If your trip coincides with the first Friday of the month, spend your evening at the Strand Night Markets checking out local arts and crafts and deciding what to eat from the food trucks and street food stalls
Wander around the city and enjoy the 19th-century architecture coupled with vibrant street art murals
You can't miss Magnetic Island, one of Queensland's most incredible island experiences. You could head over for a day trip from Townsville but I really recommend at least 2-3 nights on the island if you can, I'll explain why in the next section of this blog post.
Where to stay in Townsville
Budget | Civic Guesthouse is a well-rated hostel with dorms from $22, or Coral Lodge B&B has super cheap private rooms from $85.
Best value | I spent a couple of nights at Island View Motel in Townsville and it was exactly what I needed, and so cheap compared to the rest of the Queensland coast starting from only $141 per night. The rooms are basic but really spacious and comfortable, some rooms have full kitchens but the motel also serves breakfast each morning and there's a BBQ outside for guests to use. I particularly loved the incredible view over the city and out to Magnetic Island, the pool (Townsville gets HOT!) and the two motel doggos who would come to say hello as I was wandering around the property.
Luxury | For something a bit fancy check out The Ville Resort-Casino, Allure Apartments or Mariners North
---
Magnetic Island
How to get there: 20-40 minute ferry from Townsville
There are two ferry companies servicing Magnetic Island. Magnetic Island Ferries are the ones I went with, they're the only option for taking your own vehicle over (which I highly recommend as there's minimal public transport). Their walk-on passenger tickets are $32 return when booked online, and it costs $222 to take your car over most of the time (or $246 over Christmas holidays and Easter weekend).
SeaLink runs a passenger-only ferry which is 20 minutes (compared to the Magnetic Island Ferries barge which is 40 minutes) and their tickets are slightly more expensive at $34 when booked online.
How long to stay: At least two days
Lovingly known as 'Maggie', this charming little island made such an impact on me! I only had two days here but I would love to go back for much longer next time, so much to see and do.
Maggie's landscapes are just mind-blowing, there are gum-tree lined historic walks with koalas sitting in trees watching tourists go by, magnificent sunrise and sunset spots with rock wallabies watching along with you, and unspoiled hidden beaches only accessible from the water that look like they're straight out of a movie.
Honestly pure magic, this is one of my absolute must-dos in Queensland.
Things to do on Magnetic Island
The Forts Walk on Magnetic Island is one of the rare opportunities to get up close and personal with wild koalas only a few metres from where you're standing. I spotted three koalas, one was super easy literally about a metre above me and right next to the path, and the other two were a bit further into the bush and only given away by other tourists taking photos. It should go without saying but always respect wild animals, don't disturb them or get too close.
The view from the end bunkers of the Forts Walk is spectacular too, so be sure to keep going even after spotting the koalas
Explore Maggie from the water with a boat tour, this is the only way to reach many of the untouched beaches around the island. I went on this tour with Aquascene Charters and it was fantastic, so many unreal views and some world-class snorkelling too, but there's also some amazing sailing tours or kayak tours if that's more your thing.
Rent a classic Maggie beach buggy, a 'topless' car! These cute little convertibles can be spotted all over the island but they do book out in advance, so book early once you know when you're going.
Beach hop, there are plenty to choose from. Alma Bay, Nelly Bay, Picnic Bay and Geoffrey Bay are all accessible by normal car.
If you've got a 4WD then you can explore a few more hard-to-reach spots, like West Point Beach for sunset (don't swim though, there can be crocs here) or Arthur Bay, Florence Bay or Radical Bay along Radical Bay Road. Note: Radical Bay Road is a very rough 4WD track and some online reviews say that it's currently closed and some say it's open, so I'm not sure what the deal is here! I didn't have a 4WD on the island so couldn't go anyway. If you know for sure whether it's open I'd really appreciate it if you left a comment on this blog so I can update the info.
And if you're keen to get your steps up you can access these beaches by foot too, with a well-deserved dip at the end!
Hang out with rock wallabies as the sun goes down. These little cuties come out in droves at dusk and dawn (but we all know I'm not an early riser), the most popular place to spot them is Geoffrey Bay but our boat guide told me to go out to the Nelly Bay Breakwall (which you can get to from the Esplanade) and I was the only human there!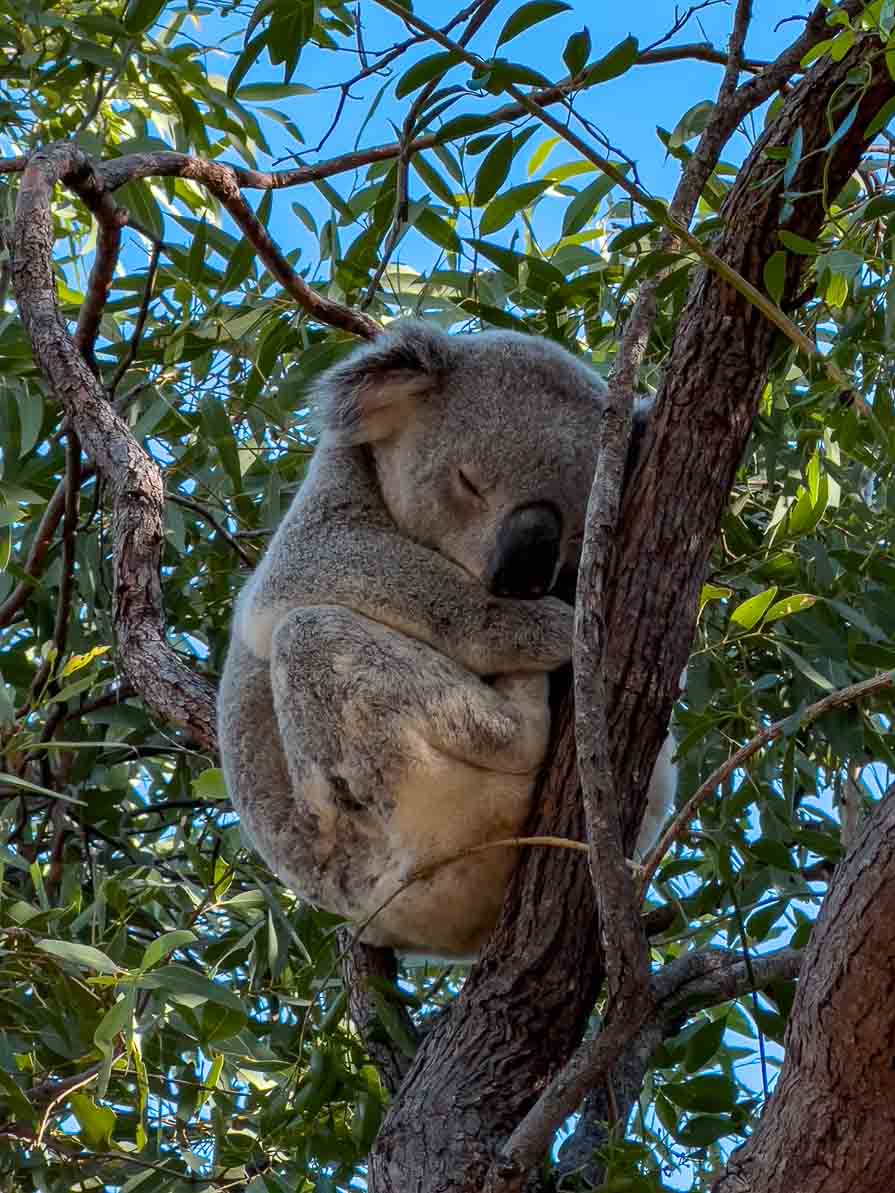 Where to stay on Magnetic Island
Budget | Once again I can tell you where not to stay. I had a less than ideal situation at CStay Guesthouse, when the manager showed me to my private room, there was a man in there already! He was sitting on the chair next to my bed and had just switched the TV off, and as he left the manager said "oh sorry, he just watches TV in there sometimes." 😂 not exactly the type of place you want to stay as a solo female traveller, where random men use your room for watching the news.
Some budget options with decent reviews are Arcadia Beach Guest House and Dandaloo Gardens.
Mid-range | True North B&B, Island Cottages and Tropical Palms Resort offer good value rooms and units.
Luxury | There are lots of high end apartments and rental homes on Magnetic Island, I recommend checking out all Magnetic Island accomm on booking.com for the best range and flexible booking conditions.
Unique | Wildlife lovers, you're going to love this! Bungalow Bay Koala Village offers campsites, shared dorms, private rooms and bungalows at their eco-lodge which has its own wildlife park, complete with resident turtles, pythons, wombats, lizards and of course koalas.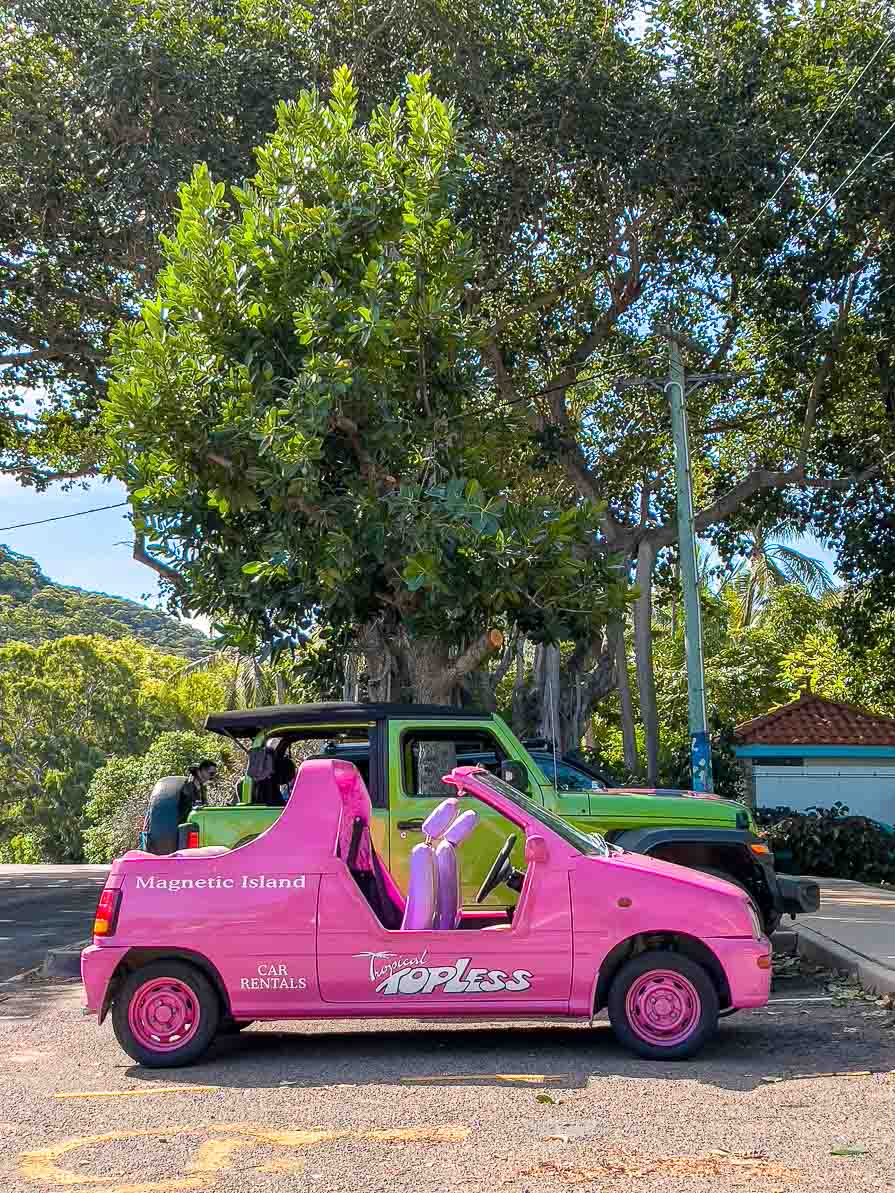 ---
Mission Beach
Drive time from Townsville: 3 hours, 234km
Where to stop on the way:
Jourama Falls, a stunning rainforest walk (3km return) to a waterfall via some swimmable rock pools
Cardwell Spa Pool, a bright turquoise natural swimming hole that needs to be seen to be believed
How long to stay in Mission Beach: One day for Mission Beach itself, more if you want to see the Atherton Tablelands
Mission Beach is a really relaxed beach town that's nowhere near as commercialised as the rest of the coast, which means lower prices and less tourists.
If you're keen to get amongst the waterfalls, lakes and rainforests of the Atherton Tablelands then consider making Mission Bay your base rather than Cairns, it's about the same distance but accommodation is much cheaper.
Things to do in Mission Beach
Try to spot a cassowary, known as the world's most dangerous bird. These endangered dinosaur-esque birds roam around the rainforests in Tropical North Queensland but Mission Beach and Etty Bay are two of the few locations where you might see them on the beach, crossing the road or even wandering through people's gardens. They sound scary but they're unlikely to ever attack a human unless you get too close, so just watch from afar and keep your distance.
Walk the Kennedy Walking Track from South Mission to Kennedy Bay, 8km return
Get your heart racing with a thrilling white water rafting trip down the Tully River
Explore the Atherton Tablelands and all it has to offer, like Josephine Falls, Millaa Millaa Falls, the Babinda Boulders and more (half way between Mission Beach and Cairns)
Enjoy some of the best palm tree-lined beaches in Queensland, with 14kms of sand to find the perfect spot to catch some sun
Do a chocolate plantation + factory tour with Charley's, tours are available on Thursdays and Sundays at 10.30am
Take a day trip out to the Great Barrier Reef for snorkelling or diving
Where to stay in Mission Beach
Budget | Jackaroo Treehouse is the best-rated hostel in Mission Beach, they have both dorms and private rooms to choose from
Mid-range | I stayed at Mission Beach Resort which was perfect and offers fantastic value. Their accommodations options range from budget-friendly rooms with kitchenettes through to super spacious apartments with full kitchens, still for a really reasonable price. They also have a few pools and a bistro on site, and it's only a five minute walk to the beach.
Luxury | The Bungalows has three stylishly decorated beachfront villas along with a pool, full kitchen for guests to use and the option to book all three villas for a group trip.
---
Cairns
Drive time: 1h 45m, 138km
How long to stay: 3-5 days
You've made it to the end of your Brisbane to Cairns road trip itinerary! Cairns is jam-packed with enough activities and experiences to keep you entertained for days on end, but you'll need to book ahead as this is one of the busiest tourist hot spots in the whole of Australia.
With countless boats heading out to the Great Barrier Reef each morning, even more day trips driving inland for rainforest adventures, and a bustling city centre with shops, restaurants and bars heaving with tourists, Cairns has definitely secured its place as the tourism hub of Far North Queensland.
There's a range of accommodation, attractions and eateries for every budget too, so no matter whether you're scraping together the last of your Australia budget at the end of your road trip or you've got Aussie dollars left to splurge, you'll find a way to enjoy Cairns.
Things to do in Cairns
I'm going to sound like a broken record here, but go snorkelling or diving on the Great Barrier Reef! In my experience the diving near Cairns had better visibility and more vibrant coral than where I dived further down the coast, but I'm sure it depends where exactly you're diving. I did this epic day trip on Evolution which included two swim sites, lunch and a glass of wine on the way home.
Watch sunset while cooling down in the Cairns Lagoon
Take this legendary day tour into the Atherton Tablelands rainforest to chase waterfalls, swim in lakes and maybe even spot a platypus
Hop in a plane for the best views over tropical islands, huge reefs and spectacular sand cays in the middle of the ocean with this Reef Hopper scenic flight
Or for a seriously splurge-worthy experience if you're celebrating something special, this heli tour lands at your very own private sand island!
Head even further north and explore the Daintree Rainforest and Cape Tribulation with this two day tour with Uncle Brian's Tours
Learn about local Aboriginal culture with this Traditional Aboriginal Fishing tour
Experience some of the best rainforest views in Australia with the Kuranda Scenic Railway and Skyrail Cableway
Foodies rejoice, this incredible Atherton Tablelands food and wine tour includes breakfast, lunch and a bunch of local produce samples
Dive headfirst into Australia backpacker culture with a night out at Gilligan's Hostel
Where to stay in Cairns
Budget | I stayed at Global Backpackers which was the perfect balance of comfort, location and good hostel vibes. It's right on the main street so easy access to all food, bars, shops and activities, my private room was basic but really comfy, and the shared facilities included a TV lounge, huge walk-in fridge (the biggest I've ever seen in a hostel!), massive kitchen, and plenty of seating both inside and out on the 4th floor balcony for eating, socialising or working.
Mid-range | Cairns Beach Resort, Koala Court Holiday Apartments and 201 Lake Street are some good value options
Luxury | Crystalbrook Riley and Crystalbrook Flynn are beautifully-designed boutique hotels, Cairns Aquarius has gorgeous apartments, or Pullman Reef and the Shangri-La are iconic five star hotels
---
If you have less time
If you have less than two weeks for your Brisbane to Cairns road trip then you might need to condense this itinerary and skip 4-5 of the overnight stops I've suggested above. If this is the case for you, these are the must-do stops I'd recommend, in order of must-do-ness (I've just coined that as a word by the way):
Airlie Beach & the Whitsundays
Hervey Bay & Fraser Island
Cairns & surrounds
Magnetic Island
You'll also want an overnight stop to break up the 10 hour drive between Hervey Bay and Airlie Beach, Yeppoon or Byfield are the perfect place, with some great free swimming holes and lagoons to cool down in!
---
If you have more time
If you're lucky enough to have more time than the 3.5 weeks I had, you'll be able to add on some of the places I had to skip and can extend in some of the places I loved!
I think you could fill up to a week in Airlie Beach with different activities/day trips, Magnetic Island absolutely requires at least two full days if not more, Fraser Island has some incredible overnight island tours and sailing trips, and if you're a keen diver then you could honestly spend countless days out on the Great Barrier Reef.
There's plenty to do further north too, you could add on another few weeks to travel through Port Douglas, the Daintree Rainforest and Cape Tribulation before coming back to Cairns to return your rental car and fly out.
I'd also love to spend more time in Yeppoon and the Capricorn Coast area too, so underrated and therefore much less busy than other parts of Queensland, and Great Keppel Island off Yeppoon's coast looks absolutely incredible.
---
If you've made it to the end of this blog post, I'm impressed! Hopefully I've given you enough information to be able to plan out the perfect Brisbane to Cairns road trip itinerary.
Here's a bunch of other Australia blog posts to help you with your travel planning: