Looking for experiences to add to your Australia bucket list? If you want to find the best things to see and do in Australia then you're in the right place, here's a comprehensive Australia bucket list of 50+ things for you to tick off as you explore the country.
Welcoming millions on tourists to its shores each year, Australia is one of the most popular bucket list destinations around the globe. And for good reason!
Landscape lovers can lose their minds over the variety of scenery on offer, from vast red deserts to vibrant coastal sunrises and sunsets to the whitest sand in the world. City slickers can choose from Sydney's classy vibes, Melbourne's foodie scene or Brisbane's chilled out atmosphere to name a few, and then active adventurers have a huge range of mountains, reefs, hiking trails and more to choose from.
Read next: The ultimate Australia travel guide
We all look for different things when we travel so I've included loads of different Australia bucket list ideas in this blog, so you can either make it a goal to tick them all off (I'd be seriously impressed if you did!) or you can pick and choose the things that float your boat and use them to help figure out your dream Australia itinerary.
So here goes, here's my ultimate Australia bucket list with more than 50 of the best things to see, do and experience in this spectacular country.
---
Australia bucket list summary
1. Spot a koala in the wild
2. And a kangaroo
3. And other critters
4. Visit a wildlife sanctuary
5. Spend a night glamping
6. Go whale watching
7. Taste test Australian wines
8. Try bush tucker
9. Go to an AFL game
10. Experience Australia during a major event
11. Go skydiving
12. Snorkel or dive the Great Barrier Reef
13. Sleep in an underwater hotel room
14. Fly over the Heart Reef
15. Swim with manta rays
16. Do a 4WD tour on K'gari
17. Feel the sand on Whitehaven Beach
18. Swim at Byfield's Upper Stony Creek
19. Explore the oldest rainforest in the world
20. Ride rollercoasters in the Gold Coast
21. Climb Sydney Harbour Bridge
22. Sunbathe on Bondi Beach
23. Learn to surf at Byron Bay
24. Take a cruise around Sydney Harbour
25. See the Blue Mountains
26. Do a wine tour in Hunter Valley
27. Visit Lord Howe Island
28. Stargaze in the Warrumbungle National Park
29. Wander along the White Sands Walk in Jervis Bay
30. Eat your way around Melbourne
31. Drive the Great Ocean Road
32. Watch the sun set behind the Twelve Apostles
33. Soak in thermal hot pools
34. See Yarra Valley from a hot air balloon
35. Spot penguins on Phillip Island
36. Snorkel in a sinkhole
37. Do a food tour at Adelaide's Central Market
38. See the regrowth on Kangaroo Island
39. Make your own gin at Kangaroo Island Spirits
40. Learn about Aboriginal history at Wilpena Pound
41. Road trip the Eyre Peninsula
42. Swim with whale sharks at Ningaloo Reef
43. Watch a sunset at Cable Beach
44. Take a selfie with a quokka
45. Feel like you're on another planet at the Pinnacles
46. Visit the Horizontal Falls
47. See Uluru
48. Explore Kakadu National Park
49. Chase waterfalls in Litchfield National Park
50. Go glamping in the Outback
51. Visit MONA
52. Enjoy the view over Wineglass Bay
53. See the colours at the Bay of Fires
54. Treat yourself to a fancy stay
---
General Australia bucket list experiences
Spot a koala in the wild
Starting off the Australia bucket list with an absolute classic, you can't come all this way and not see Australia's cuddly mascot!
I've got good news and bad news. The bad news is that unlike what you may think, koalas aren't sitting in every single gum tree in every Australian city, you do have to put in a bit of effort to spot one. The good news is that there are loads of places around the country where you've got a pretty high chance of seeing one in the wild.
Some of the best places to spot a wild koala in Australia are Kennett River Nature Walk (along the Great Ocean Road), Kangaroo Island off the coast of Adelaide, and Magnetic Island in Queensland.
And a kangaroo
Kangaroos, on the other hand, are easier to find as long as you are getting out of the city. I saw wild kangaroos at least every couple of days during my 2.5 months driving around Australia!
Your best bet for kangaroo spotting is to hire a rental car and head somewhere that has flat bushland, preferably away from the main highways, so you can keep an eye out without being a hazard to other drivers. Places like Kangaroo Island, Cape le Grand National Park and Murramarang National Park are almost guaranteed to give you what you're looking for.
SAFETY TIP: Kangaroos can cause major car accidents by jumping onto the road in front of vehicles, which is why you'll notice that many vehicles have huge 'roo bars' (also known as bullbars) on the front of their car to minimise damage. Kangaroos become very active at dusk and dawn, where they can make the most of daylight while it's not too hot, so avoid driving at these times if you can, or be extra alert for 'roos and other animals on the side of the road.
And other critters
There are a bunch of other Aussie animals you might want to tick off your bucket list too. There's the Insta-famous quokka on Rottnest Island, the elusive platypus (best chance is Queensland), cassowaries (also Queensland), crocs, wallabies, echidnas, wombats, snakes and more.
My overall top recommendation for wildlife spotting in Australia is Kangaroo Island, the island is home to a huge range of animals and I was able to see koalas, kangaroos, wallabies, seals, an echidna, goannas and pelicans during my time on KI.
Visit a wildlife sanctuary
If you're short on time or don't have a car to go searching for wildlife on your own, Australia has plenty of incredible wildlife sanctuaries who look after sick, injured and orphaned animals, offering an ethical way to see the animals up close while also knowing your money is going towards helping more animals down the line.
Some of the most popular wildlife sanctuaries are Currumbin Wildlife Sanctuary in the Gold Coast and the Lone Pine Koala Sancturary in Brisbane, and I also absolutely loved a small one called Cooberrie Park Wildlife Sanctuary in Byfield, QLD.
Spend a night glamping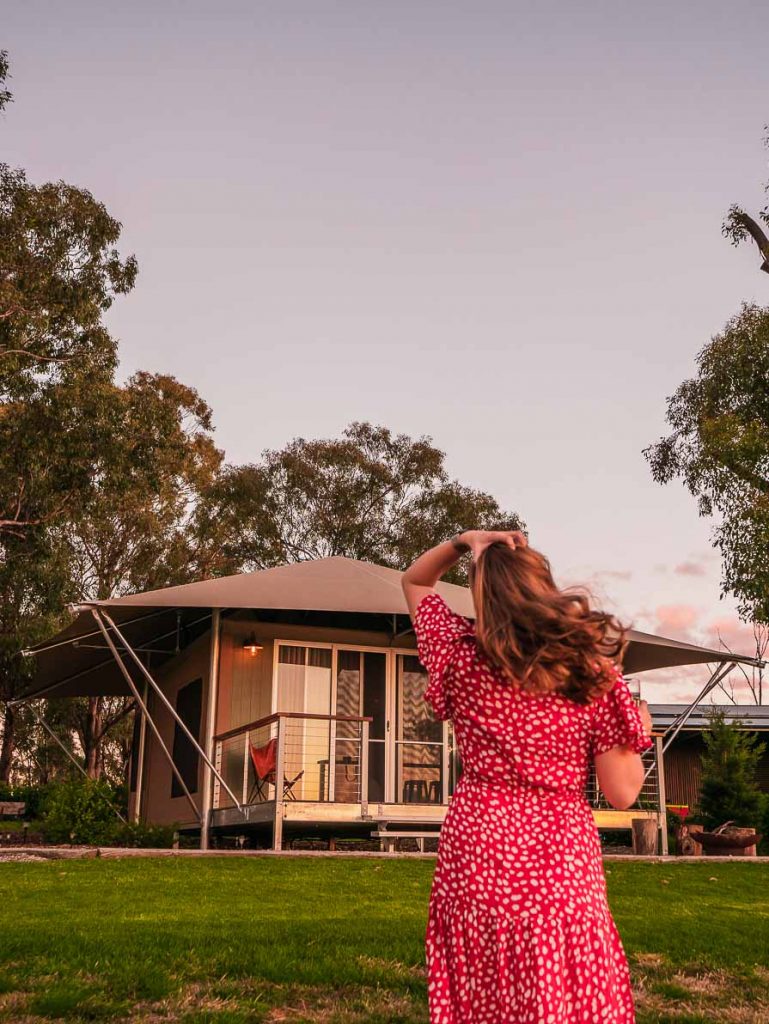 With such a diverse range of scenery on offer within a few hours' drive of the major cities, it's no wonder that the Australia glamping scene is absolutely taking off right now. You can choose from geodesic domes or tiny homes, or sleep in a luxury safari tent or a back-to-basics bubble.
Glamping lets travellers experience a night in nature, which is even more exciting in Australia when you get to see things like kangaroos munching on grass right outside your front door at sunset. The stargazing opportunities aren't to be scoffed at either, rural Australia has some of the least light pollution and therefore best stargazing in the entire world!
Some Australia glamping spots to add to your bucket list are:
Go whale watching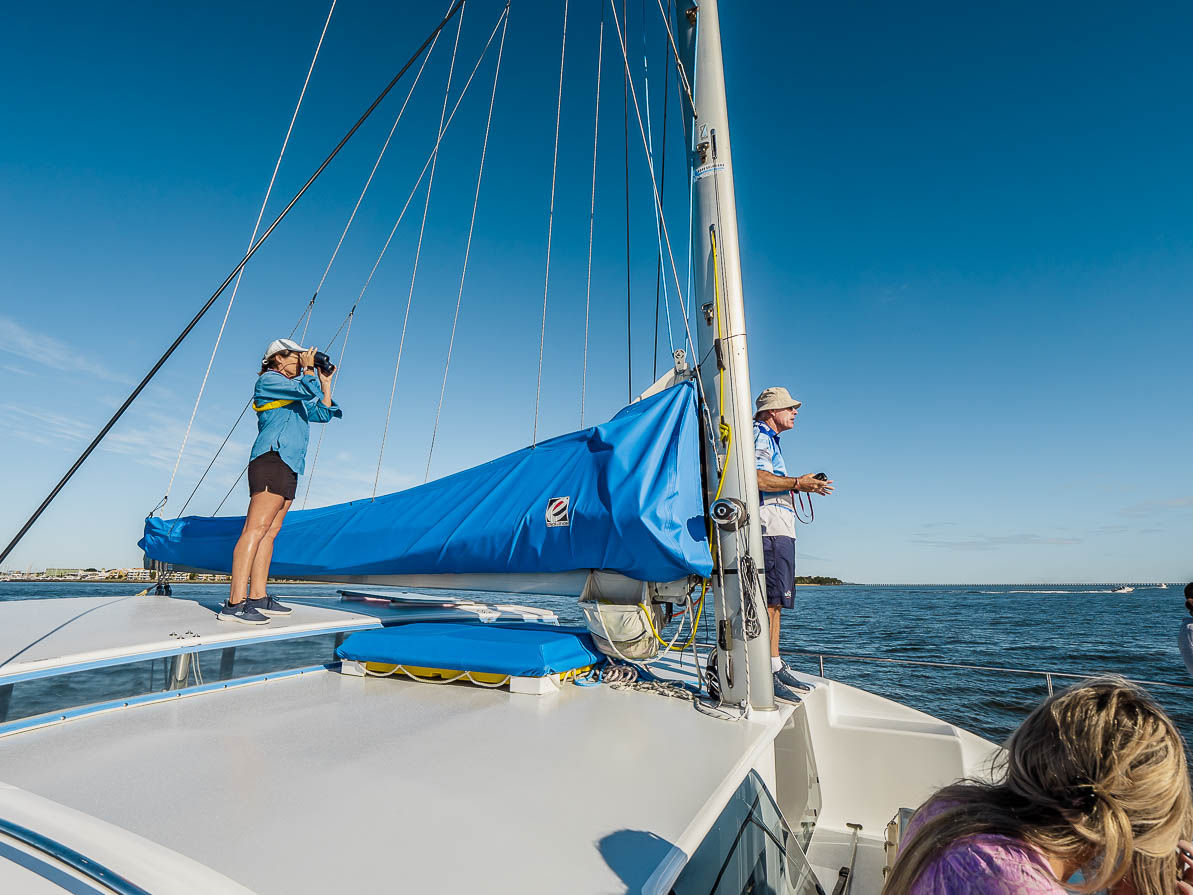 Australia is perfectly placed for sightings of a variety of different whale species as they migrate from Antarctica to warmer waters up north. The return migration journey happens between May and November, but different parts of the country might have a higher chance of viewing in different parts of that period.
Hervey Bay in Queensland (around 3h 45m from Brisbane) is the whale watching capital of Australia, and the best way to experience it is to head out on a day cruise with Skipper Pete at Blue Dolphin Marine Tours. They have an eco-friendly catamaran, an immersive platform to get you up close and personal with the mighty mammals, and decades of experience and knowledge about migrating humpback whales.
Taste test Australian wines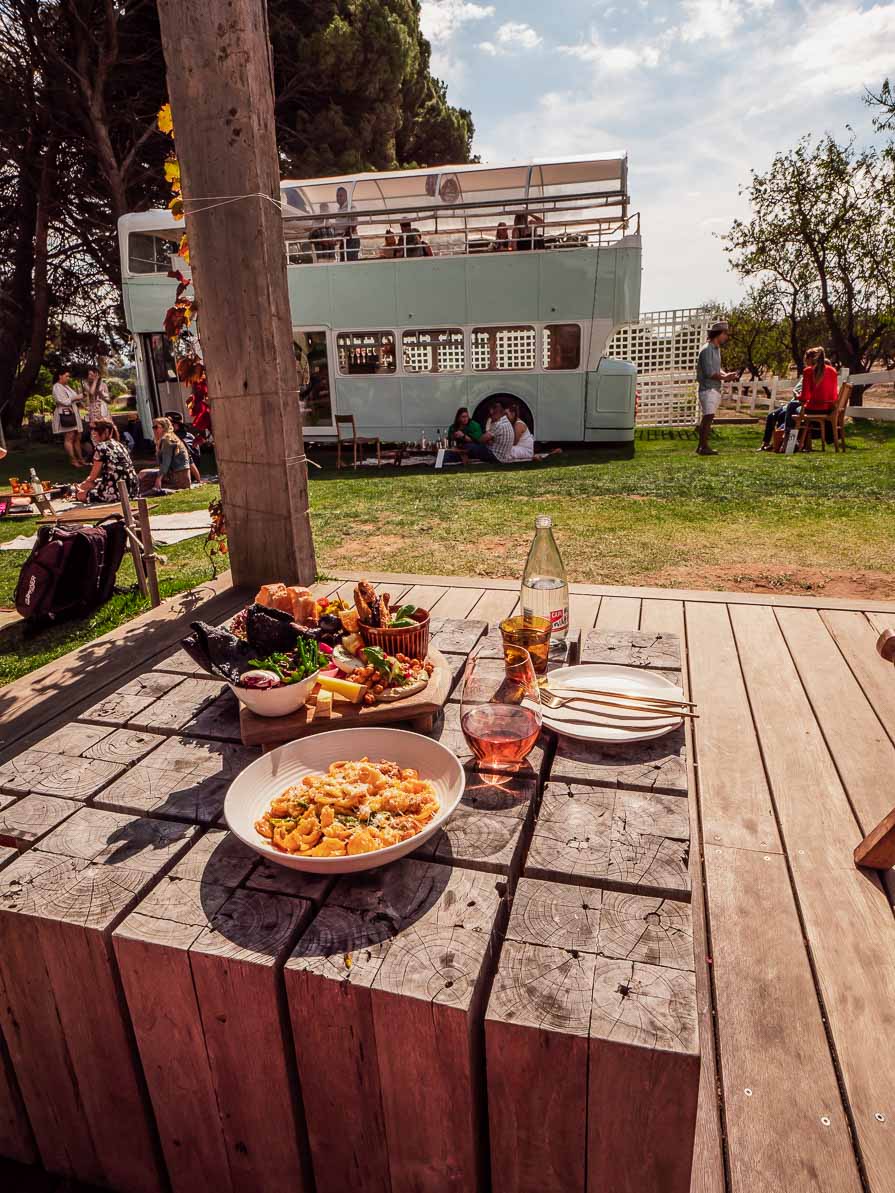 Consider yourself a bit of a wine connoisseur? With 65 different wine regions boasting more than 2,400 vineyards in total, Australia has a stellar wine scene that is just waiting to be explored.
Some of the best wine regions are Barossa Valley, McLaren Vale and Adelaide Hills in South Australia, Yarra Valley in Victoria, Mudgee in NSW and Margaret River in WA.
Try bush tucker
'Bush tucker' is a term used to describe any flora or fauna native to Australia that is (or was) used by Indigenous Australians as food, and there are some incredible bush tucker experiences around the country to add to your bucket list.
You could do a market food tour with Aus Food Tours at Adelaide Central Market and enjoy a bunch of samples, including some meat, fruit and herbs at the Something Wild stall. In Sydney there's the Aboriginal Bush Tucker Tour at the Royal Botanic Gardens, or Ochre Restaurant in Cairns serves up delicious dishes with a native twist. Or for the ultimate bush tucker experience, the Ayers Rock Resort offers a 4-course meal using native ingredients with views of Uluru and the desert sunset.
Go to an AFL game
Every country has a bucket list sports game to attend (an All Blacks game in New Zealand, a football/soccer game in the UK, an NBA game in the US), and in Australia nothing beats the intensity of an AFL (Aussie Rules) game. Let's just say that if an AFL stadium had a swear jar and spectators had to pay $1 for every f- or c-bomb, that AFL stadium would be richer than Jeff Bezos.
With a quidditch-esque oval pitch, three referees, 18 players on the field for each team and unnecessarily short shorts, AFL is pretty damn confusing to fresh eyes, but if you can get tickets then it's worth heading to a game just to experience the chaotic atmosphere. Just don't take your grandma.
Experience Australia at its best during a major event
Fact: Australia knows how to party, and if you enjoy good tunes, good laughs and good vibes, there's loads of events on throughout the year that you could try squeeze into your Australia plans.
Sport fiends could hit up the Australian Open (January in Melbourne), the Grand Prix (March/April, also Melbourne), the World Surfing Champs (March to May, multiple locations) and the biennial Ashes cricket series.
In terms of arts and culture there's the Adelaide Fringe (Feb-March), the Aboriginal light festival Parrtjima (Alice Springs in April), Mardi Gras in Sydney (March), VIVID Sydney (May-June) and the Melbourne Comedy Festival (April).
And foodies won't want to miss Tasting Australia (Adelaide, April), Melbourne Food & Wine Festival (March-April), Noosa Eat & Drink Festival (June) and Manjimup Truffle & Wine Festival (June, Manjimup in Western Australia).
Go skydiving
No bucket list would ever be complete without the thrill of all thrills, a tandem skydive over somewhere epic. And luckily for all you adrenaline junkies, there are plenty of mind-blowing locations that have a pretty incredible birds eye view to choose from.
Soak up the views of rainforests, reefs and white sand beaches at Airlie Beach, Cairns, Noosa or the Gold Coast, see cities from up high in Melbourne, Newcastle and Coffs Harbour, or see the rugged coastline at Byron Bay, Rottnest Island or Great Ocean Road.
---
Queensland bucket list experiences
Snorkel or dive at the Great Barrier Reef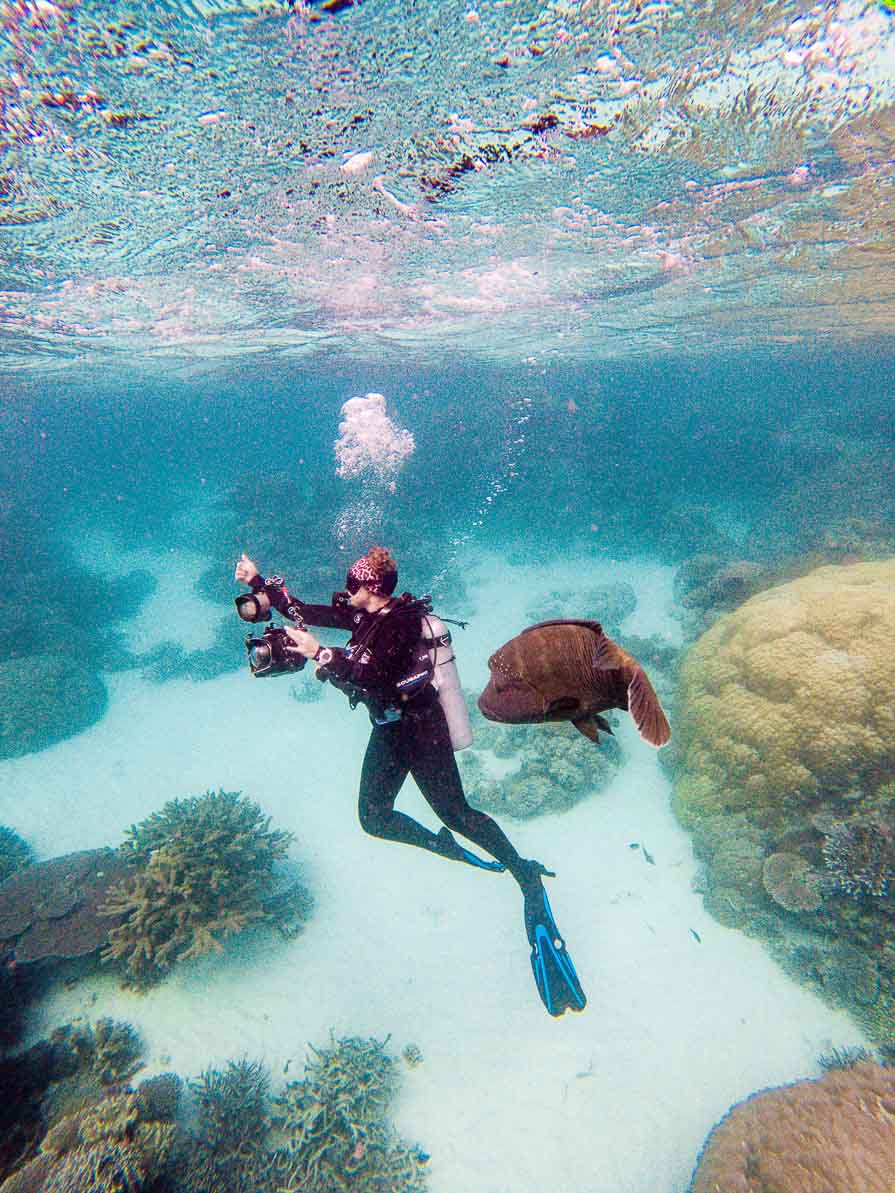 If there was just one part of Australia that would be worth travelling for, I reckon it would be the World Heritage-listed Natural Wonder of the World, the Great Barrier Reef.
Stretching more than 2,200kms along Queensland's coast and made up of about 3000 individual reefs plus countless sand cays and lush islands, the Great Barrier Reef should be at the top of any water lover's Australia bucket list.
You can access the reef from a range of gateways on the coast but I found that Cairns had the best diving and most vibrant reef, Airlie Beach had the added bonus of ticking off the Whitsundays on any day tours, and the Southern Great Barrier Reef has some epic islands and less tourists.
Read more: The ultimate Brisbane to Cairns road trip itinerary
Sleep in an underwater hotel room or under the stars at the Great Barrier Reef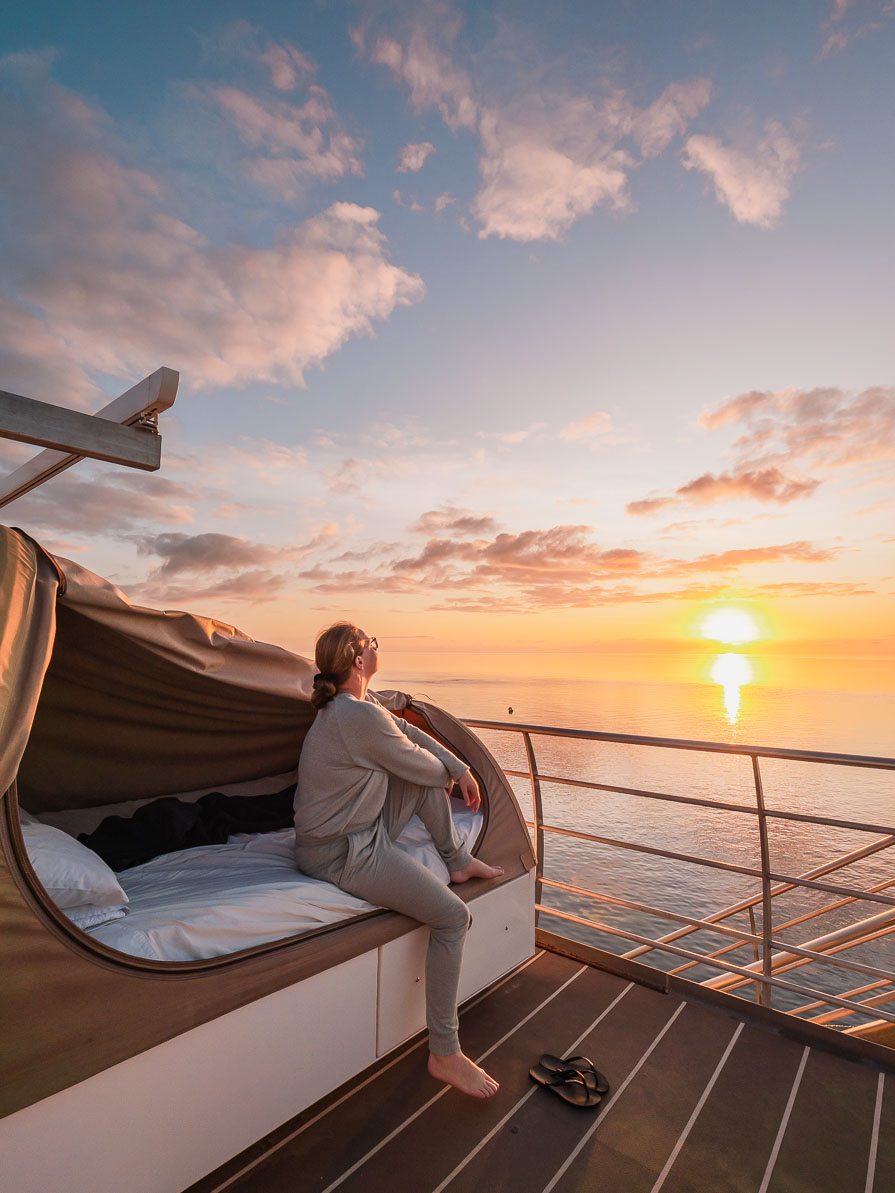 For a true once-in-a-lifetime accommodation experience, you won't find anything more magical in Queensland than spending a night on a pontoon at the Outer Great Barrier Reef, with no land, no light pollution and no other humans in sight.
It takes about three hours by boat to get from Airlie Beach to the Reefworld pontoon, and there are options for day trips to enjoy snorkelling and diving, but the all-inclusive overnight stay is well worth the splurge.
Reefsuites is the Reef's only underwater hotel room, with floor-to-ceiling glass windows letting you watch fish swim by while lying in bed or even while having a shower. If Reefsuites are booked up for your dates (there's only two rooms, they book up quickly!) then there's also Reefsleep on the same pontoon, these are luxury swag tents on the top deck so you can stargaze from bed and wake up to one of the best sunrises in the world.
Throw in delicious meals, all-inclusive alcohol and unfettered access to the reef before day trippers arrive and after they've left, and you've got the makings of Australia's best accommodation.
Read more: What it's like to sleep on the Great Barrier Reef
Fly over the Heart Reef
You've probably seen the Heart Reef before, either on Instagram or on postcards or on Queensland Tourism TV ads, it's certainly secured its spot as the most photogenic part of the Great Barrier Reef.
The Heart Reef is located in Hardy Reef and isn't accessible by boat, so to see it you'll need to book a scenic flight from Airlie Beach. I ticked it off my Australia bucket list with Ocean Rafting's Fly + Raft tour from Airlie Beach, which included a day tour to Whitehaven Beach (more on that below), but every scenic flight over the GBR from Airlie Beach will take you over Heart Island.
Swim with manta rays on Lady Elliot Island
Lady Elliot Island is a small island in the Southern Great Barrier Reef region, only accessible by flight (from Gold Coast, Brisbane, Bundaberg or Hervey Bay) and offering either day trips or overnight stays at the island's only accommodation, the Lady Elliot Island Eco Resort.
There's plenty to do on the island, from glass-bottom boat tours to clear kayak tours to reef walks with a marine biologist to stargazing, but the most iconic Lady Elliot Island activity is to get up close and personal with the local manta rays on a guided snorkel safari.
It's known as the best place in Australia to spot manta rays because these majestic creatures glide through the ocean surrounding the island year-round, but peak season is from May to August. Turtles are also common visitors to Lady Elliot Island throughout the year, and depending on the timing of your visit you could also witness the whale migration, turtle nesting or turtle hatching.
Note: I did a day trip to Lady Elliot Island from Hervey Bay which was absolutely incredible, but unfortunately we had a very rare weather event which meant we couldn't get out to the manta ray area safely and had to snorkel on the other side of the island, so no sightings for us. This is very rare, we were just unlucky! We still had a brilliant time and managed to see a few turtles amongst other fun things, but I'll be returning at some stage in the future to tick 'swim with manta rays' off my personal bucket list.
Do a 4WD tour on K'gari (Fraser Island)
K'gari boasts some of the best and most unique landscapes of anywhere in Australia. It's the only place in the world where rainforest grows through sand, and there's crystal clear lakes with sandy shores, undulating sand dunes and otherworldly rock formations to discover too.
You'll need a 4WD to explore the best of Fraser Island; you can take your own over if you're comfortable driving on sand, you could join a tag-along tour if you want your own vehicle but with a guide, or you can book a day trip or overnight trip including transport from Hervey Bay.
Feel the sand between your toes at Whitehaven Beach
It sounds like such a cliche way to describe a beach, but 'pristine' is the only word that comes close to explaining just how perfect Whitehaven Beach in the Whitsundays is.
To understand the scale and to witness the magical swirl of blue and white where the sand meets the water, you'll want to either do a scenic flight over Whitehaven or do a boat tour that includes a walk up to Hill Inlet for the best view on the island itself. Or better yet, do both on this Fly + Raft tour from Airlie Beach.
Once you're on the beach itself, you'll understand the hype. It's got some of the whitest, most powdery sand in the world, it's made from 98.9% pure silica, and it truly has to be seen (and felt!) to be believed.
Swim at Byfield's Upper Stony Creek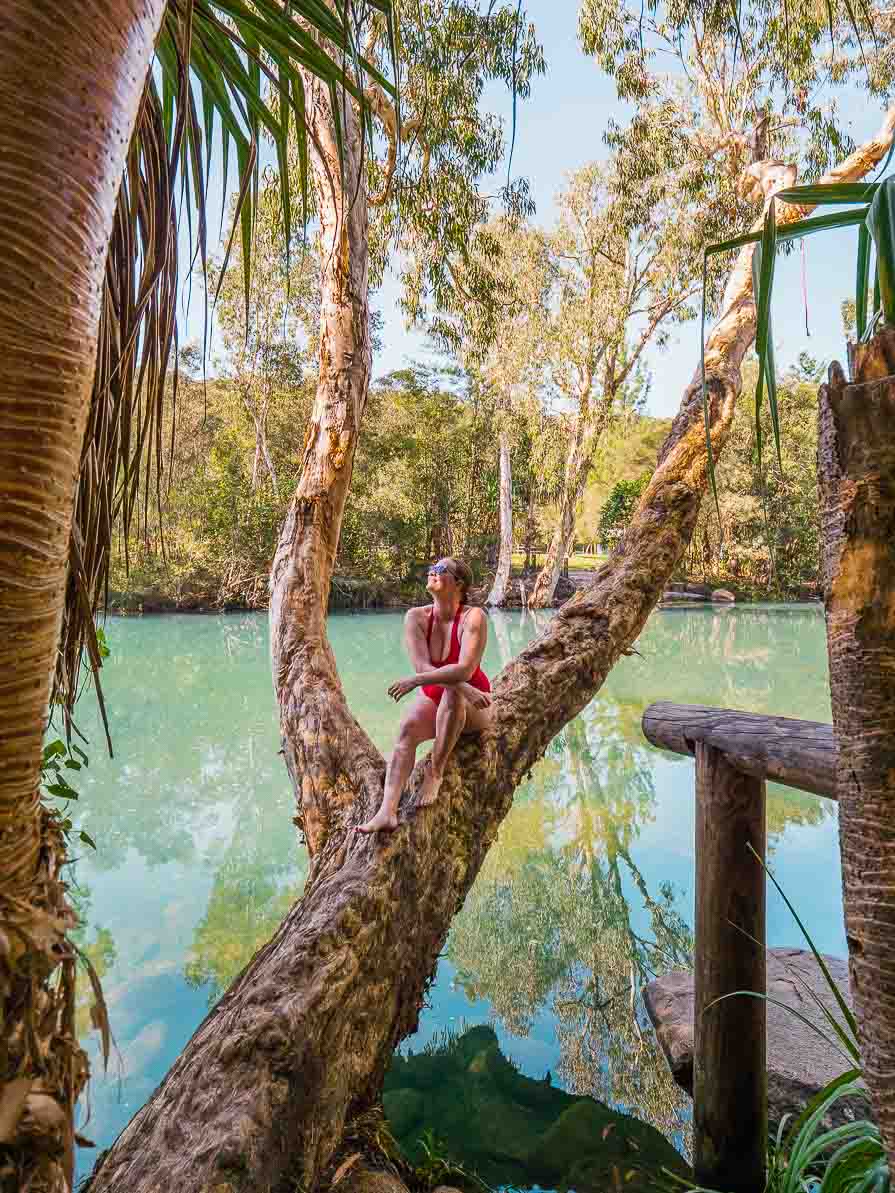 Byfield is one of Queensland's hidden gems, with Byfield village, Byfield State Forest and Byfield National Park tucked into an off-the-beaten-track area of the Capricorn Coast, about half an hour from the popular holiday destination of Yeppoon.
Byfield's forest and park are basically built for off-roaders, there's some world-class 4WD trails and camping spots that you'll absolutely want to add to your off-road itinerary, but my favourite part of Byfield is easily accessible by all types of vehicles. It's called Upper Stony Creek, it's a freshwater swimming hole (croc-free, yippee!) with campsites as well as a great day-use area with picnic tables and BBQ facilities.
Stop in for a refreshing dip as you drive up or down the coast, or stay a while at a cute cabin with Getaways at Byfield, or opt to camp at Upper Stony Creek or one of the other camping sites in the area.
Explore the oldest rainforest in the world
Coming in at an impressive 180 million years old, Far North Queensland's Daintree Rainforest is a tropical paradise with an incredibly diverse and fragile eco-system. While it's possible to explore it by yourself, I'd highly recommend booking a tour so you can learn about the flora, fauna and history of the World Heritage-listed Wet Tropics.
Ride the rollercoasters in the Gold Coast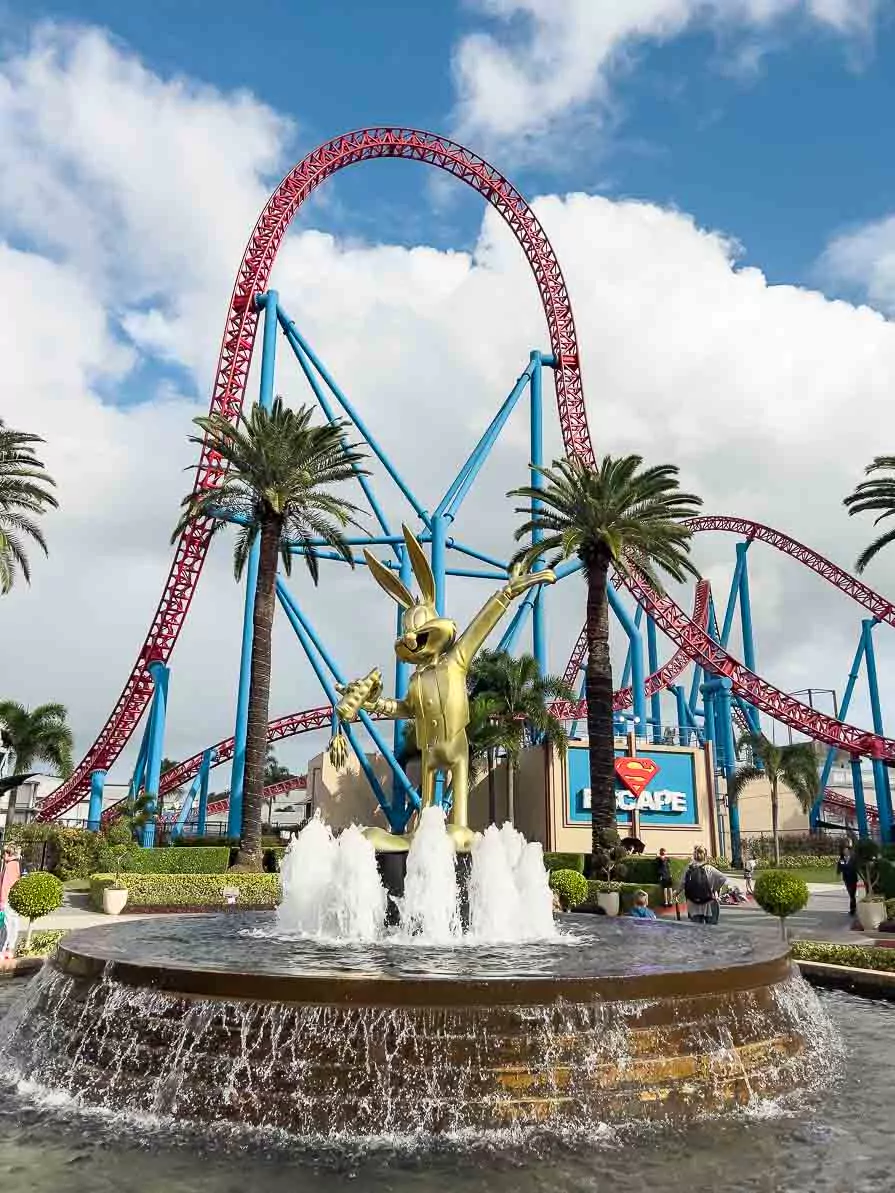 Thrill-seekers rejoice, the Gold Coast has Australia's best theme parks, most epic rollercoasters and wildest water rides.
Warner Bros. Movie World hosts the DC Rivals HyperCoaster, which is the tallest, longest and fastest HyperCoaster in the Southern Hemisphere! Movie World also has the Superman Escape rollercoaster which reaches 100kmh in only two seconds, as well as a few other thrill rides to get your heart racing.
Dreamworld used to be my favourite when I was younger but they're lacking a bit in the thrills department after shutting down a few rides (like the Tower of Terror, sad face!). They have the Steel Taipan which is super fun, plus the iconic Giant Drop, The Claw and the vomit-inducing Pandamonium. You have been warned.
For young ones both Movie World and Dreamworld have family-friendly sections (like the Wiggles area at Dreamworld and WB! Fun Zone at Movie World).
In terms of waterparks, Wet'n'Wild is the country's biggest waterpark with a bunch of new thrilling attractions open year-round, and Whitewater World is open from September to April right next to Dreamworld.
---
New South Wales bucket list experiences
Climb Sydney Harbour Bridge
Soak up 360-degree views of the Opera House, Circular Quay, the Rocks, Lavender Bay and more with an iconic Sydney experience, the BridgeClimb at Sydney Harbour Bridge.
There are a few different experiences to choose from depending on what you're looking for (summit climb, climb all the way to the end, and different times of day), but this should be the top of your Sydney bucket list.
Sunbathe on Bondi Beach
Possibly Australia's most well-known beach, Bondi sits just a short distance from the hustle and bustle of central Sydney, making it an absolute must-do when you're in the city,
Learn to surf with a group lesson, hire your own board and hit the waves yourself, swim in the Bondi Icebergs ocean pool, or just enjoy the sun's rays while lying on the beach.
Learn to surf at Byron Bay
Another fantastic place to learn to surf is Byron Bay up in Northern NSW, best known for dreamy beaches and dreamier locals (*ahem* Chris Hemsworth lives here), with some brilliant surfing spots for beginners right through to experts.
You might also like: The perfect Sydney to Byron Bay road trip itinerary
Take a cruise around Sydney Harbour
Sydney Harbour is pretty magical from the water, and getting the Opera House, the Harbour Bridge and the city skyscrapers in the same shot is one for any photographer's Australia bucket list.
You could catch the public ferry (the famous yellow and green ones) from Circular Quay to Manly for a cheap and cheerful harbour experience, or for a fancier cruise check out Cruise Sydney who offer daytime and evening cruises with meals included.
See the Blue Mountains
The Blue Mountains are just an hour and a half from Sydney, making it a pretty easy day trip, overnight stay or addition to a NSW road trip.
The blue haze comes from a mist of oil exuded from the thousands of eucalyptus trees that make up the forest of the Blue Mountains, and the Three Sisters are the most famous rock formation, though there are plenty more sandstone structures as well as hiking trails and viewpoints to enjoy during your time here.
Do a wine tour in the Hunter Valley
Undoubtedly NSW's most popular wine region, the Hunter Valley is an easy trip from Sydney and therefore has been long featured on lists of weekend getaways from the big city.
There's more than 150 wineries to visit, along with award-winning restaurants, lots of local produce to try, and unique ways to see the area like by horse trek or hot air balloon.
Visit Lord Howe Island
Perhaps the most dramatic of all of Australia's paradise islands, World Heritage-listed Lord Howe Island looks like it's straight out of Jurassic Park. The bay's bright blue water is calm and crystal clear, while the remnants of an extinct volcano rise out of the water with jagged cliffs and sheer drops on one side and palm-lined beach on the other.
Lord Howe Island is pretty exclusive though, with limited visitors allowed each day to protect the environment, so it's something you need to book far in advance if you want to tick it off your bucket list.
Stargaze in the Warrumbungle National Park
Australia's first Dark Sky Park is located in country NSW, about six hours northwest of Sydney by car, but it is well worth the drive to get there.
The park has loads of walking trails as well as campsites for overnight stays, or you could spend a night at nearby Coonabarabran and head to the Milroy Observatory for some telescope time or book a stargazing tour with a local expert.
Wander along the White Sands Walk in Jervis Bay
With sand so white that it could be mistaken for snow, it's no wonder Hyams Beach is the holder of the fictional title of 'Whitest Sand in the World' from the Guinness Book of World Records. Sorry to burst anyone's bubble here but this isn't actually a real award, it was just something someone made up back in the 1980s which has now spiralled out of control across clickbait headlines and social media.
But despite the title not being official, the beaches in Jervis National Park are absolutely worthy of a spot on this Australia bucket list. The White Sands Walk is a 5km, one hour return walk from Greenfield Beach in Vincentia to Hyams Beach and back, take some swimming gear and keep a lookout for dolphins as you make your way along the coast.
---
Victoria bucket list experiences
Eat your way around Melbourne
Melbourne is hands down the best foodie city in Australia, with culinary magic being served up left, right and centre all over the city. And you could choose from one of hundreds of different cuisines too, from classic Aussie cafes to fine dining French restaurants to Himalayan, Laotian, Sudanese, Peruvian and more.
If you're a cheese fiend like me, you should add Milk the Cow to your Melbourne to-eat list. It's a cheese restaurant (i.e. the best type of restaurant) with dishes like baked brie, fondue, cheese boards and wine & cheese flights, straight out of my dreams. It's always my first stop for dinner when I visit Melbourne.
Drive the Great Ocean Road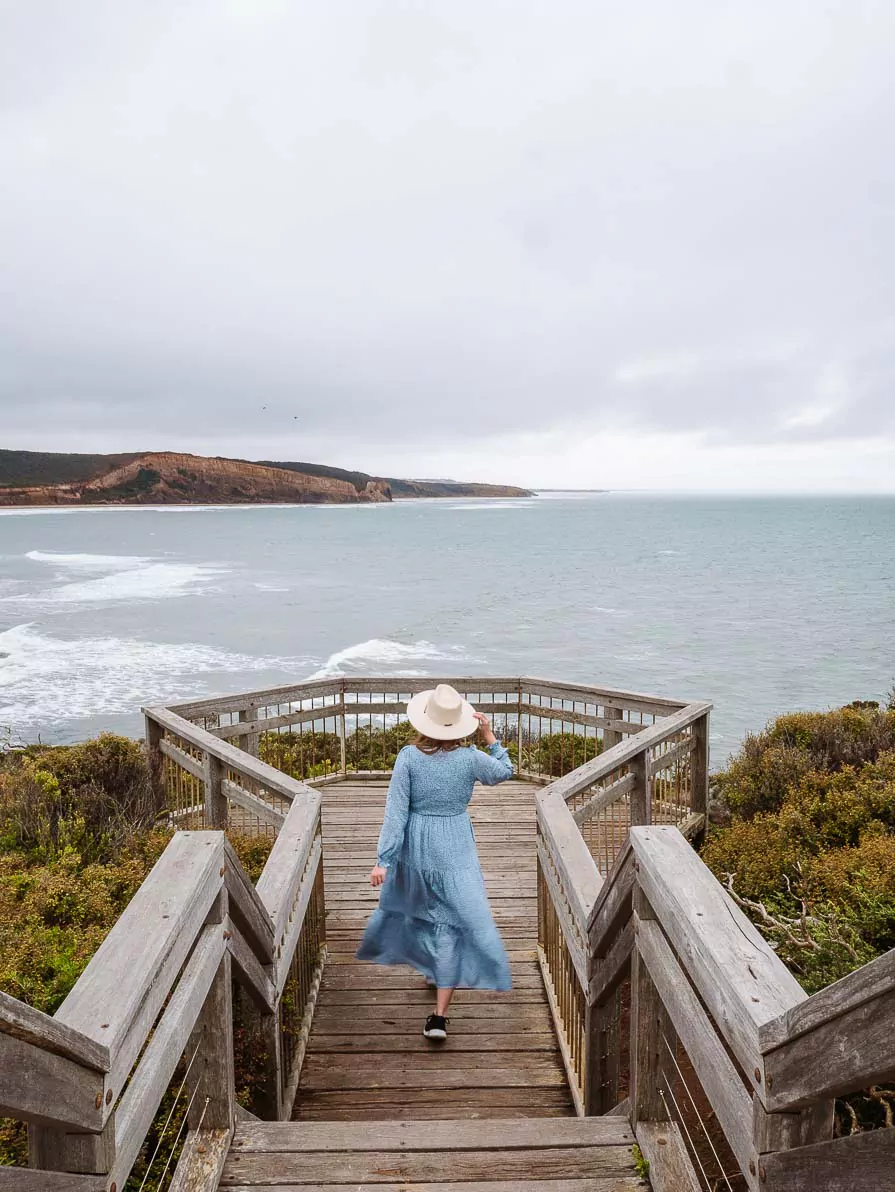 The stunning Great Ocean Road is known as one of the best road trips in Australia, and maybe even the world. You'll go past chilled out surf towns, lush native rainforest, countless coastal viewpoints and the famous Twelve Apostles, with lots of opportunities for striking photos, wildlife spotting and beautiful sunsets.
You might also like: The ultimate three day Great Ocean Road itinerary
And watch the sun set behind the Twelve Apostles
The Twelve Apostles get their own little shout out here because they truly are a bucket list destination, and if you can get there for the sunset you won't regret it.
The Twelve Apostles viewpoint is always busy at sunset but you could head down to the Gibson Steps to get a bit more space to yourself, or there's other good sunset spots nearby like Loch Ard Gorge, Childers Cove or Murnane Bay.
Soak in thermal hot pools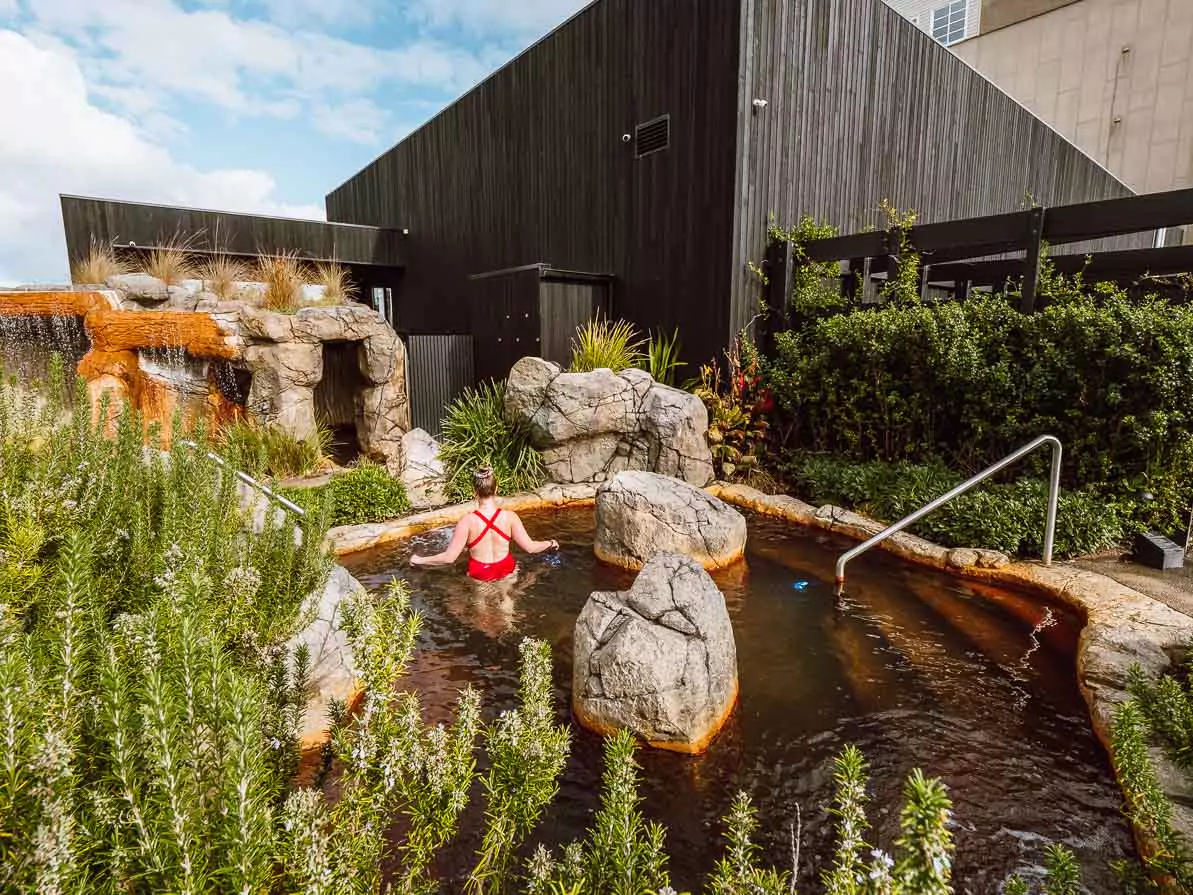 If the Great Ocean Road was a rainbow, the Deep Blue Hot Springs in Warrnambool would be the proverbial pot at the end of it.
These geothermal pools are the perfect sanctuary for relaxation after a few busy days of sightseeing and driving, book a spot at the adults-only twilight session to enjoy the night sky in peace while soaking in mineral-rich water.
Read more: A detailed review of Deep Blue Hotel & Hot Springs
Catch sunrise from a hot air balloon over the Yarra Valley
The best way to see Victoria's premier wine region is by floating through the sky over the patchwork of wineries below you. Perfect for a special celebration or a fun add on to a wine weekend in the Yarra.
Spot penguins on Phillip Island
Phillip Island is just an hour and a half from Melbourne, connected to the mainland by bridge so you can take your own car, and it's famous for housing the world's largest colony of Little Penguins.
These cuties are easily spotted at sunset every night of the year at the Penguin Parade, which offers tickets to the grandstands, underground viewing tunnels and tours to secluded beaches for the ultimate penguin experience.
---
South Australia bucket list experiences
Snorkel in a sinkhole
Yes, you read that right… South Australia has an unusual amount of sinkholes and you can snorkel and even scuba dive in some of them!
Kilsby Sinkhole is a sinkhole on private land near Mount Gambier and the SA-VIC border, you can book sinkhole tours, sinkhole snorkelling trips or sinkhole scuba dive experiences. The water is mind-blowingly clear, you can see all the way to the bottom of the sinkhole with perfect clarity.
There's also the Ewens Ponds (three limestone sinkholes with crystal clear water) or the Umpherston Sinkhole if you want to stay dry, that one is filled with tropical plants and flowers instead of water.
Do a food tour at Adelaide's Central Market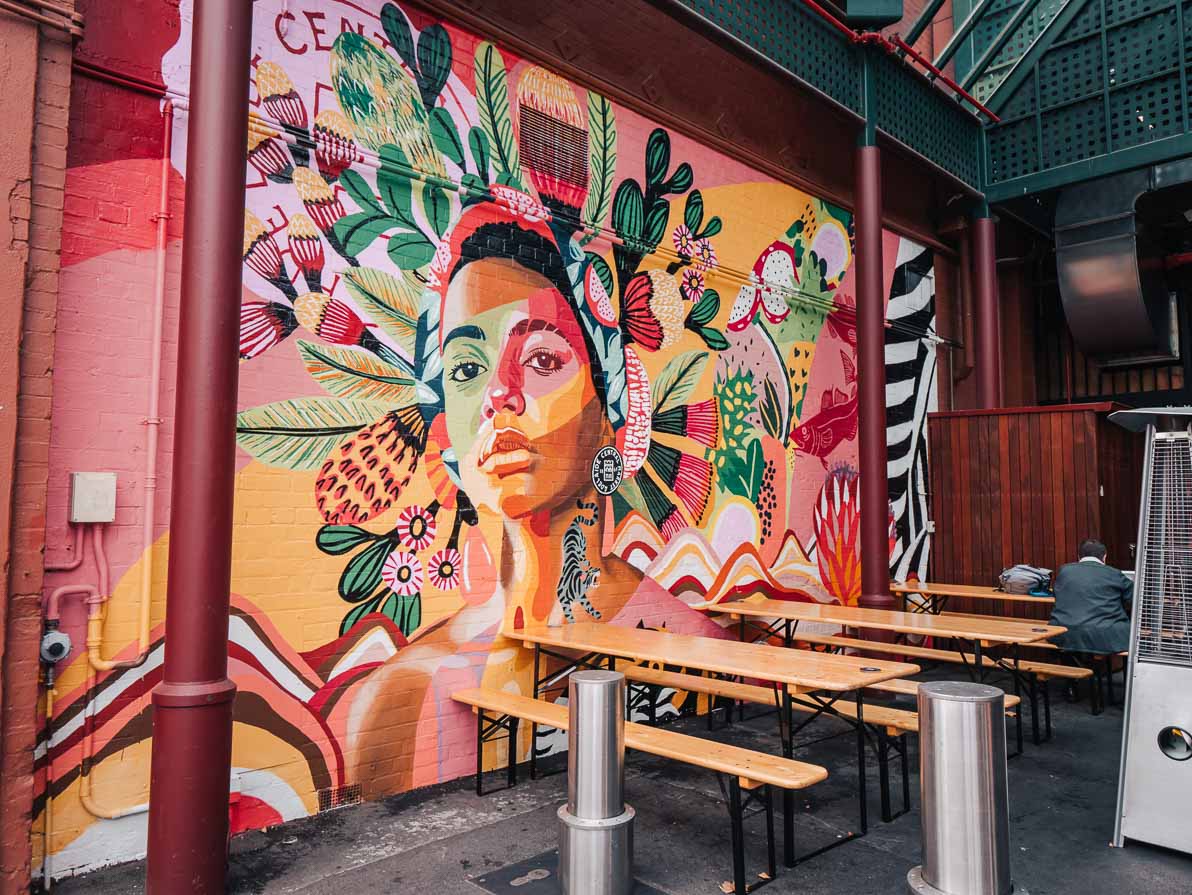 Adelaide's Central Market is so underrated, I actually think it's a much better experience and significantly better value than Queen Victoria Markets in Melbourne. It's one of the largest undercover fresh produce markets in the southern hemisphere, with more than 80 vendors selling everything from artisan baked goods, cured meats, organic fruit and veggies, and delicious breakfast and lunch dishes.
Travel tip: The best way to experience the Central Market is by jumping on a tour with Aus Food Tours, who are absolute Adelaide legends and know the market and its vendors like the back of their own hand.
Read more: How to spend three days in Adelaide
See the incredible regrowth on Kangaroo Island
Back in the summer of 2019/2020, Kangaroo Island was heavily damaged by wildfires, with 96% of Flinders Chase National Park (which makes up about 60% of the island) totally destroyed including boardwalks, visitor facilities and native animal habitat plus the animals that lived there.
In just a couple of years the regeneration of the forest is pretty incredible to witness, you can see thick green growth forming at the bottom of the burnt trees and damaged stumps, and you're guaranteed to spot local wildlife wandering around the bush. We spotted koalas, echidnas, wallabies, bandicoots, seals and more.
Kangaroo Island is a must-do addition to any Adelaide itinerary, I'd recommend visiting for at least two nights to be able to explore the best bits on the island, including the Remarkable Rocks, epic rock pools at Vivonne Bay, and the giant sand dunes.
Read more: Why you have to visit Kangaroo Island next time you're in Adelaide
Make your own gin at Kangaroo Island Spirits
While you're on the island you'll hear a lot about the local food scene, but one Kangaroo Island producer taking the world by storm is KI Spirits, who distill award-winning gins and other spirits.
Head here for a G&T in their gorgeous gin garden, do a cocktail-making class to learn a new skill or book in for a create-your-own-gin session and add your tailored beverage to your drinks cabinet.
Learn about Aboriginal history and culture at Wilpena Pound
There's no better way to learn about a destination than from listening and talking to the Traditional Owners, and Wilpena Pound Resort offers some unique opportunities to get an in-depth cultural experience with local Adnyamathanha guides.
Road trip the Eyre Peninsula
This remote region of South Australia might be one of the country's most beautiful places to explore, with paradise beaches, dramatic coastal scenery, thousands of rock pools and arty towns dotted along the way.
The Eyre Peninsula is best visited by campervan, the tourist infrastructure isn't super flash so the accommodation options are a bit limited and not great value, but if you've got a van (or a tent!) then there's lots of incredible campsites to sleep at.
---
Western Australia bucket list experiences
Swim with whale sharks at Ningaloo Reef
While Queensland's Great Barrier Reef might be the most famous underwater experience in Australia, many tourists would argue that Ningaloo Reef over in Western Australia actually offers a more vibrant and exciting reef experience. And it helps that Ningaloo is so accessible, as a fringe reef (rather than a barrier reef) it's super close to land and can sometimes be accessed just by walking out from the beach. No need for two hour boat trips to get to your snorkelling spot!
While the reef is worth visiting year-round, your best chance of spotting a whale shark is between March and July, when these gentle giants hang around Exmouth waters following annual coral spawning (a.k.a. a food festival for sea creatures).
Watch a sunset at Cable Beach
If you've seen a photo of camels walking along the beach in front of a sunset with a perfect reflection in shallow water sitting on the sand, I can almost guarantee it was shot at Cable Beach in Broome.
WA has plenty of breathtaking sunset spots to watch the sky change colour, but Cable Bay has got to be the most famous, and absolutely is somewhere you need to tick off your Western Australia bucket list.
Take a selfie with a quokka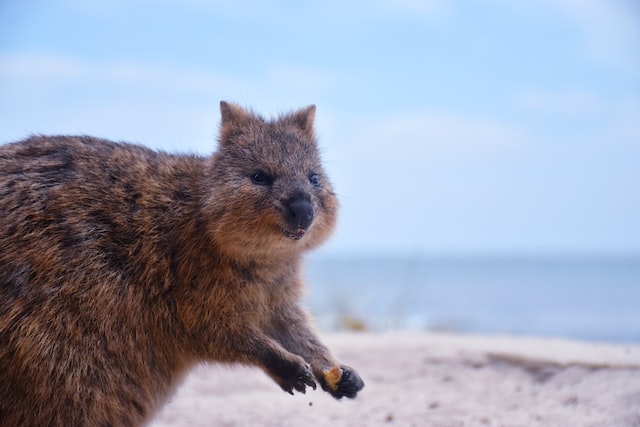 Widely regarded as Australia's cutest animal, and without a doubt the smiliest one, the quokka is actually a type of wallaby that is native to Western Australia and easily spotted on Rottnest Island, off the coast of Perth.
Quokkas are super inquisitive and not afraid of humans, so crouch down on your knees and one of these little guys is sure to come over and say hello for a quick photo.
Feel like you're on another planet at the Pinnacles
The Pinnacles Desert of Nambung National Park is home to thousands of ancient limestone pillars that are thought to be 25,000-30,000 years old, and you can reach it by driving just two hours from Perth.
While the landscape is obviously impressive by day, it's also a must-visit at night, with stargazing tours showing you some of the best night sky views Western Australia has to offer.
Visit the Horizontal Falls in the Kimberley region
One of the most unique 'waterfalls' on the planet, the Horizontal Falls are one of those gotta-see-it-to-believe-it natural wonders, and even Sir David Attenborough is a fan! They're not actually a waterfall at all, they're a natural phenomenon caused by tidal currents pushing huge quantities of water between two very narrow gorge openings.
Tick the Horizontal Falls off your bucket list with a scenic flight over the falls and the rest of the Buccaneer Archipelago, then take an exhilarating jetboat ride to see the falls from sea-level.
---
Northern Territory bucket list experiences
See Uluru
No matter how many times you've seen photos of Australia's famous desert rock, nothing can prepare you for the overwhelming feeling of standing in front of this 3.6km-long monolith sitting 348m taller than the horizon. Come to learn about Aboriginal culture, try bush tucker cuisine, shoot some incredible photos or just to tick another landmark off your wanderlist.
The colour changes from brown to orange to burnt red as the sun goes down, and in the evenings there's a colourful light installation called Field of Light to witness as well.
Explore Kakadu National Park
With cascading waterfalls, panoramic viewpoints, ancient rock art and some of the best croc-spotting opportunities in Australia, Kakadu National Park is one for outdoorsy adventures and wildlife lovers.
The entrance to Kakadu National Park is about 1h 45m from Darwin, making it a doable day tour but you'll be able to get a more in-depth Kakadu experience if you can set aside 3-4 days.
Chase waterfalls in Litchfield National Park
Slightly closer to Darwin and a lot smaller, Litchfield National Park still has very impressive scenery that'll totally blow your mind.
There are loads of waterfalls, plunge pools and swimming holes to discover, just read warning signs as some do close intermittently due to croc sightings.
Go glamping in the Outback
The Northern Territory is definitely not a part of the usual luxury tourist trail in Australia, but that doesn't mean it hasn't got anything to offer. Quite the opposite in fact, the NT boasts some of the country's most exclusive glamping experiences sure to impress even the most discerning traveller.
Award-winning Longitude 131˚ is a good place to start, where you can enjoy Australian wine from the comfort of your plunge pool overlooking the desert towards Uluru. Not bad, not bad.
There's also Seven Spirit Bay, Banubanu Beach Retreat, Top End Safari Camp or Squeaky Windmill B&B.
---
Tasmania bucket list experiences
Visit MONA, the Museum of Old and New Art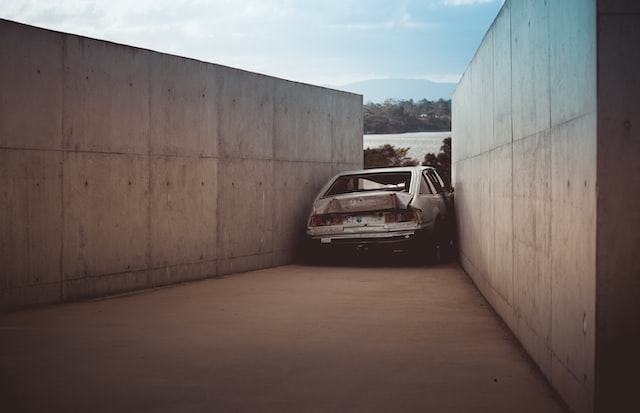 I'm really not a museum person (I prefer to learn by doing and discussing rather than looking!) but MONA is one of the few museums that I'd like to visit someday, and I've only ever heard positive things from friends who have been there.
It houses modern, contemporary and ancient art, with some pretty thought-provoking and sometimes disturbing artwork and installations. Be sure to download the museum's app when you get there, you can listen to the audio guide to find out more as you wander around.
Enjoy the view over Wineglass Bay
Located in Freycinet National Park, Wineglass Bay is a horseshoe-shaped beach with powdery white sand and turquoise water, and it's one of the most recognisable spots in all of Tasmania. Keep an eye out for dolphins and migrating whales while you're there too!
To get the picture-perfect view, you'll need to take a short (just 1.3km) but steep climb from Wineglass Bay Carpark up to Wineglass Bay Lookout, which will likely take 30-45 minutes each way. If you want to dip your toes into the ocean at the bay itself, you can take the 1000 stairs down from the lookout onto Wineglass Bay.
See the colours at the Bay of Fires
The Bay of Fires Conservation Area is made up of a number of secluded bays and paradise beaches in northeastern Tasmania, complete with orange-covered granite rocks, fine white sand and water so clear you can see right to the bottom of rock pools with perfect clarity.
Some of the beaches are easily accessible by car but for the ultimate Bay of Fires experience you'll want to take a boat tour during the summer months.
Treat yourself to a fancy stay
Tasmania punches well above its weight in terms of luxury accommodation, and coupled with a buzzing gastronomic scene and spectacular scenery, it's one of the best places in Australia for a luxury trip.
Saffire Freycinet is one of the country's most luxurious lodges, Thalia Haven has a panoramic deck with an outdoor bath, and Pumphouse Point is a lakeside retreat where time slows down and so does your heart rate.
---
I'm sure there are epic Australia experiences that I've accidentally missed off this Australia bucket list, please tell me in the comments if you think there's something specific I should add!
Here are some useful Australia links to help you plan your trip:
My ultimate Australia travel guide has all you need to know before you go
I use booking.com to find all my accommodation, just search your dates and then sort it by 'reviews and best price' to find the best value places to stay
I use Skyscanner to find my flights and then I always book direct with the airline to avoid any third-party difficulties if flights get cancelled or changed
I use GetYourGuide, Viator and Klook to find the best things to do in each destination, as well as checking discount sites like BookMe or Groupon for last-minute deals
I use Covermore NZ travel insurance for my annual insurance policy and I've had a fantastic experience with them so far, they're also in Australia but if you're from elsewhere then you could check out SafetyWing or World Nomads who both provide top-rated policies
And some other Australia blog posts that you might want to read next: