Planning a Great Ocean Road trip or a visit to Warrnambool? Here's a detailed review of Deep Blue Hotel and the on-site Deep Blue Hot Springs in Warrnambool.
Warrnambool is a bustling beachside town located at the end of the Great Ocean Road, but it's a must-visit for at least a night or two before or after any road trip along this bucket list coastline.
I managed to squeeze two nights in Warrnambool into my hectic Great Ocean Road itinerary, and I am SO glad I did. There's nothing better after a long day of driving than a soothing soak in a mineral-rich steamy hot pool.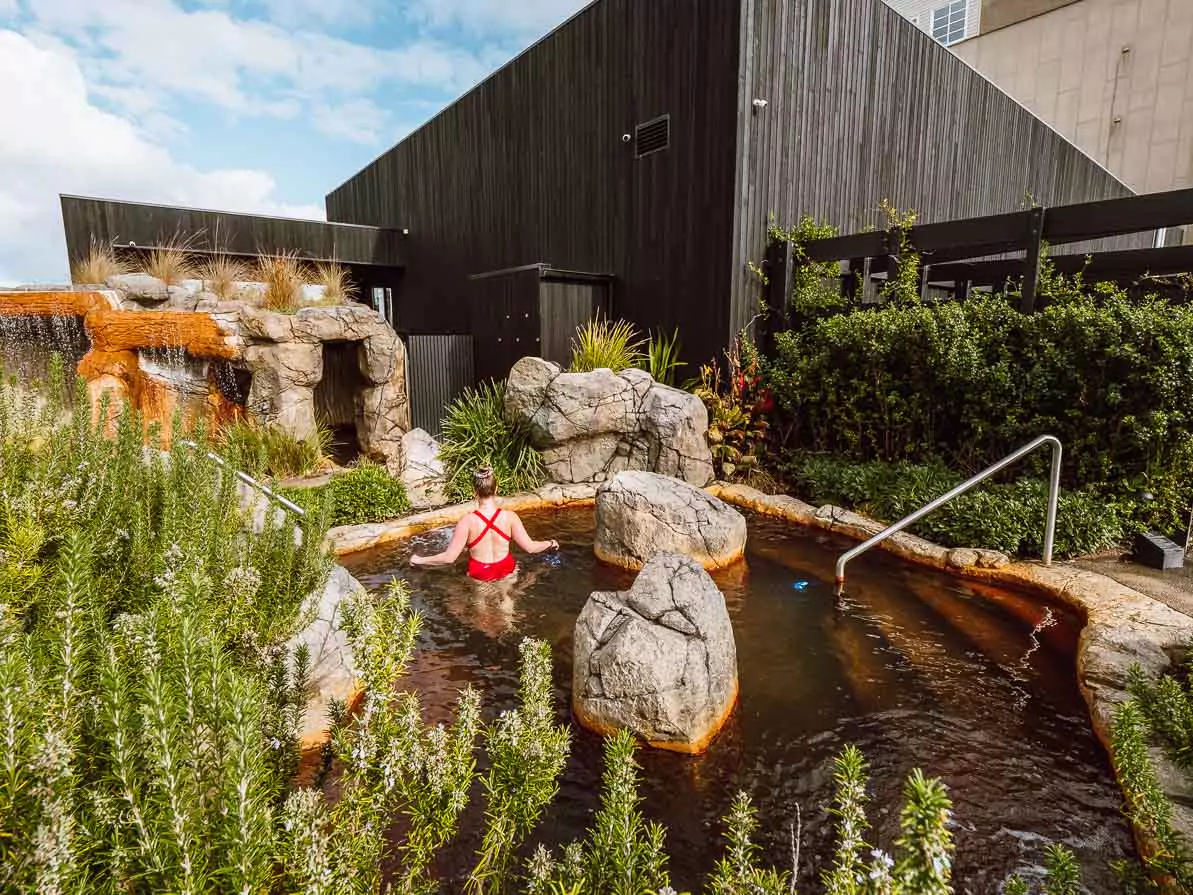 But Deep Blue's charm goes beyond its famous hot springs complex. It's also home to a funky dome café serving up healthy snacks and drinks, a brilliant restaurant with a bigger menu for heartier meals, a highly-rated spa centre, and ultra-comfortable hotel rooms to rest your head when you've had enough of the geothermal pools (or more likely, when the evening session ends!).
If you're already sold on staying and soaking at Deep Blue, you can book your room and your session right here. If you want a bit more info, read on for a full review of my Deep Blue experience.
Where is Deep Blue Hotel & Hot Springs?
Deep Blue is located in Warrnambool, just 20 minutes east from the historic Port Fairy (the official end point of Great Ocean Road) and an hour's drive west from the 12 Apostles.
Within easy reach there's lush rainforests, wild waterfalls, rugged cliffs and world-class beaches to explore, so it's an ideal place to base yourself if you want a couple of days to experience the western end of the Great Ocean Road.
Warrnambool has an airport and car rental depots if you want to fly in or out, or if you're road tripping the whole coastline it's just under 3.5 hours driving inland or five hours along the coast (not including stops), and then it's a 6.5 hour drive to Adelaide if that's your end point (or vice versa).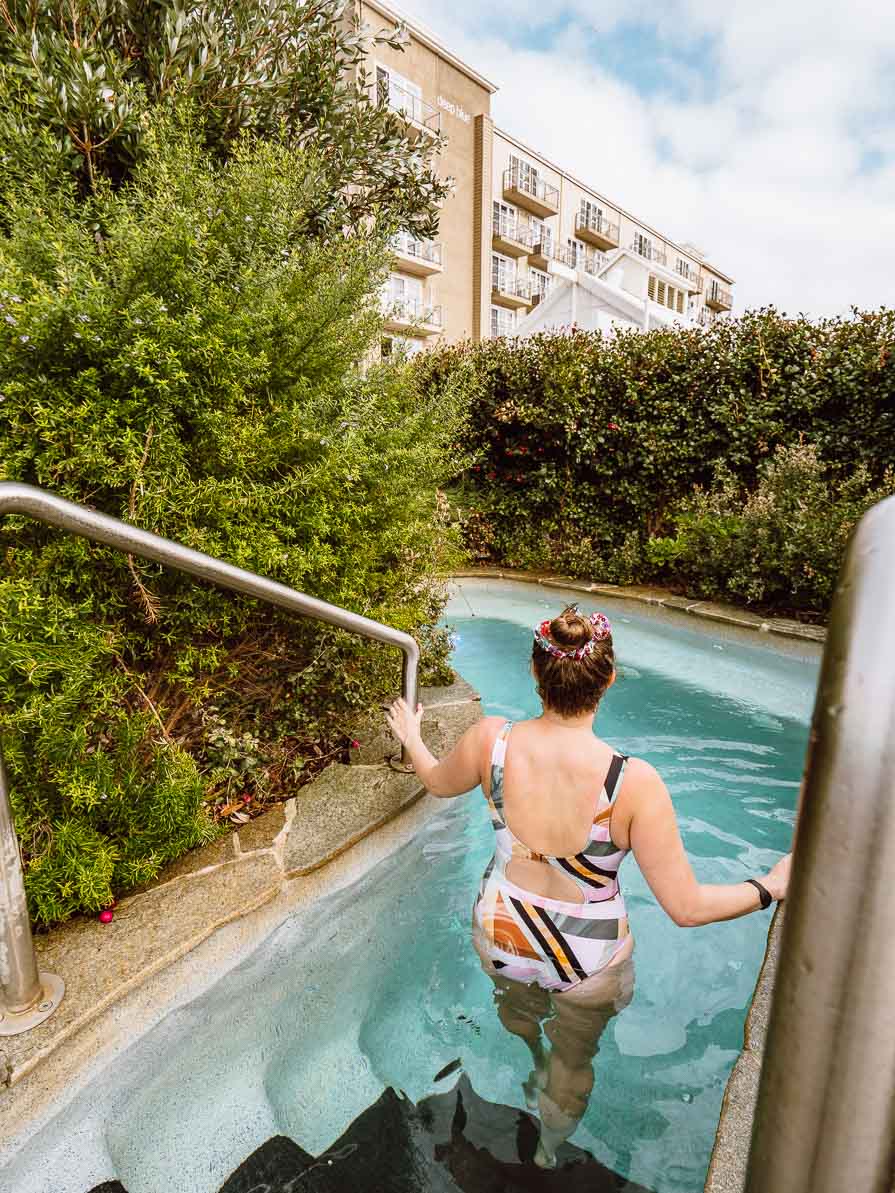 The hotel room
I stayed in an Executive Ocean View Queen room, which had a queen-size bed, two chairs, a desk, tea and coffee facilities, and a balcony with, you guessed it, a view of the ocean.
The room was simple but so cosy and comfortable, definitely more luxurious than the hostels I had just stayed in for a week in Melbourne! Lots of space to unpack and repack my suitcase and I always love staying somewhere with a proper desk.
Hotel guests also have access to an indoor heated swimming pool, separate from the Hot Springs complex.
The hotel food
Deep Blue Hotel has a restaurant that offers all the classic breakfast dishes (eggs benedict, shakshuka, smashed avo etc.) and also has a varied dinner menu that covers all the bases, from hearty steaks to vegan curries to seafood to delicious desserts.
Room service is available too, on my first night I ordered the Mediterranean chicken (chicken stuffed with tomato, feta, olives and capsicum, wrapped in prosciutto, served with veges in a pesto sauce, YUM) and a fairy floss pavlova for dessert, delivered to my door while I did some work. Living the absolute dream, am I right?
The Hot Springs Sanctuary
Oh my goodness, the Deep Blue Hot Springs are absolutely divine. I'm a bit of a hot pool connoisseur after spending two years 'stuck' in New Zealand and being fortunate enough to have a job that involves travelling and trying out a bunch of experiences, including hot pools! But I can honestly say that Deep Blue is up there with the best hot pool complexes I've ever visited in all my travels.
The sanctuary is an open-air complex of 15 hot pools, including sensory caves, shallow reflection pools, a cold plunge pool, a rainforest cave with a waterfall, and more, plus a Nourish Dome café where you can rejuvenate with a healthy snack, a detox elixir or a hot drink.
The water in the hot pools is geothermal, with temperatures ranging from 36-42 degrees when it reaches ground level, and it's packed with minerals like sulfur, silica and magnesium. Geothermal water has a range of benefits, it boosts cell oxygenation and circulation, stimulates your metabolism, and expands your blood vessels which aids muscle relaxation and recuperation.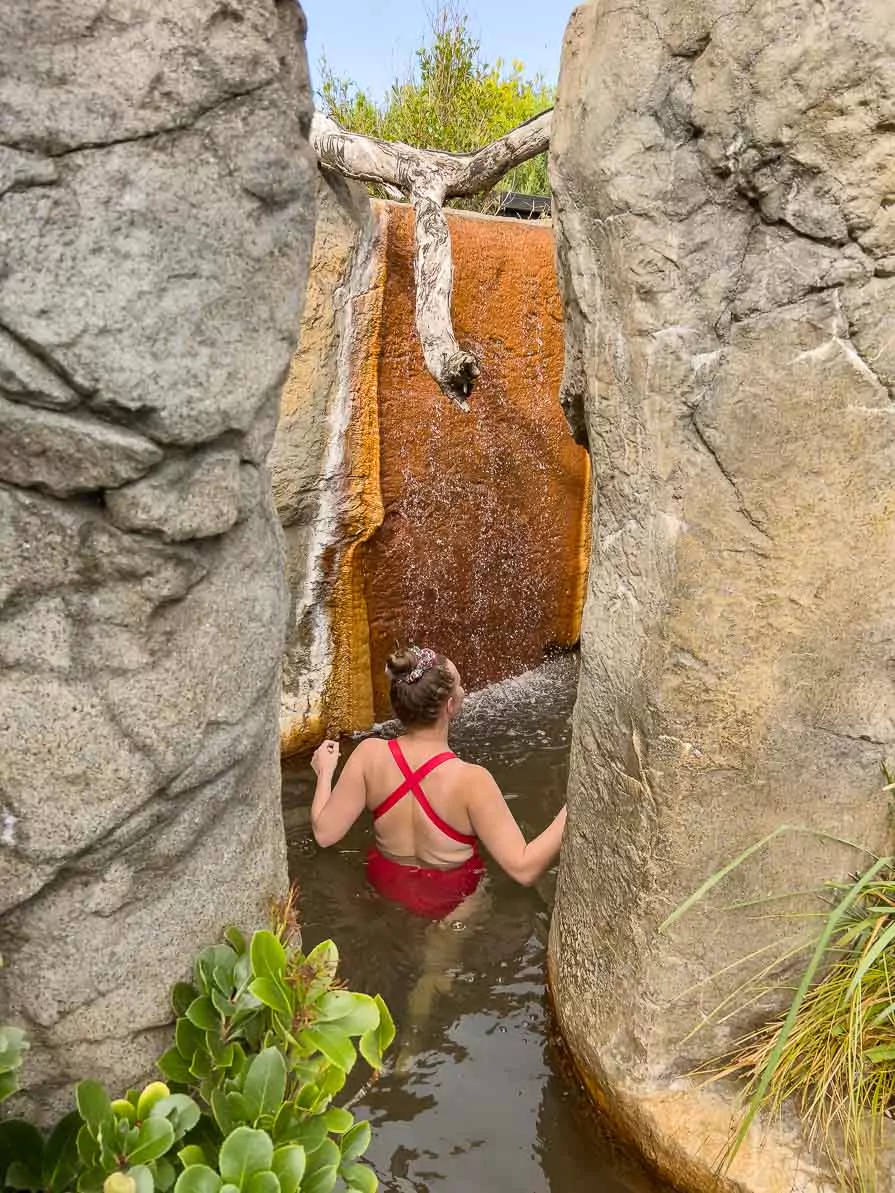 There are four sessions a day at Deep Blue Hot Springs with limited tickets so it's best to book in advance. The early rise session is from 8am-10am and tickets are $33, then there's a morning session (11am-1.30pm) and an afternoon session (2.30-5pm) for $46, and the twilight session is $57 for three hours from 6-9pm. Kids over 5 are allowed in the three daytime sessions but the twilight session is 16+.
I visited during the school holidays which probably wasn't a fair representation of the daytime sessions as on normal weekdays there obviously wouldn't be school children there, but I preferred the twilight session as it was adults only.
What I mostly loved about the experience though was that everything was focused on maximum relaxation, from soft lighting in the changing room to comfy robes and towels (at an extra cost) to calming background music while you're in the pools. The pool attendants and café staff were super friendly and helpful, the food and drinks were good, I just felt like I was in a little resort oasis but for such an affordable price!
The Day Spa
Deep Blue has a highly-rated Day Spa onsite as well as an indoor Bath House and a Salt Therapy room.
The Day Spa has all the treatments you'd expect, with massages starting from $105 for an hour as well as body wraps, scrubs, facials and more.
The Bath House costs $17.50 per person for 60 minutes on weekdays, $23 per person on weekends, and you can upgrade to a private room for $30 for one person for 30 minutes or $45 for two people.
Salt Therapy was something that I was meant to try out but unfortunately the machine was out for maintenance on the day I was there, but it's essentially a natural and clinically-tested treatment focused on respiratory cleansing, where you relax in a room and breathe in salt particles that reduce the inflammation of mucus membranes in your respiratory system. This is on my list for the next time I visit! A 45 minute session is only $25.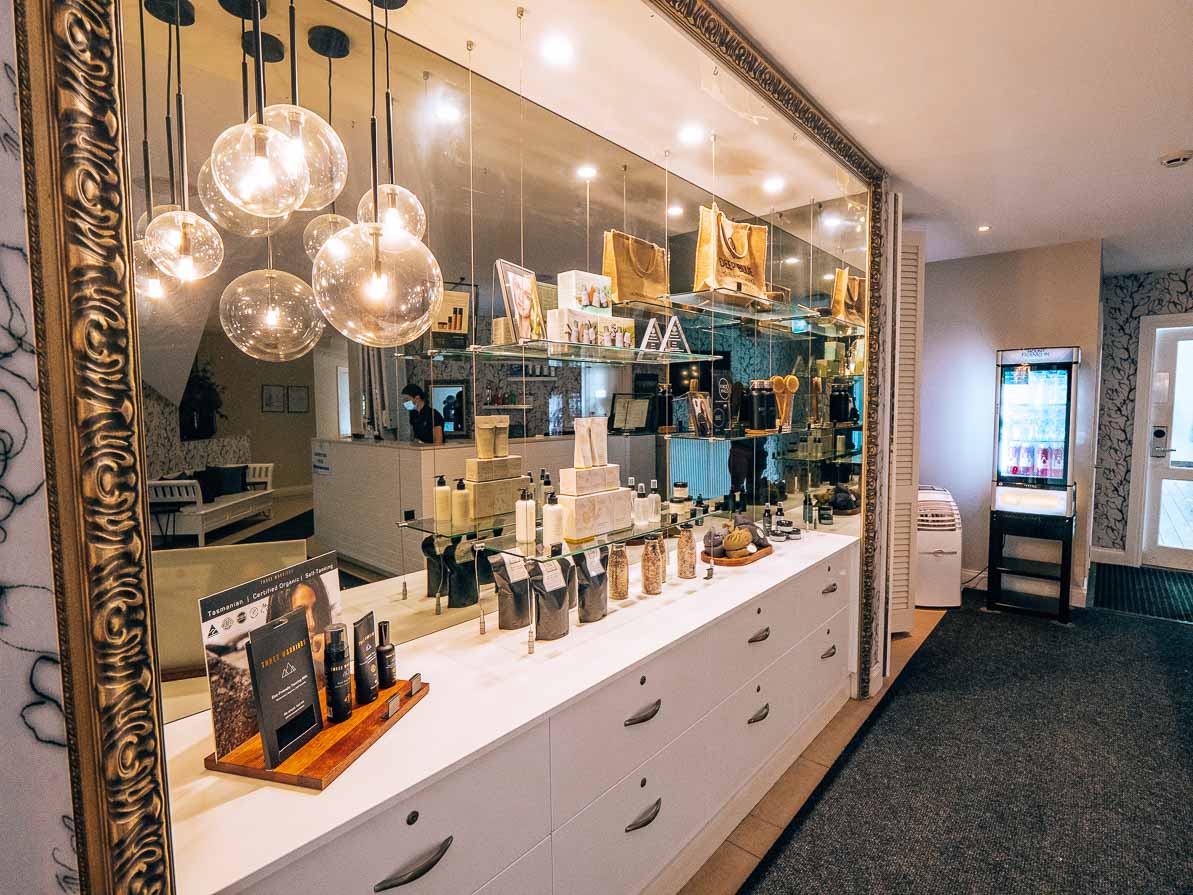 The area
There is loads to do nearby and within a short drive.
Aside from visiting Deep Blue Hot Springs, some of the best things to do in Warrnambool are:
Seeing the wild waves crash along the aptly-named Shipwreck Coast, I recommend parking up at Breakwater Rock Pier for a good view
Watching the sunset from Thunder Point Lookout or Stingray Bay
Renting an e-bike and making your way down the Foreshore Promenade
Visiting Flagstaff Hill Maritime Village to learn about the area's history
If you have a rental car and want to explore a bit beyond the city, my top recommendations would be:
Head out to Tower Hill Wildlife Reserve and spot emus, kangaroos, koalas and native birds
Make a stop at Port Fairy to check out the impressive range of local art stores and galleries
Chase waterfalls with a visit to the easily accessible Hopkins Falls, or if you're keen to drive further you could take the 1.5 hour trip into the Otways and check out Triplet Falls, Hopetoun Falls and Beauchamp Falls
If you're there during whale migration season, be sure to stop of Logans Beach Whale Watching Platform (I'm scared of whales so I obviously didn't do this but the vast majority of normal people would enjoy it I'm sure)
Get up close and personal with Great Ocean Road's rugged coastline! There are loads of places to stop along this stretch of the Great Ocean Road but some of the must-dos are Magic Rock, Childers Cove and the secret Sandy Cove, Halladale Point, the Grotto, London Bridge, Loch Ard Gorge and the famous 12 Apostles.
The verdict on Deep Blue Hotel & Hot Springs
My stay here was just divine, two nights wasn't long enough! It was the perfect mid-trip stop for me as I was driving from Melbourne all the way to Adelaide, and being able to experience the luxurious hotel room, the magical hot pools (twice in one day even!) and the great food from the restaurant was absolutely a highlight of my Australia road trip so far.
If you'd like to book your session at Deep Blue Hot Springs you can find out more here, and you can search your travel dates for Deep Blue Hotel right here.