Dierdrei and Richard's gorgeous cottage homestay in Taupo is the ideal place to stay in Taupo for a couple, two friends or a small family. Read on for my full review of Taupo's Treat Homestay.
When deciding where to stay, I always consider a few key things: comfort, location and character.
Taupo's Treat has these three boxes ticked, and more!
With a self-contained flat with a superking bed plus a sofa bed that converts to a second superking, an easy 15 minute walk to the lake, and fun extras like fluffy chickens that roam the garden or an outdoor bath to soak in, I guarantee you won't be disappointed with your stay here.
---
An overview of Taupo's Treat
With an average rating of 4.96/5 from almost 300 reviews, this cute homestay is one of my top picks for Taupo Airbnbs.
The cottage is next door to Richard and Dierdrei's family home, with your own bedroom/lounge, kitchen and bathroom, and sharing the family's sun-soaked backyard, complete with fruit trees and veggie plants, fluffy araucana chickens (and fresh eggs if you're lucky) and a cast iron outdoor bath.
The hospitality here is particularly incredible, the couple have three young children who are homeschooled and eager to meet guests, and the family has gone above and beyond to make each stay unforgettable.
When you're not enjoying the quaint cottage, you've got easy access to all the best things to do in Taupo, with a short 15 minute walk to the lake or 20 minutes into town.
---
What is the space like?
The cottage is spacious and comfortable, with a huge bed, fold out sofa bed and option for a toddler bed too.
The kitchen is equipped with an oven, stove top, microwave, toaster, kettle and fridge, plus there's a washing machine if you're staying a while. You'll be provided with muesli and milk for breakfast.
There's a TV in the room with a DVD player, and WiFi is unlimited. A heat pump will keep you warm in winter or cool in summer.
Outside you've got a seating area for outdoor dining, a BBQ if you want to use it, and a decent fully-fenced backyard if you've got any little ones who want a run around.
---
Any fun extras?
The real star of Taupo's Treat are the gorgeous araucana chickens, a fluffy chicken breed from South America. These mohawk-rocking chooks lay blue eggs so keep your fingers crossed for a free breakfast.
Another gem of this homestay is the outdoor cast iron bath, complete with bath salts for ultimate relaxation.
Taupo's Treat also has a kayak and townbike available if you'd like to use them.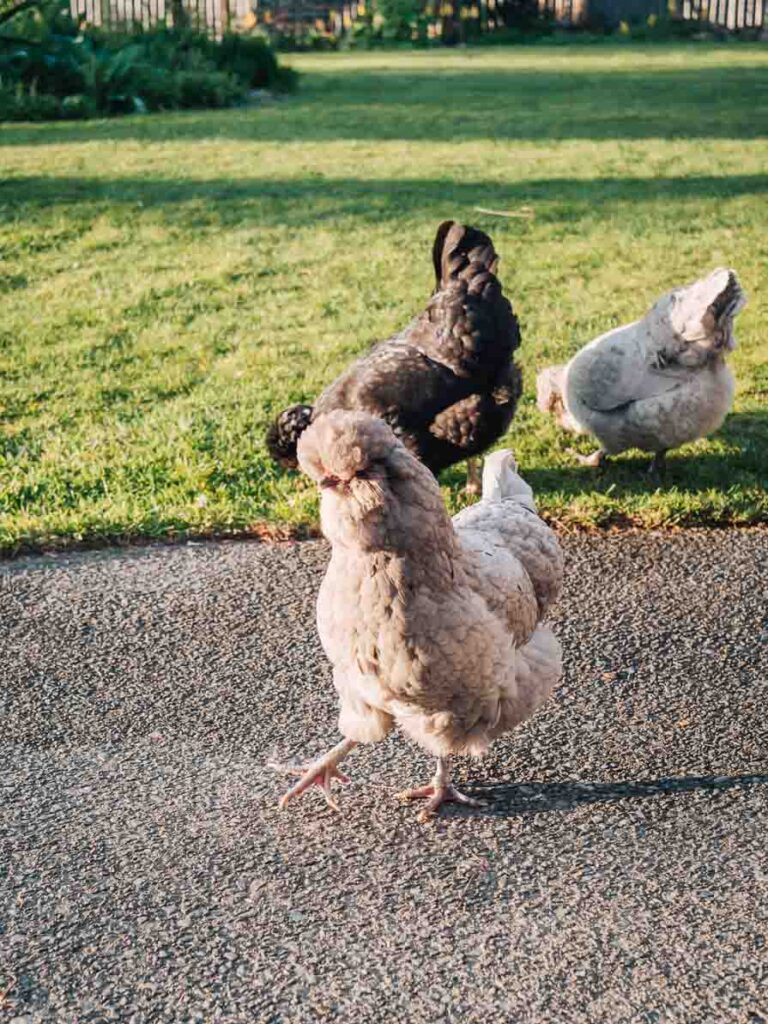 ---
Where is Taupo's Treat?
Taupo's Treat is located at 188 Tamamutu Street, just over a kilometre from the lake and 1.5km from the main township and restaurants.
---
The final verdict
My favourite things about staying at Airbnbs compared to hotels is the people you meet and the character-filled homes, and Taupo's Treat was no different.
Dierdrei and her family are brilliant hosts and it was a treat to meet them.
The cottage has been decked out with thoughtful touches to ensure you have an excellent stay, and it's incredible value for a comfortable place so close to the lake.
---
How to book Taupo's Treat
You can book Taupo's Treat on Airbnb right here.
RELATED READS:
---
Like this blog? Pin it!
Huge thanks to the Taupo's Treat team for hosting us for one night. As always, all opinions are my own and are completely based on my personal opinion.