As well as being the adventure capital of New Zealand, Queenstown is arguably the most tourism-focused destination in the country, and it's got no shortage of hotels to house its guests. Visitors to the city can choose from mountain views, luxurious rooms, brilliant on-site eateries, ski-friendly facilities, budget options and fancy extras, depending on what they're looking for.
YOU MIGHT ALSO LIKE: The Perfect 5 Day Queenstown Itinerary
After eight visits to the city, staying with over 10 different Queenstown accommodation providers, I can say that hands down, the best value luxury Queenstown hotel is the stunning Kamana Lakehouse.
Kamana boasts lake and mountain views, hot tubs exclusively for guests, a world-class restaurant and beautiful rooms, and it's ideal for any romantic holiday, girls' trip, winter adventures or summer treat.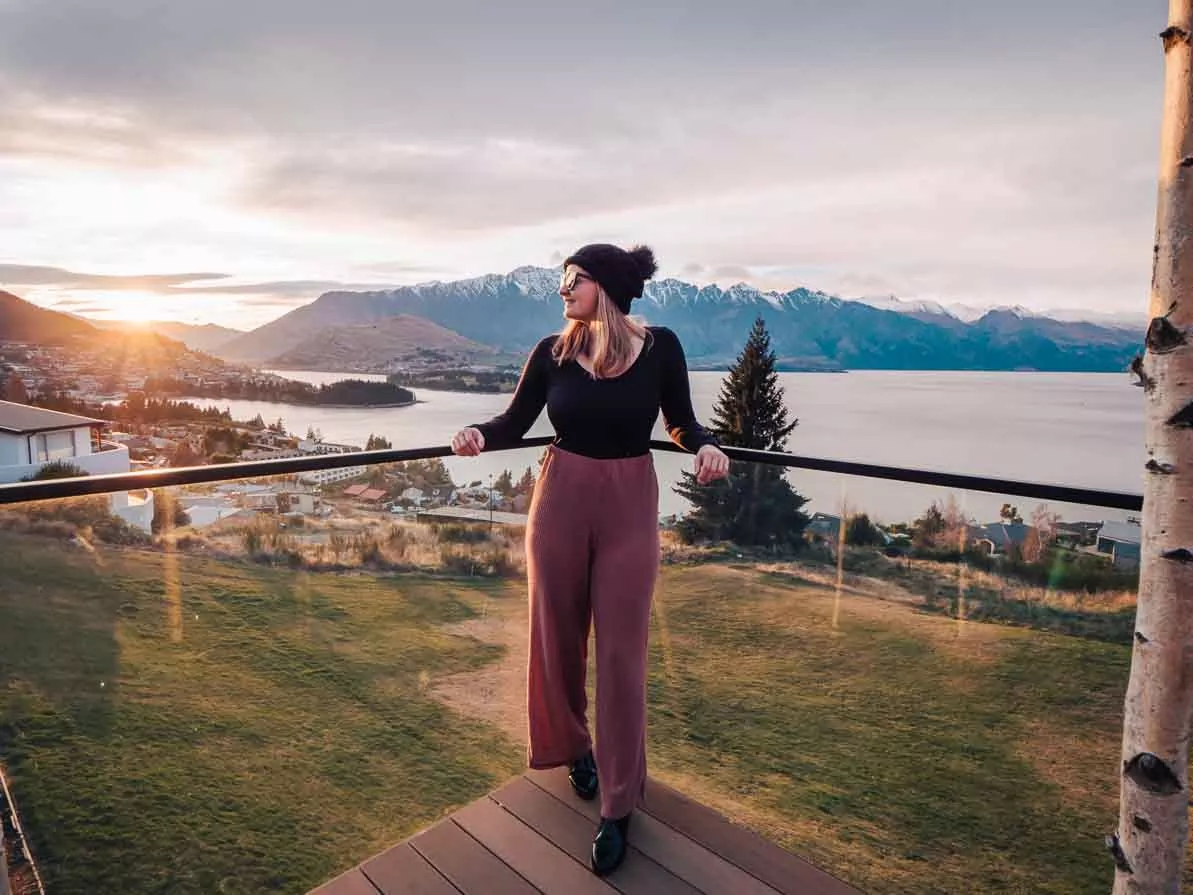 Read on for my full Kamana Lakehouse hotel review to see why I loved it so much, and why you should book it for your next Queenstown holiday.
---
An overview of Kamana Lakehouse
Perched on the sloped of Fernhill, low enough for easy access to the city centre but high enough to feel private and soak up some incredible views, Kamana Lakehouse is one of the newest, and fanciest, hotels in Queenstown.
The hotel design is impeccable, making the most of natural light, local materials and funky details. Two of my stand out design features were the hanging fireplace in the bar area and a timber-filled dry room to store your ski and snowboard gear overnight. This is a place where you can really embrace Queenstown's chilly winters, rather than craving summertime.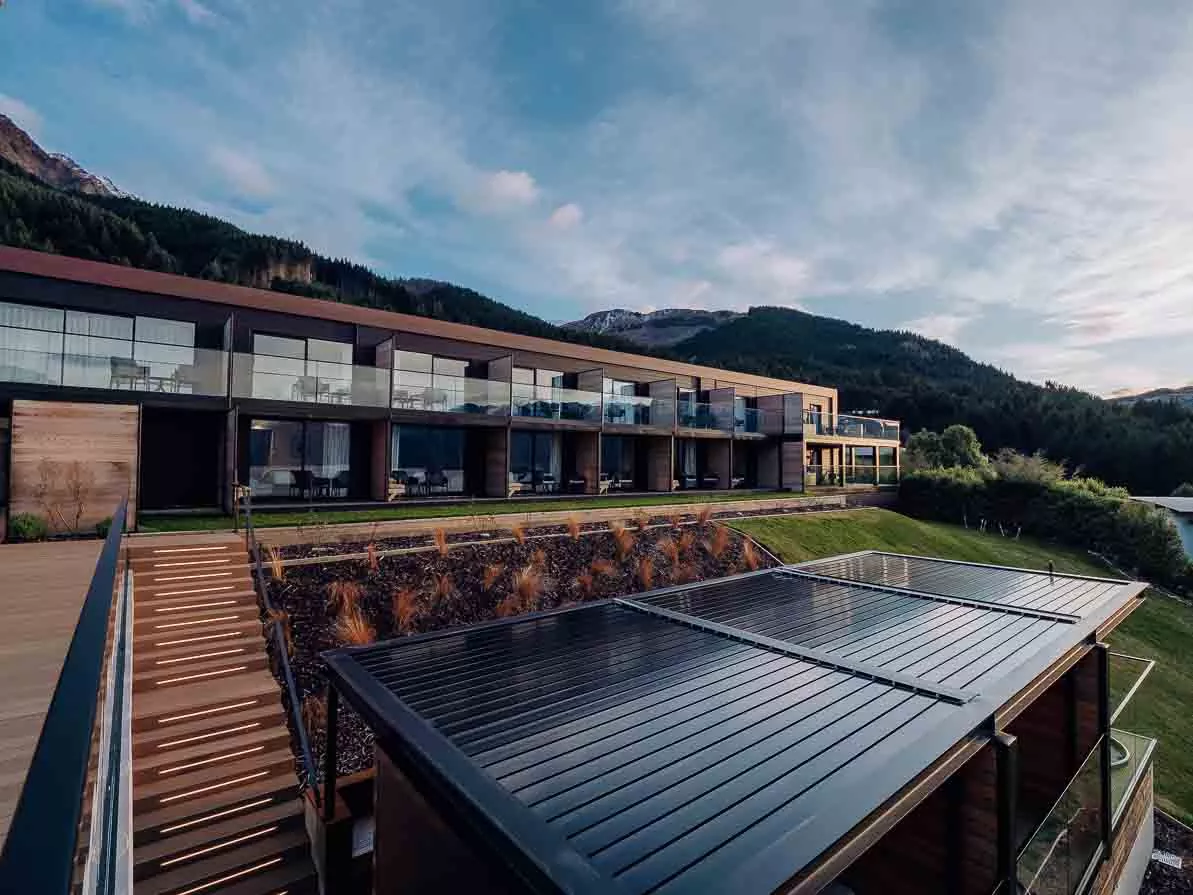 And beyond the hotel's interior, the views are to die for.
The top-end rooms all have panoramic views of the mountains and Lake Wakatipu, with the mid-level rooms able to enjoy seeing the mountains from their balcony. The lead-in rooms are on the ground floor so won't get the views, but both the restaurant and hot tubs look over magical landscapes so guests can still witness Queenstown's famous sunrises and sunsets.
The staff were warm and welcoming, eager to help make our stay as comfortable as possible, and the on-site restaurant serves up fine dining dishes for a surprisingly reasonable price.
---
What are the rooms at Kamana Lakehouse like?
We stayed in a Remarkables Twin, located in the hotel building behind the main lakehouse (where the top-end rooms, reception, restaurant and hot tubs are). The room had a view of the Remarkables mountains, as well as the lakehouse and the carpark, and we did manage to see some incredible sunset colours from the balcony.
The room itself wasn't super fancy but it was more than adequate for what we needed. The queen beds were really comfortable, with warm duvets and fluffy pillows. It had all the usual mod-cons; a mini fridge, TV, hair dryer and kettle with a selection of T2 teas, coffee and hot chocolate.
The bathroom was simple but sleek, the lighting was great for getting ready (Queenstown was the only place I wore make up on our whole two month trip!), and the shower was huge with great water pressure.
Kamana uses Real World toiletries in their bathrooms, they're a Kiwi company who produce handmade, all-natural, plant-based and eco-friendly skincare. YAY for the planet, and YAY for supporting small businesses!
---
Kamana Lakehouse facilities
Any guesses at my favourite thing about this place? That's right, HOT TUBS!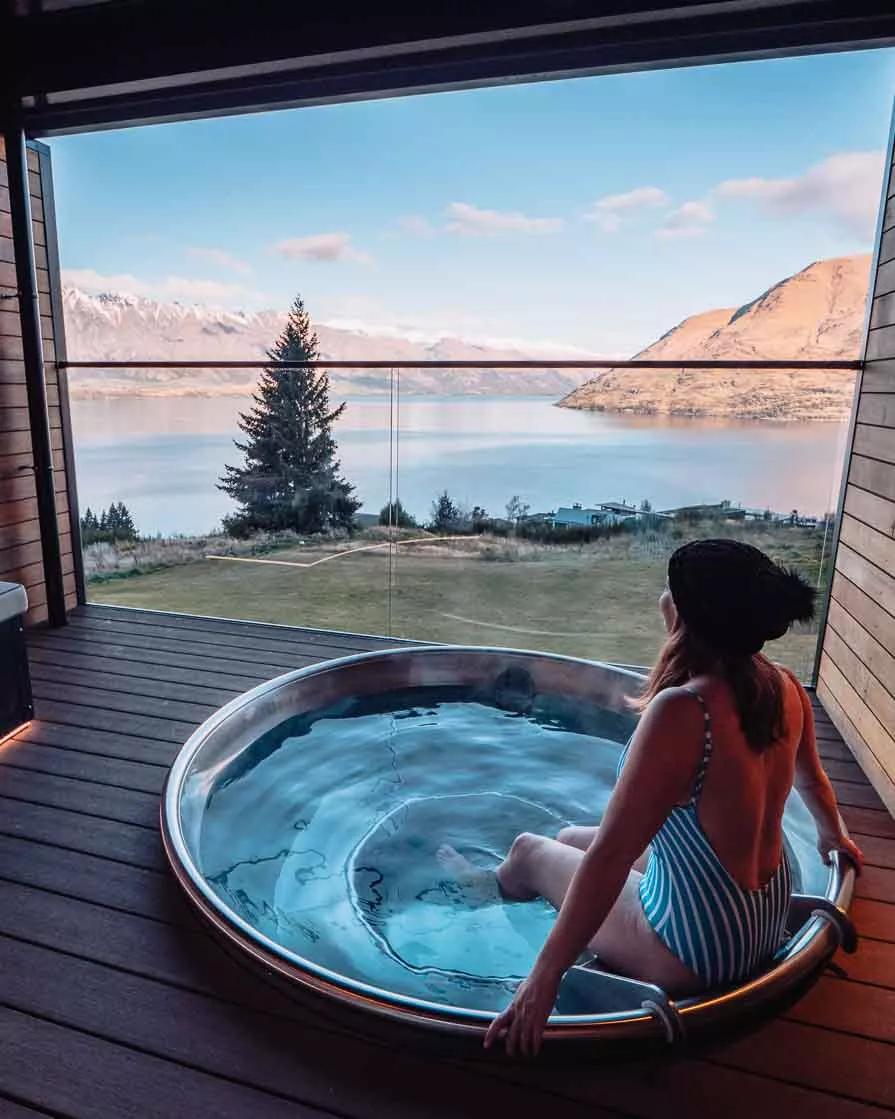 Fast-gaining a reputation for the most Instagrammable hotel in Queenstown, Kamana Lakehouse's hot tubs have propelled it to the top of wishlists all over social media, and they should be on your New Zealand bucket list too.
You get a private tub in an open-air room with a louvered roof, a huge opening overlooking the mountains, and a comfy couch if you need a break from the heat. The feeling of jumping into a hot tub after a long day on the slopes is unbeatable.
And better yet, these hot tubs are exclusively available for hotel guests to book (meaning you're not competing with every other tourist in the city), and they're priced at just $100 for an hour for up to three guests. In comparison, Onsen Hot Pools often book out weeks in advance and they're $126 for two people or $175 for three.
For the snow bunnies out there there's a dry room to store your gear when you're not on the mountain, complete with ski/snowboard racks, boot warmers and space for your ski clothes too.
And if you're renting a car, another thing that makes Kamana Lakehouse stand out is that they have free parking if you book direct on their website. Complimentary parking in Queenstown is almost unheard of! Each room gets a free parking space on-site, so you don't need to pay big bucks to keep your rental somewhere safe.
---
Food & drink at Kamana Lakehouse
I'll be honest, I'm a bit wary of hotel restaurants. In the past I've found them quite highly priced due to convenience rather than food quality, but Nest Restaurant at Kamana Lakehouse invited us to have dinner so obviously we accepted. Who am I to say no to free food?
And oh my gosh, I am SO glad we did. My food standards are high, and they exceeded them in all ways. It was fine dining, but for a reasonable price (had we been paying) and within a 30 second walk of our hotel room. The dream!
Before our meal we ordered a drink from the bar and got comfy by the fireplace in the lounge. The cocktail list was varied and creative, with a couple of specials, a decent selection of Kamana favourites, and a few classics with a twist, as well as a whole menu page dedicated to New Zealand-distilled gin. Their wine list was impressive too, with loads of Central Otago vino available, plus some non-Otago Kiwi favourites and a few Australian reds for good measure.
Nest Restaurant serves dinner from 5pm every night, and is open to non-guests as well. Even if you don't stay at Kamana, I would highly recommend booking a table at Nest.
The menu has four options for starters, mains and desserts, and there's a three course menu for $60. Starters are $18-$24, mains are $36-$38 and desserts are $18 so the three courses are worth it if you're hungry.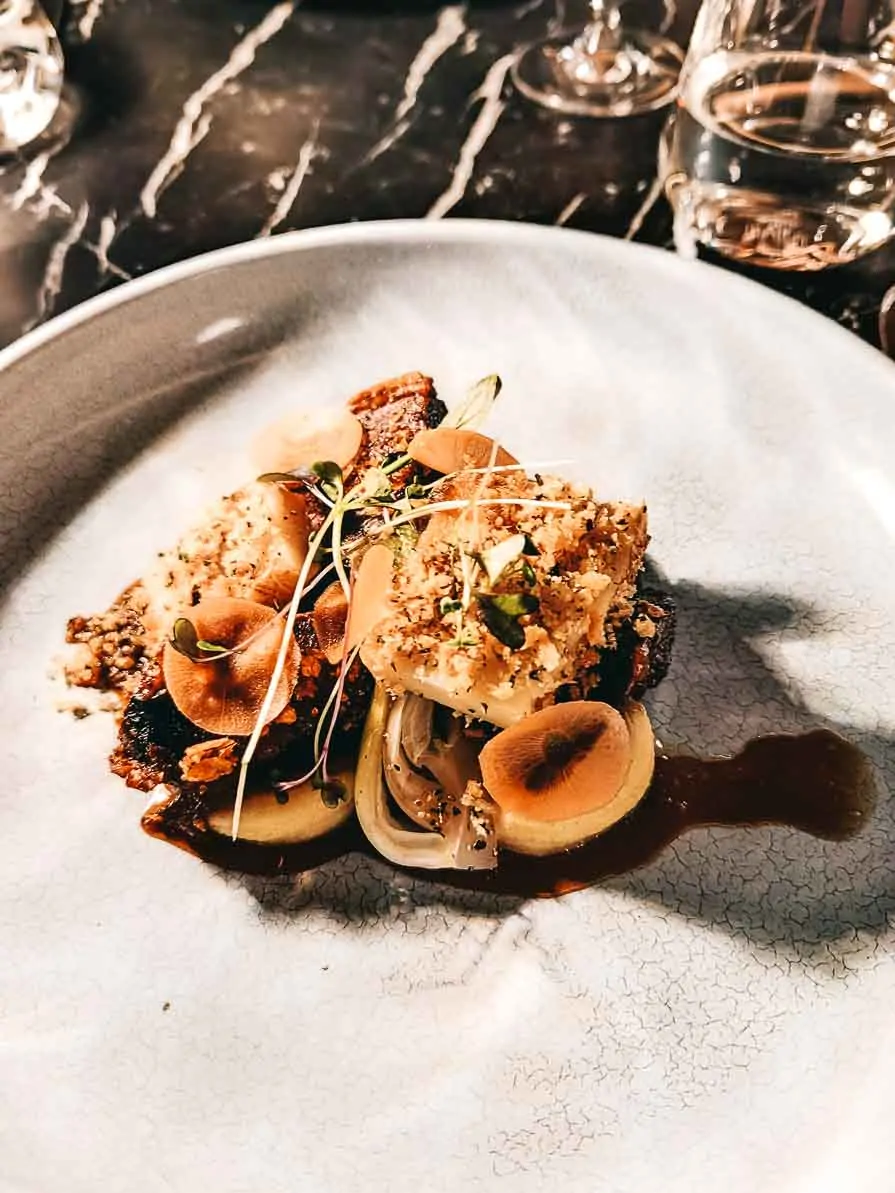 Nest's dishes change weekly depending on the season and availability of local produce, but each of the six meals Sarah and I had in total were divine. I went for the foccacia with feta mousse and hummus (I can never go past feta mousse), beef cheeks for my main, and a deconstructed pumpkin cheesecake. After scoffing down our three courses, we enjoyed a couple more cocktail before heading back to our room to binge-watch Love Life with Anna Kendrick. I recommend all the above.
The next morning we headed back to Nest to enjoy a delicious breakfast. Normally Nest offers a breakfast menu but due to COVID restrictions it was just one option of a big breakfast, with a plate of cooked food per person plus a plate to share of pastries and fruit. And it was fab of course!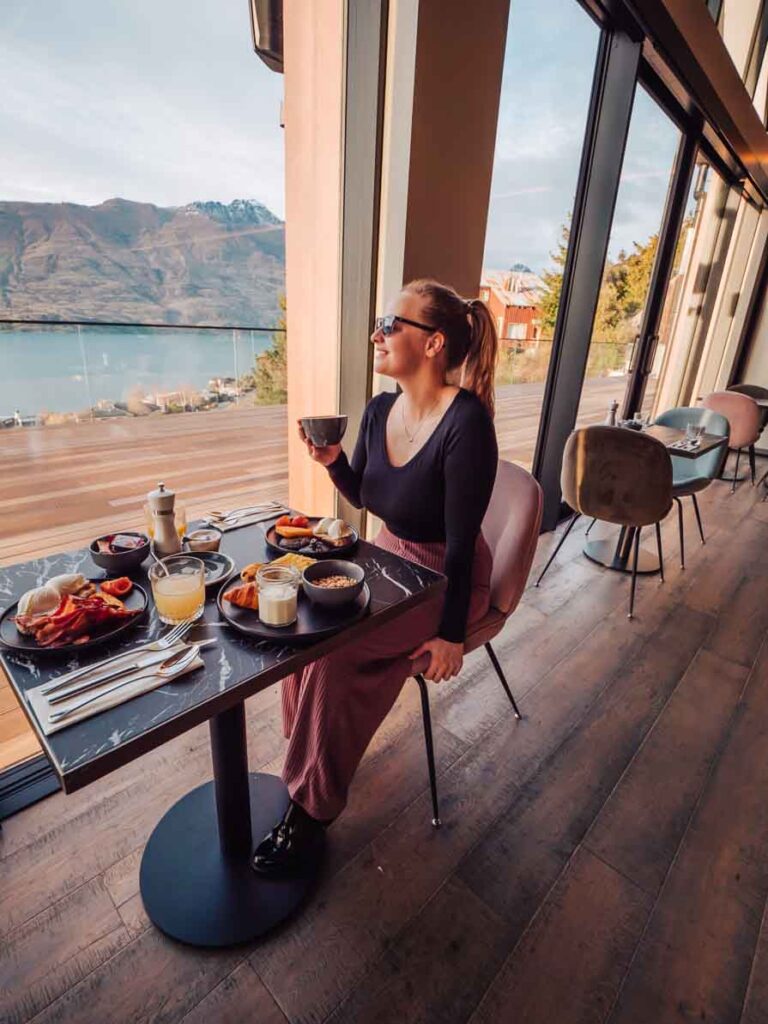 ---
Where is Kamana Lakehouse?
Kamana Lakehouse is just a few minutes' drive, a 25 minute walk or a 5 minute bus from the main centre of Queenstown, and it's past the city if you're coming from the airport.
---
The final verdict
I'm obsessed! I've been lucky enough to stay in some of the best hotels in the world, and Kamana Lakehouse really stands out as special.
Maybe it's the views of NZ's most beautiful city, maybe it's the hot tubs, or maybe it's the deconstructed cheesecake I can't stop thinking about even a month later. Whatever it is, it makes me want to go back. I guess that means it's time for a ninth trip to Queenstown…
---
How to book Kamana Lakehouse
You'll get the best deal, as well as complimentary extras like free parking, by booking directly with the hotel right here. Prices for the cheapest rooms start from only $143, an absolute bargain!
If you want to cross-check the price with booking.com, you can do that by clicking here.
I know some people prefer to choose a self-contained apartment in Queenstown for a skiing trip, but even so I would really recommend booking at least one night at Kamana for a proper holiday.
---
Like this blog? Pin it!
Huge thanks to the Kamana Lakehouse team for hosting us for one night on our NZ road trip. As always, all opinions are my own and are completely based on my personal opinion.