Looking for a Wanaka glamping spot to add to your itinerary? These gorgeous new geodesic domes combine the best bits of both luxury accommodation and campground vibes, rounded (pun intended) into a brilliantly unique accommodation experience.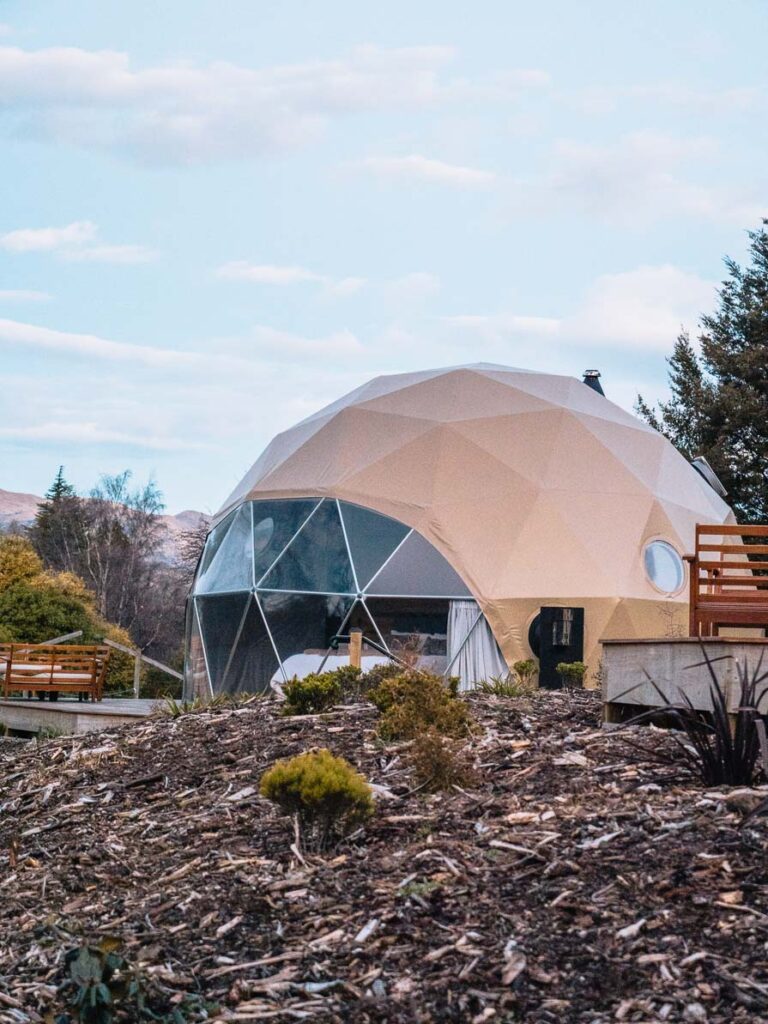 Now this is one for the bucket list. Whether you're heading down south for a South Island road trip, a short romantic getaway or an active adventure, Cross Hill Domes is my absolute favourite place to stay in the Wanaka region.
Cross Hill has six spacious domes set on the grounds of The Camp, a classic Kiwi campground on the shores of Lake Hawea, just 15 minutes from Wanaka.
The domes themselves are simply stunning, with interior design that rivals boutique hotels, a luxurious bathroom (a common sacrifice in the glamping world), and convenient extras like tea and coffee making facilities, an indoor fire and storage space for your luggage.
But beyond the incredible accommodation, Cross Hill's point of difference is their unwavering focus on community and connection. All dome guests have access to Cross Hill Lodge, a shared space for meals, drinks and fire-side catch ups, the perfect way to meet other travellers.
Here's a full review of my time at this epic Wanaka glamping spot, or if you're already keen to lock in your stay (I don't blame you!) you can book your stay at Cross Hill Domes online.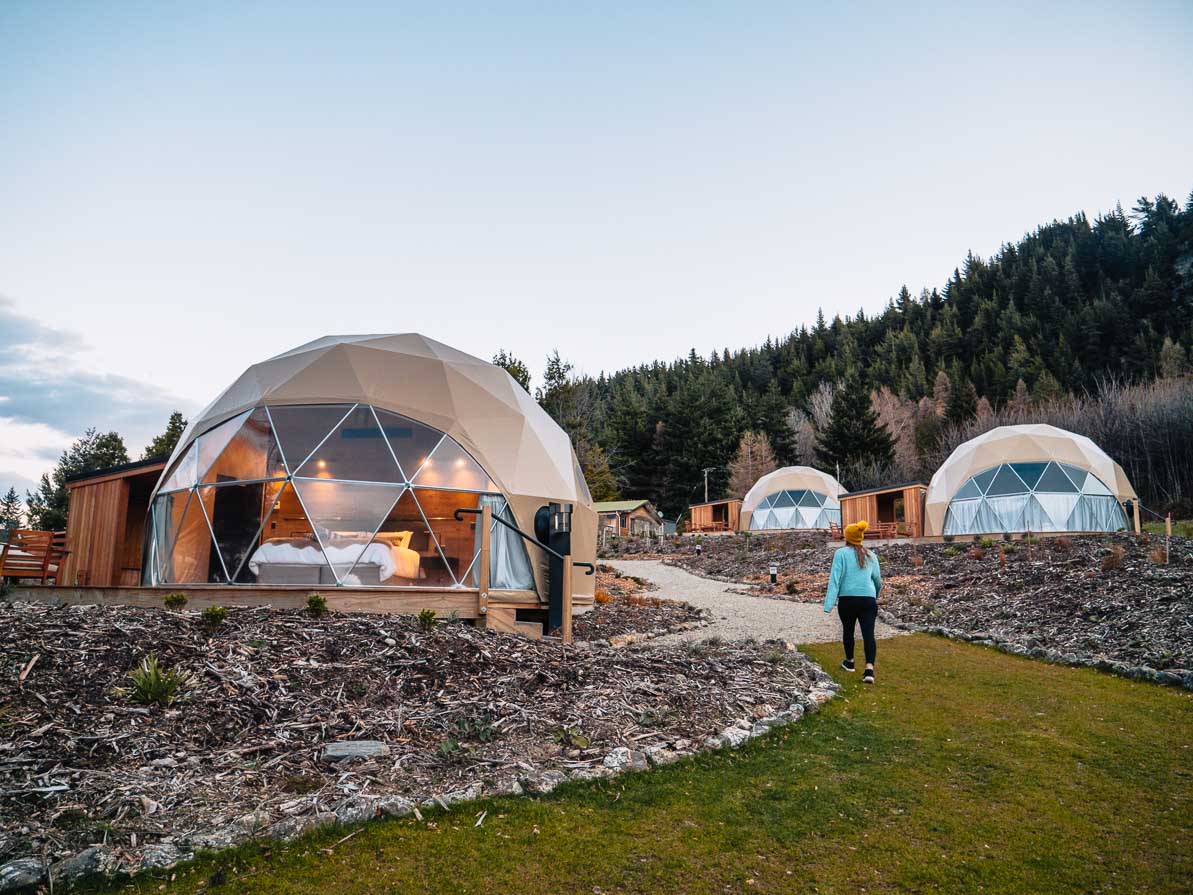 ---
Where are Cross Hill Domes?
Cross Hill Domes are found at the foot of the high country hills that separate Lake Wanaka and Lake Hawea.
A short two minute walk from your dome will take you right to the shores of Lake Hawea, with mountains lining the horizon in the background.
It's a few minutes' drive to Lake Hawea township or just 15 minutes to Lake Wanaka. If you're coming from Queenstown it'll be 1h 15m, or from Franz Josef Glacier on the West Coast it'll be a 3h 30m drive.
While it does add on a little longer to get home from Wanaka adventures, having easy access to the much quieter but equally stunning Lake Hawea is totally worth it, and the Wanaka glamping options are limited so I guarantee you won't find anything this good any closer to town.
---
About Cross Hill Domes
Cross Hill Domes are the latest addition to the accommodation options available at The Camp, an iconic holiday park and long-time summer favourite for locals and travellers alike.
The Camp has tent sites, campervan sites, cabins, tiny homes and safari tents available, but Cross Hill Domes are by far their most luxurious offering.
The domes and campground are owned by local legends Richard and Sarah Burdon, who run the high country Glen Dene Station just up the road, and the combination of high country hospitality along with sustainable tourism practices make it such a unique place to stay.
It's clear that the Cross Hill Domes team are all about going above and beyond to provide the ultimate glamping experience. I'm obsessed!
---
The dome
I've said it already but I'll say it again: the interior is STUNNING.
Everything has been thought of here, maximising privacy without sacrificing natural light, providing home comforts like temperature control and a coffee machine, and making sure the guests feel as close to nature as possible while enjoying a huge comfy bed and full bathroom.
Each dome is 40sqm and has an outdoor deck of 30sqm, plenty of space to relax. The entranceway is covered and has coat hangers plus a storage box for any outdoor gear.
Inside the dome you'll notice the efficiency of design, making the most of every bit of space.
In the middle there's a well-lit bathroom with a toilet, shower, mirror and sink, one of the fanciest glamping bathrooms I've ever seen! There's Ashley & Co toiletries too so no need to pack your shampoo and conditioner and risk a toiletries bag explosion.
The front half of the dome is mostly taken up by the super-king bed which looks out through the floor-to-ceiling window, which has a half-height curtain for privacy while still allowing stargazing views at night.
To the far side of the dome there's your kitchenette, with a fridge, sink, tea and coffee, cutlery and crockery. If you're planning on self-catering, I'd recommend stocking up on local treats like Gibbston Valley Cheese, smoked salmon from Hook Wanaka and a local vino or two, and make a DIY platter to eat on your front deck as the sun goes down.
At the back of the dome there's a storage area complete with a full-length mirror, hangers and even bathrobes for total luxury.
---
The lodge
Cross Hill Lodge is a huge part of the allure of this Wanaka glamping spot, and it's what sets it apart from any competitors.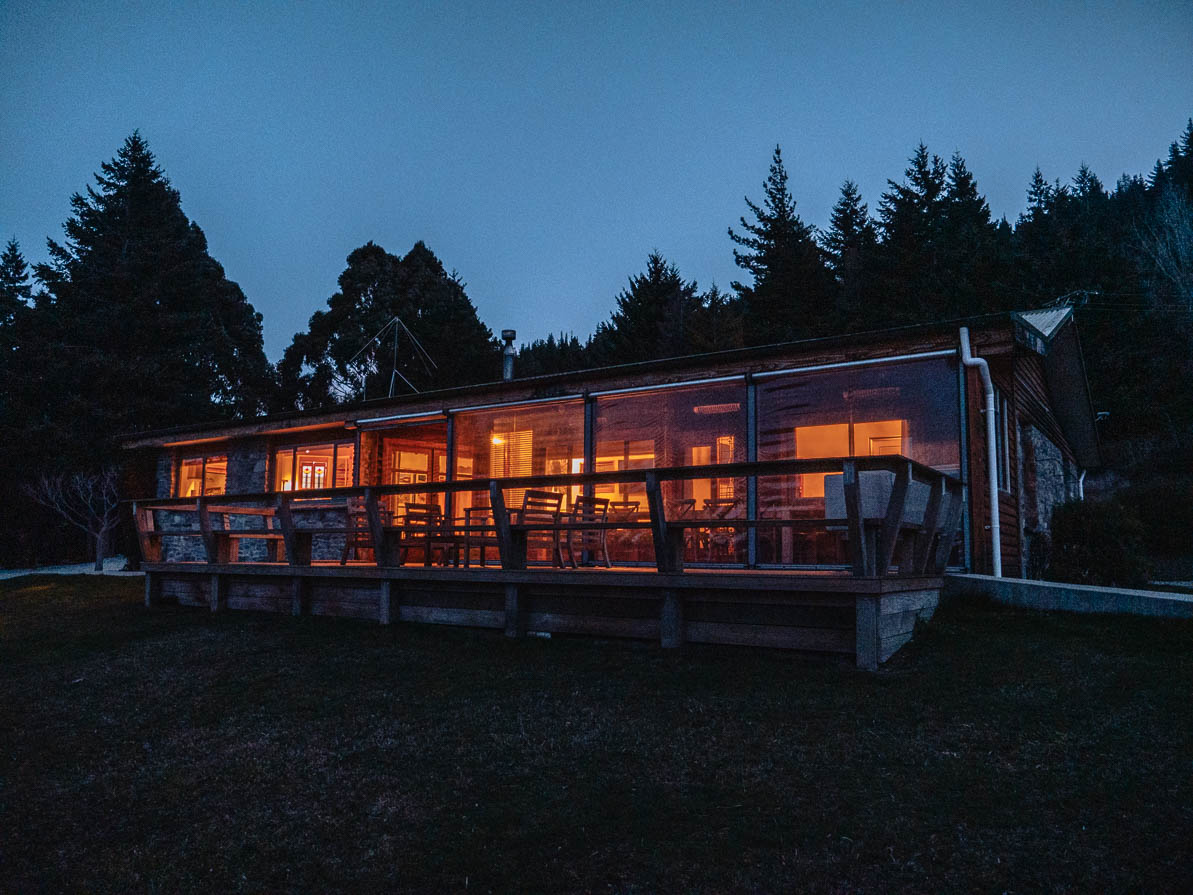 The Lodge has an in-house chef who prepares a cooked breakfast for all guests, and there's an optional three course dinner add on with seasonal, local ingredients if you want the full package. There's dining space to fit all guests so you can mix and mingle over your delicious farm-to-table meal.
There's a whiskey room for relaxing, a big TV if you'd prefer a movie night or if there's a rugby game to watch, and a fire to keep cosy. There's also an office space if you need it, although I hope for your sake you get to enjoy time off work!
Outside of the lodge there's a woodfired hot tub exclusively for Cross Hill guests, and you can lock in your preferred time when you check in.
---
The views
The domes are set in a pretty dramatic setting, with rugged farmland behind them and Lake Hawea separated by towering trees in front.
It's only a minute's walk down to the lakefront where you can skip rocks and see what you can spot in the clear water. Behind the lake there's a seemingly endless strip of mountains, snow-capped in winter, and it's a stunning spot to watch the sky change colour at dawn or at dusk.
At night, if you're lucky enough to be staying when the sky is clear, switch all the lights off and enjoy Milky Way views right from your bed.
Or if you're like me and want to shoot with a tripod outside in the middle of winter, be sure to wear gloves! My hands almost froze taking these photos. Worth it though.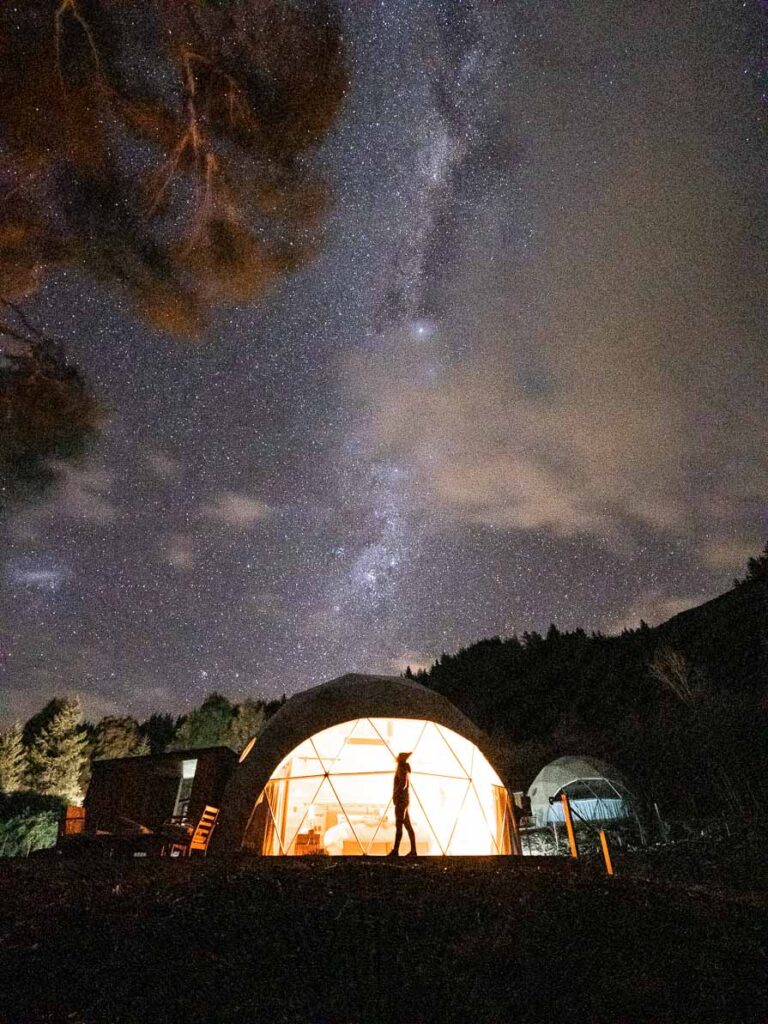 ---
The area
The Hawea area boasts a bunch of active adventures, from hiking tracks to cycle trails to fishing, kayaking, farm tours and more.
And closer to town, there are plenty of things to do in Wanaka to fill any itinerary. Here are a few of my favourites:
Climb up a waterfall (for real!) with Wildwire Wanaka, my favourite Wanaka activity
Climb Roy's Peak
Go on a scenic helicopter flight over Lake Wanaka and up to Coromandel Peak (just below Roy's Peak)
Take a scenic flight to Milford Sound and back
Enjoy a delicious brunch at Urban Grind, Federal Diner or Scroggin
Treat yourself to a fancy dinner at Wanaka Gourmet Kitchen, Kota or Francesca's
Do a lake cruise out to Mou Waho Island
---
The verdict on Cross Hill Domes
A brilliant option for a proper luxurious Wanaka glamping getaway. Especially ideal for anyone who loves meeting other travellers!
---
Book your stay at Cross Hill Domes
A one night stay at Cross Hill Domes starts from $400 for two people, you can book online here.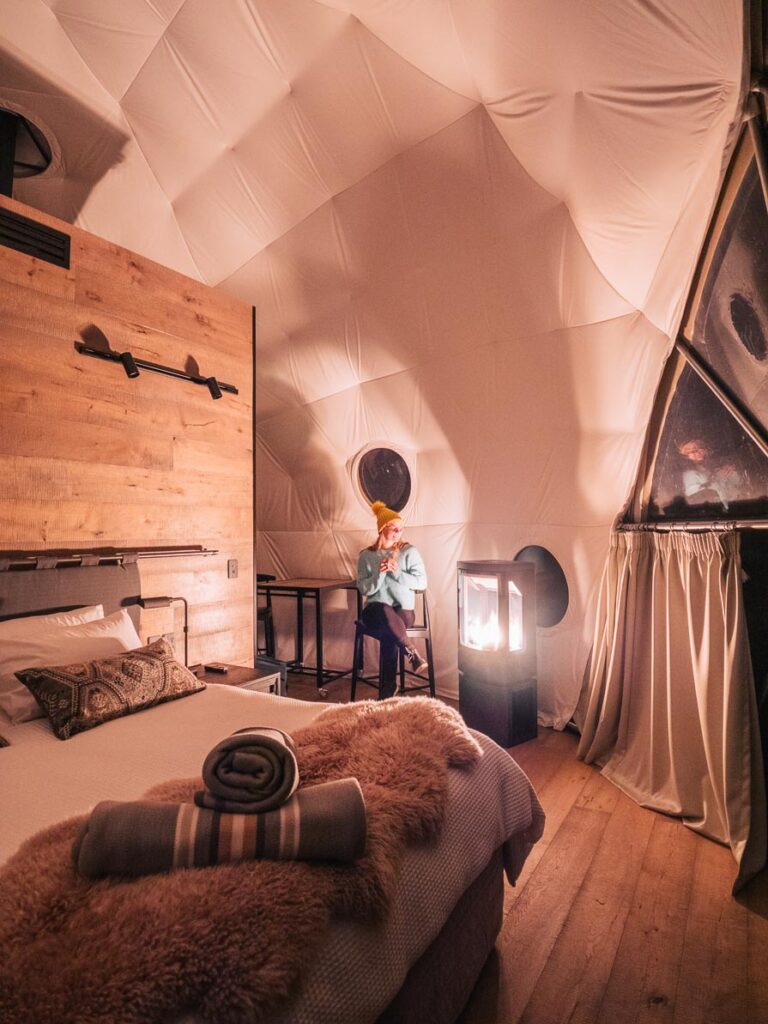 ---
I hope this review has helped you decide whether to add Cross Hill Domes to your Wanaka itinerary. If you have any questions about the destination or things to do in the area just let me know in the comments and I'll get back to you. Safe travels!
---
Read more about New Zealand
---
Like this blog? Pin it!
I was kindly hosted by Cross Hill Domes but as always all opinions are my own and are 100% based on my personal experience.