52 countries, 52 weeks, mostly solo, sharing all my adventures and misadventures with the whole world! Exciting? Yes. Crazy? Also yes. I started planning this insane trip back in January 2019, booked my first flights in April, and officially set off on July 9 to Paris for my first stop.
I've got LOADS of messages and comments from people wanting to know more about why I'm doing it, how I'm planning it, where I'm going and how I can afford it, so I wanted to put all the FAQs in one easy place. Read on to learn all about my 52 in 52 travel project!
If you want to learn more about me and my previous trips, check out my personal FAQ here.
Skip straight to what you want to know: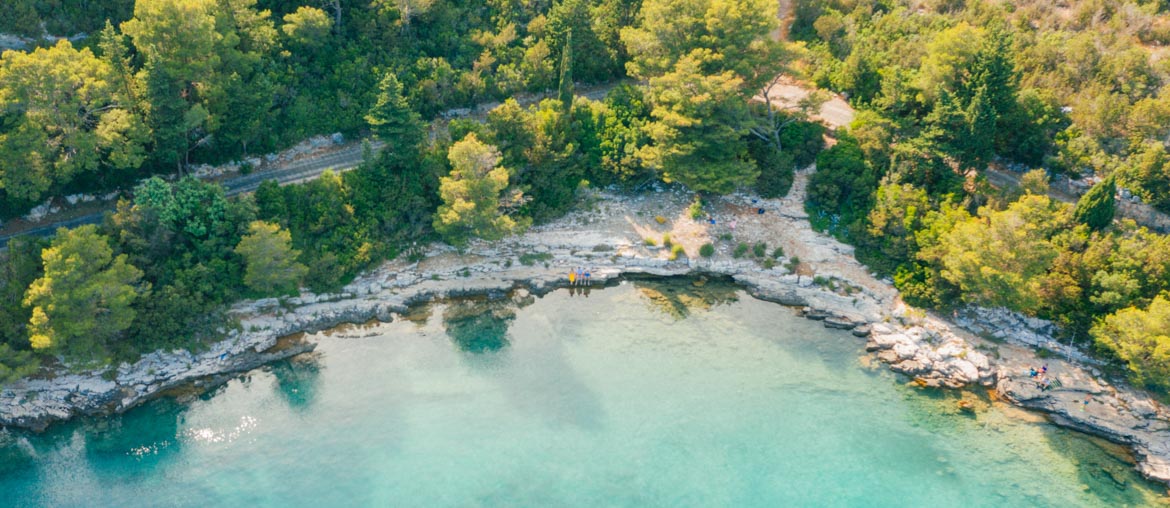 What is 52 in 52?
I'm visiting a new country every week for a year (almost), with the route based entirely off the cheapest flight available each week.
I used Skyscanner's Everywhere search tool to check for the cheapest flight each Tuesday, then chose the first country that came up, booked a flight (or a train or bus if they were better), and repeated that over and over again!
As of writing this blog, I'm three weeks in to the year-long trip. Hello from Warsaw, Poland!
Why did you decide to do this trip?
This is a long one! In June 2019 my UK working holiday visa was expiring, so in early 2019 I started thinking about my next move. I definitely wasn't ready to settle back in NZ just yet, and after an extended period in an unhappy job situation I felt sick at the thought of sitting in an office in another country, so long-term travel was the obvious option. But that was the easy part!
With no travel buddy, not a huge amount of savings and no financial security, and on the other hand literally endless opportunities of where to go and what to do, this was going to be a crazy trip to bring to life.
My previous full-time job of encouraging other young people to get out and see the world definitely grew into a personal mission, and I knew that I wanted to do some type of trip that helped break down the barriers that get in the way of people booking their next adventure. The two biggest ones? Time and money.
I know that the vast majority of people who follow me or read this blog don't have the freedom to take months off work, or the budget to explore Europe for weeks at a time.
There are plenty of incredible travel bloggers out there who share epic experiences of extended South America backpacking trips, or spending six months months in Asia, or road tripping across the entire globe (massive shout out to Expedition Earth!), but I wanted my trip to showcase adventures that any young traveller could replicate.
To tackle the time barrier, I decided to do a trip made up of 52 one-week adventures, showing how I make the most of seven days in each of the 52 destinations. I don't expect anyone else to try and visit 52 countries in a year (not sure if anyone else is that crazy haha) BUT I do hope my trip inspires someone to spend a week in Spain's Basque Country, or Turkey, or Tel Aviv, or any of the 52 places I'm visiting.
Oh, and budget? I'm just going where the cheapest flight tells me to go each week, which means no forking out because I need to be in a specific place on a specific date. Flexibility is key to getting cheap travel deals, and the route is taking me to loads of places I probably never would've added on to a world trip if I was planning it myself.
How cheap are your flights?
So. Cheap. I've booked the first 26 weeks so far, and the weekly transport (mostly flights, two trains, not including Bangkok to Kuala Lumpur to Singapore because I'm on a tour) has come to a total of £1750. That's 26 countries, all through Europe, the Middle East, Asia and down to NZ, for less than £2000! That also includes luggage, so if you were travelling hand luggage only (good luck to you haha) the price would be less than £800.
The second half of the trip will be more expensive as flying in Australasia, Asia and the Americas is pricier than Europe, but the total for the year should be between £4000 and £5000.
How do you find cheap flights?
The best way to find cheap flights is to be flexible on where and/or when you go. If you want to visit Disneyland in the school holidays then obviously you're going to be paying the highest prices, but if you can travel mid-week or in the shoulder season, and if you can consider visiting somewhere that's not necessarily a tourist hot spot, you're far more likely to get a good deal.
Of course, being flexible with time isn't always an option depending on your job or study situation. If there are specific dates you want to travel, I'd really recommend putting them in to Skyscanner's Everywhere tool to see all the cheap flight options for your dates.
You might not visit somewhere that's been on your bucket list forever, but you might find a hidden gem and you'll have loads more money to spend while you're there too. It's a win-win.
Is this trip sponsored by Skyscanner?
I wish! I do work with some travel partners but Skyscanner is not a sponsor of this trip, yet… I really, really love Skyscanner and I find all my flights through them, so I'd obviously love for them to come on board. If you try out the Everywhere tool or use Skyscanner because I've mentioned it, please let me know, and I can use that as a testimonial for when I finally speak to Skyscanner's marketing team 😉
What about your carbon footprint?
Sustainable travel is a really important topic, and something I want to talk about throughout my trip. I'm offsetting all of my carbon emissions throughout the year, either at the time of purchase (if the airline offers that) or in bulk on myclimate.org.
While this trip entails a lot of flying, the majority of my flights are short-haul, and on low cost carriers who have higher occupancy and (generally) newer and more eco-friendly fleets than legacy carriers.
For the first 26 weeks, my carbon emissions come to the exact same amount as a single return flight from Auckland to London via Dubai in economy class, or a return flight from Auckland to LAX direct in business class, so the number of flights doesn't necessarily mean it's far worse than one long-haul trip.
My carbon offset for the first six months comes to around £150 total. It's not as much as you'd expect, and I'd recommend everyone to consider offsetting their flights next time you travel somewhere.
I'm also taking trains between routes where that's a logical option (like Amsterdam and Zurich) but because a lot of the destinations aren't capitals and major hubs or aren't next to each other, unfortunately there aren't as many train options as you'd expect.
In terms of sustainability outside of flying, here are some other things I'm doing to try minimise my impact:
Cutting down any single-use plastic
Travelling with a filtered drink bottle to avoid buying bottled water
Using Ethique shampoo, conditioner, body wash and other toiletries, a zero-waste Kiwi company
Walking as much as possible throughout the week, or using public transport where possible instead of taxis or Uber
Decreasing my meat consumption, and I have Huel at least once if not twice a day, which is vegan and sustainably-sourced
Trying to find accommodation with strong sustainability policies
Always keen to hear new tips on how to be more sustainable!
How much will the whole trip cost, including accommodation and everything else?
It's impossible to know, because I don't even have all the destinations confirmed yet. My weekly spend changes drastically depending on where I am (Warsaw is shaping up to be incredibly cheap, but my bank account was nooot happy in Paris!). I'll be sharing exactly how much I spend in each place on my weekly wrap up blogs.
Are you just booking on the fly each week or planning in advance?
I've got the first six months booked so far, because I need to be able to plan ahead for visas, accommodation etc. I'll be booking the second half of the trip in the next few weeks.
How can you afford to travel so much?
Unsurprisingly, this is what I get asked the most! To clear up any immediate assumptions, I do not have a rich boyfriend, my parents do not pay, and I'm not in some high flying job. Dammit!
I did have some savings back home that I'm using over the year (about $12,000 NZD/£6500), I had about £3000 from my final pay and savings from the last few months in London, and I will be doing a small amount of freelance work over the year (probably worth about £700 per month).
I also want to say that travel does not cost as much as you think. My flights so far have cost less than £80 on average (some as low as £30 including luggage), my hostel dorms are between £10 and £25 per night depending on the destination, and I'm mostly making my own food so not spending loads on eating out.
I'm being totally serious when I say that the majority of weeks are going to cost me significantly less than what I spent each week in London over the past two years.
The budget side is something I'm definitely winging (with confidence, I like to think haha) so I'll continue being transparent about it throughout the year, and you can all learn from my inevitable mistakes.
What do you do for work?
I'm a freelance travel content creator, which is something that hardly existed five years ago. My job can mean loads of different things depending on the partner, but essentially I write travel blogs and articles, take photos and video, and share my experiences with different products, destinations or suppliers on social media.
My freelance activity, e.g. writing for huge companies like Hostelworld and STA Travel, is paid, but a lot of the content work I do for hotels, tour companies and so on is just in return for freebies or discounted rates. Ideally I'll get to a stage where this type of activity actually gives me an income, but getting to that point takes time.
I don't make any money off this blog yet but again, that will change as my audience grows.
Please note that any brand partnerships will never get in the way of me telling the truth. I will always be 100% honest and transparent in my content, so if I'm gifted something or sponsored by a company I wouldn't use or don't like myself, I'll tell you.
Are you travelling solo?
Mostly, yep! I do have some friends and family coming to hang out with me at various points of the trip, but 95% of the time I'll be by myself.
Do you get lonely travelling solo?
Ask me again in a year and I might have a different answer, but I haven't felt lonely yet! I speak to my mum most days (probably incredibly annoying for her haha), I'm always in contact with my closest friends, I meet people in hostels and I am constantly chatting to new people through my Instagram or on travel Facebook groups.
I always thought of myself as an extrovert but after a few weeks solo I actually feel really comfortable being by myself in a random country. Because this trip isn't all fun and games, it's a lot of work around shooting, writing, editing and so on, it's been amazing to be able to split my days between exploring the destination, doing some work and having down time, without needing to consider anyone else.
In saying that though, for the first six months I've got someone coming out to see me once a month for a quick visit, which will be amazing!
Who takes your photos?
Me, myself, and I! When I travel solo all my photos are taken with this tripod, aka my best buddy for the foreseeable future.
I use self-timer or WiFi on my camera to set it up to my phone, or if I'm shooting with my phone I'll use the app Manual Camera where you can set an intermittent timer to take a photo every second for ten seconds. Then I just walk around and pose, and voila!
Taking photos with a tripod is tough when there's people around so most of my shoots are super early in the morning, before anyone else is up and about.
I never really ask strangers to take a photo of me, but if I need to then I'll keep an eye out for a family with kids taking a selfie, and offer to take one of all of them first. Then I'll ask them to return the favour, and they probably won't steal my phone because no one with a pram will be able to out-run me anyway!
Are you going back to countries you've already been to?
I'm visiting countries that I've visited before the start of the 52 in 52 trip, but once I've been to a country during the year then I can't go back.
The only exception to this is that I've got two weeks in NZ for a family wedding, two weeks in Australia to be able to showcase two different states, and two weeks in the USA to showcase two different states as well.
Where did you start from?
I started the trip from Croatia, after a couple of weeks of relaxation and island hopping before kicking off a crazy year. The first flight I booked was the cheapest flight from Dubrovnik airport on Tuesday 9 July, which was to Paris for £26 one way (£55 including luggage).
What's the itinerary?
My itinerary so far is:
July 9-16: Paris
July 16-23: Zaragoza/San Sebastian/Bilbao
July 23-30: Brussels/Bruges/Ghent
July 30-Aug 6: Warsaw
Aug 6-13: Vienna
Aug 13-20: Milan
Aug 20-24: Budapest
Aug 24-Sept 2: Jordan
Sept 2-10: Cyprus
Sept 10-17: Crete
Sept 17-24: Sofia
Sept 24-Oct 1: Hamburg/Munich for Oktoberfest
Oct 1-Oct 9: Porto
Oct 9-15: Zurich and the Swiss Alps
Oct 15-22: Amsterdam
Oct 22-29: Dublin/Killarney/Galway
Oct 29-Nov 5: Bucharest (Transylvania for Halloween!)
Nov 5-12: Israel
Nov 12-19: Turkey
Nov 19-26: Azerbaijan
Nov 26-Dec 3: Dubai/Abu Dhabi
Dec 3-10: New Delhi
Dec 10-15: Bangkok
Dec 15-28: Southern Thailand, Malaysia, Singapore on a tour
Dec 28-30: Singapore
Dec 30-Jan 7: Bali
Jan 7-21: Home for a family wedding
Jan 21 onwards: No idea yet!
What if the cheapest flight is to somewhere unsafe?
I'm not going anywhere with an "avoid non-essential travel" rating of safetravel.govt.nz, not just because of my own personal safety concerns but also because travel insurance may not cover high risk destinations. Most high risk countries don't have cheap flights going there anyway so this hasn't come up yet.
Do you have travel insurance?
YES! I always travel with travel insurance, and you should too. Not only does it cover you for lost luggage, but it can cover damaged or lost belongings on your trip, sickness or accidents, cancellation if something unexpected stops you from going (like an injury or death of a loved one), flight delays and LOADS more.
I have a long-term policy with Worldcare, which covers me for every single part of my trip until I am back in NZ in January, when I'll get a second policy to cover the second half of my trip.
Always look at the policy wording when you buy insurance, as policies can differ quite significantly. I always go for policies with gadget cover, the ability to add high value items (like my drone), decent activities cover (like hot air ballooning, skiing, PADI diving etc.), a 24/7 contact number, and rental vehicle excess.
Sometimes if you book with a credit card, your credit card insurance will automatically cover you, but just be aware that this may not include comprehensive medical or luggage cover and you may be left out of pocket if you need to make a claim.
What about visas?
I'm travelling on a Kiwi passport, which comes in at 9th equal for strongest passport in the world, so I'm really lucky to get visa-free entry to loads of countries.
There are some places that require visas on arrival and a couple of e-visas, but anywhere that would need me to send my passport away (like Russia or China) are a no-go on this trip unfortunately as I can't be without my passport. They're on the list for a future trip for sure!
This website is a great resource for checking visa requirements for various passports.
Won't you get burnt out going to a new place each week?
Another one to ask me again in a year! One week doesn't seem like that long in each place, but as a Kiwi most of my international trips have been whirlwind, because you need to squeeze as much of a continent as you can into two or three weeks of leave. Living in London wasn't too different either, except I'd have a monthly three or four day trip to somewhere in Europe.
Some of my stops include visiting more than one city so these will be busy for sure, but a lot of the weeks I'll spend in a single city.
Most of the journeys are short-haul so only a couple of hours in the air, and aside from travel days I'll have six full days in each destination, which I think is actually quite a decent amount of time.
My normal lifestyle in both London and Auckland was incredibly fast-paced, with a high stress job, a bustling social life, a gym routine and doing my blog on the side, so while I've added in the complication of constantly moving, I don't need to worry about a job, social life or sticking to a gym routine! Woohoo!
How will you stay fit and healthy on the road?
This one is a work in progress. To stay healthy physically and mentally, I think the most important things are diet, exercise and sleep.
For exercise, I haven't quite locked in a routine but ideally I'd be doing a short work out of some sort each day. I'm going to try out Les Mills on Demand, the app version of NZ's best gym and the creator of gym classes found all around the world. If you've been to Virgin Active or FitnessFirst in the UK, you've probably done a Les Mills class!
LMOD is available on your computer or an app, and you can choose from hundreds of different work out classes, from deep stretching to combat to HIIT, and everything in between. As of July 2019 a monthly subscription is £11.95 for the UK or $29.99 for NZ. I'll let you know how I find it once I get my A into G and try it out!
In terms of sleep, I have a terrible sleeping pattern that I am desperate to change. I can't get to sleep until between 1am and 2am! This was a huge problem when I had an office job with a start time because I was constantly sleep-deprived, but being funemployed (well, self-employed kinda) I can sleep until 9am and not get in trouble.
I'm a super night owl so my best hours of productivity are from 8pm to 1am, but that means it's hard to switch my brain off when it's time to sleep. A work in progress!
To make sure I fall asleep and stay asleep while in hostels, I use these cheap silicon earplugs which are comfortable and completely silencing, and this eye mask if the room is light.
What do you eat when you're travelling?
I have some weird dietary requirements after a complicated gallbladder surgery back in my late-teens, which can make eating while travelling really difficult. Unfortunately it's not as easy as cutting a specific food group out, as a random variety of foods seem to mess with me and give me serious abdominal pain. Think of the stitch, but about a hundred times worse. It sucks!
The best way to avoid this is for me to eat a consistent diet, which is impossible when I'm flitting between cuisines on a weekly basis! Enter Huel, my lifesaver.
Huel is a powdered nutritionally-complete meal, just add water and it's got the entire make up of carbs, protein, iron, and all other vitamins and minerals you need in a meal. It sounds and looks like a protein shake but it's dietitian-approved as an actual meal, and it's mainly used by busy people who would otherwise choose unhealthy food.
I find it perfect for travel because all I need is water, it's got all the goodness I need, and it brings some consistency to my meal plan each week. I usually have it for breakfast each day and sometimes lunch too, if I'm travelling somewhere where food is expensive.
Huel is super cheap (less than £1.40 for a 500 calorie meal), vegan, there's a gluten-free version and loads of flavour boosts to choose from, plus it's sustainably-sourced and zero waste! Win, win, win.
If you want to try out Huel for yourself, click here to get £10 off your order
For dinners I try and stay at hostels or apartments with kitchens, and will do a supermarket shop when I get to a new destination. Food wastage can be an issue when you're moving every week so normally I stick to basic meals, like pesto pasta with veges, wraps, or a stir fry.
What apps do you use when you're travelling?
This question probably deserves a full blog so I'll add that to my to do list, but here is a quick guide of apps to get before your trip:
Citymapper, for making sure you know how to get from A to B on public transport in major cities all around the world
Google or Apple Maps for obvious reasons
Uber (or local equivalent, like Grab in Southeast Asia, OlaCabs in India and Takkun in Japan)
Hostelworld and Booking.com for booking and managing accommodation
Google Photos to back up all my phone photos online
Google MyMaps, where you can create bespoke maps and pin important places. I have one for every destination I visit where I pin my accommodation, food suggestions, photo spots, shops to visit and loads more.
Snapseed and Lightroom mobile for photo editing
Lime, Bird, Dott or whatever the local equivalent is for e-scooter rental
Netflix and Amazon Prime
Google Translate
Life360, a tracking app that's perfect if you're travelling solo and want your family to be able to see where you are
Klook for booking activities and experiences
Audible for audiobooks
Skyscanner for booking flights
Transferwise for cheap currency exchange
Curve for managing all your different cards and currencies, with no overseas fees!
How do you deal with foreign exchange and always using different currencies?
I have a couple of different ways to manage my money on the road.
First of all, I swear by Monzo! (UK only, sorry Kiwis and Aussies.) Monzo is an app-based bank and is probably the best thing to happen to money since credit cards were invented. The app has a fantastic budgeting section, automatically categorises all of your spending, they offer super quick 24/7 service and you can freeze your card at the tap of a button.
You can also split bills and pay other Monzo users just by standing next to them and tapping their name, there's no overseas fees and you get up to £200 a month free ATM withdrawals while travelling. Literally the bank of the future.
I use Transferwise for any currency exchanges I do, and I also have a Transferwise Borderless account for euros. THEN I have another UK bank, an NZ credit card and an NZ debit card. Travelling with this many cards can be super frustrating, so I was stoked when I heard about Curve!
Curve is a payment card, not a bank, where you can connect multiple bank cards in different currencies and manage them all through an app. I've connected all of my cards to it and then switch which card I want to use on my phone!
Curve also charges your cards in their local currency so you never have to pay foreign exchange fees, gives you 1% cashback at select retailers, and you can even go back in time and switch a payment to another card up to 14 days after purchase.
There's a free version available with up to £200 fee-free overseas ATM withdrawals, or you can upgrade to Black for £9.99 a month or metal for £14.99 a month for £400 and £600 respectively, plus on the paid plans you get worldwide travel insurance and gadget insurance.
Definitely something that's worth looking into if you've got multiple cards with different currencies.
Will you be staying in hostels, hotels or Airbnbs mostly?
I'll be staying at hostels the majority of the time, with some hotels a few times a month and maybe Airbnbs when I've got friends coming out to see me.
How do you choose a hostel?
I'm obsessed with getting the best bang for your buck, so the number one thing I think about when choosing a place to stay is value for money. I don't search for the cheapest option but I don't search for the fanciest option either, I look for the best-rated option based on cost.
On Hostelworld I'll filter by free WiFi, luggage storage and self-catering facilities, then show hostels rated only 8 and above, and then sort by price.
Let me say this once: Review scores are gospel. I always try and stay somewhere rated 9 or above, and will do an 8 if I have to due to price and availability, but it'd have to be tough times for me to consider anything in the 7s.
Reviews are written by travellers like us, so if other people haven't been impressed then it's likely you won't either. In saying that though I'll always check the review breakdown into categories (location, staff, comfort etc.) and what people have written, because then you can consider what (if anything) you're okay to compromise on.
If they've mentioned security issues, hygiene concerns or *gasp* bed bugs, it should be a definite no. But if somewhere has an 8.3 rating because some people didn't like their roommates, the WiFi was spotty or they had to wait ten minutes at the front desk to check in, then you're probably fine.
And how do you choose a hotel?
Booking.com makes it super easy to search for the best value option, you just need to sort your search by "price and review score". This shows you the cheap highly-rated options first, then the prices increase and ratings decrease.
If you're on a budget (obviously I am haha) then adjust the maximum price on the sidebar, so it cuts out the five star hotels that are so expensive you'll cry.
I really love staying at places with character, so I never go for business-y chain hotels (which are usually overpriced anyway). I'll always aim to stay somewhere with super funky design, breakfast included, and a fridge so I can have a small amount of my own food.
How much luggage are you taking?
I'm travelling with one 75cm wheeled check in bag, a matching (of course) 55cm wheeled cabin luggage bag, and a laptop backpack.
Both of my suitcases are Samsonite Cosmolites, and they are absolute game changers. Packing for a year-long trip is tough, as you'd imagine, so I was desperate to find hard-case bags that were sturdy without being too heavy.
Samsonite UK kindly gifted me these two beauties for the trip, and they are basically straight out of my dreams!
The big one is 2.6kg and the small one is 1.7kg, both around half the weight of your average suitcase. Lightweight luggage is a lifesaver, and means I've got an extra couple of kgs for my stuff.
My laptop bag is just a cheap one from Amazon, but it can fit my 15.6″ laptop, notebook, my tech organiser with my camera gear, chargers etc.
Please note that I was gifted these bags by Samsonite, but I would never promote something I don't truly love myself! All opinions on this blog are my own and are from my personal experience.
What clothes did you pack?
I have a confession to make: I'm a chronic over-packer. It all comes back to my analysis paralysis, I always feel like I need to have the perfect outfit for each potential situation! I'll do a full blog on what I packed at some stage but just know that it's probably way too much.
Because my destinations are ranging from European heatwave to Dublin in November to conservative countries in the Middle East, I had to take a massive variety of outfit options, and then also needed to think about comfort, weight and what would look good in photos. Not an easy task haha.
I did try to go for a 'capsule wardrobe' though, where each item has to match multiple other items to maximise the amount of potential outfits I could wear. This means mostly classic, basic pieces in neutral colours with a small amount of stand-out items that are coloured or patterned.
What's in your camera bag?
A LOT. I normally shoot with a Lumix GX85 mirrorless camera, but I also take a lot of photos with my Pixel 3XL phone and Moment wide angle lens, my Mavic 2 Pro drone, an Insta360 360-degree camera, a GoPro Hero 7 Black and a DJI Osmo Pocket. Phew! For a full list of my tech, head on over to this blog.
Do you need a travel buddy?
Always looking for travel buddies! If your trip matches up with any destinations on my itinerary, or if you live somewhere I'm visiting and want to meet up, flick me a message on Instagram @findingalexx ????
How do I do something like this?
Just do it! You do need a bit of money (not as much as you'd think) and obviously a decent amount of time, but if you're fine on those fronts then you can absolutely do this too. It's scary, it takes a lot of planning, and it's a tiny bit crazy, but I guarantee it'll be the best thing you ever do.
If you have any other questions that I haven't answered then comment below or flick me a message on Instagram @findingalexx, and I'll add it to this list!
Like this blog? Pin it!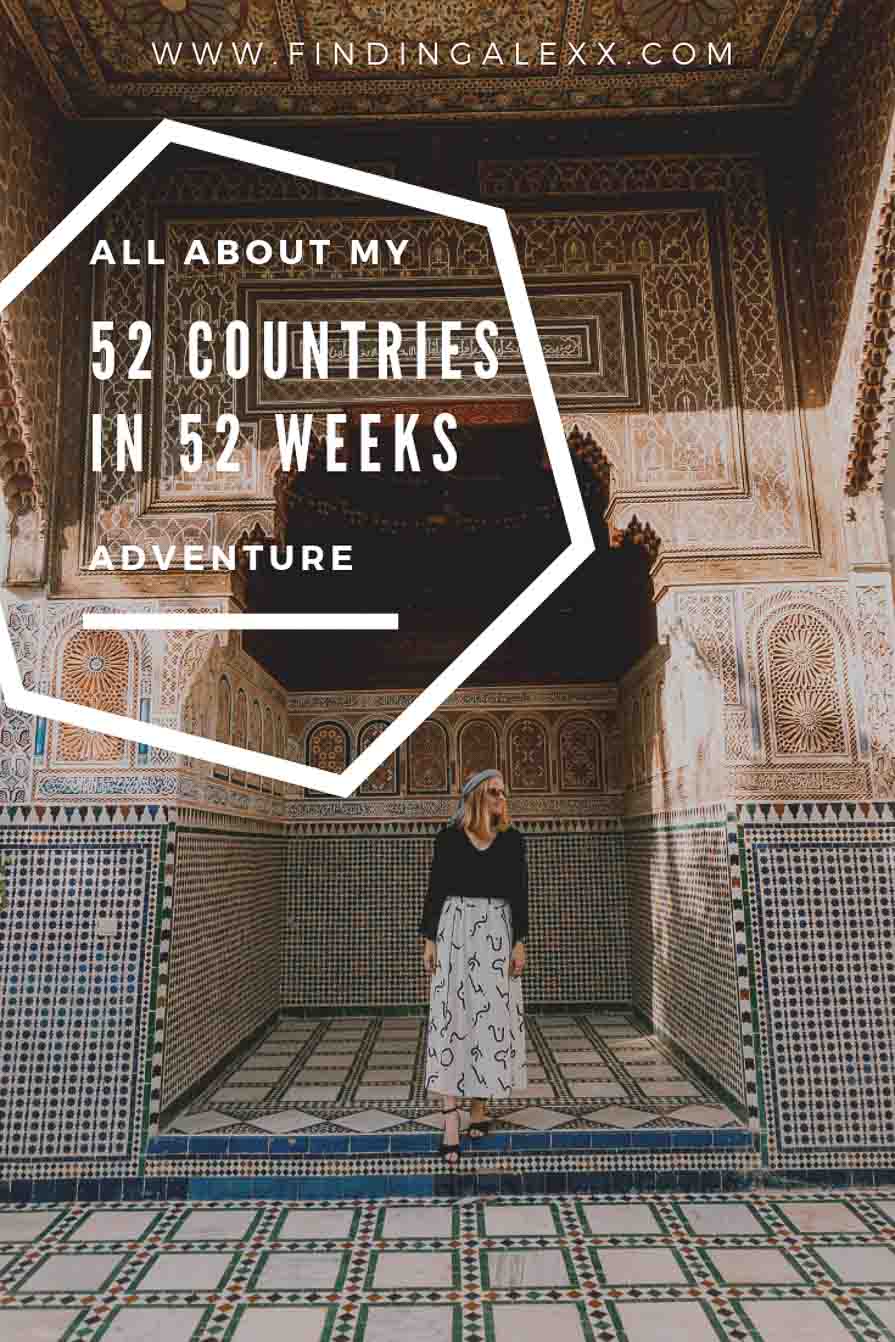 Check out all of my 52 in 52 blogs right here, and see all of my adventures and misadventures on Instagram @findingalexx
Please note this blog contains affiliate links that give me a small commission from any purchase, at no extra cost to you. I would never advertise anything I wouldn't use myself, and this commission helps Finding Alexx reach more travellers. Thank you for supporting me!