Real talk: Not all destinations are as they seem on Instagram. I don't want to burst any bubbles or ruin any bucket lists here but I'm all about sharing the misadventures as well as the adventures, so I wanted to give you an honest Halong Bay cruise review and give you some Halong Bay alternatives too. Read on to find out, is Halong Bay worth it?
YOU MIGHT ALSO LIKE: My ultimate three week Vietnam itinerary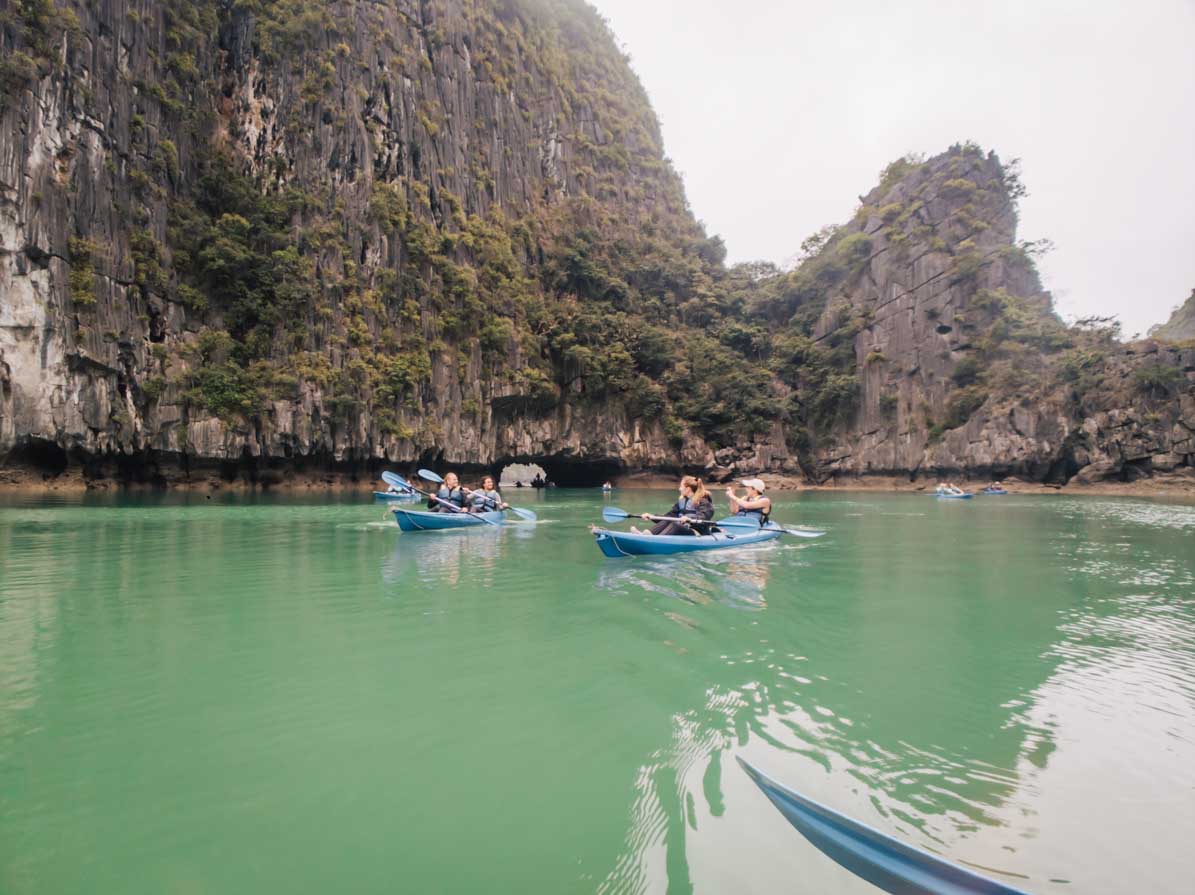 ---
But first, a disclaimer!
Let me prefix this by saying that everyone has different experiences when they travel somewhere. Weather can impact your enjoyment of a place, expectations can affect how you feel when you're faced with the reality, and the people around you can make or break it.
I had many people tell me that Halong Bay was one of their life highlights, and with perfect weather and a great group of travel buddies on your boat I can totally see how this could be true.
But in the interest of showing the reality of travel rather than just the highlights, I think it's important to share honest experiences even when they might not look like what you would normally post on social media. Sometimes there's rubbish, sometimes it rains, sometimes a place doesn't live up to what you were hoping for, and that's totally okay.
Let's all commit to sharing authentic travel experiences truthfully, rather than just the infinity pools and the cocktails, and then other travellers have a more realistic idea of what to expect when they visit for themselves.
ALSO my three weeks in Vietnam were one of my top trip highlights and it's definitely one of my favourite countries, so one unsatisfying experience doesn't taint a whole destination.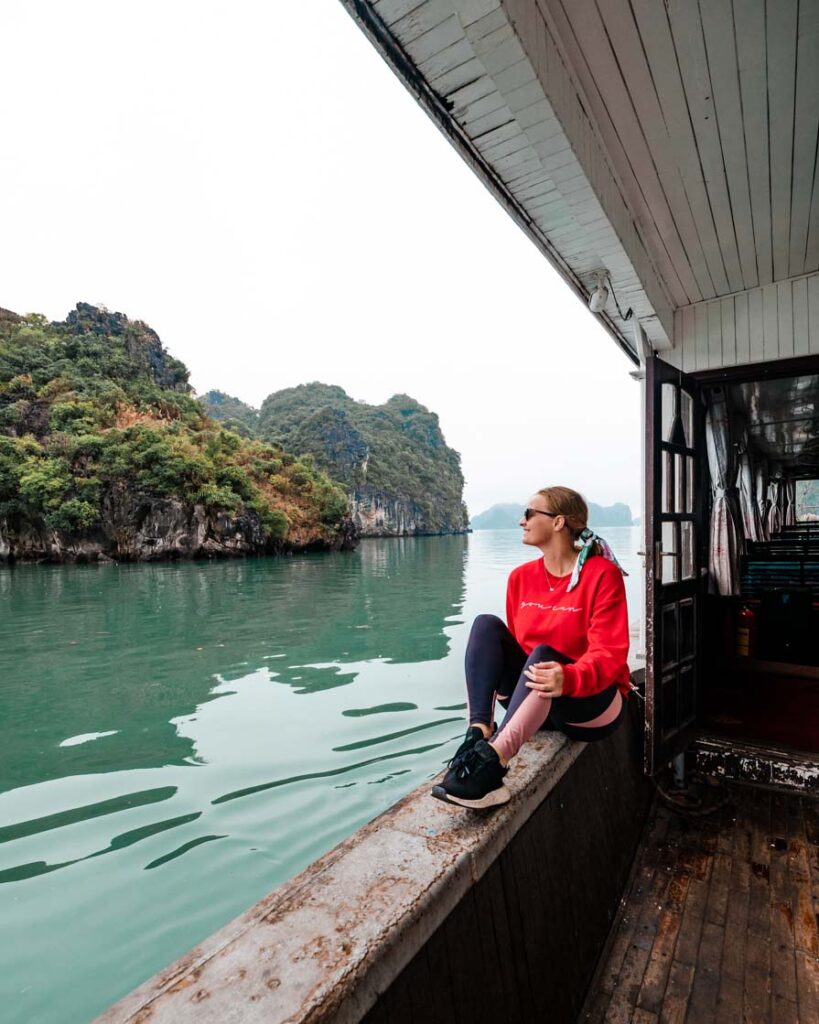 ---
What is Halong Bay?
Halong Bay is a UNESCO World Heritage Site in northern Vietnam, and it's probably graced your Instagram feed multiple times in the past. It's famous for bright emerald water, an infinite number of jagged limestone karsts protruding from the ocean, and white wooden junk boats sailing around the islands. It is, in a word, otherworldly.
This tourist hot spot quickly became Vietnam's most recognisable icon when it was picked out by UNESCO in 2000, and it sees over six million tourists a year.
---
How do you get from Hanoi to Halong Bay?
Most Halong Bay cruises offer a pick up and drop off service from your Hanoi hotel. If your tour doesn't offer this service or if you want to spend extra time in Halong Bay before or after your cruise, you can choose a private driver, shared bus transfer, shared minibus or a train.
The distance between Hanoi and Halong Bay is about 170km, and a private driver will get you from A to B in three hours (not accounting for any stops). You can book a Halong Bay private transfer on Klook from £56 for up to three people.
The best value option for getting from Hanoi to Halong Bay and back is a shared transfer, you can jump on a tourist bus from £4 or ride in style in an air-conditioned minibus from £8.
There's a Hanoi to Halong Bay train too and prices start at £2.50, but it's a six or seven hour journey so I don't think it's worth it.
---
About my Halong Bay cruise
There are day trips from Hanoi to Halong Bay, or overnight cruises for two, three or more days.
I opted for the three-day two-night cruise, as I liked the idea of having one full boat day without hours on a bus. This meant we managed to explore deeper into the bay on a day boat, where there were far fewer people, which made a big difference.
I booked this two-night deluxe cruise on Klook for £193 for a single room (vs £295 for two people in a double room). All of the cruises I saw have a single supplement, except for a couple which will pair you with another traveller, not necessarily the same age or gender as you.
YOU MIGHT ALSO LIKE: The Ultimate Guide to Solo Female Travel
The boat company my trip was with was Phoenix Cruises, who have 5 stars on TripAdvisor. Overall the Phoenix team were brilliant! Hotel pick-up and drop-off were smooth and easy, our guide was hilarious and super friendly, and the staff were always eager to help.
If you're looking for a bit of a boat party kind of vibe then consider booking a trip to Castaways Island, the private island that is run by Vietnam Backpackers Hostel.
Or if you're feeling fancy, check out this five star luxury cruise with President Cruises.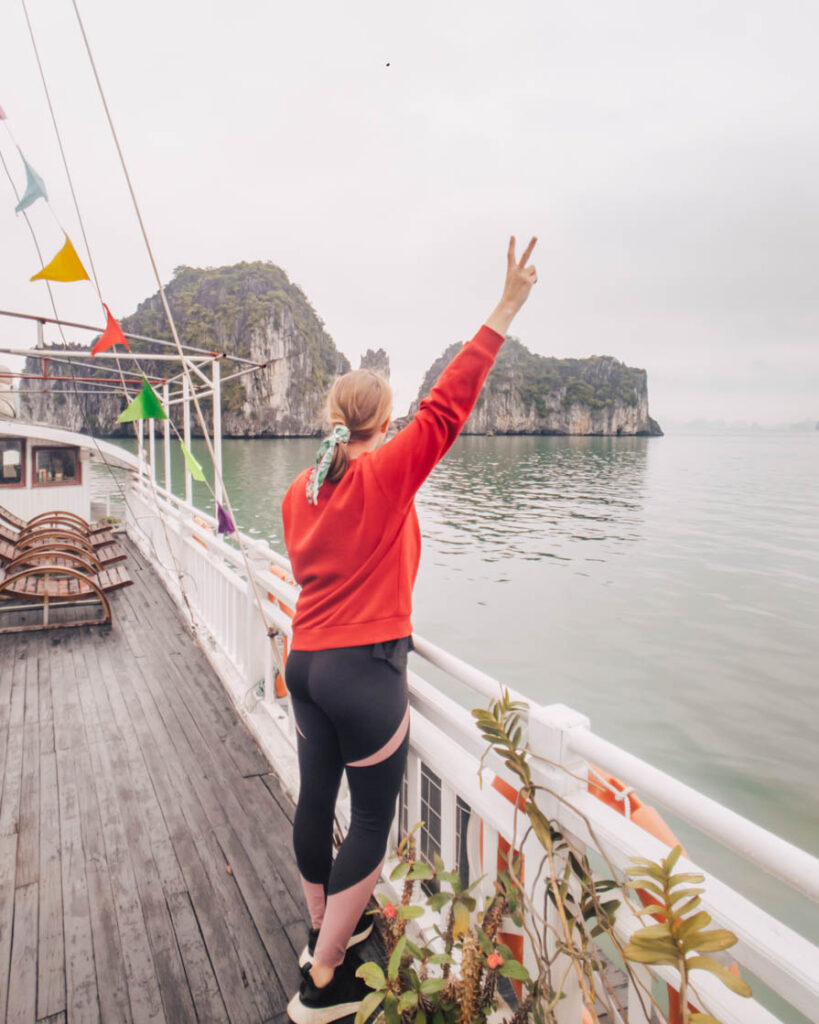 ---
About the Halong Bay boat
Our boat was pretty decent, there's a huge deck with seating upstairs as well as a dining room inside. My cabin was big enough for me but two people and luggage would be a bit of a squeeze, but that's boats for you! The boat is meant to have free WiFi but unfortunately ours was broken.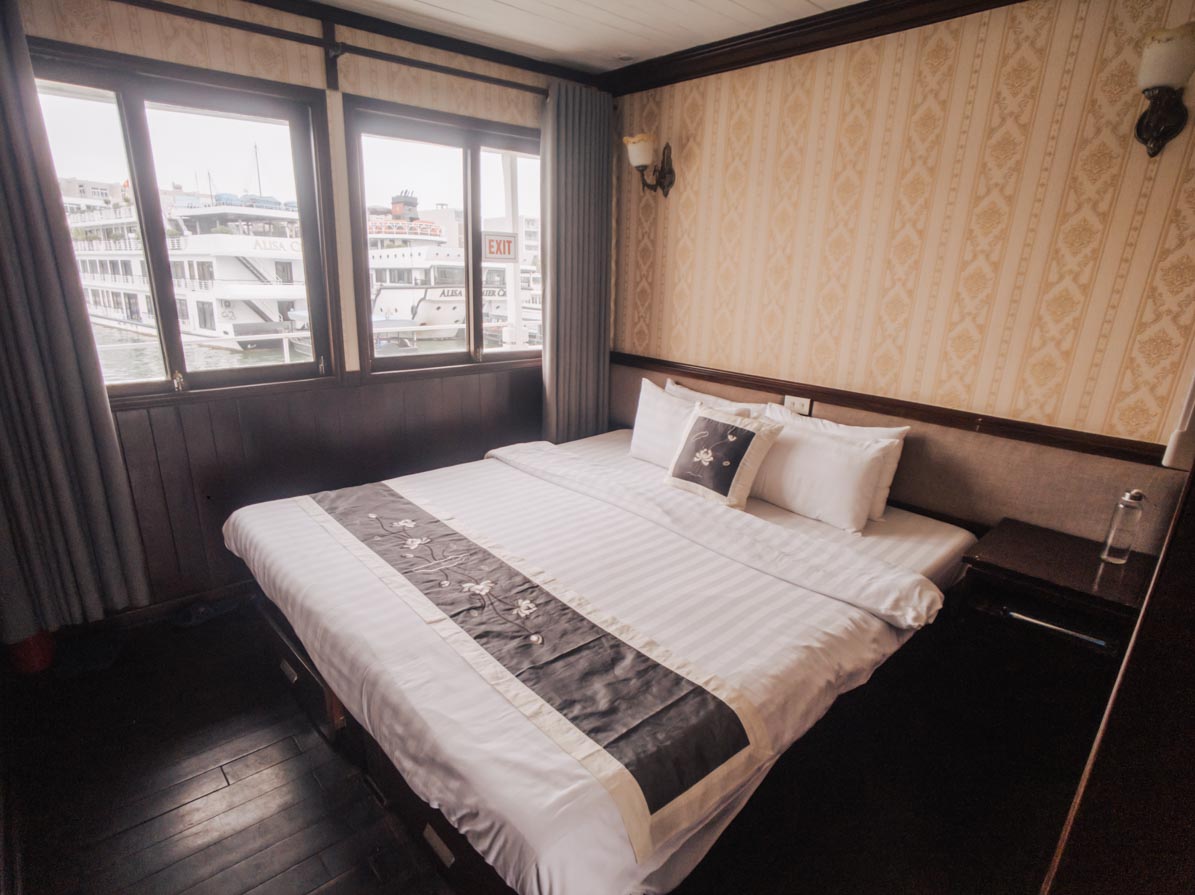 You can't get hungry on the boat, the meals were HUGE. All meals are included while you're in the bay, and they bring out 8-10 dishes per table for you to choose from so there's plenty there.
The food was a mix of both Vietnamese and Western food, and they can cater for dietary requirements too. Drinks are separate and cost around £1 for a soft drink, £2 for a local beer and £3-4 for a cocktail.
Our boat had 14 cabins and there was a huge variety of passengers from different countries, different backgrounds and different ages.
Unfortunately one of these passengers was racist, sexist and smoked like a chimney and hacked his lungs out publicly, despite the prevalent worries about coronavirus (this was mid-February 2020). I can normally ignore rude people but unfortunately when you're stuck on a boat for 48 hours with someone that can be tough!
Luckily I had some pretty awesome other boatmates too. On the first night there was a bunch of five American university students who were part-way through a Semester at Sea study abroad programme, and we spent hours chatting about how to tie travel into their lives when they go back home. I'm sure one of them is reading this, so thought I better give them a shout out ????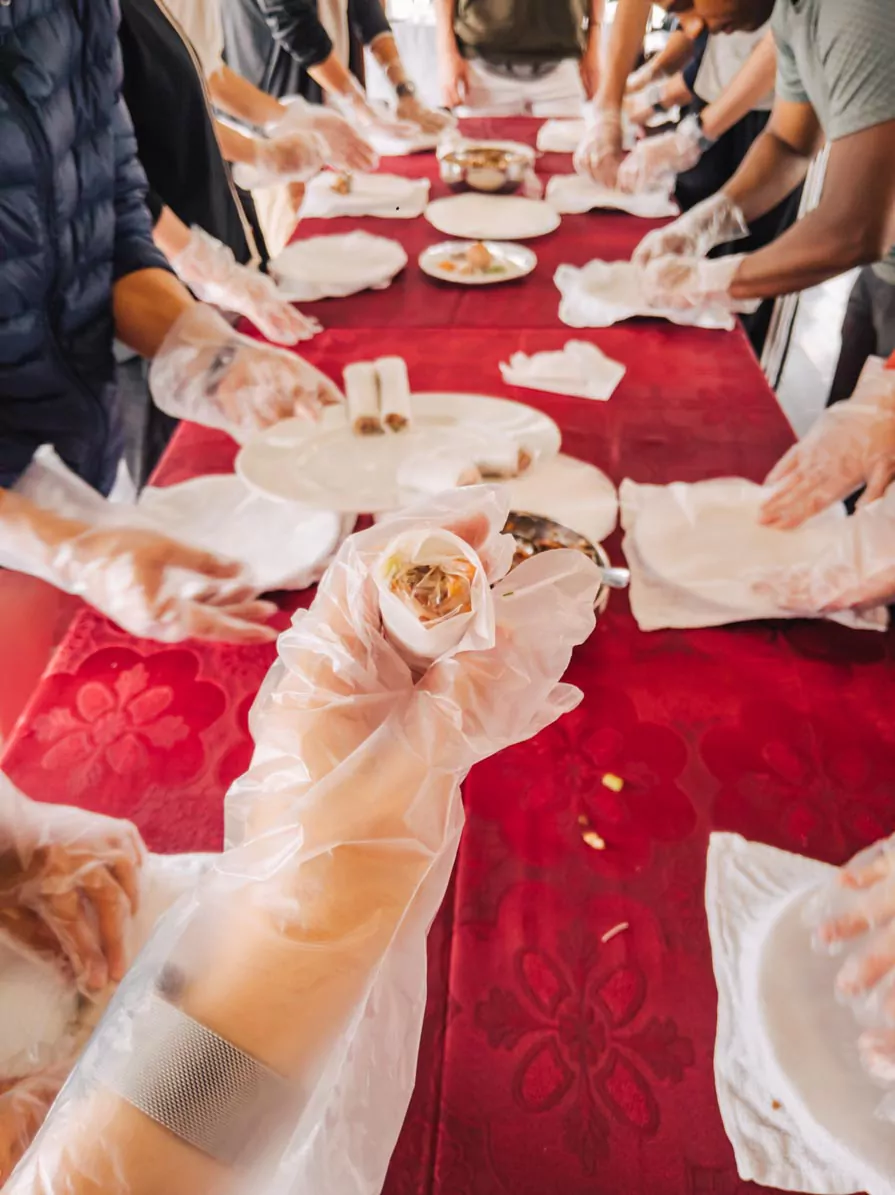 ---
Why my Halong Bay experience wasn't ideal
Unfortunately, our experience at Halong Bay was hampered a bit by some angry weather, and pollution and tourists behaving badly didn't help.
Don't get me wrong, the bay was still beautiful, but the fog, rain, cold weather, crowds and rubbish did mean it didn't quite meet my expectations and I want to be completely honest about that so you know what to expect.
The weather
Obviously no one can do anything about this, but the rain, fog and cold did really impact our time on the boat. Northern Vietnam gets cold in January and February (Halong Bay's average high in winter is only 20°C with a low of 8°C), but the rain was somewhat unusual for that time of the year.
The best time to visit Halong Bay according to locals is October to December in terms of weather, but those months also bring the biggest crowds.
The fog did look beautifully eerie, but not being able to see the vastness of the never-ending limestone islands did somewhat ruin the magic that I was expecting.
Getting wet was the real kicker though, especially on the day boat where we had no warm and dry cabins and no change of clothes. Six hours of sitting in clothes wet from kayaking and I was a shivering mess!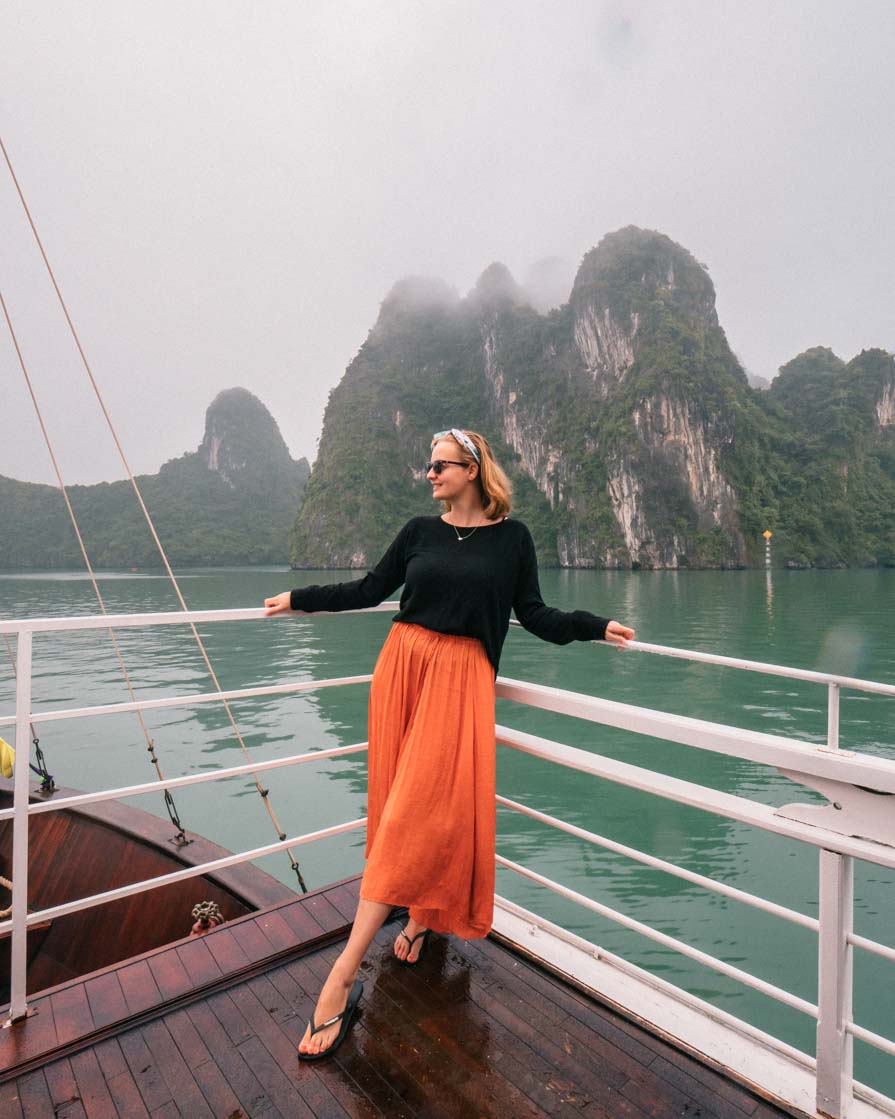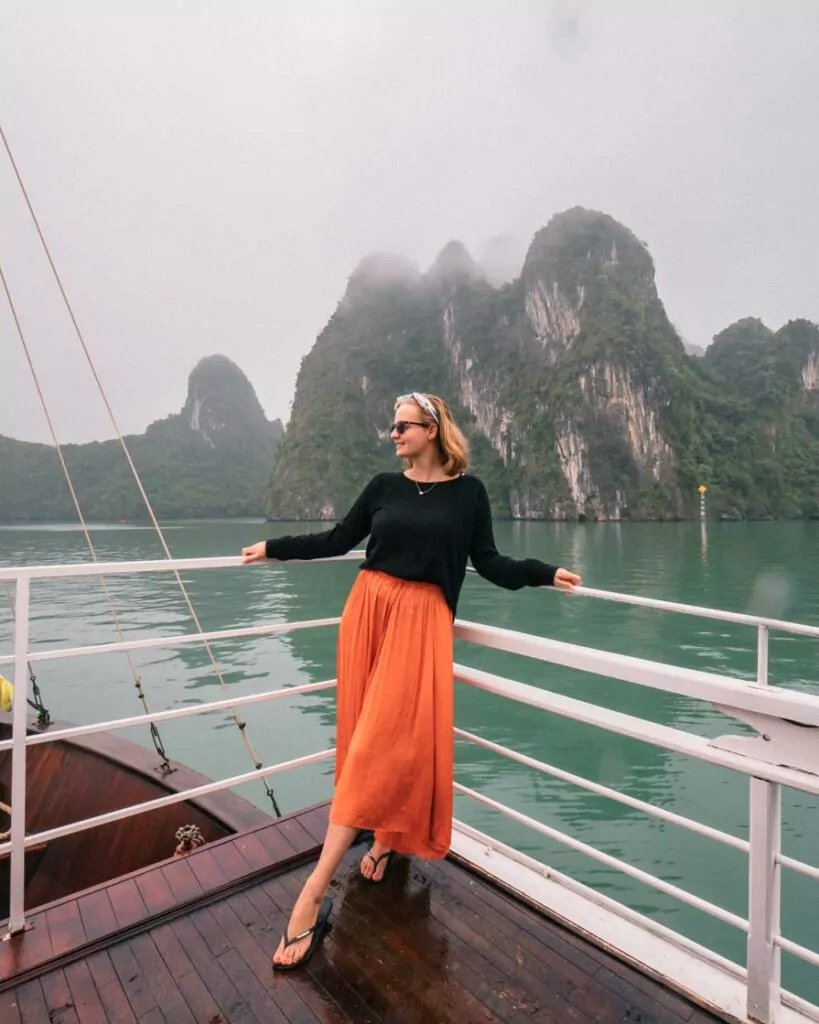 Halong Bay overtourism
The Halong Bay cruise (and most cruises) include a number of activities like island visits, kayaking, seeing caves and visiting oyster farms. These activities are incredibly touristy, with hoards of other travellers arriving moments after you, all lining up to climb a mountain or explore a cave with camera flashes constantly going off in your face. Boomers, am I right?
Overtourism is something I'm passionate about and it's a topic I want to try and focus on more in my travels, so I'll admit I'm disappointed in myself for adding to the Halong Bay problem. Not only does overtourism affect the authenticity of a destination, natural landscapes and ecosystems, it actually negatively affects tourists' enjoyment of the destination too. So it's literally a lose-lose situation!
Day two of the cruise, the full boat day, meant that we could take a day boat further into the bay away from the one day and overnight trips, and even the reprieve from that alone made a big difference and definitely made the two-night trip worth it.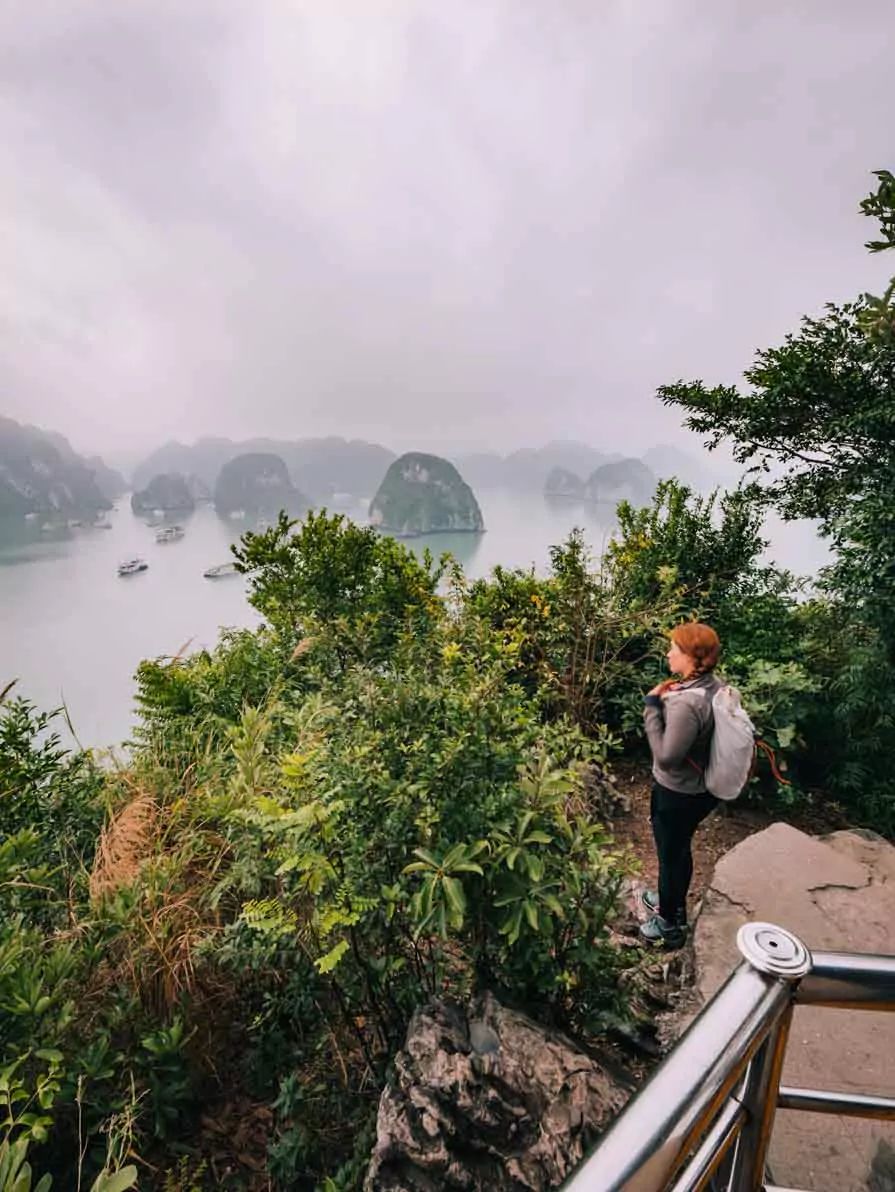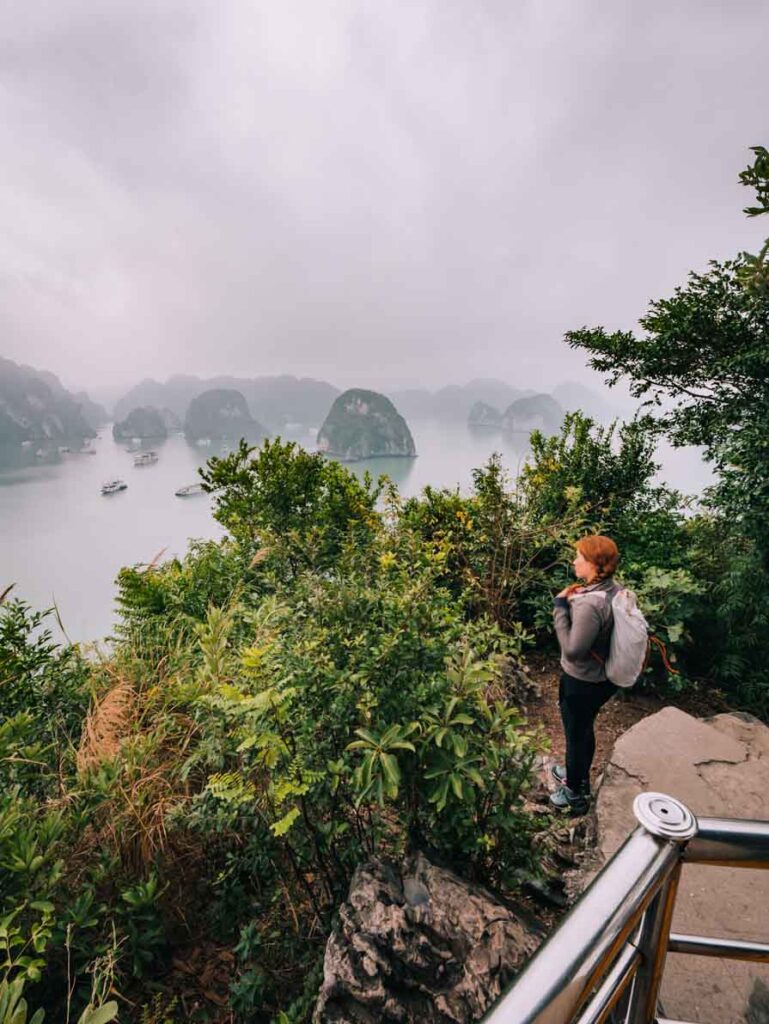 It's also worth noting two things…
1) I am aware I, too, am a tourist. I'm totally a part of this problem too, and I wish I had read up more about the unfortunate Halong Bay overtourism before I went, which is why I'm sharing this with you guys.
And 2) My visit was mid-February at the height* of the coronavirus panic in Asia and when travel restrictions were in place, which meant what I experienced was probably 30-40% less busy than usual. I can't imagine what a fully populated Halong Bay would be like.
*Editor's note: I wrote this at the start of March where it seemed like mid-Feb was the height of the corona hysteria, now I'm editing this in my childhood bedroom at the end of March because I had to pause my trip and come home and self-quarantine as international borders close. The world has changed so much in three weeks!
YOU MIGHT ALSO LIKE: What's in my camera bag for a year of travelling around the world?
Tourists behaving badly
What's worse than way too many tourists? Way too many irresponsible tourists.
The most frustrating instance of this was on one of the kayaking trips where a boat of visitors started throwing plastic-wrapped food, like packets of chips and chocolate bars, at the monkeys on the shore and laughing when they tried to eat them.
Not only is it harmful to feed wild animals, but what do they expect the monkeys to do with the rubbish? Put it in the bin? Sigh.
There were also pockets of floating rubbish all through the bay from where boats were obviously anchored the night before.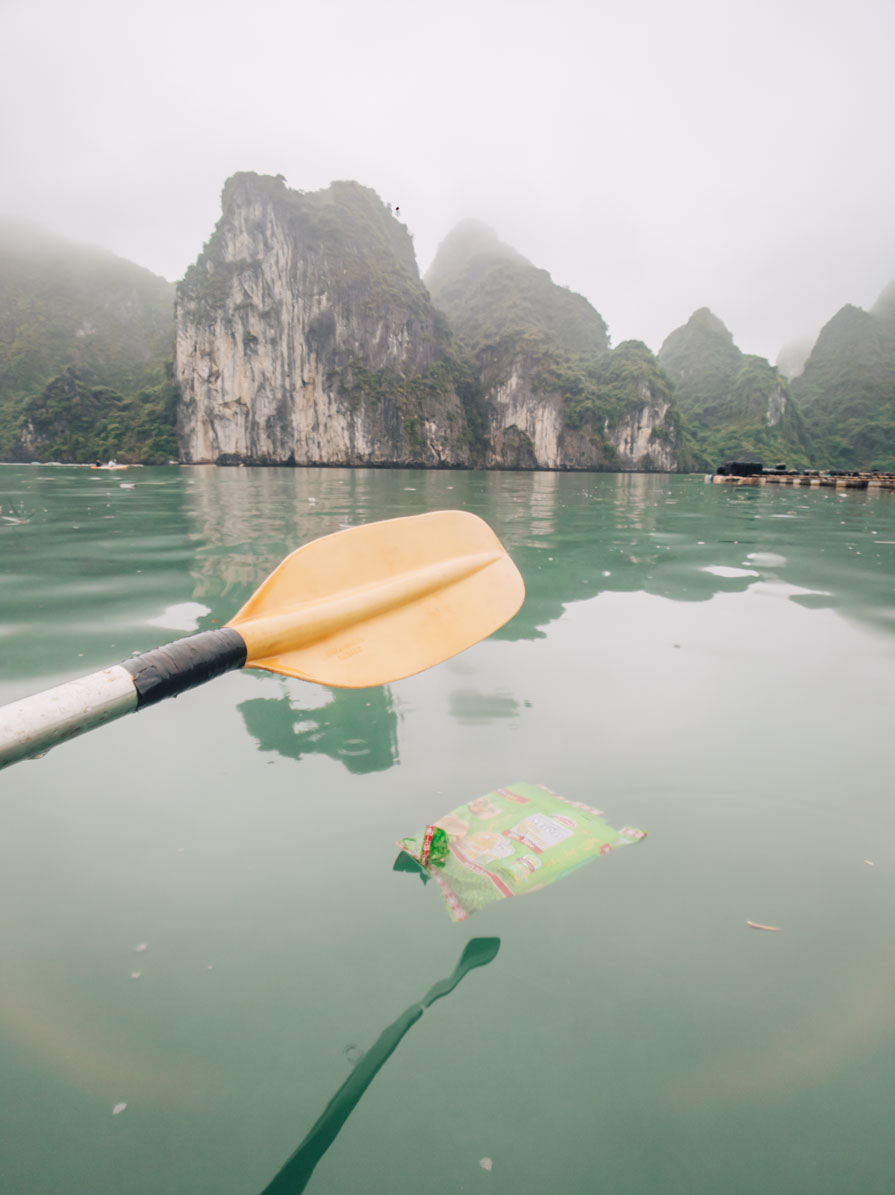 Halong Bay seems to have a ban on single use plastic that's enforced on the boats (no plastic water bottles or snacks) but there are still plenty of local row boats who come around with bags of chips, lollies and soft drinks, plus I'm sure many people bring their own food on board and discard the rubbish overboard without thinking.
---
The final verdict of my Halong Bay cruise review
Halong Bay is undeniably beautiful, and I don't blame anyone for having it at the top of their bucket list. If you managed to see it with less people (a two or more night cruise is best for that) or if you had brilliant weather then I imagine I don't doubt it would be a Vietnam highlight, and if you managed to get both a quiet spot and brilliant weather then you win!
But for me, taking into account the drizzly cold, the litter pockets and the hoardes of tourists, I wouldn't say I regret Halong Bay, but I also wouldn't say I've added it to my 'best things I've ever seen' list.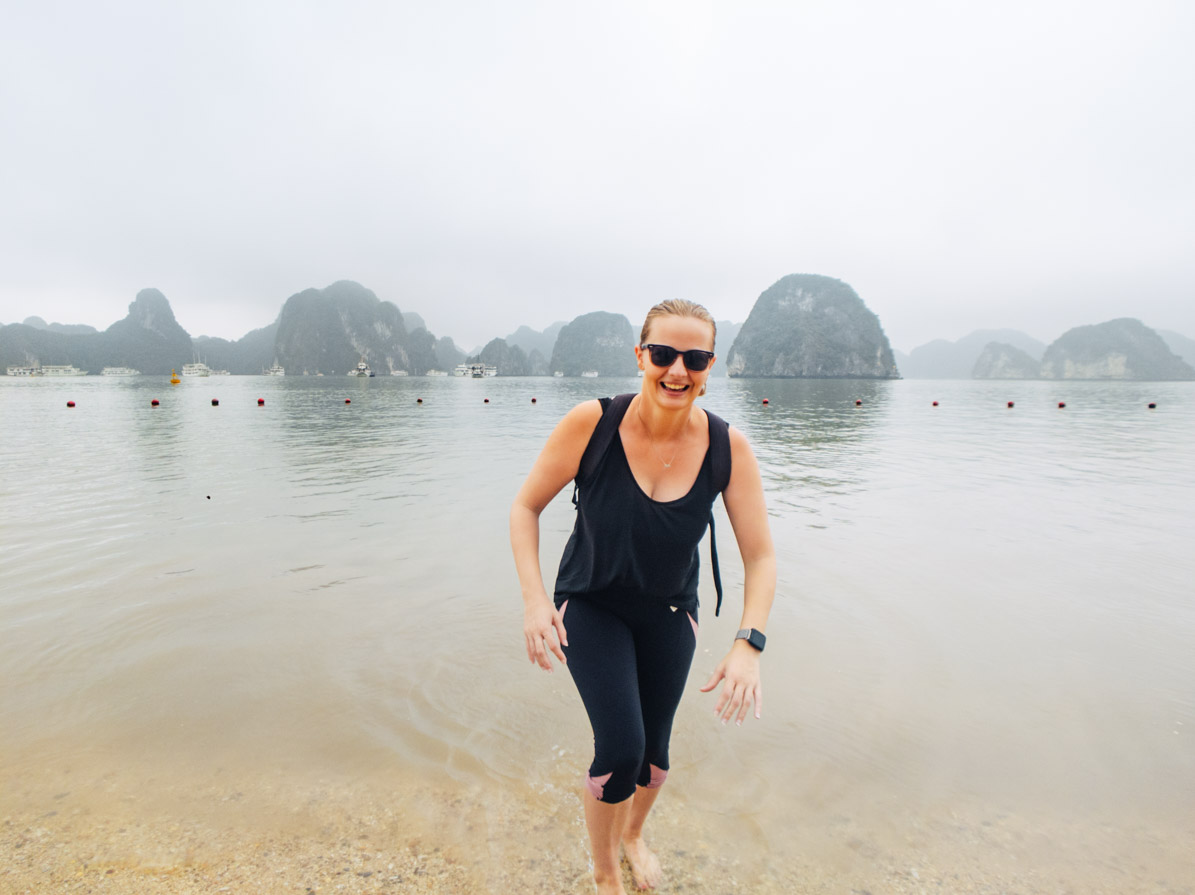 ---
Alternatives to Halong Bay
But wait, it's not all doom and gloom (or rain and litter in this case)! There are a few options of places to visit to get a Halong Bay-esque experience without the crowds.
Cat Ba Island
Cat Ba Island was one destination that people raved about to me while I was planning my trip, and I wish I had the strength to overcome the Halong Bay FOMO and visit Cat Ba instead. Bad Alexx!
Cat Ba Island is actually the biggest island in Halong Bay, but it's a destination worth visiting in its own right. From sleepy fishing villages (most in Halong Bay have been shut down by local government to 'protect the ecosystem' i.e. make way for more tourist boats), to thick jungle, to secluded grottoes hidden amongst the towering cliffs, Cat Ba and its own Lan Ha Bay are a brilliant escape from the Halong madness.
The good news is you can actually do a trip to both Halong Bay and Cat Ba Island if you really do want to see both. This two night adventure spends a night on the boat in Halong Bay and a night in a hotel or resort on Cat Ba Island, the best of both worlds.
Bai Tu Long Bay
A couple of people recommended Bai Tu Long Bay too, which is slightly north of Halong Bay but seemingly far from the well-trodden tourist trail. The cruises in Bai Tu Long Bay are more expensive but have smaller boats than in Halong Bay, so they're a bit more private and exclusive. Guaranteed you'll have less crowds and rubbish up here.
Tam Coc and Ninh Binh
Known as the 'Halong Bay on land', the mind-blowing landscapes of the Ninh Binh province, a couple of hours' drive inland from Hanoi, are another of Vietnam's hidden gems. With a similar silhouette of giant limestone karsts but with emerald rice paddies in place of turquoise waters, the views in Ninh Binh and nearby Tam Coc were definitely a trip highlight for me.
There are no junk boats but there are row boats, bicycle routes, caves to explore and mountains to climb.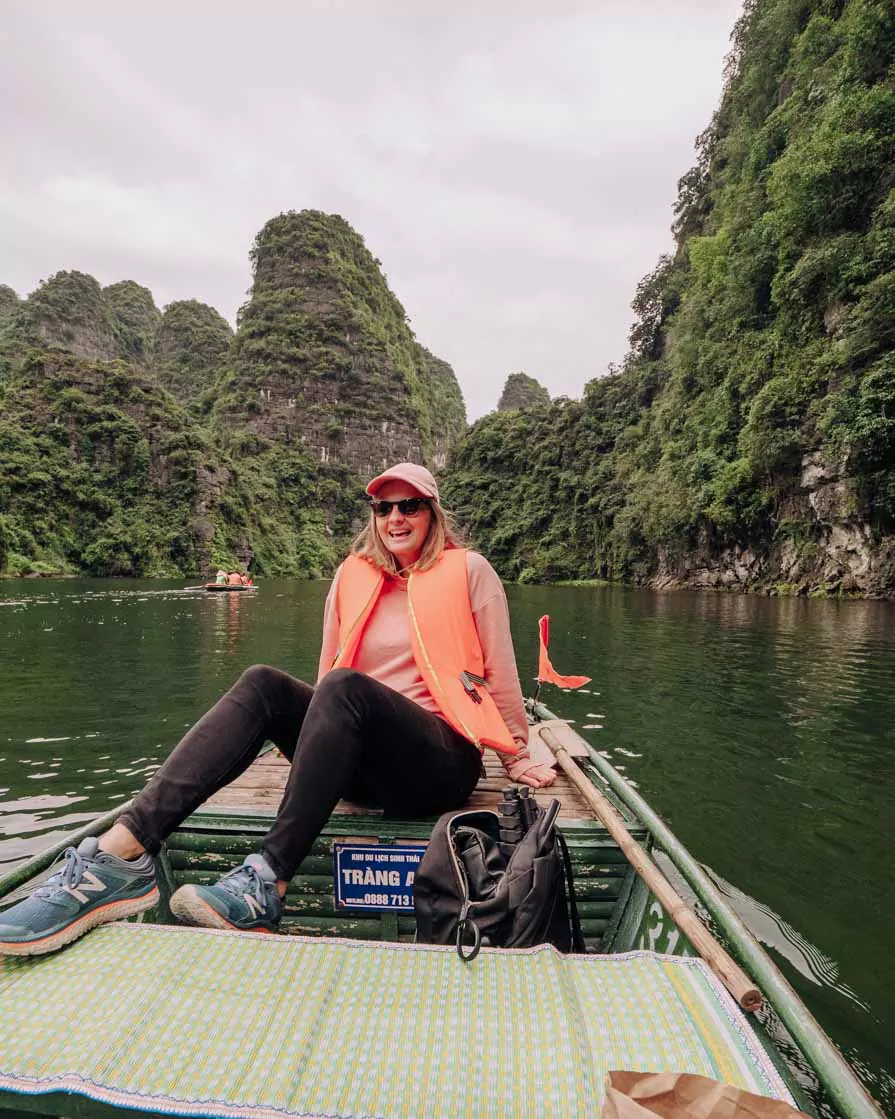 ---
If you're planning on going, do you think you'll keep it in your itinerary or consider one of the Halong Bay alternatives? And if you've been before, do you think Halong Bay is worth it or do you agree with me? Tell me in the comments!
Looking for Halong Bay cruises or Halong Bay alternatives? Check out all the day trips and overnight cruises right here on Klook.
Like this blog? Pin it!
Read more about my 52 in 52 adventure here, see all of my blog posts from the trip here, or check out my Instagram @findingalexx to see all of my travel photos.
All the basic details from my big 52 in 52 trip:
How do you find your flights? Skyscanner! I use the Everywhere tool to find the cheapest place to fly to each Tuesday
Do you fly every week? Not every week no, once I have the destination I check trains and buses to see if there's any other transport options aside from flying. If so, I usually book these using the Trainline app.
How do you book your accommodation? I book all my hotels, hostels and apartments on either booking.com or Hostelworld.
Do you have travel insurance? YES, I always travel with travel insurance and you should too. I'm insured for an annual policy with Worldcare NZ.
Do you offset your carbon credits? I sure do! I always offset when I book if the airline gives me the option (Ryanair does), and I also offset all my flights using Co2nsensus.com.
What luggage do you travel with? I travel with a 75cm Samsonite Cosmolite suitcase, a matching Samsonite Cosmolite 55cm cabin luggage hardcase, and a cheap laptop backpack.
What camera do you use? You can see the full list of what's in my camera bag right here.
What laptop do you use? I have a super portable HP Spectre x360 13.3″ laptop, which is an absolute dream to travel with.
For more FAQs about my 52 in 52 trip, see this post.
I travelled on the Halong Bay two night cruise as a guest thanks to my ongoing partnership with Klook. As always, all opinions are my own and are based on my own personal experience.