For my time in Thailand, Singapore and Malaysia on my 52 countries in 52 weeks trip, I decided to jump on a group tour to make the most of my limited time and see more than just the main cities… I collaborated with Contiki, one of my go-to suppliers for group tours, and jumped on the Bangkok to Singapore Contiki tour for 14 days. And it was EPIC.
Here's a low down on Contiki tours, why I chose the Contiki Bangkok to Singapore Adventure, things to know before you do a Contiki Asia tour, and a detailed review of each of the destinations we visited in Thailand, Malaysia and Singapore. Annnnnd here we go!
Please note this blog contains affiliate links that give me a small commission from any purchase, at no extra cost to you. I would never advertise anything I wouldn't use myself, and this commission helps Finding Alexx reach more travellers. Thank you for supporting me!
---
All about Contiki
If the name Contiki conjures up ideas of huge coaches, drunk Australians and a go, go, go mentality to see, do, eat and drink all you can in a destination, you're not alone.
Started way back in 1962, Contiki's (in)famous for their insanely high energy bus tours in Europe, which have been running for almost six decades. And while these absolutely do exist, Contiki actually have a huge range of tours in six different continents built for various types of travellers.
YOU MIGHT ALSO LIKE: FAQs about my 52 countries in 52 weeks trip
From Iconic Essentials tours which are the classic option for young travellers keen to squeeze in as much fun as possible, to Discoverer tours that get under the skin of loads of different destinations, to In-Depth Explorer trips that dive deep into a specific country or region, there are a number of travel styles to choose from.
If you're travelling in winter there's also ski tours, in summer there are sailing trips in Europe, Thailand and Australia, and Contiki even run festival-focused tours for Oktoberfest, Sziget, St Patrick's Day and New Year's Eve in various cities, to name a few.
The age range for Contiki tours is 18-35 years old, but each tour has a slightly different target market I suppose. The tours that tick off major bucket list cities like Paris, Rome, LA, New York, Bangkok, Bali and so on are likely going to have slightly younger travellers who are probably on their first ever trip. Anywhere a bit more off the beaten track, like Eastern Europe, Latin America or Africa, or anywhere expensive like Japan or Scandinavia, are more likely to have an older average age.
This is my third time travelling with Contiki, I did a East Coast USA/Canada tour back in 2012 and the Quest to London Contiki tour through eight European countries in 2016. I also worked pretty closely with the tours team at my old travel agency marketing job, so I was clued up on the product and knew exactly what to expect: travel buddies, loads of fun, and being able to see some incredible destinations with not too much work from my side!
---
Why do a group tour?
Group tours are a brilliant idea for a number of reasons.
Firstly, solo travellers make up 50% of Contiki's customers, meaning you're guaranteed to meet other young people who are riding solo, and you've immediately got something in common. All three of my Contiki tours were solo, and I made friends with other solo travellers, couples and existing groups of friends who booked together.
Secondly, it's a really simple, easy option for booking a trip. I spend hours and hours each week planning my next destinations, checking public transport, booking tickets on foreign websites in different languages, finding places to eat, reading hostel reviews, comparing destinations to decide where to go. And even though travel planning is my favourite hobby (nerd, I know), it can be EXHAUSTING.
Group tours take all the stress away from organising any logistics, because your transport, accommodation, some meals, some activities and even recommendations for your free time are all sorted for you. What an absolute treat!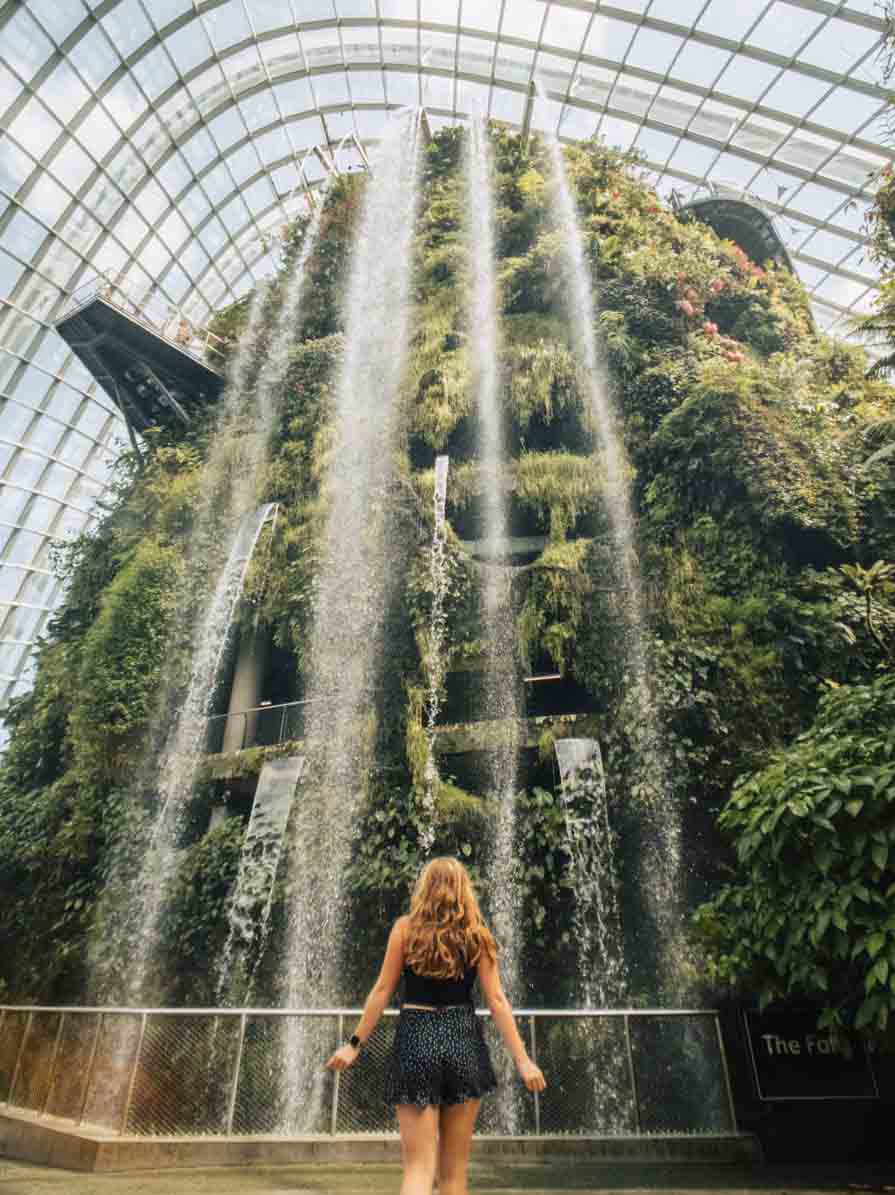 And thirdly, while the cost of a tour is generally more than what you would spend if you were travelling solo, staying in hostels, cooking your own food etc., the value for money is actually really impressive.
Tour companies benefit from economies of scale, meaning that what they give you in terms of hotels, food, transport and activities, would cost a lot more if you booked exactly the same stuff by yourself.
Your Contiki tour price always includes your accommodation (could be hostels, hotels, camping, overnight transport, boats or special stays depending on the tour), breakfast every day, a driver, a trip manager and in some destinations a separate tour guide too (like in Asia as it's a legal requirement to have a local tour guide).
They'll also cover some lunches/dinners and some activities, and there are optional extras that your trip manager can organise for the group for an additional fee. Our Bangkok to Singapore Contiki tour had quite a few activities included, like a river kayak trip, city tours, street art walks and temple visits.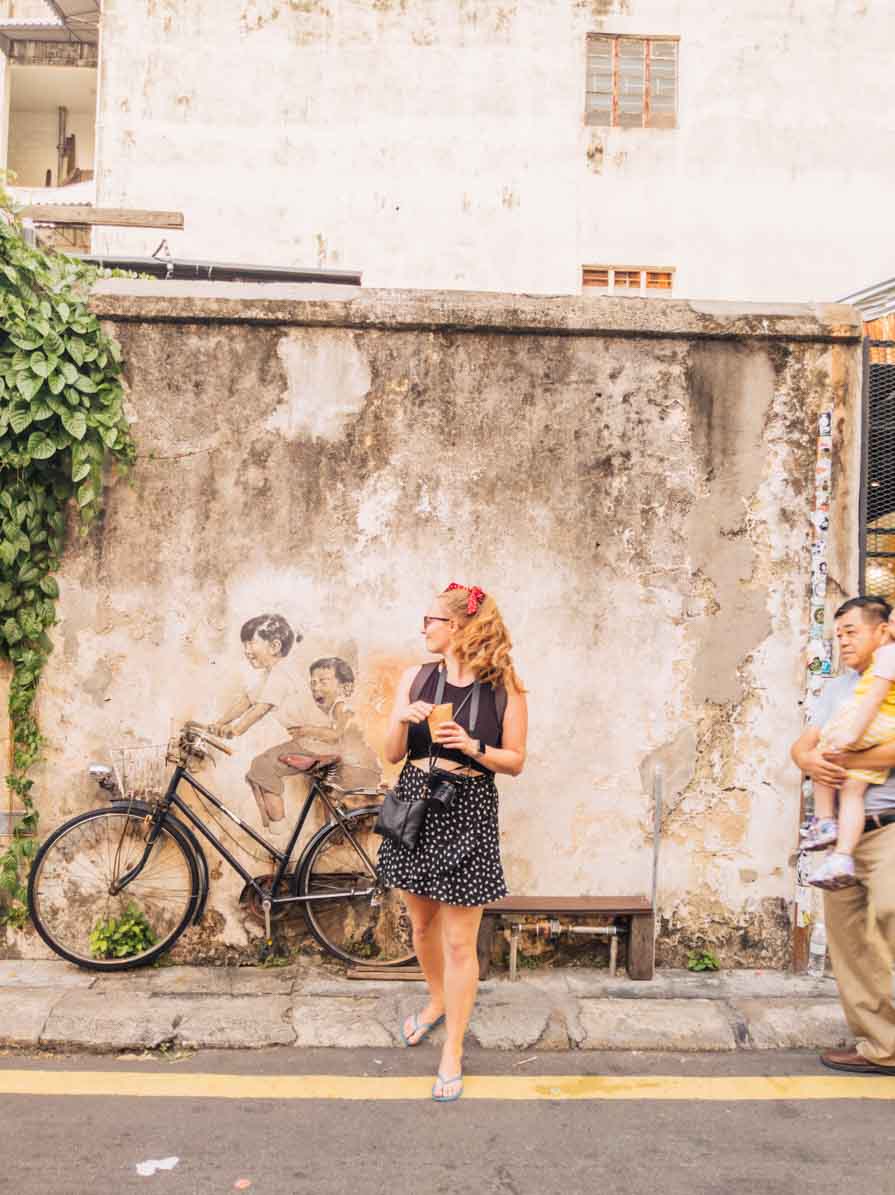 ---
Why I chose the Bangkok to Singapore Adventure Contiki tour
This crazy trip I'm on right now is taking me to a new country every week for an entire year, with my route based on the cheapest flight each Tuesday. I lock in my route by checking Skyscanner's Everywhere search from each destination, and note down the order of where I need to go. Then I cross-check with other transport options, like trains, ferries or tours, to see if there's a better way to make the journey than a flight.
YOU MIGHT ALSO LIKE: My ultimate three week Vietnam itinerary
From my extended time in India, the cheapest flight was to Bangkok, then Kuala Lumpur, then Singapore, but I was pretty keen to see more than just the main cities.
When I saw that there was a 14-day trip from Bangkok to Singapore Contiki via Khao Sok, Krabi, Langkawi, Penang and Kuala Lumpur I knew this was the ideal way to make the most of my time in Thailand, Singapore and Malaysia!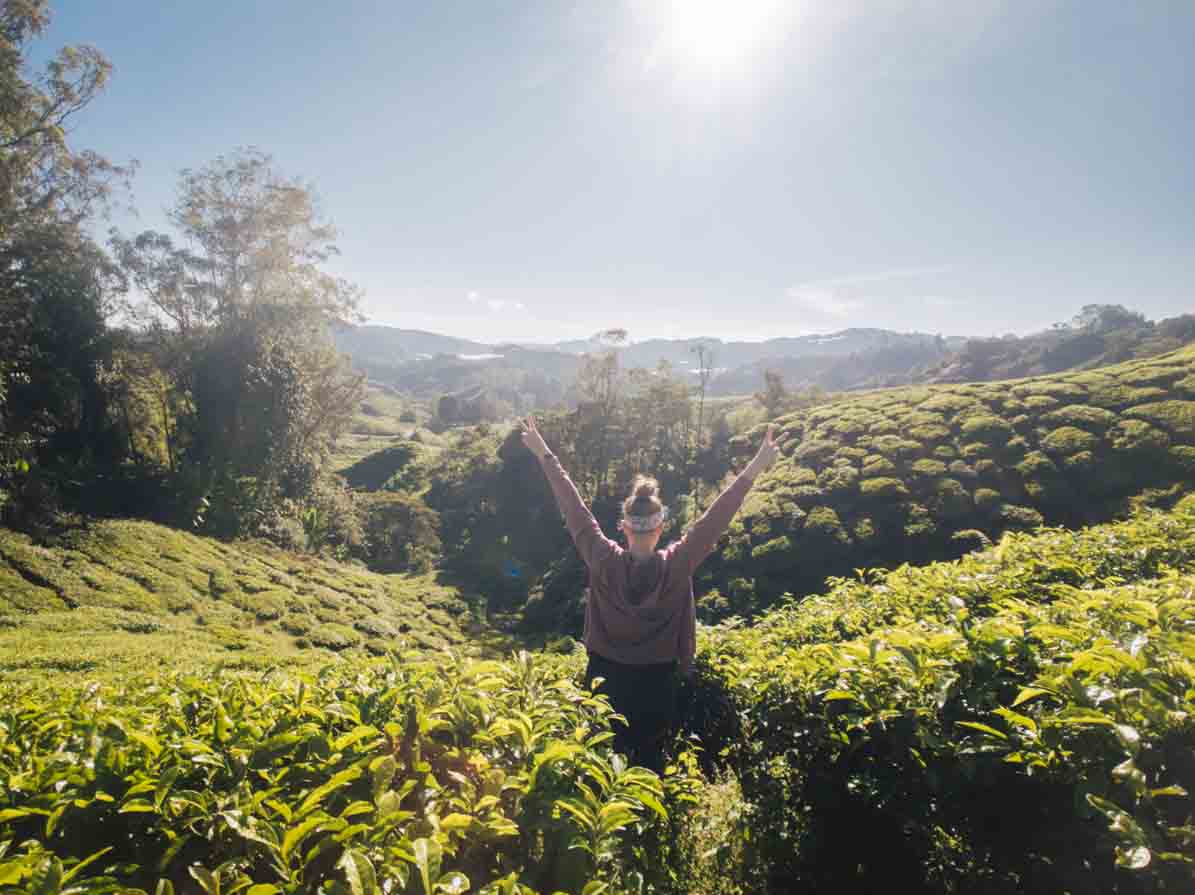 This trip also covered Christmas, and as much as I adore solo travel most of the time, Christmas Day is the one day of the year I'm not super keen to be by myself. Being able to celebrate Christmas with a bunch of new friends was pretty awesome, despite being in the least Christmassy place on earth, the highlands in Malaysia haha.
Because the trip spends a whole week in Malaysia, a predominantly Muslim country, and is over the Christmas period, I knew the type of people on the trip would likely be a bit older and a bit less drink-y than the usual crowd on some Contiki tours. And I was totally right!
---
About the group
Contiki tours range in size depending on your destination. Some Europe, North America and Australasian groups can be up to 50 passengers, but in Asia the group size is smaller, around 24 people per group on average.
Our Bangkok to Singapore Contiki tour was actually only eight people, probably because it was over the Christmas period. But no complaints, that meant more space in the bus and less time waiting for people every morning!
Compared to my other tour groups, our Contiki Asia group seemed like an anomaly. I was the ONLY Kiwi (that never happens), there were no Australians (which truly never, ever happens) and at 27 I was the third-youngest. Our ages ranged from 24 to 34, and we had five Americans, one South African, one Brit, and meeee.
Our tour guide, Rhi, was an absolute legend and was a Kiwi who grew up in Australia. After a couple of days we did the usual "So what part of NZ are you from?" thing to figure out what mutual friends we had in common (classic Kiwis). Turns out her grandparents live down the road I grew up on, used to lease the land my parents bought back in 1994, and that she would've gone to my primary school if she hadn't moved to Australia. Small world!
YOU MIGHT ALSO LIKE: The Ultimate Guide to Solo Female Travel
Because our group was so small, we managed to bond pretty quick which was super cool. In our short time together we learnt a lot about each others' lives, helped with travel plans, gave career advice (quit your job!), and planned when we would see each other next.
We even encouraged two members of the group to face their fears: one was swimming in the ocean for a non-swimmer, supported by our whole group and a funky watermelon floatie, and the other was the jump off the boat despite being terrified of heights. These are the type of moments that make group tours totally worth it.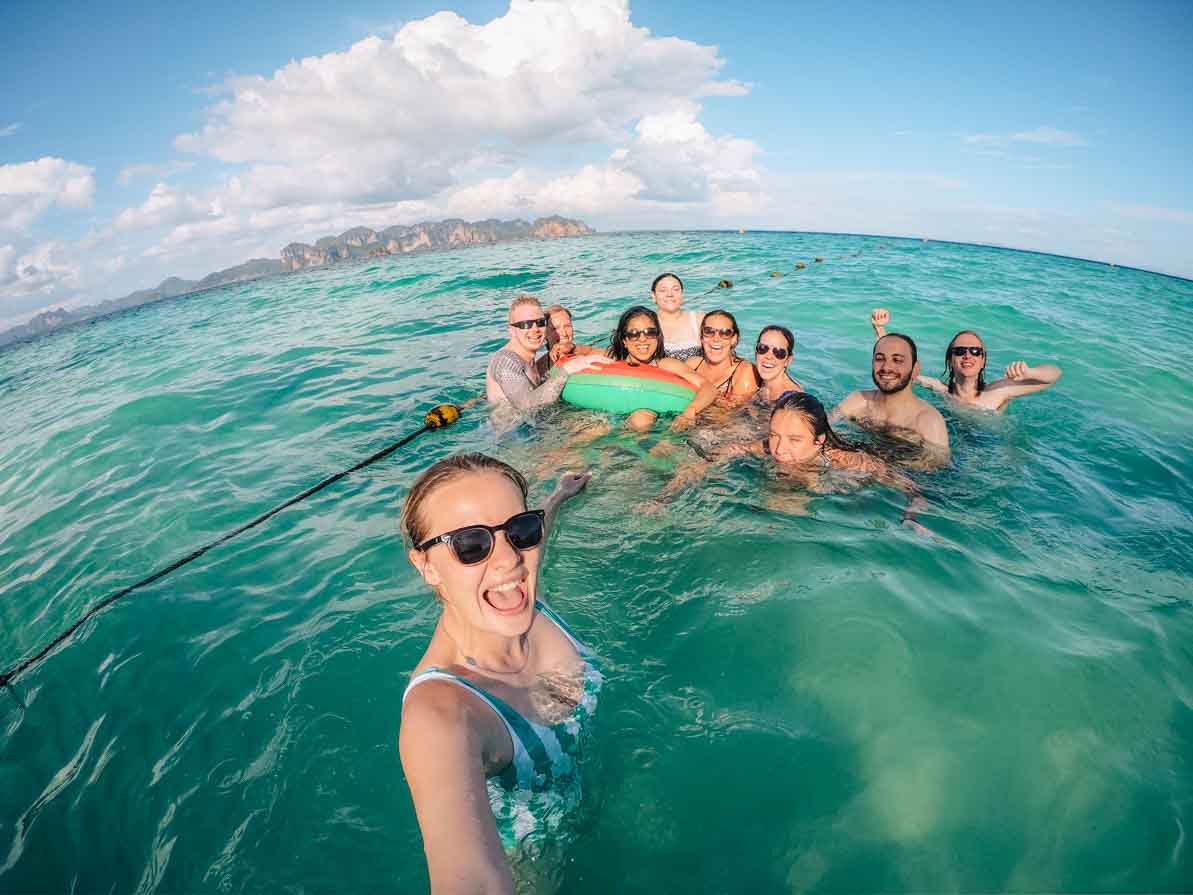 ---
Our Thailand, Singapore, Malaysia Contiki tour itinerary
Day one: Arrive in Bangkok
Day two: Full day in Bangkok, night train to Khao Sok National Park
Day three: Full day Khao Sok
Day four: Full Day Khao Sok
Day five: Khao Sok to Krabi
Day six: Full day Krabi
Day seven: Ferry to Langkawi
Day eight: Full day Langkawi
Day nine: Ferry to Penang
Day ten: Penang to Cameron Highlands
Day eleven: Full day Cameron Highlands
Day twelve: Cameron Highlands to Kuala Lumpur
Day thirteen: Fly to Singapore (flight included)
Day fourteen: Tour ends in Singapore
---
Things to know before your Bangkok to Singapore Contiki tour starts
SIM card
There are plenty of tourist SIMs available in Thailand, Malaysia and Singapore. You can buy these ones online for Thailand, Singapore, Malaysia, or you can buy on arrival at the airport or ferry terminals.
WiFi
Most hotels, hostels and restaurants in the major cities have WiFi, but in more remote places like Khao Sok National Park and the Cameron Highlands you might struggle with slow speed and shoddy connectivity.
PRO-TIP:
I travel with this Skyroam WiFi hotspot which can connect to WiFi almost anywhere in over 130 countries. It's basically magic! I'm all for a digital detox every now and then, but this baby has helped me download Netflix during rainy days in the jungle, reply to important emails in homestays with no WiFi, and watch Rugby World Cup games on high-speed trains. Get 10% off yours with the promocode FINDINGALEXX.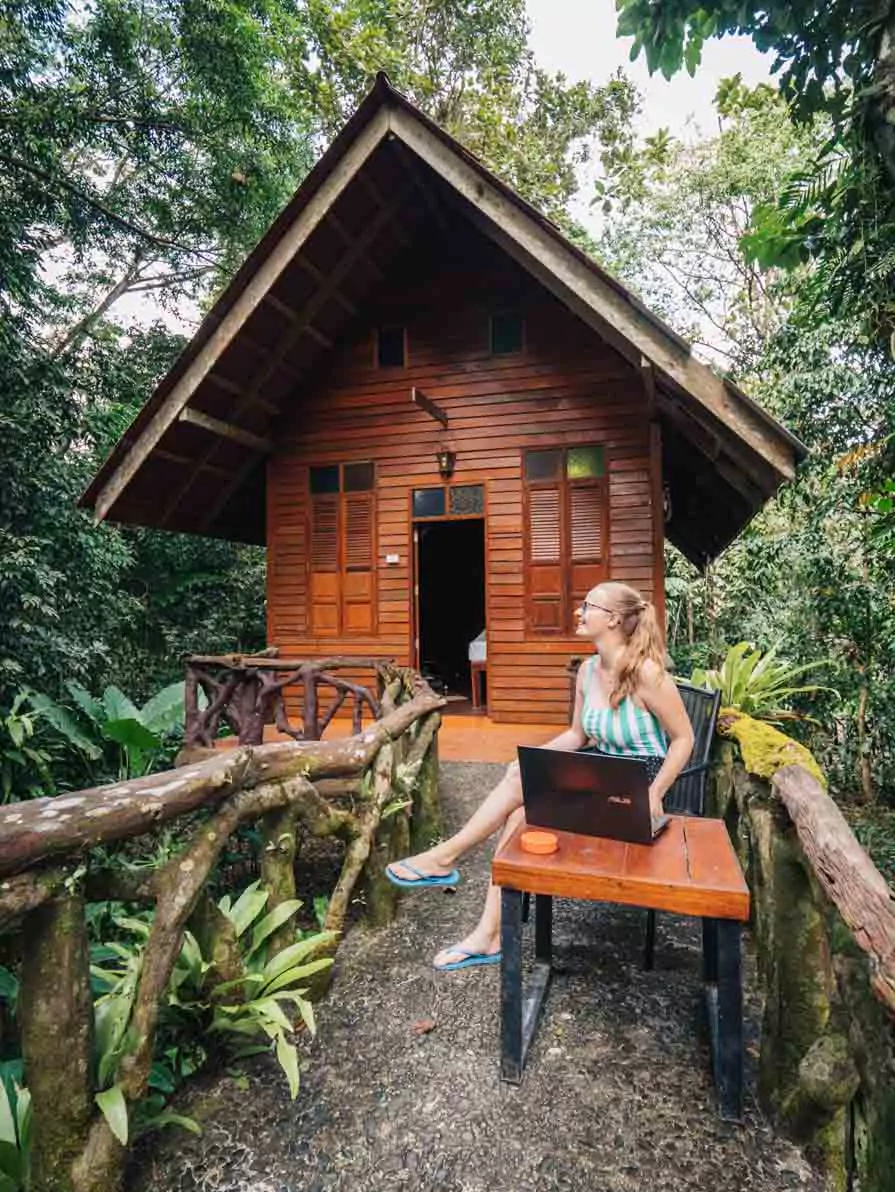 Apps to download
Download Grab as soon as you get to Southeast Asia, it's their local version of Uber. You'll need a local phone number to activate it, and then you can book GrabCars, GrabBikes or Grab food delivery to your heart's content.
Also download Klook ASAP, my number one recommendation for booking activities and experiences. They have THOUSANDS of things to do all over the world, but Asia is their bread and butter so the range is extra extensive.
Klook has everything from landmark tickets to day trips to restaurant vouchers and SIM cards, and they also are often 10-15% cheaper than booking direct. You can check out their website here or download the app right here for Apple and here for Android .
YOU MIGHT ALSO LIKE: What's in my camera bag for a year of travelling around the world?
Cash or card
Thailand is a cash-heavy country and you'll need cash for food, shopping and transport. ATMs are plentiful and they cost around 220 THB (£5/$2.50 NZD) each time you use them.
Malaysia is a mix, hawker stalls and smaller shops will require cash but I managed to pay by card at more restaurants than I did in Thailand.
Singapore is very card-friendly, but you'll need cash for the hawker markets as usual.
PRO-TIP:
As always, if it gives you an option to select being charged in local currency or home currency, ALWAYS choose local as you'll get a better exchange rate that way.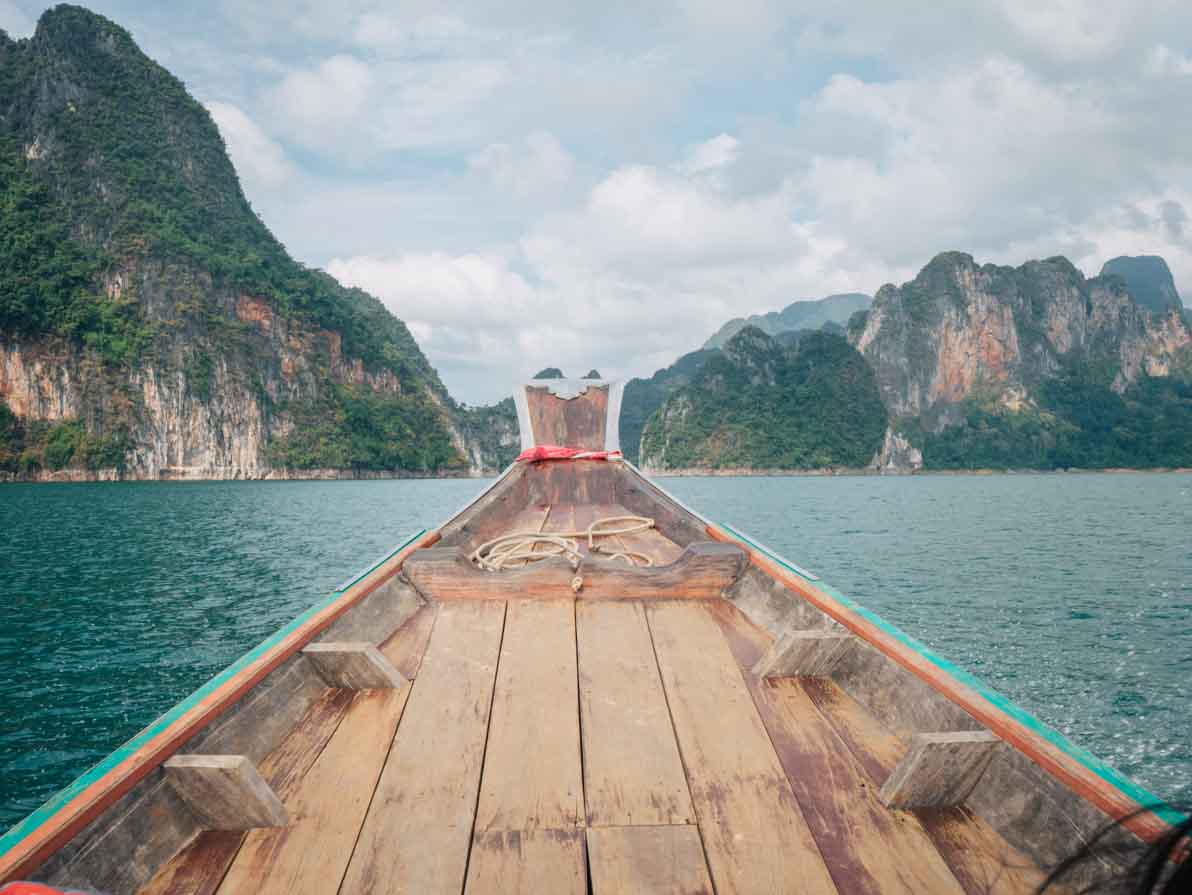 Etiquette
Thailand is obviously a major tourist destination so Western culture has definitely affected the local way of life, but it's actually a predominantly Buddhist country with some etiquette that travellers need to be aware of.
Respectful dress is appreciated all through Thailand, especially in smaller local areas and definitely at temples or royal landmarks. At temples you'll need to cover shoulders and knees, and it's respectful to do the same in rural areas or at local homestays and villages.
In bigger cities it's common for tourists to wear anything and everything, but a good rule that a tour guide once told me is to dress how you would around grandparents. Shorts, skirts, singlets etc. are probably fine in the bigger cities, but avoid anything with a lot of cleavage and definitely don't wear butt shorts If you're at the beach, on the islands or in a resort town then swimwear and beachwear will be fine.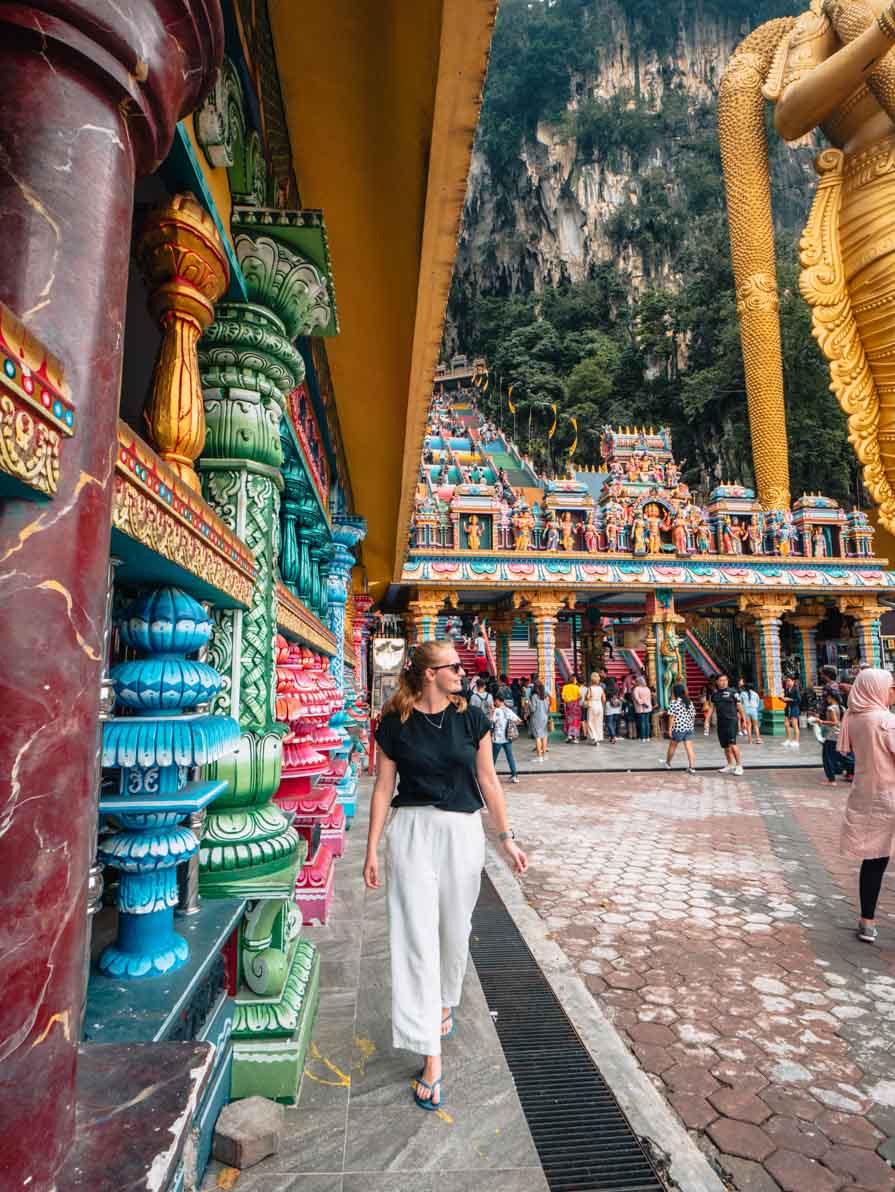 For Malaysia, a Muslim country, you do need to be a bit more conservative unless you're in Langkawi on the beach or in younger districts in major cities. Pack light, breathable clothing that covers your shoulders and knees, like linen shirts or maxi skirts or backpacker pants. Shorts and singlets are fine in some places but check with your tour guide or hostel/hotel reception if you're not sure.
Singapore is pretty chilled so you can wear what you want, but some of the more upmarket bars (like any rooftop bars) will require enclosed shoes for guys and heels/tidy flats for girls.
---
Where we went in Thailand
Bangkok
One of my favourite cities on the planet! I think Bangkok gets a bad reputation because the tourist side of the city can be pretty grim. Khao San Road is loud and messy, the Grand Palace can be hot and packed to the brim, and some of the markets can be a bit of an assault on the senses if you're new to Asia.
BUT I've been three times now and every time I love it even more. The shopping is incredible, everything is cheap, the people are friendly (if you can ignore market stalls and bars trying to get your attention), the food is fantastic and there are some stunning temples and buildings to see.
YOU MIGHT ALSO LIKE: A huge list of all the best places I've stayed around the world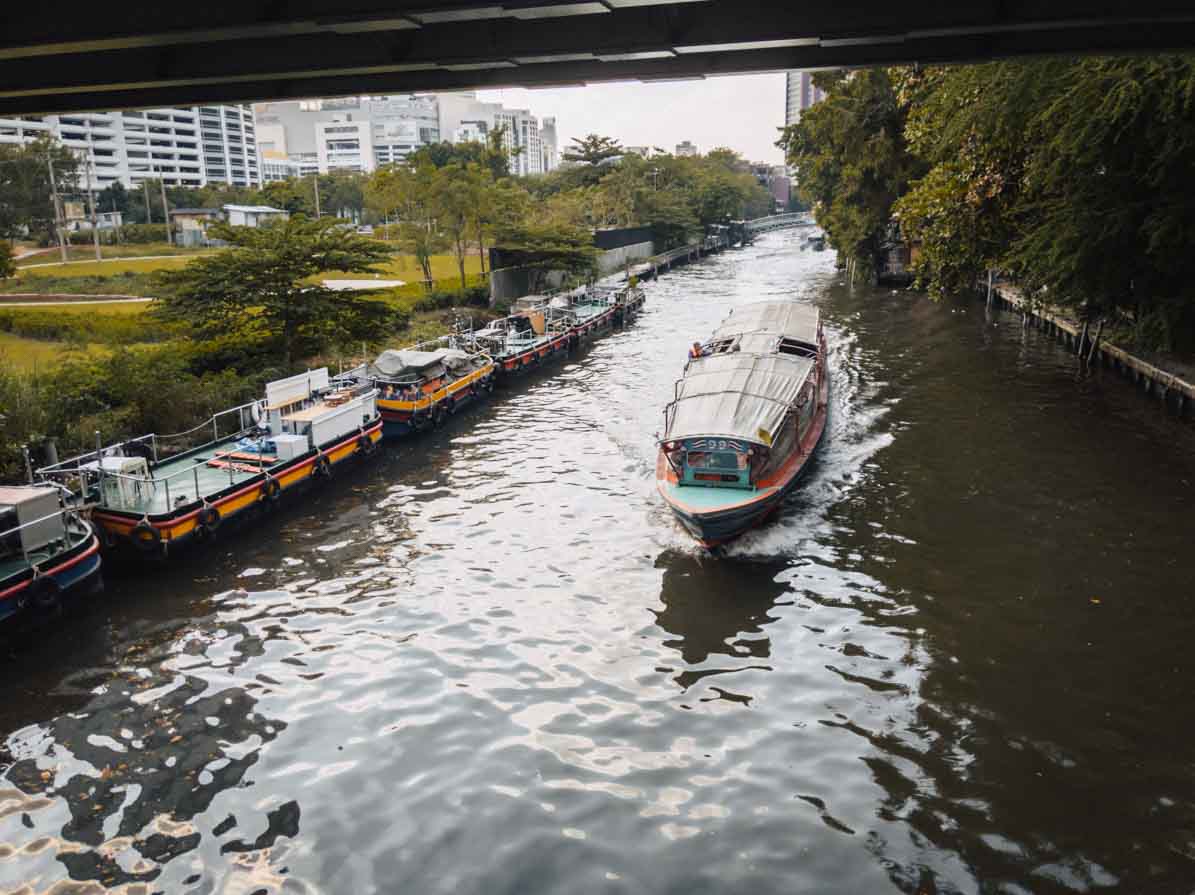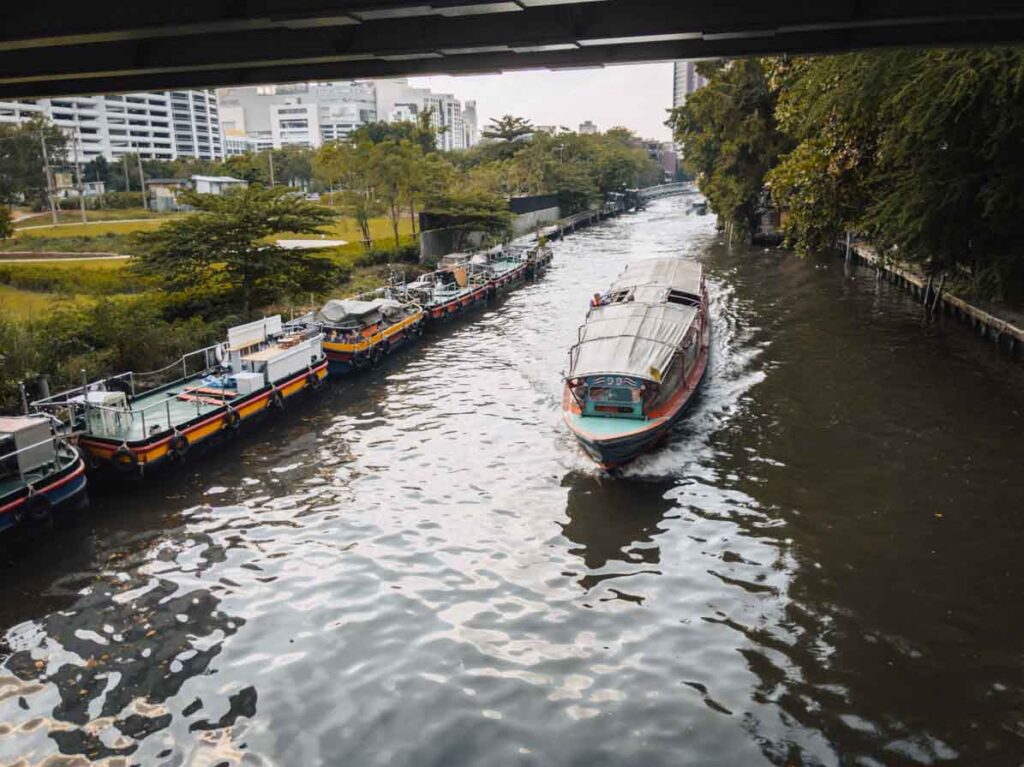 What we did
Our Contiki tour officially started at 6pm on day one in Bangkok, where we met for an intro meeting and then headed out for a group dinner and street food (not included). Bangkok nightlife can go off big time, but the mature bunch of travellers we are, we decided to leave it at two cocktails and a banana crepe and head back to the hotel.
Day two was a whole free day in Bangkok, until we had to meet back at the hotel at 4pm to get ready for our night train to Surat Thani.
Optional extras
Our first optional extra was on the morning of day two, for an early tour of the Grand Palace. I had already seen the Grand Palace on my first trip here so I opted to sleep in and do my own thing.
12 of the best things to do in Bangkok
Where to stay in Bangkok if you're not on a tour
Our first Contiki Thailand hotel was Nouvo City Hotel, which was comfortable and just a ten minute walk to Khao San Road. There was a rooftop pool and the buffet breakfast was brilliant, so it was a great start to the tour.
Before the tour started, I spent a night in Bangkok at another hotel called W Station. And WOW, what a gorgeous little spot! It's just around the corner from a BTS Skytrain station so super easy access to other parts of the city, the room was beautiful, the staff were beyond helpful and the on-site restaurant was next level.
---
Khao Sok National Park
Our overnight train from Bangkok to Surat Thani was actually a surprisingly fun experience. We stocked up on snacks and had a moving sleepover! When we arrived 11 hours later, we had two minivans and a local tour guide pick us up and take us to paradise, a.k.a. Khao Sok National Park.
What we did
We had two nights in Khao Sok, the first one in some epic jungle huts and the second staying on the lake in some floating houses as one of Contiki's 'Special Stays'. Bucket list!
In the jungle we had an included canoe trip down the river, our first group activity and a lot of fun! There were locals paddling for us so I felt incredibly lazy, and the guide pointed out monkeys, frogs, snakes and fish.
There was a little swimming stop too (the first of many on this tour!), which we were so excited about, until the guide told us to watch out for the fish that looks like a brown rock which is extremely poisonous… No big deal. We proceeded to swim in life jackets to help us float and avoid touching the bottom at all!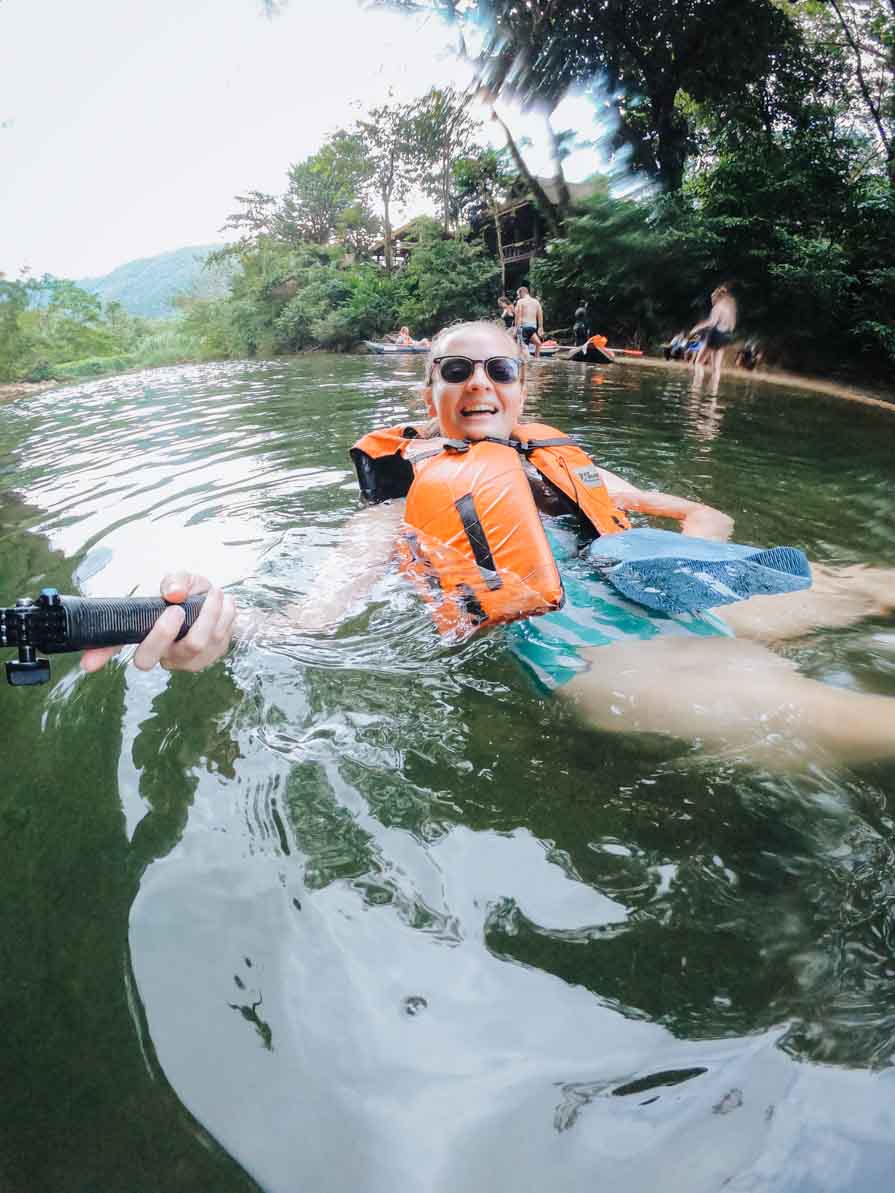 After drying off from the canoe trip, we got dropped off on the main road for a group dinner (not included) and then some cheap cocktails at a low key bar, before our minibus-turned-party bus drove us home with pumping tunes and disco lights.
The next day we headed to the man-made Cheow Lan Lake, one of the most stunning places I've ever been in my life. With bright green water, traditional longtail boats and immense limestone cliffs, it is seriously straight out of a postcard.
We caught a longtail boat to get to our lakehouses, where a buffet-style lunch and dinner were both included. In the afternoon we took a quick boat trip to another island for a short trek through the jungle and some caves, before heading 'home' and cooling off with a dip in the lake.
There were no optional extras or anything specific to do during our free time in Khao Sok as we were staying in a remote area, so we spent our day detoxing from the internet (YAY for no WiFi!) and retoxing with the drinks we stocked up on before we left the mainland.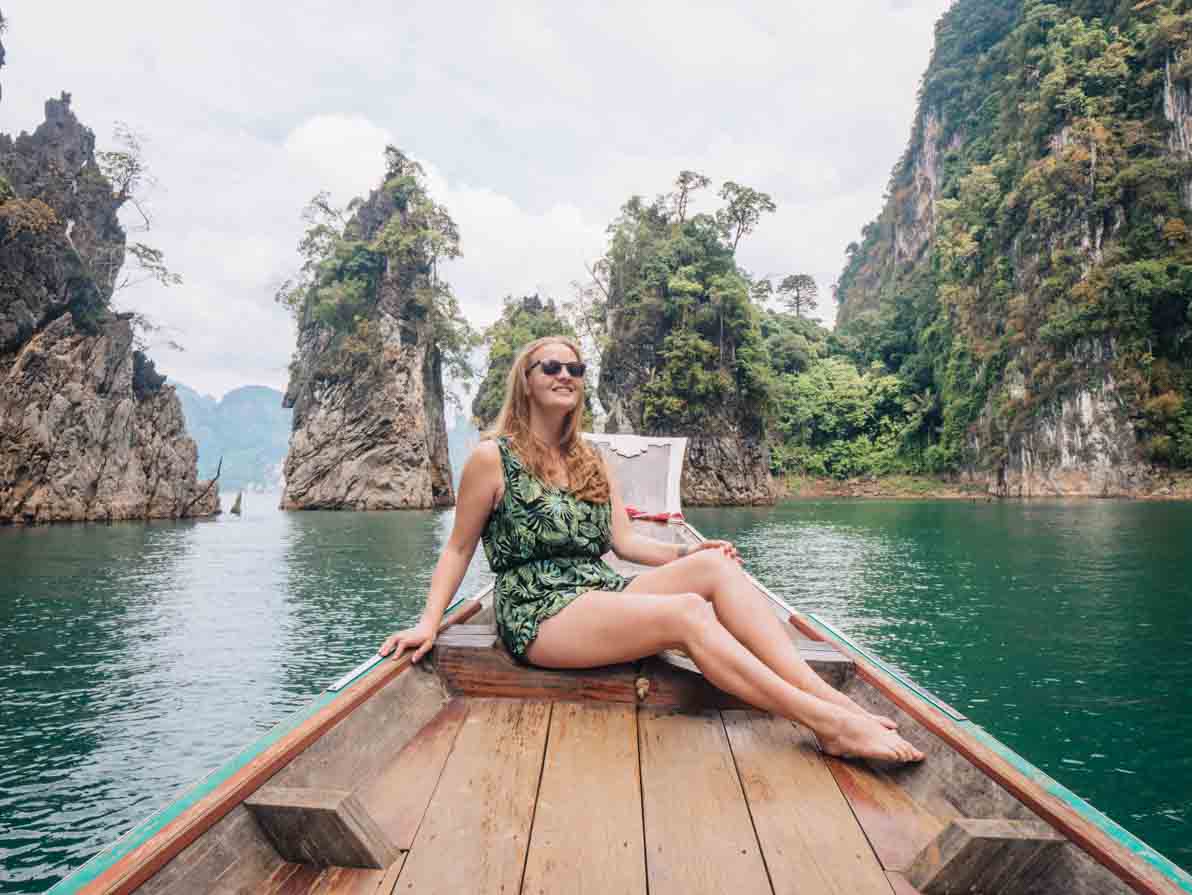 Where to stay in Khao Sok if you're not on a tour
If you're heading to Khao Sok yourself without a tour, I'd highly recommend spending some time in the jungle and some time on the lake.
Our jungle huts were at Art's Riverview Lodge and are probably a mid-range option in terms of cost. Budget travellers should check out Khao Sok Jungle Hostel, and if you want to 'splurge' you could get a room for two at the Bliss Boutique Lodge from only £45 a night.
For the floating raft house, a lot of the accommodation options are connected to local tour companies who also organise your transfer. If you want to visit for a day, you can check out a day tour from Phuket or Krabi.
Heading to Thailand for a special occasion? Something that's been on my bucket list for a long time is glamping at Elephant Hills. I've had a number of friends visit and they all rave about it!
It's an elephant sanctuary with two glamping set ups in Khao Sok, one in the jungle and one on floating rafts, and they boast a 5* TripAdvisor rating (after 2300+ reviews) and a 100% rating for their animal welfare standards. This is something I'm really hoping to experience myself later in the year.
---
Krabi
One of the reasons I picked this tour was because of the ratio of land time vs. water time! After five months and only two beachy destinations, I was desperate to be by the ocean but equally desperate to avoid the Christmas holiday chaos in Thailand's main seaside hot spot, Phuket.
Krabi is a few hours' drive or a two hour ferry from Phuket, and at the moment it's more targeted towards backpackers/travellers as opposed to families or anyone looking for an easy package holiday.
The town itself is packed with souvenir stores, massage parlours and restaurants serving up both local and Western eats, and it's the gateway to some insane islands and boat trips.
What we did
Krabi was definitely a trip highlight, and it was where our group really bonded! Luckily we had loads of free time here to explore a couple of must-dos around the town.
Our hotel had a stunning rooftop pool so we spent a lot of time in there, and we managed to squeeze quite a bit into our day and a half trip, from hiking to yoga classes to massages and sunset booze cruises. Dream holiday? Absolutely.
Optional extras
The Bangkok to Singapore Contiki tour normally has a private boat trip as an optional extra for 2400THB (£60/$120NZD) but our small group meant we didn't have enough people, so our trip manager organised for us to join another booze cruise instead!
We jumped onto the Blanco Boat Party for an afternoon of cocktails, swimming, snorkelling and dancing, plus managed to see a sick sunset, with the cherry on top being the nightly bat migration we witnessed as the sun was going down. The boat party had passengers from other hostels too but it was cheaper than the private optional extra, so you win some you lose some.
13 of the best things to do in Krabi
IMPORTANT NOTE: There are plenty of 'elephant sanctuaries' popping up all over Asia touting ethical practices, and without official regulations around the world 'sanctuary' it can be hard to tell what's legit.
I always try and research anywhere I go that has animals involved, and I'll always share my honest experience. I haven't visited Aonang Sanctuary myself but I've had friends visit and they've all said it looked perfectly ethical from what they experienced, with the elephants free to roam, no riding, and lots of education about the elephants. If you experience otherwise, please let me know so I can remove this recommendation from this blog.
Where to stay in Krabi if you're not on a tour
While some tour companies are known for skimping on crappy accommodation, Contiki took it the whole other way… With two nights at AVANI Aonang Cliff Resort, a lush 4* resort complete with an infinity pool with a bar and the perfect sunset view. This is one of those hotels where it's almost hard to leave and actually explore the destination!
If you're on a budget I've heard great things about NOMAD Hostel, or for a more authentic local experience check out Nisarine Homestay on Koh Klang, the island right opposite Krabi town.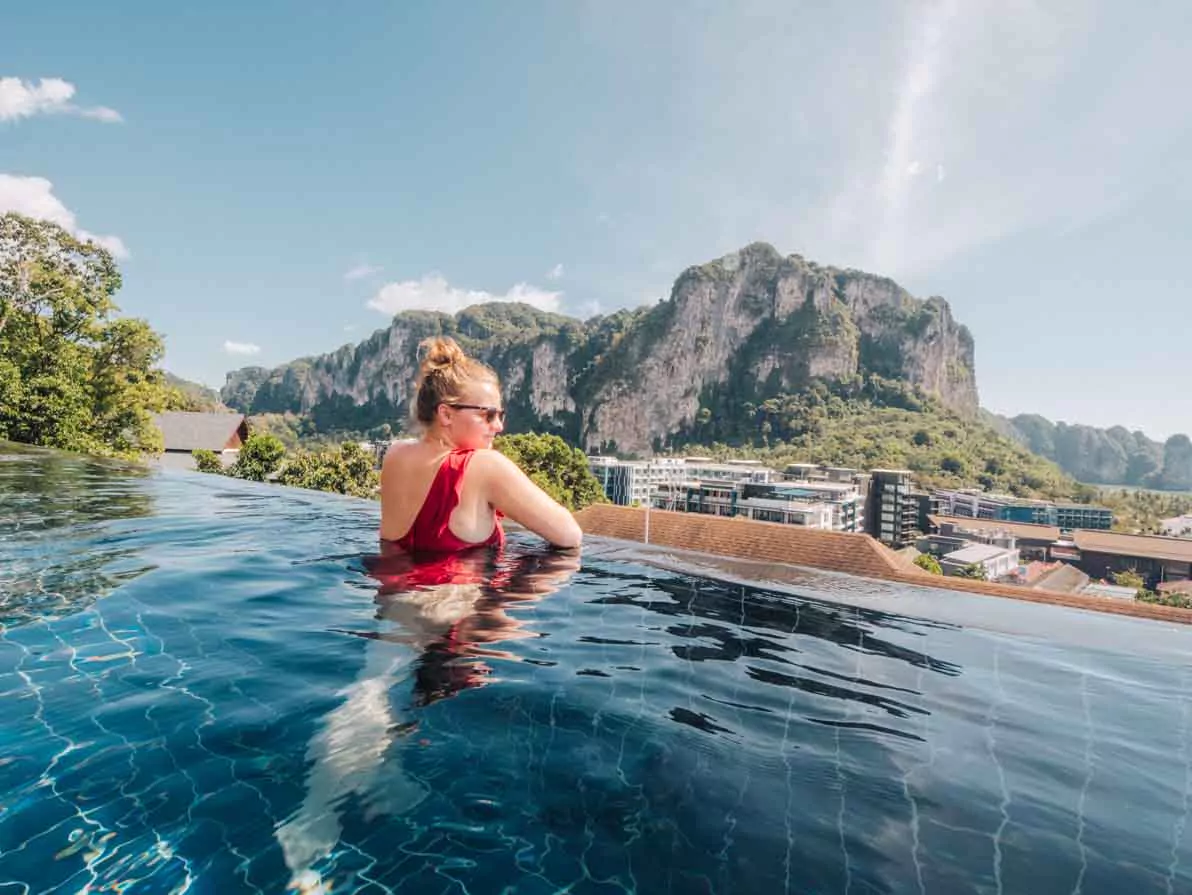 ---
Where we went in Malaysia
Langkawi
Malaysia's own island paradise, Langkawi seems to be a bit of a hidden gem for Western travellers. White sand, bustling beach bars, panoramic views and boat trips await!
What we did
We had two nights in Langkawi, with a full day in the middle to explore.
We arrived late on the first day and headed out for some dinner and drinks on the beach, then we had a full free day before meeting at 4pm for an optional sunset dinner cruise. After quite a number of pina coladas on the boat, we hit the mainland beach bars to continue the festivities, and ended up having one of the greatest nights on the trip.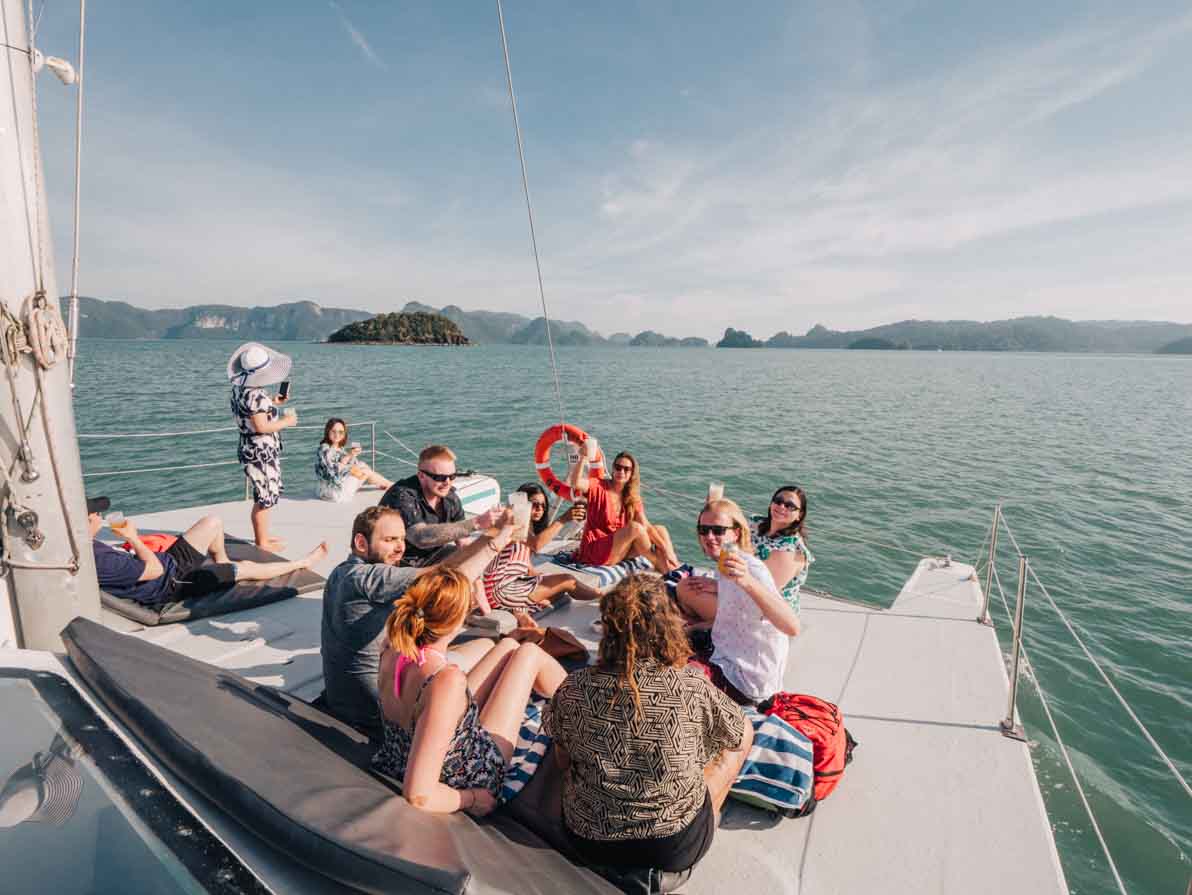 Optional extras
The sunset dinner cruise was one of the tour optional extras, for 280MYR (£51/$102NZD), which was well worth it. We had a shared boat with a family of three (two parents and their 20-year-old daughter) but the bigger groups get a private boat.
The cruise includes a buffet dinner and unlimited drinks. Yes, unlimited. Challenge accepted.
The local guys who run the boat trip were hilarious and really made our evening that much better! Our glasses were constantly getting replenished and they pumped the tunes as loud as they could go.
The boat has a net on the back which you can sit in and relax (/try not to let go and float away) while the boat is moving, which was an equally awesome, stressful and hilarious experience, and the sunset was magical.
A sunset cruise or any sort of boat trip is definitely a Langkawi must-do.
10 unique things to do in Langkawi
Where to stay in Langkawi if you're not on a tour
Our hotel in Langkawi, faveHotel Cenang, was comfortable enough but wasn't anything special, especially compared to the treat we got in Krabi.
I'd recommend picking one close to the main beach, like Langkawi Dormitorio for budget travellers, Blissful Guesthouse if you want a cheap private room, or Meritus Palangi Beach if you want to go all out.
---
Penang
Another trip highlight for me, colourful Penang has secured its spot on my list of favourite cities in the world! Funky street art adorns the walls all through the old town, the food scene is on fiiiire and it's the perfect place to stock up your suitcase with quirky souvenirs for friends and family back home.
My only complaint is that we only had one night here, when I could've easily spent a week!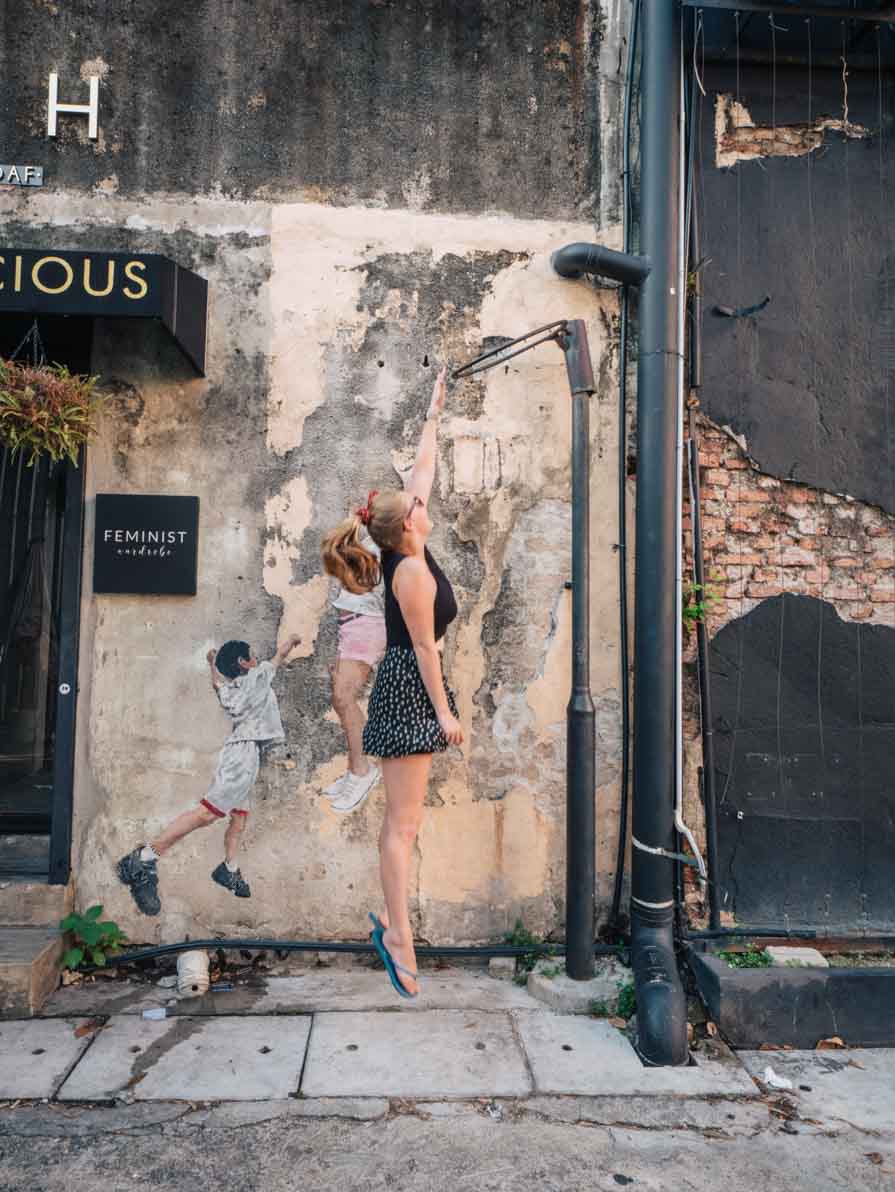 What we did
We arrived in Penang via ferry from Langkawi and headed straight to our hotel in Georgetown, the UNESCO World Heritage-listed district that's brimming with culture, art and food from Chinese, Indian and colonial influences.
Included in our tour was a street art walk in the old town, where our trip manager took us down winding alleys and past buzzing market stalls to find all the best graffiti masterpieces. Some are politically-charged, some are interactive with 3D elements, and some are simply really, really Instagrammable.
After a couple of hours getting lost down narrow lanes and searching for Secret Santa presents in Georgetown's charming gift shops, we stopped for a group dinner at one of the city's famous hawker stalls. Hawker stalls are like giant food courts with loads of stalls selling cheap, authentic local and international food. They're a brilliant way to make your money go far when you're travelling on a budget!
That night was a free night but we were all a bit exhausted (read: too old) so we did a spot of nighttime shopping and headed back to the hotel. Penang's nightlife seen is pretty lively compared to most other Malaysian cities so if you want a night on the bevvies or are keen to hear some live music, this is the place to do it.
The next morning we had an included city tour with our local guide, who zipped us around to a number of the city's grand temples and exquisite clan houses before saying buh-bye to our new favourite spot and starting the drive to the Cameron Highlands.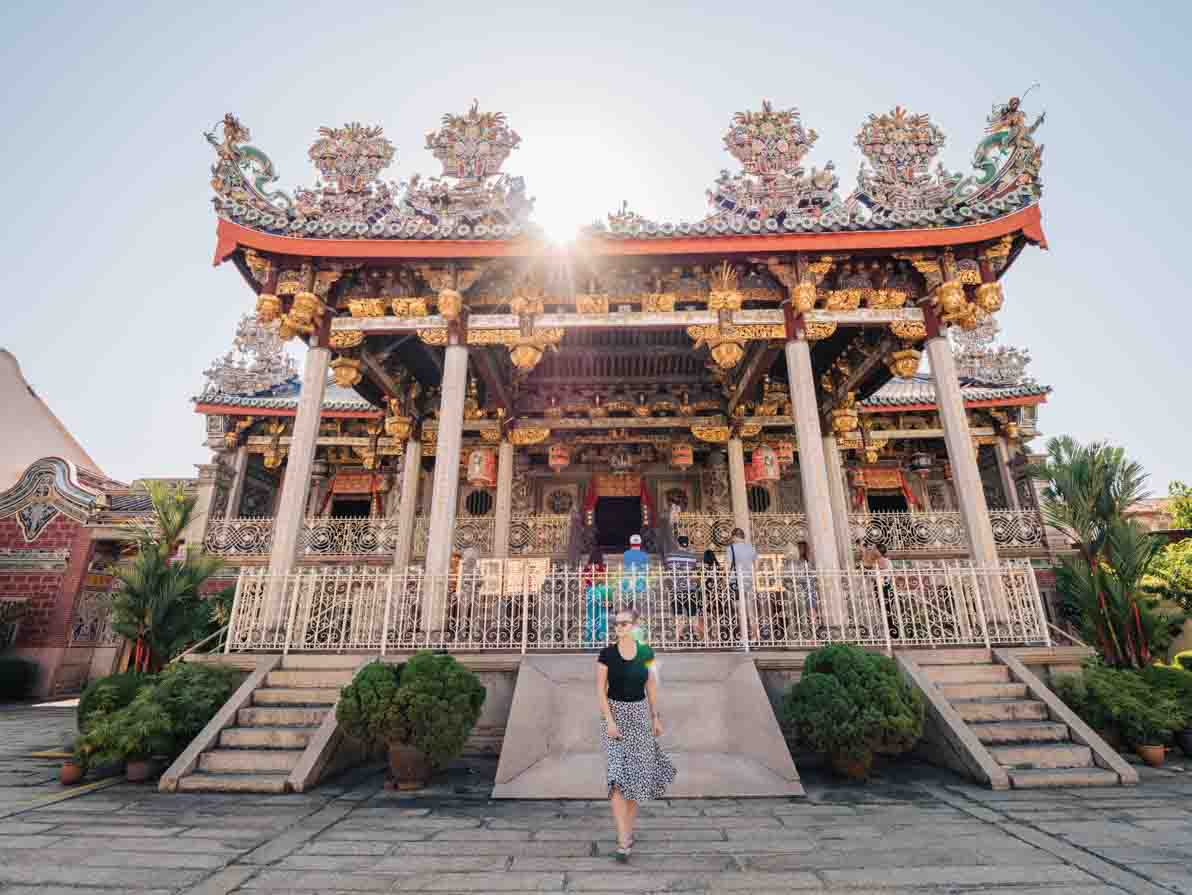 21 unique things to do in Penang
Where to stay in Penang if you're not on a tour
We stayed at NEO+ Hotel, which was a basic but comfortable 3* hotel. The breakfast was really decent and there was a rooftop pool.
If you're looking for a cheap dorm room you can't beat Great Shanghai Guesthouse, or you can get a basic private room with a shared bathroom from only £8 at WeLuv Travel Guesthouse. There are plenty of guesthouses and apartments offering decent quality places to stay for less than £40/$80NZD a night too, like Palm Mansion Boutique Suites, Betel Nut Lodge or Magpie Hideaway.
For bigger wallets and fancier standards, check out Tien Hotel Residence, 23 Love Lane Hotel or Eastern & Oriental Hotel.
---
Cameron Highlands
It was always going to be tough to beat the magical landscapes in Khao Sok, epic boat parties in Krabi and Langkawi and the melting pot of culture and cuisine in Penang, so the Cameron Highlands had an impossible task.
Don't get me wrong, the emerald green vistas are a stunning sight to see, but they aren't as mind-blowing as the other places we were fortunate enough to tick off earlier in the tour. The towns in the Cameron Highlands are weirdly touristy and eerie at the same time, with decrepit buildings and apparently haunted hotels side by side with tacky amusement parks and rolling hills of tea plantations. Very, very strange, it's hard to describe!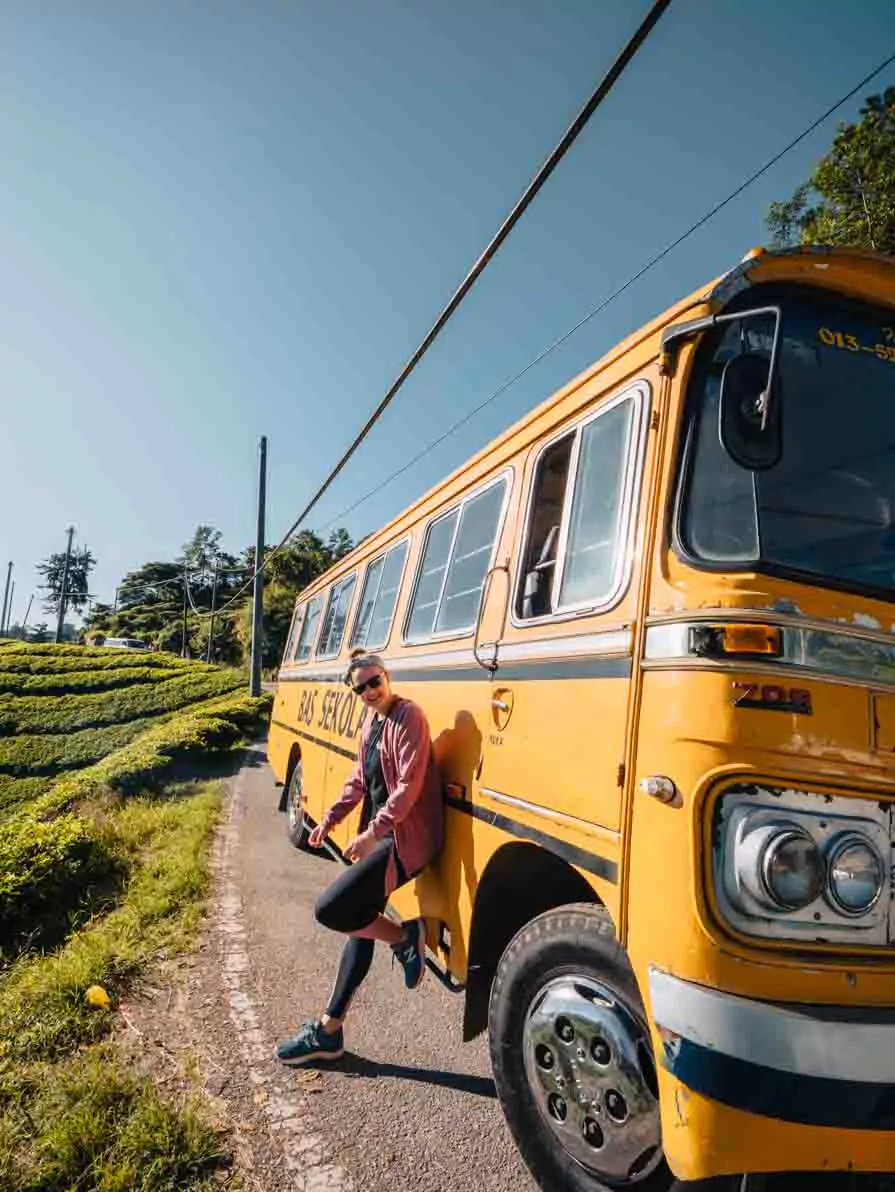 We had two nights here, one full day in the middle, but Contiki have listened to customer feedback from previous trips and have changed the itinerary form April onwards to one night only and an extra night in Kuala Lumpur instead, which I reckon is perfect.
I think this area is worth a stop if you're doing your own trip from Penang to Kuala Lumpur or vice versa, but it doesn't require hours and hours of exploring.
What we did
We had a long bus day from Penang and arrived in the Cameron Highlands just in time to watch a fiery sunset over the green hills from our hotel balcony. This was actually Christmas Eve and our hotel rooms were huge, so we decided to have a girls' night (sorry to the guys on our trip) with pizza, lollies and a movie!
We woke up on Christmas morning to nothing from Santa (sad face) but with a day of exploring ahead of us in one of the least Christmassy places on earth haha. After the necessary Skype to families back home, we boarded the bus with light up Christmas tree headbands and ugly sweaters, and drove out to visit a tea plantation.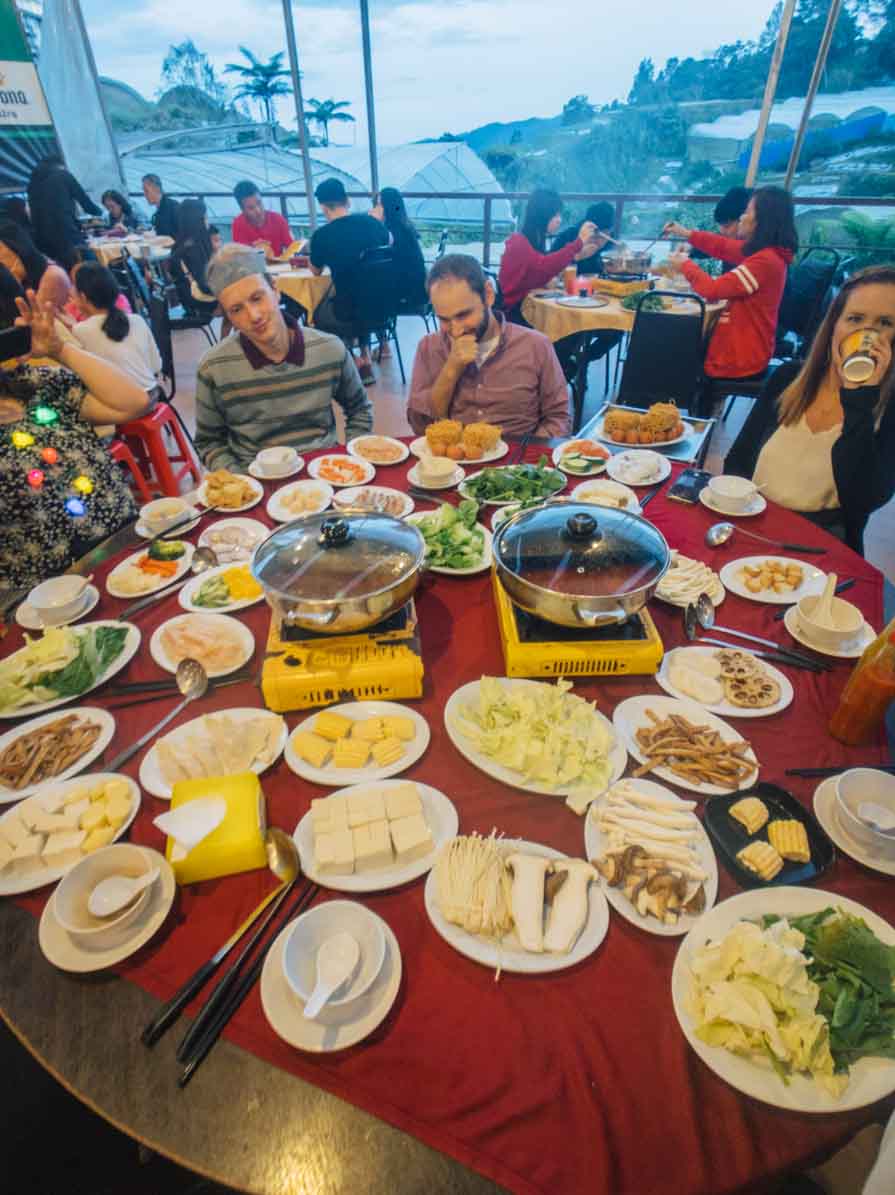 The plantation visit included a quick tour through a factory (not my thing), taking photos with endless green in the background (more my thing) and tasting some infused teas and desserts (definitely my thing). We also visited a strawberry farm, although coming from NZ this wasn't exactly groundbreaking for me.
After playing tourist we had a free afternoon, where we had a traditional Christmas lunch at an Indian/UK-themed pub, before heading out to a lavender farm kinda place which was absolutely not what we expected. I was picturing rows and rows of soft purple flowers and trying to run away from bees, but it was actually a total tourist trap with strange 'Instagrammable' backgrounds and soap-flavoured everything. It was an experience haha but I wouldn't recommend anyone spend their money on it.
Christmas evening was a lot of fun, with an included steamboat dinner (Malaysian-style hot pot) and a group karaoke session where we played Secret Santa and celebrated the birth of the big J by screaming Celine Dion songs and drinking copious amounts of Southeast Asian beer. What would Jesus do, am I right?
Cameron Highlands obviously wasn't my favourite place on the tour, but you're never going to fall in love with everywhere you visit. There were some seriously impressive landscapes, our Christmas antics were a good time and our hotel rooms had microwaves which meant I could have Christmas morning popcorn, so no regrets!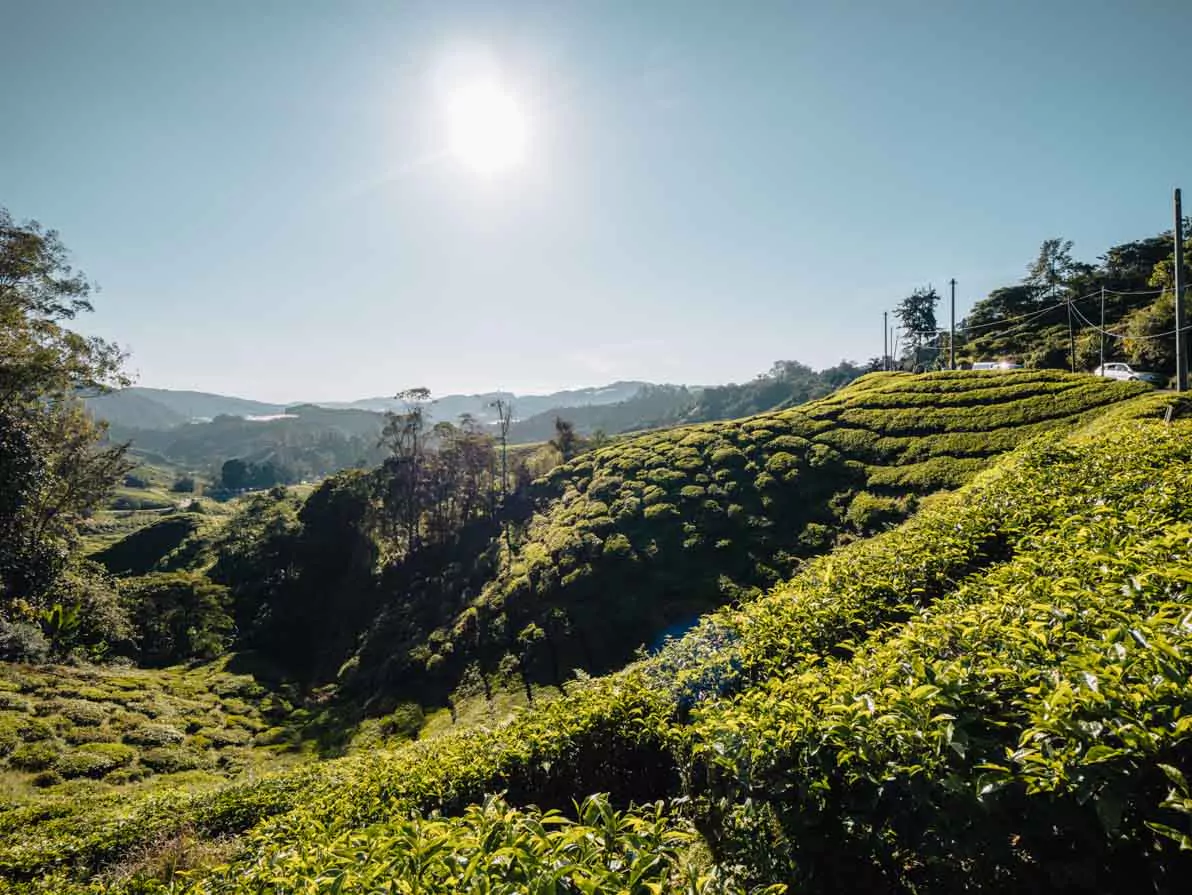 ---
Kuala Lumpur
Malaysia's capital city has so much going on, from quiet parks to futuristic skyscrapers to rainbow-coloured temples and hawker stalls boasting super cheap eats.
Our tour only had one night here but from April onwards Contiki are swapping out one night in Cameron Highlands for an extra night in KL.
What we did
Our only day in Kuala Lumpur was packed with landmarks and photo spots, just the way I like it!
We began with our Malaysia tour guide giving us a quick whistle-stop city tour around major landmarks, like the Istana Negara (the official royal residence), the National Monument, the Lake Gardens, the Petronas Towers and more.
We arrived to our hotel early afternoon and were pleasantly surprised to have another pool – our sixth of the trip, and it was a rooftop pool no less. What was less pleasant was the prices of drinks at the pool bar, Malaysia has somewhat of a sin tax on alcohol so it's not a great place to visit if cheap drinks are your number one priority. That's what Thailand is for!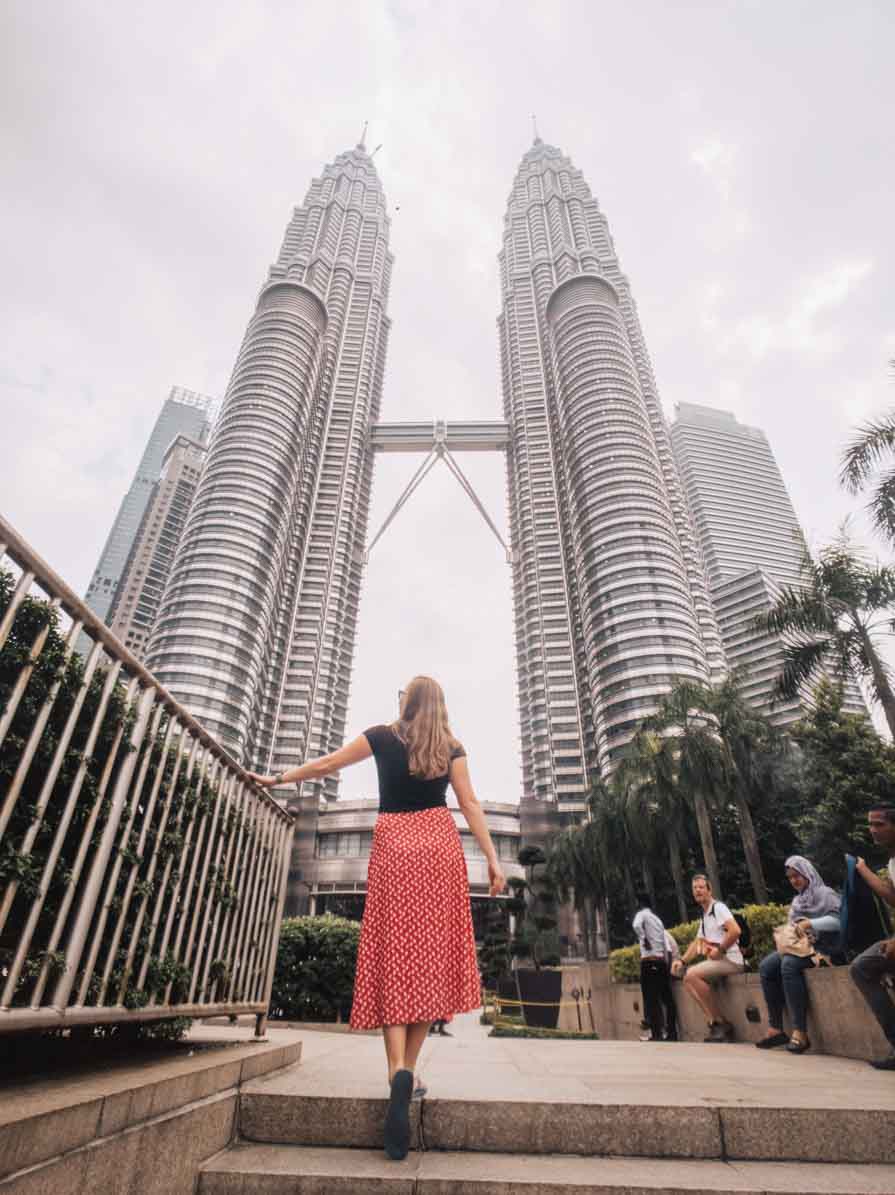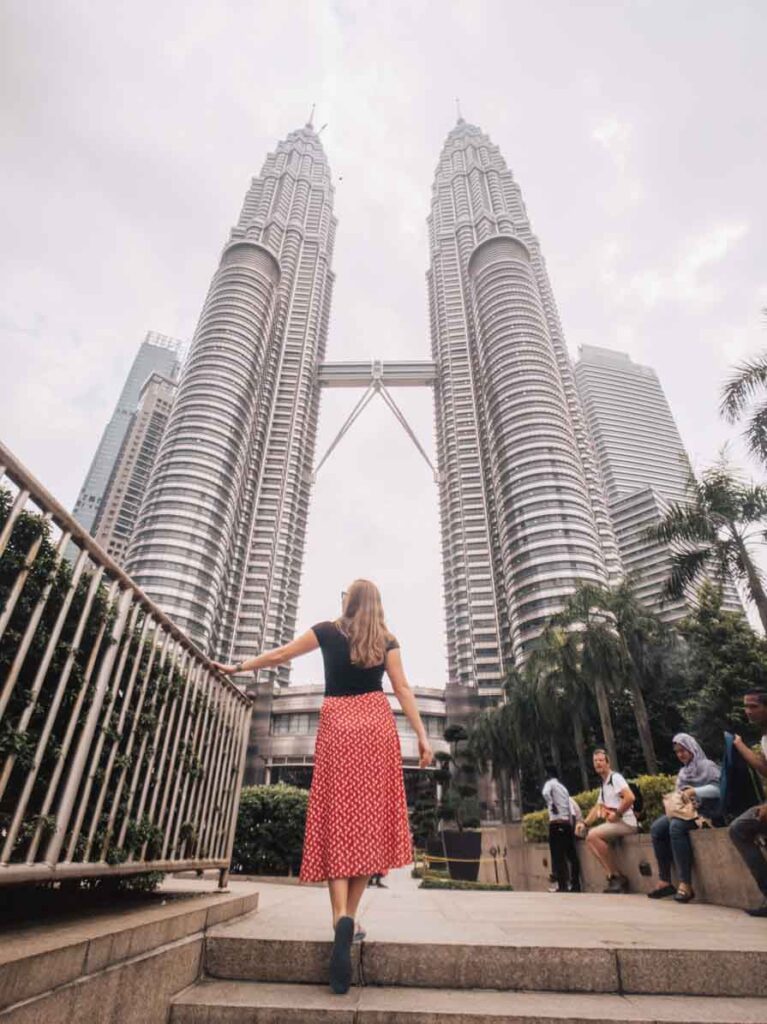 The rest of the day we had free time, but our small group stuck together basically on all free days anyway. We rallied the troops and booked two Grab cars to get out to Batu Caves, my number one Kuala Lumpur must-see.
The Batu Caves are a cluster of caves and temples just a 20 minute drive from the centre of Kuala Lumpur, guarded by a gigantic golden statue of the Hindu god Murugan, god of war and victory. As if the towering, shiny god wasn't epic enough, the steps leading to the caves were painted all colours of the rainbow back in 2018, bringing Batu Caves to the forefront of Malaysia's Instagram scene.
There are three main caves and a number of smaller ones, but I personally spent too much time taking photos of baby monkeys on the colourful steps and didn't really make it into the caves. I'm not a huge cave fan though, so no regrets!
The monkeys here are pretty fearless and get quite close to you, especially if you have anything in your pocket or an open backpack. Zip up your bag, don't have your phone too close to them and don't bring food.
FRIENDLY REMINDER:
Please never feed monkeys, or any wild animal for that matter. Feeding monkeys means the monkeys will grow to rely on humans for food and water, and can affect their natural instincts and behaviour. It can also make them aggressive towards humans, because they become conditioned to believe each human has food in their pocket or backpack. I've seen monkeys steal Pringles cans from kids, tear open plastic chip packets (and litter afterwards, how dare they?!) and open water bottles and pour the water in their mouths. It's unnatural, please just don't.
As we were about to head down from the caves, we got caught in a classic Kuala Lumpur downpour. Unfortunately we got absolutely soaked down to our undies, but the silver lining was that we managed to get some photos on the stairs with hardly anyone else around.
Back at the hotel, we dried off before a few of us attempted to go up KL Tower, which has incredible views of the skyline. You can go up the Petronas Towers too but I always prefer to see the view from a less iconic building, so you can see the iconic ones instead!
Thanks to heavy rain the 300m high Skydeck was closed and we only managed to see the view from inside the 276m observation deck through dirty and wet glass, but you can't control the weather! Luckily the rain had stopped by the time we got to the bottom so we wandered down to see the Petronas Towers lit up which was pretty stunning.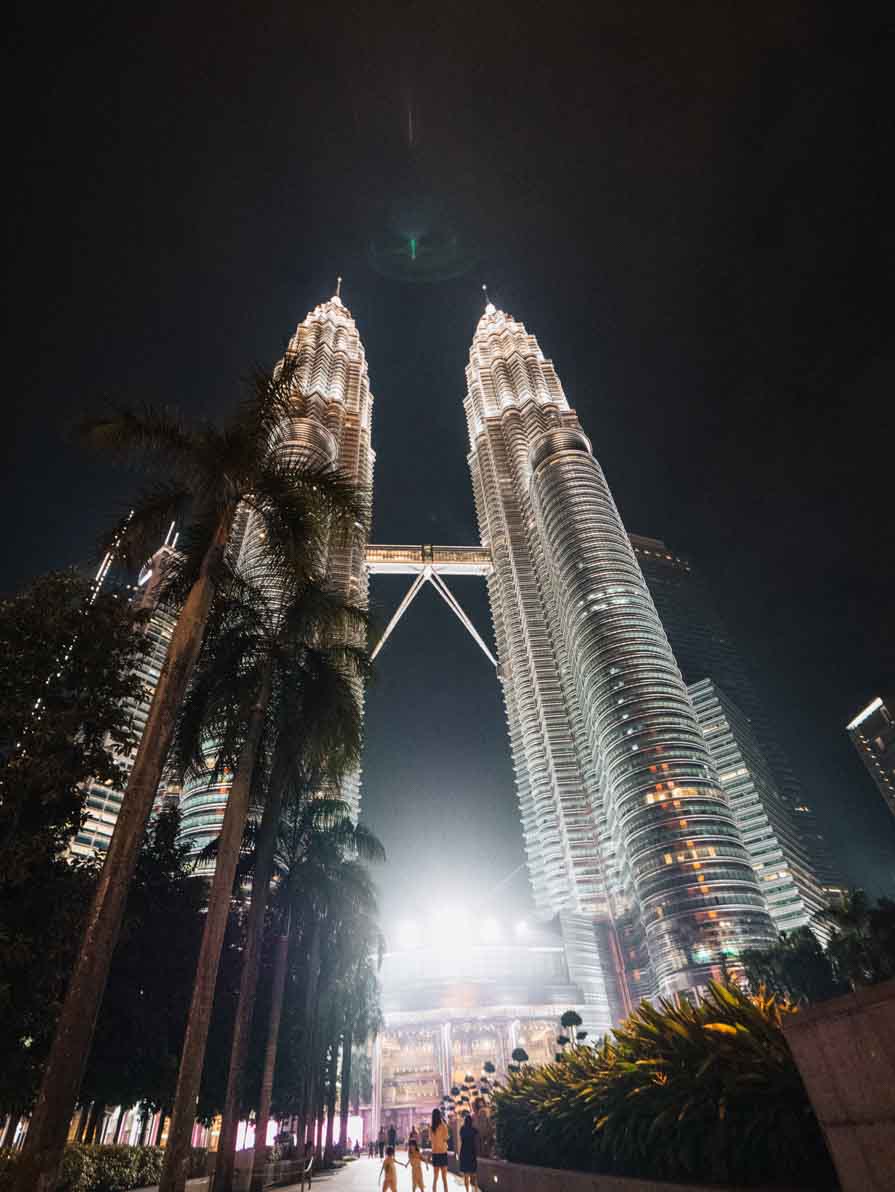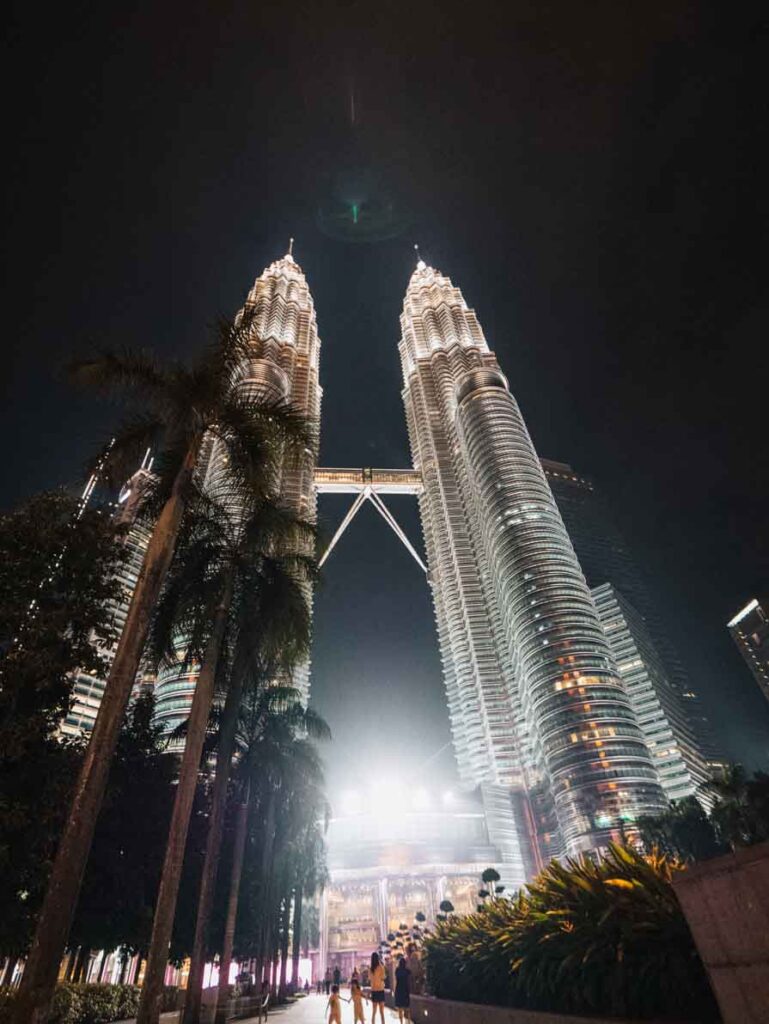 12 epic things to do in Kuala Lumpur
Where to stay in Kuala Lumpur if you're not on a tour
Our hotel was a new choice for Contiki, the Hilton Garden Inn South, and it was amazing! The rooms were huge, beds were super comfy, the buffet breakfast was really decent and there was a rooftop pool.
If you want a hostel in Kuala Lumpur, both Summer Stay Hostel and ROOMA Hostel have great ratings. For a cheap private room consider Coffee & Tea Homestay, and if you're looking to upgrade your city break check out the gorgeous Stayo Luxury Suites.
---
Where we went in Singapore
The ideal blend of east and west, old and new, Singapore is so much more than a stopover city. This was my second visit and there's still loads more I need to see and do!
What we did
Our tour included an AirAsia flight from Kuala Lumpur to Singapore (and we were allowed 20kg of checked baggage each). Normally I fly solo so it was fun to actually be at the airport with friends!
We arrived in Singapore just after midday, hit the hotel for a quick post-flight refresh, and then spent our free afternoon visiting the stunning Gardens by the Bay.
Supertree Grove, the big metal flower-like sculptures you would've seen in photos, is totally free but the Gardens are home to a number of exhibitions which you need to pay for. We opted to do the Cloud Forest and the Flower Dome and they were seriously incredible, and Instagrammable!
PRO-TIP:
You can book loads of activities and experiences, like tickets to Gardens by the Bay, on the Klook website or app for cheaper than booking direct!
After a few hours of wandering through international-themed gardens and under monstrous man-made waterfalls, it was time to head back to the hotel to prep for our final night on tour. We donned the nicest clothes we could find in our suitcases (no more elephant pants!) and caught Grab cars to the famous Marina Bay Sands, for a treat yo'self experience up at the Cé La Vi rooftop bar.
And what a VIEW. Tickets up here cost $23 SGD before 10pm (after 10pm is free) but that $23 is redeemable on a drink, which coincidentally costs $23! We had a Singapore Sling, soaked up the sunset panoramic views, and then had another Singapore Sling before we all realised how poor we were.
We got back down to earth, literally, and caught the Gardens by the Bay evening light show before heading to the Satay by the Bay hawker centre for cheap eats and our final supper. We said a teary goodbye to our legendary tour guide, Rhi, and the rest of us continued the night with a few drinks in Clarke Quay listening to live music before it was home time, packing time, and almost back to reality.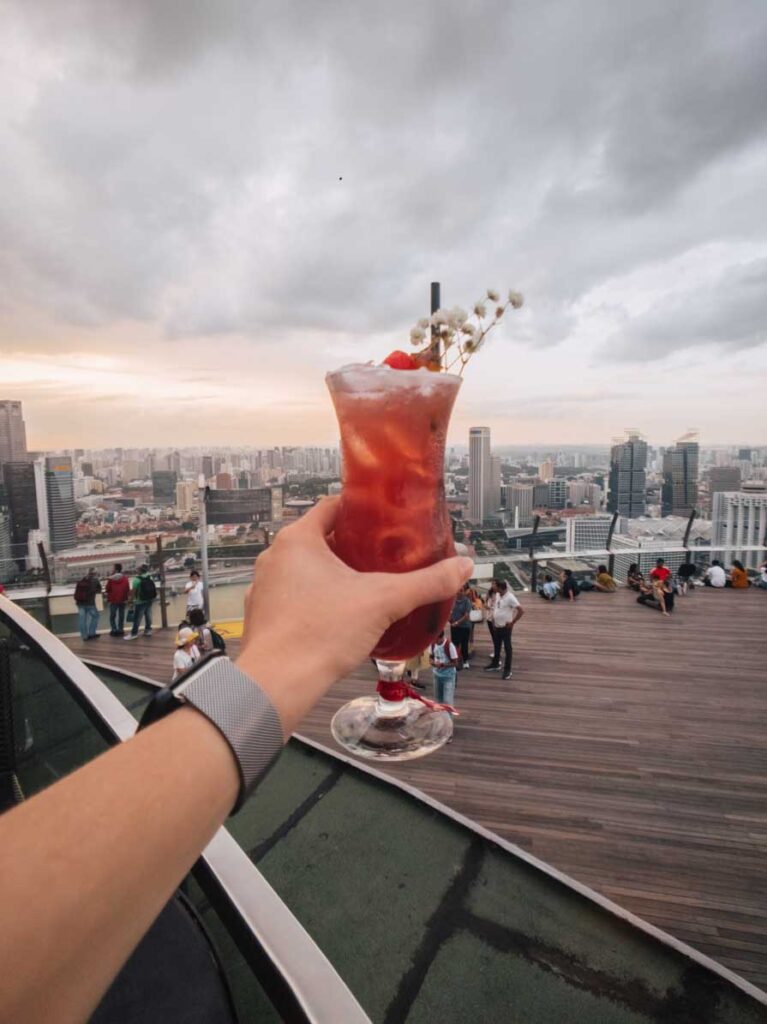 The tour ended officially on our second day in Singapore, with breakfast included at the hotel and an 11pm check out, but I had an extra two days in the city so hung out with the other tour members until they flew out and left me fending for myself, again!
23 unique things to do in Singapore
Where to stay in Singapore if you're not on a tour
During my time in Singapore I stayed in three different accommodation options ranging from a cheap and cheerful hostel all the way through to one of the most famous hotels in the world.
Singapore accommodation can be really pricey, so expect to spend an absolute minimum of £15/$30 NZD a night for a dorm bed at a basic hostel in the off season. If you're travelling on weekends, holidays or when any events are on, you're probably looking at two or even three times that.
Our Contiki hotel, Aqueen Lavender was adequate for a night but it wouldn't be my first choice in a city packed with futuristic hostels and capsule hotels. I spent a night at hipstercity hostel in Clarke Quay, Singapore's entertainment district, and I rate it! It was a 'dorm' but my king single bed had a full curtain, a wardrobe, a mirror and space for luggage, so it was basically a room without a full wall.
If you want privacy without spending a bomb, go for a capsule hotel like Capsule Pod Boutique Hostel or Beary Best Kampong Glam, or Citadines Rochor apartments have fantastic ratings too.
And if you want to live the high life, consider splurging on a room at Marina Bay Sands! I was lucky enough to spend a night here after my Contiki tour because one of my legendary tour-mates was staying there and had space for me (THANKS ERIKA!), and having access to the world-renowned infinity pool was a life highlight for sure.
---
Final verdict on my Bangkok to Singapore Contiki tour
After six months of travelling almost totally solo, and right after a hectic and challenging 10 days in India by myself, jumping on a tour where everything was already organised for me felt like a dream.
Couple that ease with immediate clicking with my tour group, a brilliant trip manager and an absolutely epic two week itinerary in Thailand, Singapore and Malaysia, and you've got the makings for an unforgettable adventure.
The Bangkok to Singapore Adventure Contiki tour was the perfect fit for me in terms of destinations, ocean to land ratio, travel style, group demographics, cuisine and photography opportunities. If you're a foodie, a water baby, love snapping colourful photos or just want to explore a lesser-visited part of Southeast Asia with a ready-made group of friends, this tour would be perfect for you.
Book your own Bangkok to Singapore Adventure Contiki tour right here, and let me know if you have any questions in the comments!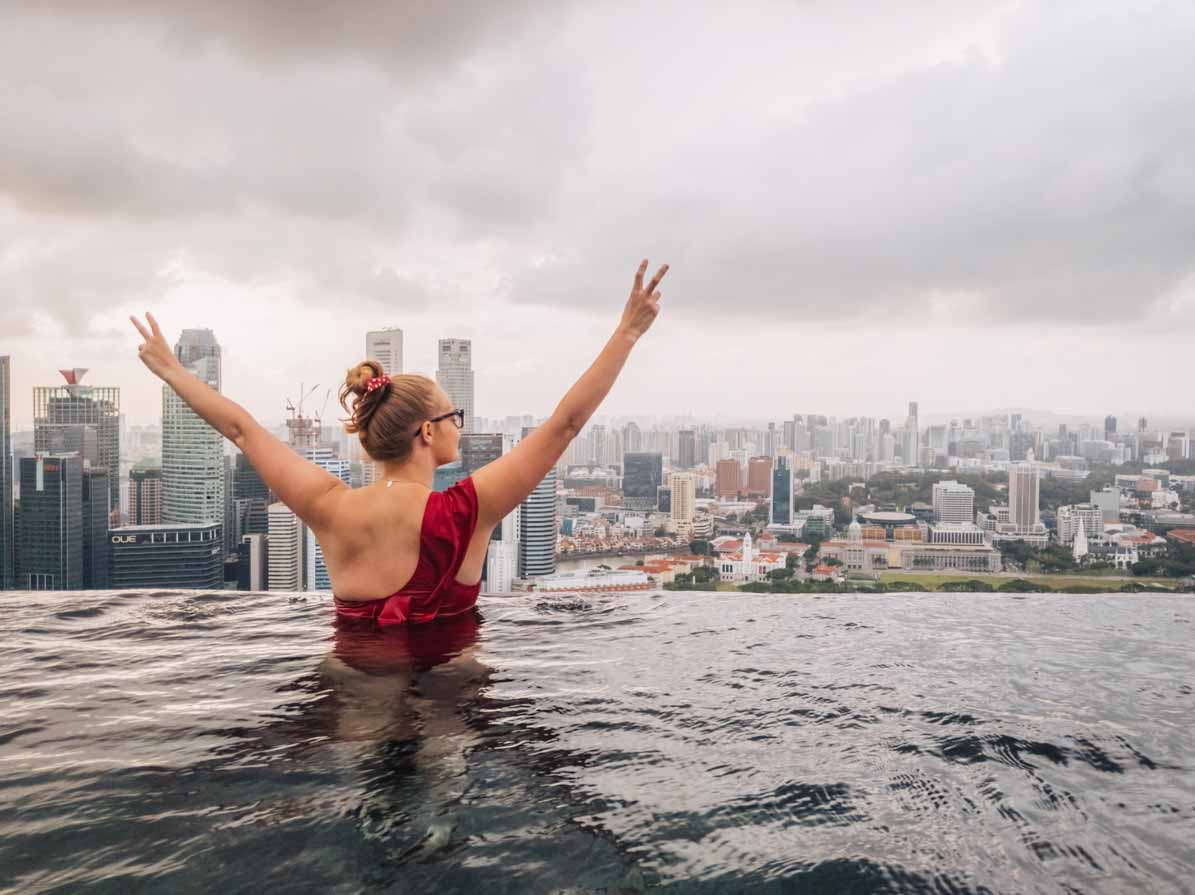 Huge thanks to Contiki for hosting me on the Bangkok to Singapore Adventure tour. As always, all opinions are my own and are based on my personal experience.
Like this blog? Pin it!
Read more about my 52 in 52 adventure here, see all of my blog posts from the trip here, or check out my Instagram @findingalexx to see all of my travel photos.
All the basic details from my big 52 in 52 trip:
How do you find your flights? Skyscanner! I use the Everywhere tool to find the cheapest place to fly to each Tuesday
Do you fly every week? Not every week no, once I have the destination I check trains and buses to see if there's any other transport options aside from flying. If so, I usually book these using the Trainline app.
How do you book your accommodation? I book all my hotels, hostels and apartments on either booking.com or Hostelworld.
Do you have travel insurance? YES, I always travel with travel insurance and you should too. I'm insured for an annual policy with Worldcare NZ.
Do you offset your carbon credits? I sure do! I always offset when I book if the airline gives me the option (Ryanair does), and I also offset all my flights using Co2nsensus.com.
What luggage do you travel with? I travel with a 75cm Samsonite Cosmolite suitcase, a matching Samsonite Cosmolite 55cm cabin luggage hardcase, and a cheap laptop backpack.
What camera do you use? You can see the full list of what's in my camera bag right here.
What laptop do you use? I have a super portable HP Spectre x360 13.3″ laptop, which is an absolute dream to travel with.
For more FAQs about my 52 in 52 trip, see this post.