I spent a glorious week in Chania, Crete's second biggest city located on the northwest coast of the island, for week #10 of my 52 countries in 52 weeks project. While I did manage to squeeze in a trip to one of the world's best beaches, I'll admit that the majority of the week I was actually trying out all the best restaurants in Chania, all in the name of research, of course.
Crete is by far Greece's largest island, but it's somehow managed to keep a distinctly local feel. From mountain villages to coastal towns to historical city centres like Chania's Venetian Harbour, Cretan tradition is still strongly celebrated in the way of festivals, architecture, and, of course, cuisine.
YOU MIGHT ALSO LIKE: FAQs about my 52 countries in 52 weeks trip
I'm a sucker for any destination with a thriving food scene, and Chania impressed me from the get go. Local markets sell cheese, olive pil and wine produced on the island, family-owned taverns serve up freshly caught fish, and cocktail bars, ice cream parlours and healthy cafés cater to both young residents and travellers alike.
Here's a run down of the best places to eat in Chania that you have to visit when you're there.
---
Best brunch in Chania: Ginger Concept
Kallinikou Sarpaki 36, Chania Town
I accidentally stumbled across Ginger Concept while looking for the Well of the Turk, which you'll also find on this list. Located down a classic Cretan cobbled street on the outskirts of Chania's Old Town, Ginger Concept is a modern and elegant bistro serving up brunch dishes like smoothie bowls, Edam and prosciutto toast, and Nutella pancakes.
Their all day menu has sharing plates, gourmet pizza and classic pastas, but the breakfast offerings are definitely the selling point.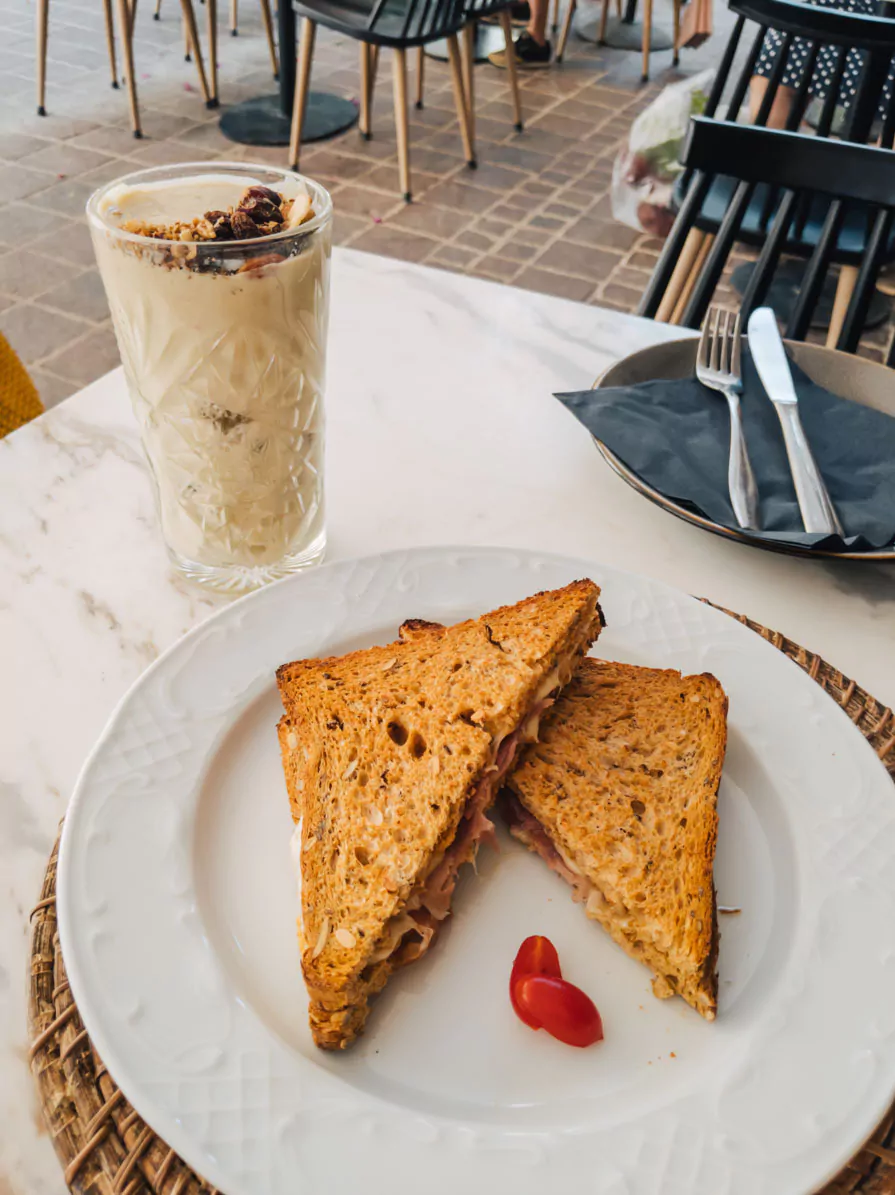 ---
Best coffee in Chania: Monogram Coffee Roasters
Daskalogianni 5, Chania
Full disclosure: I'm not a coffee drinker because I can't even sleep at the best of times, let alone with caffeine pumping through my veins. BUT the digital nomad coffee snobs I met at my hostel were religious Monogram-goers, and I trust their opinion. Also their hot chocolate was delicious!
Pull up a chair outside to bask in the sun, or grab a takeaway cup and head to the seaside to find a seat with a view. Monogram also sell their own coffee beans if you like taking home a tasty reminder of your holiday.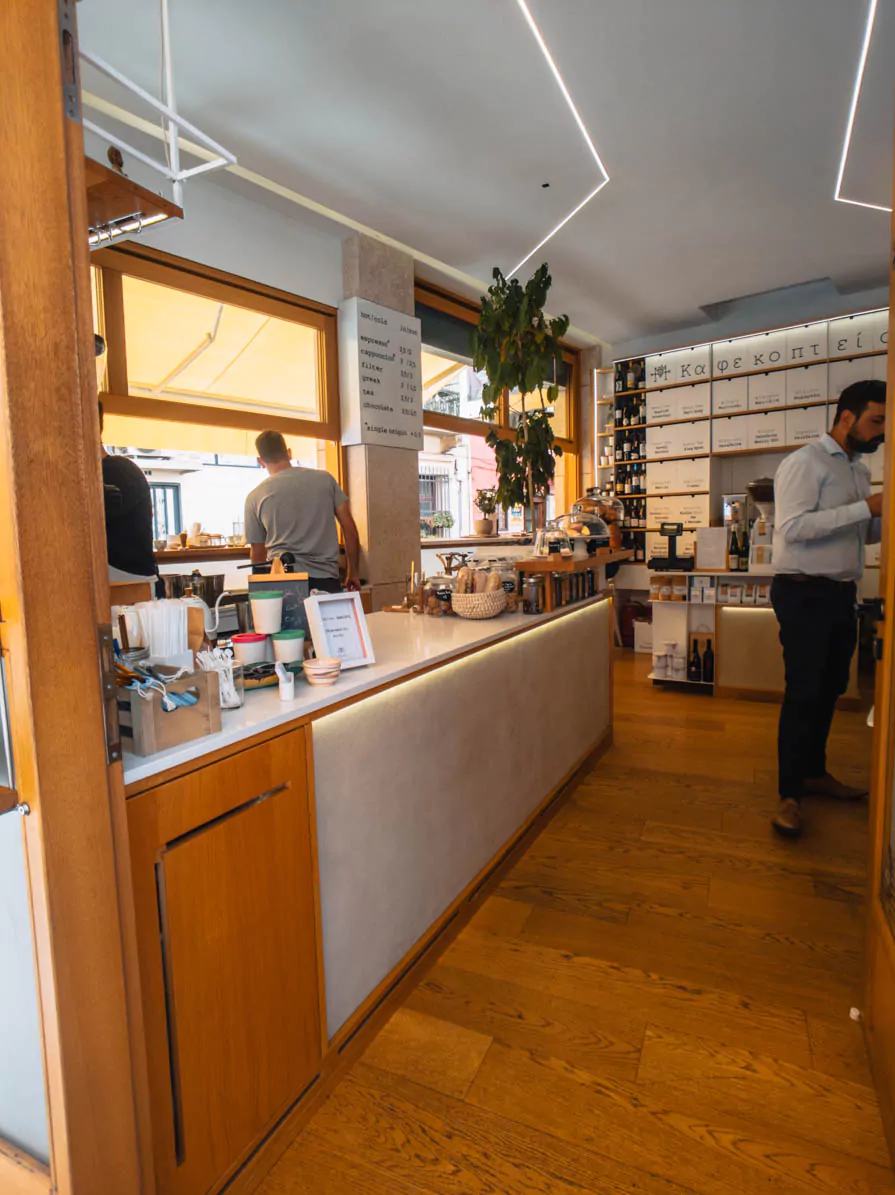 ---
Best lunch in Chania: To Koutourouki
Parodos Potie 8, Chania
With an outdoor dining area covered in greenery that looks straight out of a fairytale, this family-owned restaurant is a local favourite for authentic Mediterranean fare paired with delicious ouzo, raki or wine. Service is excellent, the staff are super friendly and it's such a treat to chow down on a brilliant meal amongst a lush atmosphere.
YOU MIGHT ALSO LIKE: How I can afford to stay at world-class hotels without blowing my budget
The smoked pork is a must-eat, one of the best things I ate on the trip! Genuine Cretan cuisine and friendly staff make this one of the best places to eat in Chania Old Town.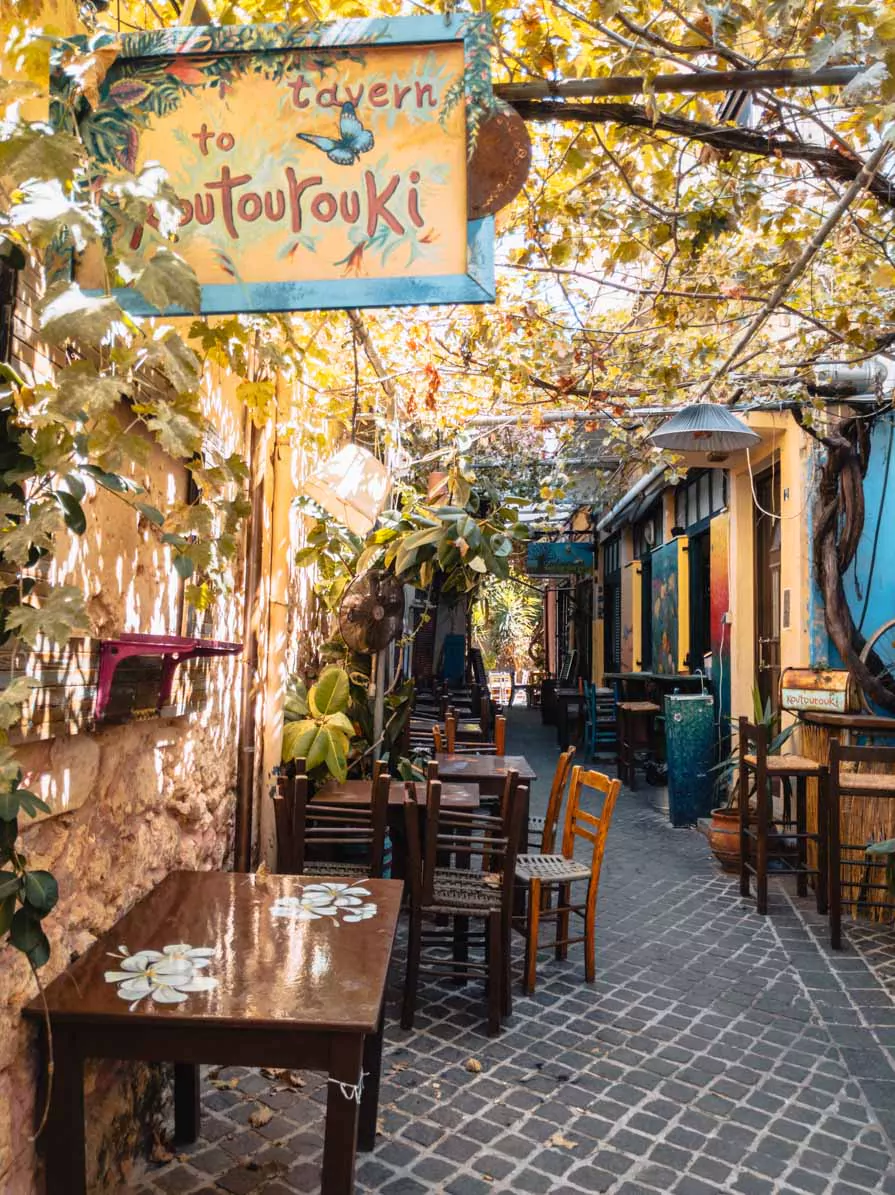 ---
Best dinner in Chania: Ta Meraklikia tou Boureksi
In Greek: ΤΑ ΜΕΡΑΚΛΙΚΙΑ ΤΟΥ ΜΠΟΥΡΕΞΗ
Ipsiladon 13 Behind the Town Hall, Chania Town
This bona fide Cretan home-style eatery is away from the well-trodden tourist trail, with no website, online menu or even an easily-recognised sign (unless you can read Greek!). You'll find huge portion sizes of authentic meals made up of with locally-sourced ingredients, cooked with love and served up by the family who own the place. The menu changes daily but if it's available, the chicken and okra was my favourite dish.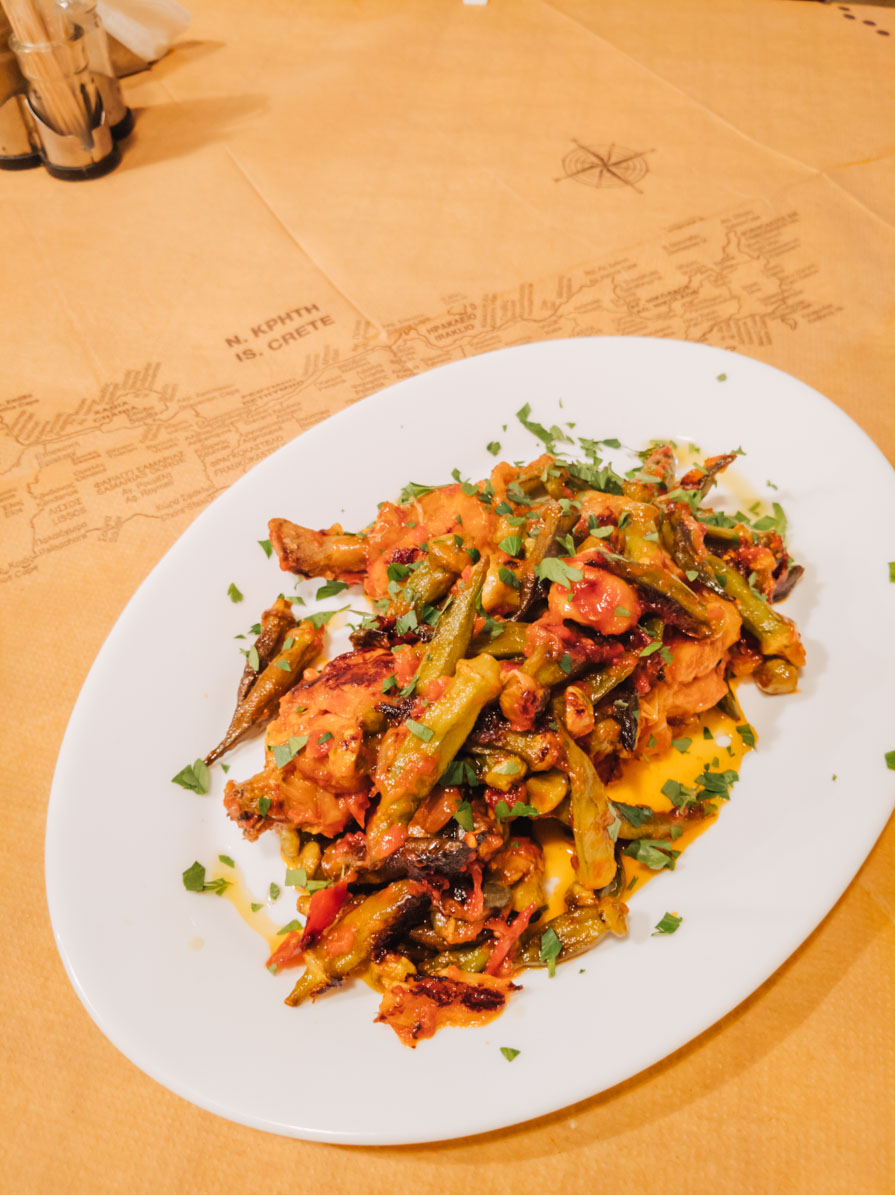 ---
Best seafood in Chania: Mikrolimano Psarotaverna
Akti Papanikoli 5, Chania
Chania's Venetian Harbour is filled with seaside restaurants selling their catch of the day for tourist prices, but if you walk 15 minutes more to the west of Old Town you'll find a bunch of classic taverns with great views, fresh fish and a calmer atmosphere.
Mikrolimano was recommended by the place I stayed, and it didn't disappoint. The staff here are warm and welcoming, the price was surprisingly reasonable and I was even treated to free raki after my meal. Calamari and stuffed cuttlefish are two of the most talked about dishes on their TripAdvisor page.
YOU MIGHT ALSO LIKE: My ultimate three week Vietnam itinerary
---
Best vegan/vegetarian restaurant in Chania: Pulse Vegan-Vegetarian
Theotokopoulou 70, Chania Town
Serving up classic Greek dishes with a vegan or vegetarian twist, Pulse is one of the best vegetarian restaurants I've visited on my travels and definitely one of the best places to eat in Chania for vegetarians.
The €12 mezze board is to die for, the vegan moussaka has its own cult following, and the Portobello with the mixed mushroom medley was my lunch two days in a row. Pulse normally closes for winter and some weekends, so check their Facebook page to make sure they're open when you want to visit.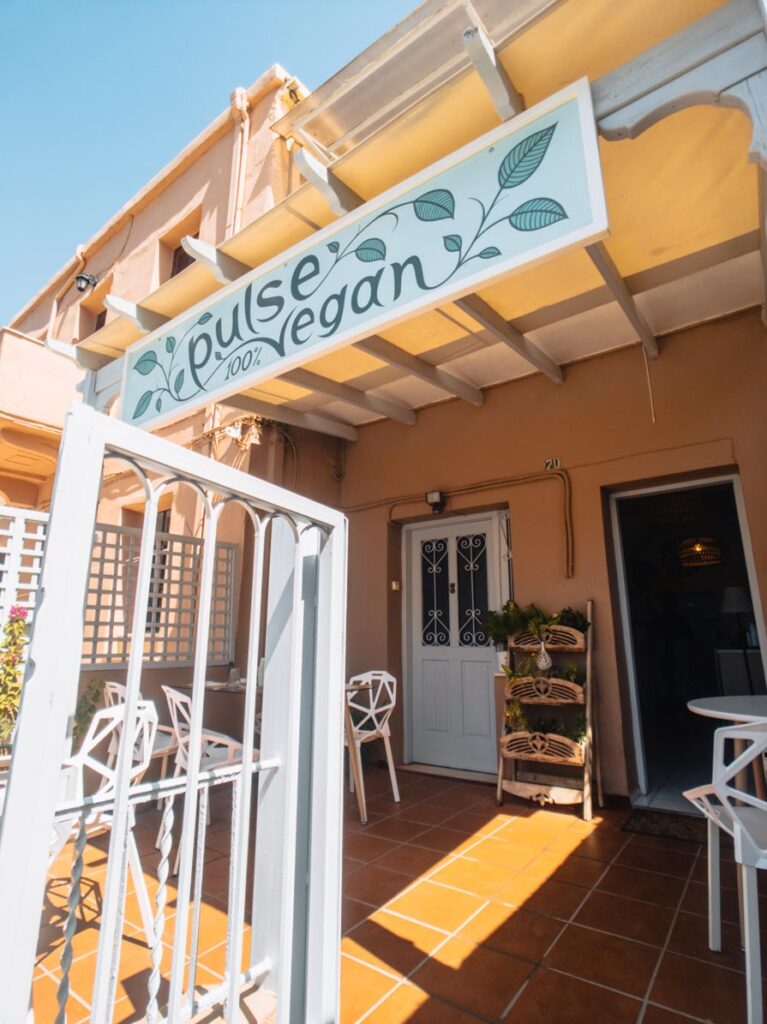 ---
Best Chania food tour: Walking Tour & Food Tasting with a Local
I try to book a food tour at the start of every visit to a new place, so I can hear all about the destination's specialties, get some local suggestions on best places to eat, and meet other travellers who love food as much as I do!
This Chania food walking tour is run by a local and has a 4.9/5 star rating on Get Your Guide! You'll visit the market, various neighbourhoods like the Ottoman and Jewish Quarters, and be able to sample some delicious Cretan treats.
---
Best healthy café in Chania: Fresh Point Juice Bar
24 Zabeliou Street, Chania Town
Located down the narrow alley just behind the waterfront restaurants, Fresh Point is a brilliant option for a quick burst of energy during a day of exploring. Their juices are made right in front of you using seasonal fruit and veges, and they've also got huge sandwiches, pastries, Greek yoghurt and fruit salads. Prices are cheap compared to any other café I found in the Old Town.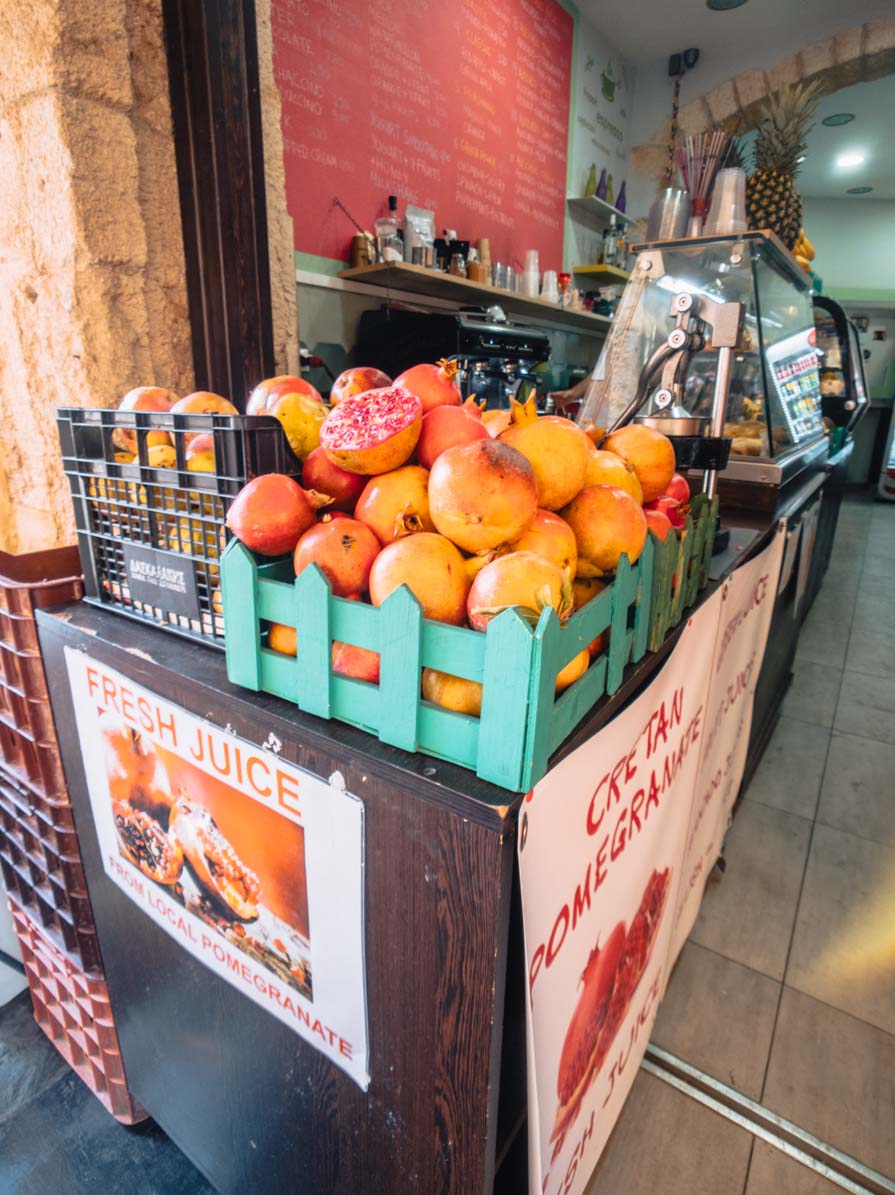 ---
Best late night eats in Chania: The Well of the Turk
Kallinikou Sarpaki 31 Street Splantzia, Chania Town
This Chania institution boasts a menu packed with both Mediterranean and Middle Eastern dishes, cooked using the freshest Cretan ingredients. I dare you to walk past the Well of the Turk at night time without the wafting scent pulling you in!
The portion sizes are huge (as they often are in Turkish restaurants) so a half portion of the shisk kebab was enough for me, and the cheesecake is a must-eat to round off a delicious dinner. This Cretan-Turkish eatery is one of the best restaurants in Chania for sure.
YOU MIGHT ALSO LIKE: 21 of the best things to do in Turkey
---
Best ice cream: Delizia Gelato Italiano
Chalidon 13, Chania
When you walk through the Old Town at night it seems like every third shop is an ice cream parlour, but Delizia Gelato Italiano always has the longest line… And for good reason!
They have loads of flavours to choose from, with creamy gelato and sweet sorbets, as well as sugar-free and vegan options.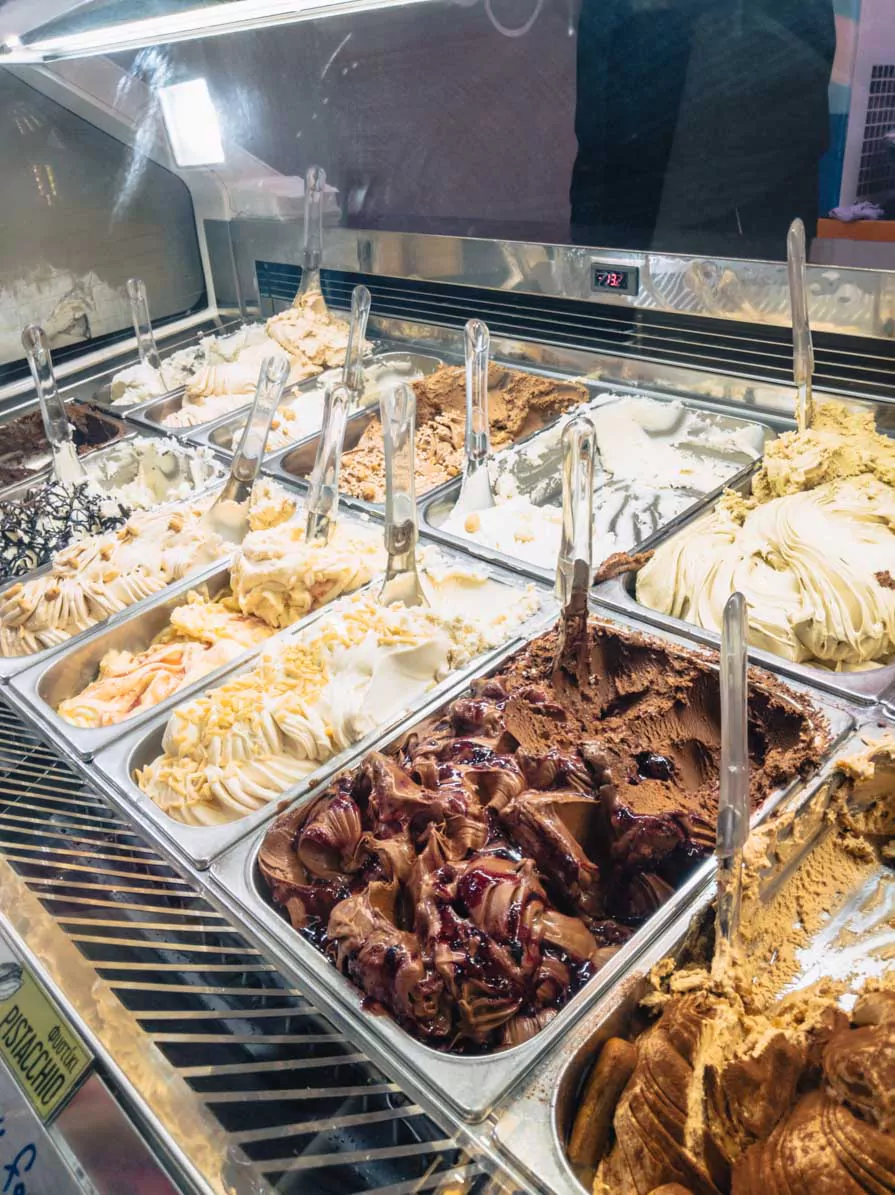 ---
Best bar in Chania: ABABA
Isodion 12, Chania
This quirky watering hole is the ideal place for a pre or post-dinner bevvie with friends. The bar staff are attentive and friendly, the music is great and it's a nice escape from the bustling streets of the Old Town.
ABABA's drinks menu is impressive but I rate the mojito! They also serve up a decent coffee if you pop in during the day.
---
Best cocktails in Chania: Boheme
26-28 Chalidon Street, Chania Town
With a dreamy courtyard dotted with fairy lights and lanterns hanging from the trees, Boheme is a cute little evening drinking spot. It's definitely not the cheapest in town, but the fancy cocktails and delicious small plates are well worth the euros.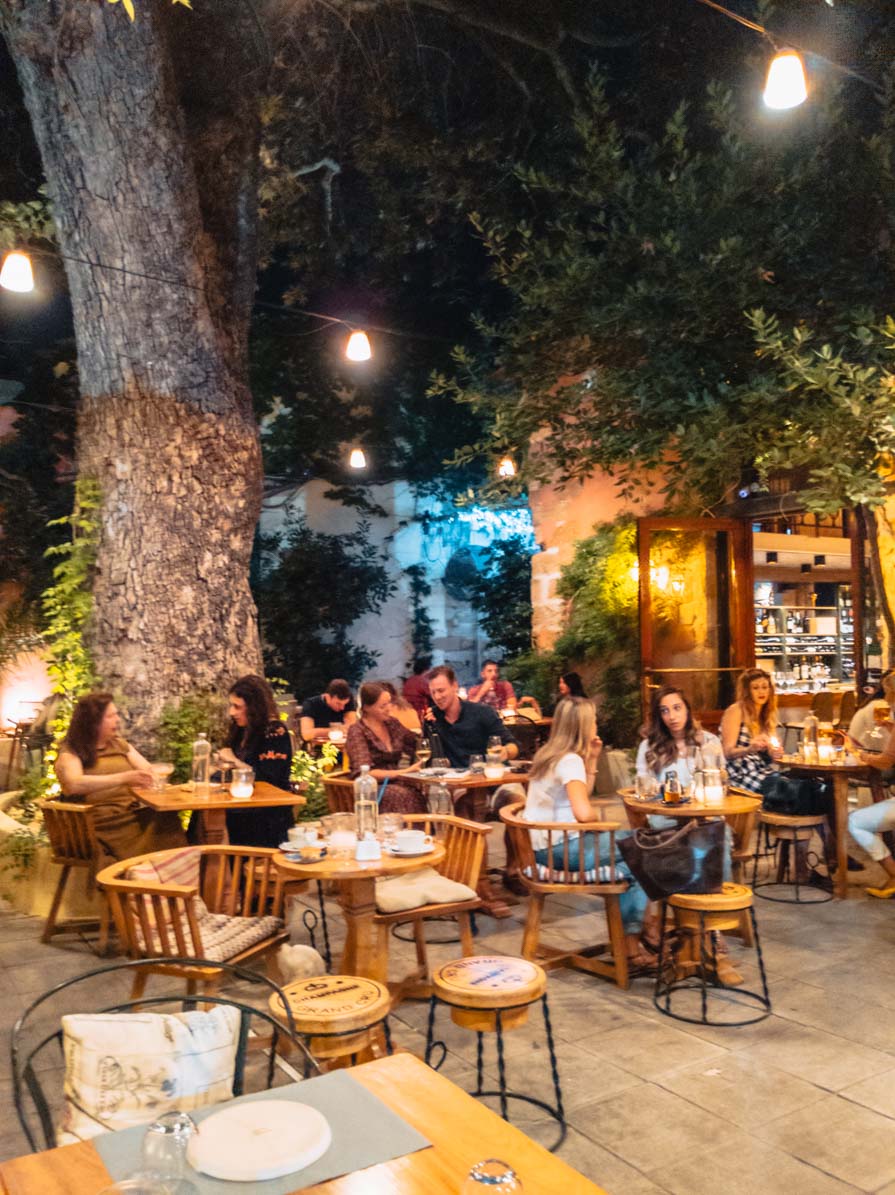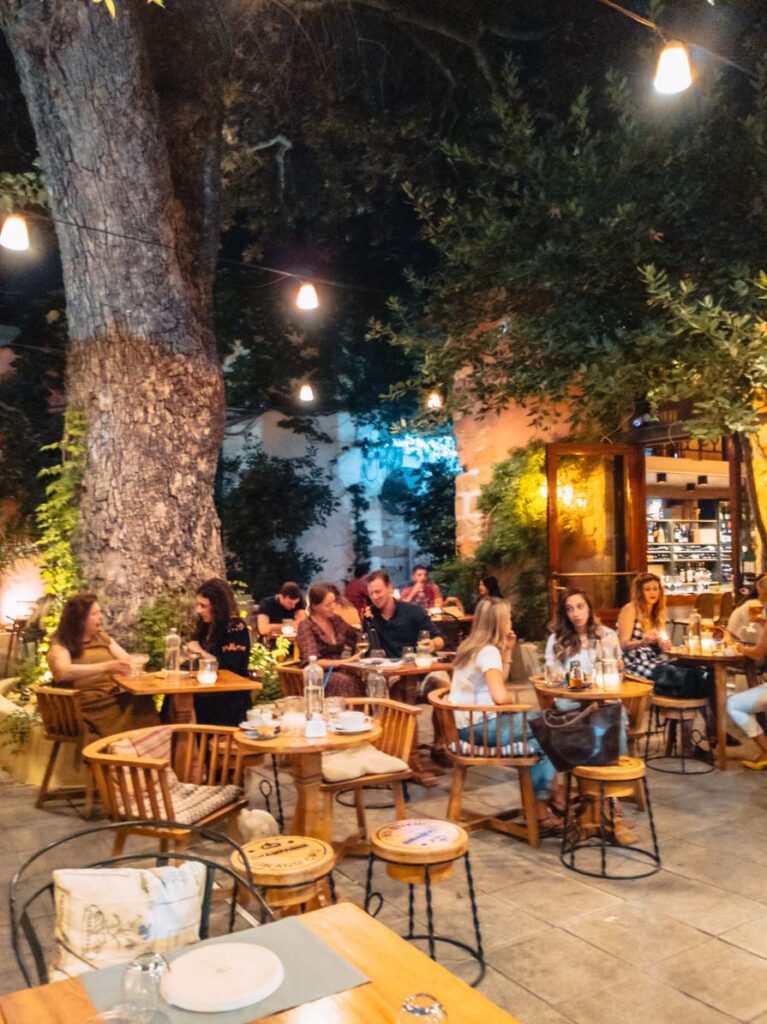 ---
Best sunset views in Chania: Koukouvaya
Alexi Minoti 1 Venizelos Graves, Chania Town
One of my biggest regrets during my week in Chania was that I didn't make it to Koukouvaya, a gorgeous hillside café with stunning views over the ocean, and the best restaurant in Chania to watch the sunset. A taxi for one was going to be pricey, and public transport would've required a decent walk in the dark which is a big no-no for solo female travel.
YOU MIGHT ALSO LIKE: The Ultimate Guide to Solo Female Travel
But if you're able to add it to your Crete itinerary for an evening, you'll be treated to a sunset view like no other. This place gets busy, understandably, and ratings for service don't seem so great, but the dessert has rave reviews!
---
Best cruise in Chania: Sunset cruise with Cretan wine
If you're in Chania with family or a group of friends and are happy to splurge for an incredible experience, this sunset wine cruise is an absolute must-do.
Set off from Chania Harbour for two hours at sea, watching the sky change colour as the sun goes down, with the opportunity to jump into the water for a spot of swimming or snorkelling. You'll get local snacks and wine too, win!
---
Best fresh food in Chania: Chania Market
Odos Hatzi Michali Yannari, Chania Town
One of my favourite things in any European city is to find a local market and stock up on local ingredients for a DIY platter. Bonus points if the market has samples!
Chania's Municipal Market is on the edge of the Old Town, housed in a cross-shaped building with vendors selling delicious treats for you to try your own hand at serving up some Cretan cuisine from scratch. Grab some olives, cheese, herbs, bread, smoked meats and fresh product and cook up (or plate up) a storm. During the high season there's also a number of souvenir shops selling funky Chania trinkets.
---
Best bakery in Chania: Bougatsa Iordanis
Bougatsa is a Greek breakfast pastry, traditionally made with creamy custard filling inside cripsy filo pastry, topped with icing sugar and cinnamon. And Bougatsa Iordanis, a fourth-generation family-owned bakery and Chania institution, serves up the best bougatsa in town. Best of all, it's CHEAP! Only €2 here gets you a bougatsa that was big enough to keep me full for half a day.
Local mizithra cheese is used in their 90-year-old tried and true recipe, which makes it distinctly different from bougatsa in other parts of the country or even the island. Expect a line of locals in the morning getting their pastry and coffee before they start the day!
---
Best cheap eats in Chania: Funky's Pizza
If you're just keen to fill your belly with something cheap and cheerful, or if you need some greasy goodness after a few too many cocktails, head to Funky's at the end of the main street for a mega slice of pizza.
They've got a bunch of flavours to choose from but the €1.20 massive slice of margarita is the clear winner for me. You can also order half-and-half pizzas, burgers or pastries.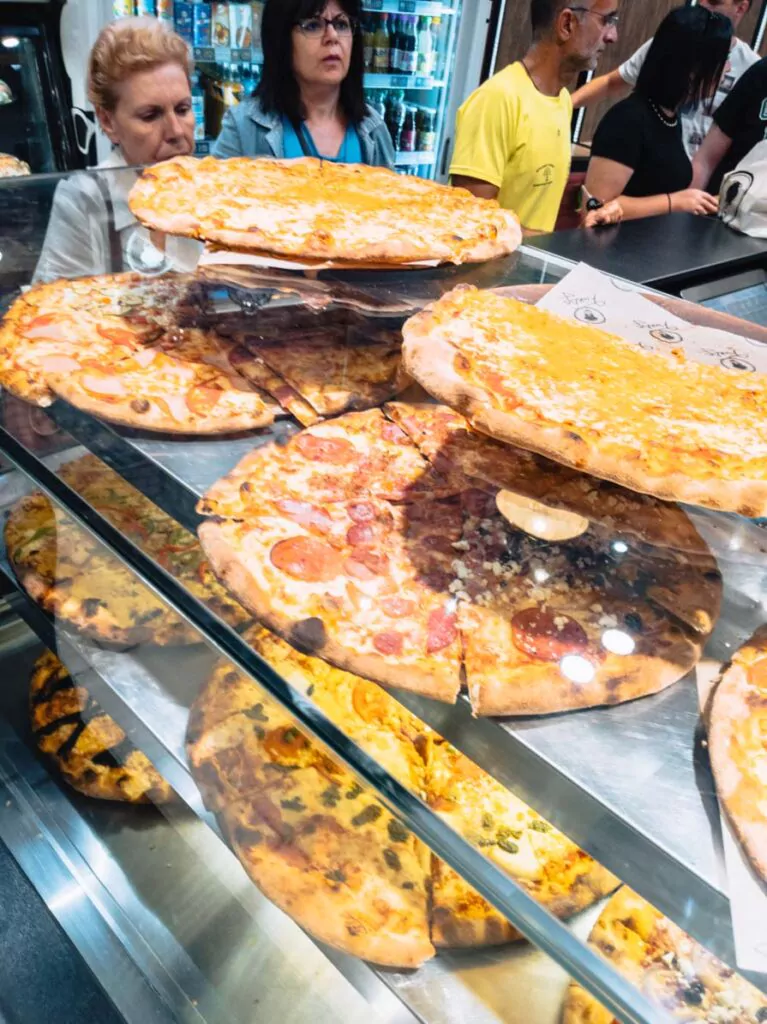 ---
Best restaurant out of Chania's Old Town: Mom's
Located a 20 minute walk from Chania's Old Town, in the residential area near Koum Kapi Beach, Mom's menu is packed with home-style dishes and comfort food favourites like hearty burgers, loaded fries, huge pizzas and delicious desserts. If you're a sweet tooth you have to try the Ferrero Rocher pancakes, they're absolutely smothered in hazelnut choc goodness.
YOU MIGHT ALSO LIKE: 17 super helpful packing tips for travelling with carry on only
The service here is brilliant, the staff are super friendly and it's a lovely atmosphere to enjoy a good meal either solo or with friends. I even got a free profiterole and raki shot after my meal! They're open until 1.30am too, so you can satisfy a late night craving if you're staying at a hotel or hostel out that way.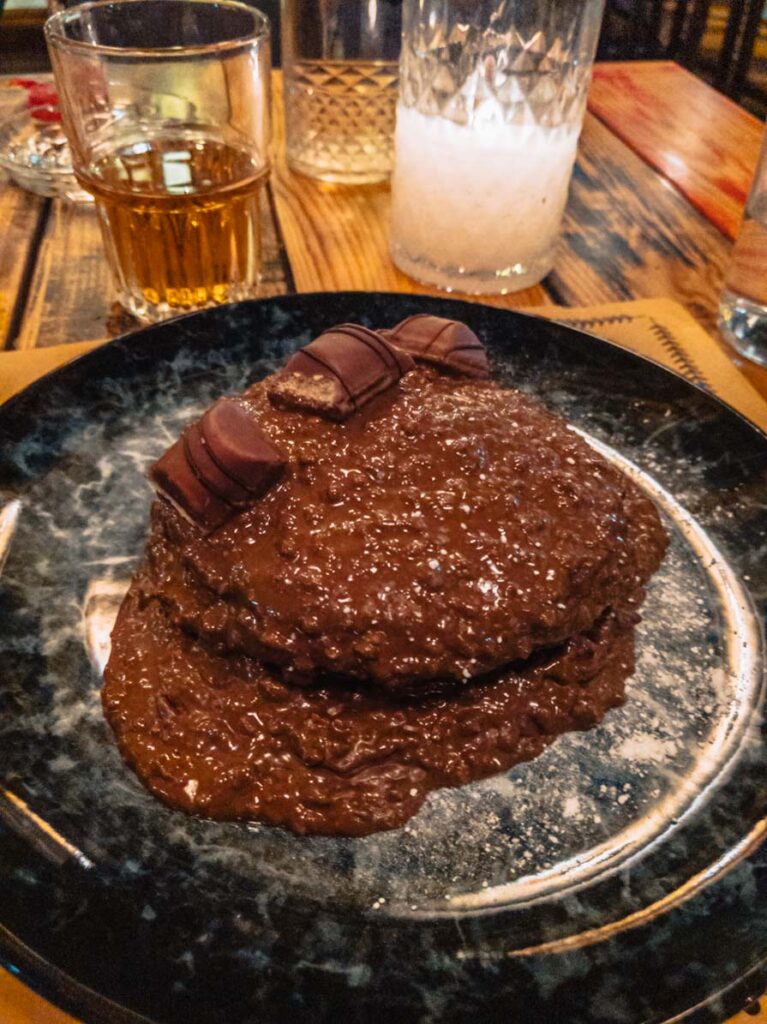 ---
Best food experience in Crete: Cooking class
If you prefer to learn to cook traditional meals rather than just eat them, you're in luck. This Crete cooking class experience teaches you all about the local Cretan cuisine and lets you try your hand at creating your own.
Learn to make dishes like stuffed peppers, cheese pie, Greek salad and tzatziki with the freshest locally-sourced ingredients, and enjoy the fruits of your labour by chowing down on your creations at the end of the workshop.
---
Where to stay in Chania, Crete
Best hostel in Chania: Kumba Hostel
This absolute gem of a hostel is actually one of the best places I've ever stayed, and I feel like I left a piece of my heart there! Kumba Hostel is a funky little capsule-style hostel about 20 minutes from Old Town and a short walk from Koum Kapi Beach.
There's kitchen facilities for guests to use, the bathrooms are nice and clean, the pod beds include a light, storage space and privacy curtain, there's loads of social space to hang out with other travellers. The hostel also offers day trips to explore the island and there's an on-site café with great coffee and a cheap breakfast and snack menu!
YOU MIGHT ALSO LIKE: A huge list of all the best places I've stayed around the world
Best apartment in Chania: Palazzo di Irene
If you're looking for a private room in a brilliant location, you can't go past Palazzo di Irene. They've got a few gorgeous suites available depending on your needs. I stayed in a studio apartment with a kitchen, huge comfy bed, lovely bathroom, lounge area and a sun-soaked balcony, but there's also options with two bedrooms and even one with a sauna.
Palazzo di Irene is smack bang in the middle of the Old Town, so you're staying right amongst the charming atmosphere and within close walking distance to many of the best restaurants in Chania.
---
I hope this has helped you decide where to eat in Chania! This list of the best restaurants in Chania has been pulled together from only a week in the city, so if I've missed any you think I need to add, let me know in the comments.
Like this blog? Pin it!
Read more about my 52 in 52 adventure here, see all of my blog posts from the trip here, or check out my Instagram @findingalexx to see all of my travel photos.
All the basic details from my big 52 in 52 trip:
How do you find your flights? Skyscanner! I use the Everywhere tool to find the cheapest place to fly to each Tuesday
Do you fly every week? Not every week no, once I have the destination I check trains and buses to see if there's any other transport options aside from flying. If so, I usually book these using the Trainline app.
How do you book your accommodation? I book all my hotels, hostels and apartments on either booking.com or Hostelworld.
Do you have travel insurance? YES, I always travel with travel insurance and you should too. I'm insured for an annual policy with Worldcare NZ.
Do you offset your carbon credits? I sure do! I always offset when I book if the airline gives me the option (Ryanair does), and I also offset all my flights using Co2nsensus.com.
What luggage do you travel with? I travel with a 75cm Samsonite Cosmolite suitcase, a matching Samsonite Cosmolite 55cm cabin luggage hardcase, and a cheap laptop backpack.
What camera do you use? You can see the full list of what's in my camera bag right here.
What laptop do you use? I have a super portable HP Spectre x360 13.3″ laptop, which is an absolute dream to travel with.
For more FAQs about my 52 in 52 trip, see this post.
Huge thanks to Kumba Hostel and Palazzo di Irene for hosting me during my week in Crete. As always, all opinions are my own and are based on my own experience.