If you're flying domestically, heading for an extended weekend abroad or if you're travelling for longer but on limited funds, travelling with carry on only can save big bucks as well as time and stress. And especially during this time of the 'travel comeback', travelling with hand luggage can save you from the nightmares of lost suitcases and long waits at the baggage carousel.
I'm notoriously terrible at packing light (just ask my mum!) and this doesn't come natural to me at all, so you can be sure that these carry on only packing tips have been tried and tested by me on my own trips. And guess how many times I've had to pay extra baggage fees? NEVER!
From picking the right bag to building a capsule wardrobe to cutting down on unnecessary toiletries, here are my best tips and tricks for travelling with carry on only.
YOU MIGHT ALSO LIKE: 15 carry on essentials for long haul flights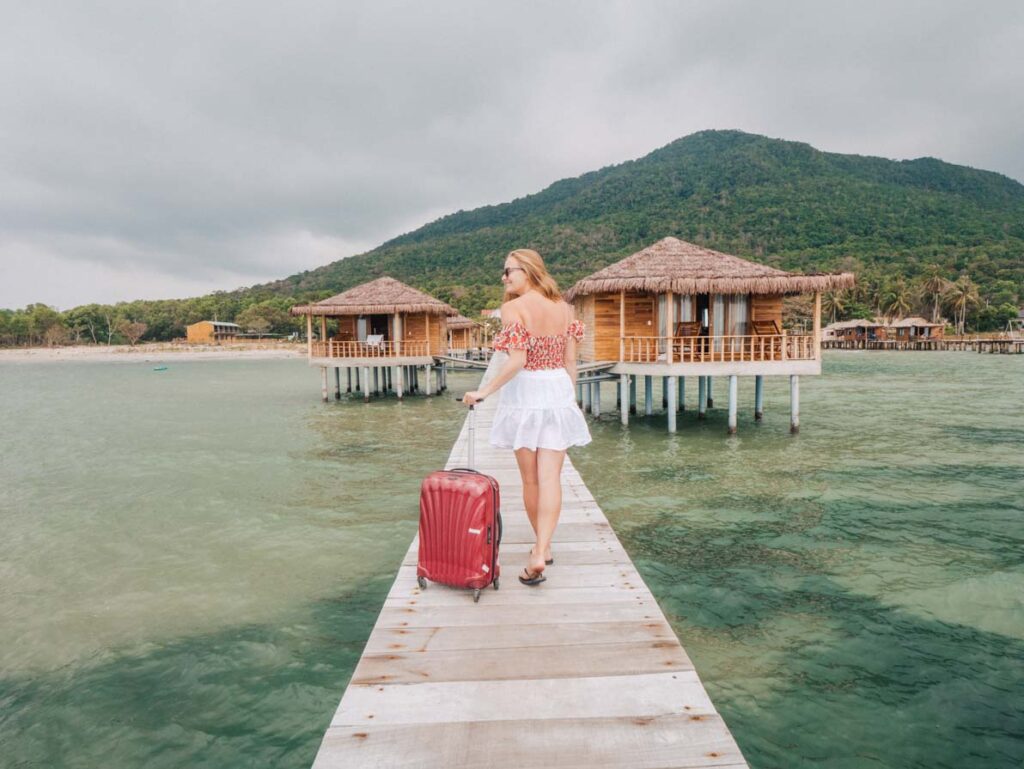 But first, why should you travel with carry on only?
Travelling with carry on only makes life so much easier if you're heading somewhere for a short trip, and it's often cheaper too!
Most low cost carriers like Jetstar, AirAsia and Ryanair, or domestic/short-haul services, only include carry on luggage in their basic ticket prices, so a check in bag costs extra on top of your ticket price. A check in suitcase can cost anywhere from $20USD up to $75-100USD for a long-haul flight on a budget airline.
Most airlines allow online check in these days so if you don't have a checked suitcase and don't need to print a boarding pass, travelling with cabin luggage only means you'll be able to go straight through security instead of lining up at the check in counter. That means you'll get to your gate early and be able to nab a coveted seat up the front or near a charging port. Win!
Travelling light also means you'll avoid waiting for a checked bag at the baggage carousel when you land, you'll be more comfortable taking public transport without lugging around a heavy suitcase, and it's just way easier to get around.
And most of all, the summer of 2022 in Europe and North America showed us that staffing issues at airports and in airlines can have a huge impact on luggage services, which meant thousands of travellers arrived at their holiday destination without their check in bags anyway. Save time and save stress by travelling with a carry on instead of checking anything in!
Now, let's get into my top tips for travelling with hand luggage only.
1. Choose your cabin bag wisely
Set yourself up for carry on success by choosing a lightweight bag that maximises your hand luggage allowance and is easy to travel with.
The four most important things to consider when choosing luggage are weight, sturdiness, ease of travel (e.g. decent wheels and a good handle) and security (a good lock and distinct features that make it easy to spot).
I travel with Samsonite Cosmolite suitcases, I have a 55cm carry on size one and a 75cm large matching suitcase for my long trips. After 15 months months of lugging these babies around three continents and more than 40 countries, I can confirm that they are worth every dollar. I genuinely cannot recommend them enough, I can't see myself ever using another suitcase (unless Samsonite comes out with something even lighter).
Note: As of September 2022 it does look like the Samsonite Cosmolites have low availability in most countries, hopefully they're just refreshing the line and not shutting it down completely. I'd recommend checking Amazon as well as the local Samsonite website for your country.
My Samsonite Cosmolite carry on is only 1.67kg for a full size hard case cabin bag. That is insanely light!
Even other carry on favourites like the American Tourister Stratum, the Delsey Chromium Lite and the cult classic Away Carry-On are 2.9kg, 3.5kg and 3.2 kg respectively. That means I get at least an extra kilogram of space to pack compared to the vast majority of other cabin bags on the market.
Aside from being ultra lightweight, the Samsonite is extremely high quality in terms of sturdiness, the spinner wheels are smooth, and it has a TSA-approved lock with a code. They do get scuffed, as all suitcases do when you travel, but after months and months of extensive adventures my Samsonites still both look pretty good.
If you're looking for a cheaper lightweight option, you can't go wrong with the Amazon Basics expandable carry on suitcase which is just over 3kgs.
I'd also recommend choosing a bright colour so it's easier to see if anyone accidentally (or purposefully!) grabs your bag from the overhead locker thinking it's theirs.
If you prefer to go for a carry on backpack to keep things even lighter, make sure you get one that opens fully for easy access, like this 1kg travel backpack.
YOU MIGHT ALSO LIKE: How I can afford to stay at world-class hotels without blowing my budget
2. Double check the weight limit and dimensions
It's super important that you check your airline's hand luggage rules before you fly, because if you're overweight you might need to pay extra or throw things out.
Each airline has different carry on restrictions in terms of weight and size of carry on luggage. Most airlines allow either 7kg or 10kg of weight, and the most common dimensions allowed are around 55cm x 40cm x 20cm (or similar).
My Samsonite carry on bag fits these dimensions exactly and I've never had an issue with taking it on any planes, but there are a number of major airlines (annoyingly) with different restrictions.
Qatar Airways is one of these, with dimensions of 50cm x 37cm x 25cm, but I've flown with them twice with my 55cm long bag and it hasn't been an issue. China Southern is the main one with a stupidly low weight limit, allowing only 5kg of cabin luggage on economy flights.
If you're travelling with hand luggage only to save money, it might be worth paying slightly more for an airline with a higher allowance rather than trying to be sneaky and risk having to pay at the airport for checked baggage.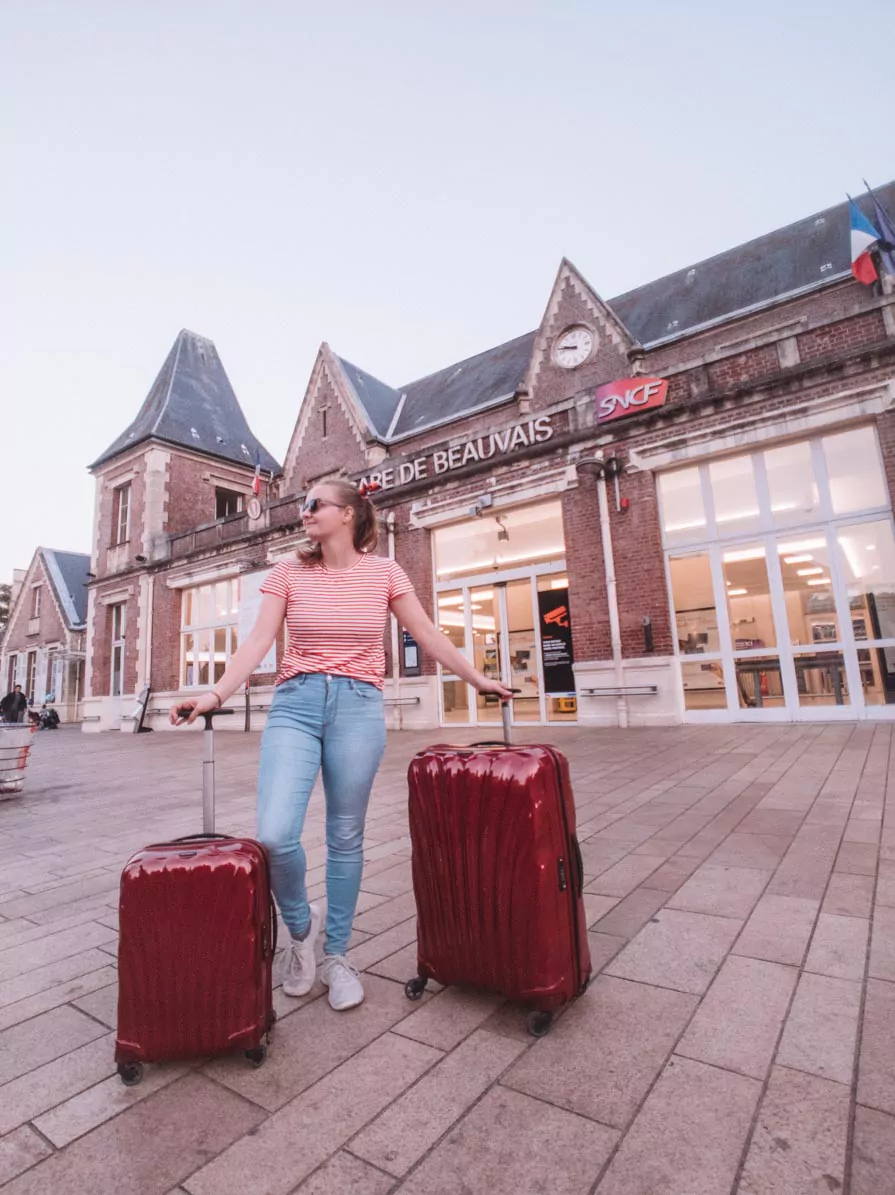 3. Check if you're allowed a personal item
The majority airlines offer their customers to bring a second 'personal item' that either under the seat in front of you or meets a second set of dimension restrictions.
The second item might be a large jacket, a camera bag, a laptop briefcase, a backpack or a small handbag.
I normally travel with a laptop backpack as my personal item, it fits under all airline seats but also has loads of space inside to maximise how much travel gear I can take. I had a cheap but classy laptop backpack from Amazon for almost four years and I absolutely rate it, it's the Kroser 15.6″ laptop backpack
. I've only recently swapped to the Brevite Jumper backpack, just because it has better compartments to carry my tech gear.
Note that some airlines include personal items in your weight limit (i.e. total 10kg of cabin bag and personal item) but many don't. If yours doesn't have an official weight limit for the personal item, I'd recommend putting anything heavy into your personal item backpack or hand bag and then you can maximise your cabin bag's weight limit with other stuff.
When I'm travelling with carry on only I'll have my laptop, my cameras, my drone and all my heavy tech stuff like hard drives and chargers in my 'personal item' backpack, then I'll keep lightweight things like clothing and small carry on toiletries in the cabin bag that goes in the overhead locker.
4. Some airports allow duty free as an extra item on-board
In order to encourage more duty free sales, some airports around the globe allow duty free purchases as a potential third bag that you can take on board. London Stansted and London Gatwick both had this in place when I was living in London!
To make use of this you'll need to buy something from duty free, ask for a big bag and then you can pack any extra bits and pieces you've got into the bag.
Note that this one definitely isn't a given, some airports or airlines don't allow this, sometimes they won't give you a large bag unless you buy something big, and airlines do have the right to check the bag to make sure you aren't being sneaky.
I usually use it as a way to carry my jacket, a scarf, snacks and anything else I want to take onto the plane that I could throw away or wear instead if they did hit me up (but over maybe 100+ flights I've never been pulled up on this).
YOU MIGHT ALSO LIKE: The Ultimate Guide to Solo Female Travel
5. Use packing cubes
OKAY now let's get into how and what to pack when you're travelling with carry on only! If you aren't already on the packing cube buzz then you need to be, and it'll change your life whether you're backpacking, holidaying or travelling for business.
Not only do they help organise your outfits in advance, they make you reconsider if taking five t-shirts for a weekend trip is really necessary. Spoiler alert: It's not.
I have this cheap set of 6 packing cubes
from Amazon but you can also find them at places like IKEA, Kmart and Kathmandu (although the latter is obviously much more expensive).
6. Keep your toiletry bag light
Shampoo, skincare, make up and other toiletries or beauty items can really add to your bag weight. Try to avoid taking anything you don't really need for your short trip, and anything you do need, look for lightweight options instead.
For shampoo, conditioner and body wash, I'm a huge fan of Ethique zero waste toiletry bars. They're a Kiwi company but they ship worldwide, and you can find them in Holland and Barrett in the UK, and in Farmers and some health stores in NZ. They last forever, they're easy to travel with and you don't have to worry about mini bottles which are heavy, single use and bad for the environment.
If you really prefer to take a make up bag with you, grab a set of reusable travel bottles and containers and transfer small amounts of moisturiser, foundation etc. into them, or go for travel sets with travel-size mascara, eyeliner and lippies.
Note: Disposable razors (not safety razors and not razor blades), tweezers and nail files + clippers are technically supposed to be allowed on planes, however I have seen some airport security staff confiscate these before. I'd recommend bringing them if you need them but be aware that they may end up being taken off you.
Some of my fave travel-sized toiletries are: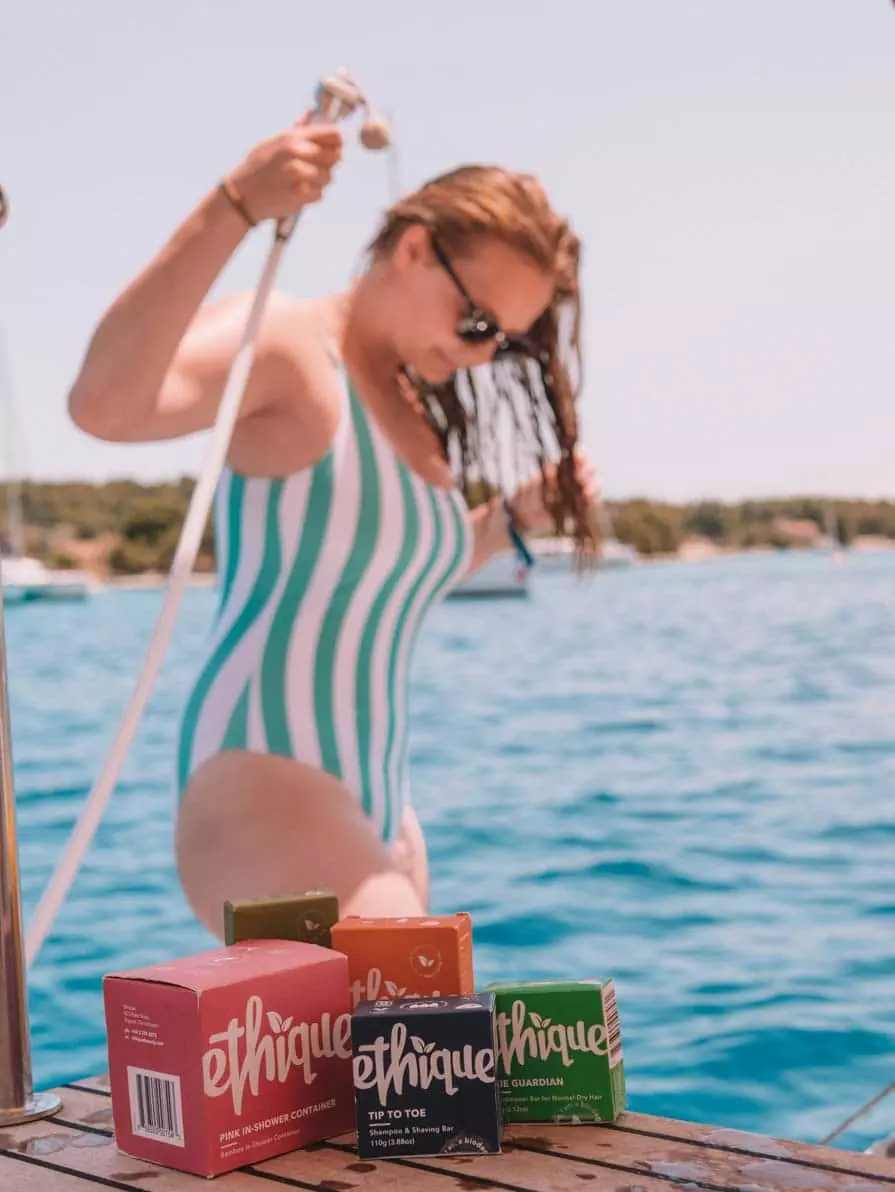 7. Be careful of liquids
When you travel with cabin luggage only, you're limited to one single plastic bag of liquids under 100mLs each. That means the bottles have to be under 100mL, as in you can't take a half-empty 150mL bottle of perfume.
Make up, skincare and toiletry liquids like foundation, moisturiser and even roll on deodorant are all included in the liquid allowance so it's easy to go over the limit if you don't think about it.
From my experience, many airports don't adhere to the "one single bag" rule and will allow you to go through security with two or three clear plastic bags, but if you're unlucky enough to be at a strict airport or to get a stickler for a security person then it's not worth the risk of having to throw out a bag of stuff. Keep your stuff to a single bag to save the stress.
8. Take a mini first aid kit
It's always a good idea to pack a small first aid kit on any trip, with plasters, antiseptic wipes and pain relief at the bare minimum, as well as any prescriptions you need.
If you're going on any hikes you might want gauze and antibacterial cream, and if you're visiting anywhere with different food hygiene to what you're used to you could add Imodium or anti-nausea medication too.
9. Wear heavy clothes on the plane
This should be a no brainer but if you're struggling to meet the luggage restrictions, make sure you wear your heaviest clothes and shoes on the plane. You can take off jackets, jumpers and scarves once you sit down, but it saves you having to shove them into your cabin bag and potentially go over the limit.
Bonus tip: Wear a jacket with pockets for even more storage if you need it. I almost got pulled up flying a low cost carrier with a tiny weight limit, until I put all four heavy drone batteries into my pockets!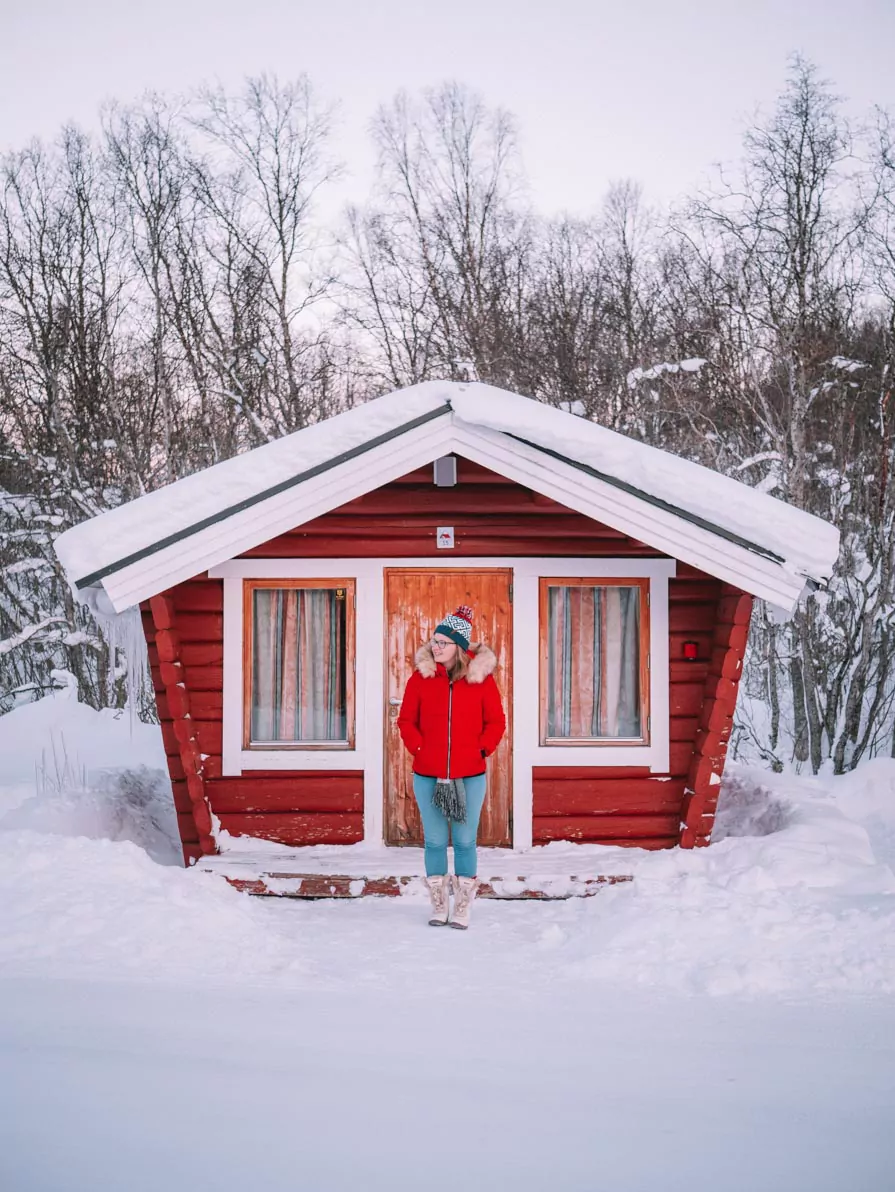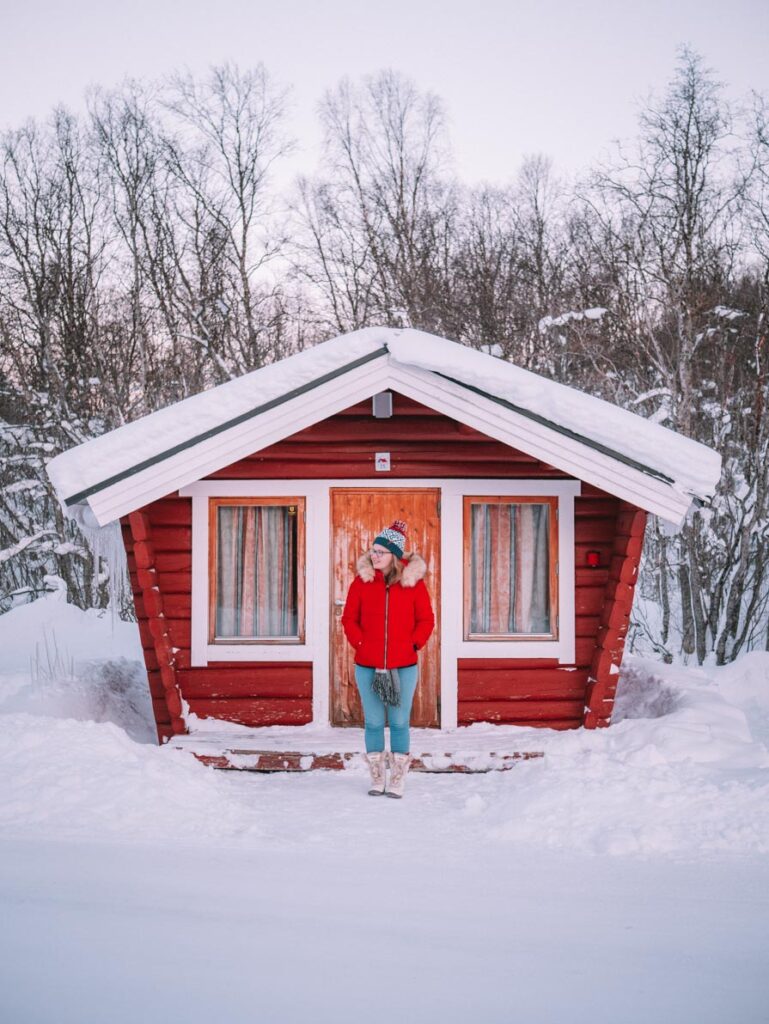 10. Pack a capsule wardrobe
One of the many things my mum has taught me is how to travel with a minimalist-style capsule wardrobe. This means sticking to basic pieces in a limited colour scheme so every item goes with multiple items, with the aim of creating as many outfits as possible out of as few clothing items as possible.
What you need to take will be completely depend on whether you're going somewhere like Iceland or Norway, doing a European road trip or spending a week in Bali, so there's no point in me suggesting a packing list.
Go for block colours in your chosen colour palette that you can mix and match, and you can throw in patterns, glitz or some glamour with a feature piece or accessories.
Make sure you're choosing lightweight materials that don't crease, suit the temperature of your destination and that you can wash easily and dry quickly.
11. Wash things when you're there
Which brings me to this one! As long as you have access to a sink, you can wash clothes while you're travelling if you really have to.
Most hostels have laundry services or on-site facilities, or you should always be able to find a laundromat in towns around the world, and you can take some laundry detergent sheets instead of lugging around powder or liquid. If you can't find a laundromat then take a laundry bar, like this one from Ethique, and use a shower or sink to freshen up your outfits.
And for whoever needs to hear this, you do not need to take three pairs of jeans, seven pairs of underwear and ten t-shirts for a three day trip. (I need to hear this).
12. Roll, don't fold
The jury's out on which of these is best (rolling takes up less space and reduces creasing but folding is better for organisation) but I'm a proponent for the former. Try it some time.
13. Make use of free space
If you're limited on actual space rather than weight, make sure you're using every bit of room in your suitcase.
Stuff socks into your shoes, pack clothes into laptop and camera bags, and consider getting some vacuum packed bags.
14. Reconsider what gadgets you need
I'm terrible at this one because I get separation anxiety if I'm apart from my laptop and hard drives 😂 but it's a major in terms of meeting weight limits when you're travelling with only cabin luggage.
Consider what you really need for a short trip. Are you actually going to spend any time on a laptop or even a tablet? Do you need your bulky DSLR camera or will your phone do?
Make sure you've got any chargers and charging cables you need for your devices, as well as international travel adapters and portable power banks to keep you sorted on the go. I use Cygnett power banks and adapters on all my trips.
And another top tip, pack any tech in your personal item so it can go under your feet rather than being shoved around by other travellers in the overhead compartment.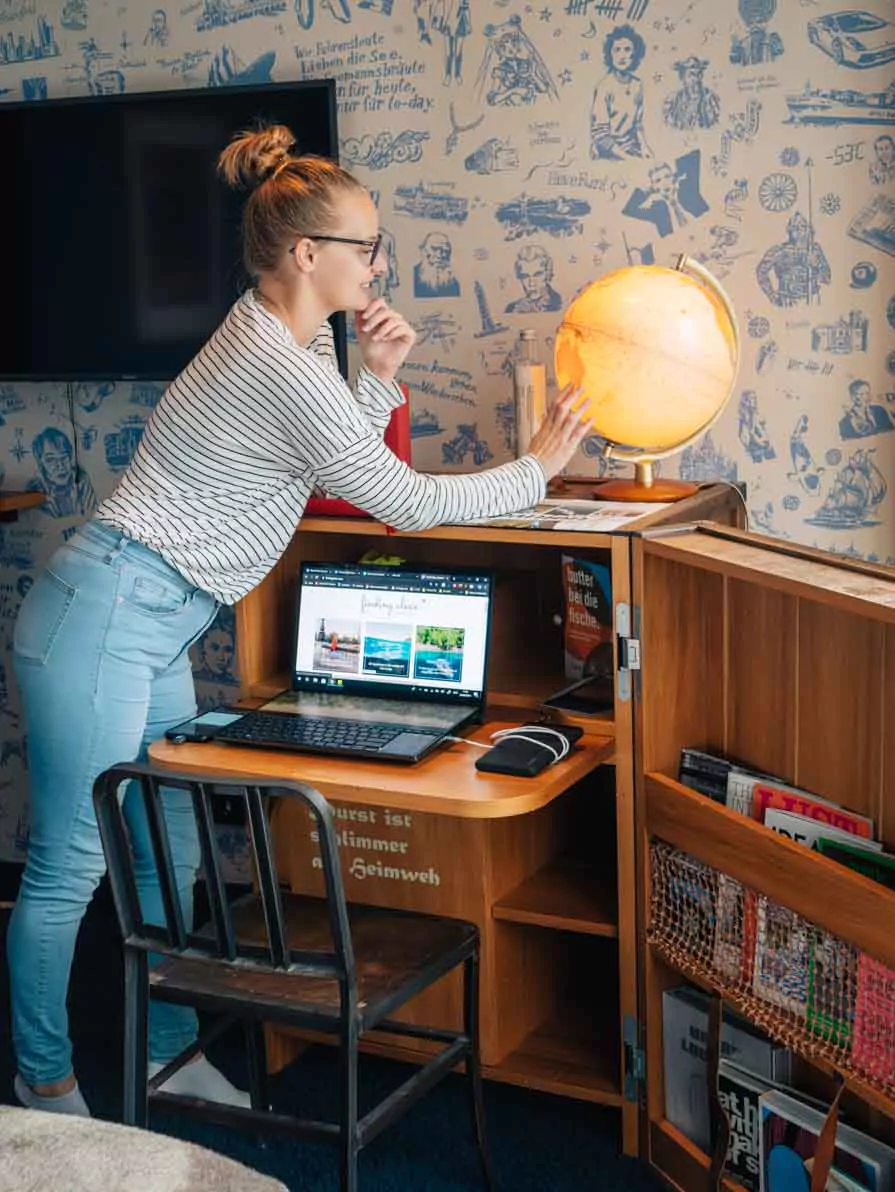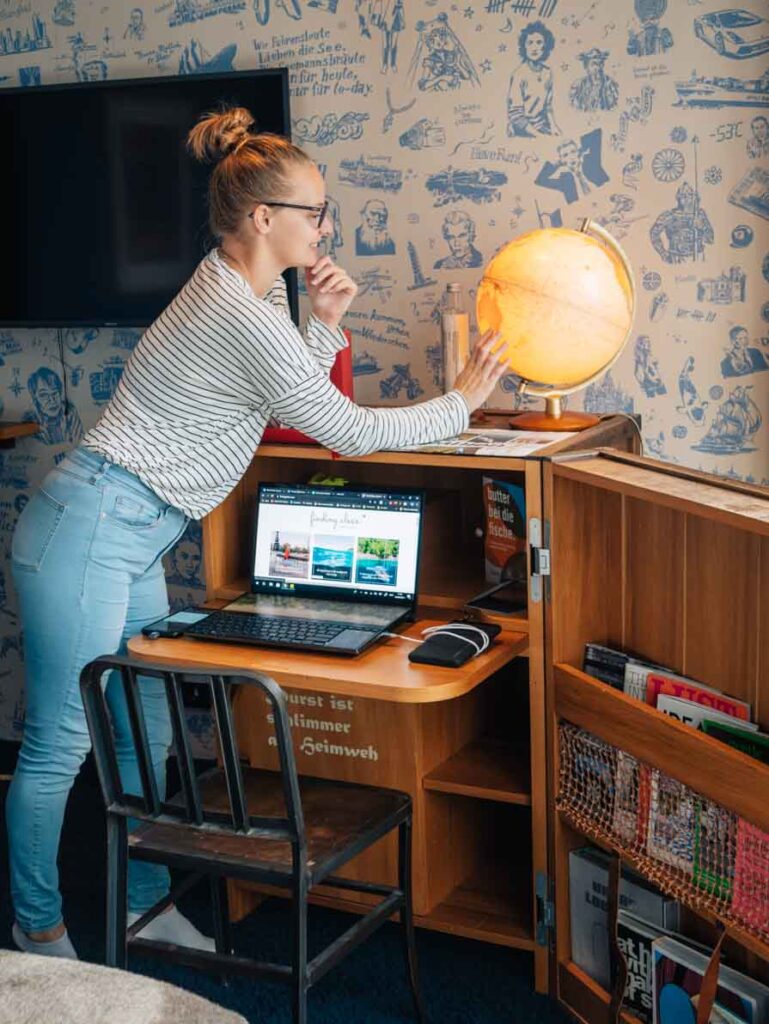 15. Insurance is a must, even for short trips
I've said it before and I'll say it again: if you can't afford travel insurance, you can't afford to travel.
Travel insurance is the most important thing to take with you, even if you're only travelling a short way. On weekend trips I've had to claim insurance multiple claims, from flight delays and cancellations to dropping my iPhone into a canal in Sweden. I've heard of way too many horror stories from people who either needed it and didn't have it, or had to use it, and it's just not worth the risk.
Plus it's cheap for quick trips so there's literally no excuse not to get it!
I travel with a comprehensive policy from Covermore NZ (there's also Covermore Australia for any Australian readers) but if you're from elsewhere then I recommend Safety Wing and World Nomads.
16. Don't double up with your travel buddies
If you're travelling with friends or family, check in with them before the trip to make sure you're not doubling up on anything you can share. It sucks to turn up to somewhere realising you're each carrying a hair dryer, hair straightener and full set of toiletries!
17. Fake it 'til you make it
And last but not least, walk onto that plane like you aren't buckling under the weight of a 15kg backpack.
Seriously though, if you look like you're struggling then you're definitely going to get stopped and checked. And if your weight is even 500g over the Ryanair, EasyJet or Jetstar limit, they're going to expect you to do something about it.
Weight restrictions are there for a reason, partly safety sure but mostly to make the airline money, so if you're over the limit you can't complain if you get caught. BUT in my full-time traveller experience, if you look confident and make it seem like your bag is light as a feather, you're more likely to get through without any grief.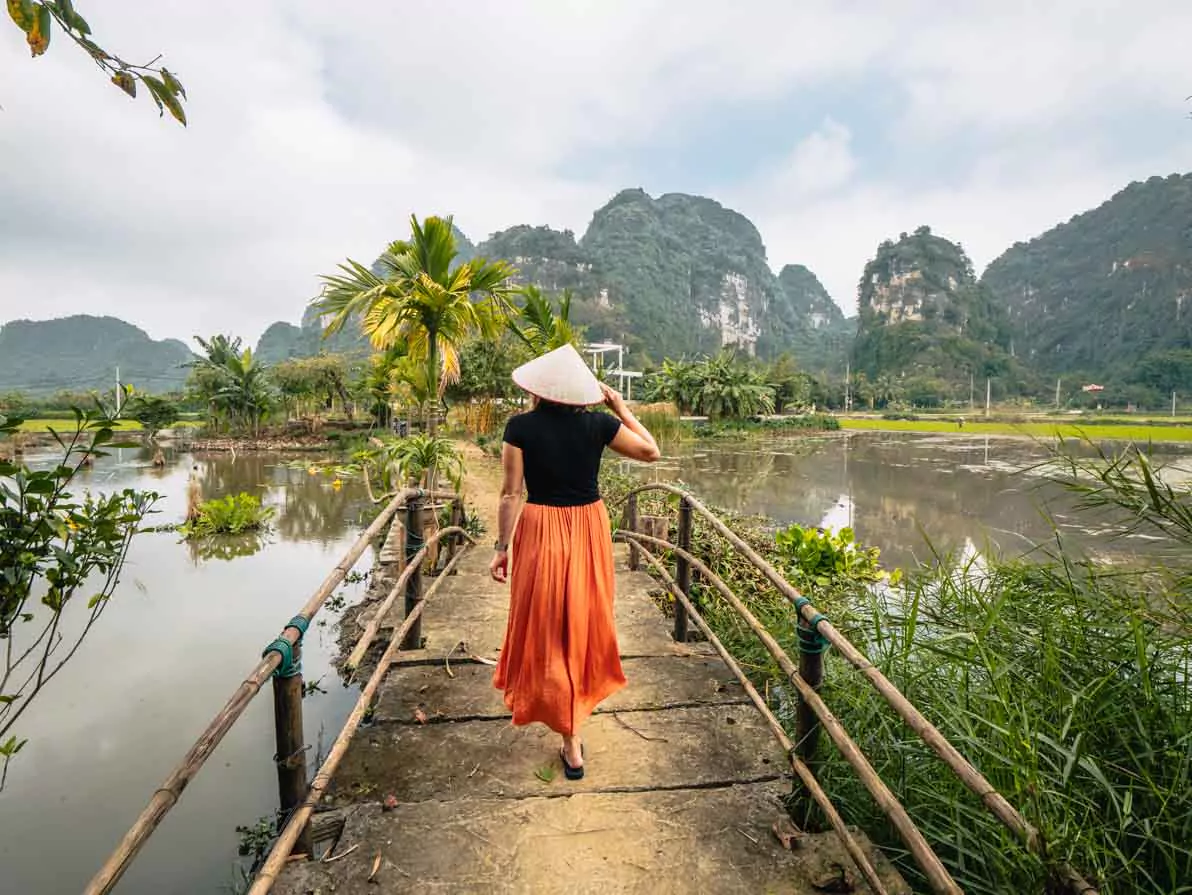 ---
I hope these cabin luggage packing tips have helped you plan what to take next time you're travelling with carry on only. Save dollars, save time and save stress by sticking to only 10kgs rather than a huge suitcase.
If you have a tip that I've missed that you want to share, let me know in the comments below!
Like this blog? Pin it!