Want to learn how to stay in luxury hotels for cheap on your next trip without breaking the bank? Here's my number one tip that has let me stay at 5* hotels in Greece, Hawaii, New Zealand and more.
I have to admit that I'm a total accommodation snob. It's not that I have to stay at the fanciest hotels, or spend lots of money, but what I do spend has to be worth it. I'd much rather stay at a funky boutique hostel with great facilities and free activities than an average business hotel with no character which probably costs more!
So you can trust that during my many years of travel, I've done all the research on how to find cheap accommodation.
And while there are many tips to help you with that, like being flexible with your dates, using cashback rewards or cross-checking websites for the best deal, I do have one secret strategy which has helped me fit epic places to stay in my existing holiday budget. I like to call it Shithouse to Penthouse 🙃 here's how you can use this strategy to learn how to stay in luxury hotels without absolutely blowing your travel budget.
What is Shithouse to Penthouse?
This is actually a really unfair name because the cheaper places I choose to stay are absolutely not shithouses, but this tagline seems to get the idea across! Budget to ballin', or saving to splurging, don't quite hit the mark.
The strategy behind S2P (a slightly nicer way of putting it) is to split your budget between staying somewhere cheap and staying somewhere amazing, rather than just choosing somewhere in the middle for the whole trip. This way you can use your money more wisely, finding a great value budget option to use while you're spending most of your time exploring the destination anyway, and then enjoying some downtime at a fancy hotel or resort afterwards.
For example if I'm heading somewhere for six days, I might choose a cheaper option for 4-5 of those days in order to be able to absolutely splurge on somewhere incredible for 1-2 days at the end.
The only downside is that you have to move accommodation, which can take time and money, but generally I think it's worth it in order to experience the next level of accommodation.
If you want to stay somewhere fancy but you can't afford the 5* life for the whole trip, this little hack is a great way to figure out how to stay in luxury hotels for cheap.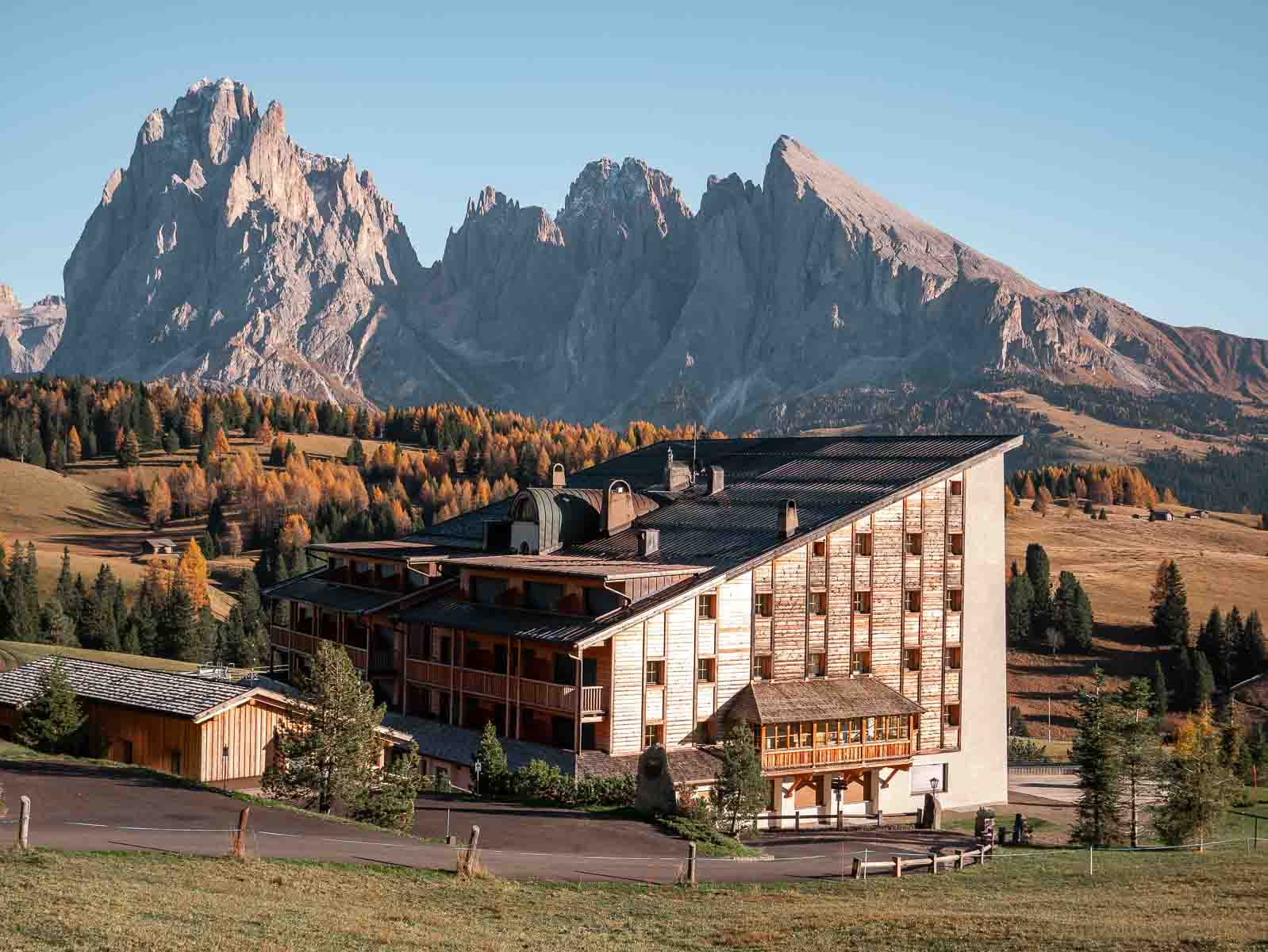 How to decide how to split the trip
Consider your accommodation budget
The first thing to think about is your total accommodation budget for your trip, and from here you can figure out the average cost you're willing to pay per night. This will totally depend on the destination you're in and your travel style/expectations.
Personally I try to stick to an average budget of $100NZD per person (about $65USD, €56 or £50) per night for my accommodation when I'm travelling, keeping in mind that destinations like South East Asia or Eastern Europe will be cheaper, but big cities in expensive countries like London, New York or Singapore might be a lot more.
If you're backpacking and staying in hostel dorms then you can get away with half of that for most countries around the world, or if you want additional facilities like a hotel gym or pool, a full kitchen or just more space, or if you're travelling during a busy period like school holidays, then an average budget of $200 per person might be more appropriate for you.
Consider your accommodation needs
Once I have my average budget per night, I'll have a think about how many days I am willing to keep it cheap for in order to be able to treat myself at the end. Typically for me it's a 75/25 or 80/20 split, I can handle three or four nights of saving money if I'm getting an epic experience at the end.
Consider how much time you'll *actually* be spending in your room too, because there's no point in splurging on expensive accommodation if you're literally only using it for sleeping eight hours and you're out exploring the rest of the time.
If you're planning a Europe trip with a mix of city visits and beach breaks, you could easily save money by keeping it back to basics in the cities and just focusing on good location and comfortable rooms, then you could splash out big time on somewhere with an insane view, beach access or stunning design in the beachy areas when you're more likely to want to relax and actually spend time at the accommodation.
How to find good budget accommodation
Now that you know the average budget you need to stick to, it's time to start searching for the cheaper option in your S2P holiday.
I use booking.com for all my accommodation searches, I find their interface much cleaner and easier to use than other hotel aggregators, but you can use whichever one you prefer.
Go to whatever search engine you prefer, pop in your destination and your travel dates and hit search. Now put in the filters you require, I usually tick 8/10 and above (I've got high standards so if more than 2 people out of every 10 aren't impressed, I know I'll be one of them), laptop-friendly workspace and free cancellation, because my travel plans are often up in the air until the last minute. Drag the nightly price filter to your average nightly budget.
If you're using booking.com then head up to the 'sort by' dropdown and select 'Best reviewed and lowest price'. This feature essentially puts the options in 'best value' order, it will prioritise cheaper options with good reviews over more expensive options with the same or similar rating, e.g. an $80 apartment rated 8.7/10 might be higher than a $180 hotel room rated 8.8/10, because the first option is far better value when comparing price to rating.
Scroll through these options and find somewhere that meets the requirements of the cheap segment of this trip. Look for places with included extras that can save you even more money, like free breakfast or a central location to reduce transport costs. Don't fuss about being somewhere that's really beautiful, or that has all the best facilities, because all that good stuff will come later. You want to focus on finding a good value, comfortable option that lets you rest between busy travel days, and save money for the next part of your trip.
The amount you can save will totally depend on the destination and how long you're there for, but by choosing private rooms in hostels or basic apartments I often save 30-50% of my nightly budget during the cheaper portion of the trip.
How to find the best luxury accommodation
After confirming the 'S' part of the S2P trip, it's time to find the luxurious accommodation to splurge on.
Now that you've saved money on staying somewhere cheap, you can recalculate your budget! Figure out how much you've spent of your total accommodation budget already, calculate how much you have left, and divide it by the number of nights you are treating yourself for. Now you've got a nightly budget that's probably quite a lot higher than your initial budget.
I'll go back into booking.com, pop in the relevant filters including any extras you want like a swimming pool or a particular star rating, increase the nightly budget to what I can now afford, and once again sort by 'Best reviewed and lowest price'.
You'll see a bunch of nicer options that you never would have been able to afford for the entire trip, but that with a bit of smart budgeting, you can now enjoy for a quick stay before you head home!
Some real-life examples of S2P
If you're still sceptical, let's run through some numbers to see how the budget works.
The Maldives
Let's say you're really keen to visit the Maldives for five days in the low season but you're on a fairly tight budget of $250 a night so $1250 total (which doesn't go particular far in the Maldives unfortunately, even in the low season!).
Option one: Five nights at Medhufushi Island Resort, 4* rated 7.6/10, for $1201 total ($240 per night) not including meals
Option two: Three nights at Ameera Guesthouse on the Maldives local island of Dhiffushi, 3* rated 9.3/10 for $234 ($78 per night), then two nights at Velassaru 5* all-inclusive resort rated 9.3/10 for $995 ($497.50 per night), coming to a total of $1229
I know which option I'd rather pick!
Mykonos
I spent three days in Mykonos and used my own S2P strategy to get a night at a super nice hotel. I was travelling with two friends and we had a total budget of $300 per night, so $900 total.
Option one: Three nights at Paradise Beach Resort, 2* rated 7.2/10, for $898 total (just under $299 per night)
Option: Two nights at Anais in a basic triple room, 3* rated 9/10, for $404 total ($202 per night), then one epic night at Mykonos Residence Villas & Suites in an ocean-view suite with a hot tub for $499, a total of $903
Budapest
Hypothetically speaking, you're travelling solo to Budapest for four nights and want to stick to a budget of $100 per night, so $400 total.
Option one: Cosy one bedroom apartment rated highly (9.5/10) but about 2km from the city centre for $394 total
Option two: Three nights in a 4-bed female dorm at Das Nest Hostel (8.4/10) in the middle of the Jewish Quarter for $75 total, then one night at the super fancy Hotel Clark in a double room with a view of the Danube for $326, so $401 total
I hope this cheap luxury hotel hack has given you some ideas to get the best value for money on your next trip and how to stay in luxury hotels for cheap! If you manage to use the S2P strategy to be able to afford somewhere absolutely epic to stay then I'd love to know about it, let me know in the comments.