Wondering how to find cheap accommodation for your upcoming trip? As a full-time traveller, as well as an ex-travel agency employee, here are all my best cheap accommodation tips and tricks to help you save money on your upcoming adventure.
After staying in literally hundreds of hotels in 59 different countries around the world, I'm pretty clued up on how to find cheap accommodation that's also enjoyable to stay at.
I'm a bit of an accommodation snob myself, I don't need to be at a 5* hotel with all the bells and whistles, but I do appreciate a comfortable bed, stylish design and epic facilities. My budget can range drastically depending on the trip, I've stayed in some amazing back-to-basics guesthouses in Vietnam for less than $7 a night, and I've also stayed at some of the most luxurious hotels on the planet (for work, there's no way I can afford those!).
From these experiences I've learnt two things.
1) Where you stay is more than just where you rest your head, your accommodation can truly make or break your trip. Location will determine your itinerary, sleep quality can severely impact your energy levels for exploring, and a good hotel is what takes a trip from being good to being unforgettable.
And 2), getting a good deal is what's important. Staying at the Ritz-Carlton is always going to be amazing but it sure feels better when you manage to snag a 20% discount, in the same way that discovering a top-rated grassroots eco-hotel in the Canadian wilderness for only $60 a night makes you feel like a travel expert. The less money you spend on your accommodation, the more money you have for travel experiences.
This blog post teaches 20 different tricks on how to find cheap accommodation, whether you're sticking to a shoestring budget or you've got money to splurge. So here you go, the best ways to find amazing hotels and hostels that fit your budget.
How to find cheap accommodation
1. Use online accommodation marketplaces
My top piece of advice for how to find cheap accommodation is to use online accommodation websites, like booking.com (my personal favourite), Agoda, Expedia, Trivago and hotels.com.
These websites let you choose your destination, your travel dates and set your filters and then bring up hundreds of options that might suit you, making it super easy to compare different hotel ratings and prices.
Unlike my number one tip on how to find cheap flights, where I suggest booking directly through the airline and avoiding all third parties, with accommodation I book 95% of my stays through booking.com and I've personally never had an issue. I use booking.com because I like the user experience of the website/app, many of the hotels offer free cancellation and it's easy to cancel or change in the app (no need to email customer service), I have reached their highest loyalty level which means I get discounted rates, and I use Shopback (an Australian cashback website) to get at least 5.5% and up to 12% cash back from each booking.
2. Use filters and sort orders to narrow down your options
Whether you're using booking.com, Agoda (very popular in Asia) or any other accommodation website, it's essential to use filters and the sorting tool to quickly and easily find the options that suit your travel preferences.
When I'm looking for a place to stay, I start off by ticking the filters on the left-hand side of the booking.com search results page. My common filters are:
I set my budget to the maximum I can afford
I tick 8+ and 9+ in the 'review score' because I'm a fussy traveller and aim to stay at places rates 8.5/10 and above
Self-contained if it's a stay of more than three days so I can cook my own food
Laptop-friendly workspace
Free cancellation
Other filters you might want to use are:
Property facilities like fitness centre or swimming pool
Star rating
Distance from landmarks
Double bed or twin beds
Room facilities like fridge, kettle or private pool
Once you've selected the filters to suit your trip, you can use the 'sort' options to easily see the options in different orders.
On booking.com you can sort the results in a bunch of different ways, but the three I use are in order of the best reviews, the lowest price, or 'best reviewed and price' which is a combination of reviews + price and essentially shows you the best value options.
I prefer the latter option, because this sort order ranks a cheap 9.1/10 option above an expensive 9.4 option, like you can see below. This makes it easy for me to compare the pros and cons of the different options and to choose the one that offers the best bang for my buck.
3. Compare the booking sites + direct website to find the best accommodation deal
Once you've made your shortlist of the best accommodation options, you need to compare the different websites to make sure you're getting the best deal.
The easiest way to do this is to list your options in a Google Sheets doc or on paper, then make columns for booking.com, Agoda, any other accomm aggregators you want to check, and the direct hotel website. Check each site for the price of the stay, and be sure to take note of any inclusions, like free breakfast, a free upgrade or included parking.
One important thing to note is that on the search results page of some websites the price you see is the total price for the stay (like booking.com) which I prefer, but for some the search results page only shows you the per night price. Be sure to click through and see the final price including any taxes or fees before noting this down on your decision spreadsheet.
In my experience, booking direct through the hotel's website isn't necessarily cheaper (it's often more expensive than my discounted loyalty booking.com rate) but direct bookings often get extra perks like free breakfast, parking, early check-in/late checkout or a room upgrade, and you might get discounts for the on-site bars, restaurants or spa. Many also have their own members' clubs which are typically free to join and might get you a 5-15% discount on the room, but it's still worth comparing these prices with booking.com.
If you find a cheaper price on a third party website but you'd prefer to book direct through the hotel, you can always give them a call and ask if they'll match the price. Hypothetically they should always say yes because they'll be getting the full amount rather than having to pay the third party's commission, but for some reason I've had hotels decline this in the past so I just book through booking.com.
4. Check events and holidays in your destination
I can't even count the number of times where I've planned a trip somewhere and when I go to book my accommodation is it CRAZY expensive, well more than what I expected. After a quick Google I realise that I'm accidentally visiting Paris during a huge football game, or Budapest on their national holiday weekend, or Melbourne during Grand Prix weekend. Oops!
If you're about to book your flights, double check accommodation prices first to make sure you're not visiting during a time that's super busy.
5. Stay mid-week
Just like flying mid-week is cheaper due to lower demand, mid-week accommodation is typically cheaper too.
If you are flexible with your work days or location then a mid-week trip can end up saving loads of money compared to travelling on a Friday to a Sunday.
If you're travelling on an extended trip, consider designing your itinerary so that you're in more expensive cities mid-week and cheaper places on the weekend to help balance accommodation costs. For example if you're travelling Europe, try to keep big cities like London, Paris and Amsterdam or main tourist destinations like the Amalfi Coast or Lauterbrunnen for mid-week stays, and use lesser-visited or cheaper cities and towns like Bologna, Budapest and Prague as your weekend destinations.
6. Use a cashback website
I have to admit that I always found cashback sites to look super scammy so it's taken me years to get onto them, but now I am a total convert. I started using Shopback to get cashback last year, and I've made more than $700 just from my hotel bookings!
Cashback works in a similar way to affiliate links on blog posts like this one. If you book a hotel through one of my links, the sale gets attributed to my account and I receive a (very small haha) commission at no extra cost to you. The money I make through affiliate links helps to pay for the work I put into this website so thank you 🥰
With cashback websites, you're essentially using their affiliate links but they share some of that commission with you. To find cashback deals you can either use the cashback apps below to see what travel websites they have deals for, or for many of them you can install a browser extension for your internet browser and it'll alert you when there's a deal on whatever websites you are browsing.
Different countries have different options for cashback:
Many of these websites also have cashback deals for different airlines (usually 1-2% but that adds up for expensive flights) as well as car rentals and activities.
7. Stay in less touristy areas
Another fairly obvious one but a good reminder, if you're really tight on your travel budget, avoid the super touristy areas and consider staying in a suburban neighbourhood or even slightly out of the city.
This can make a load of difference, especially in busy cities. In London you'll get better value for money if you stay in Chiswick or Camden compared to Leicester Square or Mayfair, and in New York you'll find more budget-friendly options in Long Island City or Brooklyn compared to Manhattan.
Especially if you're staying for a longer visit and don't mind a bit of extra time to get to the main tourist landmarks, this is a way to save money on where you stay and get better quality accommodation for your budget.
8. Stay close to transport
But even if you're looking at escaping the main city centre, always stay close to public transport if you want to keep your costs down. There's no point in being stoked about a super cheap $30 a night hostel in Queens if it's going to cost you $110 each way to get to and from Newark Airport in an Uber compared to paying more per night for a Manhattan hotel that is a much shorter distance and doable by public transport.
Subway/underground stations in many cities are shown on booking.com, so check the map view when making your accommodation shortlist to make sure you're booking somewhere that's not going to end up with you splurging on Ubers or cabs.
9. Stay at a hostel
I know a lot of travellers have hostels on their 'no deal' list, but these days there are some seriously incredible hostels that offer fantastic private rooms, budget-friendly dorm rooms, boutique design and epic facilities. While many hotels are definitely more targeted at youth travellers, I've seen older couples as well as families enjoying the good value at hostels in my recent travels.
My time in hostel dorms is pretty much over (unless I accidentally book a trip during an event and hotels are too expensive, see point #4 🙃) but I love love love private rooms, because they usually have access to a shared kitchen, they're always in great locations and it's super easy to meet people if I feel like being social. Add on cheap bars, free walking tours and affordable activities and you can see why hostels can end up being a great way to save money on accommodation.
Hostelworld is a hostel-specific accommodation marketplace but many hostels are also available on booking.com or other aggregators.
10. Paying more for self-catering facilities might save you money
If you're travelling to somewhere where eating out is expensive, then paying a bit more per night to stay in a hotel, hostel or apartment with kitchen facilities where you can cook your own breakfast, lunch and dinner might save you money overall.
For all my hotel bookings I need a fridge and a kettle at a minimum, so I can buy smoothies from the supermarket for breakfast on the go, but I'll often opt for somewhere with access to a full kitchen to avoid being stuck having to pay for three meals a day.
11. Book early for events
If you're considering travelling for a big event, like a concert, sports game or public holiday, book accommodation with free cancellation as soon as you're even considering it.
In the past I've been very 'go with the flow' when planning my travels, the nature of my job means I often don't know my plans for the following month, which has sometimes ended in very expensive accommodation during national holidays and summer or Christmas seasons.
These days I plan 6-12 months ahead in terms of any events I want to go to and consider where I'll likely be for Christmas, and I'll book accommodation as a back up in case I don't end up making any plans with friends or for collaborations.
For this year I knew I wanted to be in Paris for Bastille Day (the best fireworks in the world by the way) so I booked a hostel there six months in advance even though I didn't even know if I'll be in Europe, and I also booked accommodation for the All Blacks games of the Rugby World Cup just in case I happen to be nearby, and then won't have to pay hundreds of euros more to book only a few weeks ahead.
Just make sure you put the free cancellation date in your calendar (preferably a few days before) with a notification so you don't forget to cancel if you can't make the trip in the end.
12. Book Airbnb for longer stays
Airbnb is definitely losing its charm for short trips due to sky high cleaning fees and additional service fees, but for longer stays it's still a good value option if you want somewhere self-contained.
If you're staying in one place for more than a week there are often discounted rates built in to the pricing tool, but you can also message hosts and let them know you're looking at a long stay and ask them if they'd consider offering a discount.
I will say that I do personally have some ethical issues regarding Airbnb's business strategy (particularly around the severe impact on the local rental market) and I very rarely use Airbnb for that reason, however for an extended trip there's no doubt it can offer great value for money.
13. Consider any additional costs
If a hotel is coming back at $150 a night that's great, but you also need to be aware of the additional costs like parking, how far it is from the airport and how much transport will cost, is it in an expensive area with only pricey restaurants nearby, etc. If you're staying at a hostel then do your research around extras you need to pay for like towels, lockers and so on.
14. ALWAYS book free cancellation
Unless you are 100% certain that your plans absolutely won't change, always book free cancellation! On booking.com most free cancellation options give you the flexibility to change your mind up to 1-2 days before your stay, so you can check a few days before your trip and see if there are any amazing last minute deals that offer better value for money than the first place you booked.
Free cancellation is particularly important for long itineraries where you're constantly moving between different cities and countries. You might decide to stay in your current destination for longer and therefore move your next destination to later in the trip, or you might meet someone who has been to your next destination and has a suggestion for a better hotel, or there might be train strikes or weather warnings in place that make you want to change your plans completely.
Free cancellation provides way, way more freedom to make decisions as you go.
15. Use loyalty programmes
If you're staying at a big hotel chain like Hilton, Marriott or any of the Accor brand, joining their loyalty programmes can give you access to members' rates as well as extra perks like upgrades, free nights and club lounge access. You'll need to book on the hotel website to get loyalty points, you won't be able to claim them for bookings made through a third party.
If you're booking through a third party like booking.com, they might have their own loyalty programme too. Booking.com has their Genius programme which has three levels, and I'm on Level 3, which requires 15 bookings in two years. That means I get 10-20% off, free breakfast and free upgrades at Genius properties (there are lots of them).
16. Use reward credit cards
Rewards credit cards are another fantastic way to save on accommodation, because your points can often be used on hotel rooms, some credit cards come with free nights at particular chains, and you might be entitled to traditional perks.
America is the best place in the world for travel reward credit cards, there's plenty of competition and many cards have amazing sign up bonuses and great benefits. Unfortunately the rest of the world isn't quite there yet, the UK, Canada and Australia are starting to grow their rewards credit card options, but Europe and New Zealand are still well behind.
My fingers are crossed that NZ catches up in the not-too-distant future!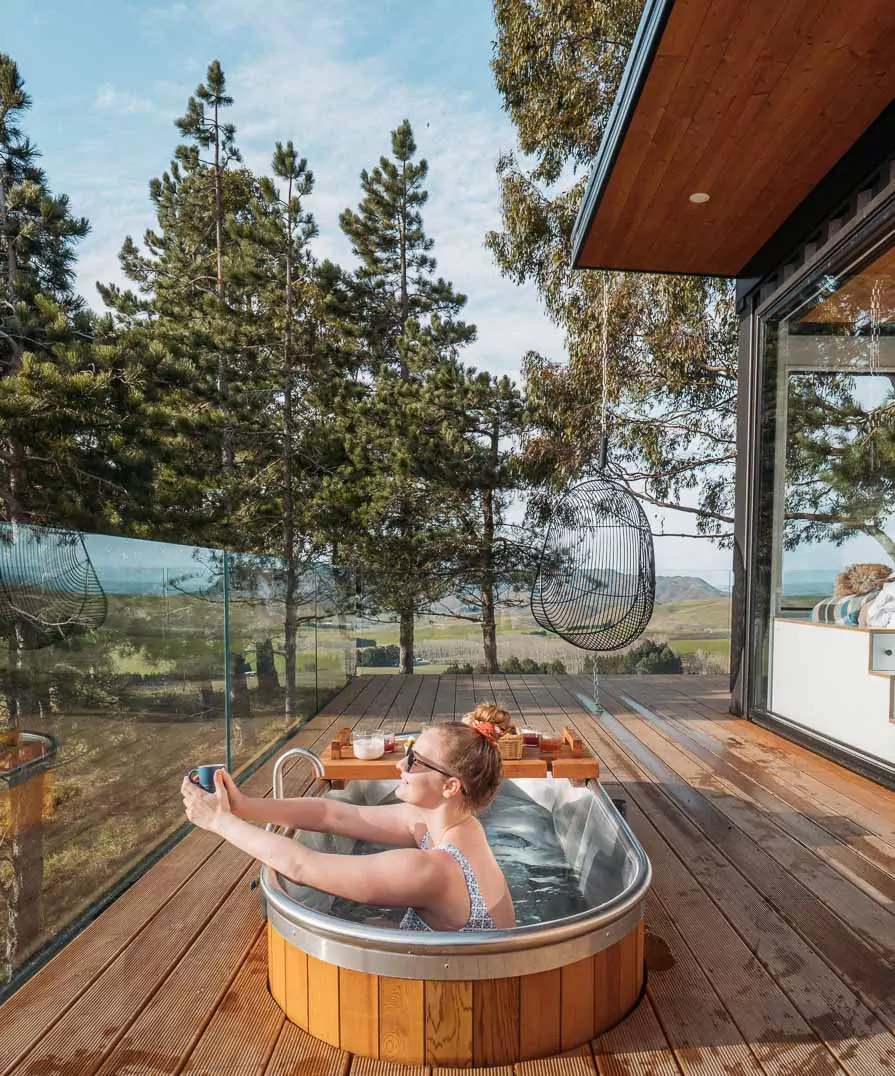 17. Stay for free with housesitting, WWOOFing and couchsurfing
Forget cheap accommodation, how about staying somewhere for free? You can take your accommodation costs down to zero with these options:
Housesitting and petsitting while people are away from their homes, the most popular way to find this is using Trusted Housesitters
Working on organic farms in exchange for rent and board through the national WWOOF organisation (WWOOF stands for worldwide opportunities on organic farms)
Couchsurfing through the Couchsurfing app or a Facebook group like Host a Sister
For all of these opportunities keep in mind that you aren't a paying customer staying at a commercial property that has specific standards and regulations they need to meet, so manage your expectations. Always check reviews from previous guests, trust your gut, and leave any situation where you feel even slightly unsafe.
18. Consider a house swap
If you're travelling for a while and have your own home or the ability to sublet your house, consider a house swap, where you find a family in another destination who are happy to swap locations for a while.
There are loads of house swap groups on Facebook or you can check out a website like HomeExchange.
19. Sublet someone's room
For cities with expensive rent like London, New York and Sydney, you'll find that there are lots of residents who sublet their room short-term while they're away, usually offering better rates than hotels. The best way to find sublets is usually through Facebook groups.
Always check details like distance to transport, info on other housemates you'll be sharing with, and what you're expected to bring e.g. your own linen or towels. There are also plenty of scams that happen on these pages, never give any money until you or a friend who lives in the city has actually met the person and seen the place you'll be subletting.
20. Stay longer
This might sound like a bit of a contradiction, but staying longer can reduce your daily cost big time.
Not only will a longer stay sometimes give you discounted rates (like six nights for the price of four on a hotel website), but if you have more time then you don't need to worry about being so central as you won't need to cram everything into a two day stay, you'll be able to take it slower and decide your plans when you're there rather than needing to pre-book everything in advance.
There you have it, all my top tips on how to find cheap accommodation. I hope you feel more educated around finding the best hotel deals, and as always if you have any questions, let me know in the comments.
You might also like: