Want to know how to grab crazy cheap flight deals for your next trip? Skyscanner's Everywhere tool is my go-to for finding affordable flights all over the globe. Here's how to find the cheapest flights using Skyscanner.
Skyscanner is a flight comparison tool that helps you find the best flight routes and deals all over the globe. It even lets you search the cheapest destinations available for your travel dates, or the cheapest travel dates to visit your destination, or the cheapest places to visit in each month of the year.
If you struggle to make travel decisions because there's too many options to choose from (hi, me too), Skyscanner is ideal for helping you overcome that analysis paralysis and finding you the cheapest flights for your next trip.
Here's all you need to know about how to use Skyscanner to find the cheapest flights.
---
What is Skyscanner?
Skyscanner is a travel search engine or 'aggregator' as they're known in the industry, letting you compare flight options from hundreds of airlines and online travel agencies (OTAs) around the world. They also have search engines for hotels and car rentals but this blog post is about Skyscanner's flight search.
---
How does Skyscanner work?
Skyscanner provides up-to-date pricing and availability for *most* commercial flights in the world. It's a bit confusing to explain to those not familiar with the airline industry, but I'll try to keep it super simple.
Airlines decide what price to sell their tickets to the general public for, and 'publishes' these fares, making them available to be booked through their website or by calling them. Online travel agencies have access to both these 'published' fares and might choose to add more commission to make them more expensive, or to drop commission to make them cheaper. OTAs also might have access to 'unpublished' fares that airlines give to travel agencies or bulk buyers like tour companies, where the tickets are cheaper than those available to the general public. Airlines add their price lists to a global distribution system (GDS), travel agencies add their prices in too, and Skyscanner has access to the GDS to see real-time prices from different airlines and OTAs.
TLDR: Basically, the exact same flight might be totally different prices depending on who you buy it through.
Skyscanner aggregates all of these prices, showing you not only different flight and airline options to get from A to B on a particular day, but also all the different prices available if you book through the airline vs. booking with an online travel agency.
---
Why do flight prices change so often?
Flight prices are also dynamic, meaning that prices change within seconds depending on how many seats have been sold on the plane or are currently in someone's shopping basket, so prices can change constantly. This might be why a flight comes up on Skyscanner at a certain price but when you click through to book it it might have increased slightly.
I don't know who needs to hear this, but flight prices aren't increasing because you're searching the flight too often. Putting your browser in incognito mode or clearing your cookies isn't going to get you cheaper flight prices, the price is based on the current demand for that flight rather than on your past searches. This is literally a fact, I worked in the travel industry for years talking to airlines every day, I can guarantee that the price has not gone up because you searched the same flight half an hour ago.
What is actually happening is that the airline is offering seats on a flight for different prices at different times. Flying Rome to New York on 12 July with American Airlines is not $200 per seat for the entire economy section. Instead the plane is split up into loads of different fare classes, and I don't mean economy / business / first. The first ten seats in economy might be $180, the next ten $220, the next ten $240, and so on. If you're searching for a flight and see a $180 option it might be the tenth seat in that fare class, so if you come back half an hour later, someone's already in the process of purchasing that flight and your price has been bumped up to the $220 fare class. If you then come back an hour later on incognito and the price is back to $180, that's likely due to that person not completing the check out process and therefore that tenth seat of the lowest fare class is now available again.
TLDR: Searching in incognito does nothing, flight prices are based on current demand which changes by the second.
Skyscanner has a price alert feature for you to turn on alerts if a specific flight route drops, making sure that you don't miss out if a flight gets cheaper. The Hopper app does the same thing, and I like to use both to maximise my chance of locking in a good deal. In saying that though, *generally* flights get more expensive as it gets closer to the travel date, so if you see a good price just book it straight away rather than hoping for it to drop.
---
Should you book flights through Skyscanner?
Skyscanner is an aggregator rather than an online travel agency itself, so for most flights, it just sends you through to the airline website or an online travel agency to book the fare.
These days there are a few airlines who work directly with Skyscanner to let you purchase the fare on the platform itself rather than having to click through to the airline website, these fares will have a button that says 'Book on Skyscanner' and it's legit, just check the terms and conditions to be aware of any cancellation fees etc.
Once I've used Skyscanner to find my preferred flight, 99% of the time I book direct with the airline. This might be a bit more expensive than booking through an OTA (who often discount fares) but generally airlines have more flexible booking conditions and cancellation policies, better customer service and you can manage your flight on their website, whereas if you book through an online travel agency you might not be able to select seats, change your flights or even collect miles or rewards points.
To give you an example of the difference, I once booked a flight with an OTA called FareBoom to get from New York to London on a SUPER cheap discounted fare, only $110USD for a direct flight with United Airlines which is insane.
The flight was cancelled due to Covid.
If I had booked through United I would've been able to get a full refund, or to hold it as credit for any United flight in the future. With FareBoom my only option was to hold the fare price as credit for the same flight in the future.
When I was ready to book I tried to use the credit, but the New York to London flight was now $700USD, meaning I'd have to top it up with another $590USD. Instead I tried to use it on a cheaper internal United flight for $140, only needing to top up by $30, but FareBoom said the credit could only be used for New York to London on United. Obviously I'm not paying $700USD to fly New York to London when there are cheaper airlines out there, so I've got $110USD credit sitting with FareBoom that I'll never be able to use.
TLDR: Always book direct with airlines to get the best cancellation policies and customer service, online travel agencies typically suck.
The caveat to this is if the OTA is suuuper cheap and it's worth saving that much money and maybe dealing with a logistical headache if something goes wrong. Even so, I'll probably never book with another OTA again.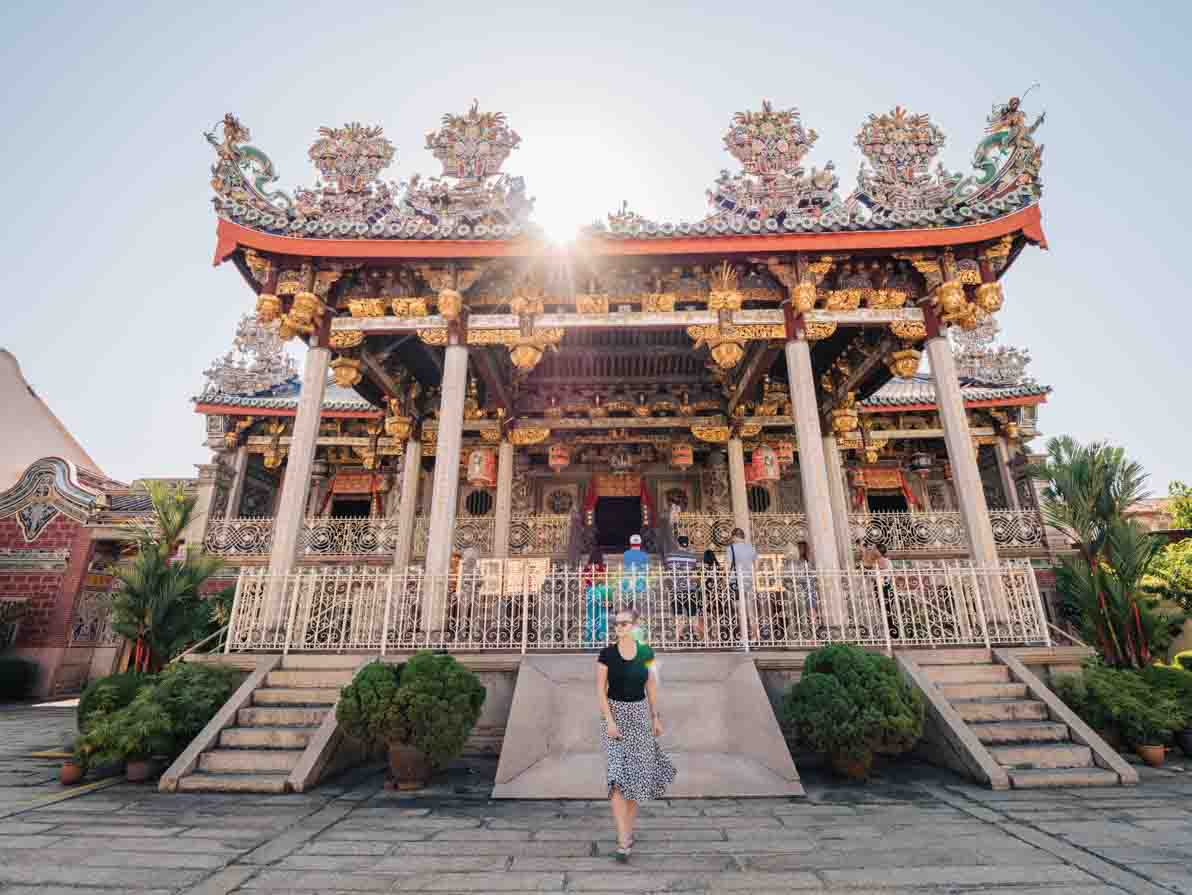 ---
How Skyscanner changed my life
I know that sounds dramatic but Skyscanner's Everywhere search tool literally changed my life. In a big way!
Back in 2018 I was working in my desk job in London, in a marketing team at a global travel agency. I'd worked at the company for five years, transferring from the New Zealand office to the global HQ in the UK for my two year working holiday visa. I loved what I did, and I adored the company, but unfortunately my London boss was absolutely useless. She was manipulative and vindictive which was a nightmare to deal with, but on top of that she also sucked at her actual job (bringing in marketing partnerships) which meant that my team often had no work to do! I even got told off for offering my time to help other teams that were slammed and under-resourced 🙃
To keep my mind occupied, I used to go onto Skyscanner and use the 'Everywhere' tool to find the cheapest flight for the next week, dreaming about packing up my desk, handing in my resignation and heading to the airport. This turned into a little activity where I'd pull up a spreadsheet and note down what route I'd follow if I just took the cheapest flight to a new destination each week.
I soon came to realise that a) this job was killing my soul and b) that I could actually get pretty damn far around the world without spending much money at all if I just took the cheapest flights. It was coming to the end of my work visa and I had to decide whether to get sponsored by my work (which would require committing to the job for three years) or leaving London and figuring out what to do next. I hated the idea of leaving London but I knew I couldn't handle another three years with my boss, so I made the executive decision to quit and let Skyscanner take the reins for the next year of my life.
I started my '52 countries in 52 weeks' project as a way to show other travellers how they could spend a week in 52 different destinations around the globe, with the aim of providing actionable itineraries and travel inspo to visit places people might not have thought about before. I grew my social channels by thousands, started taking my blog seriously, and gained the confidence and skills to turn my travel blog into an actual sustainable career.
The trip kicked off in July 2019 and I managed to visit 39 countries in Europe, the Middle East, Asia and the Pacific in nine months, spending just £2581 on flights (or £2024 if you didn't count extras like a checked bag and seat selection). Not bad huh!
I didn't fly everywhere, in Europe I would use Skyscanner to choose my next destination but then try to take trains/buses where possible and in Asia I did some tours which got me between countries, but to get 75% of the way around the world for that little is just crazy.
Unfortunately Covid got in the way and the world went into lockdown when I was in the Philippines on week #39, forcing me to return home to New Zealand and wait a couple of years before things opened back up.
I would still love to finish off the final 13 weeks of the project one day, but flight prices haven't quite dropped back down to normal yet and I'm also much more conscious of my environmental impact, but perhaps in 2024 I'll be able to find a way to complete 52 in 52.
TLDR: I had a shit boss, used Skyscanner Everywhere to dream about being anywhere other than work, decided to quit and travel to the cheapest place every week for a year, and made a job out of it.
For more info on my 52 in 52 project you can see an FAQ breakdown here >>
---
How to find cheap flights using Skyscanner Everywhere
What is Skyscanner Everywhere?
Skyscanner's Everywhere search is a flexible booking engine that lets you put in your departure city, then lets you choose 'Everywhere' as your destination and shows you a bunch of different destination options in price order.
It's one of the best ways to find cheap flights, as well as discover destinations you might not have thought of before. This is what the search looks like 👇🏼
---
If you have a specific destination and travel dates
If you know where and when you are travelling, the benefit of Skyscanner is that it'll show all the different flight routes available that day, as well as the price for each flight route from the airline as well as from a bunch of different OTAs.
Let's say I need to travel from Auckland to London on September 14 and return two weeks later. Skyscanner shows me lotssss of options, and I can order them by cheapest, fastest and 'best' (which takes into account a combo of things like price, speed, stopovers etc.).
You can use the filters along the side to tailor your search options to exclude certain airlines or only show a particular airline alliance (if you're wanting to use or gain points), change departure and arrival time, show only one-stop flights, and so on.
Once you've found a flight you like, you can click 'See Deals' and you'll be taken to a page with all the booking options, like this:
Select your flight and you'll see a screen that looks like the below 👇🏼
And then it'll take you to the airline website (or OTA if you've chosen that way) with the correct flight in your basket already. Pop in your details, pay for your flight and you're ready to go.
---
If you know your destination but are flexible on dates
If you know where you want to go but you're fortunate enough to have some flexibility on when you can travel, Skyscanner is a great way to plan your trip.
Let's say you live in London and want to visit friends in Abu Dhabi, but you have enough annual leave to be able to take a week off work at any stage in November. Pop your details into the search tool like this 👇🏼
From here, it'll bring up a calendar with all the different flight prices, like this 👇🏼
If there are dates with a '-' this doesn't necessarily mean there are no flights, it might just mean that no one has searched that date in a while and Skyscanner needs to repopulate the information to give you an up to date price. To find those prices you can just select those dates, click search, and then they'll show up on the calendar.
Keep in mind that the prices you see in the calendar are the cheapest flight prices available on those dates, which might be flights with inconvenient flight times or annoying stopovers, or might be the prices only available through the OTAs which we want to avoid. Even so, if flights are cheaper on a specific date in the calendar, chances are that's because demand is lower for that date so the decent flights and airlines are likely to give you a good deal too.
Skyscanner used to have a 'cheapest month' option that just showed the cheapest time of the year to fly without you having to select a month, but for some reason this is no longer an option. If you don't have a set month then you'll just need to search each month separately and take note of the cheapest prices per month to make sure you get the best deal.
---
If you know your dates but are flexible on destination
If you've got the opposite in terms of flexibility, and you know your exact travel dates but don't know where to go, Skyscanner can help! Simply put in your dates and where you're flying from (either a specific airport or a city like London to include all airports nearby) like this 👇🏼
I've used these dates to show you some options for a last minute Spring Bank Holiday weekend from London.
The results come up like this 👇🏼
So many options! From here you can click into a country to see the different cities on offer 👇🏼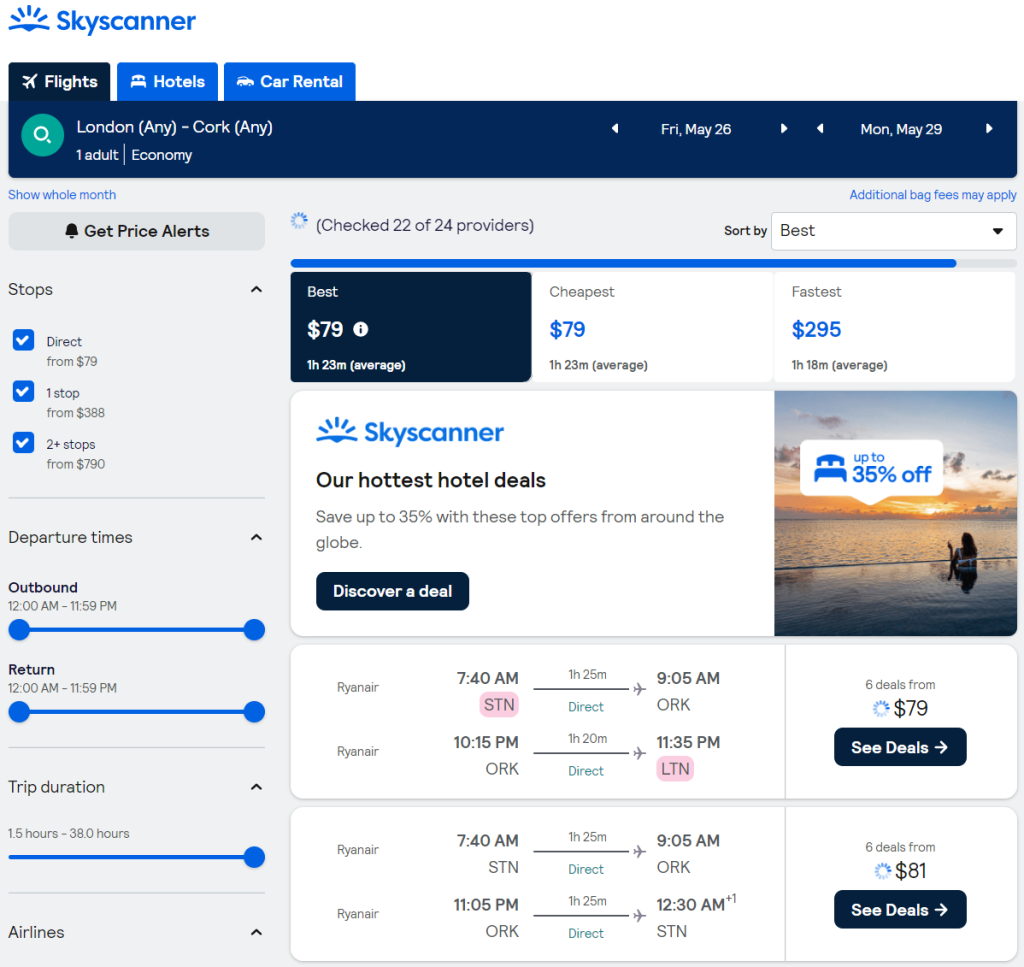 Looks like my fictional traveller is heading to Cork for a long weekend ☘️
This is exactly how I planned out my year-long round the world route for my 52 in 52 project. I literally sat down at my computer a few months before the trip, set my start date as Tuesday 9 July (Tuesdays and Wednesdays are typically the cheapest days to fly as there's less demand), and saw that the cheapest flight was to Paris. I booked it immediately, then put in departing Paris to 'everywhere' for the next Tuesday (15 July) and saw the cheapest flight was to San Sebastian in Spain, and booked it. I did this for six months' worth of flights* and had the first half of my trip booked in a few hours!
*A quick note on flying a lot: Once Skyscanner told me the cheapest destination, I checked buses and trains to find a more eco-friendly way to get there and would book that instead if it was affordable and convenient. Unfortunately many of the destinations in Europe with really cheap flights were random lesser-known cities without fantastic train options, like Zaragoza in Spain or Sofia in Bulgaria, so I did have to fly a lot, this is an unfortunate occupational hazard as a travel blogger. I made sure all flights were short-haul and direct, I offset my carbon footprint, and in the end the total carbon emissions from nine months of travelling every week were less than two return Auckland-London flights in a year, which is what I typically did when working in my London desk job. These days I'm a total train travel convert in Europe but there's no 'cheapest train' search option so it doesn't help me make decisions!
---
If you are totally flexible on dates and destination
If you know that you want to go on holiday but just aren't sure when or where, no stress, Skyscanner can make your decision for you.
You can use the 'Everywhere' destination and the 'month of travel' search tools at the same time, so you can literally see the cheapest flights to anywhere every single month. Goodbye analysis paralysis, hello letting your budget make your travel decisions.
As I've already mentioned, you need to search month by month, so you can do 'Everywhere' and 'January', then 'Everywhere' and 'February' and so on.
Let's say I'm in Sydney but I want to spend a year travelling and don't know where to start, and I can leave on any date in June or July. I'd start by searching this 👇🏼
The results show that for less than $350AUD I could get to ten different countries aside from travelling domestically in Australia 👇🏼
I like the sound of Thailand, and can then click the arrow to see what cities I could fly to 👇🏼
The cheapest date is June 3rd, so once I select the date it takes me to the flight results page 👇🏼
---
Things to know about Skyscanner
Some prices won't include luggage
Low cost airline fares typically won't include any luggage. Full service airlines will typically include luggage for flights over a few hours, but if you book through an online travel agency, these fares may not include luggage and might be more expensive once you add it in compared to booking direct with the airline. Some OTAs won't even let you add luggage at all! Be sure to check the luggage allowance and add-on options before you enter your credit card number.
As an example, right now I'm looking at a Sydney to Phuket flight with Scoot Airlines on June 3rd, same as the previous example but a few hours later (I got distracted watching Rabbit Hole) and prices have changed a bit. If I book direct with the airline it says it's $429AUD, and with GoToGate (an OTA) it's $428.
You know I'd never book through an OTA but for the interest of this example let's say I'm considering it. Neither option includes luggage so I want to go through the booking process for both to find the best deal.
Directly with Scoot Airlines, it's $100AUD to add a 20kg bag, so a total of $529AUD.
With GoToGate on the other hand, the luggage fee is a whopping $239CAD ($270AUD at the time of writing) for 15kg, making the total fare more than $700. Ridiculous
You always, always, always need to check and compare the full fare price including any necessary luggage add ons before deciding on a purchase.
---
Some tickets are 'self-transfer'
If you book a flight that includes a stopover, like Auckland to London with a stop in Singapore, it might say that a particular route is 'self-transfer'. This means that in Singapore you will need to pick up your luggage, pass through customs and border control, and then re-check your bags for your next flight. Flights that are self-transfer are clearly marked, and there's a detailed explanation on the deals page too.

These flights aren't actually a single flight, they're two separate tickets being combined into one route.
Many OTAs show self-transfer routes combining flights from two or three different low cost carriers or a low cost carrier + full service combo, whereas most airline websites sell a single ticket where your bags will be checked through to the end destination, and if your first flight is delayed or cancelled then the airline will sort you out with another flight.
Self-transfer tickets can be risky, particularly with short connection times, because if your EasyJet flight is late and you miss your next Ryanair flight, Ryanair won't do anything to help you onto another flight and you'll need to pay for a new flight and hope you can claim travel insurance.
I can see that in the screenshot above it does say 'transfer protection' from Mytrip (an OTA) but honestly I wouldn't trust this at all. I clicked through for more info on Mytrip's website and all it says is this:
Which absolutely does not confirm what 'transfer protection' actually means.
If you're flexible with your trip and are willing to risk some potential logistical issues in order to save money then these self-transfer flights can be really cost effective, but if you have somewhere you need to be then I'd avoid them if possible.
If they're unavoidable then ensure you give yourself plenty of time for the transfer and book travel insurance to make sure you're covered in case of any delays or cancellations.
---
Some flight routes include a change in airport
Another way that Skyscanner can save you money on your flights is by finding self-transfer tickets that include a change in airport. These typically won't be available on airline websites and they can save you loads of money if you're connecting a long-haul international flight flying into a main airport with a short-haul domestic flight from a smaller airport.
In the example below, to get from Singapore to Istanbul you fly Emirates, a full service airline. Then to continue the trip onwards to Kayseri (the airport near Cappadocia) you change from Istanbul Airport to Sabiha Airport with a 5h 10m stopover and then fly from there to Kayseri. This option is $1035NZD, compared to $1550NZD for the option of just transiting through Istanbul Airport without changing to Sabiha.
For the airport change to be worth it, you need to research the time and cost of changing airports and make sure the savings are worth it and the stopover is long enough.
Airports are typically quite far from each other for the purposes of air safety, so you'll always need to have at least a few hours if not longer to get from A to B. A taxi from Istanbul Airport to Sabiha Airport will take 50 minutes to 1.5 hours, but if there were traffic issues it could be longer.
Some other common 'change airport' stops are Paris (35m to drive from Charles de Gaulle to Orly airport without traffic), Tokyo (1h Narita to Haneda airport without traffic) and New York (lots of airports, only do this if you're sure you have enough time, like half a day or more).
If you ever see a 'change airport' option in London between Heathrow, Gatwick, Luton or Stansted, do not do it. These airports are all in totally different parts of the city, public transport would take hours and getting a cab or Uber would cost A LOT.
---
You can choose your flights based on emissions
I love this aspect of Skyscanner, it shows you flight options that are better for the environment based on the type of plane, how big it is and the number of stops. What a great way to encourage conscious travel!
---
I hope this breakdown of Skyscanner's Everywhere tool has helped you see how you can find cheap flights on Skyscanner, and how you can use flexibility to get the best deals and discover new places. If you have any questions about Skyscanner please let me know in the comments below and I'll get back to you as soon as I can.