Want to make the most of your 2 days in Budapest? Whether you're spending a weekend in Budapest or tacking a two day Budapest itinerary on to a bigger European trip, here's all you need to know to have an incredible time in Hungary's buzzing capital city.
Back in 2019 I started an epic solo adventure which took me all around the world, visiting a new country every week with my itinerary based entirely on the cheapest flight each Tuesday. Week #7 took me from Bergamo Airport in Milan to Budapest flying Ryanair for a grand total of £17.24.
I returned for another visit in December 2022 to see the Christmas markets, and managed to explore even more of the city.
Want to know more about my 52 in 52 project? See all the FAQs here.
With the perfect mix of being easy on the wallet, home to exquisite architecture, a buzzing nightlife scene and next level food, even my high expectations were exceeded. And to help you maximise your time and money during your 2 days in Budapest itinerary, I've detailed the best things to do in Budapest, how to get around Budapest, where to stay in the city and more.
So here's all you need to know before planning a Budapest city break!
---
Summary of the perfect Budapest 2 day itinerary
Day one
Day two
Visiting Budapest on a tight budget? If you want to tick off more than a few different tourist spots then it might be worth looking into a Budapest Card, which gives you free public transport, a free walking tour plus free or discounted entry to a bunch of different landmarks, museums and more.
---
Where to stay during your 2 days in Budapest
Budget | My favourite hostel in Budapest is Flow Spaces, a light and bright hostel just around the corner from Great Market Hall, offering budget-friendly dorm rooms as well as great value private rooms. They have a full kitchen, dedicated work space as well as lots of events to meet other travellers, perfect if you want a mix of social travel as well as downtime.
For a more party-hard option you could look at the Hive Party Hostel or Wombat's, or another cool place I've stayed is the quirky loft-style Das Nest Hostel.
Mid-range | Dob Twenty Rooms, LILIOM Apartment and OktoHome Suite are all good value apartment options, or for a mid-range hotel look at Global Suites Budapest or B&B Hotel Budapest City.
Luxury | For something sophisticated, consider staying at Alice Hotel, Hotel Memories Old Town or Hotel Moments Budapest.
Ultra luxury | If you're celebrating something special in Budapest or just feel like treating yourself, you can't go past the opulent Párisi Udvar Hotel Budapest or Matild Palace.
---
Things to do in Budapest in 2 days
Do a river cruise
There is no better way to see Budapest's iconic landmarks than by taking a river cruise down the Danube, so this should be at the very top of your list for your 2 day Budapest itinerary.
Budapest's river cruise options range from cheap to fancy, daytime to sunset to night-time, with options including food, drinks, and even live music! Most cruises include commentary either through the speakers or through an audio guide in a language of your choice, so you'll learn about the history of the landmarks you see as you sail by.
Here are some of the top-rated Budapest river cruises:
---
Watch the sunrise at Fisherman's Bastion
I'm not an early riser by any stretch of the imagination, so it takes a seriously impressive view for me to get out of bed before the sun's up. I decided to make the effort to watch the sunrise from the fairytale-esque Fisherman's Bastion, and I am glad to say I was not disappointed. This is probably one of my all-time favourite sunrise viewpoints in the entire world.
Fisherman's Bastion was built in the late 19th century and is located on Castle Hill near Buda Castle, though it looks much older than it is. It was actually created for Hungary's 1000th birthday celebrations to pay homage to the country's earlier days, so the architect designed it in a Neo-Romanesque style with medieval, Gothic-like details.
You can visit the main lookout point for free 24/7, this is where you'll get the iconic view of the Parliament Building perfectly framed by a stone arch. If you want to head up to the upper terrace you can buy a ticket for 1000 HUF (€2.70ish) and enjoy the views with less people.
There's also a fine dining restaurant up by Fisherman's Bastion, it's expensive relative to other Budapest options but it does have really good reviews. It's called Halászbástya Étterem.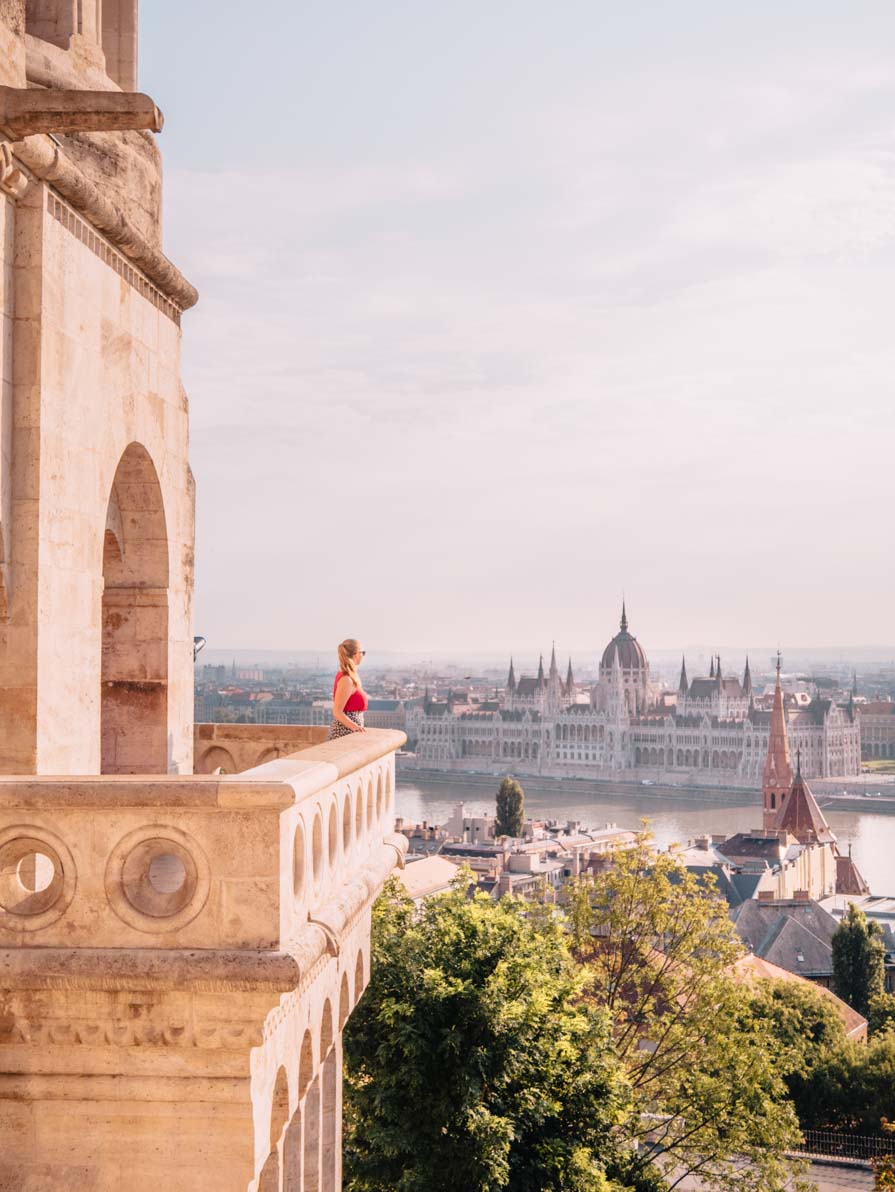 ---
Visit Buda Castle
While you're up in the Castle District enjoying the incredible views, it's worth exploring Buda Castle which has a fascinating history behind it.
The building you see now is mainly a construction from the late 1940s after the castle was heavily damaged at the end of WWII. Before that the fortress of Buda had been damaged, rebuilt, renovated and damaged again multiple times over, dating back to the original Castle in 1265.
There's to see in the castle complex depending on your interests, but art and history buffs in particular will want to set aside a decent chunk of their Budapest itinerary to visit the various museums and galleries on offer.
The Budapest History Museum showcases how the people of Hungary's capital city have lived over the past 2000 years, tickets start from 2000 HUF (€5.40) or entry is included if you have a Budapest Card. The Military History Museum displays artifacts and stories from Hungary's Army and the wars they've been involved in, tickets are 1500 HUF (€4). The National Gallery is another popular part of Buda Castle, with exhibits all about Hungary's history from the 9th century through to today. Tickets are 1800 HUF for adults (€4.80).
If you really want to make the most of your time at Buda Castle, consider booking a guided tour with a local who can let you know all about its history and hopefully answer some of your questions. This Classic Buda Castle Walking Tour has excellent reviews and will take you past Matthias Church, Fisherman's Bastion, the President's Palace and more over 2-3 hours.
For a bit of a darker take on the Castle District, this top-rated History and Myths Evening Walking Tour dives into Gothic legends, vampire royals and Old Hungary.
---
---
Get a history lesson
From ancient settlements to revolts for independence to destruction from World War II and half a century under Communist rule, Budapest has layers and layers of history.
If you want to dive deeper into Budapest's past and understand more about the Hungarian culture and way of life, a city tour with a local guide is by far the best way to do it. Whether you want something cheap and cheerful, something adventurous and fun, or something totally fancy and bespoke, there's a Budapest city tour to suit any type of traveller.
The top-rated Budapest city tours are:
If you want to explore independently but wouldn't mind getting some additional info as you do it, the Budapest hop-on hop-off bus pass gives you 24, 48 or 72 hours of easy access to all the hot spots with onboard commentary.
---
See the Parliament Building by day and by night
The Hungarian Parliament Building is the most recognisable landmark in the city of Budapest, and it's also the largest building in the country! Opened in 1902, the neo-Gothic building boasts an intricate, symmetrical façade that reflects in the Danube River.
While the building is stunning by day where you can see the 240+ sculptures and stained glass mosaics, when the sun goes down and the lights come on, it's pure magic. See Parliament all lit up by a river cruise or head to Batthyány tér metro station and head across the road for the perfect photo spot.
---
Geek out over the architecture
From the magnificent Parliament Building and magical Fisherman's Bastion to the grand Royal Palace and the colours of the Great Synagogue, the architecture in Budapest is seriously impressive. But beyond the usual must-sees, there's some hidden gems any design buff should add to their two day Budapest itinerary.
Whether you're a real nerd for old buildings, prefer engineering marvels, or just like pretty fairytale-like pictures, there's something in this city for everyone. In terms of the lesser known spots, you should add Párisi Udvar Hotel, Gresham Palace, Pesti Vigado and the Royal Postal Savings Bank to your Budapest bucket list.
---
Hit the ruin bars
The Jewish Quarter's ruin bars are definitely one of the iconic experiences that has put Budapest on the map in the past 20 years.
Their history is grim – Budapest's Jewish Quarter was raided in World War II and the majority of its population were sent to concentration camps, leaving the quarter's homes and factories abandoned. Much of the district stayed this way until as recently as the 2000s, when gentrification took off and the food, drink and entertainment scene started being built.
The original ruin bar, Szimpla Kert, has been providing revellers with cheap drinks and great tunes since 2002, and it's a must-do (or must-drink) for any nightlife-loving travellers. For day time fun, head there on Sundays for an all-you-can-eat farmers' market brunch, complete with gourmet cheeses, spreads and meats. It's around €14.50 so it's steep for Budapest, but it's well worth it.
Some other ruin bars worth visiting are Instant for a proper dancing night, Dürer Kert for drinking games, and Mazel Tov for world-class Jewish cuisine before going out-out.
If you want the iconic Budapest backpacker experience, jump onto the original Budapest Pub Crawl for €14. You'll get a one hour open bar to kick off the night, then free shots at multiple ruin bars before VIP entrance into your final stop. GetYourGuide currently has discounted tickets for just €10.50.
---
Get amongst the Jewish Quarter
As I just mentioned, Budapest's Jewish Quarter has had a tumultuous history. It first became a Jewish cultural hub in the late 19th century, then becoming a ghetto during late WWII as many of its residents were sent to concentration camps or left to starve, before falling into disrepair as many Jews fled post-war.
These days though, the suburb is finding its feet again as a cultural and entertainment hub with a huge range of shops, eateries and hotels to choose from. But while enjoying the Jewish Quarter's nightlife should be on your Budapest itinerary, so too should gaining an insight into this neighbourhood's tragic past.
For insight into how WWII affected Hungary, the Holocaust Memorial Center is harrowing and heart-breaking, with detailed accounts, photos and artifacts that show the movements of Hungarian Jews in the 1940s. There are a number of Holocaust memorials around the area too, including the Carl Lutz Memorial and the Ghetto Memorial Wall.
Another must-visit in the Jewish Quarter is the Great Synagogue, the largest Synagogue in all of Europe and second largest in the world. Built in 1859, the red and yellow brick façade is one of Budapest's most unique architectural landmarks. Book a skip-the-line ticket to save time.
For a Jewish Quarter experience that will also fill your belly, I had this Jewish Cuisine and Culture Walk on my Budapest itinerary for my visit, but unfortunately it wasn't running the week I spent there. It looks incredible though, if you try it then please let me know how it was!
---
Soak the day away
To enjoy a bit of rest and relaxation on your holiday, and to recover from the ruin bars the night before, spend a few hours at one of Budapest's thermal bath complexes.
Széchenyi Thermal Baths is one of the most well-known spas in the city, where you can soak in mineral-enriched waters. By day this place is a quiet reprieve from Budapest's bustling streets, but by night, it changes big time. Ever heard of a sparty? Yep, that's a spa party, where young travellers and locals alike head to the baths on Saturday nights for a night of debauchery and hot water.
Gellért Baths is another favourite, and recent (for European standards anyway) renovations make it one of the nicer spas in the city.
---
Taste test local delicacies at Great Market Hall
Built in 1897, the Great Market Hall (also known as Central Market Hall) of Budapest is absolutely packed with stalls selling fresh produce and serving up traditional dishes like lángos, stuffed cabbage, goulash and Hungarian sausage.
It's worth noting that Great Market Hall is full of tourist traps, where you'll get charged for additional toppings and won't be able to understand your receipt to be able to argue, so be cautious about where you choose to eat. Try to avoid the main trip and instead head to the Row of the Poor which is more geared towards locals and has cheaper prices.
If you shop wisely, you'll be able to find cheap paprika, truffles, cheese and more.
Not sure where to go? Find a local with a trundler bag who's stocking up on their own pantry necessities and follow them!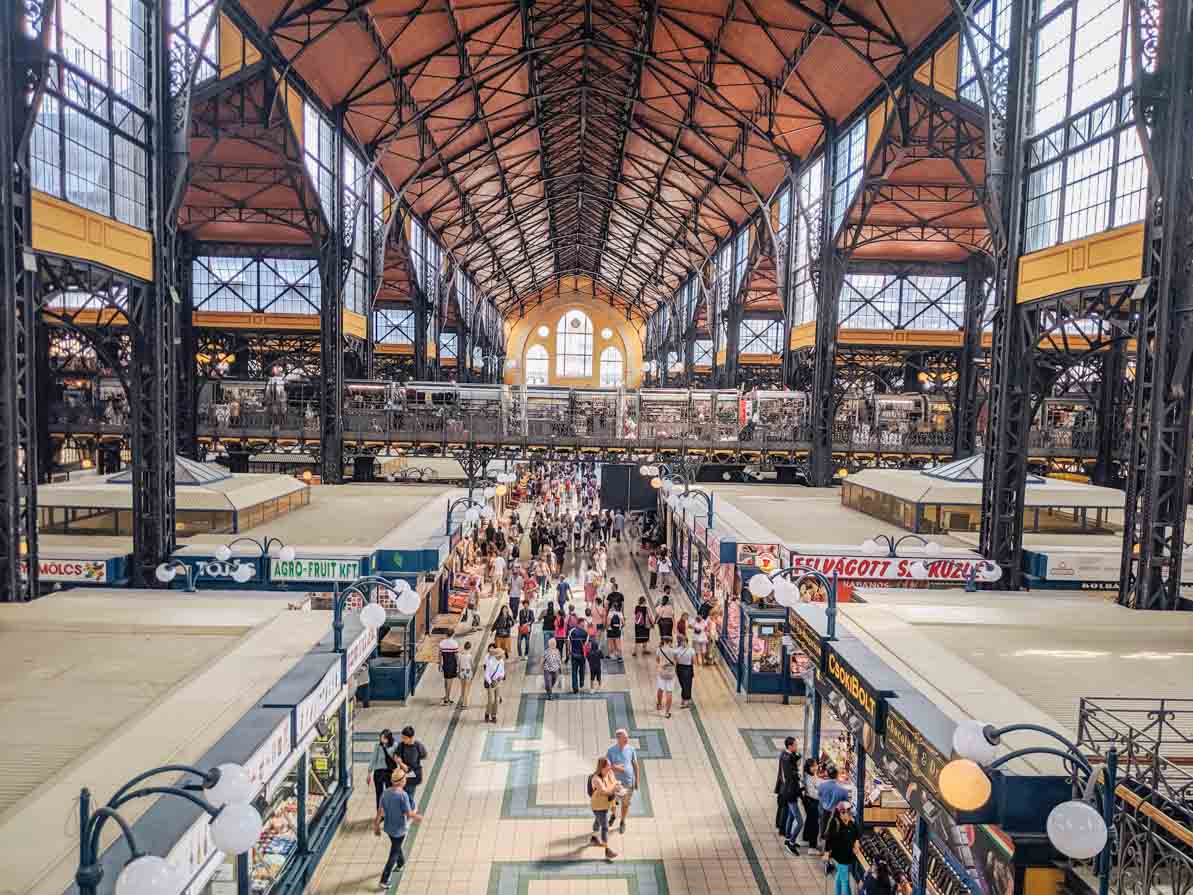 ---
Learn all about Hungarian cuisine
If you're a foodie that wants to get a better taste for Hungarian cuisine, why not try a cooking class or a food tour?
If you're on a budget, this Hungarian Cuisine Tasting Program lets you try local specialties with a local guide with tickets starting from just €17. For a more intensive foodie experience, book onto this highly-rated private food tour that gives you 10 tastings of the city's best dishes, or try this Budapest Culinary Walk at Central Market Hall and the surrounding neighbourhoods.
Fancy yourself as a bit of a wine connoisseur? Try 7 Hungarian boutique wines at this wine tasting experience, or enjoy wine, cheese and charcuterie tasting at this 5/5-rated sommelier-led experience.
And to take your two day Budapest itinerary to the next level (gastronomically, that is!), try your hand at learning local tips and tricks to serve up delicious Hungarian dishes. This 3-course cooking class includes a tour through Central Market Hall first, this cooking class includes wine and spirit tasting while cooking up a hearty lunch, or learn how to make sweet treats with a strudel-making class or a chimney cake workshop.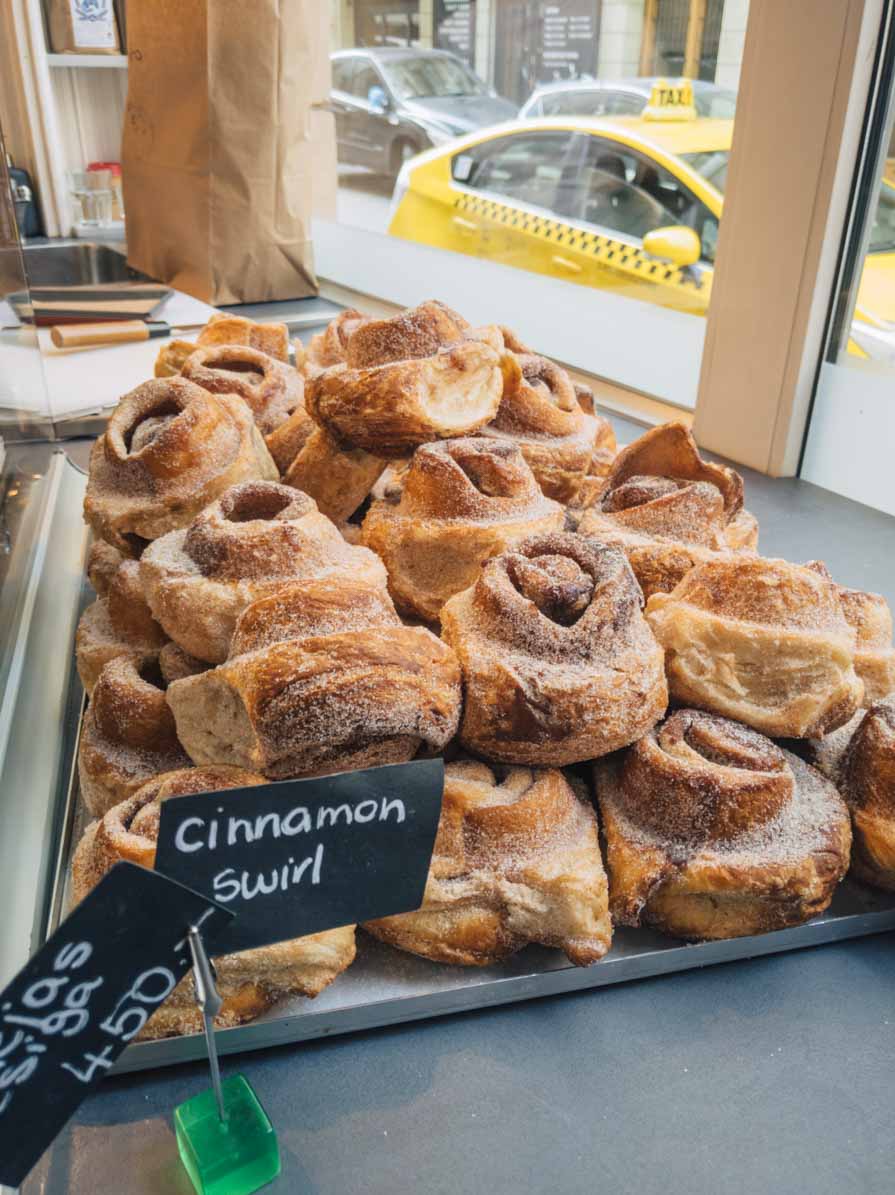 ---
Unique things to do in Budapest
If you're visiting for the second (or third+) time or just prefer to avoid the hot spots and instead search for more unique activities and experiences, here are some suggestions for unique things to add to your Budapest itinerary.
---
---
How to get to Budapest
Budapest is easy to reach by plane, you'll be able to find connecting flights from any major European hub like London, Paris, Frankfurt or Amsterdam. Wizz Air is Hungary's low cost carrier, offering suuuper cheap flights around Europe, and RyanAir also flies to Budapest with prices often as low as £15 one way.
There's only one airport in Budapest and it's a short distance from the city. You can catch bus 200E from the airport to the Köbánya-Kispest metro station for around €1.20, or alternatively you could book a shared airport transfer from just €10.50 or a private transfer from €39 for a group of three.
Budapest is also easily accessed by train from most European cities, with Vienna less than 2.5 hours away, Bratislava 3 hours away, Prague 7 hours away, and night trains available to other countries like Croatia, Italy and Romania. I always use Trainline to find cheap train tickets in Europe. Flixbus and other budget bus companies service Budapest too, bus tickets are often cheaper than trains but generally take longer so might not be ideal if you're in a rush.
And for a really unique way to get to Budapest, consider booking a boat from Bratislava or Vienna and enjoy a trip across the border down the Danube.
---
---
How to get around Budapest
Budapest is actually made up of two different historical cities, Buda on the west bank and Pest on the east. Most tourists stay on the Pest side of the river, home to the Parliament Building, the ruin bars, many museums and the city centre. Buda, on the other hand, boasts Buda Castle, Fisherman's Bastion and some incredible views over the rest of the city.
In terms of public transport, Budapest has buses, trams and the metro. The metro system is quick and well-connected but travelling underground is always my least favourite way of getting around, because it doesn't help you get your bearings and you miss out on the views! There's a local app called BKK Futar which gives you the best way to get from A to B using public transport. You can get a 72-hour unlimited public transport ticket for just over €13, or single tickets cost around €1.
BuBi Bikes are a great option if you want a bit of exercise, you can find BuBi stations throughout the city for hourly rental.
For the best views of the city, jump on a BKK passenger ferry on the Danube to get from one end or side of the city to the other. Tickets for this only cost €0.50!
There's no Uber in Budapest but there is Bolt, and the prices are really reasonable, especially if you're spending your 2 days in Budapest with a friend or two.
---
---
I hope this list of the best things to do in Budapest in 2 days has helped you plan your trip! Budapest is the perfect destination for a European city break and there is loads to see, do and eat to fill any 2 days in Budapest itinerary. If I've missed anything important please let me know in the comments!
You can find more things to do in Budapest on Get Your Guide, and find the best places to stay in Budapest on booking.com.
Like this blog? Pin it!