Heading to the City of Lights and Love? My detailed ultimate guide to Paris has a bunch of useful Paris tips for travellers, whether you're visiting for the first time or the fifth!
Please note this blog contains affiliate links that give me a small commission from any purchase, at no extra cost to you. I would never advertise anything I wouldn't use myself, and this commission helps Finding Alexx reach more travellers. Thank you for supporting me!
Ahhh Paris, one of my favourite cities in the entire world, and the perfect place to kick off my 52 in 52 adventure. I've visited four times so far and have seen the city in a completely different way each time, so I've got lots of Paris travel tips and tricks to share in my ultimate guide to Paris!
Read on for the low down on where to stay in Paris, the best places to eat, the most Instagrammable spots and experiences you just can't miss.
---
Paris basics
Currency: Euro (€)
How to pay for things: Anything touristy (restaurants, hotels and hostels etc.) will accept credit cards. Outside of tourist areas or at small shops and cafes you will likely need cash, but there's ATMs all around the city.
Language: French, obviously
Weather: It can get really hot and stuffy in July and August, as well as incredibly busy. The colder months are November to February, and you'll likely get some snow around that time.
Best time to go: I always like visiting the big European cities in shoulder season, when it's not school holidays and not too hot but not wet and cold either. Paris is particularly beautiful in spring and autumn, where flowers and trees change colour. Consider travelling between March and June, or September and November, if you're looking for mild weather and affordable prices. Of course summer in Paris brings loads of free events, plus Bastille Day celebrations, and winter brings gorgeous snowy photos and Christmas markets, so it just depends on what you're looking for!
---
Things to know before you go to Paris
The city is broken up into arrondissements numbered 1-16, that represent areas. Then there's suburbs which are smaller than arrondissements.
Parisians are notriously intolerant to people who speak English right off the bat (and I don't blame them!), so it's always good to have a few local phrases up your sleeve. Bonjour means hello, bonsoir means good evening, s'il vous plait means please and merci means thank you. If I need to ask a question or have a conversation in English, I always start with 'Parlez-vous anglais?' which means 'Do you speak English?' and this seems to always be appreciated! I'm not going to type out pronunciation on here because with my Kiwi accent it'd probably be wrong for most of you reading anyway haha.
There are a lot of pickpockets in Paris so always wear a cross-body bag and leave valuables (like passports) locked at your accommodation instead of on you.
If you're a freelancer or a ~digital nomad~, there are lots of stunning WeWork offices where you can rent hot desks. I visited four of them and I'm obsessed! Find out more info about WeWork

here

.
If you are looking for a café where you can use your laptop, there are loads of co-working cafés that offer a table for an hourly rate.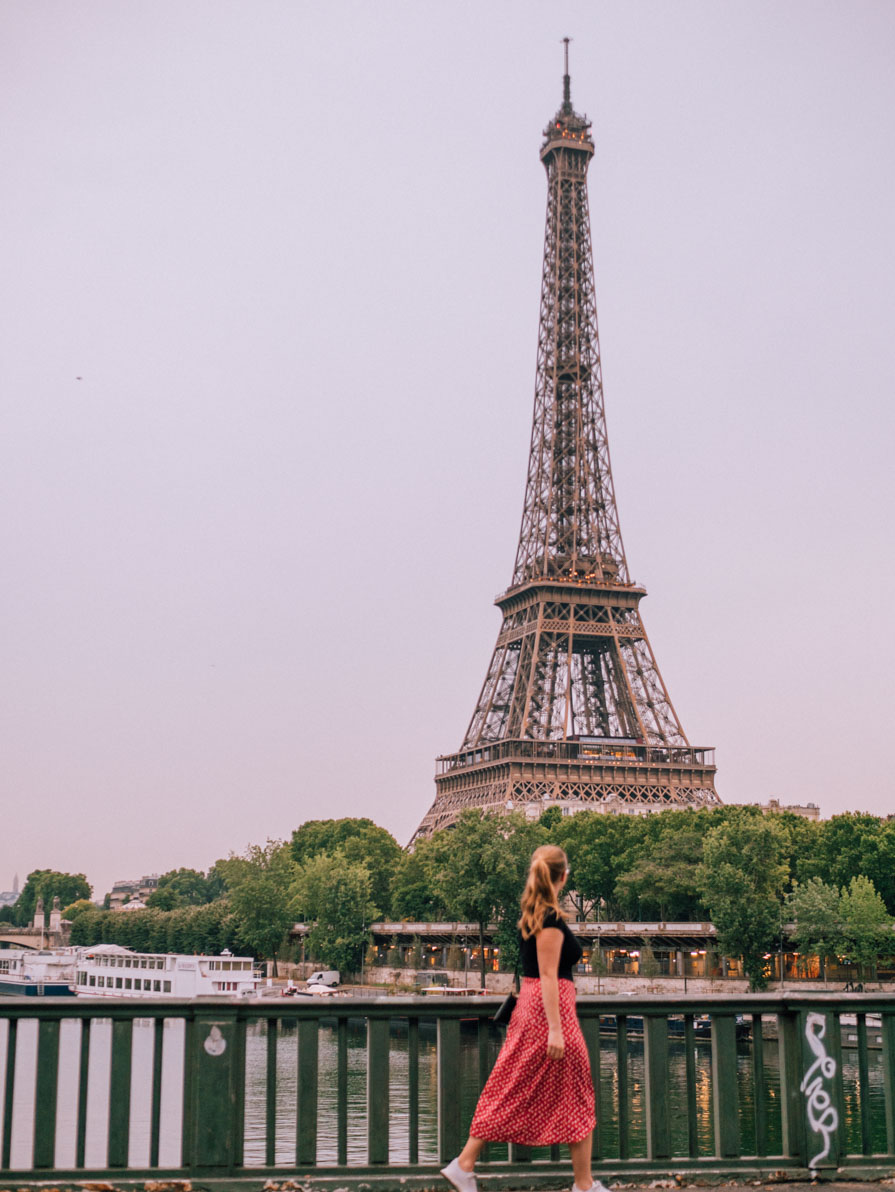 ---
How to get cheap flights to Paris
I started planning my 52 countries in 52 weeks adventure by looking at the cheapest flight available from Dubrovnik, after my epic week island hopping through Croatia.
Using Skyscanner's Everywhere search tool, it showed me that the cheapest place to fly was Paris Orly airport, for only £26 (plus seat selection and 20kg luggage, so total of £55) flying with Transavia, a French budget airline. BARGAIN!
Paris is a transport hub with loads of low cost carriers flying in and out, so if you're flexible with your travel dates then you should be able to find a good deal. Note that low cost carriers often use secondary airports rather than the main one, so there might be additional costs or time involved with airport transport.
---
TRAVEL TIP:
I find all my flights using Skyscanner! You'll get the best deal if you're flexible on where to go. Just put in your origin, your departure date (or month) and type 'everywhere' into the destination bar to see the cheapest locations to fly to on your next holiday.
---
If you're coming from London, you can find good deals on the Eurostar (as low as £59 return!) if you book early. Consider leaving work early on a Friday if you want to avoid the weekend rush.
---
How to get from Orly Airport to Paris
My flight arrived at Orly airport, which is 25km south of Paris and is actually closer than the main airport, Charles de Gaulle, which is 40km northeast. To get from Paris Orly to Paris there's a bus for €12, which comes every 15 to 20 minutes.
Because I was staying in Montparnasse, in the southern part of Paris, flying into Orly was actually perfect and meant I didn't have to deal with any crazy train stations or mid-city bus traffic. The bus took 30 minutes for me to get from Orly Airport to Montparnasse, and then it was a 10 minute walk to my hostel.
---
Where to stay in Paris
Because travelling to a new country each week isn't busy enough for me, I decided to test out three different places to stay in Paris during this week… Why do I do this to myself?!
Sometimes due to budget, availability or content partnerships (where I do some photos for a hotel or hostel), I have to move to new accommodation in the same destination.
The upside of dragging my suitcase through crowded train stations and on local buses a few times a week is that I get to experience multiple different neighbourhoods in one city, which means more Paris travel tips to share with you guys. Glass half-full and all that!
The three places I stayed during my week in Paris were Enjoy Hostel in Petit-Montrouge, LAZ' Hotel & Spa in the 9th arrondissement, and St Christopher's Hostel near Gare du Nord.
YOU MIGHT ALSO LIKE: My full LAZ' Hotel review
My first hostel in Paris was Enjoy Hostel, which cost me £128 for four nights in an 8-bed dorm with a private bathroom (which was actually two adjoining 4-bed dorms, each with a private bathroom).
This hostel was smack-bang in the middle of the 14th arrondissement, in a suburb called Petit-Montrouge, just a short walk from Gare Montparnasse train station.
Enjoy Hostel was fine for what I paid based on normal Paris prices. The location is in a more residential area but there were easy transport options (a bus stop right outside meant I could get to any of the main tourist spots in less than half an hour, and a couple of Metro stations were within 8 minutes' walk).
The dorm rooms were small but bearable, and the beds were comfy which is always a plus. There was no lift and I was on the 3rd floor (with a 25kg suitcase, ughhh) but that's often the case in European hostels. This place was nothing special but was adequate for a cheap stay in Paris if that's what you're looking for.
Check your travel dates and book your stay at Enjoy Hostel right here.
A quick rundown on my stay at Enjoy Hostel
| | | |
| --- | --- | --- |
| Price: £32 per night in July | Bunks or beds: Bunks | Dorm size: 8 bed |
| Check in: 2pm | Check out: 12pm | Plugs in room: Yes, by each bed |
| Private bathroom: Yes | Bed curtains: No | Linen provided: Yes |
| Towel provided: No, €2 | Lift: No, and 4 floors | Kitchen: Yes, full kitchen |
| Breakfast: Yes, bread with spreads | Cleanliness: Clean enough | Location: 14th Arr. |
| Staff: Super friendly | Vibe: Quiet, chilled out | Luggage storage: Yes |
| Air con: Yes | Organised events: No | WiFi: Yes, worked perfectly |
| Lockers: Yes | Laundry facilities: No | Public transport: Bus stop outside |
On my fifth night of my year-long trip I probably reached the peak… When I got to stay at the stunning LAZ' Hotel & Spa Urbain for one night!
I've got a full review right here if you're interested, but let's just say it involves a penthouse upgrade, a bath tub with a view of the Sacre Coeur, watching the Bastille Day military flyover from my terrace, and a treat yo'self moment with a room service cheeseboard. Dreamy.
Located in the swanky 9th arrondissement, this place is incredible, and because it's reasonably new the prices are nowhere near what you'd expect! The legends at LAZ' hosted me for one night but rooms are on average around €150 per night, which is cheap for any decent double room in Paris, let alone a fancy 4-star with a pool. I'd absolutely recommend checking out LAZ' Hotel if it's within your budget.
A quick rundown on my stay at LAZ' Hotel
| | | |
| --- | --- | --- |
| Price: From €130-€170 per night | Lift: Yes | Breakfast: Not always included |
| Check in: 3pm | Check out: 12pm | Luggage storage: Yes |
| Location: Ideal, 9th arr. | Staff: Super friendly | Vibe: Ultra-stylish |
| Air con: Yes | Fridge: Yes | WiFi: Yes |
| Pool: Yes | Fitness room: Yes | Laundry facilities: No |
My final night in Paris was at St Christopher's Gare du Nord, just a short walk from one of Paris's major train stations, unsurprisingly called Gare du Nord.
St Christopher's is a huge chain with hostels all through Europe, and this is one of two in Paris (the other is near St Martin's Canal, about 15 minutes' walk from this one). I paid £23 for a bed for one night in a female 8-bed dorm with a shared bathroom.
The hostel was fine but is very obviously a chain, with loads of people coming and going, huge tour groups checking in when I got there, and a bar/restaurant connected to it (with a 10% discount on food and drinks for hostel guests).
I generally prefer staying at smaller hostels with a more chilled vibe but this place would be perfect if you're looking to party with other travellers.
Because of the restaurant there's no full kitchen, only a fridge and a microwave, so not ideal if you're hoping to save money on making your own meals. They also don't have free luggage storage after check out, it's about €5 to store a large suitcase. These are the types of things that can add up quickly when you travel so always good to check for these facilities when you book.
St Christopher's is a classic choice for first-time travellers because it's the contracted hostel for some tour companies (like Contiki and Topdeck) as well as travel agencies, so the average age is a bit younger than other places I've stayed.
A quick rundown on my stay at St Christopher's Gare du Nord
| | | |
| --- | --- | --- |
| Price: I paid £23 for one night in July | Bunks or beds: Bunks | Dorm size: 8 bed female-only |
| Check in: 2pm | Check out: 11am | Plugs in room: Yes, for each bunk |
| Private bathroom: No | Bed curtains: Yes | Linen provided: Yes |
| Towel provided: TBC | Lift: Yes | Kitchen: Fridge and microwave only |
| Breakfast: €5 | Cleanliness: Very clean | Location: Next to Gare du Nord |
| Staff: Other travellers, very helpful | Vibe: Social, quite young | Luggage storage: €5 for a large locker |
| Air con: No | Organised events: Pub crawls | WiFi: Yes |
| Lockers: Yes | Laundry facilities: No | Public transport: Train station right outside |
Looking for a hotel in Paris? Check out all the best Paris hotels on booking.com, and make sure to sort the results by 'review score and price' to see where you'll get the best bang for your buck.
If you're keen to find a cheap hostel in Paris instead, search your travel dates on Hostelworld.
---
How to get around Paris
There are plenty of ways to explore Paris depending on where you're going and how much time you have.
Paris is a beautiful city to discover by foot, because there's super cute cafes, fancy restaurants, gorgeous views and boutique shops around every corner. I'll be writing an Ultimate Paris Walking Tour guide soon with an accompanying map, and I'll link it here!
If you need to get somewhere in a hurry or just want to get home, there's the RER, the Metro, and the bus system. The RER is the train that services some key Paris stations as well as regional France; the Metro is the underground system all throughout the city, and buses are self-explanatory!
I usually prefer buses or trams to any underground system just because I like looking where we're driving in case I spot somewhere I'd like to go back to, but obviously the Metro is faster in most cases.
You can choose from a travel pass with unlimited public transport use (one day passes start at €7.50), buying single tickets (€1.90 per ticket, or €2 if you pay on the bus) or buying a pack of 10 tickets for €14.90. Note that you can use one ticket to move between the Metro and RER on one journey, but can't transfer them to a bus.
Paris also has Uber, as well as e-bikes (Jump is the main one, download the app here) and e-scooters available for hire (you'll see Lime, Dott and Bird scooters all over the city).
Please note that e-scooters in Paris can only be used on the road and bike lanes, and if you get caught on the footpath you will get fined up to €135! Helmets are not compulsory but please be careful when riding on the road.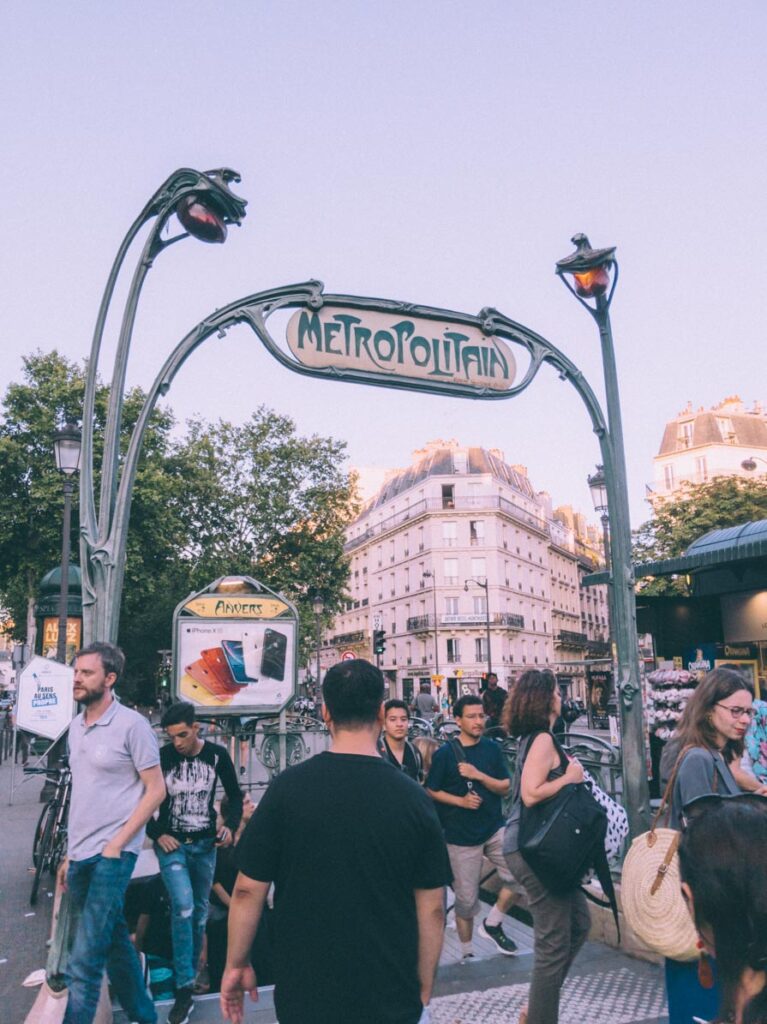 ---
How much to budget for Paris
Paris is a magnificent city, but it's definitely not cheap.
Dorm rooms at hostels are usually between €25 and €45, a 3-star hotel will set you back between €75 and €110 per night and a 4-star from about €140-€150 per night, and splurging on a 5-star will likely cost at least €200 per night all the way up to over €1000.
Supermarkets are reasonably priced so cooking your own food or having picnic meals will help you to stay within a budget, and you'll find classic Parisian breakfasts (a juice, a coffee and a pastry) for between €6 and €10 depending on the area you're in, but adding anything hot will cost you extra.
For lunches and dinners, certain parts of the city have streets of restaurants that offer menu deals. The Latin Quarter is one of the best spots for cheap eats, where you can score a three-course meal for as low as €15!
You can't skip dessert in a country like France so expect to pay between €4 and €6 for a banana and Nutella crepe.
While the prices are high, Parisian food on a whole is fantastic, so at least it's worth the money.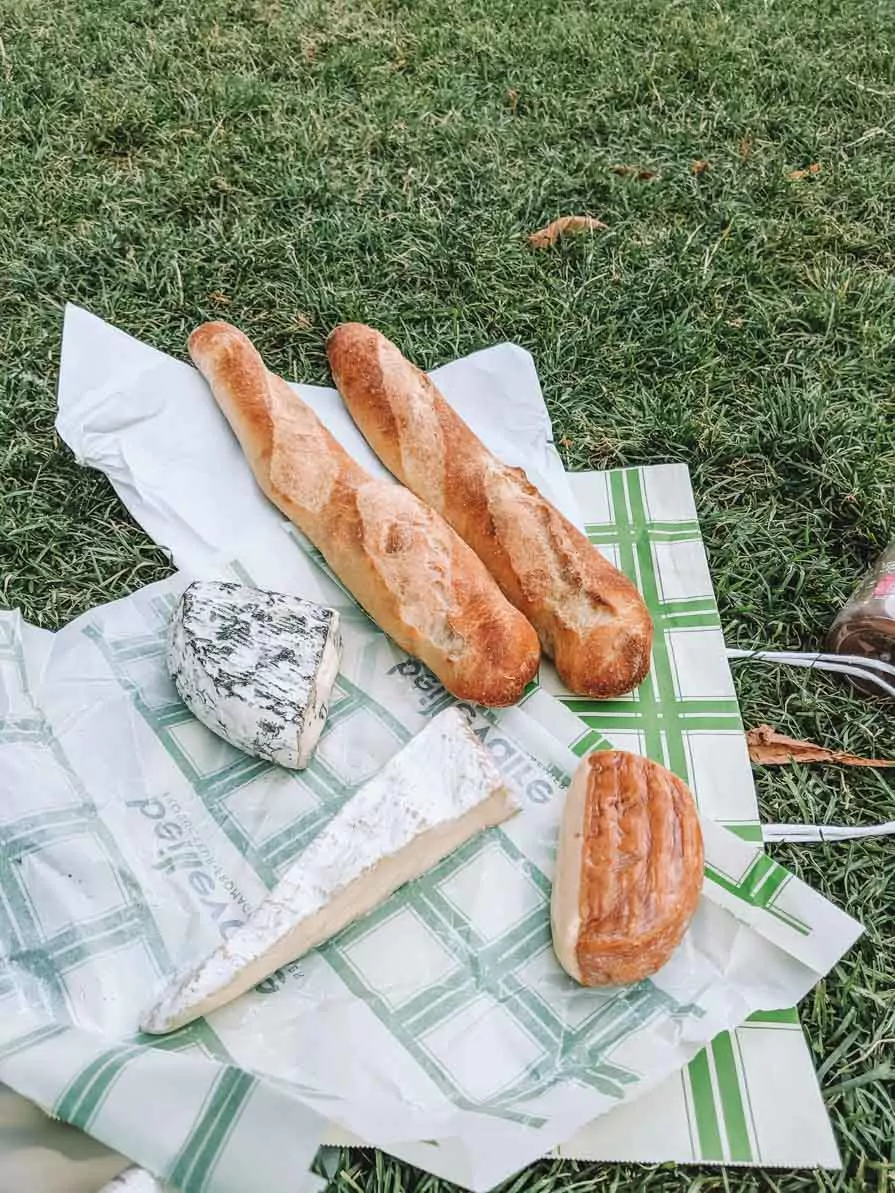 ---
Do you need a visa for France?
I'm on a Kiwi passport and we don't need a visa for France if our stay in the Schengen Zone is less than 90 days in a 180 day period. If you're on a different passport, check your visa requirements with the French embassy, or see visa guides for Canadian, Australian, US and other citizens here.
---
Paris travel tips for foodies
This is an impossible question to answer succinctly, so I'm just going to hit you with some bullet points about the best food to eat in Paris.
You'll find authentic Parisian breakfasts at almost every corner cafe, but I can recommend

Le Square Trousseau

in the Quinze-Vingts area, and

Carette

near Trocadero has the best croissants in Paris hands down
For a less-authentic but still delicious breakfast (and fantastic coffee!), check out

Holybelly 19

. It's an Aussie-inspired cafe with small sharing plates and is one of my favourite places in the city. I can vouch for the mini doughnuts with dulce de leche, the Brillat-Savarin cheese with elderflower jelly, and the soft-boiled egg with dark toast. They've also got a sister cafe,

Holybelly 5

, down the same road that offers classic breakfast meals like eggs, pancakes, and even Vegemite on toast for homesick Aussies!
You'll find macarons all around the city but my favourites are from

Ladurée

and

Pierre Hermé

.
For a cheap lunchtime deal, check out

L'As du Fallafel

in the Marais neighbourhood for the best falafel sandwich of your life for only €8
Whether you're vegetarian, vegan, gluten-free, dairy-free, sugar-free or anything-free, there's bound to be something in Paris for you
For a good value, hearty dinner,

Sacrée Fleur

in Montmartre is one of the best steak restaurants in the city

Angelina

is a world-famous cafe that offers one of the most decadent hot chocolates I've ever had
Or if you want to try some local delicacies without smashing the credit card,

Chartier

is a 100+ year old French restaurant serving up classic French fare for cheap, with mains priced between €8.50 and €13.50
One of my top Paris travel tips is to have a DIY picnic somewhere with a view! Pop into a fromagerie (cheese shop) and get a couple of options, grab a fresh baguette or two, and take a bottle of wine to a spot in the Champs de Mars or Jardin du Luxembourg.
Top tip: To avoid using plastic glasses for your picnic wine, consider getting a Dopper bottle, a drink bottle that has a cap than can double as a wine glass!
---
How to explore Paris on a budget
I've said it before and I'll say it again, DIY picnic! It's an authentic way to eat, you can enjoy Eiffel Tower sunset views or gorgeous squares at lunch time, and you'll pay far less than eating out
Loads of restaurants have fixed menus where you can get two or three courses for cheap. The best areas for this are the Latin Quarter, Republique and the Marais if you look hard enough
If you're staying at a hostel or an apartment with a kitchen, stock up on fresh food from a Carrefour or a weekend market and cook at home
Walk everywhere! It's a reasonably small city so no need to spend money on taxis unless you're heading somewhere with your suitcases, and public transport is cheap if you need to travel a decent distance
If you want to treat yourself to a bit of luxury without hurting your credit card, go somewhere fancy for a hot chocolate or dessert. You'll get a five star experience without having to eat microwave pasta for the rest of your trip.
Take it easy on the drinking. Alcoholic bevvies in Paris are expeeeensive! You might be able to score a €6 house wine in areas like the Latin Quarter and Montmartre, but a spirit and mixer will set you back a minimum of €8, likely more.
If you do want to drink then consider getting a bottle from the supermarket and heading to Champs de Mars or the banks of the Seine, or try the neighbourhoods of Oberkampf or Belleville for budget-friendly nightlife.
If you're travelling to Paris in summer, there are loads of free events put on around the city. From open air cinemas and free music festivals to Pride and the insane Bastille Day fireworks, there's plenty to do without having to spend money.
On the first Sunday of every month, some of the most famous museums in Paris are free! That includes the Louvre, Musée Picasso and Musée Rodin.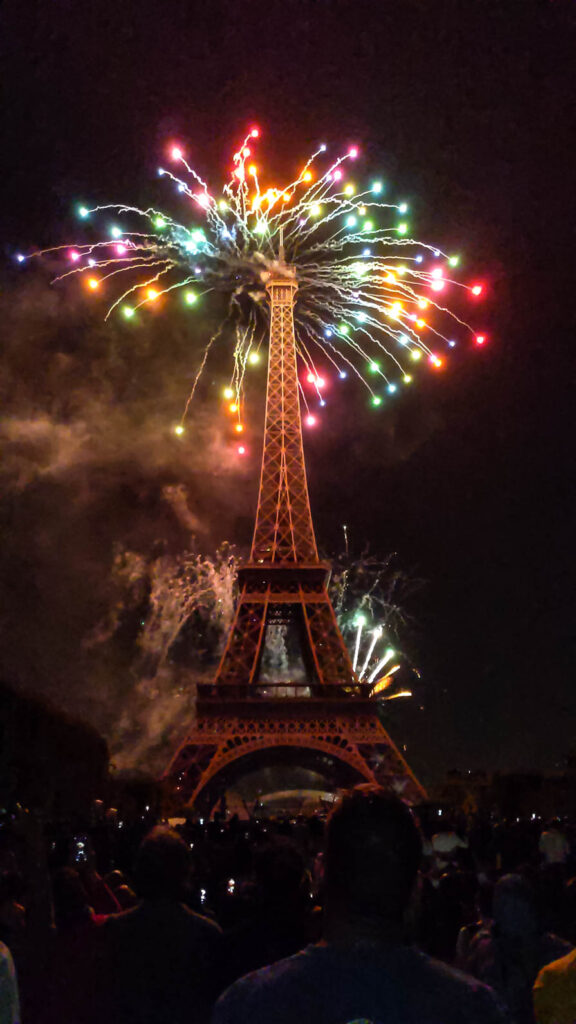 ---
The best things to do in Paris
For a full list of epic things to do in Paris I'll publish a new blog post soon, but here are some of my favourites.
See the Eiffel Tower, obviously! My favourite view is from Trocadero, but going up the Eiffel Tower is one for the bucket list too.
Wander around the Jardin du Luxembourg
Take a spin on the Roue de Paris if you're there during summer
Grab a coffee and a pastry and people-watch from a sidewalk table
Stroll down the banks of the Seine
Get a caricature done in Montmartre
See a cabaret show, I rate the Paradis Latin show (incredible food and some more modern music than other cabarets) and La Nouvelle Eve (a cheaper traditional cabaret option than Moulin Rouge)
Visit one of the many museums, like the Musée d'Orsay, the Louvre or the Musée Rodin
Have a picnic at the Champs de Mars
Go shopping at classy boutiques in the Marais neighbourhood
---
The best day/overnight trips from Paris
Disneyland Paris
Visiting Disneyland Paris is a must-do while in Paris for any Disney fan or any theme park lover. The park is easy to reach from central Paris, only 35-40 minutes on the RER-A train which you can catch from a number of stations in Paris including La Défense, Châtelet–Les Halles, Gare du Lyon and Nation. Tickets are just €5.
If you're keen to spend the entire day or multiple days at Disney, I'd recommend spending a night or two near the park to avoid rush hour commuter time in the morning and getting back to Paris super late at night.
Budget | If you're visiting Disneyland Paris on a budget, you can't go wrong with Eklo Hotel. This cheap and cheerful family-friendly hotel has rooms ranging from cosy single rooms for solo travallers to spacious dorm-style rooms for groups and families. They've got a shared kitchen to make your own food and keep costs down, and they also serve up food and drink at their restaurant and bar. It's only eight minutes by car to get from Eklo to the theme park entrance.
Luxury | If you're looking for a fancier stay, I adore the Hotel l'Elysee Val d'Europe, a boutique 4-star hotel with brilliant service, huge rooms, super comfortable beds and great food on-site. After walking around Disneyland in the rain for 10 hours, checking in to my luxurious room at Hotel l'Elysee was such a dream! Their steakhouse restaurant has great reviews if you want a hearty dinner, their buffet breakfast is the perfect start to a theme park day, and when you're ready to go to the park there's a free shuttle that runs throughout the day right outside the hotel entrance.
Other day trips from Paris
The castles of the Loire Valley
Monet's Garden in Giverny
You can get a cheap train from Paris to Brussels in only 1.5 hours
Luxembourg is less than 2.5 hours away by train
---
The best Paris photo spots
Palais Royal
Pigalle basketball court
Pont Alexandre III
Pont de Bir-Hakeim
Malabar Cafe
The sinking house of Montmartre
Moulin Rouge
Jardin du Luxembourg
Place des Vosges
Petit Palais
---
My ultimate Paris recommendations
This blog is looong, so I don't blame you if you skipped all the way to the bottom. As promised, here's a definitive list of my ultimate Paris travel tips, with must-sees, must-eats and must-dos.
Must-see view: The panoramic view from the Arc de Triomphe, €12 to go up
Must-eat: Broken record but a DIY bread and cheese picnic with a bottle of vino
Most beautiful interior: The department store Galeries Lafayette for sure
Best sunrise spot: Looking over to the Eiffel Tower from Trocadero
Best dessert: Pierre Hermé macarons
Best suburb to visit: The Marais is definitely my favourite neighbourhood. Stylish boutiques, classy cafés, funky gift shops and good looking people everywhere!
An event you shouldn't miss: Bastille Day on July 14. I know this sounds dramatic (classic me!) but standing under the Eiffel Tower watching the crazy Bastille Day fireworks display was honestly one of my favourite ever travel memories. It's set to some sweet tunes, the pyrotechnics and light show are absolutely insane, and you're surrounded by hundreds of thousands of people all in awe just like you. So special.
Best free experience: Wander through the stunning gardens all over the city. My favourites are Jardin du Luxembourg and Jardin des Tuileries
Best way to see the city: On foot, for free! Just wander up and down random streets and I guarantee you'll find cafés, boutiques and views that you'll fall in love with.
Best splurge-worthy activity: See a cabaret show. We couldn't quite bring ourselves to pay €100+ for Moulin Rouge, but we found a smaller cabaret just around the corner called La Nouvelle Eve and LOVED it. We paid €59 each and that included half a bottle of champagne each. A super fun night, very entertaining from start to end, well worth the money.
Best nearby adventure: I'm a child at heart so I've got to say Disneyland Paris!
I could write LOADS of blogs from my week in Paris but I'd love to know what you want to hear about! More Paris tips for travellers? A solo travel guide? Cheap eats? Photo spots? A neighbourhood guide? Tell me in the comments below.
Read more about my 52 in 52 adventure here, see all of my blog posts from the trip here, or check out my Instagram @findingalexx to see all of my travel photos.
Thanks to the legends at LAZ' Hotel & Spa for hosting me for one night, and to WeWork for partnering with me throughout my 52 in 52 adventure. As always, all opinions are my own and are completely based on my personal experience.