When Baku came up as the cheapest place to fly to after my week in Turkey, it was the first time I'd ever even heard of the city. I recognised the country, Azerbaijan, but to be honest that's only because of Eurovision! I'm fairly well-travelled in terms of Western Europe, Asia and Australasia, but the Caucasia area is somewhere that rarely came up as a tourist destination in my five years of working in the travel industry.
But this is exactly why I wanted to do my 52 in 52 trip, a new country every week based entirely off the cheapest flight to a new destination. I would never have chosen Baku as a destination to spend a week in, but with a flight from Istanbul for only £90 (the cheapest of the destinations I hadn't been to on the trip yet), I had no choice!
YOU MIGHT ALSO LIKE: FAQs about my 52 countries in 52 weeks trip
Unfortunately I was hit with a bad bug that week so I didn't manage to get out of the city (or my hostel!) as I'd hoped, but I got a great feel for Baku and I look forward to going back in the future to see it properly.
Here are five reasons why you should visit Baku in Azerbaijan.
1. Baku is CHEAP
There's nothing I love more than turning up to a new place and realising my money goes much further than I expect.
Low travel costs in Baku make it the ideal destination for an intrepid traveller on a budget. You'll get a dorm bed at a decent hostel for £6/£7 ($12-14NZD), a private room from £15/$30, and a 3 star hotel room from only £25/$50. Metro and bus tickets are only £0.10 each.
In terms of food, a main meal and a drink is unlikely to cost you more than £10/$20 at most places, and even cheaper if you choose local cuisine or street food. A local beer at a casual pub will cost around £1.60, and a fancy cocktail at a sophisticated bar or club probably won't be more than about £5.
2. The local cuisine is amazing
Azerbaijan's cuisine is rich and varied, much like the country's history, and it takes inspiration from both its biodiversity and geographical neighbours.
Boasting nine of the earth's 11 different climate zones, Azerbaijan's soil fertility means there are plenty of vegetables, fruits and herbs to choose from for local dishes. Eggplant, rice, beef, lamb, soups, kebabs and dumplings are all staples in Azeri cuisine.
Baku has loads of restaurants serving up traditional Azerbaijani fare like plov (a pilau rice dish), dolma (stuffed vine leaves) and qutab (kind of like savoury pancakes), as well as Armenian, Georgian and Middle Eastern-inspired menus too.
My top pick for local food in the city is the underground restaurant Firuze, with a menu so huge that I went three times!
YOU MIGHT ALSO LIKE: The ultimate 7 day Jordan itinerary
3. The city's history (or lack thereof) is fascinating
Azerbaijan's history is impossible to track, because the constant change of who ruled the country has meant that important documents and artifacts have been destroyed. Which is pretty devastating for a region that has traces of human settlement from the Stone Age, and other parts of the country having ancient tools dated back to 1.5 million years ago.
Baku has been occupied by a number of different empires in more recent times, from the Persians to Russia to the Soviet forces, and the distinct differences from each can be seen in the city's variety of architectural style. Where else in the world would you see ancient watchtowers, exquisite mosques, imperialistic theatres, Communist buildings and modern architecture stand side by side?
I'd highly recommend jumping on a free walking tour to get a basic understanding of the city's past from a local.
4. Azerbaijan is the land of fire
With vast natural gas reserves below ground that caused seemingly spontaneous earth fires, Azerbaijan's been known as the Land of Fire for centuries, and the country was once home to the Zoroastrians or fire-worshippers.
While many of the natural reserves were exhausted by the occupying powers in the 20th century, there are still a number of eternal flames burning in the country.
Yanar Dag and Ateshgah Fire Temple are both less than half an hour from Baku by car and are well worth a visit. Yanar Dag is an eternal flame coming out of dirt and rocks on a mountainside, and Ateshgah is an old Zoroastrian pilgrimage site with a flame that's now supplied by the city's gas system.
The country's affinity with fire is obvious, with Baku's skyline paying the biggest homage. The city's iconic Flame Towers are a modern nod to the ancients who once worshipped here.
YOU MIGHT ALSO LIKE: What's in my camera bag for a year of travelling around the world?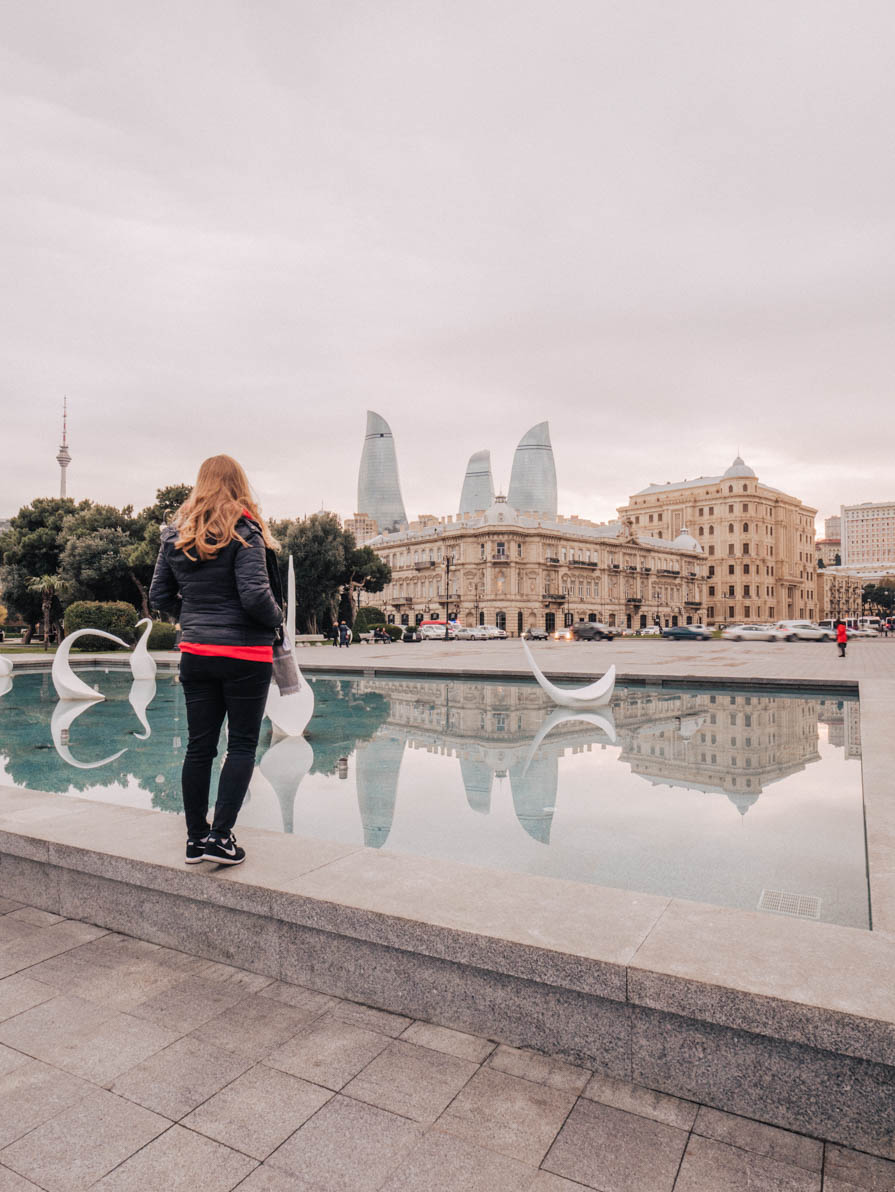 5. It's somewhere most people haven't been
If you're the type of traveller who prides themselves on getting off the well-trodden tourist trail, Baku is the perfect spot for you.
Whether you're keen for a short city break (you can often find cheap fares to Baku flying Azerbaijan from major European transport hubs) or are looking to dive deep into Azerbaijan and the Caucasus, it's a destination that's guaranteed to spark conversation at hostel dinners and high school reunions!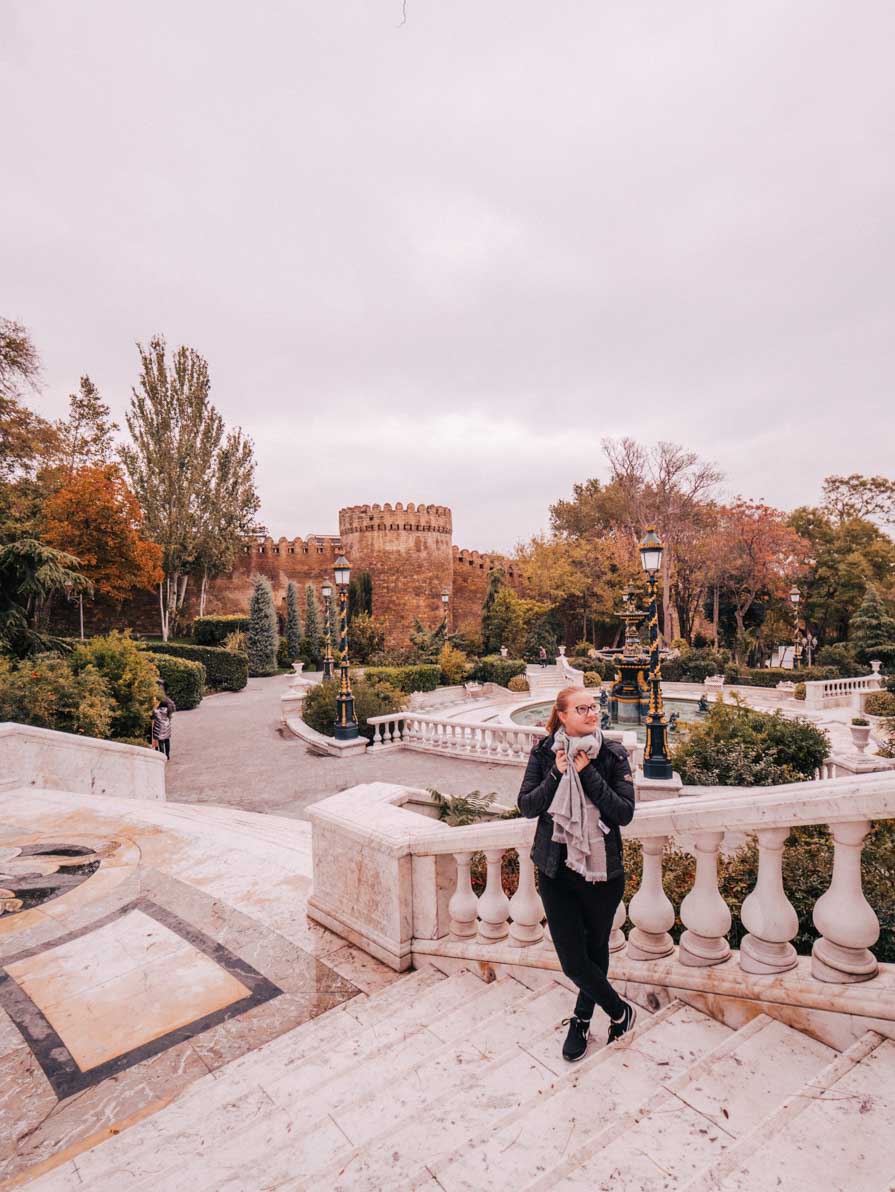 Where to stay in Baku, Azerbaijan
During my week in Baku, I stayed at Sahil Hostel, located on one of the main streets and just a short walk from the entertainment district. It's rated as the best hostel in the city, and I concur!
Sahil has everything you need, from a fully-equipped kitchen to a social hang out area to pod-style beds and private rooms too. There's even a small work out area with gym gear, in case you want to take on a local in a classic arm wrestling tournament at a bar (seriously, that's a big thing here!).
The staff were so friendly here, it's really social so it's brilliant for solo travellers, and you all know how much I love capsule beds in dorms.
I would stay here again in a heartbeat! You can check your travel dates for Sahil Hostel here on booking.com or here if you prefer Hostelworld.
I hope these reasons to visit Baku have helped convince you to book your Azerbaijan adventure! If you have any questions on this crazy city just let me know in the comments.
---
TRAVEL TIP:
I find all my flights using Skyscanner! You'll get the best deal if you're flexible on where to go. Just put in your origin, your departure date (or month) and type 'everywhere' into the destination bar to see the cheapest locations to fly to on your next holiday.
---
Like this blog? Pin it!
Read more about my 52 in 52 adventure here, see all of my blog posts from the trip here, or check out my Instagram @findingalexx to see all of my travel photos.
All the basic details from my big 52 in 52 trip:
How do you find your flights? Skyscanner! I use the Everywhere tool to find the cheapest place to fly to each Tuesday
Do you fly every week? Not every week no, once I have the destination I check trains and buses to see if there's any other transport options aside from flying. If so, I usually book these using the Trainline app.
How do you book your accommodation? I book all my hotels, hostels and apartments on either booking.com or Hostelworld.
Do you have travel insurance? YES, I always travel with travel insurance and you should too. I'm insured for an annual policy with Worldcare NZ.
Do you offset your carbon credits? I sure do! I always offset when I book if the airline gives me the option (Ryanair does), and I also offset all my flights using Co2nsensus.com.
What luggage do you travel with? I travel with a 75cm Samsonite Cosmolite suitcase, a matching Samsonite Cosmolite 55cm cabin luggage hardcase, and a cheap laptop backpack.
What camera do you use? You can see the full list of what's in my camera bag right here.
What laptop do you use? I have a super portable HP Spectre x360 13.3″ laptop, which is an absolute dream to travel with.
For more FAQs about my 52 in 52 trip, see this post.
Thanks to the legends at Sahil Hostel for hosting me for my week in Baku. As always, all opinions are my own and are totally based on my personal experience.