Please note this blog contains affiliate links that give me a small commission from any purchase, at no extra cost to you. I would never advertise anything I wouldn't use myself, and this commission helps Finding Alexx reach more travellers. Thank you for supporting me!
I know it's a cliché to say that there's something for everyone in a destination, but there are beautiful places to visit and fun things to do in Turkey for every type of traveller.
Turkey's tourist attractions range from active adventures to magical landscapes to coastal nirvanas to hectic cities, with seriously impressive cuisine, heart-warming hospitality and mind-blowing historical buildings thrown in for good measure.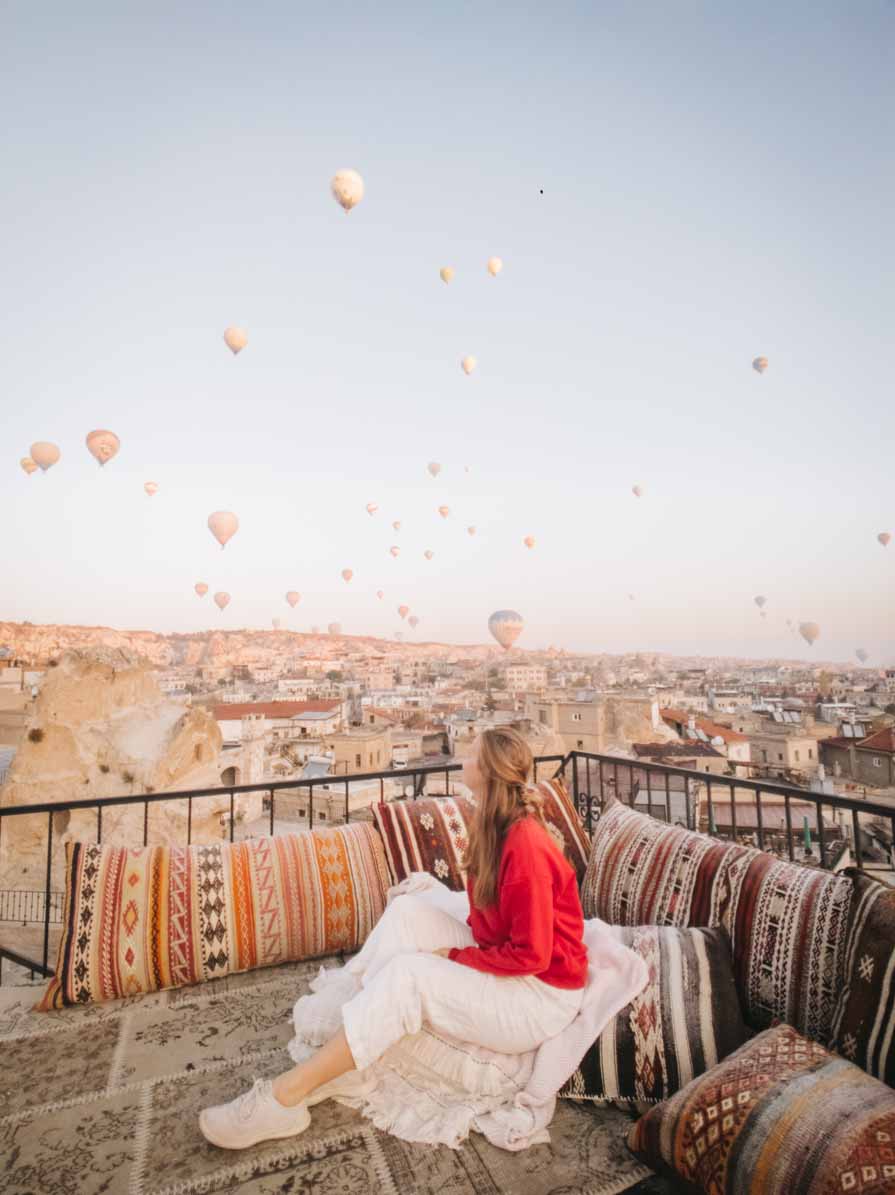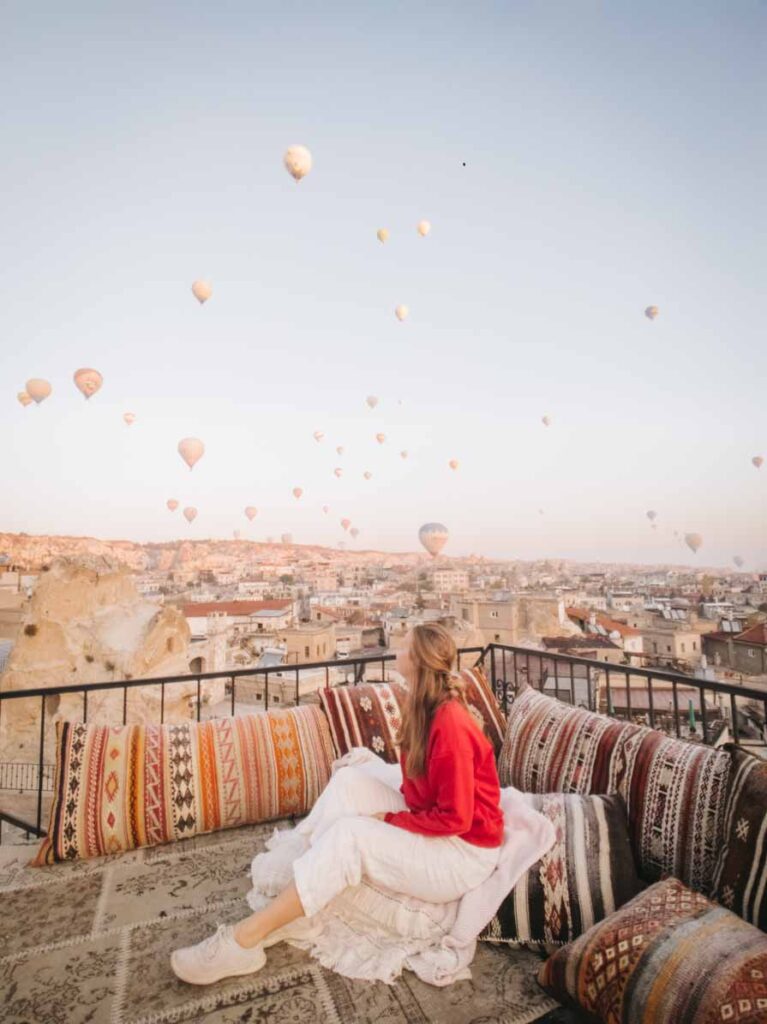 After two visits to this gorgeous Middle Eastern gem, here are my top picks on the best things to do in Turkey, the best places to visit, food to eat and the Turkey sights you can't miss, plus some travel tips for building the perfect Turkey itinerary.
YOU MIGHT ALSO LIKE: The Ultimate Turkey tour itinerary
Skip straight to:
---
The best things to do in Istanbul
Istanbul is hands down one of the best places to visit in Turkey, and it was my 24th destination on my 52 countries in 52 weeks trip. Europe's biggest city deserves a travel guide of its own so that's on my (never-ending) to do list, but in the meantime here are some ideas for what to do in Istanbul.
Shop 'til you drop
It was painful walking through Istanbul's bazaars and cobbled streets knowing that my suitcase was already packed to the brim, because it's one of my favourite shopping cities on the planet.
From the gorgeous lamps and rugs that Turkey is famous for to the ultra-chic boutiques near Galata Tower, there's plenty of homewares, clothing, souvenirs and antiques to browse and buy.
Just note that the Grand Bazaar and the Spice Market can be pretty overwhelming if it's your first time in a crazy market. Remember to haggle (their starting price can be over twice what they're actually willing to take), and don't be afraid to walk away if you're not interested.
Top tip: If you're going into the bazaars solo then I'd recommend taking a pair of earphones and playing music as you're wandering around, it's easier to ignore the shopkeepers trying to get attention and it doesn't feel as rude as just walking past pretending they don't exist.
In Istanbul I was staying at an Airbnb that couldn't store my luggage, so to avoid having to lug a suitcase around with me I used an Istanbul luggage storage service that securely held my bags while I explored before flying out. Ideal!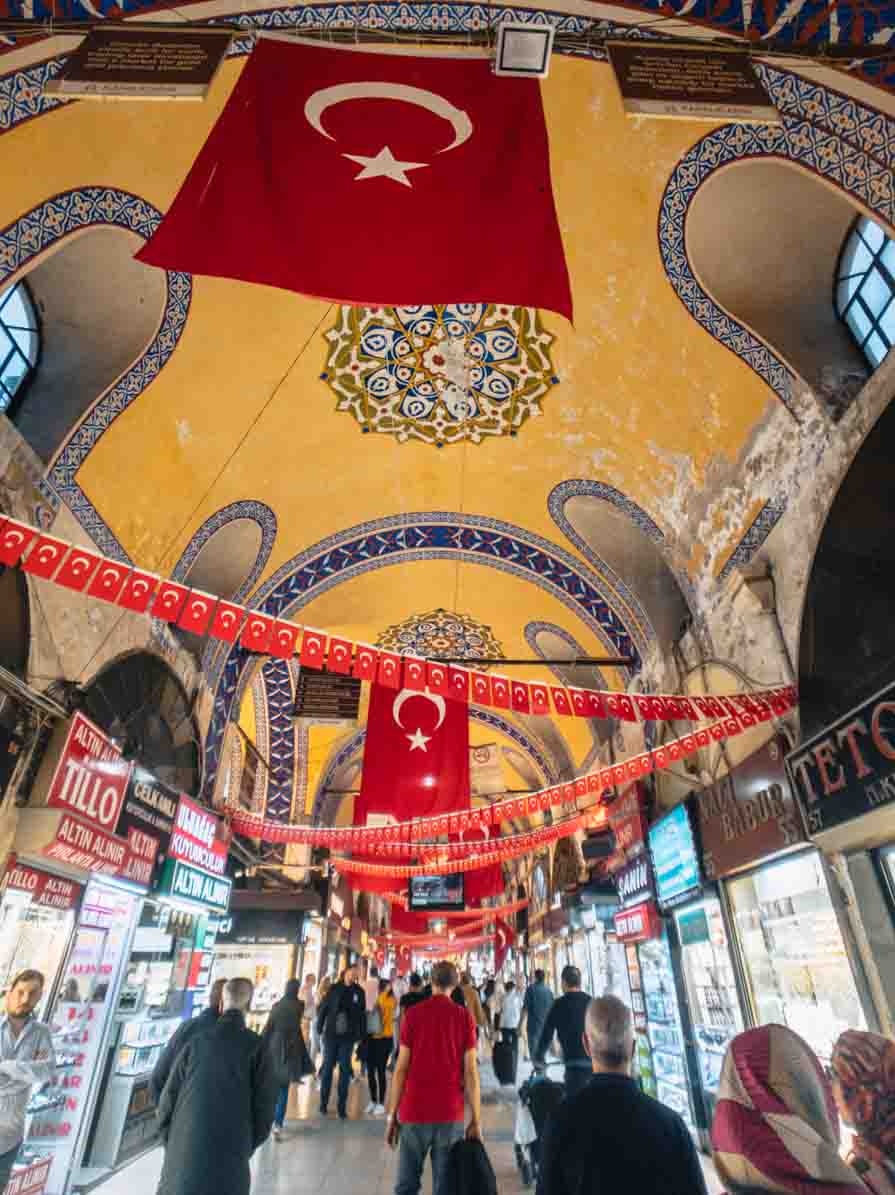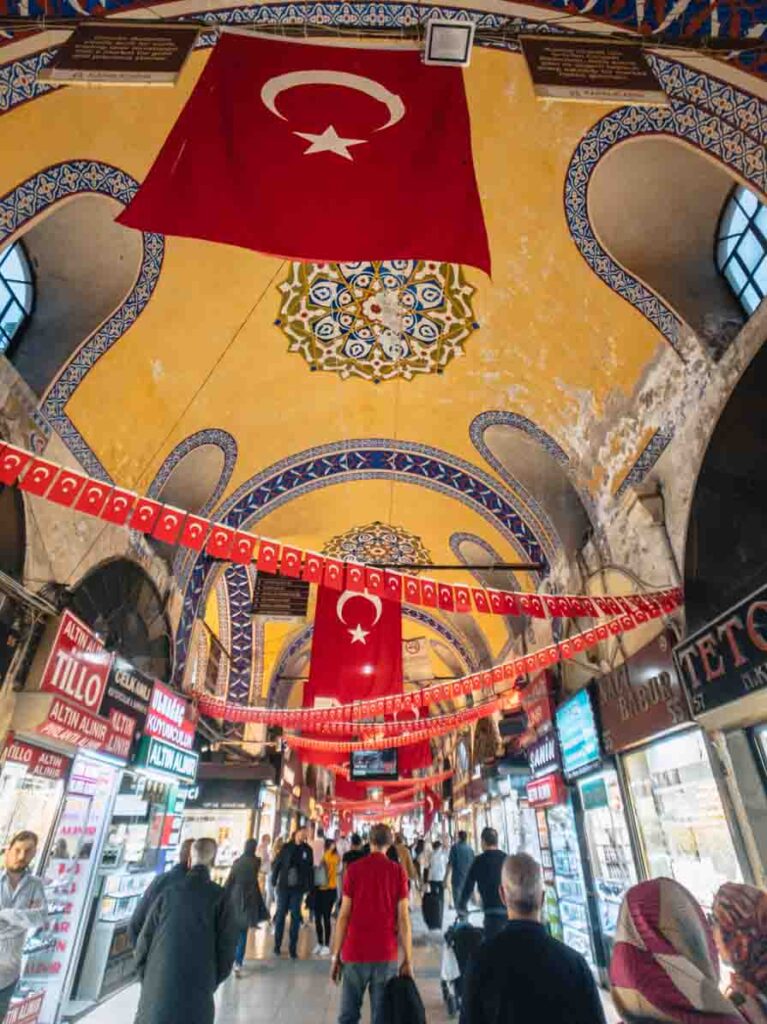 Explore the rainbow neighbourhood of Balat
Balat is Istanbul's answer to Notting Hill and Burano, with brightly-coloured houses lining the neighbourhood's streets. Once home to Istanbul's Jewish and Greek Orthodox communities, Balat is now and up-and-coming area that boasts hipster cafés, vintage shops and lesser-known religious buildings.
Top tip: Remember that this is a residential area and people live here. Don't stand on doorsteps, make way for cars and pedestrians, and don't make too much noise.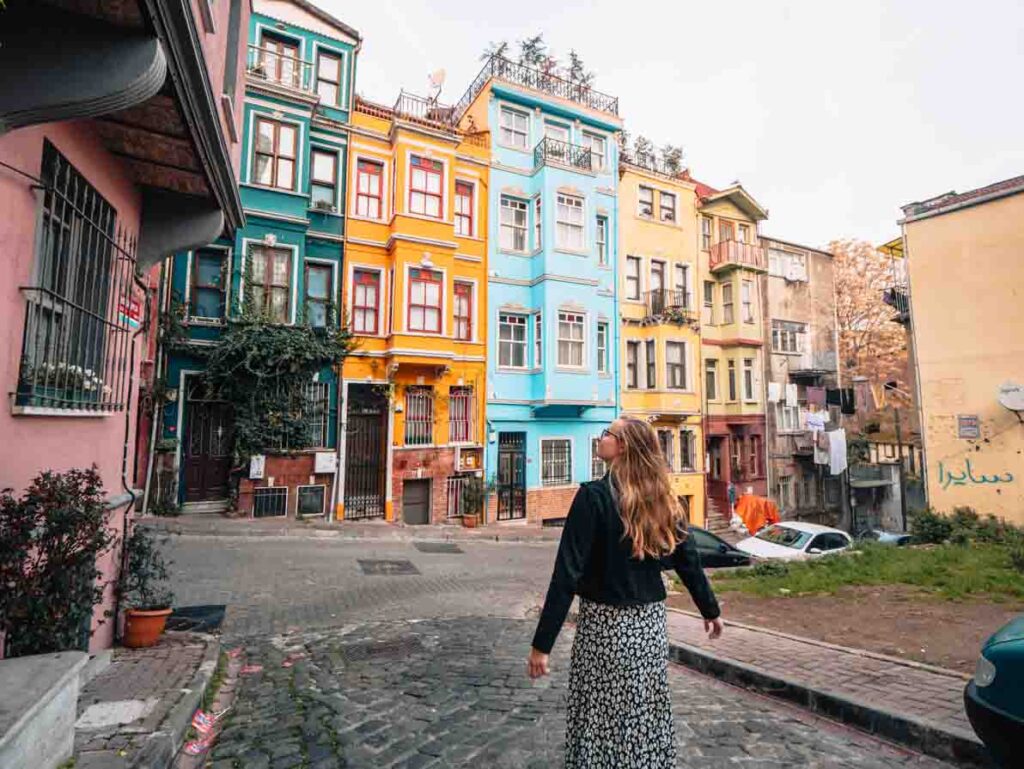 Learn about Istanbul's messy past in the Hagia Sophia Museum
The Hagia Sophia (or Ayasofya in Turkish) has been a Byzantine Christian cathedral, a Greek Orthodox cathedral (twice), a Roman Catholic cathedral and an Ottoman mosque, before being transformed into a museum in 1935.
The building itself, particularly the main dome, is exquisite, and the history behind its tumultuous past is fascinating. And that's coming from someone who's not such a fan of museums! It's one of Istanbul's absolute must-dos.
Top tip: You'll get a much better experience here with a guide so I definitely recommend jumping on a tour like this one.
YOU MIGHT ALSO LIKE: FAQs about my 52 countries in 52 weeks trip
Take a cruise down the Bosphorus Strait
Seeing cities from the water is totally underrated in my opinion! Istanbul's Bosphorus Strait splits the European and Asian sides of the city, and offers unbeatable panoramic views of the palaces, mosques and coastal neighbourhoods.
You can choose from public ferries, hop-on hop-off boat tickets, afternoon cruises or even a dinner cruise with classic Turkish entertainment.
YOU MIGHT ALSO LIKE: Things to know before going to Israel
Get a lesson in Ottoman history at Topkapi Palace
This enormous palace was home to the Sultans of the Ottoman Empire from 1478 to 1853, and it's now a museum showcasing relics and treasures from Ottoman times. The once-Imperial residence is made up of four courtyards and a harem, with over 30 rooms, chambers, pavilions and gardens to explore.
Top tip: The Imperial Treasury in the Conqueror's Pavilion of the Third Courtyard is home to an incredible Ottoman collection of everything from thrones to super fancy Qur'an covers to the famous Topkapi Dagger. Get to the palace early and go straight here to avoid having to line up later in the day.
Admire the stunning Blue Mosque
One of the most iconic buildings in all of Turkey, the Blue Mosque (official name Sultan Ahmed Mosque) is a 17th century masterpiece. It's currently under restoration (there was scaffolding up both times I visited in November of 2018 and 2019) but it's still well worth a visit.
It's a functioning mosque so it closes to visitors during the five prayer times each day, and ladies will need to cover their hair, arms and legs before entering, but they have shawls and skirts to borrow if you need.
Smoke some shisha
For a chill hang out with friends, head to one of the many shisha bars. Order a mezze platter, choose your favourite shisha flavour and banter with your buddies, or take on one of the locals in a friendly game of backgammon. Spoiler alert: You'll lose.
The best shisha bars in Istanbul are Huqqa and Lulu Lounge if you're feeling fancy, or Habab'be in Sultanahmet for an authentic shisha experience.
Go out-out
Istanbul's a city of over 15 million people, so unsurprisingly its nightlife scene is thriving. Whether you're looking for a sophisticated evening, a rowdy night out with other travellers or something in between, there's a nighttime activity with your name on it.
For a special occasion or a 'treat yourself' experience, head to one of the seaside bars in Ortakoy like Reina or Sortie. If you want rooftop cocktails with a view, your best bet is Leb-i-derya or the ultra-flash 360. Or if you're on a budget and just want to have a couple (or ten…) beers with some like-minded travellers, jump on the seven-hour Istanbul Pub Crawl.
Top tip: There's only one thing worse than a hangover… And that's a hangover ruining your holiday. But that's where milk thistle comes in! I'm no doctor but in all my years of drinking, nothing has cured my sore head like some preventative milk thistle. It's a natural supplement that helps your liver detox faster (or something like that haha) and if you take one before you drink and another before you go to sleep, you wake up feeling on top of the world. You're welcome. I use this maximum strength milk thistle and it comes with me everywhere I go!
YOU MIGHT ALSO LIKE: What's in my camera bag for a year of travelling around the world?
Where to stay in Istanbul
In terms of location, I really recommend staying in the Sultanahmet area. It's close to the Blue Mosque, Hagia Sophia and the Grand Bazaar, there are loads of places to eat and drink nearby, and most importantly it's safe for solo female travellers. The streets are well-lit and there are cafés and shops open all night, so I never felt unsafe even walking back to my hotel in the evenings.
On my second trip to Istanbul I stayed at the beautiful Blue Mosque Suites, just a five minute walk from the Blue Mosque itself. My room was HUGE, with a throne-like bed, gorgeous bathroom, table and chairs, TV, fridge and a wardrobe. The owner, Kubilay, is super friendly and helpful, and there's even a small rooftop terrace to enjoy some çay (Turkish tea) and watch the sunset.
Prices start from about £40 a night for the room I stayed in. Check availability for your travel dates here.
If you're looking for a hostel in Istanbul, I've heard great things about Jumba Hostel and Cheers Hostel.
Want to treat yourself to a luxury stay? Check out the super stylish Hotel Poem, Hotel DeCamondo in Karakoy with a stunning rooftop terrace, or the renowned Four Seasons Sultanahmet.
---
The best things to do in Cappadocia
Cappadocia is one of the most famous tourist attractions in Turkey, and it's home to some of the most magical landscapes on the planet. From UNESCO World Heritage Sites, underground cities and cave houses to deep valleys with *ahem* interesting rock formations, the views alone are insane. Oh, and to take it to the next level, hot air balloons fly over it almost every single day.
Although the balloons are obviously the major pull, there are a bunch of cool things to do in Cappadocia beyond what you see on Instagram. We spent a night in Cappadocia on my Travel Talk Essential Turkey tour last year, and I loved it so much that I came back for four nights when my year-long solo adventure took me to Istanbul.
See the sunrise from a hot air balloon
There's no other way to start a Cappadocia bucket list than with a hot air balloon ride. Yes, it's become a bit of a tourist trap thanks to social media, but that doesn't change the fact that it's one of the coolest experiences you'll ever have and probably the number one thing to do in Turkey.
The balloons are scheduled to go up every morning but it is weather dependent, so I'd recommend spending a few nights here to get the best chance of being able to fly or at least see the balloons.
Balloon rides range from about €140-€200 depending on basket size (the bigger baskets can accommodate 24-28 people, and there are baskets as small at 8) and the length of your flight (60 or 90 minutes). There are so many companies to choose from but Butterfly Balloons is my top pick for who to fly with.
Top tip: You need to book your balloon ride in advance, they're so popular these days that they get booked up weeks before. Book as soon as you've confirmed your Cappadocia dates.
Watch the balloons from a Cappadocia hotel rooftop
If you're on a budget, scared of heights or lucky enough to have ticked off a Cappadocia balloon ride already, watching the balloons from a rooftop terrace is almost as magical as being up in the air yourself.
While the most famous Cappadocia hotels with rooftops are probably Sultan Cave Suites and Mithra Cave Hotel, there are actually plenty of stunning cave hotels with Instagram-ready terraces that won't break the bank.
I stayed at the Artemis Cave Suites in Goreme which are incredible, and they've got two Instagrammable terraces complete with cushions, rugs and fruit platters, and they were renovating a third terrace while I was there. Prices start at around €80 a night including a delicious breakfast, and you can check your travel dates here.
Want to read more about this Cappadocia boutique hotel? I've also written a full hotel review.
Then I spent a couple of nights at Kookaburra Pension, a more basic cave hotel but also home to a stunning terrace, and I had it all to myself both mornings. And as an added bonus, this hotel was a 30 second walk from Topdeck Cave Restaurant, often touted as Cappadocia's best restaurant. Prices start from only €30 a night in the low season, check your travel dates here.
Hike through the valleys
Cappadocia is an absolute natural beauty, home to a number of valleys with crazy rock formations. Rose Valley boasts pink-hued rocky ridges and is known as the most romantic spot in the area, Pigeon Valley is famous for the pigeon holes that have been carved into the volcanic rock for the local birds, and Love Valley is filled with phallic-shaped towers.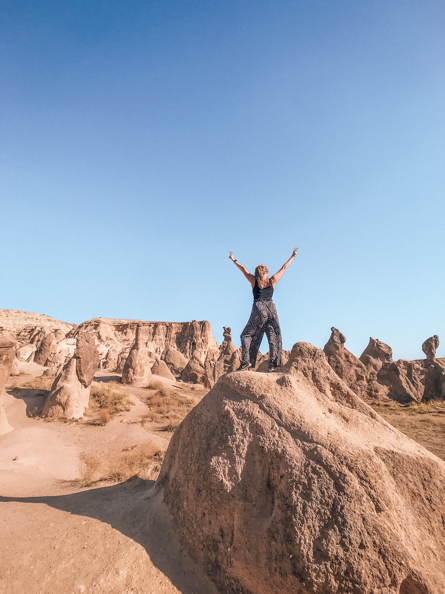 Take a horse ride
Cappadocia's original name 'Katpatuka' actually means 'Land of Beautiful Horses', and seeing the valleys by horseback is one of the best things to do during your Cappadocia trip. Some horse riding experience is recommended as the terrain can be a bit above beginner's standard.
Go on a quad safari
If you've got the need for speed, exploring Cappadocia by quad bike is a brilliant option. This was at the top of my list of things to do on my recent second trip to Cappadocia but unfortunately I was battling a bad cough, so dusty off-roading wasn't a great idea. But if anyone tries this, please let me know how it is!
There's also some cool jeep tours like this one if you prefer to be inside a car with a seatbelt while hooning around rocky valleys.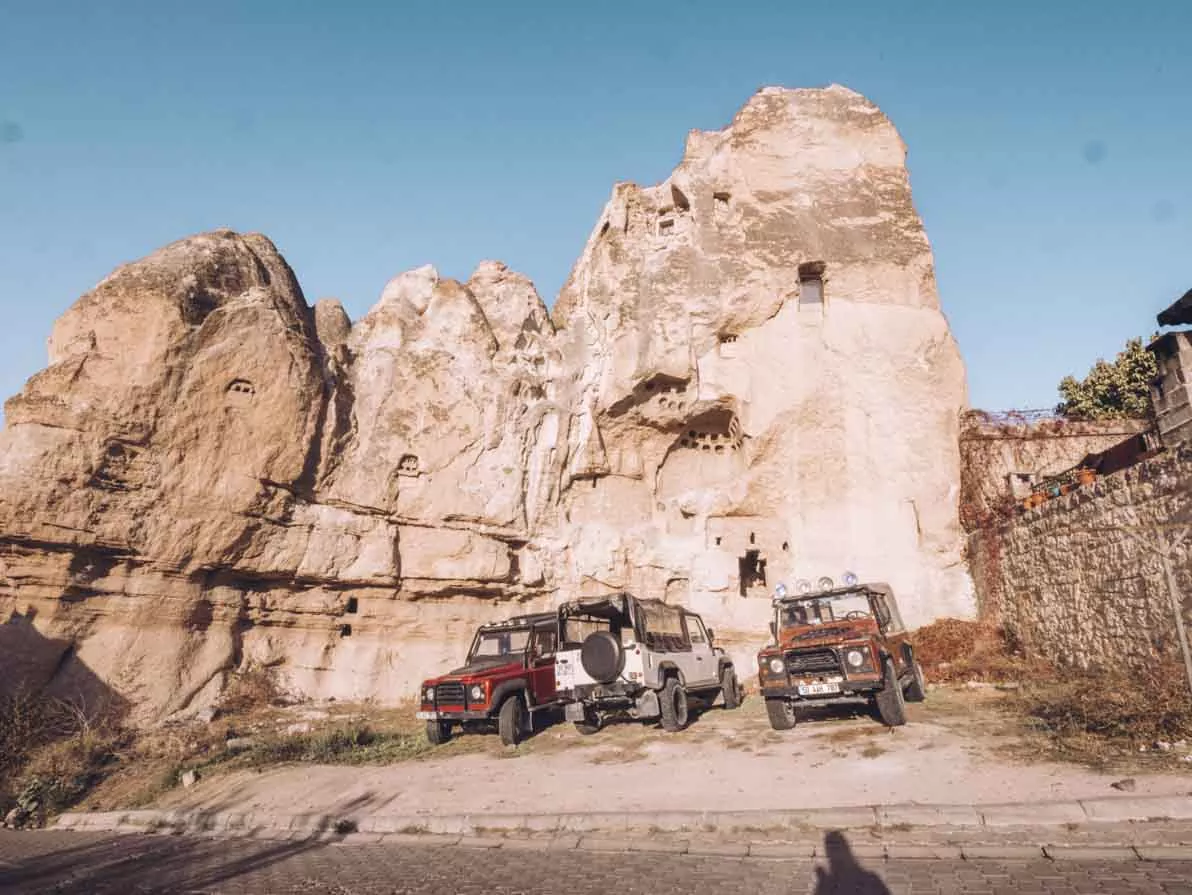 ---
Other places to visit and things to do in Turkey
Visit Anzac Cove at the Gallipoli Peninsula
This is one of the best things to do in Turkey for the Kiwis and Aussies out there. Dust off your social studies textbooks and take yourself back to primary school when we were first taught about the Anzacs and the Battle of Gallipoli.
Standing where our countrymen attempted to invade the Ottoman Empire back in 1915 and paying your respects for the thousands of soldiers who died is a surreal experience, but it's a must-do for anyone from New Zealand or Australia.
Top tip: I'd really recommend visiting with a local guide so you can hear about how the battle affected the Ottoman Empire and the soon-to-be Republic of Turkey, particularly a prominent commander called Kemal Atatürk, who founded the country in 1923.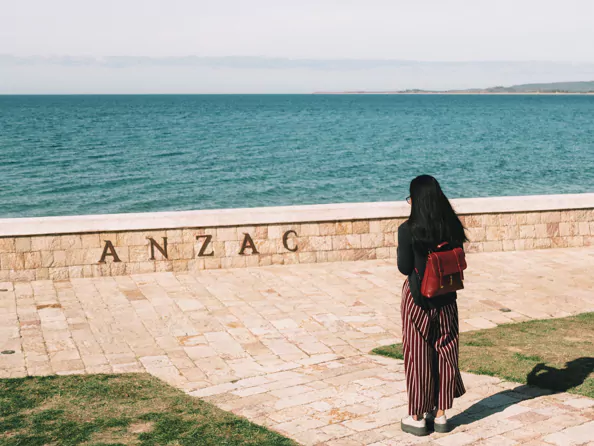 Wander through the ancient ruins of Ephesus
My travel style generally steers towards food, photography and views rather than historical sites and museums, but the ancient city of Ephesus was legitimately mind-blowing. The ruins at this UNESCO World Heritage Site date back to the 10th century BC, and you can see a mix of Hellenistic and Roman Empire settlements throughout the area.
It's also home to one of the most iconic ruins in the world, the Library of Celsus. The library was originally built around 120 AD, before being all but destroyed by a fire in 262, leaving only the magnificent front façade until that too fell down after an earthquake around the 10th century. In the 1970s the façade was reconstructed, and it's now one of the best photo spots in Turkey.
Top tip: If you're short for time on your Turkey vacation, you can see Ephesus and Pamukkale on a two day/one night trip with One Nation Travel.
Be a crazy cat lady
There are SO many cats in Turkey, and even the wild ones are treated like royalty! You'll find dishes of food and water left out on the streets to keep the cats well-fed, and many strays end up being kind of adopted by local families, restaurants and shops. Don't be alarmed to have kittens meowing at your feet while you're eating dinner at an outdoor table, it's part of Turkey's charm.
Top tip: Note that these cats are wild, and therefore aren't vaccinated against rabies or other diseases. Most of the cats are friendly and I've never been bitten or scratched, but just be careful not to get too close if a cat doesn't look so impressed with you, and go straight to the doctor if you do get bitten or scratched.
See the travertine terraces of Pamukkale
Known as the "Cotton Castle", Pamukkale's white cliffs and hot springs have become another notable Instagrammable spot in Turkey in recent years. It's definitely worth a visit for sure, but be prepared to have to time your photos carefully to get any without other people around. Or, better yet, put the camera down and enjoy the golden sunset rays shining onto the mineral-rich thermal waters flowing down the cliffs.
Many of the local hotels have thermal pools with water coming from the hot springs, ideal to relax for an evening in the middle of a hectic Turkey trip.
Top tip: To preserve the terraces, water flow to the pools is controlled and that means it won't always look like what it does on the postcards. The particular pools that you always see in photos are actually only full about 25% of the time, so if you're there the other 75%, you might not get the postcard-perfect views you were expecting, but it's still stunning.
Sail Turkey
Water babies rejoice, Turkey is the ideal location for a holiday on the water. Spend your day sailing between hidden bays in the Mediterranean, eating fresh seafood from local restaurants, discovering small coastal cities and then toast to your adventures with some raki on deck under the stars.
I haven't done a Turkey sailing trip myself (yet) but I can recommend two companies that run them if you want to add some sea time to your Turkey itinerary. Travel Talk is who we did our brilliant 9 day Turkey tour with last year, and they have an 8-day sailing tour on a traditional Turkish gulet. Or if you're keen for something a bit fancier, Medsailors (who I sailed with in Croatia) have a Turkey route where you can choose from a yacht or a catamaran.
YOU MIGHT ALSO LIKE: Your ultimate guide to sailing in Croatia
Eat alllll of the food
Turkish cuisine is packed with flavour, from smoky meat kebabs to colourful mezze platters to super sweet Turkish delight rolls. Eating out in Turkey is cheap too, so there's no excuse not to try local delicacies.
I rarely had an unimpressive meal in Turkey, and the hotel staff were always quick to suggest their top picks nearby. I recommend staying away from the main tourist stretches where you can and instead check with locals and/or online review sites to find the best food near you.
Oh, and the Turkish beverage scene is next level too! From famous Turkish coffee to Çay (black tea) to apple tea, a tourist favourite, after every meal you'll want to grab a hot drink.
Top tip: If you're in Istanbul, be sure to visit Şehzade Cağ Kebap for the best lamb kebabs I've ever had.
Treat yourself to a Turkish spa
If you describe a Turkish spa experience without context, it sounds terrifying.
Take your clothes off, sit on a marble bench and wait for an angry lady to grab you and pull you onto a stone in the center of the room. She'll pour water on you, throw a pillowcase of foam at you, spin you around and flip you over, and jab her elbows all over your body. Ummm, what?
A Turkish spa experience is just that… an experience! It can be a bit of an assault on both your senses and your body, but I guarantee you'll have a good night's sleep after. One of the most unique and unusual things to do in Turkey for sure.
Experience an "authentic" Turkish night
I'm always wary of the places that tout authenticity for tourists, because I feel like that's sometimes inauthentic itself. But Turkey is home to a number of Turkish entertainment evenings, complete with huge mezze platters, belly dancers, traditional outfits, audience participation and loads of laughs. It's a fun night, and some are even BYO!
Top tip: We did this one in Cappadocia and it was a hilarious thing to experience with new travel buddies.
---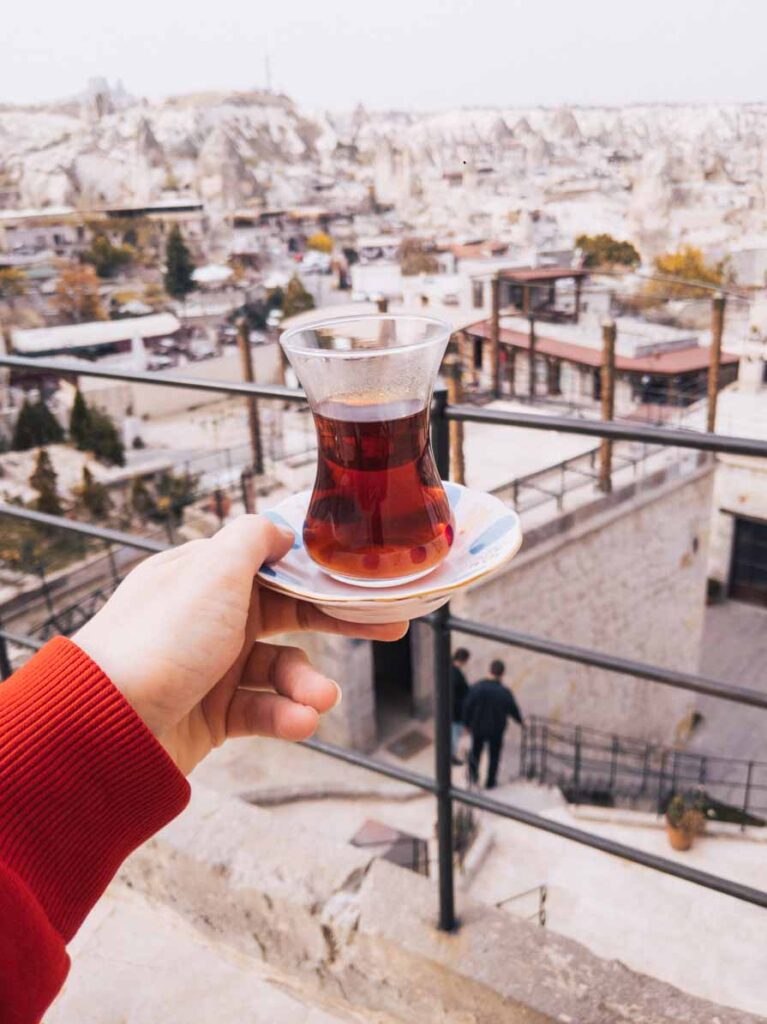 Has that given you a bit of inspiration for planning your own Turkey itinerary? There are so many epic places to visit and things to do in Turkey but these are some of the highlights from my two trips.
If you think I've missed out any key Turkey sights or tourist attractions, or want to share your own Turkey travel tips, let me know in the comments below.
Like this blog? Pin it!
Read more about my 52 in 52 adventure here, see all of my blog posts from the trip here, or check out my Instagram @findingalexx to see all of my travel photos.
All the basic details from my big 52 in 52 trip:
How do you find your flights? Skyscanner! I use the Everywhere tool to find the cheapest place to fly to each Tuesday
Do you fly every week? Not every week no, once I have the destination I check trains and buses to see if there's any other transport options aside from flying. If so, I usually book these using the Trainline app.
How do you book your accommodation? I book all my hotels, hostels and apartments on either booking.com or Hostelworld.
Do you have travel insurance? YES, I always travel with travel insurance and you should too. I'm insured for an annual policy with Worldcare NZ.
Do you offset your carbon credits? I sure do! I always offset when I book if the airline gives me the option (Ryanair does), and I also offset all my flights using Co2nsensus.com.
What luggage do you travel with? I travel with a 75cm Samsonite Cosmolite suitcase, a matching Samsonite Cosmolite 55cm cabin luggage hardcase, and a cheap laptop backpack.
What camera do you use? You can see the full list of what's in my camera bag right here.
What laptop do you use? I have a super portable HP Spectre x360 13.3″ laptop, which is an absolute dream to travel with.
For more FAQs about my 52 in 52 trip, see this post.
Huge thanks to Blue Mosque Suites for hosting me for three nights, Artemis Cave Suites for hosting me for two nights and Kookaburra Pension for hosting me for two nights. As always, all opinions are my own and are based on my personal experience.