Nine days, 2309 kilometres of driving, 18 travel buddies, seven delicious kebabs, four kittens I wanted to take home and the best sunrise I've ever seen. Our Essential Turkey tour with Travel Talk was a massive change from the usual self-planned weekend getaways in Europe, but it goes down as one of the most epic trips I've ever done in my life. Here's a full tour review about we got up to on the first four days of our Travel Talk Turkey adventure, and you can click here for part two and the final verdict.
Skip right to what you're looking for:
YOU MIGHT ALSO LIKE: 21 of the best things to do in Turkey
Day one: Arrive in Istanbul
Note to self: Don't go out the night before an early flight. After an less-than-enjoyable early morning wake up, we were lucky enough to get a full-service flight to Istanbul with Turkish Airlines, including breakfast. What a treat! Most of my flights are with low-cost carriers who basically charge you extra for everything except breathing, so flying with a quality airline was a welcomed change.
We arrived in Istanbul at 4.30pm to a transfer driver waiting for us at departures. Hotel transfers are SO underrated, and it was included in the Travel Talk price. Win!
Our first hotel was the Ottoman Hotel Imperial, and it was a glimpse of what to expect from the rest of the tour accommodation. We were literally two minutes away from the Hagia Sophia! The room was small but much better than I would expect for a budget tour.
Comfy beds, nice bathroom, a good restaurant and the best location in all of Istanbul for sure. We had a group intro meeting with our guide Aykut, a quick dinner (not included) and then had an early night before the exploring started the next day.
Day two: Full day in Istanbul
Our first actual day on the tour was a full day exploring chaotic and colourful Istanbul. We had a hotel breakfast (included every day) before wandering a couple of minutes to the famous cathedral-turned-mosque-turned-museum, Hagia Sophia.
We got express entry and Aykut took us around the museum, explaining the historical and religious significance behind the magnificent building. It was absolutely mind-blowing; impressive architecture even in modern standards, let alone the fact that the main building was started in 532 (!!!). Compare that to today's four walls and a flat roof for the majority of buildings, ha!
We also went to the Blue Mosque (which was covered in scaffolding both inside and out unfortunately), the Hippodrome and Topkapi Palace, getting a full dose of Byzantium/Constantinople/Istanbul history, before heading up to the rooftop restaurant at Hotel Arcadia Blue for an epic view over the city. This place is absolutely worth a visit if you want a good meal or a nice drink.
There was an optional Bosphorus Cruise (€10) which we decided against, as we were keen to explore Istanbul's markets instead, but this fell through when we soon discovered that the Grand Bazaar was closed on Sundays. Rookie mistake. But not all hope was lost! We stumbled across a spice shop that sold the best snacks on the planet: honey and sesame-coasted pistachios. Bite-sized bits of heaven.
In the evening we met up with the rest of the group and Aykut took us to a local eatery for dinner (not included), where we had the chance to try some authentic dishes and shisha. Bex and I shared a testi kebab, where the meat and veges are cooked inside a clay pot before the pot's cracked (very theatrically I might add) and emptied onto your plate. Super tender, delicious flavour and great for photos – it's a yes from me! We spent the next two hours trying to perfect the art of blowing smoke rings with shisha. Most of us failed.
Day three: Istanbul to Gallipoli and Canakkale
Let's hit the road! The first of our early starts, it was time cross the Bosphorus Strait over to the Asia side of Turkey. Today was a pretty sombre day for a bus full of Kiwis and Aussies, taking us back to social studies days with a visit to Gallipoli and all the key spots for the Anzacs. It wasn't 'fun' or 'epic' like the rest of our trip, and it didn't feel right to take a load of photos to share, but it was an incredible experience and I'd highly recommend it for anyone with Aussie or NZ heritage.
One thing to note is that our guide, Aykut, was insanely knowledgeable of the background of Gallipoli, and explained all of the history from both the Anzac and the Turkish side. It was pretty cool to hear another point of view, and how this particular part of the war is known for massive respect between both sides.
Tonight we made it to Kolin Hotelin Canakkale, a five-star hotel that we couldn't even believe we were staying at. Dinner (included) was a gigantic buffet in the hotel restaurant, where I treated myself to probably five plates of food before going into a full food coma and sleeping like a baby in a super comfy bed.
Day four: Canakkale to Troy, Pergamum & Kusadasi
After a fantastic sleep at our luxury hotel on our budget tour, we kicked off day four with a search for Brad Pitt at Troy. (I haven't even seen the movie but I think that's a relevant mention?). Troy itself was (forgive me, history buffs…) kinda boring, it just looks like rocks in the ground, and there's not really enough left of the ruins to compare to the other ancient cities we were about to see later this day and the next. We went first thing in the morning to avoid the rush but by the time we left it was paaacked with loads of tour bus groups, I'd hate to see it in the high season.
The second ancient site we visited was Asklepion in Pergamum, a medical centre from the 4th Century BC. The ruins are still slightly intact, with a Roman theatre, a temple, a tunnel and a 'healing spring' all recognisable.
Tonight we stayed at the Marina Hotel & Suites in the port town of Kusadasi, a nice hotel with an ocean view. In summer this would have been fab but we didn't have enough time or temperature to make the most of the pool or the view. Hotel dinner again (included) but this time with a local twist – Aykut taught us how to drink raki, the national drink of Turkey. It's a clear spirit but you mix it with water, and it's a *ahem* polarising taste? Tastes a bit like murky Sambuca, not really what I look for in a beverage but each to their own. It was worth it for the reactions of everyone taking a sip.
And part two of our Travel Talk Turkey tour…
That's part one of our Travel Talk Turkey tour! Part two is Ephesus, Pamukkale and Cappadocia, some of the most epic places I've ever visited. If you want to hear all about them you can read on here, and if you want to see some more shots from our Turkey adventure then check out my Instagram. Here's a sneak peak of what's to come…
Like this blog? Pin it!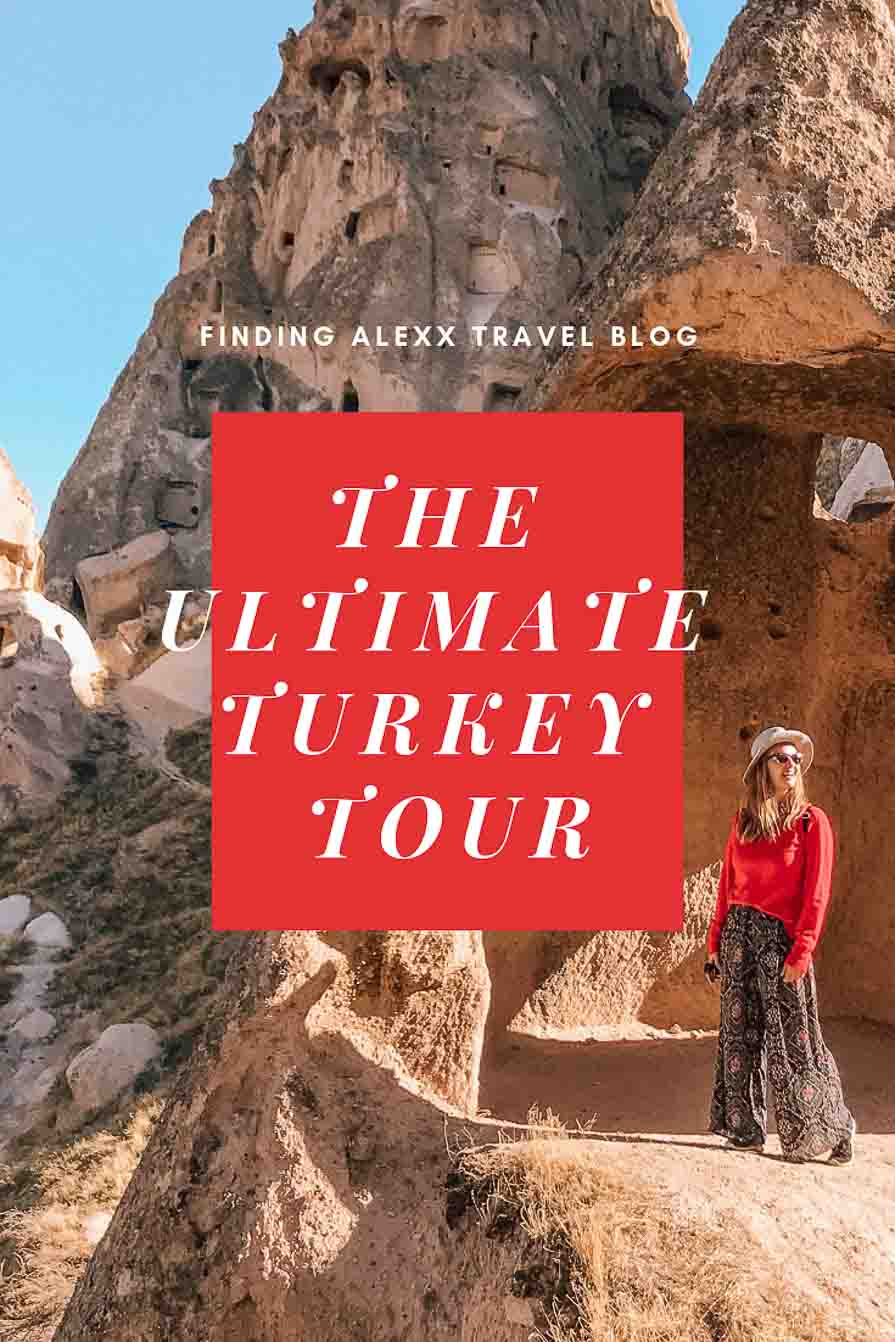 Huge thanks to Travel Talk Tours for hosting us for the Essential Turkey tour. As always, all opinions are my own and are based on my personal experience.
Please note this blog contains affiliate links that give me a small commission from any purchase, at no extra cost to you. I would never advertise anything I wouldn't use myself, and this commission helps Finding Alexx reach more travellers. Thank you for supporting me!