This is part two of my Travel Talk Essential Turkey itinerary and tour review. If you want to read about Istanbul, Gallipoli, Troy and more, head on over to part one.
YOU MIGHT ALSO LIKE: 21 of the best things to do in Turkey
Day five: Kusadasi to Ephesus and Pamukkale
What. A. Day. The beginning of perhaps the best 72 hours of my travel photography life. First up on the agenda was the ancient city of Ephesus, which dates back to the 10th century BC. That is inconceivable. We were wandering down paths and around ruins that existed 3000 years ago. Mind. Blown.
I'll admit, I'm not a huge fan of museums and historical sites. Don't shoot me! I can appreciate them and love looking around, but historical stories were ruined for me by a couple of bad social studies teachers in school. I'm just more of a murder-mystery story type of gal…
This place, however, was so insane and I couldn't get over it. Aykut told us about all the different parts of the city, pointing out the difference in architecture between the different periods, and we had about half an hour to search for the best vantage points for some epic ancient city photography. It was all topped off by the world's cutest little lion/kitten guarding the entrance. My heart.
Pamukkale terraces
And that wasn't even the best place we went on this day! This afternoon we made it to the Instagram-famous, out-of-this-world "Cotton Castle", Pamukkale. Instantly recognisable to anyone who's ever been on the 'Gram, I was worried that the white cliffs wouldn't quite live up to the edited photos that I'd seen on the screen. I had absolutely nothing to worry about, they were even better than I had imagined.
One thing to note is that the pools that are filled with water actually alternate to preserve the condition of the travertine terraces, so the majority of the time, the scene may not look exactly like the postcard-perfect image you've got in your head. There are certain pools that, when full, turn the landscape into what is all over social media.
These particular pools are full probably 25% of the time, and we were that lucky group that got to see Pamukkale in all its glory, with the 'special' pools filled with milky blue water. It was honestly just so, so beautiful, reason enough to do this trip for sure.
We spent a good hour and a half taking photos and enjoying the view as the sun went down, with paragliders soaring over us in the sky. Some of that time was spent hustling for the ideal photo spot, against some rude tourists who didn't understand the concept of sharing. Don't be that guy. There were a lot of people but it wasn't an unmanageable amount, just enough to have to time your shots carefully. Again, going in the high season would be a different story.
We basically waited until the sun had left the sky before we could be dragged back to the bus, and off to our next hotel, the Richmond Pamukkale Thermal hotel. The Richmond had a couple of thermal pools so we had a pre-dinner soak and sauna, then after eating we ventured into the nearby town for some late-night snacks and shisha at a local haunt.
Day six: Pamukkale to Cappadocia
Travel day! Today was spent entirely on the bus, as we headed east for 10ish hours to the fairytale landscape of Cappadocia. Our bus was new and comfortable, we had two seats each since it was a small group and there were plenty of bathroom and snack stops, so the journey was as nice as it could have been. I've heard from friends that this particular trip on public transport is the opposite of comfortable – cramped in a bus with no space for your stuff, not many (if any) stops and not great air circulation, so this is a massive benefit of doing an organised tour in my opinion.
We arrived in Cappadocia mid-afternoon, in time to visit the Underground City. It's a collection of tunnels, rooms and walkways that go deep underground, not great for asthmatics or sufferers of claustrophobia. Pretty cool, but let's be honest, that's not why people go to Cappadocia.
Turkish Bath
The evening brought another included hotel dinner and then an iiiiinteresting optional extra, in the form of a Turkish bath. If you haven't heard of what happens at a Turkish bath, you might think that it's a calming, zen-like experience that leaves you feeling refreshed and relaxed. This is not the case.
The Turkish bath is an authentic experience that you can't miss while you're exploring this country. Guys and girls split into two groups, then each head into the changing rooms to undress. Locals will go fully nude, although most of our group chose topless but with bikini pants on. It starts off with a mud face mask, then a sauna to sweat out all the raki you've been drinking, then a quick shower to rinse off before heading into what can only be described as a dungeon.
The dungeon is a lowly-lit octagonal room with a huge marble stone in the middle, it looks kind of like a torture chamber. The Turkish ladies will come in, grab you and put you on the stone, before going through a washing routine that involves soap suds being slapped onto your torso, deep tissue massages, full body exfoliation and buckets of water being tipped over your head. It's a sensory nightmare, with the ladies spinning your basically naked body around on this stone like you're a doll. It sounds exaggerated, but this is legitimately what happens! Our ladies were fairly gentle compared to other stories I've heard, and the guys in our group had a very large Turkish man massaging their necks with his elbows, full body weight behind it. Told you, not refreshing.
Post-brutal massage, you jump into a cold pool to cool off before heading out for some Turkish tea and some chill time. The whole thing was hilarious and it definitely made our group bond a little, which is bound to happen when you're all being low-key violated by a random lady who speaks no English except for 'up' and 'turn over'. People who enjoy intense massages will probably find this quite enjoyable, and if you don't (like meeee) then I definitely encourage you to go for the experience anyway. I wish I had photos to share, but… wait, no, I'm quite happy that there are no photos to share.
After the bath it was back to the hotel for an early night, before our 4.30am wake up for the best morning EVER.
Day seven: Full day in Cappadocia
Where do I even start? Hot air ballooning in Cappadocia is a number one bucket list item for probably millions of people around the world, largely thanks to social media. The first photo of Cappadocia I can remember seeing was this one by @leahliyah, when I had just started working in travel. Since then it's grown to Turkey's most-loved travel activity, and hundreds of thousands of people each year flock to Cappadocia to see the sunrise from the sky. This is why:
Our day started super early with a transfer to the balloon place for some pastries and coffee, before we headed out to the take off zone at about 5.30am. It was pitch black when we arrived, lit up only by the fire that was slowly inflating the balloons.
The baskets are split into four sections for passengers plus one for the driver, and ours fit about 20 people in total. We jumped in just as the sun started to rise, and began floating up into the sky.
It was absolutely unreal. We were lucky to have no wind at all so the ride was incredibly smooth, it hardly even felt like we were flying. The balloon constantly rotates so every section of the basket gets the good views and vantage points, and it's easy enough to move around within your own basket so everyone gets a turn at the corner.
Different balloon companies go to different heights and ours was pretty damn high at one stage, from memory I think between 5000 and 6000ft. We did have one girl on our tour who was terrified of heights but she still went for the ride, she just stayed in the middle of the basket and didn't look down. You go girl!
The flight is about an hour and it takes you over the magical fairy chimneys, down to the 'Love Valley' complete with phallic-shaped rocks, and across vast rocky fields before you head back down to earth, both physically and mentally. The trip is topped off with a certificate and a glass of bubbles, cheers to that!
I would've been happy to go back to sleep because there's nothing that could make that day any better, but we went back to the hotel for a proper breakfast before heading out for the rest of the day. We visited a number of different spots – Goreme Open Air Museum, Uchisar, Pigeon Valley and Cavusin – and saw cave villages, otherworldly landscapes and epic views over rocky canyons. So many photo spots, so little time.
That evening was another highlight of the tour, the traditional Turkish night optional extra, complete with dancing, singing and more raki. Our whole group except for one person went (fun police!) and we had a hilarious evening. They provide snacks and drinks for the table, then there's performances of local dance from different areas of Turkey, some of which have audience participation. One lucky guy from our group was dragged up on stage to join in the belly dance, which had our entire table in fits of laughter. With the drinks flowing and the music pumping, it was a fantastic way to end such an incredible day.
Day eight: Cappadocia to Istanbul
Another travel day, 12ish hours to get back to Istanbul (thanks to traffic). We arrived at about 7pm, dropped our stuff at the hotel (same one as the first two nights) and then Aykut took us to a hole-in-the-wall local favourite in a bustling alleyway for the best lamb I've ever had in my life. The speciality at this eatery was baby lamb (yes, baby lamb) kebab, where we each got skewers of deliciously tender lamb and freshly baked pita bread accompanied by onion, lettuce, yoghurt dressing etc. to DIY a mini wrap. My favourite meal of the whole trip for sure, and ridiculously cheap!
Everyone was shattered from the long drive (and potentially still feeling the effects of the night before…) so we headed back to the hotel, said our goodbyes and went to sleep on the final night of the tour before flying back to London the next day. My first trip to Turkey and my first Travel Talk tour: great success.
What you need to know about the Essential Turkey Travel Talk tour:
Hotel breakfasts are included every day but don't expect anything too fancy
Travel Talk has one payment when you book your tour and then a local payment, so they always look far cheaper than other tours. Even with both payments added up they're still super cheap, but just make sure you take the local payment into account.
Our group was unusually small for Travel Talk, who say that the group size is about 35-40 people on average. This meant we had two seats each on the bus, much less waiting time and it was easier for everyone to make friends etc.
Our tour guide was probably the best tour guide on the planet. He was so knowledgeable, super friendly, very experienced (20 years as a tour guide) and hilarious, and he definitely made the tour.
The hotels are very high standard for a tour this cheap, usually around the level you'd expect of a normal 4-star hotel, which is much better than any other group tour I've been on (although my other tours have been in Europe, the US and Southeast Asia, not in the Middle East)
There are a couple of optional extras: the Bosphorus Cruise (which we didn't do, €10), the Cappadocia hot air balloon (€150), the Turkish bath (about €30) and the Turkish Night (about €30). I definitely recommend the last three!
This particular Turkey itinerary is intense, we covered over 2000 kms of driving and that's a lot of hours on the bus. For me it was fine because I'm a comfortable road tripper and I wanted to see as much as possible in those nine days, but it might be too fast-paced for older or less mobile travellers.
What you need to know about Turkey:
Cats. Cats everywhere. Also dogs, but mostly cats!
We were travelling in the shoulder season (November) which meant less people at all the tourist spots, but it was also colder than you'd expect from Turkey, especially in Cappadocia
In terms of what to wear in Turkey, modest dress is your best bet. Cover your shoulders and knees, don't show cleavage and nothing too tight. In some parts you'll see people dressed more casually and 'Western' than this but you never know when you might come across a beautiful mosque to visit or any other sights of religious significance, so better safe than sorry. I took some long dresses and maxi-skirts, long-sleeved shirts and jumpers to wear over top of singlets.
For summer weather, a light scarf around your shoulders is sufficient as a cover-up
The people are lovely! Super friendly and smiley, and very keen to hear where travellers come from and what brought them to visit Turkey
Be prepared to haggle in the bazaars. This guide is a great start to haggling: https://www.propertyturkey.com/blog-turkey/10-tips-to-help-you-haggle-like-a-local-in-turkey
The final verdict
My Travel Talk Essential Turkey itinerary gets five stars from me. I've been on five group tours and enjoyed them all to be honest, but this tour had the perfect mix of an insane destination, so much history and culture, a decent group without too many or too few people, comfy hotels and transport, and the BEST tour guide. I would recommend it in a heartbeat to anyone looking at travelling through Turkey, and I'm hoping to travel with Travel Talk again in 2019.
Have you been to Turkey, or are you considering going? If you have any tips to add or any questions, comment below!
Like this blog? Pin it!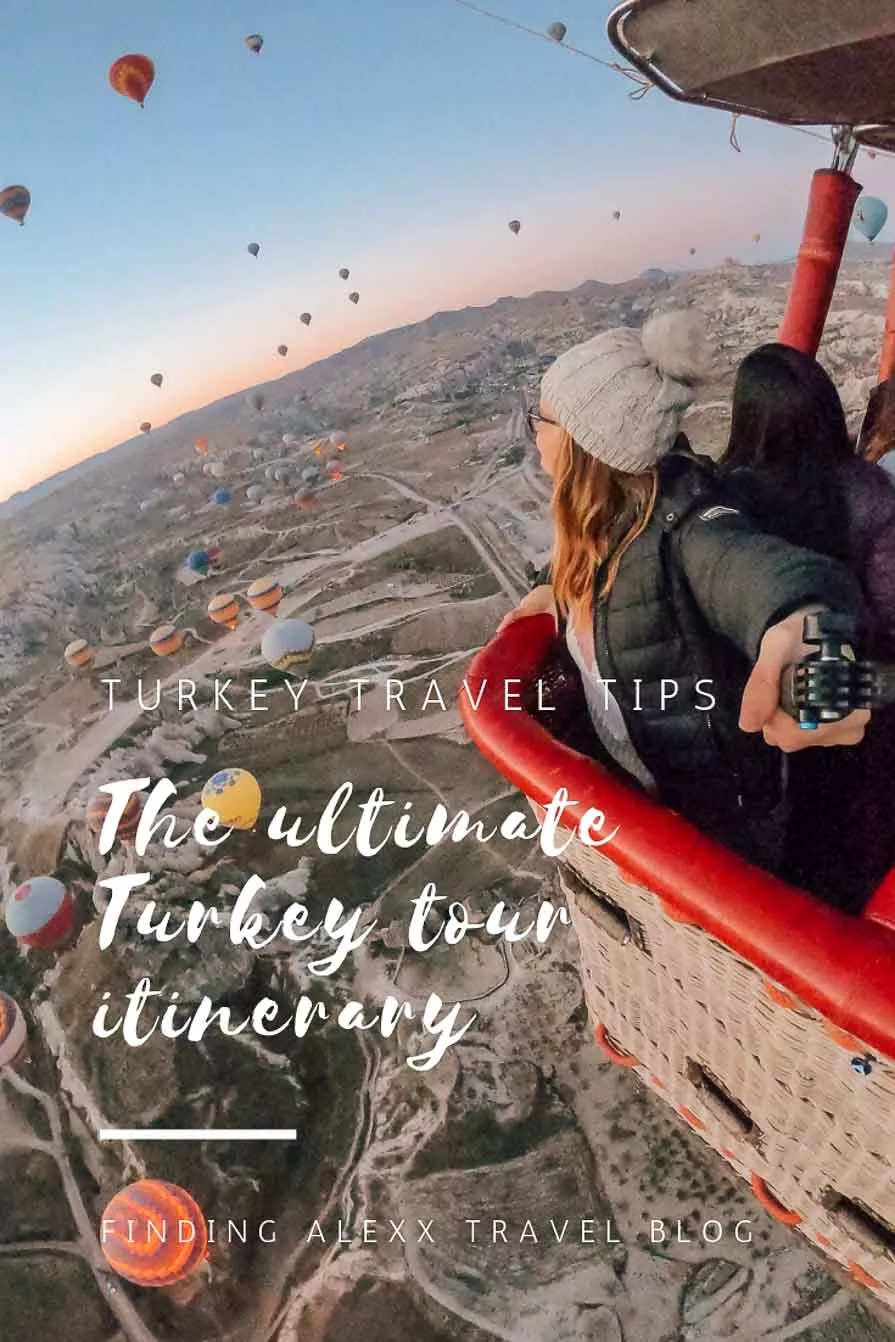 Love this blog? Check out part one of my Turkey itinerary review here, and follow me on Instagram for more epic travel photos.
Huge thanks to Travel Talk Tours for hosting us for the Essential Turkey tour. As always, all opinions are my own and are based on my personal experience.
Please note this blog contains affiliate links that give me a small commission from any purchase, at no extra cost to you. I would never advertise anything I wouldn't use myself, and this commission helps Finding Alexx reach more travellers. Thank you for supporting me!