Please note this blog contains affiliate links that give me a small commission from any purchase, at no extra cost to you. I would never advertise anything I wouldn't use myself, and this commission helps Finding Alexx reach more travellers. Thank you for supporting me!
Wallet-friendly hotels in Paris are notoriously hard to find, and nice cheap hotels in Paris are even harder. During my first week of my 52 in 52 adventure in Paris, I spent four nights at a budget hostel in Montparnasse before heading across the Seine to experience a night of indulgence at the stunning 4* LAZ' Hotel, a newly-renovated boutique hotel located in the 9th arrondissement. If you're looking for where to stay in Paris, you need to put this gorgeous hotel on your list! Here's my full review of LAZ' Hotel & Spa.
YOU MIGHT ALSO LIKE: My ultimate guide to Paris
What's LAZ' Hotel like?
LAZ' Hotel is fairly new and it shows. The rooms are impeccable, with funky but classy design, comfortable furnishings, elegant colour schemes and stunning bathrooms.
The hotel staff were incredibly friendly and chatty, with some fantastic local tips and always happy to help.
Aside from luxury rooms, the hotel has a bar, a gym room, a wellbeing spa centre and an indoor pool complete with a steam room and sauna.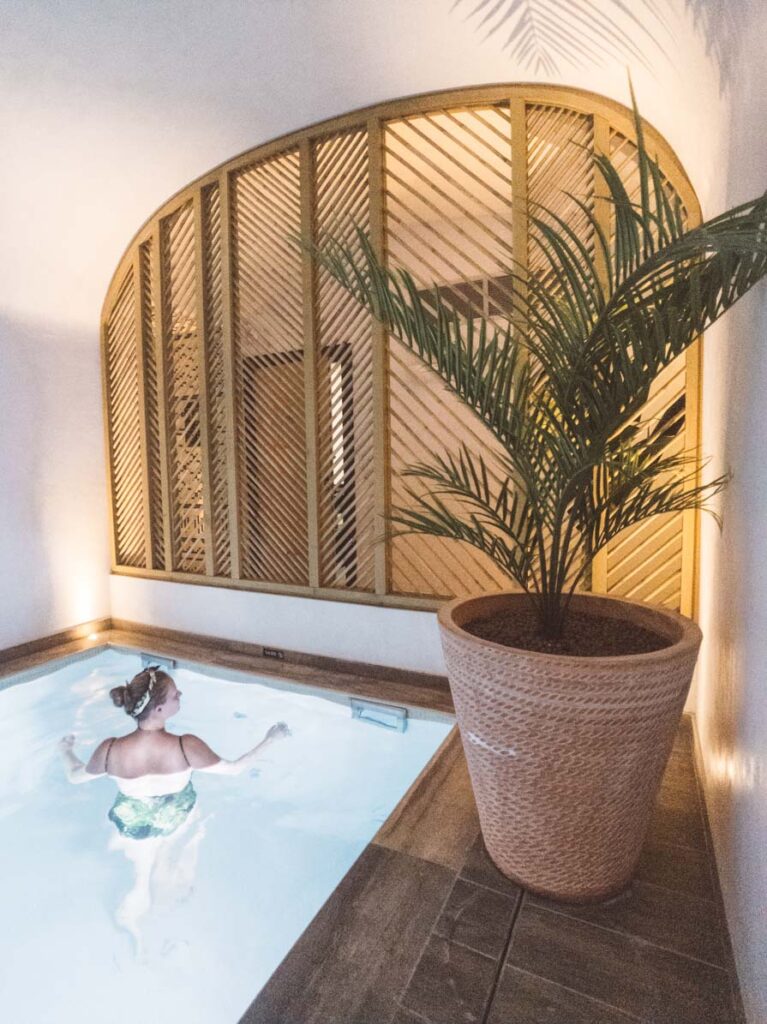 How was the room?
I was upgraded to one of the best rooms in the hotel, which was an absolute treat. My room was HUGE, with a gigantic bed, couch, chair, table, TV, speaker, bathroom with bath and shower, AND a terrace with a seating area.
The bed was like a cloud, and it gave me the best sleep I'd had since moving out of my London home almost a month earlier.
Because I was on the top floor, I could see the Sacre Coeur from my terrace and my bathtub! What a way to start a year of travel.
Fancy hotel rooms always call for a solo dance party too, so you best believe the bluetooth speaker was put to good use. Anyone else do that too, or am I a weirdo?
While I was obviously treated to an extra-special room, all of LAZ' Hotel's rooms are brilliant, comfortable and almost brand new.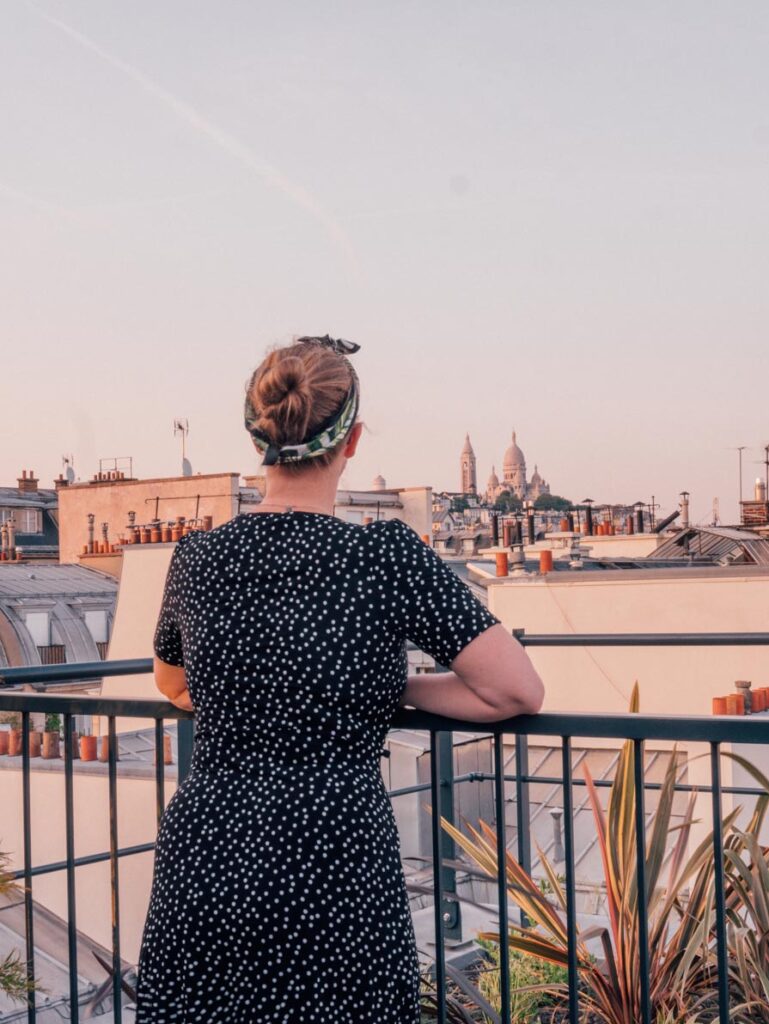 And the other facilities?
A mid-range (in terms of price) hotel in Paris with a pool is hard to come by, so LAZ' really stands out from the crowd. The pool isn't huge but it's just what you need after a long day of exploring the beautiful city by foot.
There's a lounging area down by the pool, and a steam room and sauna too. For gym bunnies, there's a room with a bike, a treadmill and some weights to help burn off the cheese and croissant calories.
If you're looking for some proper rejuvenation, the hotel is also home to a wellbeing centre that offers massages for an additional price.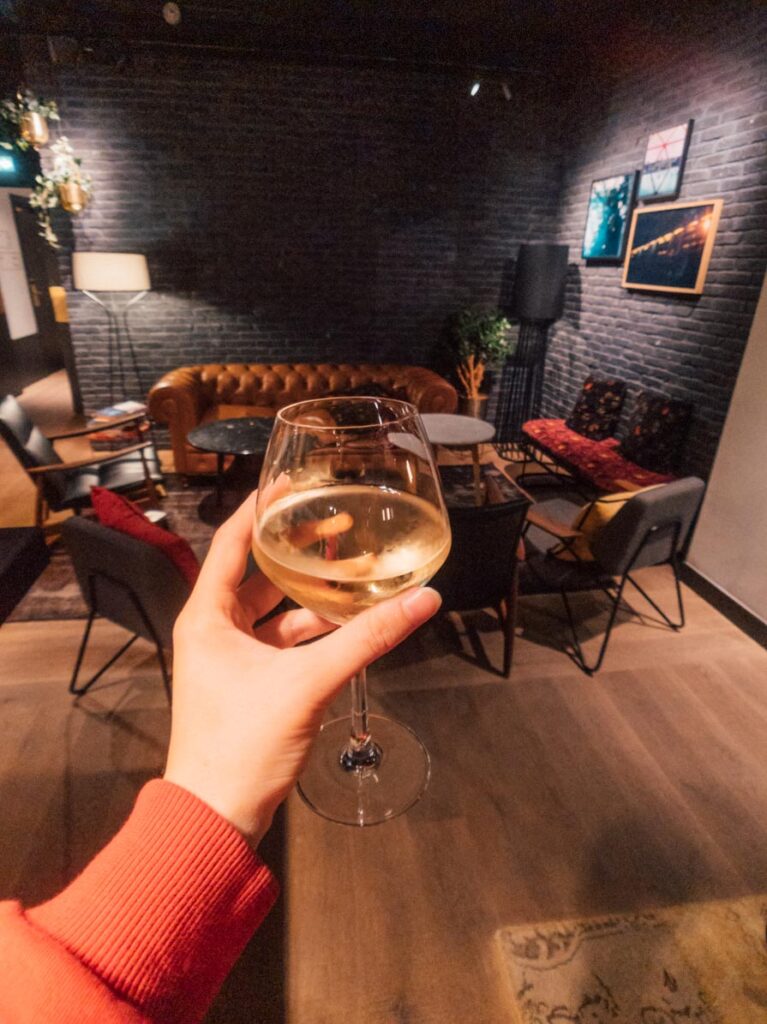 Where is LAZ' Hotel?
One of the best things about LAZ' is its location, right in the middle of the 10th arrondissement and within close walking distance to some of the best shopping in the city.
Galeries Lafayette (a huge department store with a must-see stained glass dome ceiling) and Printemps (another department store) are 900m away, and you can easily walk to the Sacre Coeur (1.4km away), the Louvre (1.9km away), and the Arc de Triomph (2.4km away).
Liège Metro Station is just around the corner and Gare Saint-Lazare (a major train station) is a six minute walk.
If you're fancy and book a room with a terrace, you might even get to see a couple of Paris' landmarks right from your deck. I could see the Sacre Coeur and Montmartre, the top of the Eiffel Tower and L'Opera, and even got a stunning private view of the Bastille Day military flyover. So epic.
Does LAZ' Hotel serve breakfast?
It does, and it's a delicious mix of cheese and deli meats, pastries, bread and condiments, cereals, and hot dishes. Breakfast isn't included in every booking so be sure to check the terms when you reserve your room.
The final verdict
Paris accommodation is infamously expensive, and unfortunately the standards usually do not meet the expectation based on what you pay. LAZ' Hotel is one of the few places in the city where that's turned on its head.
This hotel is absolutely stunning, and offers a level of comfort, service and convenience that hotels twice the price don't even provide.
With stunning interior design, excellent staff who go above and beyond, and a location that puts you right amongst some of the classiest streets in Paris, I guarantee you won't be disappointed. I look forward to staying at LAZ' again on my next Paris trip!
Check the price and availability at LAZ' Hotel for your travel dates here
I am so obsessed with finding insanely good value hotels! Have you ever stayed somewhere that was worth way more than you paid? Tell me in the comments and I'll add them to my hotel bucket list.
---
Like this blog? Pin it!
Check out my ultimate Paris travel tips here, and see all my Paris photos on Instagram @findingalexx
Huge thanks to LAZ' Hotel for hosting me for one night. As always, all opinions are my own and are based on my experience.