On our recent
Portugal road trip
, our Cascais hotel was definitely a highlight. My travel buddy, Bex, said all you need to know about
the Oitavos
as we drove down the drive way. "Are you f*cking kidding me?" It's a full on five-star luxury resort, and it looks it the second you see it. Massive mirrored panels, three wings sticking out into the surrounding golf course, with smiling staff waiting for you just through the entrance.
The downstairs lobby is huge, and includes a rental desk for bikes and surfboards, a concierge who can help with surf lessons, horse riding, hiking and more. There's also a couple of eating areas, and a huge outdoor space including a gigantic pool surrounded by deckchairs.
The room
Our room was just as shocking (in a good way!) and elicited a similar response from both of us. We had fluffy robes and slippers, the bathroom area looked like a beauty spa complete with a giant bath and a dedicated skincare/make up seat with proper lighting, and the balcony looked over the golf greens and across to the coast.
The bed was maybe the biggest bed I've ever seen, so (naturally) we jumped on it for a couple of minutes. The toilet was even noteworthy, it had buttons along the side for different settings of washing and drying. Hilarious!
The food
We got dressed up (fake it 'til you make it…) and headed downstairs for a drink at Ipsylon. The restaurant offers European cuisine all nights plus a sushi bar on Fridays and Saturdays. We were there on a Sunday 🙁 but luckily, dinner was delicious! I'm no high class diner (in fact I'm probably the opposite) so it was fun to treat ourselves to a five-star meal as well.
I had seared tuna, Bex had the fish, and we shared a salted caramel chocolate mousse that was, for lack of a cooler word, delectable. The waiter also made me a special glass of sangria with all my favourite flavours; it had white wine, passionfruit, orange, strawberry and mint. Deeelish.
The facilities
After dinner we had time to explore the downstairs pool and spa area. The pool itself is huge – I guess everything at
the Oitavos
is kinda huge – and there were some hydro-massage jets which were as painful but as helpful as an intense physio session. There's a hot tub too, as well as a sauna and a full-on spa that's open during the day, offering massage, beauty treatments and balneotherapy, which is the therapeutic use of mineral and thermal waters, muds and gases. Thanks Google!
More food
Breakfast topped it all off, with a total of about eleven plates being eaten between the two of us. There were cooked options along with a table (!!!) of cheese and breads, deli meats, fruit, cereal, salads, juices and more.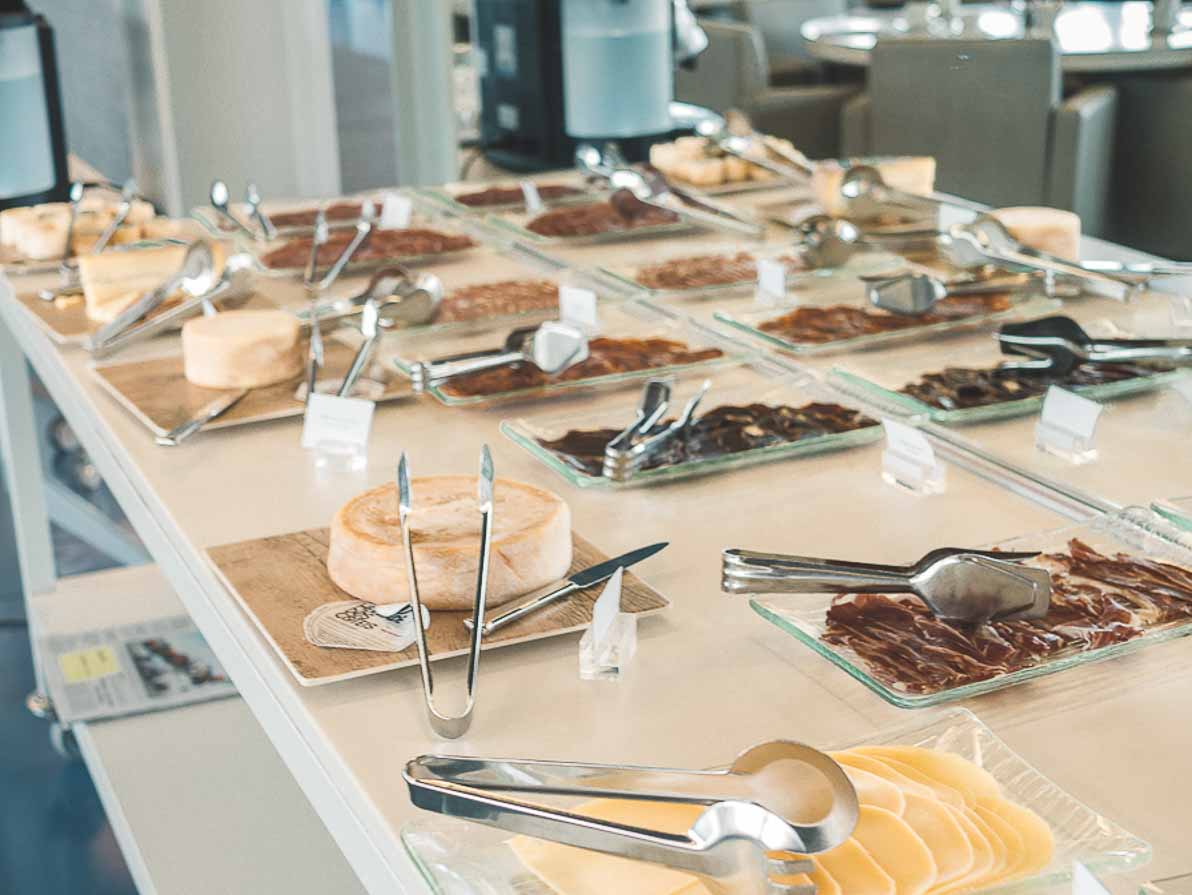 The verdict
Unfortunately our overnight stay in Cascais didn't let us take advantage of all
the Oitavos
had to offer, so I'd love to go back for a couple of days and get the proper experience.
If I had three days I would love to try out a horse trek, a cycling track, enjoy some time at the coast, treat myself to a balneotherapy session, venture into Cascais for some food and try out the Verbasca restaurant at the on-site golf course.
It would be the perfect place to stay for a family, couple or friends looking for a resort experience; but it's still close enough to Lisbon to easily pop into the hustle and bustle for some city fun. Definitely recommend it for anyone looking for a place to stay on the coast!
Thanks to the Oitavos for hosting us for the night. As always, all opinions are my own and are based on my personal experience.