Please note this blog contains affiliate links that give me a small commission from any purchase, at no extra cost to you. I would never advertise anything I wouldn't use myself, and this commission helps Finding Alexx reach more travellers. Thank you for supporting me!
Back in June I celebrated my leap of faith into funemployment with a week on the Adriatic Sea, island hopping in Croatia with Medsailors. And, no surprises, I LOVED it. Here's my ultimate guide to any Croatia sailing holiday (or any other sailing holiday probably!), with all the best tips, tricks and advice to help you hit the ground running sea sailing.
Want to see more? You can read a diary about our week at sea right here, see all my best photos from the week here, or find out why you HAVE to give Croatia sailing a go here.
Skip straight to what you're looking for: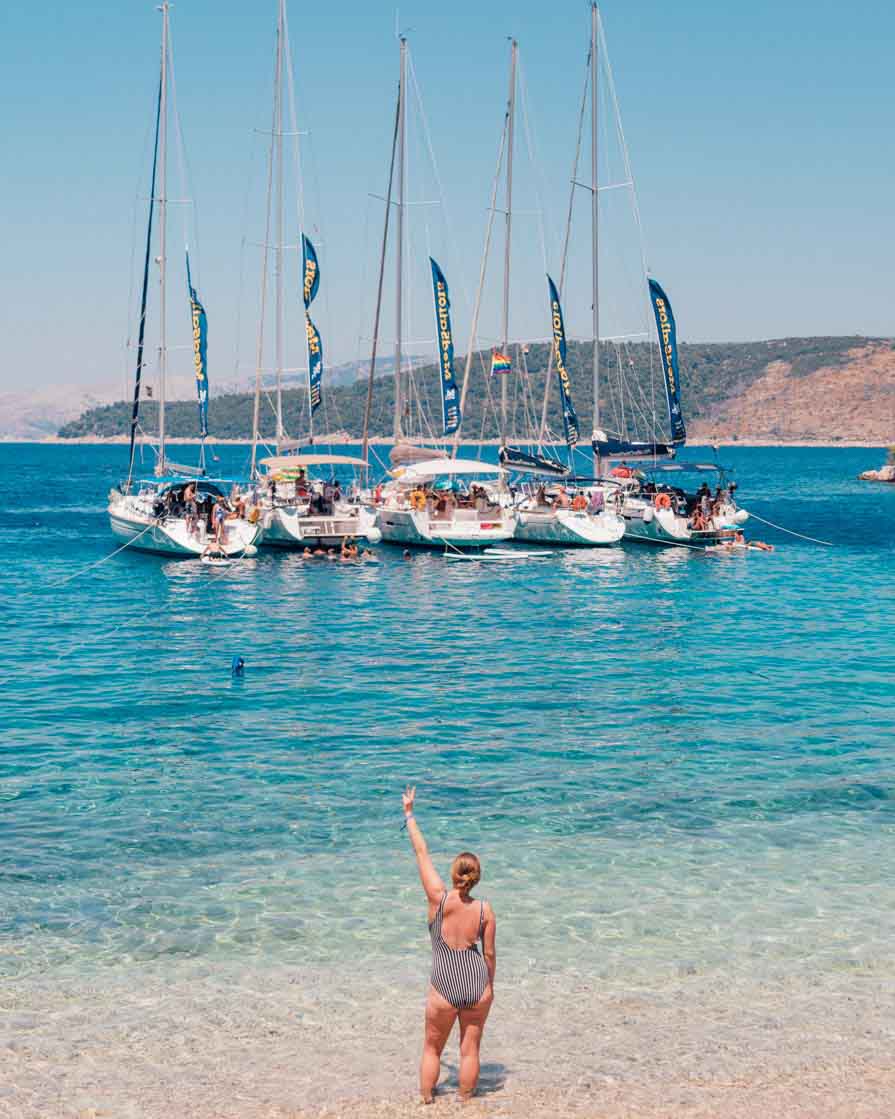 ---
Find the best Croatia sailing company and route for your vibe
From private luxury charters to self-sails to full on party routes to active adventures, there's a sailing company out there for every budget, group, age and travel style.
We went with Medsailors, one of the most well-known sailing companies for 20-35s, and it was exactly what we wanted. Their boats were decent quality but prices were still budget-friendly, there were no 18-year-olds on their first trip away from home, they allowed BYO drinks and snacks which kept costs down, and they have a couple of different destinations and routes to choose from.
Medsailors operates in Croatia, Greece, Italy, Turkey and Montenegro, and in Croatia they've got two routes to choose from: the Discovery route or the Voyager route. Medsailors Croatia Discovery is kind of the classic sail Croatia tour, with a huge focus on partying and social events, and I've heard only positive things about this trip!
Because we were looking for a bit more rest and relaxation than bright lights and dance floors, we went for the Voyager route, which ticked off smaller islands, had less boats in the flotilla, and a slightly older crowd (mainly mid to late twenties on our week).
Some companies are known for active experiences, some are known for their massive raft parties, some are known for skippers who do lines while they're sailing (yes, for real), and some are known for being fancy AF. Each to their own, but do your research about the options first to make sure you know what to expect.
---
Go big or go home
I'll say this once, if you can afford the catamaran upgrade, DO IT.
Each company has different boat styles, ranging from wooden pirate ships to floating backpacker hostels to comfortable 50-foot yachts. We opted for the Premier Plus (mid-range) option on Medsailors, but would 1000% recommend spending a bit more per person to get the catamaran.
You get more bedroom space, nicer bathrooms, a better social area so your skipper isn't closed off while he or she cooks you food (you lazy mofo!) and a huge net on the front which doubles as a second sleeping option.
I'll absolutely be going for the catamaran on my next trip, hands down.
---
Which bag is best?
Do as I say, not as I do! The best bag for any Croatia sailing trip is a soft duffel bag by far. DO NOT bring a large suitcase because it probably won't fit anywhere on the boat except for in the middle of the lounge area.
Because I was at the start of a year-long trip I was stuck with a hard-shell cabin bag, which fit in one of the cupboards, but it wasn't ideal. I had a large suitcase too but managed to store that in Dubrovnik for only €5 a day while I was sailing, which was ideal! I use Stasher for luggage storage, they've got storage spaces in major cities all over the globe.
Duffel bag, soft-shell case, backpacks would all be totally fine.
---
Nibbles and tipples
Each company has their own policy around what food and drink you can bring on board, but Medsailors is totally BYO for drinks and snacks so I'd recommend going for something similar.
The non-BYO companies often have pricey drinks lists and they add it to the tab over the week, meaning you're slammed with a bill in the hundreds as you check out of the final marina. Not nice!
If you can bring your own booze, try and decide as a boat what type of drinks you'd like so you're not doubling up on spirits, then top up with mixers as you go. In terms of snacks, go for fresh fruit (no bananas on boats though, it's a superstition!), bakery goodies, muesli bars, sweet treats, crackers etc. There probably won't be much fridge space (because alcohol, duh) so keep that in mind.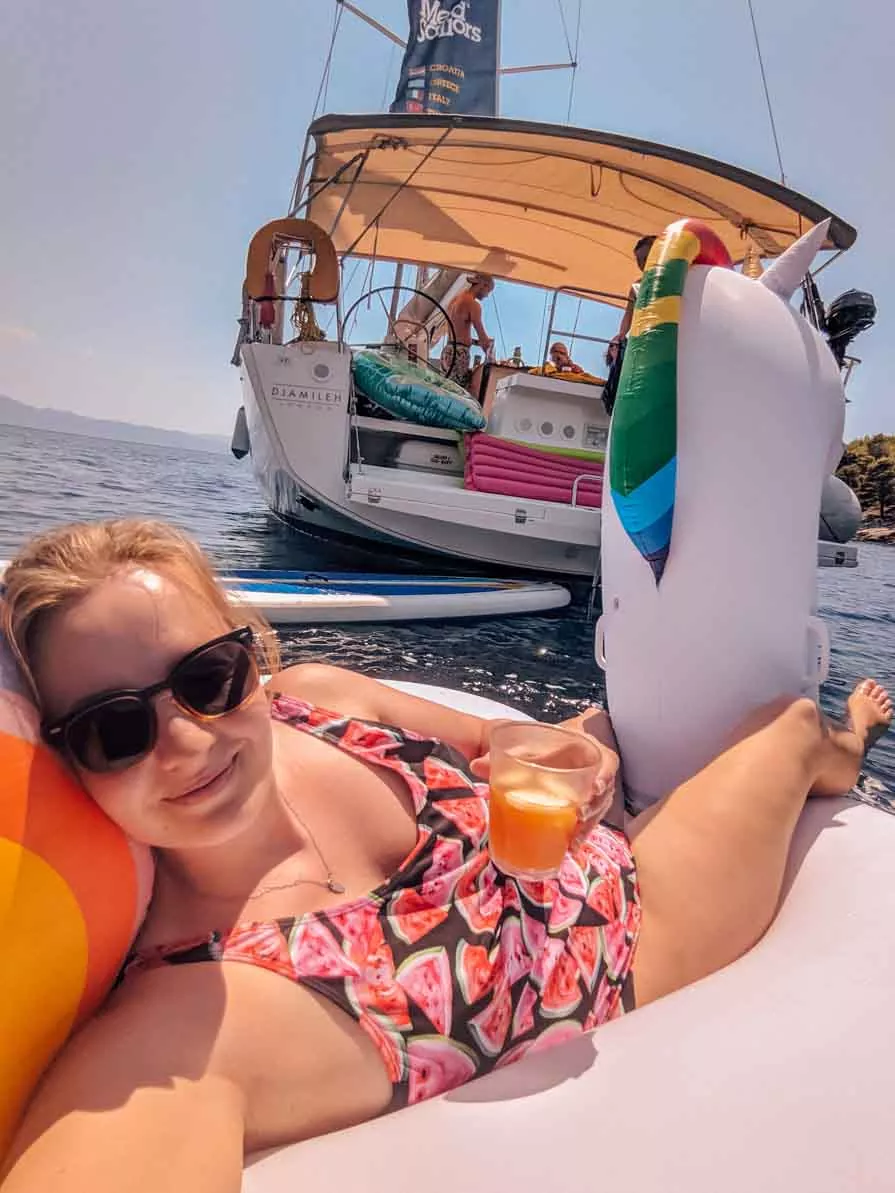 ---
Things you can't sail without
Here's a definitive list of things you need for any Croatia sailing holiday. If you're travelling as a group or with a friend then go through this together to make sure you have each item covered.
Drinks and snacks
As above.

Milk thistle


Milk thistle

is a natural supplement which helps prevent hangovers. Take one before you drink and again before you go to sleep and wake up feeling a million bucks. I'm no doctor but apparently it works by making your body detox faster (any medical professionals wanna confirm or correct me on this one?) and it will change your life. Get in on

Amazon

or at any pharmacy or health store. You're welcome!

Seasickness tablets
Croatian seas can be very calm a lot of the time, we only had one day that was even slightly rough and even then no one was actually sick. Best to be prepared though!

Any medication you might need
This seems like an obvious one but one of our friends on our boat is deathly allergic to peanuts and he forgot his epi-pen (men, amirite?). You're going to be sailing around islands that likely do not have fully stocked pharmacies or doctors offices so take anything you might need, as well as some paracetamol, ibuprofen and antihistamines.

Sunblock, a hat, and after-sun
For obvious reasons. Put sunblock on first thing and make sure you re-apply after swimming.

A waterproof speaker
Bex's

UE Boom

was an absolute hit all day every day.

Insect repellent
There didn't seem to be too many mozzies when we were there but it completely depends on your location and the weather. Wasps are inevitable though unfortunately, especially if you make a big delicious bowl of punch!

A multi-port USB charger and power banks
The boats don't have a huge amount of charging ports, and when you're not on shore power (i.e. any time you're not docked) you might only be able to use one or two mains plugs. Take a four (or more) port USB charger and then you can charge multiple phones, cameras and speakers from one plug.

I'd also recommend taking a decent sized power bank, in case the plugs are being used or you raft up overnight without shore power. I have a huge

20,000mAh Cygnett one

which can charge my phone, camera, GoPro and speaker multiple times before running out of juice, and I've got a smaller

10,000mAh one

that I take with me on day trips away from the boat.

A quick dry towel
You'll be swimming all day erryday so take a decent towel that's lightweight and dries quickly. I've got

this one

by Dock & Bay and it was perfect.

Not too many clothes
I'm not exaggerating when I say that all I wore the entire week was three pairs of togs, three playsuits and one skirt and top combo. That's it! Take one fancy outfit if you must (some yacht companies hold a white party which is fun to get dressed up for) but the rest of the time I guarantee you'll be in swimwear and comfy clothes so don't over-pack.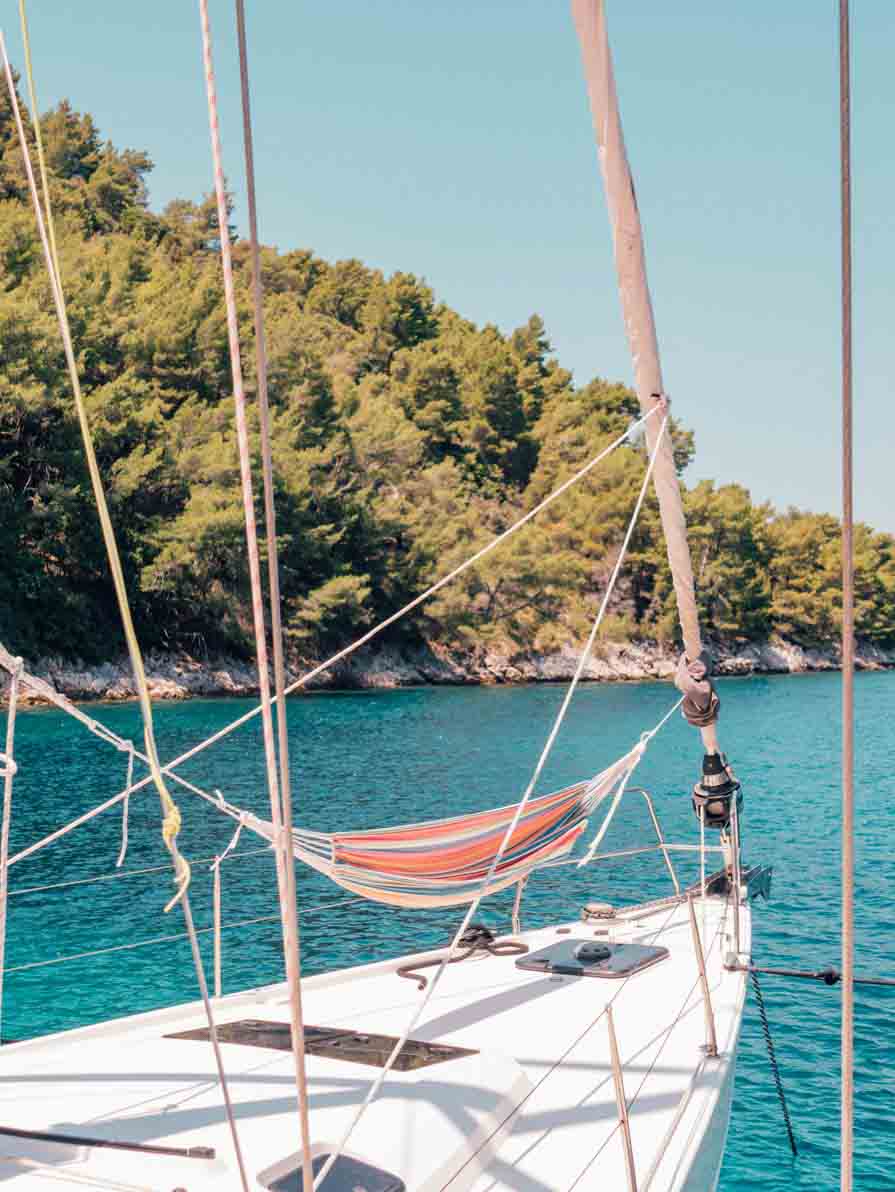 ---
What to budget for your Croatia sailing trip
First of all, check to see what your Croatia sailing trip includes. When you book a Medsailors trip it includes your skipper as well as breakfast and lunch cooked for you every day, but there's a local payment of about £70 when you check in for marina fees and fuel. Some companies don't include any food, and some have an extra cost if you want a hostess who cooks meals.
Croatia isn't as expensive as some European countries but food costs are definitely on the rise with the increase in tourism. Dinners generally cost anywhere from 70 kuna to 140 kuna depending on what you get, and expect to pay around 40 kuna for a cheap bottle of wine, 15-20 kuna for a bottle of beer, or 50-80 kuna for a nice cocktail. Food and drink prices really do add up, so another reason to go for a company that allows BYO for pre-drinking (and pre-eating if you're really on a budget!).
YOU MIGHT ALSO LIKE: 8 epic scuba diving holidays for beginners
Outside of food, the other costs to be aware of are transport costs and activities. We didn't spend much on transport as Medsailors included two taxis (one to Hvar and one to a lavender farm and back), and we were staying in marinas close to where we were eating and exploring so no need for extra water taxis or land transport.
A friend of mine recently did Sail Week Croatia though and spent quite a bit on water taxis, as the marinas they were at were far from where they were drinking every night.
For activities, the only extra things I had to pay for were a jet ski ride (around 150 kuna for 15 minutes) and hiring an e-bike (100 kuna for the afternoon).
Remember that lots of places on the smaller islands will only take cash and there won't always be an ATM available, so get money out before you leave Dubrovnik or Split.
---
Keeping clean
You're on a boat, so you're going to have to get used to things not being squeaky clean. We had ten people on our yacht and two bathrooms, but one bathroom got clogged up and pretty gross by the end of it.
I'd recommend taking hand sanitiser, doing your business at the marina bathrooms when you're docked when possible, having a proper hose down on the back of the boat after swimming so you don't need to use the tiny indoor shower every day, and if you'll need a mirror for make up etc. then consider bringing a handheld one with you to avoid standing inside a stinky bathroom.
I travel with Ethique toiletries everywhere I go, they're shampoo, conditioner and body wash bars that are zero waste, able to be taken in carry on and last way longer than liquid soaps and shampoos! An absolute game-changer for travellers, and so perfect for a week on a boat. They've also got laundry bars, hair masks, baby and pet bars too, you can see their full range here.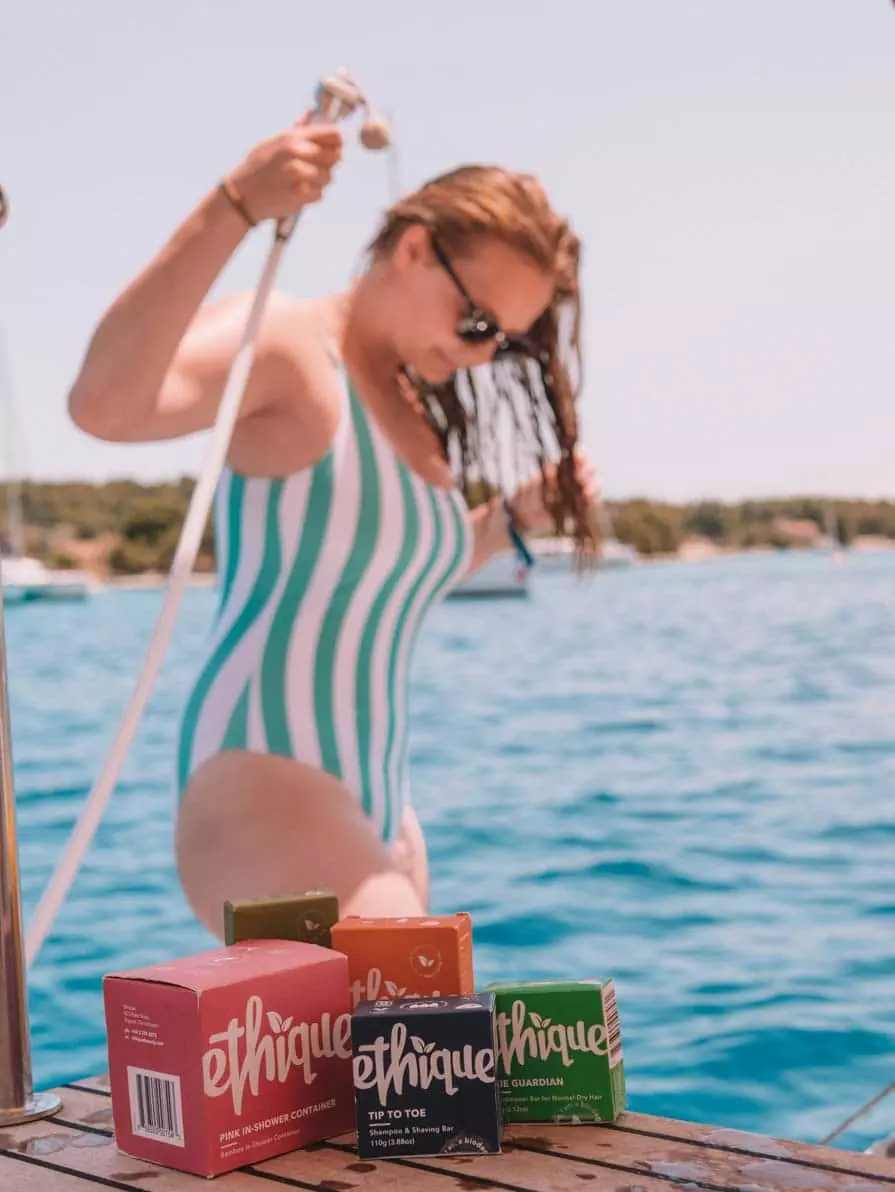 ---
Be careful of plastic use
Croatia is terrible for plastic use, they give you supermarket bags for two items, multiple plastic straws in each drink and there's bottled water galore because you can't drink tap water in some places. As travellers we have the responsibility to be aware of our plastic use and footprint, so please keep this in mind when you're on the road or on the sea.
Medsailors is doing some great stuff to minimise plastic use for their guests, with sustainable bags for everyone when you check in, drinking water on every boat so you can fill up your drink bottle, and a floatie recycle programme where you can purchase the previous week's floaties for a small donation, and then donate it again to the next week's guests. Our beautiful blow up unicorn is still living his best life sailing up and down the Adriatic coast all summer.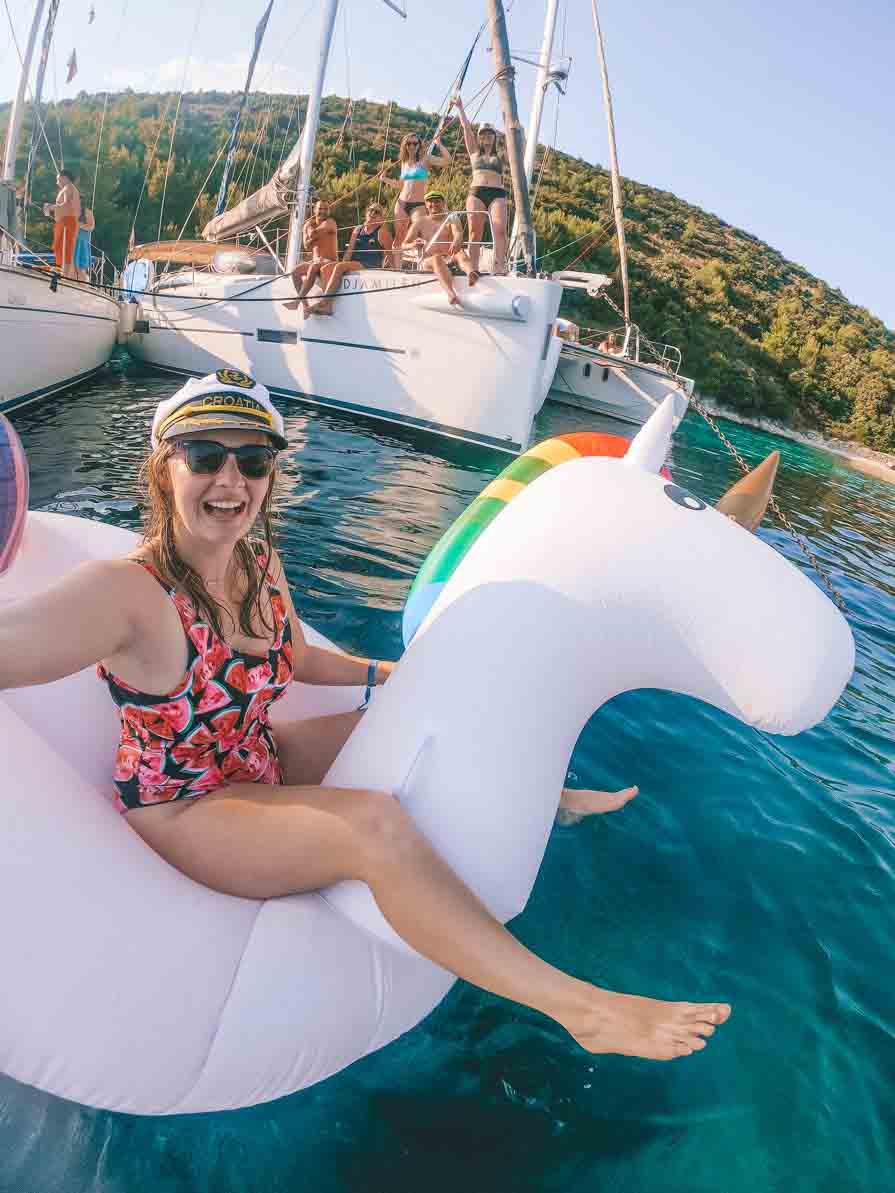 ---
Tempted to lock in your own Croatia sailing holiday yet? I don't blame you! We had an AMAZING time with Medsailors, I'm already excited to see Greece or Turkey with them next year. You can see all the Medsailors Europe sailing routes right here.
I hope these Croatia sailing tips and tricks have helped you prep for your adventure on the water! If there's something important I've missed or if you have any questions just flick through a comment and I'll add it onto the blog. Happy sailing!
Like this blog? Pin it!
You can read more of my Croatia sailing blogs here, and follow me on Instagram to see all my best travel photos.
MASSIVE thanks to the legends at Medsailors for hosting me and a friend on this trip. As always, all opinions are my own and are based on my personal experience.