Please note this blog contains affiliate links that give me a small commission from any purchase, at no extra cost to you. I would never advertise anything I wouldn't use myself, and this commission helps Finding Alexx reach more travellers. Thank you for supporting me!
You'd be forgiven for not knowing much about Ghent, as it seems to fly under the radar of lots of Belgium's tourists. I skipped it on my first trip to Belgium in favour of bustling Brussels, super cute Bruges and the hipster hangout of Antwerp, but I'm stoked that I gave Flanders' second-largest city a chance during week #3 of my 52 in 52 adventure. Turns out there are loads of quirky things to do in Ghent, not to mention a vibrant food scene and one of Europe's biggest cultural festivals!
Ghent is an easy day or overnight trip from Brussels or Bruges, but there are more than enough things to do in this charming city to warrant a long weekend trip too. Here's a bunch of interesting things to see, do and eat in Ghent.
YOU MIGHT ALSO LIKE: All the FAQs about my 52 in 52 adventure
Or skip straight to: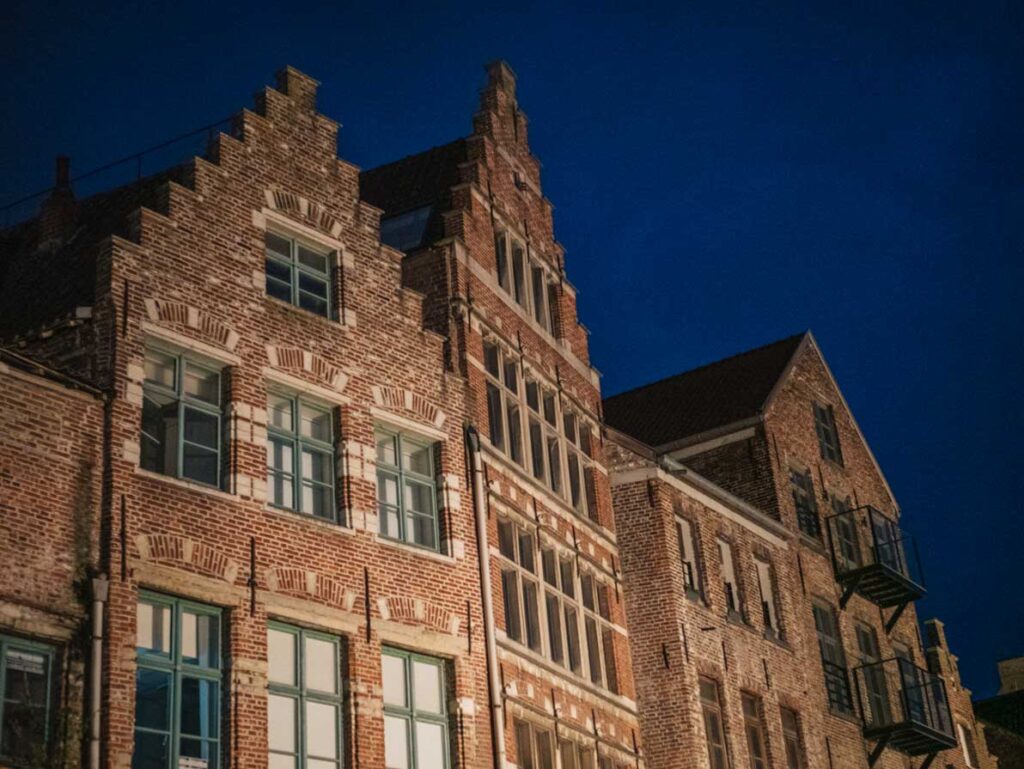 ---
Ghent travel basics
Is it Ghent or Gent? Ghent is the English name of the city and Gent is the Flemish name.
Currency: Euro (€)
How to pay for things: Card is accepted in most places, and there are ATMs all over the city
Language: The official language of the Flanders region, where Ghent is, is Flemish, but most people speak English too (especially anyone working in hospitality)
Weather: Mild year-round, rain is common
Best time to go: The city hold a huge music and theatre festival, Gentse Festeen, in mid to late-July, which is an epic time to experience Ghent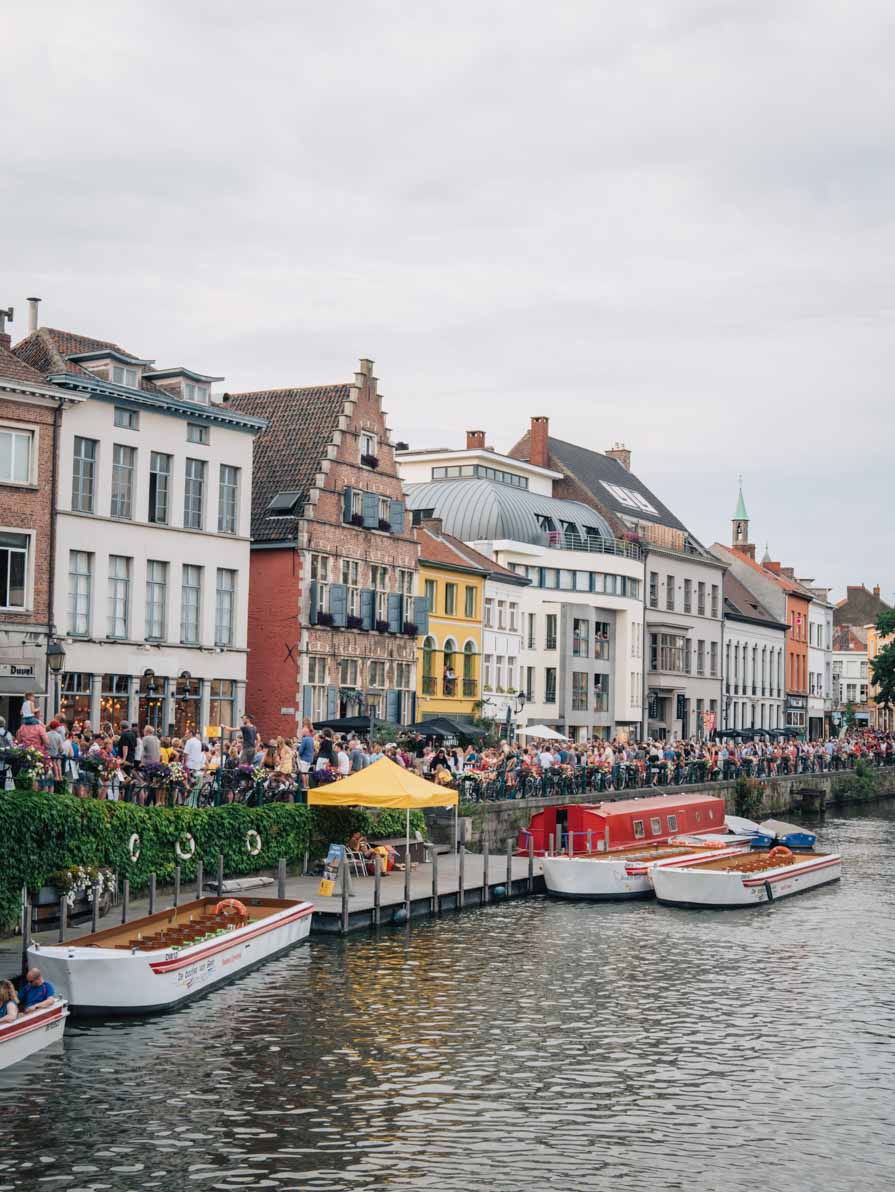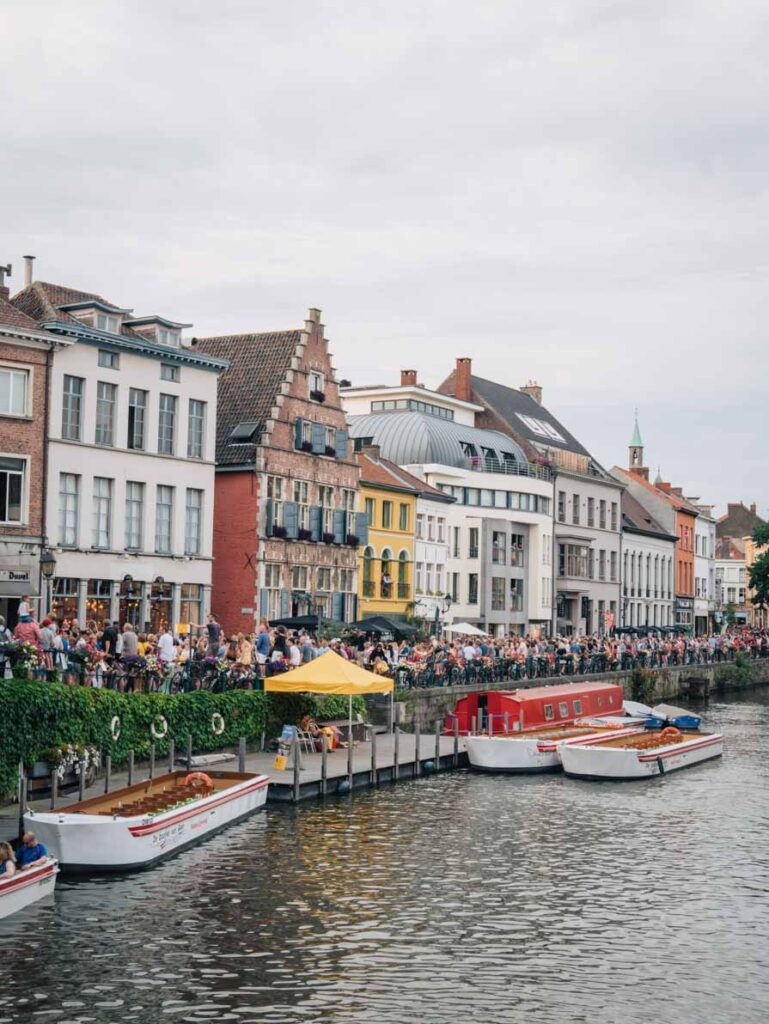 ---
15 epic things to do in Ghent
Experience the festivities of the annual Gentse Festeen, with music, art, theatre, comedy and fashion shows all through the city
Take a canal tour to hear about the city's history from the water
Visit the 800+ year old St Bavo's Cathedral, an 89 metre tall Gothic church
Wander down Werregarenstraatje, an alleyway covered in graffiti
Search for the city's best street art. There's incredible graffiti all through the city that you'll discover as you're going about your day, but you can see a more detailed street art guide

here

.
Add to your vinyl collection with a special purchase from one of the many independent record stores, like Music Mania, Vinylkitchen or Vynilla
Visit Kouter flower market on a Sunday morning for the perfect start to the day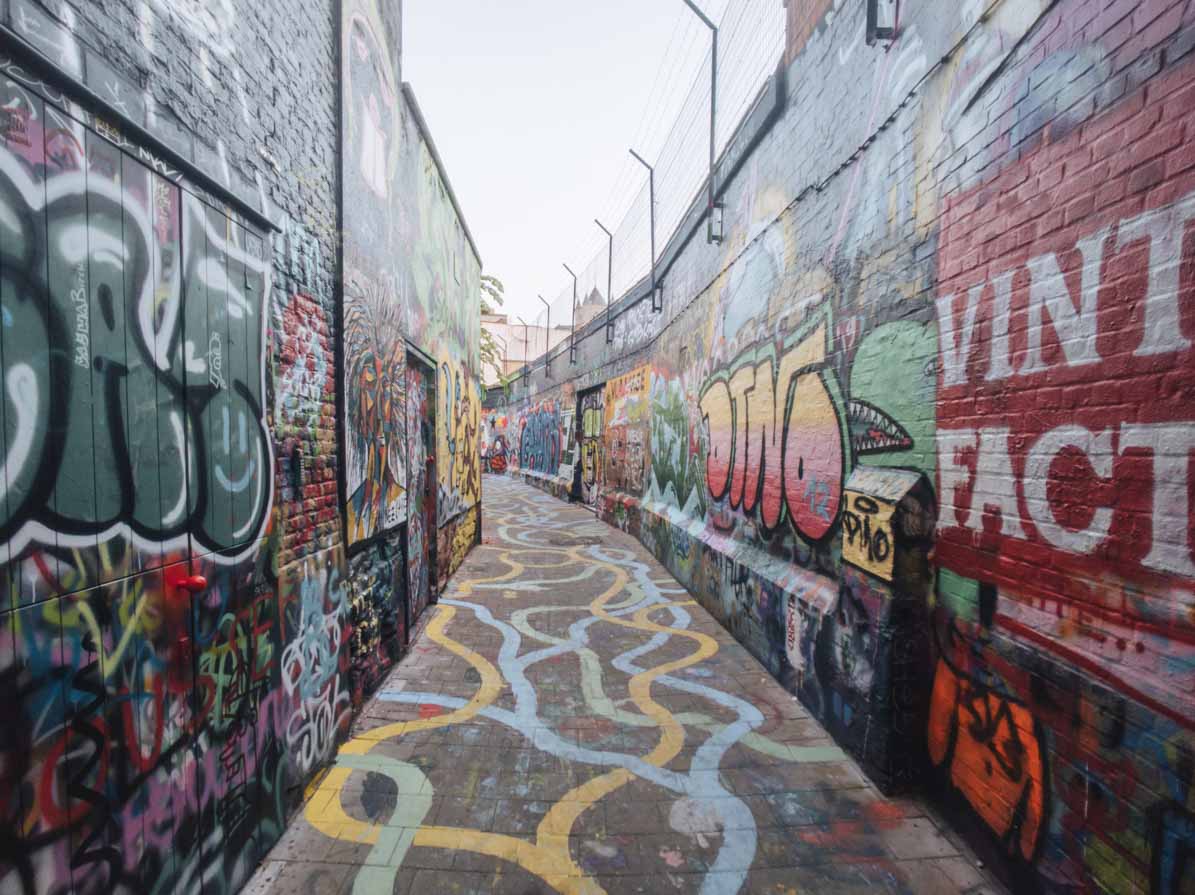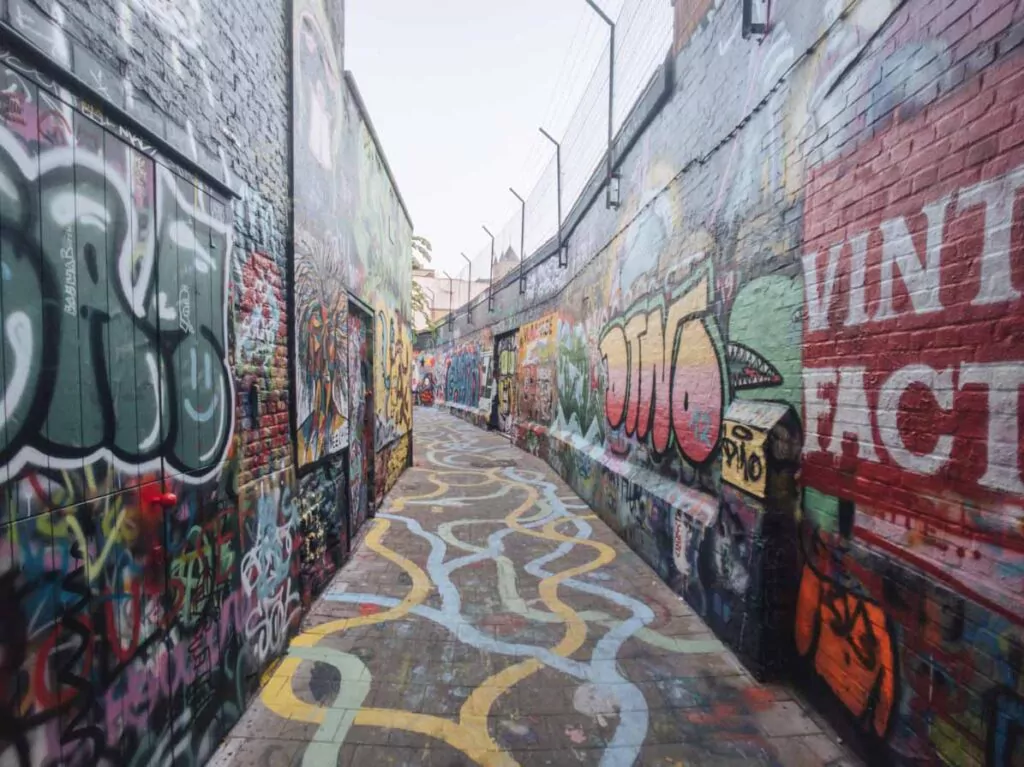 Climb the Belfry Tower for an incredible view of the city
Learn all about 12th century Ghent at the Castle of the Counts
And nearby, watch the Ai Nati Oggi street lights flash each time a baby is born in Ghent
Hang out at Korenmarkt, one of the city's beautiful main squares
Design geeks can't miss the Design Museum
Find some of the best city's restaurants and bars in the Medieval Patershol neighbourhood
See the view up and down some of the main canals from St Michael's Bridge
Eat at wallet-friendly food trucks and search for flea market bargains at Vrijdagmarkt on Fridays
Pay a visit to MSK, the Museum of Fine Arts in Citadelpark, to see a huge collection of Flemish and other European masterpieces
---
15 of the best things to eat in Ghent
From traditional Belgian favourites like frites and waffles to local delicacies you won't find anywhere else, Ghent is a real culinary hidden gem. Here's some of my suggestions for the best food in Ghent that you just can't miss.
The classic Ghent dish of waterzooi, a creamy stew traditionally made with fish but now often made with chicken.

't Klokhuys

and

't Vosken

are known for their waterzooi.
Take a quick break at the Kouter flower market for a klapke (a glass of white wine with an oyster)
The best pizza in town from

Otomat

, complete with expert beer pairings
Soup from one of the cheapest eateries in the city,

Soup'r

DIY pasta dishes from

Bavet

Delish burgers from

Paul's Boutique

The most Instagrammable drinks in the city, the freakshakes from

In Choc

(warning: you will definitely fall into a food coma)
Choc fiends, this one's for you.

Charlie Tours

runs a chocolate walking tour that takes you to seven of the best sweet shops in the city!
Organic tea and vegetarian dishes at

Lokaal

Waffles from

Brasserie Agrea

Kroakemandels, a local dish of salted peas deep fried in oil, available during the Ghent festivities
Cuberdons, a traditional Ghent candy with a soft raspberry centre
Fries with loads of different sauce options from

De Frietketel

A Michelin-starred meal from the ultra-trendy

Publiek

, run by two local Flemish foodies
A traditional Belgian fruit beer, ask your waiter for recommendations when eating at a restaurant and you won't be disappointed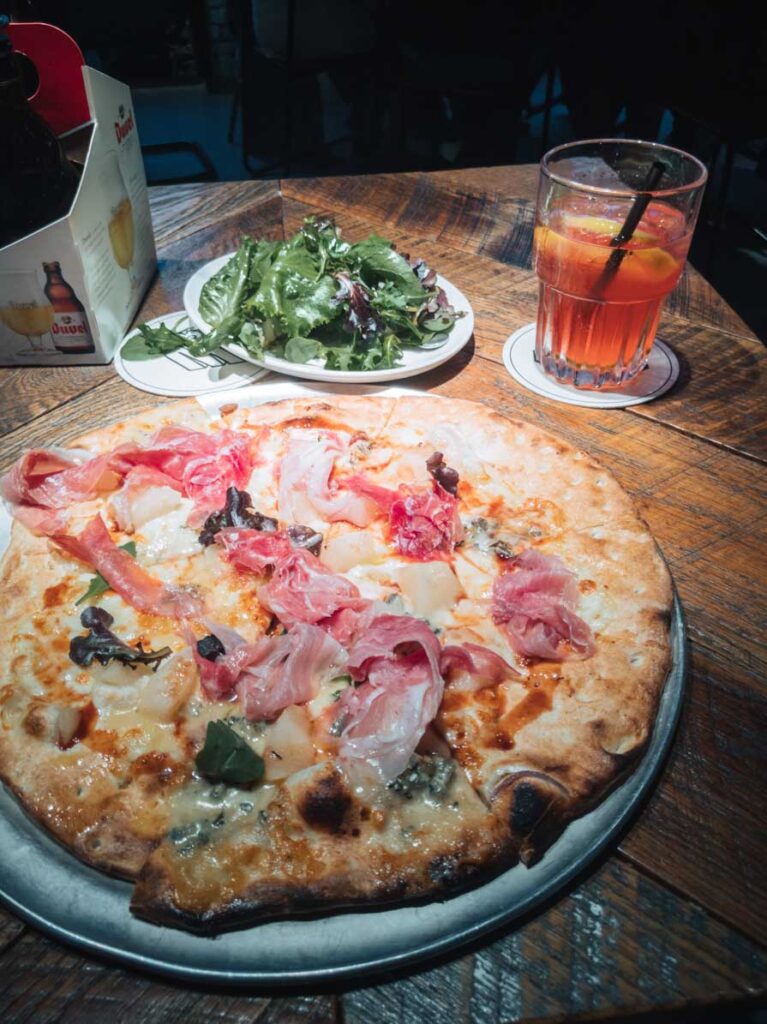 ---
How to get to Ghent
Ghent is a 35-40 minute train from Brussels, and a one way ticket will set you back €9.
---
How to get to Brussels
The easiest way to get from London to Brussels is by train. The Eurostar will take you from London to Brussels, then you can easily get a ticket from Brussels to Ghent, Bruges or any other Belgian city or town.
Book your London to Brussels train on Klook and save 5% using the promocode ALEXXH05
If you book early enough and travel in the low season you can find London to Brussels train tickets from only £29 one way, or if you're booking at a busier time expect to spend between £45 and £60 each way. The Eurostar trip takes about two hours.
If you're coming to Belgium from other European cities, check out your train options here or search cheap flights to Brussels on Skyscanner.
---
TRAVEL TIP:
I find all my flights using Skyscanner! You'll get the best deal if you're flexible on where to go. Just put in your origin, your departure date (or month) and type 'everywhere' into the destination bar to see the cheapest locations to fly to on your next holiday.
---
---
Looking for somewhere to stay in Ghent? Check out all the hotels and apartments right here, and don't forget to sort by 'review score and price' to see the best value options first.
Are you thinking of adding Ghent onto your Belgium trip? Let me know in the comments below.
Like this blog? Pin it!
Read more about my 52 in 52 adventure here, see all of my blog posts from the trip here, or check out my Instagram @findingalexx to see all of my travel photos.
---
All the basic details from my big 52 in 52 trip:
How do you find your flights? Skyscanner! I use the Everywhere tool to find the cheapest place to fly to each Tuesday
Do you fly every week? Not every week no, once I have the destination I check trains and buses to see if there's any other transport options aside from flying. If so, I usually book these using the Trainline app.
How do you book your accommodation? I book all my hotels, hostels and apartments on either booking.com or Hostelworld.
Do you have travel insurance? YES, I always travel with travel insurance and you should too. I'm insured for an annual policy with Worldcare NZ.
Do you offset your carbon credits? I sure do! I always offset when I book if the airline gives me the option (Ryanair does), and I also offset all my flights using Co2nsensus.com.
What luggage do you travel with? I travel with a 75cm Samsonite Cosmolite suitcase, a matching Samsonite Cosmolite 55cm cabin luggage hardcase, and a cheap laptop backpack.
What camera do you use? You can see the full list of what's in my camera bag right here.
What laptop do you use? I have a super portable HP Spectre x360 13.3″ laptop, which is an absolute dream to travel with.
For more FAQs about my 52 in 52 trip, see this post.
---
Huge thanks to Visit Ghent for providing me with two nights' accommodation on this trip. As always, all opinions are my own and are based on my personal experience.