Please note this blog contains affiliate links that give me a small commission from any purchase, at no extra cost to you. I would never advertise anything I wouldn't use myself, and this commission helps Finding Alexx reach more travellers. Thank you for supporting me!
Here's a big call: I think Bruges is one of my all-time favourite weekend trips from London. My first visit was earlier this year in the second week of January, when it was bitterly cold and half the city was shut after the busy Christmas season, and I still loved it. So when I got the chance to spend 48 hours in Bruges on week #3 of my 52 countries in 52 weeks adventure, I was stoked to be able to see this beautiful city in the summertime.
If you're considering a short break from London to Bruges then I'd absolutely recommend it, and I've pulled together an ultimate Bruges travel guide to help you plan where to stay, what to eat and the best things to see in this super cute city.
YOU MIGHT ALSO LIKE: All the FAQs about my 52 in 52 adventure
Or skip straight to: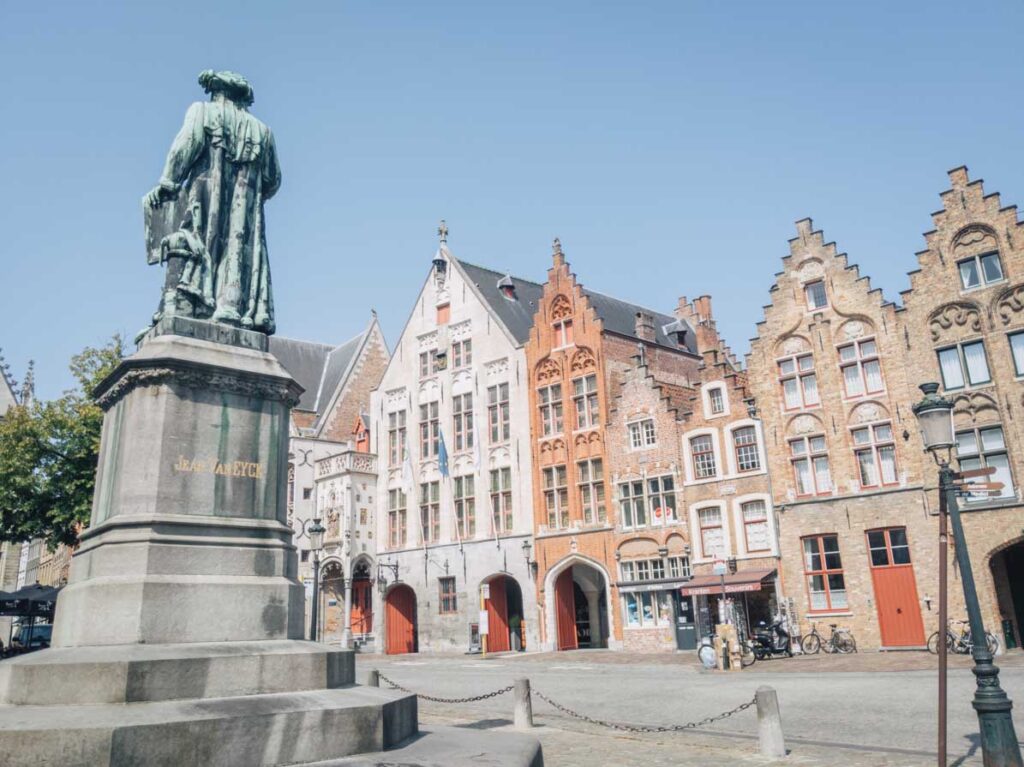 ---
Bruges travel basics
Is it Bruges or Brugge? Bruges is the English/French name of the city, Brugge is the Flemish name. So both!
Currency: Euro (€)
How to pay for things: Everywhere I stayed, ate and shopped at accepted card, markets are more likely to be cash only
Language: The official language of the Flemish region, where Bruges is, is Flemish, but a lot of people (especially in hotels, restaurants and shops) speak English too
Weather: I've experienced Bruges at both weather extremes – the freezing cold of early January and the very unusual heat wave of 40°C in July. June to August are the summer months and normally are a mild warm, but this year Europe was hit by crazy temperatures. November to March can be wet and cold so be sure to bring appropriate wet weather gear.
Best time to go: Bruges can be enjoyed year-round, as long as you've packed the right clothing! I would say avoid January just because a lot of shops and restaurants take a much needed holiday after the craziness of Christmas markets. December is a great time to see some of the best Christmas markets in Europe, but expect to spend more on accommodation than other months. And aside from the intense temperatures I experienced (which was totally abnormal for Belgium) summer in Bruges is stunning.
---
How to get from London to Bruges
The easiest way to get from London to Bruges is by train. The Eurostar will take you from London to Brussels, then you can easily get a ticket from Brussels to Bruges on the Trainline app or from Brussels train station when you arrive.
Book your London to Brussels train on Klook and save 5% using the promocode ALEXXH05
If you book early enough and travel in the low season you can find London to Brussels train tickets from only £29 one way, or if you're booking at a busier time expect to spend between £45 and £60 each way. The Eurostar trip takes about two hours.
Then you'll need to buy a train ticket from Brussels to Bruges. If you're travelling after 7pm on a Friday and returning to Brussels on the Sunday, you can get a weekend return for €15.20. If you're travelling outside of these days, you'll pay €14.10 each way. The train from Brussels to Bruges takes around an hour, and they run every half hour.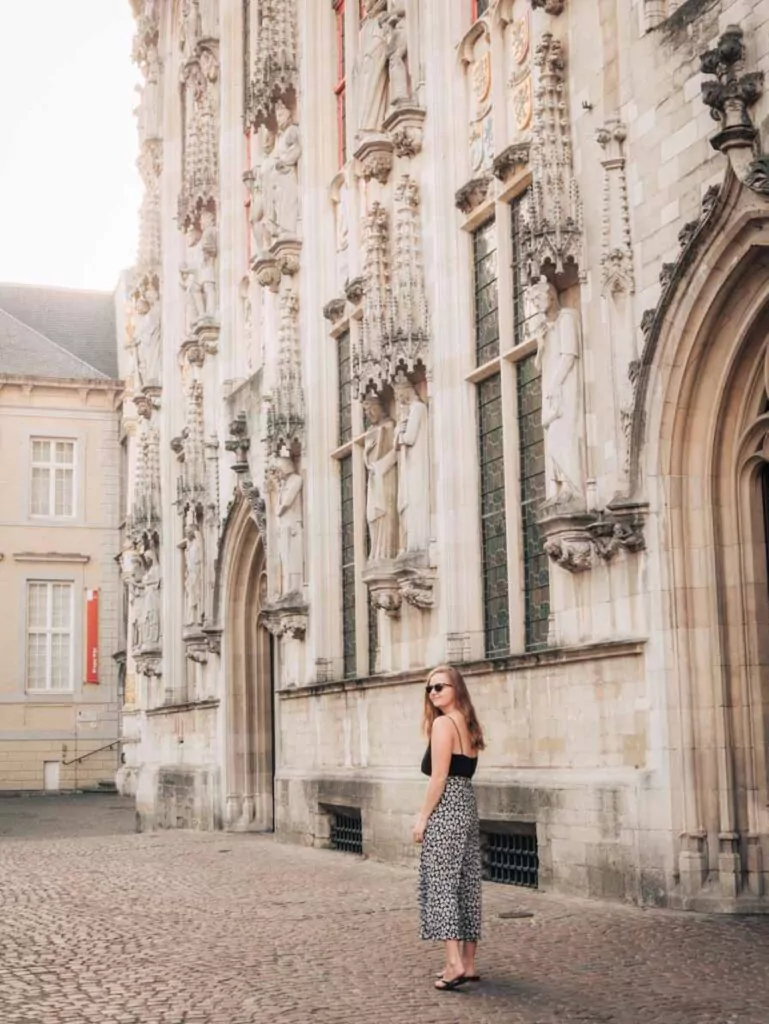 ---
How to get to Bruges from other European cities
Brussels, like many European cities, is a Ryanair hub, so it's super easy to find cheap flights from other major destinations around the continent. I flew from Bilbao in Spain for £27 one way with Brussels Airlines, and flew out to Warsaw for only £12.90 on Ryanair! Adding luggage onto my Ryanair flight cost more than twice the price of the ticket itself.
If you fly into the main Brussels airport, Zavantem or the code 'BRU' on your ticket, you'll need to jump on an 18 minute train to Brussels Central station for €12.70, where you can then switch trains to one going to Bruges.
But if you're flying with Ryanair, WizzAir or another low-cost carrier, you're probably flying into Charleroi, or airport code 'CRL'. Charleroi is further from the city but you can catch an easy one-hour bus for €14.20 from Exit 4 at the airport.
If you're keen to get to the city centre quickly and comfortably, you could look into a private airport transfer. If you've got a full car or van of people then they can sometimes end up being cheaper than everyone getting bus or train tickets anyway! Check out the transfers available here and you'll save 5% if you use the promocode ALEXXH05.
---
TRAVEL TIP:
I find all my flights using Skyscanner! You'll get the best deal if you're flexible on where to go. Just put in your origin, your departure date (or month) and type 'everywhere' into the destination bar to see the cheapest locations to fly to on your next holiday.
---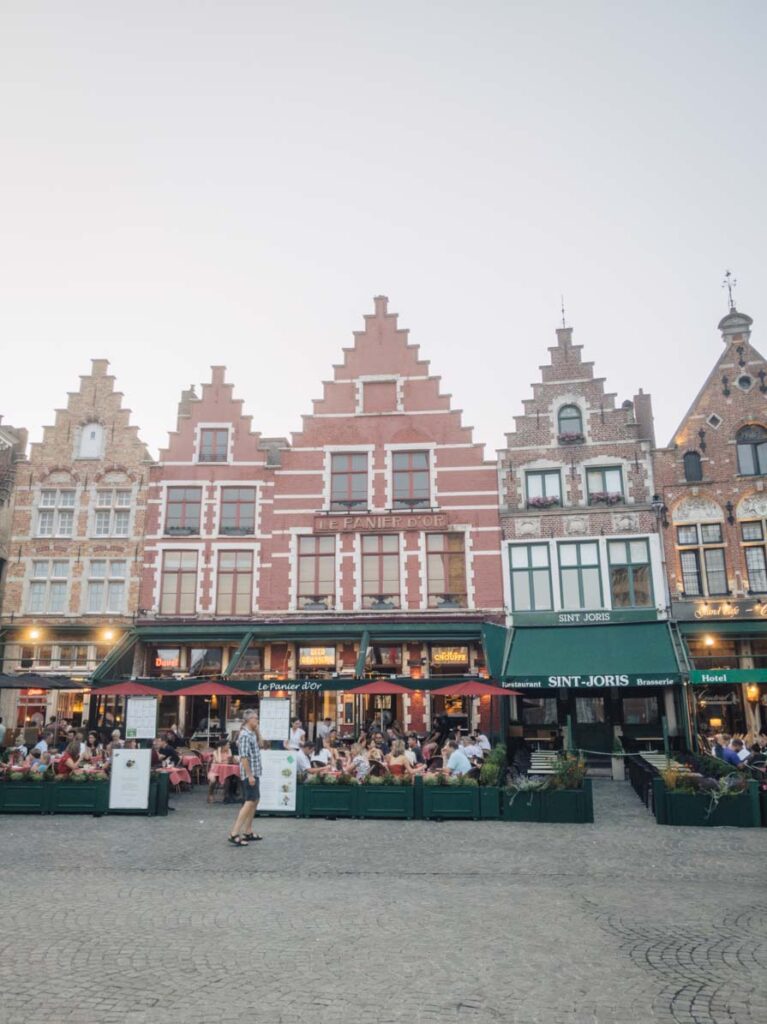 ---
How to get around Bruges
Bruges is really small and compact, so once you're in the city there's no need to drive or use public transport.
The train station is a 20 minute walk from the city centre, but if you're travelling with luggage you can jump on bus #12 from bus stop #1 right out the front of the station, tickets are €3 each. I'd recommend walking around the city, and jumping on a boat for a canal tour if you can afford it (they're around €10).
If you want to get around quicker, or to explore outside of the main city centre, you could rent a bike for €4 an hour or €13 a day from Bruges Bike Rental.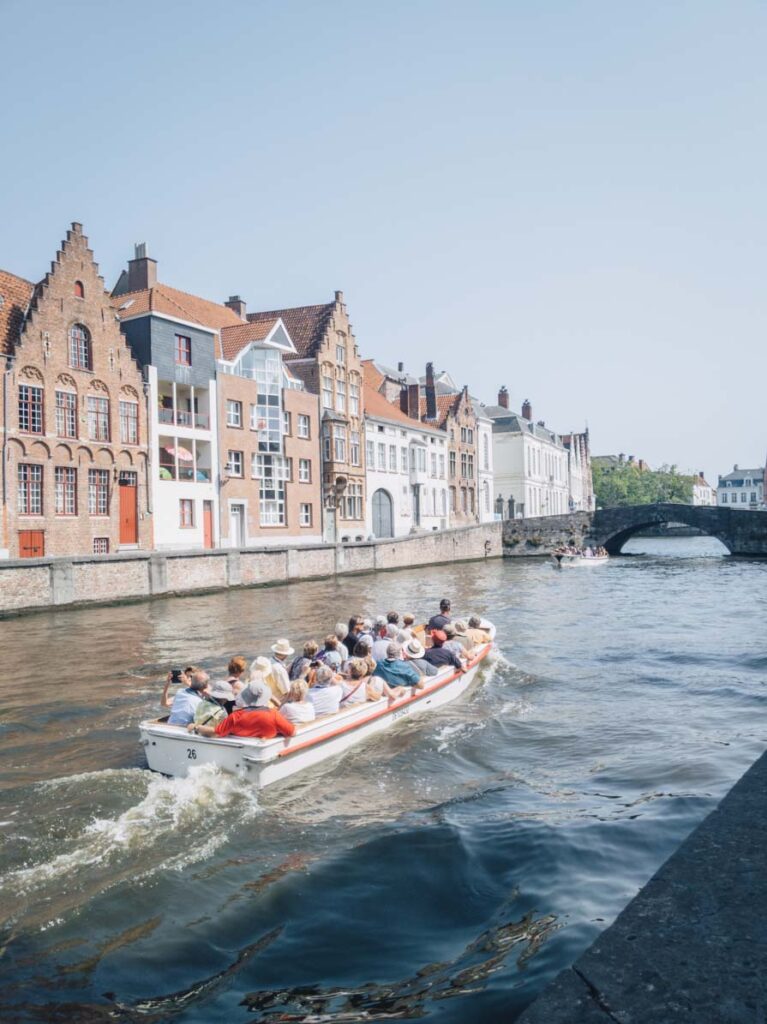 ---
Where to stay in Bruges
Please note that the prices here are based on example dates mid-week in shoulder season, check booking.com for prices and availability for the best Bruges hotels on your travel dates.
Best budget hostels in Bruges
On my first trip to Bruges I stayed at St Christopher's Inn at the Bauhaus. St Christopher's is a hostel chain found in major cities all around Europe, and they're particularly known for their social atmosphere and on-site bars. If you're looking to party, this place is probably perfect for you!
They offer a range of room options, from 16-bed dorms starting at about €15 per night all the way to private twin rooms with private bathrooms from around €64 per night. Breakfast is available for a charge but note that there's no kitchen on-site, just a microwave, a vending machine and a bar with the usual bar snacks, pizzas etc. You can check your travel dates here.
If I was going to Bruges again and looking for a hostel, I'd personally book a room at Snuffel Hostel. They have 6-bed and 4-bed mixed or female dorms starting from around €20, or private rooms from €55. Their prices also include breakfast, plus there's a full kitchen available so you can save money cooking your own food. See more about Snuffel Hostel and search your travel dates right here.
---
TRAVEL TIP:
When I look for hostels, I always try and find somewhere with a full kitchen, so I'm not forced to spend money on restaurant meals. If you use booking.com then you can tick 'self-catering facilities' in the search filters, or if you use Hostelworld just check the facilities available at the bottom of the page.
---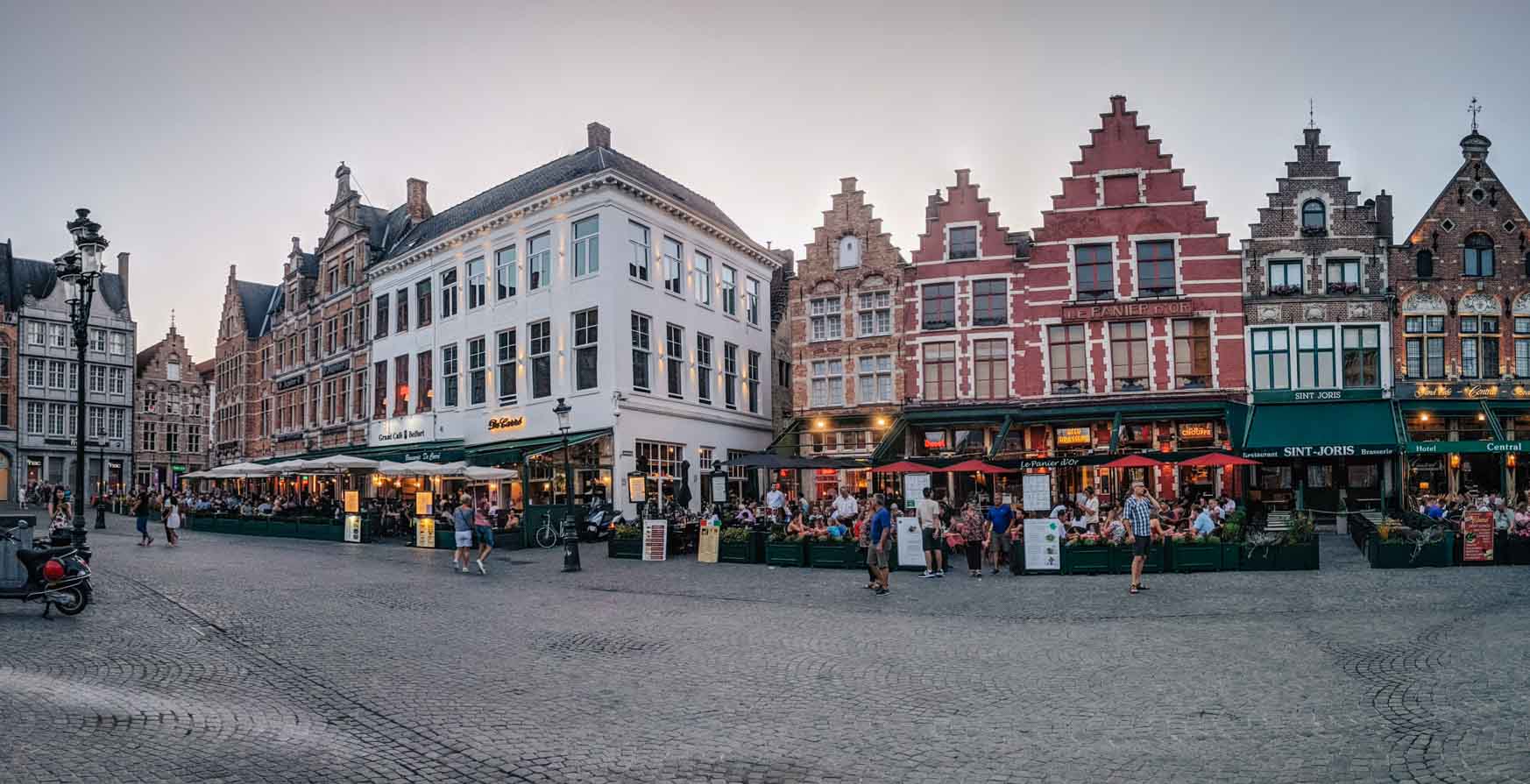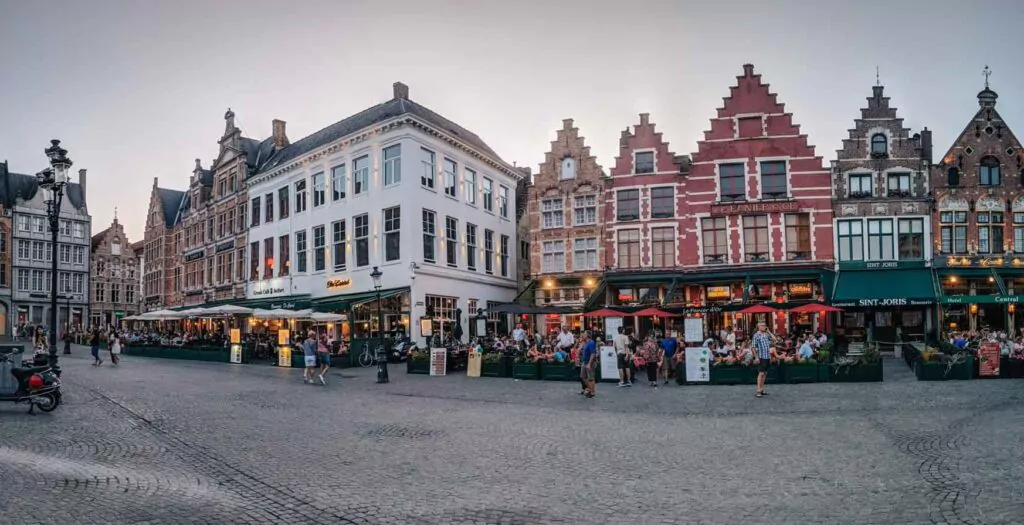 Best mid-range accommodation in Bruges
Bruges has a fantastic range of B&Bs and decent hotels for less than €80 a night. I spent my second trip to Bruges staying at the quaint little Hotel Bla Bla, located right in the centre of the Old Town. It's basic but the bed is comfy, the breakfast is good and the location is unbeatable! Prices start from around €75 for a small double room.
Two cute B&Bs I found online that I would book myself are B&B 't Walleke and B&B Eliantho, both with great reviews, shared kitchens and prices around €75-€80 for a double room.
YOU MIGHT ALSO LIKE: How I can afford to stay at world-class hotels without blowing my budget
Best luxury hotels in Bruges
If you're looking for an elegant European city break, Bruges is the perfect place, with fancy hotels that are much cheaper than you'd find in other major tourist destinations around the continent.
The city's only five-star hotel, the Hotel Dukes' Palace, is absolutely one to consider for a special occasion in Bruges. With opulent decor, marble bathrooms, a spa and wellness centre, and high tea on the terrace in the summer months, it's the perfect place if you're looking to treat yourself. And if you travel outside of high season, you can score double rooms from only €150 a night!
Another option for a luxury hotel in Bruges, and the current holder of the best-rated hotel in the city on both booking.com and TripAdvisor, is the gorgeous Hotel van Cleef. Located right in the historic centre and backing onto a canal, this family-owned hotel is famous for incredible service, stunning interior design and beautiful shared facilities, like a tea room, a canal-side terrace and an on-site masseuse.
Oh, and they've also got a library decked out with palm tree wallpaper, green couches, funky knick knacks and loads of coffee table books, basically made for Instagram. This is where I'm staying next time I come to Bruges!
YOU MIGHT ALSO LIKE: My ultimate Paris travel guide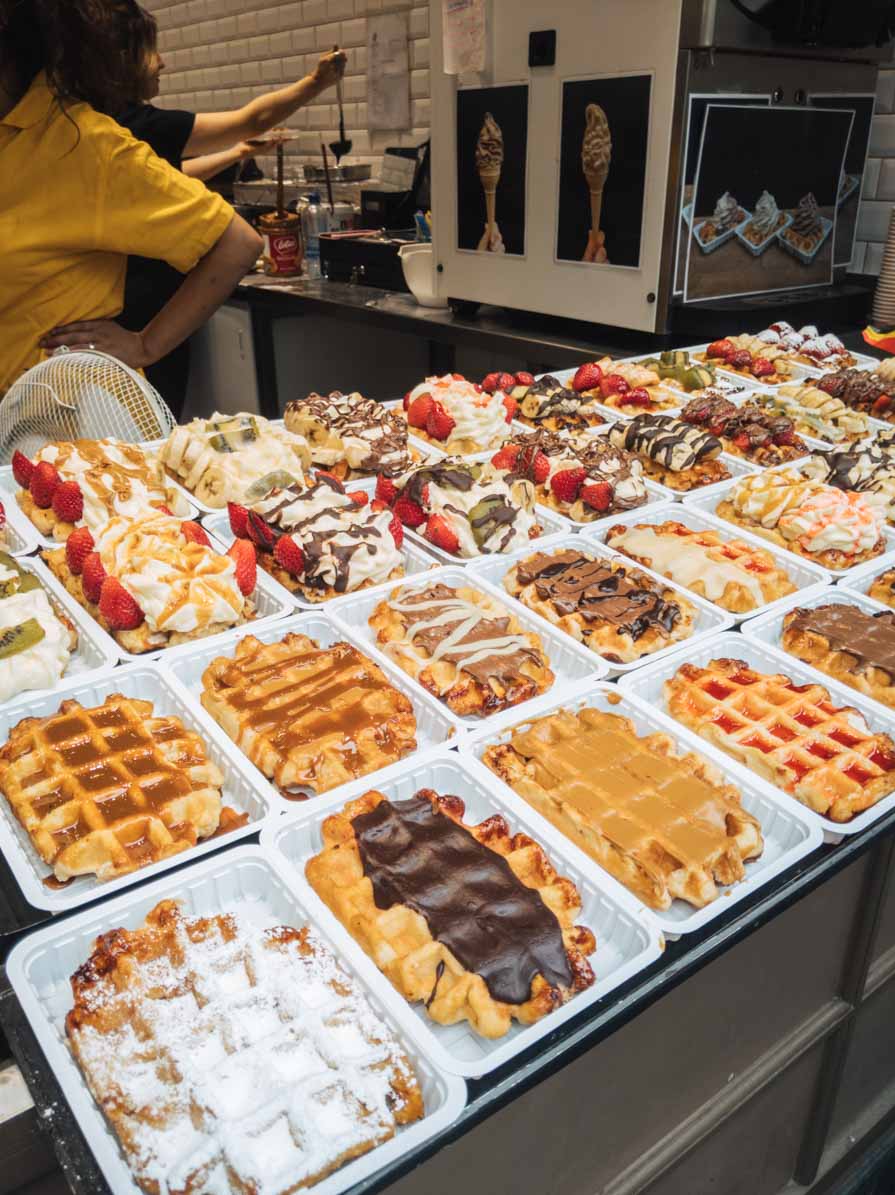 ---
How much to budget for Bruges
Belgium is not a cheap country, but that doesn't mean you can't do it cheaply, so here's a bit of info for anyone visiting Bruges on a budget.
As you've read above, you can score a dorm bed from about €15 per night, or €20 per night if you want a full kitchen (which I'd recommend). If you're travelling as a couple, a decent but budget private room will set you back at least €50.
There's no transport costs in Bruges apart from getting there from Brussels or bike rental, so no need for an expensive daily transport pass like in other European cities.
Attractions can set you back quite a bit, depending on what you're into. Canal boat tours are about €8, the Belfry costs €12 to climb to the top, Groeninge Museum entry is €12 and the famous chocolate museum is €8 to enter.
A free walking tour is a must-do in Bruges for anyone on a budget, and Legends are the people to do it with. They've got a day tour, a night tour and a food tour, all tip-based so you pay what you want at the end of it. In Europe I generally tip €10 for a free walking tour, a bit more if the guide was particularly fantastic.
If you're cooking your own meals, you could get away with less than €10 a day for ingredients to make your own breakfast, lunch and dinner. For a cheap breakfast out you're looking at €4-€5 for a coffee and a pastry, a cheap takeaway lunch will set you back €5-€10 and a sit down dinner somewhere outside of the historical centre will probably be around €15.
If you're eating at any of the restaurants around the Markt square, expect to spend upwards of €20-€25 for a meal. A pint of beer at a restaurant or bar starts at €3, going up to €8 for fancy craft beers.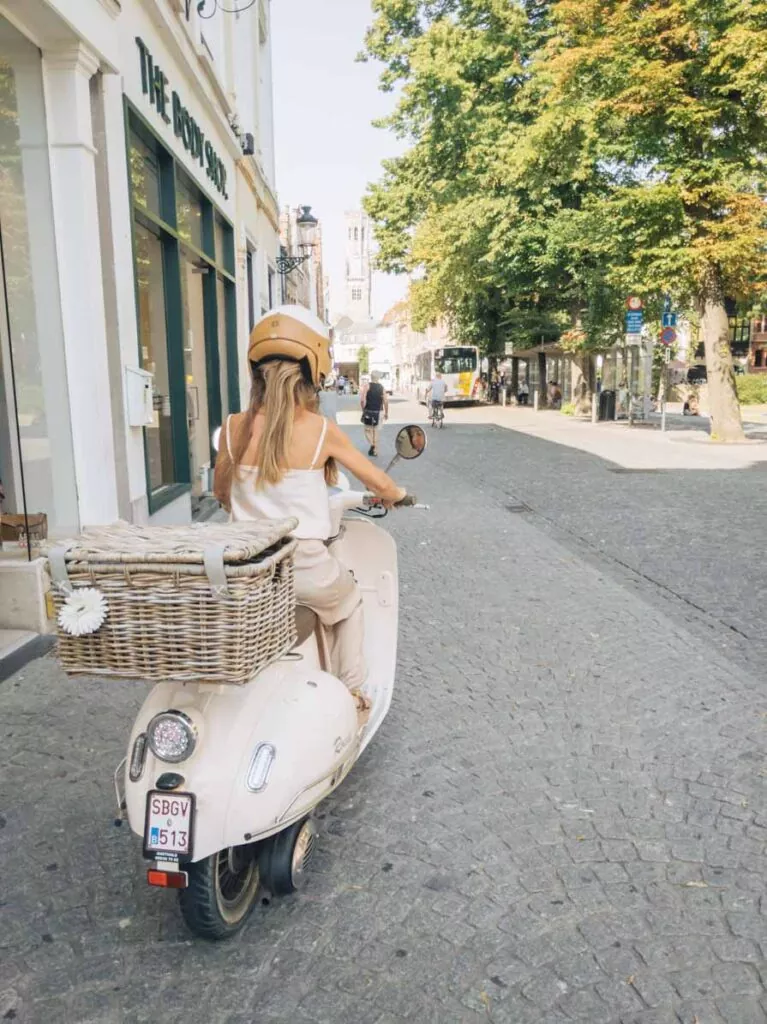 ---
15 of the best things to do in Bruges
From historical buildings to funky neighbourhoods, a thriving cuisine scene to local boutiques and designers, and art galleries and museums galore, Bruges is overflowing with things to see and do. Here are some of my favourite Bruges activities and experiences.
Wander around Markt, the main square in the city centre, famous for the rows of colourful buildings that border it
Take a boat tour down the canals, the best way to see the city
Climb 366 stairs to the top of the Belfry, a 15th century bell tower and UNESCO World Heritage site, to see the view over Markt and the rest of the city
See Rozenhoedkaai, the intersection of two of the main canals and possibly the best photo spot in the city
Visit Groeningemuseum, a must-do for art lovers and home to a vast collection of Flemish art
See the super creepy Basilica of the Holy Blood, a Gothic church that houses a relic of (supposedly) Jesus Christ's blood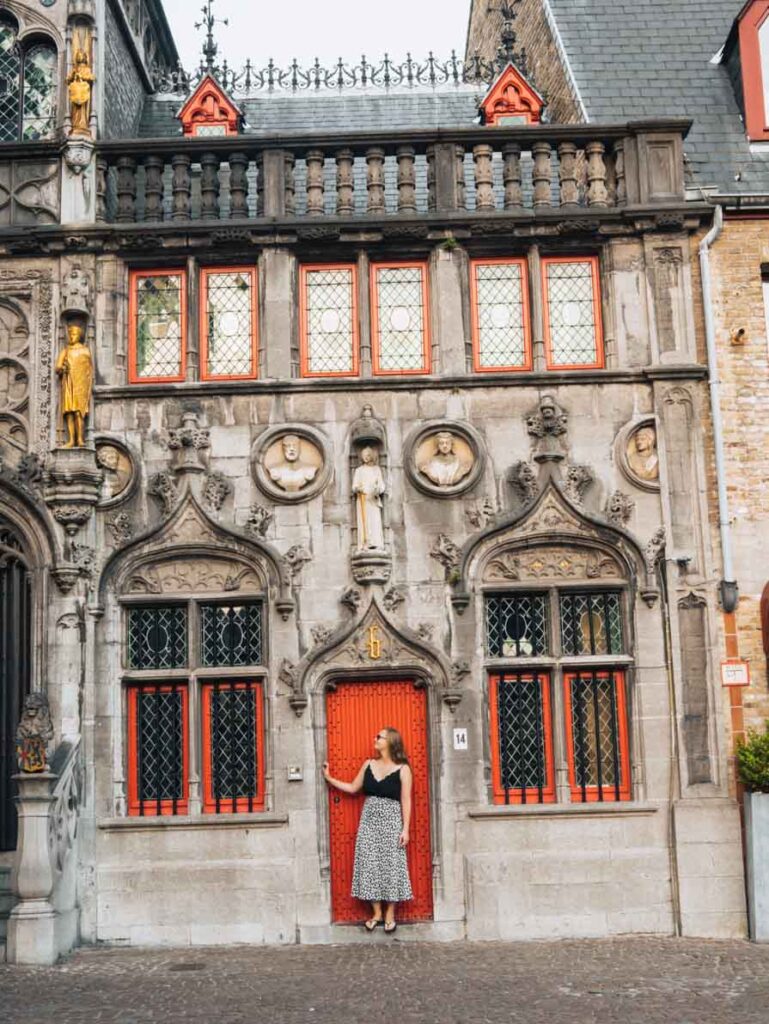 Take a break from exploring and chill out at Minnewater Park
Into a bit of dark tourism? Don't miss the Torture Museum, a collection of pain-inducing tools housed in one of Europe's oldest prisons
Stroll the streets of Hoogstraat and Langestraat, searching for the best vintage stores, independent art galleries and funky little cafes
See the incredible City Hall, an exquisite (and huge!) Gothic building from 1421 on the main square
Escape the city for a quick walk up to Sint-Janshuis Mill, a working windmill that was built way back in 1770
Visit the Church of Our Lady and catch a glimpse of Michelangelo's Madonna and Child, amongst other famous works of art
Get cultured at Concertgebouw, a cultural centre packed with exhibitions of contemporary art, dance performances, photography galleries, orchestra concerts and loads more
Learn about medical history from the past 800 years at St John's Hospital
Do some sustainable shopping! Some of my faves are

Juttu

who have a monthly local pop-up in-store,

Leeloo

who sell super trendy 100% vegan clothing, and

Think Twice

, a vintage store that repurposes old clothes
---
15 of the best things to eat in Bruges
The gastronomy scene in Bruges is next level, with renowned chefs, traditional cuisine and specialised eateries sitting side-by-side. Like many of you, one of my favourite things about travelling is the food, so here's a definitive list of the best things to eat in Bruges.
---
Looking for somewhere to stay in Bruges? Check out all the hotels and apartments right here, and don't forget to sort by 'review score and price' to see the best value options first.
I hope this Bruges travel guide was helpful if you're planning your trip! Did you have any other questions, or do you have something to add to the guide? Let me know in the comments below.
Like this blog? Pin it!
Read more about my 52 in 52 adventure here, see all of my blog posts from the trip here, or check out my Instagram @findingalexx to see all of my travel photos.
---
All the basic details from my big 52 in 52 trip:
How do you find your flights? Skyscanner! I use the Everywhere tool to find the cheapest place to fly to each Tuesday
Do you fly every week? Not every week no, once I have the destination I check trains and buses to see if there's any other transport options aside from flying. If so, I usually book these using the Trainline app.
How do you book your accommodation? I book all my hotels, hostels and apartments on either booking.com or Hostelworld.
Do you have travel insurance? YES, I always travel with travel insurance and you should too. I'm insured for an annual policy with Worldcare NZ.
Do you offset your carbon credits? I sure do! I always offset when I book if the airline gives me the option (Ryanair does), and I also offset all my flights using Co2nsensus.com.
What luggage do you travel with? I travel with a 75cm Samsonite Cosmolite suitcase, a matching Samsonite Cosmolite 55cm cabin luggage hardcase, and a cheap laptop backpack.
What camera do you use? You can see the full list of what's in my camera bag right here.
What laptop do you use? I have a super portable HP Spectre x360 13.3″ laptop, which is an absolute dream to travel with.
For more FAQs about my 52 in 52 trip, see this post.
---
Huge thanks to Visit Bruges for providing me with two nights' accommodation at Hotel Bla Bla on this trip. As always, all opinions are my own and are based on my personal experience.