If you're looking for the best place to get scuba certified or if you've got your dive license and want to use it somewhere epic, here are eight destinations that are perfect for scuba diving holidays for beginners.
From the warm waters of Thailand's paradise islands to searching for manta rays in Fiji to exploring shipwrecks in Egypt when you're a bit more experienced, these places will knock any divers' flippers off!
YOU MIGHT ALSO LIKE: Your ultimate guide to sailing in Croatia
1. Komodo Islands, Indonesia
Bali's east coast, Nusa Penida island and the Gili Islands are all diving hot spots for Bali visitors, but I'd recommend heading over to the Komodo Islands for some world-class diving with far less tourists.
Labuan Bajo is the gateway to the Komodo Islands, it's a small coastal town on Flores Island just a short one hour flight from Bali. There's loads of dive shops to choose from but I dived with Uber Scuba, and had an absolutely brilliant time! We saw turtles, manta rays, bright coral and colourful fish, and the landscapes you see on the way to and from the dive locations are just insane.
Uber Scuba offers Discover courses if you're keen to try diving out as well as Open Water or Advanced courses. If you're already qualified and just want to enjoy some time in the water, they have daily dive trips and even have their own liveaboard boat for multi-day adventures.
Manta ray season in the Komodo Islands is generally from December through to February, so keep that in mind when you plan your trip if you're particularly keen on seeing these gentle giants.
If you're planning on visiting the Komodo Islands, spend a night on the gorgeous Le Pirate Boatel, a floating hotel! It's one of the most unique places to stay in Indonesia.
---
2. Koh Tao, Thailand
Often overlooked for the beach resorts of Koh Samui and party mecca of Koh Phangan, Koh Tao is a Thailand must-visit. Known as Turtle Island due to its shape, Koh Tao is one of the best places to dive in all of Asia, and definitely one of the best places in the world to learn! With excellent visibility, thriving underwater life and warm water, it's an ideal destination for
Many hotels on the island are attached to or affiliated with dive schools and vice versa, meaning you can grab a pretty sweet deal that includes all your accommodation, an Open Water or Discover course and some meals.
We chose to do our Open Water PADI course with the legends at Ocean Sound, who are the highest rated dive school in Thailand according to TripAdvisor. The staff are super experienced, the gear we used was near new and we felt safe and comfortable the entire time.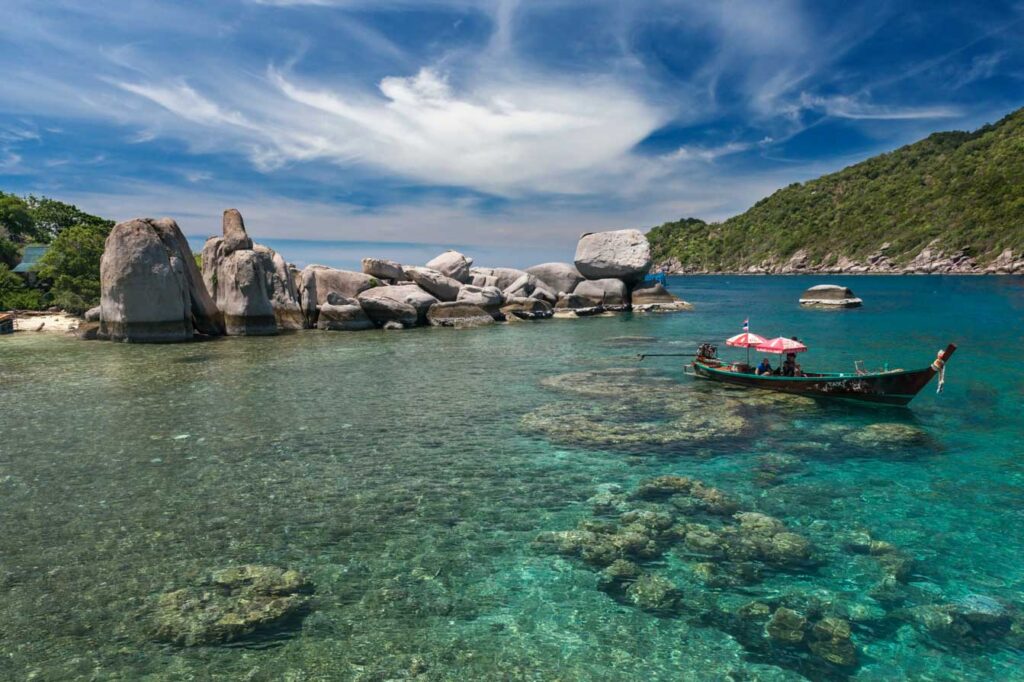 ---
3. The Yasawas, Fiji
Fiji's Yasawa Islands are best explored by island hopping between various resorts, with a transport company like Awesome Adventures. This way you'll get to experience different parts of the region and make the most of the activities, like sunset tubing, caving, and, of course, diving!
Diving in the Yasawas is ideal for any skill level, from beginners' dives right off the beach to more advanced dives in stronger currents where the mantas like to play during manta season from May to October. The water is warm year-round, and you'll probably catch a glimpse of turtles, colourful coral reefs and reef sharks. Don't worry, they're harmless!
Most island resorts here can set you up with a dive trip, but some are more professional than others. Be sure to check reviews online and ensure that the resort has the appropriate qualifications and safe gear. This stunning island group in the South Pacific is by far one of the best scuba diving holidays for beginners.
YOU MIGHT ALSO LIKE: What's in my camera bag for a year of travelling around the world?
---
4. Poor Knights Islands, New Zealand
Okay, this one's a bit chillier! The Poor Knights Islands, in New Zealand's Northland region, is a marine reserve teeming with incredible underwater flora and fauna. It's easily accessed from Tutukaka, a quaint little coastal town about three hours north of Auckland.
New Zealand's water is significantly colder than the other destinations on this list, but it's also far less touristy! That means fewer people on your boat, better service and less disruption for the fish. Your gear will always be tailored to conditions too, so expect a thick wetsuit to keep you warm.
Dive Tutukaka runs dive courses, fun dives and dive charters in the Poor Knights, and they even have wreck diving options if you've logged enough dives to meet the requirements.
---
5. The Red Sea, Egypt
With cheap flights from European hubs, Egypt is a great option for budding divers based in Europe or the UK.
The Red Sea is abundant with incredible marine life, from hammerhead sharks to whale sharks to eagle rays.
Dahab is one major Egyptian dive location, with easy shore dives and soft coral reefs, or Sharm el Sheikh is home to wreck dives. The Red Sea generally has fantastic visibility year-round, but it's super popular between March-May and September-November, so avoid these months if you want more of the ocean to yourself.
Unfortunately, irresponsible tourism practices here have affected the underwater landscape, so be sure to book with a reputable dive school who respects the ocean and creatures who live in it. Always check ratings and reviews online before you make your choice!
YOU MIGHT ALSO LIKE: The ultimate 7 day Jordan itinerary
---
6. Ningaloo Reef, Western Australia
The Great Barrier Reef is probably the most obvious place for scuba diving holidays for beginners, but it's also suffering from major overtourism. To escape the crowds and to see a better and brighter part of Australia's underwater scenery, head to Western Australia's Ningaloo Reef, a measly 1200km drive north of Perth. The mainland gateway to Ningaloo Reef is Coral Bay, which you can reach by airport shuttle from Exmouth Airport (140km away) or add on to a Western Australia road trip if you're exploring the wider state.
Famous for its majestic resident whale sharks, which grace the reef's waters from May to September each year, Ningaloo has made a name for itself on the diving world stage. Aside from whale sharks, you might see manta rays, humpback whales, sea turtles and loads more.
Colourful coral gardens are thriving on this side of Australia, and there's plenty more to see and do in the area. Swim with dolphins, soak up the sun and relax on remote beaches to rest after a day in the ocean.
---
7. Cozumel, Mexico
Home to some of the best diving in the Caribbean, Cozumel is a top option for anyone based in, or visiting, North America.
There are plenty of resorts here who offer all-inclusive dive packages, where you pay one fee for accommodation, meals, drinks, gear hire and dive trips. The water is mild year-round but it gets busy during Spring Break and from November to April, so try to avoid these if you're keen for a more private experience.
The marine life here is varied, with tropical fish hiding amongst brightly coloured sponges and walls of coral. If you're lucky you might also spot bigger underwater creatures, like turtles, moray eels, nurse sharks and eagle rays.
Cozumel is particularly recommended for anyone with an interest in underwater photography, and many dive schools offer a photography-focused dive lesson!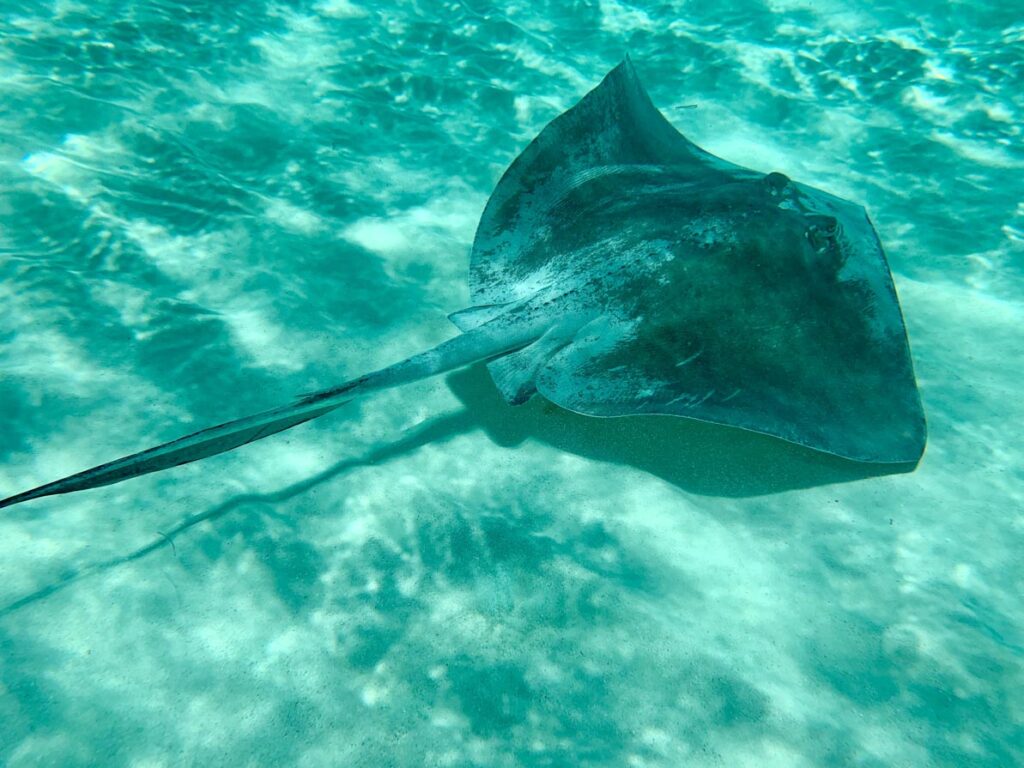 ---
8. Caye Caulker, Belize
If you haven't heard of this one already, you've probably seen photos. Caye Caulker is a tiny 2km-long island and the gateway to the stunning Belizian Barrier Reef, where you'll find the famous Great Blue Hole.
The island itself is home to palm-fringed beaches, budget-friendly backpacker hostels and super chill beach bars, and there's not much to do other than drink and scuba (not at the same time!).
The Great Blue Hole is for certified divers only, but the nearby Caye Caulker Marine Reserve is ideal for anyone learning to dive. Diving here is more expensive than Asia but staying on the island is cheap, so it might be a worthwhile option for ticking off an open water and advanced course at the same time.
YOU MIGHT ALSO LIKE: FAQs about my 52 countries in 52 weeks trip
---
Have you decided which of these scuba diving holidays for beginners floats your boat? If you decide to get scuba certified in one of these epic dive spots, or if you have one I should add to the list, let me know in the comments!
Like this blog? Pin it!