Week eight of my 52 countries in 52 weeks global adventure has taken my on my first jump out of Europe and into the Middle East for a Jordan. I rendezvoused with my travel buddy Bex and we jumped onto the 7 day Jordan itinerary with Travel Talk Tours for a HOT but unforgettable week.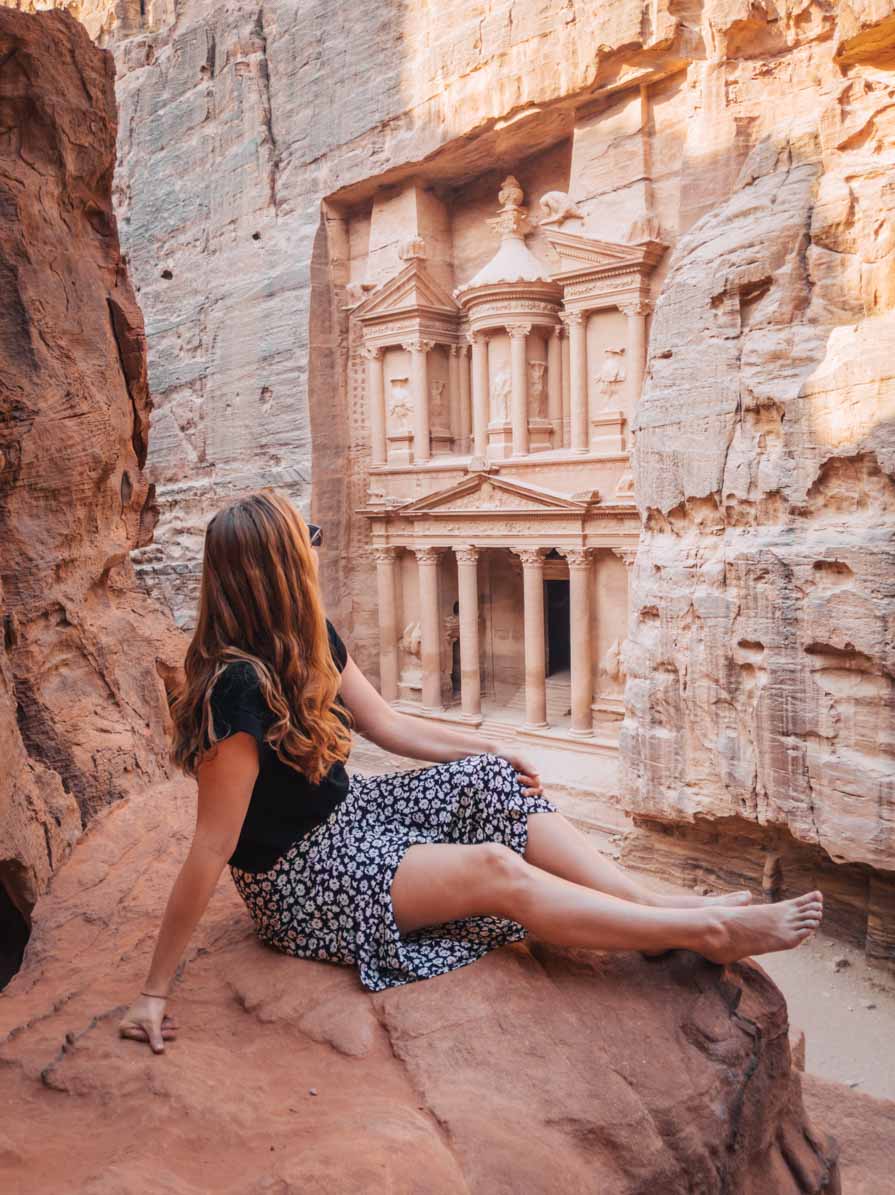 Our Jordan itinerary was an epic assault on the senses and a celebration of the most iconic sights, otherworldly landscapes and the best things to do in Jordan. From floating in one of the saltiest lakes on earth, to wandering the ancient streets of Petra, to flying through the Wadi Rum desert on the back of a jeep, the Travel Talk Essential Jordan tour was the perfect way for us to pack the best experiences into our short time.
Below Bex has shared our full 7 day Jordan itinerary, plus some travel tips, tricks and advice for planning a trip to Jordan. And be sure to check out my top 10 things to do in Jordan guest blog over on Trift!
Or skip straight to:
---
Day one of our 7 day Jordan itinerary: Arriving in Amman
We lucked out on our flight into Queen Alia International Airport in Amman and both got window seats so we got to enjoy the sights of the Mediterranean, the coast of Turkey and Israel and the West Bank as we arrived.
---
TRAVEL TIP:
I find all my flights using Skyscanner! You'll get the best deal if you're flexible on where to go. Just put in your origin, your departure date (or month) and type 'everywhere' into the destination bar to see the cheapest locations to fly to on your next holiday.
---
To be able to work on the road we bought SIM cards at the airport with a tourist 10 day 10GB package for 10JOD (about £11/$14.10USD/$22NZD at the time of writing) each, from Umniah. There's about three different providers with pop-up shops so it's worth shopping around.
If you arrive on day one of the tour then make sure you let Travel Talk know your landing time and they will collect you from the airport – definitely worth it as the airport is a long way out of the city and the opposite side to the hotel. We arrived the day before so we found our own way to get from Amman airport to downtown Amman, for which there are a couple of options:
In Jordan, it's illegal for Uber to collect from the airport (which doesn't mean they don't do it and that Uber doesn't offer that as a pick up) but it's just important to know as you might have a couple of drivers cancel before you manage to get a ride. They will also have to claim that you are friends or acquaintances if they're stopped, and they can't have their phone out with the Uber app running.
There are taxis that go by the meter but expect to pay around 22JOD (around £24)
There's also an airport express bus service provided by Sariyah bus company which goes every half-hour 6am-5pm, and every hour 5pm-5am, and costs 2.50JOD
---
LOVE TRAVEL INSPO?
I'm managed nine months of a year-long solo round the world adventure, visiting a new country every week for an entire year, with my route based on the cheapest flight every Tuesday (before a little something closed borders). Am I crazy? Yes. But was it epic? Also yes. Follow along on Instagram @findingalexx.
---
The first accommodation of the one week Jordan tour is Hotel Ibis Amman which is in the north of the city. You spend the first two nights there and return for the last two nights of the tour so if you're on a longer trip with lots of luggage it's a handy place to leave one of your bags to save you lugging it around the country.
There's no pool unfortunately for the summer tours but there's a small gym, a nice outdoor area, and it's right across the road from a mall and lots of eateries to choose from so it's handy to everything you need. It's a business hotel so nothing fancy, but it's comfortable.
The tour officially started at 6pm with a meet and greet and a group dinner. One of my favourite things about Travel Talk is that it brings together really like-minded travelers so it's easy to meet new people (a lot of who live in London so you can stay in touch) and make new travel friends!
---
Day two: Day trip to Ajloun Castle and Jerash
After a buffet breakfast we headed off at 8:30am to our first stop outside Amman on our 7 day Jordan itinerary. Ajloun Castle, built between 1184 and 1188, is impressively still pretty much all standing. We explored the inside of this epic structure but my favourite part was definitely seeing the view from the top where you can see into Israel and the West Bank.
En route to the castle you pass the 'this way to the Syrian border' sign which is a humble reminder of where you are in the world and that for many, this area isn't just a pretty holiday.
From the castle we drove about 45 minutes to Jerash, an ancient city inhabited since the Bronze Age. This felt very reminiscent of our trips to Greece and Turkey with the towering Corinthian columns, a huge oval colonnade and an incredibly preserved amphitheatre.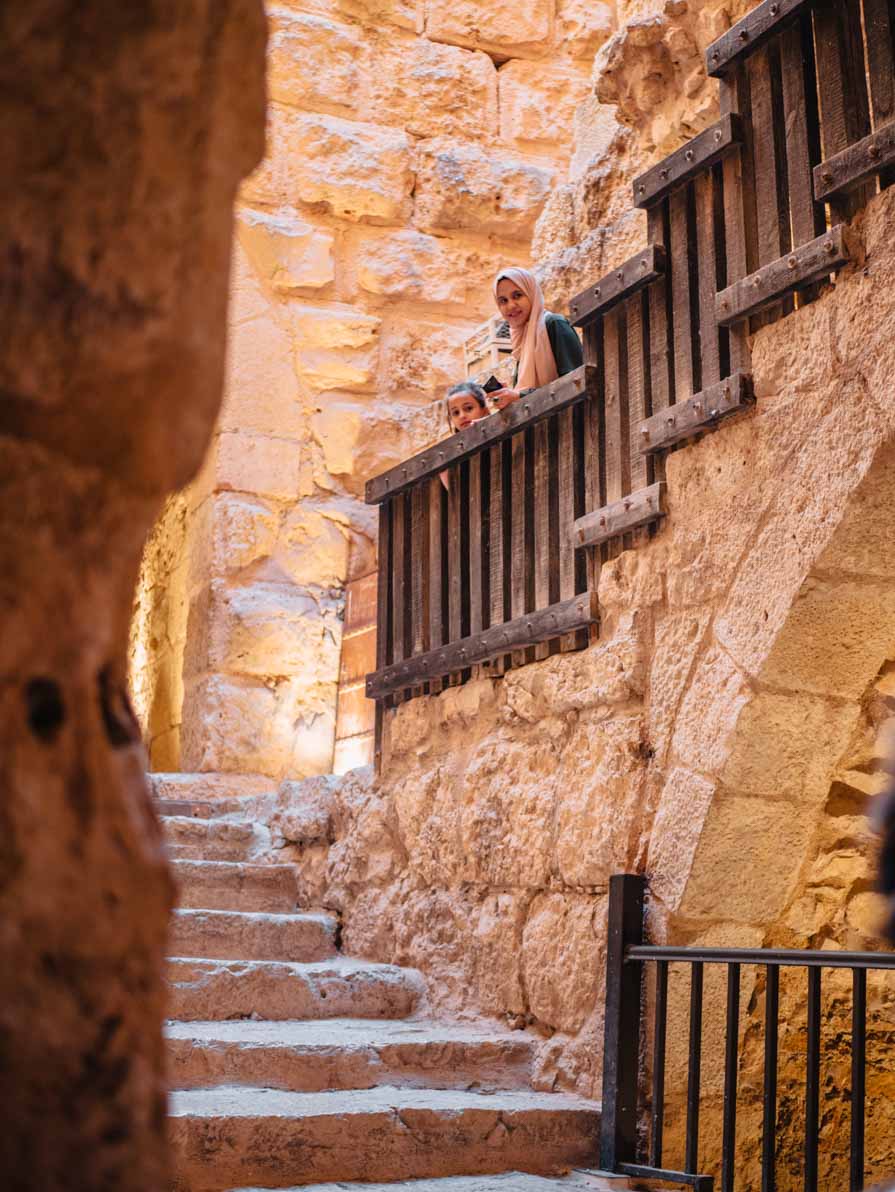 This day was super hot with a lot of walking and standing in the sun so a lot of water, sunscreen and a hat is essential.
We were back at the hotel by mid-afternoon which was necessary in that heat so we had free time to sort our bags, stock up on water and snacks for the coming days, and relax.
For dinner we headed to Tawaheen Al Hawa which is only a five-minute walk from the hotel and offers the most extensive menu I've ever seen. It's more pricey than most places we went but completely worth it for the quality and quantity of food, the atmosphere and the amazing service. We even went back at the end of the tour and took the whole group with us!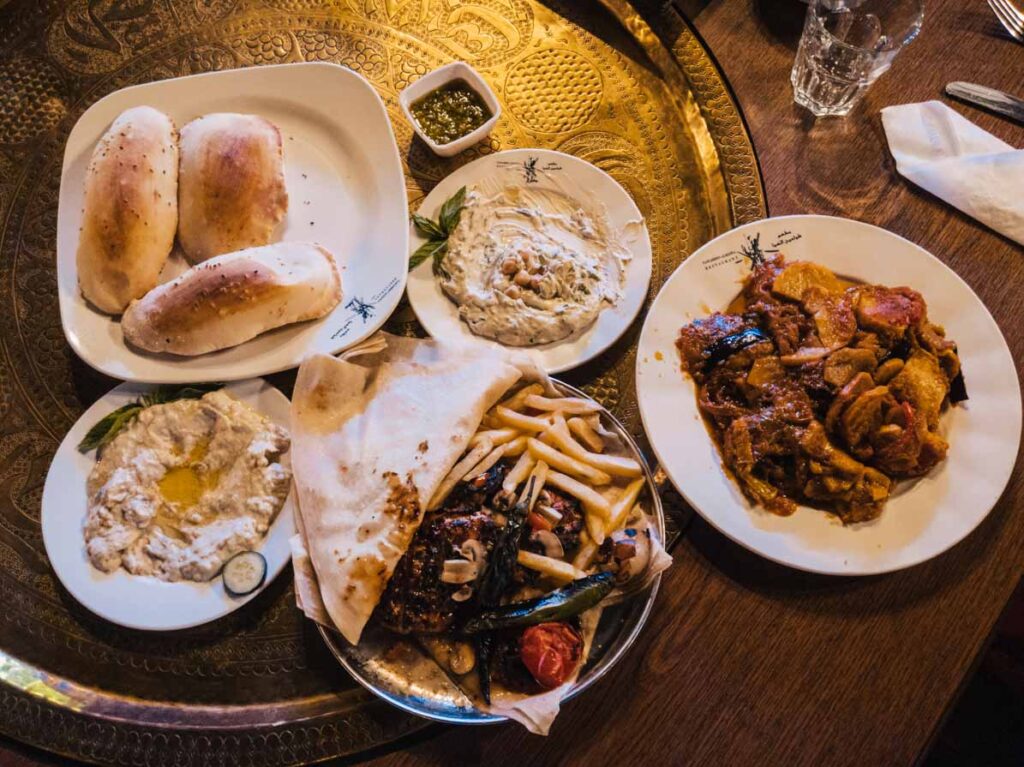 YOU MIGHT ALSO LIKE: The Ultimate Turkey tour itinerary
---
Day three: Amman to Wadi Rum
Desert day, woohoo! We grabbed a quick breakfast for the road and jumped on the bus at 7:30am to drive south to the bottom of Jordan and the Wadi Rum desert. Our tour group of 17 merged in Aqaba with another Travel Talk tour of 18 coming across the Israeli border from Egypt.
Aqaba is a resort-style city with duty-free shopping and offering endless diving and snorkeling tours in the Red Sea. I was so sad not to be able to spend more time here to go for a dive, but it's definitely on the bucket list to return, and it's a great option to add on if you're looking for a 10 day Jordan itinerary.
The combined Travel Talk Egypt & Jordan tour includes two days snorkeling and diving on the Egypt side of the Red Sea so if you're a keen diver and interested in Egypt then that could be a great option!
YOU MIGHT ALSO LIKE: Things to know before going to Israel
After the rendezvous we headed east into the Wadi Rum desert. Seeing the patches of green disappear and transform into every shade of brown and red, with sandstone cliffs towering each side of the road and then massive expanses of sand, you definitely get the feeling you're driving into another world.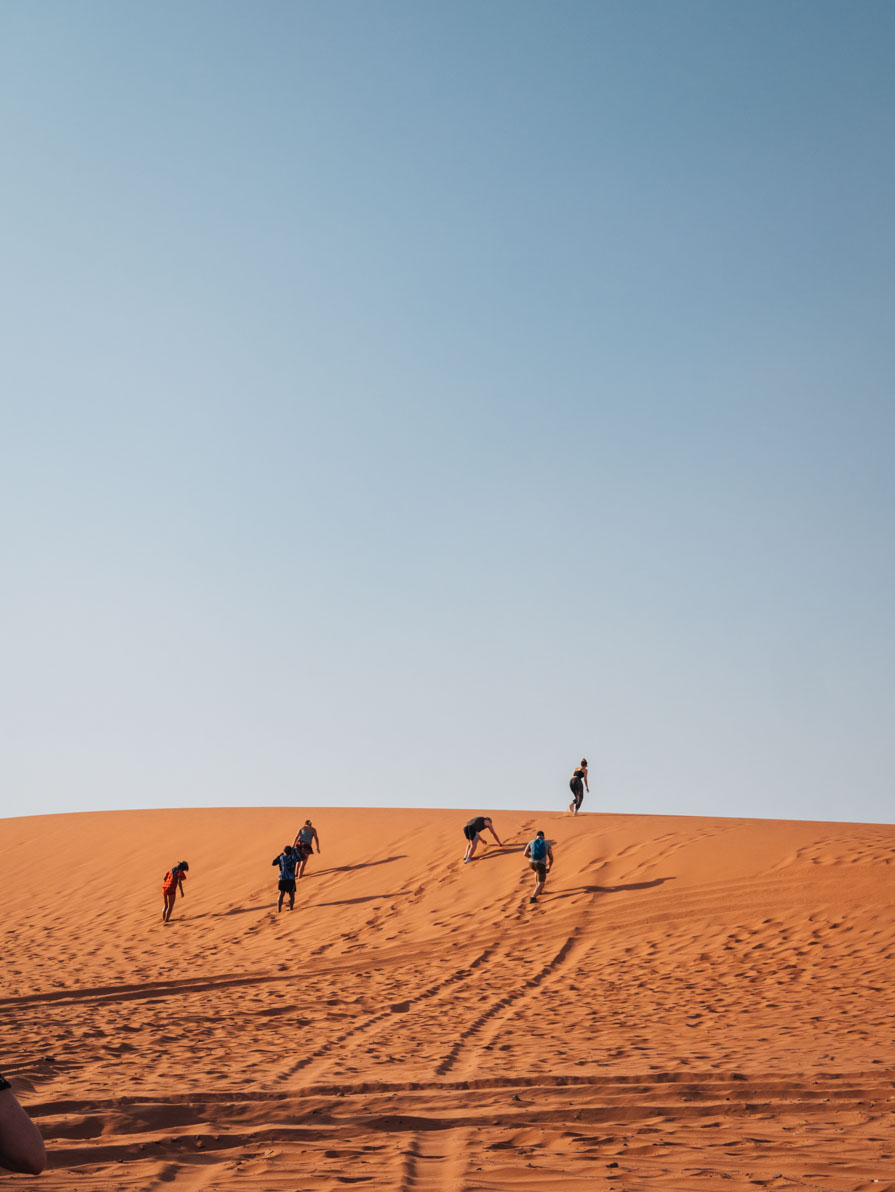 Brace yourself for the two hours of free time you have when you arrive at your desert camp in the afternoon, because it can be HOT in mid-summer (keep in mind we were here in August so this definitely won't always be the case). All we could do was lie on our beds sweating and wait it out, but a few others played cards or just sat and drank water to pass the time.
The tents are decked out with electricity, power sockets, lights, a bathroom with a toilet and shower and a fan over your beds to help you sleep.
At 5pm the jeeps arrived and we were off for our desert safari. Each jeep sits between 6 and 8 people, either side of the back of a flat-decked ute with padded bench seats. We rotated spots for different views, but if you get motion sickness then the front is probably best because the drivers love to throw you around a bit for the full experience.
The safari lasts a few hours with three stops along the way to enjoy the incredible views and grab some photos. First was one of the main filming locations for the new Aladdin film, up on a dune looking out over a huge expanse of sand – seriously impressive.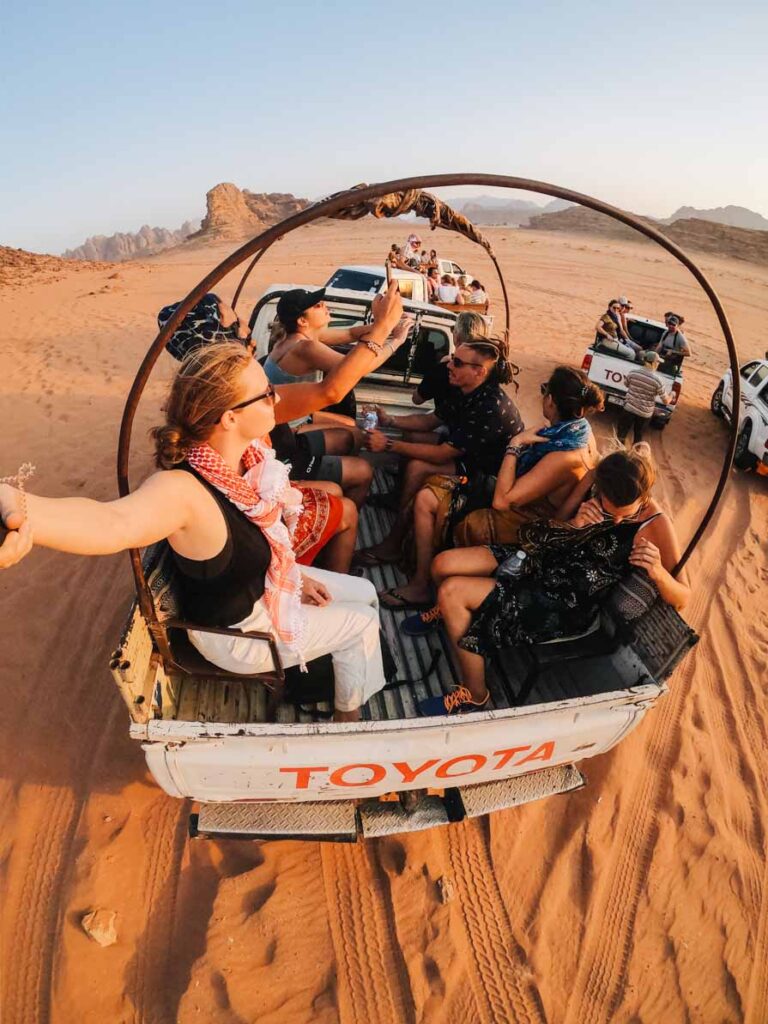 The second stop was at the 'mushroom rock' you might've seen in photos. To be honest this rock was so swarmed with people we don't have one photo of it, there are other parts of Wadi Rum that are way cooler anyway.
The final stop is a place to sit and enjoy the sunset, but if you turn and look the other direction you'll see one of my favourite views of all time – a massive rock formation in the distance that fully convinced me we were walking on Mars and Matt Damon (a.k.a The Martian) was just around the corner trying to grow potatoes.
Be prepared to get sand EVERYWHERE – a scarf for your face and sunglasses to protect your eyes are both really helpful.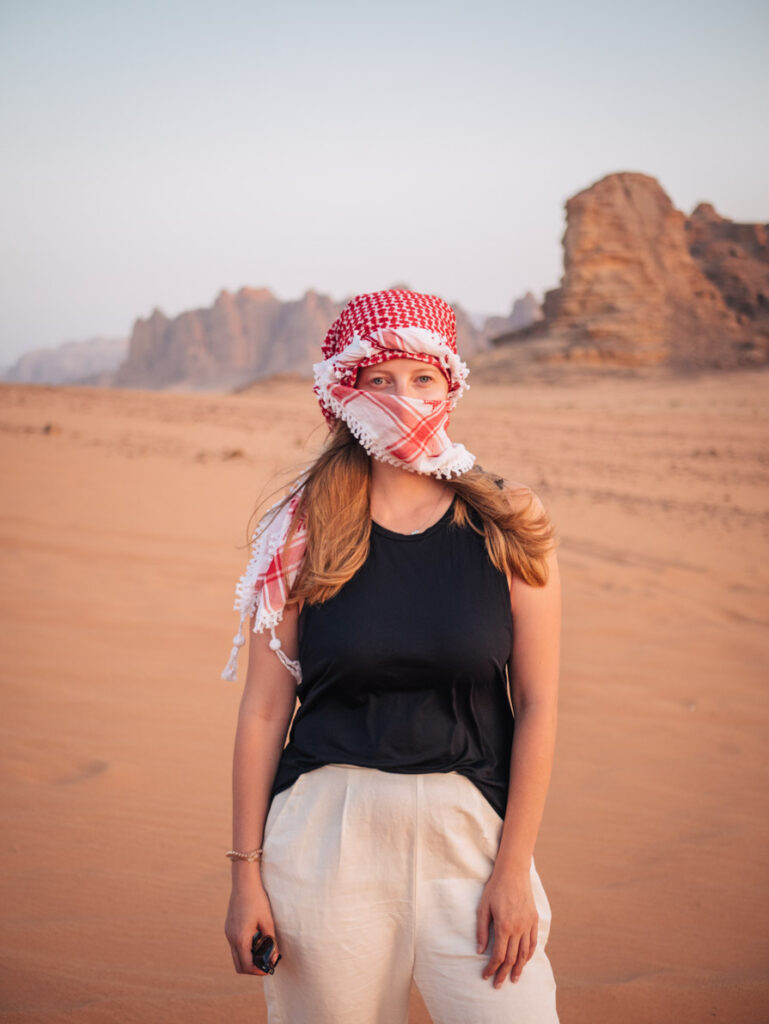 Arriving back at the desert camp we had had a bit of time to try and remove the cups of sand we had in every crevice of our bodies and clothes and then head to the communal area for dinner.
Dinner is as traditional Jordanian bedouin desert meal, cooked in a pit under the sand, very similar to a Maori hangi you can try in New Zealand, followed by a dance party learning some local moves – DJ and all! A really cool local experience to add to any Jordan itinerary.
We hoped to do some astrophotography while we were out in the desert but you would need to walk a decent distance from the camp and neighbouring camps to be out of the light-pollution, and given the warnings from our guide about snakes and scorpions at that time of the year, we passed.
---
Day four: Wadi Rum to Petra
An optional activity for day four is a sunrise camel trek to and from the desert camp, for 15JOD each. The time will obviously depend on the time of year but given we were there in mid-summer we headed off at 6am.
Alexx has talked about this on her Instagram Stories (see her Jordan highlights), but no matter where you are traveling and what you're doing, if it involves animals then it's really important to do your research and make sure they are treated well and that it's an ethical activity.
We spoke with our guide about how and where these camels were kept, how many treks they do a day and if they are limited to one person per camel before we made the decision to go.
From our own research we knew that camels should not carry more than 150kg in total, so with our weight plus the saddle we knew we were comfortably well under that. This is compared to donkeys who can carry up to 50kg, so it's never okay for an adult to ride a donkey.
I had actually ridden a camel recently in Morocco so I chose just to walk alongside to get some photos, enjoy some time with these epic and quirky animals and to see the sunrise – so that's a good (and free) option as well.
Breakfast was a traditional buffet and then we were back on the bus and on our way to Petra, one of the seven Modern Wonders of the World and even more impressive in real life than in the copious amounts of photos we'd already seen.
We dropped off our bags at La Maison Hotel (perfectly located a five-minute walk from the entry gate), had a quick lunch and then headed off for an afternoon of exploring.
Top tip: Do not wear a skirt! Petra is so much bigger than I imagined. The walk from the entry gate to the Monastery at the far end is 8km return and 850 stairs, and in the middle of the afternoon it's a proper sweat-fest, so practical clothing and good shoes would help a lot, and you can always change into something else for photos at the top if you want.
Because Petra is such a touristy site, you don't need to worry about the same dress code rules as in the rest of Jordan, so active wear shorts and a singlet would be fine.
Chances are you would've seen photos of the Treasury, which is about 2km into the walk and therefore much more popular, but the Monastery is well worth the walk and you get the place almost to yourself instead of battling lots of others for the same photo you've seen everywhere.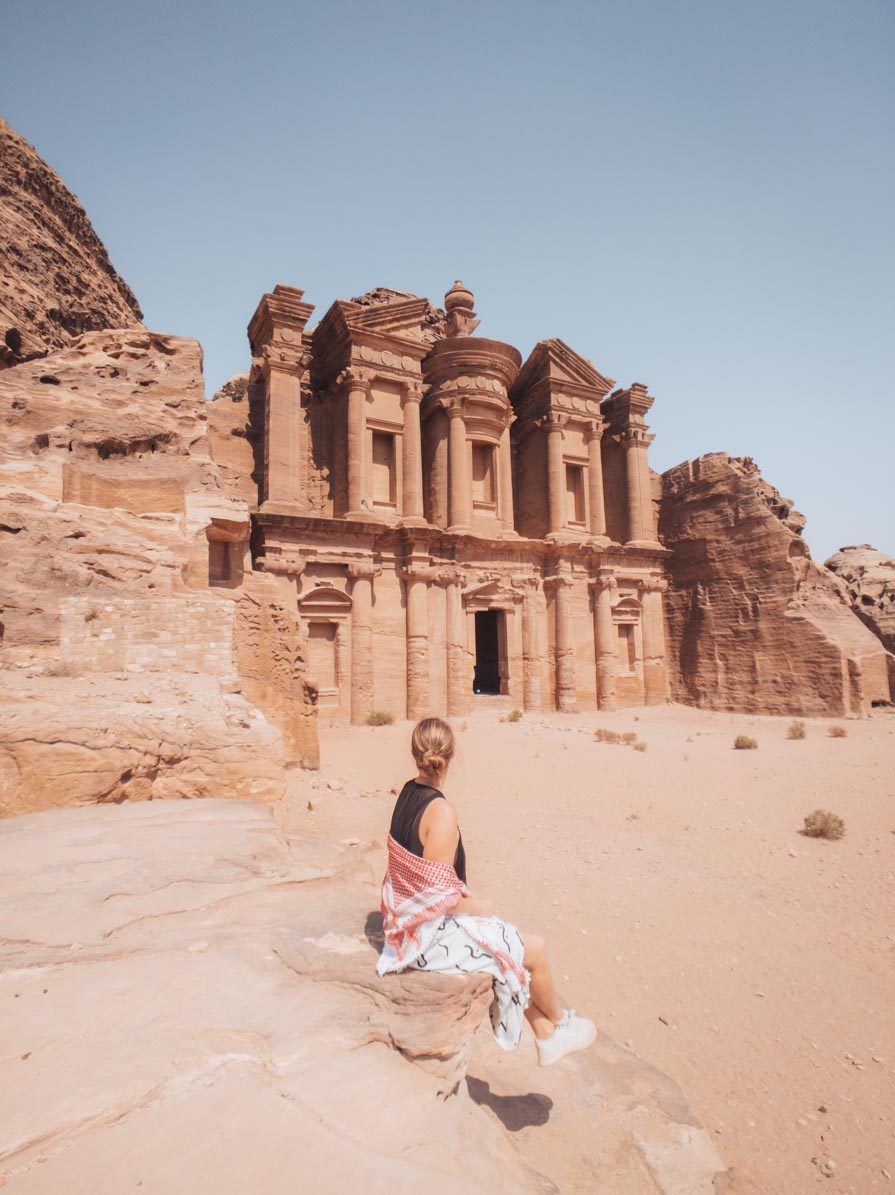 It's also an incredible sight to see and try and fathom how it was built so long ago as it truly towers above you. For photographers, the afternoon light is also much better for the Monastery opposed to the Treasury which is hard to capture from about midday onwards.
For the more energetic there's also incredible walks to the High Place of Sacrifice which offers views all over the surrounding valleys, as well as through the tombs in the surrounding cliffs. You'll get a map when you arrive with all the best sites to see clearly labelled, but it's good to know in advance what you want to see so you can get the most out of your time there.
The gates to Petra close around 7pm but, with the intense heat, that felt like more than enough time after entering around 1pm. We had dinner at a nearby restaurant My Mom's Recipe Restaurant. We might've gone just for the name alone, but the huge portions of authentic Jordanian food lived up to our expectations!
An optional extra for 17JOD is Petra By Night, run on Tuesdays, Wednesdays and Thursdays. 1500 lanterns are put out through the winding rockwalled walk through the Siq and in front of the Treasury which is really stunning.
To be honest the show itself was very simple and overpriced, with two performances of local instruments and then some coloured lights projected onto the Treasury, but I enjoyed seeing the lanterns so it's totally up to you. You wouldn't miss anything life-changing if you skipped it. There's also too many people there to really capture the lanterns in their full glory.
Exhausted and dehydrated, this was the most satisfying sleep of the week-long Jordan trip.
YOU MIGHT ALSO LIKE: FAQs about my 52 countries in 52 weeks trip
---
Day five: Petra to the Dead Sea and Amman
The early bird gets the worm! And by that I mean if you head back into Petra when the gates open at 6am you can finally have the Treasury all to yourself with the lighting being much better at that time of the day. Oh, you might just have to share it with some kittens. This was an absolute highlight of the Travel Talk Jordan itinerary, and one you can't get with a day trip to Petra from Amman.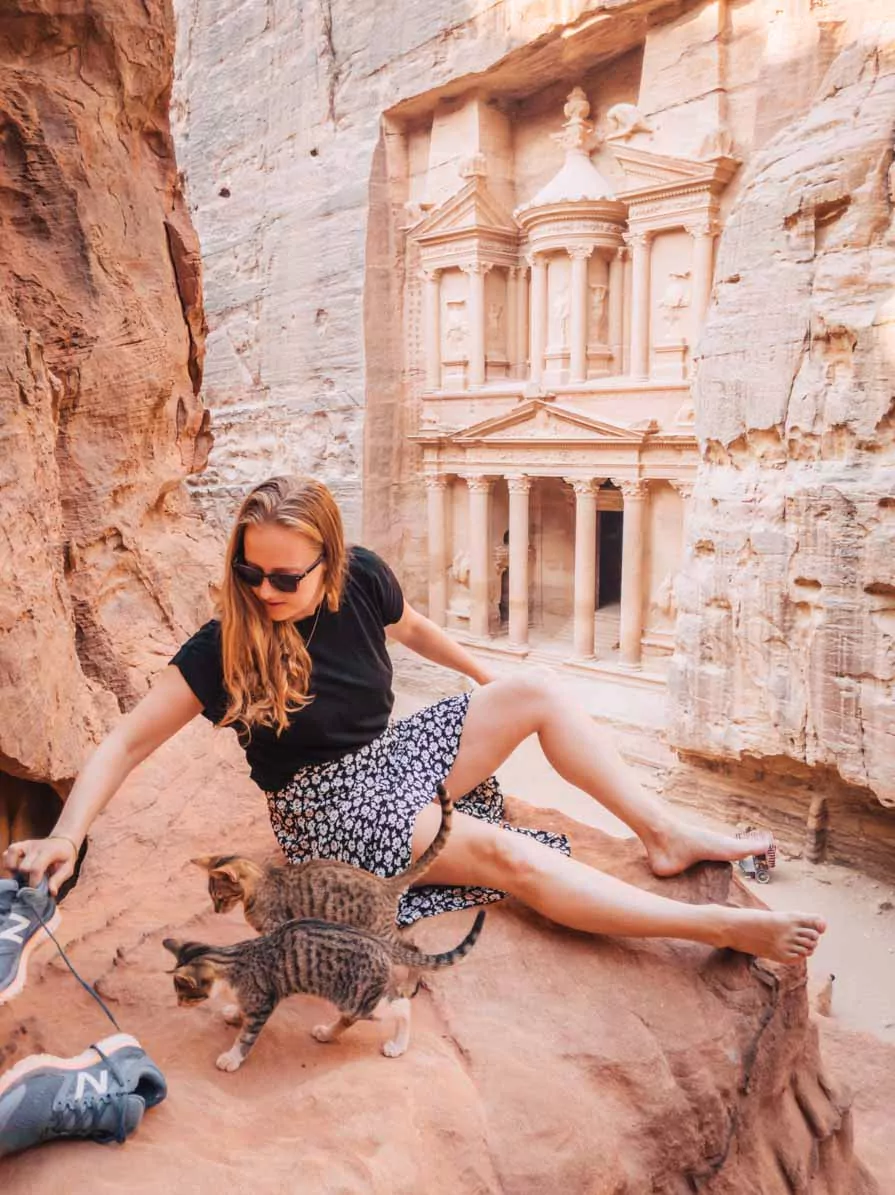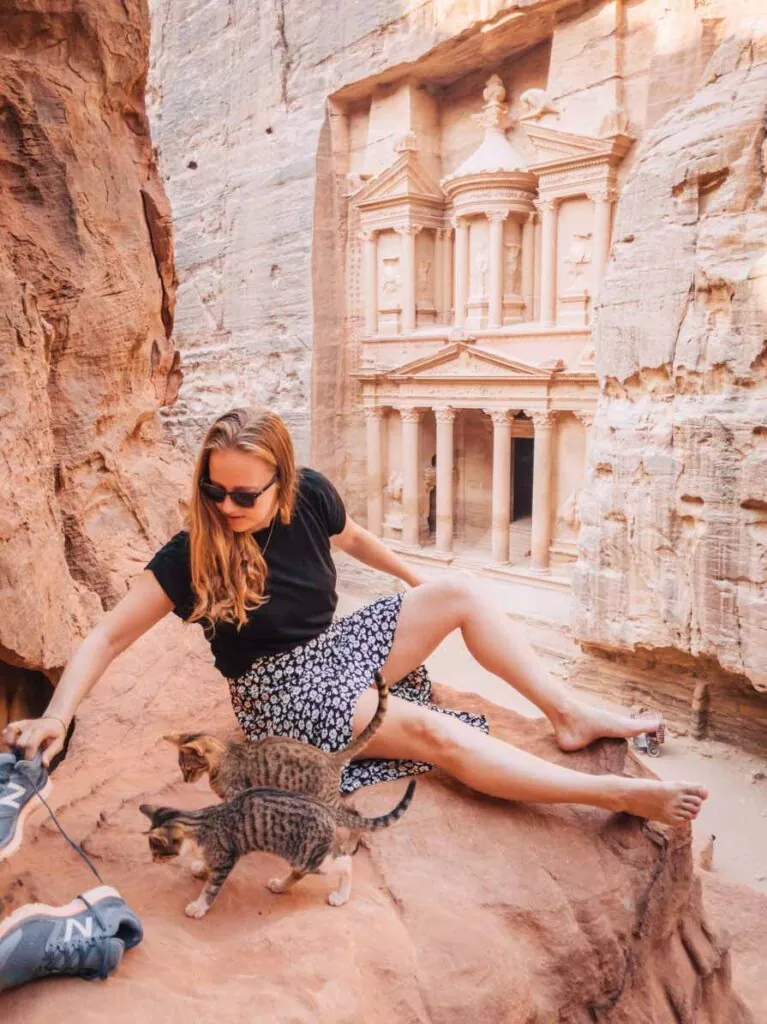 Just opposite the Treasury wall there is a short five-minute climb to the viewpoint which we had all to ourselves for 20 minutes to get all the photos and videos we wanted. I would 100% recommend doing this and not bothering the day before as you'll be battling crowds and heat which will really take away from the magic of the place.
After another shower (cause you'll be sweating 24/7), we were back on the bus at 10am and headed for the Dead Sea – the shoreline of which is the lowest dry land on earth, but contrary to common belief is actually not the saltiest lake in the world, but is still VERY salty. Salty to the point that you just lay back and instantly float – it's like swimming in jelly!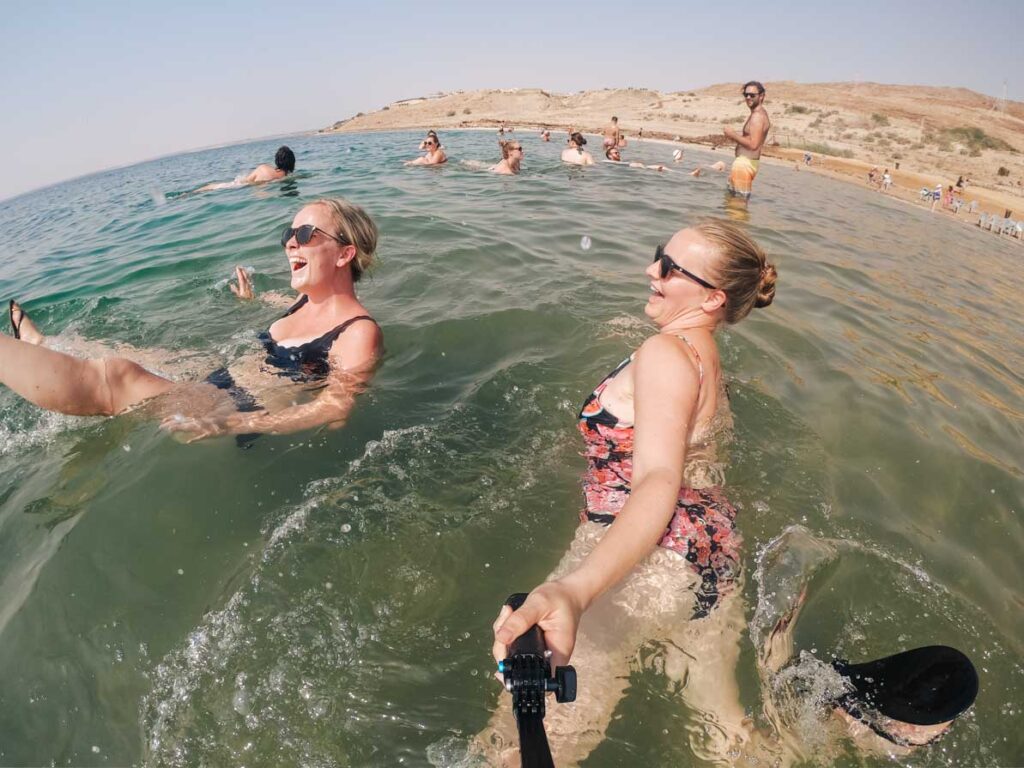 Prepare yourself for a bit of pain as well because the salt will expose any cuts or exposed skin you have. Your guide will remind you during the week, but make sure you don't shave within 24 hours of swimming. The chafing from wearing skirts in Petra the day before did nooooot feel good, but you can hop in and out every so often and it's totally bearable, just a bit tingly and uncomfortable.
The Dead Sea is actually a popular destination for healing because of the minerals in the water and the land, and for 3JOD you can cover yourself in local mud which is supposed to be good for your skin. We're not sure we noticed a difference but it was worth it for a laugh and the photos looking like we're in wetsuits.
After a serious rinse off (the mud stains your skin without a good scrub-off), you can hang out in the pool by the restaurant, there's shower facilities there as well to clean-up before you leave. A perfectly relaxing place to end a hectic three days exploring some of the most epic things to do in Jordan.
It's only an hour back to Amman and we were so exhausted we had a very relaxed night in.
---
Day six: Amman
The final full day of our 7 day Jordan itinerary was spent looking around Amman's ancient Citadel and Roman Theatre, and a walk-through of downtown – the hustle and bustle old town of the city with markets and fantastically cheap falafel. For the best cheap meal in town, head to Hashem for falafel, pita, fries and a drink for only a couple of pounds.
We had the afternoon to ourselves to do what we liked or head back to the hotel and then went back to Tawaheen Al Hawa for one final group dinner.
---
Day seven: Depart Amman
Timeeee toooo say goooodbyyyye, as the tour parts and heads off to their next destinations.
Our guide gathered everyone's flight times and bunched people together to share taxis to the airport which is a great way to save money. Your guide can also tell you how much you should expect to pay to make sure you're not getting ripped off, but Uber is also a great way to avoid that as well.
---
The final verdict on Travel Talk Essential Jordan tour
This was the second time we had travelled with Travel Talk (we visited Turkey with them last year), and it was brilliant once again.
Travel Talk runs tours all through the Middle East and North Africa as well as some lesser-visited European destinations, and the quality of accommodation and guides is well above what you would expect for the price. They also often have huge sales like 50% or take a mate for free, so be sure to check out their current specials here.
Jordan's a lot smaller than Turkey so we covered less ground, but being able to tick off Petra, Wadi Rum and the Dead Sea, plus some bonus sights in and around Amman, without having to plan an entire Jordan itinerary ourselves, was super helpful.
All in all it was an excellent week, and I'd definitely recommend it for any young travellers, whether they're solo, with a friend or in a group.
---
Got more time? Options for a 10 day Jordan itinerary
If you've got longer than a week, the one thing I would really encourage you to do is spend some time in Aqaba to go diving or snorkelling. It's a 4 hour drive and there are shuttles or public buses you can take, or you can catch a quick flight.
If you're travelling independently, then I think the perfect 10 day Jordan itinerary would be this:
Two days in Amman
One day to see Ajloun Castle/Jerash
Two days in Aqaba
Two days at Wadi Rum
Two days in Petra
One day at the Dead Sea
---
Jordan travel tips and advice for planning your trip
Where should we stay before and after the tour?
We stayed an extra three days either side of the tour at the Cabin Hostel in downtown Amman, and we can't recommend this hostel enough!
There's air conditioning, sturdy wooden bunks built into the walls with curtains, plugs and clothes hooks all in your bed area, and the staff are super friendly, bringing us fruit platters and snacks as we slaved away on our laptops finishing our Jordan content.
The hostel wanted to make the inside have an outdoor feel and they've achieved this awesome treehouse, homely vibe which we loved, and you couldn't get a more perfect location for the best of the Amman sites and food. Prices start from about £9 a night for a dorm bed, which is pretty cheap for Jordan. You can check prices for your travel dates right here.
Is Jordan safe to visit?
There's a lot of misinformation out there about the safety of different countries, particularly in the Middle East. Obviously you're never 100% safe as there are bad people and bad things happen everywhere, but from our experience, our Jordan itinerary was very safe, even for female travellers.
It is always important to thoroughly research the safety of a destination before you plan a trip and be up-to-date on any travel warnings and the latest news, but what I can say is that Travel Talk would also not offer a tour in a country that would put its customers in unnecessary danger, and that we found Jordan to be safe, friendly and welcoming to tourists.
This doesn't mean a country is perfect and it's also important not to over-romanticise a location based on its sights alone, because Jordan also has a lot of challenges for people living here, cases of public animal abuse at some tourist sites, and some major human rights issues for women, but it's good to see and understand both sides.
One of my all-time favourite travel bloggers Beth Sandland recently spoke about how there's a difference between unsafe and uncomfortable. You might be confronted with ways of life and cultural norms that you are not used to, and this might make you uncomfortable, but it does not mean you are unsafe in any way.
I've also got a detailed Jordan solo female travel guide if you want to read more.
What should I pack for Jordan?
Jordan is a predominantly Muslim country, so conservative dress is required in some places, and you'll see that most local women are covered with a hijab, abaya or niqab.
While I'm generally a supporter of women wearing and doing what they want, as a visitor it's essential to respect the local culture and religion, and also avoid drawing unnecessary attention to yourself.
We wore high-neck t-shirts and full-length trousers or maxi skirts in most places and this was acceptable. Avoid tight-fitting clothing and cover your shoulders and knees, particularly in downtown Amman.
If you're visiting touristy areas on your Jordan itinerary, like Petra, the Dead Sea and Wadi Rum, the dress code isn't so strict, but remember there are still conservative religious people around so don't have your boobs and butt out etc.
PRO-TIP:
I travel with this Skyroam WiFi hotspot which can connect to WiFi almost anywhere in over 130 countries. It's basically magic! I'm all for a digital detox every now and then, but this baby has helped me download Netflix during rainy days in the jungle, reply to important emails in homestays with no WiFi, and watch Rugby World Cup games on high-speed trains. Get 10% off yours with the promocode FINDINGALEXX.
When is the best time to visit Jordan?
Not August! We went at the end of August to tie in with other travel plans, and for two reasonably fit young women it was pretty hard to deal with. We were constantly drinking water and the heat of the desert tents in the afternoon was nearly unbearable. But we also had far less crowds to deal with so you win some, you lose some.
If you're easily affected by temperature then avoid the middle of summer as well as the middle of winter, because the desert temperatures can drop to freezing.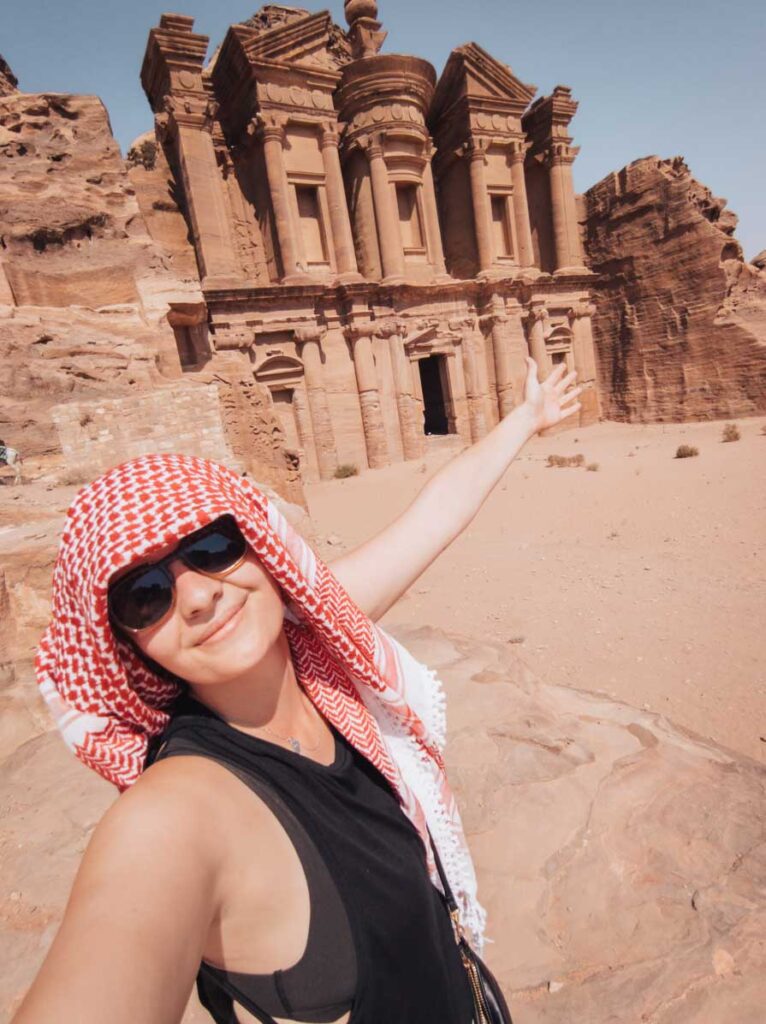 How should I pay for things in Jordan?
I was surprised how often card payments were available, however you will still need about 100-150 JOD cash for the week because you're often on group dinners where splitting the bill is only possible with cash.
ATMs charge between 1 and 7 JOD per cash withdrawal so it's worth shopping around. We were happy if we found one that charged 3JOD.
Do I need a visa for Jordan?
The rules are different depending on where you're from but Kiwis, Aussies and Brits at least do need a visa for Jordan.
My top recommendation is to buy the Jordan Pass online before you arrive in Jordan. It's 77JOD per person and includes your visa into the country (you will need it as you come through customs) and includes entry into all the major sites in Jordan. Make sure you get the two-day entry into Petra for only 5JOD extra, as otherwise it's 50JOD per day.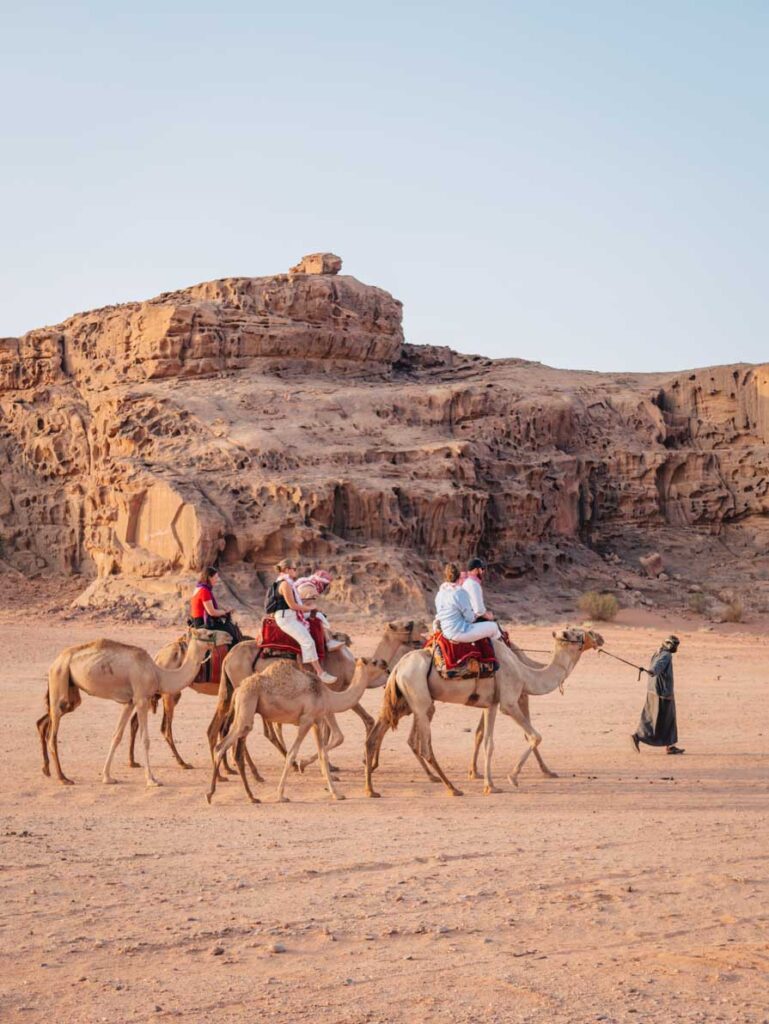 Do you need to tip in Jordan?
Jordan has a tipping culture, so keep in mind that sometimes your bill will have a 16% service charge added, and you will want some extra cash on hand to tip your tour guide, driver etc at the end of your trip.
If you're not on a tour and you find yourself needing to tip for a particular activity or experience, 10% is a good rule-of-thumb.
Expect to see children in poverty and begging in Amman
You will most likely come across children begging for money at some point on your Jordan trip. If you haven't come across this before it can be pretty harrowing and very heartbreaking to say no to.
However, it's important not to give them money as it actually fuels their poverty cycle, the money most likely doesn't actually stay with them, and it encourages them to be out on the streets instead of in school so they miss out on their education.
I'm by no means an expert on this, but there is plenty of information from charities and NGOs who work with children in poverty to support this. If you would like to support the children in a country you visit, donating to a charity that helps children stay in education can be a great way to do this – but, as with anything, research is important.
Some language basics
Arabic is the official language of Jordan so it's nice to know some basic greetings and pleasantries to use everyday. English is widely spoken but we found it often to be to a very basic level.
Throughout Jordan, people will be more likely to speak local dialects such as Jordanian Arabic, urban, rural, or Bedouin dialects. We found it helpful (and found the locals appreciated us knowing) a couple of terms such as Salam (hello or goodbye), Salamo Alaykom (a more formal hello, 'peace be upon you'), Shukraan (thank you) and Marhaba (hello, welcome, you are welcome).
Also be patient with locals when trying to communicate in English and remember they are speaking as a second or third language, which we should have great respect for.
How to cross the border into Jordan
If you're coming to Jordan from Israel (or from Egypt through Israel) or vice versa, there are two border crossings you need to go through and there is no transport that can travel the whole way through.
You will need to first get to the Israeli border by taxi, shuttle or bus, pass through the border on foot, then take a new shuttle to the Jordanian border (about 7 JOD), again pass through the border on foot, and then get another taxi, shuttle or bus from there into the city.
The borders are only open between certain hours so make sure you arrive at the right time to allow for the crossing.
You can cross at three different places, depending on which cities you are coming/going from and to. There's plenty more information online about each border crossing, costs, what to expect etc. so it's worth looking into before you go, as this brief overview is based off our tour-mates' experiences only.
Can you drink the tap water in Jordan?
You can drink the tap water in Jordan but it's not recommended due to its high chlorine and calcium levels, so you'll need to drink bottled water or get a filtered drink bottle like this WaterWell one from Amazon.
What is Jordanian food like?
Get ready to eat lots of falafel, hummus and bread. There's also a decent amount of veggie dishes and sides available, but it's worth stocking up on fruit from the supermarket to take with you as snacks as it's harder to find once you're moving around.
The must-try is their sweet cheese dessert called kunaffa, which is best to get from Habiba (a chain you can find close to the hotel in Amman, or in the centre of downtown). Our favourite find of the trip was definitely the cold lemonade mint drink that's available at all restaurants.
What camera should I take?
GoPros are made for specific kinds of travel and this is definitely a Jordan itinerary where it's worth having, for the jeep safari, the camel trek, Petra and the Dead Sea. I have the GoPro Hero 7 Black and definitely recommend it, from what I've heard about the new Hero 8 it's not a huge step up so it's worth saving money and going for the slightly older version instead.
It was also a relief to find out we had power in the Wadi Rum desert camp as the two days either side were the most photo-heavy days on our Jordan itinerary, so being able to charge everything overnight was essential.
If you book a desert camp without power (or if you're not sure), make sure you take a decent-sized battery pack to recharge your batteries, like this one from Cygnett which charges my phone, camera and other gadgets multiple times each.
YOU MIGHT ALSO LIKE: What's in my camera bag for a year of travelling around the world?
Can I bring a drone to Jordan?
NO! Drones are banned from the country, and if you're caught with it when you arrive or depart Amman they'll confiscate it and you'll never get it back. I know some travel bloggers have talked about how they were able to sneak theirs in but it's your own risk, and being caught flying could lead to serious legal troubles.
If you're a professional drone pilot with the right licenses and insurance then you may be able to get a permit from their aviation authority, but the process is apparently very difficult.
---
I hope this 7 day Jordan itinerary guide and tour review has been helpful for planning your own Jordan trip! Be sure to check out my solo female travel guide to Jordan and watch my Jordan highlights on Instagram @findingalexx.
Like this blog? Pin it!
Read more about my 52 in 52 adventure here, see all of my blog posts from the trip here, or check out my Instagram @findingalexx to see all of my travel photos.
All the basic details from my big 52 in 52 trip:
How do you find your flights? Skyscanner! I use the Everywhere tool to find the cheapest place to fly to each Tuesday
Do you fly every week? Not every week no, once I have the destination I check trains and buses to see if there's any other transport options aside from flying. If so, I usually book these using the Trainline app.
How do you book your accommodation? I book all my hotels, hostels and apartments on either booking.com or Hostelworld.
Do you have travel insurance? YES, I always travel with travel insurance and you should too. I'm insured for an annual policy with Worldcare NZ.
Do you offset your carbon credits? I sure do! I always offset when I book if the airline gives me the option (Ryanair does), and I also offset all my flights using Co2nsensus.com.
What luggage do you travel with? I travel with a 75cm Samsonite Cosmolite suitcase, a matching Samsonite Cosmolite 55cm cabin luggage hardcase, and a cheap laptop backpack.
What camera do you use? You can see the full list of what's in my camera bag right here.
What laptop do you use? I have a super portable HP Spectre x360 13.3″ laptop, which is an absolute dream to travel with.
For more FAQs about my 52 in 52 trip, see this post.
Huge thanks to Travel Talk for hosting me and Bex on their 7 day Essential Jordan itinerary. As always, all opinions are my own and are based on my personal experience.