Full disclosure: When I travelled to Jordan I was actually with a female friend before we jumped on a group tour so I wasn't solo, but this travel guide is for all gals heading to Jordan.
Solo female travel in Jordan is still rare compared to most other parts of the world. I myself was warned many times about travelling to Jordan (and other parts of the Middle East) from well-wishing friends and family back home.
I was prepared for a similar experience to Marrakech and Istanbul, which are both overwhelming, hectic and incredible at the same time. But after a couple of days exploring Amman with a friend, and then seeing Petra, Wadi Rum and more on a group tour, I can say that my personal experience as a female traveller in Jordan was that I felt safe and comfortable everywhere I went.
YOU MIGHT ALSO LIKE: The ultimate 7 day Jordan itinerary
Your experience with safety and security in Jordan is going to be completely dependent on where you go, the people you come across and your own circumstances, but here's an as-detailed-as-possible Jordan solo female travel guide on what to expect when you visit the country, what to wear, how to get around and more.
Please note this blog contains affiliate links that give me a small commission from any purchase, at no extra cost to you. I would never advertise anything I wouldn't use myself, and this commission helps Finding Alexx reach more travellers. Thank you for supporting me!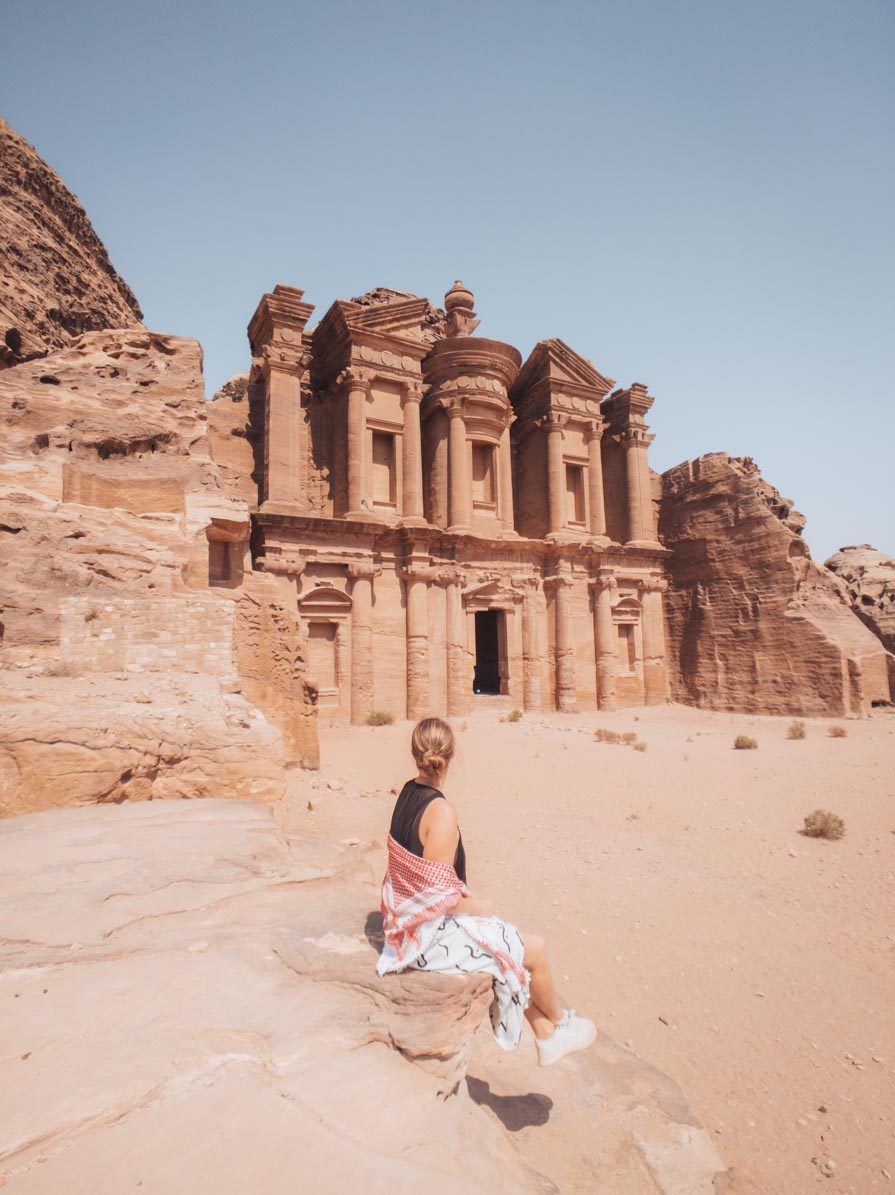 Is Jordan safe to travel to?
From my experience, yes, Jordan is safe to visit. You'd be forgiven for thinking that Jordan is a dangerous place, since its neighbours Syria, Iraq and Saudi Arabia have a less-than-perfect record in terms of peace and human rights, but it's actually known as one of the safest countries in the Middle Eastern region.
YOU MIGHT ALSO LIKE: The Ultimate Guide to Solo Female Travel
Jordan's rated #40 out of 162 countries on SafeAround.com's list of the safest countries in the world, and that rating takes into account the dangerous borders with Syria and Iraq. If you're planning on staying within the main tourist areas (which you should), you're unlikely to be in any more danger than any European cities you might have travelled to before.
Terrorist attacks at the time of writing (October 2019) are rare, violence against foreign women is for the most part uncommon, and the type of crime you'll likely encounter (if any) is pickpocketing in Downtown Amman or other busy places, so always keep your belongings attached to your body.
So nothing bad will happen?
Unfortunately, I can't say that with certainty. As a female traveller and especially if you're travelling solo, you do need to take extra precautions and regardless of what you do, you might find yourself in uncomfortable or unsafe situations.
I didn't experience it myself but I have heard of other female travellers who were harassed at the major tourist sites like Petra, where local men grab and touch tourists and try to take them out of the main sites and to back roads or their own houses.
If you are being touched and followed in Petra or any other part of Jordan, be firm and pull away or tell them to leave you alone, then get back to an area with other tourists and ask for help if you need to.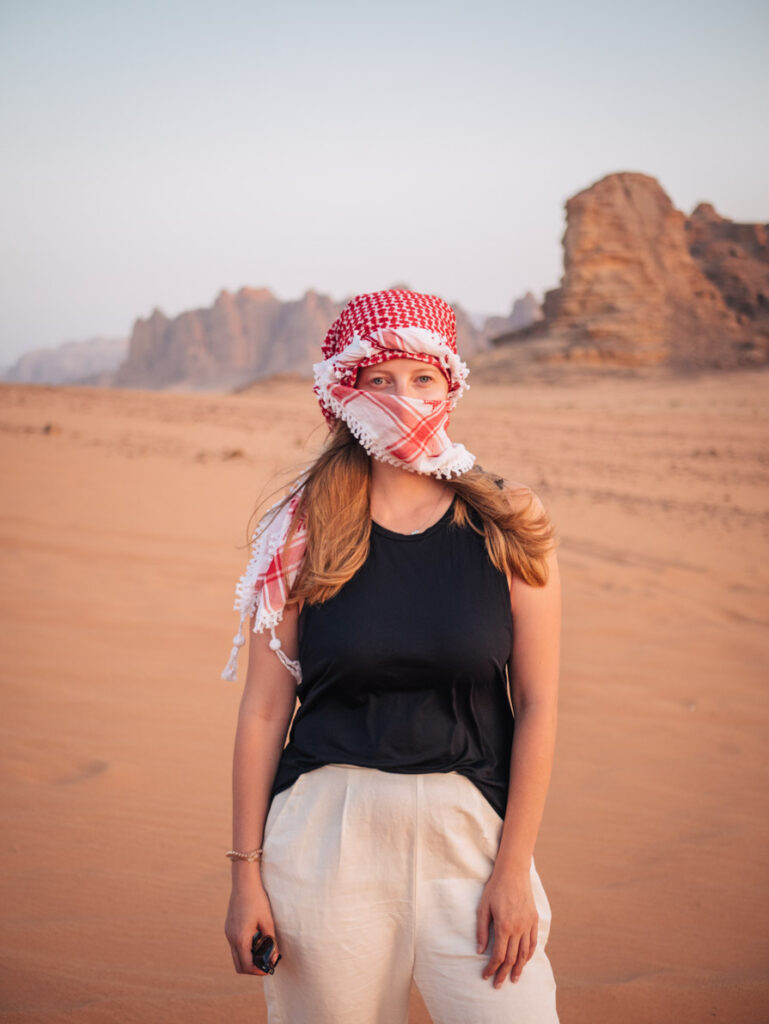 How will I be treated by the locals?
Jordan is a predominantly Islamic country, with 92% of Jordanians being Muslim, meaning the society is still patriarchal and conservative with many Jordanian families into traditional gender roles of women staying at home with the children and men working in the city. Because of this, it is still fairly uncommon for locals to see women in the city by themselves, which can result in stares and attention.
As the wise Beth Sandland once said, it's important to recognise the difference between being unsafe and being uncomfortable. In Jordan, if you're light-skinned, light-haired, red-headed, Asian, Black or look different in any way to the locals, you're going to stand out, which unfortunately means you will receive attention.
From my experience, the vast majority of this attention is not meant maliciously, and you can either ignore it by avoiding eye contact, ask people to leave you alone, or if you are happy to chat then just smile and chat back (although be aware this may bring more and stronger attention).
Don't let stares and comments make you scared and worried for your safety as they're probably just trying to be friendly, but if you do feel unsafe then you absolutely have the right to remove yourself from the situation and to say no.
YOU MIGHT ALSO LIKE: The Ultimate Turkey tour itinerary
Although I know this isn't always the case, every single interaction I had with any local men was only positive. The shopkeepers, waiters, market sellers, bedouins in Petra and more were all friendly and respectful, always keen for a chat and to find out more about where I was from and if I was enjoying so far.
Most Jordanians, like any nationality, just want you to have an incredible time in their country, but as always, there are bad people out there with malicious intentions.
What should I wear in Jordan as a female?
Because of Jordan's conservative and religious society, you'll need to pack a bit differently from previous holidays to other warm destinations. A good rule to follow in any Muslim country is at least shoulders and knees covered, and you might feel more comfortable and receive less attention if you're covered right down to your wrists and ankles.
The actual necessity of being covered really depends on where you are. Downtown Amman, traditional areas and any local villages are a definite cover up, and it's worth taking a scarf to cover your head and hair if you're visiting any mosques or any residential areas particularly off the tourist path.
For the more touristy areas like Petra, it's a bit more lenient (which was a lifesaver in Petra, I would've died of heat if I had to climb 800 stairs to the Monastery in August wearing long sleeves!).
YOU MIGHT ALSO LIKE: Things to know before going to Israel
Here's a rough guide of what I wore during my week in Jordan:
Plain singlets (only for places where it's okay to show shoulders)
Lightweight tshirts
A linen long-sleeved top
A jumper for the desert at night
Linen full-length pants
Full-length leggings (only for places where it's not too conservative as they're figure-hugging, fine for hiking in Petra though)
Maxi skirts
Sneakers
A scarf
A hat
What are some other Jordan solo female travel safety tips?
If you're really worried about travelling by yourself, jump on a tour! I did a seven-day Essential Jordan tour with Travel Talk and absolutely loved it. It's a great way to experience a destination if you're travelling by yourself but want to explore with like-minded travellers and have that extra level of safety and security.

Public transport is super limited, so if you're not doing a tour, the only ways to get around are to hire a car or hire a private driver. Hiring a car is safe for women if you're confident to drive in a foreign country, but it can be expensive as a solo traveller. Hiring a private driver/guide will cost you upwards of 75JD per day so if money's no object then it could work, but it's not a budget-friendly option.

I've heard of a couple of bad experiences with taxis in Amman, so we used Uber when we were there so there's always a digital record of where you are and who you're with. If you haven't used Uber before you can get a sweet discount if you sign up using this link.

Make sure you have cell service and data wherever you go. Most international SIMs have huge roaming charges if you use your phone in Jordan, so it's best to buy a local SIM card either at the airport or online before you leave.

If you want a proper WiFi hotspot you can use for your phone, laptop and any other devices, I'd recommend getting the Skyroam Solis which gives you WiFi anywhere in the world with reception service, and it doubles as a power bank which is super handy in an emergency.

Always, always, always travel with travel insurance. I use Worldcare to insure all my trips, so I'm covered for luggage, travel delays and cancellations, medical issues and loads more.
For more solo female travel tips, you can see a detailed list right here.
Again, let me just be clear that this Jordan female travel guide is based on my own personal experience. I was lucky enough to have only positive interactions with Jordanians, and I do think that's the experience most tourists will have.
As with anywhere in the world there are always going to be bad people, and it's always important to take precautions to keep yourself and your belongings safe regardless of who you are or where you are. And most importantly of all, GET TRAVEL INSURANCE!
If you have any other questions or want to share your experience of Jordan solo female travel, please flick me a comment and I'll do my best to get back to you.
This Jordan solo female travel guide is sponsored by Worldcare Travel Insurance, who offer affordable policies with fantastic coverage, perfect for digital nomads, solo female travellers, round the world adventures or anyone going on their OE. I have a long-term policy with Worldcare and it covers me for medical, travel delays and cancellation, lost or damaged belongings, and loads more. Find a policy to fit your next adventure at worldcare.co.nz.
Like this blog? Pin it!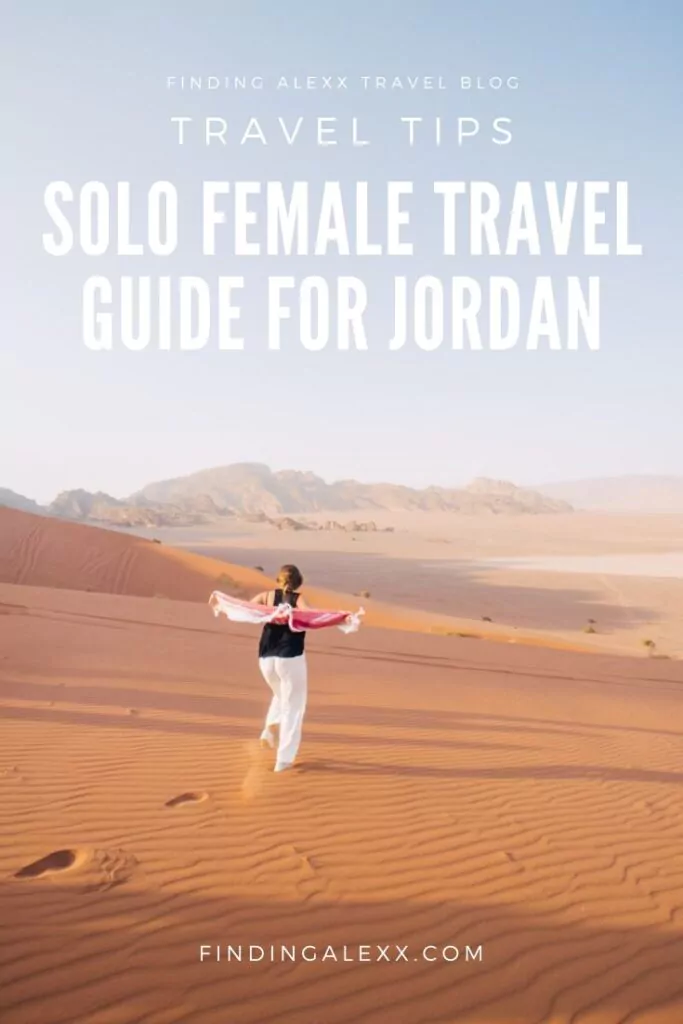 Read more about my 52 in 52 adventure here, see all of my blog posts from the trip here, or check out my Instagram @findingalexx to see all of my travel photos.
All the basic details from my big 52 in 52 trip:
How do you find your flights? Skyscanner! I use the Everywhere tool to find the cheapest place to fly to each Tuesday
Do you fly every week? Not every week no, once I have the destination I check trains and buses to see if there's any other transport options aside from flying. If so, I usually book these using the Trainline app.
How do you book your accommodation? I book all my hotels, hostels and apartments on either booking.com or Hostelworld.
Do you have travel insurance? YES, I always travel with travel insurance and you should too. I'm insured for an annual policy with Worldcare NZ.
Do you offset your carbon credits? I sure do! I always offset when I book if the airline gives me the option (Ryanair does), and I also offset all my flights using Co2nsensus.com.
What luggage do you travel with? I travel with a 75cm Samsonite Cosmolite suitcase, a matching Samsonite Cosmolite 55cm cabin luggage hardcase, and a cheap laptop backpack.
What camera do you use? You can see the full list of what's in my camera bag right here.
What laptop do you use? I have a super portable HP Spectre x360 13.3″ laptop, which is an absolute dream to travel with.
For more FAQs about my 52 in 52 trip, see this post.