In between leaving my 9-5 desk job in London and diving head-first into full-time travel and funemployment (who needs financial security anyway…), I wanted to spend a week doing something EPIC to celebrate the transition. Preferably something that involved swimming, good food and a lot of mojitos. Croatia island hopping was an obvious choice and there's loads of destinations and companies to choose from, but we decided on the Medsailors Croatia Voyager route for our Croatia sailing tour.
Here are 11 reasons why you NEED to go island hopping in Croatia with Medsailors.
YOU MIGHT ALSO LIKE: Your ultimate guide to sailing in Croatia
1. Legendary crew
The Medsailors crew are more than just skippers, cooks and travel agents (although they're all those too…), they get fully involved in the experience.
Each boat has a skipper who doubles as a breakfast/lunch chef, then there are the crew who move around the boats and help out with sailing and docking, and then there's Guest Experience Leaders who suss out all the logistics on each island and have loads of local knowledge.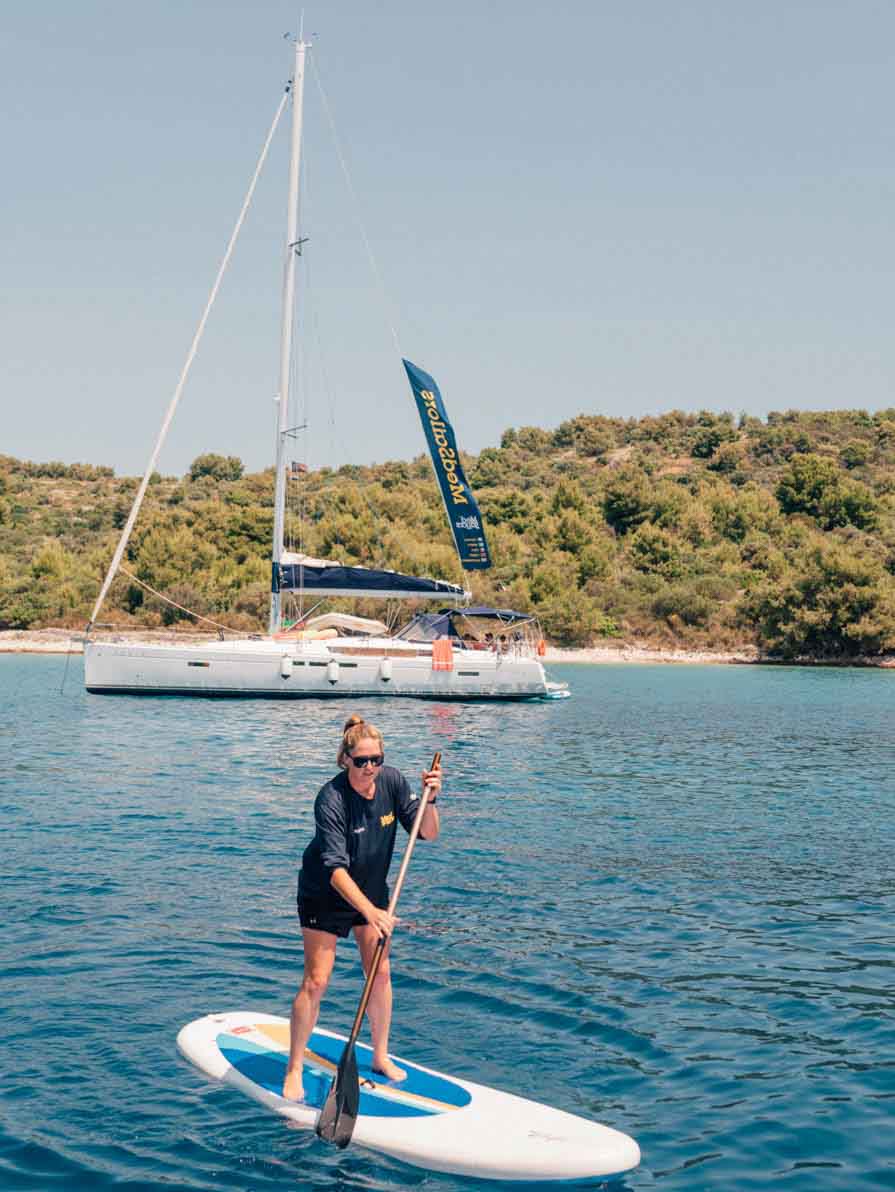 Our skipper Chloe was one of the best parts of our trip for sure. She was a Brit, my age, and had been sailing for only a couple of years, although you'd never know that from her skills and confidence on the boat. From the get-go she was super friendly, joined us for dinners and drinks on the islands, and was the perfect leader for our week on the sea.

The Medsailors crew were all super professional and well-trained. They were all in their 20s and 30s, from a variety of countries, always keen for a chat or to answer questions about the yacht or Croatia.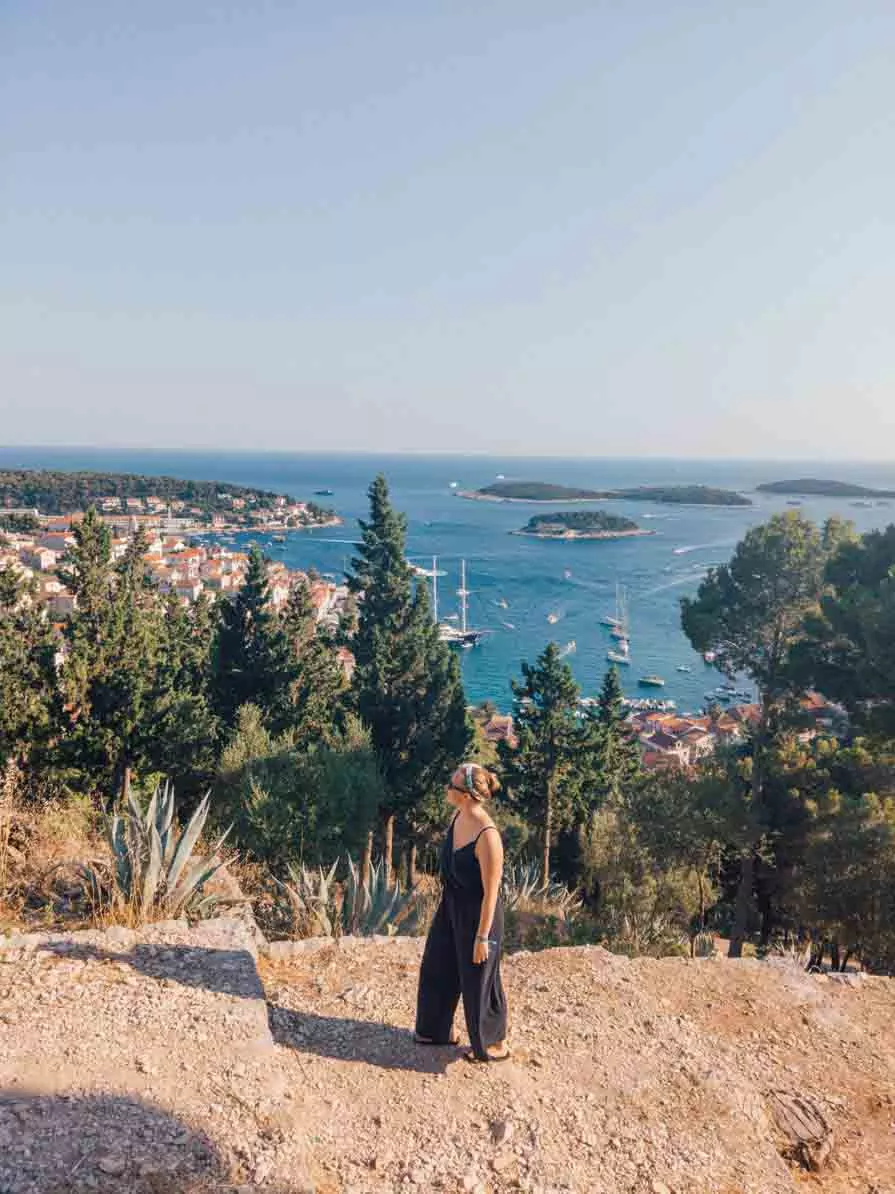 Our Guest Experience Leaders for the week were Hannah and Ginna, and both were prepped with suggestions for food, drink and activities at each stop. We literally didn't need to think AT ALL the whole week, which was a beautiful break from my usual style of travel (and my upcoming year of 52 countries in 52 weeks!).
2. Boat mates at first sight
With Medsailors yacht trips you can rent out the whole boat (usually 4 or 5 cabins so 8 to 10 people), go in a small group, a pair or as a solo traveller, and the age group they target is 20-35 years old.
We had a group of four of us, so we got put on a yacht with another group of four friends and one girl flying solo, and were amazed at how well we got on!
It's not often you could throw nine people from different walks of life onto a boat for a week and not have any issues – although the other group were Kiwi girls who I have LOADS of mutual friends with, so not such a different walk of life haha. Classic New Zealand.
Medsailors nail this every time, because everyone who books has to fill out a short survey about what they're looking for in their holiday, and as much as possible they plan the boats to match similar interests and travel styles. The nine of us were all looking for a decent dose of sun and sea, some casual drinks each afternoon and one or two bigger nights out.
There were other boats that were full on all the time, and some who were there for a quiet week, so each boat basically just did what they wanted. So even if you're travelling solo and you're looking for a relaxing week to read some books on the deck, you won't get thrown on a boat with party animals, and vice versa.
3. So. Much. Swimming.
The ratio of being in the water vs. not being in the water was so ideal. We had at least two swim stops every day, and a couple of our overnight island stops had swimming areas too.
Each morning we'd sail about half an hour to an hour to a secluded little bay for breakfast and a dip, and we'd be there for up to two hours. I was in the water basically the entire time every time, only getting out for my daily brekkie of Croatian Nutella on fresh bread a.k.a. breakfast of champions.
What you can't see here is me screaming and flailing around because I was completely surrounded by fish after my 'friends' threw fish food (bread) all around me. It was HILARIOUS for everyone else, not so much for me at the time haha.
After an hour or two we'd jump back on board, tie up the unicorn and do the dishes as we set off for another couple of hours sailing towards our evening stop.
We'd anchor up in another bay for lunch, and Chloe would prepare the food while we all hopped into the water to cool off. Lunch stops were a couple of hours, and again I basically had to be dragged out of the ocean.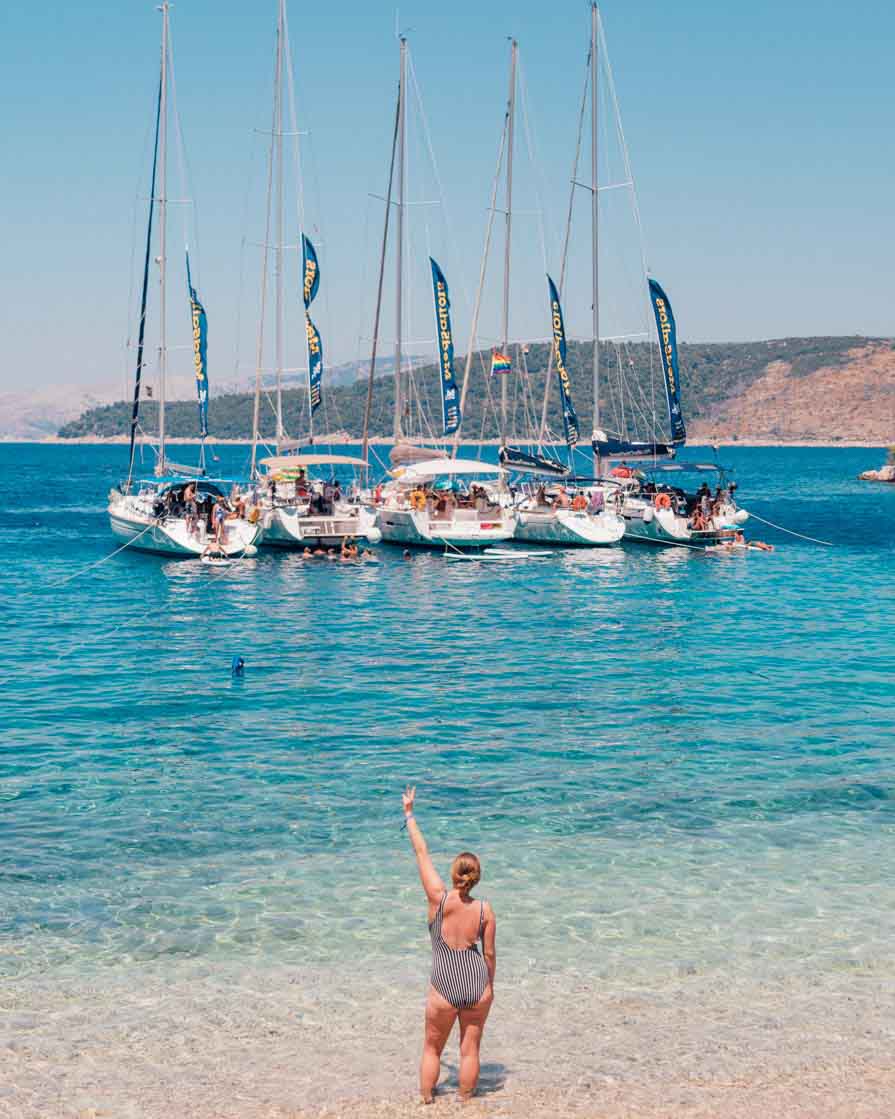 In the evenings we were docked up in marinas where you can't swim (and wouldn't want to, because the boats have their holding tanks open all night!), but on some islands there were nearby beaches or lakes where you could take a dip when we arrived or before we left.
YOU MIGHT ALSO LIKE: 30 photos that will make you book a Croatia sailing trip
4. Learn to sail
The skippers are experienced sailors and can teach you as much as you want to learn. We helped Chloe each time we docked or anchored, and when you get the sails up your skipper can show you the ropes (literally!) if you're keen to see how it all works.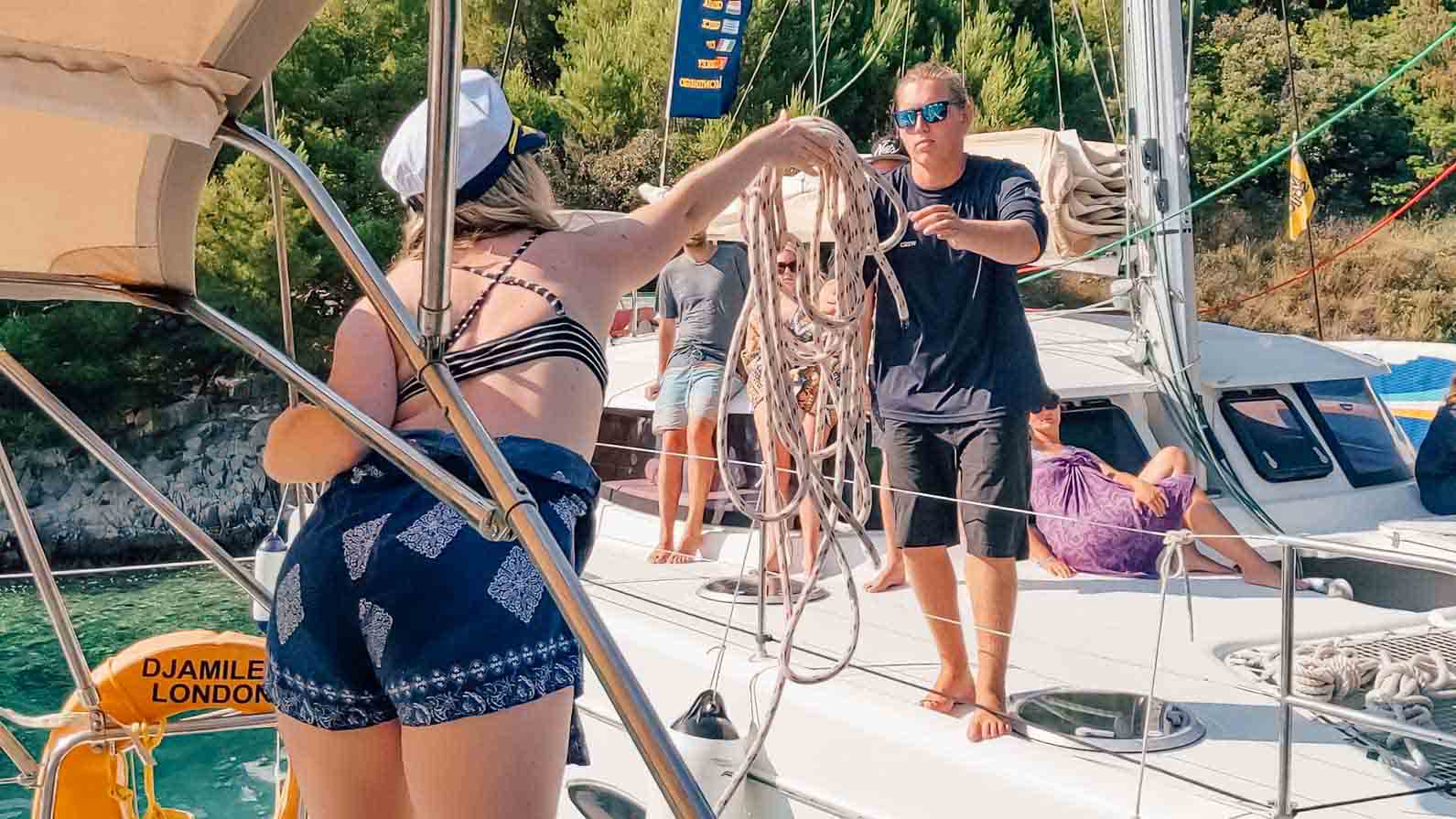 We didn't spend much time sailing on our week as we had a couple of seasick boatmates who felt worse from the sails than the motors, but if you get the right amount of wind and can hack the bobbing then you'll come away with some sailor knowledge too.
Medsailors is definitely known for being one of the best Croatia sailing companies in terms of professionalism and expertise.
5. Little islands
Most of the Croatia sailing trips for young people do the party spots of Hvar, Vis, Brac and Bol, and Medsailors' other Croatia route, the Discovery Route, visits some of these too.
The Voyager route however, the one we were on, takes the back roads (or waves) in between Dubrovnik and Split and takes you to smaller, local islands way off the tourist trail, which was such a treat.
We spent most of our evenings docked in bays with no other yacht companies to be seen, a rare occurrence in Croatia's summer season.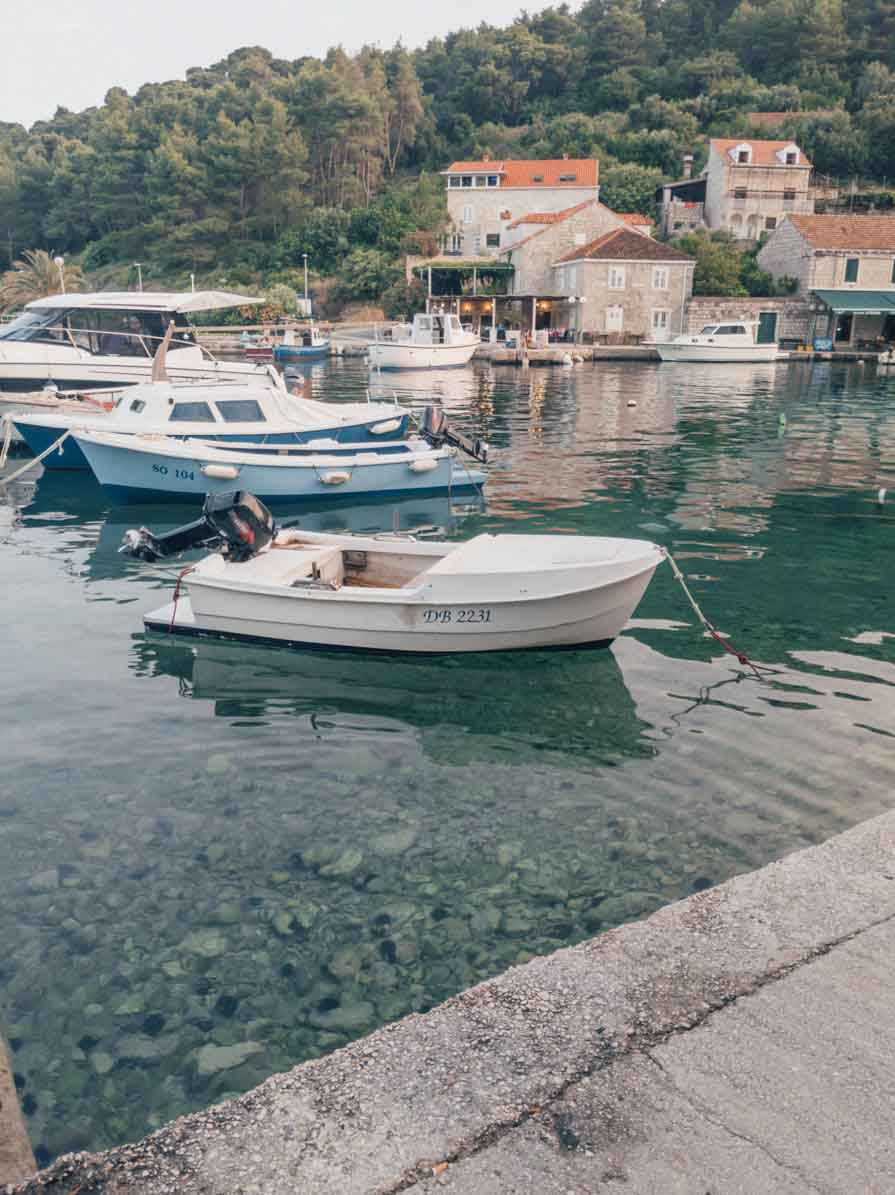 We ate at local family-run restaurants and sipped mojitos at quaint little bars right on the water, and it felt like we were actually in Croatia, instead of a tourist hot spot with Aussie and Kiwi accents more common than people speaking the local language.
Avoiding the popular islands also meant less wait time to get a table for dinner, lower prices, more authentic cuisine, photo spots with less people, and generally just more relaxing vibes.
I reckon this was one of my favourite aspects of our tour, and I'd absolutely recommend the Voyager route if you're keen to see the real Croatia away from the parties, the Game of Thrones tours and the cruise ships.
In saying that, we also spent two nights docked at Hvar – one night at Vrboska and one night at Stari Grad.
Vrboska is a small port at the south end of the island so it still felt reasonably distanced from the main port of Hvar town, and Medsailors has an included bus to the castle above Hvar's town centre, where you can wander down to the main square for a night out (if you want one, I'll go more into that later).
Then the second night we spent at Stari Grad in north Hvar, where we had beautiful evening at Hora Farm, a local winery and orchard. The bus to Hora Farm was provided by Medsailors but dinner and drinks were separate.
6. Gorgeous Gambo
This incredible little island gets a point of its own, and it's firmly made a spot on my 'most unique places I've ever stayed' list (up there with the hanging tree tent in the UK, the Ritz-Carlton Hong Kong and the Boatel in Indonesia).
On our fourth night of the Medsailors Croatia island hopping trip, instead of docking at a marina, the six boats from our route rafted up together in a tiny little bay owned by a man named Gambo. Just look at this place!
We had a couple of hours to play around in the water before getting spruced up for the 30 second dinghy ride to the restaurant on land. Yes, we could have paddled over in the water but in the smaller Croatian islands it's generally expected to be clothed and dry when you're at a restaurant. No shirt, no service as they say.
Dinner was fresh and delicious, I had grilled chicken but most of the guests had whole grilled fish, Gambo's speciality.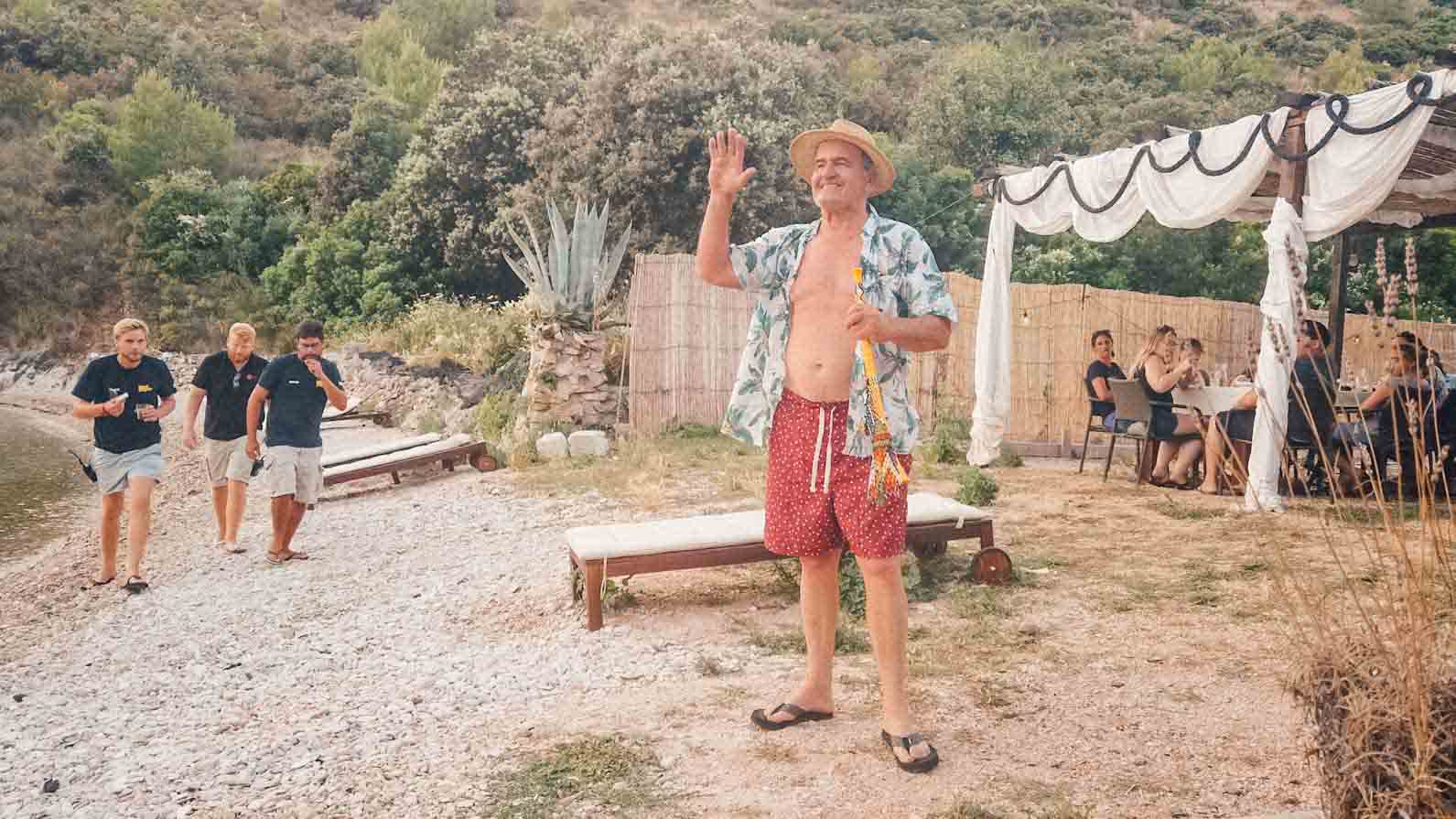 After dinner there was a vuvuzela competition, fried pastry with icing sugar for dessert, and lots of homemade liqueur, before our trusty skipper delivered us safely to our floating home 20 metres away.
7. Good food
From super fresh seafood to homemade olive oils to delicious hazelnut gelato, Medsailors knows all the best spots for local eats.
Most evenings there was a recommended restaurant, so you could pre-order your meal on the boat and get your food basically as soon as you sat down.
These restaurants were all locally-owned and run, and their relationship with Medsailors brings them loads of customers so the service is much better than most Croatian restaurants. This country is notorious for slow service! Island time and all that, I guess.
If you wanted to eat elsewhere though you are more than welcome to do so, and the Medsailors team can recommend other places depending on what you're looking for.
The food on the boat is great too. Our daily breakfast options were cereal, muesli, yoghurt, fresh bread and spreads, and something cooked like scrambled eggs or pancakes. Lunch was always a hot meal with a side salad, some of our dishes were blue cheese gnocchi, mushroom risotto and tomato pasta.
YOU MIGHT ALSO LIKE: A full review of my Medsailors Croatia tour
8. They're eco-friendly
Plastic use is an incredibly important topic for travellers and travel suppliers these days, and one that's especially close to home for anyone who lives, works or holidays on the ocean. Medsailors has taken some key steps towards being more sustainable as a company, and as a host for thousands of guests throughout summer.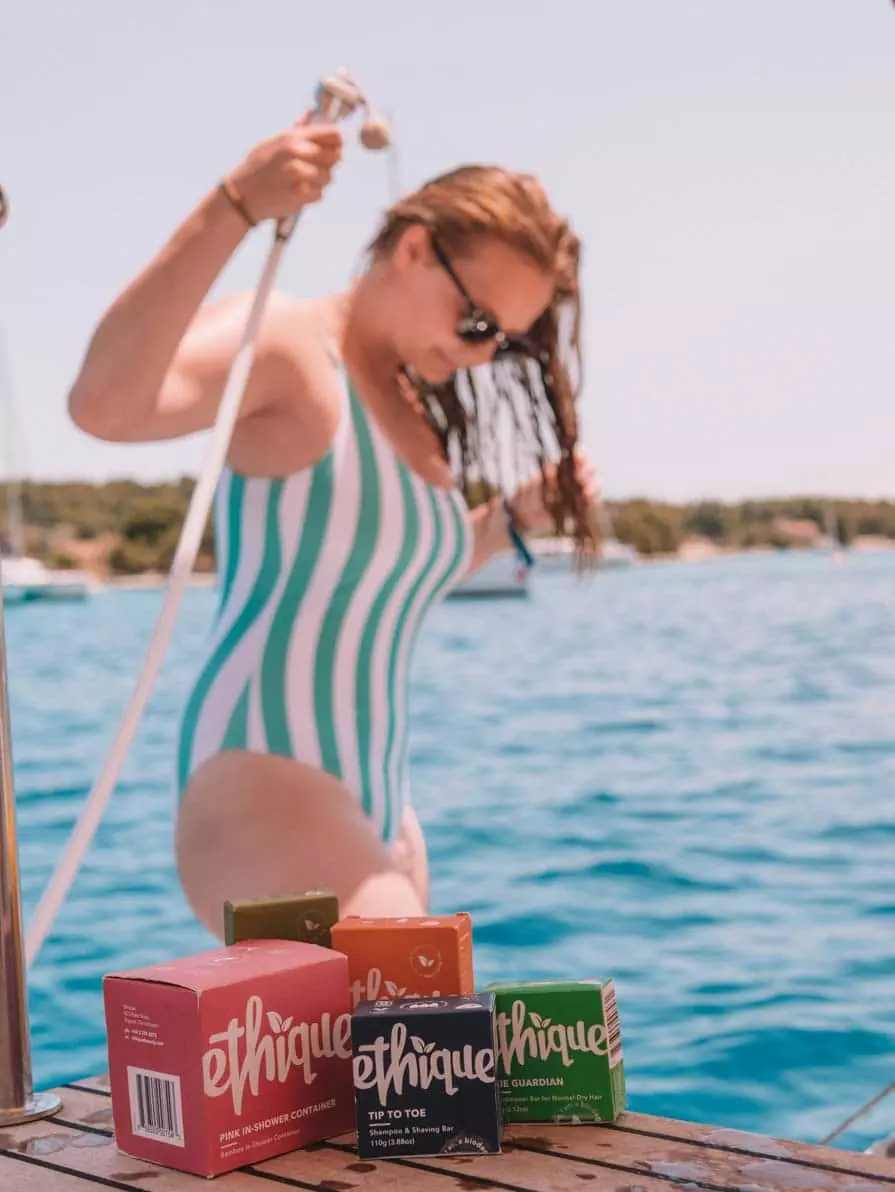 One of my favourite sustainable travel products is Ethique shampoo, conditioner and body wash bars! Super lightweight, zero waste, cruelty-free AND they're a Kiwi company so it's a little bit of home that comes with me on the road. They ship all around the world and you can buy them in Holland & Barrett in the UK!
First of all, DON'T BRING A FLOATIE. Medsailors runs a floatie recycling programme, so when you check in at the start of the week you can 'buy' the previous week's floaties for a small donation.
The weeks at the start of the summer might need to buy their own (you can get them at the supermarket at the marina where you check in, or on all the different islands) and then donate them to the cause, so by July there'll be loads to choose from.
This means that our beloved unicorn is still having the best summer of his life sailing up and down the Croatian coast.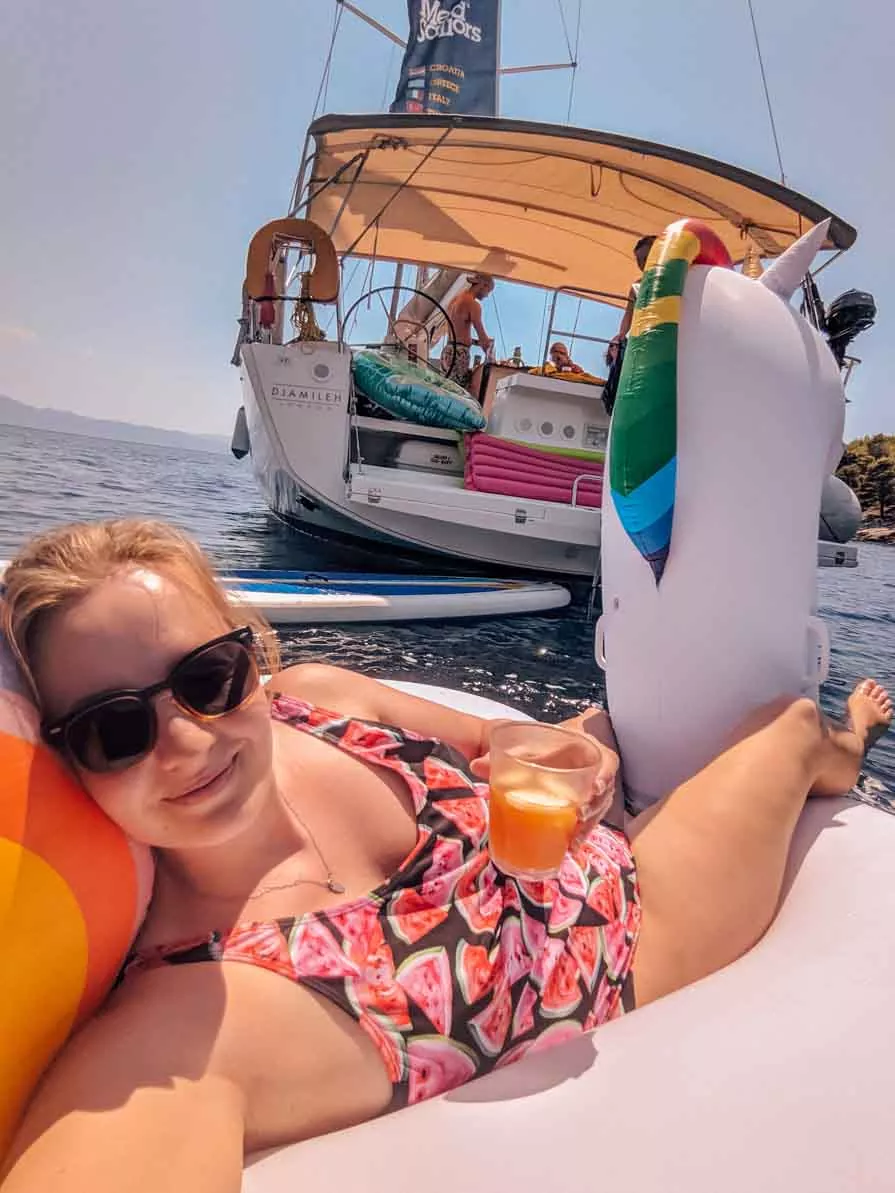 Medsailors is also really careful about plastic use, with proper cutlery and crockery on the boats and an eco-friendly tote bag for each guest on check in. Croatia as a country is terrible with single-use plastic, so where possible try to remember to ask for your drink without a straw, take your own bag to the supermarket and get your gelato in a cone, not a cup.
Even by choosing the Voyager route you're helping to do your part for sustainable tourism. Over-tourism is a huge problem for a LOT of Europe, especially Croatia, so any time you go off the beaten track you're helping to spread the amount of visitors to smaller regions, bringing in more tourist dollars to locals, and getting a way more authentic experience.
Absolutely no judgement to anyone who chooses to travel in any different way as I loooove some tourist hot spots, but it's just a good thing to consider when you're planning a trip! And always, always, always remember to be respectful of the land, ocean, people and culture in any place you visit.
9. BYO
Unlike lots of the other Croatia sailing companies who charge you for what you drink, in one loooong and scary bill at the end of the week, Medsailors is totally BYO for bevvies and snacks.
We stocked up on spirits, mixers, chips and popcorn at the start of the week which massively kept our costs down. This meant we could drink throughout the days without paying €5 euro per G&T, plus we could make our own punch and cocktails. Another mojito, please!
10. Choose your vessel
Medsailors' yachts are nice. Forget about the huge wooden boats that hold 40 people and probably only a couple of bathrooms, Medsailors has three yacht options to choose from for a small crew.
The Premier and Premier Plus yachts have a similar layout, usually with two or three double cabins and two bunk cabins, at least two bathrooms, a kitchen and dining area, and then two outside areas upstairs, the back deck with sun cover and the front deck without. The Premier Plus yachts are 2014 or newer so just a bit more spacious and modern, and this is the one we went with.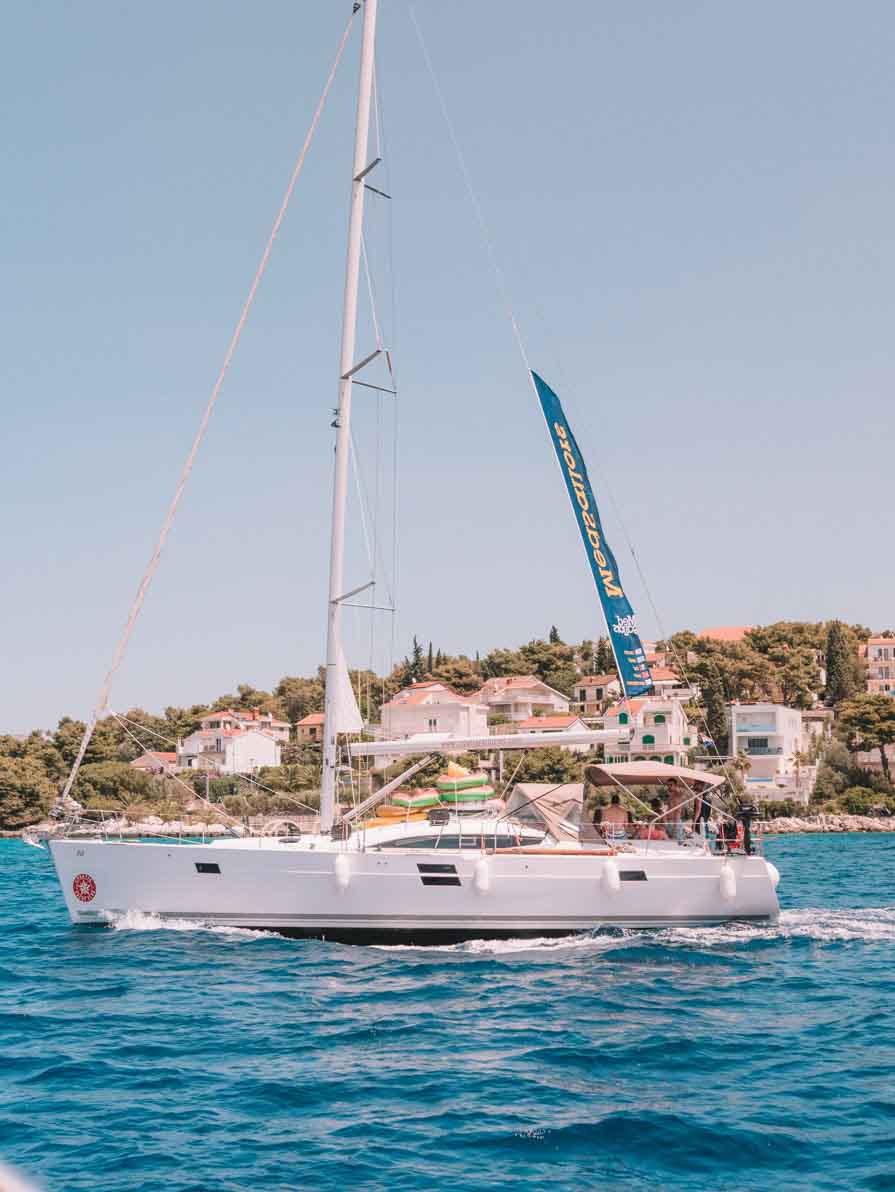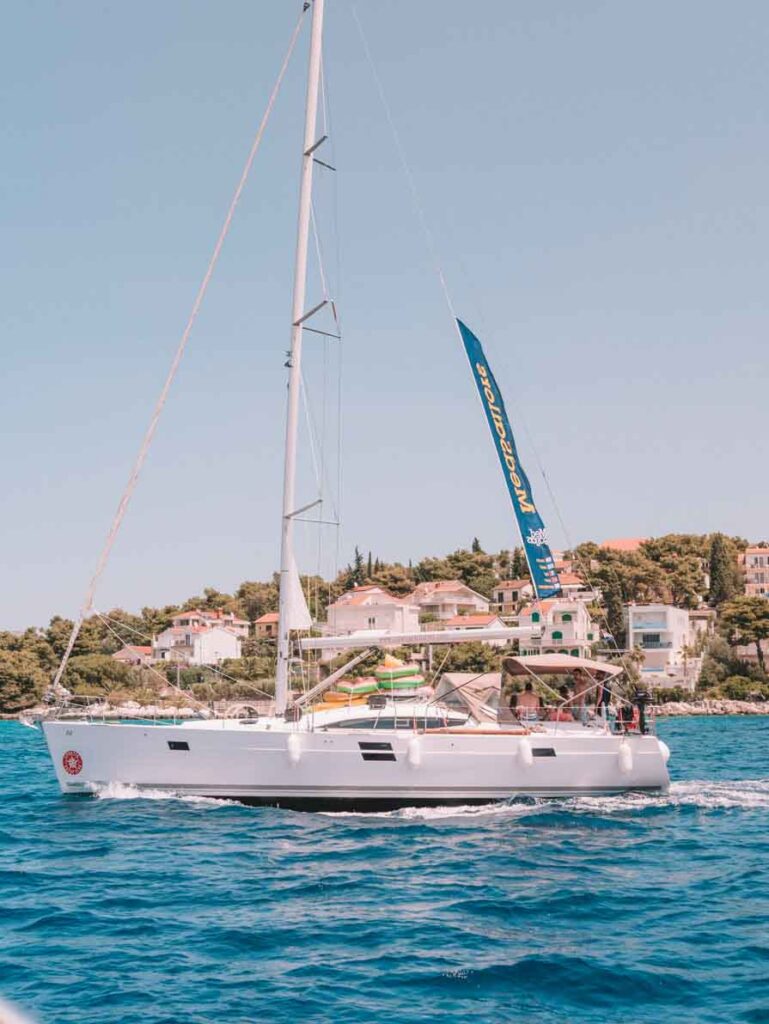 The best boat though is definitely the catamaran, which is what we'll go for next year for sure. The cat can hold 8-10 people as well but have a different layout, with slightly bigger rooms, a much more spacious kitchen and dining area that opens out into a decent-sized back deck.
Then up the front, and this is the game changer, is the net! A huge net right over the water, ideal for sunbathing and sleeping under the stars. Sign me up right now for July 2020, I'll need a break after the craziness of the next year!
11. Just the right amount of rowdy
Although our week was a lot of swimming and relaxation, we did squeeze in a fair few drinks too… Breakfast gin, anyone?
Mostly our drinking was in the form of sipping G&Ts in the sun throughout the day, but we did enjoy one loud and rowdy night out too. When we were staying at Vrboska on Hvar, Medsailors had a bus to take everyone into the main town for dinner and whatever level of drinking you felt like.
We headed to an epic cocktail bar recommended by one of the crew, Bosscat, for fancy drinks before we headed to Appetit for dinner, where they welcomed us with honey shots. That was the beginning of the end!
Hvar was the 5th night and the perfect chance to let our hair down. We popped into Kiva Bar, one of Hvar's most infamous party spots, and spent a couple of hours with the other guests and crew singing our hearts out.
It was a 25ish minute taxi back to the marina and there's a curfew for noise on the boats, so we quietly (so we thought haha) continued our drinking and singing inside the boat. It was super fun and a fantastic way to celebrate our Croatia holiday with all our boatmates.
If you're looking for a huge party week then consider Medsailors Discovery route, but if you're keen for some downtime and exploring with a side of drinking and dancing then the Voyager would be perfect.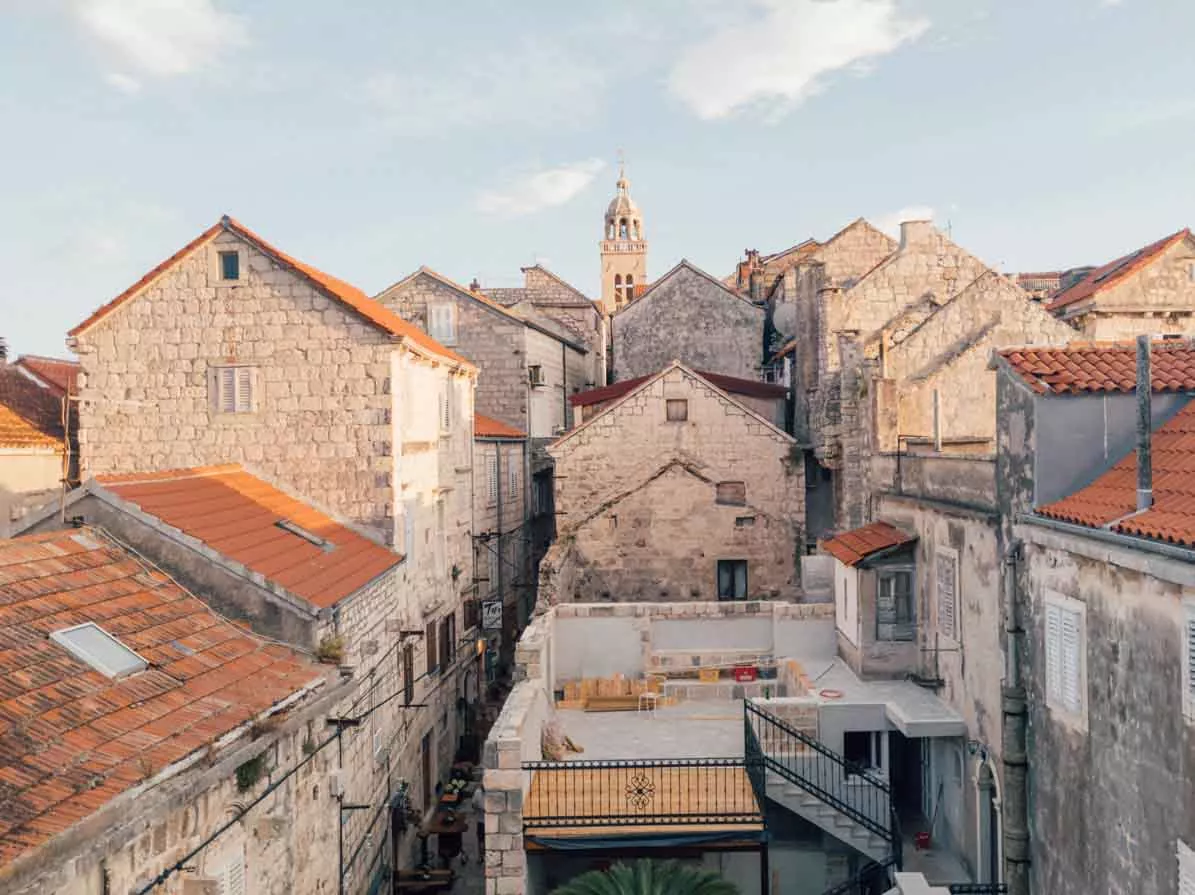 The final verdict on Medsailors Croatia island hopping
Sailing Croatia with Medsailors was hands down one of the best weeks of my entire life, and I reckon it's something every single summer lover should try out.
I might be biased since it's the only one I've done, but from my experience and what I've heard from other travellers, Medsailors is the number one choice for your Croatia island hopping trip.
From their professional skippers, incredible yachts and unique routes to their eco-friendly company policy and way of choosing your boat-mates, I was honestly so, so impressed on our trip. They exceeded all of my expectations, and my expectations were already high! It was probably the third day that our crew was discussing what Medsailors destination we were going to tick off next year. Should we do Turkey, Montenegro, Greece or Italy?

If you've got any questions about Croatia island hopping or if you're considering booking your sail Croatia trip and want to pick my brain, comment below or flick me a message on Instagram at @findingalexx.
A top tip for your Croatia island hopping adventure
Don't take too much luggage! The boat doesn't have a huge amount of space, so a soft bag is best. I had a hard-case cabin bag because I was carrying loads of camera gear, and it fit in one of the cupboards, but it wasn't ideal. If you're travelling for longer than just your yacht trip (like me) consider stashing a bag in Dubrovnik or Split before your week on the boat. I used Stasher to hold my large suitcase in Dubrovnik while I was sailing, for only €5 per day.
Keen to go on your own Croatia island hopping trip with Medsailors? Get all the details and check the prices here.
Like this blog? Pin it!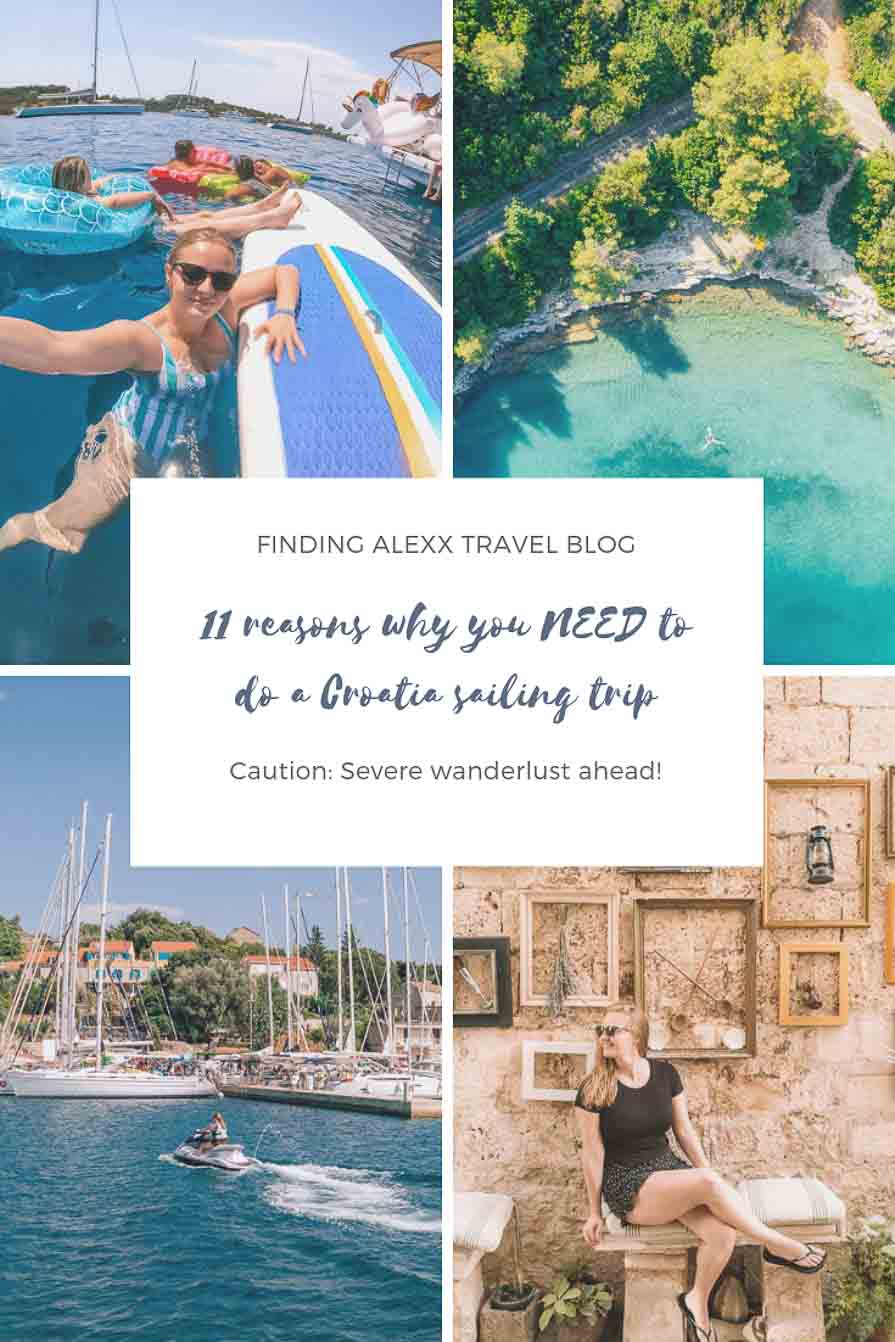 Check out more Croatia island hopping blogs here and see all my Croatia photos on Instagram @findingalexx
Massive thanks for Medsailors for hosting me and a friend for the week. As always, all opinions are my own and are based on my personal experience.