Please note this blog contains affiliate links that give me a small commission from any purchase, at no extra cost to you. I would never advertise anything I wouldn't use myself, and this commission helps Finding Alexx reach more travellers. Thank you for supporting me!
As you probably know if you've been following me for more than a few months, I recently spent the most incredible week sailing in Croatia with some of my favourite humans on a Medsailors Croatia Voyager tour. Here's a full Croatia sailing review from one of the best trips I've ever been on!
It was the week after leaving my long-term desk job and packing up my life in London, and just before I kicked off a crazy year-long solo adventure to see 52 countries in 52 weeks. A week of sun, ocean, no WiFi and breakfast gins were exactly what I needed in my life. Read on for the Croatia sailing review and travel diary of our week at sea, written by my BTFF (Best Travel Friend Forever) Bex.
YOU MIGHT ALSO LIKE: Your ultimate guide to sailing in Croatia
Let me paint you a picture – it's 10am, you've just made a batch of mimosas and you're sitting enjoying yours while sunbathing in your bikini on the top of a yacht as you sail alongside an island off the coast of Croatia, looking out to idyllic red-brick fishing villages.
You anchor in a secluded bay which you have all to yourselves and jump into water so clear you can see the bottom 16 metres down. You're with old and new friends, someone throws in a unicorn floatie and another person turns the 'Summer Hits' Spotify playlist up on the UE Boom. The only problem is your cup is emp… oh, no, don't worry, someone's handed you another mimosa while you float away on your giant inflatable unicorn.
Look, if you're not sold on doing that for a week then the Medsailors Croatia Voyager trip is probably not for you. BUT if that sounds like you living your best life, then read on for our full week-long itinerary and Medsailors Croatia review.
Or skip straight to: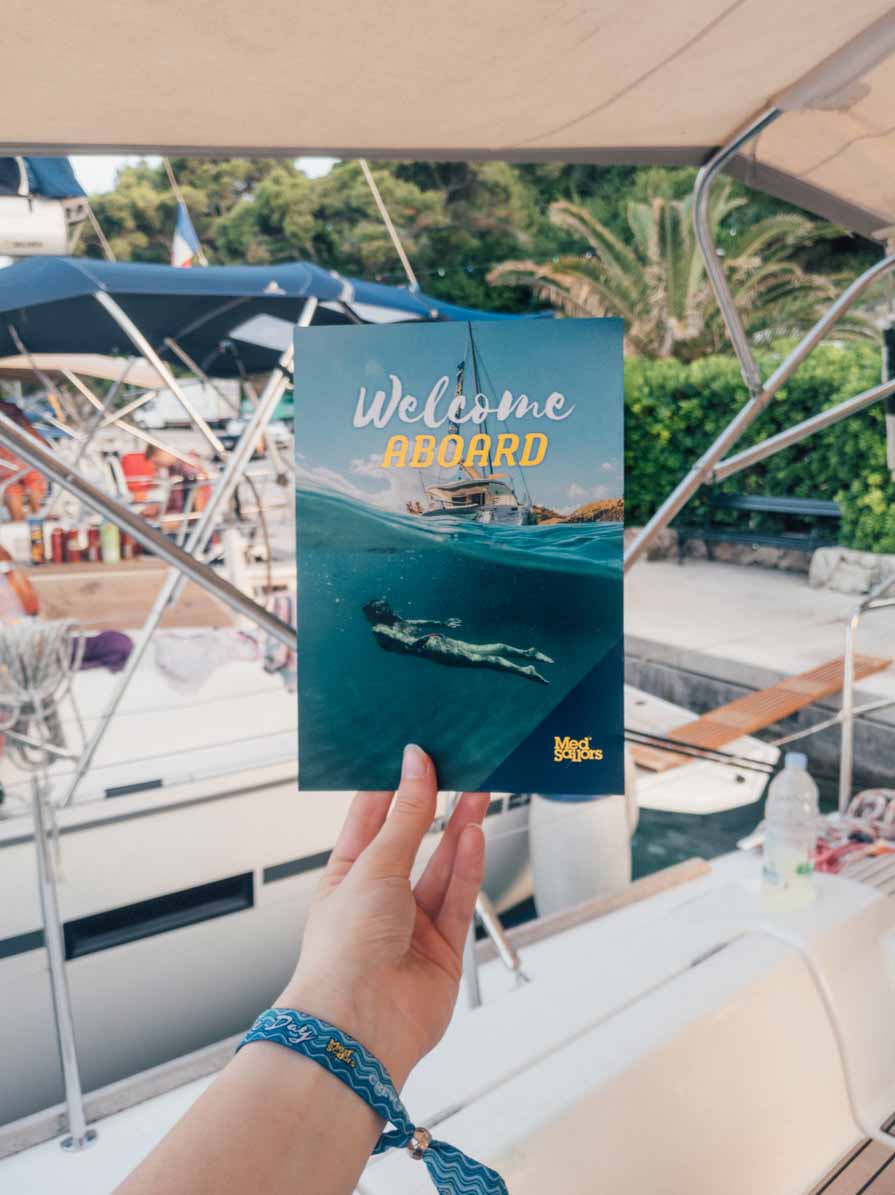 ---
Day one: Dubrovnik to Sipan
It's about a 25-minute drive from the Dubrovnik International Airport to the ACI Marina, or a 15-minute drive from the Old Town. There are buses available but you may need to stop along the way to switch so, as a group, Uber was much cheaper and more convenient as the marina is quite isolated.
Check-in and boarding is from 1pm (check your pre-departure information from Medsailors to be sure) and you set sail at 3pm, enjoying the view back to Dubrovnik along the way. Make sure you grab some drinks and snacks for the week, some sunblock, and anything else you might need that you're unlikely to find in a small convenience store, as the island shops aren't particularly well stocked as you can imagine.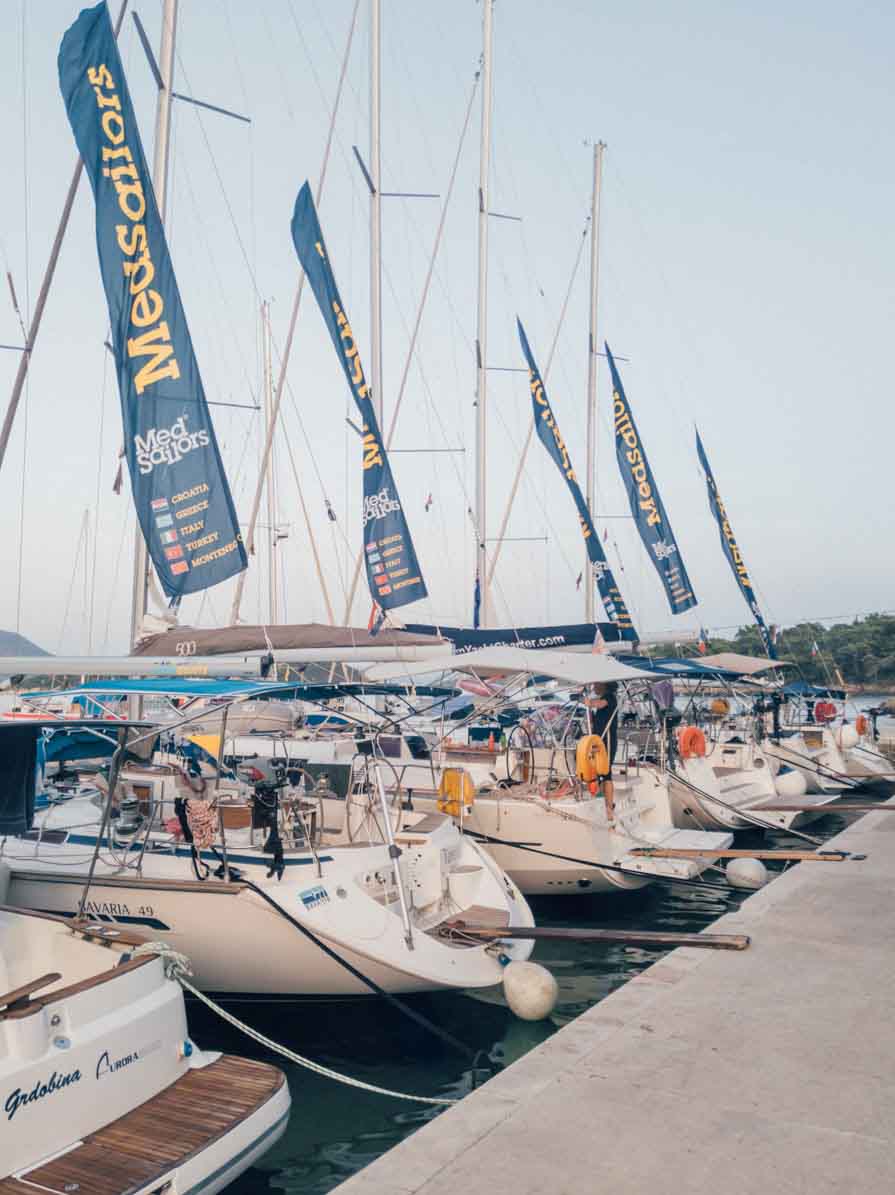 There's a chance to get to know the others on your boat (which sleeps up to 10 people, plus your skipper) who will be your boat fam for the week. We went in a group of four and as we're all in our mid to late 20s, we went for the Voyager route over the Discovery route for a more relaxed vibe. Medsailors pairs you up with boat-mates looking for a similar style of trip to you, and we managed to get grouped with four Kiwi girls and an American girl all around the same age as us.
Just 17km north-west of Dubrovnik is the small island of Sipan where we got to have our first swim of the trip and a taste of the week to come. SIGN ME UP! This is how we spent the majority of the week… sail, breakfast, swim, sail, swim, lunch, swim, sail, dinner, and repeat.
Our first night we docked at Sudurad, a small bay village on the island of Sipan, which had everything you need in Croatia – a restaurant, a bar and a gelato shop. We walked up the hill opposite our flotilla to Konoba TriSestre, a family-owned restaurant which translates to Three Sisters – named after the three daughters, and got our first taste of how good the food was going to be this week. All locally sourced or grown, made with love and served with wine. This is the country for me.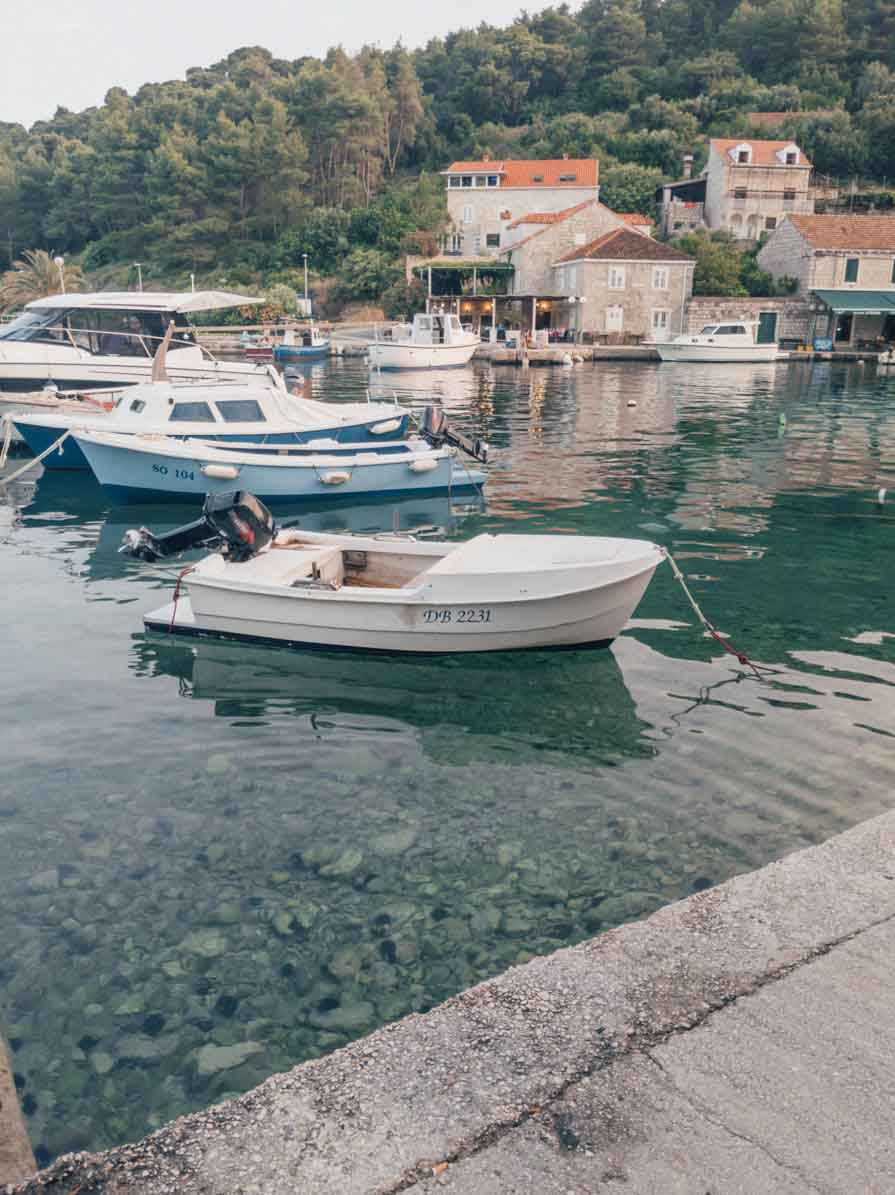 ---
Day two: Sipan to Mljet National Park
There can be some early-ish starts (6am being our earliest) during your week in order to clear out of a certain dock, or make it to another dock on time, but the good news is you can stay in bed if you want. Although the alternative of getting up and lying on the top of the yacht as you cruise through the islands isn't half bad either.
Today we sailed to the incredible island of Mljet – home to Mljet National Park and the famous 'island, on a lake, on an island'. We spent the morning swimming in a nearby bay before docking up near the entry to the National Park.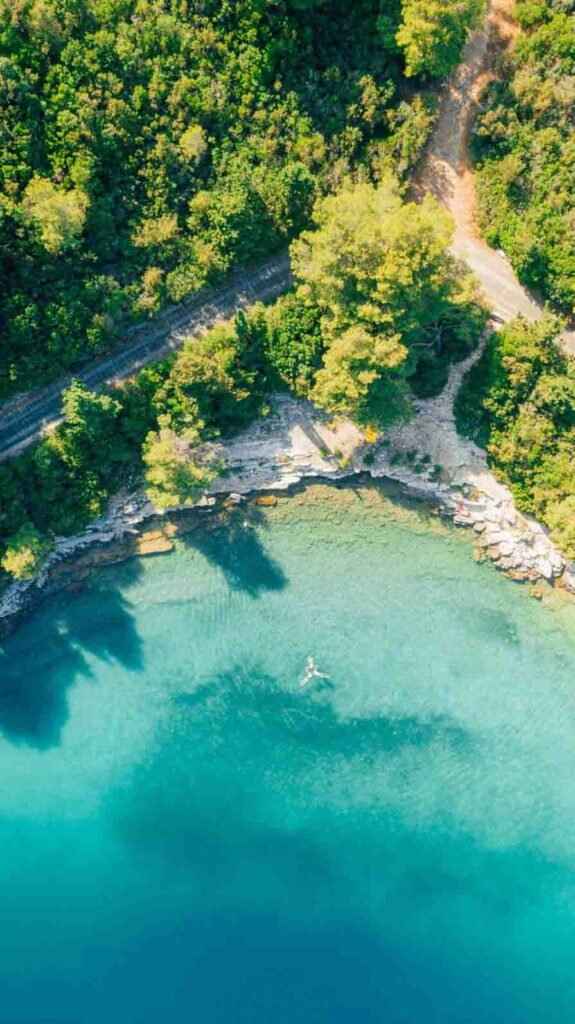 There is a shuttle bus available which will take you to the entry, but we decided to hire bikes from near our dock which we could also cycle right around the lake in the National Park. There are endless secluded spots for a swim, and we spotted a few people taking the chance for a naked dip too.
Dinner was more unbelievable fresh fish and seafood, grilled at a restaurant just behind the back of our boats. It doesn't get more sea-to-table than that. For people who don't like seafood, there's always a chicken or vegetarian option.
YOU MIGHT ALSO LIKE: 11 reasons why you HAVE to book a Croatia sailing trip
---
Day three: Mljet National Park to Lumbarda, Korcula
Day three took us to Lumbarda on the island of Korcula, with more morning swim stops along the way. We docked in the early afternoon and had time for a proper onshore shower at the marina, a cocktail or two at the beach bar, a hoon on a jet ski and even a beach massage. Did someone say living our best lives?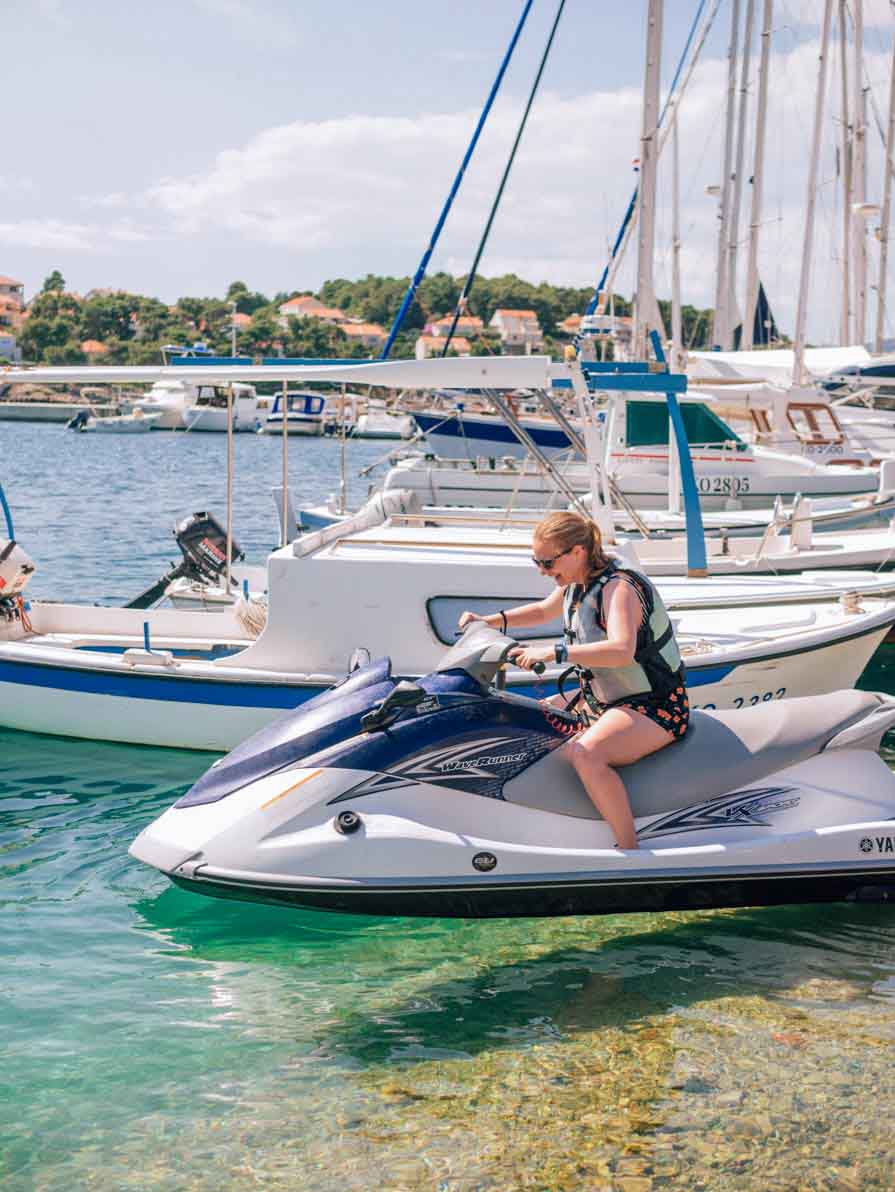 Included in the Medsailors trip is a bus transfer from Lumbarda into Korcula town that night, and we struck gold finding Marendin, a Dalmatian tapas and wine-tasting bar, in the small alleyways of the old fort town. The staff were amazingly friendly and helpful and put together a three-wine, three-tapas sampling menu for our boat group to try.
We rendezvoused with the rest of the Medsailors flotilla for sunset cocktails at Massimo, which offers some epic views from its rooftop but to be honest was a bit small to fit us all. You're free to pick where you want to have dinner in Korcula and then grab your own taxi back to the boat.
I struck gold for a second time that day and caught an insanely talented local duo singing and playing guitar at the Lumbarda beach bar, which was a perfect end to a perfect day. I'd recommend asking at the bar earlier in the day if they have live music and potentially coming back for it if that is more your vibe than Korcula, which can get quite busy in summer.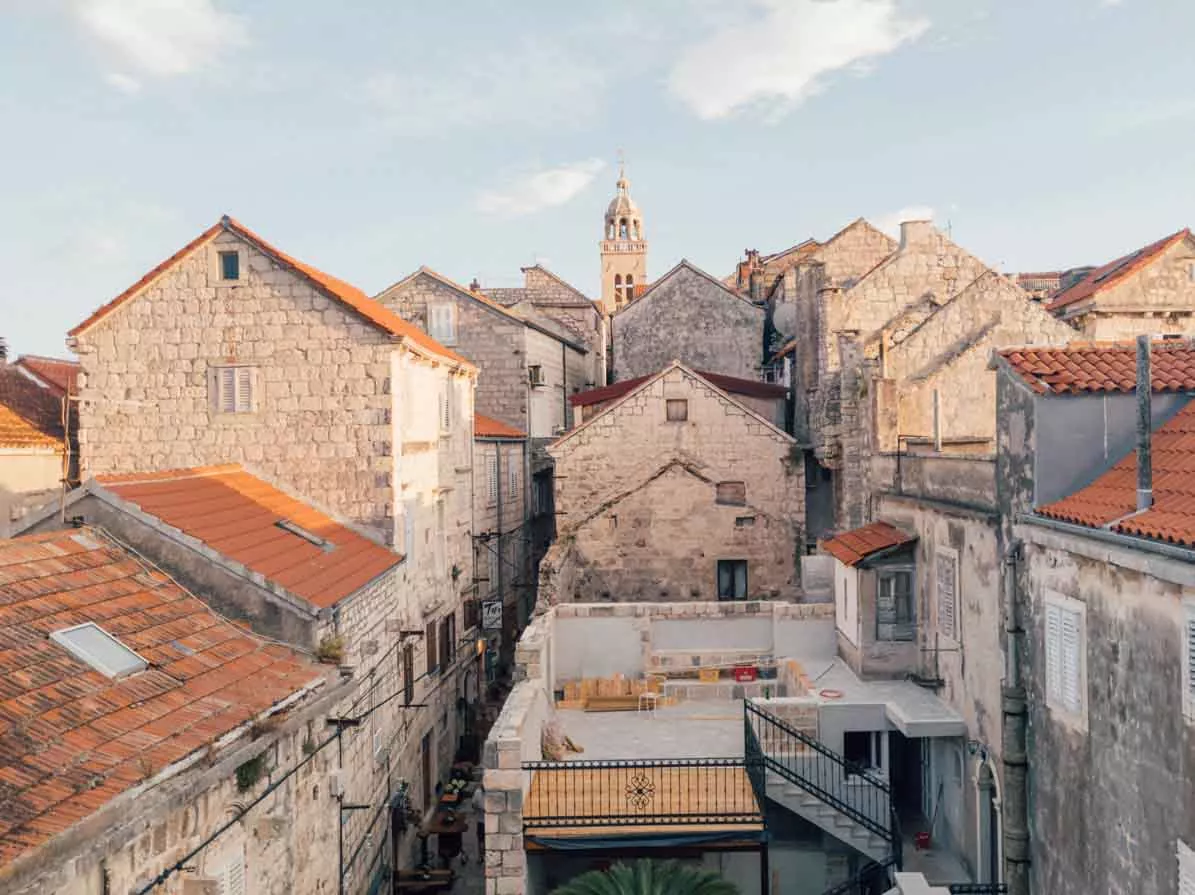 ---
Day four: Korcula to Gambo's
We spent the morning of day four swimming in bays of small uninhabited islands off Korcula, before sailing north and enjoying the view of Korcula town from the sea as we passed.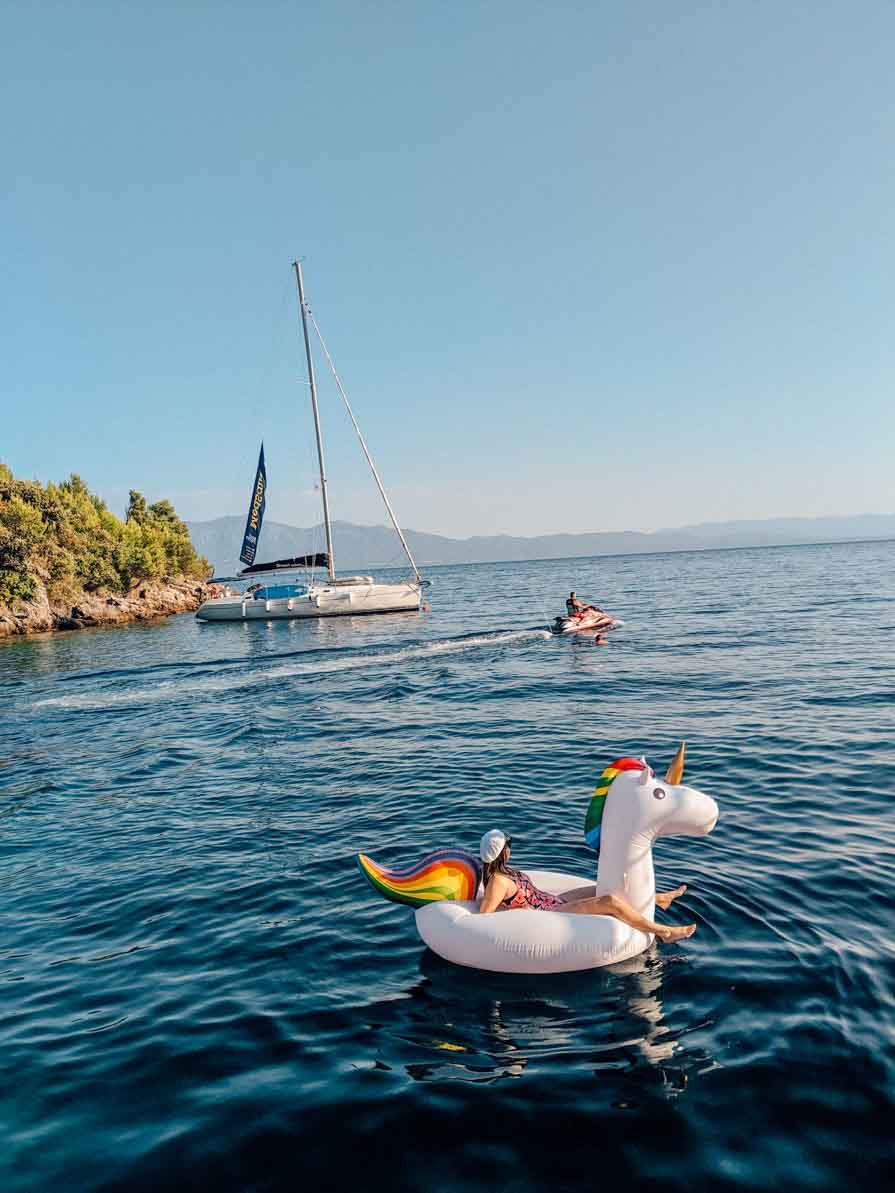 Another ridiculously beautiful swim later and we headed to our bay on the south-east coast of Hvar Island where we were rafting up for the night. This is a beautifully secluded bay, home to nothing but Gambo's – a family-run restaurant with incredible grilled food, wine, and Rakija (a Croatian spirit, said like rack-e-ah) sold by the bottle.
We even had time for an afternoon float with a G&T in hand, which was probably my favourite afternoon of the week.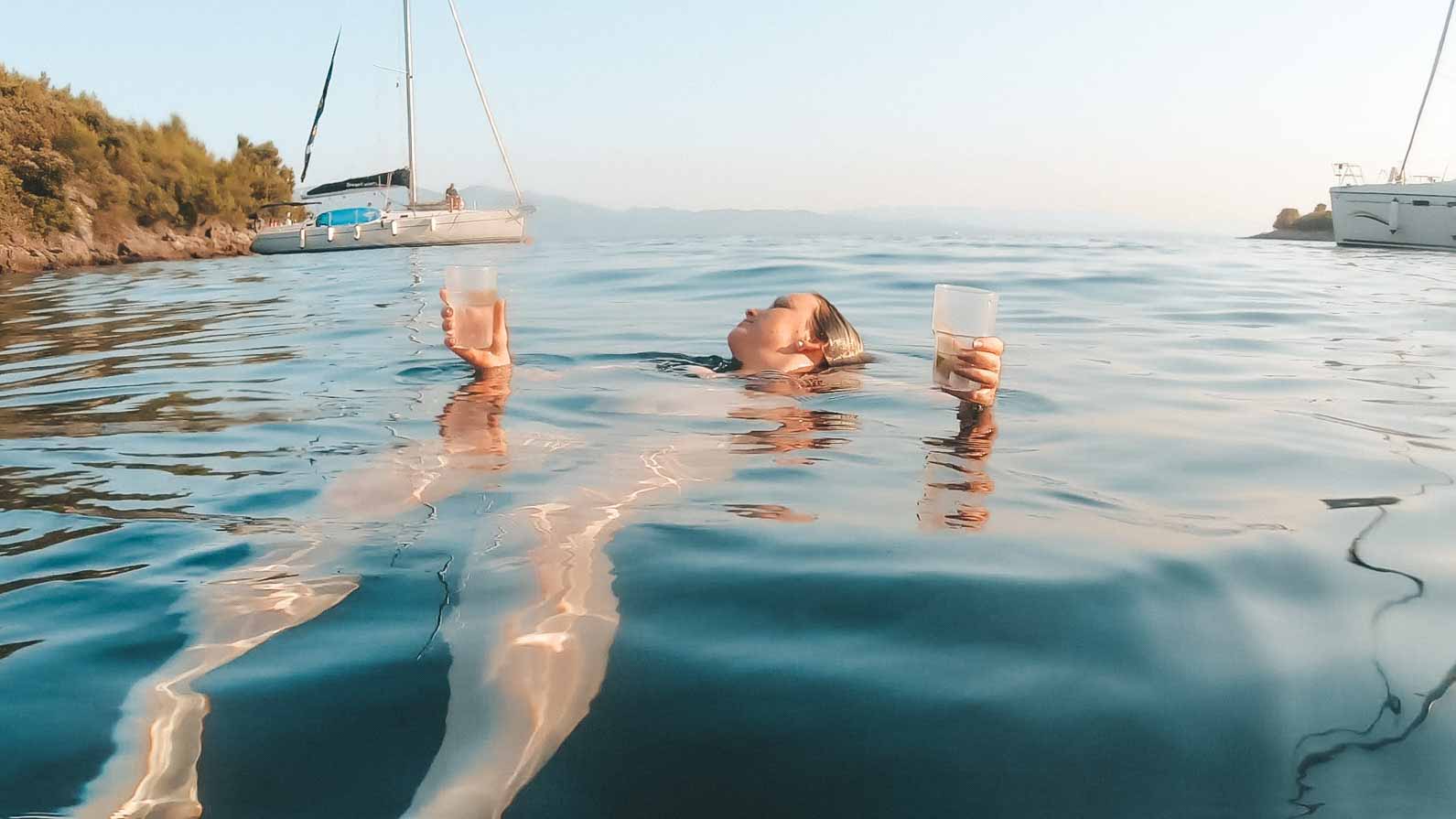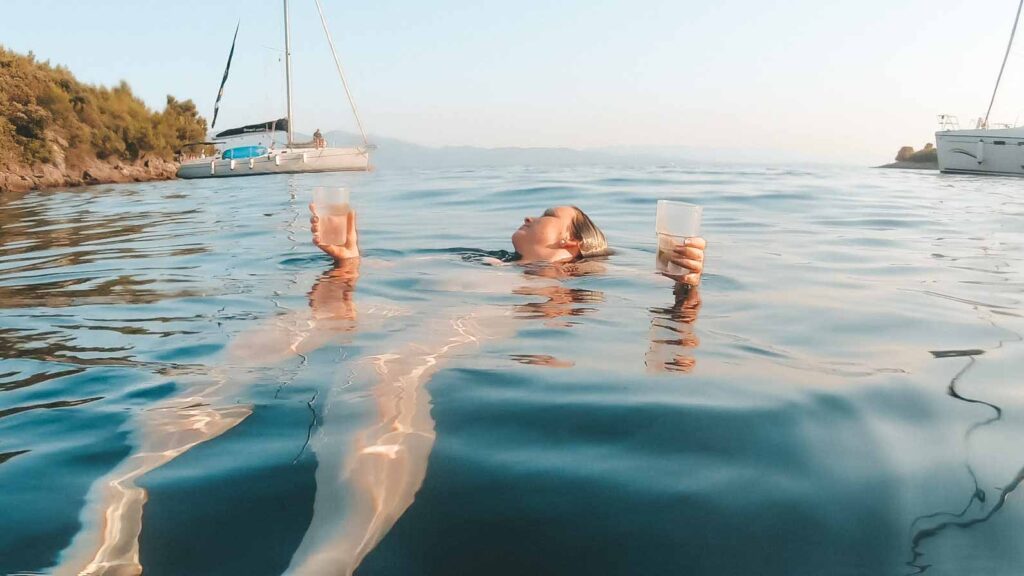 ---
Day five: Gambo's to Vrboska, Hvar
On the Medsailors Croatia Voyager trip, day five is the big party night with a trip into Hvar town that night. We worked our way up from the south east of the island in the morning to the north west, arriving in Vrboska in the afternoon. Vrboska is a gorgeous marina town, bigger than any of the places we had stopped until that point, and a great place to try Croatian Burek (a savoury pastry stuffed with meat, cheese, or spinach and cheese) from one of the local bakeries.
Around 5pm we jumped on a bus (this is included in the tour) and headed into Hvar town, where the bus drops you at the top of the fort for an incredible view over the town and surrounding islands. When I visited Hvar two years earlier I climbed up to the fort in the middle of the day in mid-summer and I've got to say that getting dropped at the viewpoint by bus was much more enjoyable.
YOU MIGHT ALSO LIKE: 30 photos that will make you start planning your Croatia island hopping adventure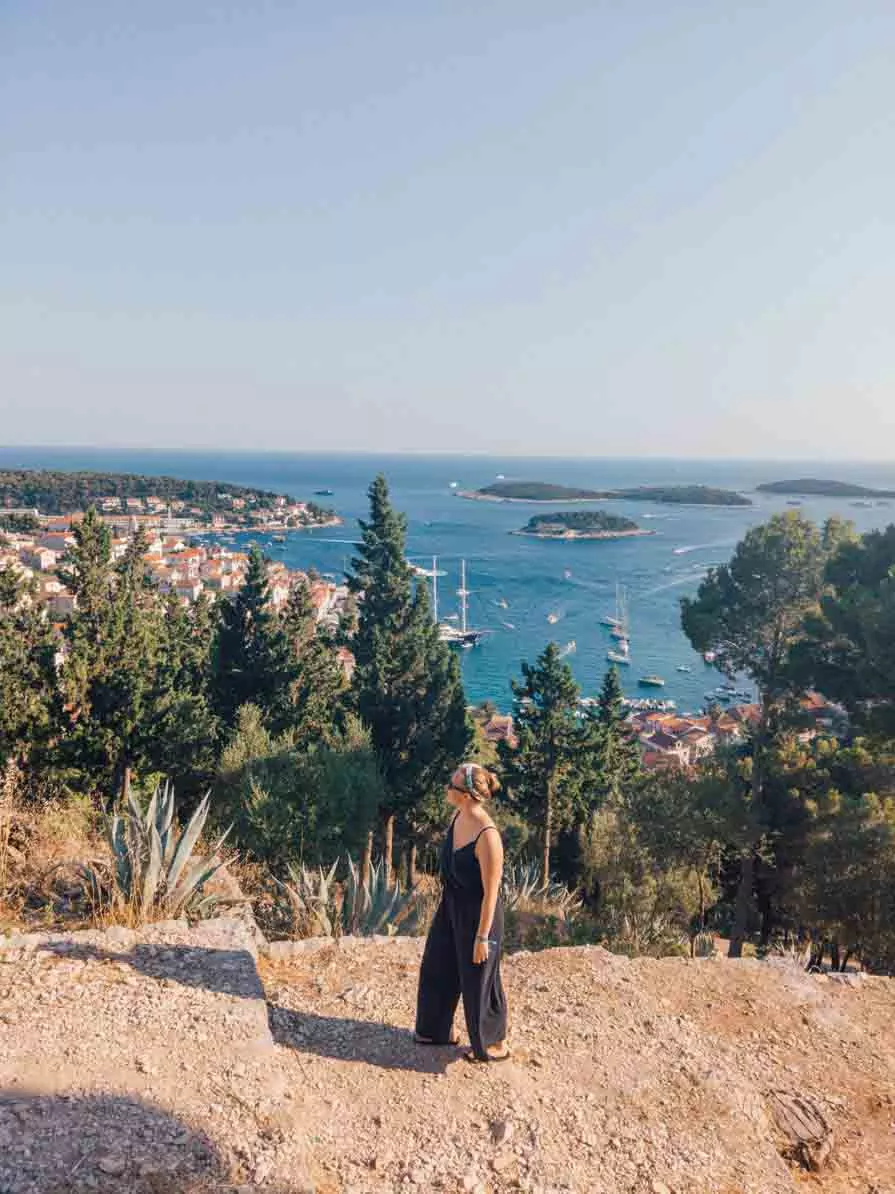 We wandered down into town and luckily, thanks to a recommendation from the Medsailors crew, we went to check out Bosscat Craft Bar, a newly opened cocktail bar and an absolute must try for anyone visiting Hvar. Definitely the nicest cocktails we have ever had, with amazing service, lovely staff, and a couple of complimentary shots throughout the night because we stayed for that long!
We met up with the rest of the tour at Kiva Bar for a dance, but prepare yourself for intense crowds and overwhelming heat in mid-summer. It's easy enough to get a taxi from the centre of town back to your boat, just make sure you clearly tell them you want to go to Vrboska Marina, as people have been known to end up at other marinas on the island.
---
Day six: Vrboska to Stari Grad, Hvar
Today is an early departure but I would strongly recommend you force yourself out of bed and to a local bakery to pick up a cold drink and some necessary burek before you leave. Your head and stomach will thank you.
Nothing really fixes a hangover like an early morning swim in the Adriatic though and by midday we were back living the dream and ready for the inter-boat SUP (stand-up paddleboard) race at another beautiful bay. I won't tell you the results, but let's just say that competitive sports were not our boat's strong point.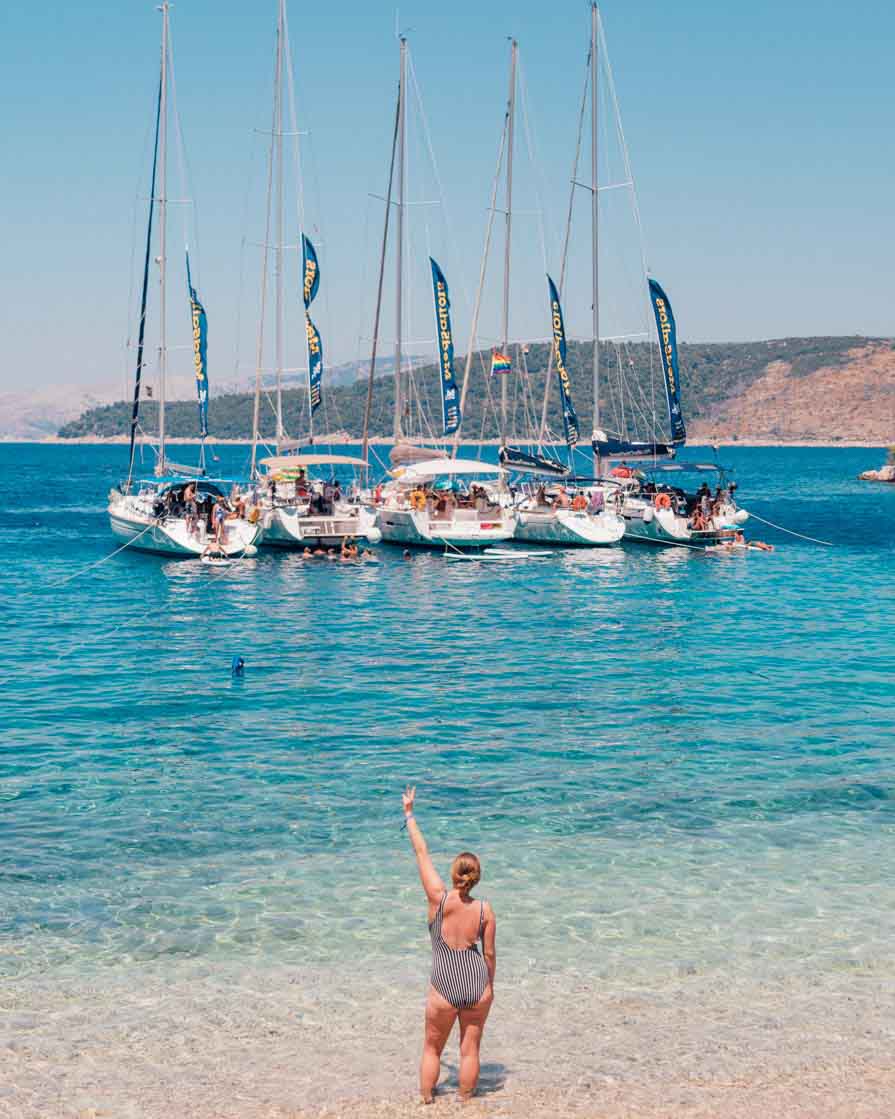 Night six was my favourite night of the trip. We docked at Stari Grad and took a bus out to a local winery and lavender farm for wine tasting and dinner, soaking up the fantastic sunset and patting the many animals they had, including two dogs and two donkeys.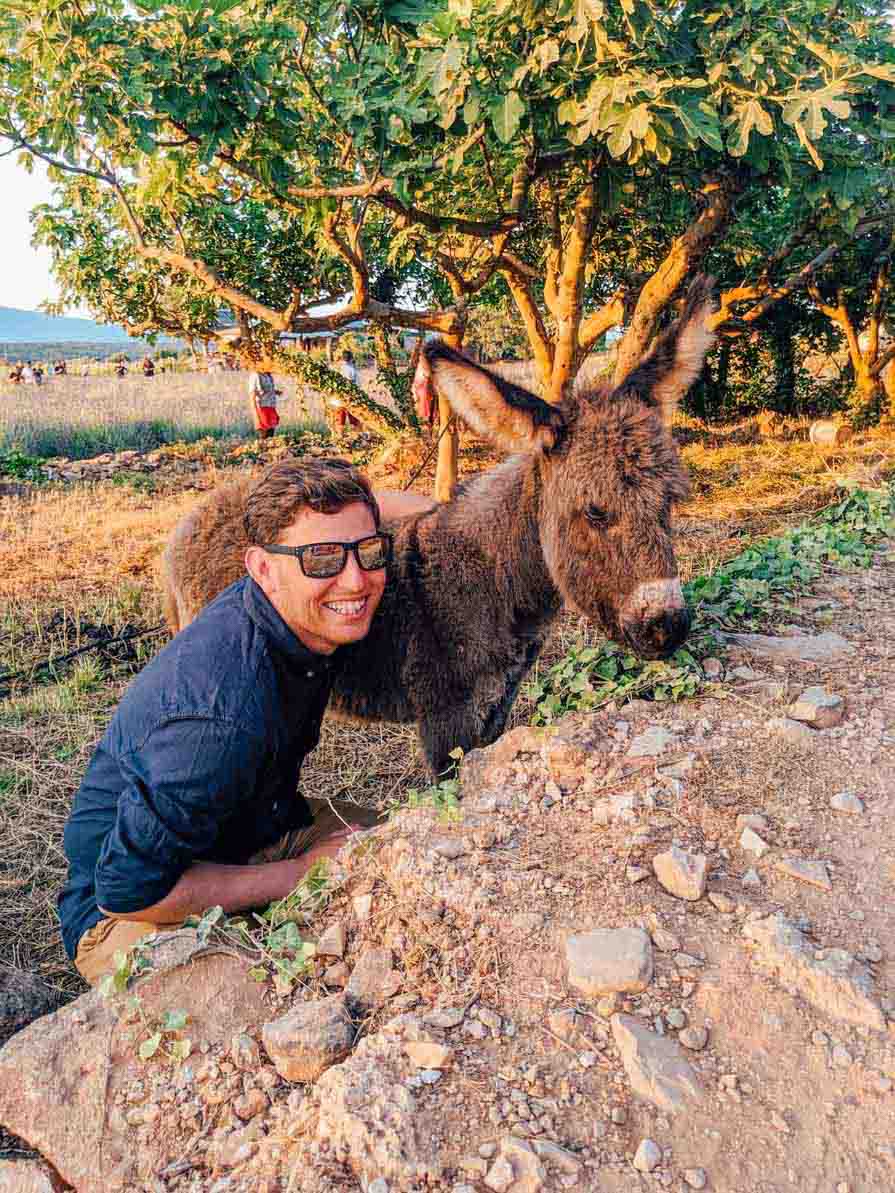 We finished up the night at another cocktail bar in Stari Grad and I found my new favourite – the Hugo! Minty and refreshing and tastes like a week of sailing in Croatia.
---
Day seven: Stari Grad to Split
Noooo last day. Please don't make me leave this boat. This is the life I want to live!
The swimming today felt like the best of the trip, only because we knew it was coming to an end, but we had enough stops around Ciovo (a small island to the north-west of Split) to really soak it all up before heading into Split in the afternoon.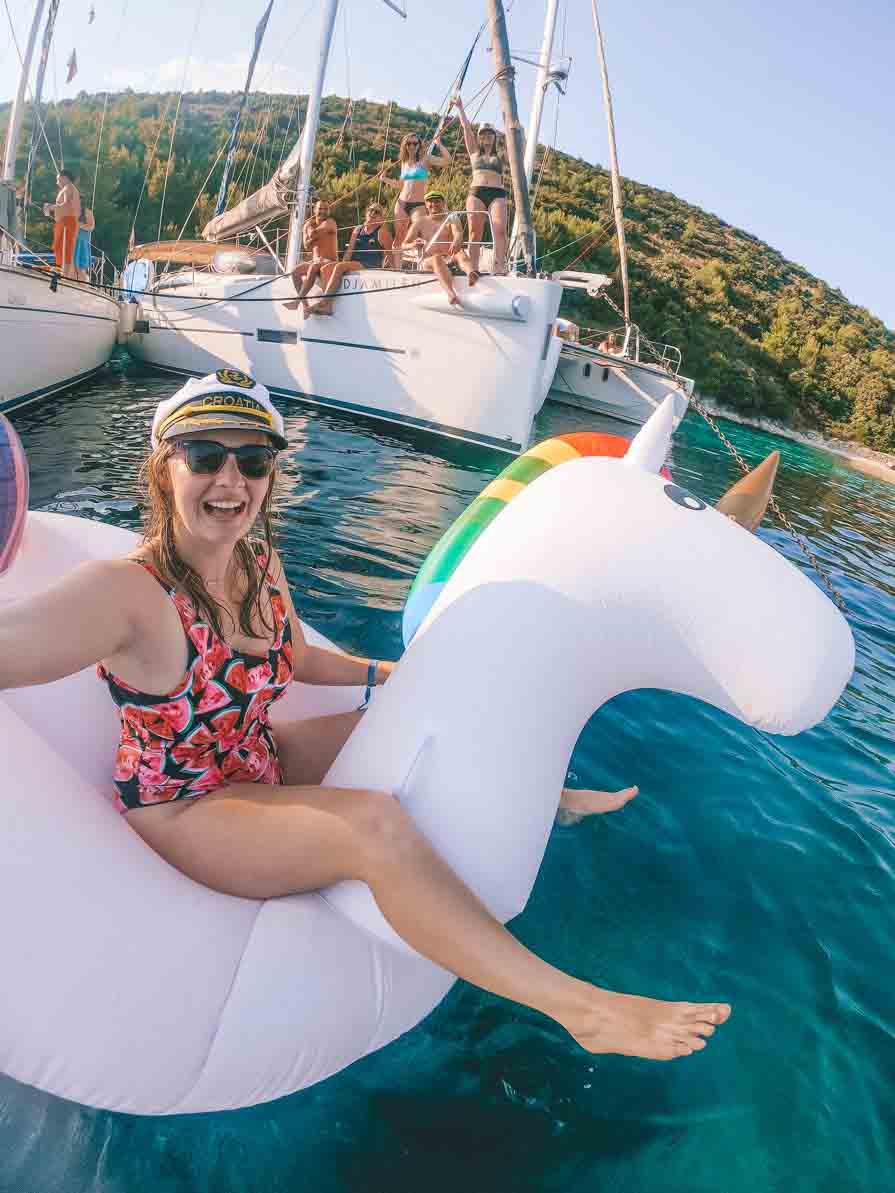 It's important to know you don't dock near Split's Old Town, but actually at Baotic Marina in Trogir, about 30mins north by car (45min with traffic). We were staying an extra night so it was easy enough to share an Uber and others grouped together to share Ubers to the airport.
If you do spend any extra time in Split, Paradox Wine and Cheese Bar is a must visit for rooftop wine and cheese tasting. We stayed in an AirBnB just around the corner from Paradox, which was perfect location if you want to be handy to the Old Town. Alexx extended her Split visit for a week and spent four nights at En Route Hostel, and three nights at the beautiful Spalatensis Apartments.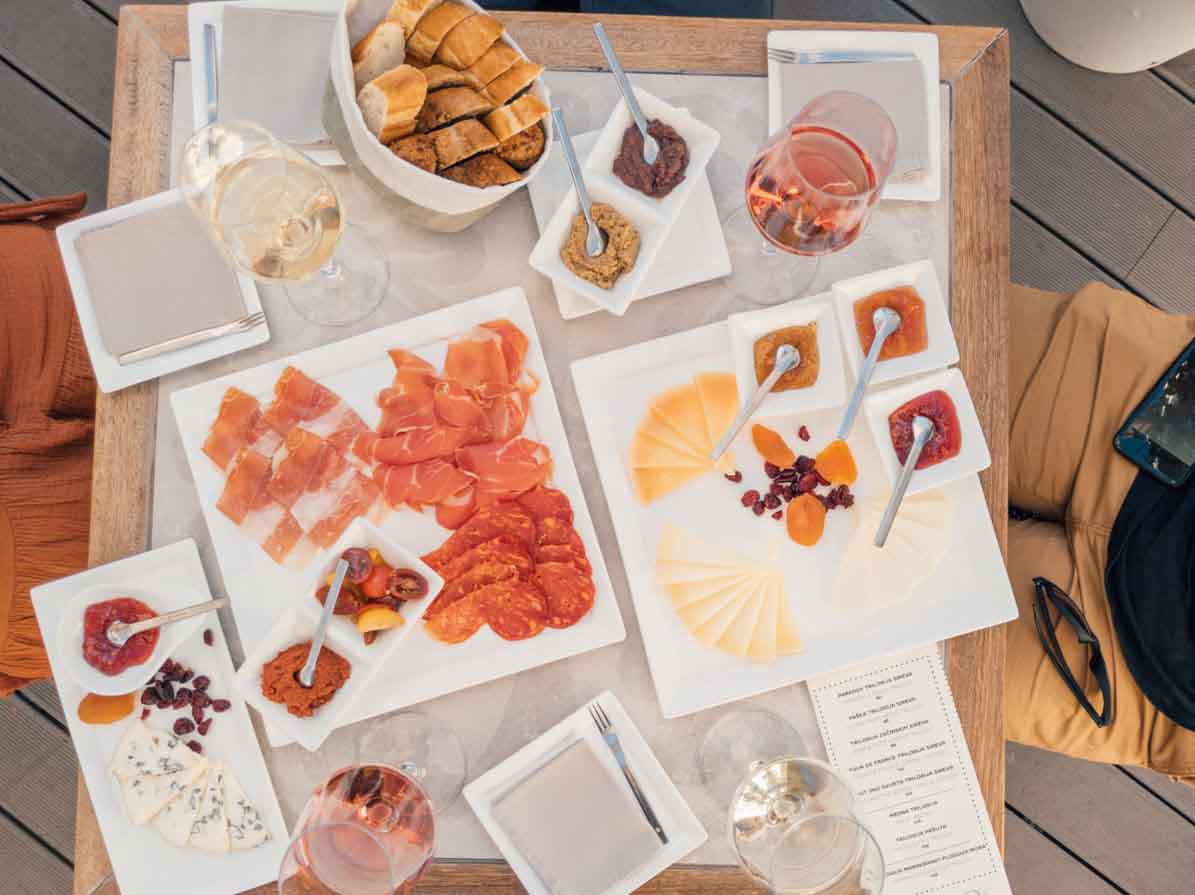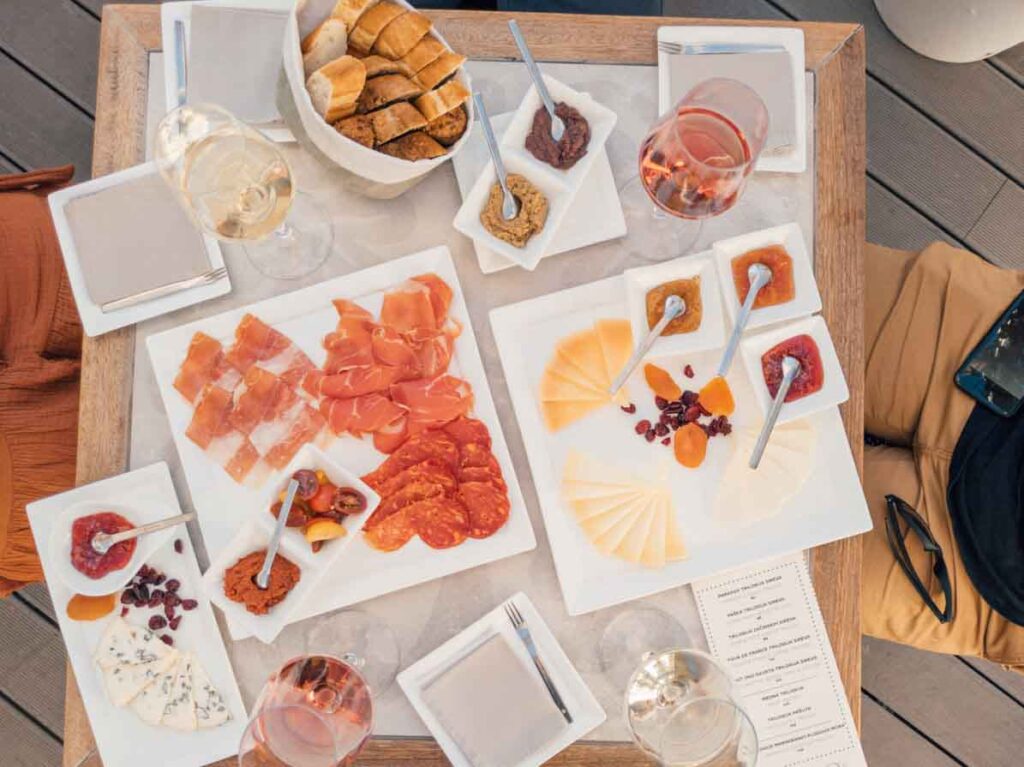 All round an unforgettable holiday and a week I would like to relive over and over. A huge amount of travellers I've met in Europe and living in London say their week sailing in Croatia, Greece or Italy has been a highlight of their travels and I can definitely understand why. Once you go boat, you can't go back. Hope this Croatia sailing review has been helpful!
---
Have you been on a Europe sailing trip, or is it on your wanderlist? I'm trying to decide what destination to sail next year, open to any suggestions!
Like this blog? Pin it!
Want to read more about our Croatia sailing trip? You can see all my Medsailors blogs right here, or check out the full details of the Medsailors Croatia Voyager tour we did here.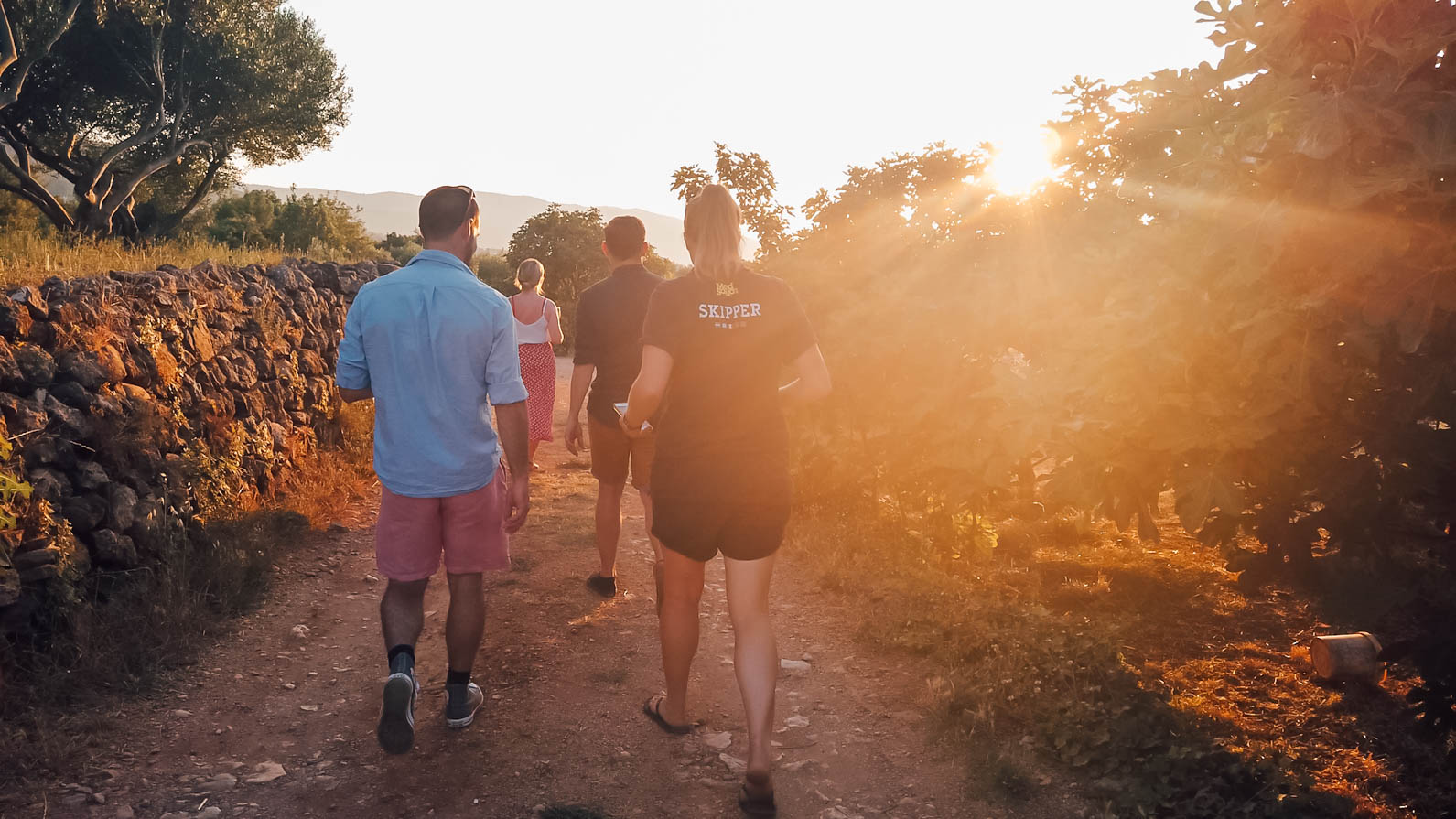 Massive thanks for Medsailors for hosting me and a friend for the week. As always, all opinions are my own and are based on my personal experience.